Holosun is making massive waves in the firearms industry, and it's shocking.
Who saw this budget optic manufacturer taking off the way they did? A few years ago, everyone knew Holosun for making solid but uninspired little red dots.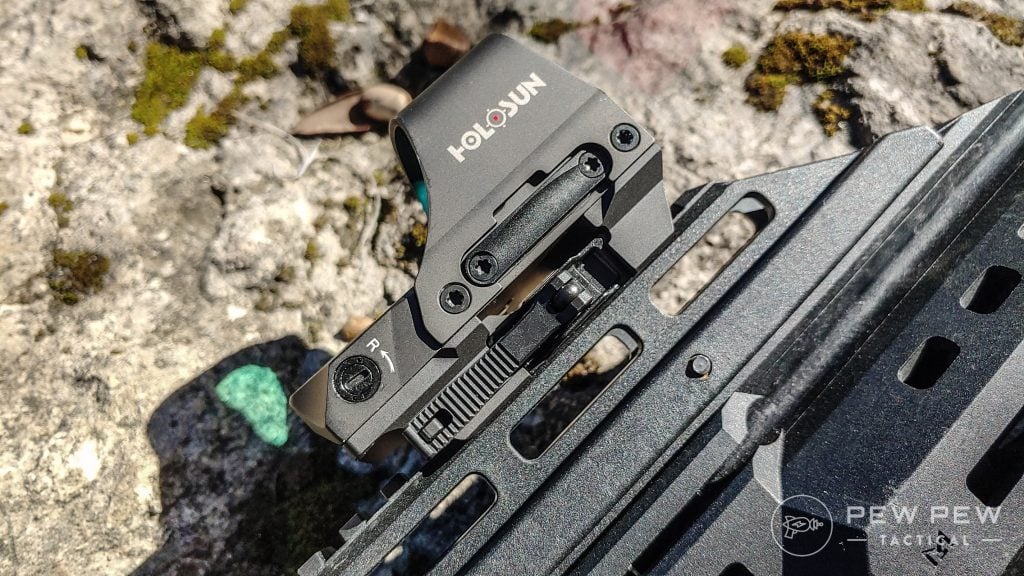 Nothing fancy, but decent little dots.
Somewhere along the way, they tossed down the gauntlet and said they could do better – and they could do it at a lower price.
Now the company is flooding the market with a bevy of optics that seemingly outperform established brands…all at lower price points.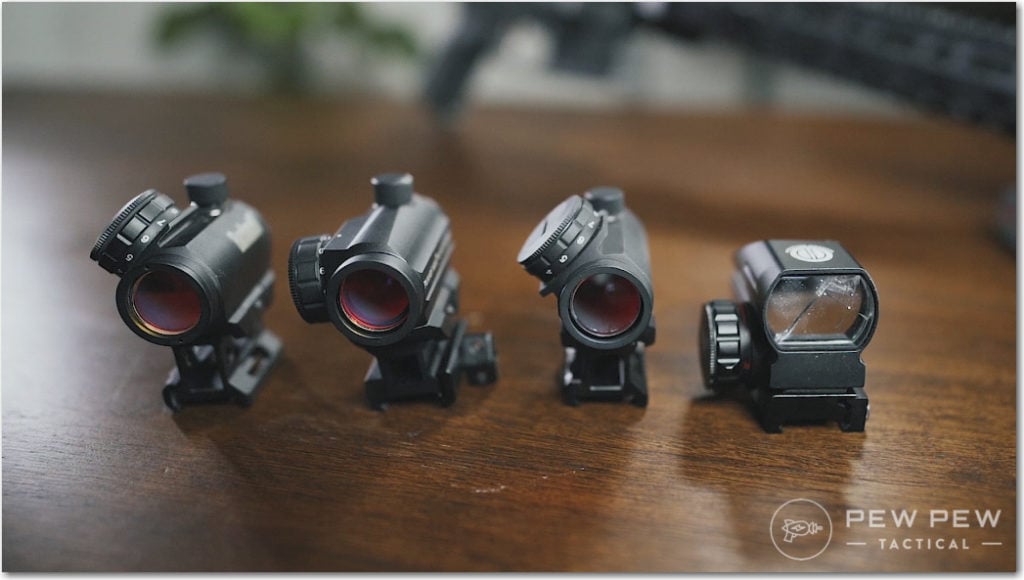 But does Holosun really hold up to the hype?
We're going to find out.
Today, we're testing the optic's company's HS510C to see just how good it performs.
Table of Contents
Loading...
Breaking Down the 510C
The HS510C is an open square-type red dot that brings a ton of features.
It's well made and relatively compact at 1.8-inches wide, 3.3-inches long, and 2.31-inches tall.
At only 4.94-ounces, the HS510C hardly tips the scales. It's almost half the weight of the EOTech EXPS3.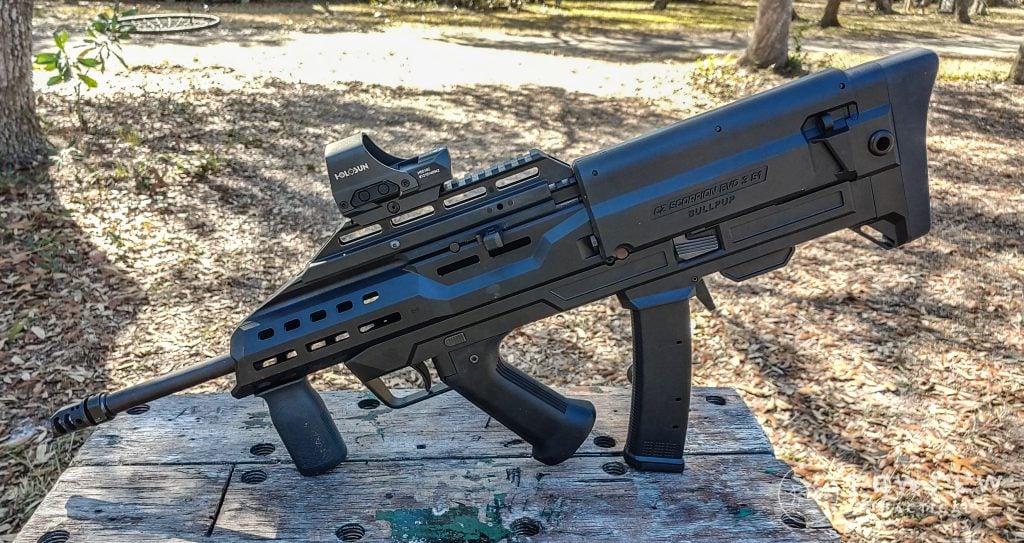 I don't see a need to attach a brick to my gun. So, I appreciate the compact, lightweight design.
A CR2032 powers the HS510C and does so for 50,000 hours. To top that off, it uses a solar panel that kicks in when the battery dies. The 510C gives you all the sources of POWER!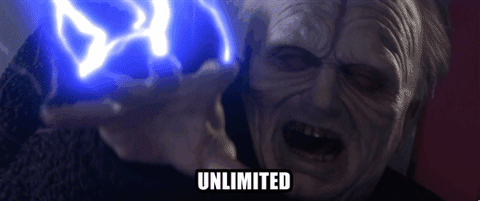 One of the most impressive features of the HS510C is the use of titanium in the protective hood.
Titanium is strong and lightweight and lends itself well to the lightweight nature of the optic. It makes the optic bombproof in the durability department.
Most Worth It Holographic Sight
309
at OpticsPlanet
Prices accurate at time of writing
Prices accurate at time of writing
Speaking of…the optic is submersible to 1-meter for 30 minutes and can take up to 1,000 Gs of vibration. That's not bad at all.
You can't take it for a naval insertion, but you can play Navy SEAL in the bathtub if you so choose.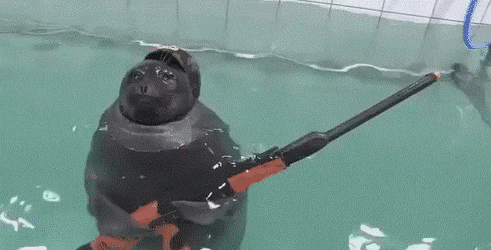 Let's talk about brightness settings. It features 10 daylight settings and two night vision modes. The daylight settings are bright and downright punishing when set to max.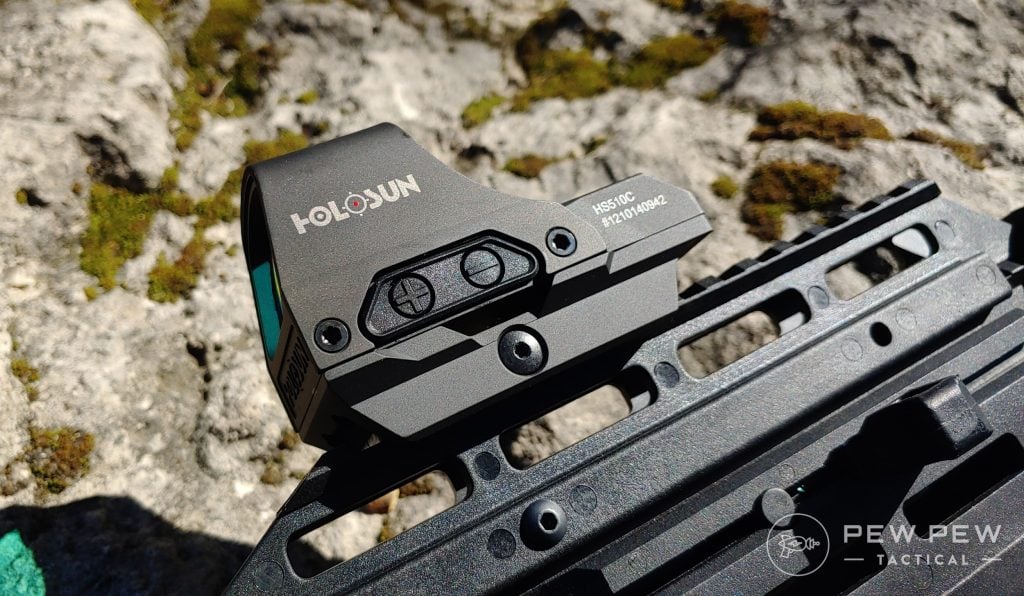 One neat feature is the ability to drop down to the night vision settings by holding the + button for 5 seconds.
You swap back to your chosen daylight setting by holding the + button once more.
The Reticle
One of the big selling points of Holosun optics is the multi-reticle system. Most red dot optics come with one type of reticle. Holosun packed the HS510C with three
We get a 2 MOA red dot, a 65 MOA circle, and a combination of the dot and circle. I'm a fan of the ring and dot reticle on a rifle.
EOTech fans will be familiar with this reticle because it's identical to the famed – 0 reticle.
There are a few reasons why this particular reticle is, in my humble opinion, the best option.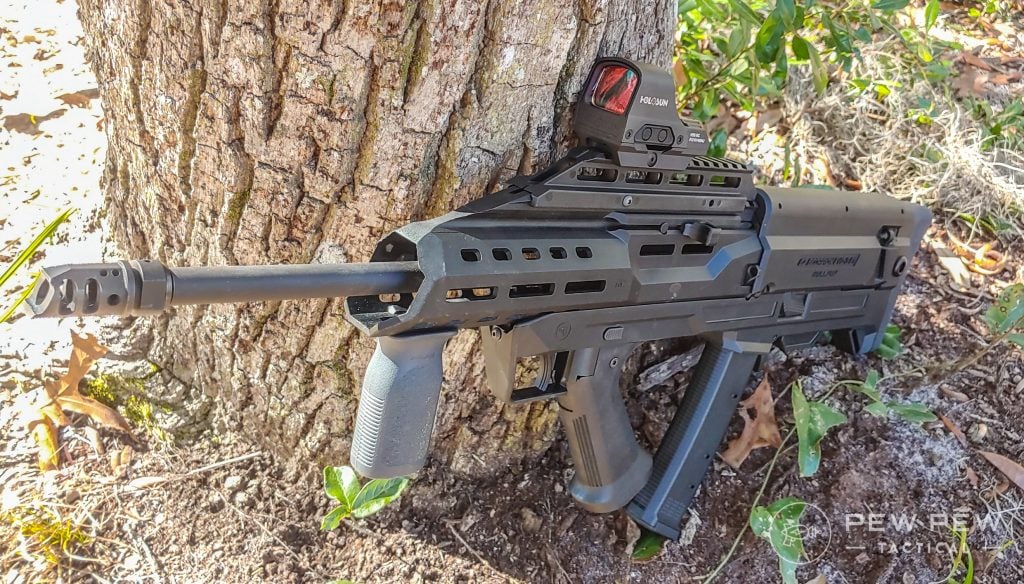 Aside from versatility, the 65 MOA circle can act as a range finder.
At 100-yards, the 65 MOA ring is roughly the same size as a man of average height.
If a bad guy fills the reticle from top to bottom, the bad guy is approximately 100-yards from the shooter. If the target goes from the dot in the center to the bottom of the reticle, then the bad guy is 200-yards away.
So, the 510C offers the best usability at 100- to 200-yards without a magnifier.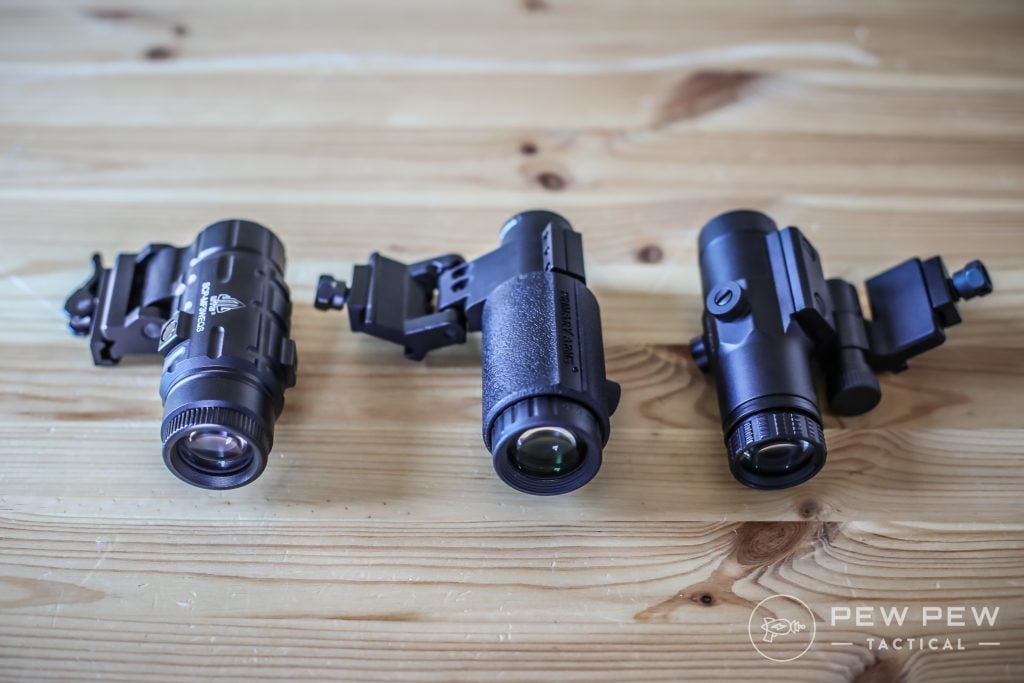 Dot and circle reticles are also handy for close-range shooting.
That whole mechanical offset is a real pain at super close ranges, but the circle of the reticle allows you to compensate for that mechanical offset.
See the four lines around the circle?
We call those stadia. Aim with the bottom stadia to land precise shots at bad breath range.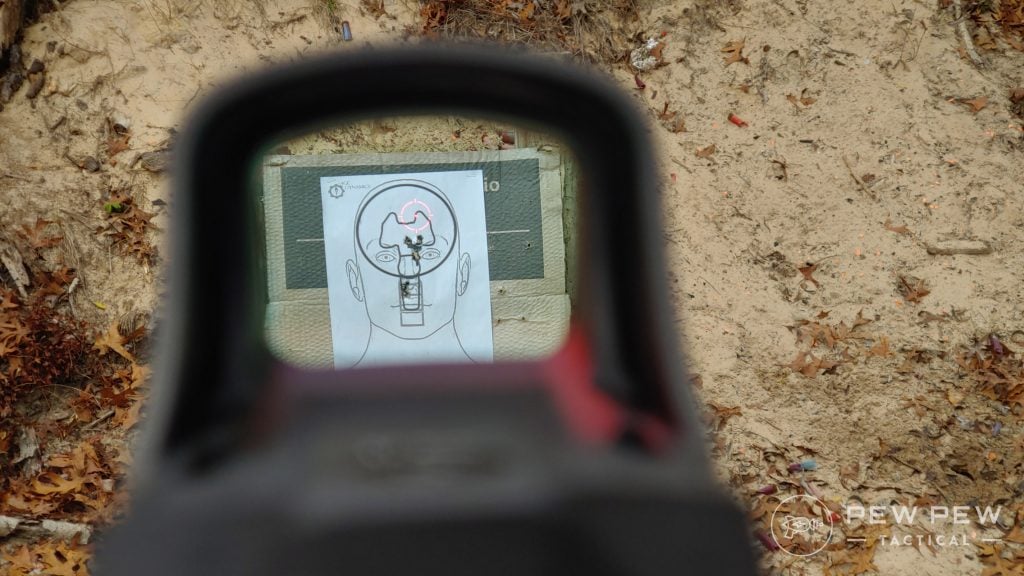 Circle and dot reticles often feel more comfortable for those who have astigmatism.
Not as good as a prism sight, but way better than a standard red dot.
2 MOA vs. 65 MOA
Holosun's 2 MOA dot provides a very clear picture and would likely perform best with a magnifier.
With a magnifier, you access greater range capabilities and an uncluttered reticle for more precise shots.
The 2 MOA dot is also great if you want to save power. It uses much less juice than the other two – a good choice if batteries are dead and external light isn't great.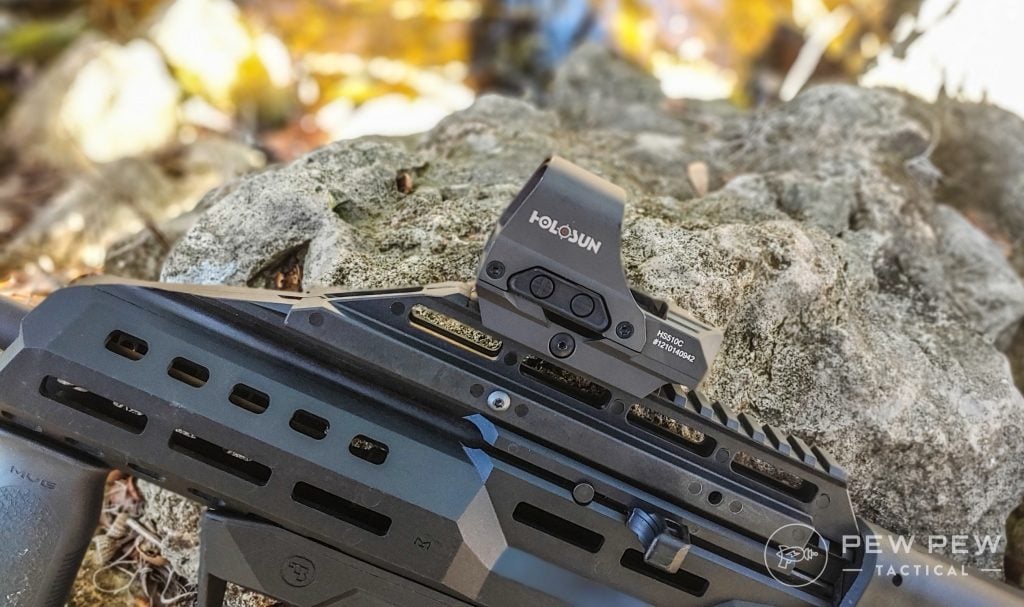 Now, the 65 MOA circle by itself is odd, but I can see some use when paired with shotguns.
The big circle reticle will let you pattern your buckshot at various ranges, allowing you to know how far you can shoot a load of buckshot without any of the pellets leaving the circular reticle.
Mounting & Zeroing
Mounting the optic is easy, and once on, it locks down and doesn't budge.
It's also simple to zero.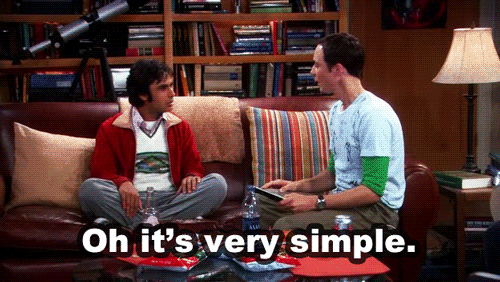 For some reason, out of the box, the right to left adjustment came dialed entirely to the left. So, I made some broad right adjustments to get the optic on paper.
With the 510C dialed in, I confirmed my zero at 50- and 100-yards. The sound of ringing steel washed away any doubt of inaccuracy.
Along with the optic itself, the box includes a battery. But I wanted to test that solar panel first. (I kept the battery on hand, though.)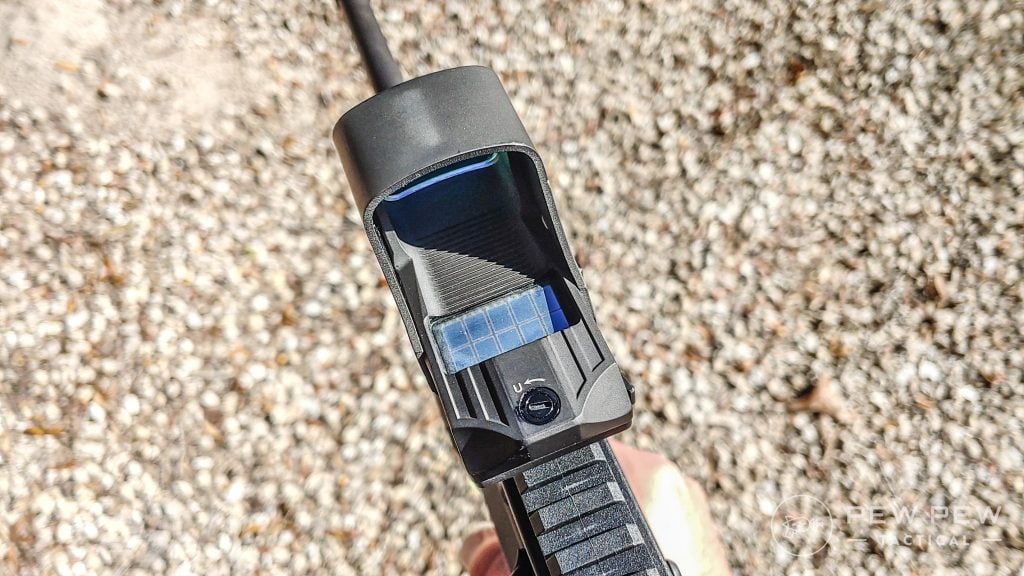 My first day of shooting occurred during a somewhat windy and overcast day. Yet, the optic worked without complaint.
I zeroed and fired at various ranges and targets. The solar panel powered the optic throughout this initial testing.
That said, I got the occasional low battery warning when the rapidly moving clouds darkened the sky.
Holosun mounts the battery tray to the side, which allowed me to quickly drop the battery in.
The battery compartment then secures via two bolts. So, it won't accidentally open on you.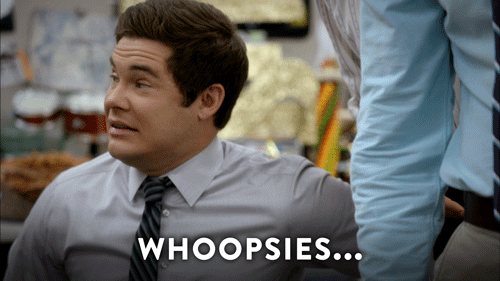 Reticle and Lens Clarity
What surprised me during testing?
The clarity through the lens.
A lot of red dot optics serve up an obvious tint. For instance, Sig Sauer's Romeo 5 series has a bluish tint. Bushnell's TRS25 comes off with an amber hue. And the Meprolight Foresight offers up a purplish tint.
The Holosun HS510C might have a very slight bluish tint, but I only see hints of it in low light, indoor areas.
Its tint isn't a bad thing, but I prefer a clear, real color picture if I can get it.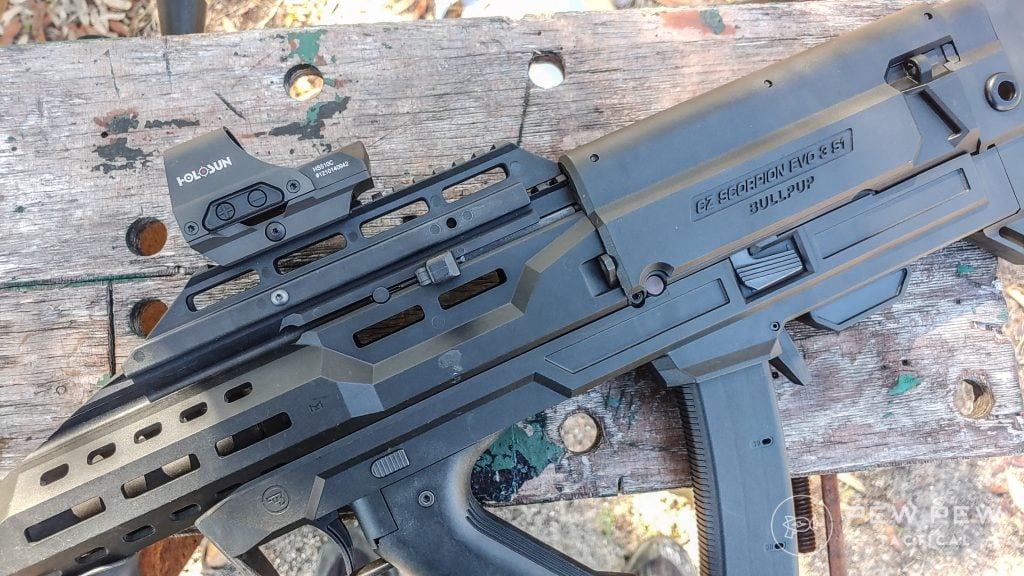 Reticle clarity also varies a bit.
The single dot will appear a bit star-like and washed-out with brightness dialed into the daylight setting. But, when you swap to the circle/dot or the ring, the reticle stays consistently clear.
Even the 2 MOA dot in the center of the circle appears sharper when it is in the circle.
Overall, the reticle looks acceptable and clear.
I prefer the versatility of the 65 MOA circle and dot design and used that reticle for the vast majority of my testing.
Shooting with the HS510C
Why waste time and ammo just shooting when I can do some training?
I decided to run a few of my favorite drills to test the HS510C as an optic.
These timed drills all required transitions.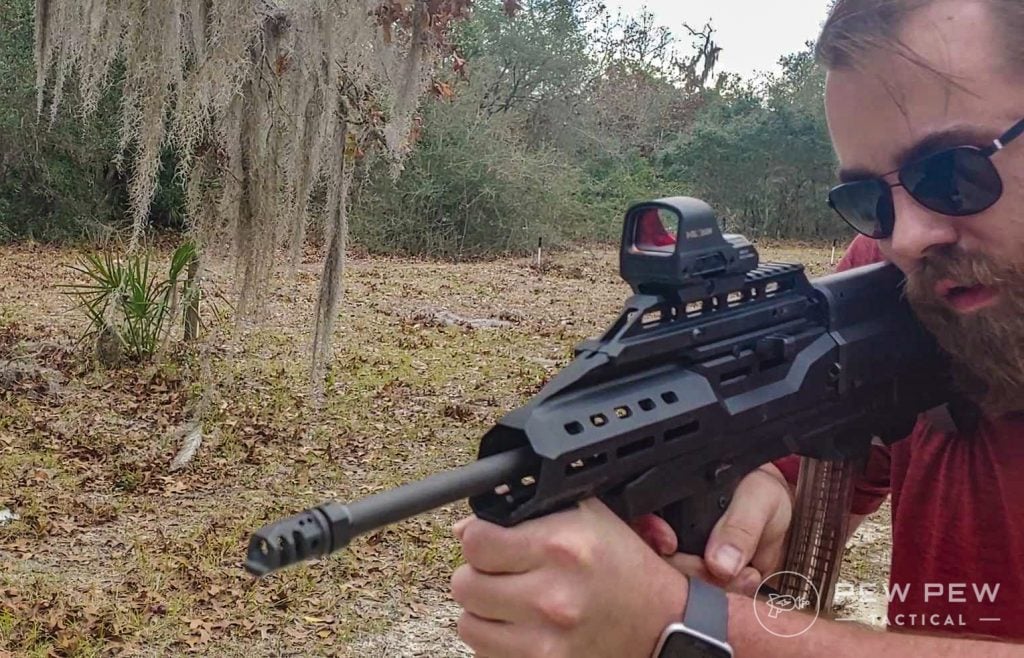 Ask yourself, what does a red dot do best?
Red dots make it easier to shoot faster, shoot accurately, and transition quicker. So, I found drills that tested all three.
Failure to Stop Drill
My Failure to Stop Drill proved blistering fast with a consistent 1.5 second time. A failure to stop drill uses the classic two to the chest and one to the head.
I stood at 10-yards and ran this drill as more or less a warmup with an HS510C equipped CZ Scorpion.
The key to my speed was, without a doubt, the big 65 MOA reticle grabbing my eye by the optical nerve and forcing me to find it.
With a target focus, the dot appeared in my vision. I filled the big circle with the target and let loose with my two rounds of 9mm.
Then I placed that well-aimed headshot using the bottom stadia of the reticle.
As we mentioned before, the reticle is very versatile and helps compensate for mechanical offset when shooting at a close range.
At close ranges, the Holosun 510C rocks!
I can be fast and precise, and that's the point of shooting the Failure to Stop Drill.
It tests your ability to shoot fast, then all of a sudden shoot slow and accurately.
The circle and dot reticle allow you to do both with ease.
El Presidente
El Presidente is traditionally a pistol drill.
You need three targets so you can fire two rounds into the vital zone of each target, reload, and fire two shots into each target once more.
The par time for passing — 10 seconds with all hits. I started from the low ready at 20-yards. At that always surprising beep, I chased that time.
Locking onto my target, the reticle found its way to my vision, and then a sudden cacophony of gunshots began its song. My song only paused for a quick reload before continuing again.
My first round was a hair over 8 seconds, which I found slow and unacceptable.
I did it again and shaved a second off. If ammo wasn't so scant, I'd chase it down to 6 seconds.
Transitioning between targets was rapid and smooth, and transitions are the key to success with the El Presidente drill.
The HS510C made it easy to keep the big 65 MOA reticle in my field of view as I transitioned from target to target.
Again, when it came to shooting rapidly, the big circle made it easy. I filled up the reticle with a fictional bad guy and played him the song of my people.
VTAC 1-5
VTAC's 1-5 drill is another three-target drill that requires 15-rounds to complete.
You start by shooting one round in target A, two rounds in target B, three rounds into target C, and then transition back to target B and fire four rounds before finishing on target A with five rounds.
It's a challenging drill that requires target transition and rapid-fire. It keeps you thinking.
Once more, I found the HS510C to be a completely competent optic at close range. I got nice and close for this drill and went at it at 10-yards.
VTAC's 1-5 drill is a full one, and a good score is below 3.5 seconds.
My first run came in a hair under 5 seconds. That's not exactly acceptable, so I tried to push that score down a bit.
I tried it two more times and sunk that time to 4.2 seconds. Still not great, but now I have a goal to chase.
By the Numbers
Ergonomics: 4/5
The HS510C feels rather light and compact. Mounting is also easy with the QD design.
I popped a point off its score for two reasons. First, the buttons lack an ambidextrous design. Second, I wish the buttons were a little bigger. (Aimpoint's Acro uses bigger buttons, and it's a much smaller optic.)
Reliability: 5/5
No flickers, flutters, or failures in the hundreds of rounds I put downrange. The optic also soaked up a few drops without losing zero or failing.
By drops, I meant both intentional and also that I'm clumsy and dropped it and my Scorpion on my porch.
Looks: 4/5
I don't have a lot of issues with the greyish color. It is very sleek and nice looking.
But I knocked a point off because of that giant logo they slap across the side. I hate this on guns, and I hate it on optics too.
Bang for Your Buck: 5/5
The HS510C makes every other budget manufacturer play catchup. This optic offers a quite affordable price, around $310.
That's a little bit more than something like a Vortex or some Sigs, but well below Trijicon, EOTech, and Aimpoint. That price includes the use of titanium construction, which none of the big boys use (that I know of).
Most Worth It Holographic Sight
309
at OpticsPlanet
Prices accurate at time of writing
Prices accurate at time of writing
Overall: 4.5/5
Capable, clear, well made, and easy to use best describe the Holosun 510C optic. It performs on par with much more expensive options, offering a clear lens and various reticle options. You get plenty of versatility for various firearms.
While I find the Holosun works best on a rifle — it's not locked to that platform by any means, though.
Conclusion
Holosun's 510C brings a lightweight design, mounts with ease, and uses two power sources…which ups the reliability under duress score.
Add in the use of titanium and a low price, and the HS510C makes for one of the best reflex sight options.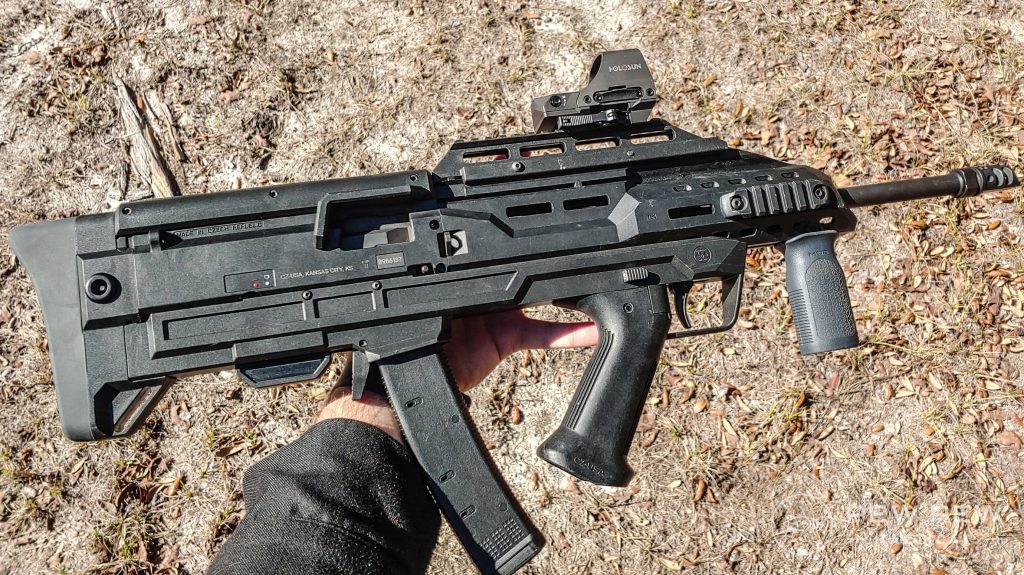 Simply put, it's not just a good budget optic — it's a good optic altogether.
I'm beginning to see why Holosun is gaining so much popularity in the industry. Good optics at good prices are hard to beat.
Most Worth It Holographic Sight
309
at OpticsPlanet
Prices accurate at time of writing
Prices accurate at time of writing
What do you fine folks think about Holosun's 510C? Love it? Hate it? Let us know in the comments below. Looking to buy a red dot, but on a budget? Check out our roundup of the Best Red Dots Under $200.