Palmetto State Armory (PSA) has some great bang-for-the-buck firearms and parts.
We've hands-on tested almost all of their stuff in both written and video formats.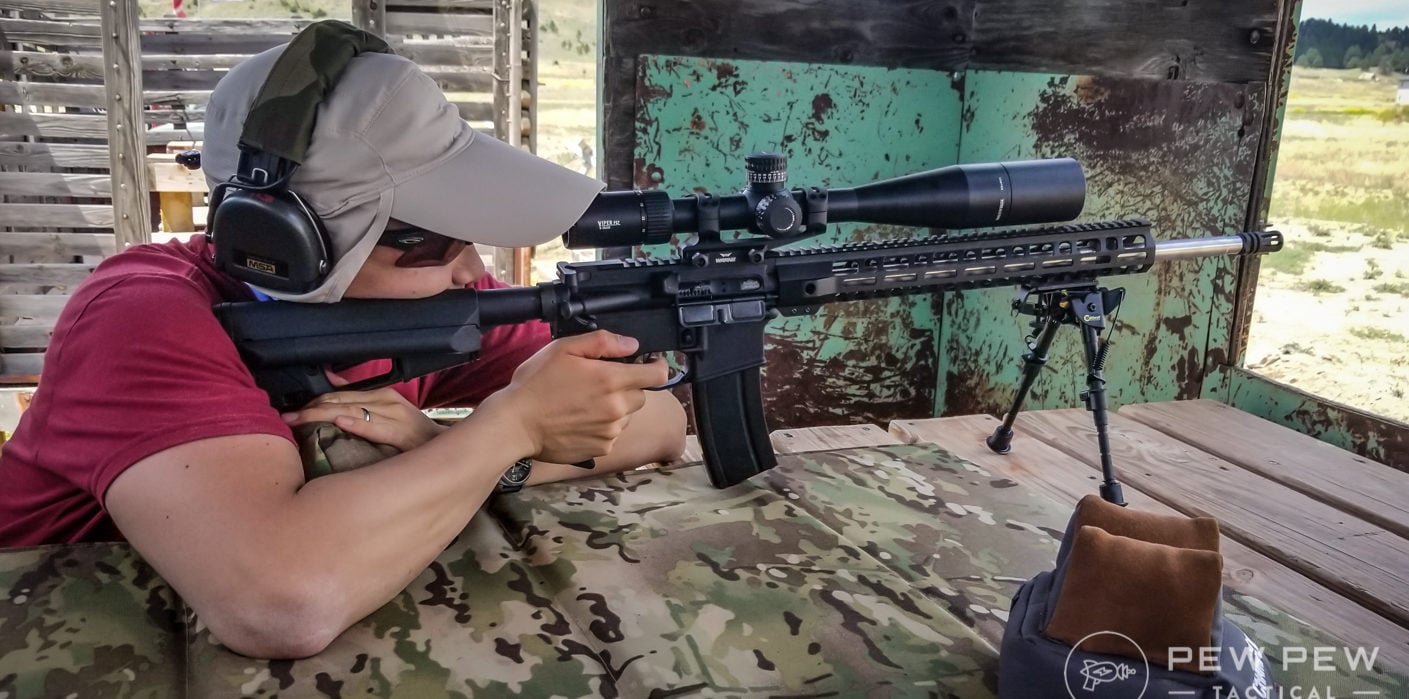 So let's get on with it!
AR-15 (5.56)
This is their bread and butter line.
Almost all the parts in their AR-15s are made in-house. And that's how they make their guns so affordable.
We hands-on test three of their standard AR-15 uppers. Check it out since we go over the best combo of upper and lower.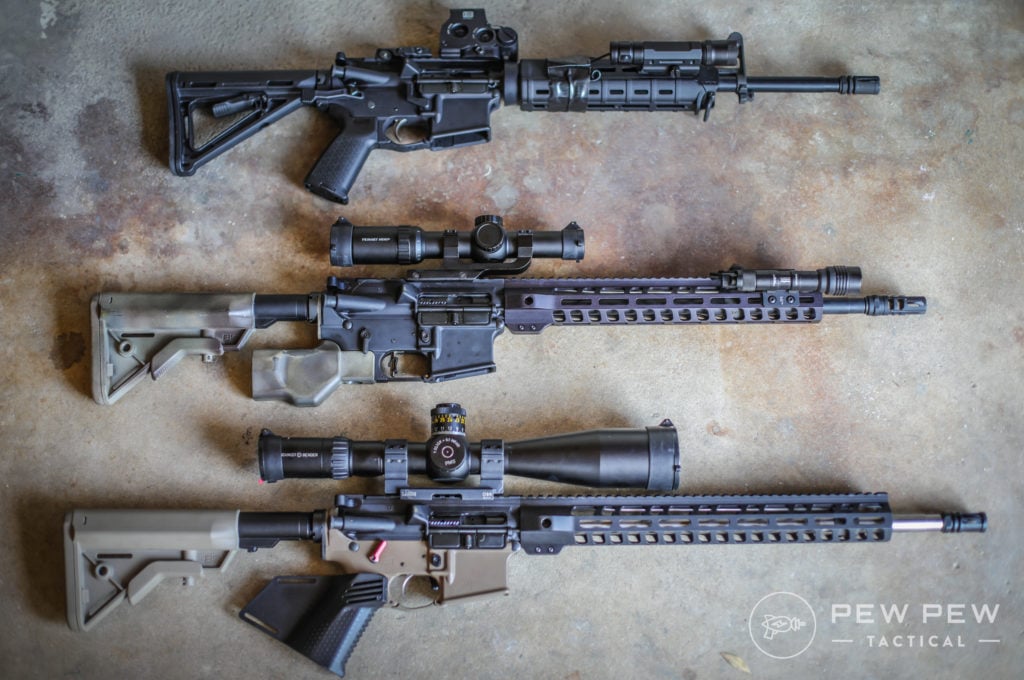 Our favorite was the 16″ freefloat mid-length version (middle).
The A2 front sight post (top) was a little front-heavy and less accurate. While the .223 Wylde version (bottom) disappointed in the accuracy department.
It's still one of my favorite uppers and I continue to use it for testing of other stuff.
Plus…we also have a full YouTube review of it now!
What's your take on PSA-15s?
And one more time…since it's their most popular product…our Review of PSA AR-15s.
AR-15 Pistols
These are the sub-16″ uppers for use in AR-15 pistol or SBR (short barreled rifle) builds.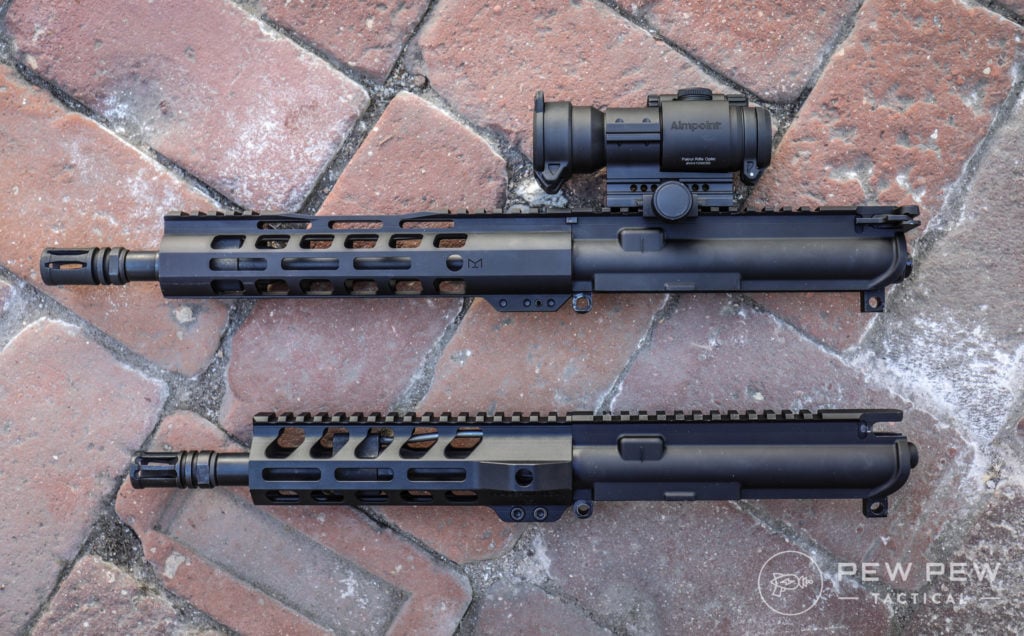 We won't dive into the legalities right here…but you can check them out in our Best AR-15 Pistol Braces article.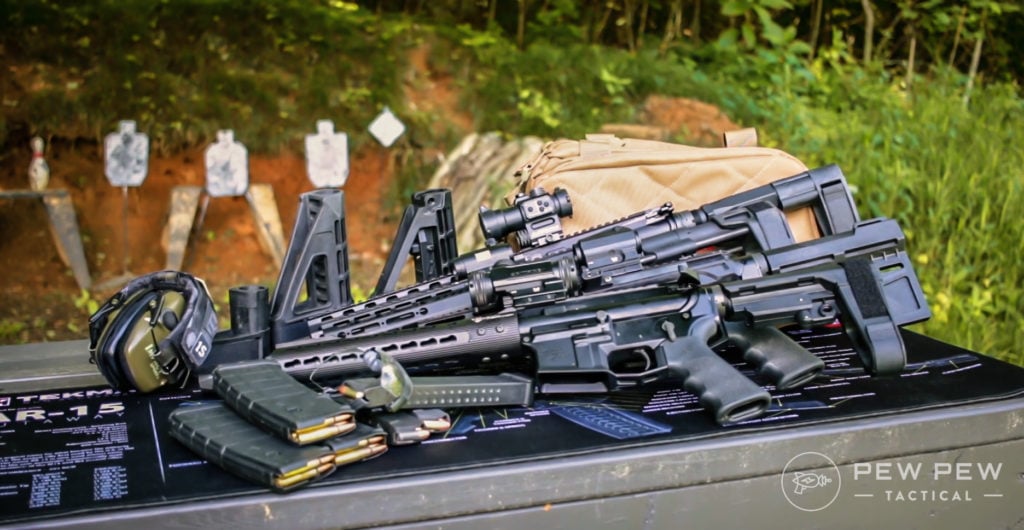 My favorite PSA upper was the 10.5″ version since it felt like the best balance between recoil and reliability.
Both lengths were 100% flawless but usually longer gas systems leads to more reliability.
And oh yes…we also have a full YouTube review.
JAKL (5.56 NATO)
The JAKL made its debut at SHOT Show 2020 as a 7.5-inch barreled, .300 BLK AR pistol with a suggestion that other models would follow.
Two years later, the gun officially hit the market with a 10.5-inch barrel, chambered in 5.56mm.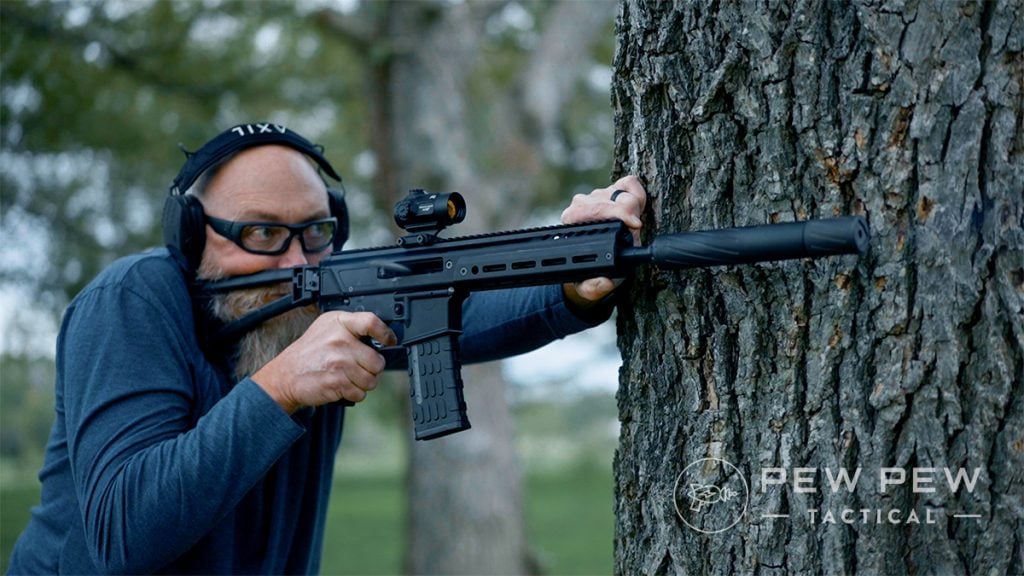 We tested the PSA JAKL in late 2022, and during our time with it, it seemed to be a diverse firearm that could easily fit many roles. It proved reliable, accurate, and configurable.
If you want to tuck away some extra firepower, the JAKL is a decent option. With the 10.5-inch barrel and folding stock, you still get a 5.56mm gun that can feed on 30-round (or bigger) magazines.
For more on the JAKL read the review here or watch the video below.
AR-15 (.224 Valkyrie)
The Valkyrie was the "it" cartridge recently for being able to stay supersonic past 1000 yards…but does it stack up?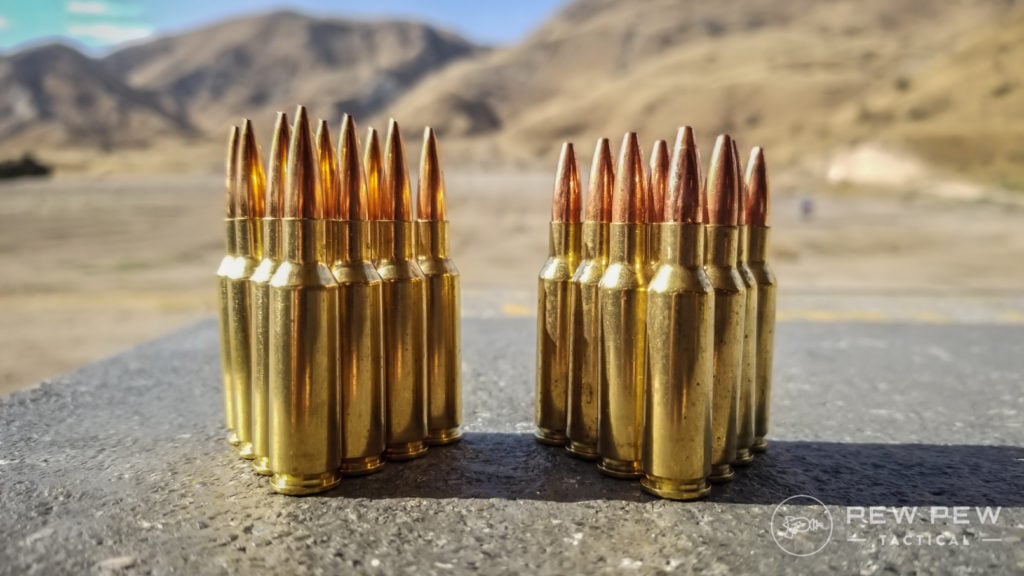 We put PSA's .224 Valkyrie upper to the test in our full review.
I think you know the drill…full YouTube as well.
AR-9 (9mm)
Wooo, an affordable PCC (pistol caliber carbine) from PSA.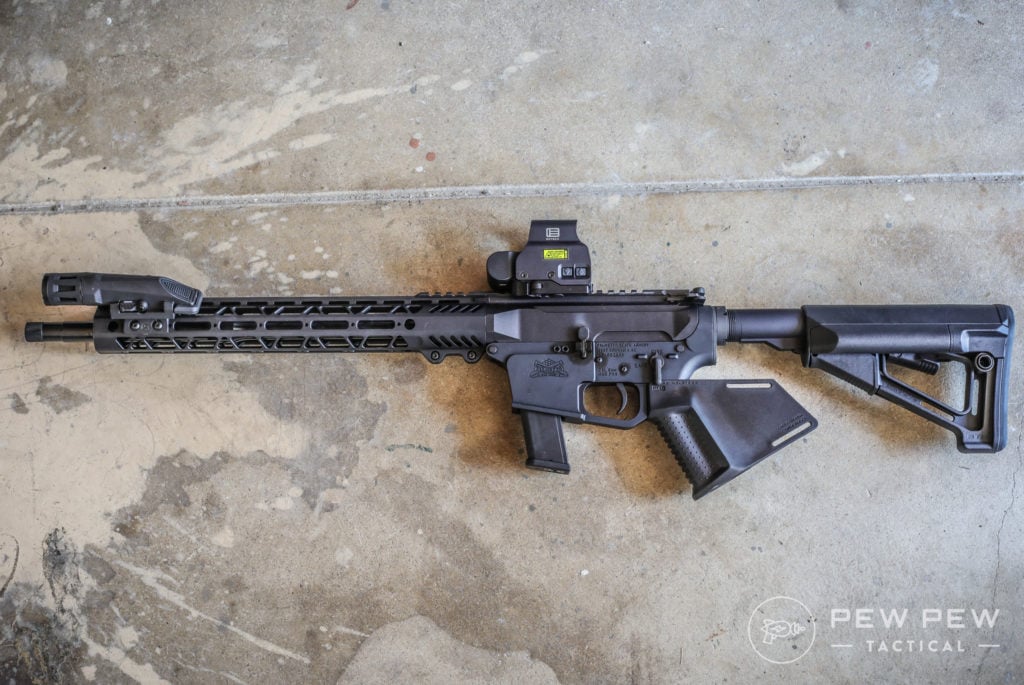 Pardon my grip fin…but even with it the PX-9 kicked butt.
It's my go-to in PCC competitions…
And my favorite pick for affordable 9mm AR-15 platform pistol caliber carbines.
And you'll probably want a lower too.
Full review here where I go over tons more stuff.
AR-V (9mm)
With a decent MSRP and build kits available, PSA's 10.5-inch AR-V is a pretty cool 9mm PCC platform.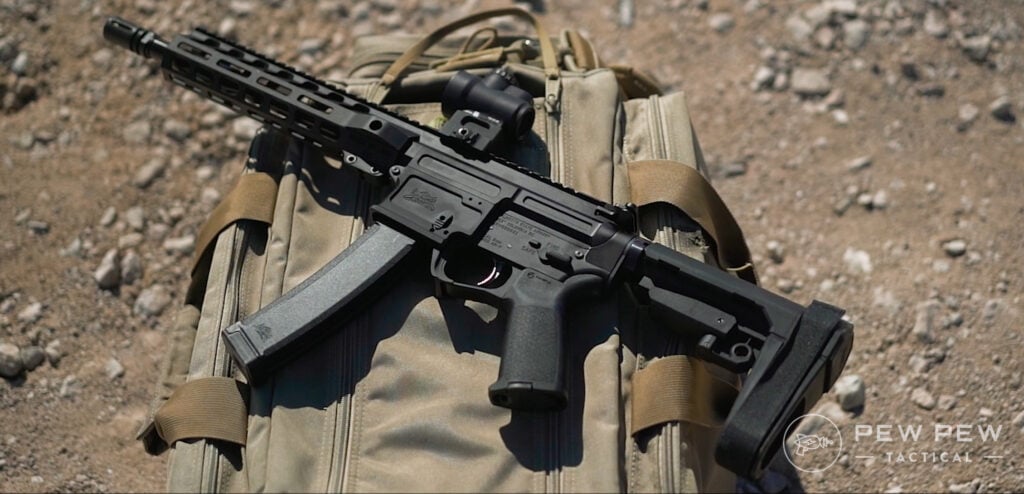 Boasting a nice PCC design, the AR-V's unique ability to pair with PSA's proprietary AK-V/AR-V mags or CZ Scorpion EV mags give it a leg up.
See our full review here!
AR-10 (.308)
The big bro to the AR-15.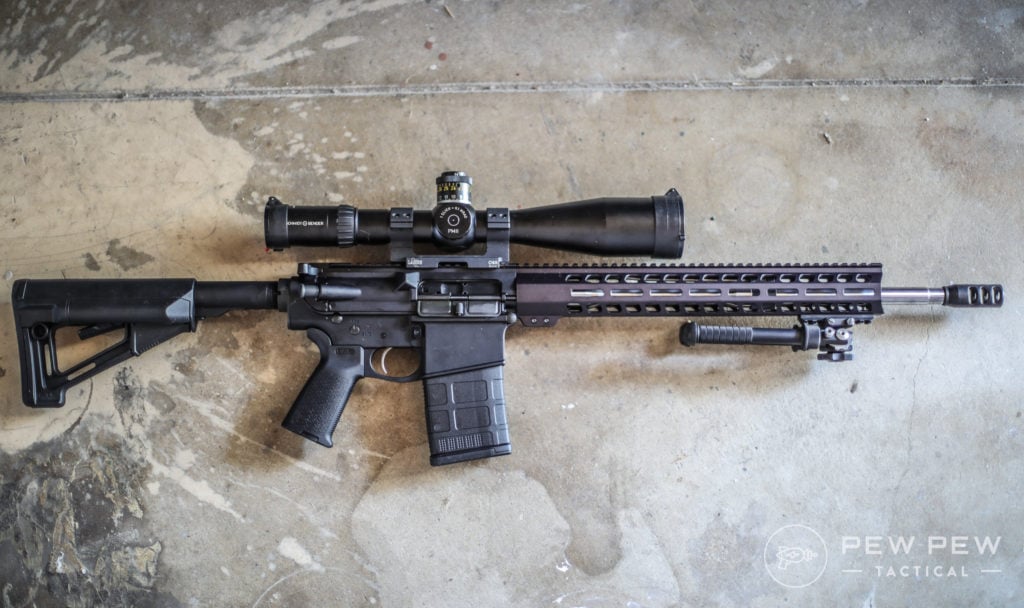 We cover the most popular .308 AR-10 version.
Complete with accuracy groups and shots out to 600 yards EASY.
Of course…another full YouTube as well…
AR-10 (6.5 Creedmoor)
Another nice long-range caliber in PSA's AR-10 platform…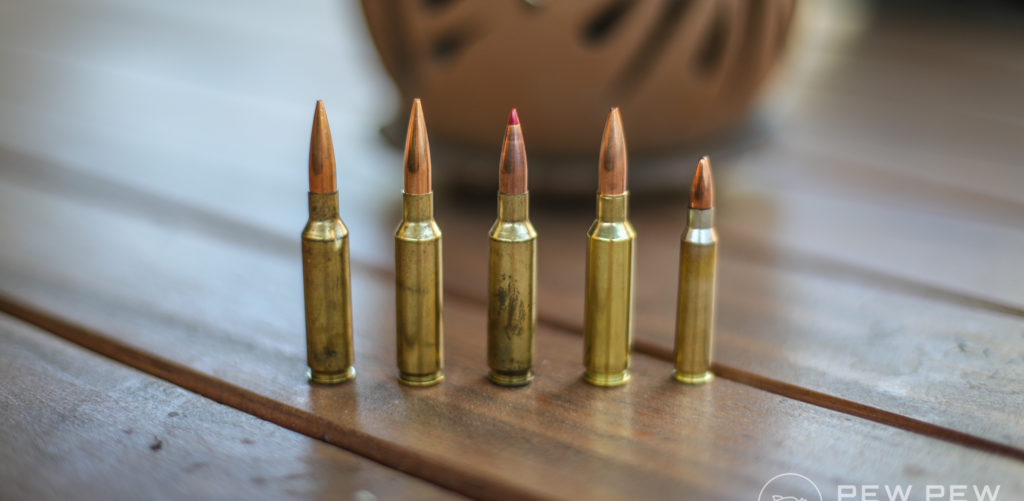 6.5 Creedmoor is supposed to stay supersonic out to 1200 yards…and I got to stretch it out (and get hits) at 1000 yards.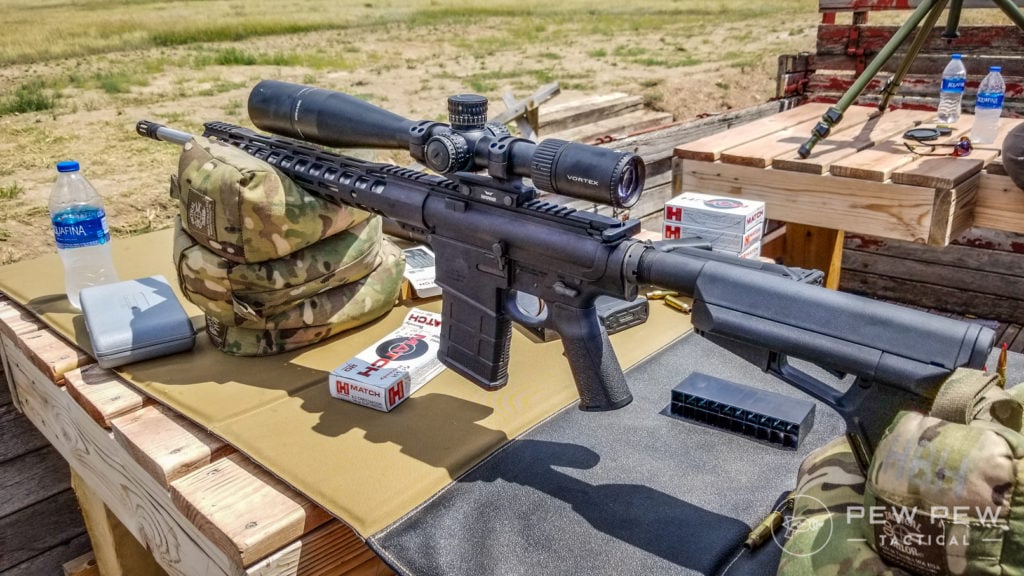 AR-15 (.22LR)
Let's bring it back a little in terms of caliber…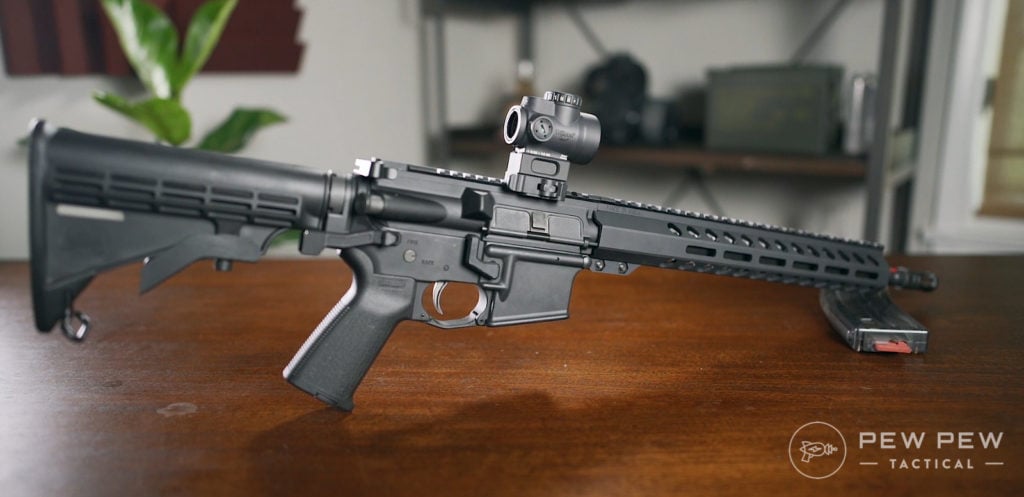 PSA has a great .22LR upper that works on almost all mil-spec AR-15 lowers.
Full review here..and YouTube video!
Or just get it right now…
AK-47 (PSAK-47 GF3)
Clever name…and now you can get your hands on an affordable All-American made AK.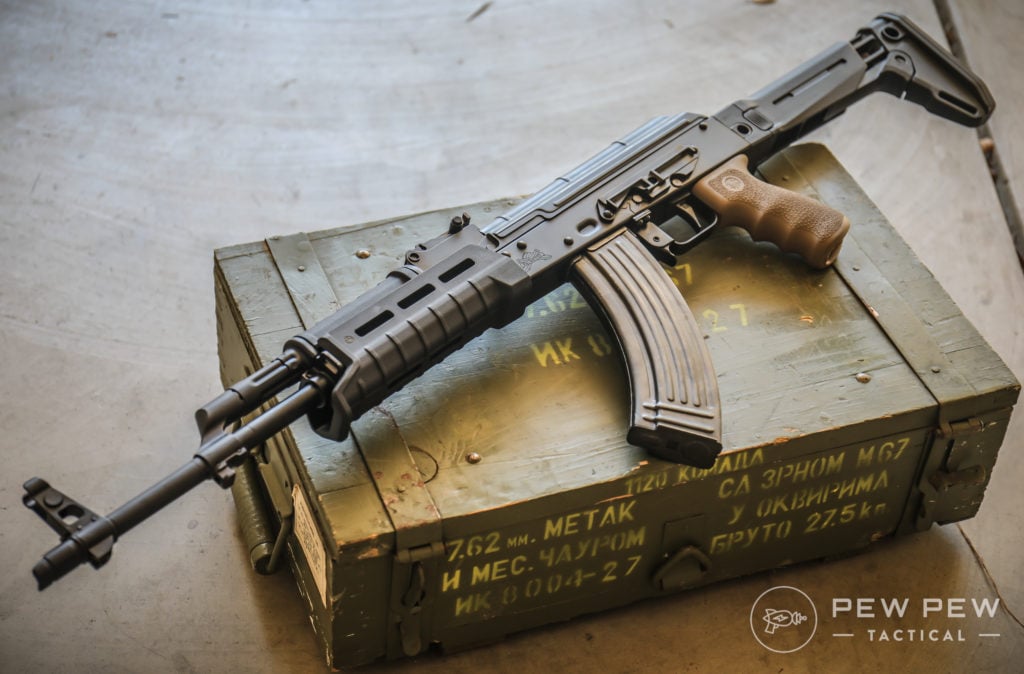 It's been 100% reliable from the start…and we've shot everything from steel-case to laquer-coated and brass rounds.
Check out our complete review right here.
And full YouTube:
AK-V (9mm)
Let's go a little more niche…with PSA's version of the Russian special forces favorite Vityaz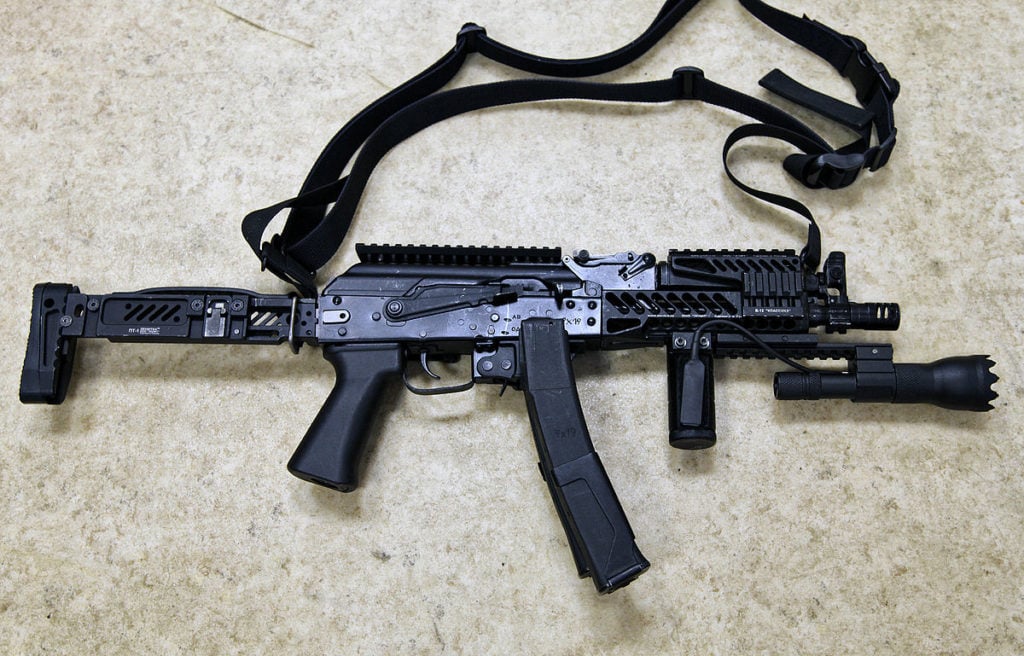 But now in another All-American form…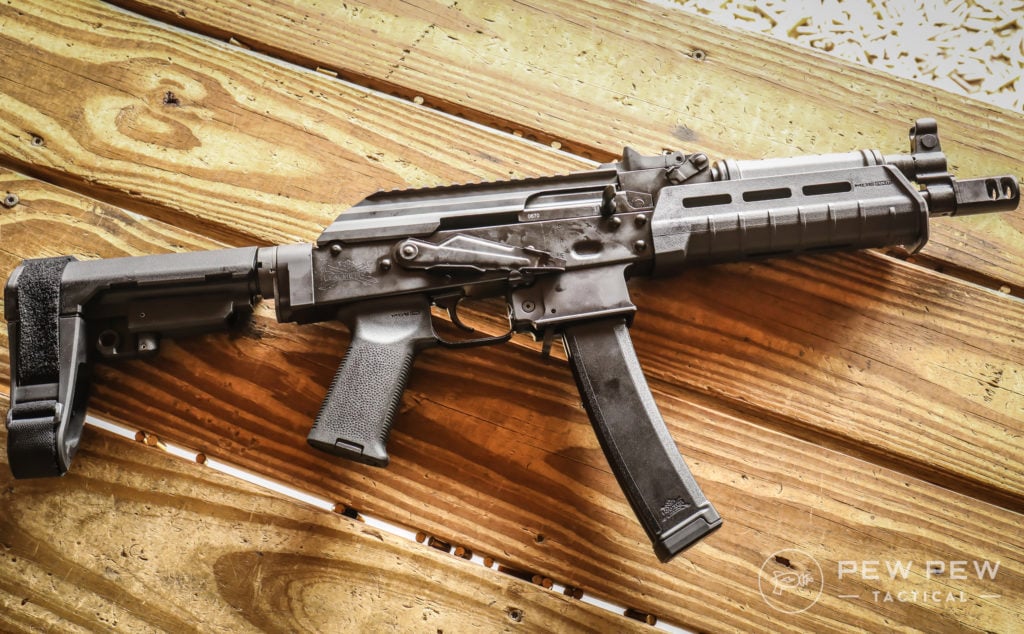 It's hard to keep in stock…
But here is our full review. Spoiler…it's really fun.
AK-P GF3 (7.62x39mm)
Our latest review is of the AK-P GF3…effectively PSA's AK pistol in good ole 7.62x39mm.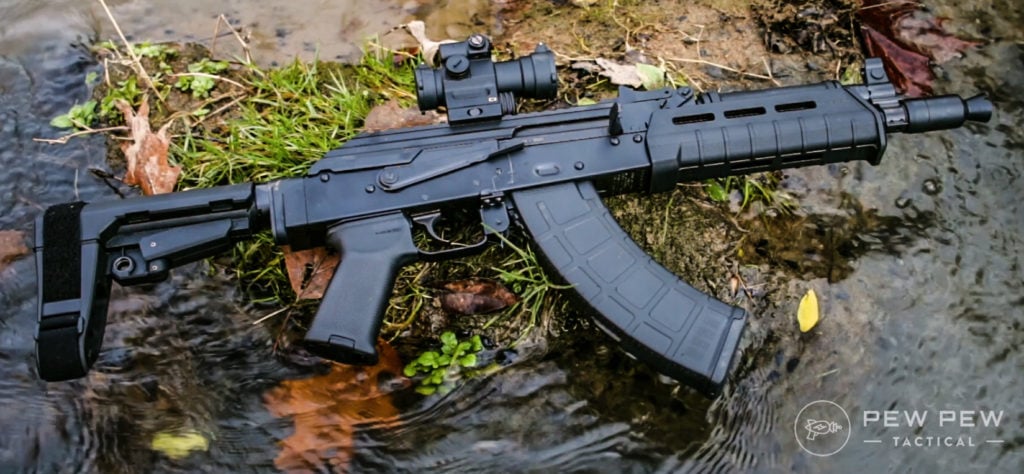 A nice truck or tractor gun with a super maneuverable 10.5″ barrel and SB Tactical stock that makes it a pistol.
Check out the full review here.
And full video from Johnny here:
AK-74 (5.45x39mm)
For those looking to skirt the traditional 7.62 models, PSA offers the AK-74 chambered in 5.45x39mm.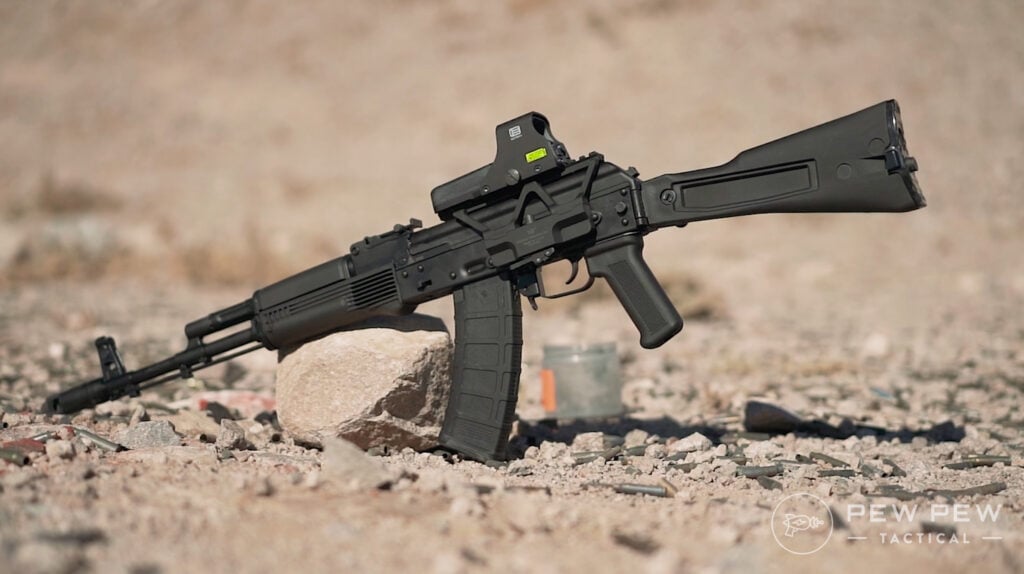 With a 16-inch PSA AK barrel and side folding stock, the AK-74 offers a peek int the 5.45 world but with a very affordable entrance fee.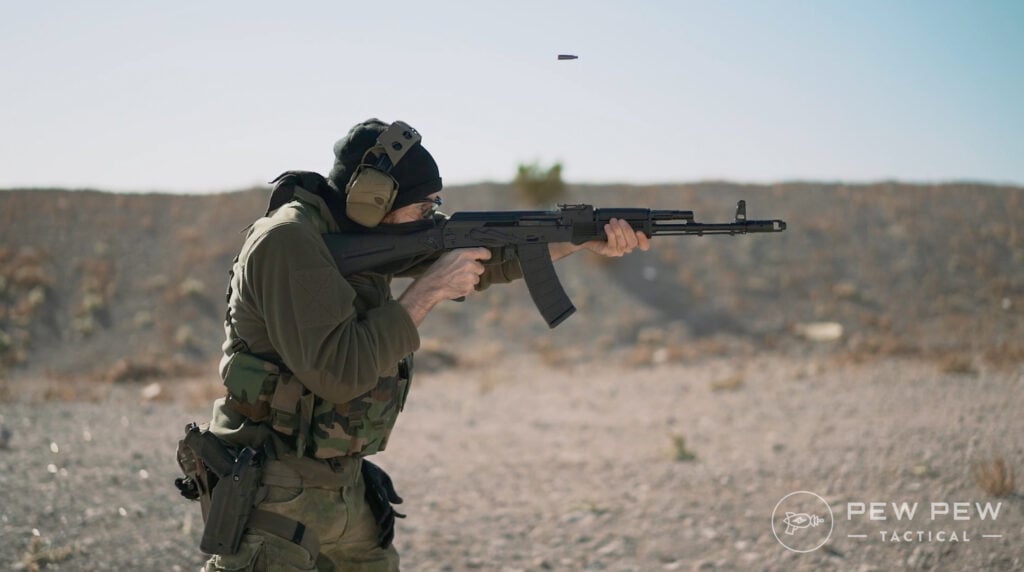 Check out our full review here!
And full YouTube:
AK-103 (7.62x39mm)
The AK-103 isn't quite a 1:1 clone of the classic AK-100 series, but it's got some sweet AK-74M style upgrades.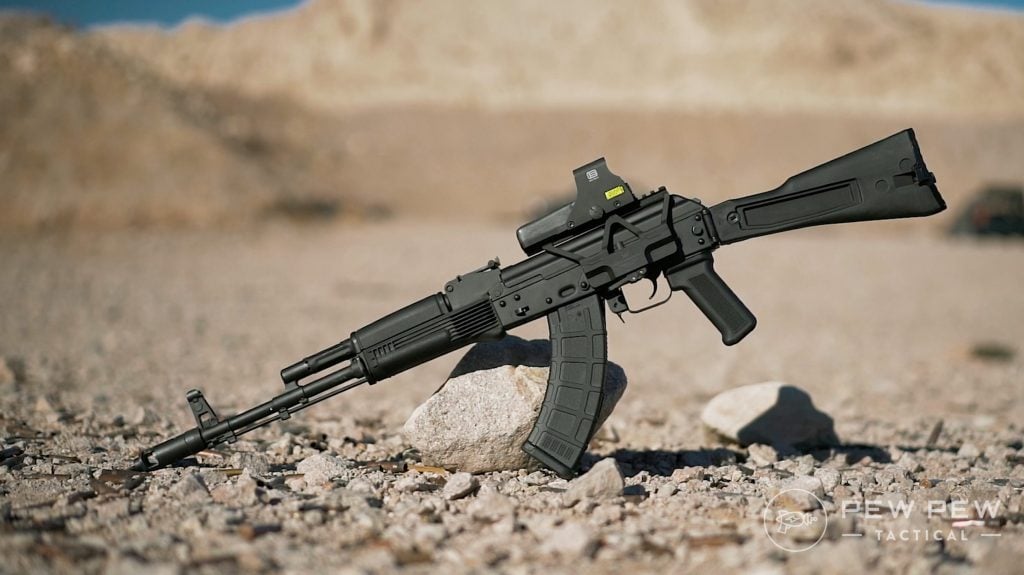 Featuring a sweet muzzle brake on a 16-inch barrel, it really knocks the recoil out of that 7.62 round.
All in all, the AK-103 is a fun gun to take to that range.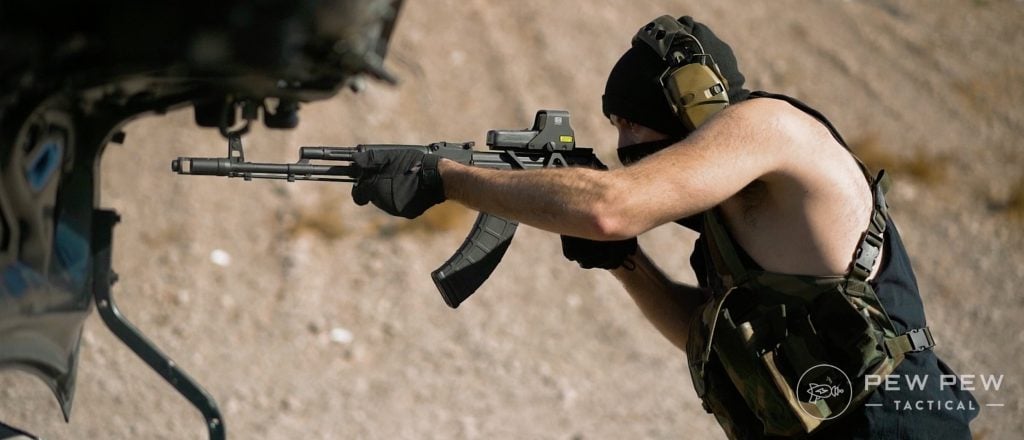 Check out the AK-10 in action in our full review here.
And full YouTube video:
AK-104 (7.62x39mm)
PSA's AK-104 is based on the aforementioned AK-103.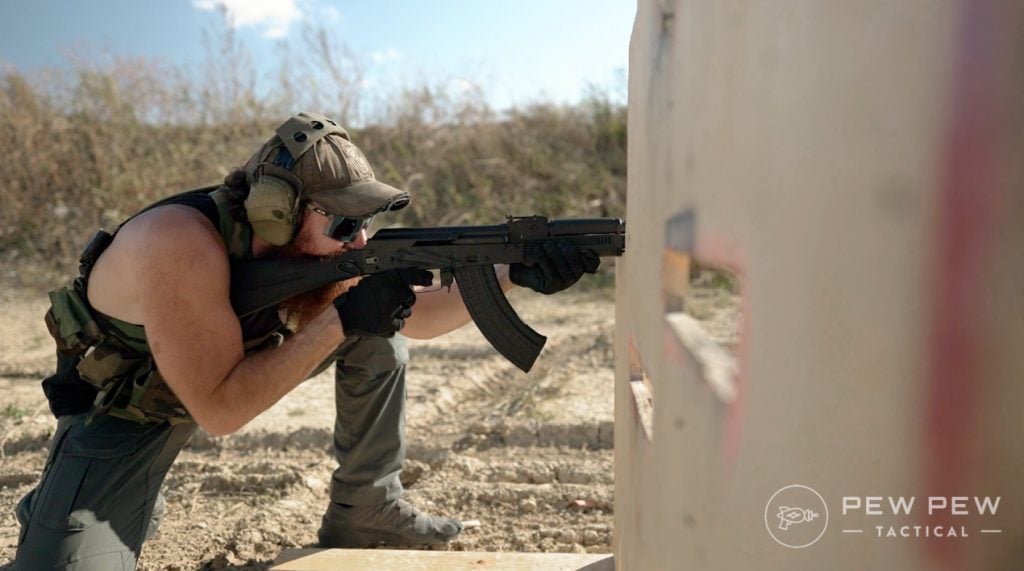 But this model sports a booster — an elongated, pinned, and welded device that sits on the barrel.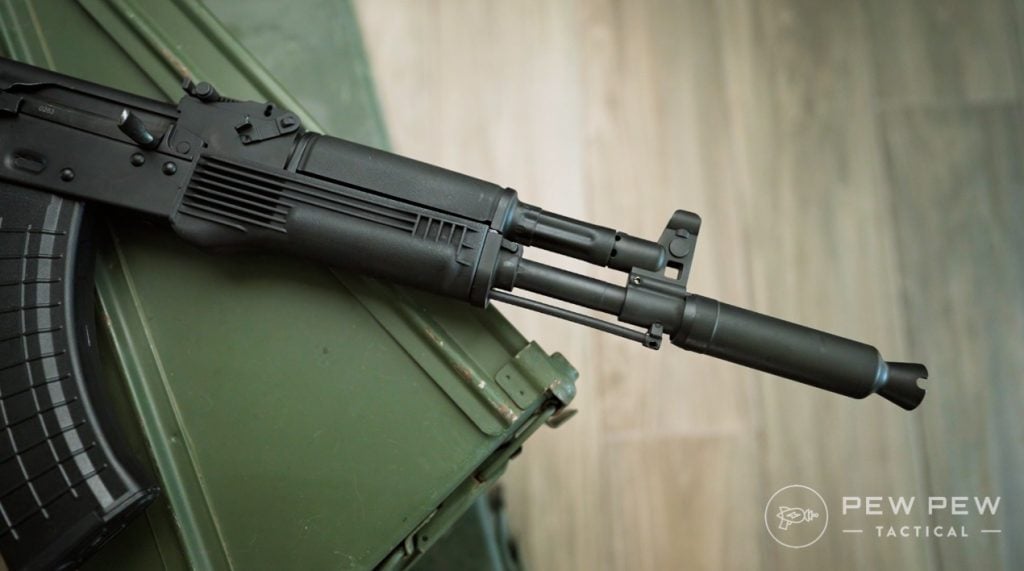 The PSA AK-104 brings a dovetail rail for mounting optics and a nifty side-folding polymer stock.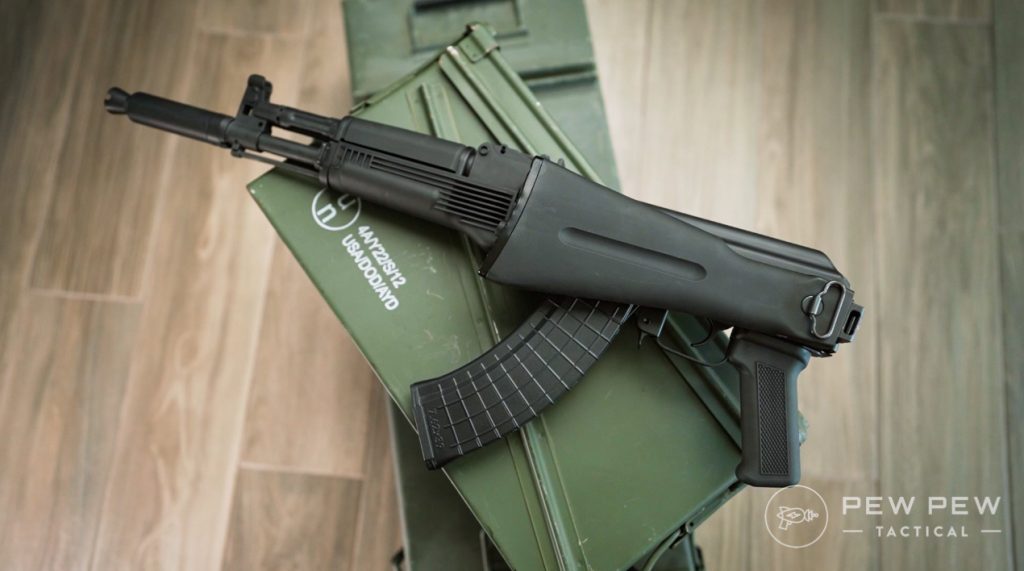 Though we had a minor hiccup while testing (you can read more about that in our full review) it was a blast to shoot overall!
Final Thoughts
Phew…that's a lot of PSA guns. We'll keep updating this as we review more!
In the meantime…check out Best AR-15 Optics and also our favorite Ammo Picks for Popular Calibers.