Do you love the AK-47 but wish it were shorter?
Man, are you in luck!
An American made AK that made with forged parts is hard enough to find, but finding one that is ALSO a pistol is almost impossible — until now.
The Palmetto State Armory AK-P is forged, American made, affordable, and a complete blast. We've looked at the full-sized rifle version of the PSAK-47 before, but now we're looking at its little brother the PSA AK-P Gen 3.
Johnny has a great video review of the AK-P for us also, take a look! If you like the channel, subscribe for more content every week.
Table of Contents
Loading...
Who, What, Why
If you don't know who Palmetto State Armory is, you should by now. Based in South Carolina PSA is primarily focused on the AR platform. From budget-minded AR-15s to AR-10s plus a retailer for a LOT of firearm gear, they're one of the best places to shop for anything modern firearms related.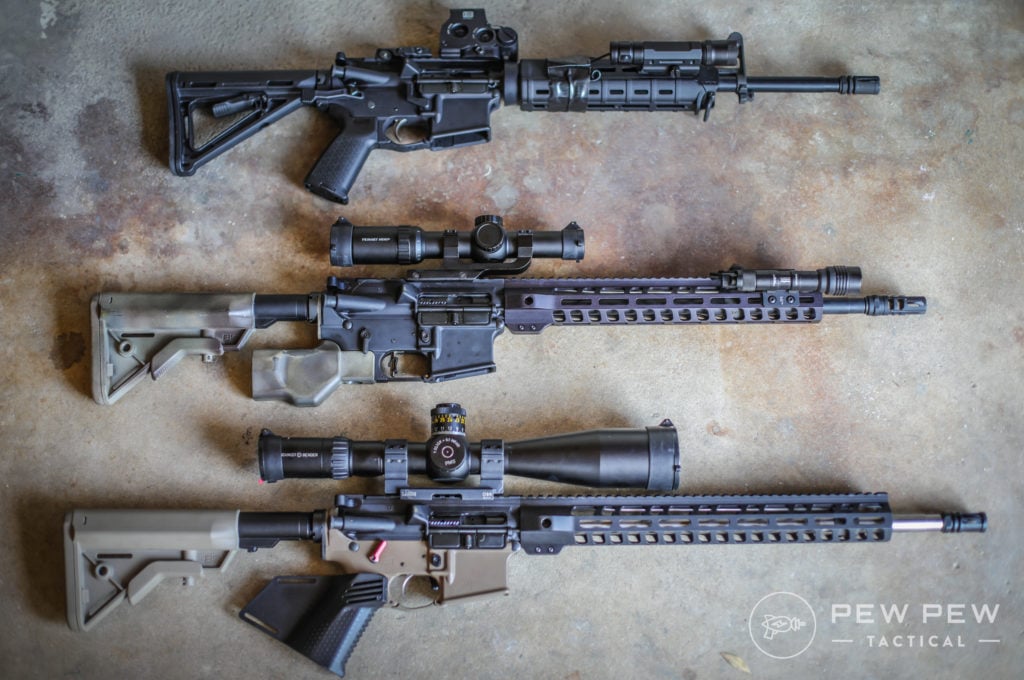 They also are a massive manufacture of their own lines of AR-15, AR-10, AR-9, AK-47, and odd-ball guns like the AK-V and KS-47.
We've tested just about every rifle and pistol they produce and have always been impressed with the quality and price they offer. But their entry into the AK platform is in a whole new league.
The Sad State Of American AK-47s
Americans have been trying to produce a decent AK for longer than most of us at PPT have been alive. But competing with state founded factories overseas is a tall order when you're looking at a milled and hammer forged rifle that has been greatly misunderstood in the West.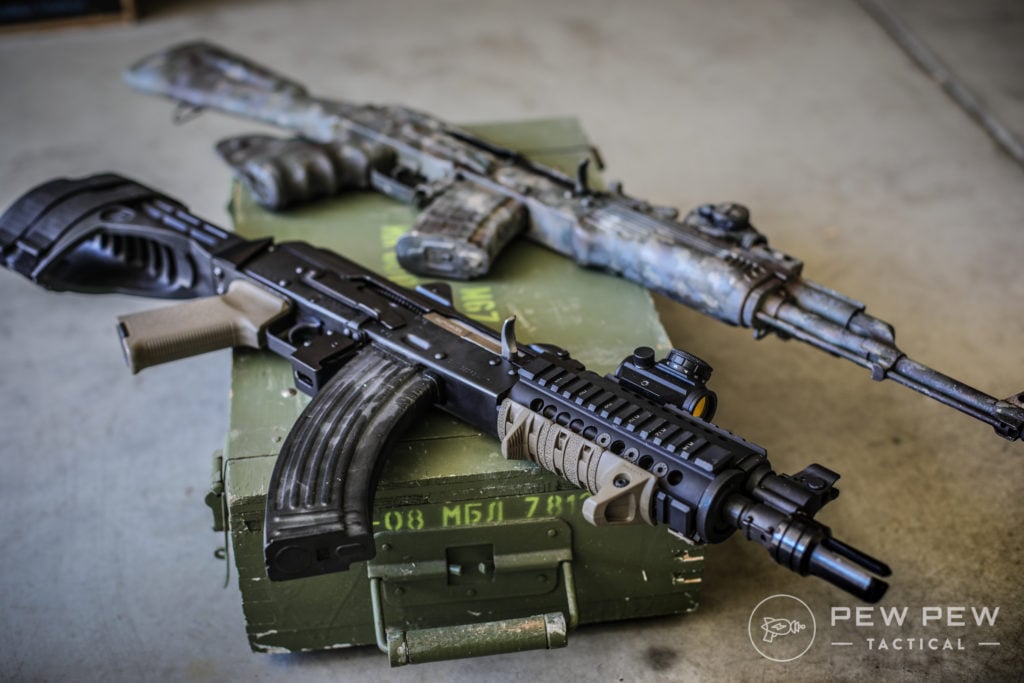 Until the last few years or so, there really hasn't been an American produced AK that has been worth anyone's hard-earned dollars. From quality control to using the wrong caliber barrels to headspace issues, the story of American made AKs is a sad one, to say the least.
Palmetto State Armory set out to change that.
Already a powerhouse in the AR world, PSA turned their eyes toward the AK platform knowing they could do better because they could control the manufacturing at every step along the way.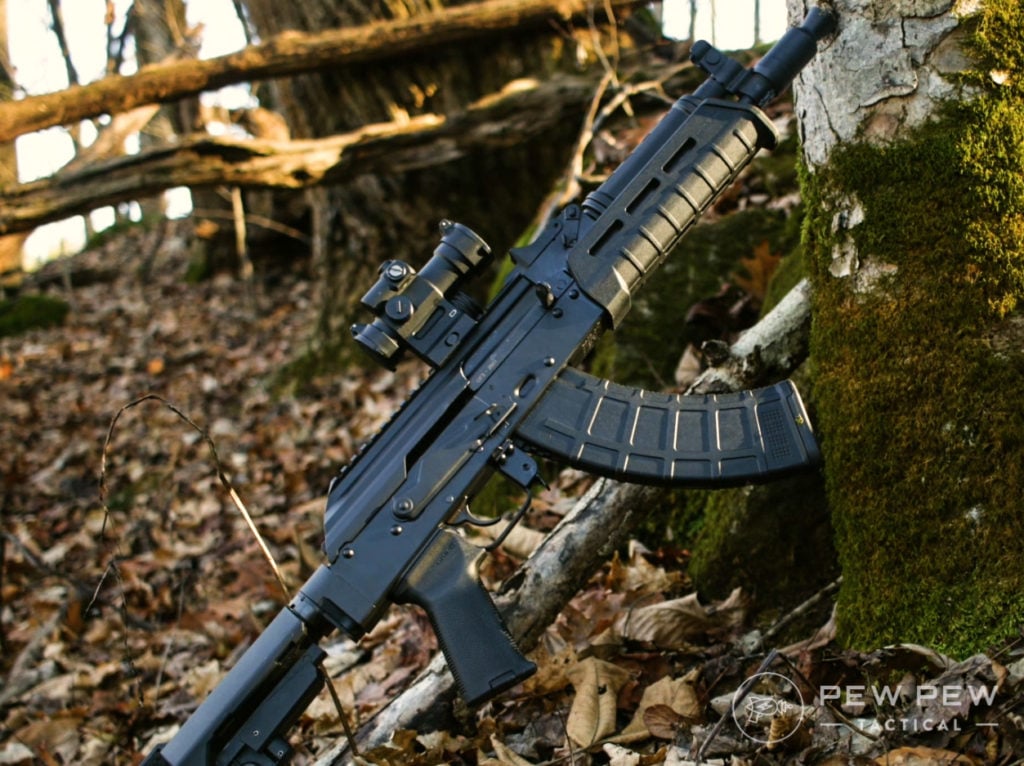 Like any new endeavor, it took a moment for PSA to find their sea legs. But with the introduction of the Gen 2 PSAK-47, they had something impressive! We tested and reviewed that generation of AK and loved it, it passed our tests and the long endurance tests of others with flying colors.
But there was something missing… Forged Parts.
Hammer Time
Hammer forged parts are a major component of the original AK design. It is also expensive. The start-up costs and production costs of making things like forged bolts, trunnions, and more is not cheap. But if you want to build the best AK you can then it requires forged parts.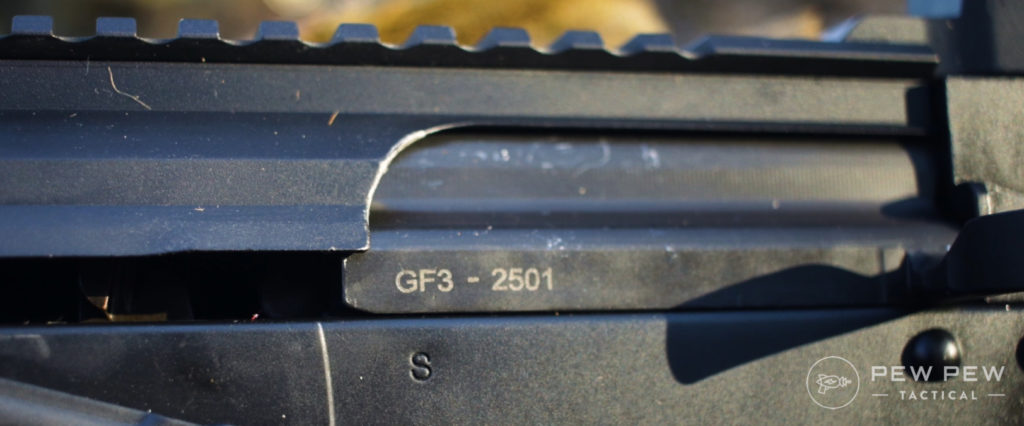 PSA stepped up to the plate with their Gen 3 PSAK-47 introducing the use of a cold hammer forged barrel, hammer forged bolt and bolt carrier, and hammer forged trunnion.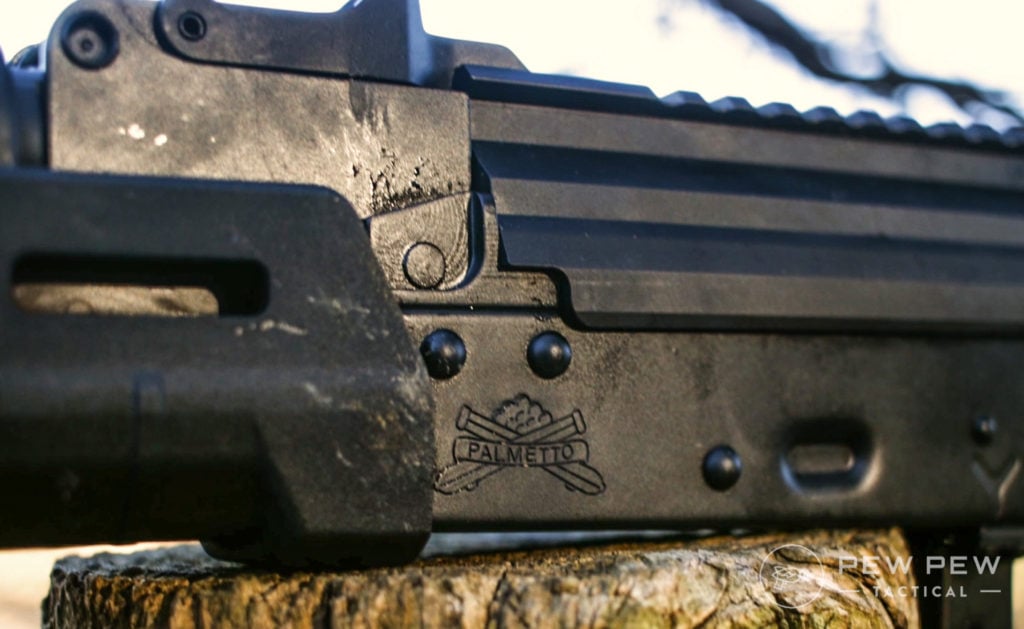 And that is why this is the best American produced AK on the market, period.
Range Report
The AK-P is exactly what you would expect it to be, the PSAK-47 but… smaller.
It's louder, more flame thrower-y, and compact. The recoil is more stout and the concussion a little oppressive.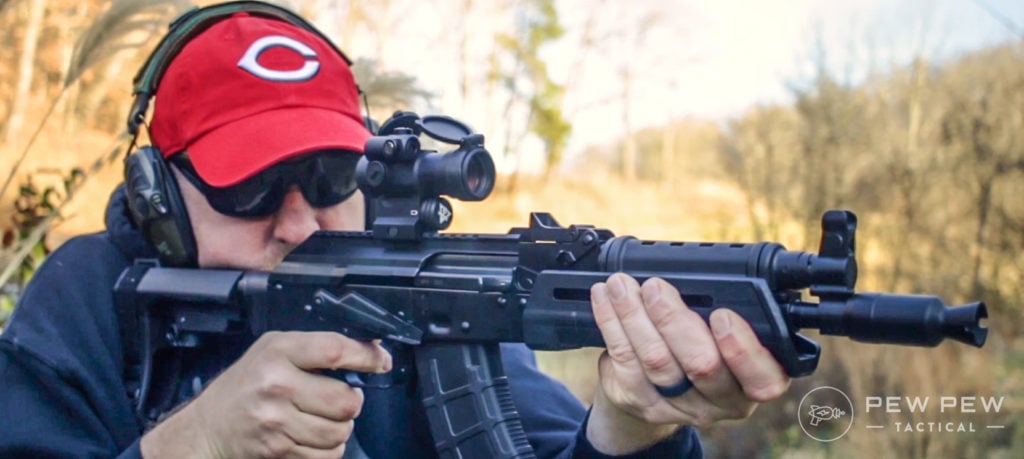 But that's what makes it awesome.
Brace
Our rifle had the SBA3 brace on it and pairs great with the AK-P for being a solid brace that does exactly what you need it to do.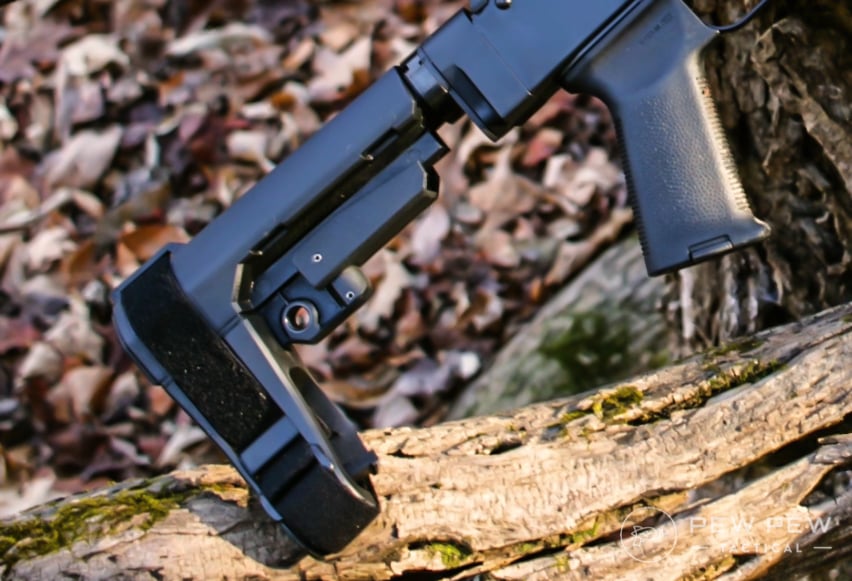 That's why it's on our list of Best AR and AK Pistol Braces!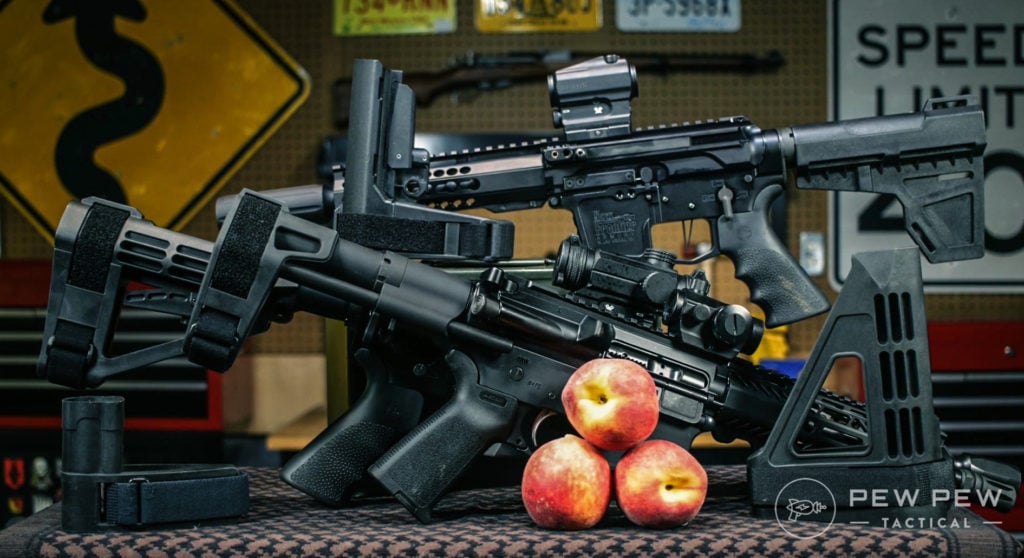 Muzzle & Forend
It also comes with a Mini Krink muzzle brake that really helps tame the recoil and blast of the short-barreled 7.62×39 AK.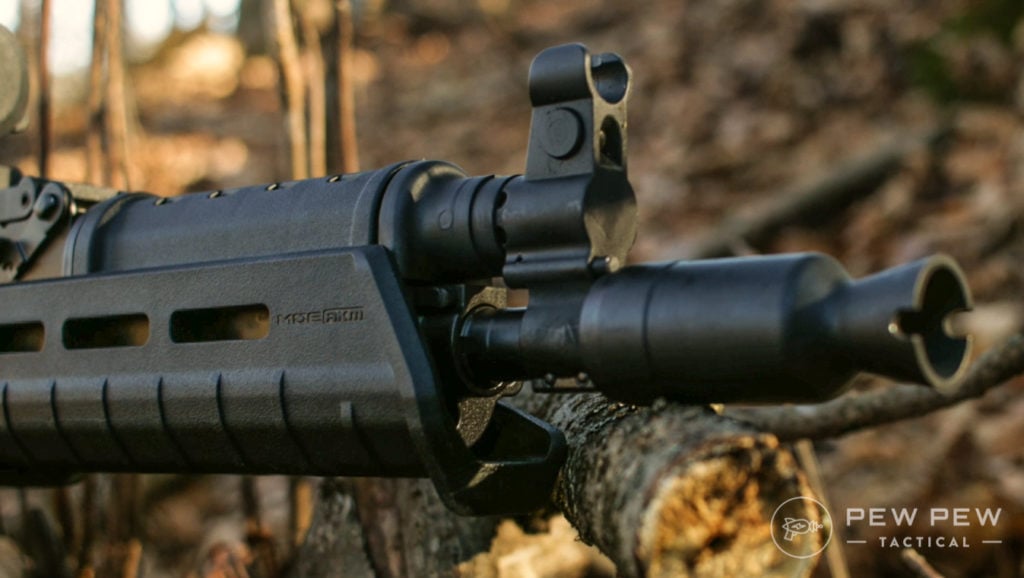 It is accurate enough. This isn't designed to drill targets at 1,000 yards, but it is more than good enough for minute-of-man out to at least 250. That is great for a pistol AK!
The forend is the Magpul MOE line. We've used this forend on a lot of AKs in the past and like it for several reasons, the heat protection is great, it gives you M-LOK to mount accessories on, and it feels good in the end.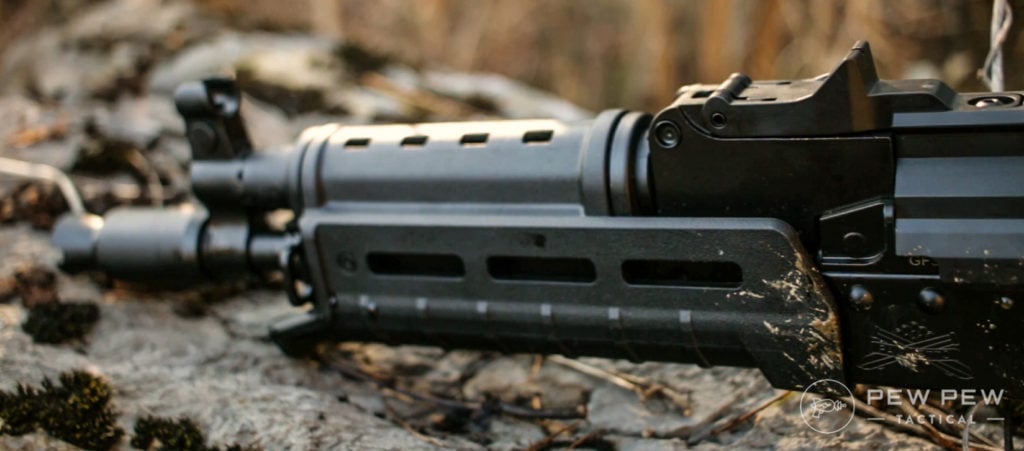 But it does lack on the aesthetics side. Plastic is plastic after all.
Sights & Optics
But not everything on the AK-P is straight out of the Soviet military. Since this is America — we need a way to mount optics!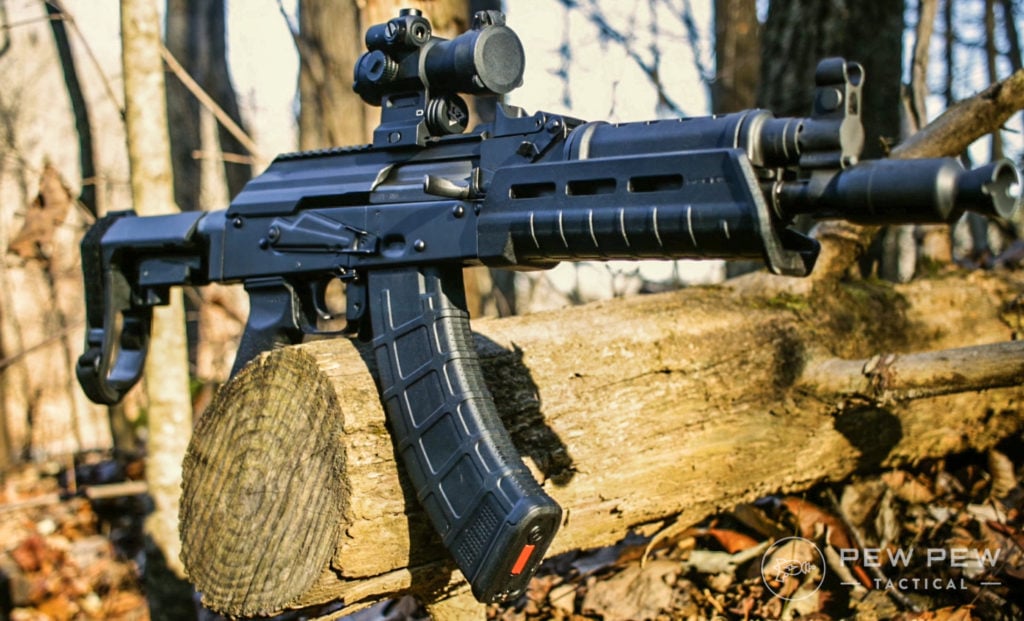 The AK-P has a full-length Picatinny rail along the top of the dust cover, this provides a solid platform for red dots or other optics. Our tested red dot held zero without a problem.
But the AK-P also has irons, if that is your thing. A fixed rear sight and adjustable front sight provide a sight picture akin to the normal Russian AK sights.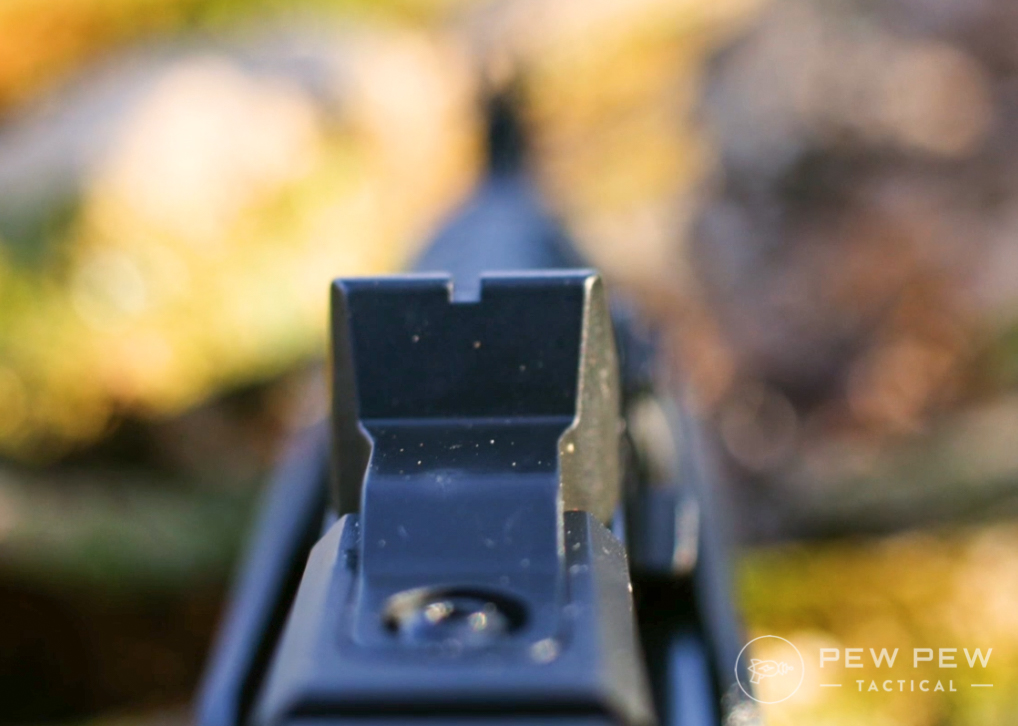 Trigger
Frankly, the trigger isn't anything to write home about. It's an AK trigger. Not bad, but not match grade either.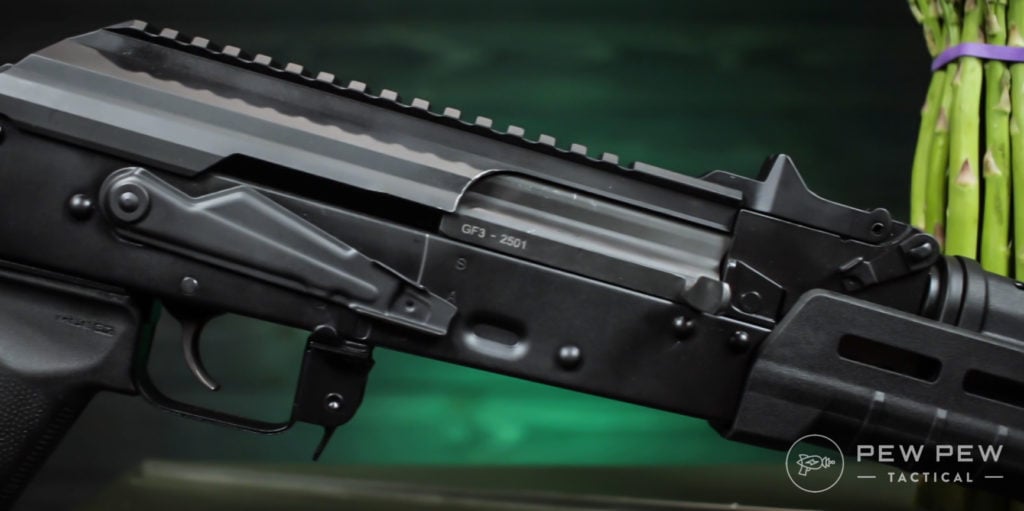 The reset is very positive, the break is clean, but the trigger is still long and heavy with a bit of slap to it.
For a great plinker or even defensive pistol, it works just fine. If you do want a new trigger though, you're in luck since the AK-P takes any standard AK trigger — such as the ALG AK Enhanced Trigger or CMC AK-47 Elite Trigger.
Best AK Drop-in Trigger
225
at Brownells
Prices accurate at time of writing
Prices accurate at time of writing
More Flavors Than Baskin-Robbins
What else comes on your AK-P depends on the exact model you get. PSA has come out with some really cool variations that deserve a look.
If you haven't seen PSA's triangle folding brace, you're in for a treat. Sure the SBA3 is good, but nothing beats the classic look and feel of a triangle stock brace. If you do go with the triangle brace, I highly recommend getting it in Plum!
750
at Palmetto State Armory
Prices accurate at time of writing
Prices accurate at time of writing
If wood is more your style, the AK-P also comes in a beautiful red wood model with furniture made by Boyds' Stocks. This is bright and really pops out on the range.
700
at Palmetto State Armory
Prices accurate at time of writing
Prices accurate at time of writing
Lastly, if you want a tactical AK-P (great if you plan on using this as an HD gun) PSA has a railed model feating the triangle brace and enhanced aluminum M-Lok upper/lower handguard with Picatinny on the top rail.
900
at Palmetto State Armory
Prices accurate at time of writing
Prices accurate at time of writing
These are just a few of the options though, there is a lot of models offered and deserve a look!
By The Numbers
Accuracy: 4/5
An AK normally isn't the most precision of tools and a really short barreled one a bit less so, but for what it is we've been impressed seeing good hits on torso targets to 50 yards.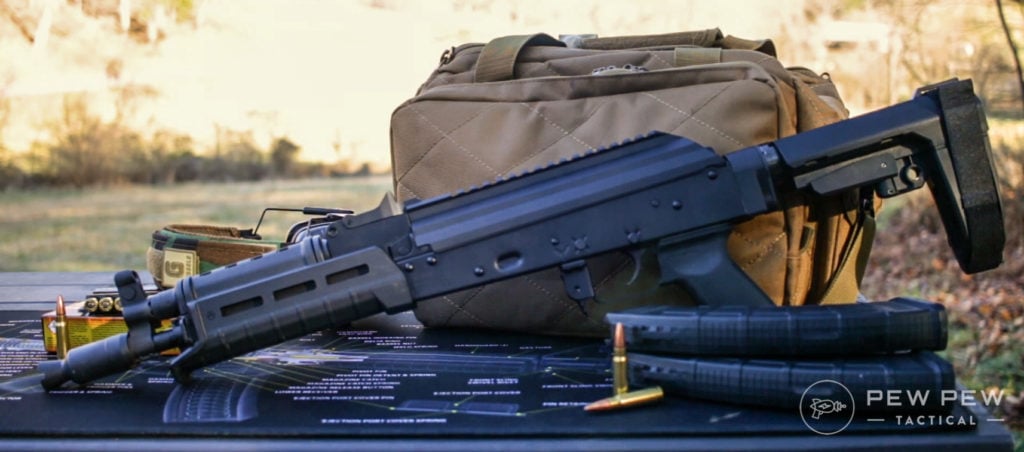 Ergonomics: 4/5
Missing some of the nice features found on an AR, the AK can feel a bit clunky to some shooters. But really it's nothing out of the norm for the platform. These can be improved a bit with a Krebs Custom Enhanced Safety giving you an easier to manipulate safety AND a bolt hold open.
Best AK Safety Lever
62
at Brownells
Prices accurate at time of writing
Prices accurate at time of writing
Looks: 5/5
A short-barreled AK just makes me happy, really. Even the basic models of the AK-P look great, but the red wood or triangle folders kick it up to a whole other level of looking badass!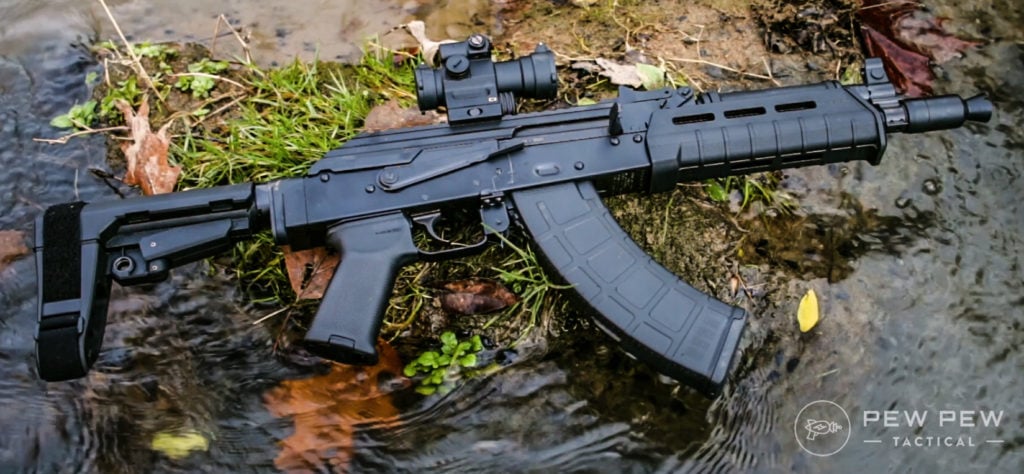 Customization: 4/5
Lots of great aftermarket options are around for the AK now including handguards, optics, safeties, and triggers. For the AK-P getting a smoother trigger, an enhanced safety, and a solid red dot turns it into a very respectable HD or truck firearm.
Bang For Your Buck: 5/5
American made, lifetime warranty, durable, and reliable. For the cost you're putting into it, you really get a lot back on your dollar.
Overall: 4.5/5
Conclusion
The Palmetto State Armory AK-P is an American AK, but smaller and a pistol. It's durable, reliable, and great for a range of uses. Accuracy is more than necessary for 50 yard shots and there's plenty of aftermarket upgrades and furniture to make it more ergonomic and pretty.
We've been very happy with all of the PSA AK rifles and pistols and it feels great being able to finally have an American made AK that is worth our time and money to shoot.
What is your take on pistol AKs? Do you run one for HD? Let us know in the comments! For some more 7.62×39 goodness, but in a more AR-ish platform, take a look at the Palmetto State Armory KS-47!