How many rifles do you know that are also amazing pistols? That is a short list. It's time to dive into the wonderful world of the AR-15 pistol and the brace that turned a gimmick into a respectable tool for both the range and for home/self-defense.

Best AR-15 Pistol Braces
Table of Contents
Loading...
Law Background
Typically, "short-barreled rifles" with a barrel of 16" or less were subjected to the restrictions of the 1934 National Firearms Act.
Yes, the same NFA that added extra regulations to fully automatic guns, short-barreled rifles and shotguns, and suppressors.
But thanks to one minor detail, the AR-15 pistol isn't legally recognized as a rifle.
It might look and function like a rifle, but thanks to the fact that AR-15 pistols don't come built with a stock, they're legally classified as pistols – giving them a full pardon from inconvenient NFA restrictions.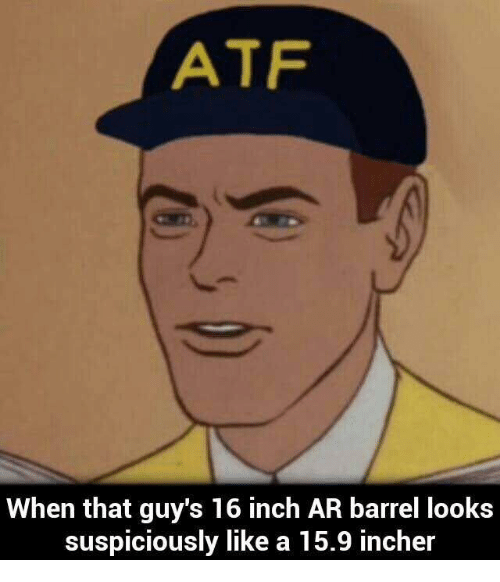 However, the NFA isn't the only set of laws you need to consider: in order for an AR-15 to be a pistol it needs to be marked as such on your DROS when you buy the lower receiver. Generally, this isn't an issue – except in some States such as California where there are other laws to consider.
Even if you buy a receiver that is marked as a pistol, you can still build it into a rifle if you so choose – but you cannot legally turn a rifle into a pistol. So, as with all firearms related things: check your local laws!
While the concept of the AR-15 pistol was undoubtedly cool, it had one major flaw: the buffer tube.
As you can see, the buffer tube extends out well beyond the butt of the gun where it's meant to be pressed against the shoulder of the shooter.
You can imagine how unnatural and uncomfortable this feels after squeezing off a few rounds.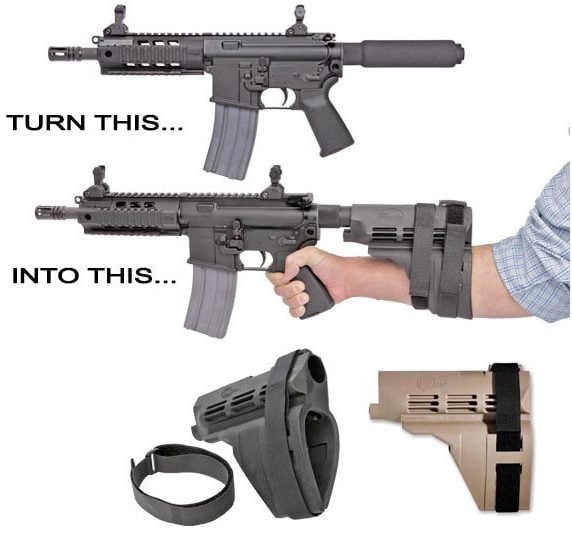 Still, manufacturers and most hobbyists weren't ready to shelf the AR-15 pistol just yet.  Instead, they came up with a solution to make the gun easier to handle – the AR pistol brace.
This handy adaptor successfully transforms your nose-heavy AR pistol into a functional weapon in a matter of minutes.
Today, we're going to look at various AR pistol braces.  So if you've got an AR-15 pistol lying around collecting dust, you might want to give it a second chance after reading this article.
But First, a Little History Lesson
The idea of the AR pistol brace can be attributed to US veteran, Alex Bosco, in 2012.
When getting some range time with his friend, a disabled combat veteran, he had the idea to come up with a device that could help shooters with disabilities exercise better stability over their guns.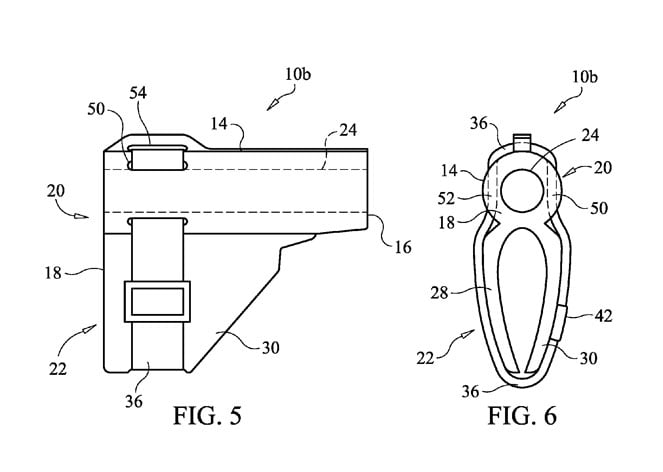 After coming up with a workable design and gaining approval from the ATF, Bosco then co-founded SB Tactical and developing pistol braces for the AK and AR platforms.
Since then, there was a little of uncertainty about the legality of pistol braces.  But in Spring of 2017, the ATF  released a statement saying pistol braces do not turn AR pistols into short-barreled rifles.
And now, everyone can enjoy their AR pistol and brace without worrying.  However…it's still just a statement and you might still get in trouble with local law enforcement who aren't up to date on everything.
Now that we've got the basics out of the way, let's look at some braces!
The Shockwave Blade is a very basic and functional pistol brace for your AR-15 platform.  It accommodates buffer tubes up to 1.25" in diameter and is designed to help increase aim and support when firing your AR-15 pistol.
Go-To AR-15 Pistol Brace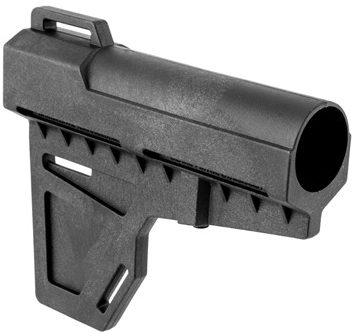 Shockwave Blade
Prices accurate at time of writing
Despite its cheap price, the Shockwave Blade is incredibly effective at making your AR pistol easier to handle.
Installing the part is quick, easy, and can be completed in about one minute.  All you need to do is slip it on the buffer tube and tighten the screw in the center of the brace.
The Shockwave Blade may be basic, but's a featherweight
The Shockwave Blade allows you to stabilize your pistol by cheek welding or strapping it to your forearm.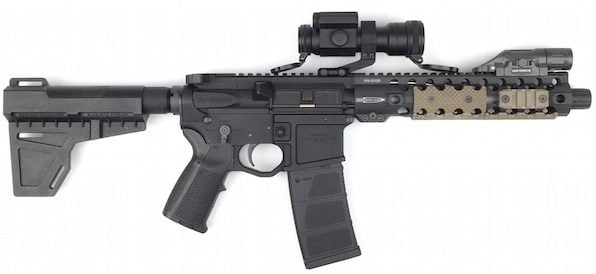 And if you're someone who likes shooting with a gun sling, the stabilizer has three separate attachment points for slings (top, center, and bottom).
Overall, the Shockwave Blade is incredibly light and weighs a total of 5oz, making it perfect for the shooter who's trying to minimize unnecessary weight.
If you're interested in adding the Shockwave Blade on a gun, that's not yet set up for a pistol brace, you can by the Shockwave Package for $90.  This set comes with your pistol stabilizer, buffer tube, spring, and components needed for installation.
The best thing about the Shockwave Blade package is that it comes with a dimpled tube.  This means that you can screw the bolt from your stabilizer into one of those dimples, securely fastening it to your gun.
The reason why that's important is that braces that aren't physically attached to the buffer tube tend to rotate and loosen as the gun is being repeatedly fired.
Looking for a great buffer tube but you're that interested in the Shockwave Blade itself? At around $20, you can get the dimpled Shockwave Tube.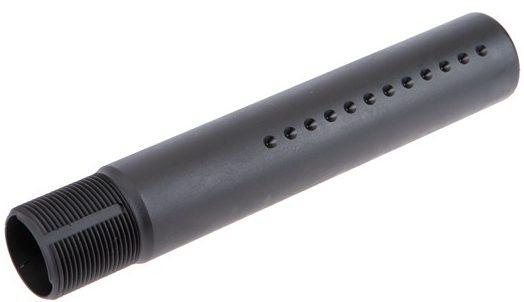 KAK Shockwave Buffer Tube
Prices accurate at time of writing
With 12 dimpled drilled into its structure, this tube doesn't only make installing bolt-in braces easier, it also allows for a wide-range of adjustable lengths that wouldn't be available for slip-in braces without making modifications.
Pro-tip: don't modify your pistol brace – it's against the law.
SB Tactical is the industry leader when it comes to pistol braces, so going with one of their stabilizers is never a bad idea.
The SBM4 is designed to be lighter and more comfortable to operate than some of its predecessors, like the SB15.  This pistol brace is slightly thinner than the older SB models, and it's been designed to maximize comfort when cheek welding AR pistol.
The SBM4 is designed to fit all AR pistol platforms, meaning that it's compatible with buffer tubes ranging from 1.1 to 1.25" in diameter.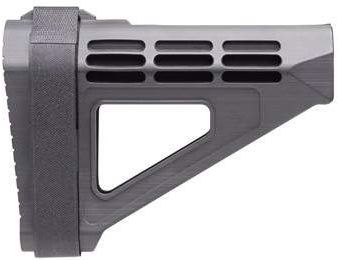 SB Tactical SBM4 Brace
Prices accurate at time of writing
It also comes with a built-in adjustable nylon strap, 1" in width, which can be strapped to the forearm for increased stability.
The only downside about the SBM4 is that it doesn't fasten to dimpled buffer tubes, which can lead to some really annoying wobbling when you're shooting it off at the range.  But you can't win everything, right?
For what the SBM4 lacks in the fastening department, it makes up for in looks and function.

First off, it's an awesome looking piece that makes your AR pistol look like it has an authentic stock.
Also, it's been designed specifically to maximize comfort and ergonomics for cheek welding, meaning you don't have to worry about shooting unnaturally or slipping and jabbing you in the collarbone.
While some of the other braces on the market are made with a hard polymer, the SBM4 is a soft rubber that increases comfort when shooting.
This may not seem like a big deal for the average AR-15 pistol, but if you're planning on shooting a harder-hitting AR-15 pistol chambered for .308 or 6.8 SPC, you're going to be thankful that SB made this brace as soft as they did.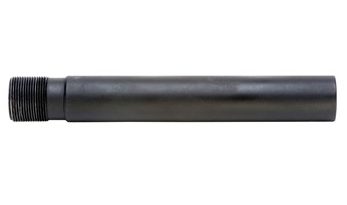 SB AR Pistol Buffer Tube
Prices accurate at time of writing
Another great thing about the SBM4 is that it's compatible with SB's receiver extensions.  This add-on may not be as adjustable as versatile as dimpled tubes, but it can help to minimize brace rotation and slippage, and will also make the brace more comfortable to use.
As you can tell, the Maxim Defense PDW pistol brace (which I will refer to as the PDW from now on) is probably one of the most expensive pistol braces out on there on the market.
Understandably, a lot of people cannot justify spending nearly 400 bones on something to make their AR pistol function more like a rifle.
For this reason, I only recommend serious fans of the AR pistols to invest their money in the CQB – it's not for the casual shooters with their range toy.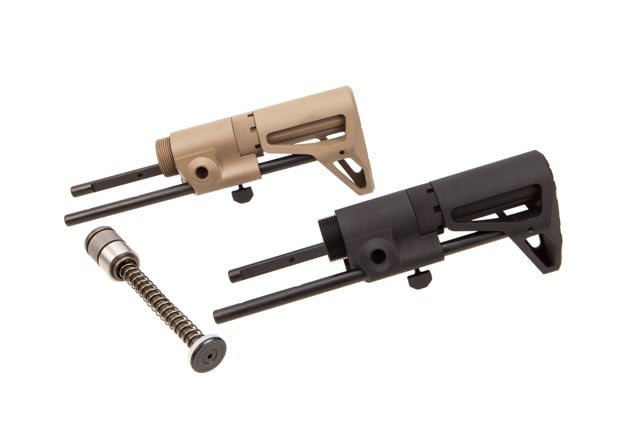 Maxim Defense CQB Stock
Prices accurate at time of writing
Now that I've gotten my negativity out of the way, I want to be completely honest.  The PDW pistol brace is, hands down, the Cadillac Rolls-Royce Wraith of pistol braces.

But in all seriousness, the PDW pistol brace isn't anything like the other pistol stabilizers on the market.  When designing this masterpiece, Rainier deviated from the traditional design of pistol braces and went for something fully customizable and able to accommodate shooters of all sizes.
And if you can justify spending the money on the PDW, you'll never be interested in another pistol brace again.
Unlike many of the other braces out there for AR-15 pistols which are made from rubber or polymers, the PDW is made mostly from a durable aluminum alloy designed to handle whatever in-the-field roughhousing you through at it.
If you're wondering where the PDW's metal design makes shooting with this pistol brace uncomfortable, the answer is no.  The actual brace part of the attachment is made from a soft and flexible rubber that's gentler than some of the polymer-only stabilizing braces you might have seen.
But what really makes this brace stand out from the rest is its adjustability.  Simply pressing on a lever on the side of the brace allows you to adjust the positioning of the "buttstock," and with three available positions in total, you'll have no problem finding the right setup specifically for you.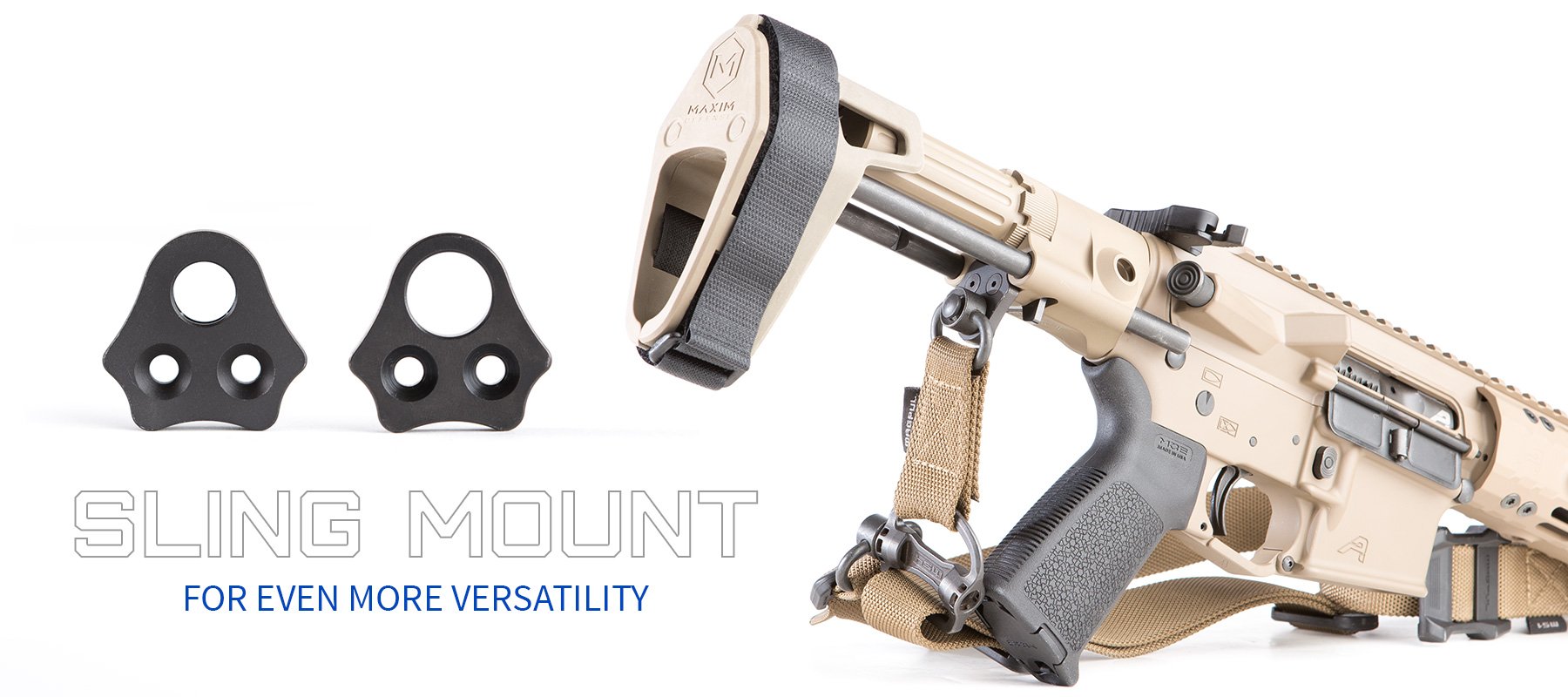 Attaching the PDW brace is pretty much as painless as it gets.  Slipping the brace on your buffer tube and tightening the castle nut is a one-minute process, and the only tool you'll need is a castle nut.
Looking for something to sweeten the deal with all this winning (and expensive price tag)? There's a sling mount in the middle of the brace which begs the question: can you get more tactical than the PDW pistol brace?
Setting the Record Straight
If you come across older videos, reviews, and publications about AR-15 pistol braces, you'll notice how people talk about how you shouldn't shoulder your AR-15 pistol or they never mention shouldering it themselves.
That's because prior to April 2017, pistol braces existed in legal uncertainty and people in the industry were unsure whether shouldering their AR/AK pistol made them culpable for illegally operating a short-barreled rifle.
Luckily, the ATF cleared up that misunderstanding when they released a statement regarding pistol braces.  Long story short, you can shoulder your AR-15 pistol without any issues, so shoulder away!
But still…there's still uninformed people and law enforcement out there…so still, user beware.
However, what you should never do is modify your pistol brace in any way that makes it work better as a stock.  This is a big no-no.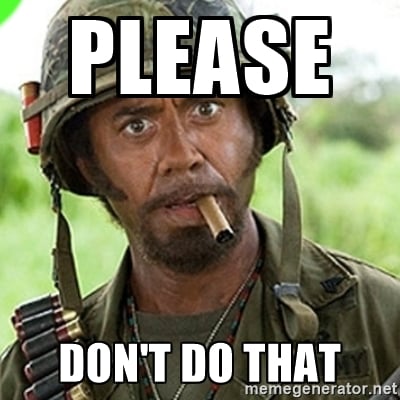 Even if the stabilizer on your pistol brace is uncomfortable because of a slight angle, you don't want to take the sandpaper to it.  Leave it be or find a new brace that works.
Last Thing on the AR-15 Pistol
The AR-15 pistol is one of those guns that you love or hate.  Initially, I viewed it as one of those quirky, different-than-usual guns that were fun to shoot at the range but didn't have much to offer in a practical setting.
But after playing around with a couple of AR-15 pistols fitted with braces, along with the freedom to shamelessly shoulder and fire my weapon, I've come to love the AR pistol.
It's not the kind of gun you'd want to take on a hunt or run through a 3-gun competition with, but it's fun to shoot and it will probably be able to stand out in a tactical situation in close range, like a home-defense scenario.
If you're looking for a new AR-5 upper receiver to complete your build with, check our Best AR-15 Upper Receiver review.
And There You Have It
That's my list of AR-15 pistol braces for people looking to go cheap, mid-range, or spend the big bucks.
Now it's time for me to mount a new red dot on my AR pistol, take a look at our Best AR-15 Optics & Scopes.
If you're currently shooting an AR (or AK) pistol, be sure to let us know how you like it.  Is it just a range toy or do you get some serious action out of it?