Want to reach 1300 yards in an AR-15 platform?
Then .224 Valkyrie is for you. We cover the round and all its ballistic goodness in our .224 Valkyrie Guide.
But how about affordably reaching 1300 yards?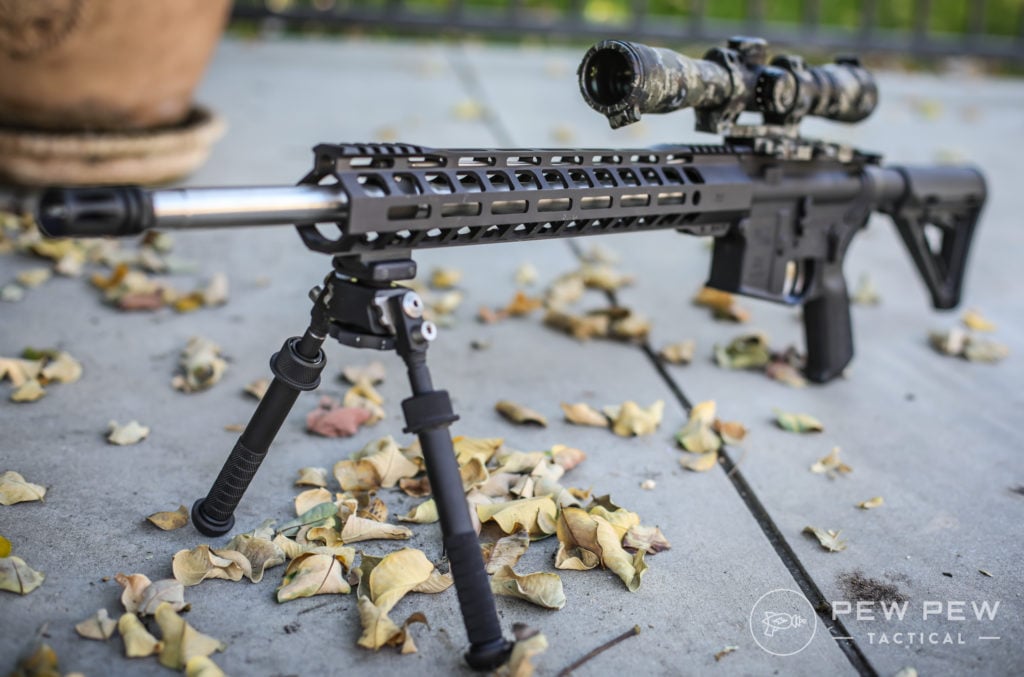 Then you'll want to stick around and see our review of Palmetto State Armory's .224 Valkyrie Upper.
Best Long-Range AR-15 Budget Upper
399
at Palmetto State Armory
Prices accurate at time of writing
Prices accurate at time of writing
We cover its fit, feel, reliability, and of course…its accuracy out to a tested 1250 yards.
And now…we've even updated with a full video review from Johnny:
If that was awesome, please subscribe to our YouTube channel for uploads every week!
Table of Contents
Loading...
Who Is It For?
Budget conscious buyers who want to reach out 1000+ yards in the AR-15 platform (not needing to upgrade to AR-10 calibers)
Someone who wants an upper to work but not necessarily look like a million bucks
Someone who doesn't need a ton of options in an upper and can wait for things to be in stock and ship
Why is PSA So Affordable?
I need to say this each time since some of their deals reach such low prices even I think…are these real guns?
But they can do it since they vertically integrate everything…from metal to finished gun…they do it in-house.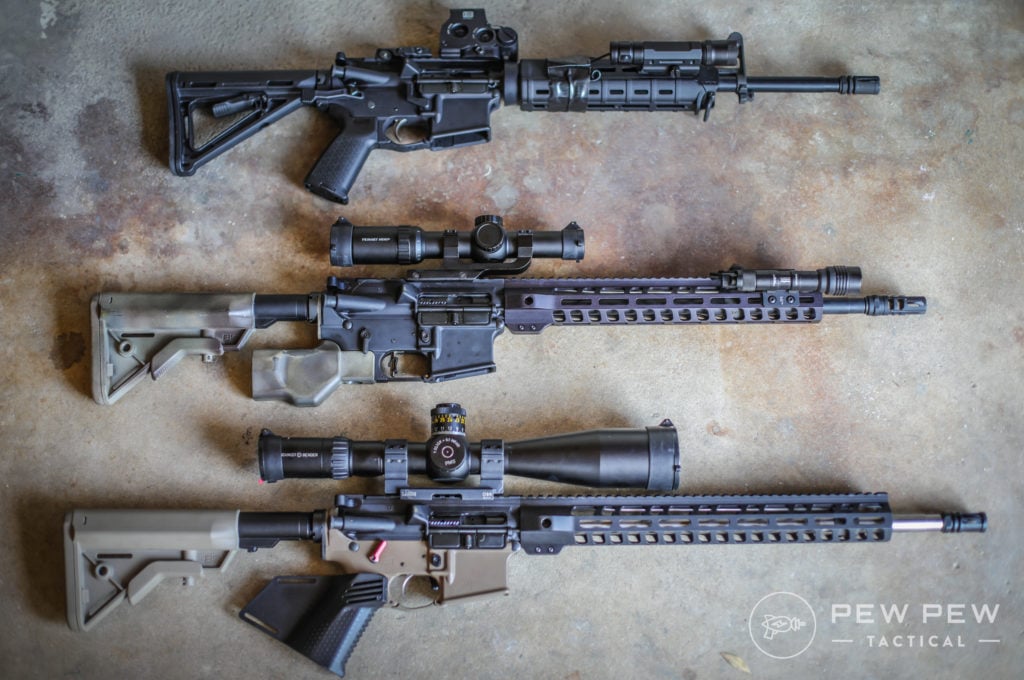 I've done a couple reviews of them and they've been reliable.
Sometimes there's been coloring issues in the handguard…but for the price I can't complain.
We've hands-on tested almost all their guns from AR-15s to AR-10s, AR-9s, and their AK series. Check them all out in our PSA Reviews section.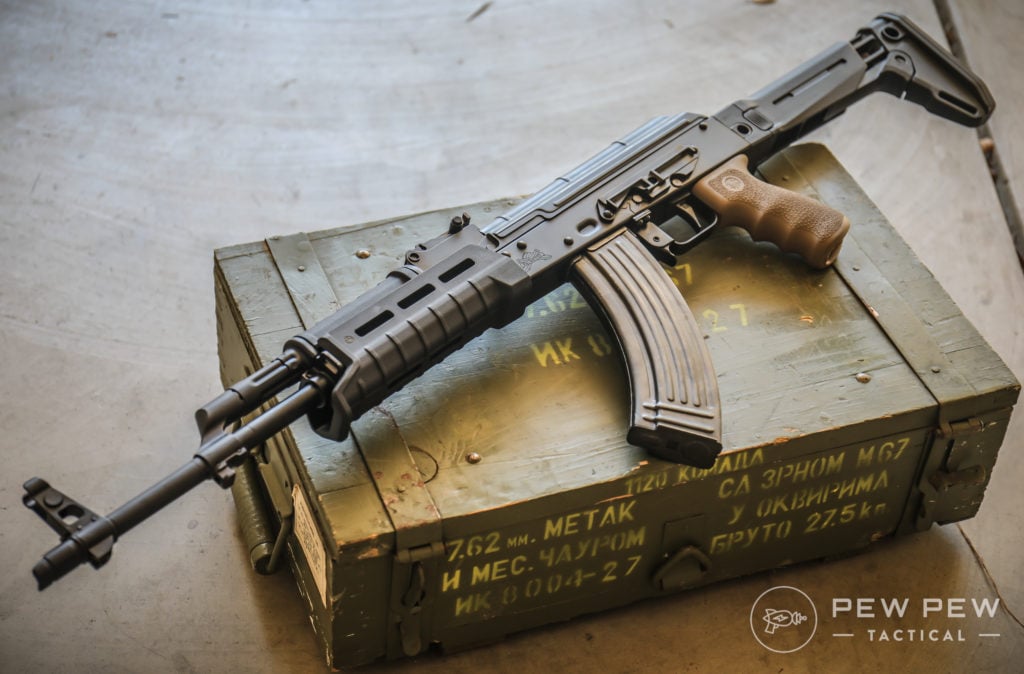 Fit, Feel, & Finish
The .224 Valkyrie upper is the best in fit & finish so far out of all the PSA uppers I've tested.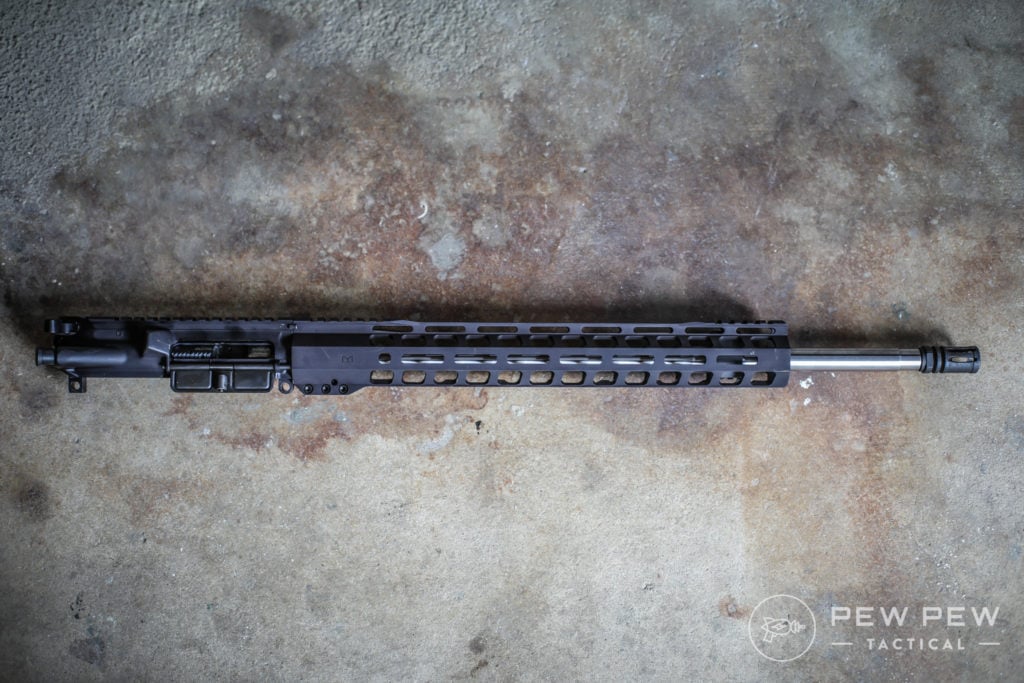 My specific model came with a lightweight 15″ handguard that was colored correctly and felt good in hand. Not too sharp and kept the heat away from my hands when shooting.
It also saves some weight by removing the middle section of rails which most aren't using anyways on a precision rig.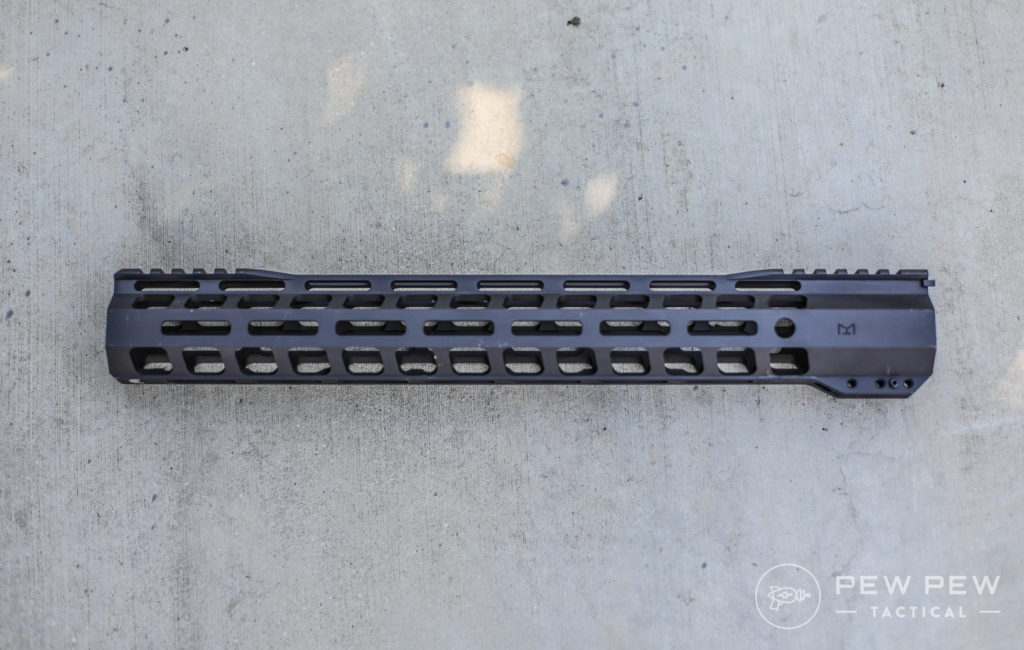 It also differs from other models with its anti-rotation tab and also two set screws. It's not going anywhere but can be a pain if you want to remove the handguard more than once or twice.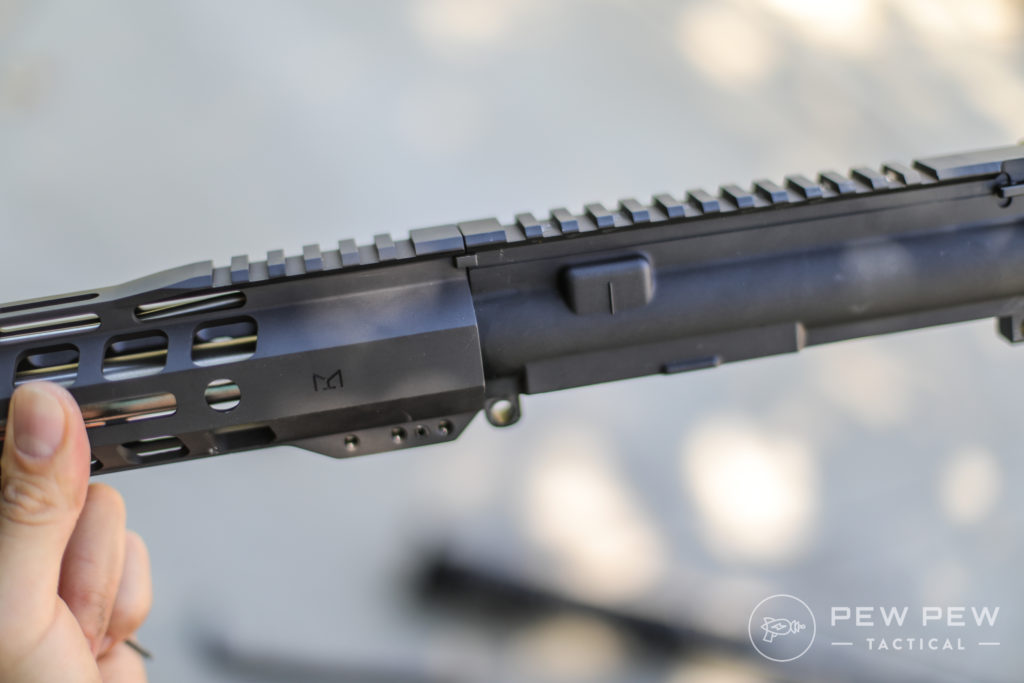 Here's how it compares to a mid-length 16″ barrel 5.56 upper with a 13.5″ handguard.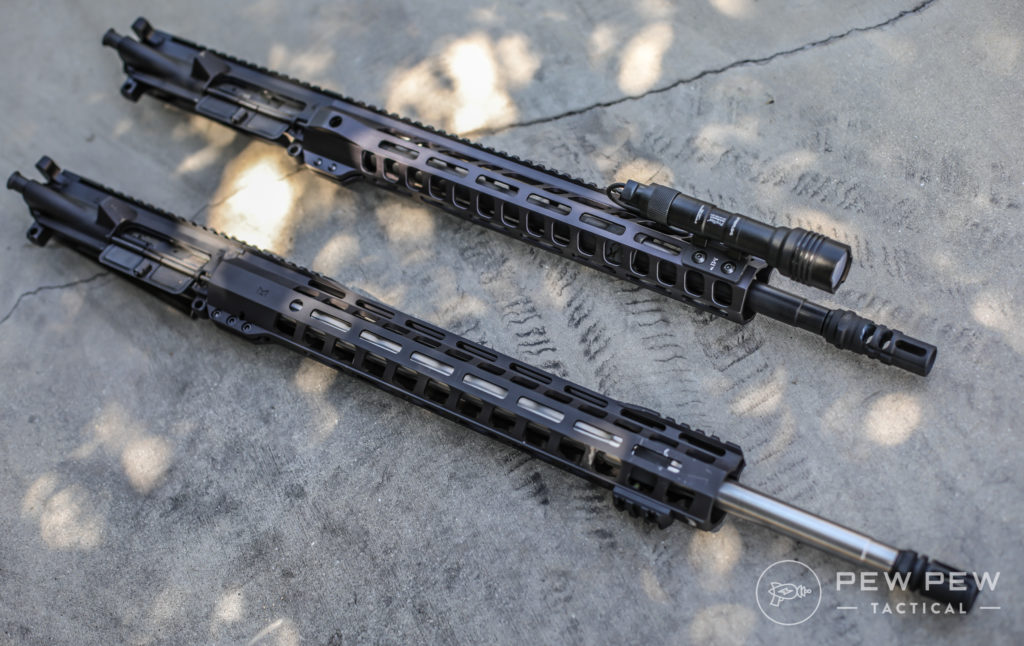 The specific model I have has a rifle-length gas system, 20″ stainless steel barrel, and 15″ handguard.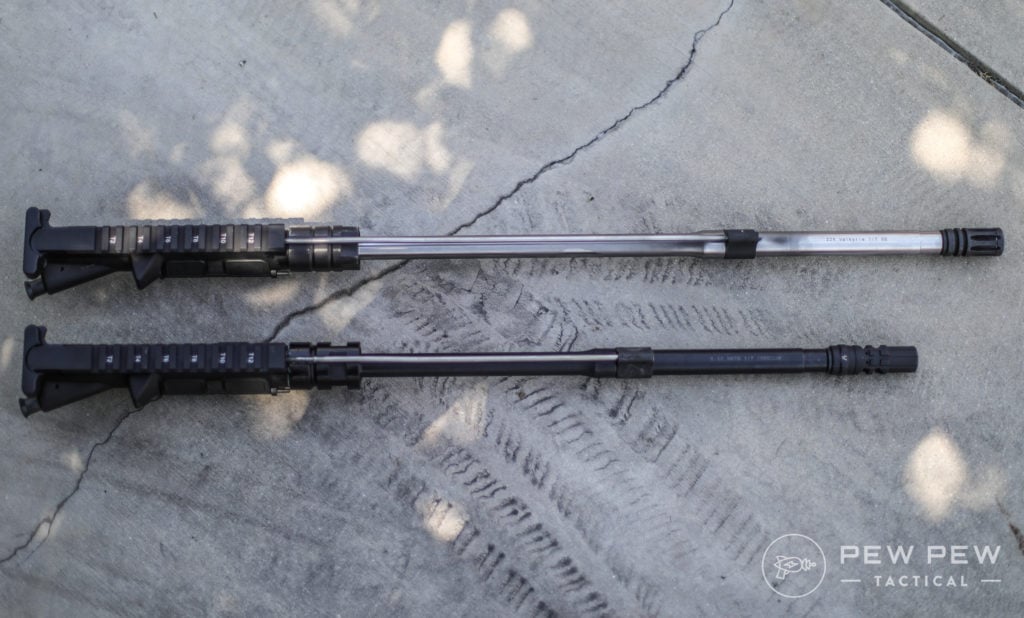 It also comes with an adjustable gas block. The screw sizes are really small and though I did adjust to make sure it worked…I turned it back to factory since the recoil is light and I wanted maximum reliability.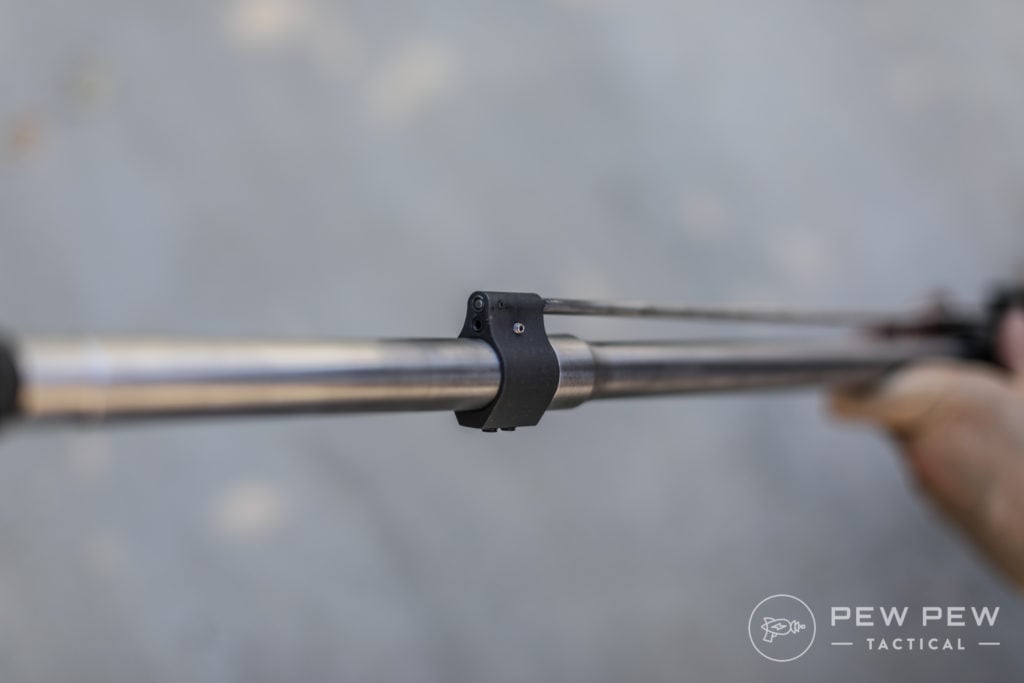 It's also easy to tell the .224 Valkyrie apart with its labeled barrel.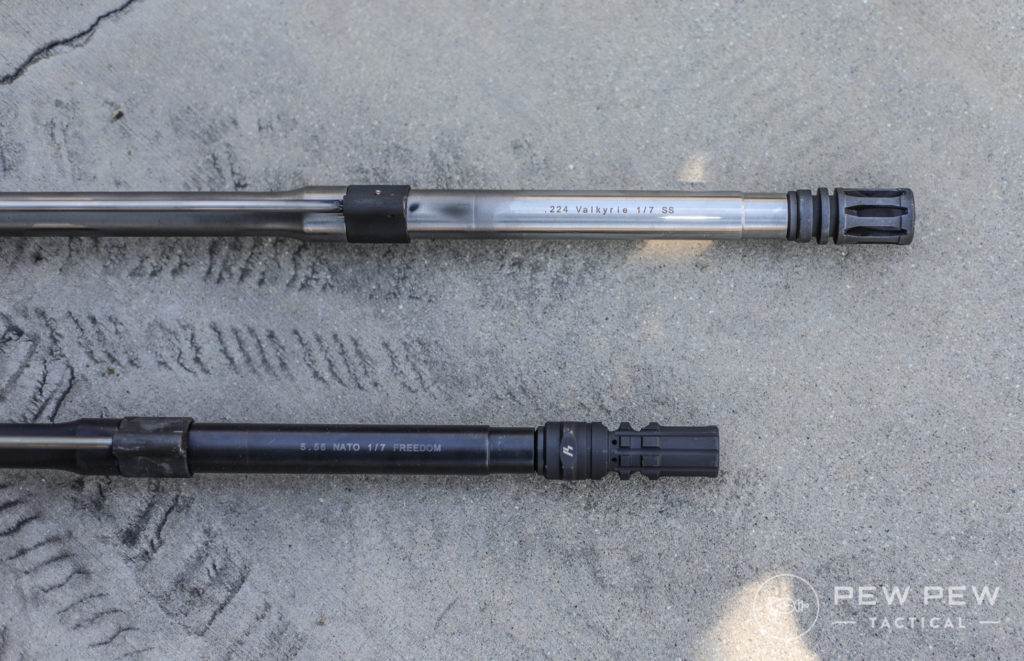 And BCG.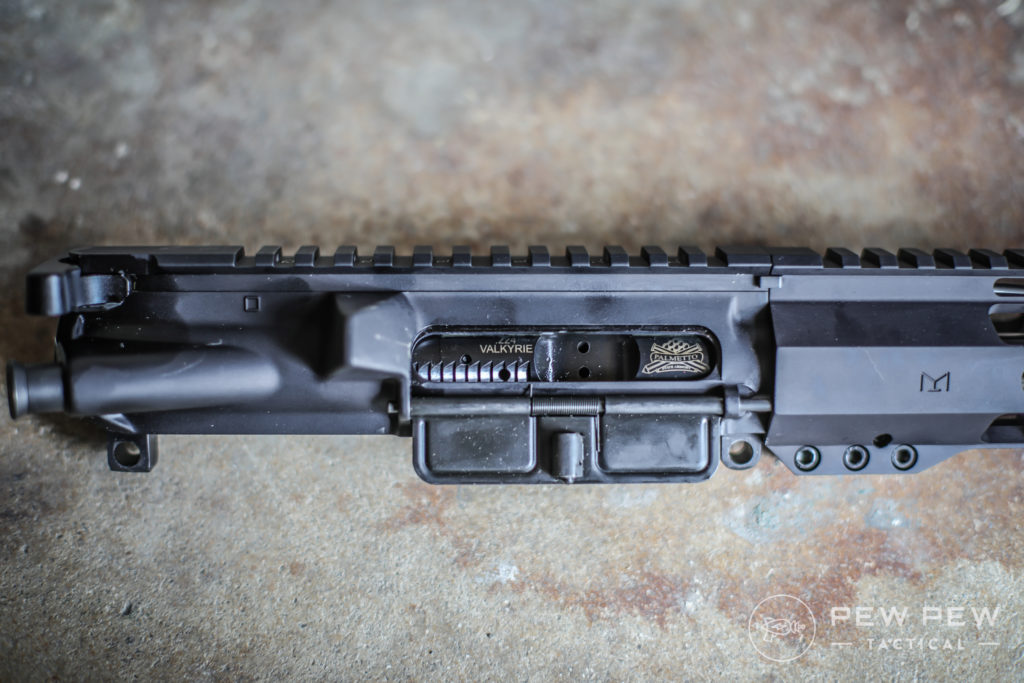 Definitely get the combo with BCG (bolt carrier group) and CH (charging handle) since the bolt is different from the 5.56 varieties.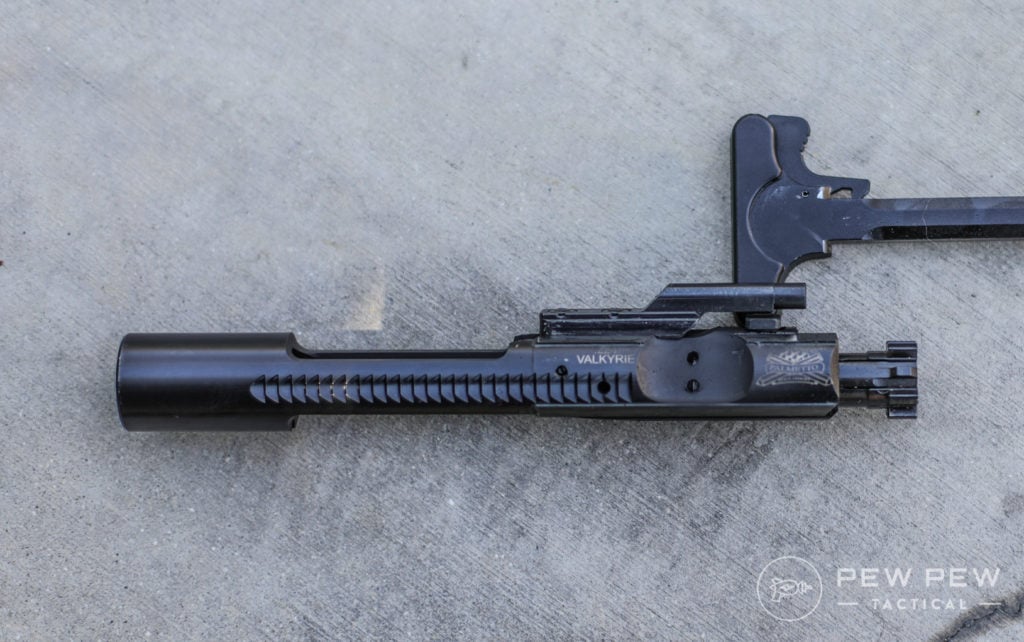 Bolt is MPI (magnetic particle inspected) and the gas key screws are properly staked.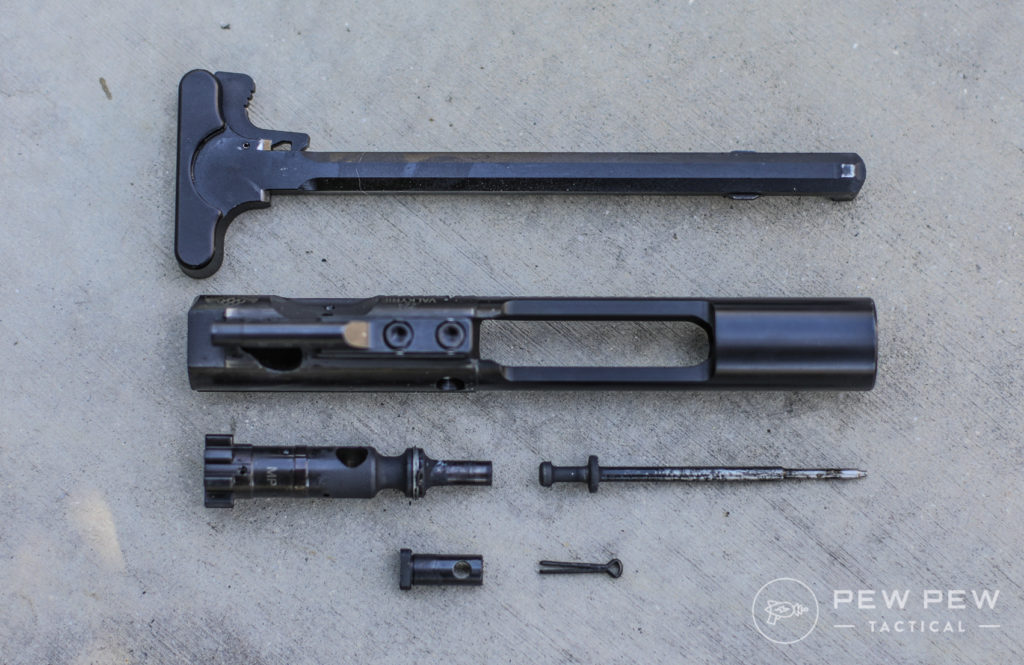 How Does It Shoot?
If you didn't tell me what caliber I was shooting…I would think it was just a hot 5.56 load.
You can shoot it all day long without getting sore shoulders.
I was lucky to shoot a few rounds out to 1250 yards at PSA's unveiling of their 9mm AK pistol at the High Bar Homestead facility.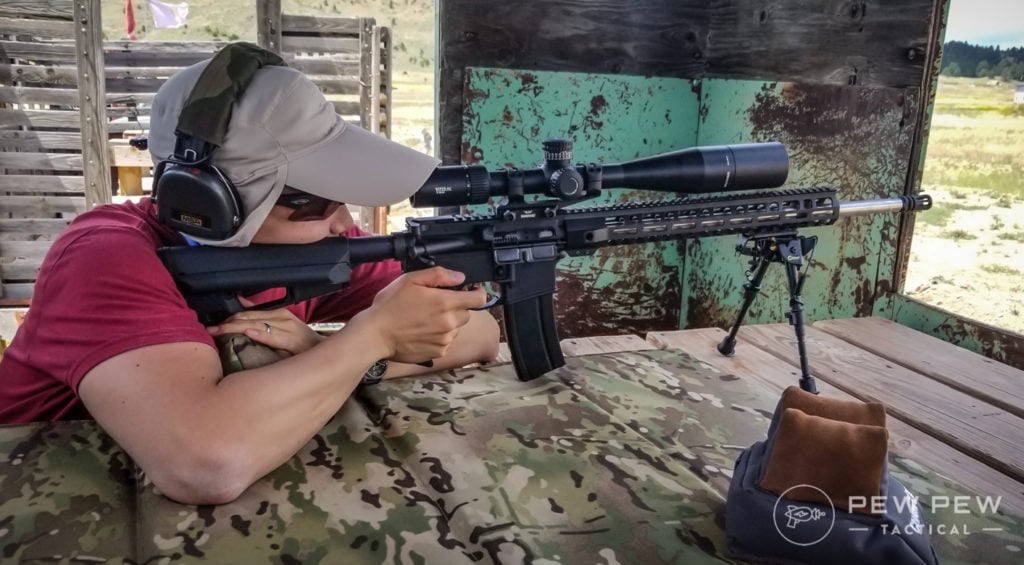 Plus around 200 rounds out to 600 yards on my home turf.
There were no malfunctions of any kind for me on three different AR-15 lowers (Aero, Anderson, & PSA).
Accuracy
High Bar Homestead
1300 yards means you gotta be at least 1 MOA to hit some standard IPSC targets.
There were our shooting platforms.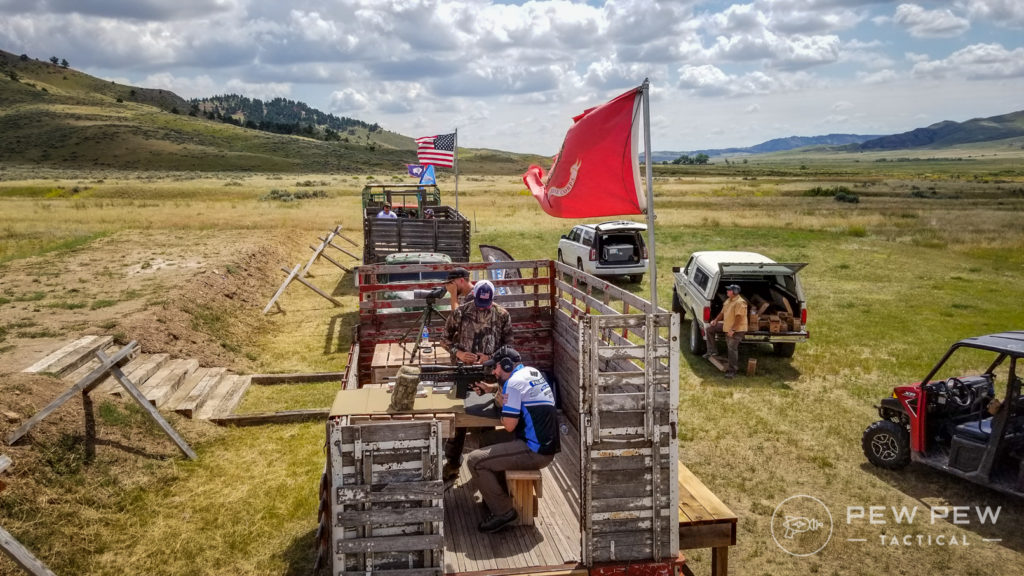 And this was the 1000 yard known distance range.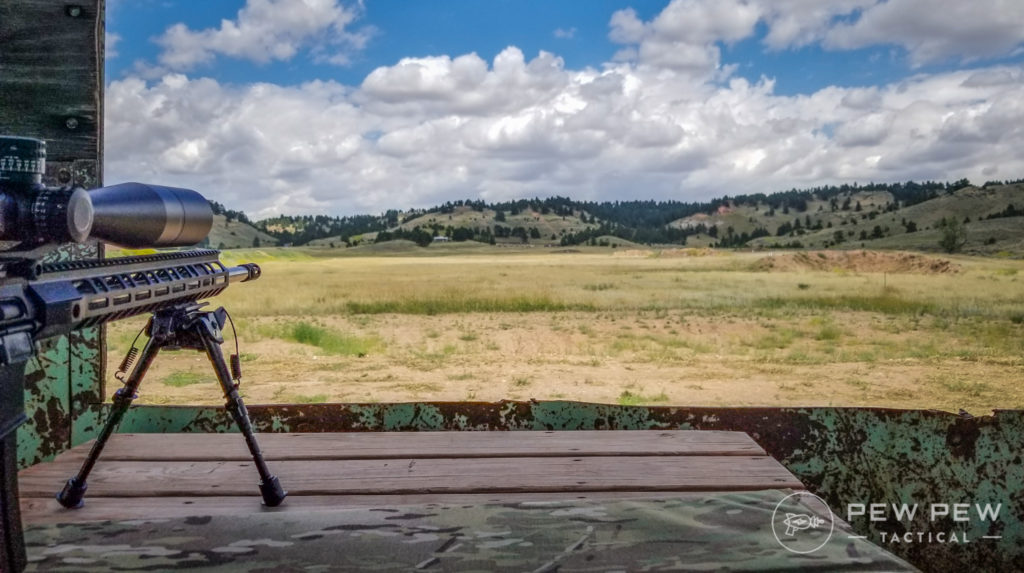 Zooming in for the 1000 yard and 1250 yard targets.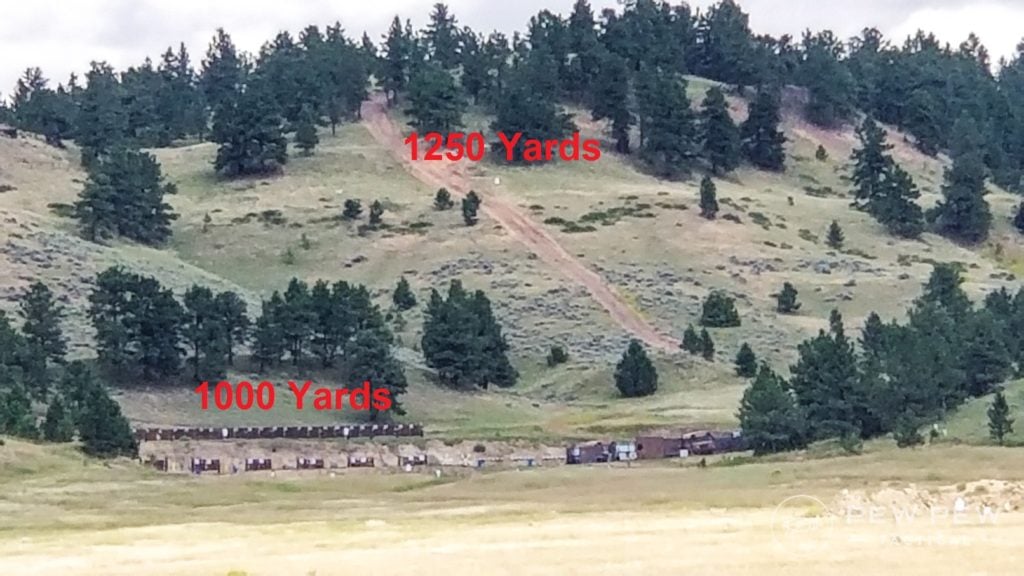 The wind was terrible for me (yeup…excuses) and I was able to get really close to the 1000 yard targets.
The other writer attendees (Kat & Ken) were able to consistently hit 1000 yards and even a bunch on the 1250.
Break In
Back home with my test unit I did a break-in sequence since it's a precision rifle:
5x: 1 shot, copper remover, wait 5 min, bore brush, gun cleaner, clean patch
5x: 5 shots, copper remover, wait 5 min, bore brush, gun cleaner, clean patch
Check out Best Gun Cleaning Kits for my favorite gear and brands.
Groups Testing
Back home I set up my standard testing gear to minimize shooter influence.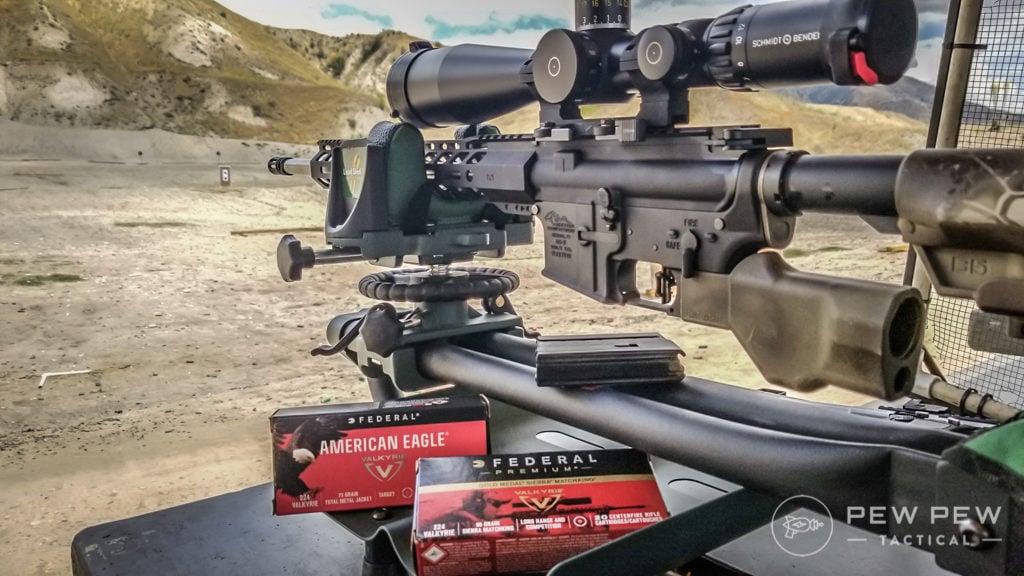 Loaded up targets 100 yards away and shot at a slow but steady pace. Waiting about 5 minutes between each group for the barrel to cool down a little.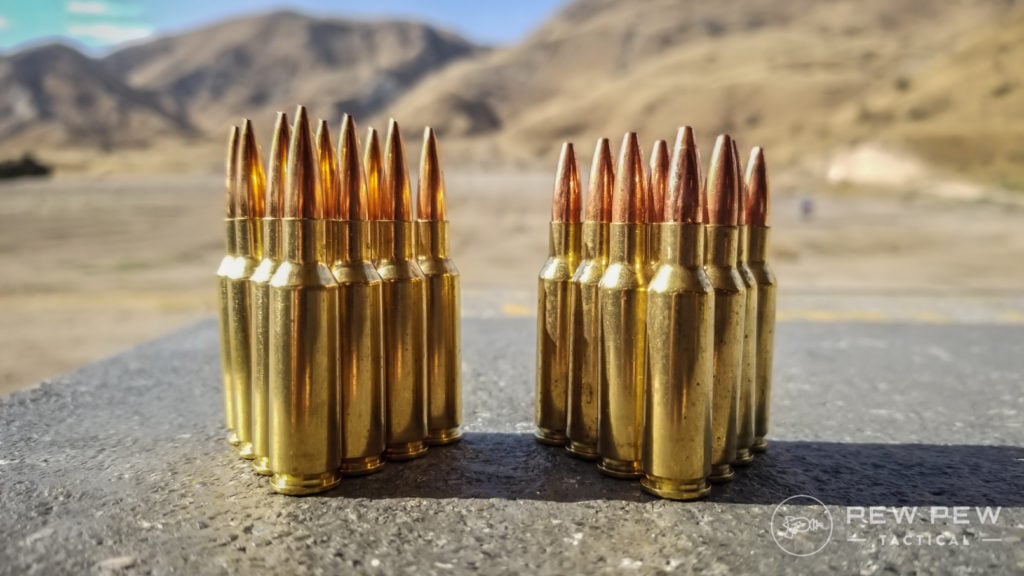 I used two of the more popular loads:
And got the following results: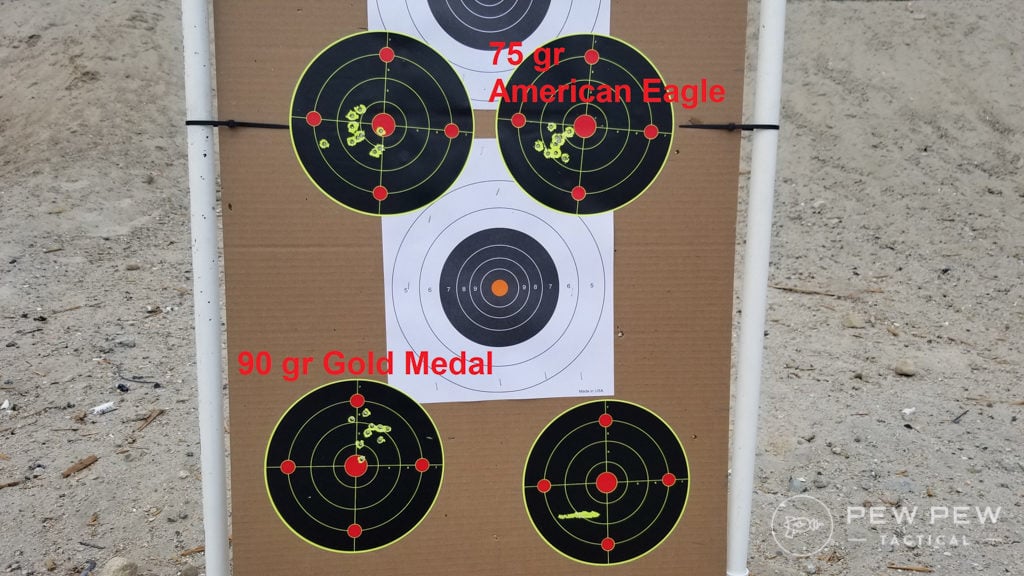 It was weird that the cheaper plinking American Eagle 75 gr did better than the 90 gr Gold Medal match ammo. But fine by me!
I'd estimate the 75 gr to be right around 1 MOA…and probably less if you're a better shooter than I.
Note…if you didn't already know…the Valkyrie round takes 6.8 SPC magazines which are a little hard to find.
There's been times where I forgot and I started feeding a couple into AR-15 5.56 magazines…they work for around 3-5 rounds if you're in a pinch.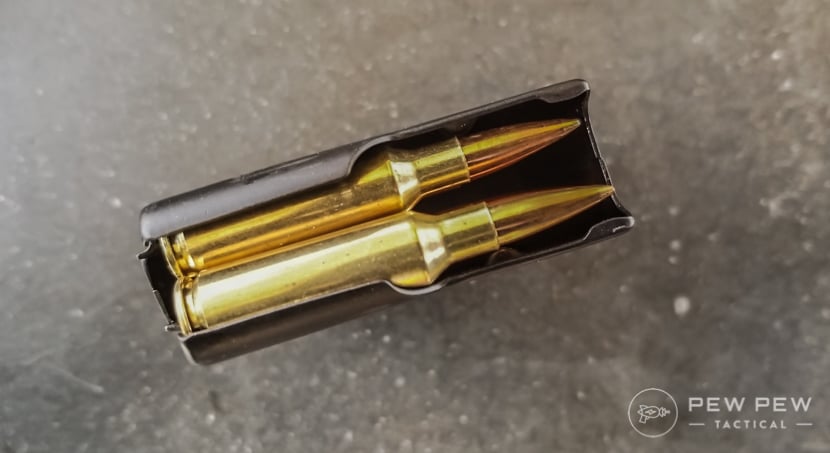 ***UPDATE 7/16/2019***
Johnny spent some time testing out the new PSA 1:6.5 Twist .224 Valk barrel and had some awesome results.
If you haven't heard, .224 Valk was first introduced with 1:7 twist barrels – but these barrels proved to be mostly inconsistent in their accuracy. After some tinkering, people found that 1:6.5 twist barrels are better for stabilization and accuracy.
Johnny put over 600-rounds down range testing the new barrel with Federal 60gr Varmint, Federal Fusion MSR 90gr, and Federal American Eagle 75gr ammo.
The Varmint and the Fusion ammo both did great out of the new 1:6.5 twist barrel.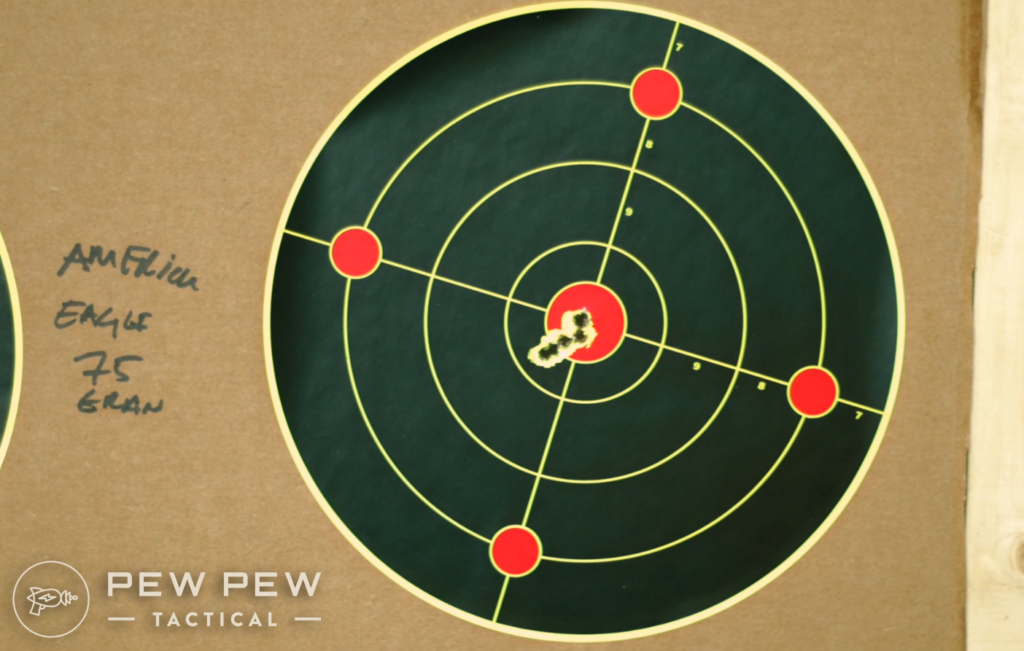 But even with the older 1:7 twist, the groups were still impressive with both the American Eagle plinking ammo and the nicer MSR Fusion.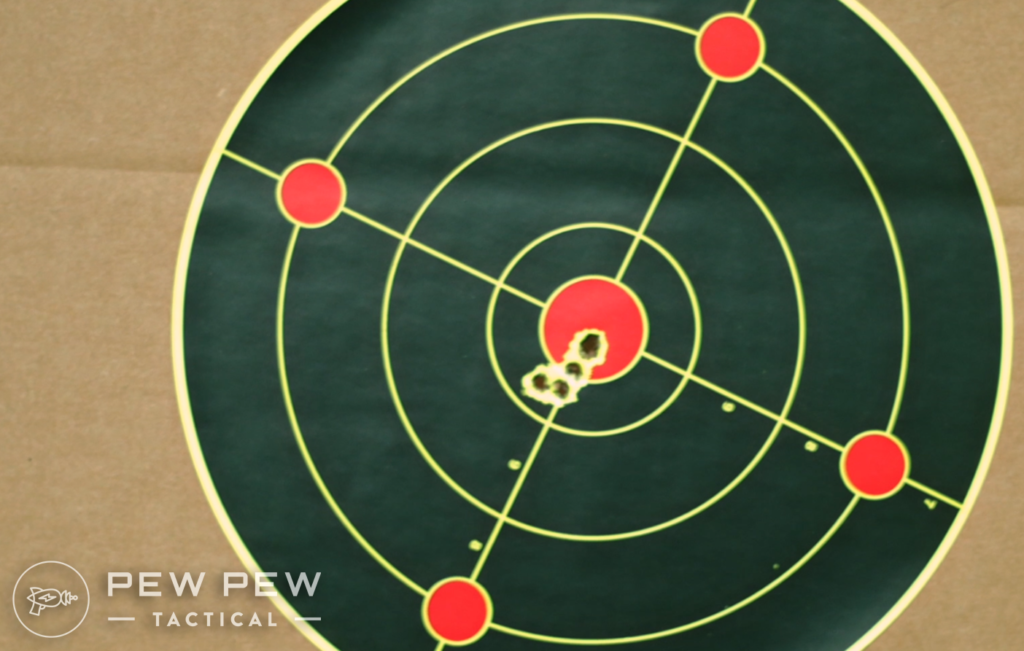 600 Yards
This round and upper yearned to be freed…so I went over to the 600 yard side of my local range.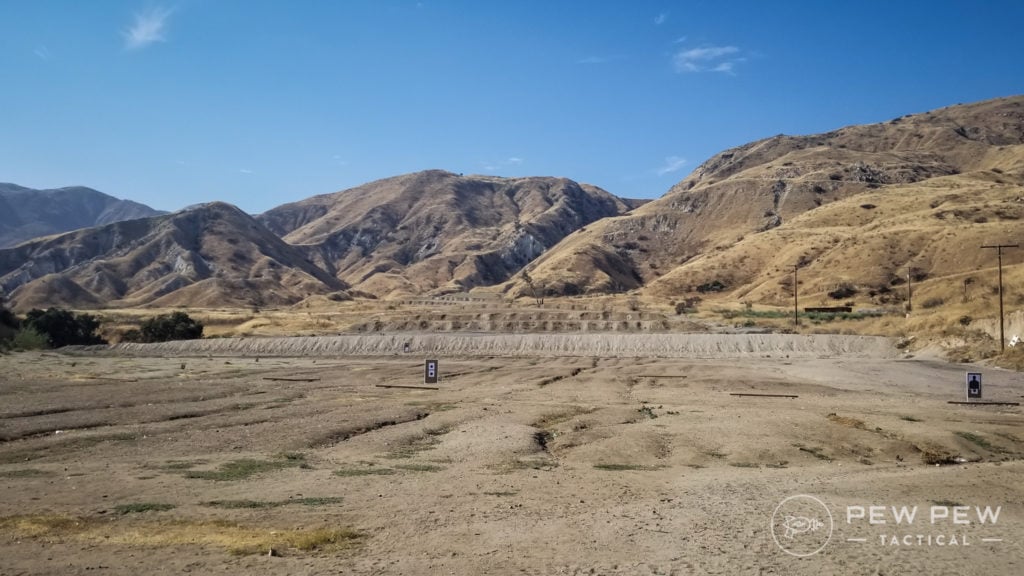 Zooming into the upper left…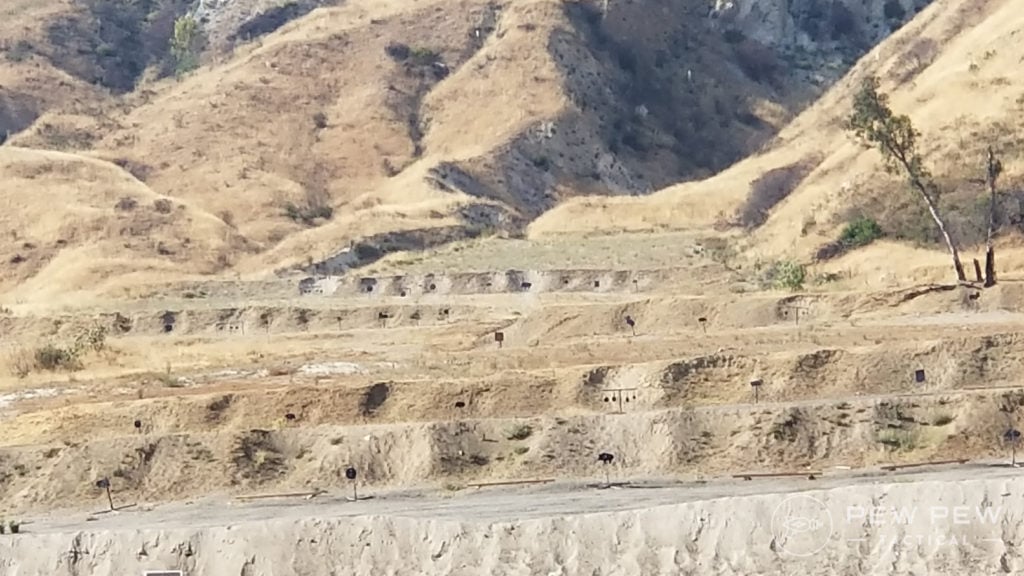 And my targets at 600 yards.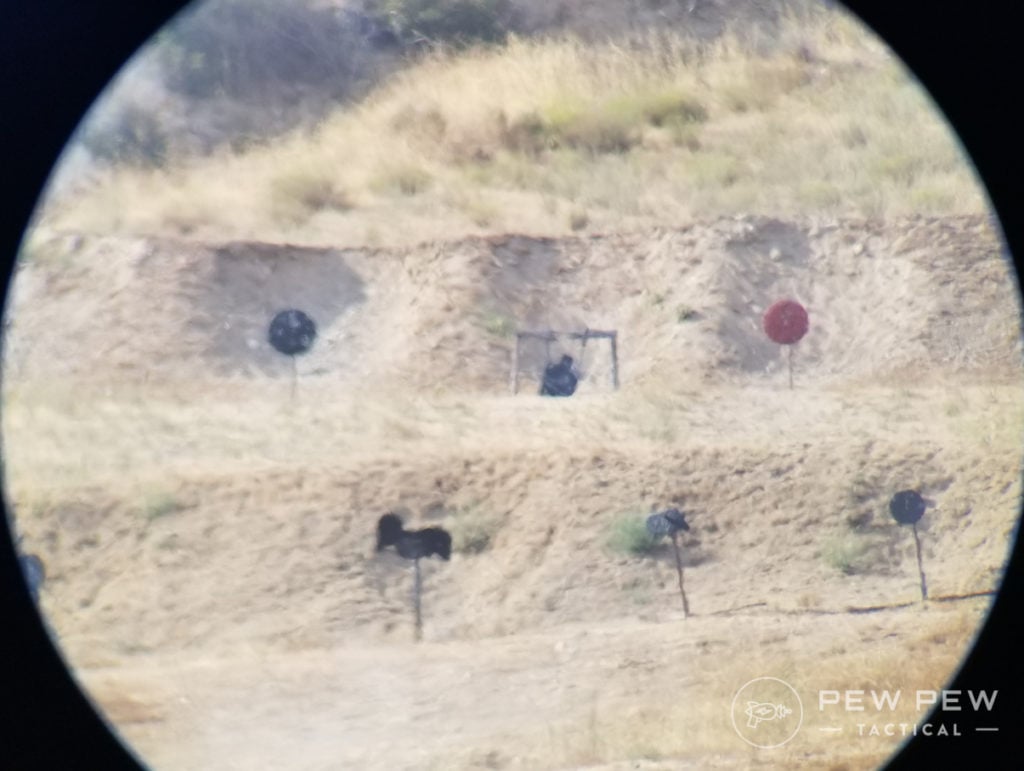 I set up with a bipod (Best AR-15 Bipods) and a kind of weird angle that didn't work right with my buttstock. Yup…more excuses!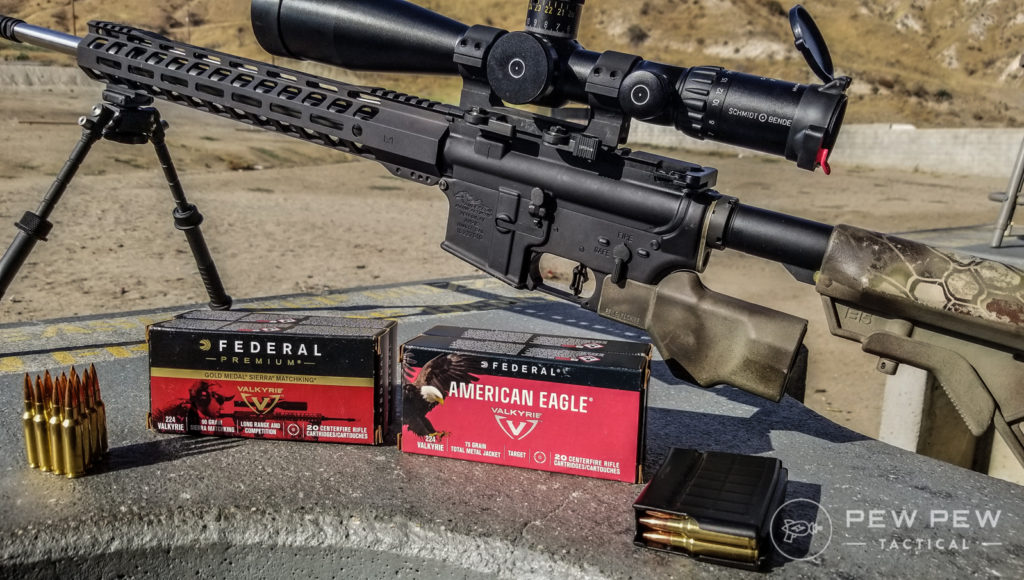 This was with the 90 gr match ammo since I was running low on plinking ammo.
There were definitely some flyers either from me or the ammo (probably me).
Apologies for the people around me who apparently just learned about beer.
Not too shabby…I think I hit 8/10 at 600 yards!
Recommended Models
There's not too many PSA models of the .224 Valkyrie upper.
They are all 20″ rifle-length gas system…and the only possible choices have to do with a regular M-LOK handguard or the lightweight version. I went with the lightweight version.
Best Long-Range AR-15 Budget Upper
399
at Palmetto State Armory
Prices accurate at time of writing
Prices accurate at time of writing
Blem models are even cheaper…I see $349 for a complete upper as of writing!
And if you're looking at this caliber…you probably already have an AR-15 lower. But here they are if you're interested. I highly recommend getting an upgraded buttstock with proper cheekweld.
150
at PSA
Prices accurate at time of writing
Prices accurate at time of writing
By The Numbers
Reliability: 5/5
A few rounds through a group .224 upper and 200 rounds through my test one…and no hiccups. I only had access to one 6.8 SPC magazine but it worked and had bolt hold opens when appropriate through three AR-15 lowers.
Accuracy: 4/5
Weird that the match ammo wasn't as good at the plinking ammo. But I'm not complaining!
Ergonomics: 4/5
Handguard feels better than PSA's AR-15 models…and now comes with anti-rotation tabs. Make sure to get a better buttstock with a wider cheekweld so you lose an additional excuse of why you missed.
Looks: 4/5
Coloring matches up and the stainless steel looks pretty…but otherwise it's pretty normal.
Customization: 5/5
It's an AR platform with M-LOK so you can do anything to it. You'd probably want a better trigger (PSA's 2-stage is great for the value), buttstock, and optic (Best AR-15 Optics) to wring out all the accuracy.
Bang for the Buck: 5/5
Awesome deal on an AR-15 upper that can reach up to 1300 yards. Around $499 but can reach down to $349 for blemished models.
Overall Rating: 4.5/5
Conclusion
I think the .224 Valkyrie is here to stay.
No need to upgrade to an AR-10, reach out to 1000 yards easily, affordable uppers, and even affordable ammo (~50-60 cents each for the American Eagle 75 gr).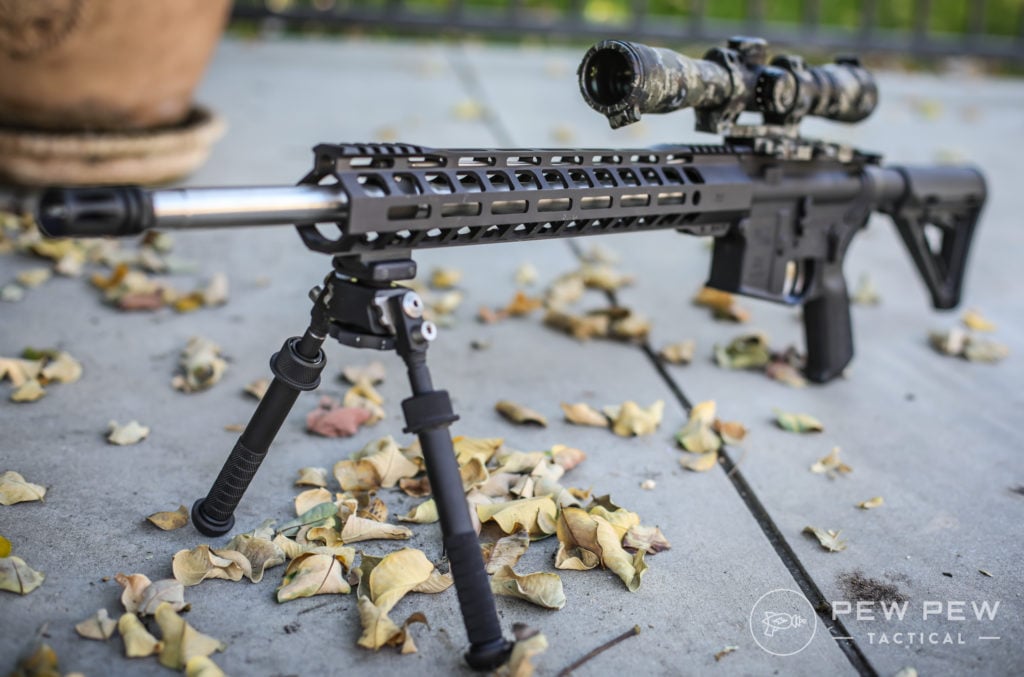 PSA's entry into the field brings reliability, decent accuracy, and of course…awesome bang-for-the-buck-ness.
Best Long-Range AR-15 Budget Upper
399
at Palmetto State Armory
Prices accurate at time of writing
Prices accurate at time of writing
If 1300 yards is too far for your needs or range, check out reviews of (almost) all of PSA's guns.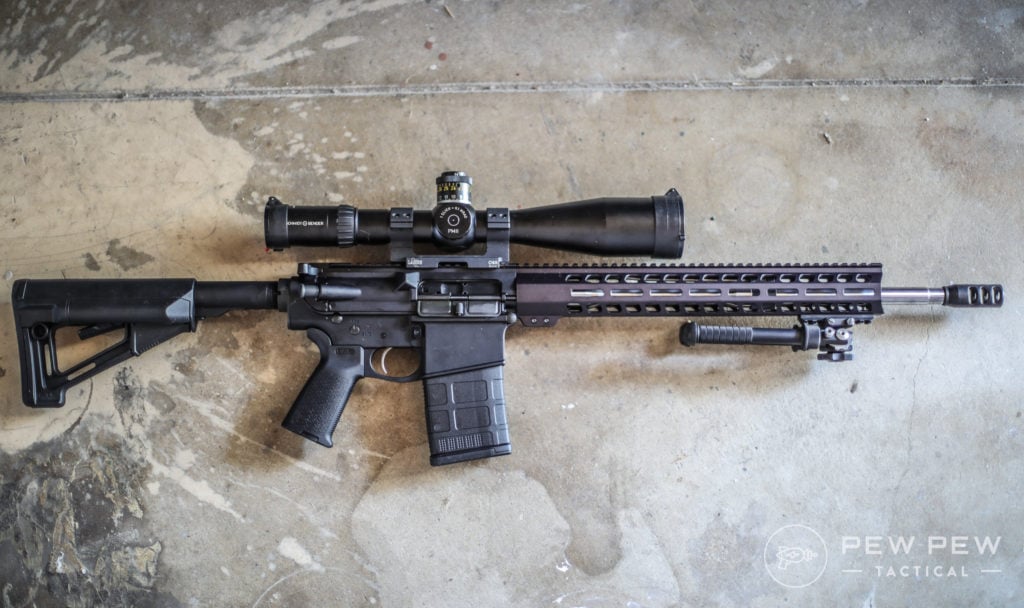 What do you guys think of the PSA AR-15 in .224 Valkyrie? Do you think the round is here to stay? Or is moving up to the AR-10 platform the way to go? See our other favorites there in Best AR-10s.