From high-end rifles to budget blasters, the number one most important thing is training regularly with your rifle!
Using .22LR is a great way of reducing the cost of training in any platform, and the AR-15 is outstanding for that offering that kind of flexibility.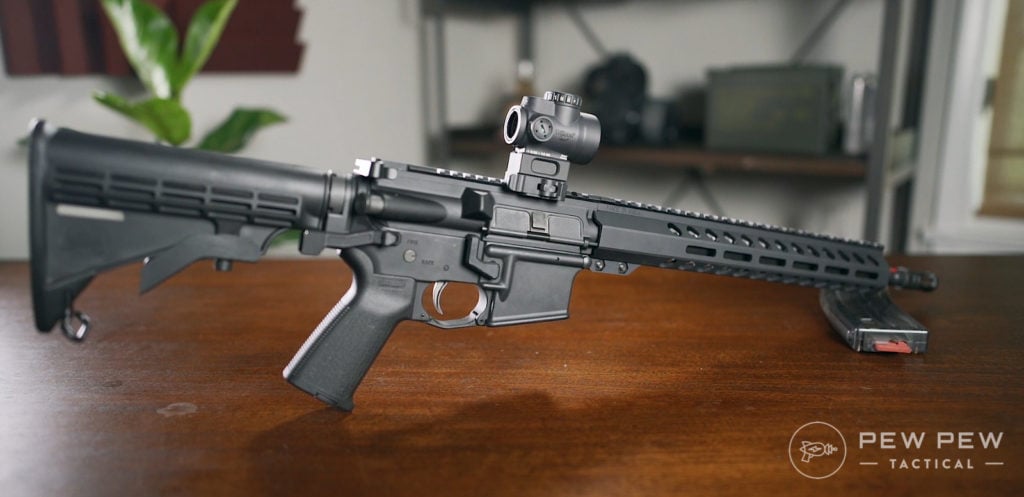 While kits are on the market that allow you to switch your standard .223/5.56 upper into a .22LR upper, these have disadvantages due to the barrel but being designed for the ammo.
A new upper that is dedicated for .22LR is a fast and simple way of avoiding those problems while offering you the greatly reduced price of ammo!
Be sure to sub to our YouTube Channel for new reviews and random stuff every week.
What Is It?
Palmetto State Armory is well known for budget-friendly, reliable, quality firearms and uppers.
We've reviewed almost every PSA offering under the sun and have always found them to be an amazing value for your money.
369
at Palmetto State Armory
Prices accurate at time of writing
Prices accurate at time of writing
This .22LR dedicated AR-15 upper is no different.
There are two parts that make this a dedicated .22LR upper vs just any other upper, the BCG and barrel.
Chambered for .22LR and featuring a 1:16 twist rate, this barrel is going to be a lot more accurate out of the box than if you were to try and use your .223/5.56 barrel and a conversion kit.
The BCG is radically different from a standard BCG. It's lighter, redesigned, and purpose-built for the project.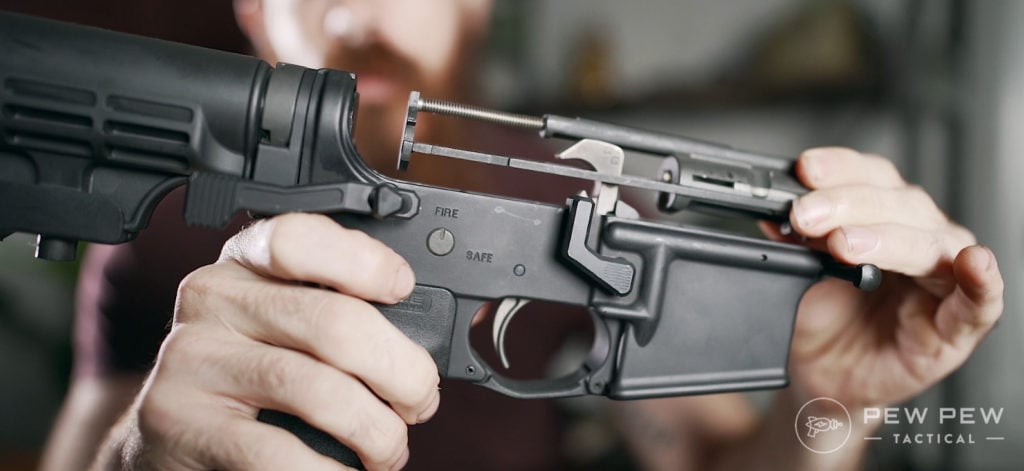 One thing to remember though is that any .22LR AR-15 will require dedicated .22LR magazines. There are a bunch of these on the market, but we used Black Dog Machine 10-Round magazines.
16
at Brownells
Prices accurate at time of writing
Prices accurate at time of writing
And yes, .22LR AR-15 magazines come in a lot of round-counter flavors such as drums!
Fit, Feel, and Finish
If you've picked up anything made by PSA before, then you know how the fit, feel, and finish is for this upper. It is exactly what you would expect from them, nothing to write home about, but fully serviceable and ready for the range.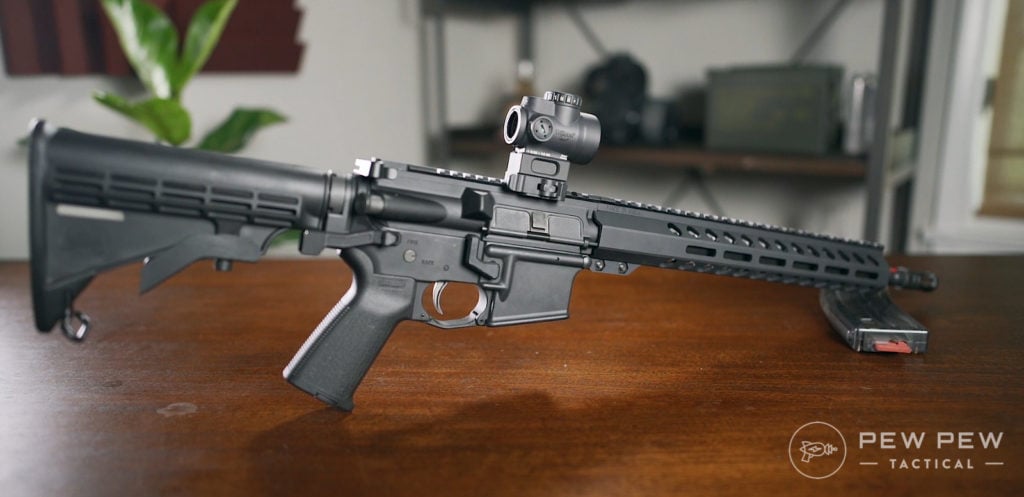 The coating is simple but robust. Cleanly and evenly applied and decently finished, the upper won't win beauty contests or help you flex on poors – but it will handle well and give you what you need from a quality firearm.
Range Report
The heart and soul of this upper is the simple fact that it is an AR-15 upper. Manual of arms and use is what you're used to with any other AR-15 upper, the only difference functionally is that the .22LR has a shorter charging handle pull distance.
Reliability
Using a PSA or DIY 80% lower, the upper ran flawlessly. Nothing to really talk about since it just worked, exactly like it should.
39
at PSA
Prices accurate at time of writing
Prices accurate at time of writing
However, we did run into a problem when we switched the upper to an Aero Precision lower.
We were not able to identify what the cause of the issue was, but we had repeated failures and malfunctions with that lower.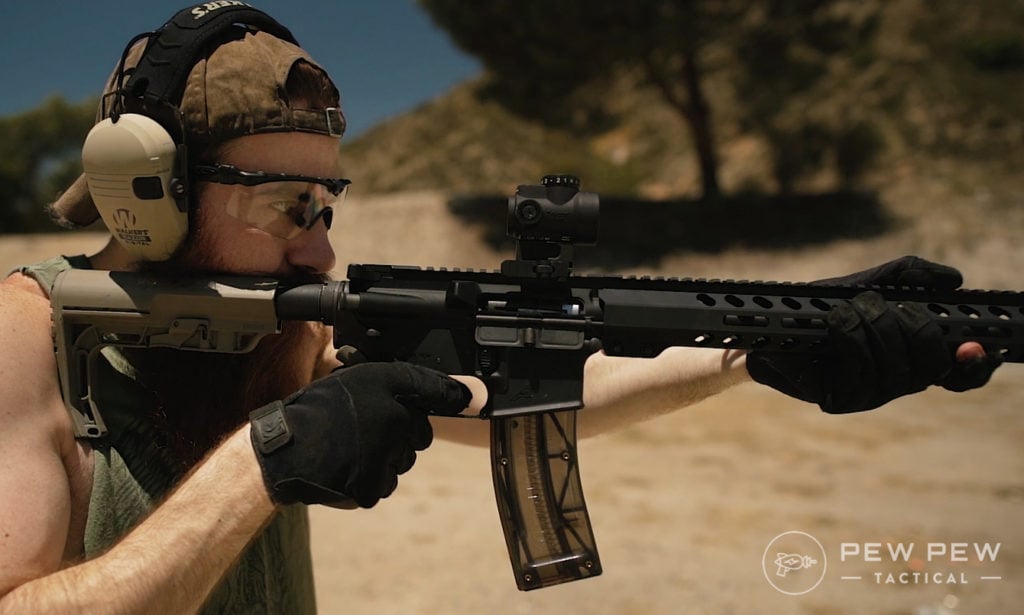 Including one very weird malfunction that resulted in a spent .22lr case being trapped behind the BCG between the BCG and the buffer tube. The upper still functioned with the spent case rattling around back there, but that is still a not-good malf.
Because of this issue – you might want to consider that there could be part interchangeability questions with this upper. If you're using a PSA lower, you should be good to go, but YMMV with other lowers.
Accuracy
We fed the upper a host of different .22LR ammo and it worked outstandingly with each. While shooting for groups at 25-yards, each ammo type grouped well and showed no signs of problems such as keyholing.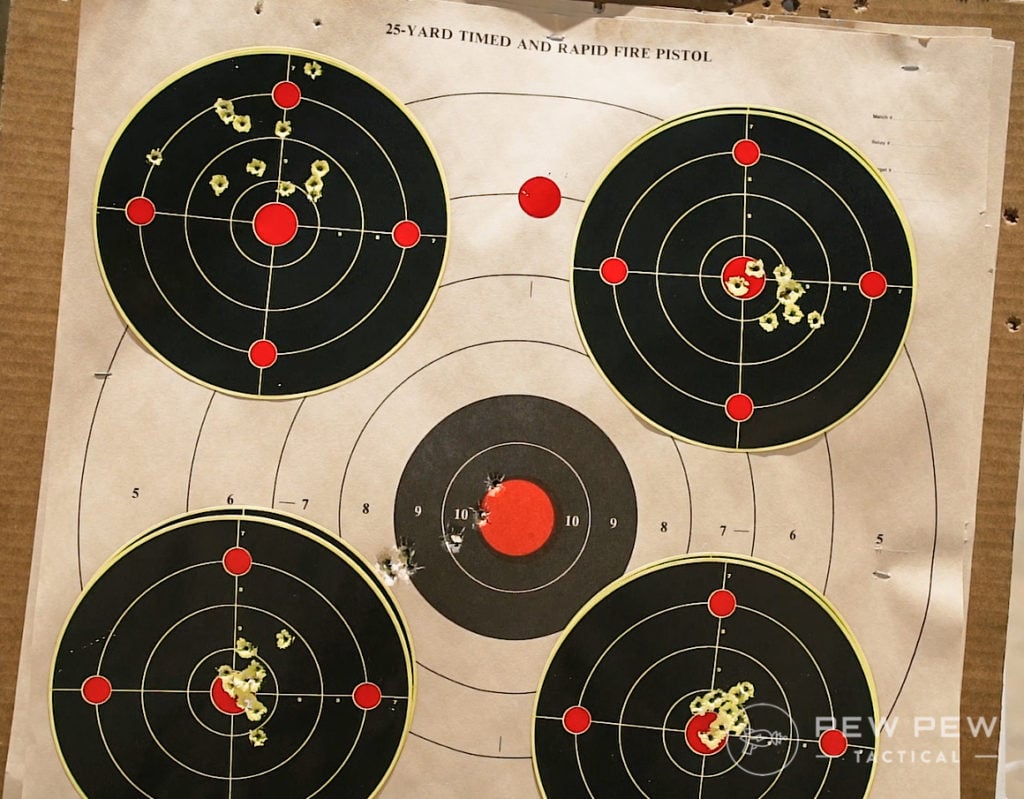 The best ammo we found was CCI Mini-Mag was the best and shot around 1-MOA.
Proof that a dedicated .22LR barrel and bolt is a LOT better than trying to fling .22LR down .223/5.56 rifling!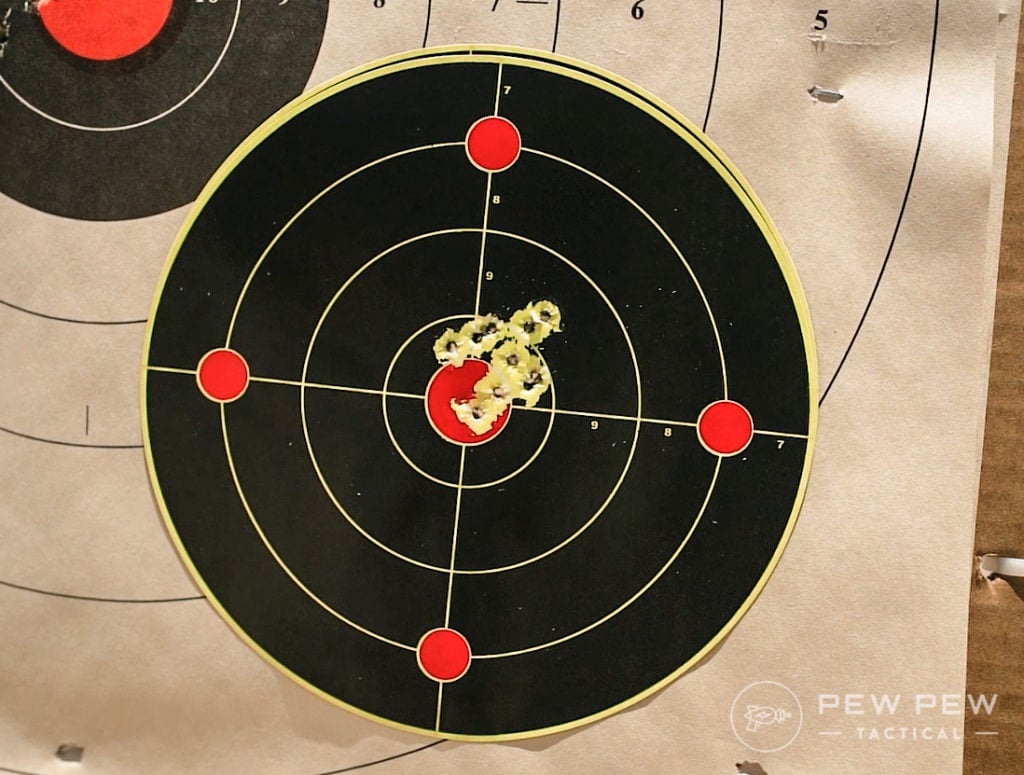 By The Numbers
Reliability: 3/5
Running perfectly with the PSA and 80% lowers, but the Aero issue highlights that there might be compatibility problems with some parts.
Accuracy: 4/5
Far more accurate than we expected! Having a dedicated .22LR barrel with a proper 1:16 twist really makes a difference in stabilization and accuracy.
We had the best results with CCI Mini-Mags, but all of the ammo we tried worked well.
9
at Firearms Depot
Prices accurate at time of writing
Prices accurate at time of writing
Ergonomics: 4/5
As you would expect with an AR-15, everything fits well and offers some of the best ergos on the market.
Looks: 4/5
While a bit standard and basic, the looks, fit, and finish are well done and cover the bases.
Customization: 5/5
Even in .22LR, it's still an AR-15! Literally, everything can be customized to match your needs.
Overall Rating: 4/5
Parting Shots
A dedicated .22LR upper offers the ability to plink, train, and commit the rifle to muscle memory without needing to spend a boatload on ammo.
It also offers a much better platform for small game hunting since the twist rate is able to correctly stabilize the very lightweight .22LR rounds.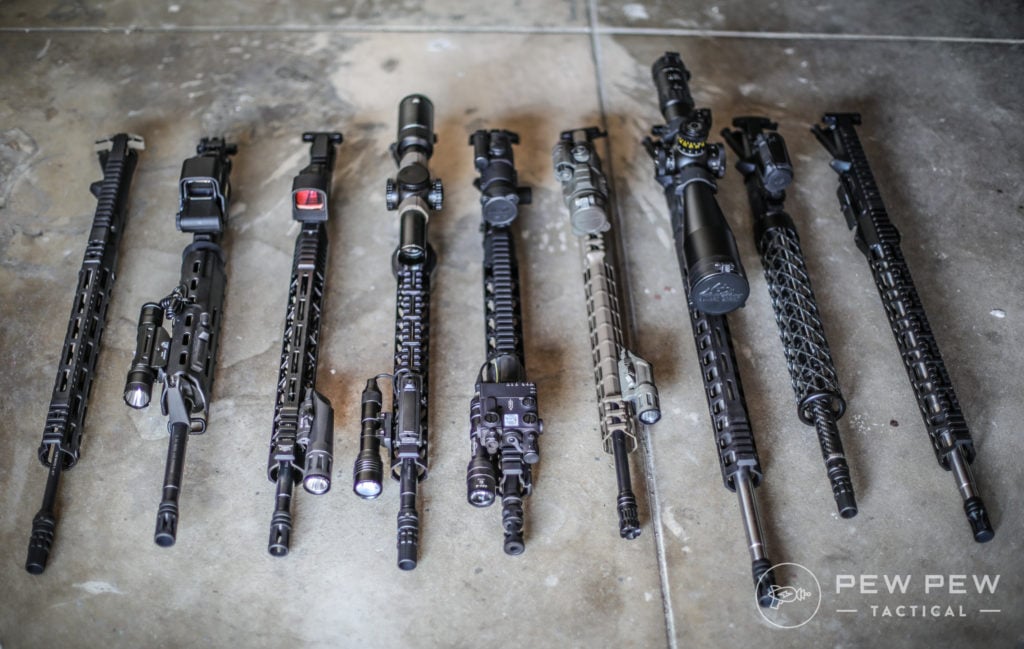 We also love to use .22LR to train new shooters and introduce people to the awesome world of firearms!
A .22LR AR-15 is one of our favorites since it helps bridge a gap between "scary black rifle" and being one of the best firearm platforms ever designed.
Do you roll with a dedicated .22LR upper? Got a conversion kit instead? If you're looking for more awesome calibers to use with your standard AR-15 lower, take a look at the Best Caliber Conversion Kits!