An all-American AK chambered in 9mm?
Yes, please!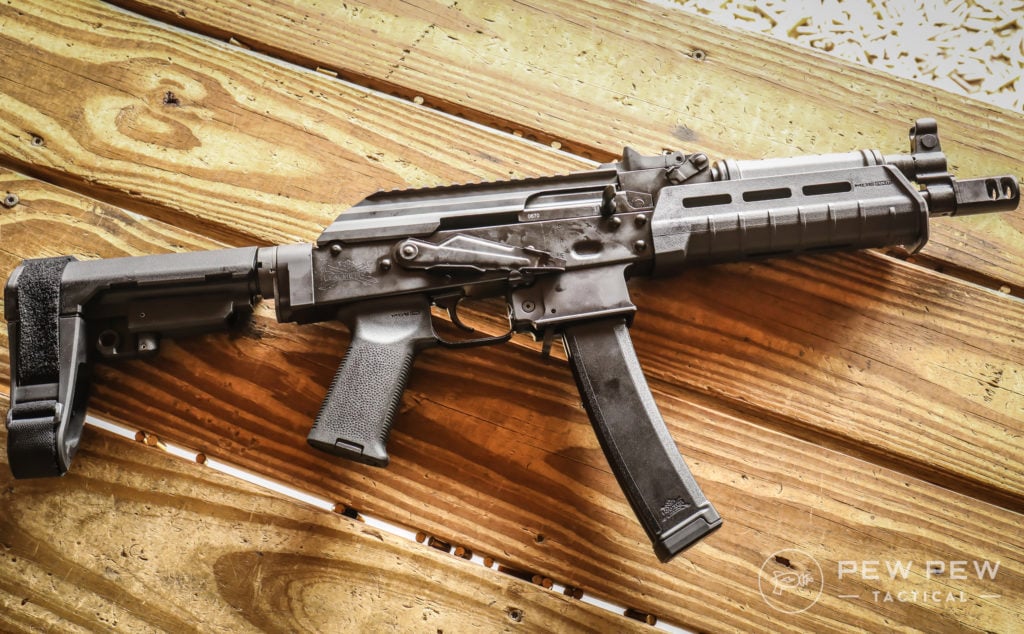 Palmetto State Armory first invited me mid-2018 to check out the prototype AKV which performed admirably.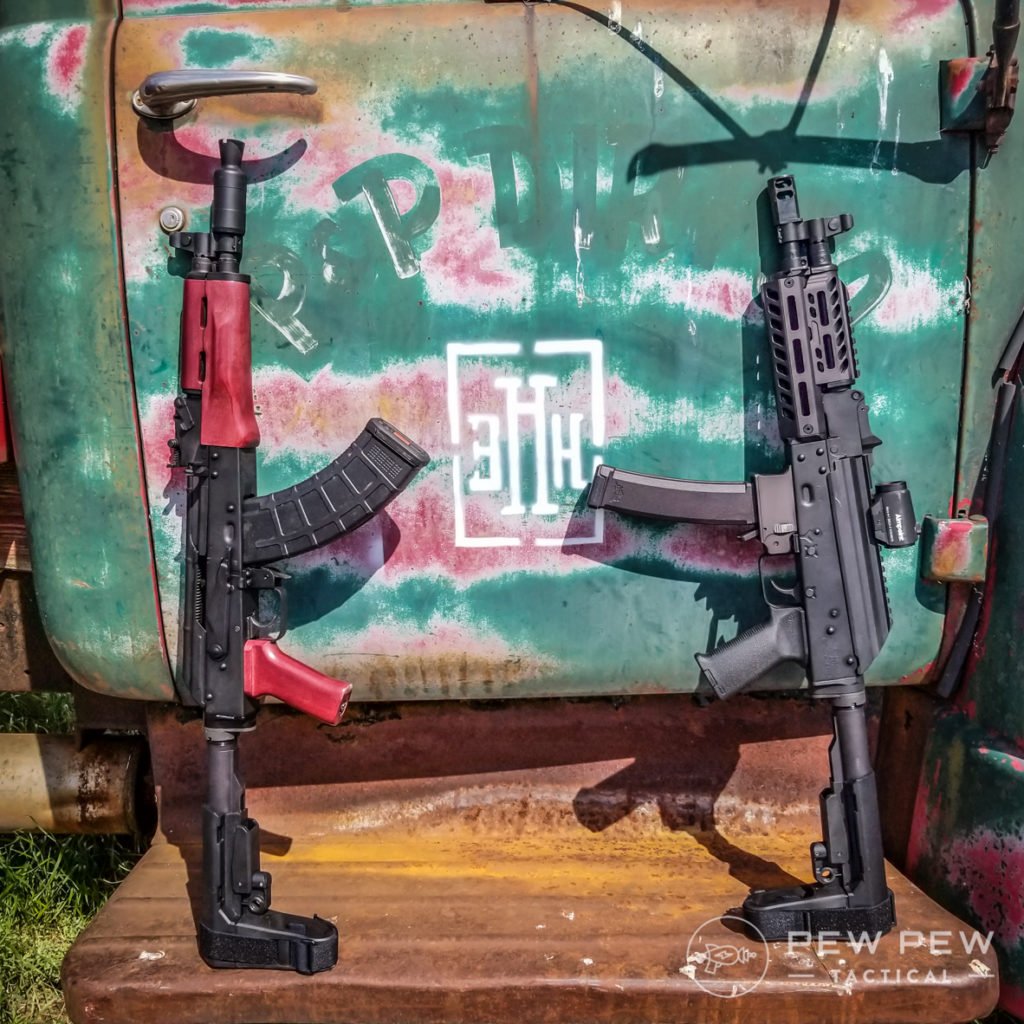 The first commercial production was released in December 2018 and we got our hands on one.  There's been some problems.  However, the newest ones in April 2019 look to be running great.
730
at Palmetto State Armory
Prices accurate at time of writing
Prices accurate at time of writing
Read on to the full scoop.
**Update** 9/10/2019
AKOU has completed their 5,000-round update AND a 60-hour "swamp test" where they literally left the AKV underwater in a swamp for 60-hours.
It has passed with flying colors!
Even we're impressed with how well the AKV has held up to the abuse that RoB Ski has put that poor pistol through. For the price point, you owe it to yourself to get one. or two. Also, PSA is actually producing them in decent numbers since finding them in stock won't be so difficult!
**Update** 6/14/2019
AK Operators Union has published a 2,000-round update on their re-release AK-V – in Rob Ski's own words "Thing just work!" in an incredibly positive review, Rob Ski details the truly brutal usage he has put his AK-V through and even after 24-hours soaking in a puddle and 2,000 rounds fired, it is running beautifully.
**Update** 4/9/2019
PSA has re-released the AK-V with several important changes to address the issues we (and others) found during testing. For a full rundown on the changes, take a look at PSA's video and blog post!
We're getting a new version of the AK-V sent to us soon and will bring you a fully updated review as soon as possible! So far, from what we hear the new version is working flawlessly!
Origin
The "V" comes from the Vityaz-SN 9mm submachine gun developed for Russian special forces that is based off the AKSU.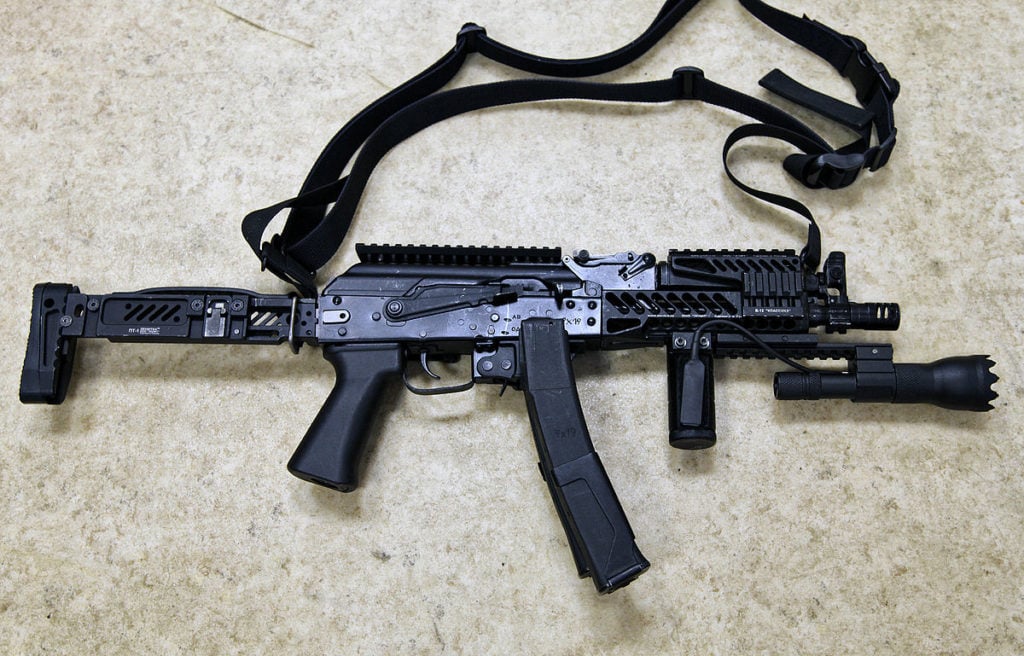 Here it is in action with Larry Vickers:
Since it's impossible to get in the US…PSA engineers had to create it from the ground up based off only photos.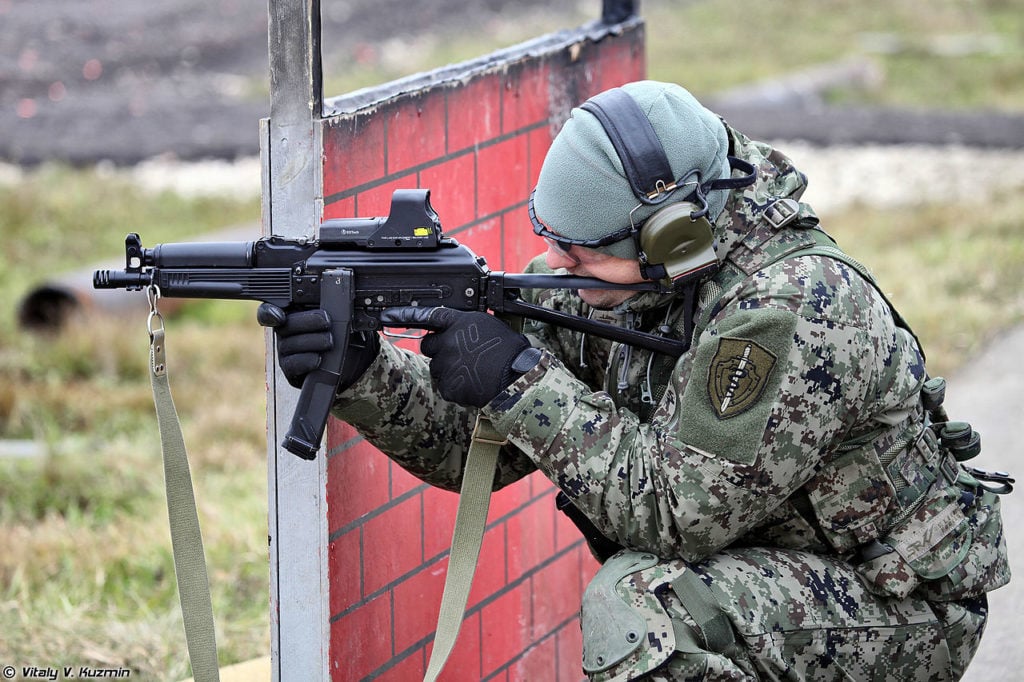 Props to PSA and their engineers for trying to create something semi-new…especially without a working model in front of them.
Design
The SB pistol brace worked well (and looks great).  Here's the prototypes.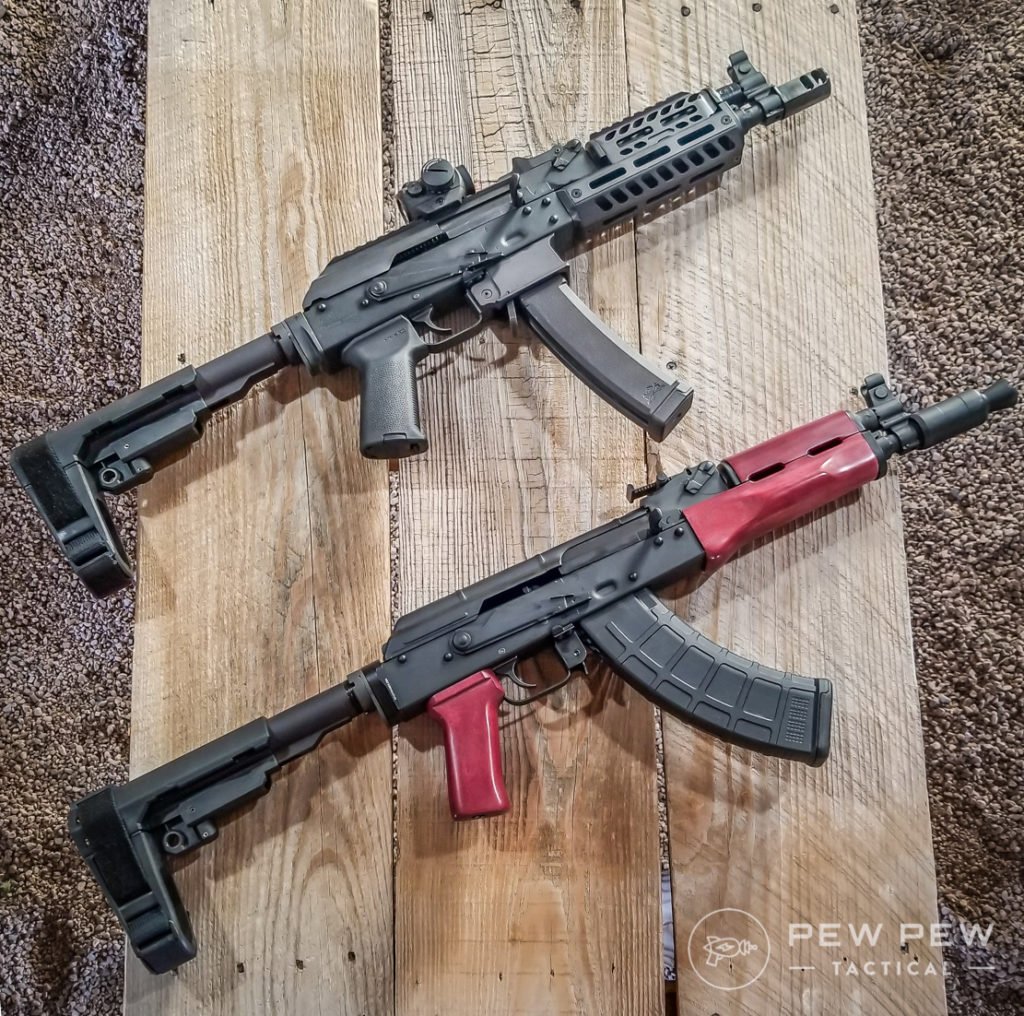 And the MOE production model we tested.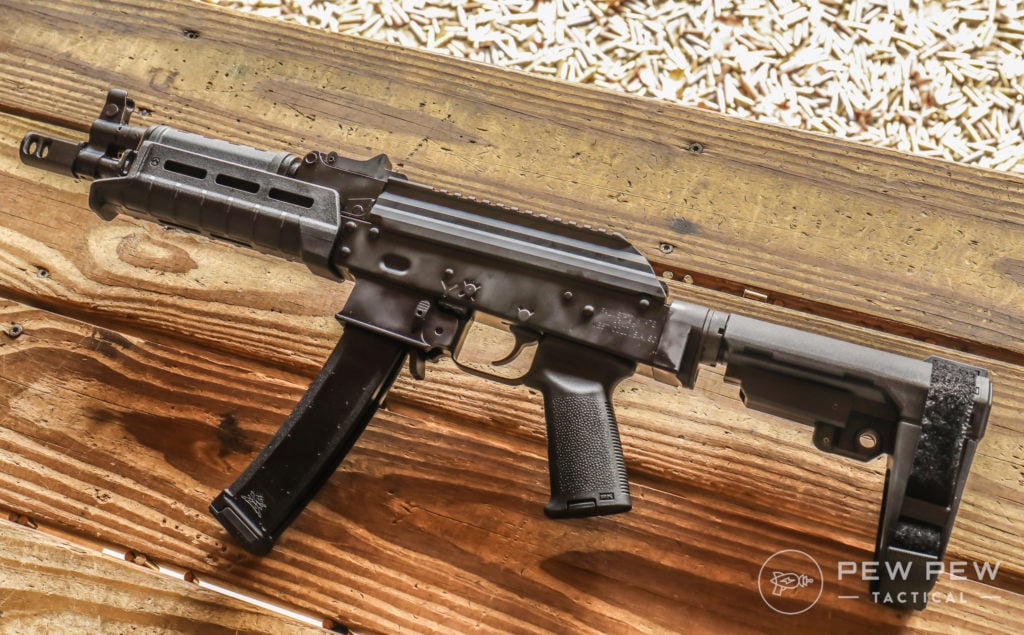 Plus it has a railed/hinged dust cover.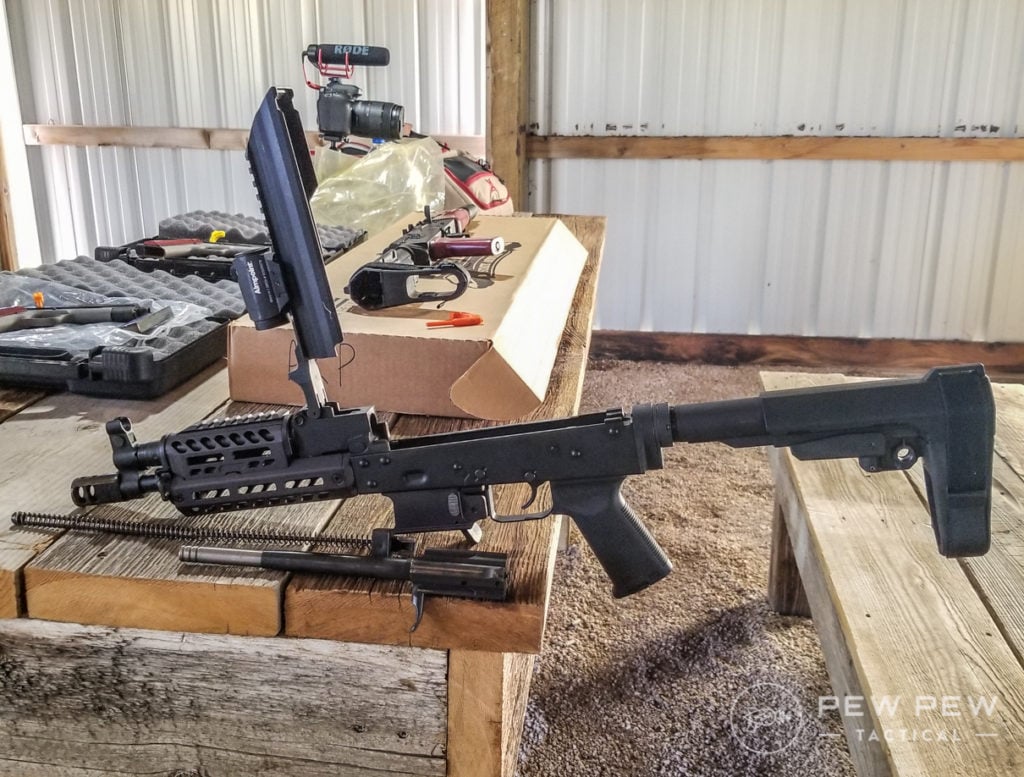 I thought I had a constructive design comment…but it turns out they already thought of a bolt catch system on the magwell.
Oh, and the magazines?
They use regular CZ Scorpion ones.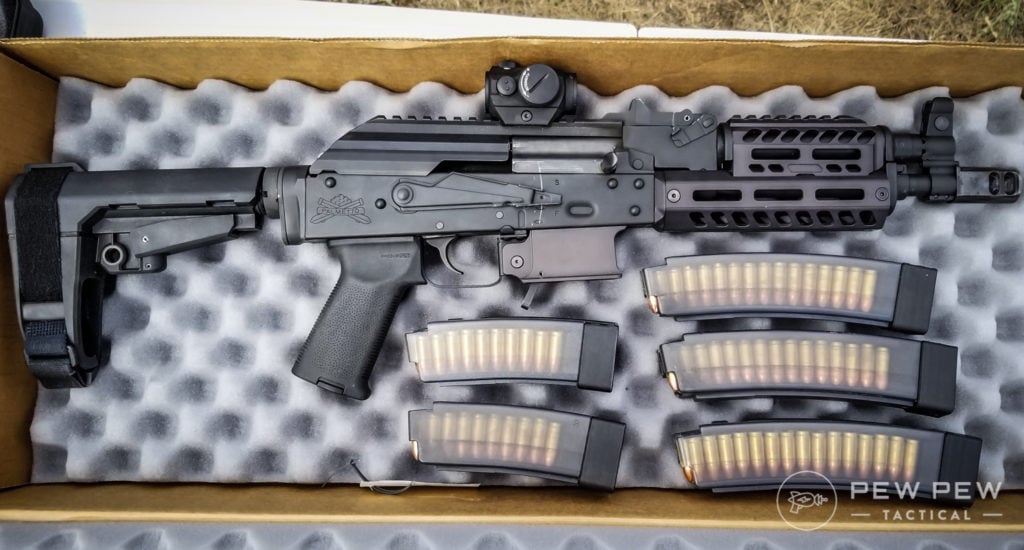 Plus now there's some quality-feeling PSA versions.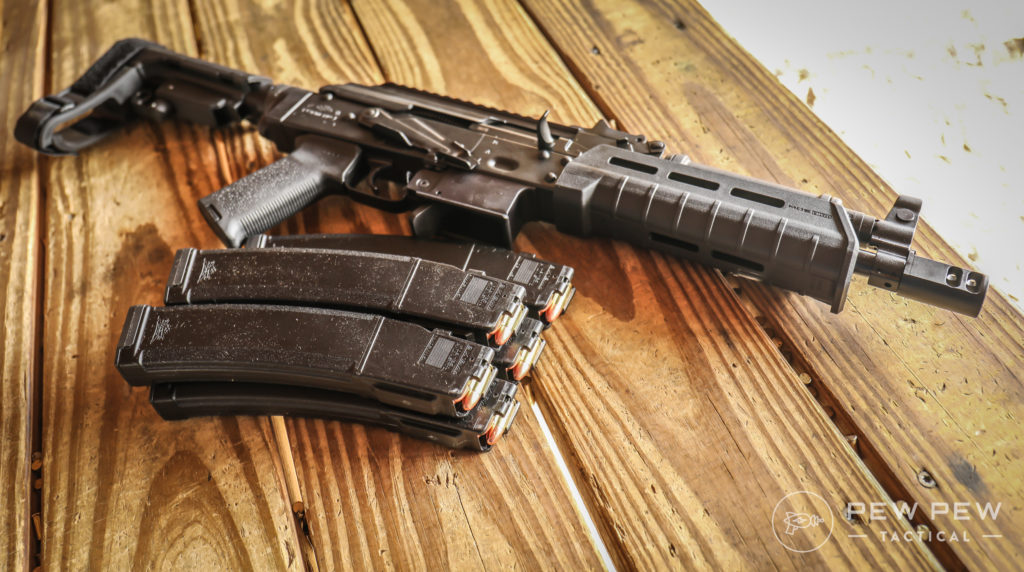 Now what you've been waiting for…
How Does It Shoot?
Prototype
The prototype…we ran it hard with half a dozen writers and ~10 PSA folks.  I'm estimating near 1000 rounds at the end of the day.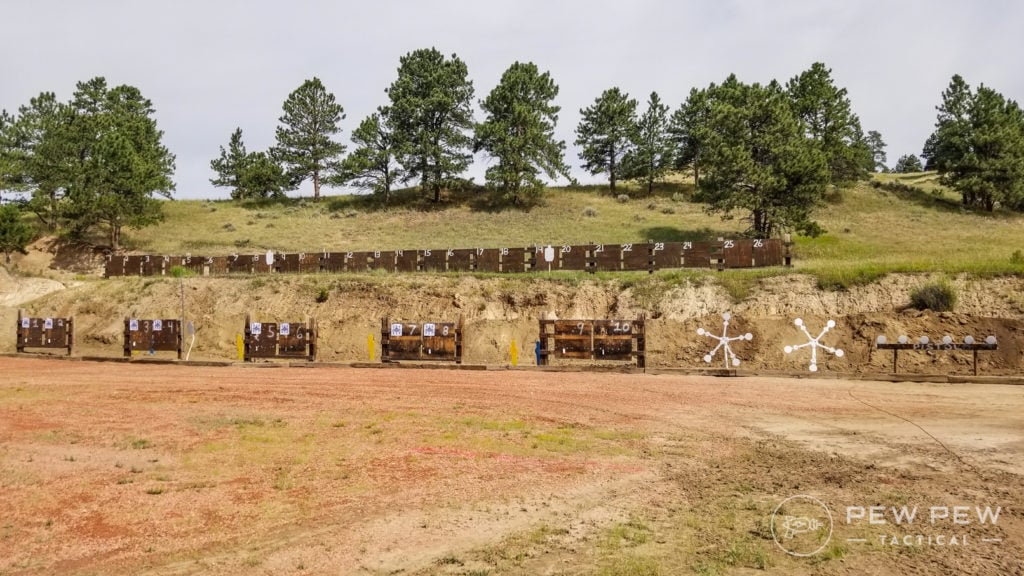 There were some hiccups…but we found it to be with specific 3D printed magazines that had weaker springs to aid with feeding.
Otherwise…it ran like a champ.
Here's me with my third magazine through the AKV…it was intuitive and easy to line up followup shots.
Light recoil even with a blowback system.  Even though it looks like it's piston.
The red dot version made it easy for the plate rack and also 100 yard steel.
Production
We picked up a production blem version that would have been sold later so it wasn't a "hero" gun or one they extensively tested.
It was awesome when it worked.
But there were fails through different mags and ammunition.  We used about 1000 rounds of white box Winchester and a couple hollowpoints.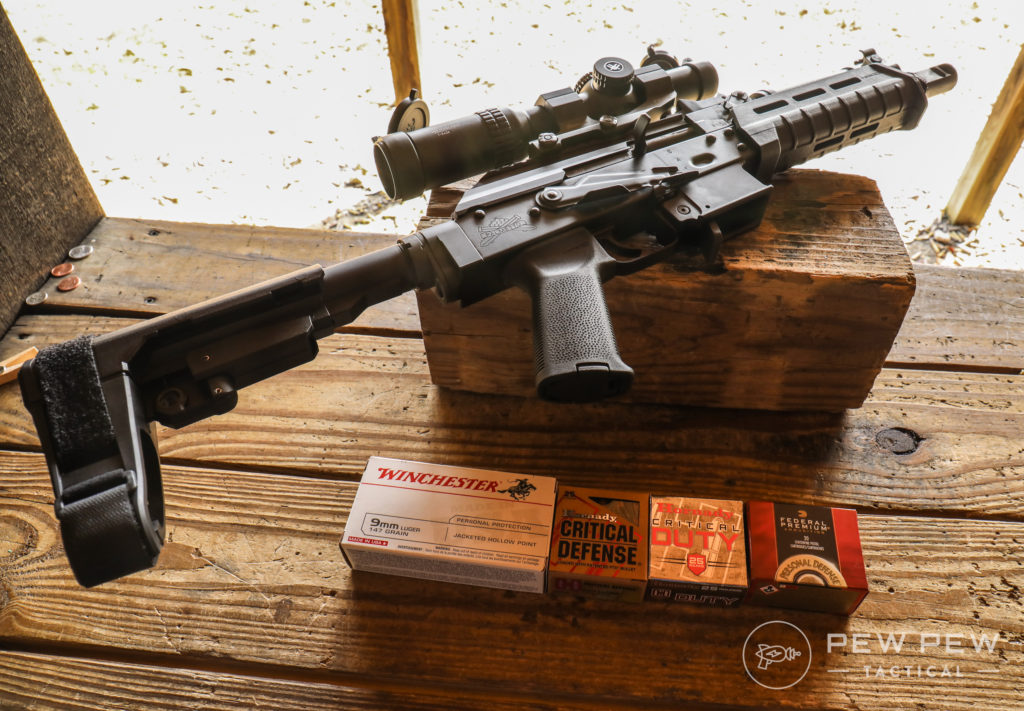 The main fails we encountered were failures to eject and failures to go into battery.
Sometimes spent cases would get stuck…along with another live round.  It became commonplace to take out the mag and have an extra round (or two) fall out.
And sometimes there'd be the dreaded *click*.
We also got one or two instances of unintentional double-taps when we were going for precision shots and slowly pressed/released the trigger.
Our unconfirmed guess is that there's something wrong with the following or a combination:
out of spec bolt…it looked like the firing pin and bolt face were not aligned
weak extractor
out of spec disconnector
Military Arms Channel seemed to have an even more problematic AKV where casings/rounds would get stuck behind the bolt.  Thankfully we didn't have that problem since it seems REAL annoying.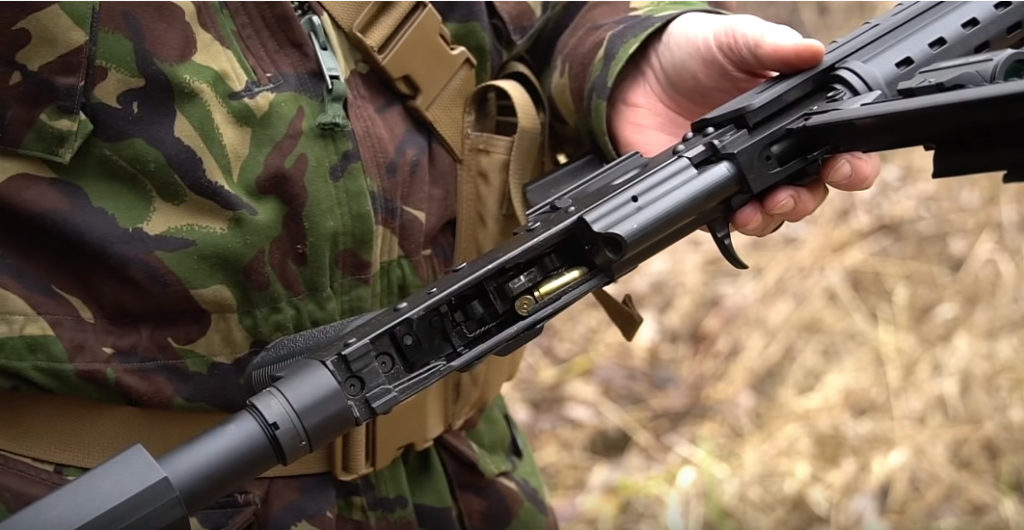 See his full review for malfunctions galore…
Ok…so there's some problems with reliability.  Let's see its accuracy.
Accuracy
We added a 1-6x Strike Eagle (Best 1-6x Scopes).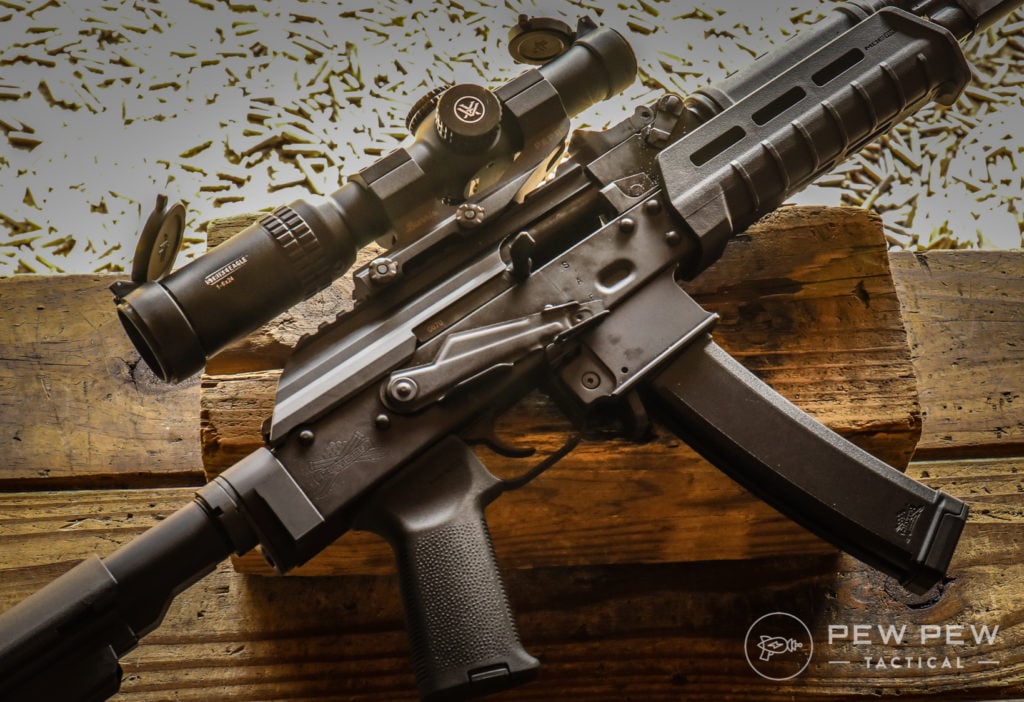 And set up a 50 yard target.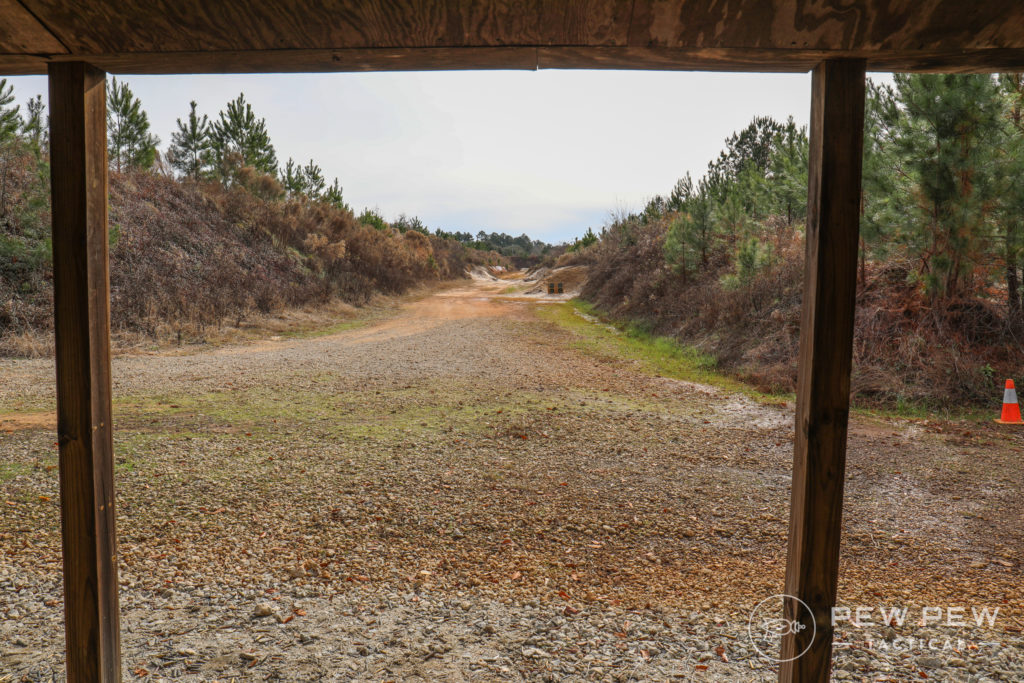 And shot a lot of rounds semi-bench-rested.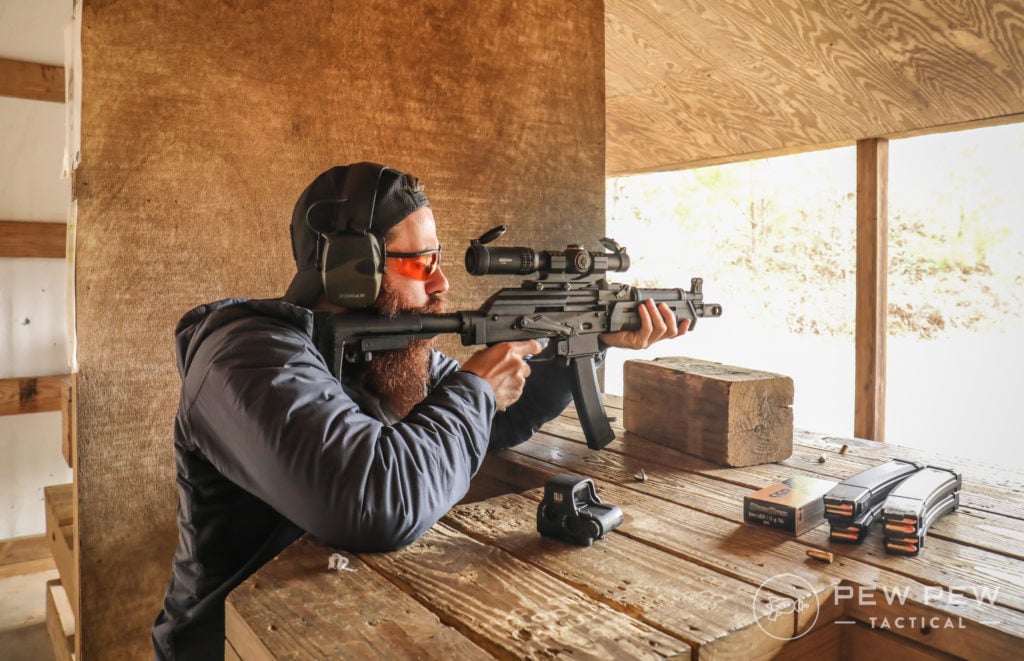 Here are our results…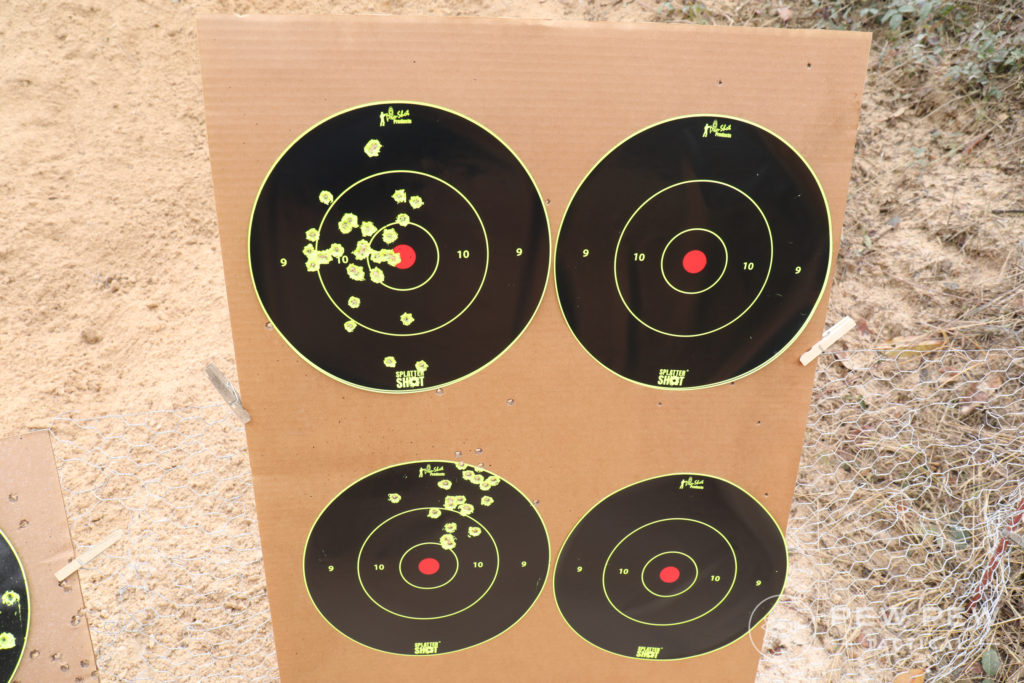 It's…ok.  Of course I'd want it tighter but it's perfectly fine for its intended purpose of close-range encounters.
Current Status
PSA could have gone silent and say it was a small batch that had problems…but they are owning it.
Here's their public statement:
A few customers have brought to our attention that they are having feeding and extraction issues with their PSAK-V. We take all concerns and complaints about our products seriously. We did not run into these issues during the testing phase. We now believe we know what the issue is, and are making a fix now. We are bringing back for warranty those few production guns that did have an issue. We want you to have 100% trust in our firearms. Since these problems have been brought to our attention, we have temporarily ceased production of the PSAK-V until we are satisfied that any problem has been completely resolved. We apologize for any inconvenience this may cause. We are committed to producing 100% American made products that meet and exceed our customer's expectations.
Conclusion
It definitely sucks that the first generation wasn't flawless out the gate.
730
at Palmetto State Armory
Prices accurate at time of writing
Prices accurate at time of writing
But if their PSAK series has anything to show…it's that by Gen 2 and especially Gen 3 it becomes truly awesome.  Full review here.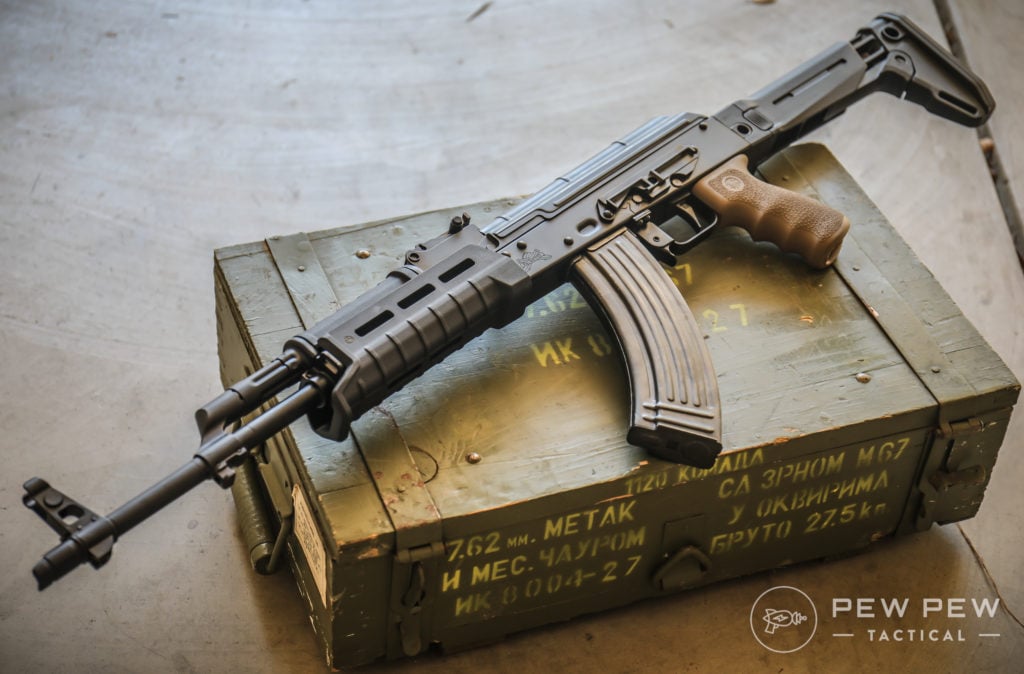 I'll be waiting to update my review when the fixed version becomes commercially available again.
What's your thought?  Is it something you'd want once it's fixed?  Or is it blasphemy?  In the meantime…check out our other PSA reviews.