An all-American AK chambered in 9mm?
Yes, please!
Man, has this been a long time in the making though.
Palmetto State Armory first invited Eric in mid-2018 to check out the prototype AKV which performed admirably.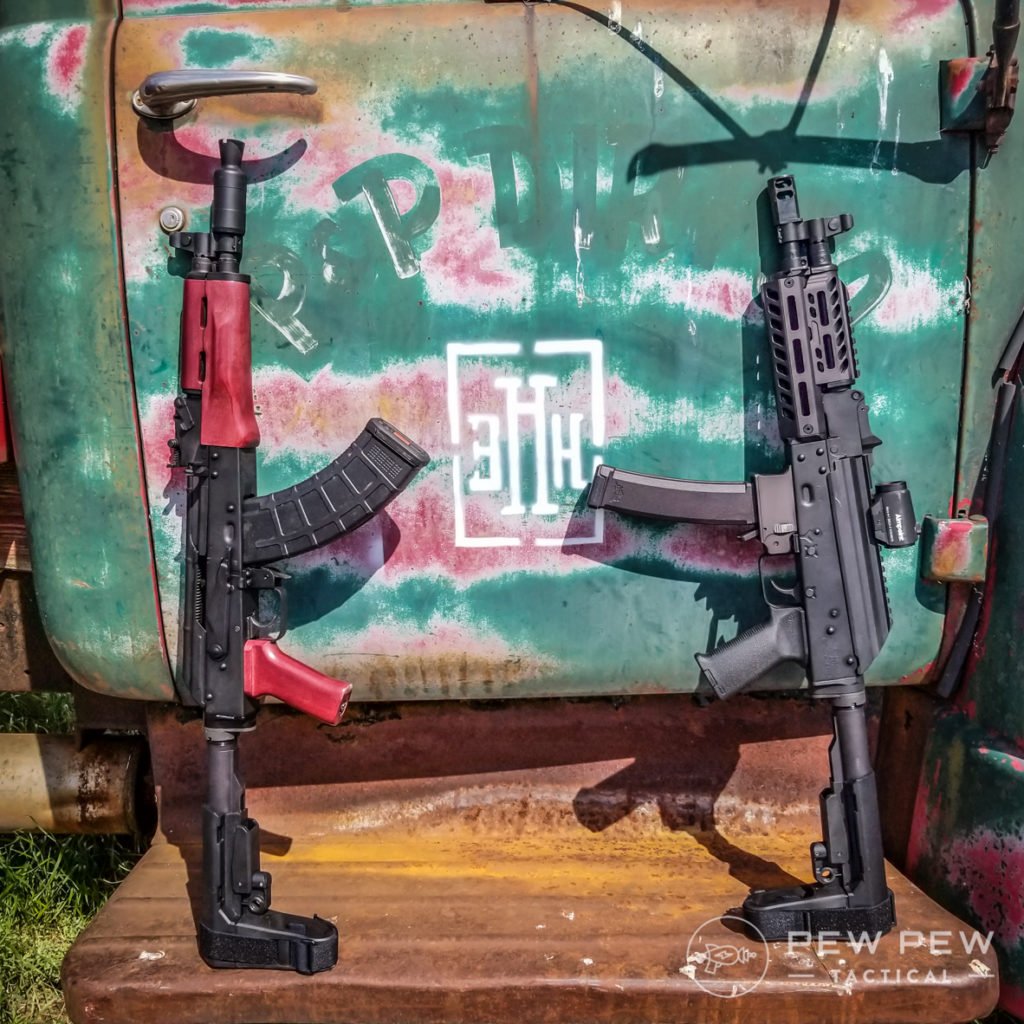 The first commercial production was released in December 2018 and we got our hands on one. But we, like others, found that there were… problems.
But now…they are ALL FIXED.
849
at Palmetto State Armory
Prices accurate at time of writing
Prices accurate at time of writing
Check out the video below or read on to see if the AK-V is right for you.
Either way though, don't forget to subscribe to the Pew Pew Tactical YouTube Channel!
Table of Contents
Loading...
The Road So Far
During the pre-release preview, Eric and others ran over 1,000 rounds through a single AKV and it shot like a champ.
Several months after the initial release of the AKV, we got another chance to shoot one and test it out.
When it worked it was Amazing. When it worked.
The main issues we found were failures to eject and failures to go into battery. There was also a double-fire issue that was majorly not good.
And we weren't the only ones to have this issue. Customers that had bought an AKV found the same problems, including MAC.
Problems Corrected, Product Re-released
PSA went to work on tracking down exactly what the problem was and it turned out to be a manufacturing defect.
Some of the bolts that PSA received from a supplier were incorrectly made, while most of those bolts were returned before ever being installed in an AKV — some slipped through.
But PSA didn't stop there. They also took the feedback they heard from their customers, MAC, and us at Pew Pew and made a series of changes and upgrades to the AKV that resulted in what I would call the AKV 2.0.
AKV's Final Form
The upgrades and changes are all fairly minor, but add up to be a much nicer and more refined pistol. And since the changes, the PSA AKV has been a major workhorse of a pistol!
The AK Operator Union is one of the best sources for AK testing and regularly puts thousands of rounds through each and every gun.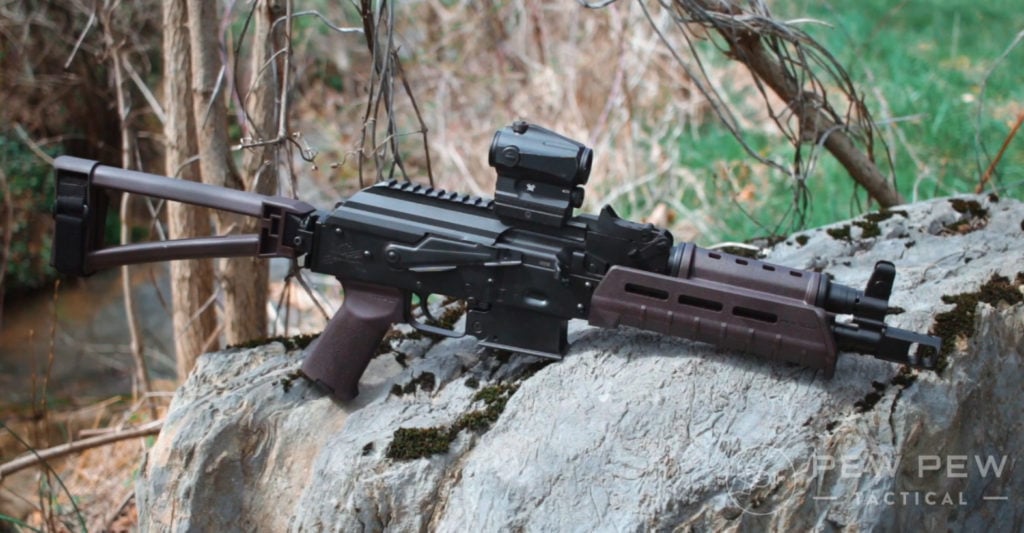 As of the AKOU 5,000-round update AND a 60-hour "swamp test" where they literally left the AKV underwater in a swamp for 60-hours — It has passed with flying colors!
Even we're impressed with how well the AKV has held up to the abuse that Rob Ski has put that poor pistol through.
For the price point, you owe it to yourself to get one. or two. Also, PSA is actually producing them in decent numbers so finding them in stock won't be so difficult!
But we still needed to finish our own review.
Heeeeeeere's Johnny!
Johnny got one of the new and improved AKVs out for testing and worked up a complete video of it for us, make sure to check it out!
The AKV is now offered in cool colors AND with the long awaited triangle folding brace!
Origin
Before we get into the review, let's look at some of the background — because this is just awesome.
The "V" comes from the Vityaz-SN 9mm submachine gun developed for Russian special forces that is based off the AKSU.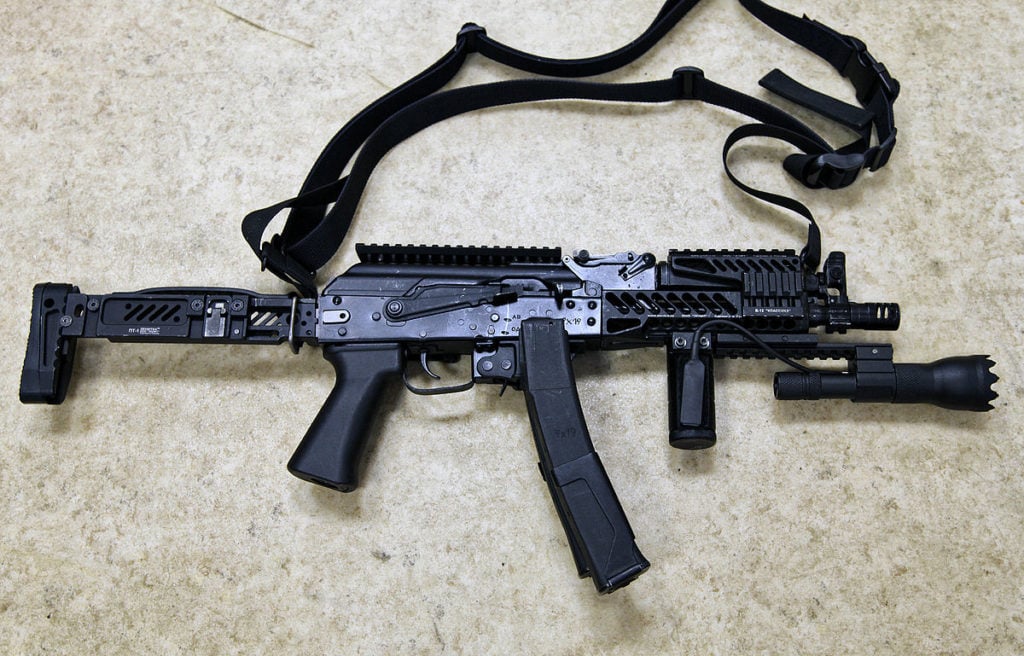 Here it is in action with Larry Vickers:
Since it's impossible to get in the US… Palmetto State Armory engineers had to create it from the ground up based off only photos.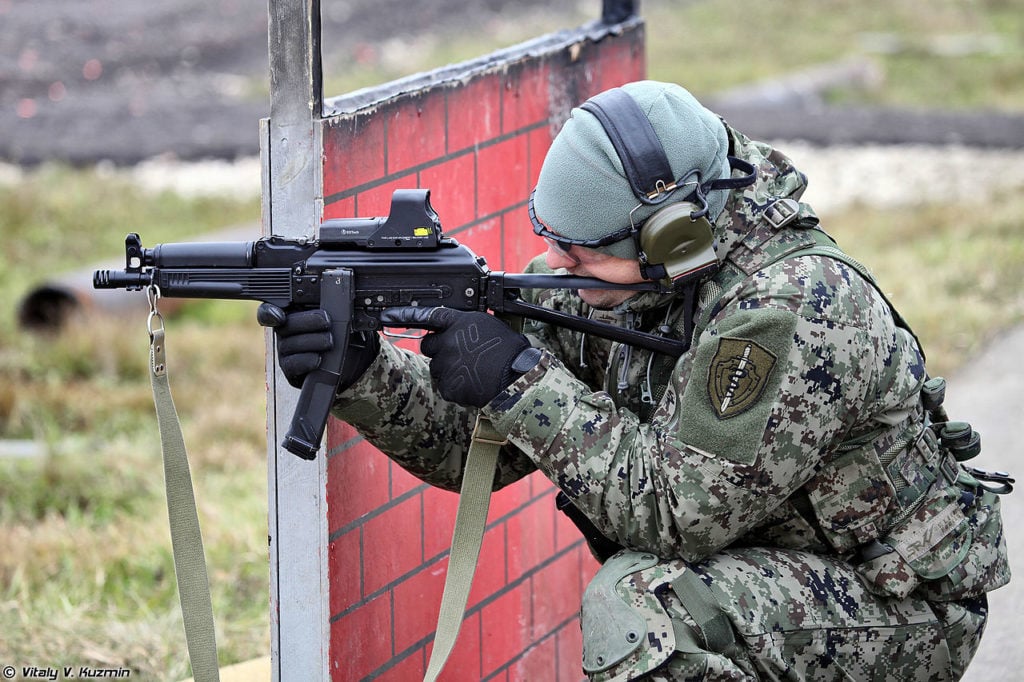 Props to PSA and their engineers for trying to create something semi-new…especially without a working model in front of them.
Design
Since PSA worked on this pistol from the ground up, they were able to bake in some very cool upgrades over the Vityaz design.
First off, a hinged top cover that retains zero!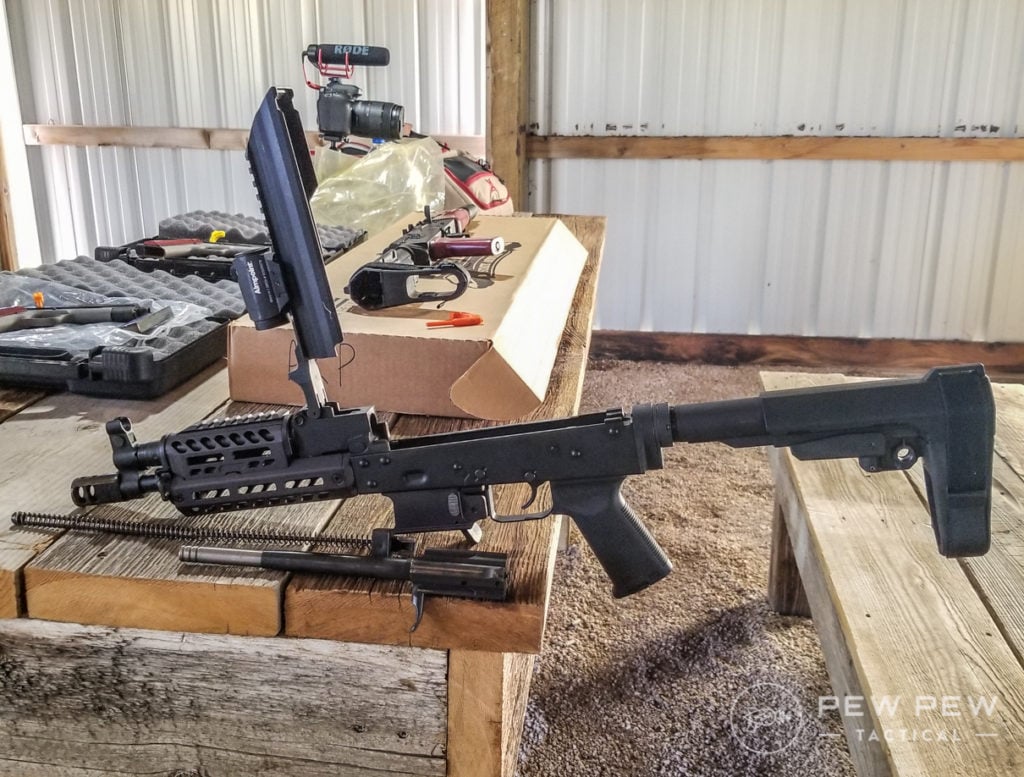 While field-stripping is basically exactly like a normal AK, the dust cover on the AKV is retained to the receiver by a hinge. This makes it possible to clean your pistol and not lose zero.
Next up is the bolt hold open / bolt release.
Placed kind of oddly on the magazine well, it's not our favorite. But it does work and does add a functionality that is nice to have on a platform that otherwise doesn't have it.
It feels a little under sized though.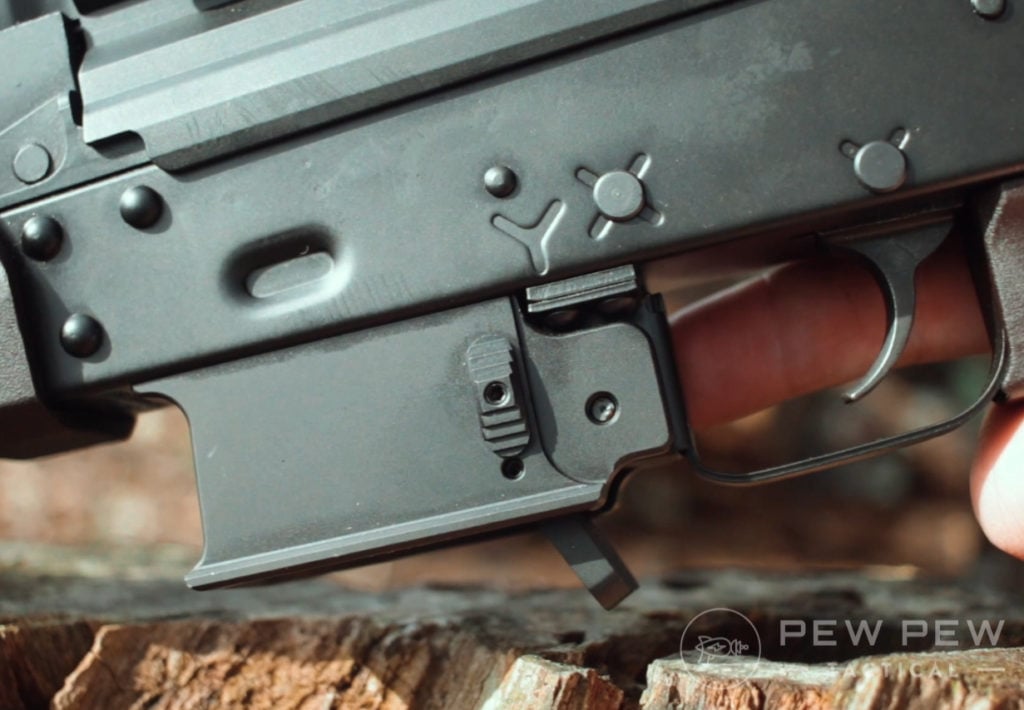 What might be the crown jewel of the AKV though is the magazines.
Designed and produced by PSA themselves, the AKV magazines are actually fully compatible with the CZ Scorpion also! And they hold a staggering 35-rounds standard.
While the AKV can take most CZ Scorpion magazines also, all PSA mags work with Scorpions.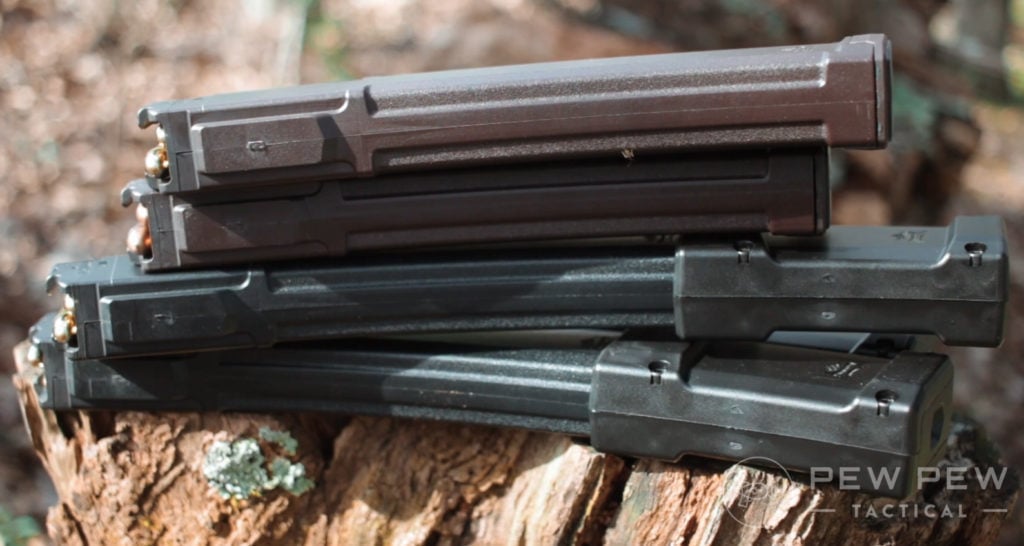 Plus, the AKV mags come in awesome colors like plum.
20
at Palmetto State Armory
Prices accurate at time of writing
Prices accurate at time of writing
Now what you've been waiting for…
Range Report
Johnny took the AKV to the range and ran a ton of rounds through it. Knowing the problems that it had in the past, we wanted to give the AKV a full workout.
Zero malfunctions of any kind, and that is including testing with brass case AND steel case ammo!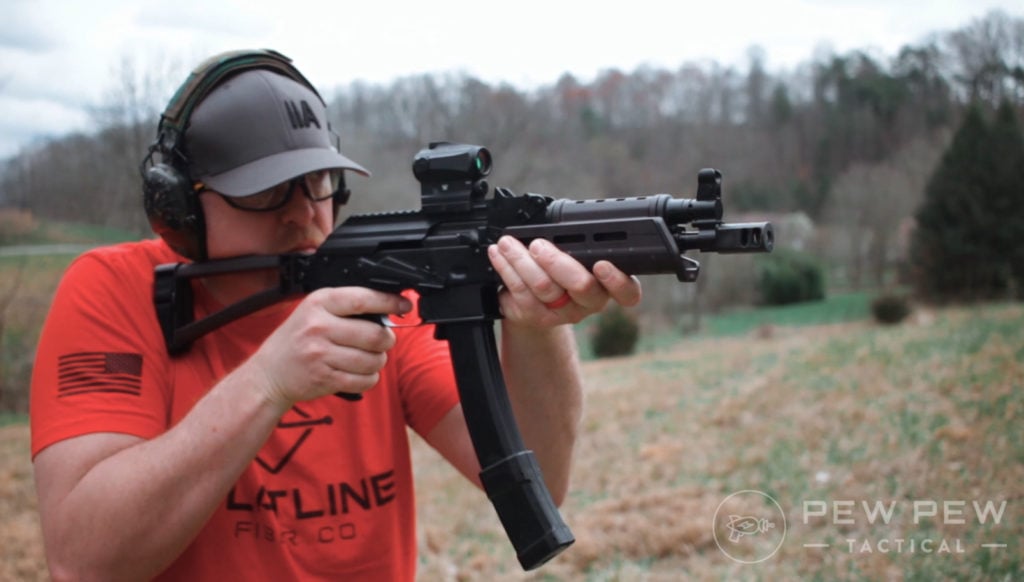 The AKV retains a classic AK-feel to it with the safety working exactly like a normal AK, along with a paddle mag release that also functions exactly like you would expect.
It does come with an upgrade though in that the safety can be actuated without fully breaking your grip.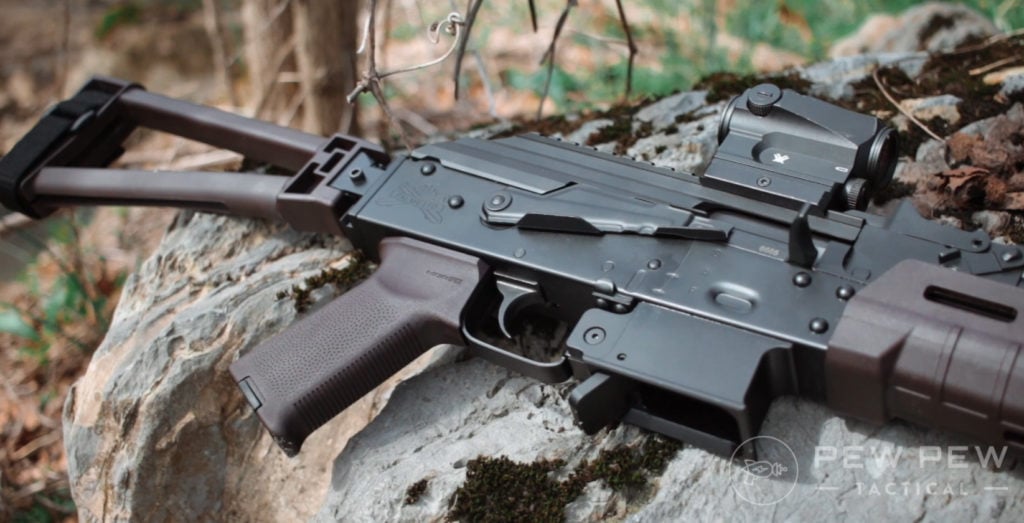 While technically a pistol, the AKV does fill a "PCC" style role. To assist with that goal, we got a big ass tank brake!
Sure, 9mm doesn't really need a brake. But it's still nice to have.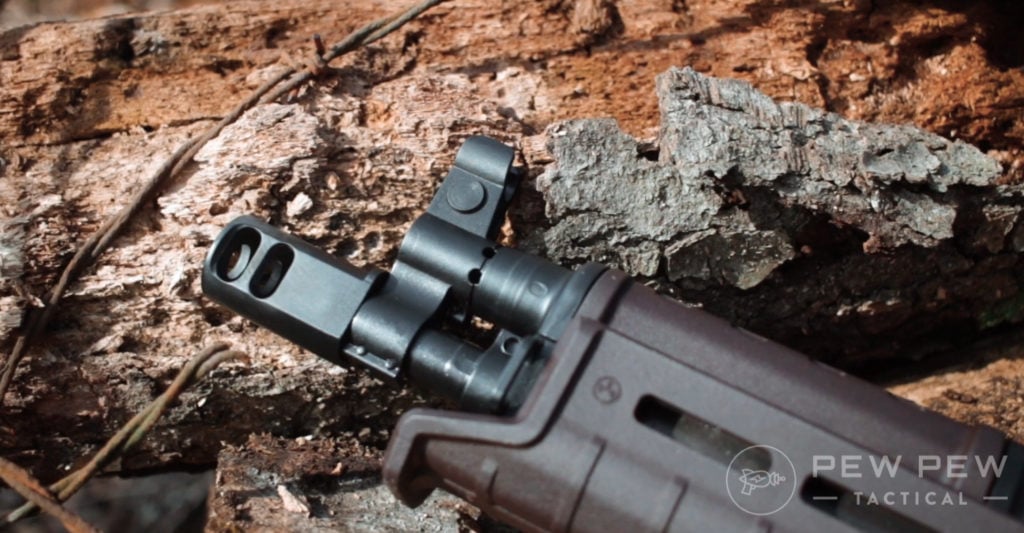 Triangle Brace
Long teased and much anticipated by… everyone, the PSA triangle folding brace wasn't an option when the AKV first released, but it is now!
If you're an AK person, you know what this is cool. If not, I'll explain: Because it looks awesome.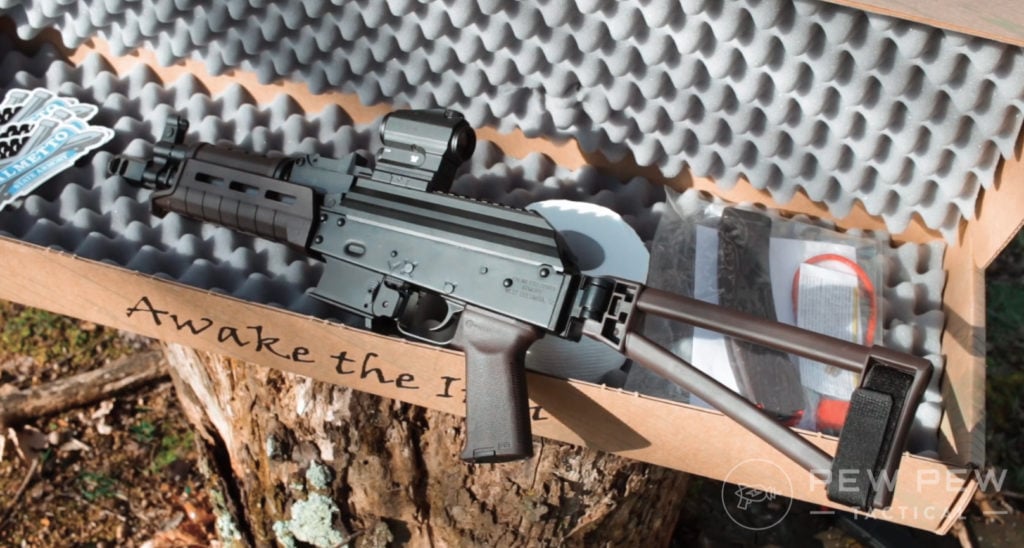 A much-desired feature in classic AK models is a triangle stock, they are well made, and due to the AK's long-stroke gas system allowed for a folding stock that still allowed the rifle to fire.
PSA's folding triangle brace is a pistol brace designed to replicate that function. And it does… mostly.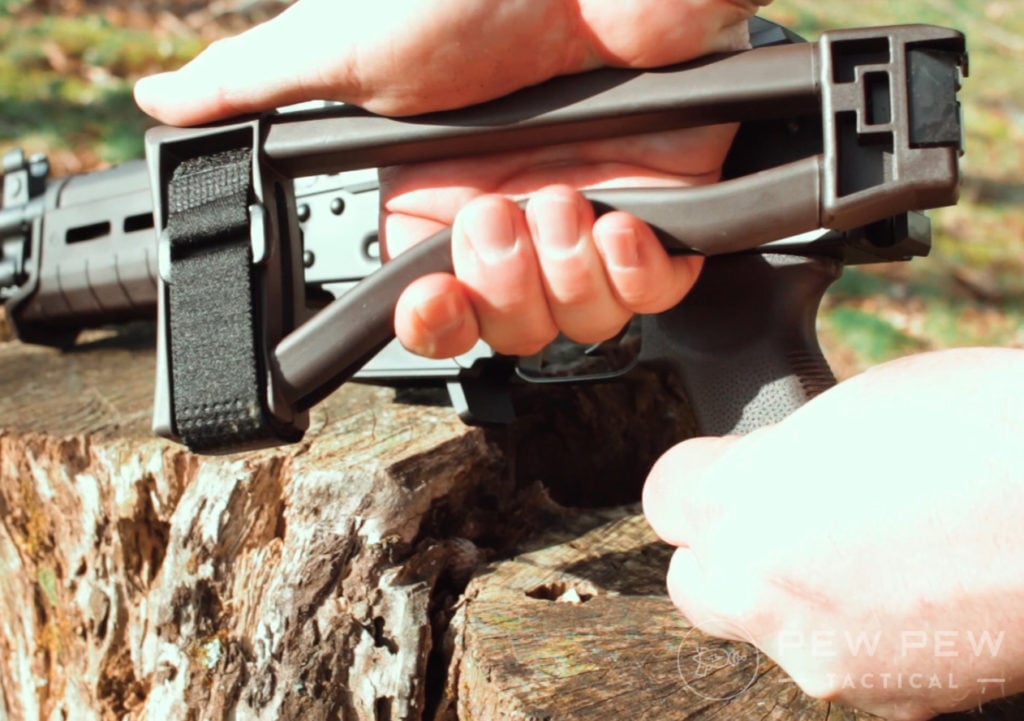 You have to admit, it looks the part. But at the end of the day, it's still a brace. It would have been nice if the bottom section was a bit more rigid, but this keeps it clear of any legal issue.
That said — it still looks and feels great. Accuracy was still great for a short-barreled pistol.
Magazine Extensions and the Drum Magazine
I guess designing their own magazines that are also compatible with CZ Scorpions just wasn't enough for PSA.
If 35-rounds isn't enough for you in a stick mag, PSA now offers 15-round extensions that install with 4 screws. Super quick, super easy, and now you have a 50-round stick mag!
20
at Palmetto State Armory
Prices accurate at time of writing
Prices accurate at time of writing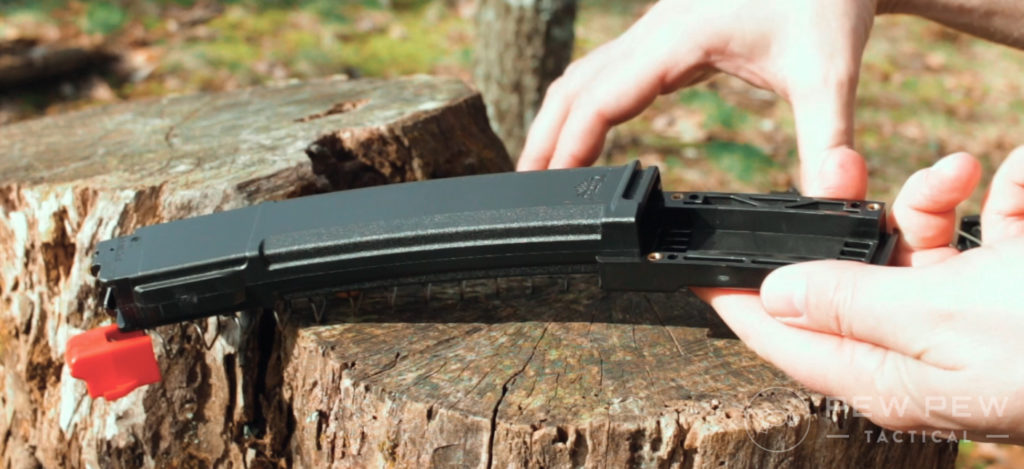 Don't want to mess with extending your mag? Good news, you can still get 50-rounds on tap.
PSA's AKV billet drum mag is very cool, but for us didn't work the best. Drum mags tend to have issues in general though… but the price is a second consideration.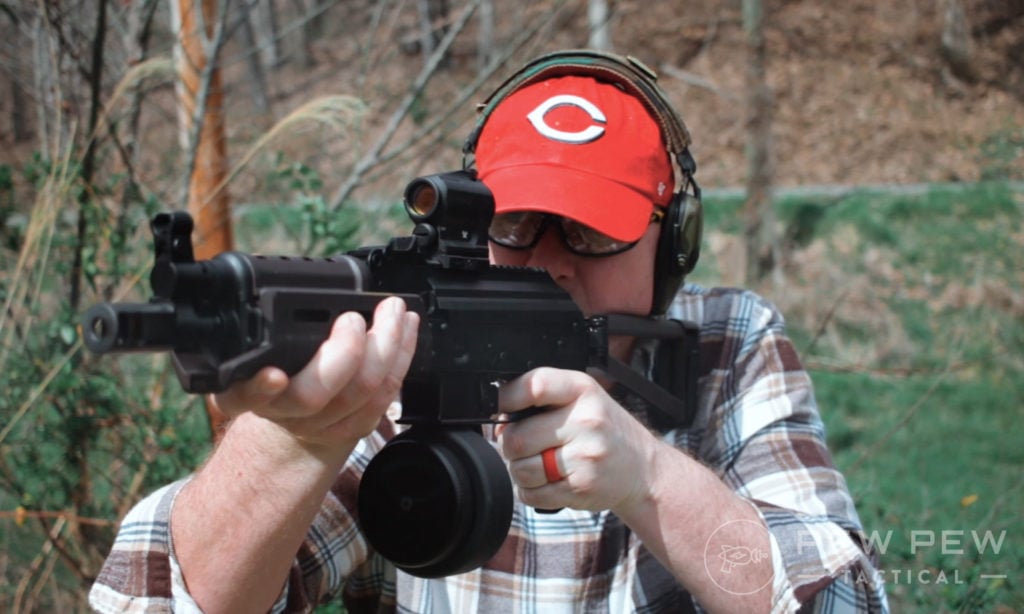 If your goal is to have 50 rounds available to you, the drum magazine is over twice the price as a standard 35-round magazine and a 15-round extension. The base magazine is normally $20 and often on sale for $15 while the extensions are $20 each. So at most… $40.
But the drum magazine is billet, and very cool. So you be the judge.
99
at Palmetto State Armory
Prices accurate at time of writing
Prices accurate at time of writing
By The Numbers
Reliability: 5/5
Cheap ammo, expensive ammo…doesn't matter. Other reviewers may have different results, but for our sample size of 1, the gun runs.
Ergonomics: 4/5
Ergonomics designed by Mother Russia. This would be a 3 but that mag release is sweetness for your thumbs.
Accuracy: 4/5
For what it is designed to be, a compact PCC, you can get shot where you want them.
Customization: 3.5/5
Somewhat limited to what you can do. Nyet, pistol is fine.
Value: 4/5
Name me a better way to get a crazy reliable PCC with 50 round sticks. I'll wait.
849
at Palmetto State Armory
Prices accurate at time of writing
Prices accurate at time of writing
Overall: 4/5
It runs. It looks good. It's cheap to feed. It's American made. Not much to complain about. And it runs.
Conclusion
Although the first generation wasn't flawless, PSA's AKV in its latest form is near perfection if you're looking for a US-made clone of the 9mm Vityaz. Reliability is great and ergonomics/accuracy are good for the platform. More customization options are also coming and availability is getting decent.
We can now strongly and fully recommend it!
849
at Palmetto State Armory
Prices accurate at time of writing
Prices accurate at time of writing
How do you feel about an AK PCC? Will you make it a range toy or something like a truck gun? Let us know in the comments! In the meantime… check out the other PSA AKs, including the AKP!