Looking for an affordable AK-47…that's built in the USA?
It might seem a little weird, but AKs are now manufactured in the US by a couple companies.
You might know Palmetto State Armory (PSA) for all their AR-15s…but now they are in the AK game with their PSAK-47 GF3.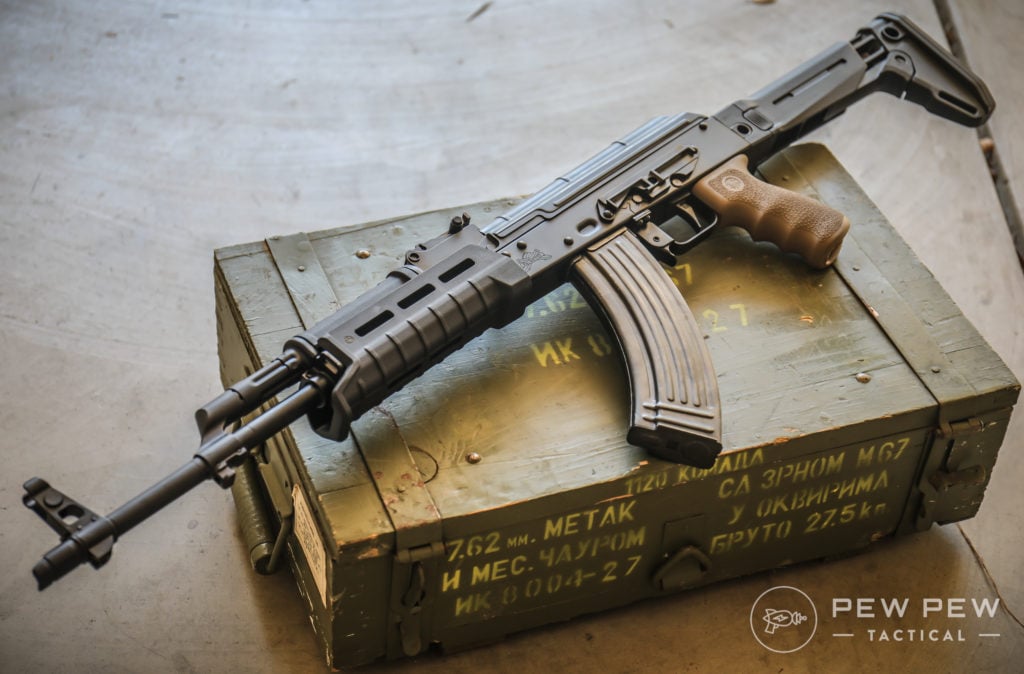 Follow us as we test out their most popular variant…the MOEkov. A combination of a MOE front handguard and a Zhukov buttstock.
Best Bang-for-Buck AK
699
at Palmetto State Armory
Prices accurate at time of writing
Prices accurate at time of writing
We'll put it through lots of different ammo and mags. Upgrade it with muzzle devices, optics, and triggers. Then test for reliability and accuracy.
By the end you'll know if you should go USA…or stick with trying to find a true commie version.
Plus we have a full video review of it too:
If that helped, please subscribe to our YouTube channel since we're adding new videos every week!
Now let's get on with the written review…
Table of Contents
Loading...
Who Is It For?
Someone venturing into the world of AK-47s who wants it made in the good ole US of A
Someone looking for an affordable rifle that will work
Someone wanting the MOEkov look without having to buy two sets of furniture
Someone who can wait for their specific loadout to come in stock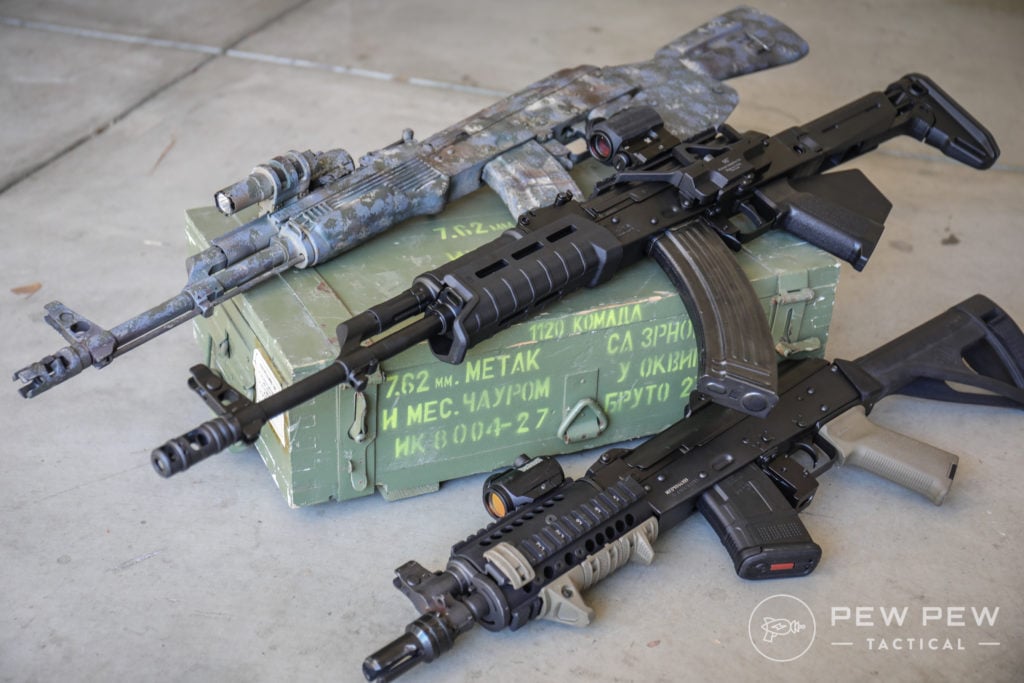 About PSA
Yes…it's that PSA that makes the unbelievably affordable AR-15s (like $350 affordable).
I've tested a bunch of them and although some have cosmetic issues…they've all gone bang when needed.
Check out my review of 3 PSA AR-15s.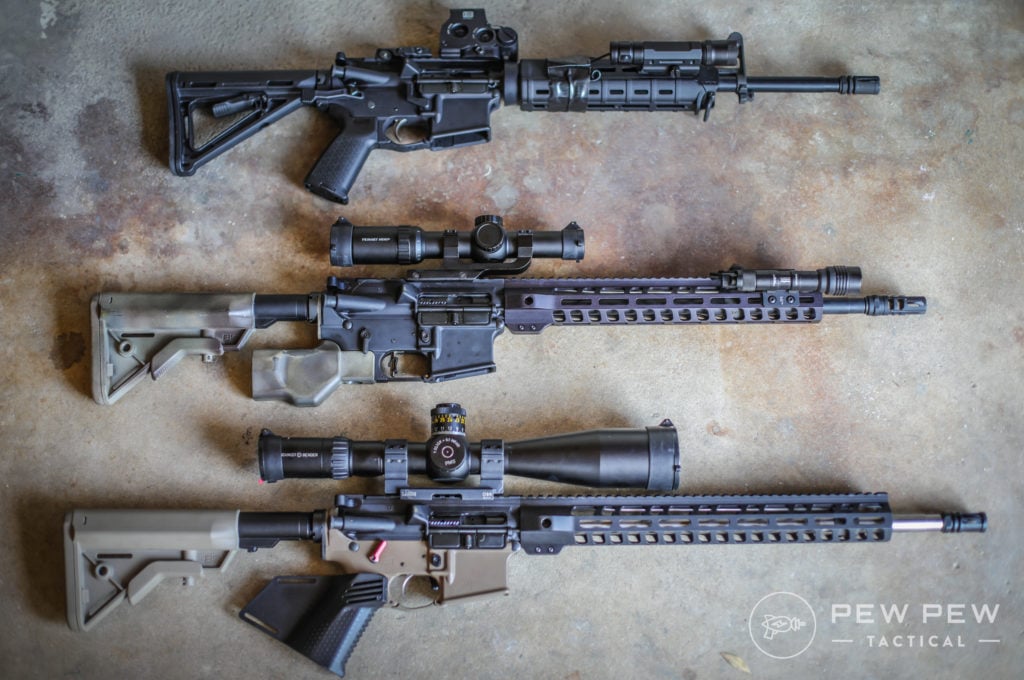 Or our entire collection of PSA Reviews.
But…how are PSA guns so cheap?
It's because of vertical integration where they take in raw materials and spit out a finished gun…all in-house.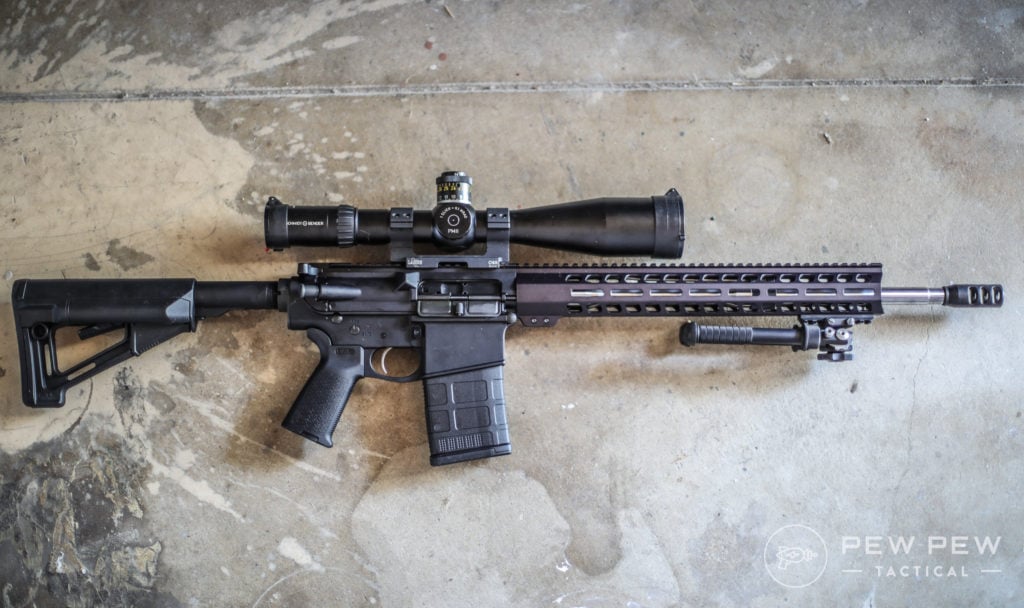 Same with their AKs…it's all USA made by them.
And unless you really got to have the real commie deal…you might have to exclusively buy US soon because of legislation that dried up Russian parts kits.
Now let's get on to the actual review…
Fit, Feel, & Finish
Everything looked great according to my previous PSA standards. No purplish hue and all the black metal parts matched.
My tested version is the Gen 2 which is now replaced by the GF3.
Everything is the same except trunnions are now forged (like "normal" AKs) instead of billet in Gen 2.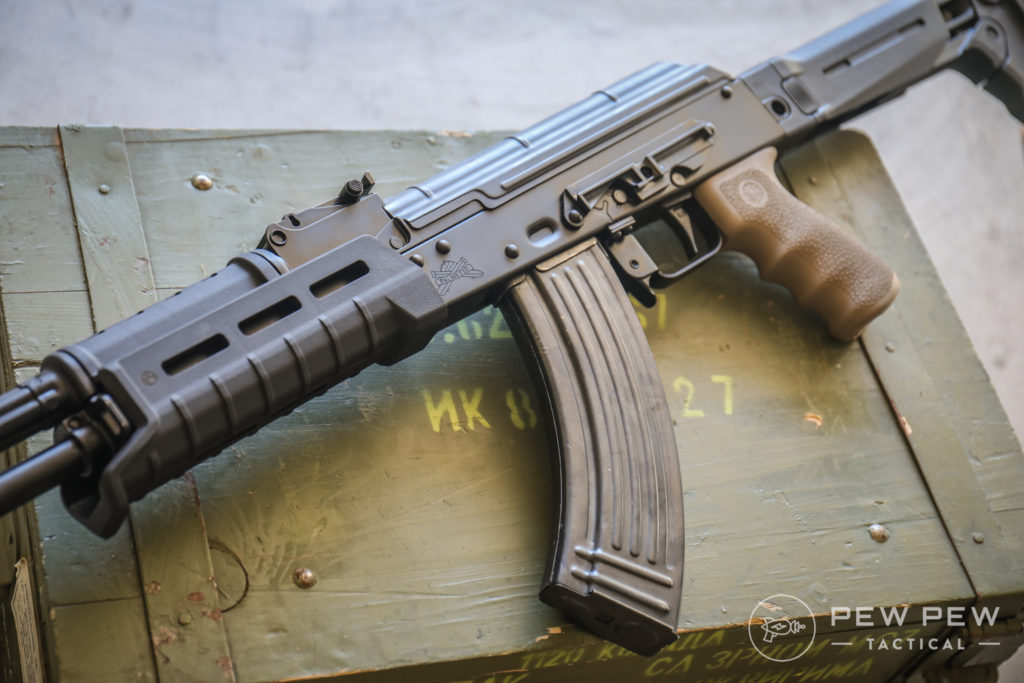 I had to add on the furniture myself thanks to some state regulations…but everything fit correctly. Note the pistol grip is not standard issue MOEkov.
Here's the Magpul MOE handguard.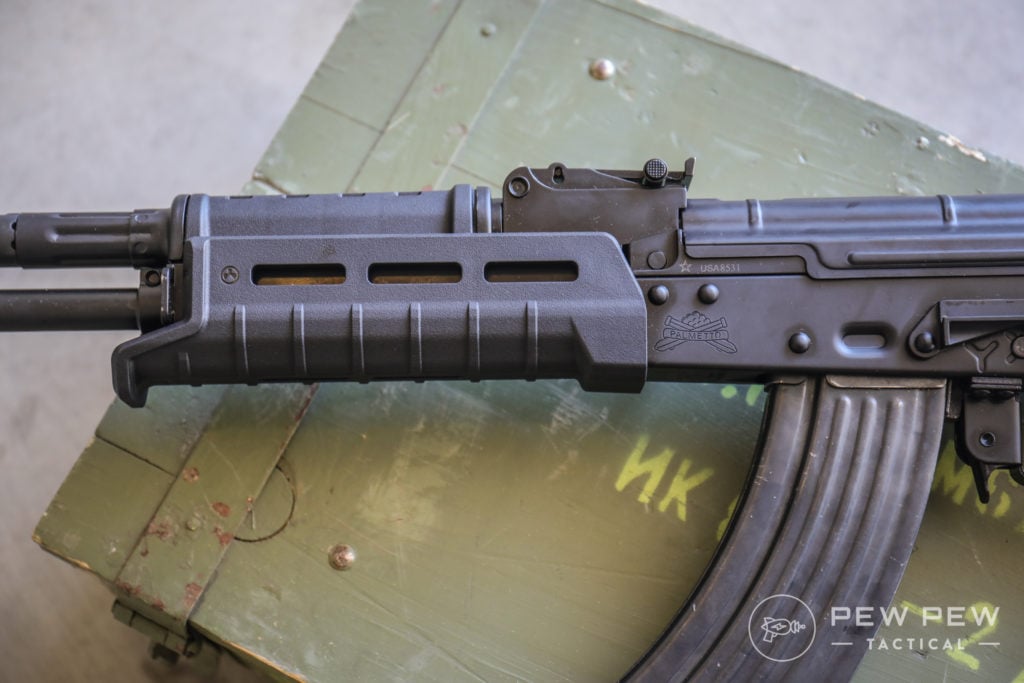 It's closer to length to an old-school AK…but updated with a futuristic polymer look.

And here's the Zhukov buttstock.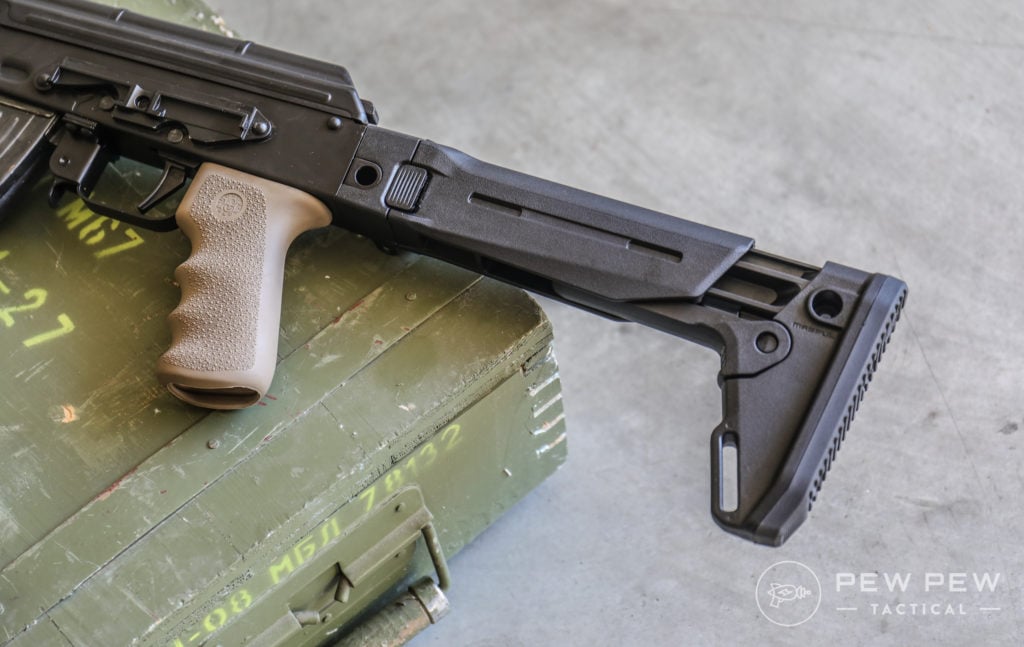 I really like this buttstock since it is adjustable and also folds back. Unfortunately I had to pin both of these capabilities.
Here's the full Zhukov furniture set with handguard…which is way too long in my opinion.

Next up in features is the scope attachment rail.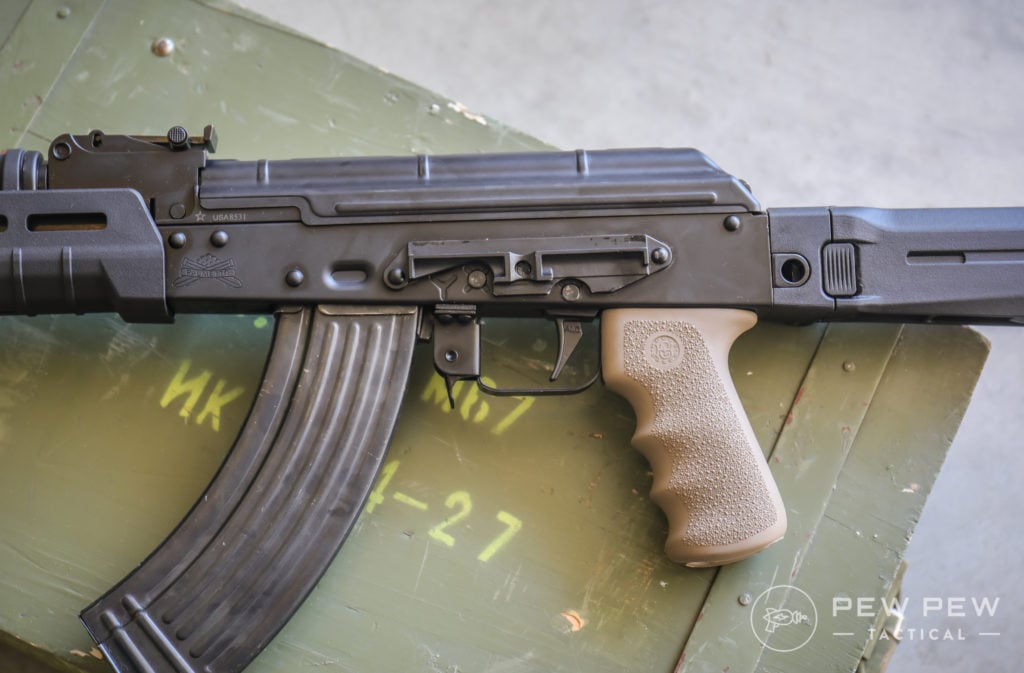 I'm really glad this is becoming a standard since I do not like AK iron sights.
Speaking of the sights…a lot of affordable AKs have canted front sights…I'm happy to say my PSAK-47 is all good in that area.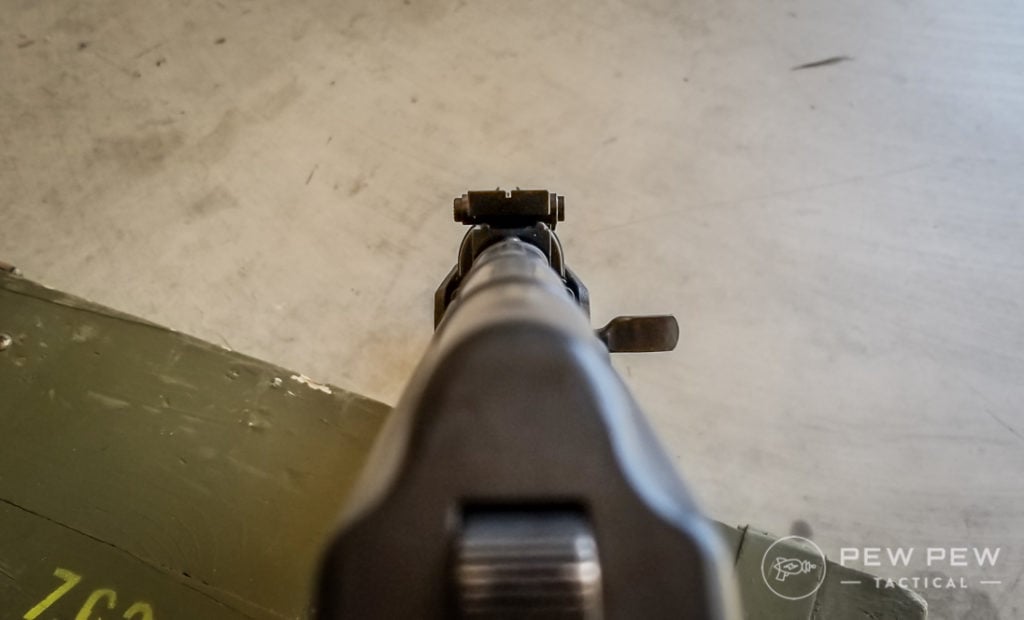 This is how my Yugoslavian WASR's sights need to be adjusted to be on target…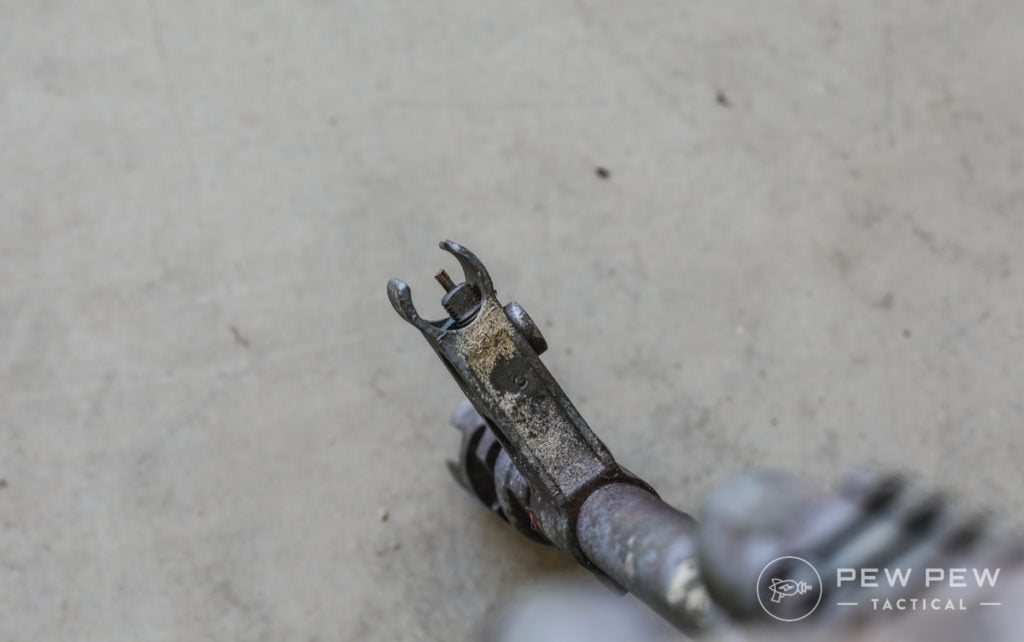 The elevation adjustment also worked well at least out to 300 yards.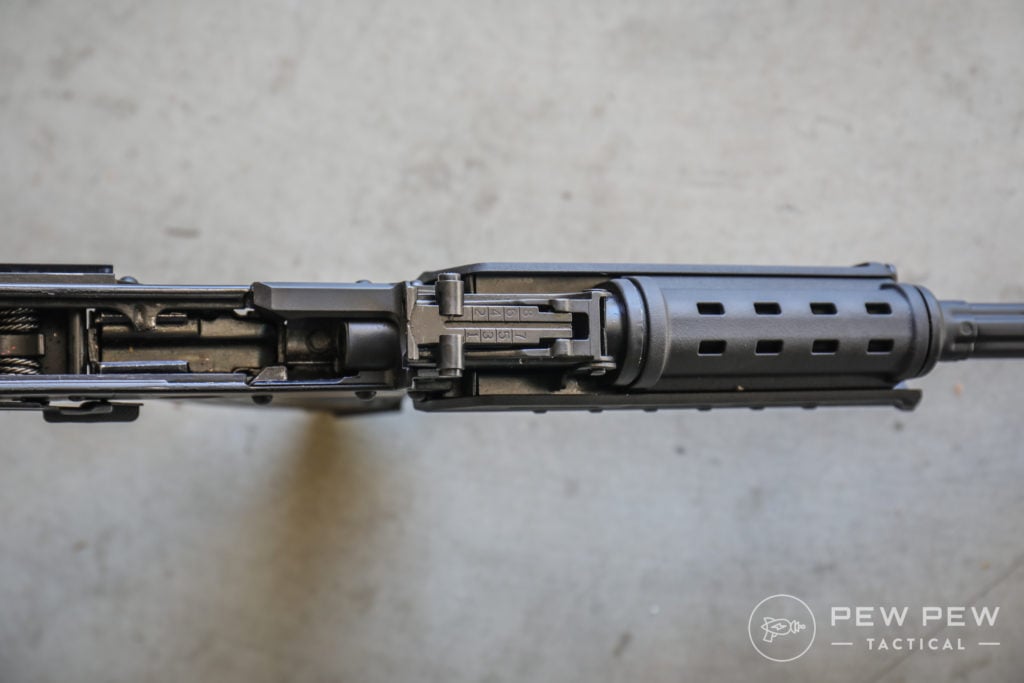 Also at the front is the standard slant AK brake which sort of does its job (more in the Shootability section).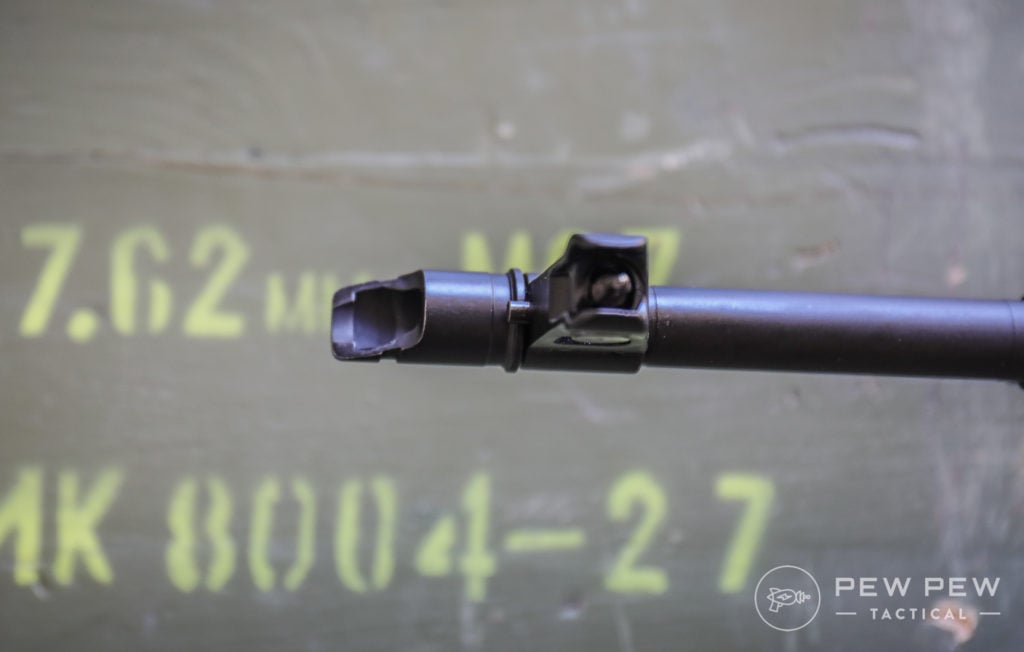 Moving back a little bit…here's the safety which works with both the standard trigger and my upgraded one too.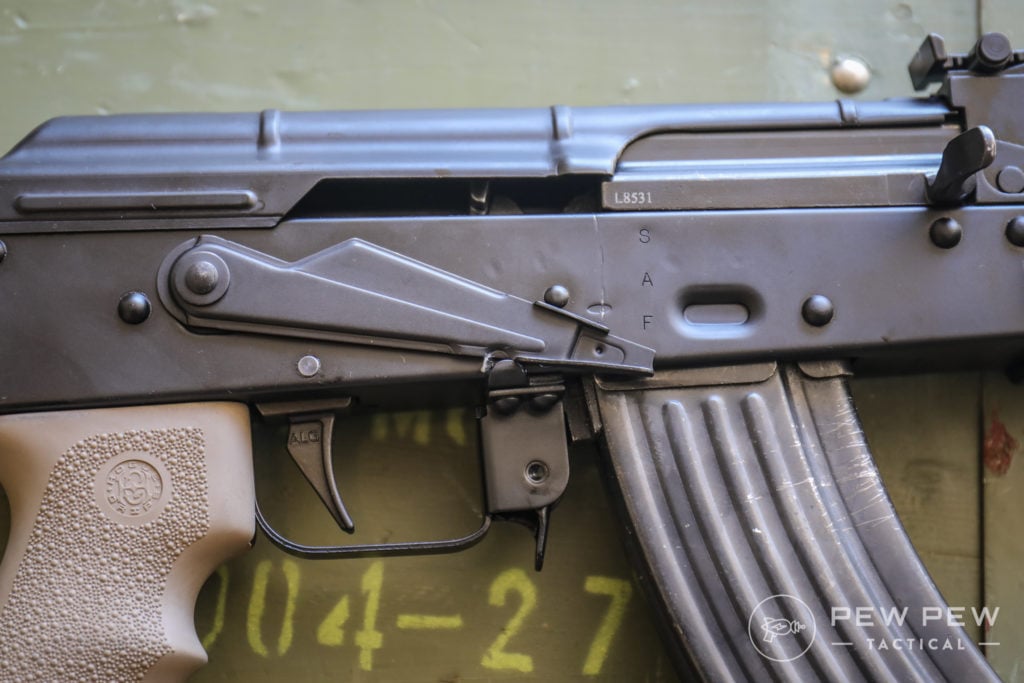 Now into the guts of the PSAK-47…
Check out that AK roominess that gives it its famed reliability. Getting gunk in there is like throwing a hotdog down a hallway.
Here's the bolt, piston, and recoil spring.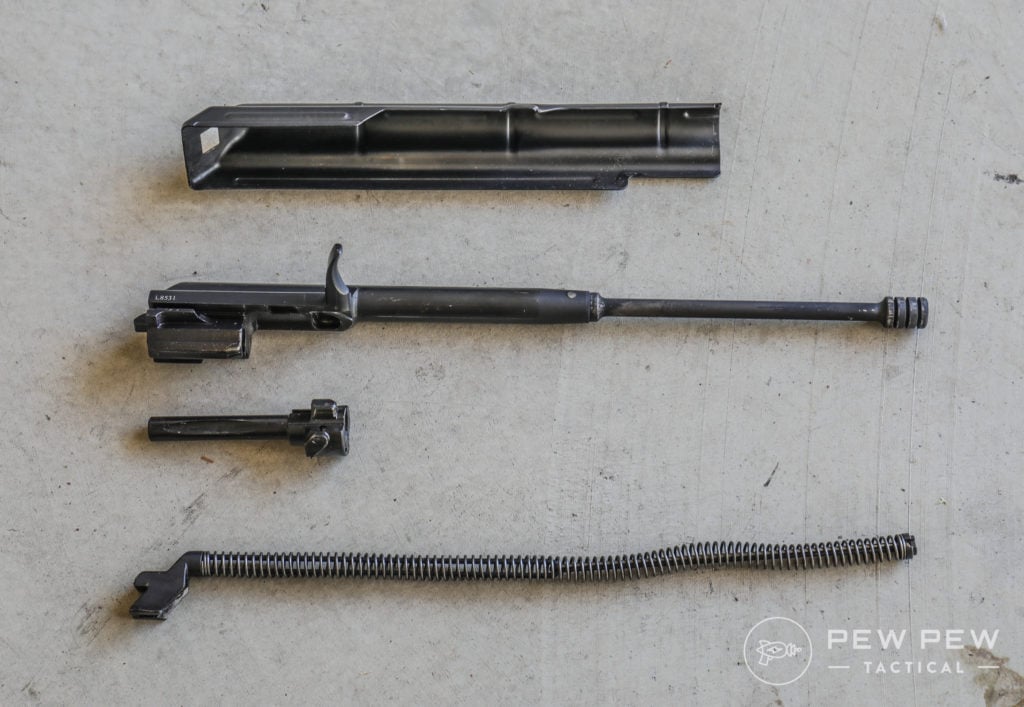 Everything seemed to be in order.
And here's a close-up of the bolt and piston after a couple hundred rounds.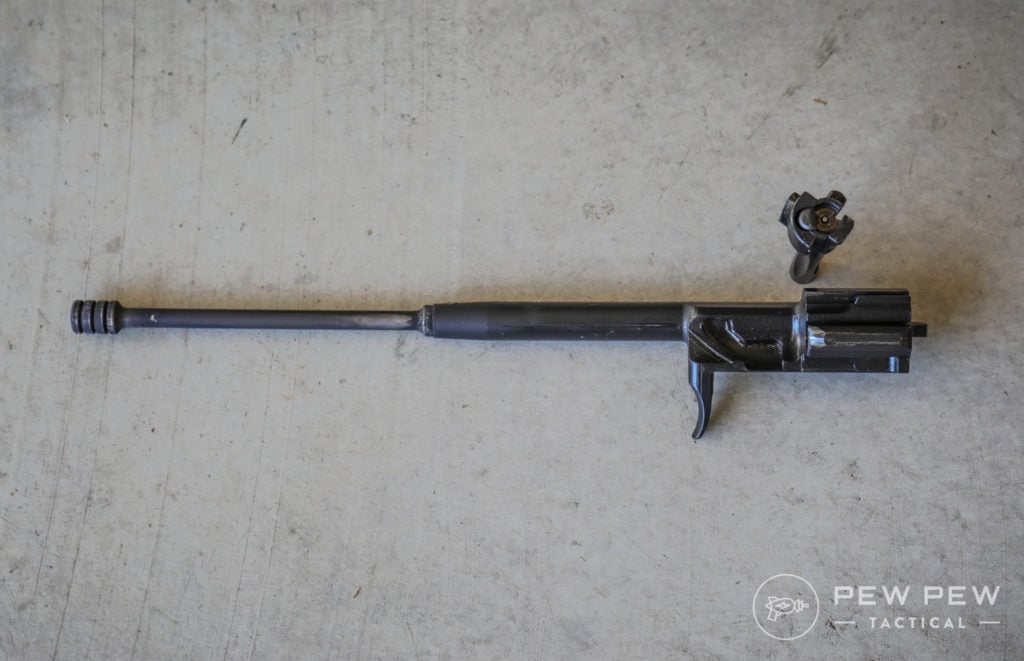 I'll go into potential upgrades at the end…but as it comes from the factory…the PSAK-47 has all the right stuff in the right places. And looks good too with the MOEkhov package.
Now…how does it shoot?
Shootability
The first time I shot it as stock as possible…and it was not fun for my cheeks (the face kind).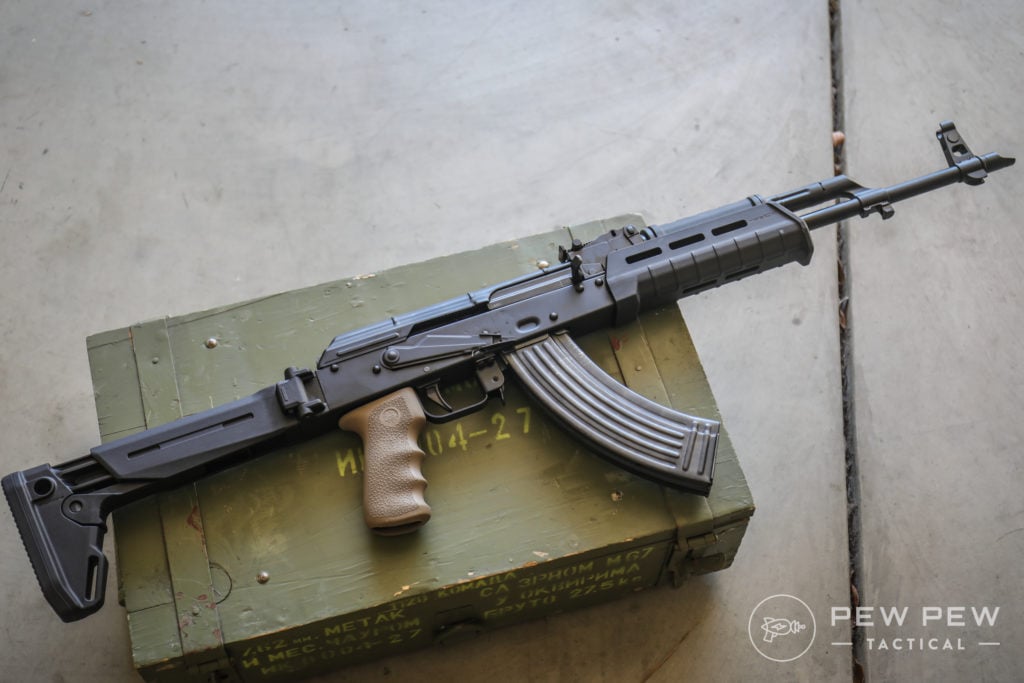 I let 2 other buddies shoot it (with 3 types of ammo) to make sure it wasn't just me. 1 agreed and 1 told me to suck it up. So it's subjective.
I'm thinking that the combination of the polymer Zhukov furniture, slant brake, and having to get extra low to use the iron sights made it pinch my cheekweld.
But not all was lost…
I had my Midwest compensator to swap out for the slant brake.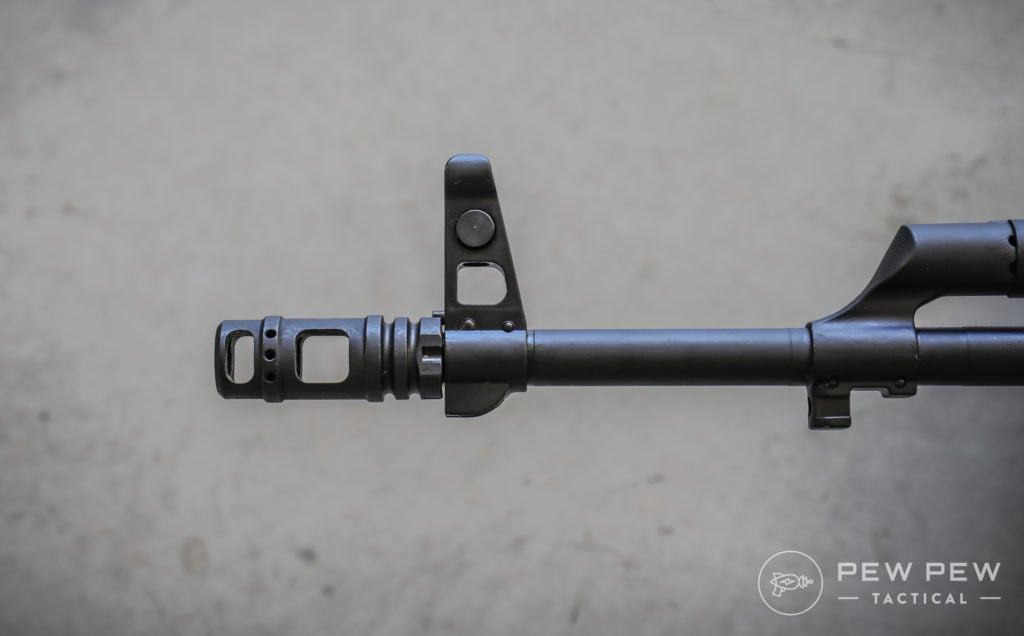 That immediately helped with the cheek abuse.
I also moved it back to the slant brake and added a Midwest optics rail.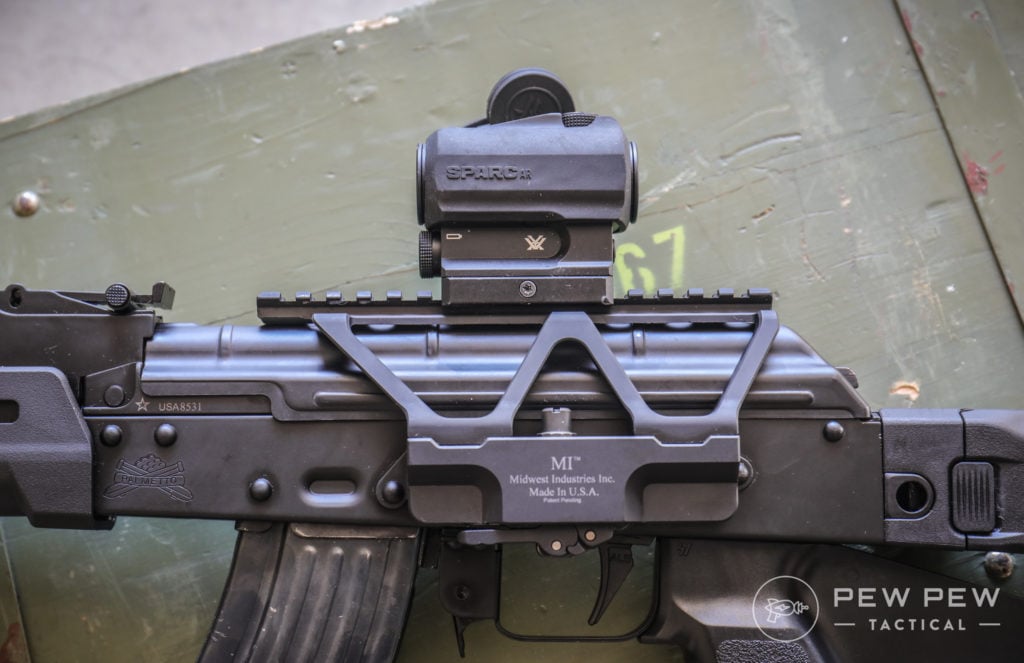 Getting higher up on the buttstock also mitigated the initial pain.
Best AK Scope Mounting System
120
at Brownells
Prices accurate at time of writing
Prices accurate at time of writing
I liked using the Vortex SPARC since it was the perfect (higher) height compared to a Holosun 510C. Check out Best Red Dots for my other suggestions.
Having both…made it a true joy to shoot.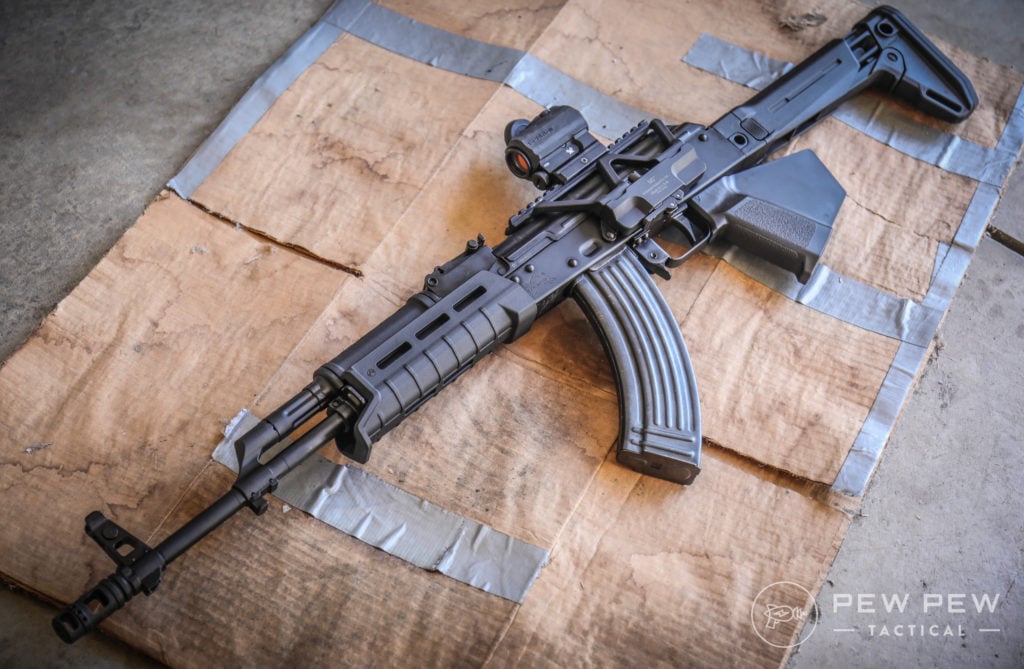 Here it is in rapid fire glory:
Oh…and the PSAK stock trigger…it's pretty good! Much better than whatever came with my WASR-10. You don't need to upgrade the PSA one since it comes in 4 lb 5 oz for mine.
But of course…I still did.
Reliability
Besides the cheekweld using irons…there were no failures, after 10 rounds.
The failures I encountered weren't gas or piston related…it was with the trigger not resetting after each shot.
I figured it needed a few shots to get broken in. After that everything was flawless in going bang when needed.
I tried 4 different brands of ammo…and most of my shooting was done with mildly-corrosive Yugo M67 brass-cased ammo.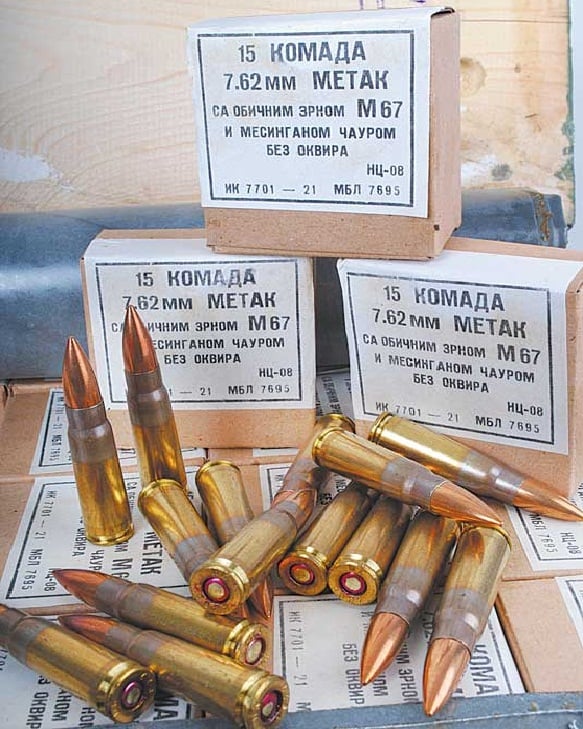 I only tested at local ranges which prohibit cheaper steel cased ammo…so I'll be updating with how those shoot when I can head to some different places. For my favorites…check out Best AK-47 Ammo.
I also tried 3 magazines…a Magpul, Yugoslavian mil-spec, and a ProMag. All worked flawlessly with all the types of ammo.
But don't take my word for it…check out the AK Operator Union's 5K round test on their Gen 2 with billet trunnions.
Now that the trunnions are forged in the newest GF3 series…it should be even more theoretically robust.
Accuracy
I set up my typical accuracy rig as much as possible.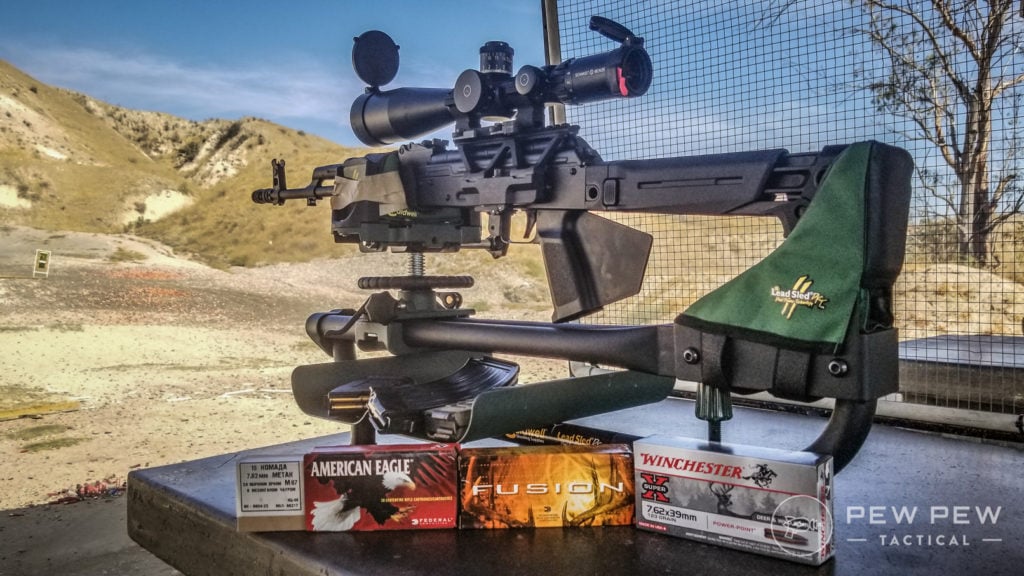 And put up some 100 yard targets.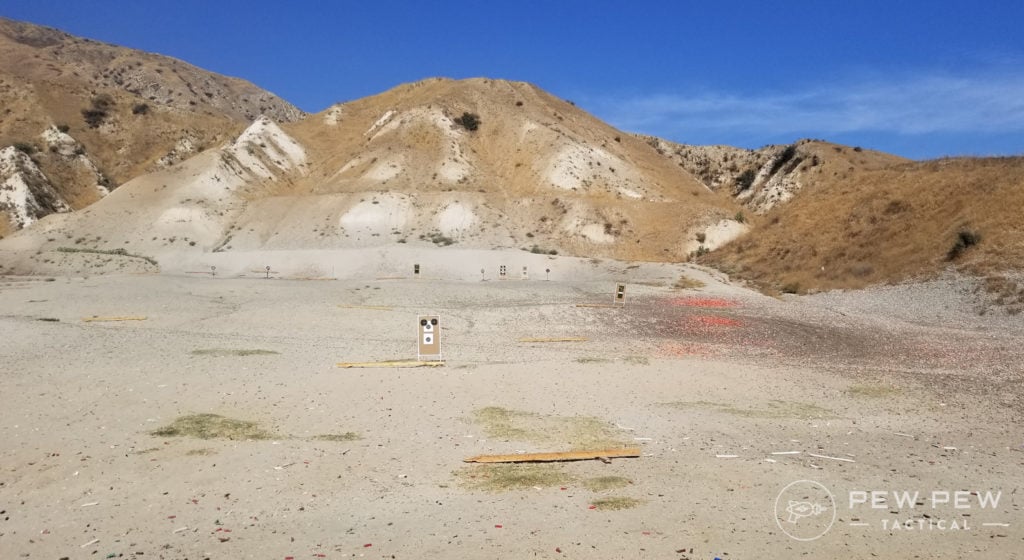 This is about 500 rounds in with barrel cleanings after each range session since I was using corrosive ammo (How to Clean Corrosive Ammo).
I upgraded my trigger to the ALG AK which brought down the pull-weight from a respectable 4 lb 5 oz to 3 lb 1 oz.
115
at Brownells
Prices accurate at time of writing
Prices accurate at time of writing
I tightened down my optic mount and shot at a fast pace of whenever the reticle came back on target…probably every 3-5 seconds. I let the barrel rest about 5 minutes between each load.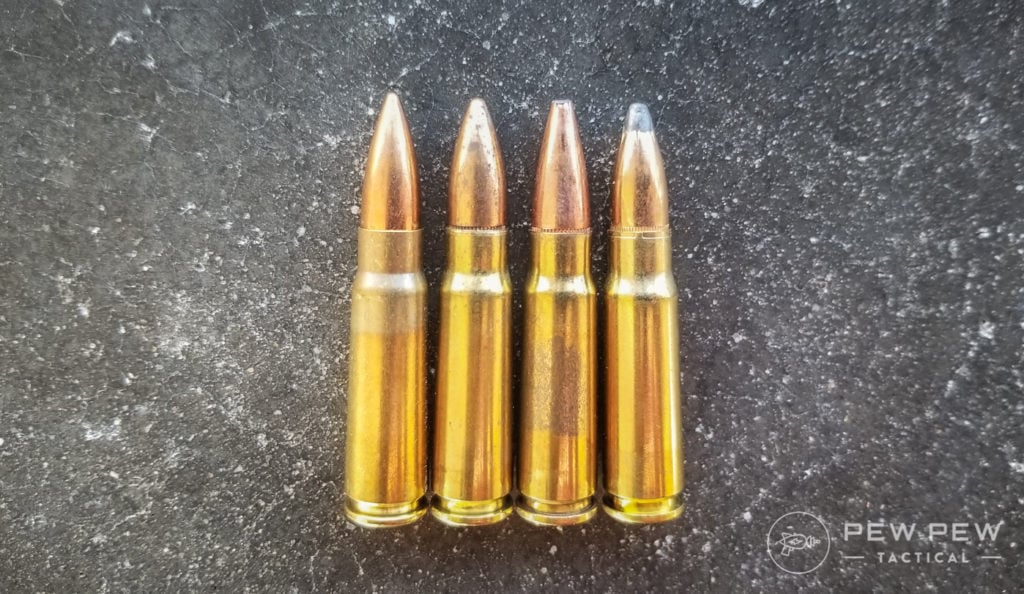 Here are the results: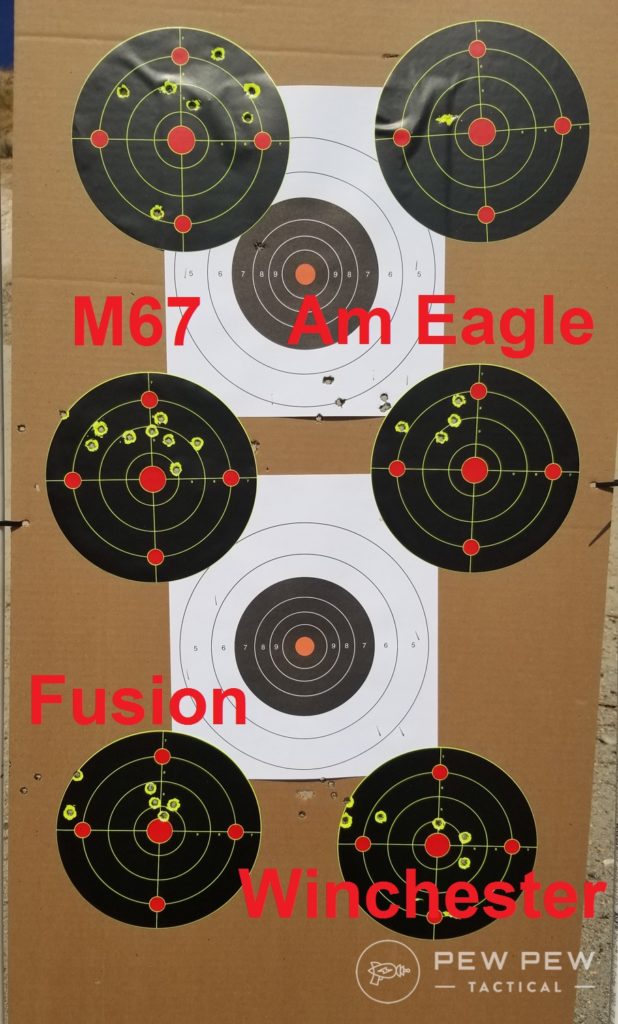 They all did kind of the same…with around 5-6 MOA (1 MOA is 1 inch at 100 yards) in a horizontal pattern.
That pattern lends me to believe it could be my mount or the attachment. My scope is pretty good to go.
Update: I tried it 2 more range sessions with another side mount but same scope and got the same results.
I contacted PSA and they told me it's likely parallax error because I was magnifying to 25x and AKs don't have the greatest cheekweld especially with the benchrest. Being off a little each time behind the glass likely produced the horizontal pattern.
Ok…so I went with a gas tube rail, something lower in magnification, and sand bags.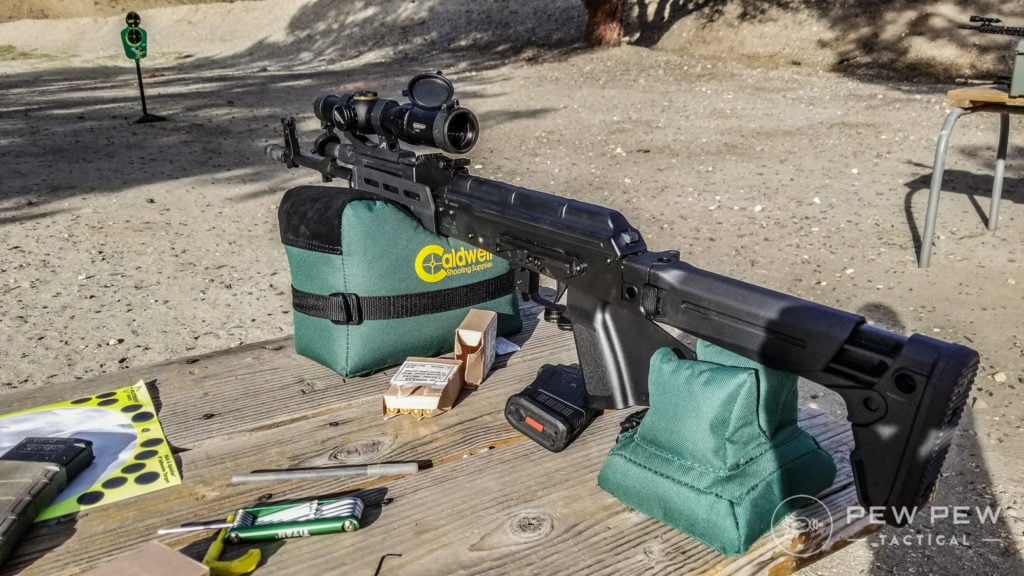 Keep in mind you'll probably never do this since the viewing angle is super awkward for a magnified optic up front. But I wanted to see the innate accuracy of the PSAK.
I set my target at roughly 75 yards at another range.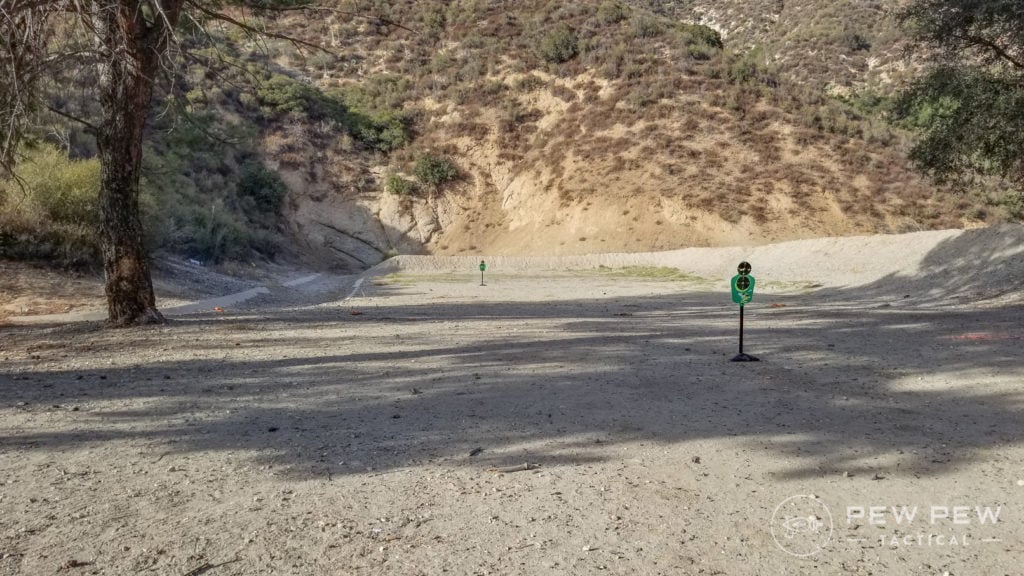 Zeroed it enough to be on the sticky.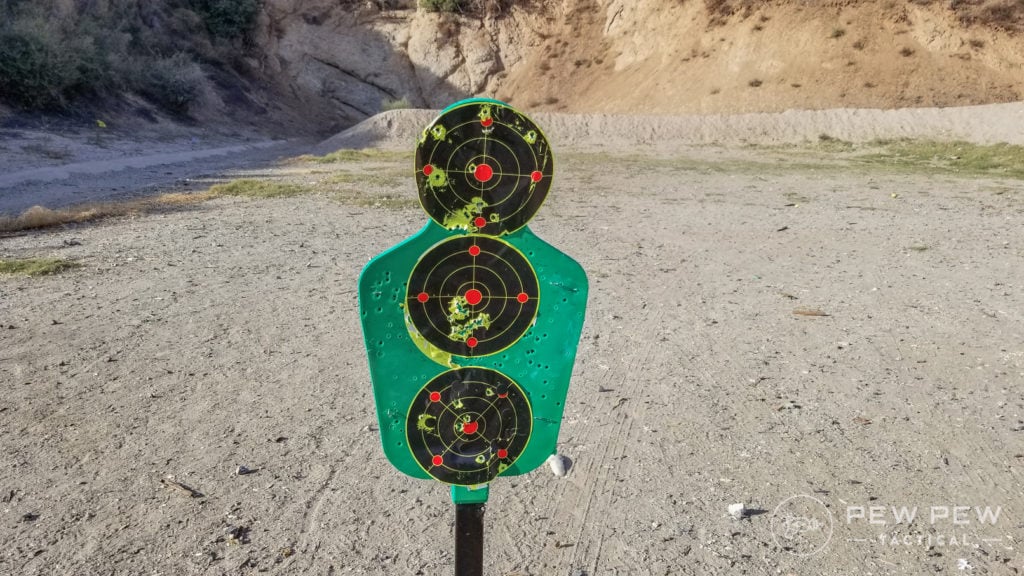 And a closeup of the results.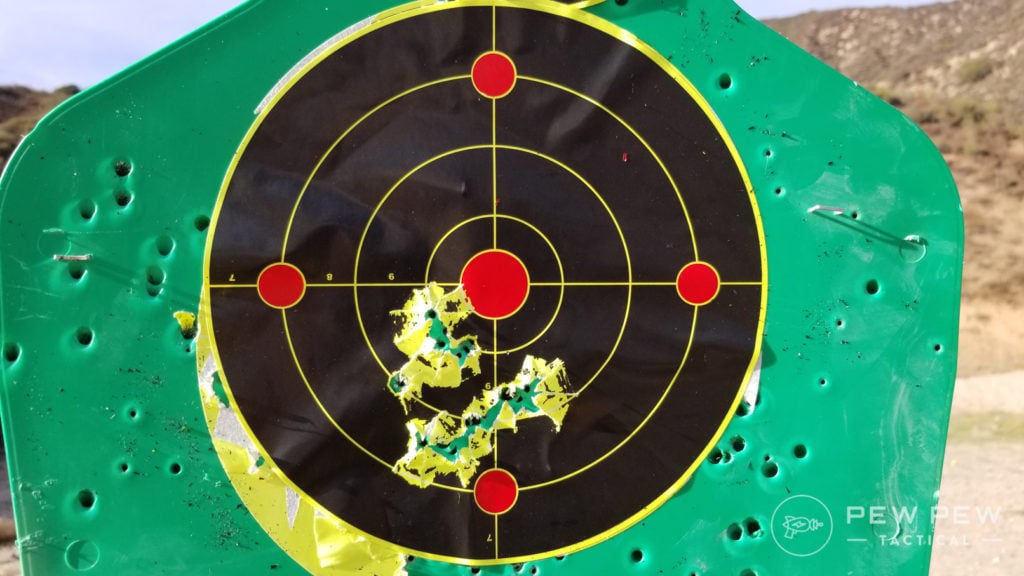 It's better…even when you extrapolate to 100 yards. I'm estimating 4 MOA.
The good thing is that it no longer has a funky horizontal pattern.
AKs aren't known to be the most accurate…but keep in mind mil-spec M4s are 4 MOA.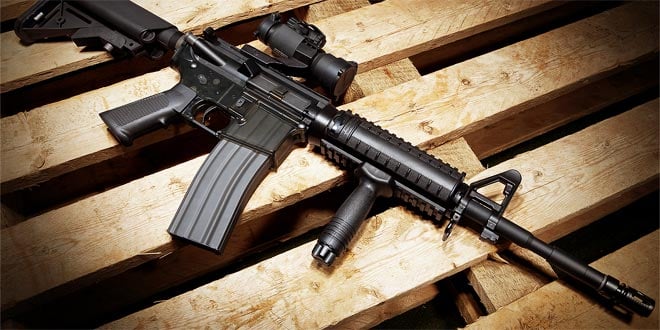 5 or even 6 MOA is still good out to 200 yards at a minute-of-bad-guy accuracy.
For $499 I can't really complain!
Recommended Models
Unlike PSA's AR-15s…you can't really buy the upper and lower separately to avoid the complete firearm tax.
Best Bang-for-Buck AK
699
at Palmetto State Armory
Prices accurate at time of writing
Prices accurate at time of writing
I do really like the MOEkov look but if you don't want to modify the muzzle or add on an optic…I'm thinking the Classic will be better at recoil management.
Those are pretty much your two choices…or going with a BLEM (blemished) which will work fine but might have cosmetic issues.
And now…if you want to go the "pistol" route…the AK-P GF3.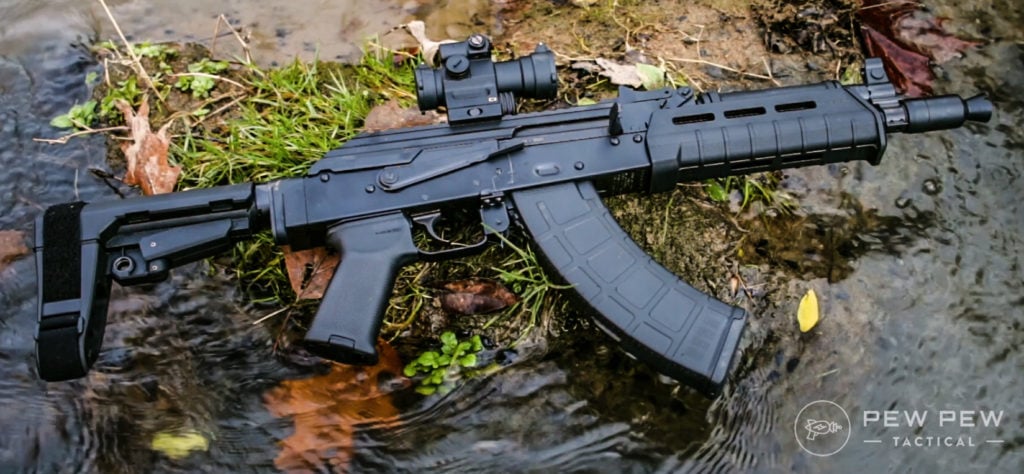 Perfect for a truck gun with its shorter barrel. Check out the full review here.
800
at Palmetto State Armory
Prices accurate at time of writing
Prices accurate at time of writing
By the Numbers
Reliability: 5/5
~500 rounds with 4 different types of ammo and three different mags…with no malfunctions after 10 rounds the trigger needed to break in. Also passed AK Operator Union's 5K torture test.
Now trunnions are forged so there's even less to possibly complain about online.
On top of all of that, PSA sent one of their PSAK-47s to Battlefield Vegas to be converted into a full-auto AK and used at the range. After over 17,000 rounds, the rifle started to keyhole and was retired from service.
That is a huge amount of fire and abuse to be put through!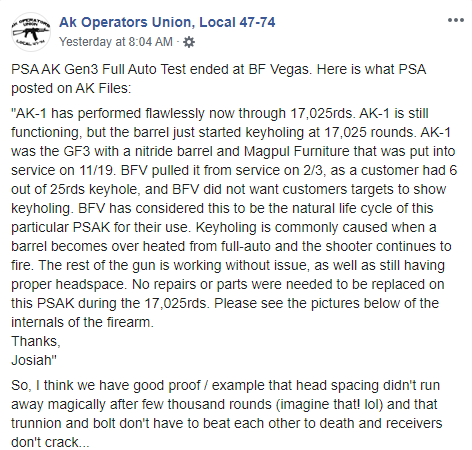 Accuracy: 3.5/5
On par with AKs so you're good up to 200/300 yards minute-of-bad-guy. You'll also likely only have a 1x optic so ringing steel at 100 yards will still be very doable.
Ergonomics: 3/5
It's an AK…so will never be as ergonomic as an AR…but I like the foldability of the Zhukov stock and the feel of the MOE handguard. Safety latch and everything else were a little stiff but became better after a few hundred rounds.
Looks: 5/5
No blemishes or miscolorings. Plus the MOEkov looks super sexy.
Customization: 4/5
AKs have come a long way in terms of upgrades. Very glad the PSAK has an optic mount. And there's the gas tube way of attaching an optic as well.
Bang for the Buck: 5/5
AKs are actually not that cheap…even the foreign ones. A great deal at ~$499 for something made in the USA.
Overall Rating: 4/5
Conclusion
The PSAK is one of the best American-made AKs that has passed reliability tests from us and the AK Operators Union. There's tons of furniture options and it also comes with an optics rail for further customization. And the price gives it a great bang-for-the-buck value.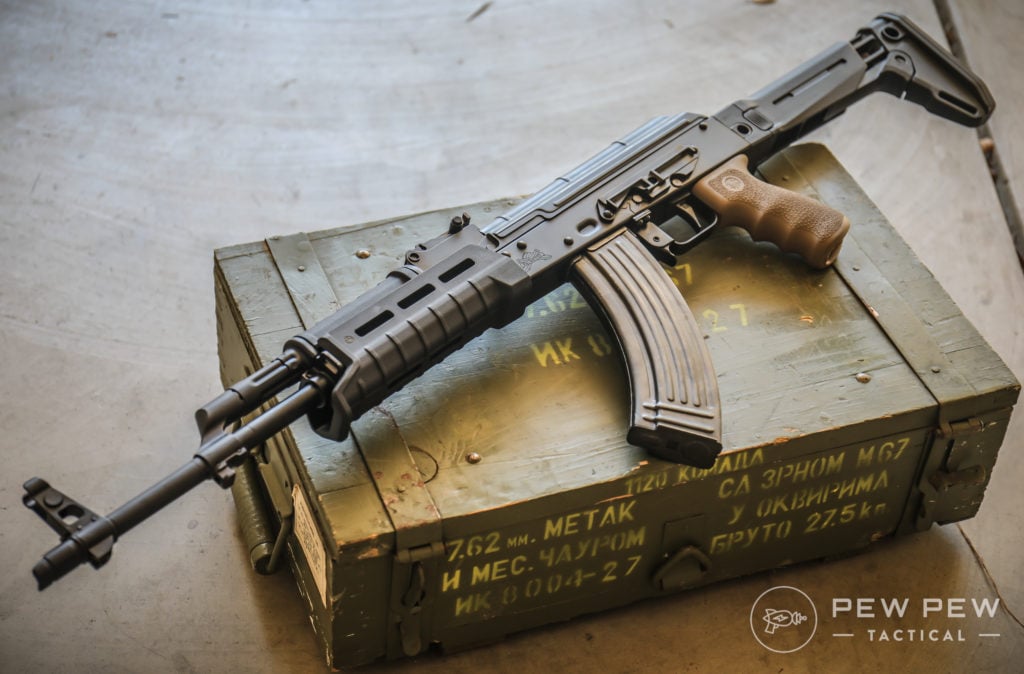 If you're starting in the world of AKs and don't have the cash to splurge $2000 on a Krebs (Best AK-47s), the PSAK-47 is one great place to begin.
It looks great and feels in hand.
Recoil is a little harsher than others without easy modifications.
And accuracy could be better…
But keep in mind this is $499 and you're supporting South Carolina manufacturing.
Best Bang-for-Buck AK
699
at Palmetto State Armory
Prices accurate at time of writing
Prices accurate at time of writing
And for ALL our PSA reviews…click here.
What do you think about the PSAK-47? Ready to swap out your commie version? Check out our favorite AKs you can still buy in our Best AK Guide. Or…our review of PSA's AK & AR Hybrid that takes AK mags.