Throw a stick at a gun show, gun store, or gun expo, and guess what'll happen?
You'll be asked to leave, obviously…but you'll also likely hit an AR variant, Turkish shotgun, or holster.
Holsters are absolutely everywhere, and as such, you'll find tons of options for every carry style.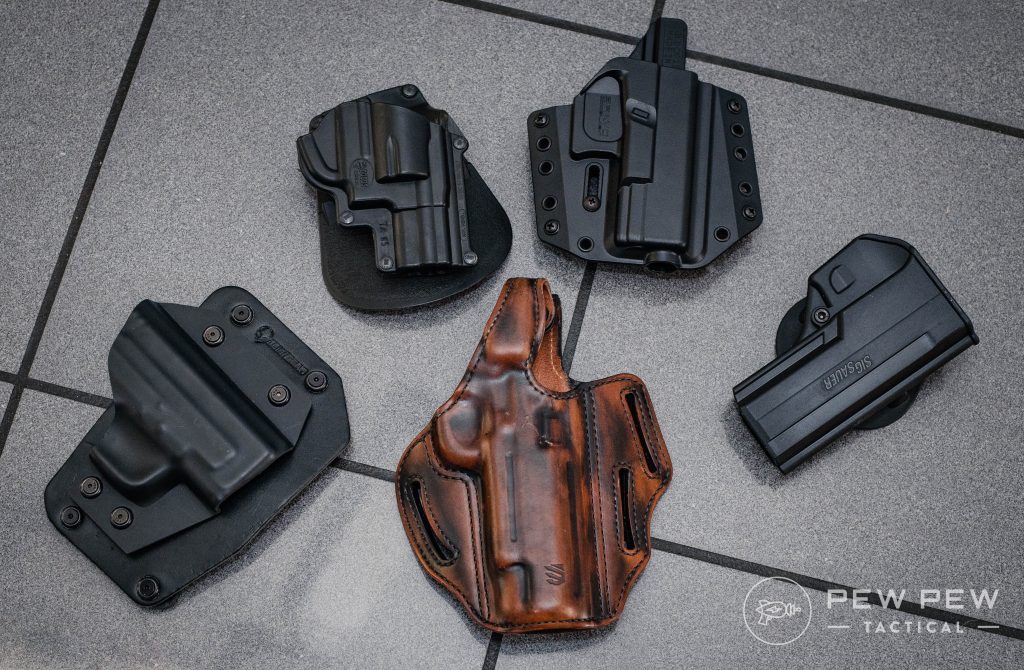 A holster maker that's long stood out in the space is PHLster — a small, American-made company out of Philadelphia.
Jon and Sarah Hauptman are the brains behind this company lending their expertise to holsters, weapon-mounted light switches, medical products, and more.
Let's be real; small American companies like PHLster are often the most exciting. They are free to try new things, introducing revolutionary products.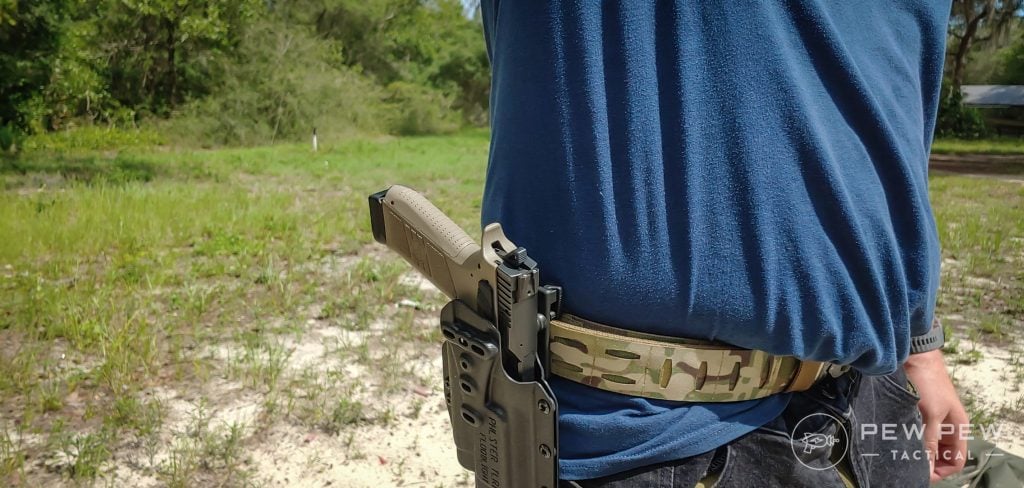 And that's where the Floodlight comes in.
The Floodlight is a quasi-universal holster system. And good news, it doesn't suck. Universal holsters often have a not-so-stellar reputation.
So, when one comes highly endorsed by some of the most knowledgeable gunslingers out there…well, you know we gotta check it out.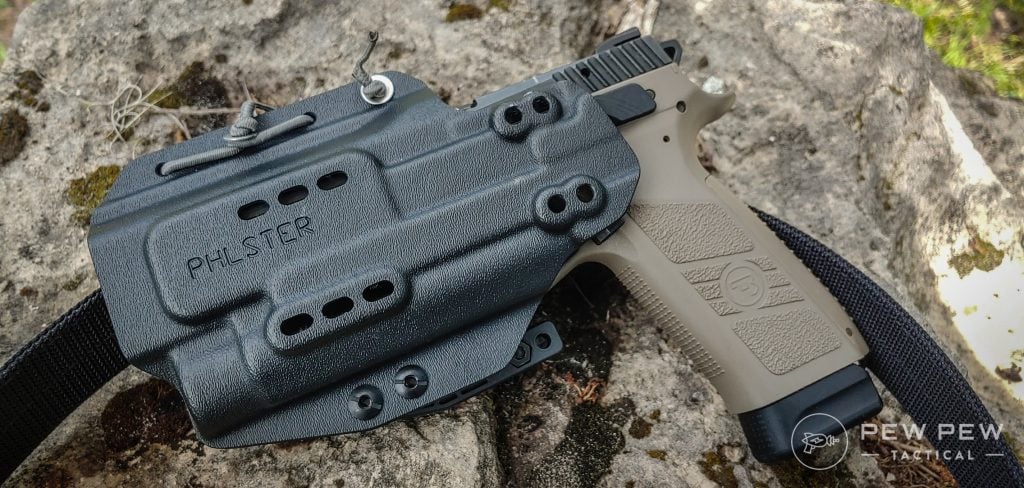 Today, we're going to do just that. We'll run through the Floodlight series, lay out the pros/cons, and tell you why it's become one of the go-to holsters for many CCW fans.
Keep reading to learn more…
Table of Contents
Loading...
Into the Floodlight
The PHLster Floodlight is a light-bearing holster design.
Specifically, the Floodlight series are made for the Streamlight TLR-1 or the Surefire X300U series weapon lights.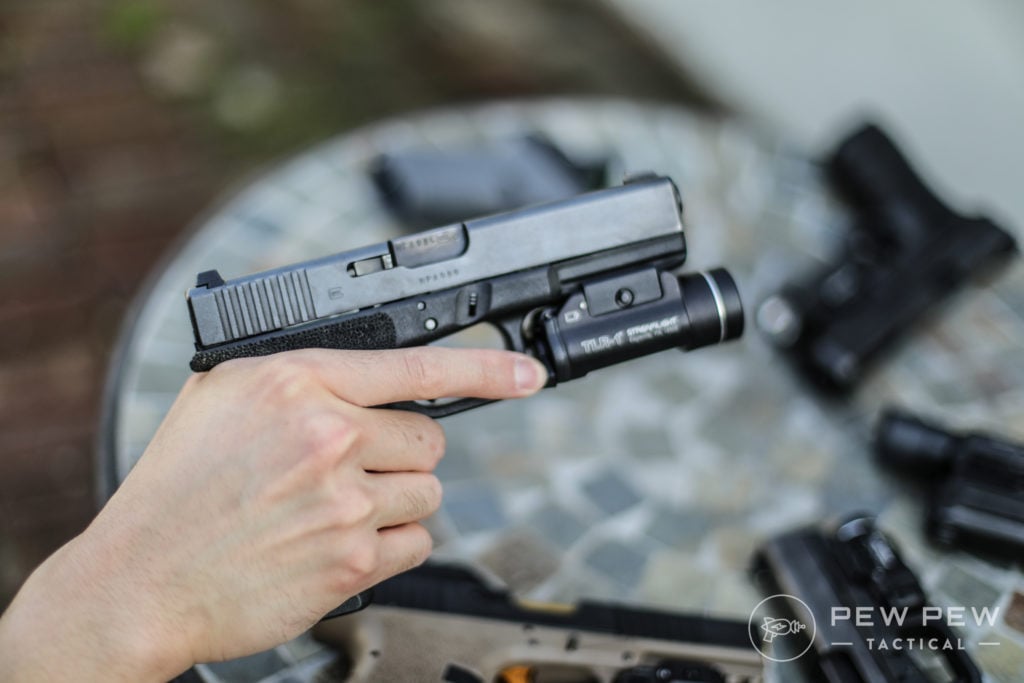 Again, as you'd imagine, PHLster holsters are only quasi-universal. Just because you can strap a light to it doesn't mean it'll fit.
You can't squeeze a Desert Eagle or a Glock 26-sized firearm in one of these holsters.
Size-wise the Floodlight holsters accommodate Glock 19 to 1911 sized firearms — so compact to full-sized handguns.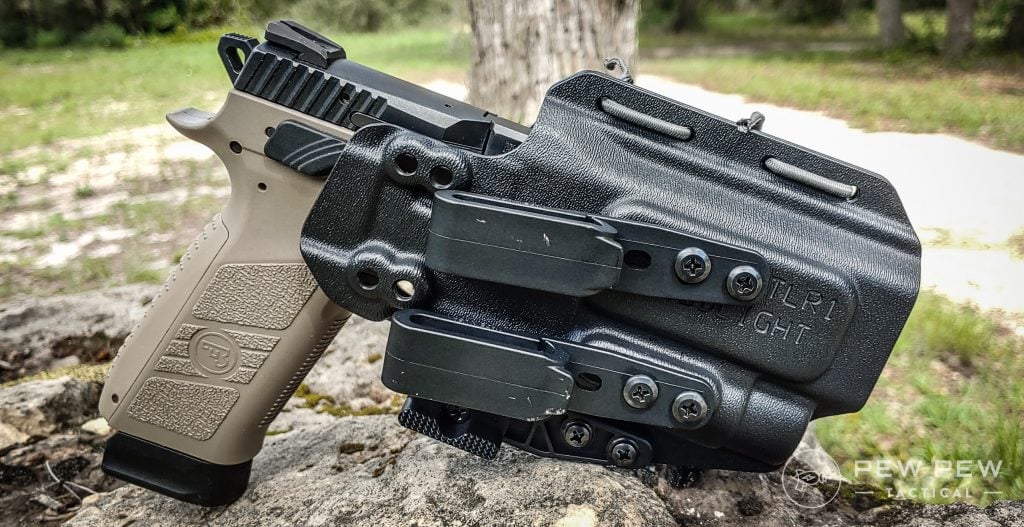 You're covered with the most popular models, including Glock, Smith & Wesson M&P, 2011, 1911, CZ polymer frame, Sig Sauer P series, Walther, HK, and more.
My personal journey with PHLster started when I wanted to carry a full-sized firearm in the appendix inside-the-waistband — also known as AIWB.
I've carried full-size OWB before, but Florida's heat makes it tough to wear overshirts all the time.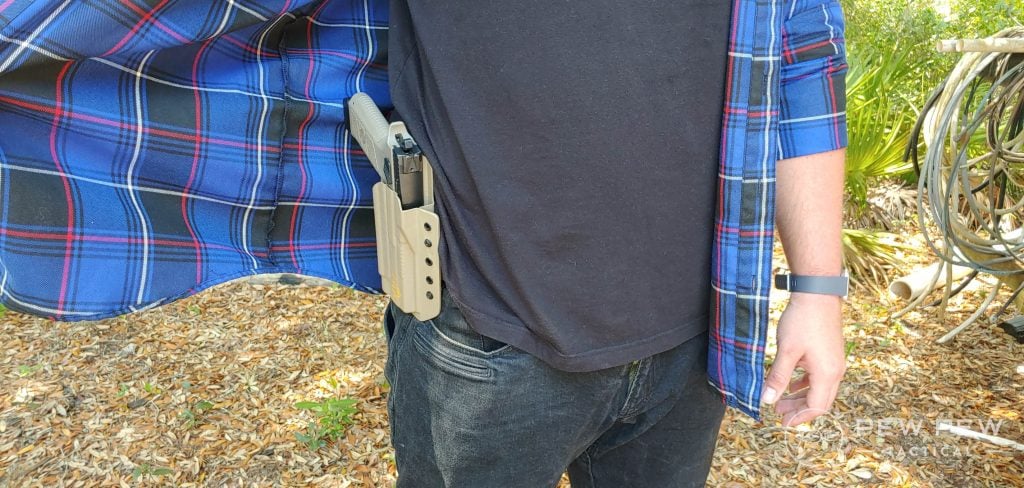 An AIWB rig offers superior concealment, an easy draw, and hopefully, a comfortable means of carrying a big, light-equipped gun.
I kept seeing PHLster used by shooters I respect. And I even met Jon Hauptman at SHOT SHOW, where he explained the Floodlight a little more to me.
I was sold. Literally, I jumped on the interwebs and ordered myself two models – the PHLster Floodlight IWB and OWB.
113
at Gunmag Warehouse
Prices accurate at time of writing
Prices accurate at time of writing
Carry What You Want
As you'd imagine, the PHLster Floodlight OWB and AIWB have a lot in common.
Both allow you to carry a full-sized or compact firearm equipped with a TLR-1 or Surefire X300U.
PHLsters' Floodlight series sports a two-piece polymer design. The light portion more or less centers the weapon, ensuring it doesn't shift in the holster.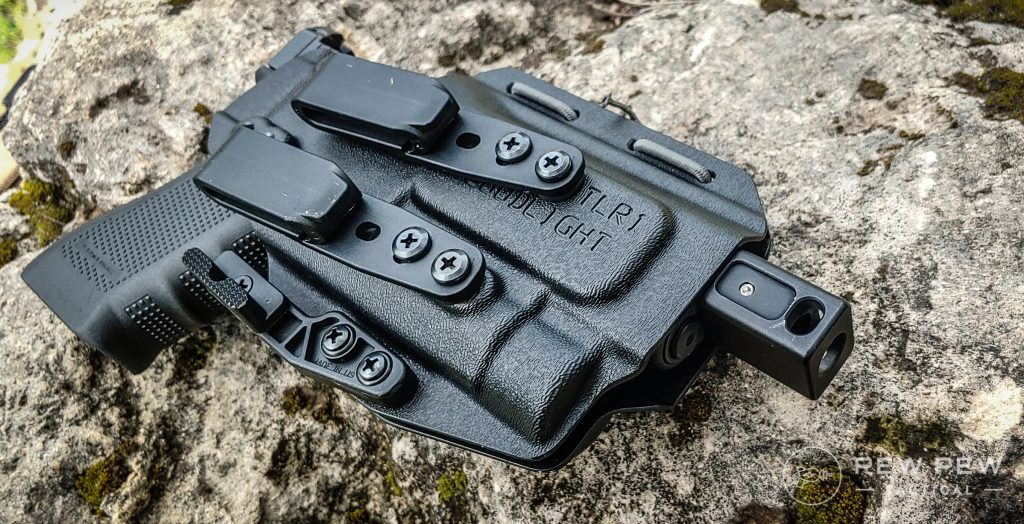 A weapon-mounted light provides your friction fit to keep the gun in place. Users can adjust the friction around the light to their degree of comfort.
Any design that accommodates a variety of guns has to be adjustable, and the Floodlight allows the users to customize the slide contact.
The difference between a Glock slide and a CZ P09's slide is substantial…so it's a must-have.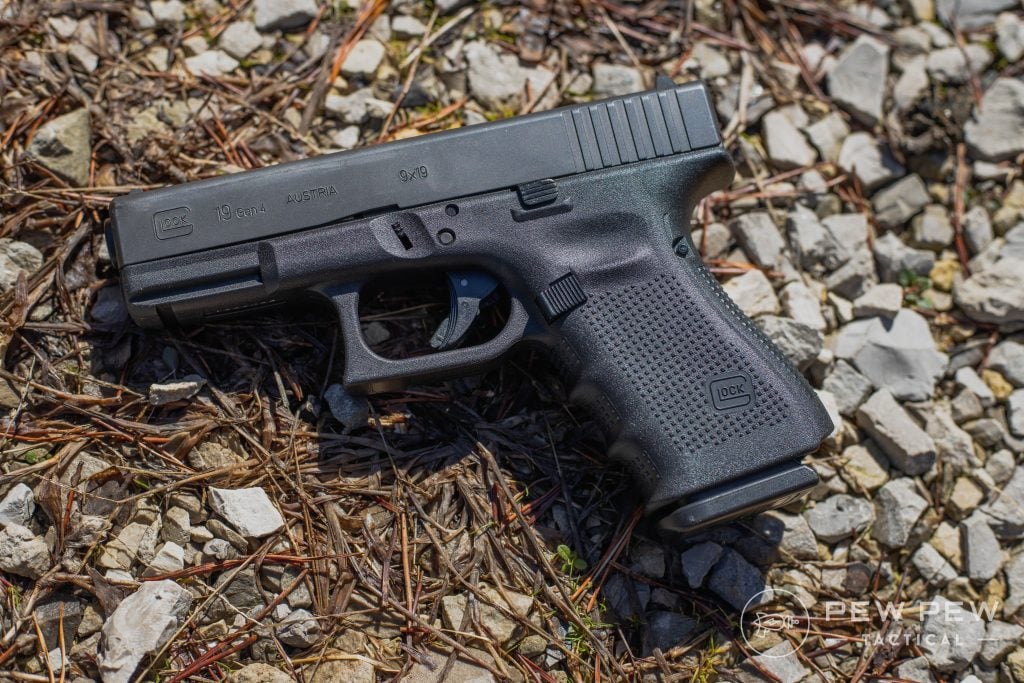 Both holsters make it easy for lefties or righties to carry due to the ambidextrous nature of both holsters.
Also, even the most Gucci Glock or M&P can be carried in the PHLster Floodlight.
Did I mention these holsters are modern and accommodate modern features?
Besides your light, you can strap on a red dot sight, suppressor height sights, and a compensator without issue.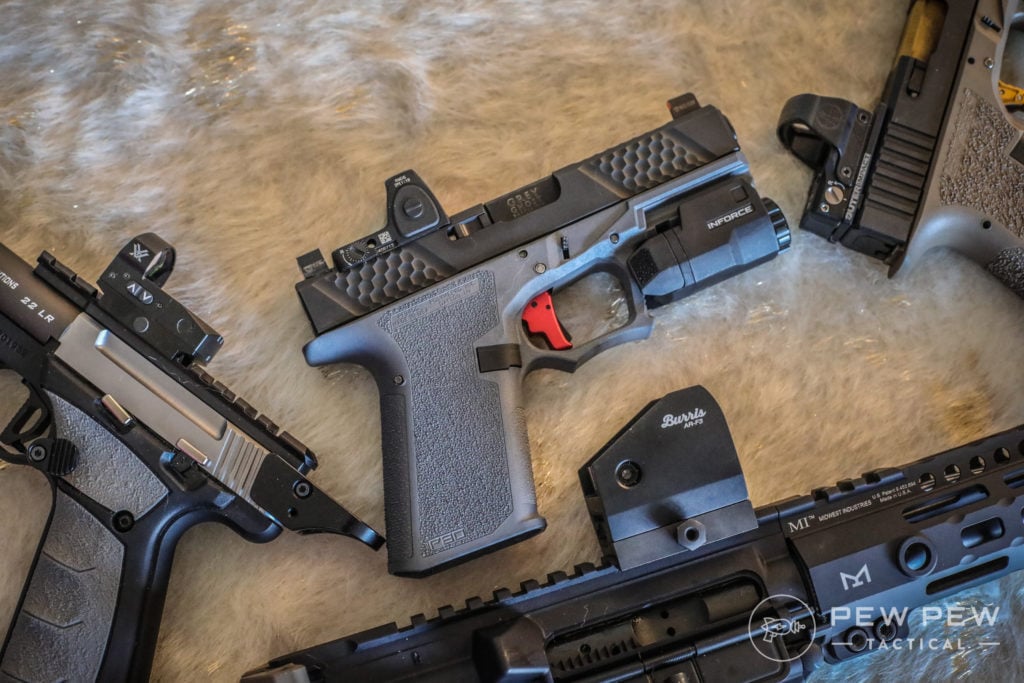 The open bottom makes it easy for your gun to be chock-full of modern features while remaining easy to carry.
Beyond that, both holsters provide a very safe option for holster and drawing.
The inside feels smooth, and nothing interacts with the trigger. Not to mention, the trigger is fully enveloped, so nothing outside the holster can interact with it.
Diving Into the Floodlight IWB
I describe this as an AIWB holster, and I'm betting 99% of users carry AIWB with a PHLster Floodlight.
That said, you can certainly carry strong side IWB without issue. Since I purchased it to carry AIWB, that's my primary focus.
Adjustments
When you first pop the Floodlight out of that black plastic bag, you are challenged to set the holster up.
Challenge doesn't mean hard; it means you need to experiment a little here and there to find what works.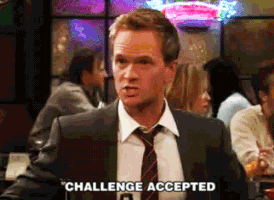 A shock cord at the top adjusts your slide contact. You can pull the cord tighter and adjust as necessary to ensure proper fit.
It's simple but very effective. I adjusted it to accommodate my CZ P-09, and it works extremely well.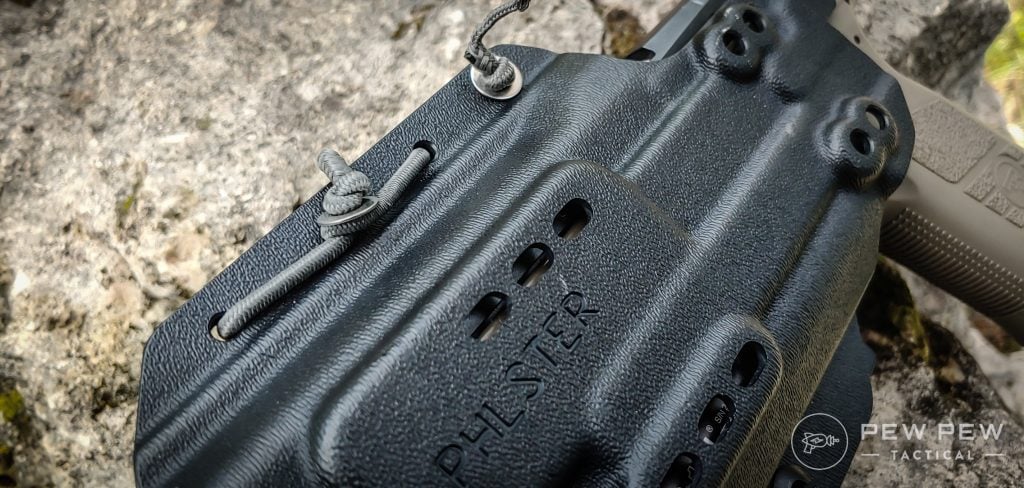 Retention screws hold the MOD wing in place, and you'll need to adjust each screw evenly to get proper retention.
I used a half-turn per to keep track of my adjustments and ensure they were even. And I went a little tighter because I desired a good, purposeful tug to draw my weapon.
113
at Gunmag Warehouse
Prices accurate at time of writing
Prices accurate at time of writing
Making It Fit Me
Once my gun fit the holster, it was time for the holster to fit me.
The PHLster Floodlight's success for concealed carry comes from the number of adjustments and its modular nature. Its belt clips can be swapped to nearly any setup.
You can run metal or polymer clips or soft loops of all types.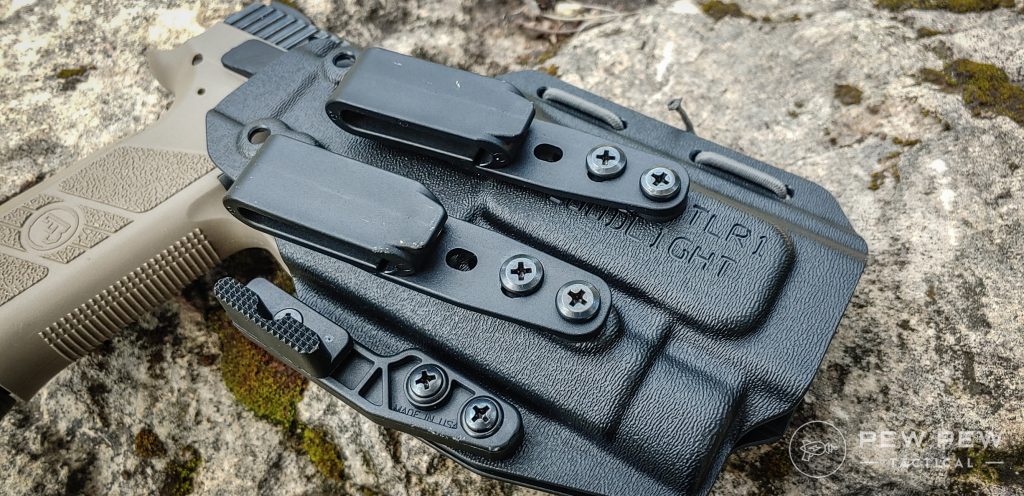 I use the included polymer clips and find them to be a fantastic choice.
But users have plenty of slots to accommodate different belt attachment methods to the holster at a variety of different heights.
I experimented quite a bit to get the most comfortable fit for my holster.
This involved adjusting the Floodlight's ride height — very simple to do. You have plenty of options for different ride heights.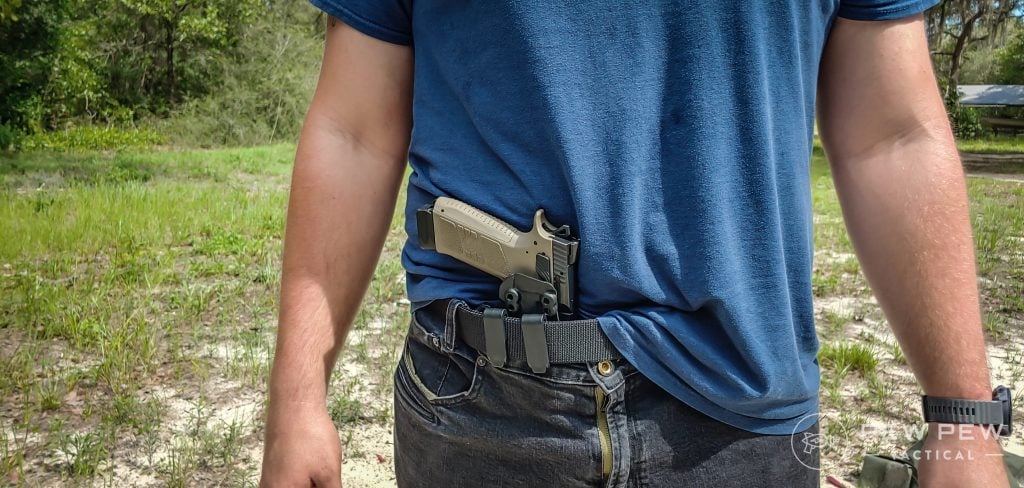 Moving mine higher increased comfort without decreasing access, retention, or concealment.
My second adjustment was to add some reverse cant to the holster.
This pushed the bottom of the holster towards the center and kept the holster from digging into my thing when I sat down. Overall, it made it easier to draw when seated.
Now I was packing a big gun with a big light and doing it in relative comfort.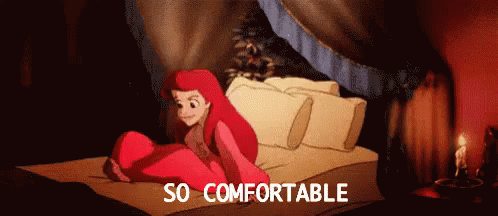 I moved my belt buckle to the left to provide a little more comfort and quickly found myself riding high on the hog.
Lead Downrange
Obviously, once you have a new toy, you gotta play with it.
Playing with it in this context was a combination of dry fire and live-fire training in various positions.
As always, I started dry, popped on some Netflix, and practiced drawing in various positions.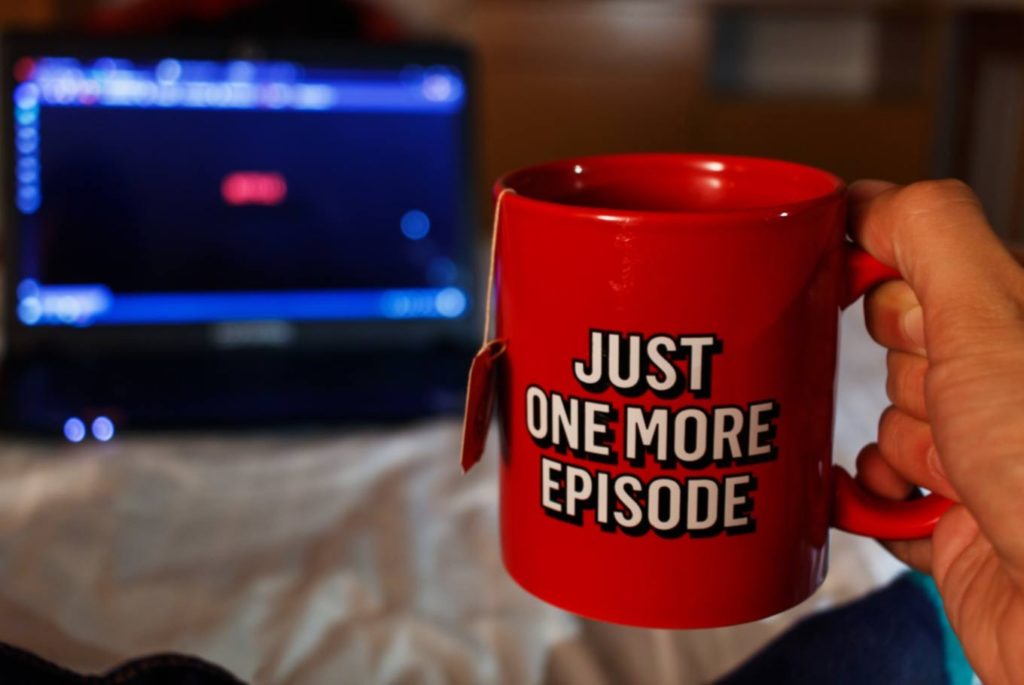 This helps me build a little muscle memory, making sure I can draw in different positions.
I practiced standing, sitting, kneeling, and even lying on my back, making a few minor adjustments but overall feeling quite confident.
Then, I took it to the range.
I started slowly at first, adding speed as I got more comfortable with draws and positions.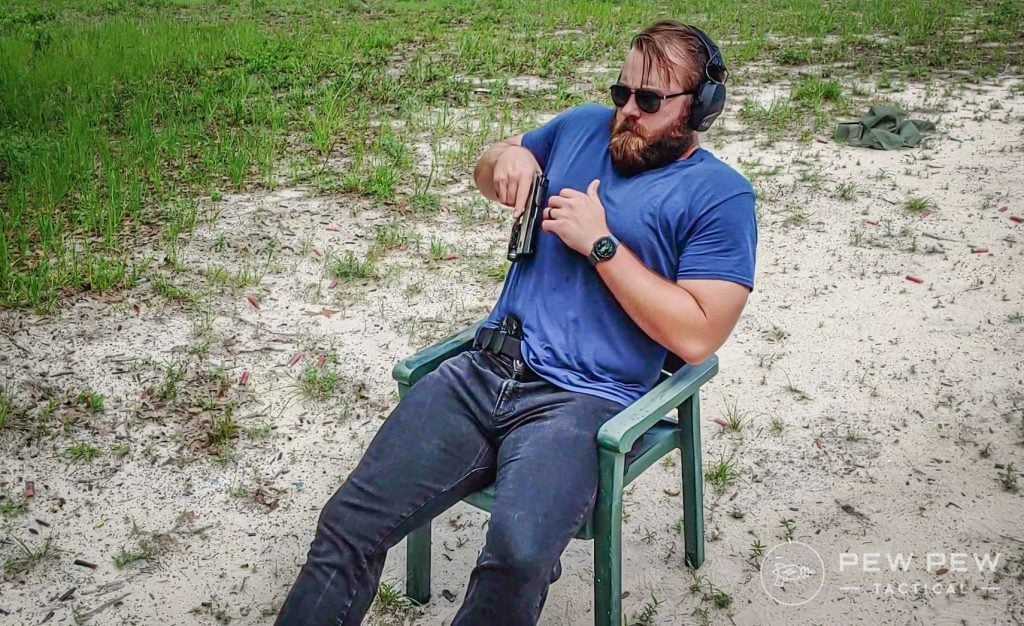 An outdoor chair and a small table let me practice sitting, but everything else was in the dirt.
The PHLster Floodlight AIWB provides a secure platform for drawing the pistol.
My little extra retention makes for a purposeful tug before the gun comes free. Deploying the firearm doesn't disturb the holster or cause it to shift or move in my pants.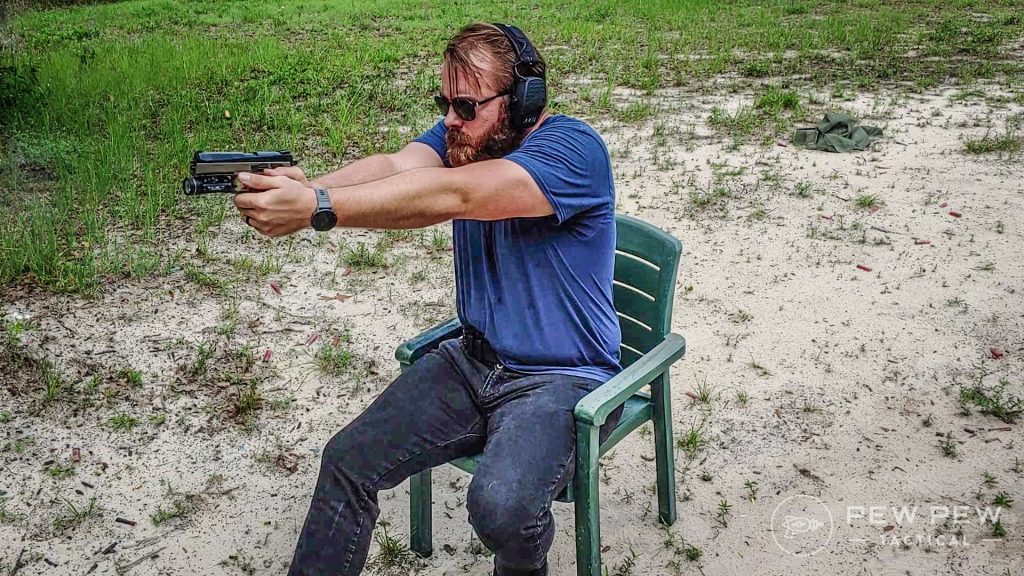 PHLster also cuts the Floodlight perfectly for an easy grip. It's pushed out for an easy grip without compromising concealment.
My draw was consistently smooth throughout several hundred reps. Consistency means I knew what to expect every time I clear Kydex.
113
at Gunmag Warehouse
Prices accurate at time of writing
Prices accurate at time of writing
The Floodlight OWB
After falling in love with the AIWB Floodlight, I instantly wanted the OWB model.
As you'd expect, the OWB Floodlight doesn't offer the same degree of concealment as the AIWB variant — but it's not designed to.
PHLster advertises the Floodlight OWB for range-use and similar applications. Again, it offers models for either Streamlight TLR-1 or Surefire X300U equipped pistols.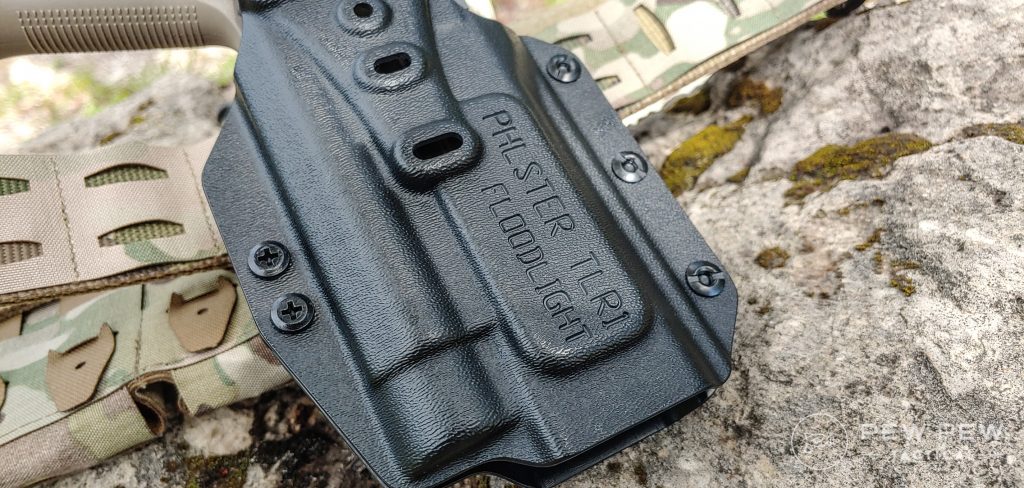 It's a little big for concealment and doesn't offer the retention most duty holsters require.
So, packing the Floodlight OWB as a concealment rig will require some truly dedicated practice and a good cover garment.
Beyond that, the Floodlight OWB provides a good holster for recreational activities where you might want a gun.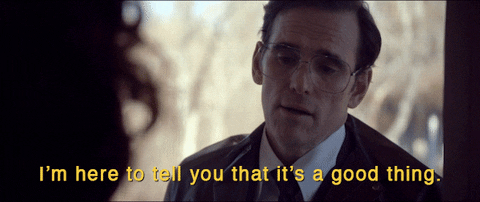 Working outdoors, taking an easy hike, or working large stretches of property serve up tasks the Floodlight OWB to conquer.
Setting it Up
Gone is the shock cord for slide contact adjustment. In its place sits three slide adjustment hardware kits.
Each comes color-coded with a different size to accommodate various firearms. It might take some experimenting to figure out which kits work right, but that's okay. It's not much work.
I used the smallest kit to fit my CZ P-09.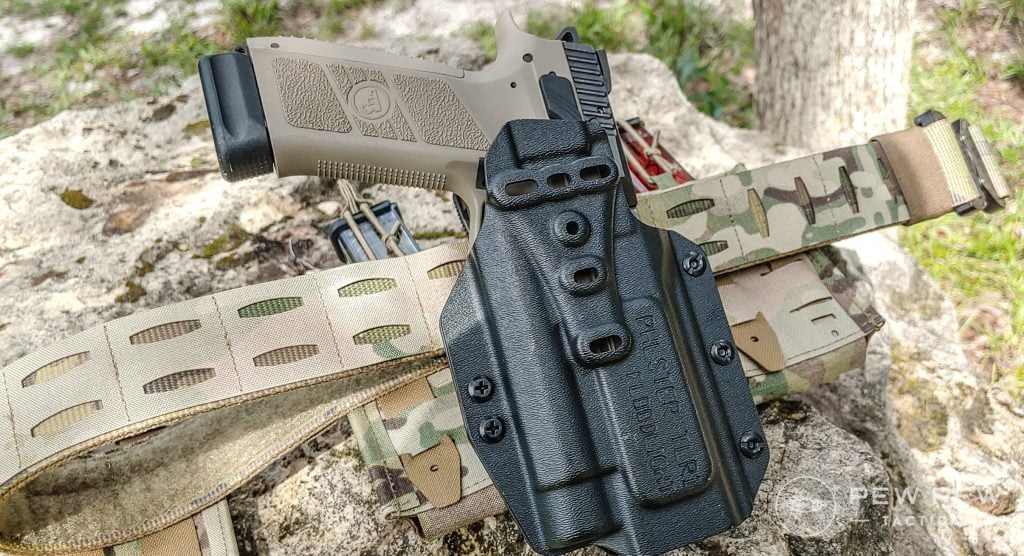 Retention around the light was still present and required each screw to be adjusted properly. I did just that, keeping my slightly tighter retention for a good tug.
Even though the holster lacks an active retention device, you can adjust the retention to be quite tight.
119
at Brownells
Prices accurate at time of writing
Prices accurate at time of writing
Seriously tight…enough that it won't come loose or fall out. With the right retention, it will take some real dynamic movement to free the gun.
Modularity matters and PHLster designed the Floodlight OWB to function with a variety of holster attachments.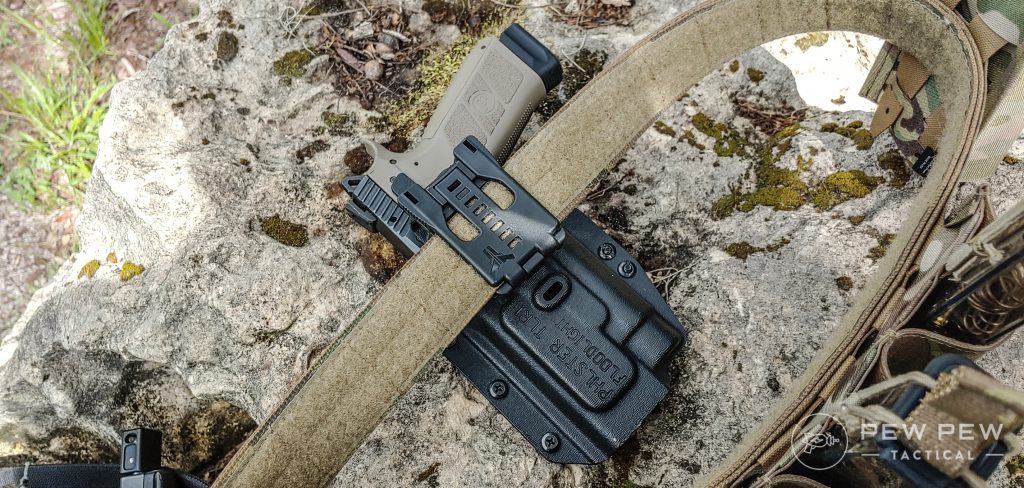 It comes with a Blade-Tech Tek Lok belt attachment kit, but you can toss on G-Code, Safariland, and other Blade-Tech attachments.
I'm still running the Blade-Tech Tek Lok Kit but am seriously considering a Safariland Low Attachment for a low-riding quasi-thigh rig.
For now, the Tek Lok makes plenty of sense.
12
at Amazon
Prices accurate at time of writing
Prices accurate at time of writing
Running and Gunning
I strapped the Floodlight OWB onto a Sentry Gunnar Belt. It fits perfectly.
The Gunnar Belt features a minimalist battle belt design for tactical use. My Tek Lok squeezes over the Gunnar Belt and locks in place.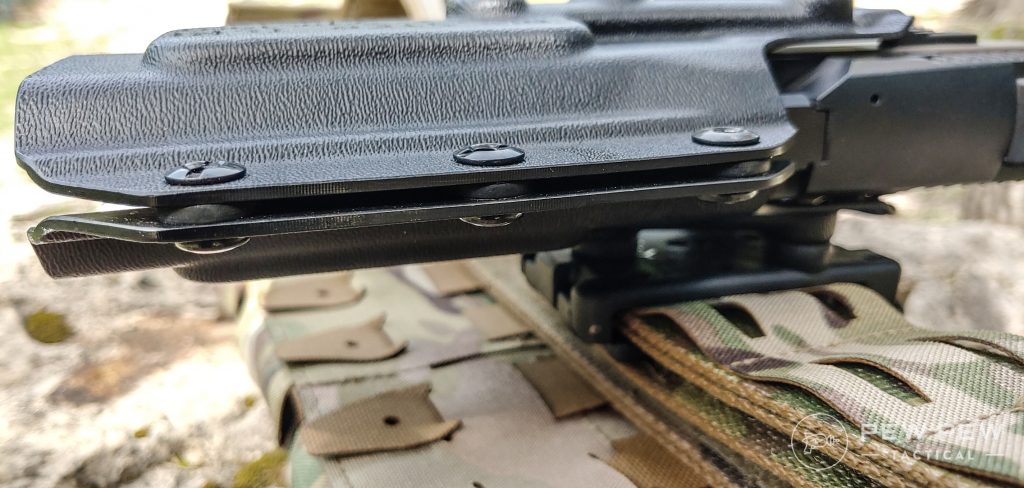 On the Gunnar Belt, I can larp my heart out, pretending to be all kinds of special.
With the belt properly tightened, I get a clean draw and a rapid engagement. I grip, rip, and shoot with ease.
27
at Optics Planet
Prices accurate at time of writing
Prices accurate at time of writing
As you'd imagine drawing from a duty-style setup is quite intuitive and simplistic.
Doing so in multiple positions takes no effort.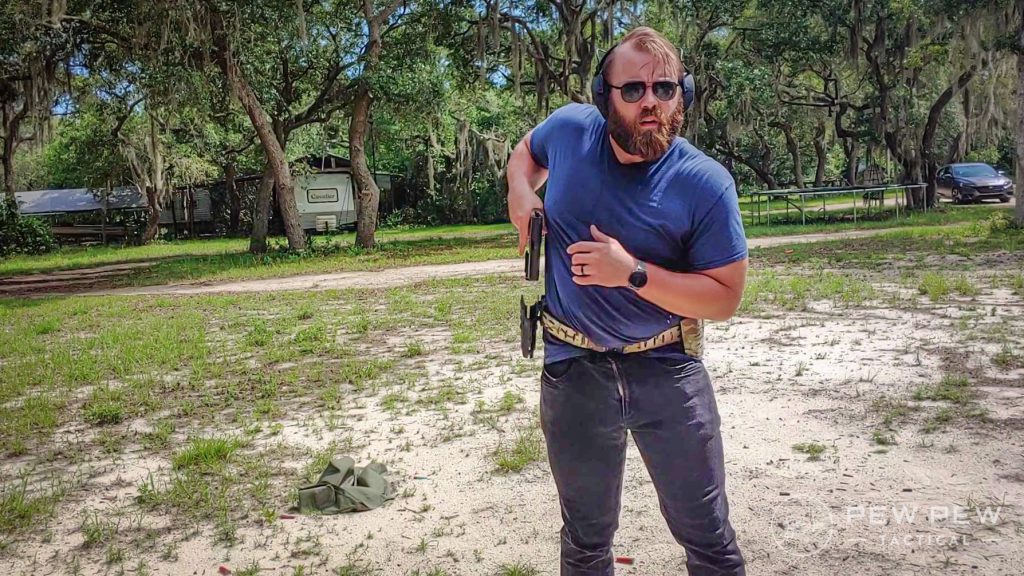 The pistol flies out of the holster, and it's held far enough from the body for a clear and consistent grip.
Sliding the gun back home also feels smooth. The big open holster eats it up without much of a fight.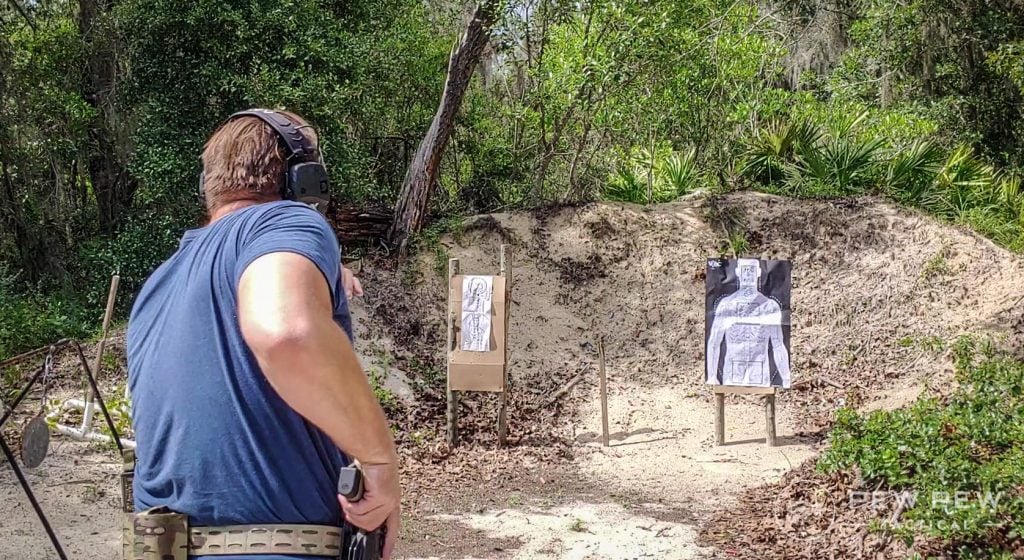 All in all, the Floodlight OWB offers a high-quality OWB holster for those needing a range style rig.
119
at Brownells
Prices accurate at time of writing
Prices accurate at time of writing
Conclusion
The PHLster Floodlight OWB and AIWB provide two extremely well-made holsters for very different user profiles.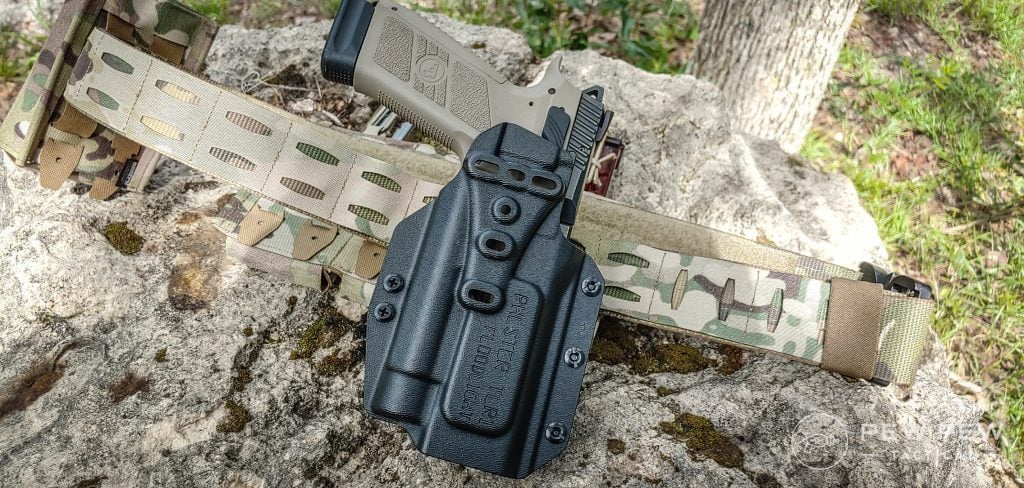 To be honest, I love these. They provide a safe, accessible holster with all the modularity and adjustments I could ever need.
Beyond that, I can load up all my favorite accessories and Gucci-ness. Also, I can use these two holsters with most of my handguns.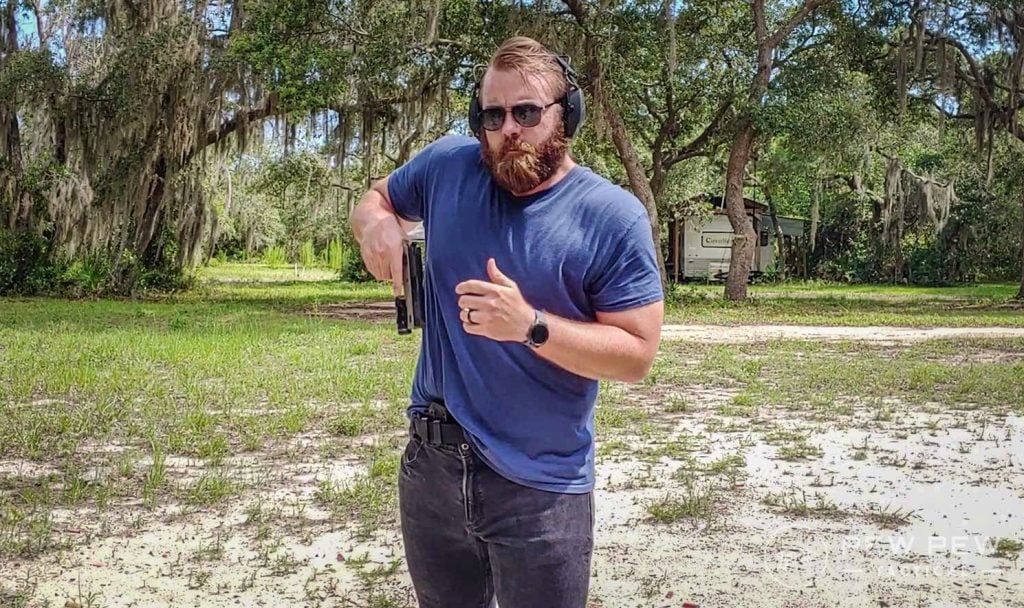 In other words, I recommend you give PHLster and their wide variety of holsters a peek.
Got experience with PHLster? Let us know what you think below! Need more concealed carry options? Check out our list of the Best OWB Holsters and Best Concealed Carry Holsters.