Feel free to check out Pew Pew Tactical on YouTube for more gun and gear content.
---
When I invoke the almighty brand that is Heckler and Koch, a few things probably come to mind via association…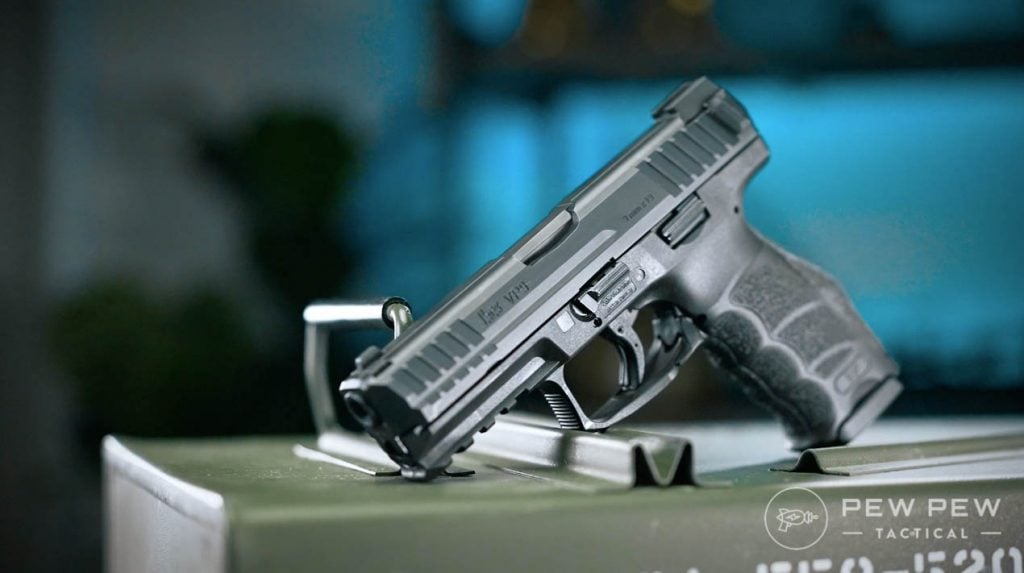 Be that daunting price tags, cool but unobtainable rifles, and submachine guns, or tales of sassy Social Media Girl who may have gotten axed for calling Marines crayon eaters (if she ever really existed, to begin with.)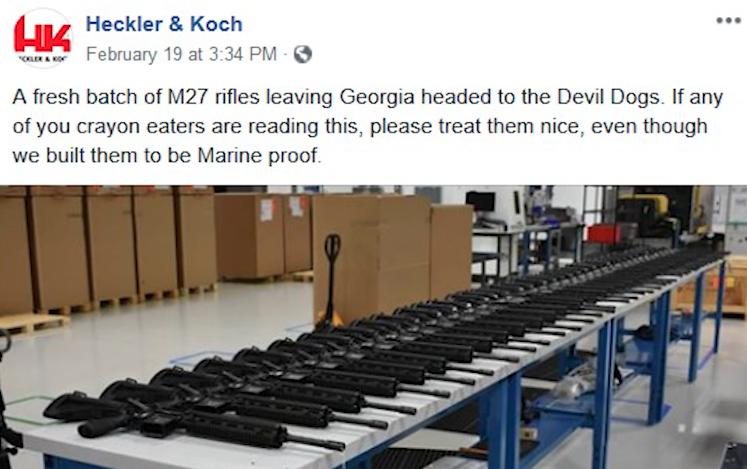 Regardless, "polymer striker-fired handguns" probably isn't the first thing to come to mind when you see those big blocky red letters…but perhaps it should be.
And today I'm going to tell you why. I'll walk you through the HK's polymer pistol the HK VP9. We'll run down the usual specs and features and then head to the range to see how it handles.
By the end, I'll give you a good idea of whether the VP9 is worth your money or if you should shop elsewhere.
Table of Contents
Loading...
What is the VP9 & Where Did It Come From?
Before we dive into our specific VP9 model, let's take a walk back and see what led to the development of this pistol.
In 1970, HK kicked off the polymer pistol design with its VP70 – a 9mm, double-action-only pistol.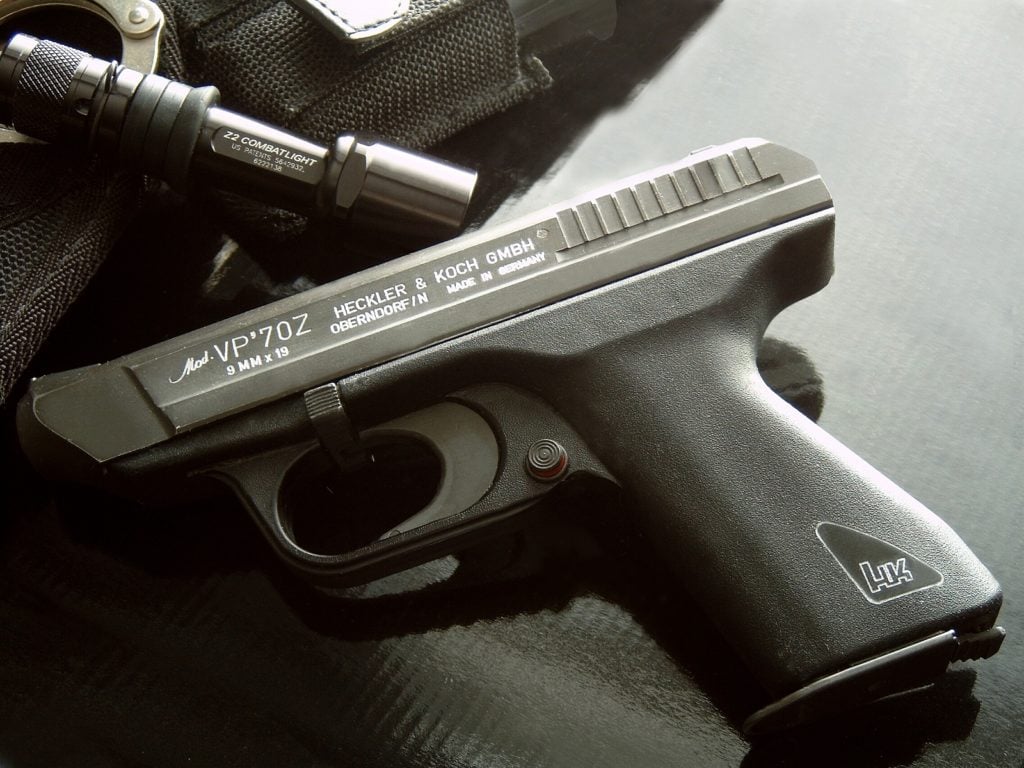 That VP moniker is courtesy of the German word "Volkspistole," which translates to "people's pistol."
HK would later add other polymers into its lineup, like the P30 – aimed at the European law enforcement market.
And that is where VP9 enters the timeline…
Released in 2014, the VP9 looked to build on the success of pistols like the P30 bringing a striker-fired design and more modern features.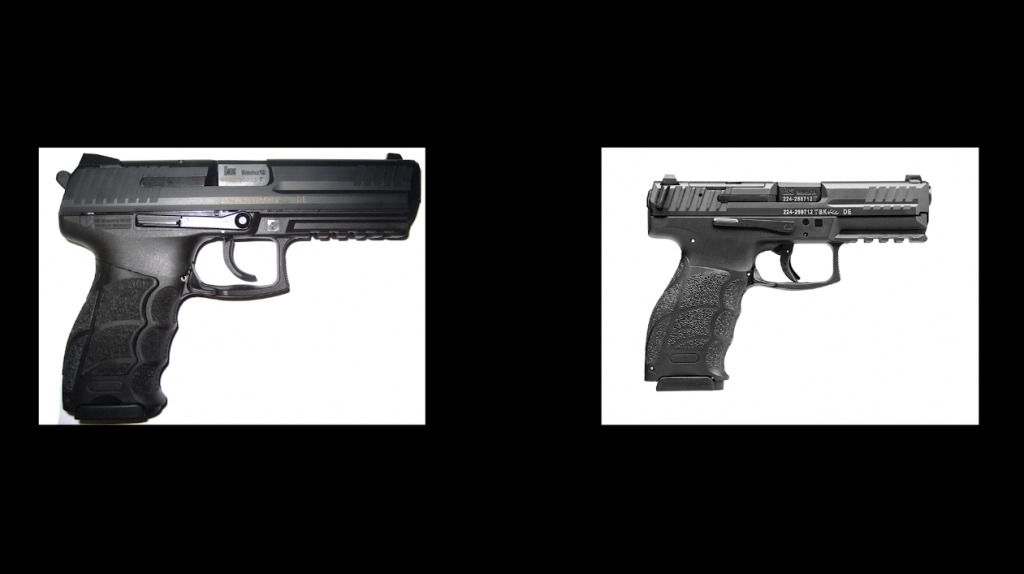 Ushering in a new era for the gun company, the VP9 now boasts a few different flavors.
But, I think the VP9 as a platform can be distilled to two unique selling points – trigger and ergonomics.
689
at Kygunco
Prices accurate at time of writing
Prices accurate at time of writing
A Striker-Fired Trigger That Isn't Terrible?
I'll be the first to admit…striker-fired triggers usually leave a bit to be desired straight out of the box. Such is the nature of the beast.
That said, HK targeted that issue when designing the VP9, reworking the striker fire mechanism to cut down on the sponginess and pre-travel pull that increases in resistance as the shooter squeezes the trigger rearward.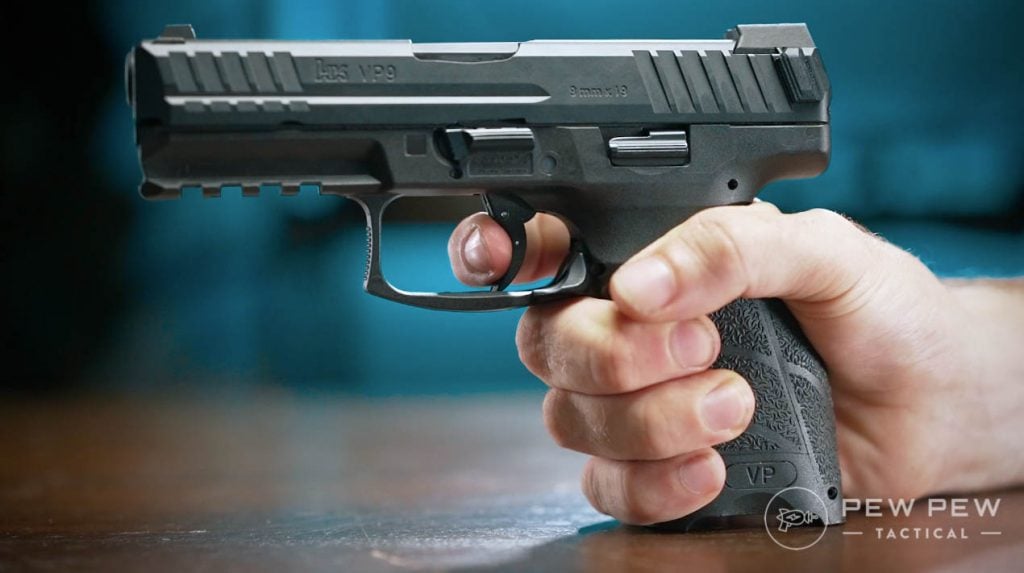 The result is quite noticeable and thankfully has very real implications for how the gun handles…but more on that in a minute.
Better Ergonomics
Another primary selling point of the VP9 is HK's ergonomic handgun grip design. From the get-go, it felt quite nice in my hand.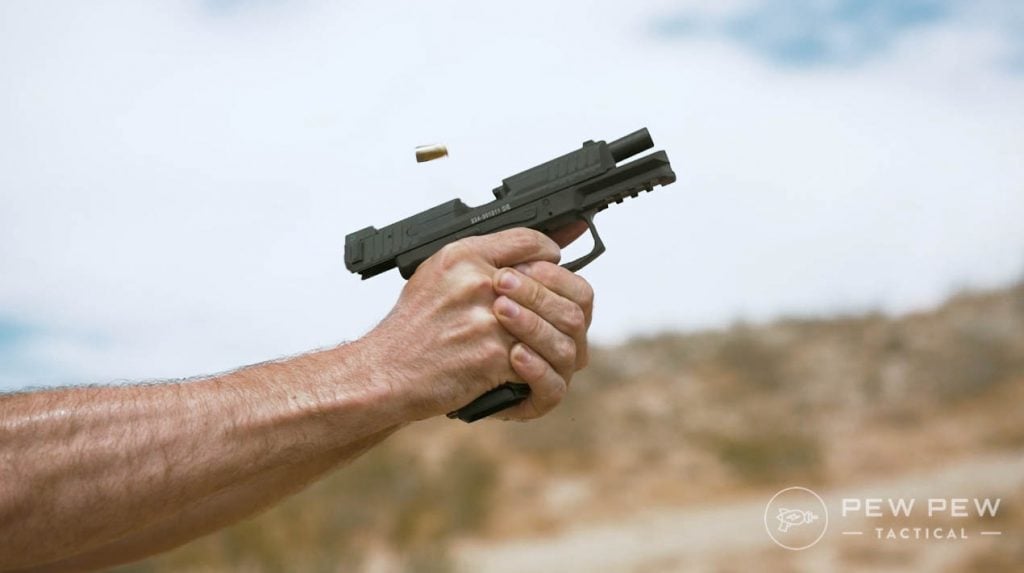 The VP9 ships with various back straps and interchangeable side panels that should allow those with even the most atypical paws to find a combination that works for them.
But let's dive even further into the VP9's specs and features.
HK VP9 Specs & Features
As I mentioned earlier, the VP9 is a 9mm striker-fired, polymer handgun. It measures 7.34-inches in total length with a 4.09-inch barrel and tips scales at around 25-ounces.
From front to back, you'll notice the VP9's got some relatively aggressive forward slide serrations. This helps get a positive grip when charging the gun. Those same serrations are repeated at the rear.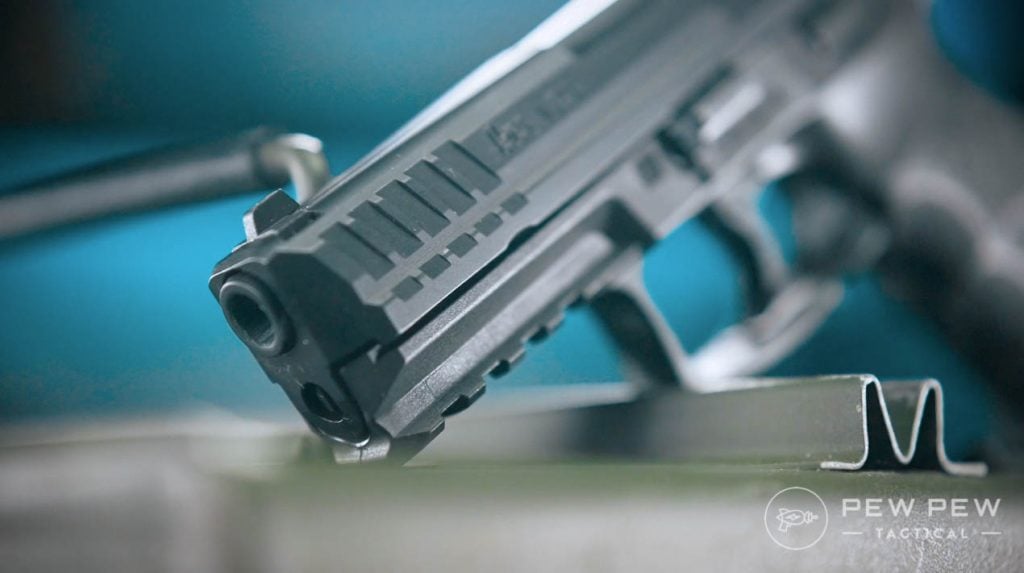 It sports a full-size Picatinny rail upfront for attaching lights, lasers, or any other accessories you can think of.
The iron sights are a standard 3-dot setup — nothing fancy, but they get the job done. But our particular VP9 came with night sights pre-installed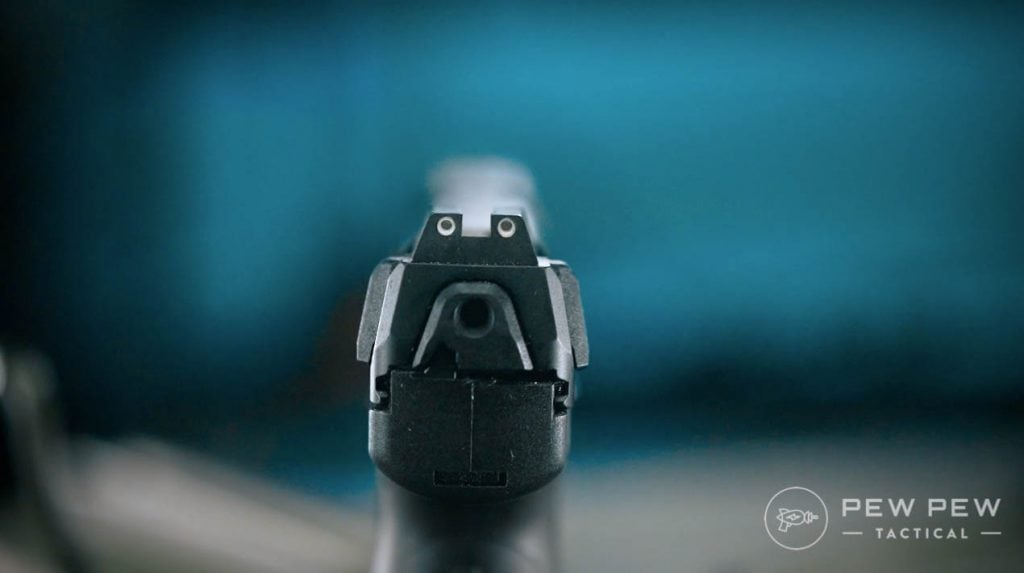 As mentioned, the gun's ergonomic grip system feels fantastic in the hand!
The modular backstraps and grip panels feature some swirly texturized patterns giving positive retention when needed.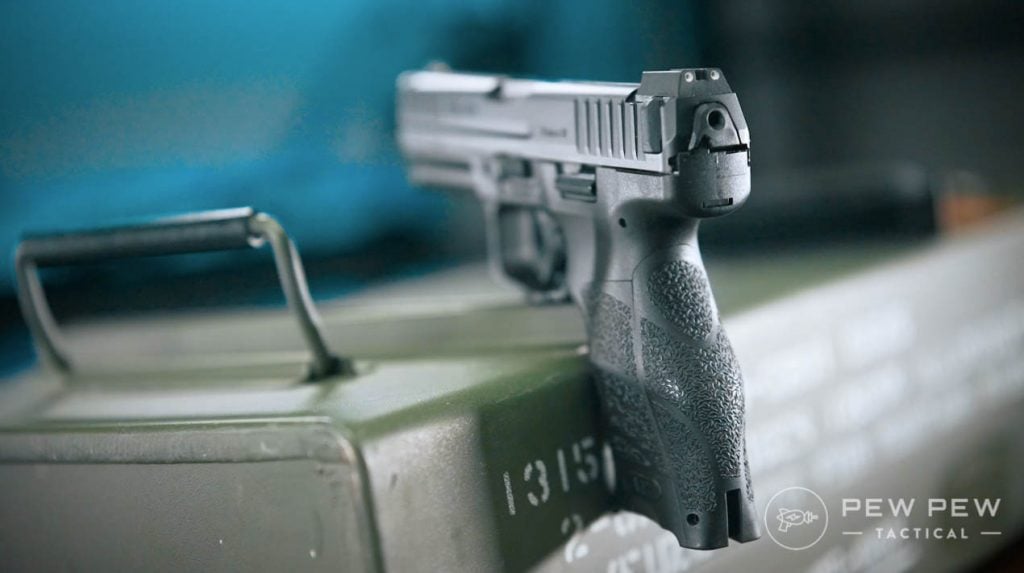 The VP9's trigger guard is bizarrely oversized, but I assume this is to accommodate gloves and the like.
It's also got a bit of an outward parabolic curvature to it. Some people might not dig this design, but several companies offer services to flatten that curve if you desire.
Probably one of the largest differences most non-European users will notice is the placement of the magazine release. It appears as an ambidextrous paddle where the grip meets the trigger guard.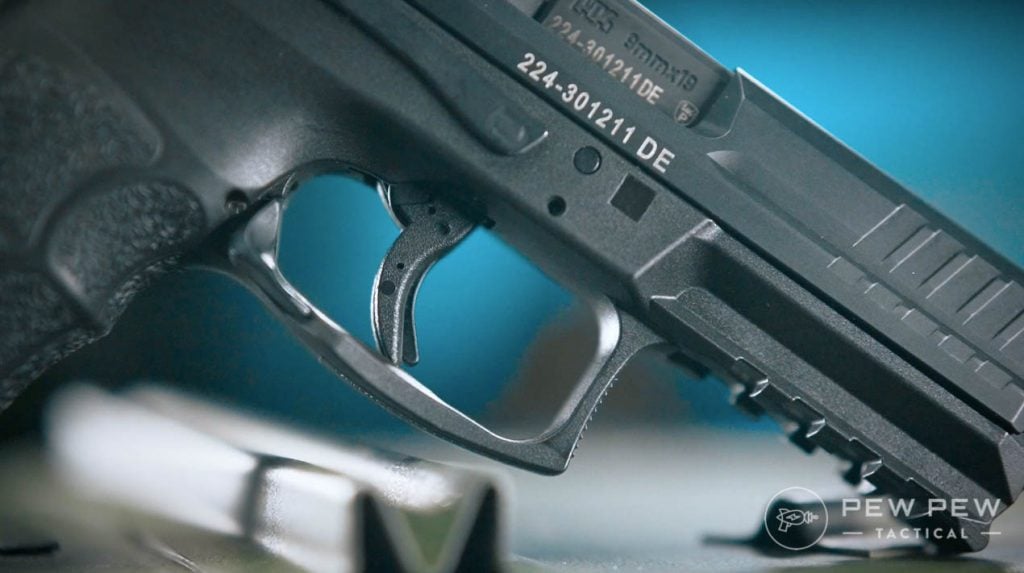 While initially a little unfamiliar feeling, it isn't as hard as it seems to get used to.
Lastly, your slide lock mechanism is right where you'd expect it to be. And just a bit forward of that is the VP9's fairly large takedown lever.
Field-stripping the VP9 is also incredibly easy in our video:
With a bit of background out of the way, let's head to the range!
Range Time with the HK VP9
If you've watched any of my recent handgun videos, you've probably heard me say this a million times — I'm a Glock guy.
Because let's be real, they're basically the Honda Civic of pistols.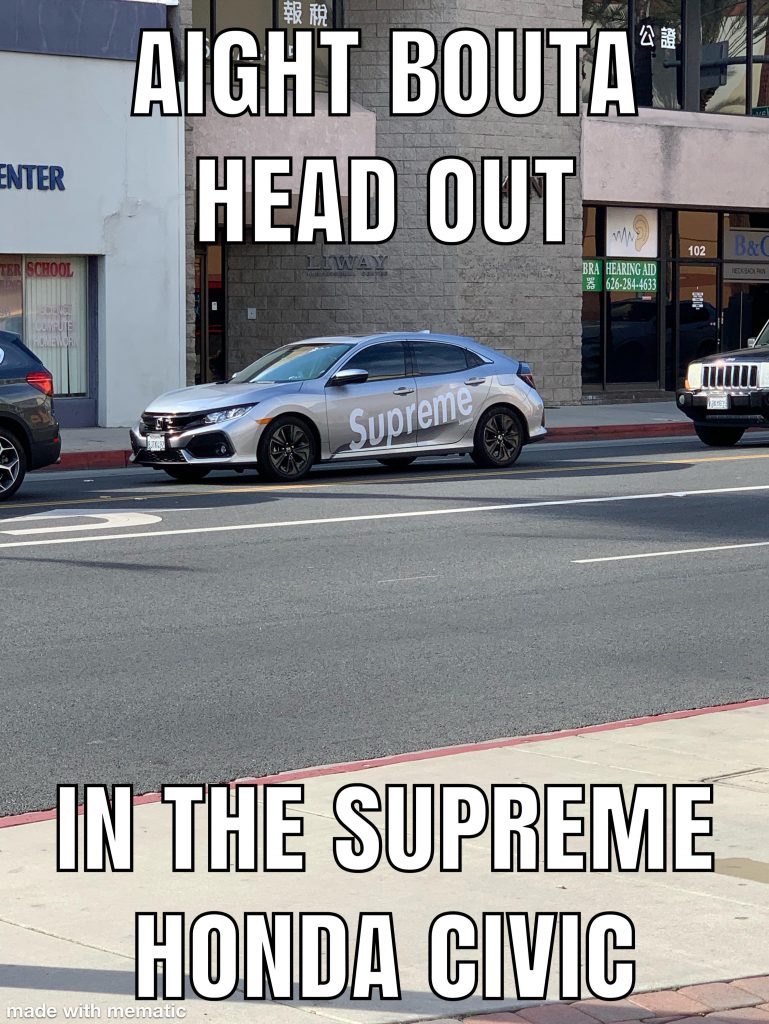 Glock is where the majority of my handgun experience comes from.
Despite my Glock love, first impressions on the VP9… it fits my hand phenomenally well!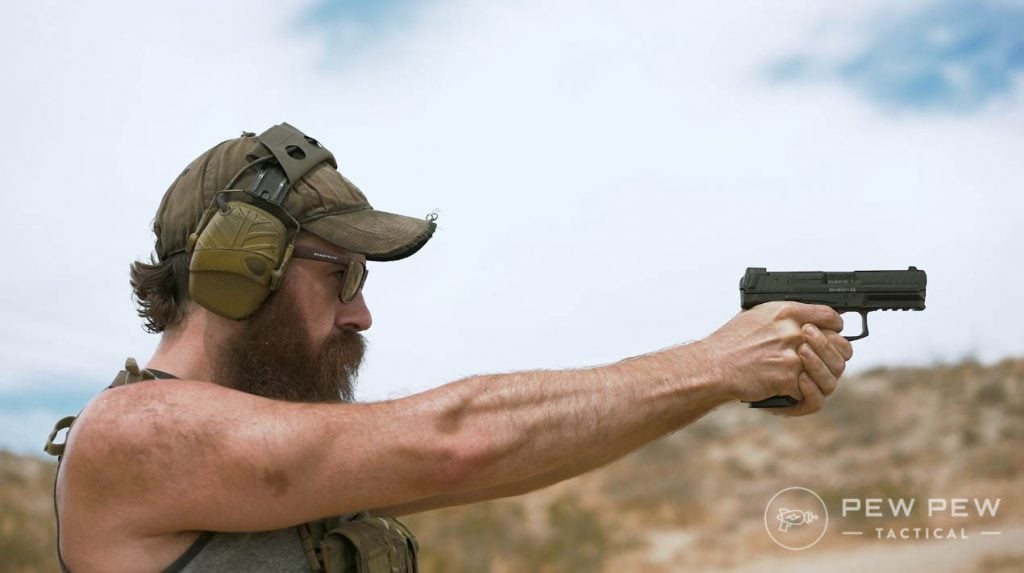 I'm quite fond of my Dremeled G17, but the VP9's ergonomic grip setup is, dare I say, much better. And it lends itself to a very naturally pointing handgun that feels downright great to punch out with.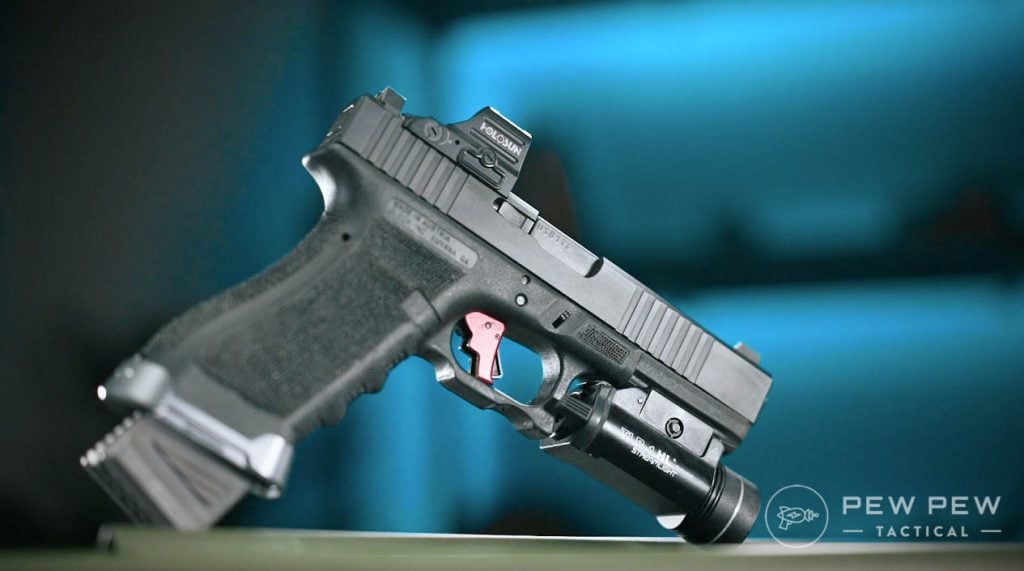 However, it's not all gravy…
While that pistol grip might be one of the best I've ever used, the placement and size of the takedown lever proved problematic.
When attempting my high and thumbs forward grip, my off-hand's support thumb rested directly on the VP9's takedown lever.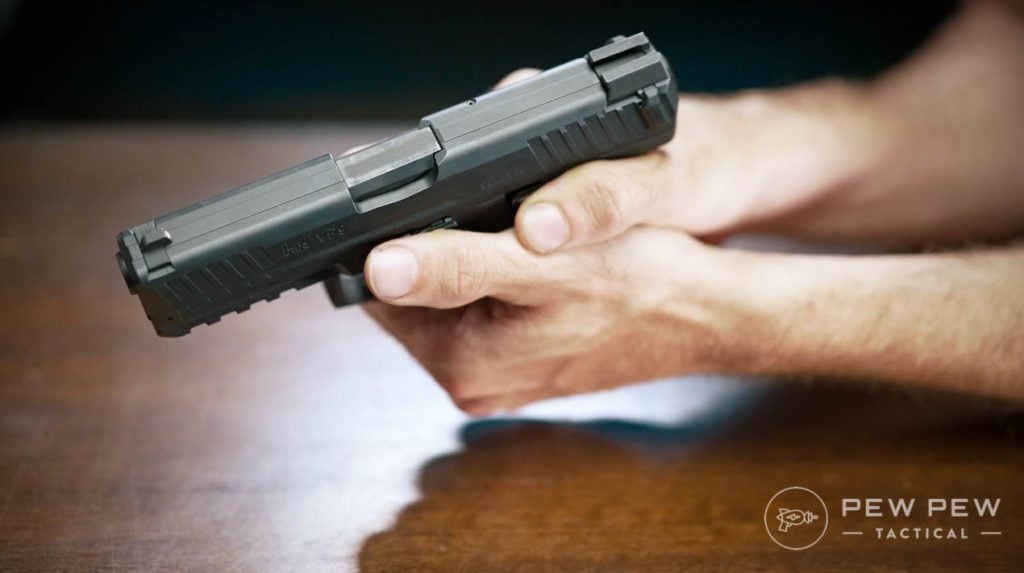 At first glance, this doesn't seem like a problem, but once you get a few mags through the gun and it starts to heat up…you might see where I'm going here.
In fact, that lever winds up getting so hot that I received a heat-induced blister about midway through the shoot.
As much as I hate firing pistols with gloves, I bit the proverbial bullet and donned a glove on my left hand to make it through the day.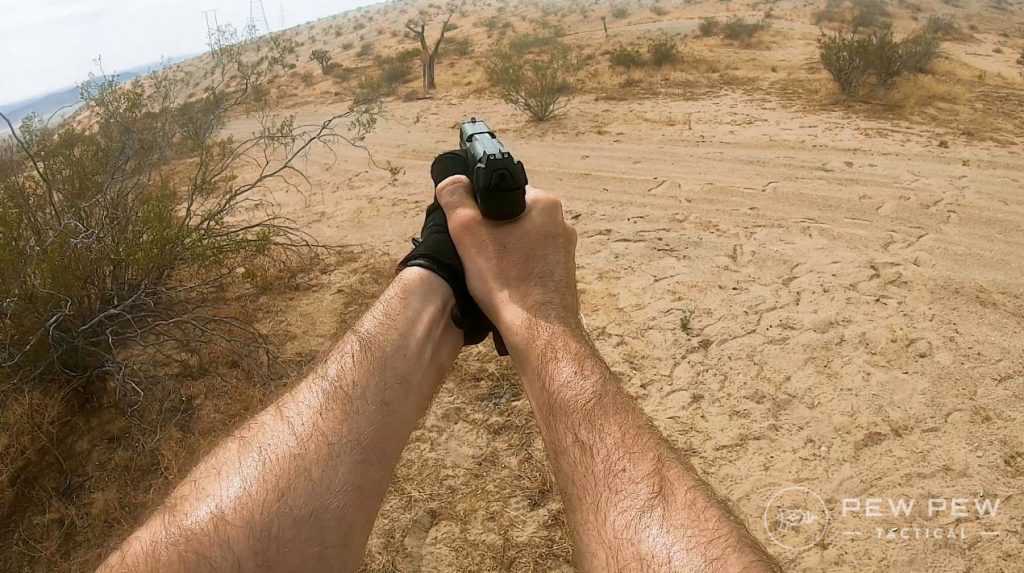 To add to the fun, it was extremely hot out in the desert on the day of our shoot. That ambient temperature ensured the VP9 couldn't cool down at all between mags.
That lever is hot enough to induce subconscious flinching that occurs when the reptilian part of your brain goes "uh oh burning."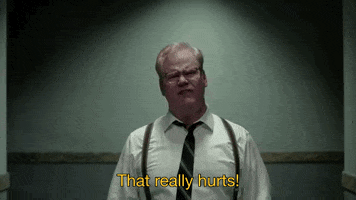 As you might expect, this made shooting the VP9 with even my normal level of okay-ish proficiency a bit of a challenge.
To be honest, I couldn't decide whether the weird half-glove thing was a better solution than just hovering my support thumb off the frame.
That said, the VP9 shoots when you get a feel for it.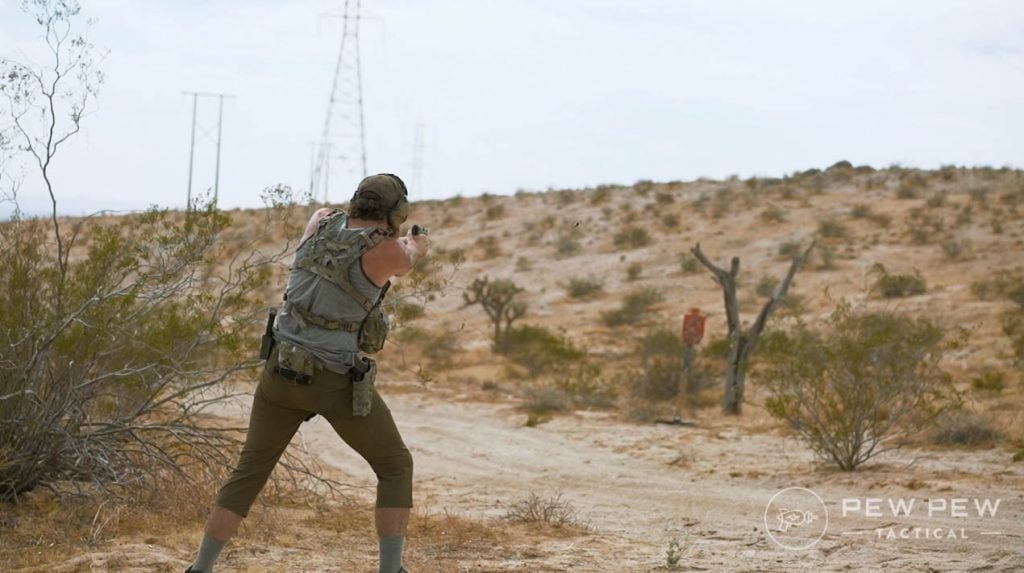 HK's take on the striker-fired pistol does feel quite different than other adjacent polymer pistols. It features a rather long but smooth take-up before you hit a very obvious wall.
The VP9 offers a clean break that feels much more similar to a single-action trigger than anything you're going to find in potential competitors.
Reset is also short. So much so that it'll probably catch you off guard until you've got some reps in.
More than once, I found myself accidentally double-tapping targets while trying to ride that reset wall.
And that's not intended as a humblebrag – more so, be aware that there's a good possibility that might happen to you too.
Once you get a feel for how the VP9 behaves, I'd say it easily threatens even more tricked-out Glocks for usability in its stock configuration.
Because of that improved trigger system, the VP9's stock trigger pull weight of ~5ish-pounds or so feels better overall than the 3.5-pound setup I've got in my G17.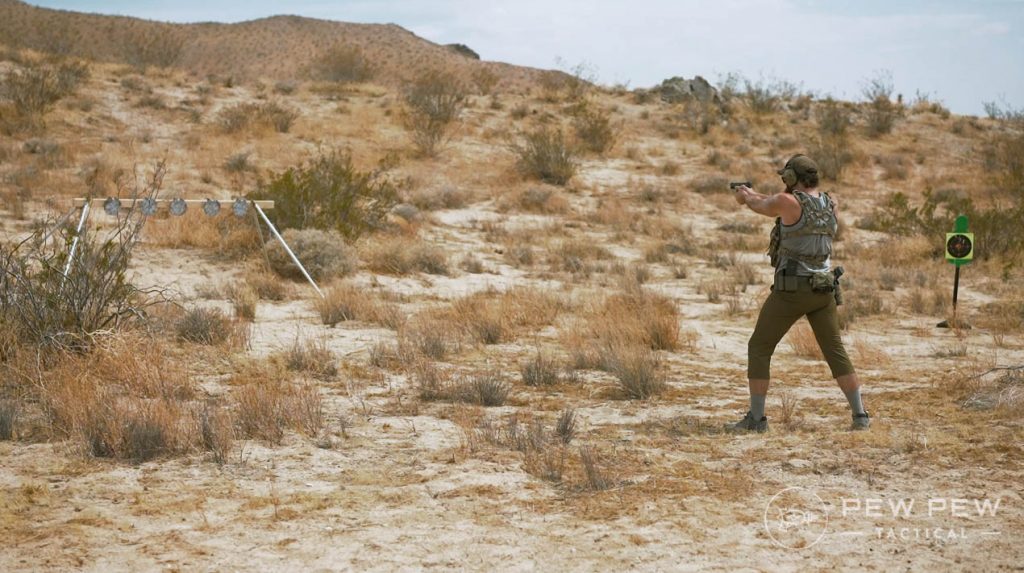 Weirdly enough, I was expecting the Euro paddle mag release to trip me up here and there, but I adapted to it within a mag or two.
Compared to a Glock where I cant the gun to the side to drop the mag, I kept the VP9 gripped more or less normally – just using my middle finger to hit that paddle.
Considering the absolutely disgusting streams of sweat I dripped, I think it's fair to say that those slide serrations and grip textures help with gun retention and manipulation.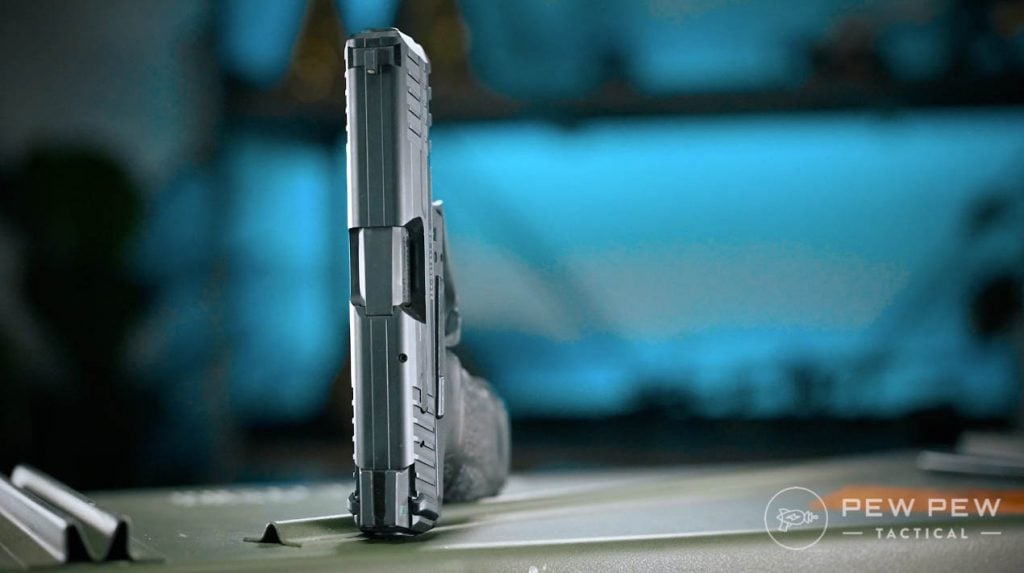 Hunting with the VP9?
While you might not think about hunting with a potential carry gun like the VP9, it's doable, as former Pew Pew Tactical writer Kat explains.
"In urban areas, you're more likely to come across something like a coyote. And the VP9 rocks on coyotes.
One night here in Texas, I took the VP9 out in case a coyote showed up. In this case, the gun had a SilencerCo Octane 9 suppressor, because why not?
It didn't take long for a coyote to appear. She broke what I saw as the invisible 50-yard barrier and continued moving. She was in a flat-out run.
The angle was poor, so although I aimed, I waited to pull the trigger. Only a matter of seconds passed – which felt like a lifetime – before she quartered slightly to my left.
I squeezed the trigger, and the HK VP9 and Federal Personal Defense Hydra-Shok 124 grain HP bullet did the rest.
Despite the inky black of a moonless night and having only standard 3-dot sights, the bullet entered her upper left side and angled neatly downward into her heart.
Can an HK VP9 drop a mid-size female coyote with a surprisingly beautiful late-spring coat?
Yes, yes it can."
By the Numbers
Reliability: 5/5
The HK VP9 worked great at the range, with no major issues to report.
Ergonomics: 4/5
So, the grip itself is perfect and feels great while shooting. My gripe, though, is with that takedown lever. Its placement messed my thumb up, and it was not comfortable to shoot bare-handed in the heat.
Accuracy: 5/5
Again, the VP9 shined in the shooting department. I was able to nail targets once I worked around the takedown lever issue.
Customization: 4/5
Is the accessory market for the VP9 as big as Glocks? No, but you get some other VP9 variants that allow you to kinda get what you want out of the box.
More recent VP9 variants offer features like optics-ready slides, a normal magazine release button instead of the euro paddle, and 17-round mags.
Value: 4.5/5
Here's the real kicker…the VP9's MSRP is reasonably competitive with Glocks and Glock clones.
Overall: 4.5/5
In my opinion, the VP9 represents a considerable threat to the ho-hum polymer striker-fire pistol world.
689
at Kygunco
Prices accurate at time of writing
Prices accurate at time of writing
Field Strip & Reassembly
We made a quick field stripping video just for you!
H&K VP9 Gun Deals
Palmetto State Armory
Save $100
Conclusion
If you're thinking about picking up a new pistol and want something that'll run out of the box with some legitimately rad ergonomic features built-in, grab the HK VP9.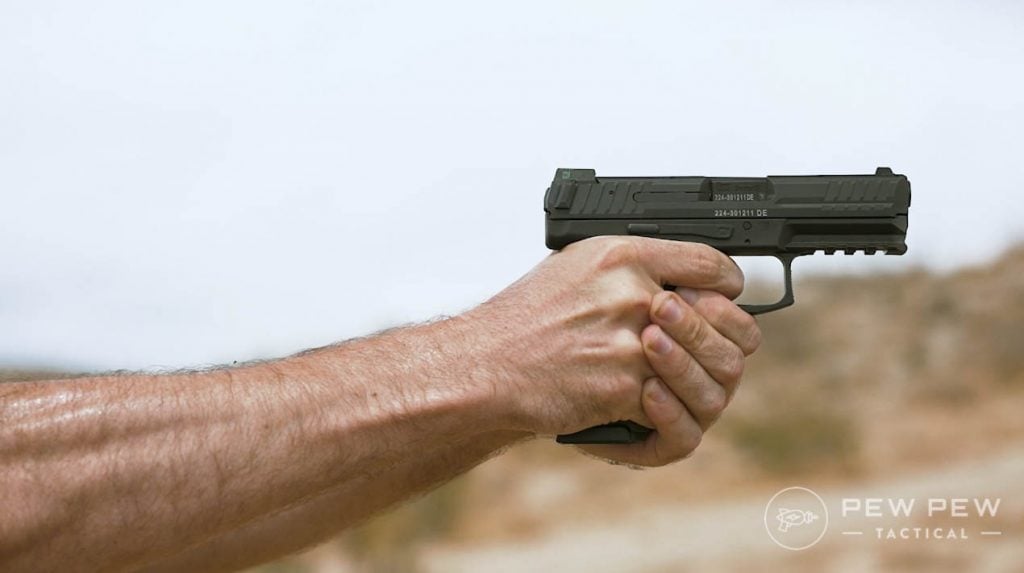 While you might want to invest in some gloves, the VP9 feels great in the hand, shoots well, and is a gun you shouldn't sleep on.
Again, check out the full video review to see the VP9 take to the range!
What do you think of the HK VP9? Let us know in the comments below and drop a review. For more HK goodies, see our complete history of the MP5. Or for more non-Glock Polymer Pistols, check out our full list of recommendations here.