Last time we delved into the world of strong side carry, exploring the ins and outs of IWB and OWB on your dominant hip.
(Missed that article? Check it out here.)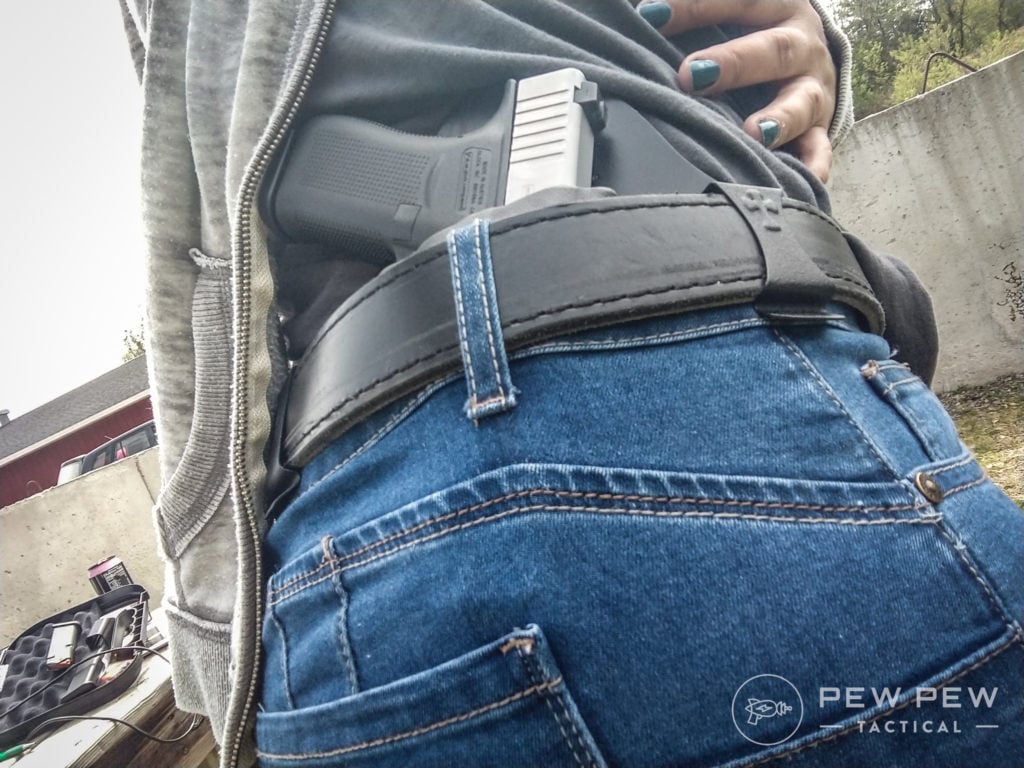 Today, we're continuing on our concealed carry journey, looking at a method of carry that has become quite trendy over the past few years.
I'm talking about appendix carry.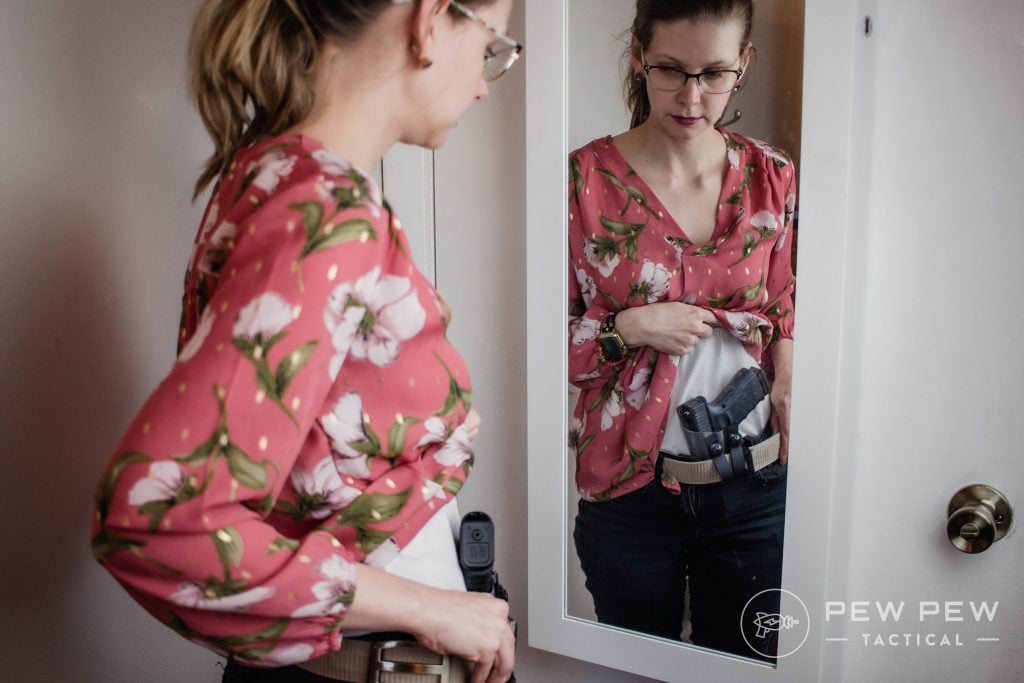 We're going to spend some time getting to know AIWB, talk about why it's receiving a surge in interest, and also dispel some myths. Of course, we'll end on some tips you can incorporate if you're looking to jump into the AIWB realm.
With that said, Brownells' Daily Defense dives into more tips for AIWB, so be sure to check out the video below.
Table of Contents
Loading...
What is Appendix Carry?
Appendix carry, also known as AIWB, is another way to carry a concealed gun. But, this method differs from the strong side in two significant ways.
First, AIWB places the gun at the front of the body over or near the appendix. (Suddenly, the naming scheme all makes sense…)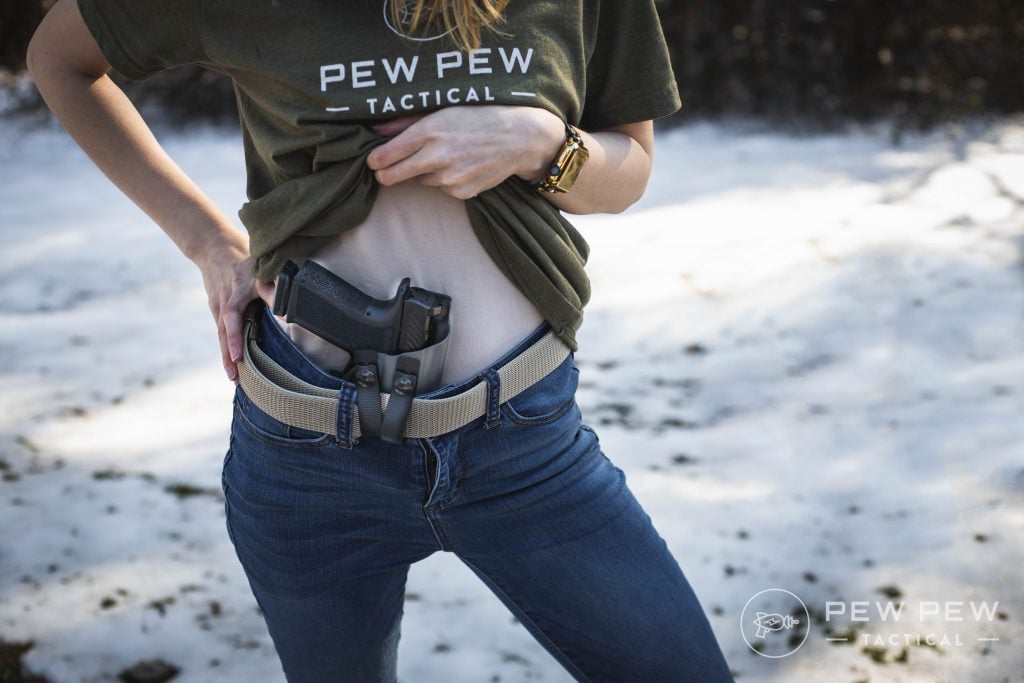 Secondly, AIWB exclusively caters to inside-the-waistband holsters. You're not going to find any outside the waistband models here. The front-and-center placement makes OWB pretty difficult.
If you spent any time in the gun world, you've probably heard about AIWB — some of it good and probably some bad as well.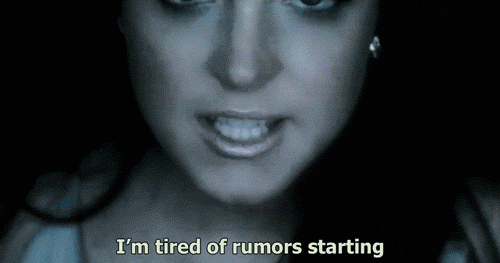 In case you've escaped the AIWB talk, let's walk through some pros, cons, and even myths surrounding this style.
Pros of Appendix Carry
What are the advantages you gain by carrying with this method?
Like strong side carry, this method gives you direct access to the gun. With your pistol placed at the front of your body, there's really only your cover garment (a.k.a. shirt or sweatshirt) to contend with when drawing.
In turn, this means an overall faster draw stroke.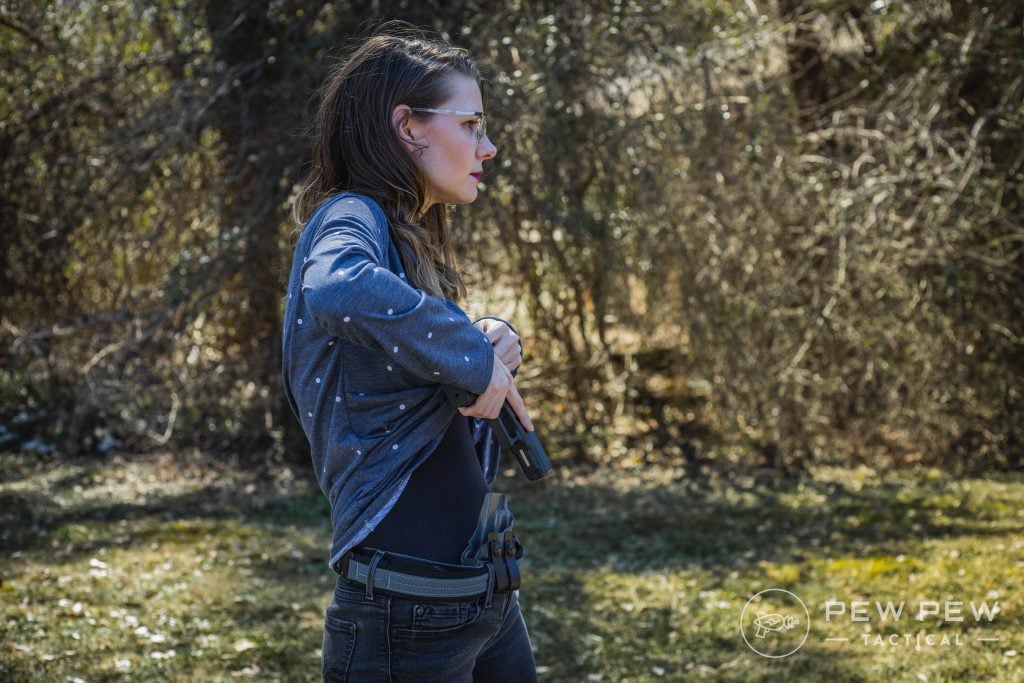 Now, there are a lot of rumors that AIWB is way faster than traditional IWB or strong side carry.
Is this true?
Well, honestly, that depends. The person carrying the gun is the driving factor in the speed at which the draw occurs.
Training and practice will get you much further in terms of draw times than placement on the body — at least where strong side and appendix carry are concerned.
The more you practice on the range and at home, the faster your draw will be.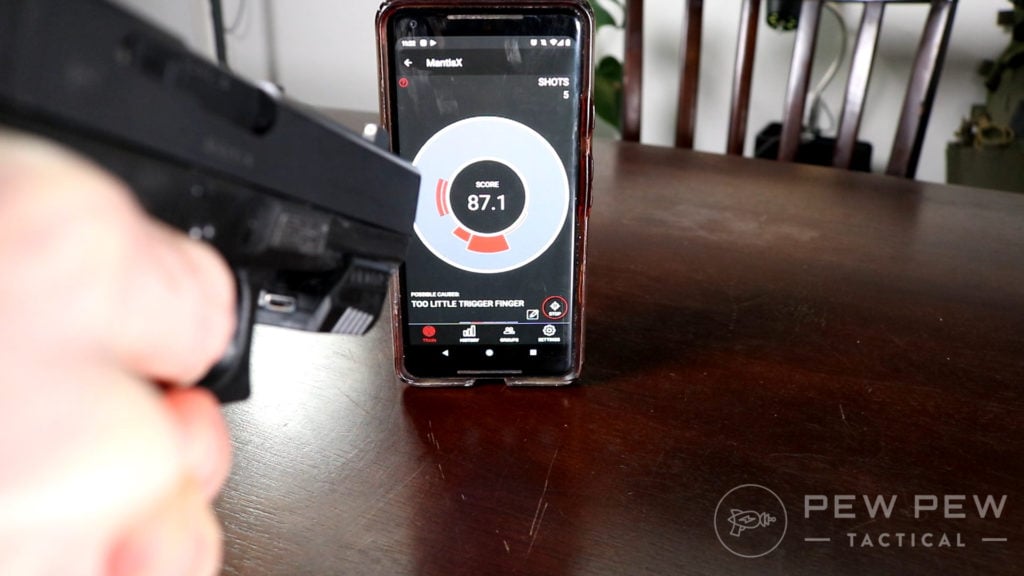 Do people put up blistering times from AIWB? Absolutely. But I can guarantee it's because they practice.
Another big advantage to AIWB?
You can carry bigger guns!
Because of the placement, you're not limited to teeny-tiny firearms. For instance, I am just over 5-feet tall and weigh right around 100-pounds, and I carry a Glock 19-sized pistol AIWB, no problem.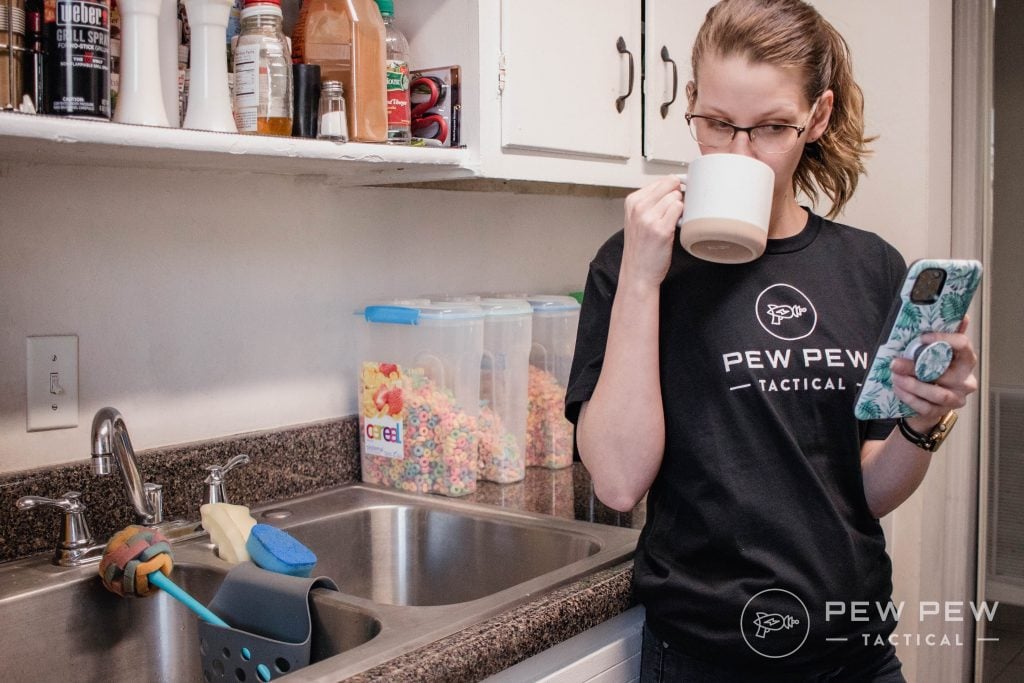 Before moving to AIWB, when I carried strong side IWB, I could only manage a subcompact to my petite frame. Moving the gun forward on my body opened a lot more options for carry guns.
And this is why I personally carry AIWB. I dig options, and I get more with AIWB.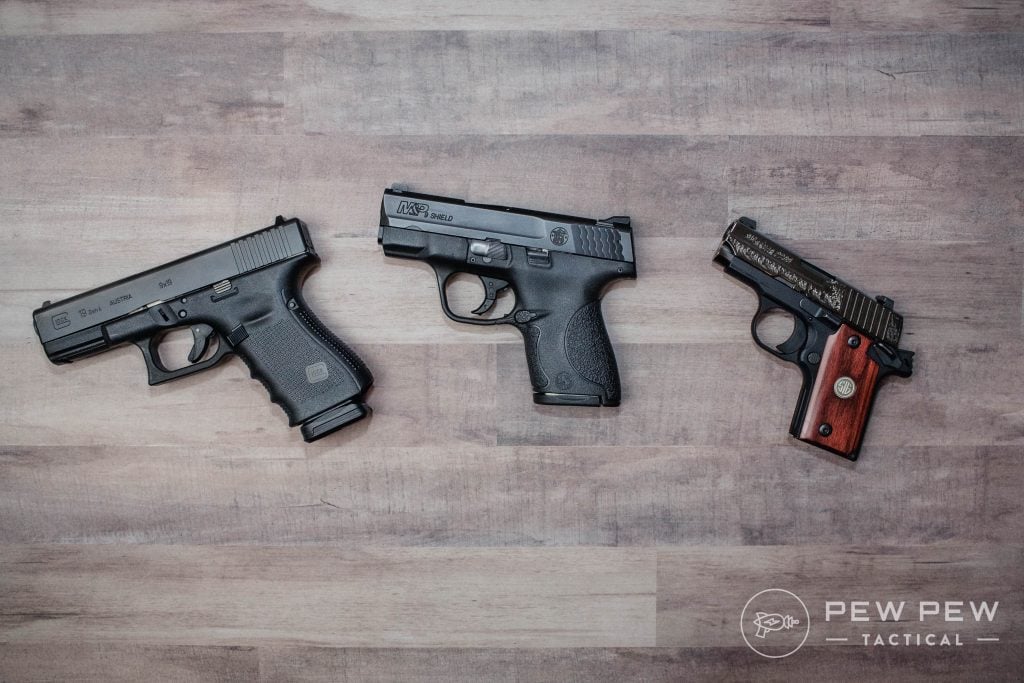 Cons of Appendix Carry
Every carry style has downsides, and AIWB is no stranger to flaws.
While, yes, you get more options with guns in AIWB, those options narrow when it comes to holsters. AIWB is exclusively inside the waistband, so you'll need to ditch that OWB holster…and that strong side IWB too.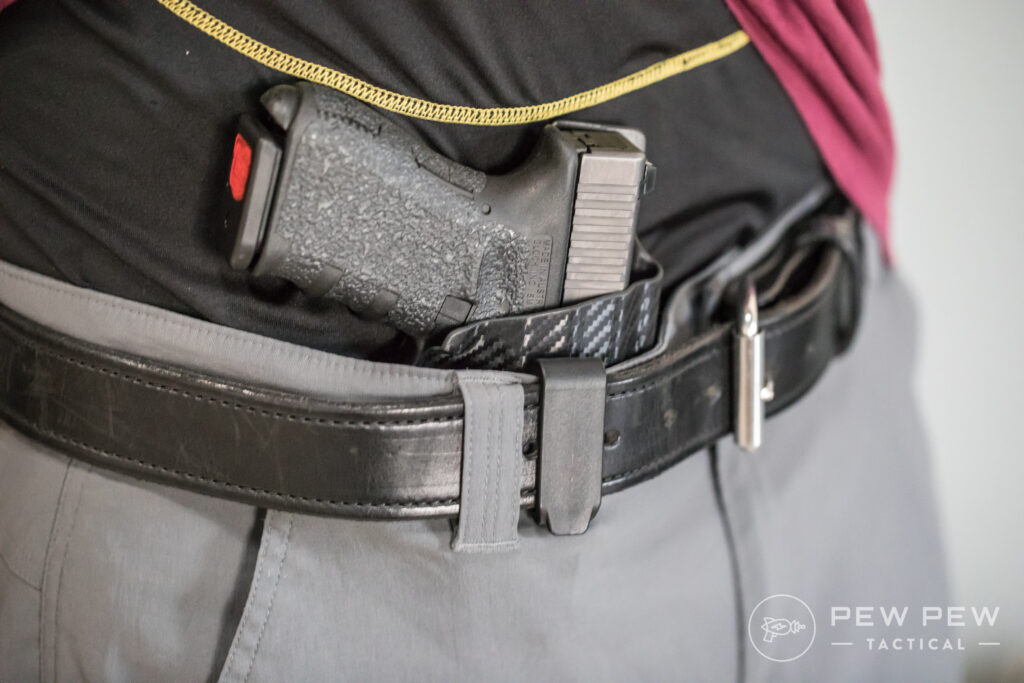 To safely carry AIWB, you need a dedicated AIWB holster, meaning one designed explicitly for appendix carry. You can't just repurpose your standard strong side IWB rig.
Many strong side IWB holsters are constructed to make grip angles easier when drawing from the side or just behind the hip.
AIWB requires a different grip angle, so it's best practice to go ahead and get a holster constructed with that in mind.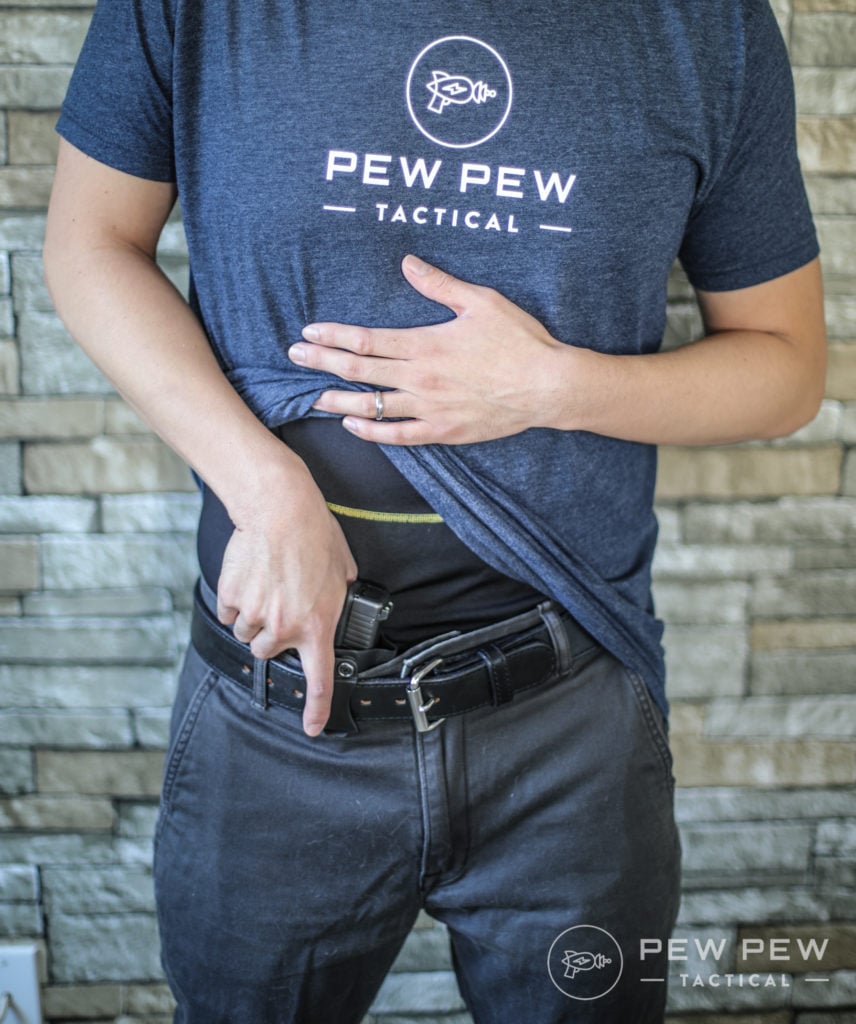 Good AIWB holsters also tend to run a little higher in terms of price. You can expect to spend $75+ on a good, quality holster like one from Keeper's Concealment or PHLster — all designed for safe and concealable AIWB carry.
Another con to this style of carry is comfort.
Sometimes, people don't vibe with AIWB because it's just not comfortable with their body type. Depending on your gun and holster, it might feel slightly odd when sitting (especially starting out).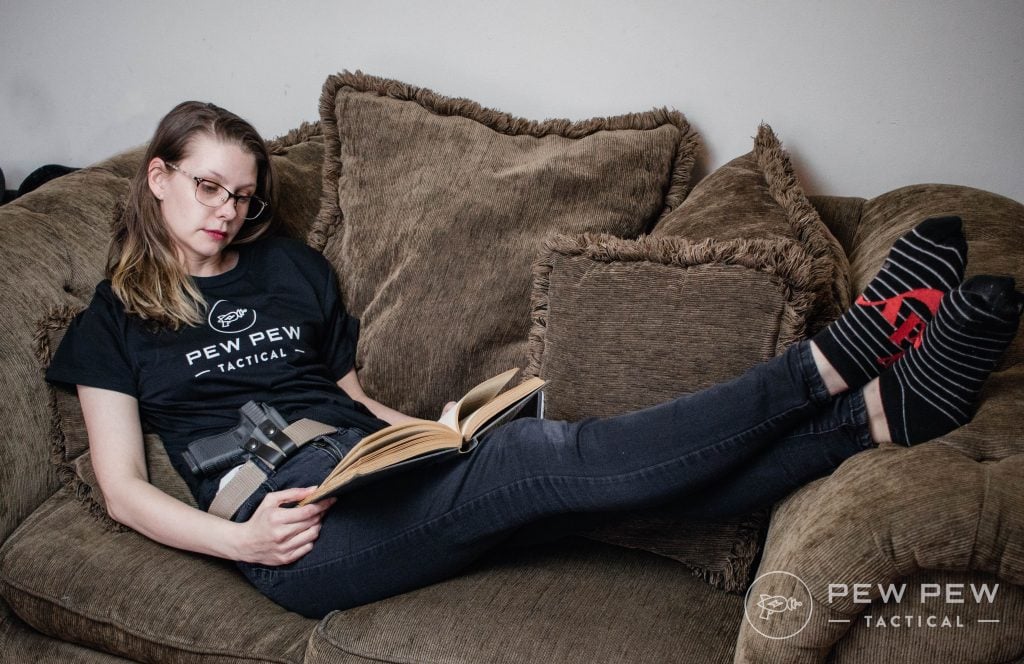 In my experience, it really comes down to the overall setup. A well-made holster paired with the right-sized gun and a good belt makes a world of difference and will easily make or break your comfort level.
I've said it before, and I will say it again…it's worth it to invest in good gear to maximize comfort and concealment.
Will You Shoot Your Junk Off with AIWB?
I would be remiss if I didn't take a beat to talk about the most common myth associated with appendix carry.
Of course, I'm talking about… "you'll shoot your junk off."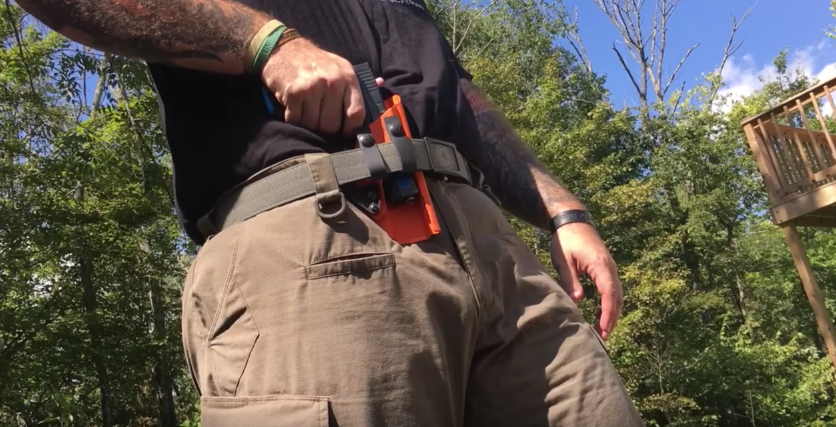 This myth centers on the idea that the location of the gun is dangerous. If user error causes the gun to unintentionally fire — also known as a negligent discharge — the round will impact the groin and/or femoral artery.
Is it possible to have an ND while carrying AIWB that strikes your body?
Yes.
Is it possible to have an ND in nearly any other carry position that strikes your body?
Also yes.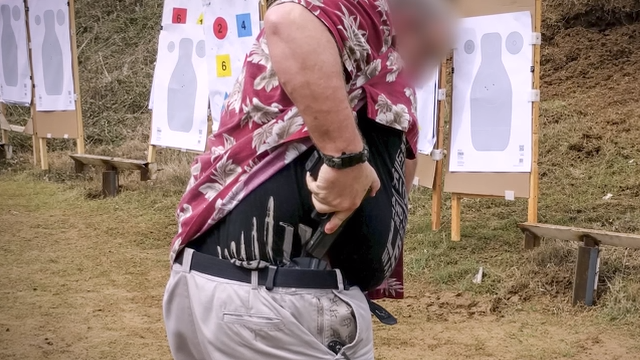 Again, this is why training, practice, and following the firearm safety rules matter…no matter what carry mode you adopt.
In fact, check out this fantastic video from John Johnston at Ballistic Radio demonstrating the anatomy of an AIWB ND and how difficult it is for the round to actually impact the body — especially when the proper reholstering procedure is followed.
That said, many AIWB carriers prefer a DA/SA pistol or a handgun with a manual safety as an added layer of security.
Tips to Concealed Carry AIWB
1. Dressing for AIWB
What clothing works best with AIWB? For most AIWB fans, the answer is a lot.
This style is quite versatile, and I find it works best with most of my wardrobe — more so than strong side IWB.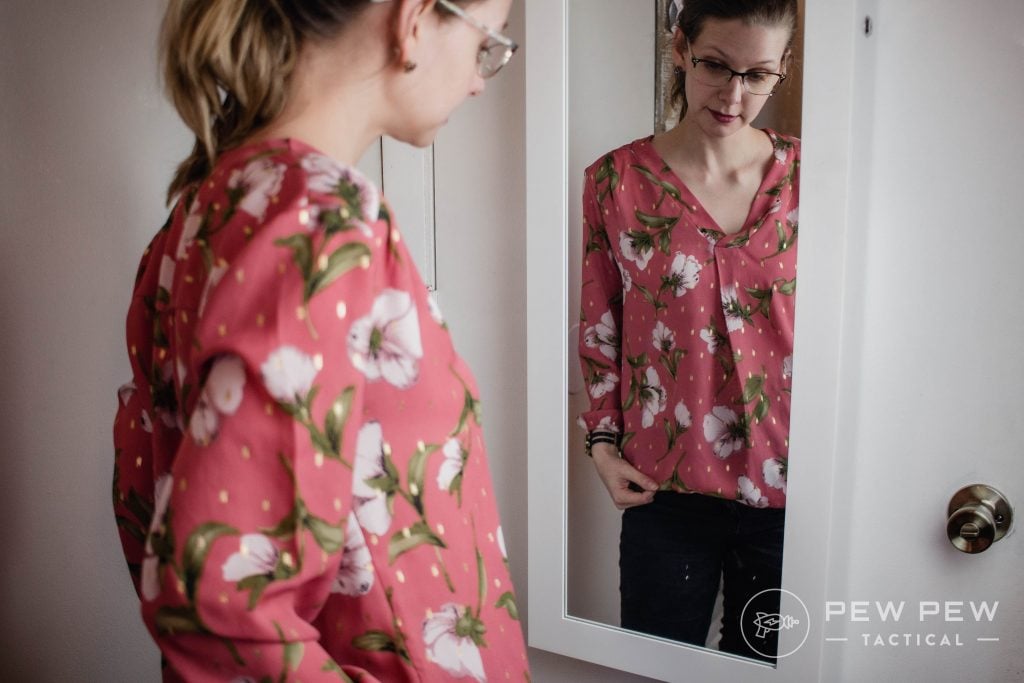 That said, there are some things to keep in mind.
Longer shirts work best with AIWB because you need that added length to cover the gun on the beltline.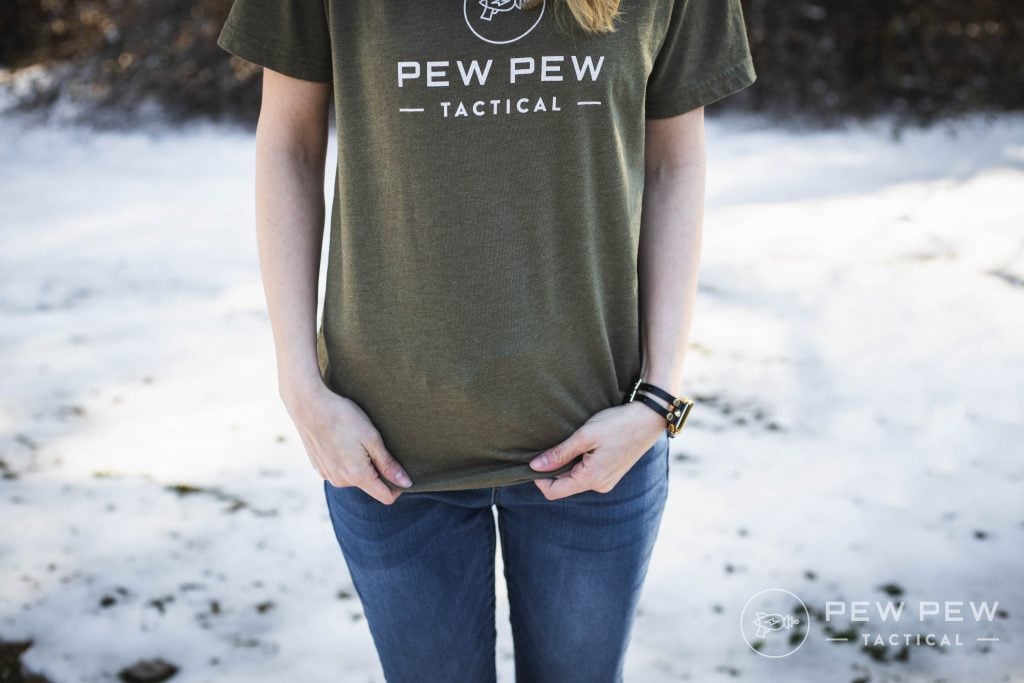 I suggest putting your favorite t-shirts and blouses through the wringer by twisting, turning, and raising your arms to see if the gun/holster can be seen.
Crop tops, on the other hand…well, maybe stay away from those.
Patterns are your friend! They break up the outline of the gun.
Ladies, break out the florals and polka dots!
Dudes, plaid and Hawaiian are about all you got. Either way, use patterns to your advantage.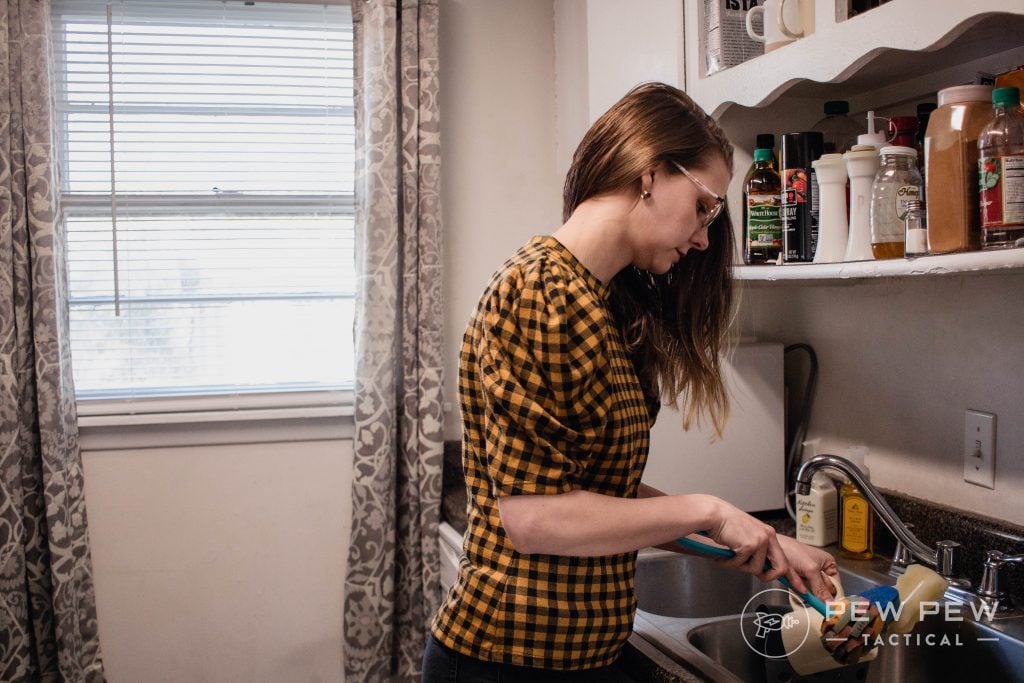 And while we're on the topic of female carry, jewelry can also help draw the eye up and away from an AIWB gun.
A chunky, bright necklace or funky earrings will cause people to focus their gaze upwards.
2. AIWB Holsters
To successfully carry AIWB, you should invest in a dedicated holster designed for AIWB. As I said earlier, don't reuse a standard strong-side IWB holster.
It's not going to create the concealment you want, and it will likely feel uncomfortable.
An AIWB holster features a neutral cant, meaning it rides vertically. This allows for the best grip on the gun.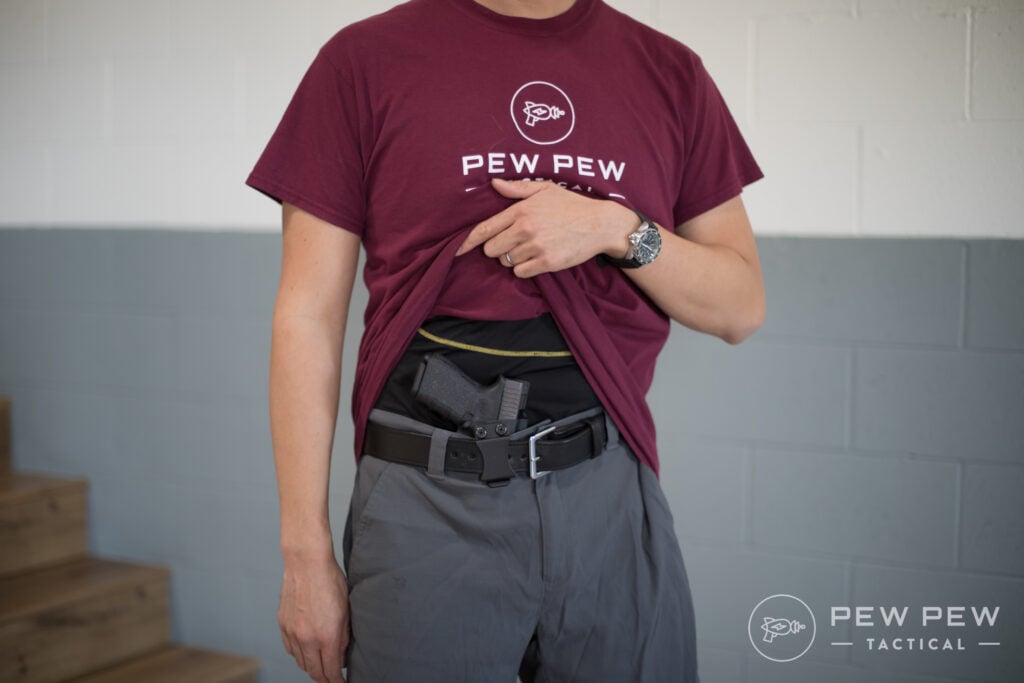 If you're petite or maybe not getting the concealment you want from AIWB, consider adding a claw or wedge to the holster.
A wedge or claw rotates the gun's muzzle forward and away from the body while also bringing the grip back into the body. This grants much better concealment — especially for larger guns.
Some holsters have a velcro wedge option, but in a pinch, you can create your own with some foam or even a Dr. Scholl's heel insert and some velcro.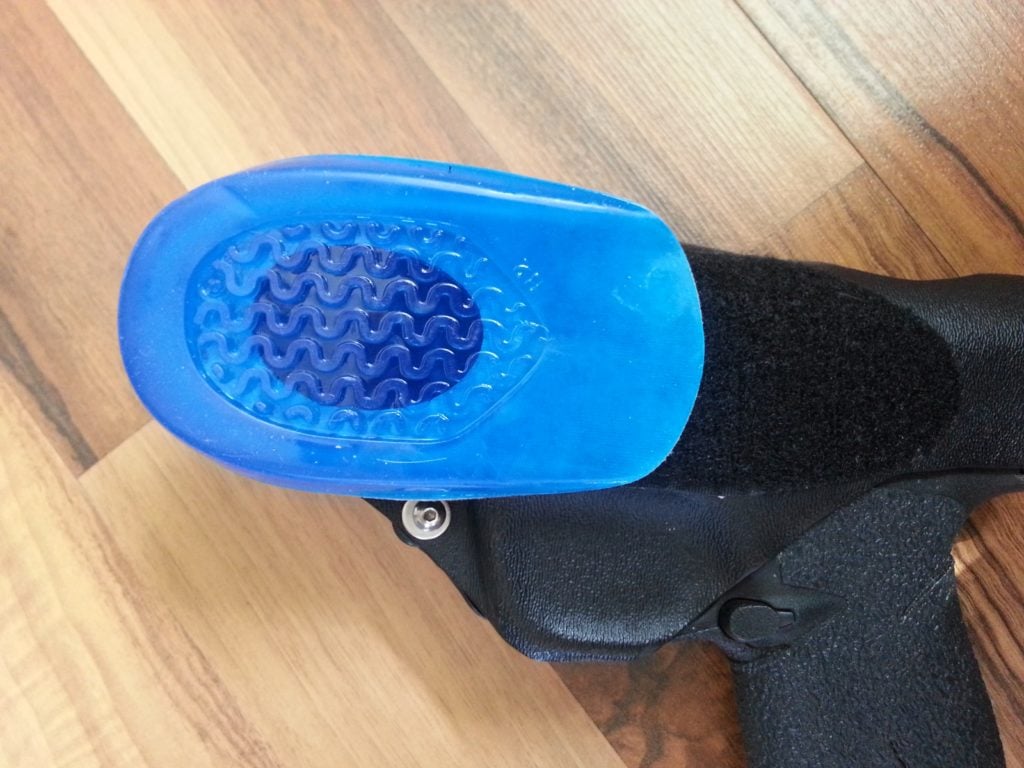 Simply cut the foam or heel insert to fit the holster and attach it to the back of the holster (the part that contacts your body).
Alternatively, a wing or claw attaches to the front of the holster. Some holster makers, like Raven Concealment, offer holsters with an integrated claw.
It is also worth noting that Dark Star Gear makes a sort of universal wing (known as the Dark Wing) that fits a ton of different holsters, giving you that needed rotation.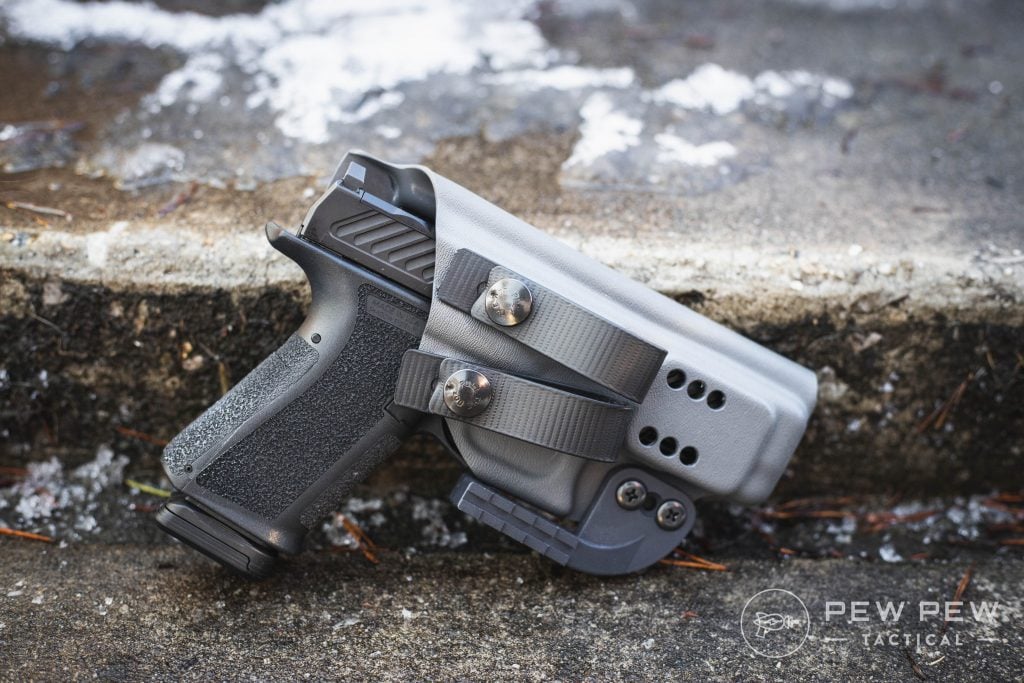 In addition to a good holster, make sure you have a decent gun belt on hand too. A solid gun belt supports the weight of the gun and prevents that saggy feel.
To avoid bulkiness, especially if you're on the slim side, you can twist your belt a bit so the buckle sits on the side of your body instead the front. This prevents a bulky-looking beltline.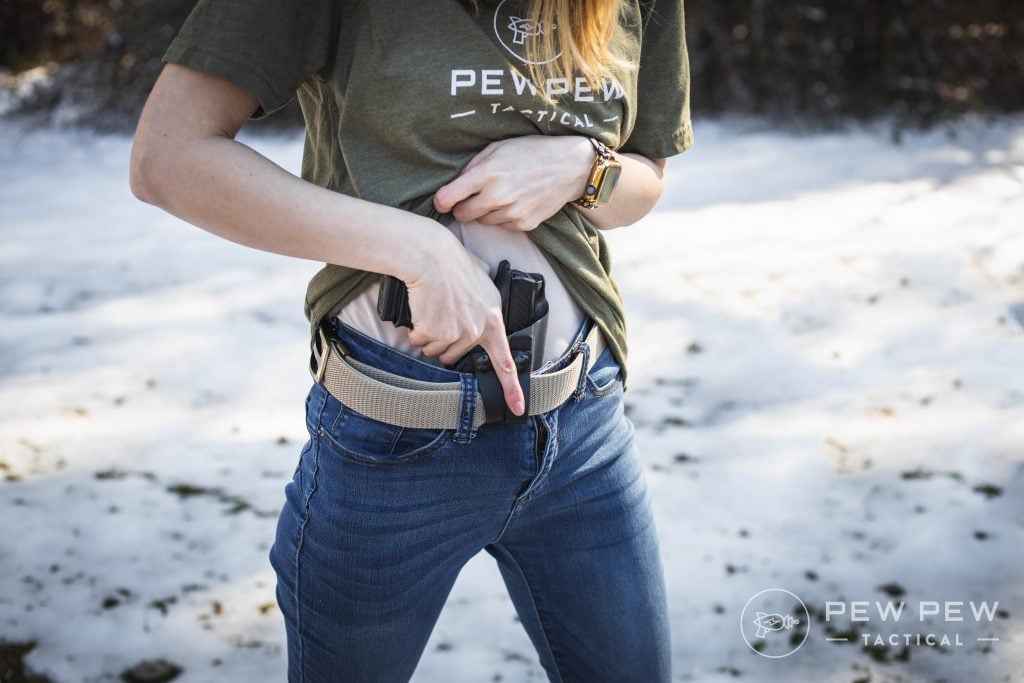 3. How to Reholster
Reholstering in any carry position is often where things can go wrong. So, be intentional when you reholster. Period. Regardless of the holster placement.
What do I mean by intentional reholstering?
Don't just quickly slap your gun into the holster.
Move slow. Don't rush it.
First, pull your cover garment away from the holster with your non-dominant hand. Scoop that fabric up towards your face. You don't want any lingering shirttails tangled up with your gun as you slip it back into the rig.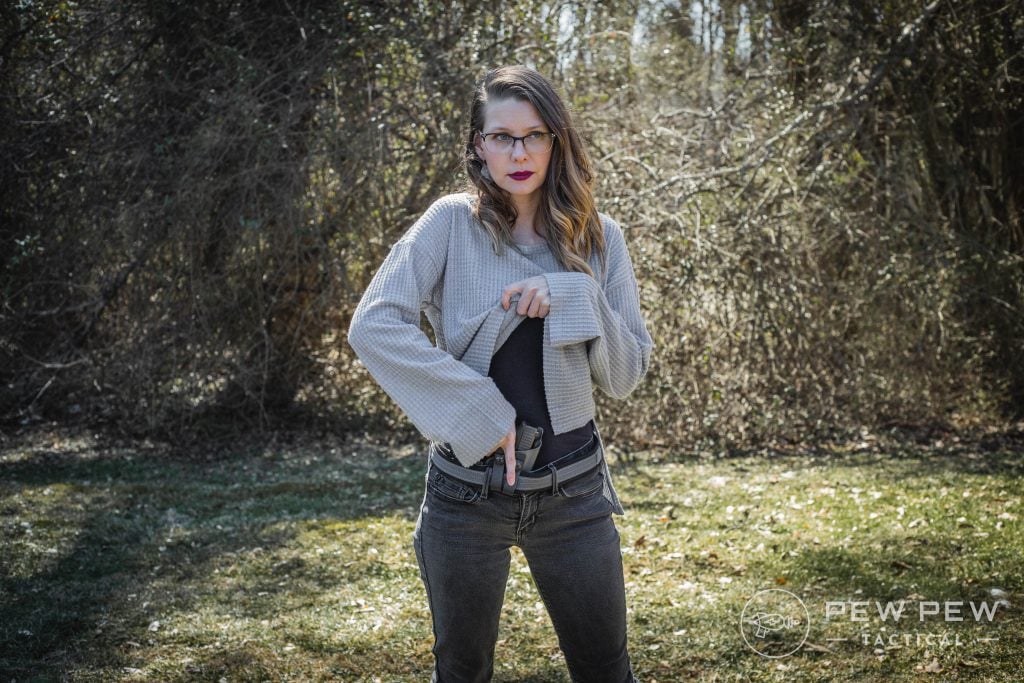 Next, take a small step back with one foot and place your weight slightly behind you.
This slightly rearward lean gives clearance for the gun to easily glide into the holster. It also creates space so, if you should experience an ND, the round does not impact any part of your body.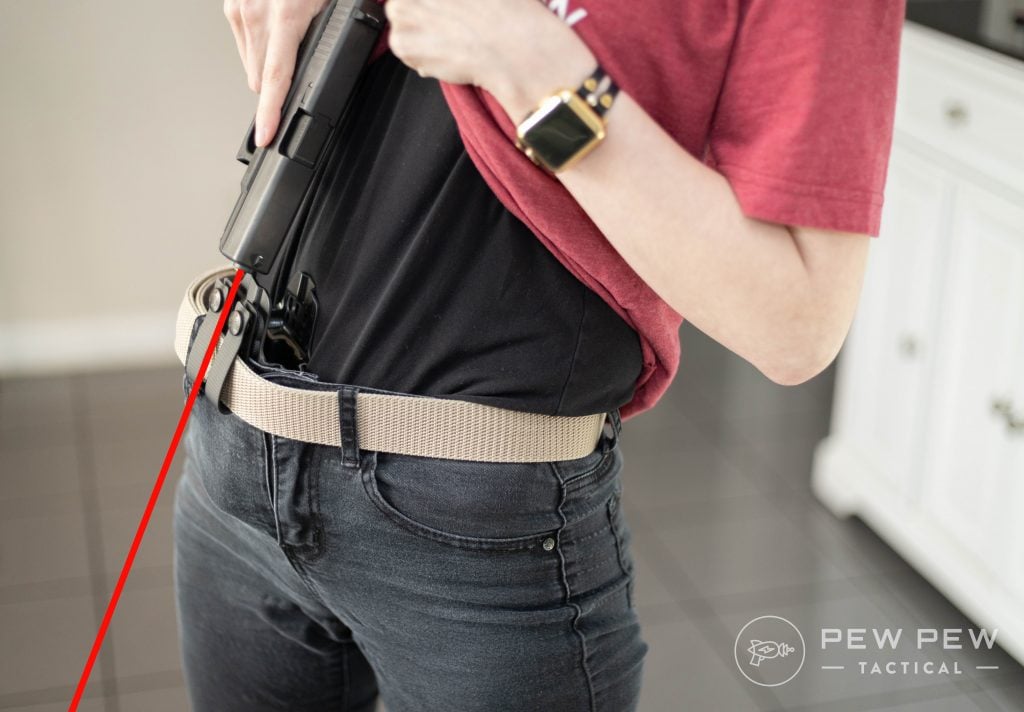 It's imperative that as you reholster you "look the gun into the holster." Basically, that's just a way to say watch the gun go into the holster, making sure there are no obstructions.
And keep your finger off the trigger!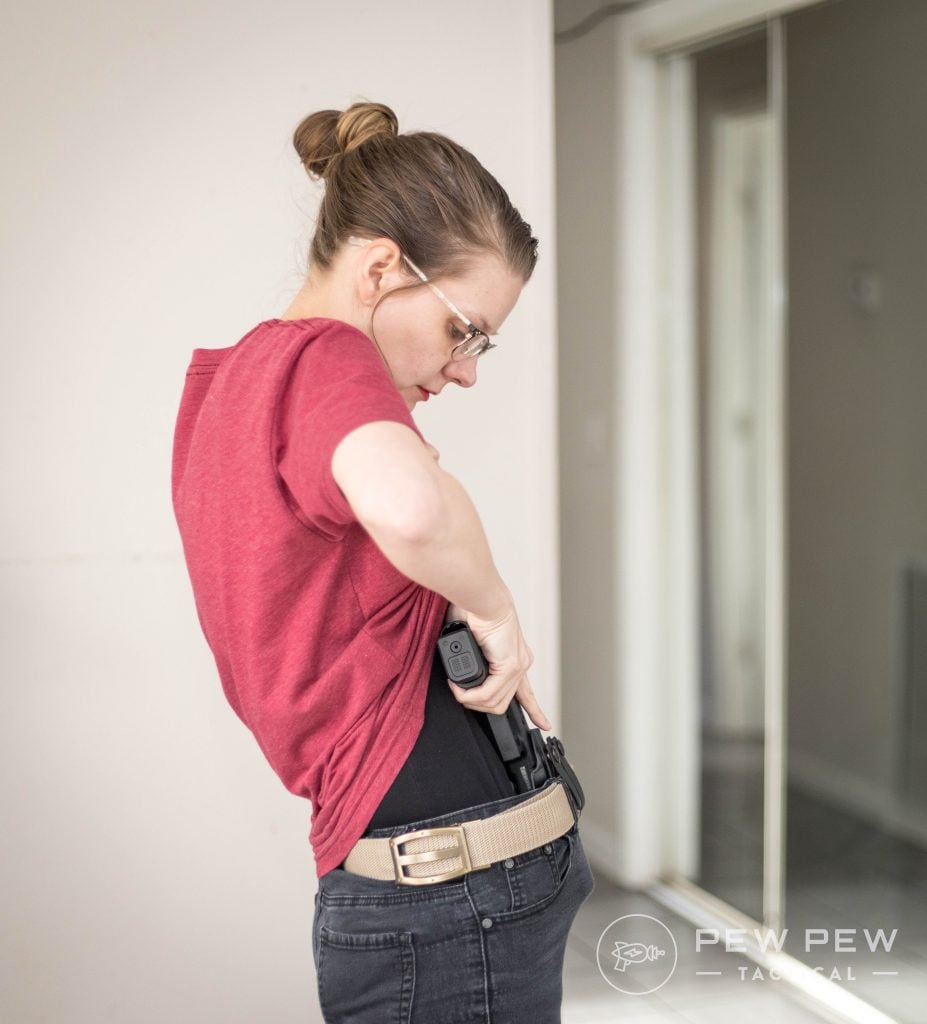 If you have a gun with a safety, engage the safety before reholstering.
Using a DA/SA hammer-style pistol, you can also place your thumb over the hammer to prevent it from lowering.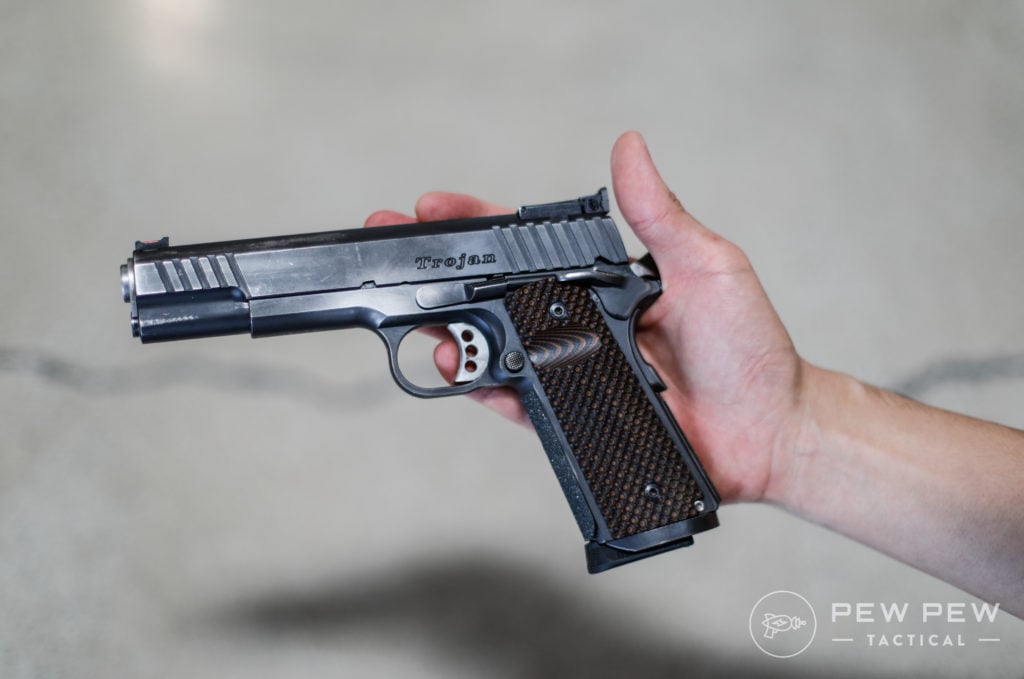 Again, take a look at the video from Brownells for an excellent view on how to reholster safely.
4. Training & Practice
I always end here for a reason. You're only effective as the training and time you put in.
I get it. Ammo can be tight sometimes, and maybe you're limited to ranges that don't allow draw and fire drills.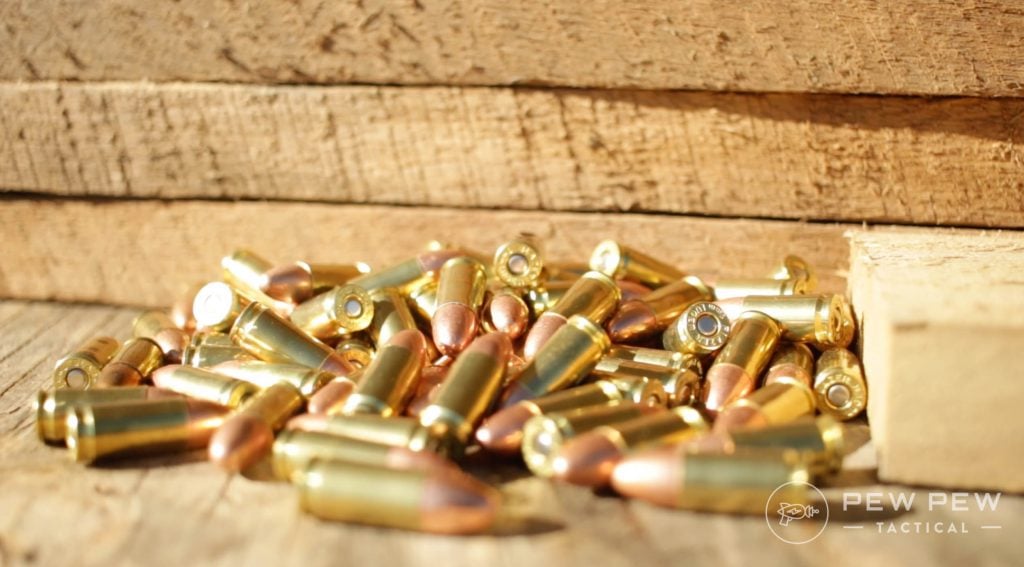 But to the very least, put some dry fire drills into your regular, daily routine at home. It's inexpensive and, trust me, you'll see noticeable gains.
Make sure that you work on a clean draw — no finger near the trigger, pressing out smoothly, then reholstering, as I mentioned above.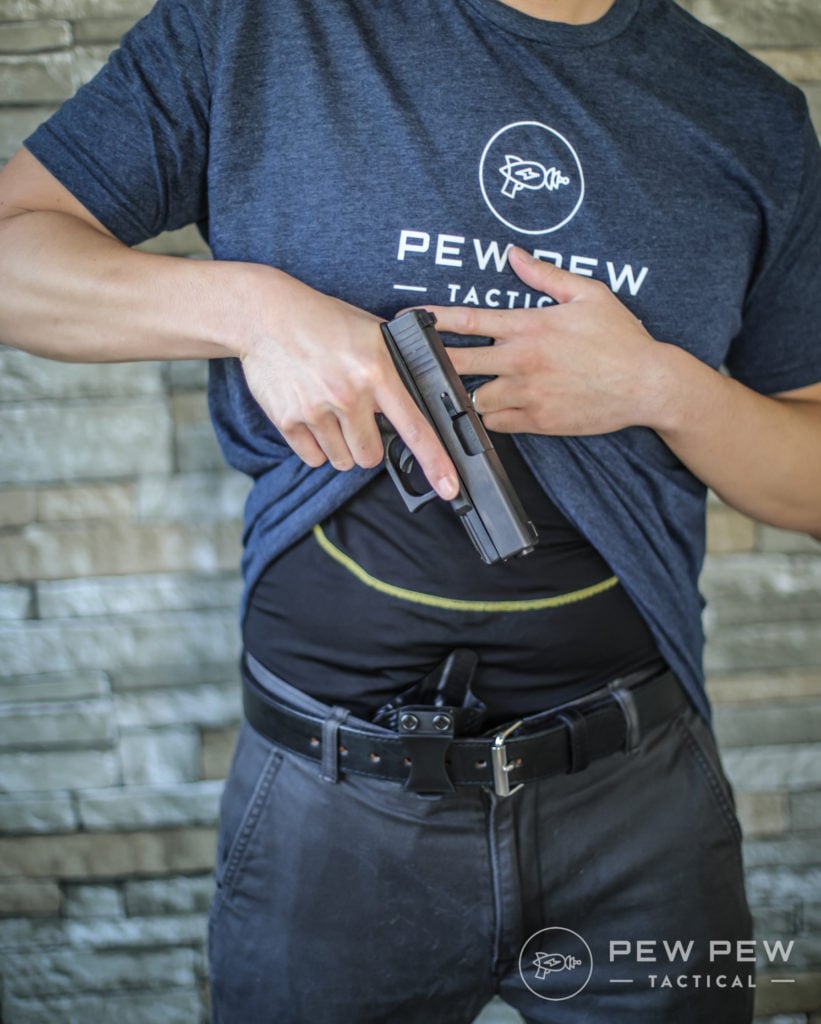 Don't rush things. Just work on moving with intent at first. Work out those basics. Once your basics are solid, you can work on speeding things up.
If your budget allows, hop into a concealed carry style class or book time with a qualified instructor who teaches AIWB best practices.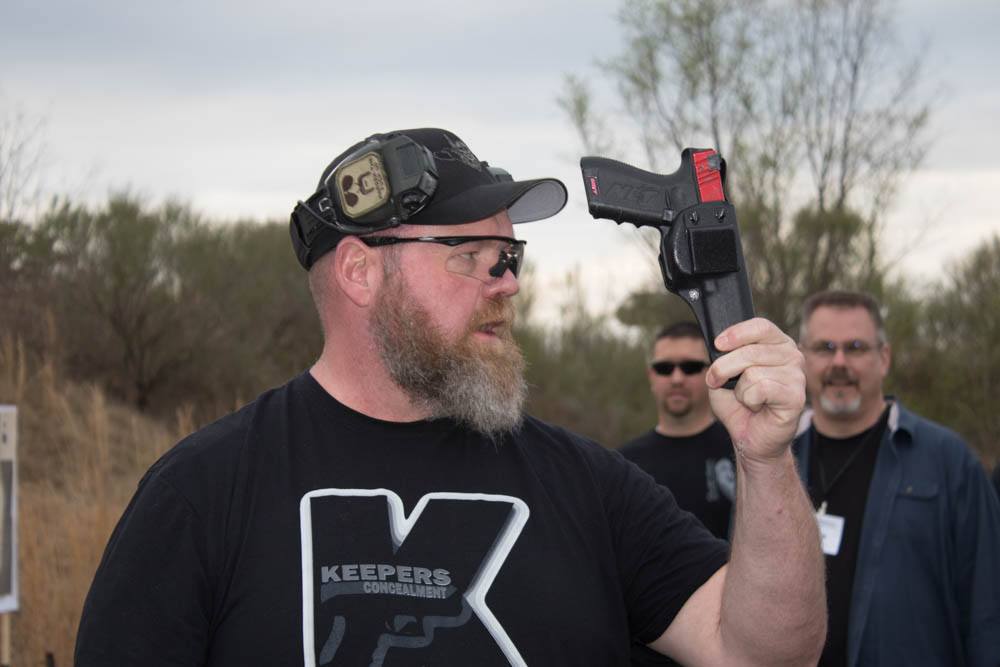 Both are phenomenal resources to help perfect your draw stroke and help you improve in general.
Conclusion
Appendix/AIWB carry is a safe means to concealed carry that places the gun near the abdomen for quicker access. With the right tools — like a good holster, belt, and training — you can successfully AIWB with no issues.
While some gun owners might find this method uncomfortable, others will find it suits their bodies and gives them more options.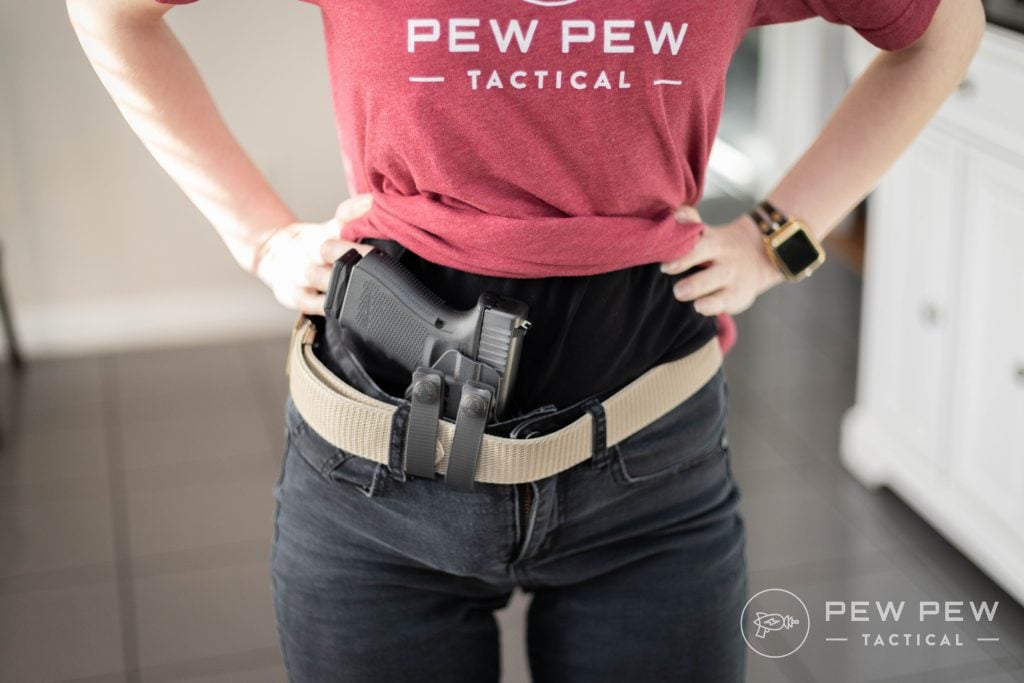 What are your thoughts on AIWB, and what's your preferred AIWB setup? Let me know in the comments below. Don't forget to catch up on our Concealed Carry: Benefits of Strong Side Carry and also get some tips on how to Gain Concealed Carry Confidence.