The most recognizable handgun in the world is the M1911.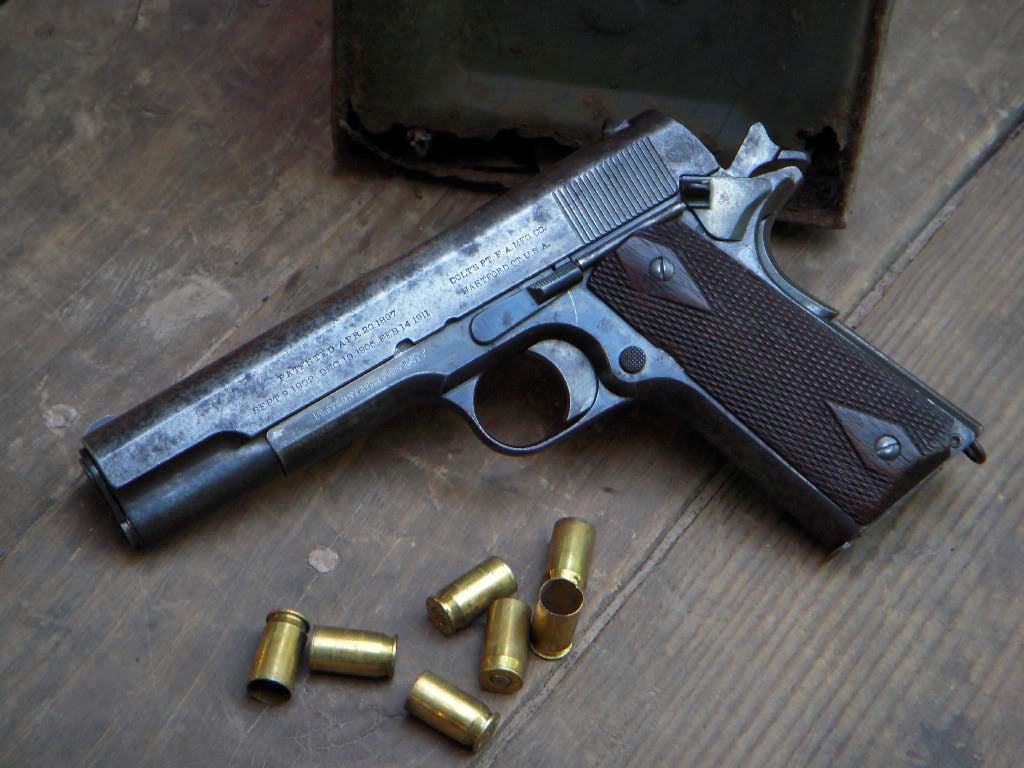 John Moses Browning's tried and true design hasn't changed much over the years, but now there are some new features and more calibers…opening this pistol up to even more shooters.
But, where do you start?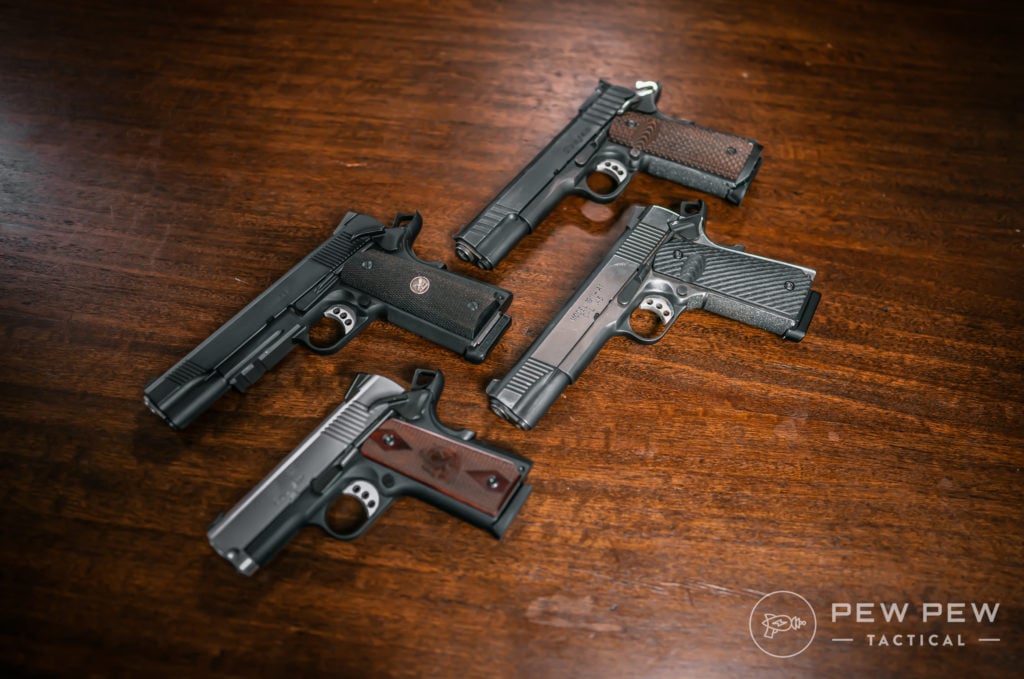 There are so many different types of 1911s on the market that almost no one knows where to start.  The good news is that there's a perfect 1911 for you at your preferred budget.
Whether you're scraping the bottom of the barrel to put enough cash together so you can join the club, or you're looking to spend your tax refund on a high end 1911…we've got you covered!
Table of Contents
Loading...
Quick Background
History of M1911
But first…a little history of the 100+-year-old design.  I promise this will shine some light on how to choose the best 1911 for yourself.
Genius firearms inventor John Moses Browning (so famous on forums that he is just JMB) sought out to give the military a more potent handgun round.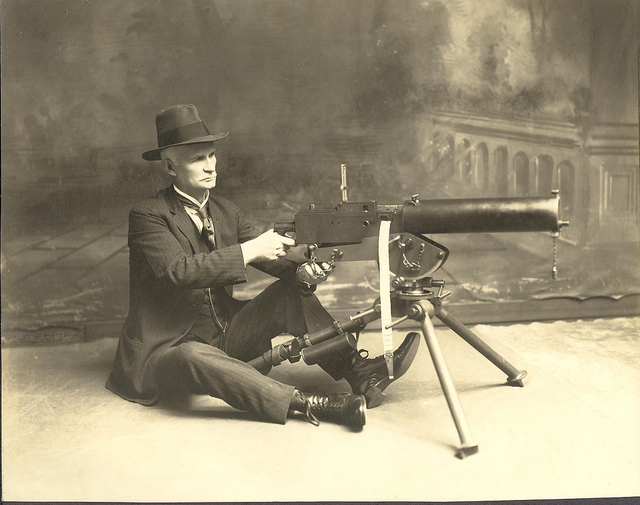 He was in direct competition with other gun makers like Smith & Wesson and Savage…and in March 1911 his auto-loading pistol was officially adopted by the US Military as their sidearm of choice.
The 1911 stood up to a 6,000 round torture test, being submerged in mud, acid, shooting deformed cartridges, and other tests.
Not only did Browning's design (to be produced by Colt) pass with flying colors, it was the only gun to pass all stages of this grueling test.
.45 ACP
The military needed a deadlier handgun round than the .38 Long Colt being used at the turn of the century and wanted it to utilize a .45 caliber bullet.  The Army had a long history with forty-five caliber cartridges, with the Single Action Army revolver (SAA) being used for many years.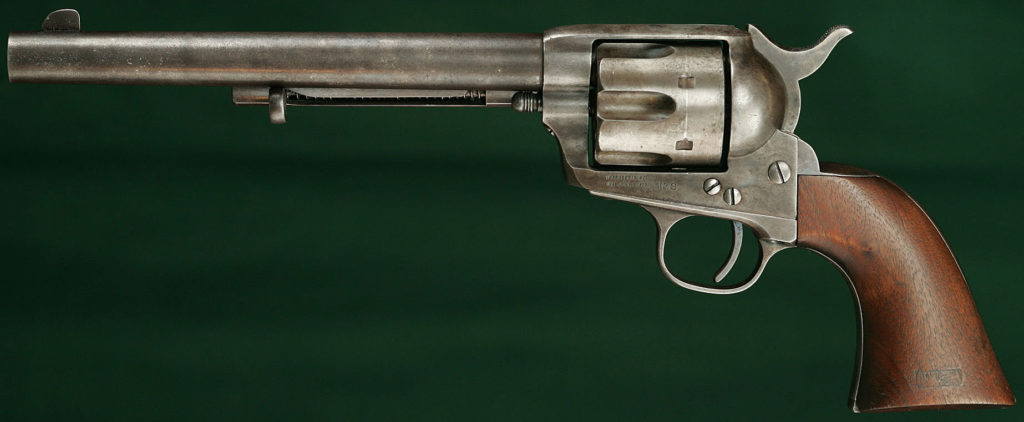 The ultimate replacement would be John Browning's 1911 chambered in .45 Automatic (AKA .45 ACP, .45 Auto, .45 Automatic Colt Pistol).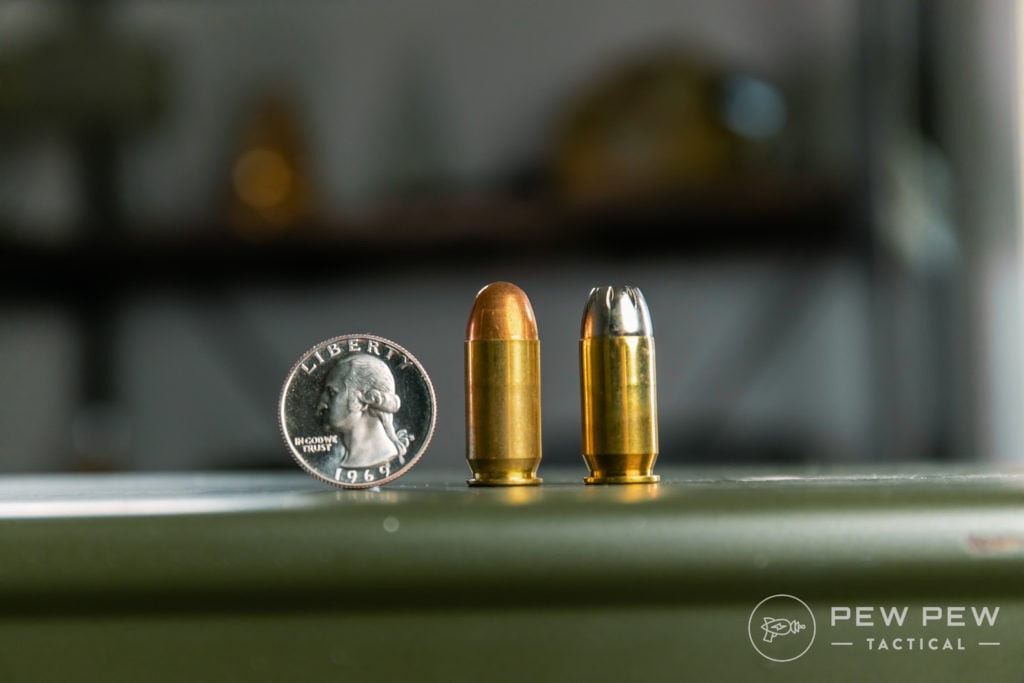 This .45 Auto contained a 230-grain projectile capable of reaching speeds of about 850 feet per second and was much more capable as a self-defense round than the .38 Long Colt was.
Learn more about calibers in our Basic Bullet Guide.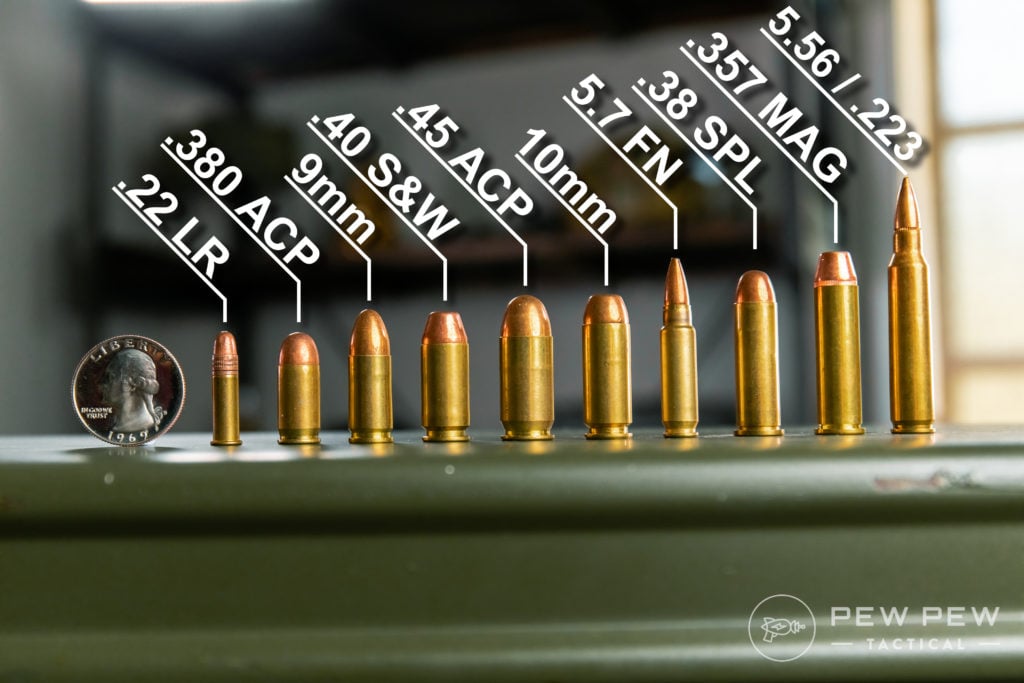 Other 1911 Manufacturers
Many purists decry other brands of 1911s (or calibers) as fakes…unworthy to bear the name.
One thing that many people don't realize, however, is that the demand for them was so high during the war, that Colt contracted out to other companies to help keep production numbers up.
Some very well-known companies helped, to include Remington Rand, Ithaca, Springfield Armory, many foreign companies, and even the Singer sewing machine company.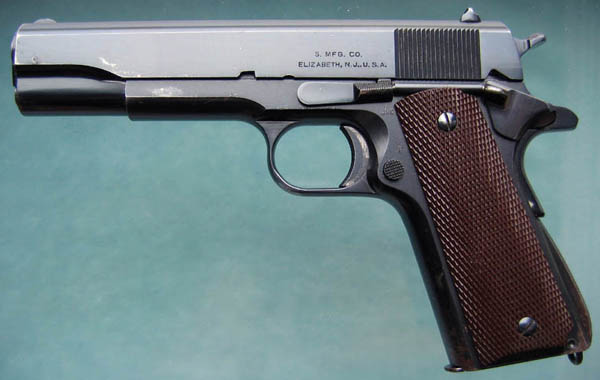 In fact, the pistols from these other companies can command a very high price when sold.  Some of the Singer pistols can be worth up to $30,000 to the right buyer because so few were made.
Modern Uses
The 1911 style is still in service in a few select military units, some police, and is a widely accepted pistol for self-defense, regardless of the maker or size of the cartridge.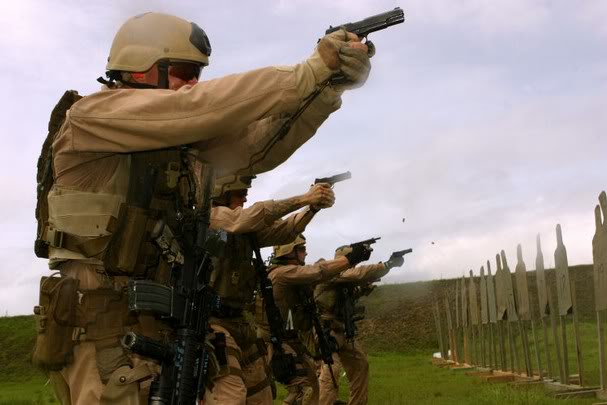 If you glance in the gun cabinet of many gun enthusiasts, you'll likely see at least one 1911 pistol.  Many people own more than one because as far as pistols go, they are accurate, reliable, and pleasant on the eyes.
Many of the major shooting sports also allow a class for shooting 1911 style pistols, because, even though the original design is well over 100 years old, it's not going anywhere, anytime soon.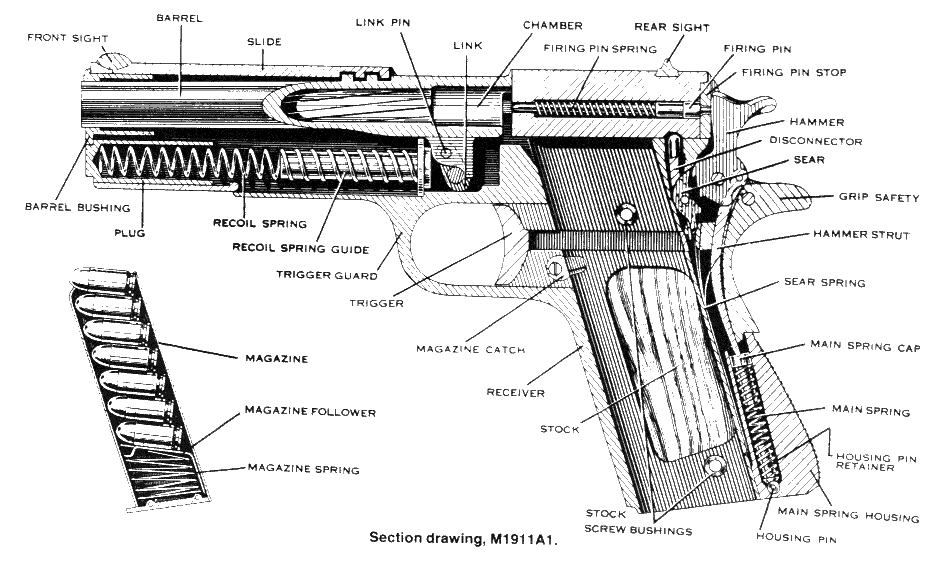 In fact, if you were to look at one of Colt's current offerings, the Model 70 ($900), it's as close to the original M1911A1 as you can possibly get.  It's as if it came out of the factory in 1924 when the 1911 was first reworked into the A1.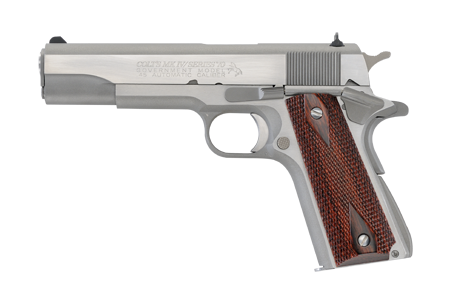 Best 1911 Pistols
First, let me start by saying that this is not an easy list to narrow down because there are so many excellent pistols being made by many different companies. 
Next, this list of firearms is chosen by me.  You obviously have your own opinion, which I want to hear too.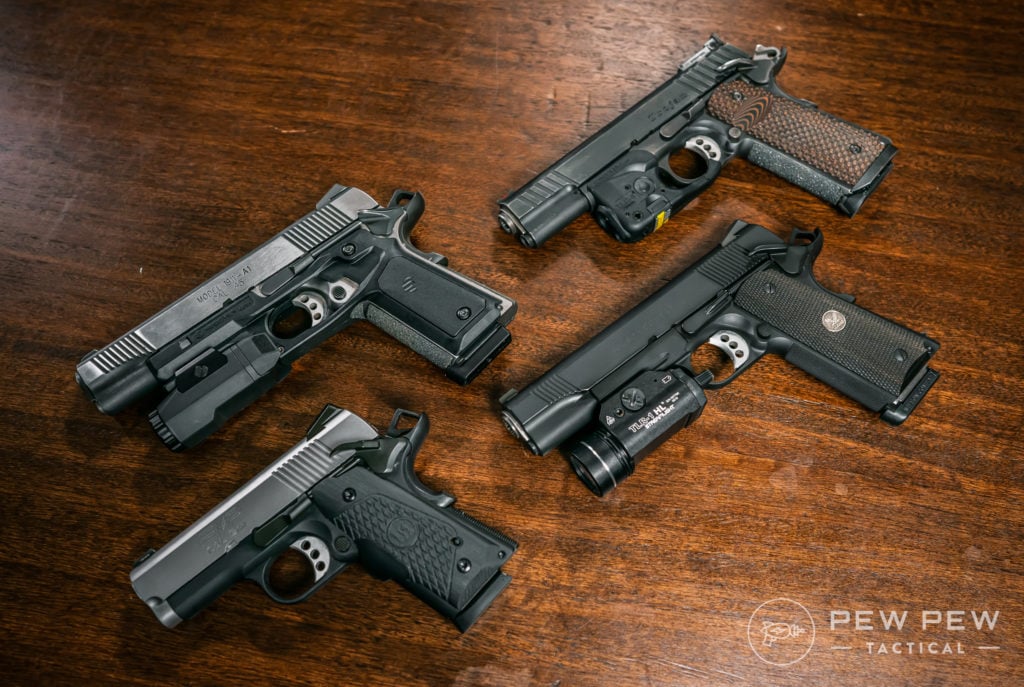 Finally, this list is meant to feature a wide variety of guns currently on the market and not just those made by Colt.
And not just .45 ACP…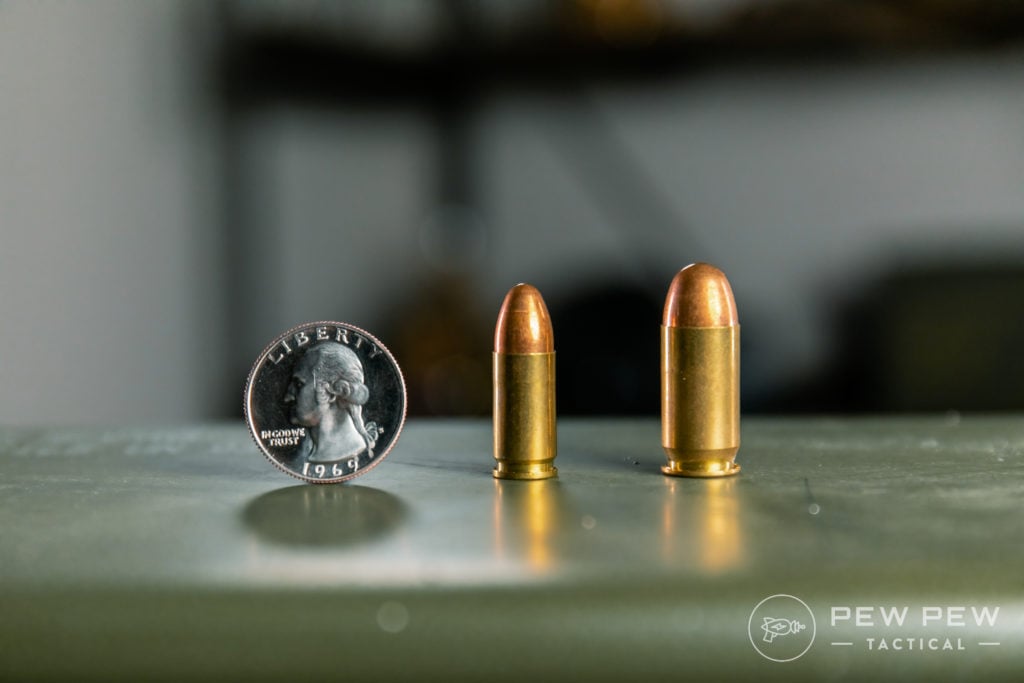 $500-$600 Range:
The guns at this level are NOT exceptional guns, but ones that will do the job and get better with a minimal amount of work.  These are for people who want a 1911 but cannot afford to go out and buy an expensive, ready to roll out of the box, uber expensive 1911.
1. Rock Island Armory 1911
I shot my first Rock Island Armory pistol during SHOT 2017.  I've always known them but never had a chance to try any out.
Most Affordable 1911
520
at Brownells
Prices accurate at time of writing
Prices accurate at time of writing
And try out a lot I did.  My favorite was their longslide 1911 but their standard 1911 ($520) was great too.
Sure, it needs some loving if you're a little spoiled by other makers…but it went bang every time and when I did my part…hit all the plates.  They are designed by Armscor and manufactured in the Philippines.  A full review of the GI model here.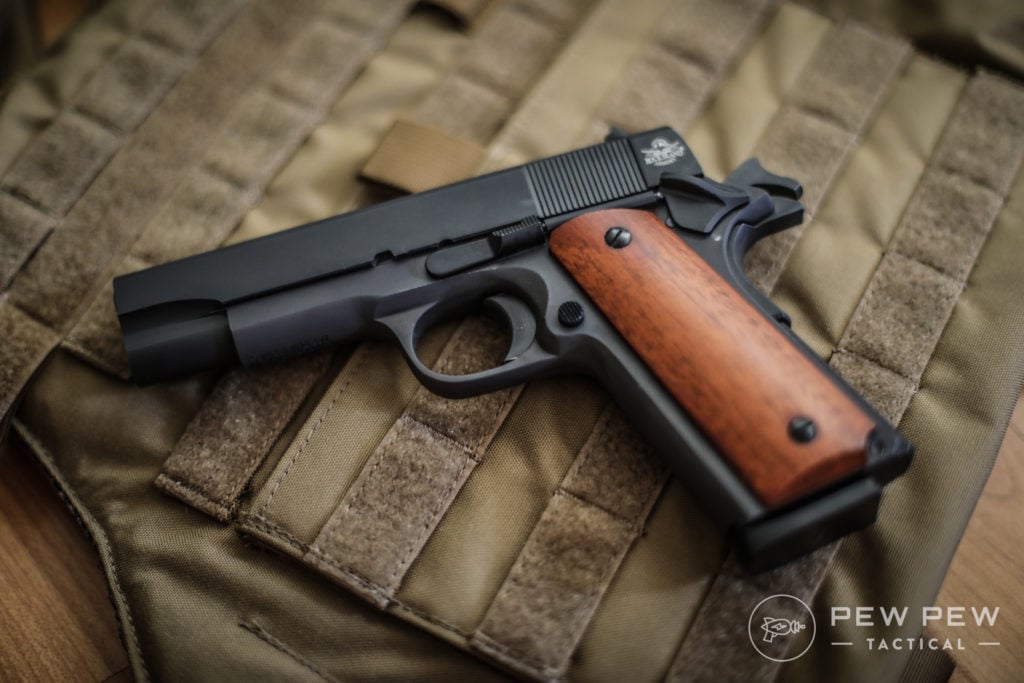 They have plenty of other models too with the same good price points if you're looking with something more…tactical.
$700-$900 Range
This is the most popular section of guns.  These are the ones that people can save up for over the course of time to get a gun that doesn't need any work, but can still be customized into a beauty.
2. Springfield Armory Mil-Spec
Springfield Armory makes great guns, even though many people believe they could do less stamping on them (think "Grip Zone" on the XD Mod 2).
699
at Cabelas
Prices accurate at time of writing
Prices accurate at time of writing
The Mil-Spec ($729) doesn't have any extra words on it and is a gorgeous firearm with a 5" barrel that's available in stainless steel or with a parkerized finish.
The fit is excellent and the finish is well done without any extra slag or burs on the slide or frame causing hangups.
What's your take on going with mil-spec for the 1911?
3. Remington R1
Remington was one of the first companies to make the 1911 when Colt first asked them to help ramp up production during war periods.
849
at Brownells
Prices accurate at time of writing
Prices accurate at time of writing
The R1 Enhanced ($849) is a great deal considering and can be upgraded to whatever you want it to be.
The capacity is 7+1 and the caliber is .45 auto traveling at 850 fps through a 5" sized barrel.
$1,000-$1,400 Range
At this point, the guns are as close to flawless as you can get before spending a fortune on a handcrafted 1911.  
The guns run fantastic and need nothing to make them perform better.  People still opt to do trigger work at this price, but it isn't because the stock trigger is bad.
4. Springfield Armory EMP 3″ in 9mm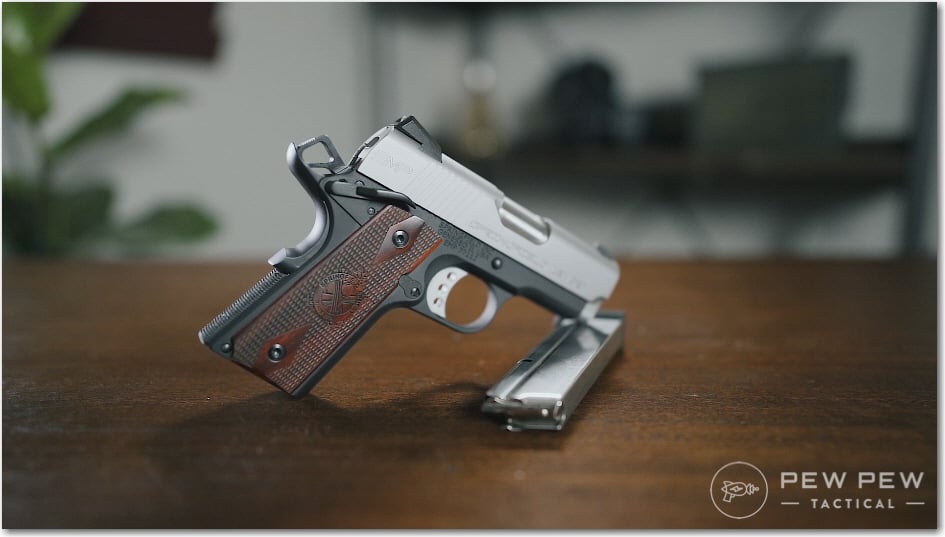 I own one of these 9mm 1911's and have shot a lot through it for one year.
1200
at Cabelas
Prices accurate at time of writing
Prices accurate at time of writing
As far as reliability goes, there is almost none better.  Since I've had it in my possession, I've not had a single malfunction with it…which is more than I can say for many other guns.
And, accuracy out of the 3" officer sized barrel groups well at distances out to 15 yards, even when rapidly fired.
Check out our full review here…and now with a full YouTube video too:
5. Colt Delta Elite (10mm)
If you live in an area where 4-legged creatures are a threat, enjoy hunting with a handgun, or just like the 10mm cartridge for self-defense…
1100
at Brownells
Prices accurate at time of writing
Prices accurate at time of writing
Colt's freshly revised Delta Elite ($1100) may be what you're looking for.
The venerable 10mm outperforms most other self-defense cartridges for semi-automatic weapons, and, while it is a bit more expensive to shoot, it is quite versatile if you reload your own ammo.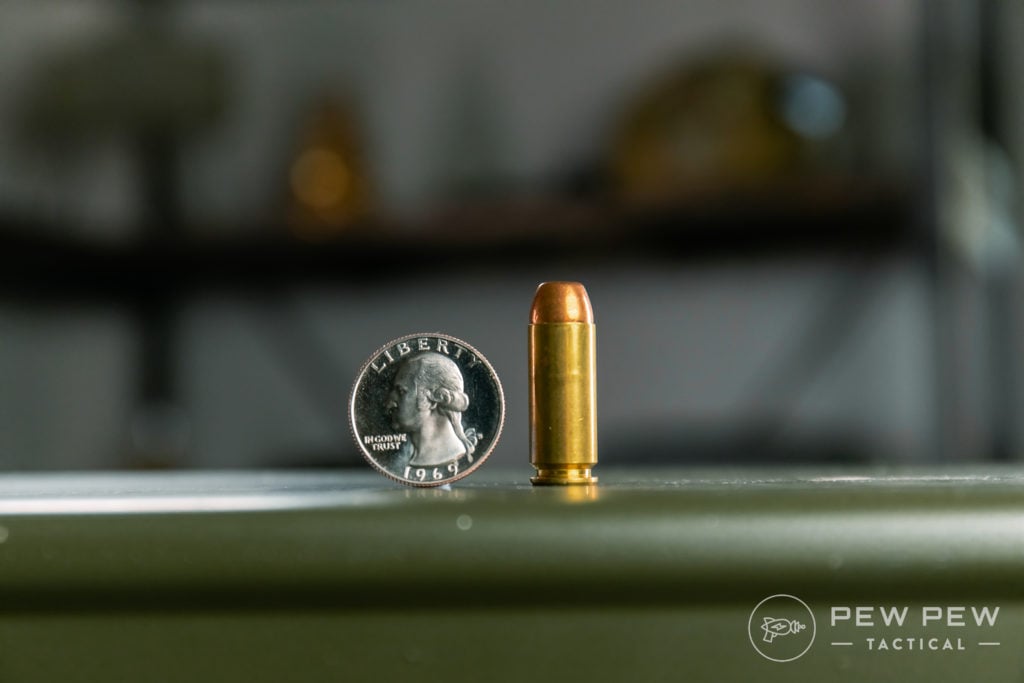 Please keep in mind that if the .45 ACP or .40 S&W recoil bothers you, you'll need to stay away from 10mm, because it's even snappier.
The Colt Delta Elite's MSRP is just $1099 for the standard model, or you can spend $200 more and get the rail gun, to mount a light or laser below the 5" barrel.
Want more 1911s in 10mm?  Check out our separate article.
6. Springfield Loaded Operator
My first pistol ever was a Stainless Springfield Loaded ($849).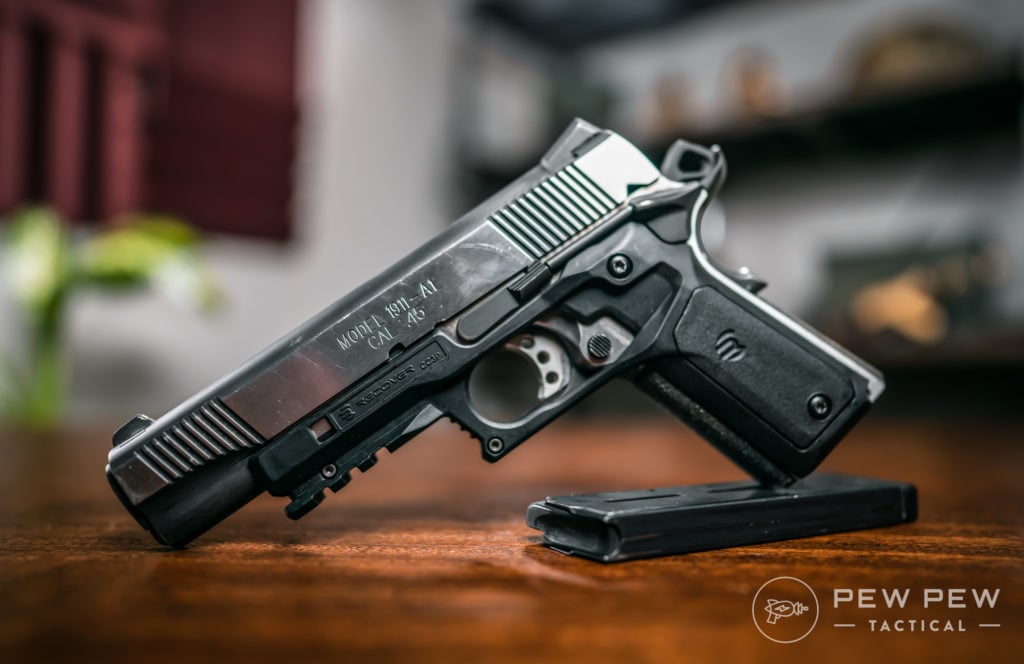 It probably wasn't the smartest move for a first handgun…but it was just so pretty (and ran well too).
But if I had to make my choice again with a ~$1000 1911 budget…I would choose the Springfield Loaded Operator ($1089).
1911 Editor's Choice
1089
at Brownells
Prices accurate at time of writing
Prices accurate at time of writing
And that's because it has everything I would want now that I've shot some more stuff.
The Operator has the stuff that you can't easily upgrade on a more standard 1911:
Accessory Rail
Awesome two-tone styling
Night Sights
7. Colt Gold Cup
Old school competition shooting at its finest.
1400
at Brownells
Prices accurate at time of writing
Prices accurate at time of writing
The Colt Gold Cup ($1400) series has tons of aggressive checkering on both the front and back strap, adjustable rear sights, and a fiber optic front sight.  Couple that with a match barrel and you've got something that will out shoot you any day.
8. Sig Sauer STX
If you need a great 1911 for something like duty carry, you can't go wrong with a Sig. Sig has a few models of 1911 that they offer, but the one to make this list is the STX.
1080
at Brownells
Prices accurate at time of writing
Prices accurate at time of writing
Wide mag well, Nitron Stainless Steel slide, and custom Burled Maple grips complete the package.
$1,500+
There are many 1911s that fall into this price range, with some costing several thousands of dollars.  This is the price point where custom makers begin to enter the market with absolutely gorgeous firearms with bells and whistles.
9. Springfield Range Officer (9mm)
We wanted to include a 9mm single-stack 1911 on the list. Originally, I went with the STI Trojan, which has sadly been discontinued. Nothing else I've shot has beaten it yet, so if you can find one used, go for it!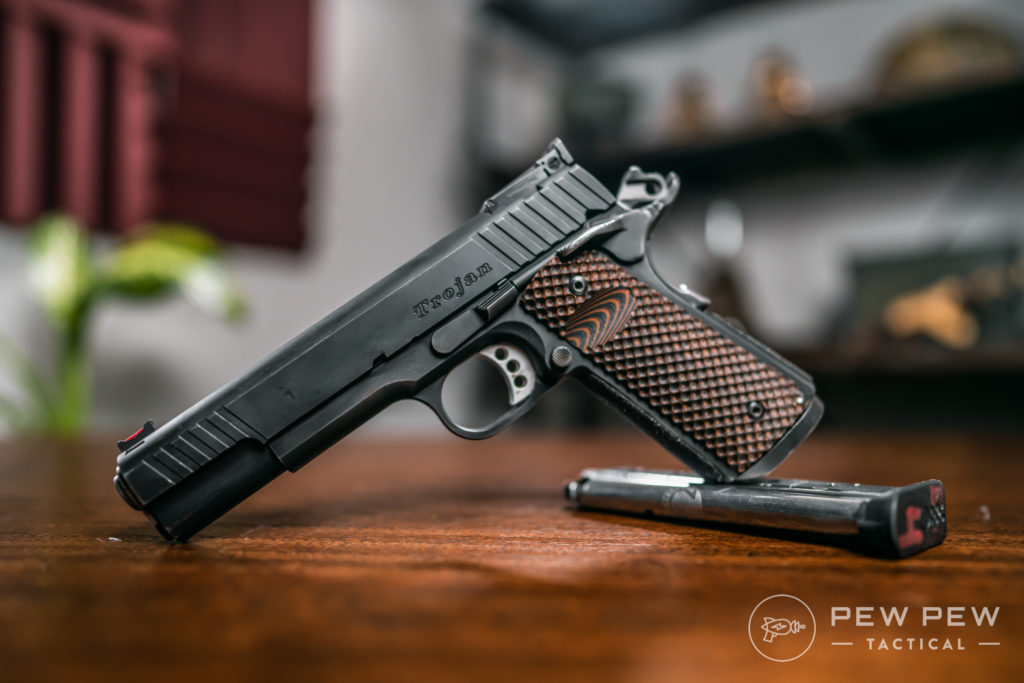 However, since it's a little hard to get ahold of those… we've updated this list with our new pick–the Springfield Armory Range Officer ($830).
If you're looking for a 9mm competition pistol, the Range Officer is a performance machine. You get precision, reliability, and plenty of features you want–and nothing you don't.
The rugged, forged frame and slide mean that this baby won't be letting you down any time soon. Not to mention, the Range Officer has some beautiful, classic styling you'll love to hold in your hand.
830
at Palmetto State Armory
Prices accurate at time of writing
Prices accurate at time of writing
10. Wilson Combat CQB with Rail
If I had much more coin and wanted one of the best 1911s in my mind…I'd go with the Wilson CQB Tactical LE ($3100).
Dream 1911
3100
at Wilson Combat
Prices accurate at time of writing
Prices accurate at time of writing
I've built a couple 1911's and always fall back to Wilson parts.  Every time I didn't…I ended up junking that part and bought Wilson.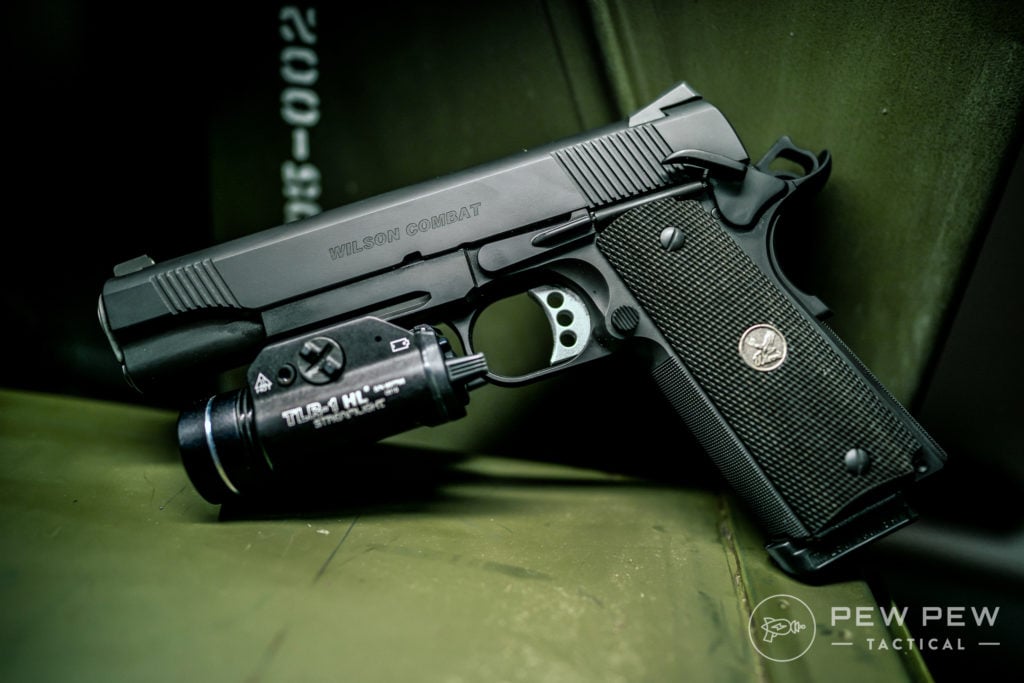 To me, the CQB has it all…the Wilson quality, rails, aggressive grips, and fiber optic sights.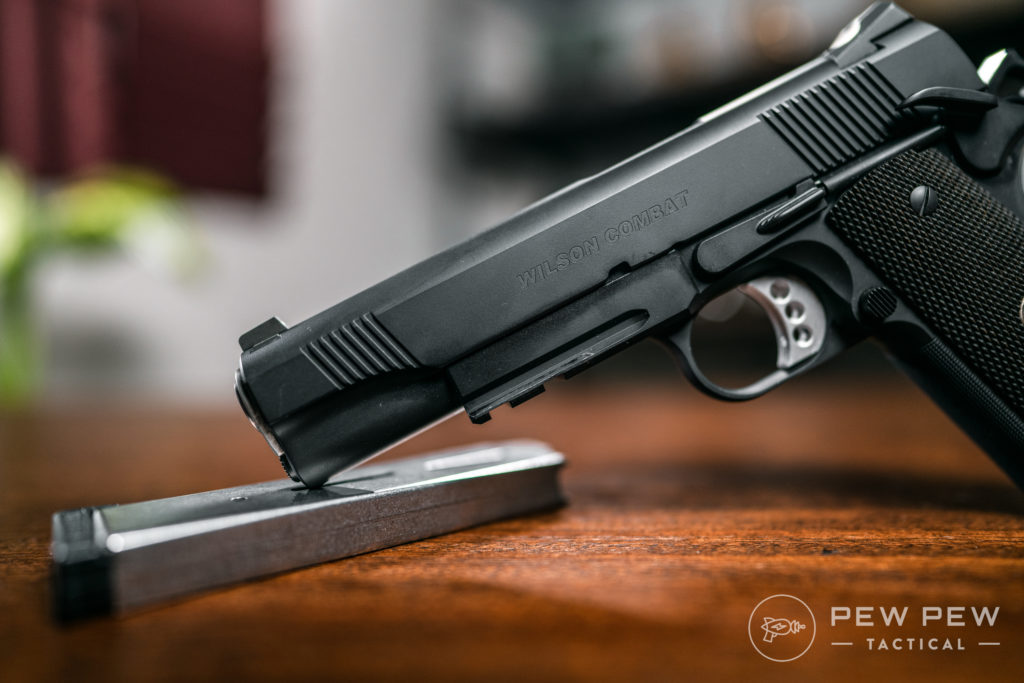 And now…I finally have one!  Full review coming soon…
11. Kimber Amethyst Ultra II
Many of Kimber's firearms are based on the 1911 platform.  They tend to be eye-catching and come in various sizes and calibers.  
1400
at Brownells
Prices accurate at time of writing
Prices accurate at time of writing
It's hard to just pull one of their guns and focus on it, but one such gun of theirs is this Amethyst Ultra II ($1500).
It is a sub-compact pistol with a 3" barrel chambered in 9mm or .45 ACP that is primarily geared to women who want a girly-looking gun…whatever their reason for that may be.
If you're looking for something more real-world for women, check out our Best Handguns for Women article.
12. Dan Wesson Bruin (10mm)
Dan Wesson has long been a major name in the 1911 world with a host of great offerings – but the Bruin is our favorite. Maybe it's the burnt bronze, maybe it's the long slide, maybe it's the 10mm of awesome…Ya, we love the Bruin.
A duty carry finish and fiber optic sights round off this as not only an 1911 worthy of being a piece of art, but also ready for real use.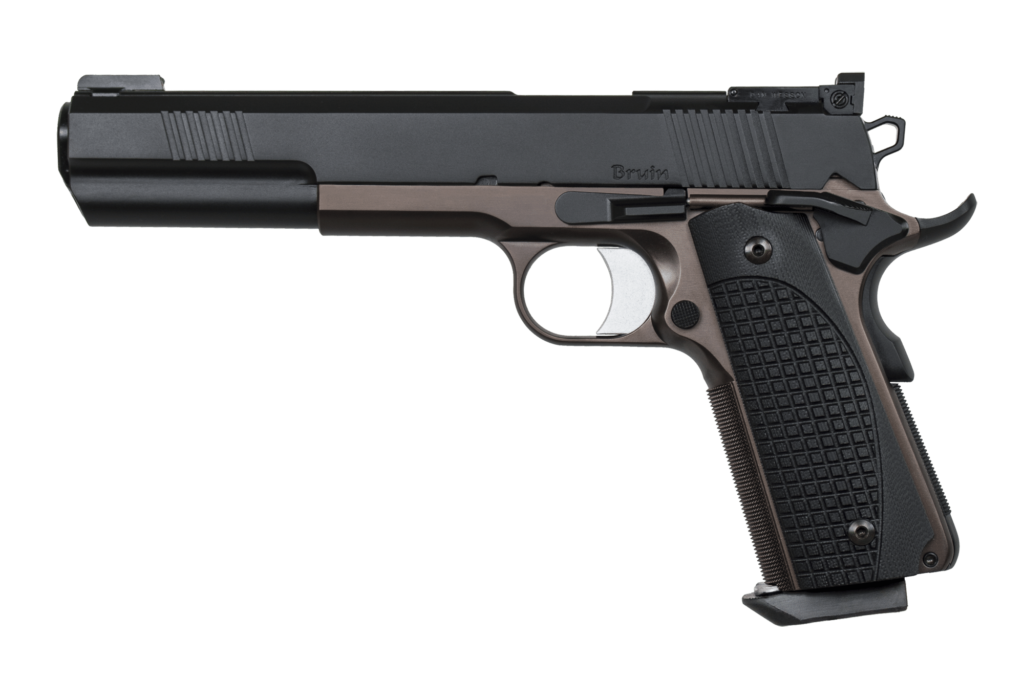 You might have heard that CZ bought Dan Wesson a few years ago and while many were worried that quality would suffer now that DW wasn't a small shop anymore, we're happy to report that people's fears did not come true.
CZ did not go the route of Freedom Group and Dan Wesson is still producing some of the finest 1911s you can get your hands on.
The Wildcards
Then, of course, there are guns that we'd all love to have, but would never take to the range to shoot simply because they cost as much as the things sitting in our driveway to get us from place to place.
One such gun manufacturer is Cabot.  Cabot's guns start with an MSRP in the $3,200 range, and travel up to 4.5 million dollars for a pair of meteorite-made 1911s, with every imaginable price in between.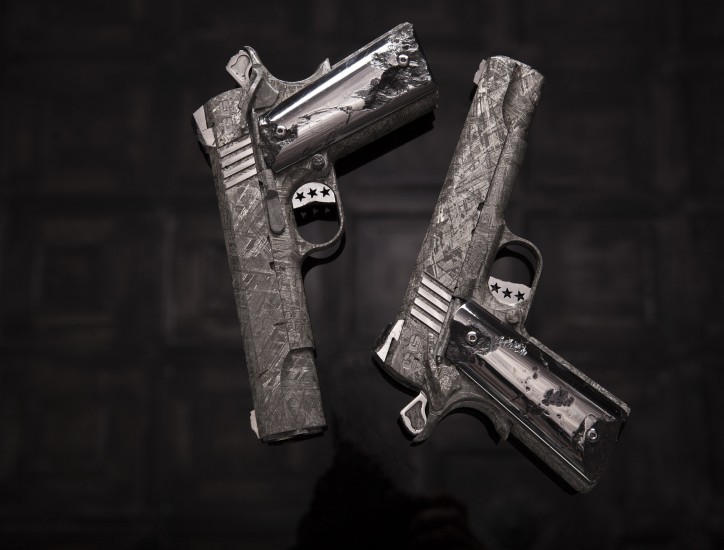 If you can afford to shoot one of Cabot's guns, I'm sure they work flawlessly (or maybe not).  I mean, for that price, they better work fantastically.
Honorable Mentions
Of course, I can't hit all the 1911's out there…but here are some honorable mentions for the higher end.  I hope one day to own some of these so I can chime in…but these have impeccable reputations!
The Best In Any Price Range:
This list wouldn't be complete if I didn't talk further about modern-day Colt 1911s.
While some enthusiasts will tell you that the R1 isn't that great or that Kimbers are overrated, you rarely ever hear that about the original 1911 maker.
In fact, the only complaint you do hear is that Colt's 1911s are expensive.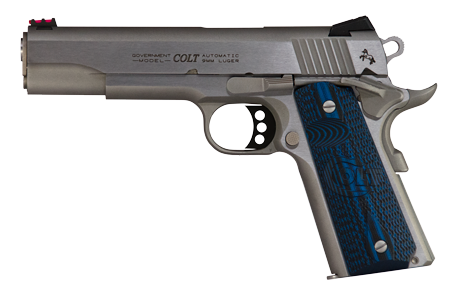 While that may be true, they also tend to hold their value better than any of the other production 1911 builders.  Furthermore, there are plenty of Colt 1911s available in the $800-900 range.  And you don't have to go too far to look for them.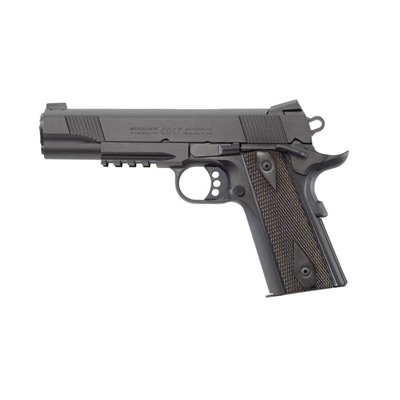 Colt is one of the few firearms makers in existence who is still capable of selling you a firearm with the ability to resell it down the road and make money off it.  All in all, you get the best bang for your buck when you purchase a Colt 1911.
They're reliable, accurate, and have an excellent customer service base.  As a bonus the pistols are sexy.
Conclusion
The 1911 pistol is a beautiful handgun with a rich history that expands over 100 years.
There is no sign of sales declining, and it seems that every year at SHOT Show, there is another 1911 maker entering the scene.
If you are late to this game, I'm sure you'll own one, one day…how could you not?
Any we HAVE to put on the list?  Otherwise check out Best 9mm 1911s and Best 10mm 1911s…or even Best .45 ACP Ammo to feed your guns.