Several of you have been asking the question "What do you recommend for carry?". 
Well, that's kind of a big question, and it has a lot of answers. Choosing a CCW gun is an intensely personal decision and all we can really do is advise you on what to look for in your carry gun, and talk about what we ourselves carry.
Which is what we're going to do today. I rounded up some of our writers and asked them what they were carrying, and here's what they came back with.
Note: This isn't all the writers, but we'll be updating in waves so be sure to check back in for more of our personal carry choices.
David's Carry Guns
Glock 19 (Customized)
My carry choices are because I'm in California and have limited access to modern pistols. Since I'm effectively trapped in the early 00s, my carry guns are a bit dated but still good to go.
I make up for that by heavily customizing most of my guns.
My Glock 19 is the base G19 frame that I have then taken a Dremel on to grind away the finger grooves and cut myself a double-under cut in the trigger guard.
It also has a Magpul magazine well for easier reloads, a Strike Industries extended magazine release and a whole new slide assembly.
The slide is an American Tactical Arms ATA19 Badger Stripped Slide with RMR optic cut. I have no over arching reason I picked this slide, just that it was the right price, had an optics cut, came in OD green, was in stock, and had front serrations.
A Holosun 407k V2 GR tops off my slide, I do not run irons of any kind on it because I want an unobstructed sight picture and I trust my green dot.
Internally, I run a APEX trigger assembly with a Tyrant CNC trigger shoe. Brownells Glock 19 barrel, and stock Glock slide internals.
For magazines I carry a Magpul 15 round mag in the gun with a Glock 19 factory magazine with a +5 baseplate as a spare.
I carry my Glock in a Dara holster.
Bersa Firestorm
My Firestorm is much less tricked out but I normally only carry it when I need to be as low-profile as possible or I'm wearing something that makes a Glock 19 a bit impractical.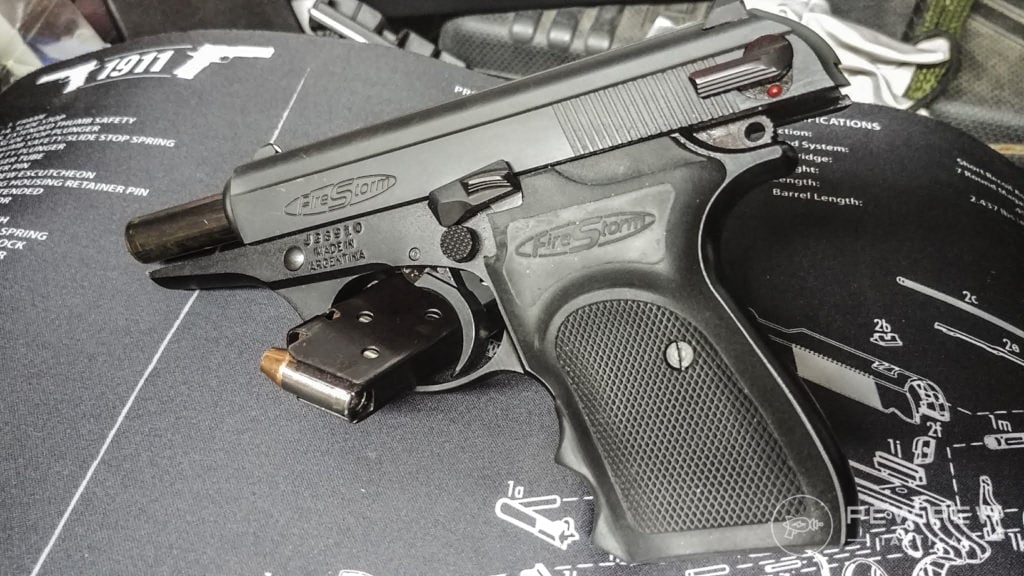 The only change I've made to my Bersa is that I've removed the magazine safety so that the gun can fire with or without a magazine in the mag well.
A DSG Arms holster is what I normally carry the Firestorm in.
Beretta 92FS
I normally only off-body carry my Beretta, sometimes this is the only thing I carry and sometimes it's combined with one of my carry guns on my person.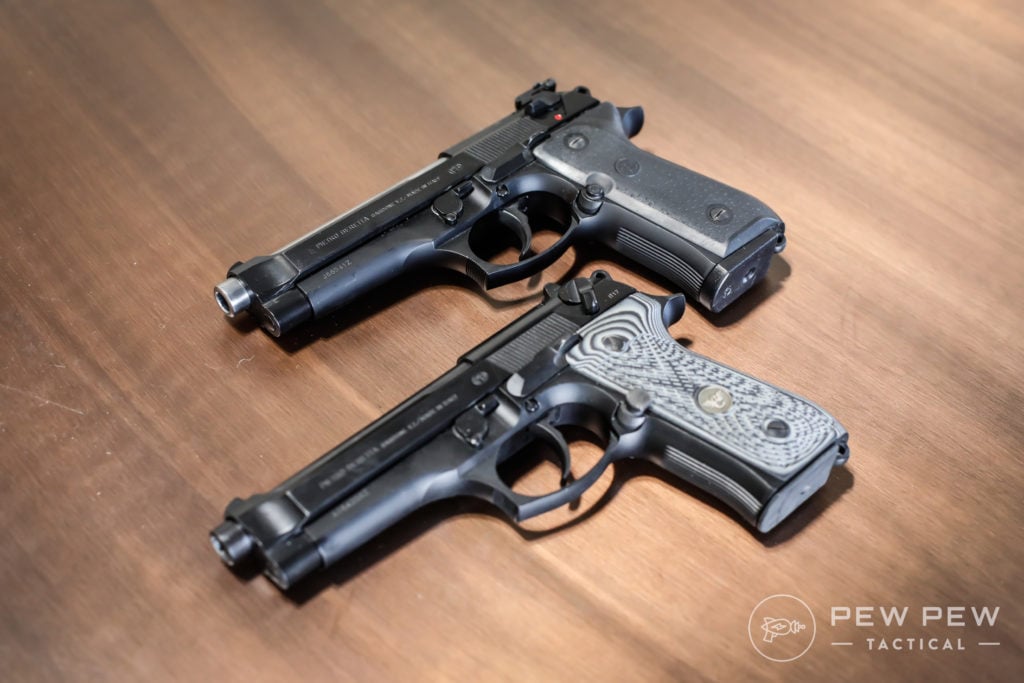 Generally, I carry the Beretta in my 5.11 RUSH MOAB 10. This is a super convenient and handy bag that I use for things like walking around industry events, over night trips, or light-medium day hikes.
Something I love about it is a dedicated CCW pouch that is large enough for a full sized pistol. It's loop lined inside the pouch so you can mount a holster in it or run it without one like I do. Access is just hook and loop so it's easy to get into.
All the while it's pretty hard to spot if you don't know the bag and know it's there.
This provides a safe, easy, and accessible way for me to carry more firepower than I normally would.
I also use this when on long road trips, just set tha bag next to me in passenger seat and it's easy to get to snacks, water, or my gun.
Modifications I've made include Wilson Combat G10 grips, 14 # main spring, shortened trigger reach, extended magazine release, and a stainless steel recoil guide rod.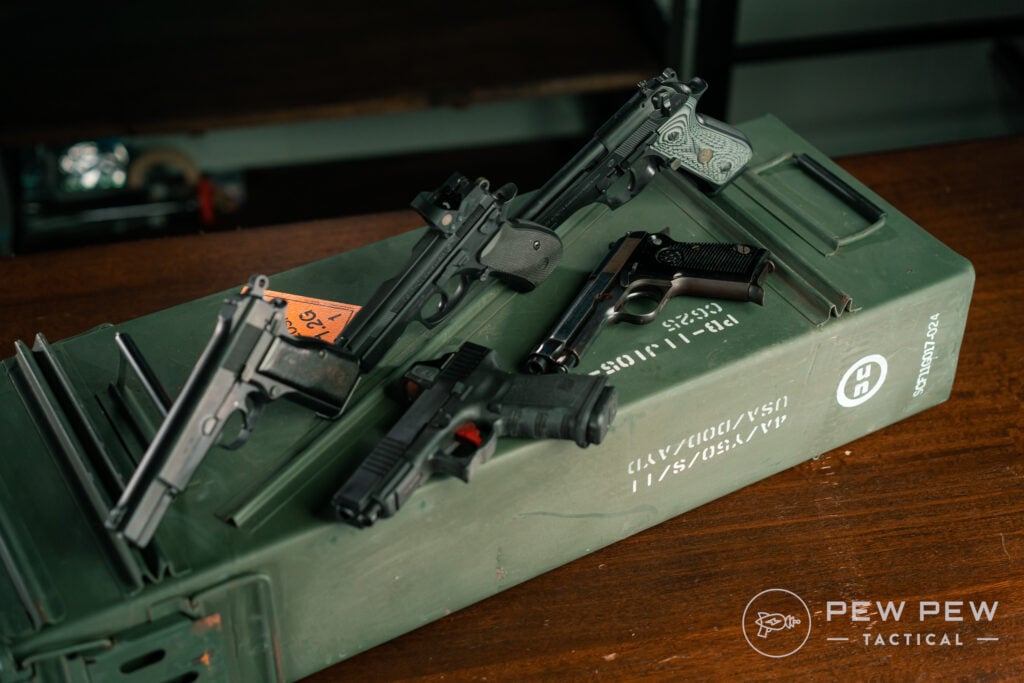 A 15 round NATO magazine lives in the gun with up-to two 33-round Beretta happy sticks in my bag.
It's a bit heavy, but when I carry off-body I come loaded for bear.
Travis' Carry Guns
CZ P09
I have two carry guns, but I don't carry them at the same time. Recently I've taken to carrying a full-sized gun. My gun of choice is the CZ P09 in a strongside OWB holster.
I alternate between my HTC light-bearing holster and my Alien Gear Cloak Mod OWB holster. I prefer the larger gun due to its full-sized grip, its longer sight radius, and well, 21 rounds of 9mm are comforting.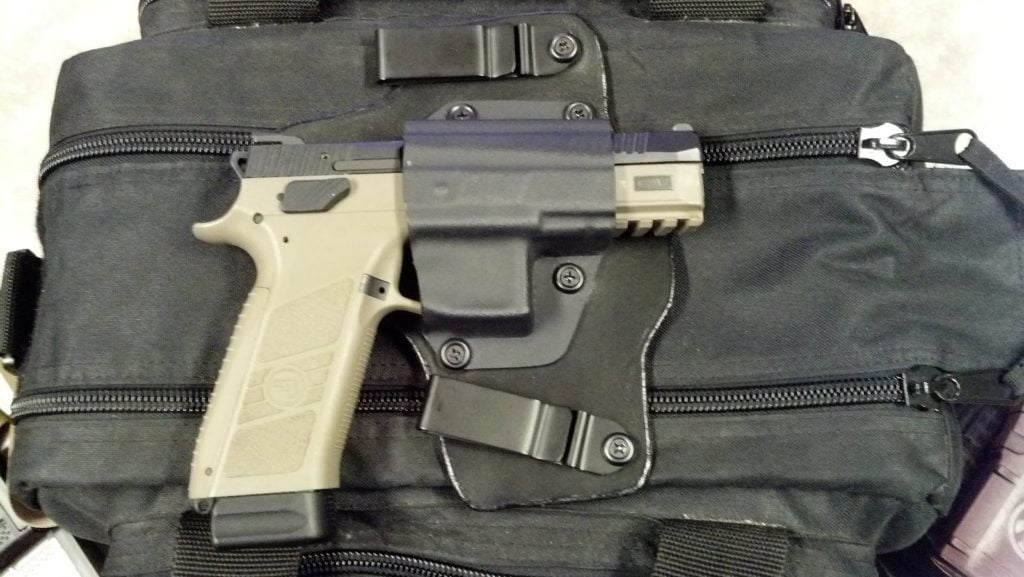 I stopped caring about printing and started carrying something I felt gave me the sharpest edge. I've upgraded the trigger with a Cajun Gun Works short reset kit and have put a few thousand rounds downrange. I'm confident in the gun as a platform and run it with the decocker.
Walther PPS
My second gun is my alternative in situations where I can't carry a full-sized gun due to dress requirements and do something subtle. I go with the classic Walther PPS. It's 9mm with a long grip, it's superbly thin, and provides me 9 rounds of 9mm.
It's not quite a pocket pistol but with my Clinger Gear No Print wonder I carry discretely and comfortably. The Walther is a simple, no-nonsense concealed carry gun that's plenty modular.
You can swap the backstraps for comfort, as well as the magazine size for a flush or extended fit.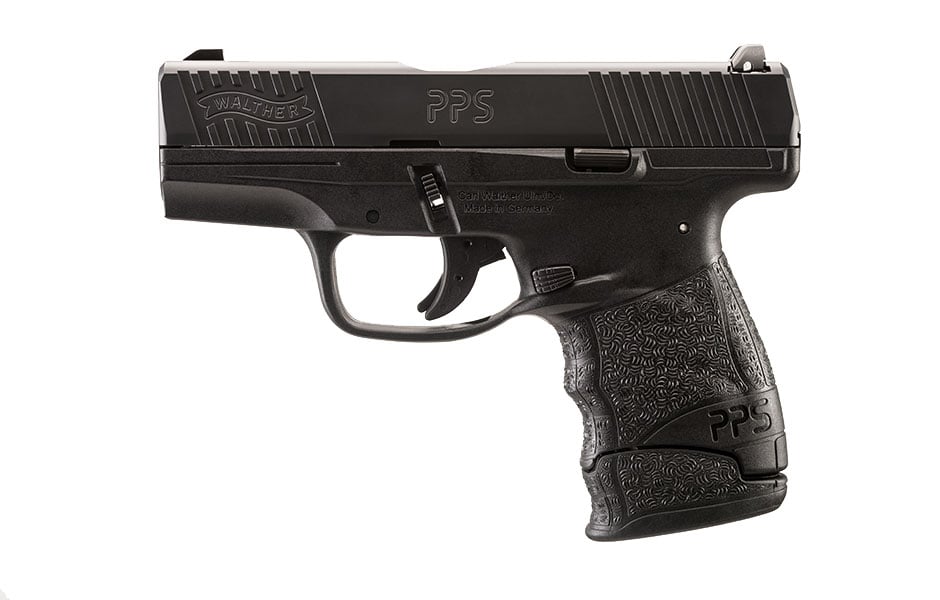 Both guns have never let me down, and hopefully never will.
Parting Shots
There we have it, folks, our first round of author carry guns. We'll be regularly updating this with the other author's carry guns, as well as the editorial staff's selections, so be sure to check back in as we add things.
Hopefully, this has given you some inspiration for your own carry choices and will help you out when picking one for yourself. Whether it's your first gun or your fifth.
Once you've gotten your carry gun, check out our Best Concealed Carry Holsters and also Best CCW Insurance Review.
What do you think about our choices? Any questions for our authors? Let us know in the comments below!