There are new guns entering the market all of the time, but what if you're not Mr. Moneybags? How do you find a decent gun without taking out a mortgage?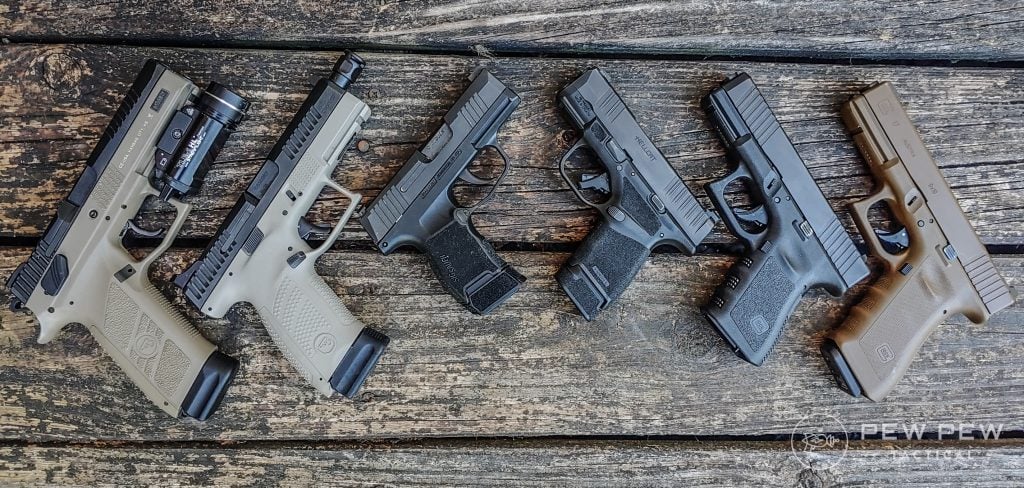 No worries, we're here to offer an opinion on the best full-size guns that won't leave you penniless. So keep reading if you're looking for a full-sized option under $400!
Summary of Our Top Picks
Best Full-Sized Pistols For Under $400
1. Taurus G3
Taurus has been slowly cleaning up its act and producing better, higher-quality pistols. The Taurus G3 represents the best of their current crop of pistols.
Taurus produced the G3 as an entire family of pistols, including compact variants, optics-ready variants, and X and XL variants.
To keep things under $400, you have to go with the standard Taurus G3. It's a simple but efficient firearm complete with a 15-round magazine, a Picatinny rail, and an aggressive grip texture.
298
at Brownells
Prices accurate at time of writing
Prices accurate at time of writing
The G3 is by far the best gun Taurus has ever produced.
When I first got a G3 for review, I took it to task to see if it was worth the bang. I couldn't get the gun to stop. It went, and went, and went!
The main downside to the G3 is the okay trigger. It's a little gritty, it's not very fancy, but it gets the job done. The sights aren't terrible and are seemingly interchangeable with Glock sights.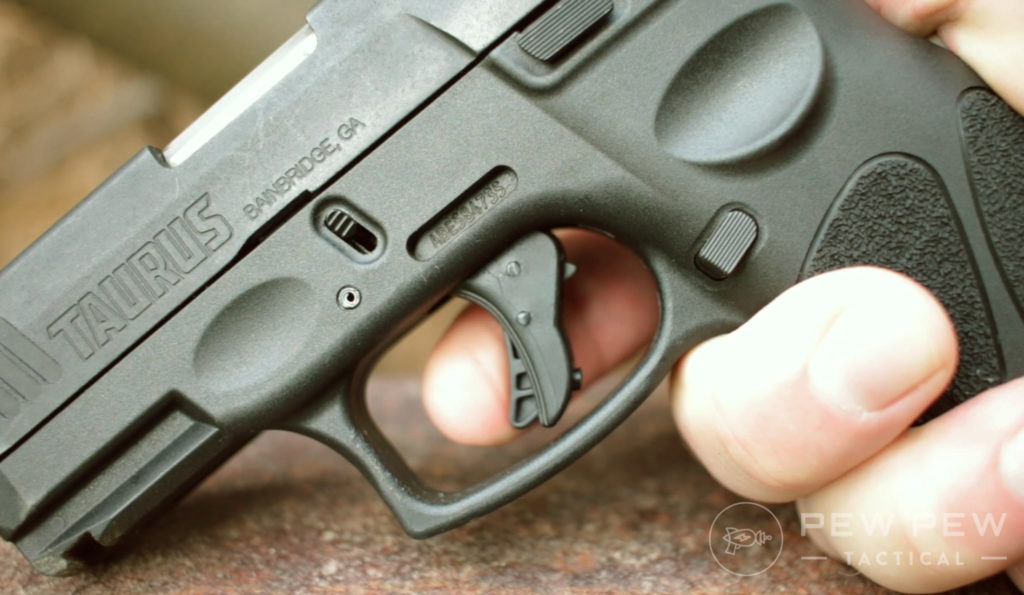 I have a few issues ergonomically. First, the safety sucks. Second, the gun delivers a little bit of slide bite, and my thumbs eternally pin down the slide lock.
As far as accessories, there aren't a whole lot. You can toss something on the rail, but the G3 doesn't have huge aftermarket just yet.
Want something more concealable? Check out the Taurus G3C…same digs, just smaller. We have a full review of the G3C here or you can check out the video review below.
2. Ruger Security 9
Ruger produces a ton of weapons with varying price points. As for the Security 9, well it's affordable for Ruger's firearms.
The Security 9 builds on the legacy of the Security 6 but is now a standard, polymer frame, 9mm pistol.
What helps keeps the Security 9 an affordable firearm is the fact it includes three magazines — that adds a ton of value to the affordable little firecracker.
Best for Defense
389
at Sportsman's Warehouse
Prices accurate at time of writing
Prices accurate at time of writing
Ruger's little semi-auto is well made and delivers Ruger quality at a surprisingly low price.
Ruger didn't go with a striker-fired system, and the internal hammer is an interesting choice. The Security 9 delivers a concealed carry or defensive worthy firearm that's perfectly reliable. Like most Ruger firearms, it's built like a tank and keeps going boom when you need it to.
If you do your part, the Ruger Security 9 will do its part. The trigger is fairly solid, and the grip angle encourages a good high grip on the gun. But the sights feel a bit big for me.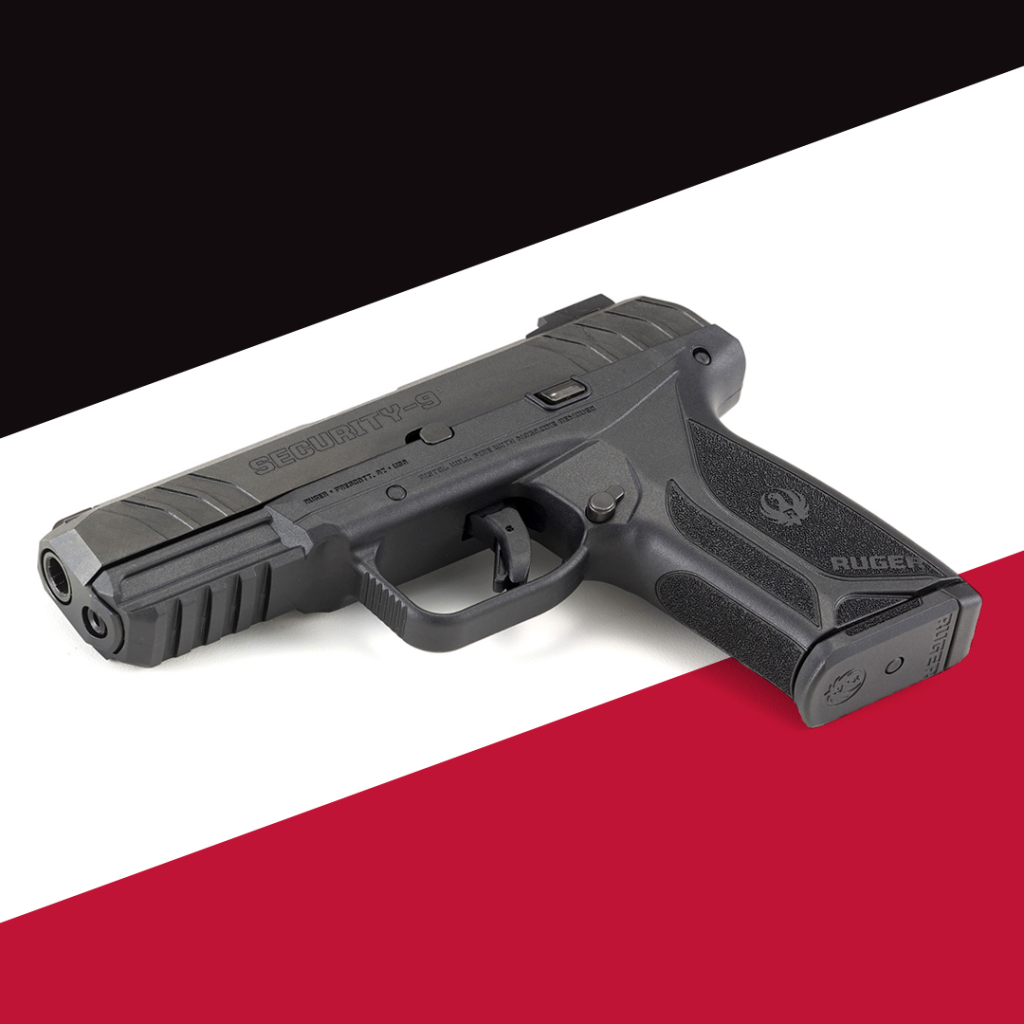 It doesn't have ambidextrous features or anything that stands out in the gun's design, but it's a solid base that allows for easy manipulations.
Like the Taurus, you don't get much in the way of accessories. You have a rail on the frame, but that's about it. You can swap the sights easily enough as well.
All in all, I'm not the type of person who insists that name brands are the be all end all to firearms, but a reputable brand making an affordable firearm is a nice touch.
3. Beretta APX
I didn't even expect to see Beretta on this list, but here we are. Beretta recently announced the APX A1, so the APX series is likely being clearanced out. In short, jump on these deals.
The APX is Beretta's entry into the striker-fired world of polymer-frame pistols with a robust design that's easy to shoot, plenty accurate, and well made.
Best Bang for Your Buck
399
at Sportsman's Warehouse
Prices accurate at time of writing
Prices accurate at time of writing
Like all Beretta products, you get a stellar firearm, and best of all, you aren't paying a whole ton of money for it. Beretta has been kicking around since the 1500s, so I'm sure they know a thing or two about firearms.
The APX is a firearm made for duty, and as such, it won't let you down. Even when you get into those higher round counts, the APX will keep on chugging.
It features an awesome striker-fired mechanism with that partially cocked Glock-style action.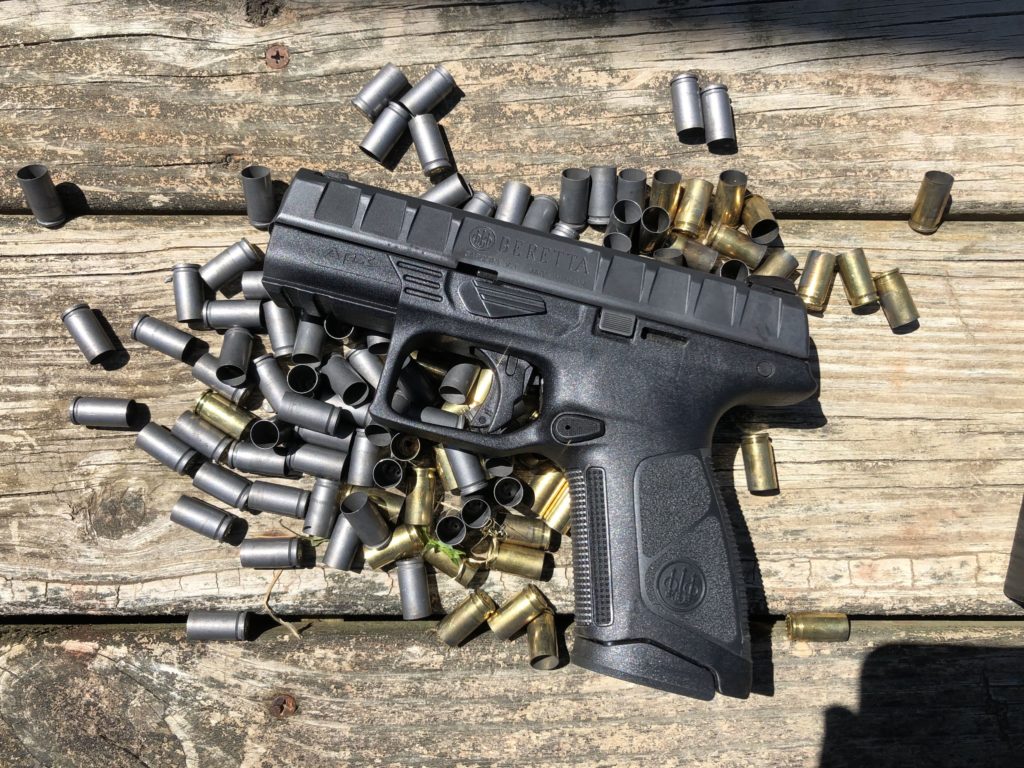 The trigger is very lightweight and crisp with a short and positive reset. Its sights are great, and the rear is blacked out with a white front sight that's thin and crisp for taking shots at small targets.
The APX grip is fantastic and fits my hand just right. The controls are either ambidextrous or reversible. Its only downside is that the slide lock sits right under my thumbs and often gets pinned down and fails to lock itself rearward.
This gun wasn't super popular, so there was never a huge aftermarket for it, but there are replaceable sights, a rail for accessories, and Langdon Tactical produces a few extras for the firearm as well.
It's a Beretta for less than $500…what more could you want?
What do you think of the Beretta APX? Give it a rating below.
4. Stoeger STR9
Stoeger is owned by the Beretta group, and they typically stick to affordable shotguns, so the STR-9 is a bit of a departure. Unsurprisingly it's an affordable firearm that falls into the polymer frame, striker-fired world.
The company makes several models of the STR-9, and most fall well under $400. This includes the optics-ready variant, which sells for around $350.
Most Options
239
at Guns.com
Prices accurate at time of writing
Prices accurate at time of writing
Stoeger's STR-9 is a 9mm only handgun with a 15-round magazine, and sadly you do only get the single magazine. However, beyond going cheap on magazines, the STR-9 is a fantastic firearm.
This robust pistol has zero issues in the reliability department and chews through numerous ammunition types without complaint.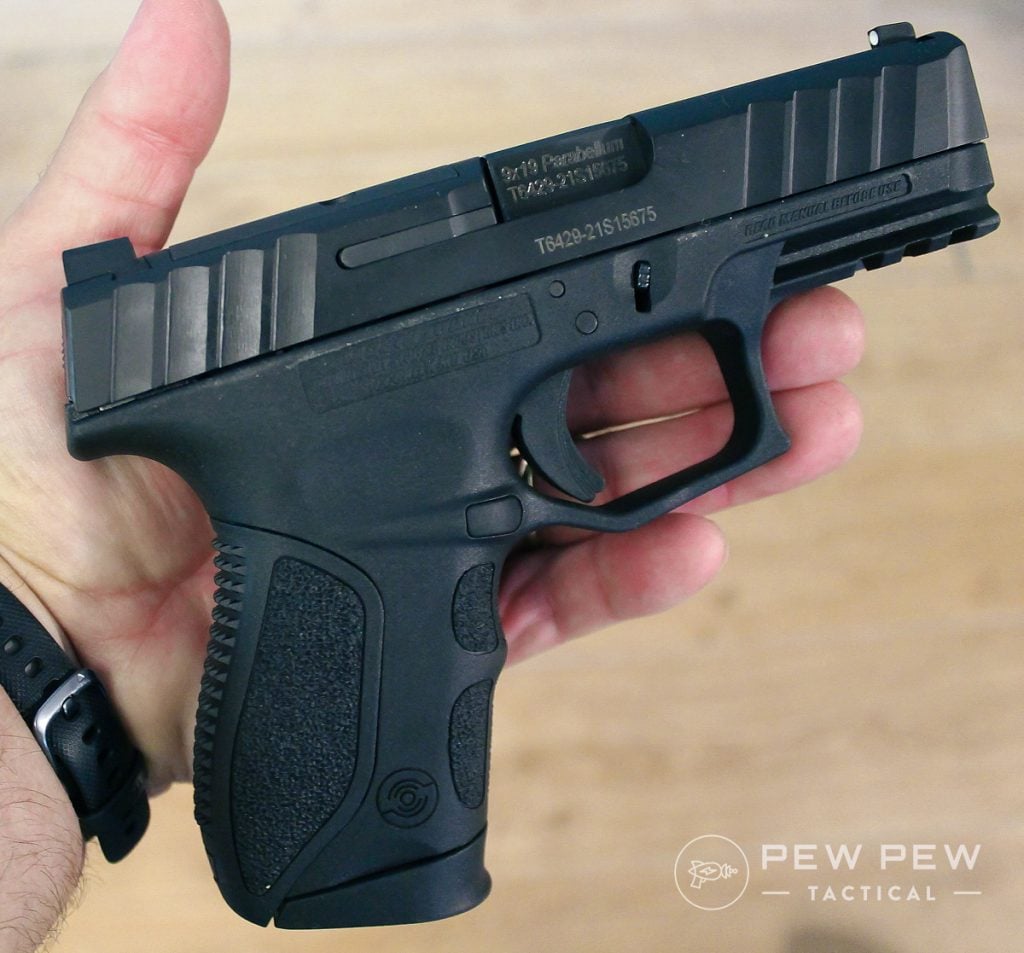 I was a little surprised at how solid the Stoeger's trigger proved to be. It's fairly crisp and light with a consistent break. The addition of a red dot makes it very easy to get targets, both big and small, at various distances.
It comes with three backstraps to make it fit your hand better, and the grip sports an aggressive texture that's easy to hold onto. Overall, the ergonomics are well done, and the main downside is the slide lock is easily pinned down when shooting.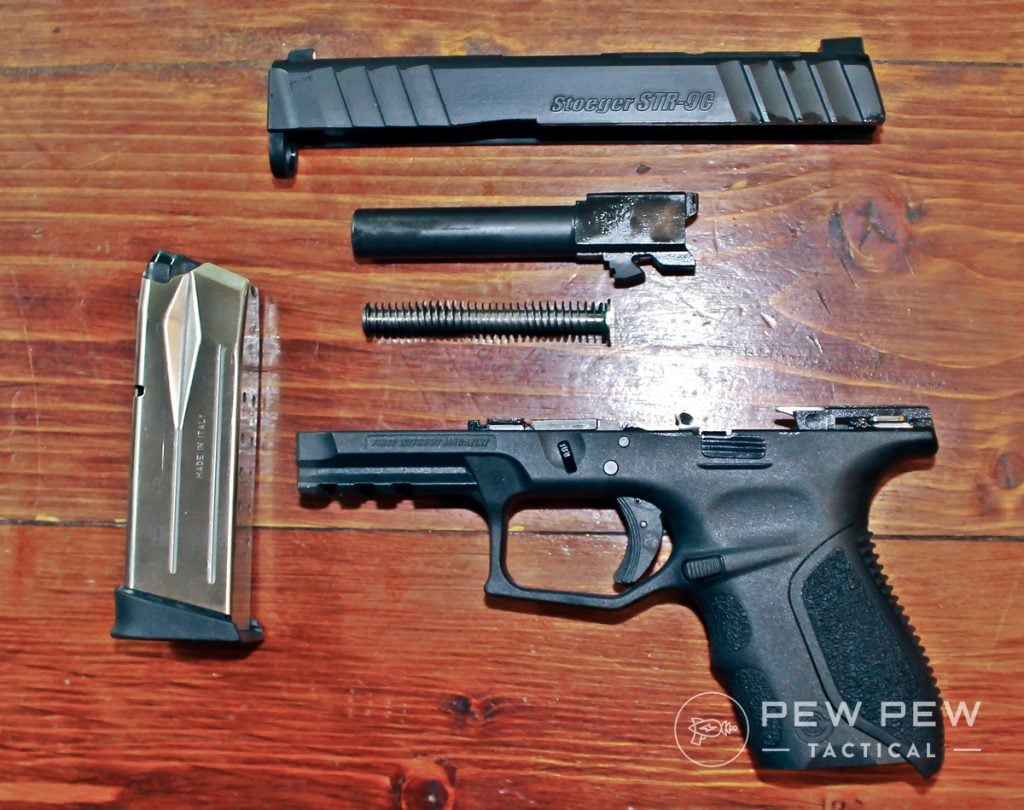 The Stoeger STR-9 has a rail and optics compatibility that gives us a few notches on the accessory roster. However, beyond that and some sights, there isn't much you can do to customize the gun.
Optics ready and for less than $400? That's tough to beat.
We reviewed the STR9C, so be sure to read up on that for more details!
5. Police Trade-In Glock 22 Pistols
As police forces around the world switch from .40 S&W to 9mm, LE guns are popping up on the market for sale.
The Glock 22 series has been a mainstay of the police firearm world for decades — long proven to be solid guns. Trade-in Glock 22s are hitting the market and often sell for right under $400.
Most Affordable Glock
379
at Gunprime
Prices accurate at time of writing
Prices accurate at time of writing
This pistol sports a full-sized .40 S&W design with a 15-round magazine and all the aftermarket Glock has to offer.
While .40 S&W might seem outdated when you're trying to save a few bucks and get a rock-solid gun, sometimes you have to think outside the box.
Glocks are known for incredible reliability, and the Glock 22 is no different. It's powerful, accurate, easy to use, and very capable.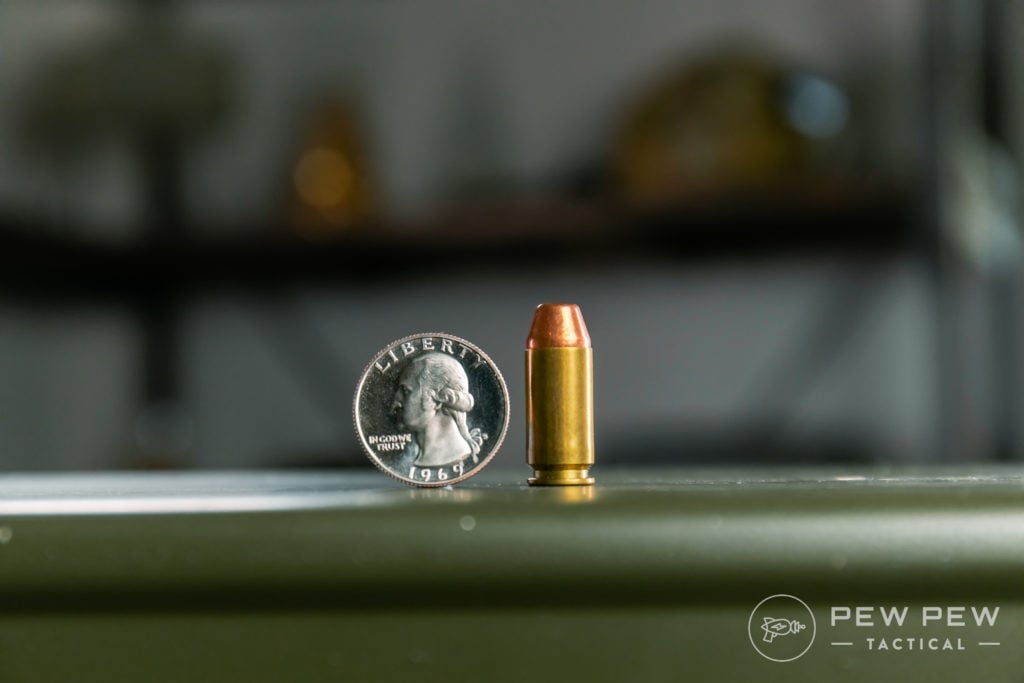 Glock ergonomics are what they are. They're simple, with a reversible magazine release and not much else. The slide lock is super easy to pin down with your thumbs, so that's not the best, but again….a super cheap Glock.
Glock firearms have the largest aftermarket out there, and you can swap everything on the gun, including its caliber, literally if you so choose.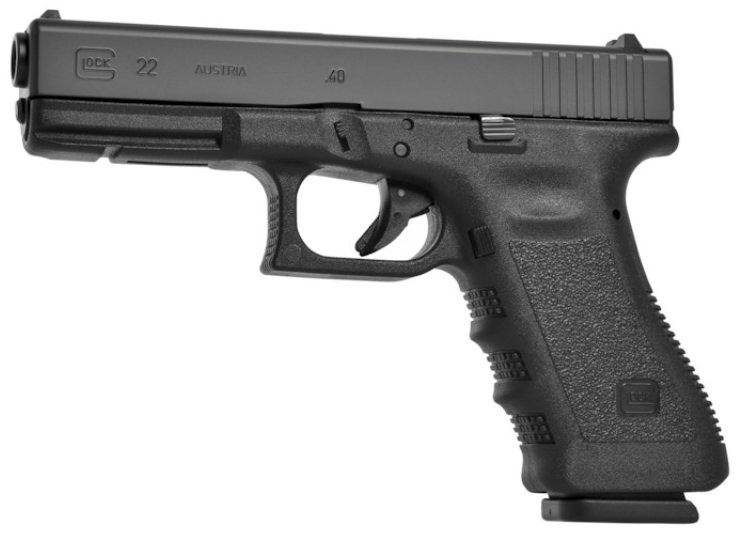 The main downside to the value of this gun is the price of 40 S&W. It's fairly expensive, at least more expensive than 9mm. Magazines, accessories, and replacement parts are plenty affordable.
While it's no competitors pistol, it will get you where you need to go. I mean, it's a Glock. You know what you're getting am I right?
6. Canik TP9SA
Since this Turkish pistol made it to the U.S. in 2014, the TP9SA has been stirring up a lot of trouble for its competitors.
Initially, it was marketed as a Walther P99 knock-off, but it soon became apparent that Canik looked at hanging around the marketplace for a long time.
Best Overall Rating
388
at Brownells
Prices accurate at time of writing
Prices accurate at time of writing
My requirement for a defensive pistol is that it stays on a pie plate at 15 yards and this firearm will easily do that and then some.
It feels good in the hand and it comes with two backstraps to ensure an adjustable fit to the average and even above-average sized mitts.
Accessory-wise, there's not much support for this model but that's not a big issue because of the accessories that come with the gun itself — holster, back straps, holster, magazine loader, and two magazines.
This pistol is a gem, slipping in under $400 with a street price that is considerably less than that this gun is a prime choice for a new gun owner. It's a budget-priced handgun with above-average build quality.
7. Smith & Wesson SD9VE
Everyone knows the big brother of the SD but few people realize the outstanding value this gun holds in its own right. This value-priced pistol was first introduced to the public in 2012.
The stepchild of the Sigma the SD corrected every issue its parent had.
Best Workhorse
330
at Brownells
Prices accurate at time of writing
Prices accurate at time of writing
This pistol sits in the hand comfortably and just plain works. The SD is the same size as the heralded Glock 19, yet offers a very light shooting alternative to the more expensive firearms.
This gun also offers decent accuracy but there is no ability to adjust the grip for different user. That said, it sits low in the hand and the grip angle feels good.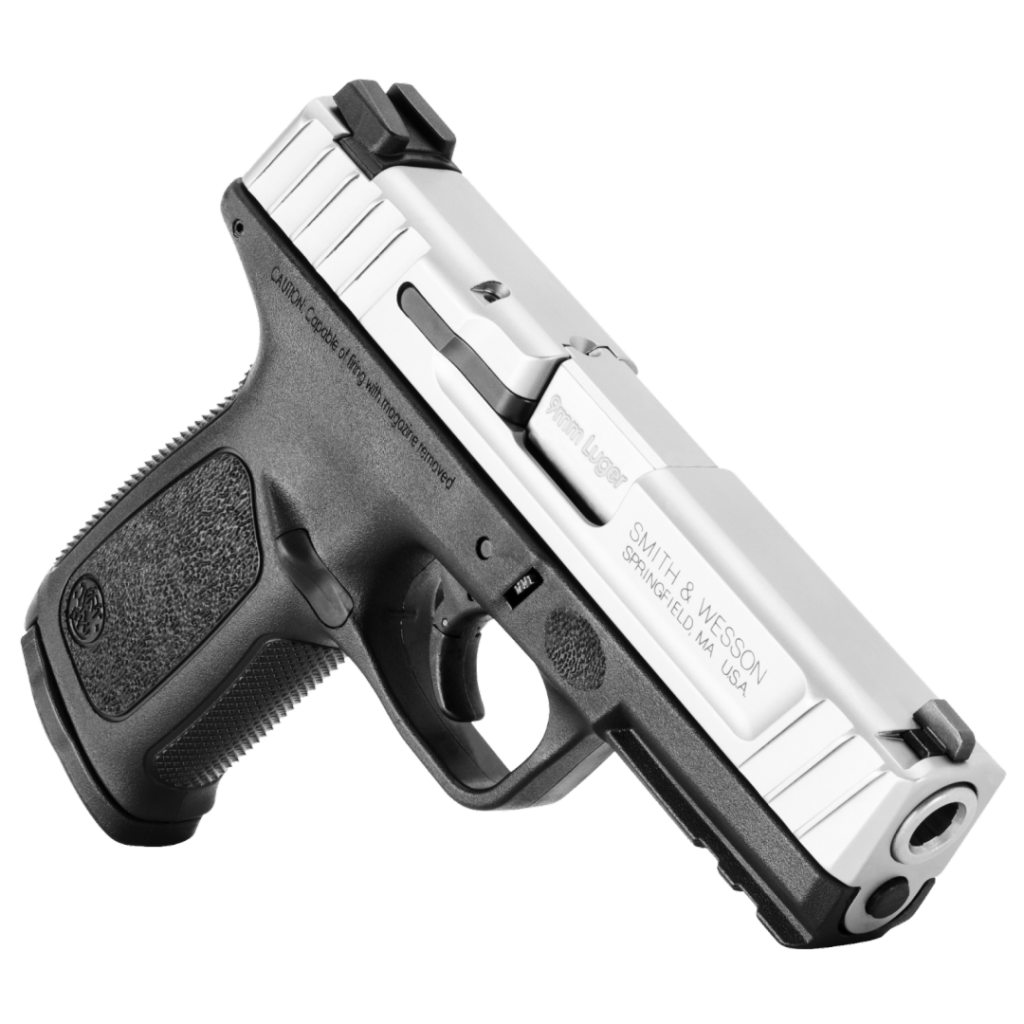 Like most of the guns on this list, aftermarket parts and accessories are sparse.
Final Thoughts
The new standard of a defensive pistol is lighter, simpler, rugged, and more accurate than firearms of the past. Even better, companies are catering some offerings to consumers who are more budget-minded.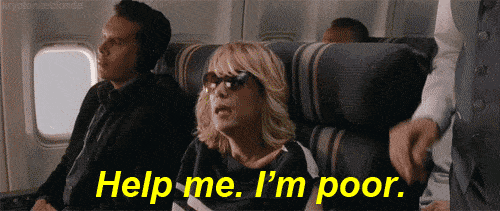 Have one of these already? Have another good pistol to add to the list? Let me know in the comments! Then check out our Best CCW Guns Under $400.