For lady gun owners, fashion often dictates how we concealed carry.
Ideally, we would all sport belted jeans or pants and rock an IWB or AIWB Kydex holster with our full-size 15-round capacity hand-cannons…but that's not a reality for most.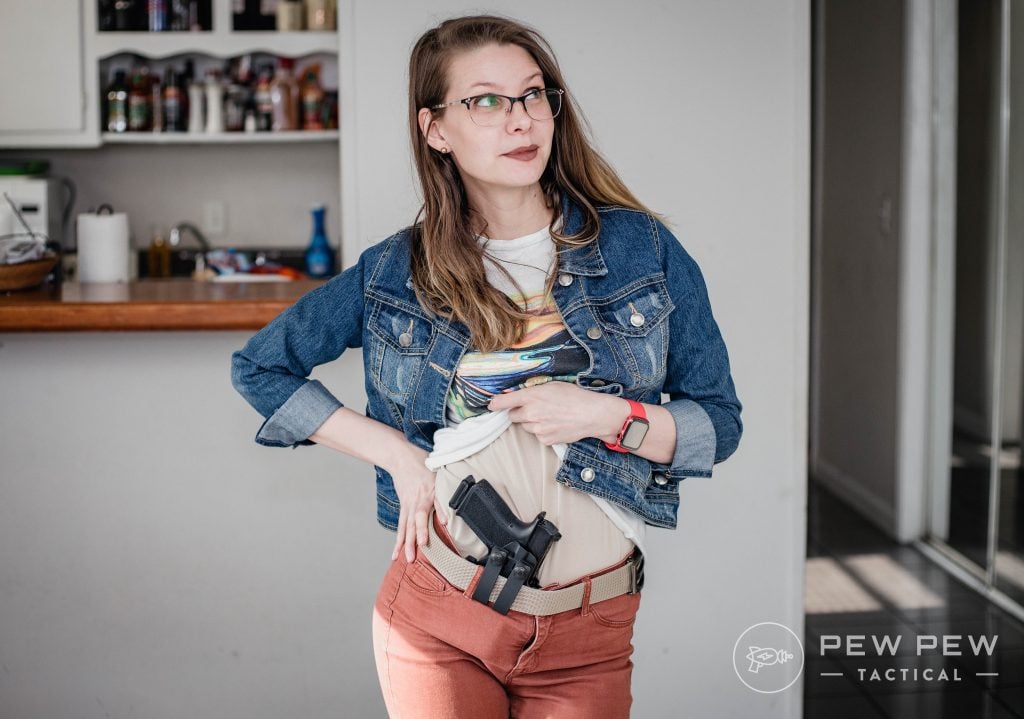 The reality of modern femininity is we often change our appearance depending on where we're going, who we're meeting, and what we're doing.
We work around form-fitted blouses, elastic waistbands, and, yes, even dresses and skirts.
As such, women's concealed carry proves a bit more complicated.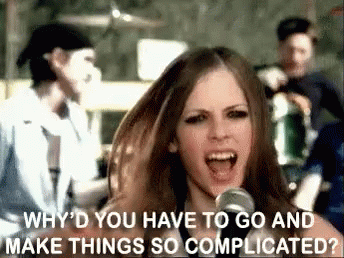 But lucky for you, the ladies of Pew Pew Tactical are here to help!
Though my day job here at PPT means I'm actually encouraged to carry in jeans and a PPT tee (so comfy), I'm a single lady who partakes in the occasional date.
This means skirts and dresses sometimes end up in my wardrobe rotation.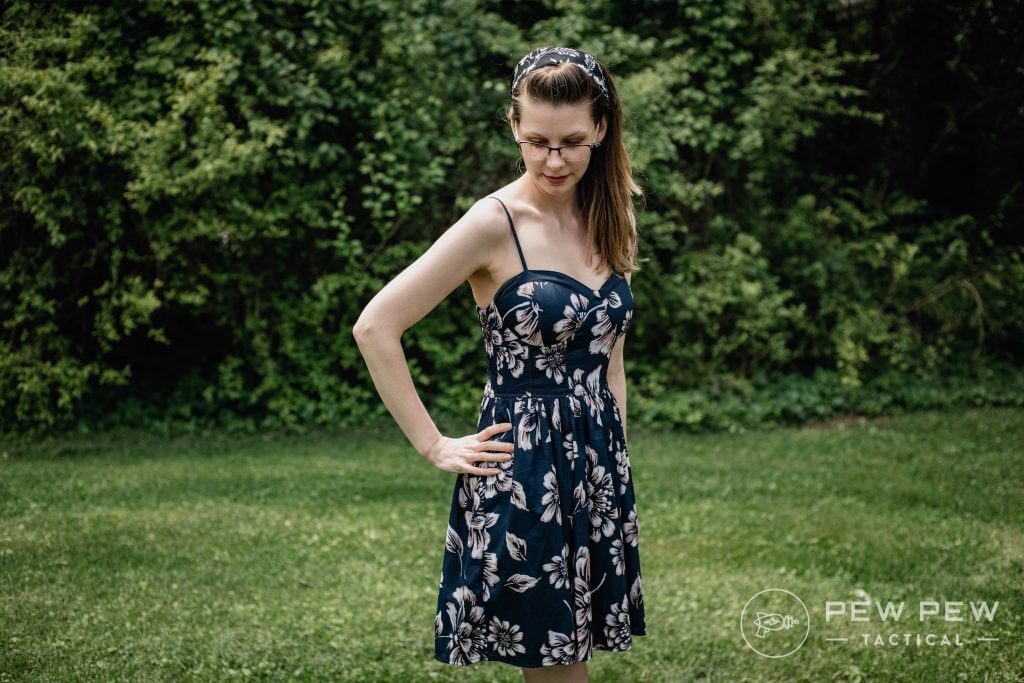 To stay safe, I adapt my concealed carry to work with this dressier attire.
I've had years to perfect the art of belt-less carry in fancy fashion, and I'm here to pass my tips and tricks on to fellow gal pals.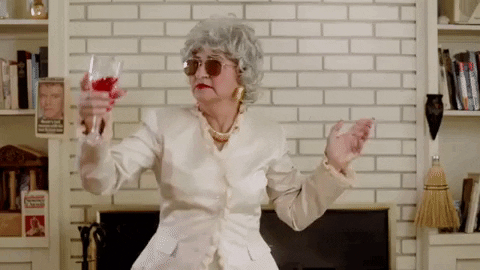 So, buckle up as I walk you through how I manage to concealed carry in a dress or skirt. We'll talk guns and holsters as well as placement on the body.
By the end, you'll be ready to conquer dressier CCW!
Table of Contents
Loading...
Concealed Carry in a Dress/Skirt
I find concealed carrying in a skirt a bit easier to pull off than dress CCW, so we'll start here.
The first thing to look at is, well, the skirt itself.
Some skirts, like denim or khaki, actually do come with belt loops. So, if that's the case with your skirt – throw on an IWB or AIWB holster and rock on. Easy peasy.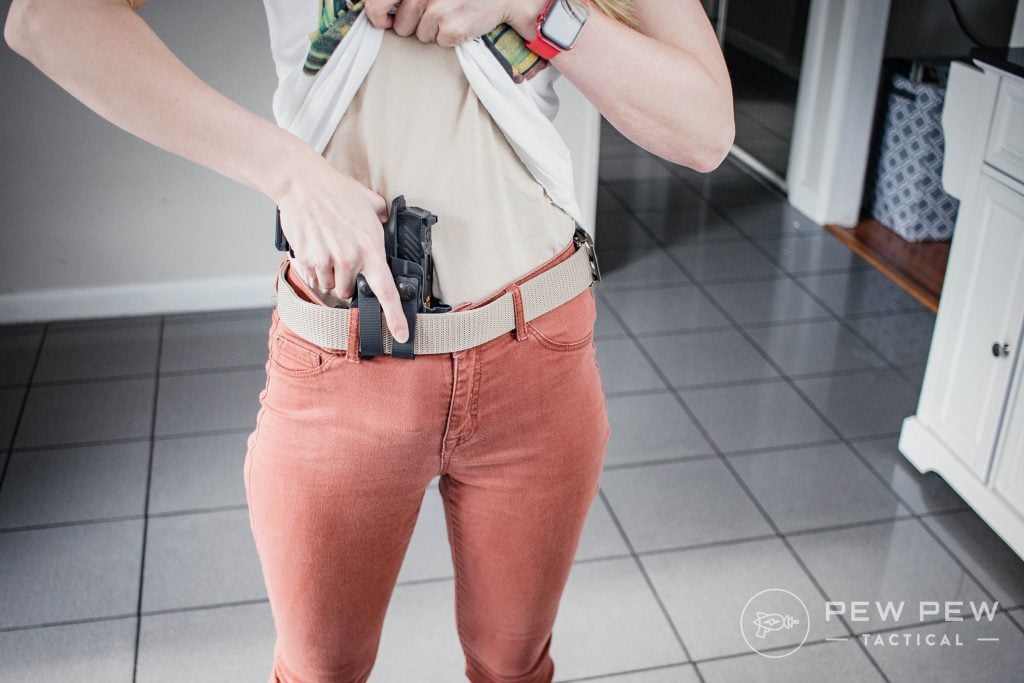 If, however, your skirts aren't so lucky to sport belt loops, then we move into other options.
Belly Bands
Namely, we turn to the belly band. This style of holster wraps around the wearer and secures to itself. It usually comes with a gun pocket (or two) that retains the firearm.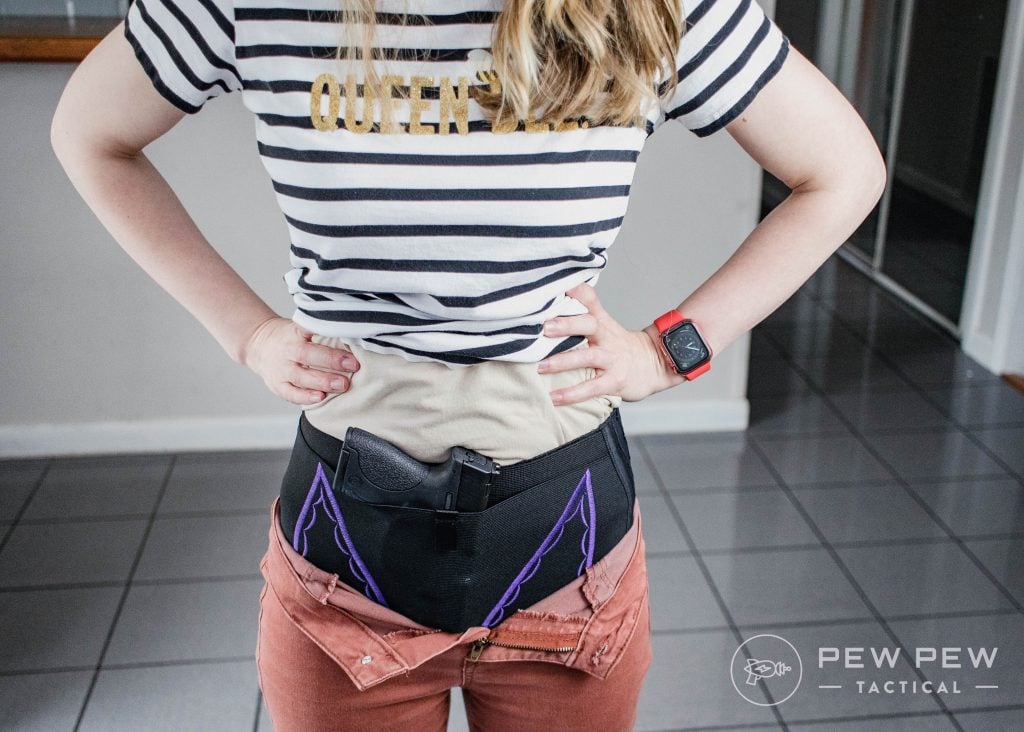 Some models even offer a blended approach with a Kydex shell mounted to a fabric band.
The Crossbreed Modular Belly Band is a great example of this.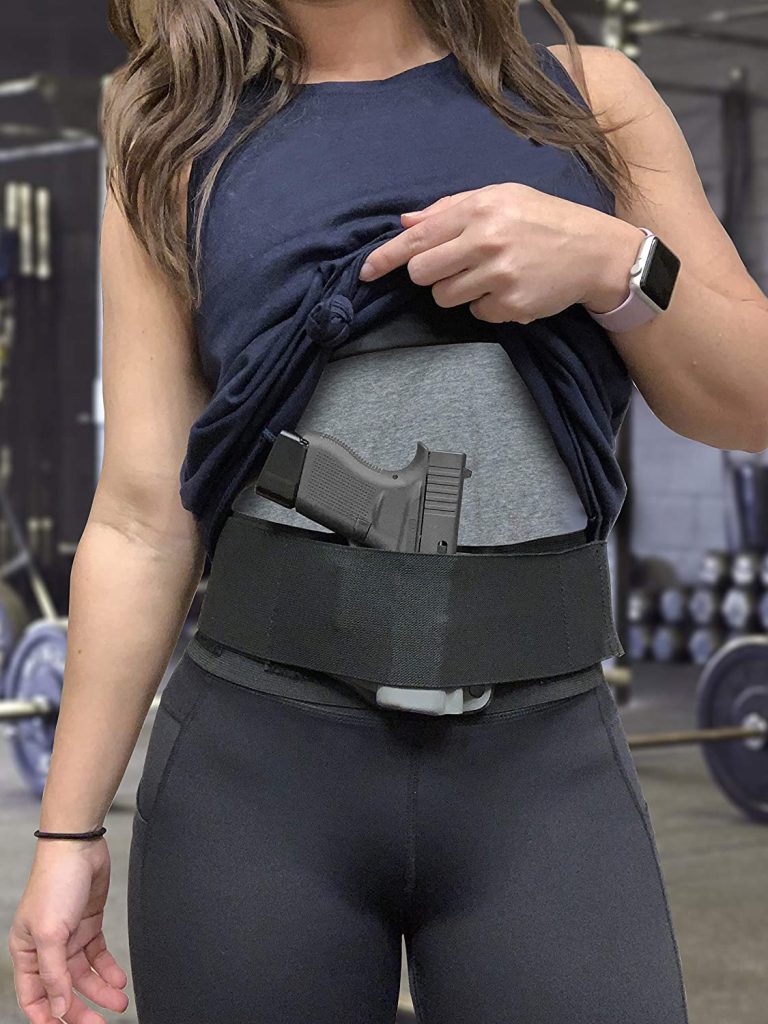 A belly band's advantage is that it offers a similar draw stroke as an IWB or AIWB holster but doesn't rely on belt loops. So, it's a win for skirts!
You simply slip it on under your skirt and blouse, and you're ready to roll.
I prefer the Can Can Concealment Hip Hugger for these purposes. It is low-profile, uses magnets to help retain the firearm, and opts for a super durable elastic fabric.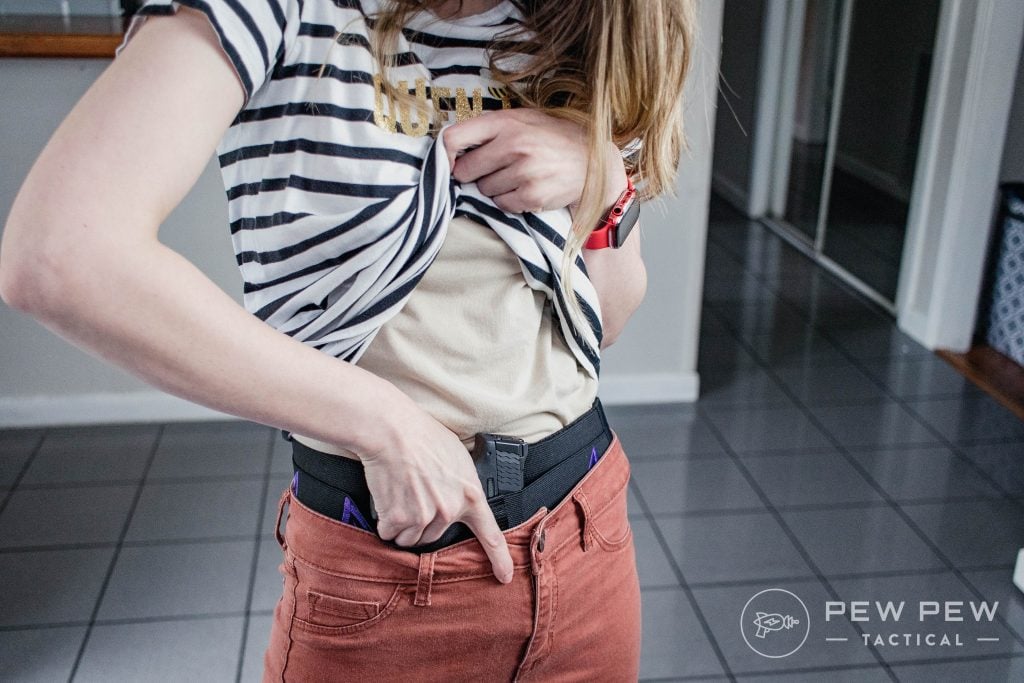 Plus, you get four firearm pockets, so it's lefty-friendly. Also, it comes with two accessory pockets for spare mags, pepper spray, or your EDC knife.
Can Can Concealment offers three sizes of Hip Hugger, so you can even carry your regular EDC gun.
This is awesome if you only have one carry gun, OR you don't want to worry about swapping between gun models.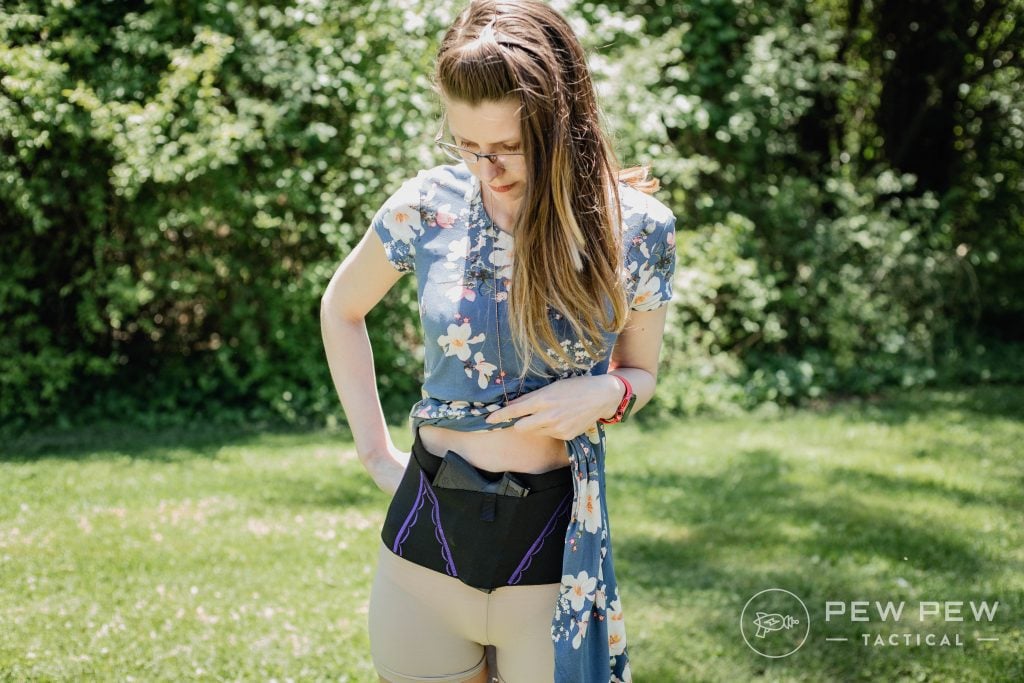 However, the downside to this style is that it can creep up on you since there's nothing really holding it in place. I find that on particularly sweaty days, belly bands have a tendency to move.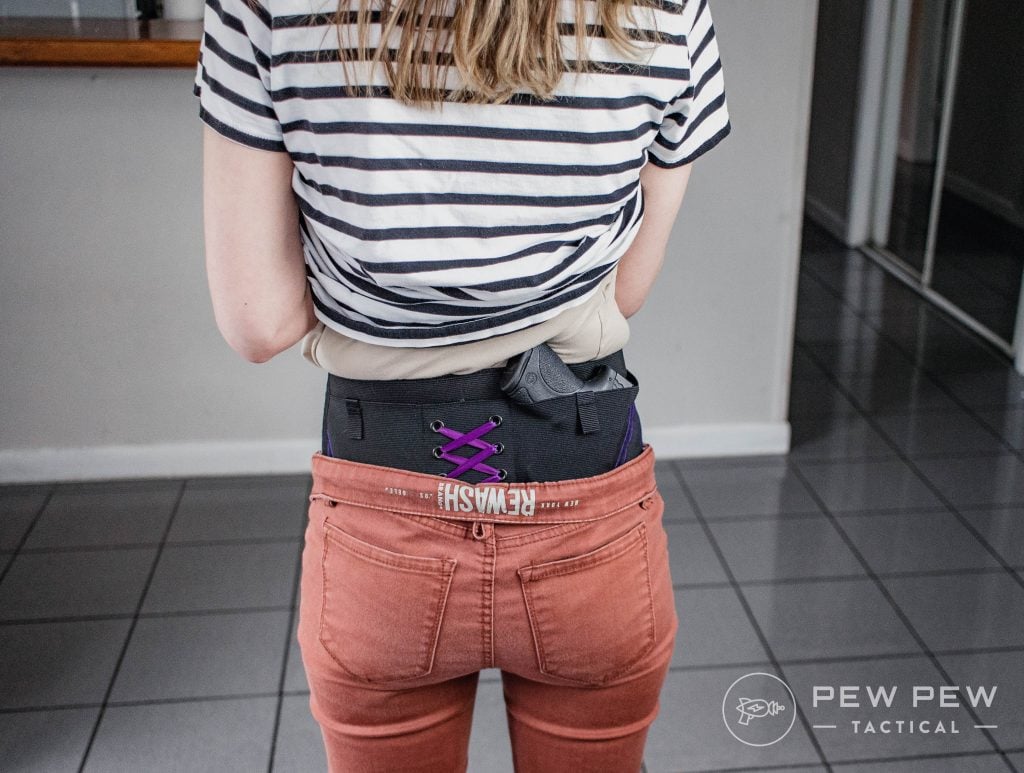 The result?
Dashing off to the bathroom to readjust.
Worth noting, you could theoretically sport a belly band and a dress. I have been known to do this with short dresses that prevent me from wearing a thigh or ankle holster.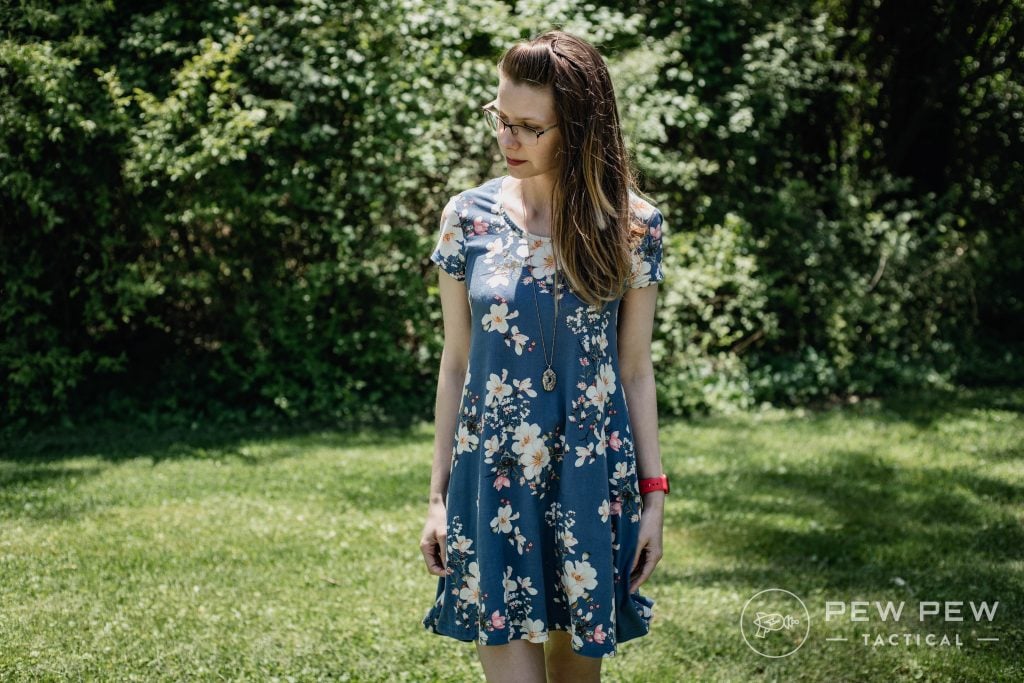 Trade-off here is that the dress has to come up in order to get the gun…so wear your good undies!
Or, you can do what I do and throw on some Spanx or bike shorts under the belly band.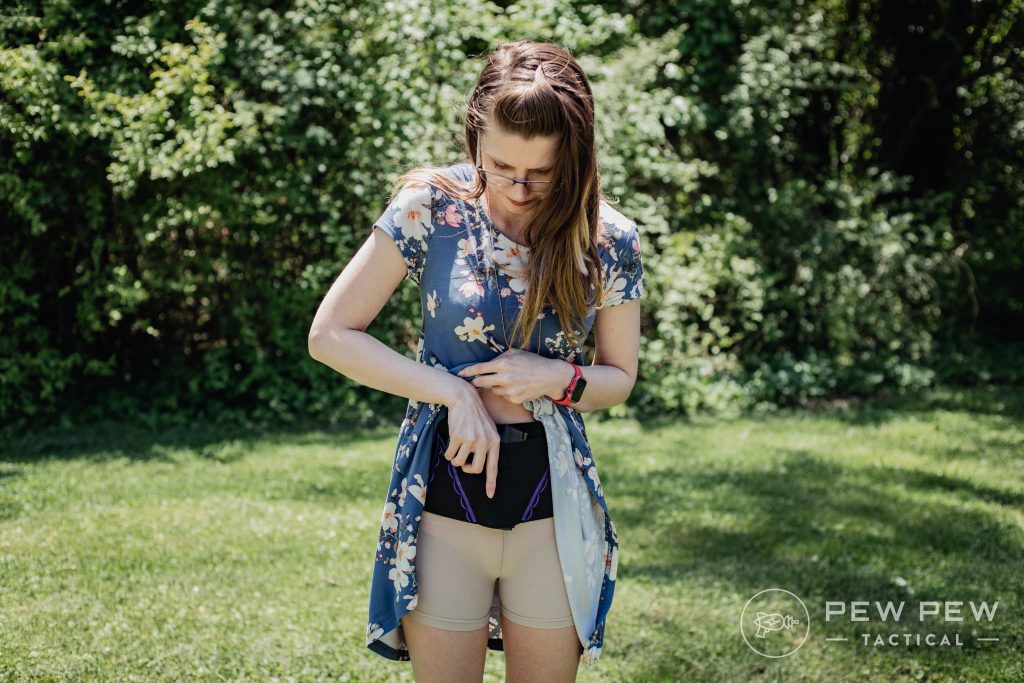 That way, if the dress has to come up you're not showing your Calvin Kleins to everyone near you.
Another option in a similar vein is the UnderTech UnderCover Compression Shorts. These are compression shorts with a built-in holster. Kind of an all-in-one approach.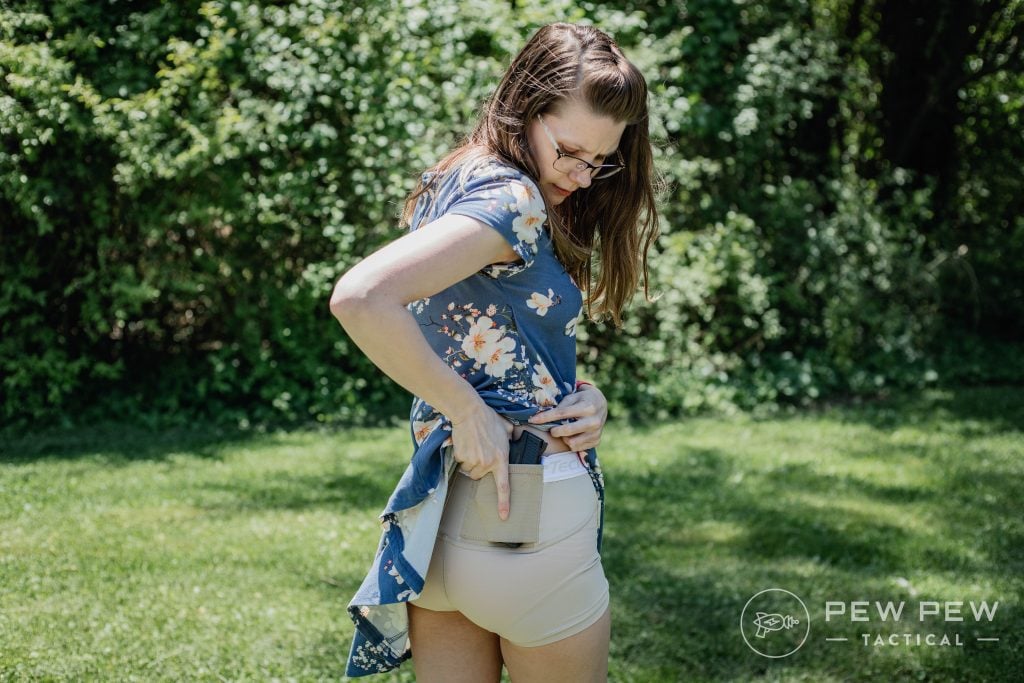 If a belly band doesn't sound like your cup of tea or you happen to wear longer dresses more than skirts, there's always thigh carry.
Thigh Holsters
This style uses a similar approach as the belly band, in that it wraps around the wearer and secures to itself.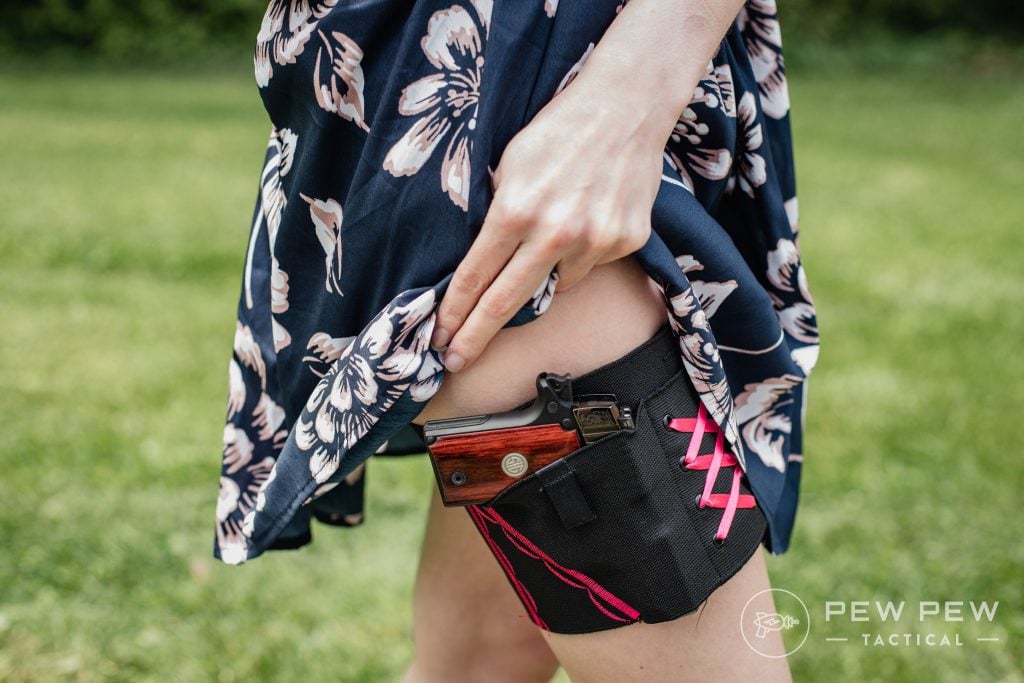 But the key difference is that it attaches around your thigh versus your waist.
Some thigh holsters also come with a garter attachment which I highly recommend.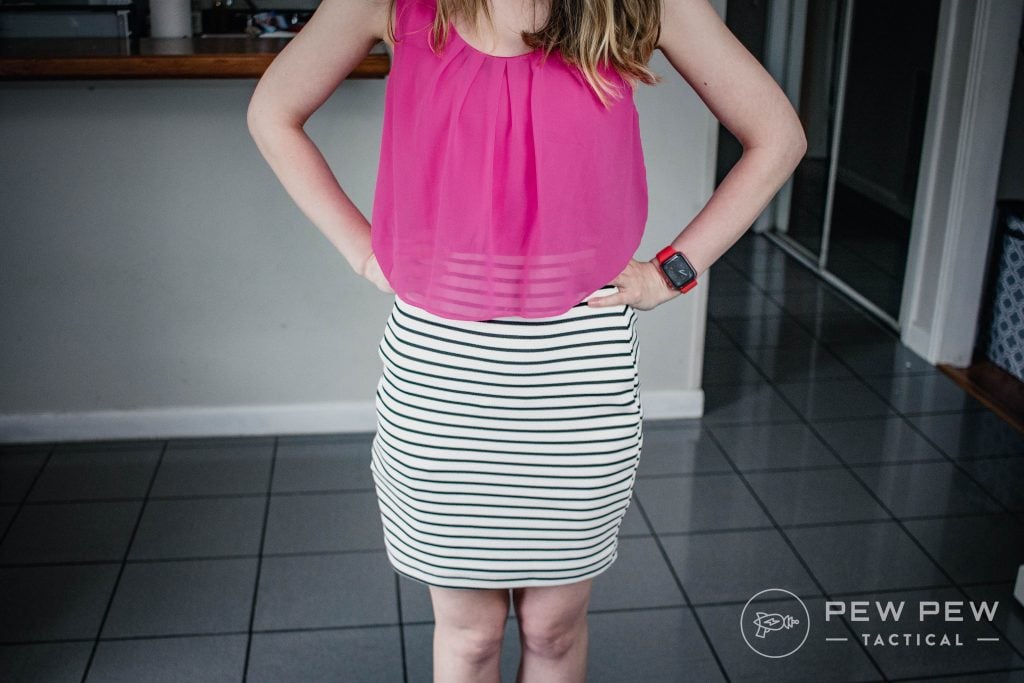 The garter fixes around your waist and helps keep the thigh holster in place.
Not to mention, it helps better support the gun while it's in the holster.
Again, I turn to Can Can Concealment as my preferred choice.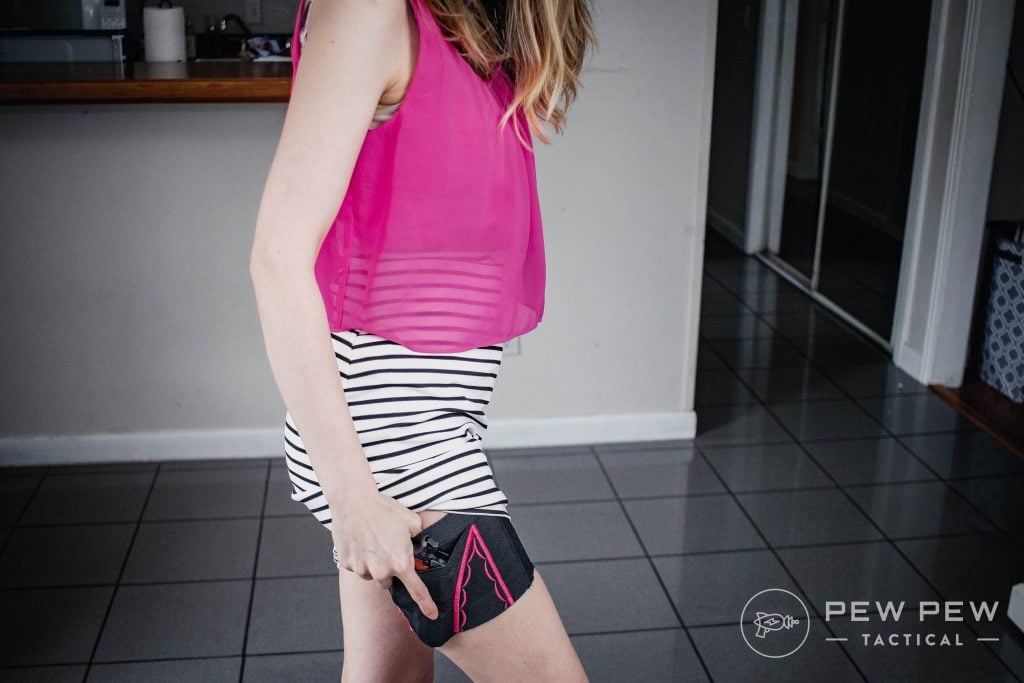 They bring the same durable elastic as the Hip Hugger, and I think it's the best-made thigh rig for ladies out there.
The downside to thigh holsters, in general, is that you can't run and draw your gun at the same time. You have to stop to remove it, so that needs to factor into your CCW plan.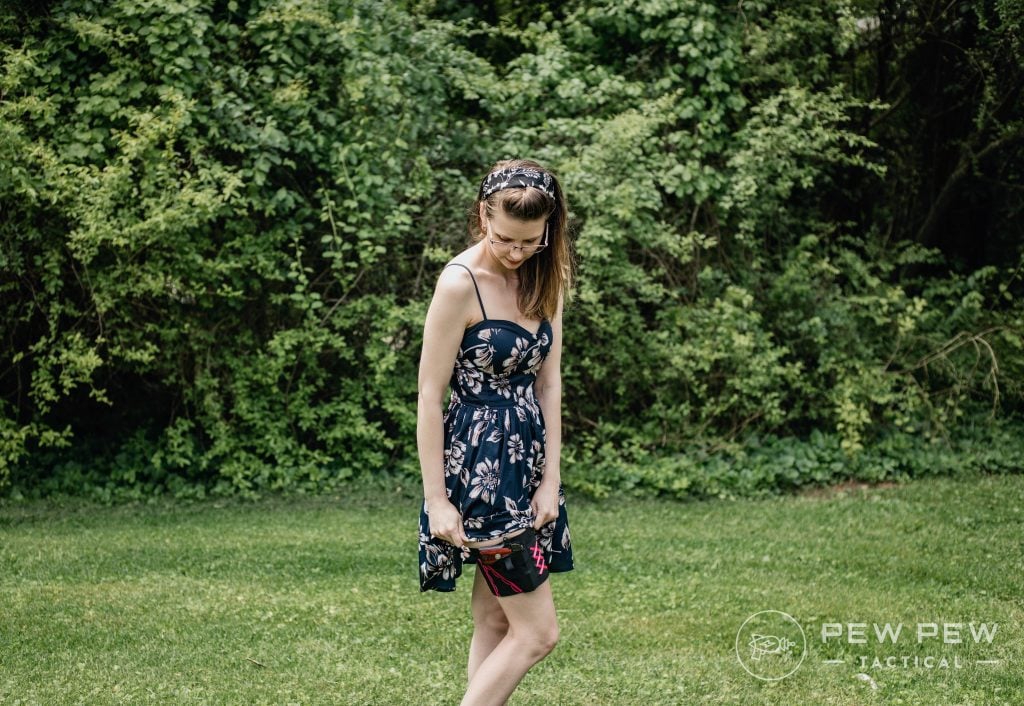 Also, make sure to practice the draw.
Super short dresses or skirts won't work with a thigh holster, so check your outfit out in the mirror before heading out of the house.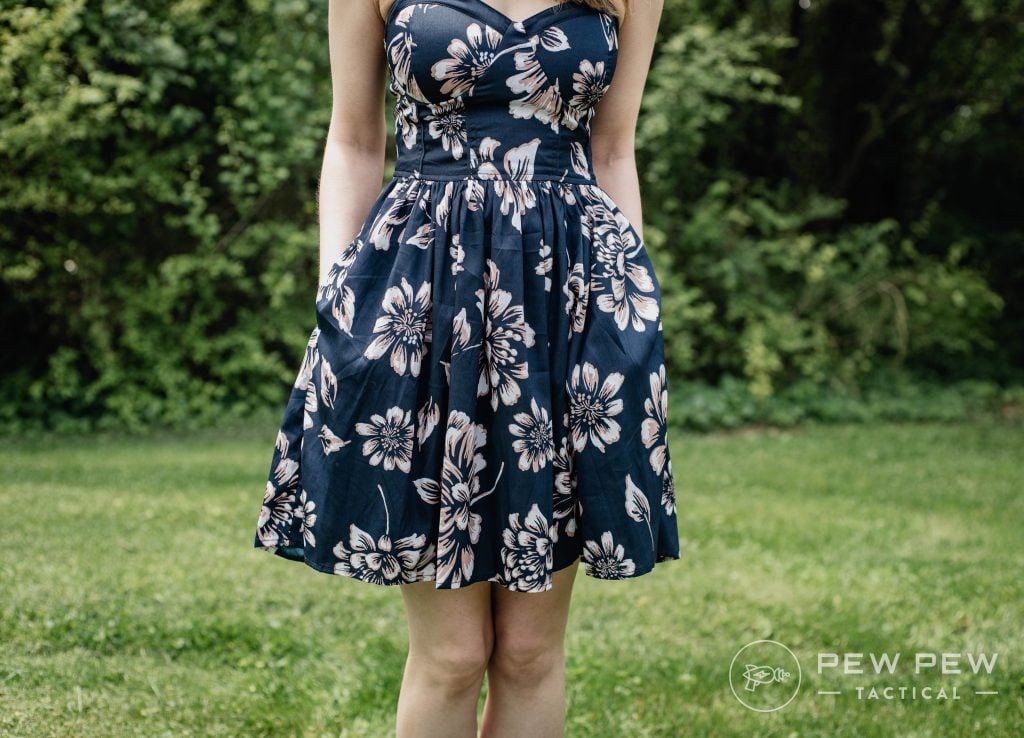 Ankle Holsters
Another method for CCW in a long dress/skirt is to toss a gun on your ankle…in an ankle holster, of course.
This style of holster wraps around the leg and, again, secures to itself. It usually offers at least one firearm pocket, if not a spare pocket for accessories.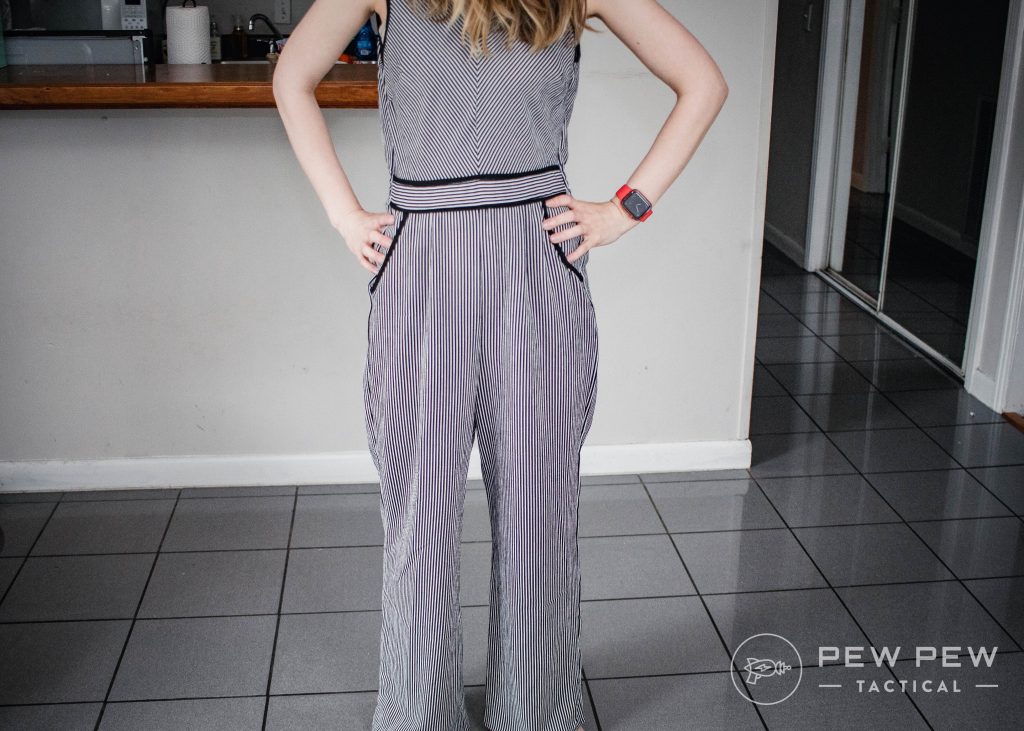 For this style, I find a small gun works best – think pocket pistol or smaller.
I tend to use my Sig Sauer P238 when I carry in this manner as it's small enough to not feel super heavy on my ankle.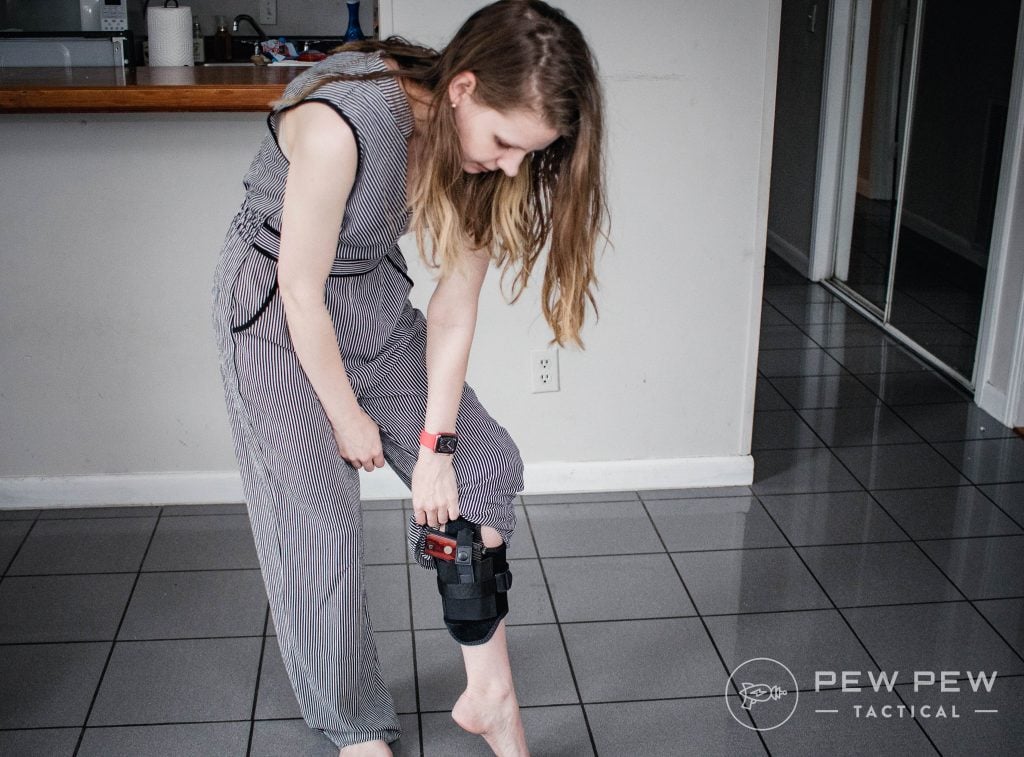 Again, similar to the thigh rig, you'll have to stop to draw, so factor that into your decision-making.
To read more on how to draw from an ankle carry, check out our guide dedicated to…well, Ankle Carry.
Bras, Corsets, & More
So, there are a few options I didn't mention above that are worth discussing. First, there's bra carry. Yes, that's a thing.
Typically it works better in a skirt/blouse scenario as you have to pull the gun down and out of the clamshell to draw.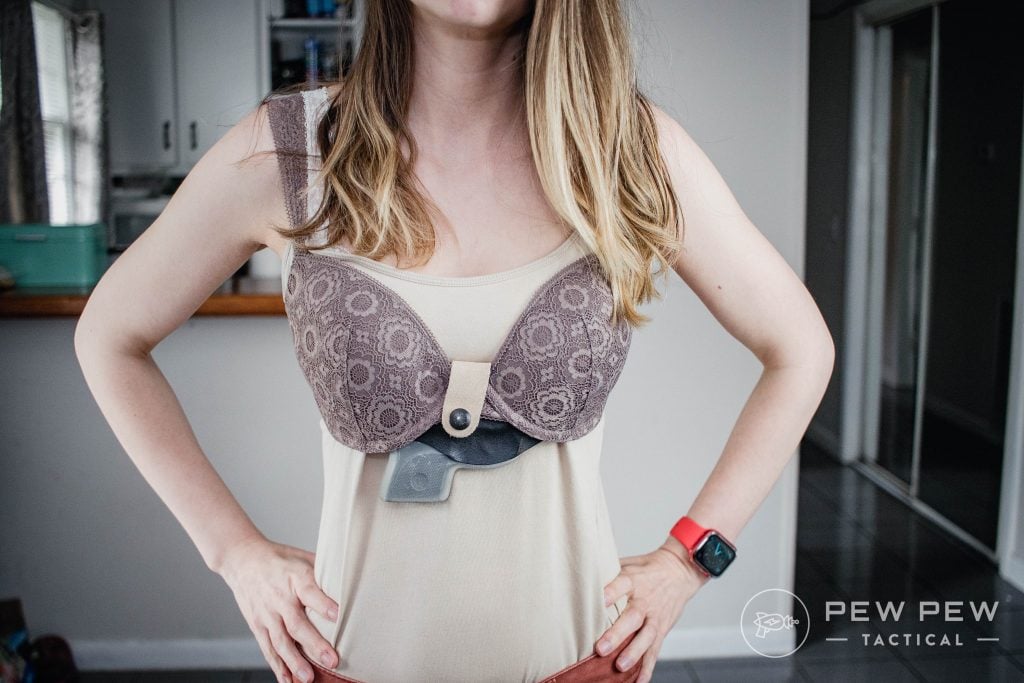 I'll be honest, in all my years of carrying, I've never felt a need to CCW in this manner. I've always been able to make one of the options above work. That said, it's an option.
Note that the gun tucks under the bra and that bras play a big factor in success. Also, be careful when reholstering or drawing to prevent flagging your arm (or others).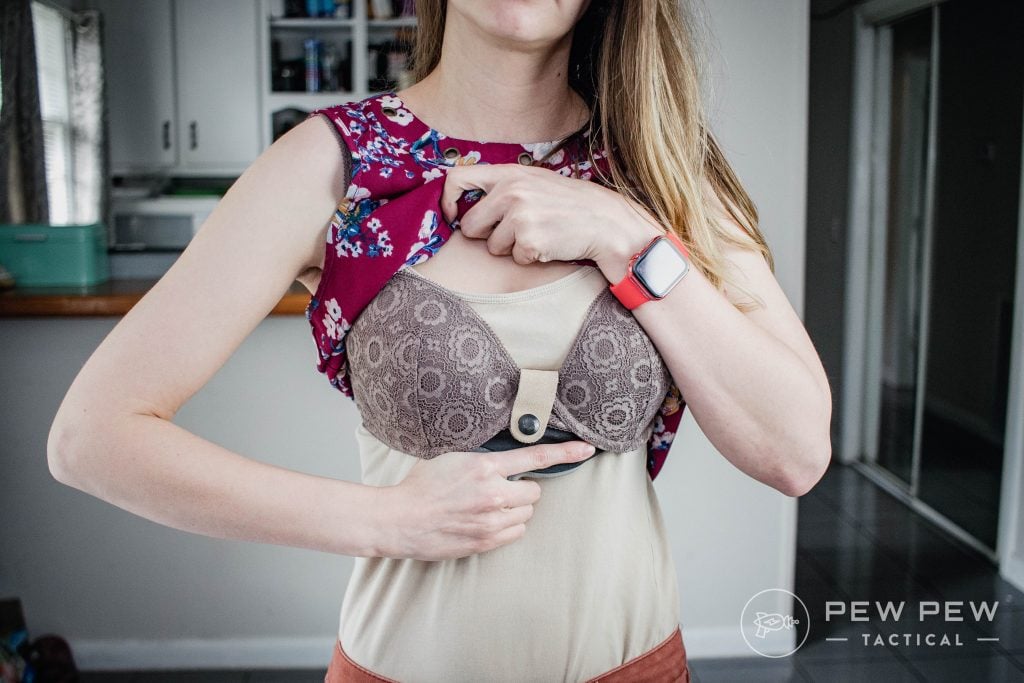 Corsets are another option for skirt carry and act very much like belly bands.
If you choose to go this route, make sure the model you choose has a guarded trigger area to prevent the trigger from being accidentally engaged. (No one likes an ND.)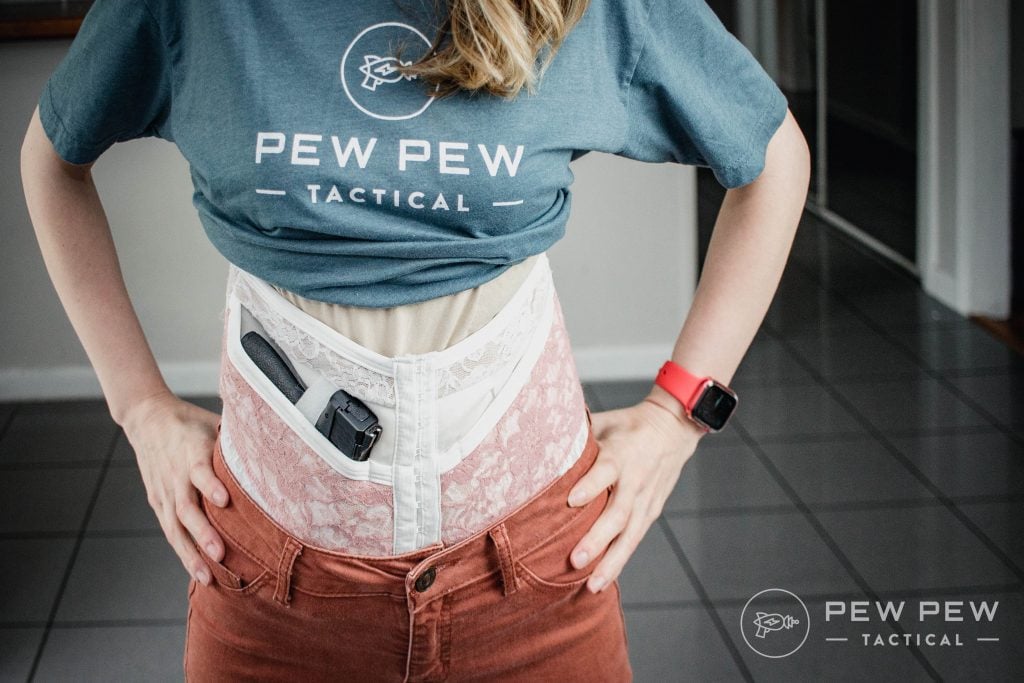 Finally, there are integrated fashion items like the Alexo Athletica Carry Skirt. This is a skirt with a built-in holster.
It's definitely more sporty and probably less suitable for the board room, but it's an option nonetheless.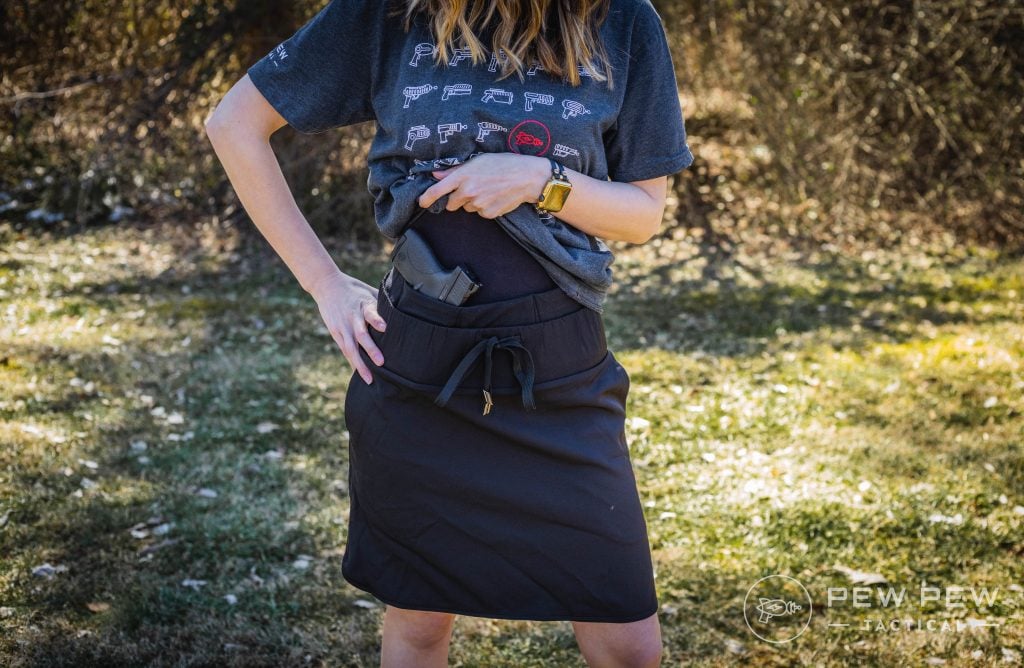 Worth noting that it does not have a trigger guard, but there is a pocket in front of the firearm pocket to easily insert a card or ID to protect the trigger.
What About Purses?
This style of carry seems tempting and easy — just toss the gun in your purse and go.
But I hesitate to recommend it because it's not as easy as it seems.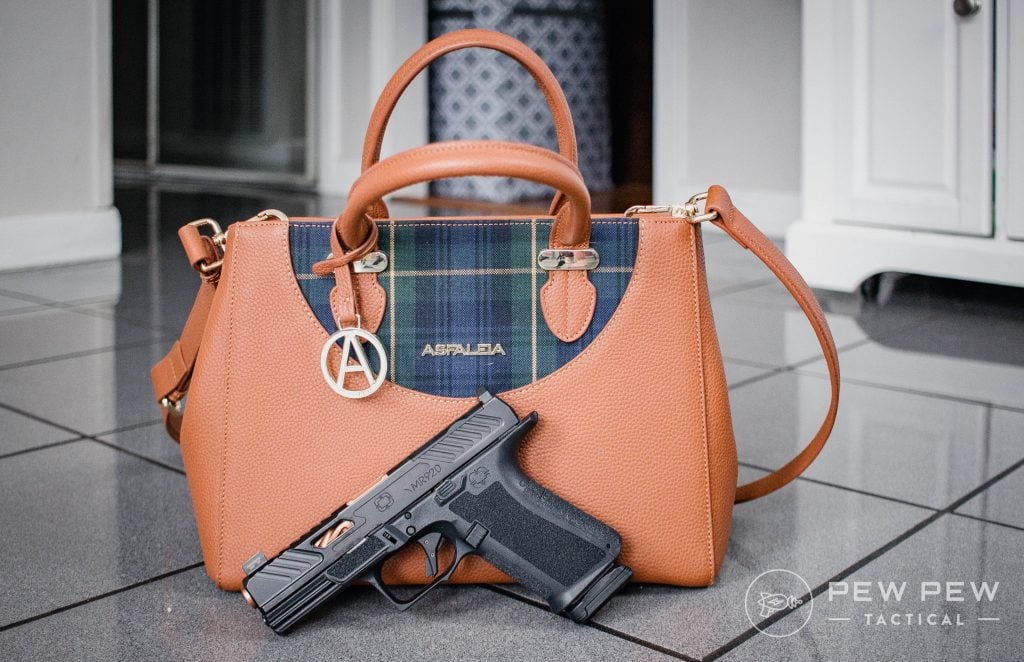 For one, you need a dedicated concealed carry purse with an integrated holster or an area to mount a holster.
Do NOT put your gun in your regular purse. Styles have come a long way since CCW purses first came on the market, and there plenty of cute options.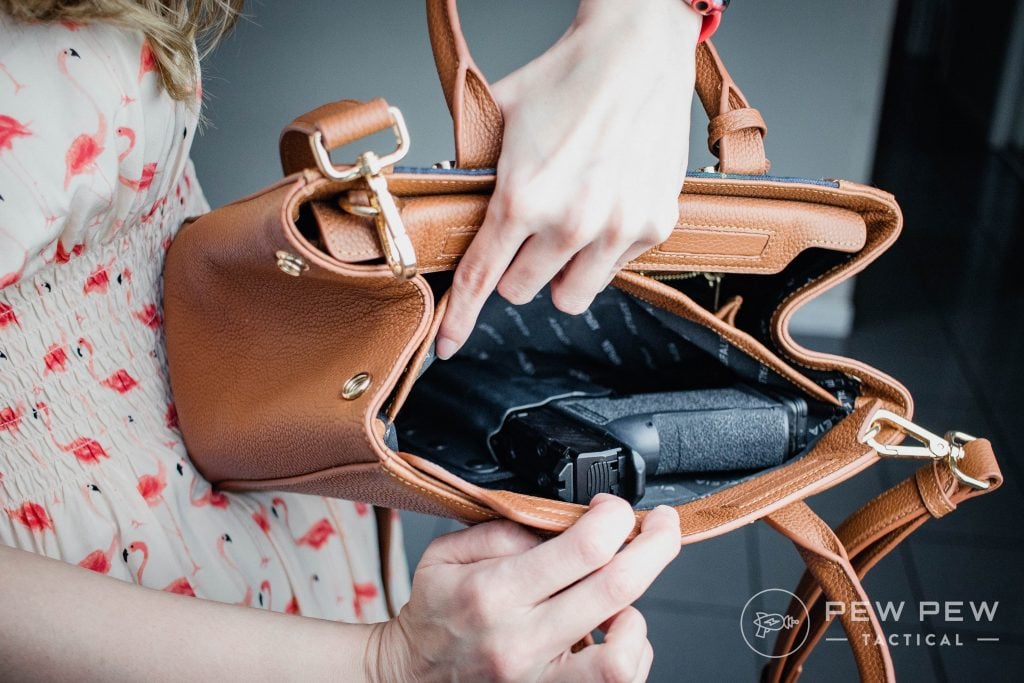 Second, the purse must stay on you at all times. No ifs, ands, buts. You sit down to eat – the purse needs to be on you. You decide to run to the lady's room…purse stays on you.
Sitting the purse on the ground or leaving in at the table means you lose access to your gun. And it opens up the possibility of theft or, worse – roving kids' hands.
Finally, practice your draw. Purses move and swing, so you need to know how to control this to efficiently draw your firearm.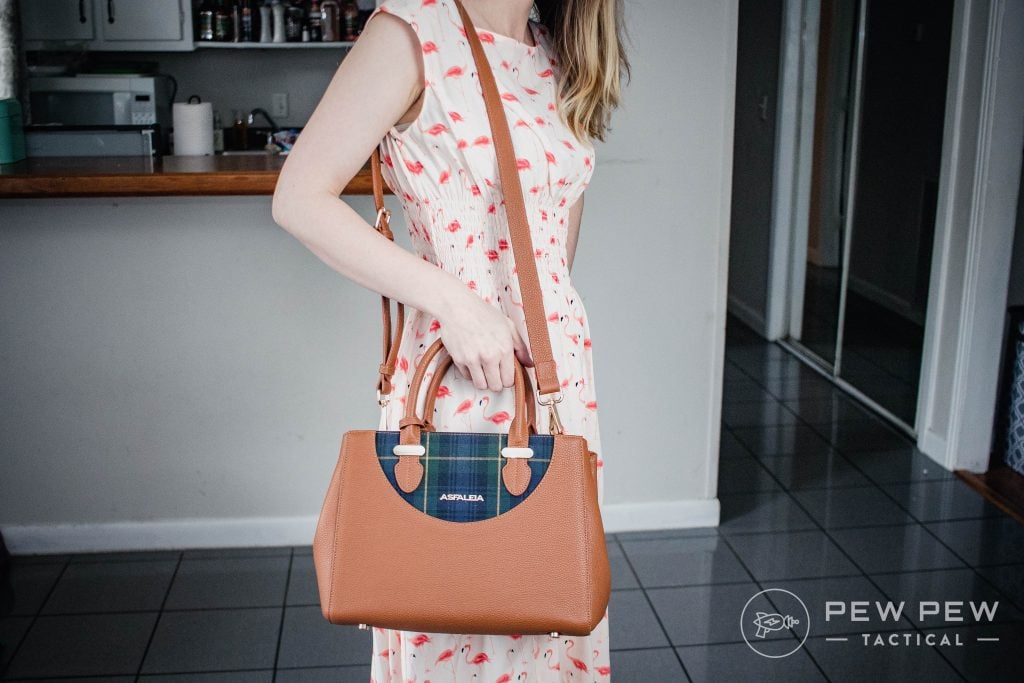 Best Guns for Dress & Skirt Carry
Now that we've talked about how you can carry a gun in a dress or skirt, it's time to look at some guns that tend to do well in this environment.
While I believe in the power of positive thinking and that anything is possible…a Glock G19 in an ankle holster just doesn't cut it.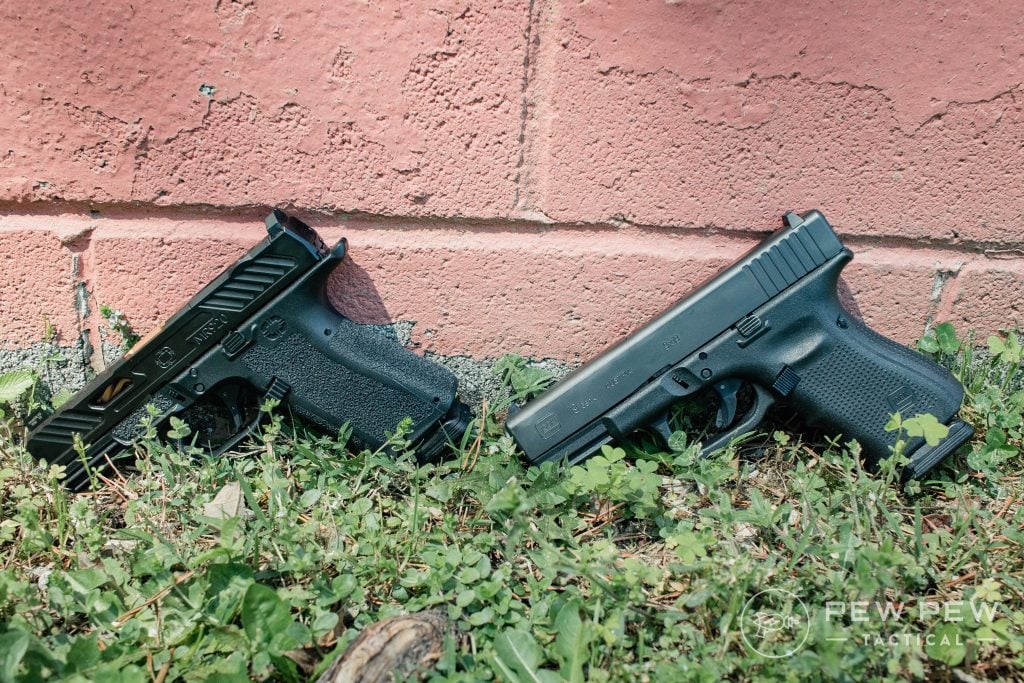 For that reason, I tend to use smaller guns like the Smith & Wesson Shield, Sig Sauer P238, Glock G26, and Ruger LCP II as my go-to options for this style of carry.
But you aren't limited to just these models. The market is flooded with tons of sub-compact and micro guns. Find one that speaks to you! (To get a head start, see our picks for the best handguns for women!)
But, like holsters, it's good to have a few different models available for carry, if you can afford it.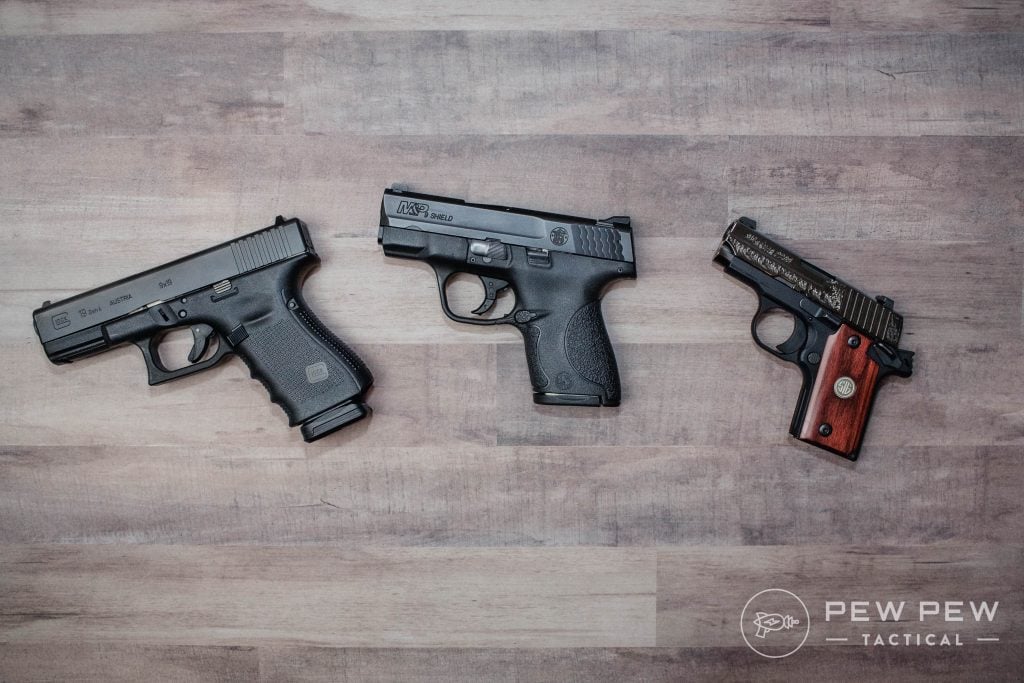 Conclusion
Concealed carry in a dress or skirt doesn't have to be difficult, but it does require some thought and planning.
Whether you opt for a belly band, thigh holster, ankle rig, or purse carry, practice drawing and know the limitations of your preferred carry method.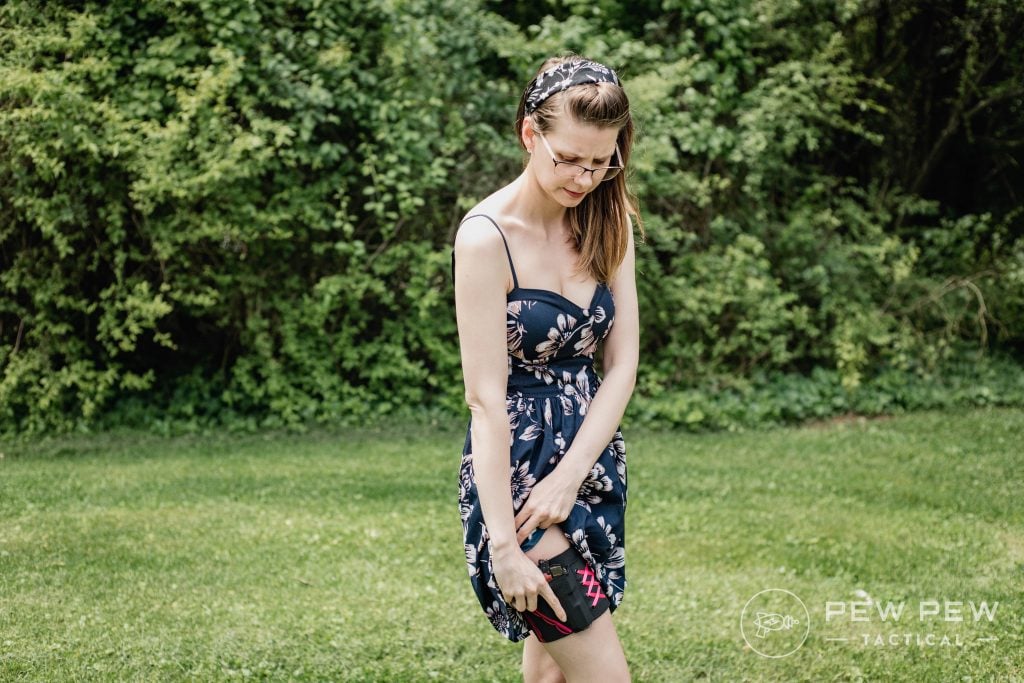 Also, if you can, double up on holsters.
Yes, it's a bit expensive, and I've had to spread out purchases to accommodate a single mom's income.
Still, it's worth it to have options and versatility.
How do you carry in a dress or skirt? Let us know in the comments below! Want to learn more about women's concealed carry? Check out our article on How to Concealed Carry as a Woman.