While "best" is subjective, today we're going to talk about some of the leading night sight brands.We'll also cover the reasons and situations where they particularly excel. But first, let's cover some basics.
A night sight comes in a couple different types…there's the colored glass type and the tritium type, both with their own advantages. Regardless of which type or brand you choose, there are a couple things to consider when buying night sights: durability and visibility.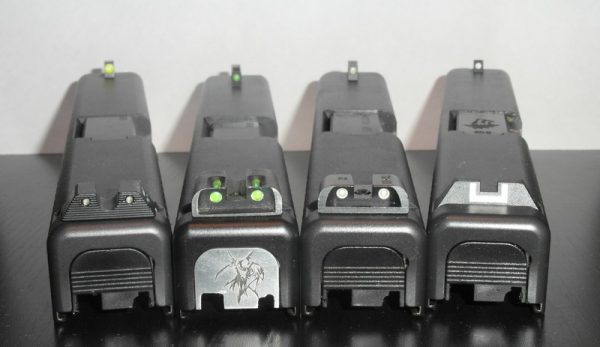 Like most accessories, you get what you pay for. Night sights come in all price ranges. If you're adding night sights to your carry gun, spend the money.
Your life is worth it. But if you just want a sight for plinking at dusk, you can get away with something on the less expensive side.
Best Night Sights
1. Truglo
TRUGLO, if you're interested, makes sights for a wide range of weaponry, including bows, rifles, and shotguns. For this article, though, we are going to talk about their handgun products.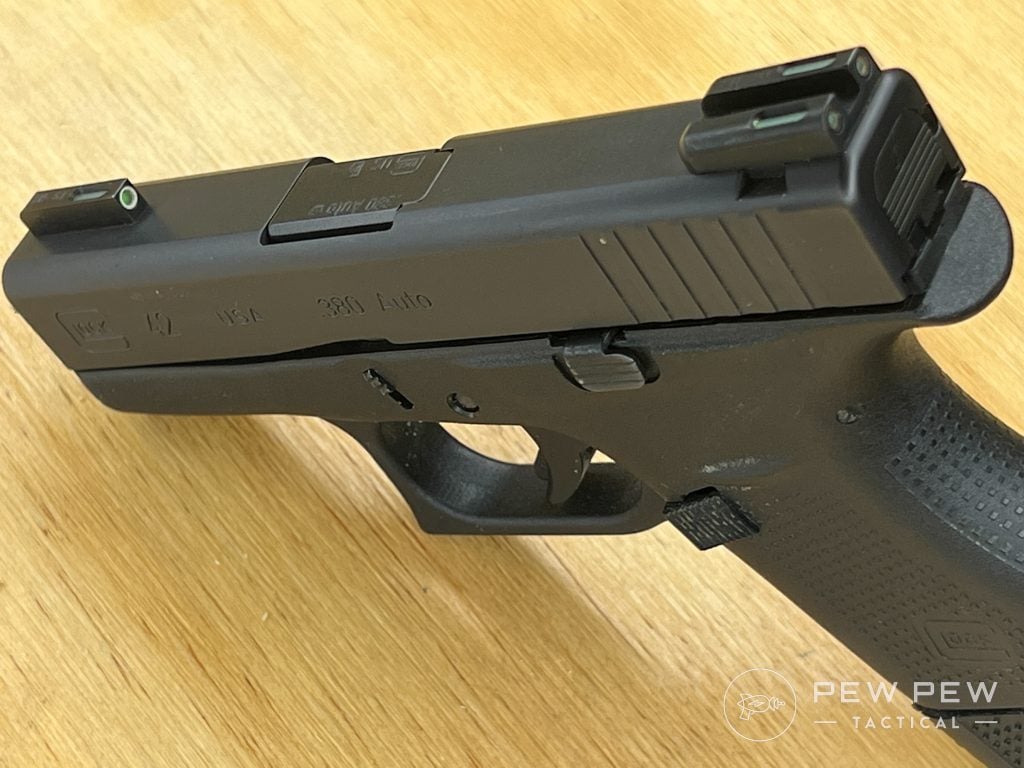 Where TRUGLO excels is their combination Tritium and fiber optic sight. This eliminates the shortfall of the fiber optic sight, which is needing a light source to shine through the sight to illuminate it. When you have your own light source – the tritium – you eliminate this problem.
70
at Amazon
Prices accurate at time of writing
Prices accurate at time of writing
The housing for their fiber optics is also amazingly difficult to break. Breaking your fiber optic sight is a common occurrence, and many manufacturers send replacements in the package.
2. Ameriglo
AmeriGlo sticks to making sights for handguns only and they do it well. Their night sights are available in fiber optic, tritium, and a combination of both.
What I like most about AmeriGlo is that you're not limited to one style sight. Many of the manufacturers on this list only have one or two styles of sights. Most common is the front sight with a single-color dot and a white outline.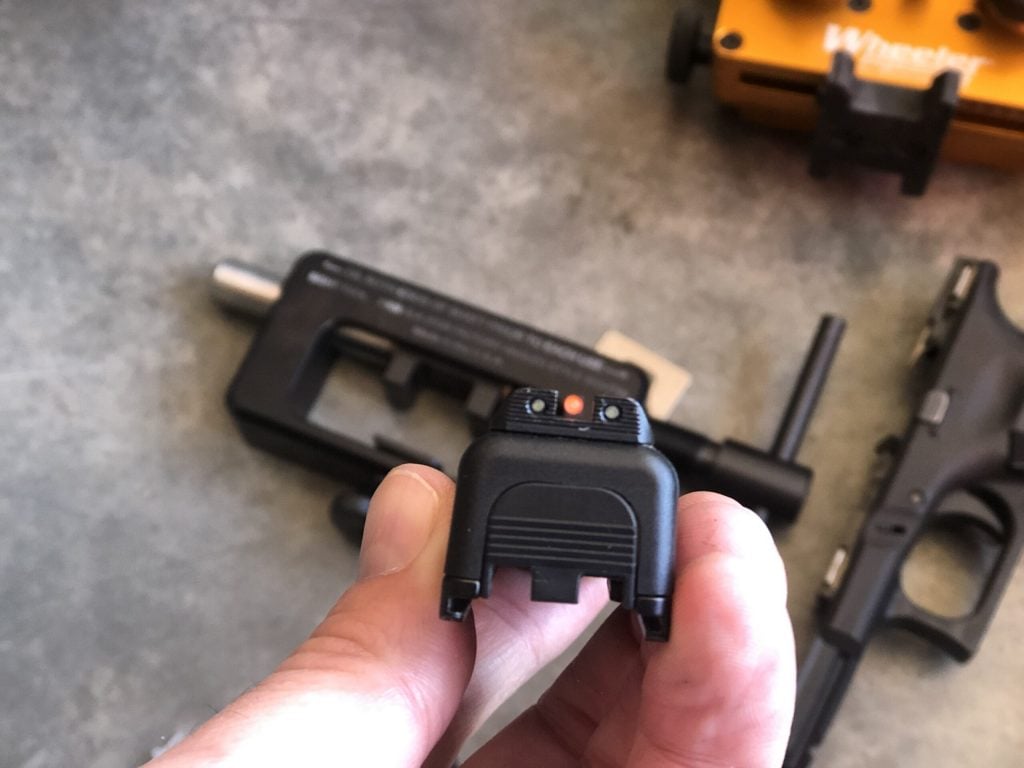 The rear sight has the U shape with the colored dot on either side. There is nothing wrong with that. It works.
However, if you want something different, AmeriGlo has options.
There are 14 for just the Glocks. One of their options that I can't say I see often elsewhere is a ghost ring rear sight and tritium front sight. The rear sight has a dot on either side to help you line everything up so you aren't just guessing where it should be in the ghost sight. 
78
at Amazon
Prices accurate at time of writing
Prices accurate at time of writing
And to be fair, there are more styles available, but they aren't illuminated. I like choices. Even if it's just the option of choosing a different color for my front and rear sights. Use AmeriGlo to get more options than just your standard front and rear night sights.
3. Meprolight
The Meprolight has a night sight they call the FT Bullseye. It's a rear sight only and it doesn't need a front sight at all. Pretty sweet, huh?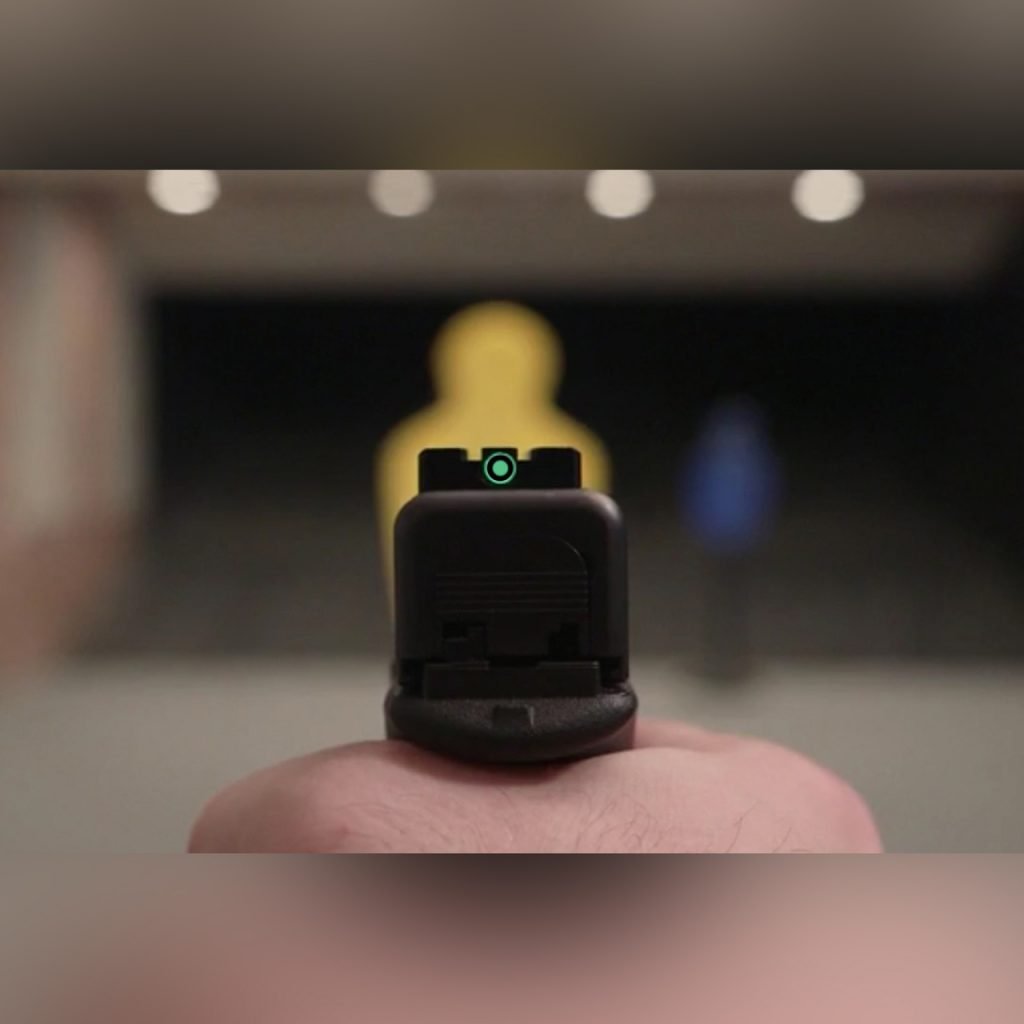 "How does that work?" you might ask.
Well, think of it as if you were adding a reflex sight to your pistol, just low profile and no batteries are needed. It's a combination of tritium and fiber optic, so again, it illuminates itself.
As you aim, you'll see a dot, and when you are on target, you will see a ring around the dot. It's similar to lining up your front and rear sight.
Most Innovative
60
at Amazon
Prices accurate at time of writing
Prices accurate at time of writing
4. XS Sights
Not everyone likes the same style sight. Not everyone feels the way you need to line up some sights is intuitive.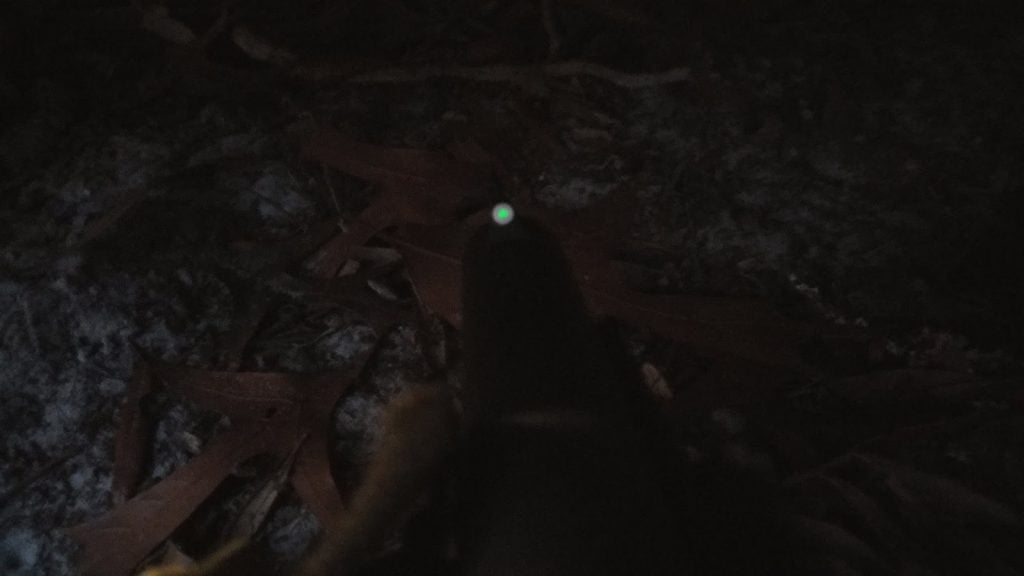 Most sights have you line up the dots leaving the appropriate amount of space on either side and making sure you have it lined up top to bottom as well.
What XS Sights has you do is "Dot the I". Their front sight is a colored dot with a large white ring. The rear sight is a colored line. To take aim on a target, you need to place the white dot on the top of the line on the rear sight. That's it.
When you are shooting from different distances, you can easily estimate where your bullet will impact by using a different point of reference on your sight.
100
at Amazon
Prices accurate at time of writing
Prices accurate at time of writing
When you are shooting from a closer distance, the dot in the front sight is your impact point. When you are farther away than 25 feet, you aim with the top of the front sight.
5. Trijicon
Trijicon is one of those companies that has a history of being in the worst places, but not business-wise or having bad PR. 
What I mean is they are trusted by law enforcement and the military, so they are used in places most of us are lucky enough to never need to experience.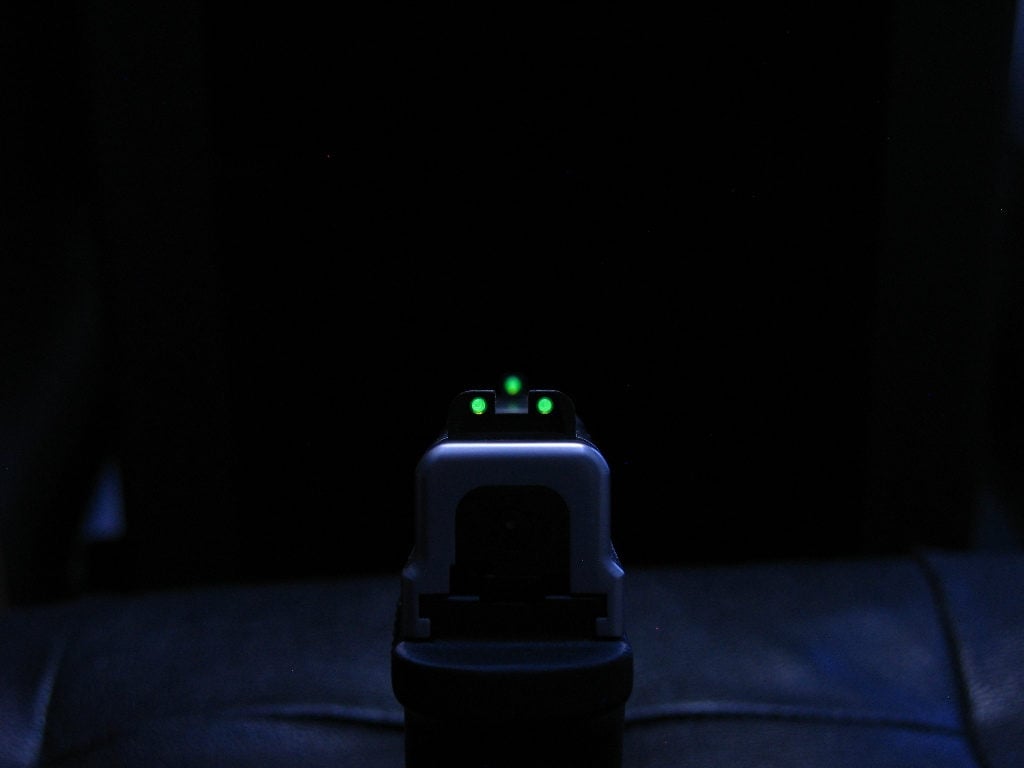 That being said, Trijicon offers a large array of scopes and sights. Their night sight offerings are your standard front blade sight and the U-shaped rear sight.
However, something that stands out, or rather gives you a better field of vision is their front sight. It's thinner but has a large dot and surrounding colored area for easy target acquisition.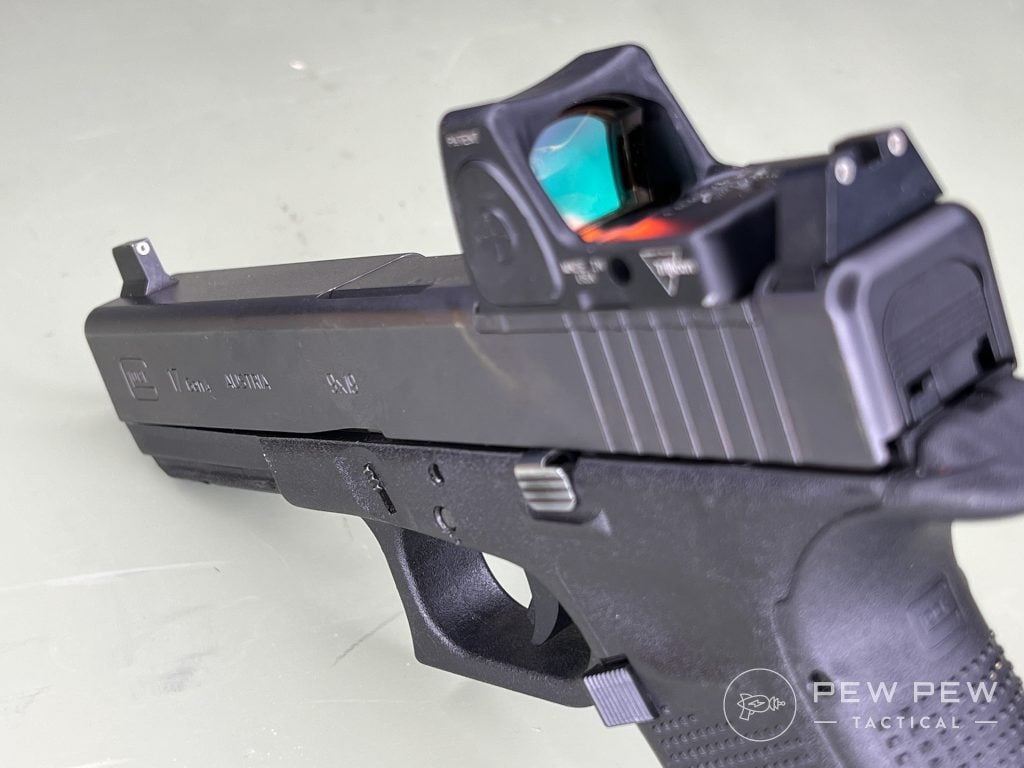 Their iron sights use the glow of tritium surrounded an aluminum casing to make them more rugged.
To cap that off (literally), they use a sapphire cap because it's strong and it distributes the light more evenly. It's the little things like these that make the Trijicon worth looking at.
Most Proven Brand
80
at Amazon
Prices accurate at time of writing
Prices accurate at time of writing
6. Night Fision
There are several companies that utilize tritium to fuel their night sights, but Night Fision claims to have the brightest glow of them all. They do this by using 30% more tritium.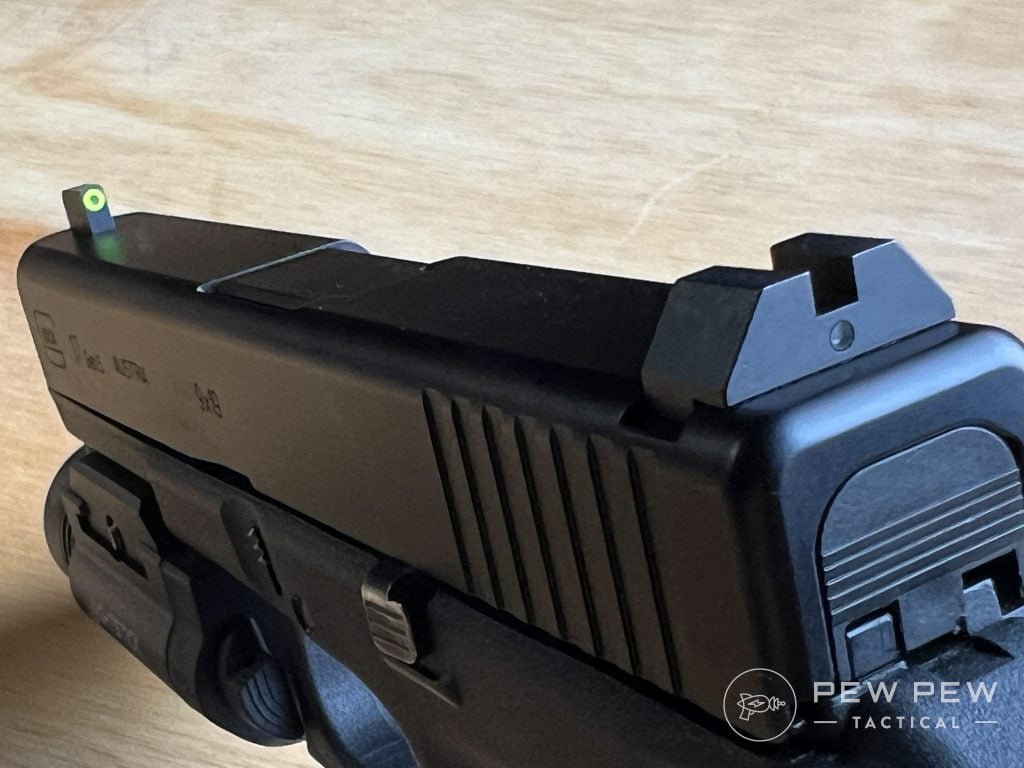 Not only are Night Fision sights bright, they come in a variety of configurations for most popular brands of handguns. They also have a configurator on their website that allows you to select various types of co-witness based upon your gun, optic, and height you want.
In addition, Night Fision makes a variety of tritium illuminated accessories for AR-15s that are worth checking out.
Installing Night Sights
Installing sights is pretty easy if you have the right tools, but the right tools can be a bit of an investment if you're only changing out one set of sights.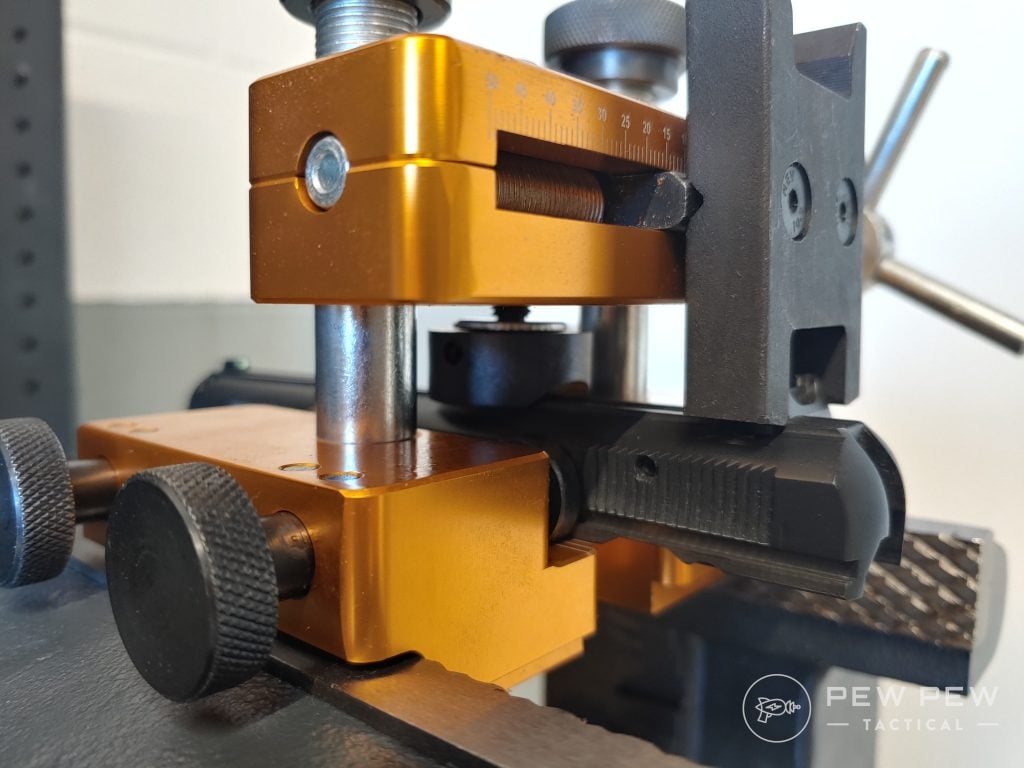 If you have plans on doing multiple sets either to test what you like best or to convert multiple firearms, then a good sight pusher is worth it.
Personally, I like the Wheeler Engineering Sight Pusher. We have a complete review on it and several other sight pushers also!
160
at Amazon
Prices accurate at time of writing
Prices accurate at time of writing
Red Dots
In recent years the popularity of red dot sights have exploded and for good reason. While iron sights and night sights are great, a red dot beats them in every possible way.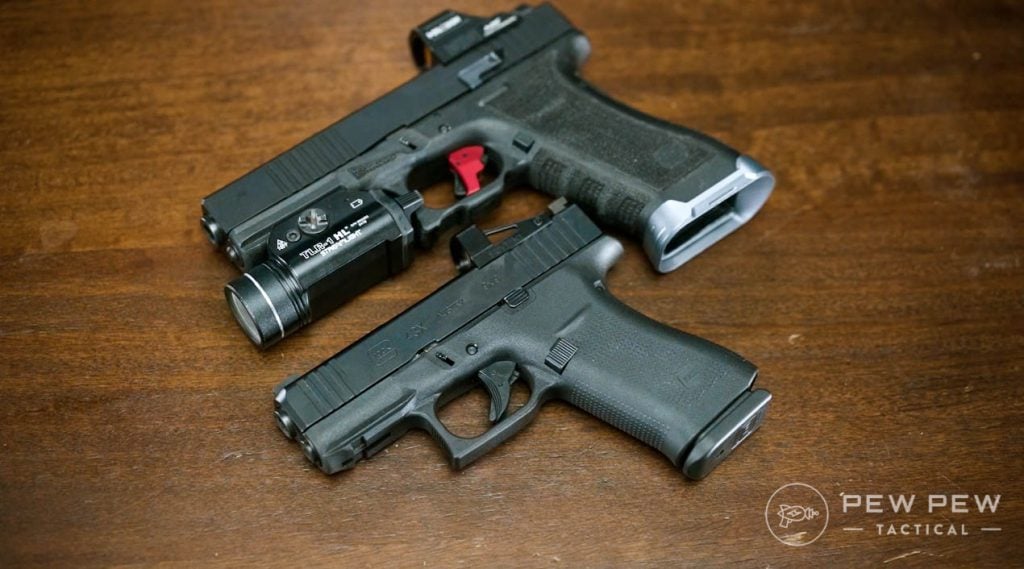 Red dots are bright, always. They are easy to pick up in any lighting, they last for years at a time on each battery charge, and there is never any fear of if your triduum will be bright enough or if there will be enough light for your fiber optic.
The down side is that not every handgun can mount a red dot, a good red dot is not cheap (the red dot on my EDC gun cost more than my first home defense handgun did), and red dots may require retraining with them if you've only shot with irons before.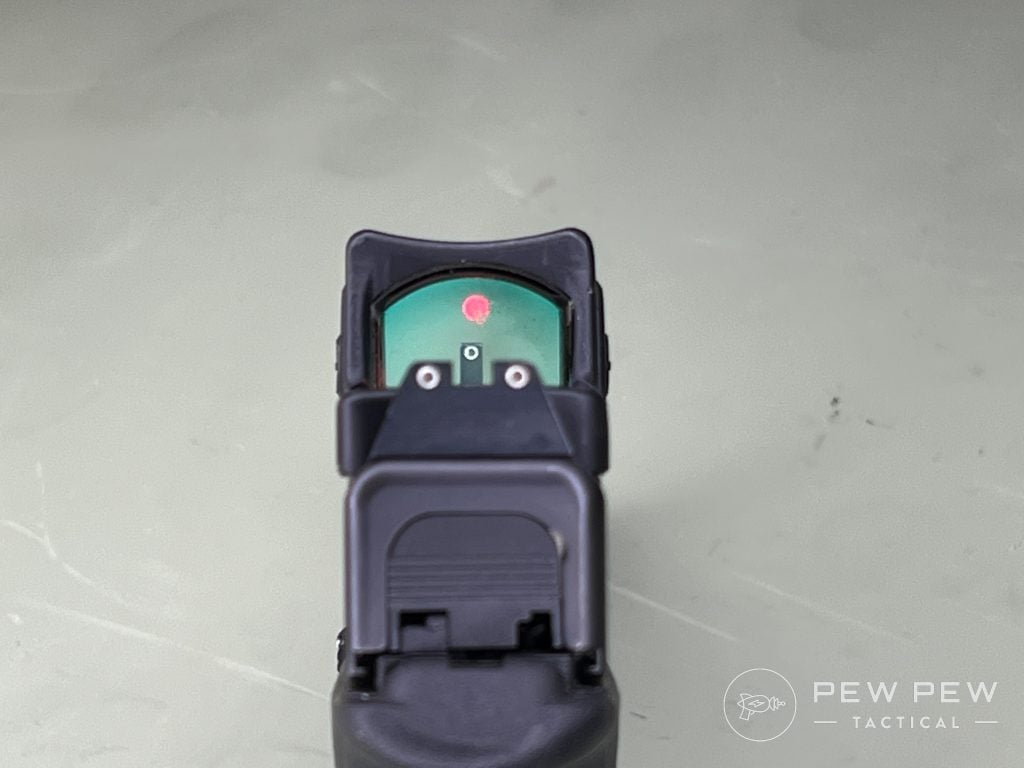 All of that said — you might want to at least consider a red dot, take a look at the Best Pistol Red Dots for a lot more info and recommendations!
Final Thoughts
There are a lot of manufacturers out there making night sights for your handgun. Many of them make low light sights for other weapons too, including your archery needs. The manufacturers all have their unique selling points and features.
When you're going to buy a sight to see better in low light situations, make sure you look at all your options and get what's right for you.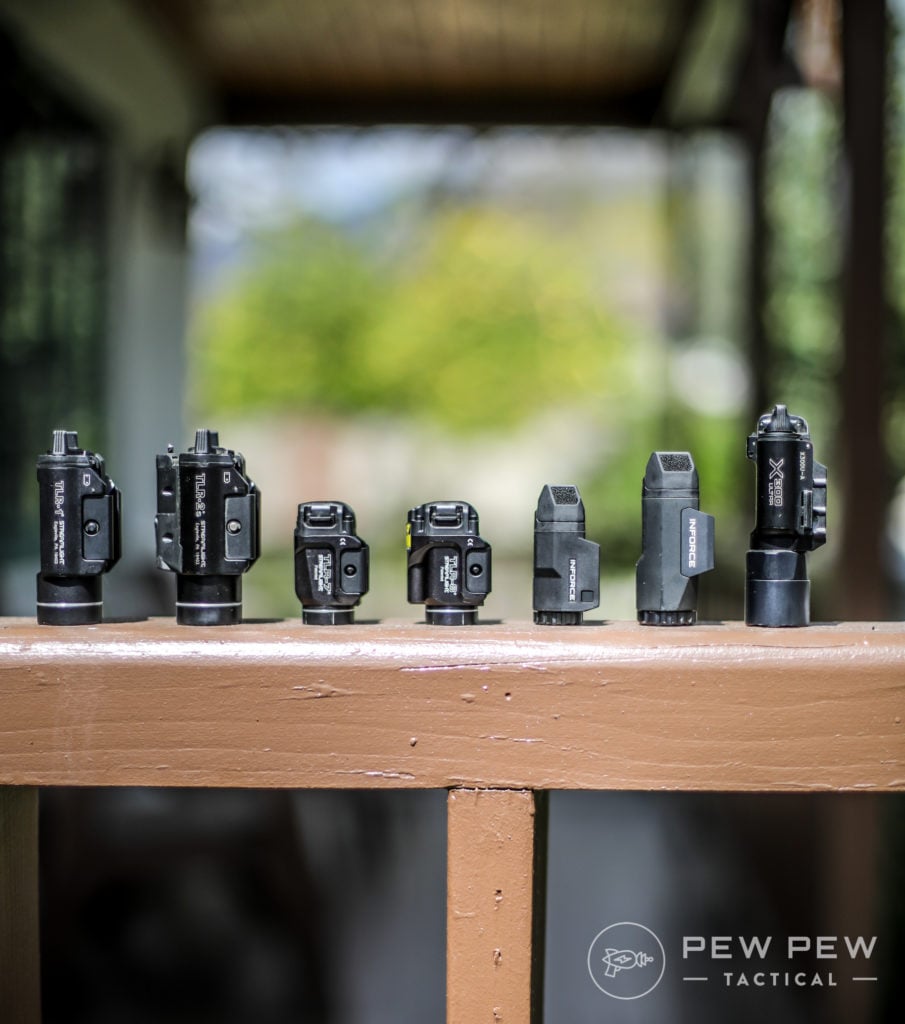 If you've been training with a factory sight and you need to totally change how you aim because of your new sight, that might be an issue.
Alternatively, if you can't hit the broad side of a barn with your current sights, you can look into some of these that offer a way to acquire your target more easily It's all about you and what you need.
Do you have a preference when it comes to night sights for your handgun? Fiber or tritium, a specific color? Give us your two cents below and check out Why You Need Night Sights On Your Carry Gun for more info!