The optics market is booming right now, and there is so much innovation and development happening across the board.
One area that is seeing new products is enclosed pistol sights, and that has some of us excited.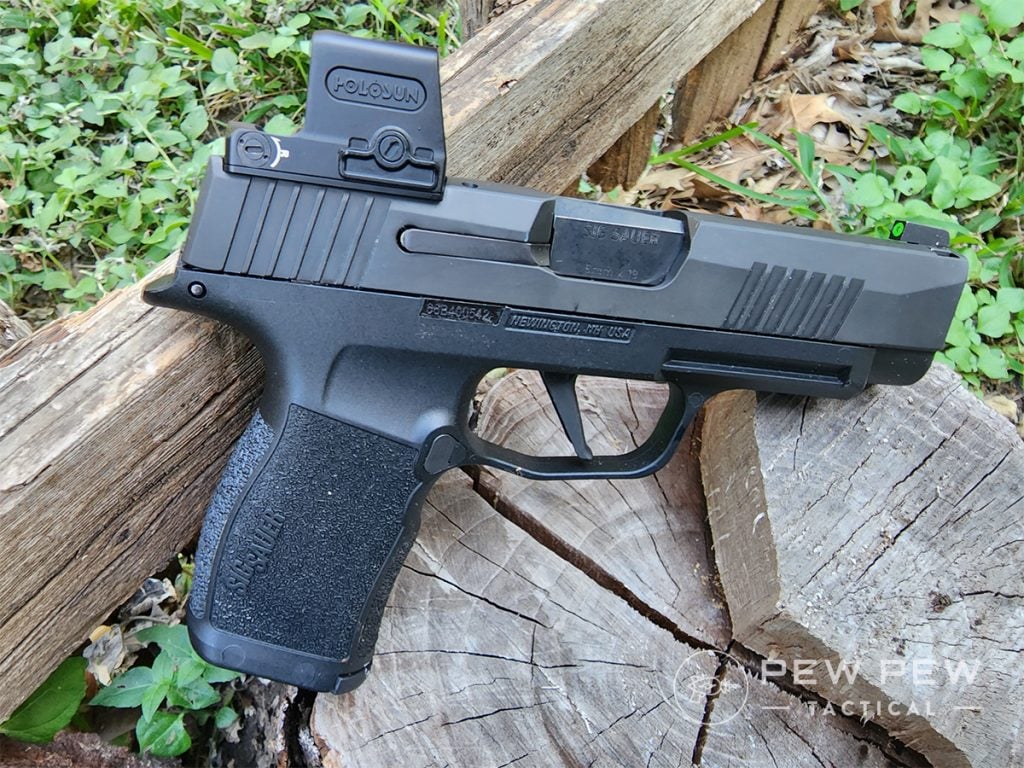 Their new EPS Carry is a reflex sight that opens the door for people who carry micro-compact guns to experience the world of enclosed emitter sights.
So what are enclosed pistol sights? What makes them special, and why would want one? We are going to take a deeper look at the EPS Carry to answer those questions and see if it lives up to the hype.
Table of Contents
Loading...
Background
Until recently, the Aimpoint ACRO was the only true enclosed emitter pistol sight on the market. Holosun saw the opportunity to challenge that sector by introducing their Enclosed Pistol Sight, or EPS.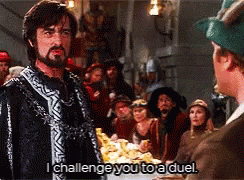 However, like the ACRO, the regular EPS was sized for standard-sized pistols like your Glock 19, Sig P320, Walther PDP, and other similar guns.
With micro-compact pistols like the Sig P365 and Springfield Hellcat becoming increasingly popular, many folks wrote off the idea of being able to use an enclosed sight on their everyday carry guns.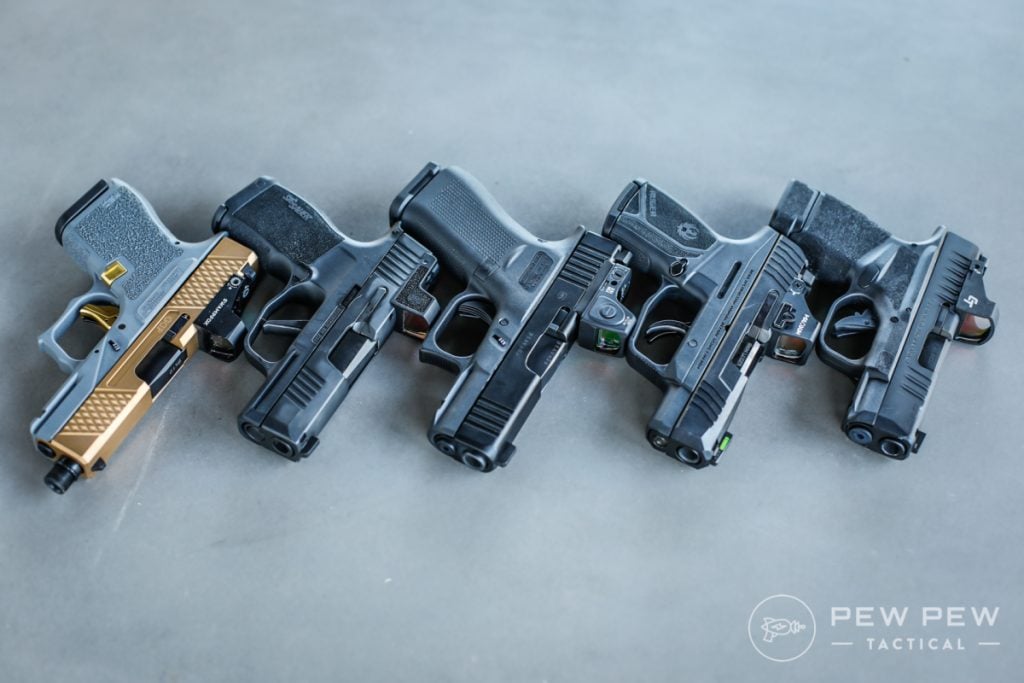 Holosun developed the EPS Carry to closely mimic their full-sized EPS while allowing it to fit relatively flush with micro-compact pistols. It utilizes Holosun's "K" footprint, which it shares with the Shield RMSc and Sig Romeo Zero.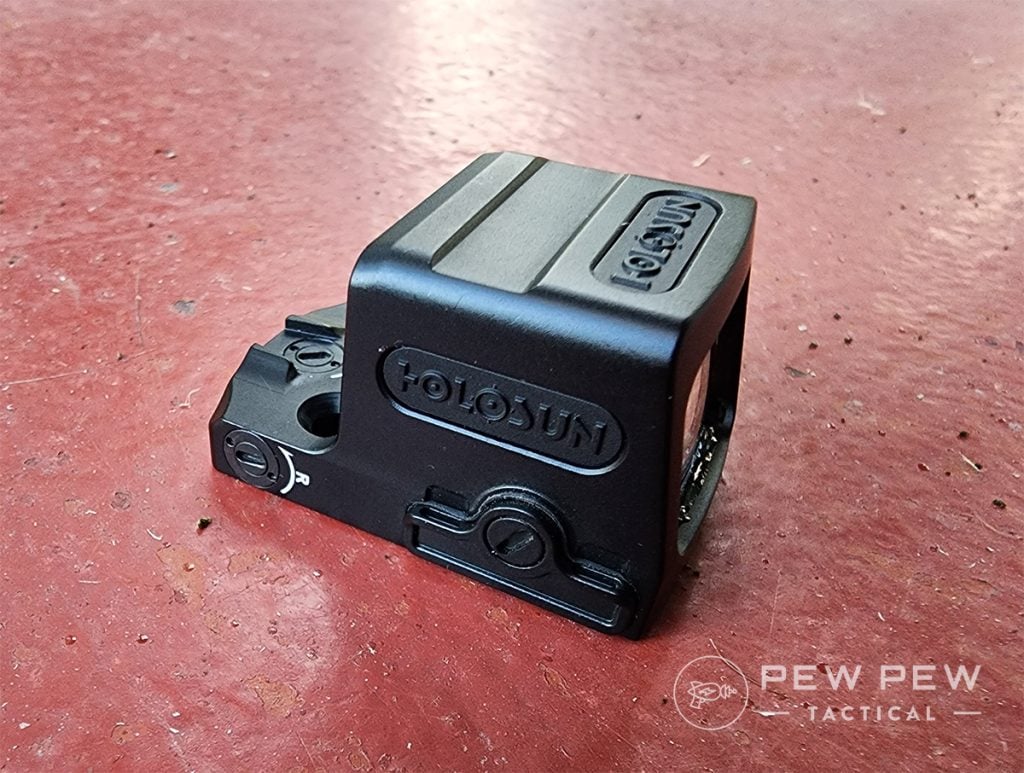 Being able to have a dot on your concealed carry gun that is extremely similar in size and function to the one on your duty gun is nice.
This means if you are running the EPS and EPS Carry on two different guns, the training time when switching between the two will be minimal.
Why Would You Want an Enclosed Red Dot?
You may be asking why a pistol sight needs to be enclosed, and that is a valid question.
The main upside to keeping the sight enclosed is that no debris, like mud, dust, or dirt, can get in front of the emitter and prevent the dot from being visible.
Is everyone going to be diving into the mud and the blood and needing a hardcore duty sight?
Absolutely not, and Holosun knows this, which is why they offer standard open-backed sights like the 507K with virtually identical specs for less money.
Best Micro Pistol Red Dot
295
at OpticsPlanet
Prices accurate at time of writing
Prices accurate at time of writing
However, even if you aren't expecting a hostile environment for your firearm, it can still be nice.
My P365XL isn't always my go-to carry gun, and it often finds itself sitting in a holster in a drawer or on a nightstand. It's Texas; my fan is always on, and everything gets dusty.
Trying to get a cloth or t-shirt onto the back of the lens on a normal pistol dot can be an annoyance — you can't get the corners, or you end up with fingerprints and smudges. Wiping off an exterior lens is definitely easier.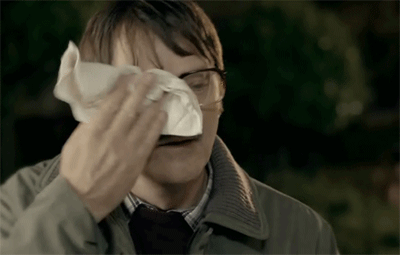 Aside from price, the typical downside would be losing clarity by having to look through two pieces of glass instead of one.
The good news is the EPS Carry has very clear and crisp glass, eliminating that issue.
Holosun EPS Specs & Features
Currently, there are six models:
2 MOA red dot – No solar failsafe
2 MOA green dot – No solar failsafe
6 MOA red dot – No solar failsafe
6 MOA green dot – No solar failsafe
Multiple Reticle System red – Includes solar failsafe
Multiple Reticle System green – Includes solar failsafe
Like most of Holosun's offerings, the EPS Carry has a few different versions available. Prices typically range from around $330 to $430.
329
at Primary Arms
Prices accurate at time of writing
Prices accurate at time of writing
Buyers can choose between the smaller, more precise 2 MOA dot or the larger, faster 6 MOA dot.
Also available is the Multiple Reticle System (MRS), which has a 2 MOA dot surrounded by a 32 MOA ring. The MRS allows you to switch the reticle and choose the dot and the ring, the dot only, or the ring only.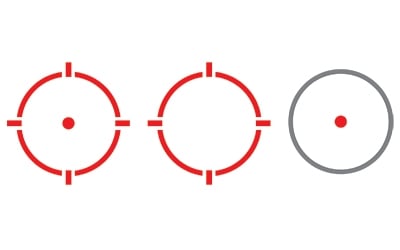 As with many of Holosun's products, the EPS boasts a whopping 50,000-hour battery life on a single CR1620 battery that is accessible from the side.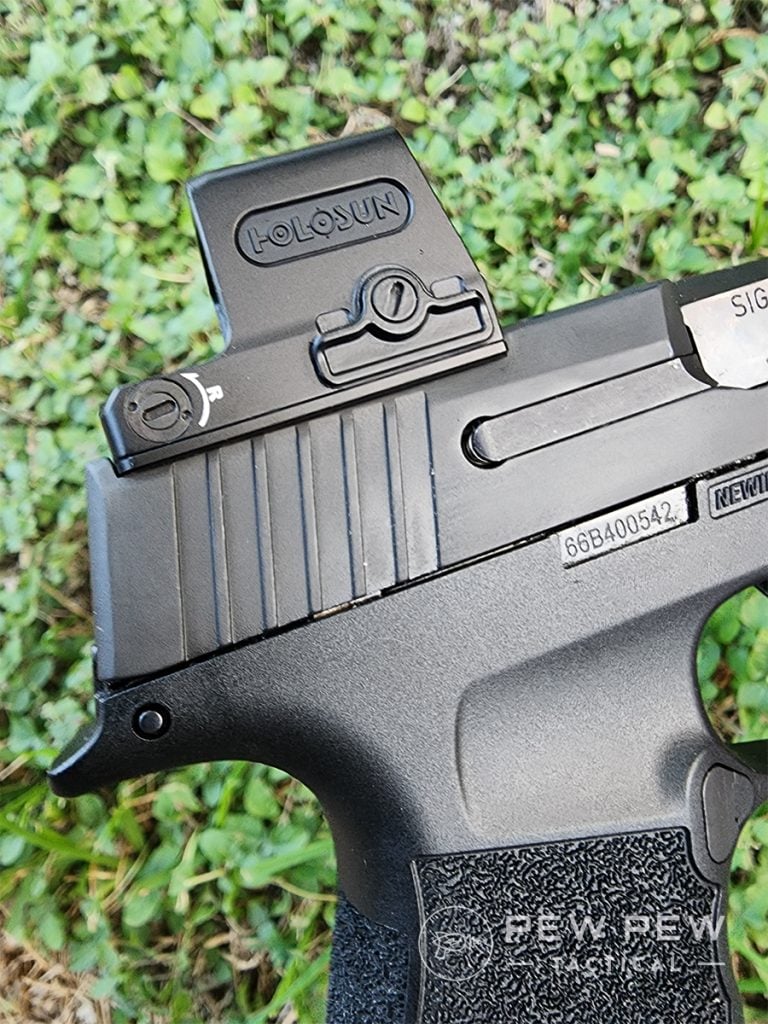 This battery life is backed up by my favorite feature, the shake-awake technology.
This automatically detects movement and instantly turns the sight on back to its last setting. It will also automatically turn off after a few minutes of no activity.
I love this feature because it lets you quickly have your gun ready without having to fish for a button in the middle of the night if it's on a nightstand or in a drawer. It also saves me from having to buy my 7th battery because I forgot to turn my dot off after the range yet again.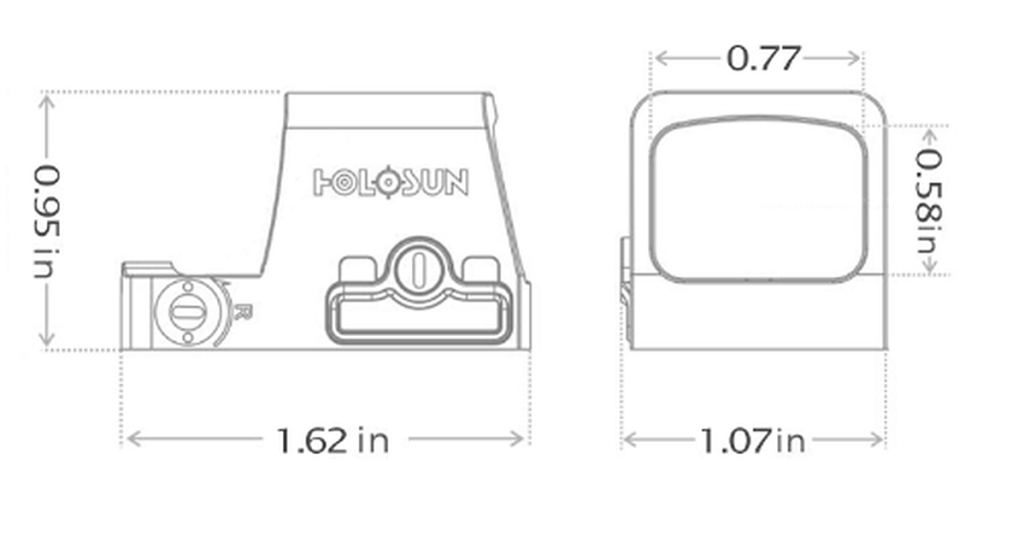 MRS models also include a small solar panel on the top of the sight that acts as a failsafe in case the battery dies or malfunctions. Having both the MRS and the solar failsafe will add about $50-100 to the price of the base model.
There are 8 daylight brightness settings and 4 night vision settings. The housing is 7075 T6 aluminum, and the sight weighs a feathery 1 ounce. Adjustment per click is 1.5 MOA.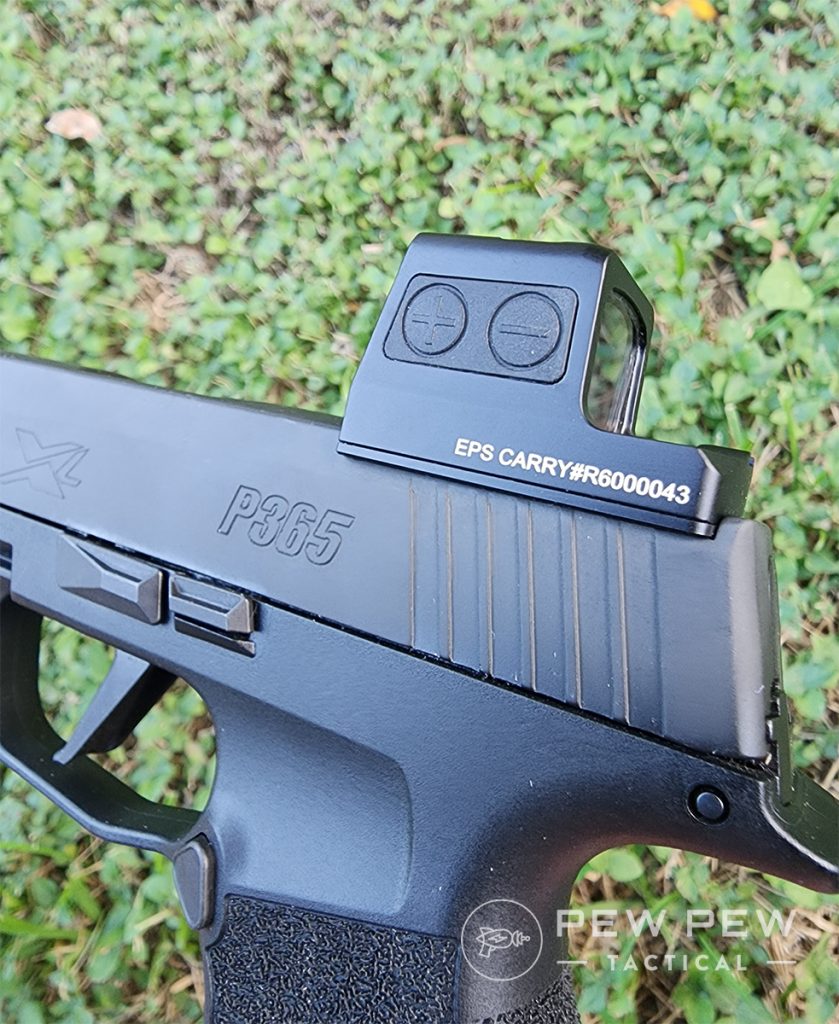 Large buttons on the left side make adjusting the brightness and other settings both easy and tactile.
Performance at the Range
I was able to get my mitts on the 6 MOA red dot version, so I slapped it on my Sig P365XL and took it out for a spin.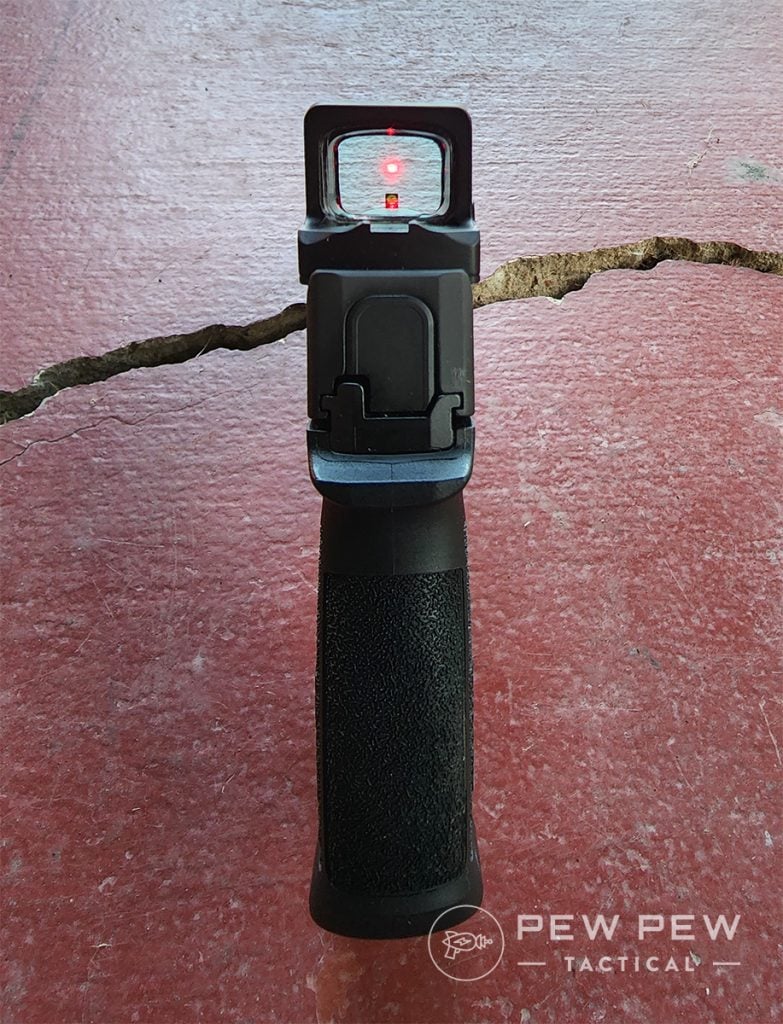 Holosun provides a quality aluminum mounting plate, three sets of screws with pre-applied Loctite, and a good-fitting wrench. Installation was a breeze and took less than five minutes.
Once at the range, adjustments with the included tool were easy. After about three minutes, I had the sight dialed in where I wanted it.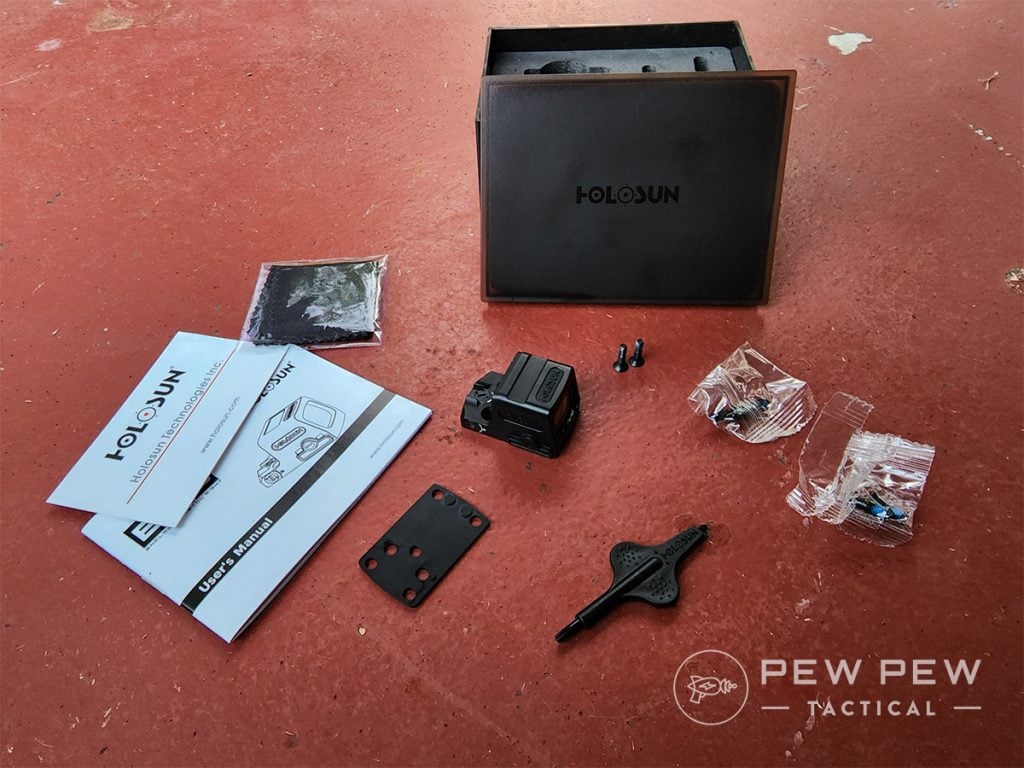 Acquiring the 6 MOA dot was fast and easy, and I found that the larger dot didn't hinder my accuracy too much at lower brightness settings.
Below are my first two groups after sighting the EPS Carry in with Fiocchi Shooting Dynamics 115gr FMJ — one at 7 yards and one at 12 yards.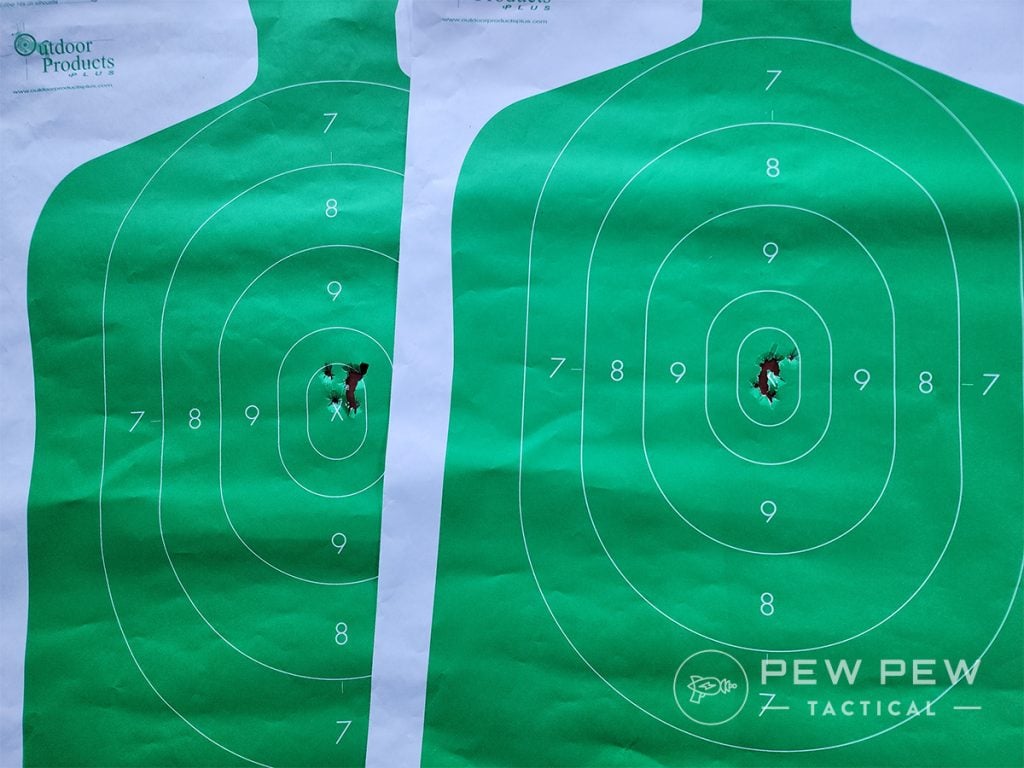 The glass was crisp, and the sight held zero after 250 rounds. It is a lower round count, but I fully expect the EPS Carry to hold up as well as its larger brethren, and I don't foresee any durability issues here.
I had some initial worries about looking through two lenses on a sight this small, but my fears were quickly washed away by how clear and easy it was to shoot.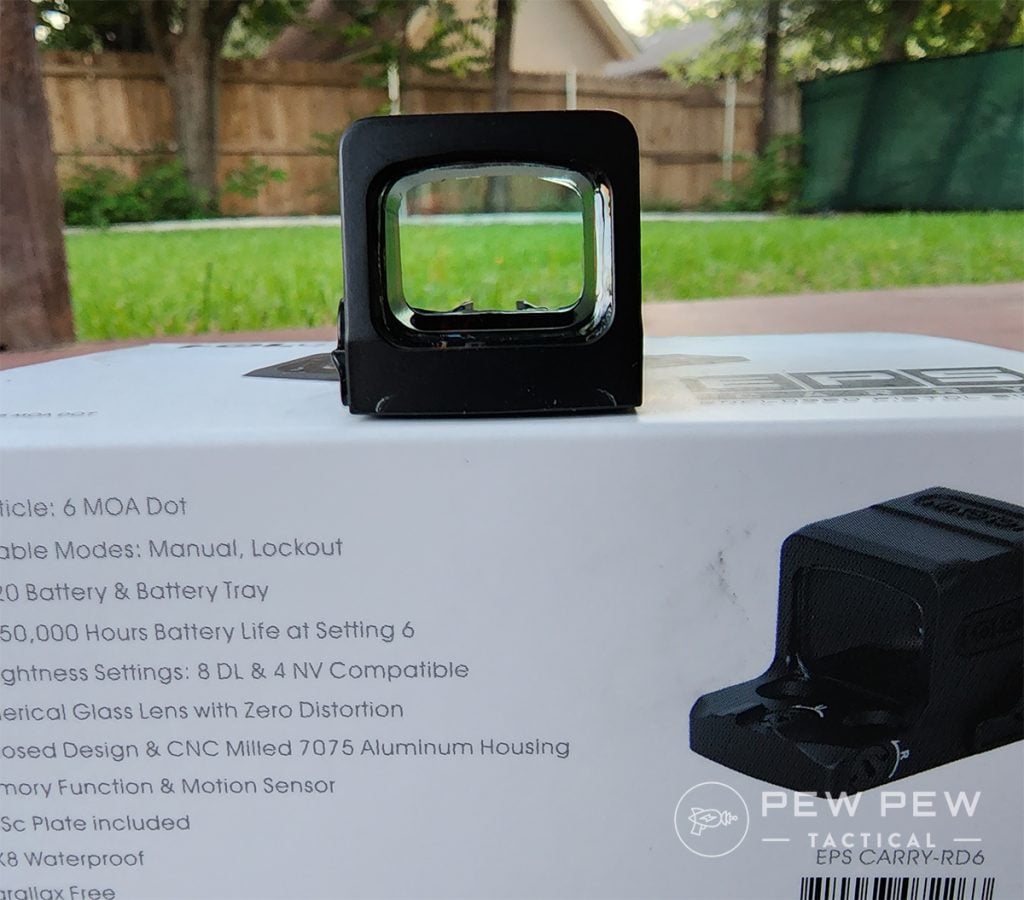 My P365XL was previously hosting a Sig Romeo Zero with the metal shroud, and I can say with the utmost confidence that the EPS Carry is worth the extra money over the Romeo Zero.
By the Numbers
Reliability: 5/5
So far, so good. I was dismounting the sight and accidentally dropped it onto the hardwood floor right on the corner, and it exhibited no damage. Everything was right where it was supposed to be after remounting it. It has held up well to daily carry use over the past month and a half.
Ergonomics: 5/5
The EPS is well thought out and easy to use. The left side buttons are tactile and easy to depress, and the right side battery compartment is easily accessible.
Looks: 4/5
I wish they would have left the Holosun logo off of the right side for a sleeker look. Boxier optics on a smaller gun do look a bit off to me, but that is a minor gripe, and I feel that the P365XL wears it well, despite my thoughts.
Value: 4/5
Value is the name of the game for Holosun. The EPS Carry comes in at around $330 to $430, depending on the model. While I think this is still a great value, it is really up to the user to decide if the enclosed emitter is worth the extra money over a Holosun 507K, which has all of the other same features.
Overall: 4.5/5
If you want an enclosed emitter sight for your micro-compact, the EPS Carry is the only game in town. Even if it weren't, it would probably still be top dog.
329
at Primary Arms
Prices accurate at time of writing
Prices accurate at time of writing
Final Thoughts
Enclosed pistol sights are starting to catch on. The Aimpoint ACRO did it first for regular pistols, but Holosun did it first for micro-compacts.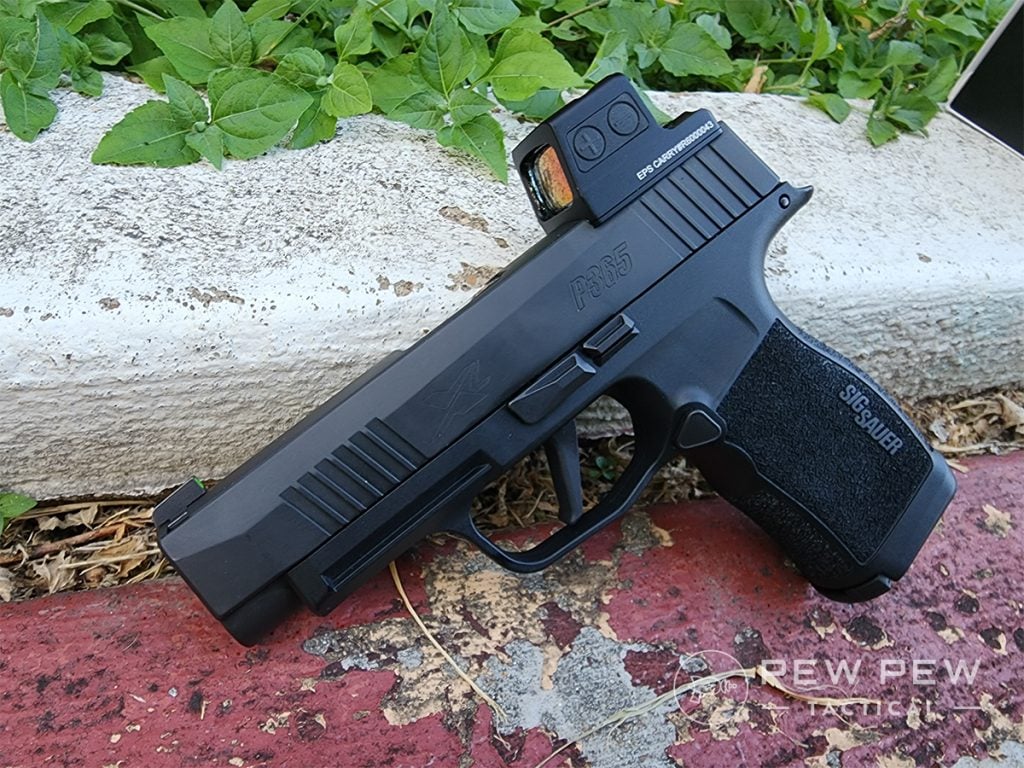 Extreme battery life, shake-awake technology, clarity, and plenty of reticle options make the EPS Carry an absolute winner for those looking for a durable, low-maintenance pistol optic.
Do you have experience with the EPS Carry or other enclosed pistol dots? Let us know what you think in the comments below! Have a bigger gun and need a slightly bigger dot? Check out our hands-on review of the 11 Best Pistol Red Dot Sights!