Polymer frame pistols are some of the most popular handguns on the market.
Over the last 50 years, these "plastic guns" have become a favorite with law enforcement agencies, our friends in the armed forces, and the everyday carry crowd.
Even the naysayers and gun purists are slowly coming around to them!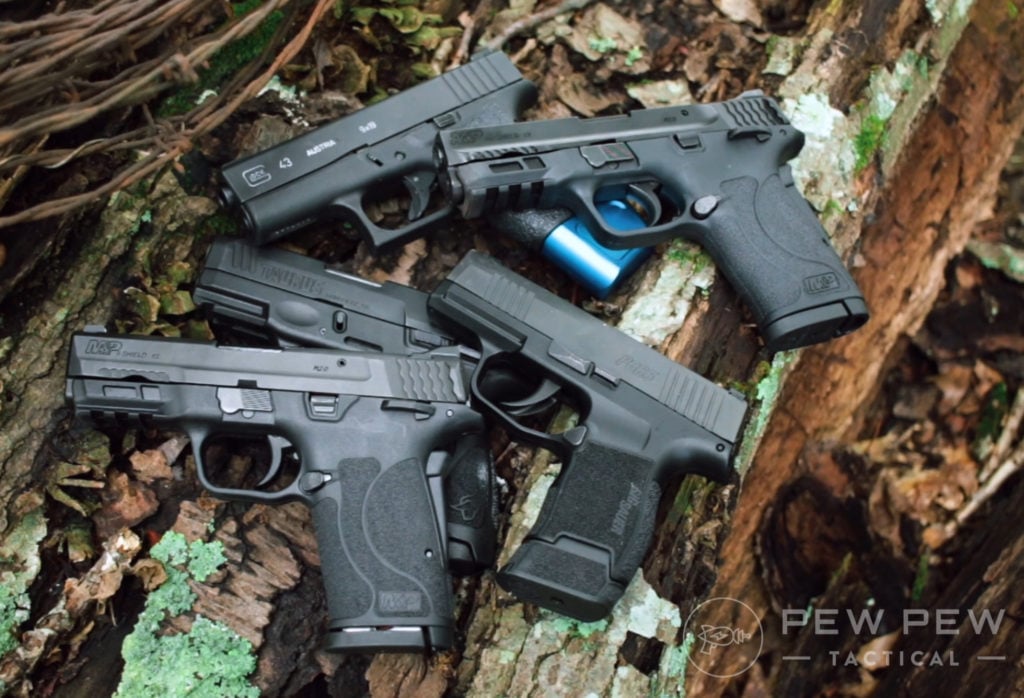 There's no better time to jump on the poly pistol wagon.
Polymer frame pistols are slim and lightweight, even with double-stack magazines, and remarkably resistant to corrosion and harsh environmental conditions.
Plus, they tend to have nifty modular designs (yes, aesthetics matter) and are generally more affordable than their metal rivals (cost also matters).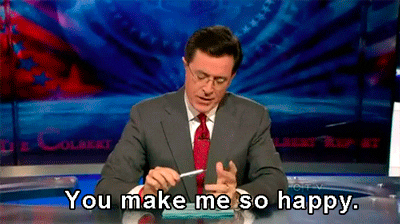 Glock is famous for inventing and popularizing the poly pistol during the 1980s.
These days, however, there's plenty of competition in that particular market; in fact, most major pistol manufacturers offer at least one polymer frame model.
Today, we're going to give these "not-a-Glock" poly pistols the attention they deserve.
After completing some intensive research, we've identified the 6 best polymer frame pistols on the market, and are delighted to report the standout features that catapulted these models to the top of our list.
The Best Non-Glock Poly Pistols
1. IWI Masada
IWI, or Israeli Weapons Industries, isn't the biggest household name for civilian carry weapons, but they are favored among military and paramilitary forces the world over for their combat-ready firearms.
While you probably recognize the IWI Tavor SAR and the IWI Tavor X95, you may be surprised to learn that Israeli Weapons Industries also manufacturers one of the best poly pistols on the market.
The IWI Masada is a short-recoil handgun that's roughly the same size and weight as the Glock 19.
However, while both pistols are chambered for 9mm, the IWI Masada boasts a standard capacity of 17+1 rounds while the Glock 19 is isolated at 15 rounds.
The IWI Masada is designed with a simple 3-dot sight system, but IWI makes it super easy to add optics; in fact, it comes with mounting plates (along with the necessary screws) to equip optics like the Sig Sauer Romeo1, Leupold DeltaPoint, Trijicon RMR, and the Vortex Venom.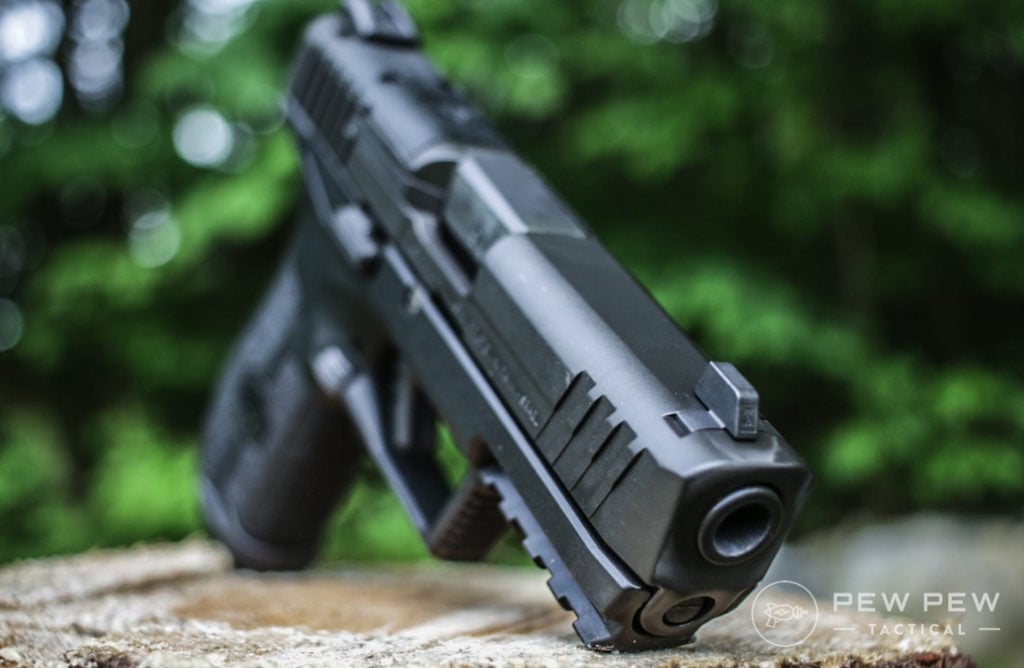 This model also has an integrated Picatinny rail under the barrel, so you can mount your favorite pistol light or laser sight.
And that's just scraping the surface. There are so many features and perks to recommend the IWI Masada—which is a good thing because we like being spoiled!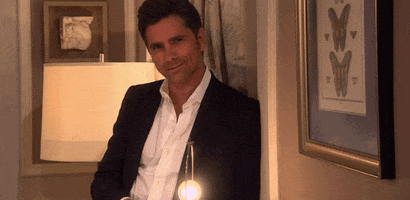 There's no denying that this handgun is a striking little number.
Manufactured with fiberglass-reinforced polymers, the rugged IWI Masada was designed to withstand military use and comes highly recommended as a modern carry or duty firearm.
The IWI Masada has front-slide serrations to improve racking, a low-profile barrel that reduces recoil, fully ambidextrous controls, a textured grip, and three interchangeable backstraps to fit hands of all sizes.
It's also lightweight, easy to conceal carry, has excellent ergonomics, and delivers an accurate and reliable shot.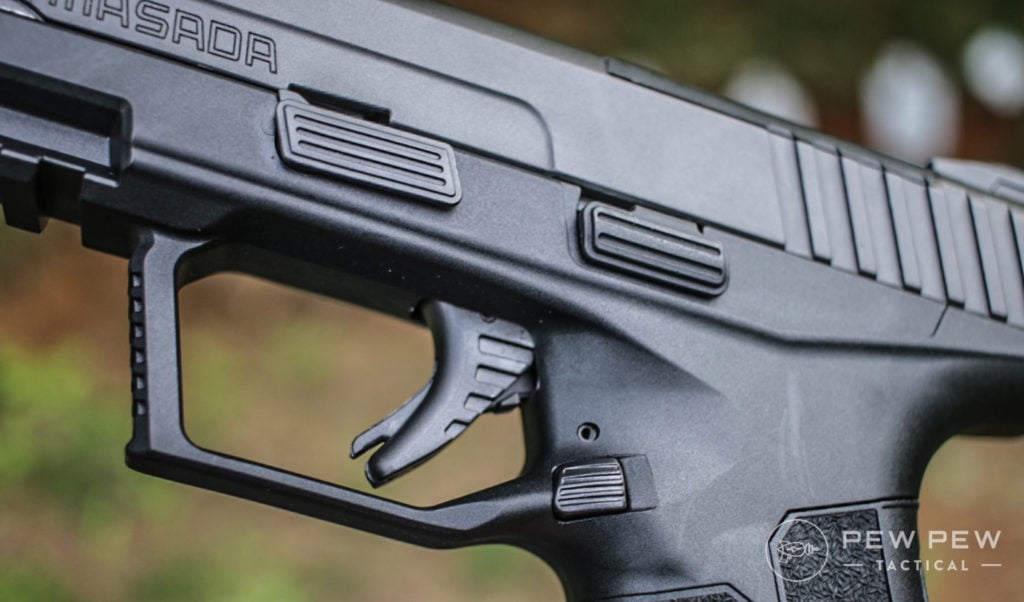 Our only complaint about the IWI Masada is that the trigger is middle-of-the-road in terms of quality and efficacy. That's pretty standard for striker-fired pistols, though.
For the record, this trigger is perfectly serviceable for EDC, so don't let our criticism stand between you and the poly pistol of your dreams.
440
at Palmetto State Armory
Prices accurate at time of writing
Prices accurate at time of writing
For our detailed, hands-on review of the Masada, check out IWI Masada: Optics Ready G19 Killer? We became big fans of this poly pistol during testing, so sally forth and be prepared to fall in love!
2. CZ P-10 C
Next up, we have another direct competitor of the Glock 19: the CZ P-10 C.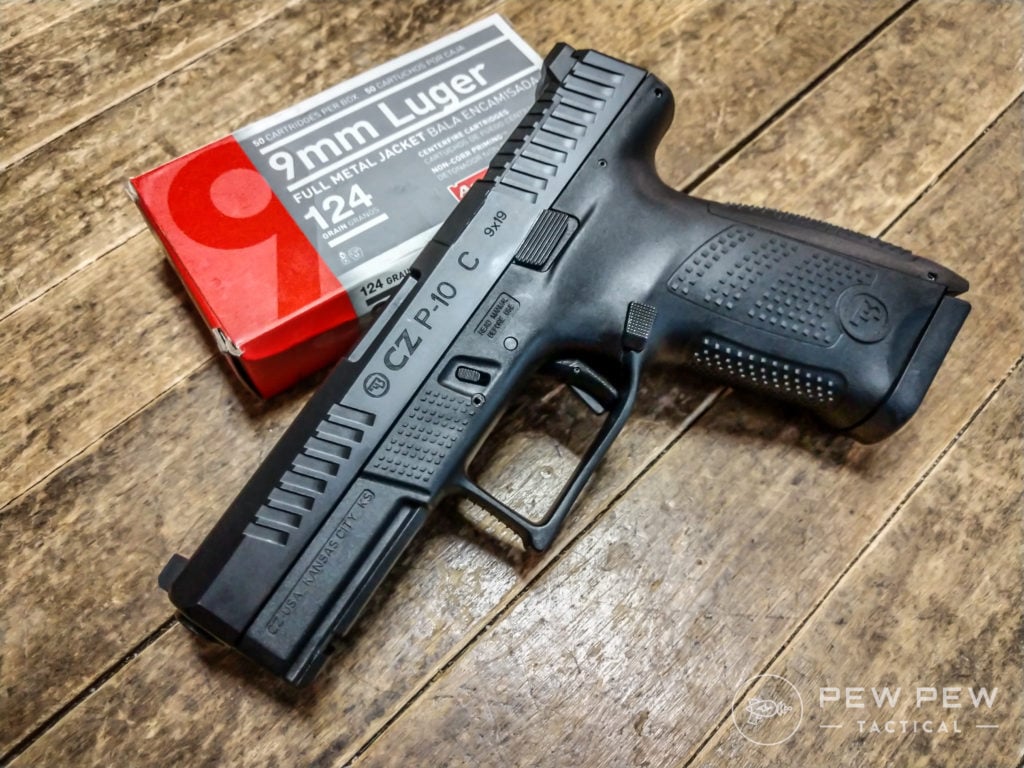 This award-winning model is Česká Zbrojovka's ("Czech Armory") interpretation of the modern striker-fired polymer frame pistol. It earns that "C" by being the "compact" model in the CZ P-10 line.
Aside from the standard CZ P-10 C, CZ-USA also offers Optics-Ready (OR) and Suppressor-Ready (SR) versions. You know, in case you want that something extra.
We're quite fond of the Optics-Ready model!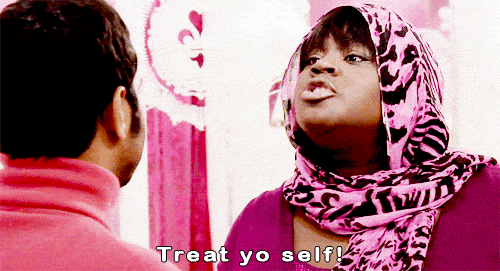 There are many things to love about this compact pistol, but let's start by praising its size and ergonomics.
The CZ P-10 C is about the same length as the Glock 19, but about a quarter-inch wider and five ounces heavier. It also has the same 15-round standard capacity as the G19.
Hey, sometimes bigger really is better…even though we're talking about a compact model.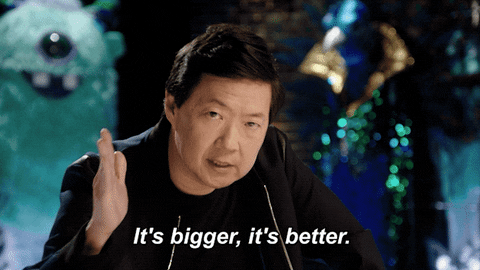 Many gun enthusiasts have become fans of the CZ P-10 C due to its unique dimensions, light palm swell, deep beavertail, and interchangeable backstraps—rejoice, you get three!
These elements combine to create a compact firearm that is super comfortable to hold, even for those with larger hands who may need a more customized fit.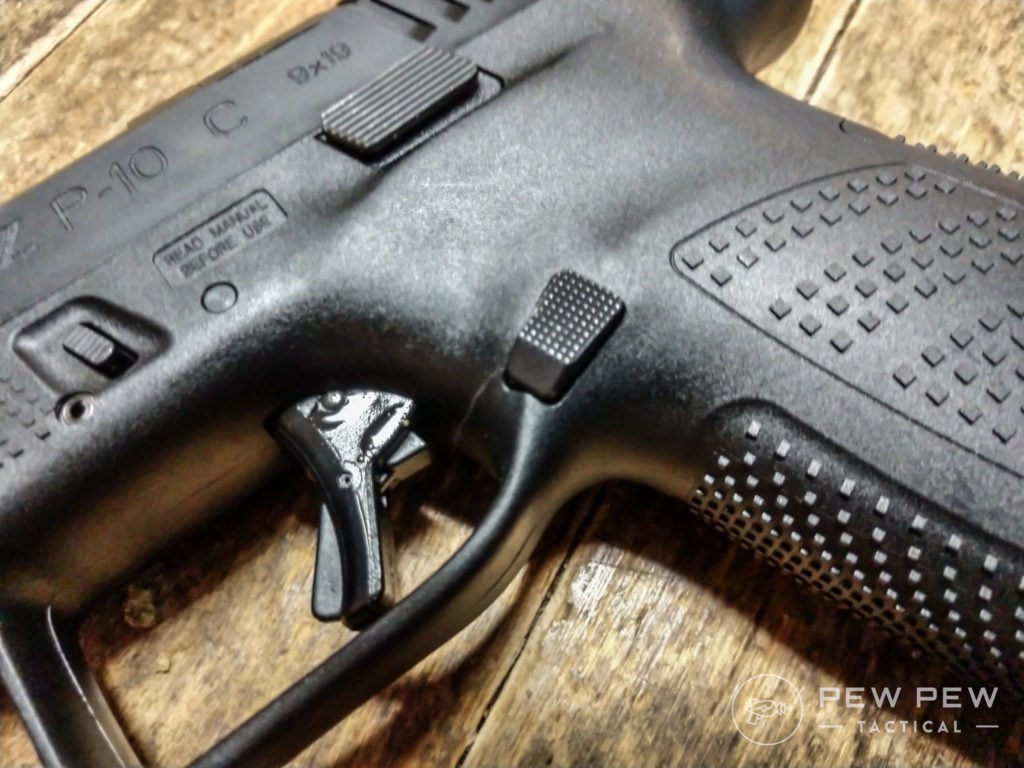 Most striker-fired pistols tend to fall short when it comes to trigger designs, but not the CZ P-10 C!
This trigger was specifically designed to minimize creep and stacking.
It delivers a smooth pull, a clean break, and rebounds with an incredibly short reset, so you can make that follow-up shot with both style and ease.
Honestly, that "C" should stand for comfort.
The trigger is within perfect reach, the generous trigger guard is undercut to provide a nice grip higher on the gun, and the controls are accessible without needing to adjust your grip.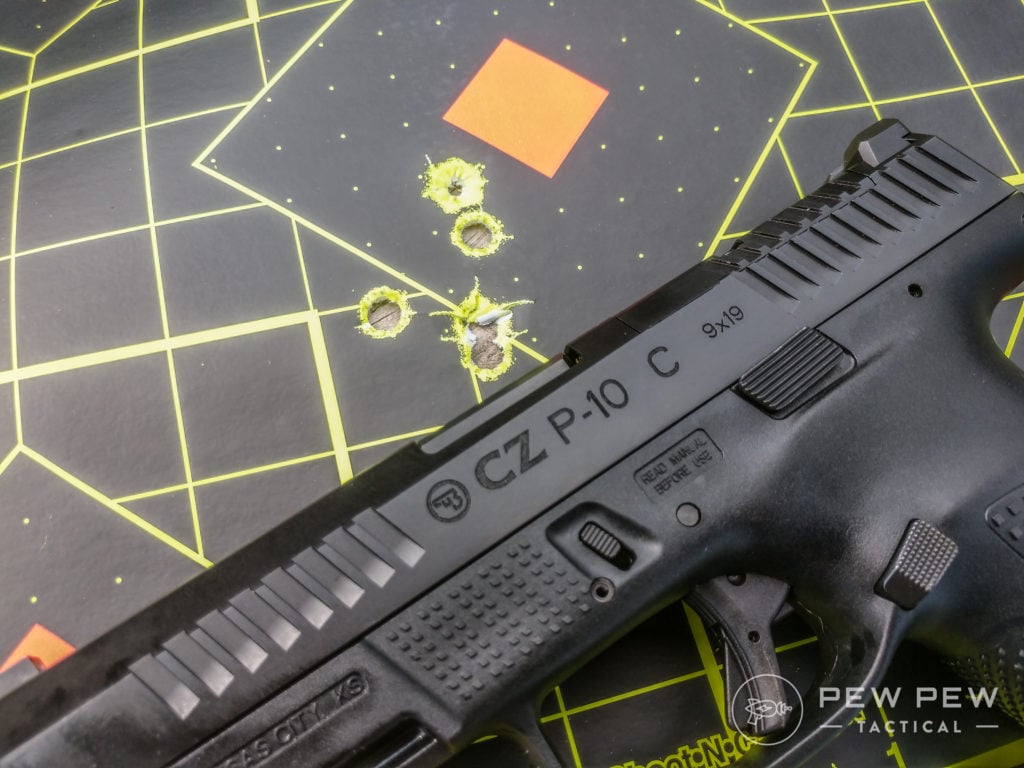 The bottom line is that the CZ P-10 C surpasses the Glock 19 in every way that matters.
It grips better, points more intuitively, shoots faster and more accurately, and is constructed with superior components, including the trigger, the ambidextrous slide stop (be still my heart), and the glow-in-the-dark 3-dot sights.
Like the Masada, the CZ P-10 C has serrations on the slide to help with racking, which is smooth and easy.
When you aim this gun, you can't help but feel confident in yourself and your shot.
Mind you, the grip texture is a little sharp, particularly for the sensitive of hand, so you may want to glove up or put a sleeve over it.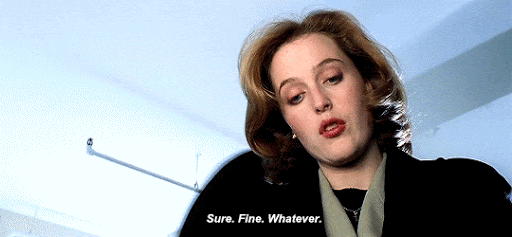 The barrel, which is pretty burly, like wow, is made from cold hammer forged steel.
This was a brilliant manufacturing tactic by CZ; they were able to increase accuracy by using a cost-effective process that won't eat your wallet.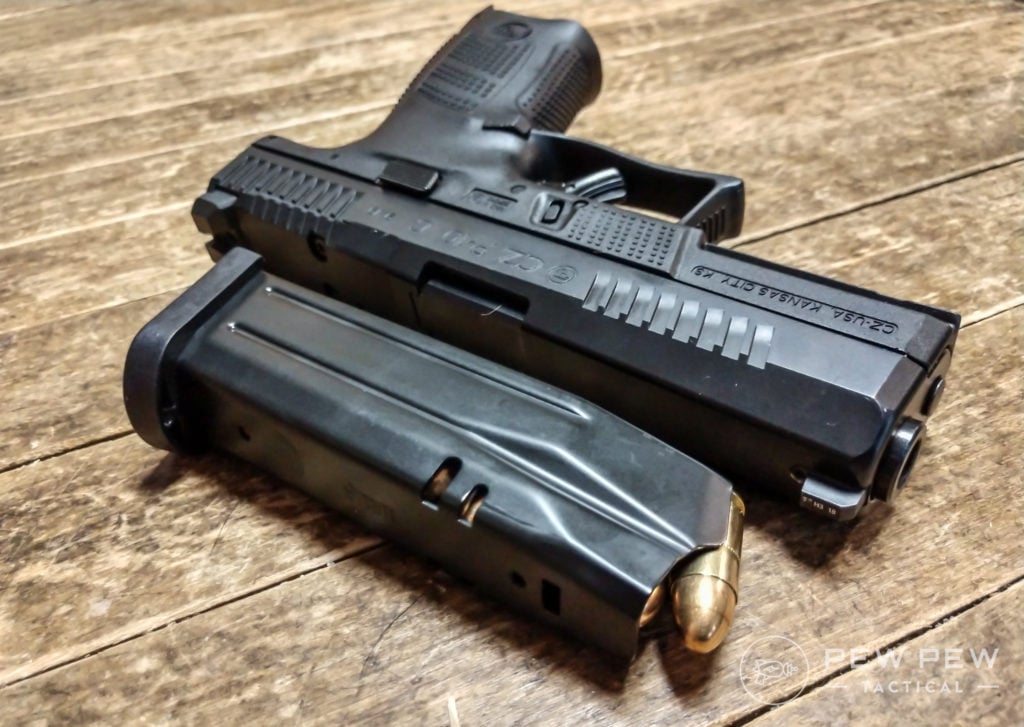 Of course, this handgun isn't perfect for everyone. Talk about an impossible feat.
But what's great about the CZ P-10 C is that most of its issues—notice that I don't say problems—are purely subjective.
For instance, it has a 4.5 to 5-pound trigger pull weight and a bit more take-up than the Glock 19. A few shooters have also reported that the slide catches a bit firmly.
This might be a no-go for some people, but not others. Regardless, you should keep these details in mind if you're researching which "not-a-Glock" poly pistol is right for you.
499
at Guns.com
Prices accurate at time of writing
Prices accurate at time of writing
Still on the fence? We won't leave you hanging. Our friend Kat completed a detailed, hands-on review of the CZ P-10 C OR, so head on over to CZ P-10 C: Compact Optics Ready 9mm EDC.
3. Heckler & Koch VP9
Let's move on to a striker-fired poly pistol from our favorite German manufacturer, Heckler & Koch.
H&K made some brilliant design choices with this handgun.
The HK VP9 is about the same length as the Glock 19 but closer in height to the full-size Glock 17. For perspective, that puts it somewhere between a full-size and a compact pistol.
One of the HK VP9's most standout features is its modular grip, which allows you to switch out the backstrap and the side panels for up to 27 different configurations.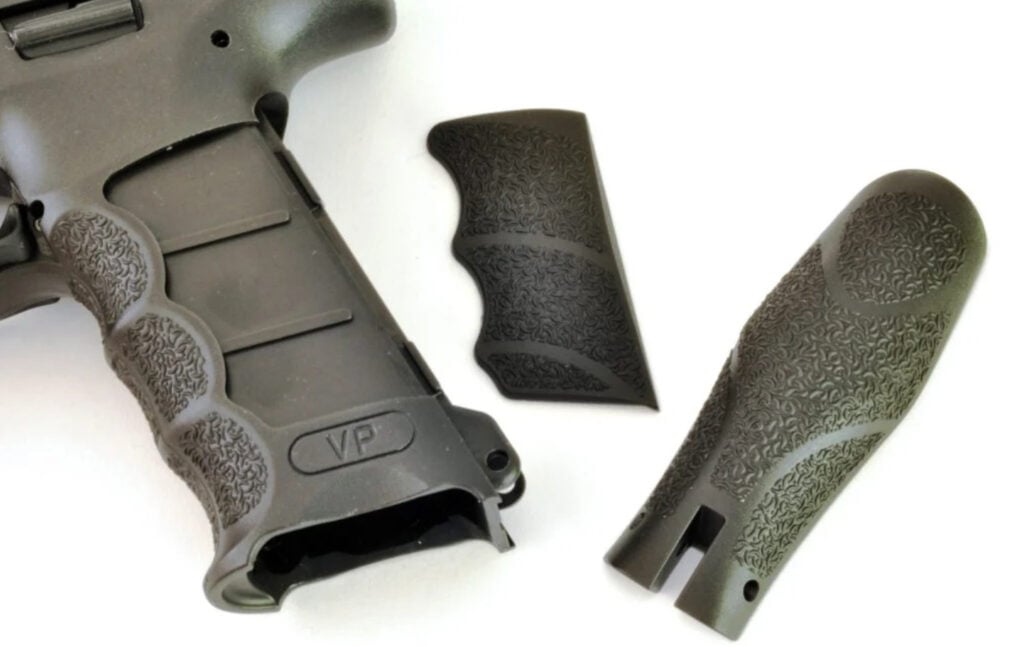 This pistol has ambidextrous controls, but the paddle-style magazine release is a little high and may be difficult to manipulate without adjusting your grip.
But you can always experiment with those 27 configurations to create a set-up that's perfect for you.
And speaking of magazines, the HK VP9 has a standard capacity of 17 rounds and comes with two mags. The VP9 is chambered for 9mm, but the VP40 variant is chambered for .40 S&W.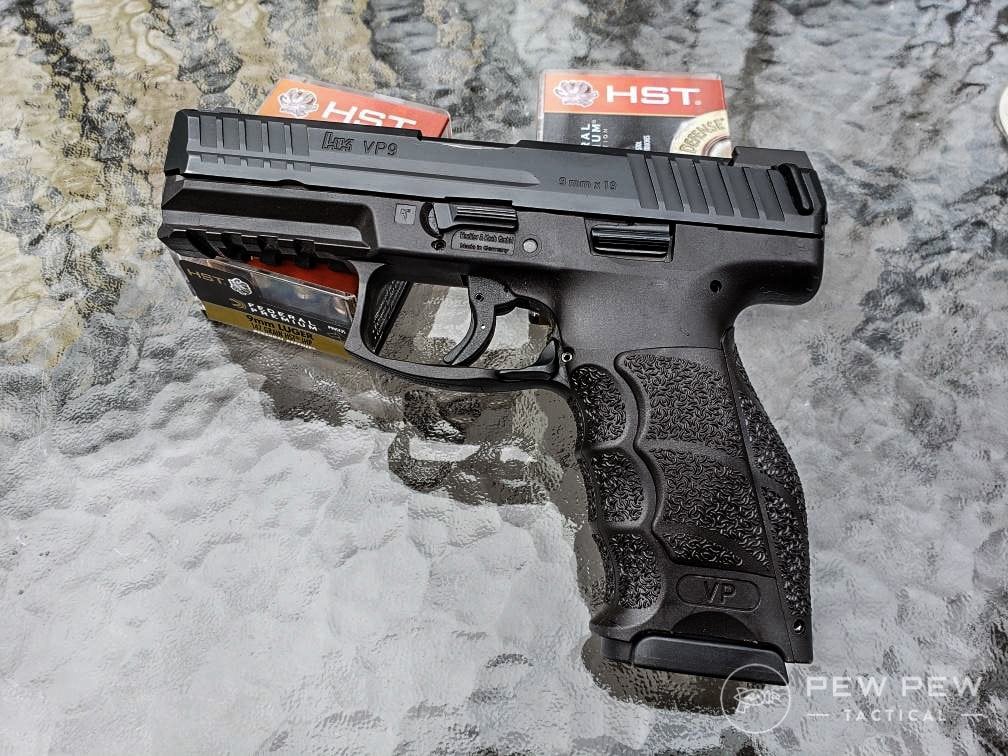 Another notable component is the 4.09" cold hammer forged barrel with a polygonal bore.
This unusual bore shape serves two critical purposes: it increases bullet velocity and allows the barrel to stand up to wear and tear.
And don't worry about equipping your favorite accessories. You can use the Picatinny rail under the barrel to mount lights, lasers, and so on.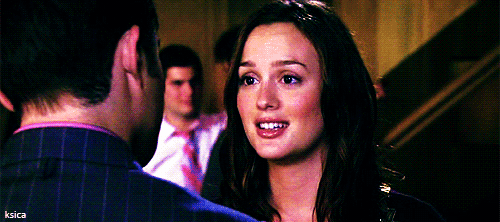 The slide is lined with deep serrations at the front and rear, as well as little polymer tabs on the sides to help with racking.
No joke, these tabs are terrific if you're wearing gloves or have wet hands.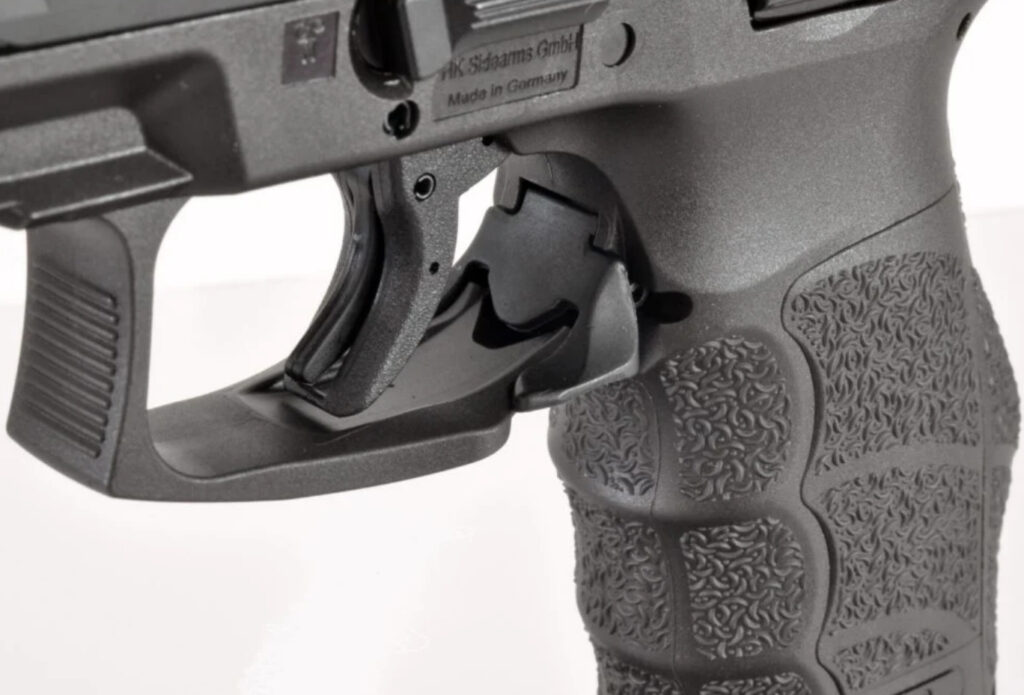 The HK VP9 has a curved trigger with a safety lever and a pull weight of about five pounds.
Personally, we find it a little average, even for a striker-fired trigger. It's ridged to help with traction, but that's the only positive detail worth mentioning.
If you want a cleaner break, switch out that standard trigger with a reputable aftermarket option. After that minor fix, your HK VP9 will quickly become the darling of your collection.
Aside from that minor complaint, we're big fans of the HK VP9. This pistol is accurate, super reliable, and takes just about any ammo.
559
at GrabAGun
Prices accurate at time of writing
Prices accurate at time of writing
The HK VP9 has ushered in a new era of HK lovers since its unveiling at SHOT Show 2015.
Ready to join the party? Check out our hands-on review HK VP9: Better Than Glock? to see if the HK VP9 is the poly pistol for you!
4. Polymer80 Builds
The next "not-a-Glock" option is a bit of a cheat, I admit.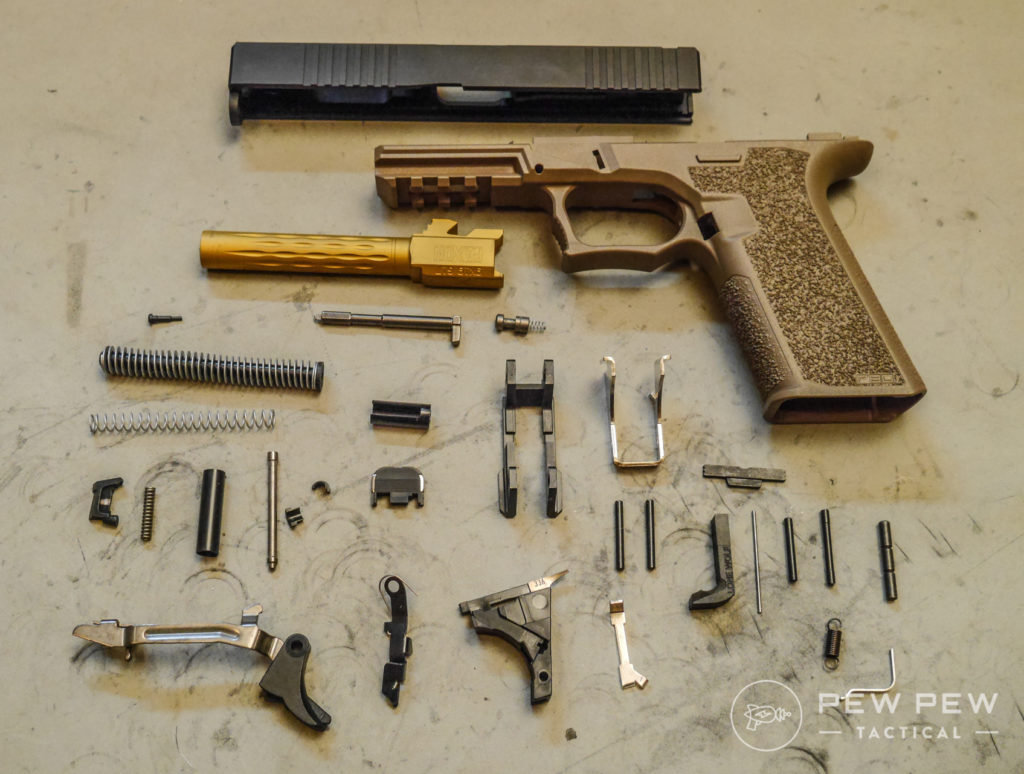 Say you're happy with the basic Glock platform, but want to change it up with a little customization. Or maybe you're just a creative hobbyist who likes experimenting with builds.
In either scenario, a Polymer80 build may be the path for you.
As the name suggests, Polymer80 makes polymer lowers that are 80% "complete." You take on the role of a manufacturer by milling and filing it to perfection.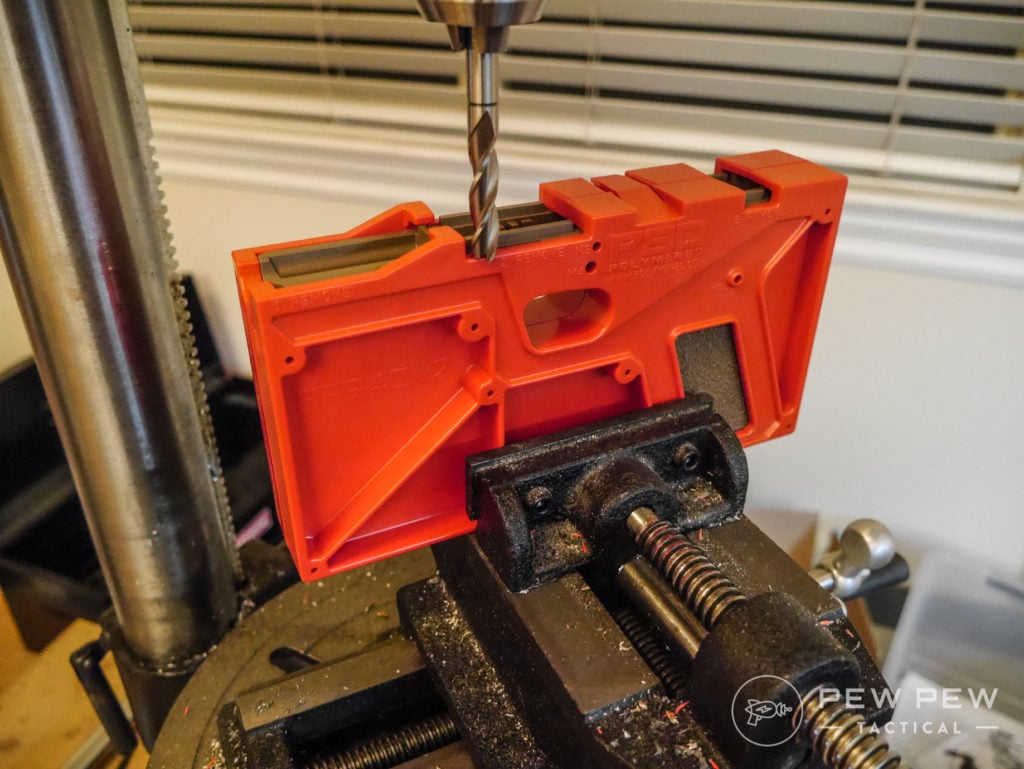 Polymer80, Inc. allows you to purchase kits, parts, and accessories without the hassle that usually comes with buying a firearm.
Incidentally, that 80% isn't just fun industry slang; it's the ATF cutoff for determining if something qualifies as a firearm.
You are building a customized handgun, so you need to stay compliant with local laws.
Some states have banned 80% lowers. When doing your research, keep an eye out for any regulations regarding the building and registering of firearms.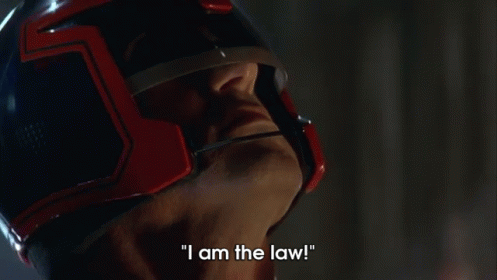 The milling and building process can be a little intimidating to first-timers.
Fortunately, Polymer80 pistol builds are a practical, straightforward, and accessible starting point.
The standard kit comes with a polymer frame (grip, trigger guard, etc.) that you need to finish milling. And since it's polymer, you don't even need a drill press (though having one is certainly helpful).
Just remember to take your time and make sure you're being precise. You can take polymer away, but you can't add it back, so the main goal is to get it right the first time.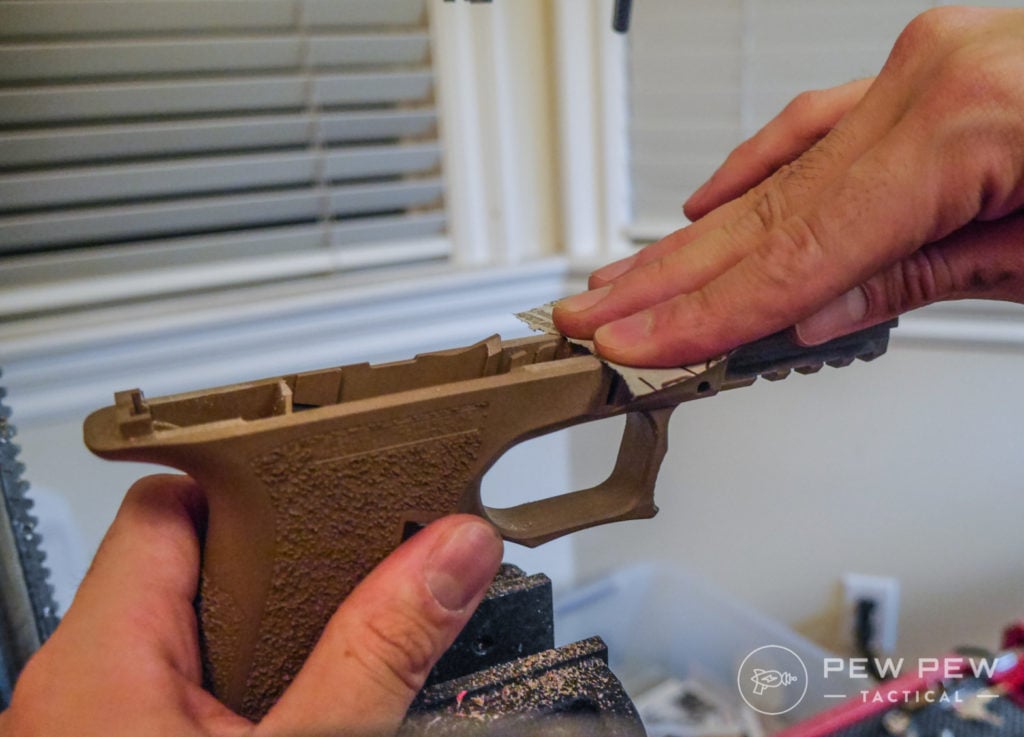 This process isn't hard, especially if you're patient and semi-capable with hand tools. But it can be time-consuming, depending on your skill level.
You may be wondering if the final product is worth your time and effort, or what makes a build superior to the standard Glock.
After all, the Glock is hands-down one of the world's most popular and reliable handguns.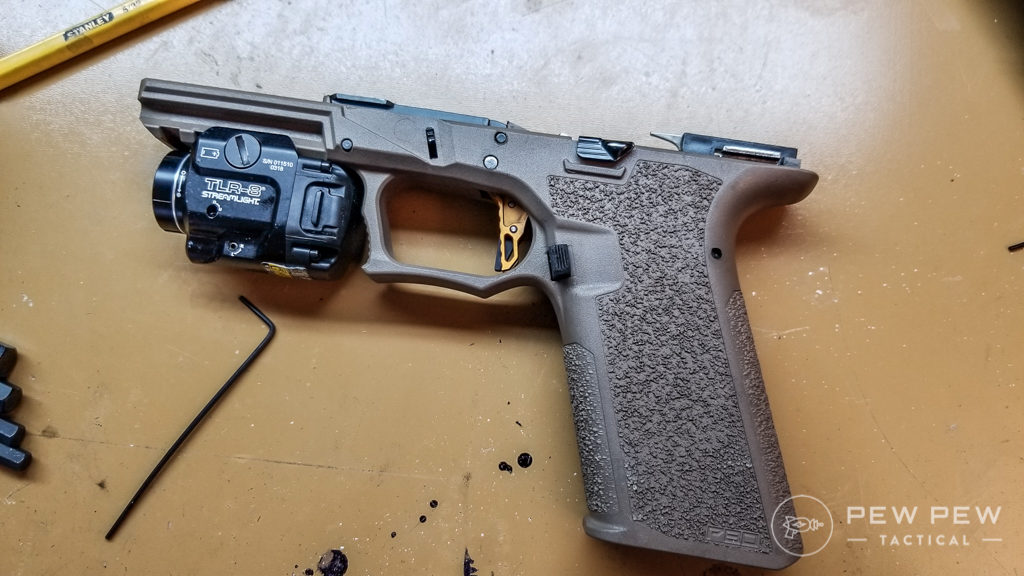 Polymer80 builds have pretty much all the benefits of a Glock, but are cheaper and have more comfortable frames. Plus, you can tailor it to your specific needs and preferences.
Want a lighter trigger? Go for it.
You can buy the frame and slide assembly from Polymer80 or combine a Polymer80 frame with a different Glock slide assembly.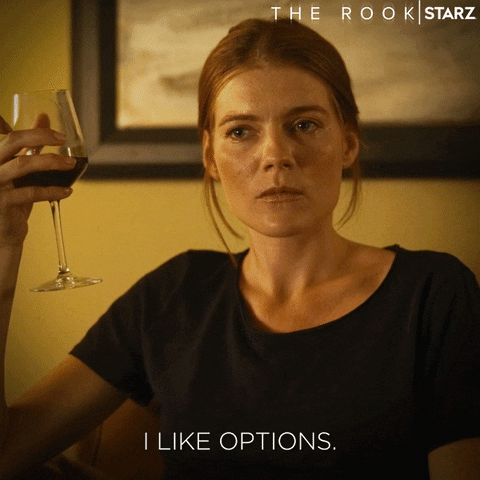 But your first step is to choose the correct frame size. If you want to build a full-size Glock, aim for the FP940v2. But if you want a compact model, like the Glock 19, get the FP940Vc1.
The typical Polymer80 lower features a double undercut trigger guard, aggressive grip texture, extended beavertail, and a notable thumb edge.
These elements provide for enhanced ergonomics, improved recoil mitigation, and an ideal grip angle.
Of course, some components vary depending on which kit you choose.
Best 80% Glock Frame
149
at Brownells
Prices accurate at time of writing
Prices accurate at time of writing
5. Sig Sauer P365
We never get tired of extolling the virtues of the Sig Sauer P365.
This 9mm subcompact poly pistol stole our hearts at SHOT Show 2018 and quickly became one of our favorite concealed carry weapons.
Let's be honest: most subcompacts are too small to handle with ease and comfort.
Facing a saturated market, the big brains at SIG Sauer knew they had to manufacture a pistol that proved to be an exception to this rule.
The end result is an exceptional little firearm that's easy to use, fun to fire, and great for concealed carry.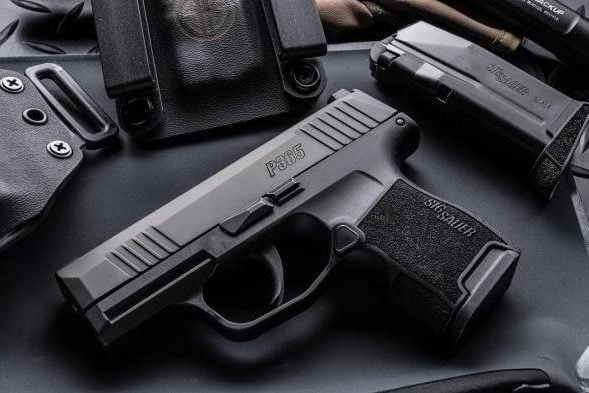 What's not to love?
The grip is well-textured, the controls are easy to reach, the palm swell ensures a comfortable fit, and the trigger guard is undercut to give you a better and higher hold on the grip.
And the trigger? This little pistol has one of the best triggers among all the subcompacts in its class.
Its design incorporates the SIG Sauer XRay3 day/night sights, which offer excellent visibility.
The front sight has a high visibility ring around a tritium vial, while the rear sights are blacked-out aside from the tritium vials on the right and left sides.
The rear sights are also ridged to prevent glare in bright conditions.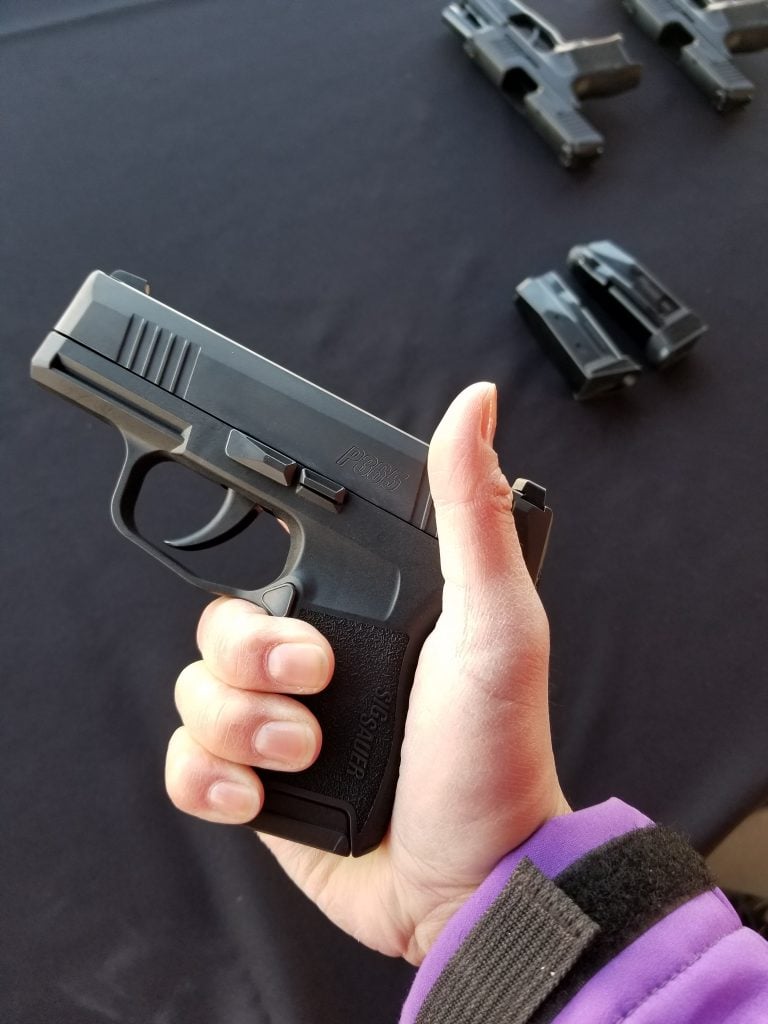 The Sig Sauer P365 is a tiny handgun with a surprisingly large ammunition capacity.
It's often compared to the Glock 43 due to its size and effectiveness, but when it comes down to ammunition, the Sig Sauer P365 easily wins the war.
It boasts a whopping 10+1 rounds while its rival is limited to 6 rounds.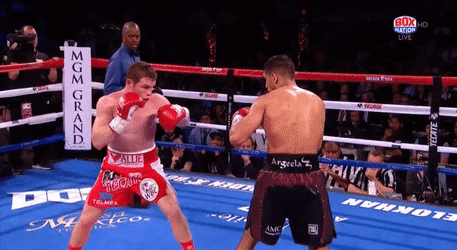 The Sig Sauer P365 comes with a 12-round magazine and two 10-round magazines: one features a pinky extension while the other fits flush to the mag well.
This is good news for two reasons. Not only do you get three excellent magazines, but you can also use 12-round mag or the 10-round with the pinky extension to further elongate the grip.
499
at GrabAGun
Prices accurate at time of writing
Prices accurate at time of writing
To learn more about our SHOT Show Cinderella, check out Sig Sauer P365 [Review+Video]: Why So Popular. This hands-on review explains why this itty-bity poly pistol is the CCW champion.
What's your take on the P365?
6. Sig Sauer P320-M17
Let's switch gears and wrap up this list with a full-size 9mm poly pistol from Sig Sauer.
The Sig Sauer P320 was Sig's first foray into striker-fired pistols. But it was such a strong start that the US Army quickly adopted a modified version of this model called the Sig Sauer M17.
Which finally brings us to the Sig Sauer P320-M17, a civilian-legal iteration of the M17 that keeps most of the spiffy military modifications.
The Sig Sauer P320-M17 features a stainless steel slide that's treated with PVD, mil-spec controls, and is equipped with a SIGLITE front sight and a Night Sight rear plate.
Unfortunately, there is one downside to the Sig Sauer P320-M17.
Because the optic cut reflects the MHS contract, some red dots are incompatible with this pistol. For example, you can equip the ROMEO1 PRO but not the ROMEO1.
435
at Brownells
Prices accurate at time of writing
Prices accurate at time of writing
The Sig Sauer P320-M17 has a modular frame with three different grip sizes. The grip vaunts solid ergonomics and a nice texture that isn't too aggressive.
Magazines load and unload into the pistol super smoothly. It comes with two 17-round magazines, but they may take some breaking in before you can get that last round in.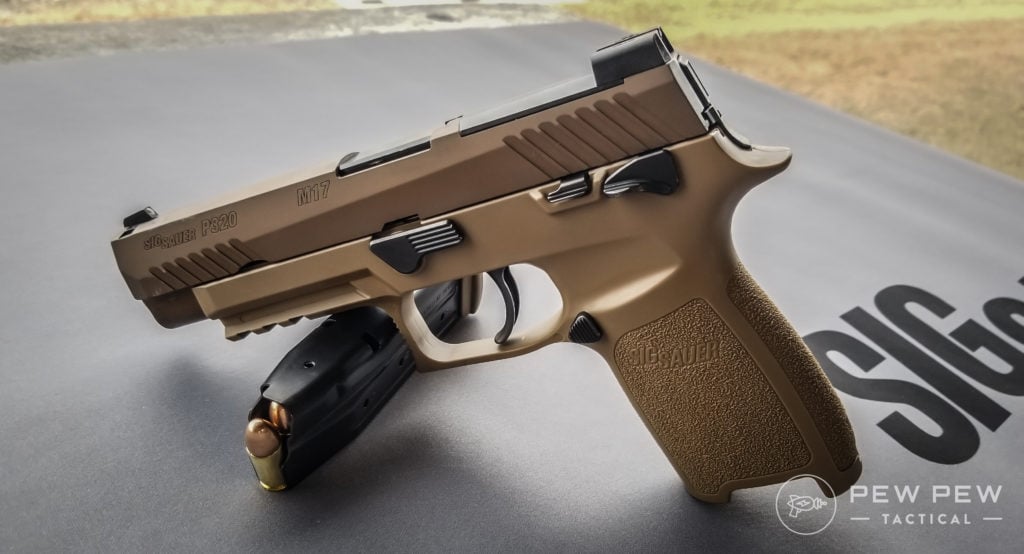 The controls are ambidextrous and easy to access.
It has an external manual safety, which isn't everyone's cup of tea, but was one of the US Army's requirements.
However, Sig does manufacture non-manual-safety models if you want to explore other options.
Okay, so there is only one nitpicky thing that I can't bring myself to love: The Sig Sauer P320-M17 only comes in coyote tan. Couldn't they have made a nice black?
New Military Standard
649
at Kygunco
Prices accurate at time of writing
Prices accurate at time of writing
If you want to get the lowdown on the Sig Sauer P320-M17, read our hands-on review Sig Sauer P320-M17 (Civilian Version).
Parting Shots
That completes the list of our favorite non-Glock poly pistols!
All in all, these are six high-quality firearms that are known for being accurate, reliable, and easy to maintain and operate. From IWI to Sig Sauer, you can't go wrong with any firearm on this list.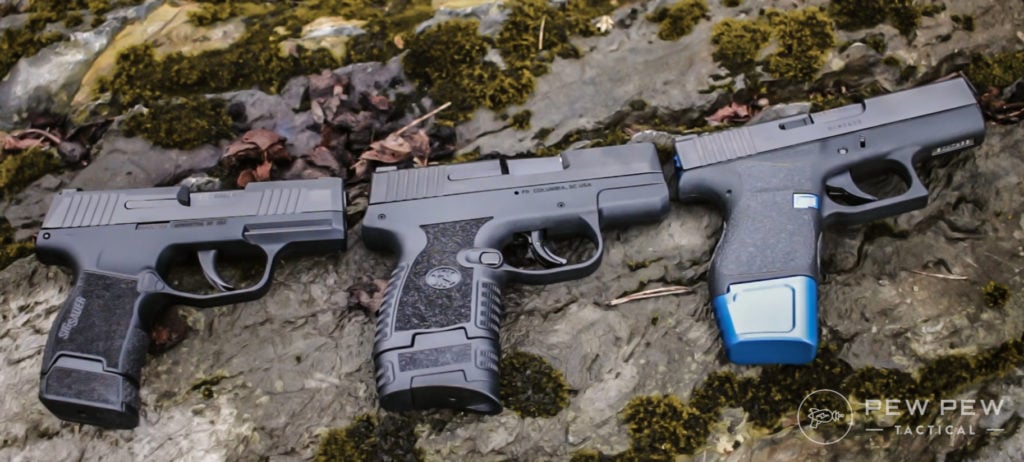 Of course, these aren't your only options. Polymer frame pistols have become quite popular since the Glock 17 hits US shores in 1988.
Don't be afraid to explore your options or even get creative with a Polymer80 build!
What's your favorite poly pistol? Are you a member of the Glock club or do you prefer something else? Have questions about any of the poly pistols we discussed here? Let us know in the comments.
Check out our other pistol reviews to explore the world of handguns. And if you're in the market for a Glock, be sure to take a look at our picks for the 4 Best Glocks [Across Calibers & Sizes].