You've likely heard the hype around IWI's newest offering, a striker-fired, G19-sized, optics ready, pistol for an actually affordable price point.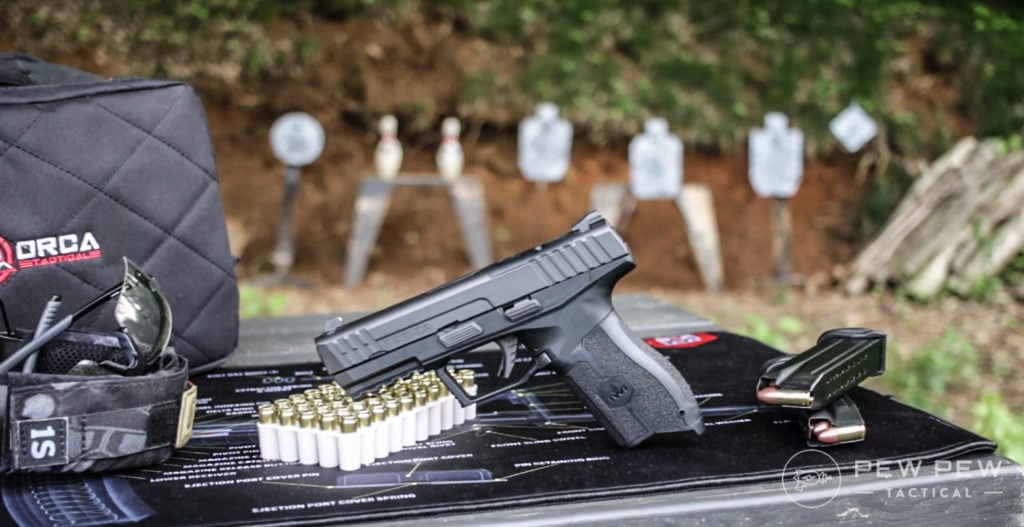 Sounds too good to be true?
We got a couple of pre-release pistols in hand for testing and have the real talk about the brand new Masada.
But to really see it in action, check out Johnny putting it through his trials and tests!
Subscribe to our YouTube Channel to get the newest videos each week.
Table of Contents
Loading...
Who Is IWI?
In case you've been living in a cave for the last 80+ years, IWI is the Israel Weapon Industries and they've been in the firearms game for a long time now.
Probably best known for the Tavor, they've been a huge name in ammo manufacture, weapons development, and small-arms testing for decades.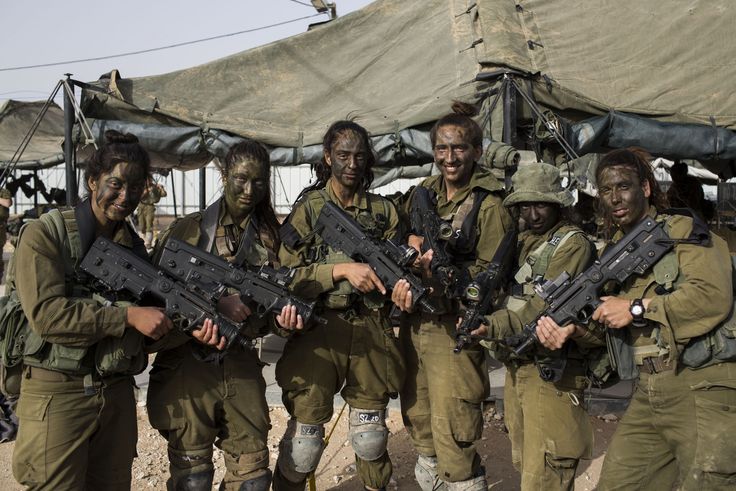 They know what they are doing and they know how to make a firearm truly combat ready.
Introducing The Masada
Named after an ancient fortification, the Masada is everything you would expect from a modern carry/duty firearm. Roughly the same size profile as the Glock 19, this gun is good to go right from the box.
Features
Great Batman, these gun has features. Basic specs to know, it's 9mm, short-recoil, and holds 17+1 rounds. Sights a bit basic with a simple 3-dot system, but it also comes optics ready!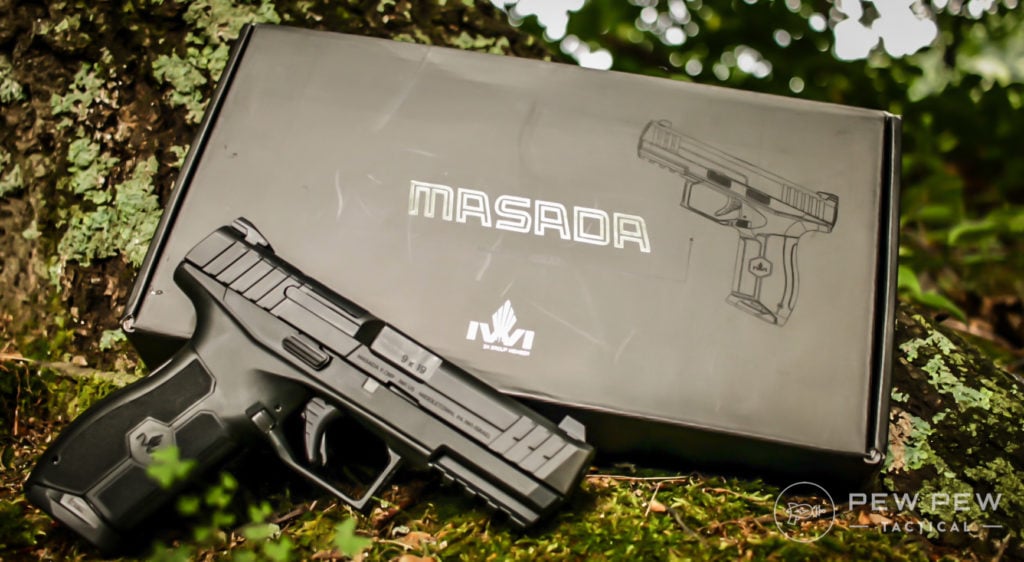 Plus, you get two of the 17-round steel magazines in the box.
Setting the Masada apart from the rest of the market are the 3 interchangeable backstraps (okay, those aren't really unique – but a nice addition that most others are still missing) and the optics plates that are INCLUDED with the gun.
From the box the Masada has mounting plates for the Vortex Venom, Sig Romeo1, Leupold DeltaPoint, and Trijicon RMR.
Everything about the Masada is modern, it's optics ready, it comes with two mags, it feels great, and of course, it front slide serrations.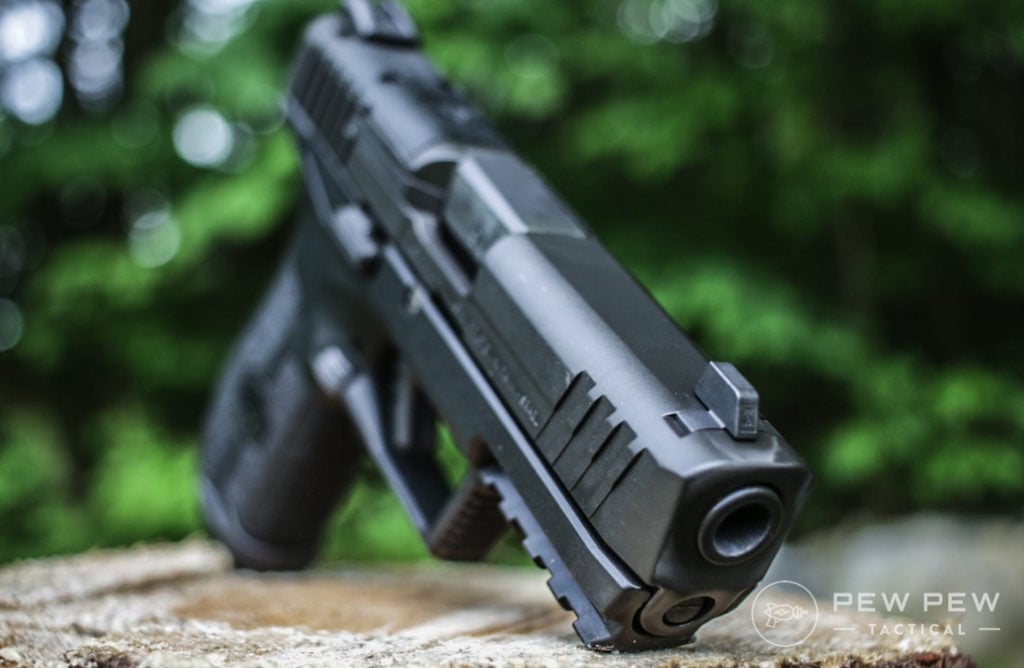 Masada grips are grippy without being a problem either, great balance between the two. If you wanted to run this in a competition, you could get some stippling done – but that isn't really where the Masada is meant to be.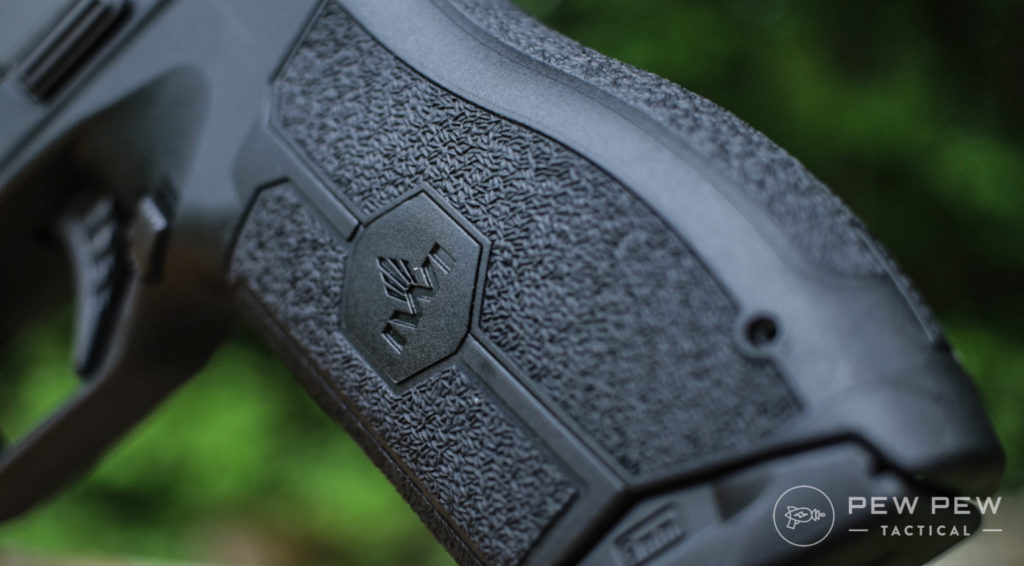 The only thing not great about the package is the packaging itself. Sadly, the box is…very bleh. Ultra-thin cardboard is cheap, but it's not something we love to see.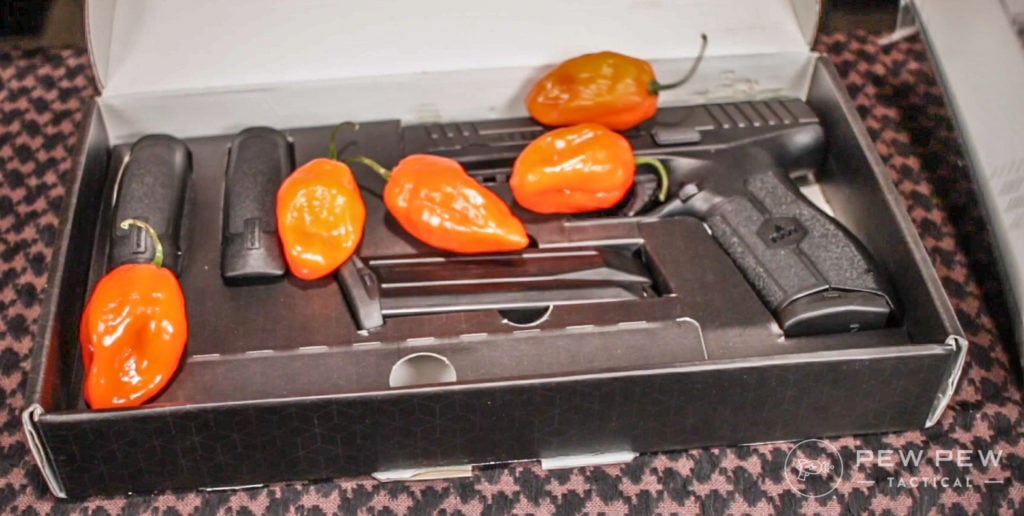 However, this was a pre-release model so maybe that will change by the time the Masada hits your LGS.
Range Report
Several hundred rounds of CCI 9mm and the Masada ran to perfection. Accurate, reliable, and very comfy to shoot.
8.50
at Palmetto State Armory
Prices accurate at time of writing
Prices accurate at time of writing
Johnny had some slide-lock-back issues after the mag was spent, but these started to resolve themselves near the end of the test. This could very well just be the Masada breaking in.
The extra backstraps make it easy for all hand sizes to find their perfect grip.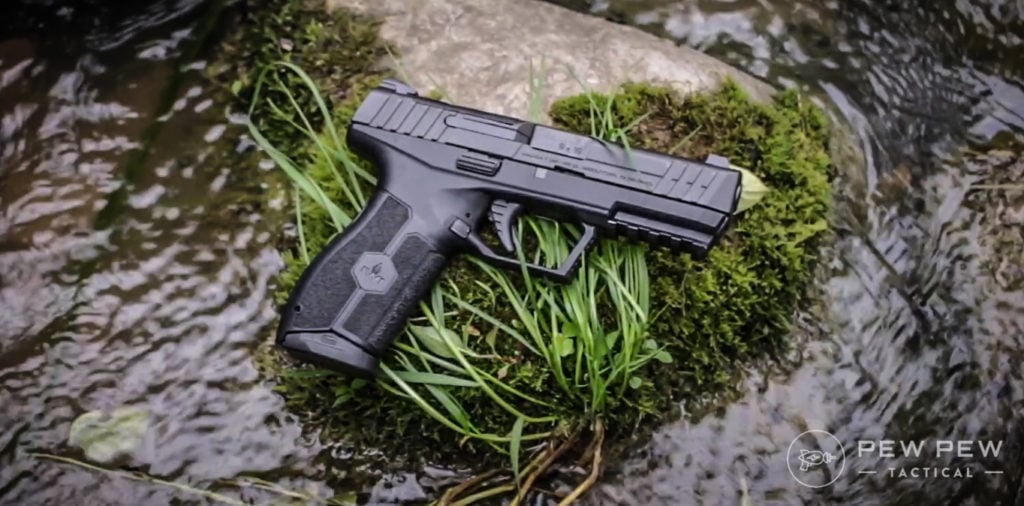 However, the trigger isn't outstanding. While no EDC gun has a match grade trigger out of the box that we've seen, the Masada's was extra middle-of-the-road. Not bad, not great. Totally acceptable for EDC.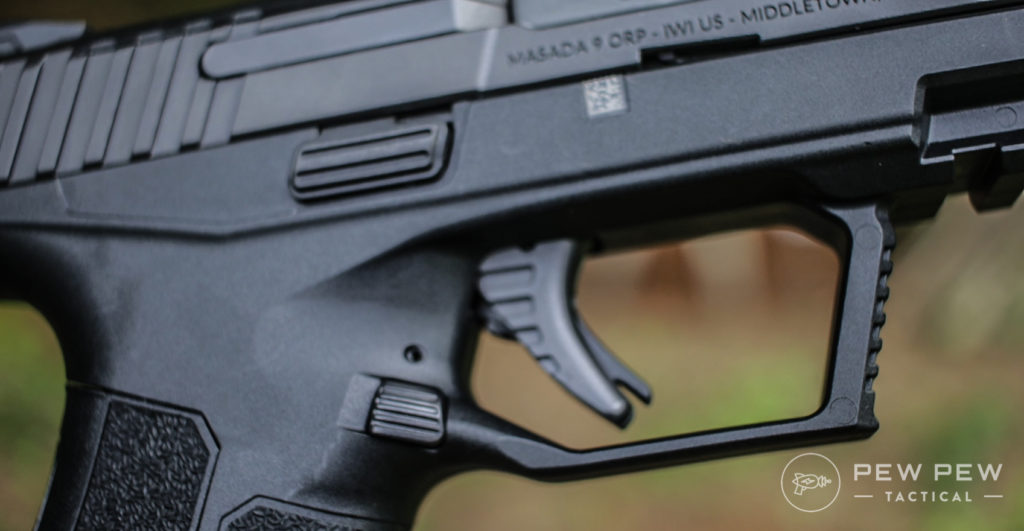 Two Frames
In our video and in our pictures the keen-eyed will note that there are two frame types for the Masada.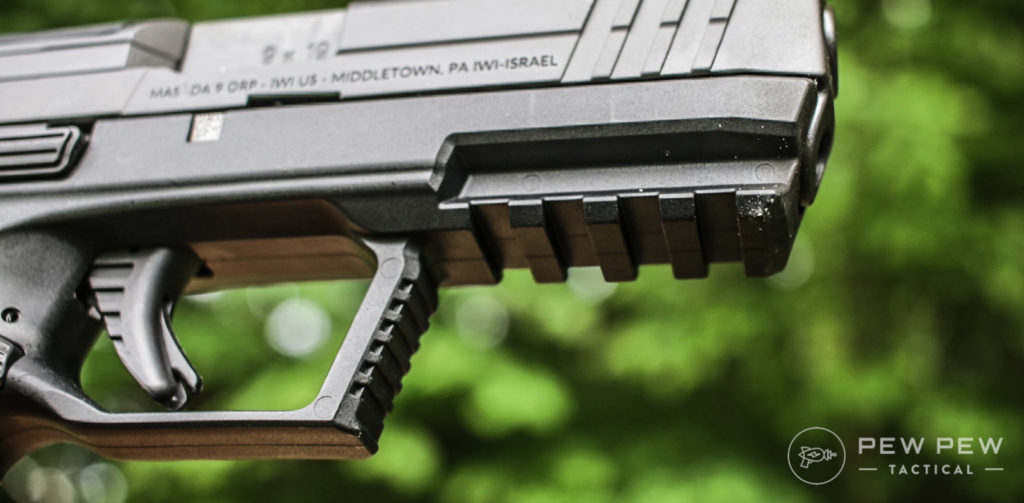 Note the trigger guard, on one frame it is angled sharply and on one frame it is flat.
The angled trigger guard was pre-production while the flat guard is the production American version.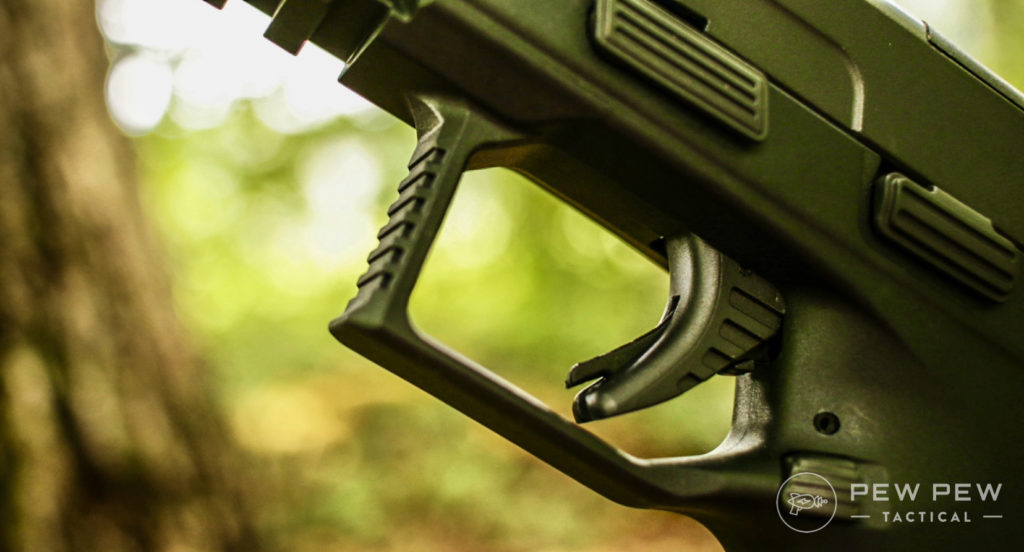 This is done for American style flashlights to give them a solid rear contact point.
Disassembly
Crazy easy. Really one of the easiest pistols to disassemble on the market.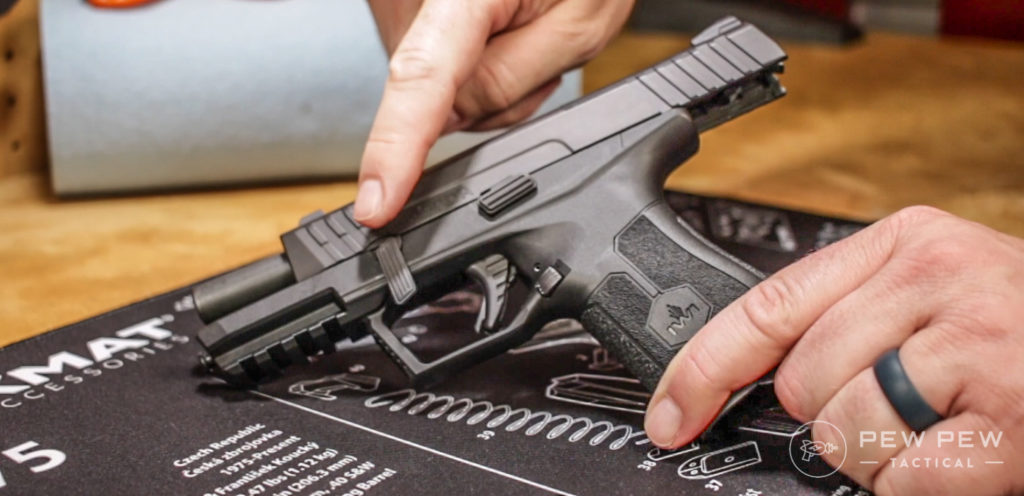 Turn the takedown lever, dry fire the pistol, and let the slide slip off the front. Just that simple.
Price Range?
The MSRP is at a crazy low $480, but MSRP is rarely the same price as what you'll see in the store. Since these aren't on the market yet, we don't know what street price will be but we're confident that it will be very affordable.
For the features that you get (two mags, optics ready, backstraps, etc) this is an outstanding bang-for-your-buck pistol.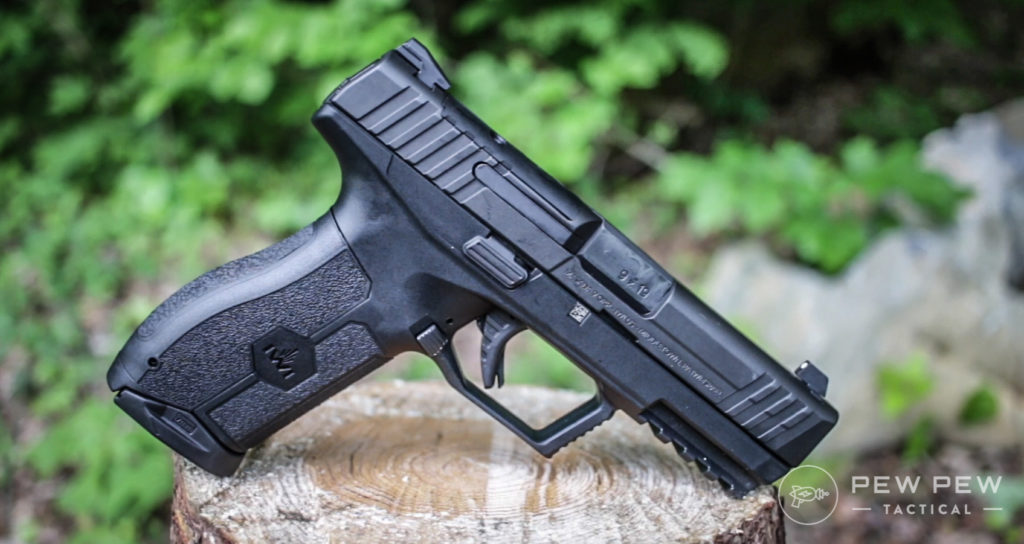 By The Numbers
Ergonomics: 4/5
On some level, you're gripping a giant piece of plastic. But overall good purchase, great grips, and not much to complain about.
Accuracy: 4/5
In the hands of another shooter, it may be higher. But it absolutely did what I asked it to do.
Customization: 5/5
As stated above, it is optics ready. Add whatever dot or light you want and you're good to go!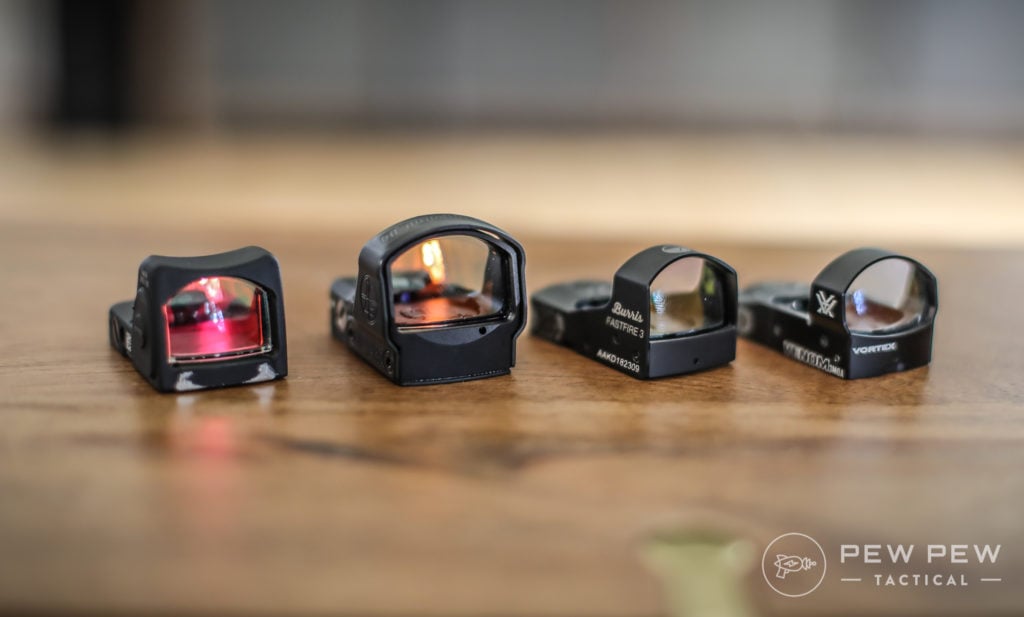 The fire control group is removable, so we'll see if any third-parties offer new frames down the road.
Looks: 5/5
I'm a sucker for the IWI logo, and I think the new Masada branding is clean.
Value: 5/5
It's $480. Done.
Overall: 4.5/5
Parting Shots
IWI is a great company and their introduction of a really compelling EDC pistol is awesome to see. This is clearly geared for any role that you would see a G19 in but upgraded in nearly every way.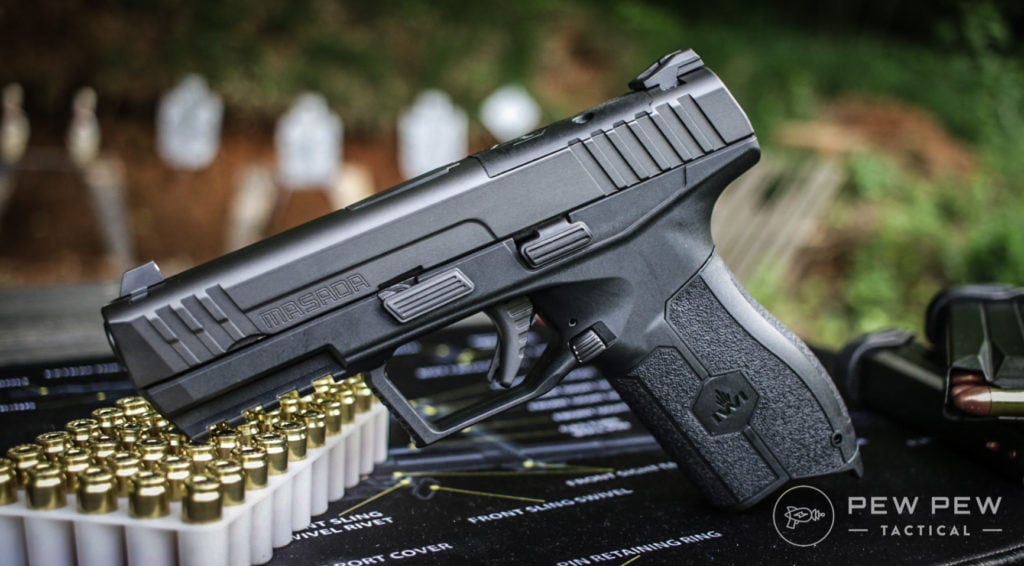 While we ran over 500 rounds though the Masada, that is a tiny number in the grand scale. We'll stay on top of other range reports and your comments to track just how well the Masada does once it is out in the wild.
But so far – we are very impressed!
What do you look for in a modern pistol? Do you stick with old faithful designs still? Let us know in the comments! Check out our go-to Best CCW Guns (By Caliber).