Sig Sauer made big news last year for winning the U.S. Army's XM17 Modular Handgun System competition with their M17.
This handgun was a modified version of the newer P320 model which debuted at SHOT Show in 2014.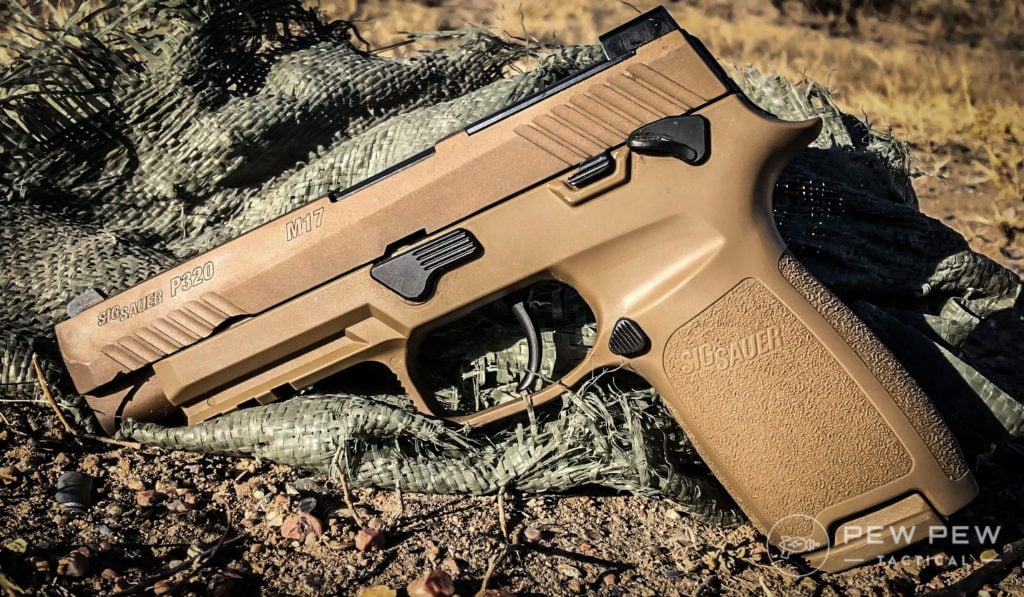 The changes were deliberately intended to meet the specifications of the military contract.
And now civilians can have one too.
I spent a few days at the range and shot several hundred rounds through the M17 before sitting down to compile my thoughts. The M17 is a great gun for a lot of reasons, and I'm happy to tell you why.
History
The U.S. Army really wanted something of an upgrade and I can't say I blame them. I never had a Beretta M9, but I was forced to carry a Beretta 92 (largely the same) when I first became a deputy in the 1990s. While I think (now) some of its poor behaviors were due to a lack of proper gunsmithing, I did not like that gun for many reasons. The Army wanted something better too.
They were looking for more reliability, accuracy, and overall modularity to provide the greatest range of use to most people. This is one of the greatest challenges of outfitting a non-clone fighting force—people come in all different shapes, sizes, and abilities.
The modularity included different grips, sights, magazines, and other accessories.
40
at GunMag Warehouse
Prices accurate at time of writing
Prices accurate at time of writing
In the end, Sig came out on top with their M17, a feature-specific version (also drop safety corrected) which hit all the markers for the stringent military testing.
First Impressions
Sig sent an M17 (and also a Legion) out to me for testing. They were also kind enough to include some of their ammunition for me to use with the pistols—which will bring me to another important point.
Editor: Check out our original review of the P320 if you'd like a baseline.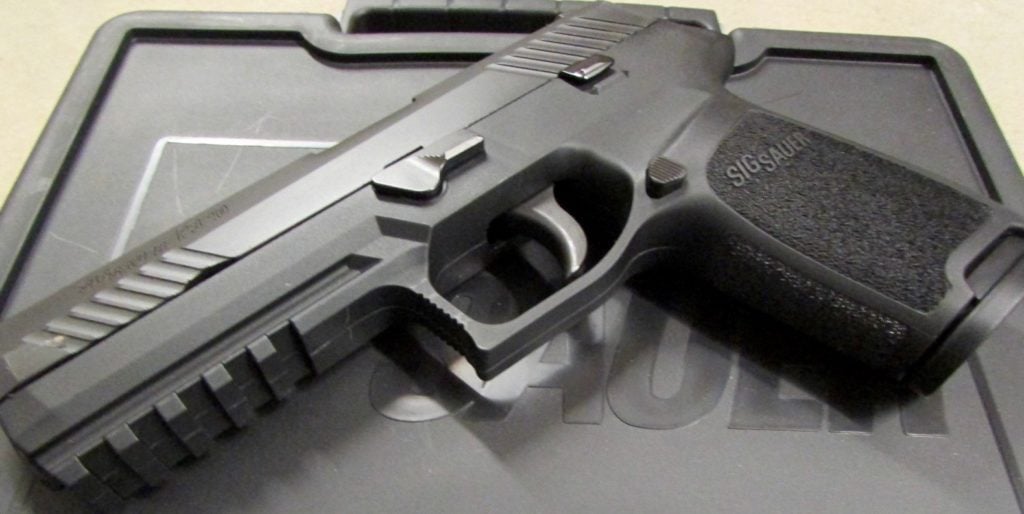 One thing I've always admired about Sig takes me back to my days of reading fantasy.
Magical rings adjust to fit their bearers just right, even if goes from an Orc to a Hobbit. When I have placed my (admittedly large) hands on the grips of Sig pistols, they just feel right—so it is with the M17.
New Military Standard
649
at Kygunco
Prices accurate at time of writing
Prices accurate at time of writing
I have a friend with small hands who has always found the Sigs to be a bit large but this one seems to strike a balance. The grip texture is adequate, nothing too aggressive, but there is a definite sandpaper-like texture to the outsides, frontstrap, and backstrap.
This is a good place to stop and remember the M17, like the P320, has a modular frame.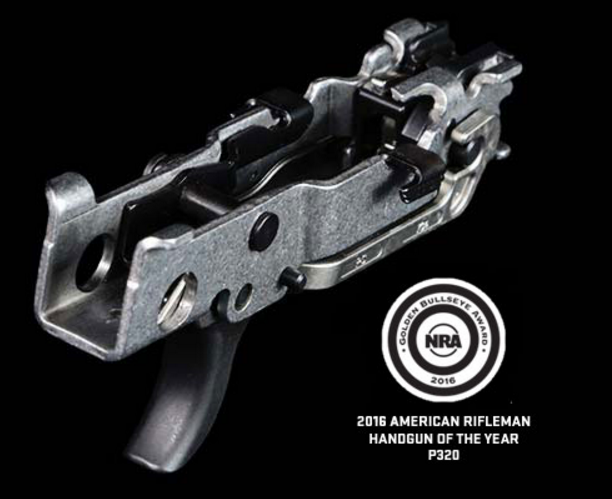 The metal portion, called the frame assembly, can be removed and installed in different sized grip modules, allowing a wide variety of fits for different sized hands.
There are a total of three grip module sizes.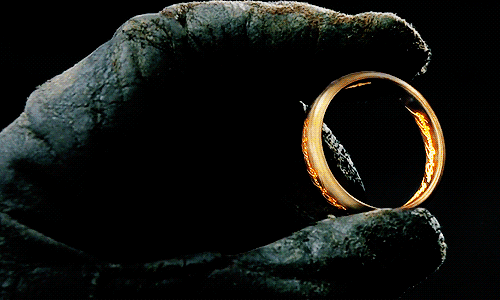 The beavertail, much like most of the design of the M17, is moderate.
It's not too big, not too small.
While the first impression was grand, the size of the beavertail became interesting later on. In addition, the bore axis was a little taller in combination. While I anticipated perhaps a little more muzzle flip, I knew the slide was not going to snake bite me.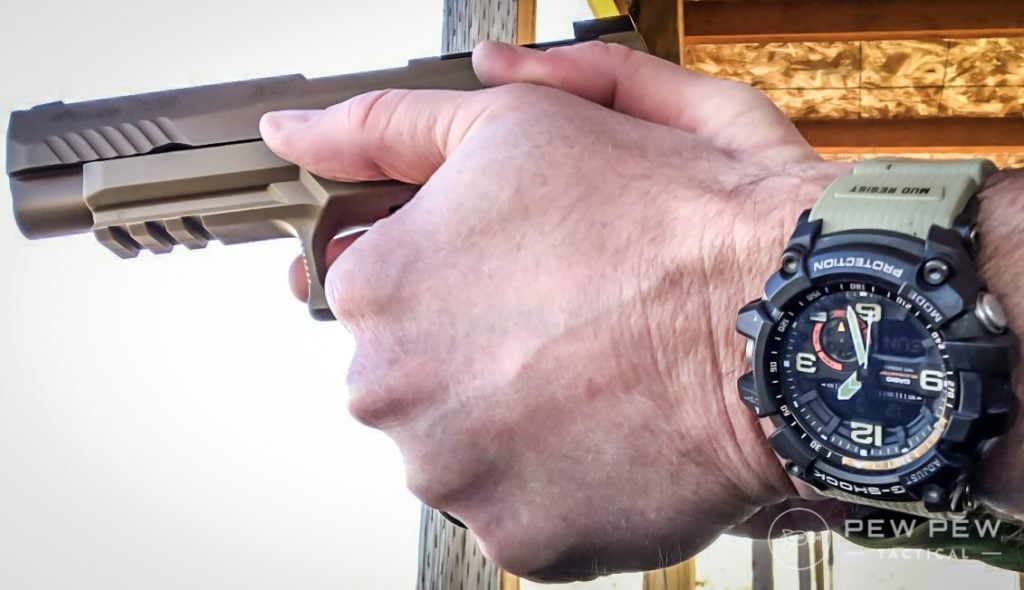 The empty weapon felt good in my hand.
The striker-fired, polymer frame with a steel slide felt familiar in my hand. The ergonomics were good. I could reach all the controls with ease.
While I'm no big fan of an external safety, that's what the Army wanted, so that's what they got. These controls were ambidextrous and I found them easily accessible from either hand without being cumbersome or rubbing my hands during use.
The safety is right where it needs to be and while the slide stop lever is pretty tightly placed just after, you can still operate both quite easily with your thumb.
Testing the trigger, it averaged in at seven pounds on the Lyman Digital Gauge from Brownells but strangely felt lighter than this to my finger. The trigger had approximately 1.5 mm of takeup before hitting resistance.
After that, an easy pull completes the shot. The trigger felt a little springy but was all too familiar to someone used to striker-fired pistols.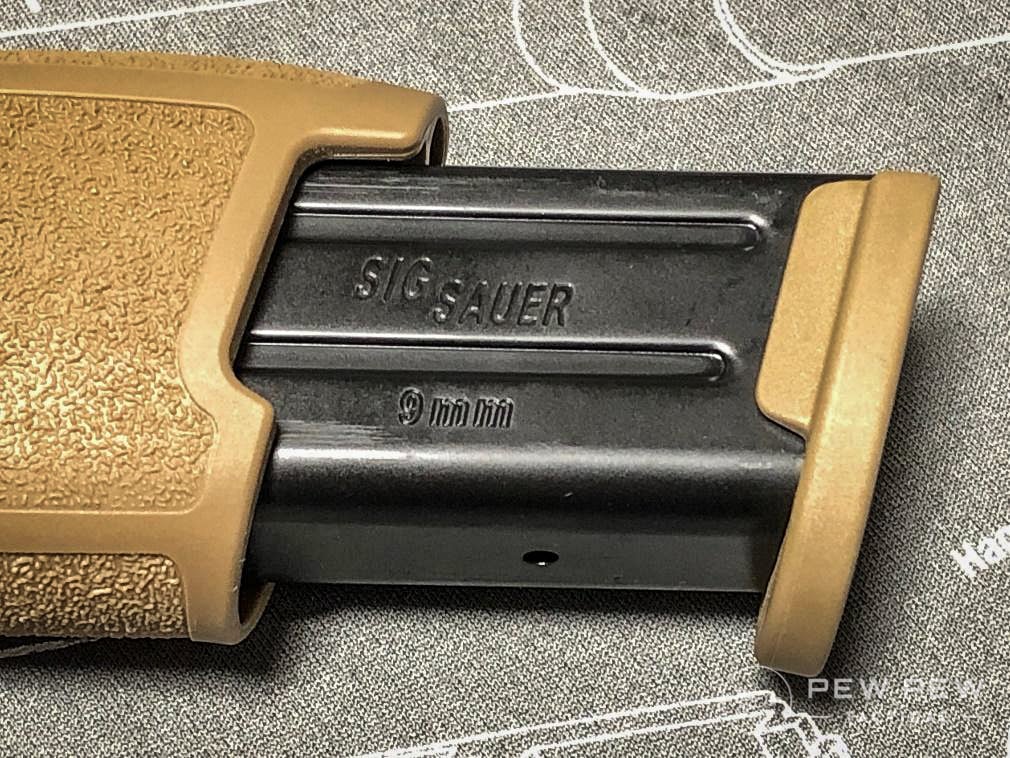 One thing I really enjoyed about the M17 is that metal mags in a polymer magwell slide like you wouldn't believe. They come out great, and they go in just as well.
There is no lingering when you eject an empty magazine, and this is the true test.
Hopefully, you aren't dropping magazine when they're full.
The M17 comes with two 17-round magazines (in free states). One observation I made with the magazines, I couldn't get the 17th round in the first few times I used them. With time, this got easier.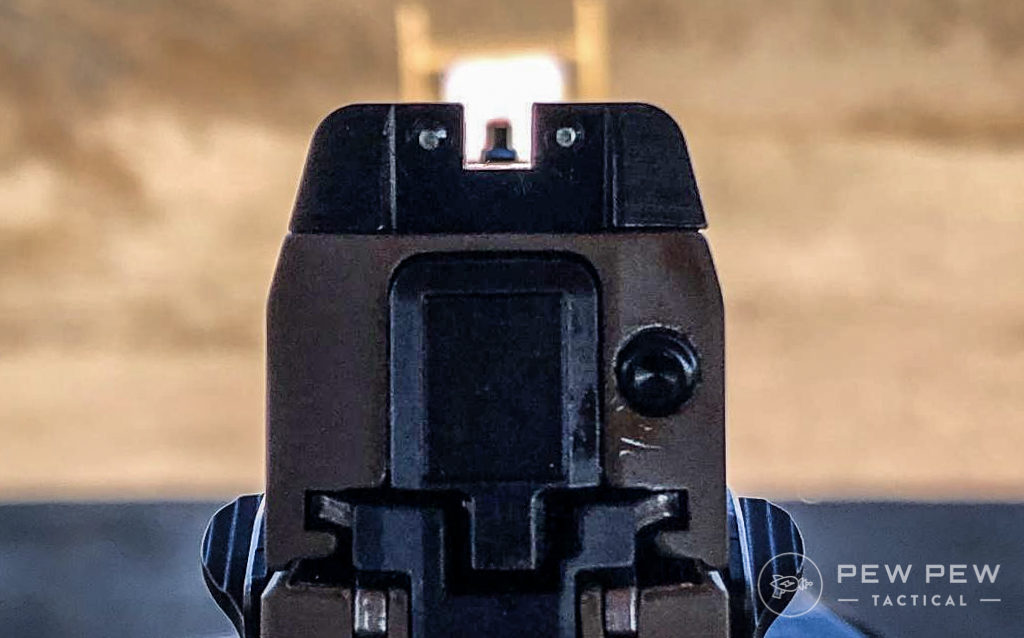 Sights for the M17 are a nice upgrade from what I would consider being stock for any pistol. They are metal and integrated into Sig's system for adding a red dot optic. The front sight is green with a white outline.
To the rear, the Night Sight Plate contains two green vials of tritium and the rear notch is a square. The trio glows nicely in dark conditions.
This plate can be removed to install the Leupold DeltaPoint Pro. To my understanding, this is currently the only optic mountable to the M17 (because the U.S. Army said so) though possible adapter plates could be in the works.
My Own Modular Test!
When I tested the M17 I felt confident it had already overcome anything I could possibly subject it to so I concerned myself with practical applications—accuracy, ergonomics, handling, and ease of use. The M17 did well to excellent in all categories.
For accuracy, I kept working up my familiarity and eventually built up some speed, drawing and firing a full magazine from the ten-yard line. I was able to group well with the M17, within a few inches. Stretching out to various distances, I was able to hit pretty much whatever I was aiming at.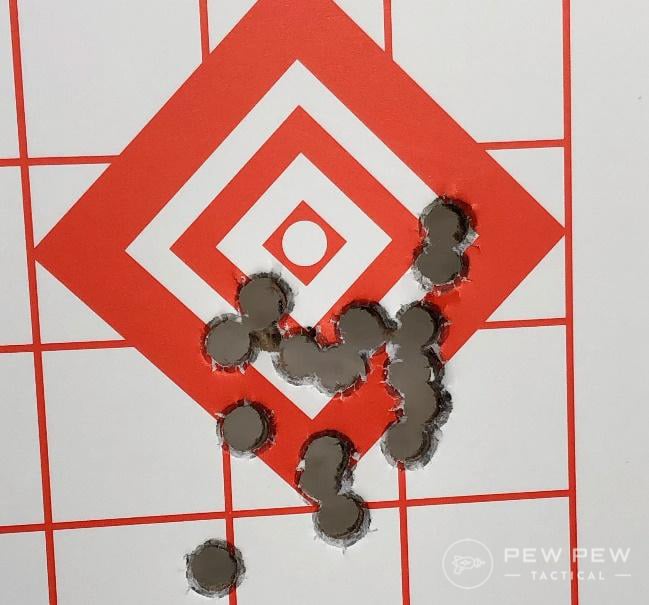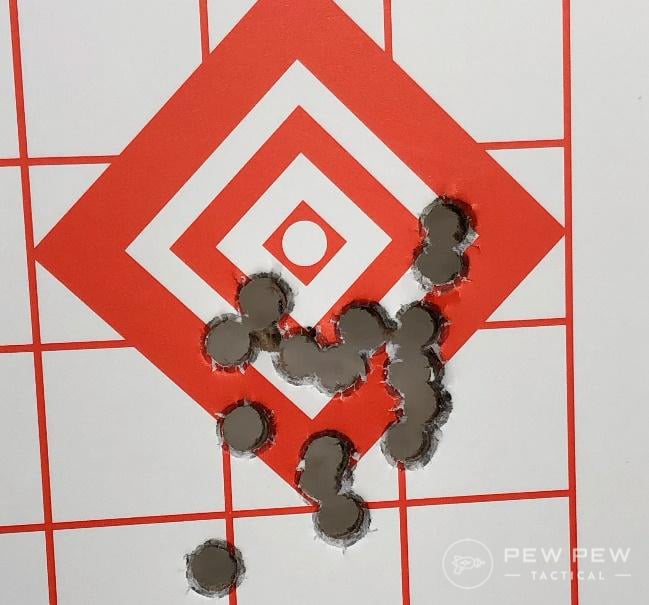 Ergonomics was a bit different, and the size of my hands played a role (yet again) in how the gun ran. My digits weren't causing any malfunctions, but if I didn't grip pretty tightly, the smallish beavertail could work its way under the web of my hand. So, tighter grip was the solution.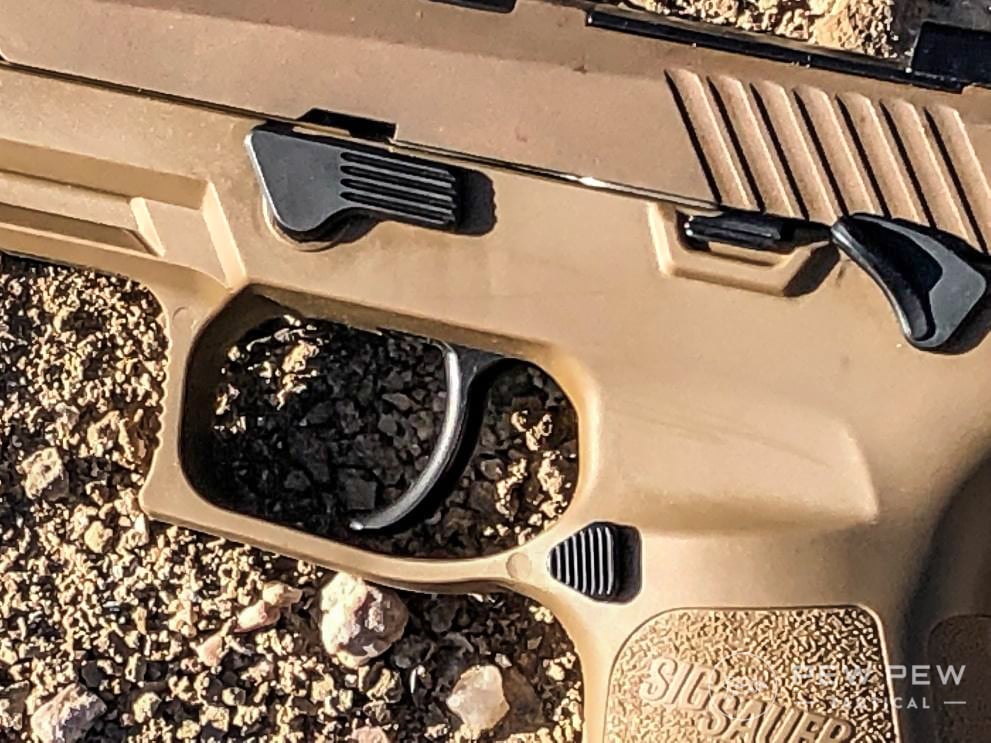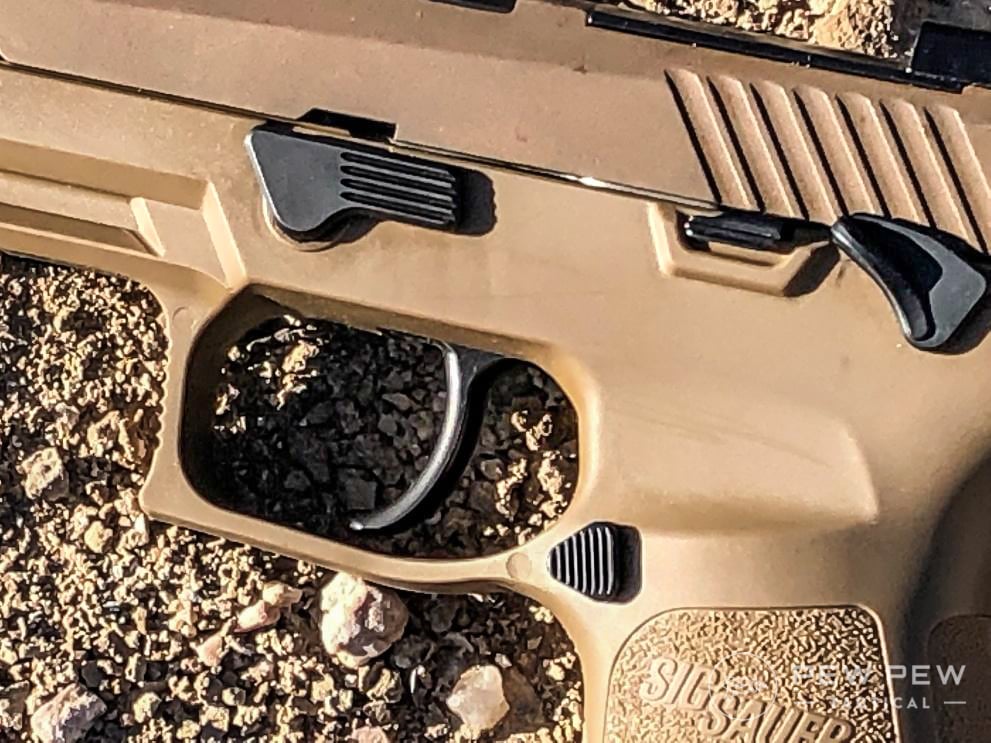 As far as loading, reloading, and other attributes, the gun functioned very well. The rear slide serrations allowed good tactically for running the slide. The magazine changes were downright pleasant, their falling free of the grip and sliding in so easily was really nice.
All the controls were easy to reach and did everything they were designed to do.
I had zero malfunctions when running this gun but the testing also concerned Sig's ammo.
The company has expanded to areas far beyond the norm of late and done a bang-up job from what I can tell. At SHOT 2018 I tested nearly their entire line of optics, firearms, ammunition, and (even) air rifles.
For the M17 test, I used their Elite Performance 9mm FMJ 147 gr. as well as their V-Crown 115 gr. JHP. The ammo was outstanding. I didn't measure speeds but found it to be dependable and predictable.
17
at Brownells
Prices accurate at time of writing
Prices accurate at time of writing
Incidentally, I also fired other loads from other brands such as American Eagle, Hornady, Winchester, and Black Hills with perfect functions.
Field-stripping is also very easy…check out our video:
By the Numbers
Reliability 5/5
The gun ran flawlessly during my testing. Granted, this was just under 1,000 rounds. In fact, many things got better as the weapon started to break in (c'mon He-Man, get that 17th round in!). Luckily, it seems the M17 benefitted from the drop safety fix of the P320 already being resolved.
Ergonomics 3.5/5
While I liked the placement of the controls, I feel like beavertail could be a little longer. However, this may only apply to me or other people with enormous hands. Everything else was better than average—the grip felt like it was made for my hand, more oblong than square. Overall, I don't care for an external safety but this is just my preference.
Accuracy 4/5
Accuracy was good right out of the box. I would say this is a great option for the military or even police use. The sights were easy to pick up and worked really well in low-light conditions also. The combined package makes for an accurate pistol.
Customization 4/5
I was happy to see Sig included a Picatinny rail on the front of the pistol so you have some great options there, perfect for a full-sized gun is the Streamlight TLR-1 HL.
141
at Amazon
Prices accurate at time of writing
Prices accurate at time of writing
The modularity inherent in the P320/M17 series is in and of itself, a strong motivator for people of different sizes who may need to adjust the system to fit them.
The only knock against the customization of this firearm has to be the mandatory Leupold—and this should not be considered a dig on that outstanding optic.
449
at OpticsPlanet
Prices accurate at time of writing
Prices accurate at time of writing
The future may hold other optic options for the M17.
Value 4/5
The $649.00 going price in stores falls nicely lower than the MSRP of $768.00. When you think about what you are getting with this pistol, it's a great value. You get a standalone handgun with Sig reliability and accuracy as well as access to an entire system of customization options.
New Military Standard
649
at Kygunco
Prices accurate at time of writing
Prices accurate at time of writing
These include the three different sized grips and may include compatibility to the conversion kits allowing for other calibers. I don't know this for a fact but it would track considering the M17's root gun is the P320.
Overall 4/5
Field Strip & Reassembly
Need some help field stripping and maintaining? We made a quick video just for you:
Parting Shots
The Sig Sauer M17 is the closest a civilian will get to the Army's issued sidearm. But it does an excellent job fitting a wide range of people and performing its duty with utter reliability. Plus it comes stock with night sights and can be upgraded to a red dot optic.
I found it to be reliable, accurate, easy to operate and maintain. It can be configured to different sizes (carry down to sub-compact) and is also upgradable to a red dot optic (and comes stock with night sights).
The price for such an option-laden pistol is very competitively priced in today's market.
Have you shot the M17 yet? Let us know about it in the comments! Need an optic for your new carry weapon? Check out the 4 Best Pistol Red Dots!