While the AR-15 is the king of the combat carbine world, there are other options on the market.
Have you ever been looking at a new AR-15 but they all seem too similar and you feel the itch to try something new?
Other times, you may even want an extra short rifle without going through a lot of paperwork for a Short Barrel Rifle (SBR).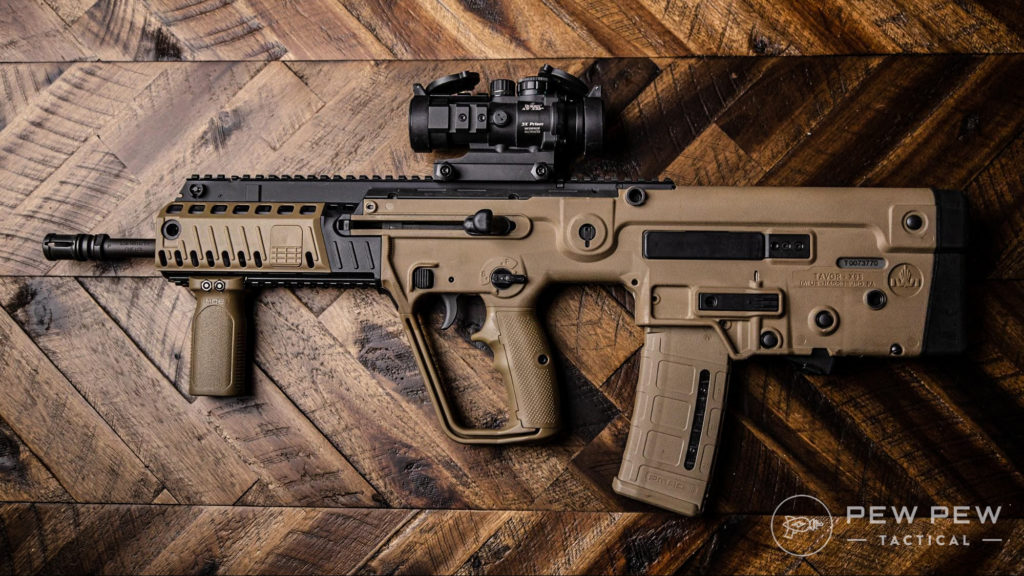 If this is the case, you may be interested in looking into the Tavor X95 by IWI.
I am certain you will love with the Tavor X95, especially since it is nothing like your standard AR-15 being a bullpup style rifle with an overall length shorter than most SBRs.
In this article we will go over all the features of the Tavor that will help spice it up during your next visit to the range.
Let's take a look!
1749
at Gunprime
Prices accurate at time of writing
Prices accurate at time of writing
Table of Contents
Loading...
Where It Came From
The Tavor has been out for a while but about 10 years ago it was selected by the Israeli Defense Forces (IDF) to replace their issued M16 rifle and M4 carbine.
There were two main reasons why the IDF wanted to replace their aging M16A1/A2 rifles and M4A1 carbines. The first was to adopt a more modern, durable and easy to maintain weapon.
Secondly, was to have a rifle suited for close-quarters while keeping the benefits of a full-length rifle.
I took the Tavor X95 to the range and fired at least 500 rounds down the pipe in one trip and I was surprised that there was not a single issue, it did exactly what it was supposed to do.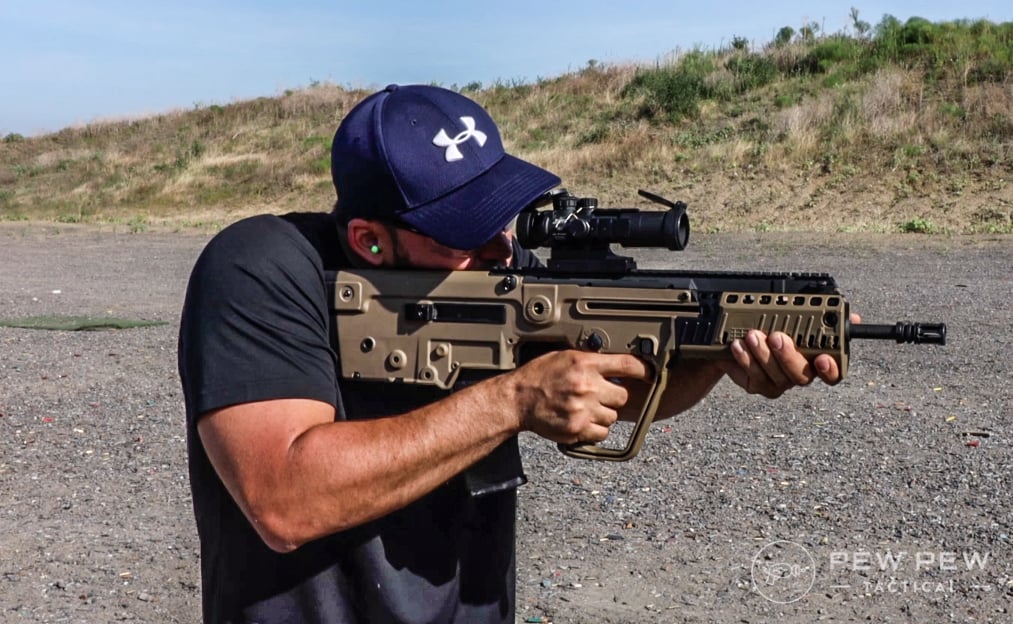 IWI Tavor X95 Basic Specs
Caliber: 5.56 NATO, 300 Blackout and 9mm
Action: Semi-Auto
Operating System: Closed rotating bolt, long stroke gas piston
Magazine: AR-15 style magazine
Barrel Material: Chrome lined, Cold hammer forged, CrMoV
Barrel Length: 16.5"
Overall Length: 26.125"
Weight: 7.9 lbs.
Rifling: 1:7 inch twist, 6 grooves, Right hand
Sights: Folding front sight (blade) with Tritium insert and rear sight
Range Report
A day at the range is always good, and the Tavor is definitely a blast to shoot.
Recoil was almost nonexistent and it felt super comfortable to shoot. Several hundred rounds later and I did not see a single malfunction throughout my experience with the Tavor.
I started shooting at 100 yards and I hit the target without a problem, I then moved closer to have some fun.
Everything was just fine while shooting but I realized that you need to get really low and close to your body to be able to aim properly.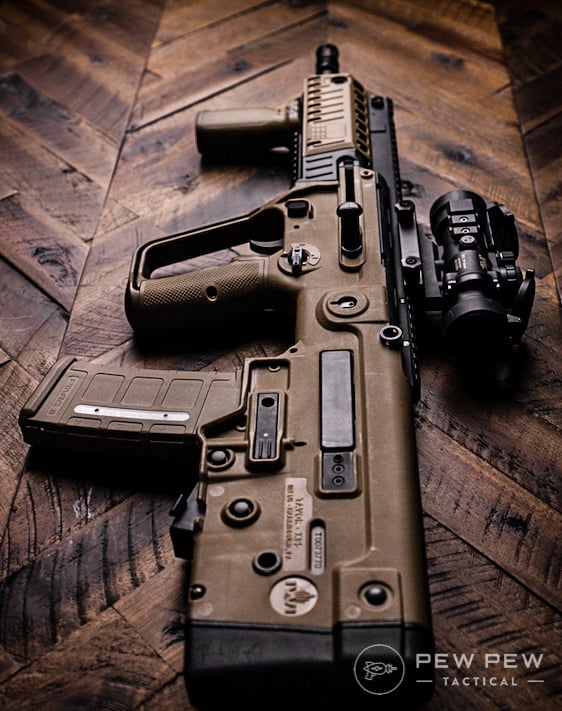 I noticed that I could not aim as fast as I did with my AR. This might be solved with a higher mounted optic.
Reloads were definitely a problem. Compared to an AR, I felt very slow. Sure, practice makes perfect and all, but I did not do that before taking this guy to the range.
For me, it did not feel as natural because I have only practiced a little in the AR platform and there is definitely a learning curve when switching to a bullpup style rifle.
I also realized that some magazines didn't fall free every time after pressing the magazine release, therefore, I had to strip some magazines when doing some of those "fast" reloads.
Best Magazine
12
at Gun Mag Warehouse
Prices accurate at time of writing
Prices accurate at time of writing
The charging handle was very easy to access and you don't have to break your grip when doing this.
Ambi controls is normally a weak point on a bullpup rifle, but this ambidextrous charging handle was great for lefties.
It is also a non-reciprocating charging handle — meaning that the charging handle is not going to hunt your fingers of your support hand when shooting the rifle.
While technically a fully ambidextrous rifle, the charging handle does need to be switched from left to right for left-handed shooters. This is easy to do, but not exactly something you should be doing in the field.
Otherwise, the Tavor features an ambi fire selector, ambi magazine release and a bolt release all the way in the back of the rifle accessible for righties and lefties.
To me, the bolt release is in a very awkward spot. But this could be another training issue that I just need to get used to.
Size and Capacity
The Tavor X95 sets itself apart with the bullpup design because of its compact size while having a 16-inch barrel.
If you compare it with the overall length of an AR-15 with the stock collapsed and a barrel of 16.5 inches, that is about 32 inches. The Tavor has an overall length of just 26 inches.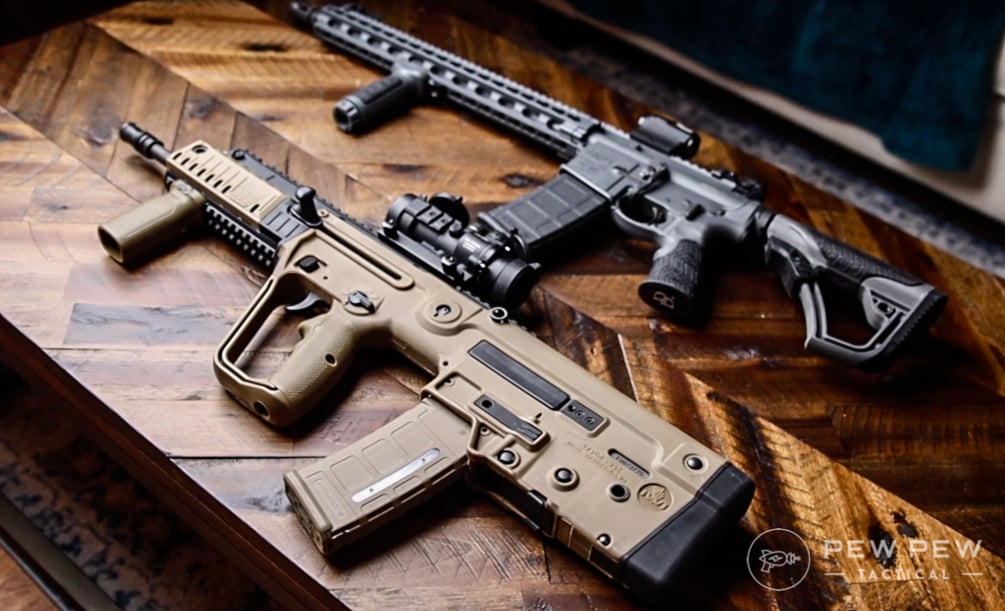 You may also opt for the Tavor X95 since getting an SBR cost a lot of time and money on top of the normal cost of the rifle.
If you decide to get a SBR or AR pistol, you will decrease the bullet velocity while at the same time increasing muzzle blast, meaning that you are going to be that annoying guy at the indoor range.
For being a modern 5.56 rifle, the Tavor X95 is a bit heavy weighing in at 7.8 pounds.
Compared to most ARs at about 6-7 pounds.
Shooting the Tavor the weight doesn't feel bad since it is a well-balanced rifle. The extra weight also helps soak up recoil a bit making it smooth and easy to shoot.
Long Stroke Gas Piston
The Tavor uses the long stroke gas piston system and this is the system that you find in the M1 Garand and AK-47.
This system will add some weight to the design and this might be the reason why the Tavor is almost 8 pounds.
But the benefit of having a long stroke gas piston is extreme reliability even over long periods of time and with little cleaning.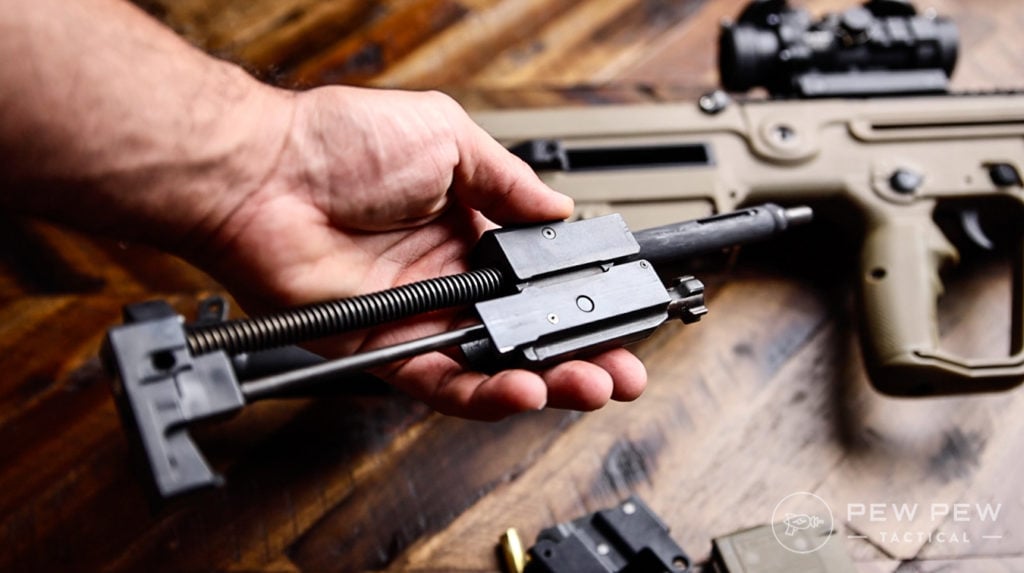 Stock
The stock is made of a hard, strong plastic that feels solid when you pick up the Tavor.
If you buy this rifle brand new, it comes with two swivels so you can get your sling and use it right away.
Best Two-Point Sling
49
at Brownells
Prices accurate at time of writing
Prices accurate at time of writing
Field stripping the Tavor is a breeze, no tools or anything like that required.
In a very H&K G3 feeling way, you have three pins that are holding everything together. The first pin — you will push out and it will allow you to take the bolt out.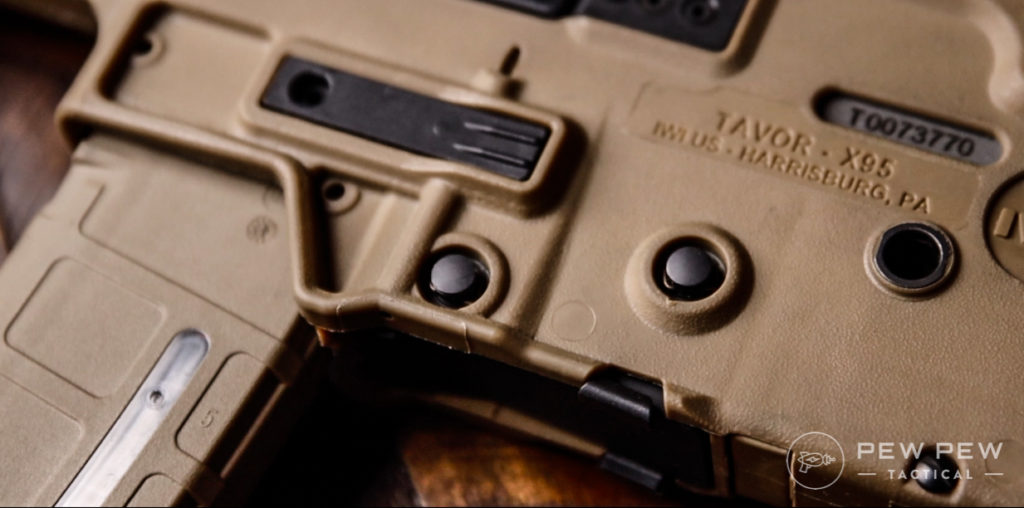 The other two pins will allow you to take out the trigger assembly.
And yes, it is this easy to gut the Tavor.
Other models in the Tavor family have a smaller buttstock made out of steel instead of rubber.
However, I prefer the rubber buttstock since it is giving enough length to hold the rifle comfortably. I feel that if it were to be a little bit shorter, it would be harder to shoot the rifle.
Handguard
The top of the rifle has a Picatinny rail where you can attach your optics and any other accessories that you might need.
A neat feature that you might not notice is that you have hidden integrated iron sights in the Picatinny rail.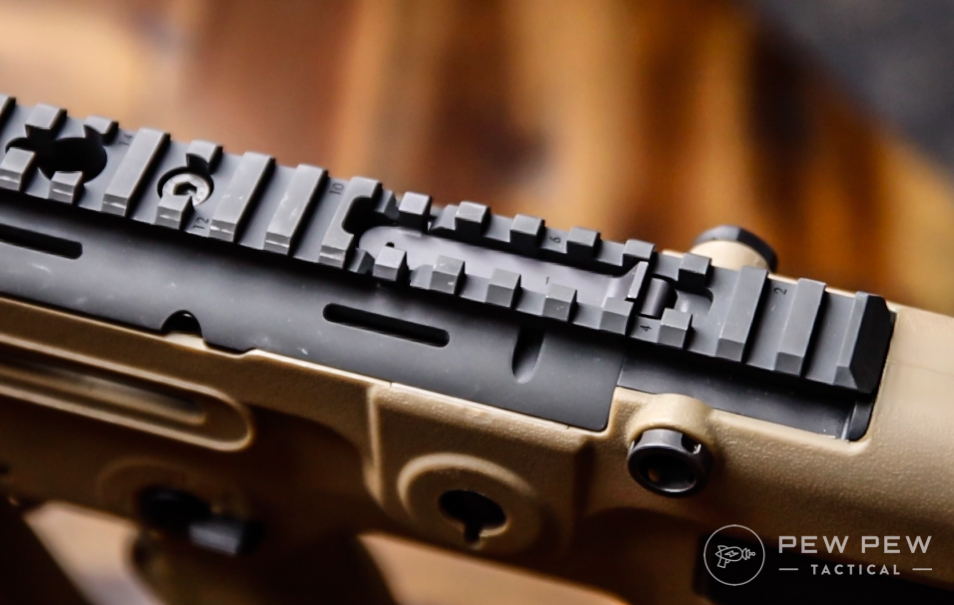 You have three panels that come with the Tavor, and if you take them out, you can expose the Picatinny rails on the 3, 6 and 9 position for more accessories.
I went with adding a Magpul vertical grip.
18
at Brownells
Prices accurate at time of writing
Prices accurate at time of writing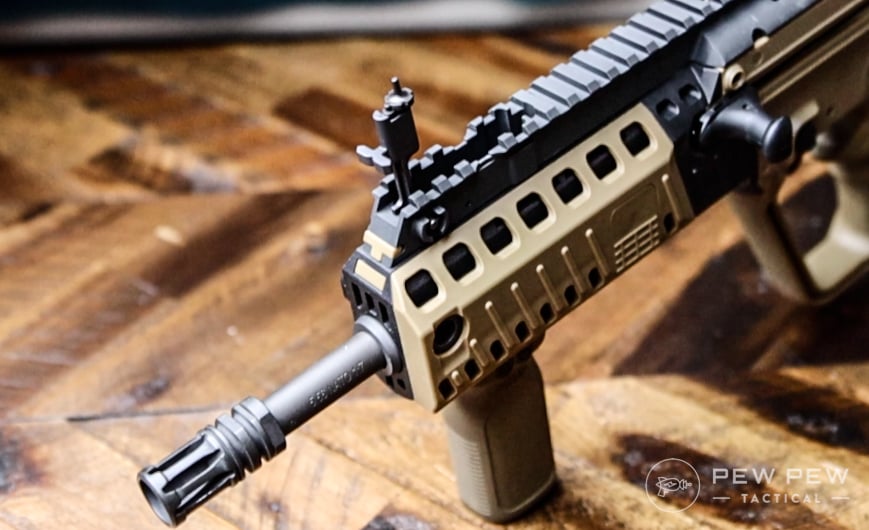 The panel at the 6 o'clock position includes a hand stopper to prevent your hand to slip and to be in the front of the muzzle.
Another nod to ease of disassembly, you do not need a tool to remove or install these panels, you can just push the lever that is integrated into the panels and slide them right off.
Grip
In my opinion, the grip seemed a little weird. It may not be my favorite but isn't my least favorite either.
I wish the trigger guard only covered the entire area of the trigger, like on an AR.
With the whole-hand-guard system the Tavor has when I run and shoot with the Tavor, my hand seemed to slide up the pistol grip.
Then, when I wanted to pull the trigger and shoot I had to adjust my grip again.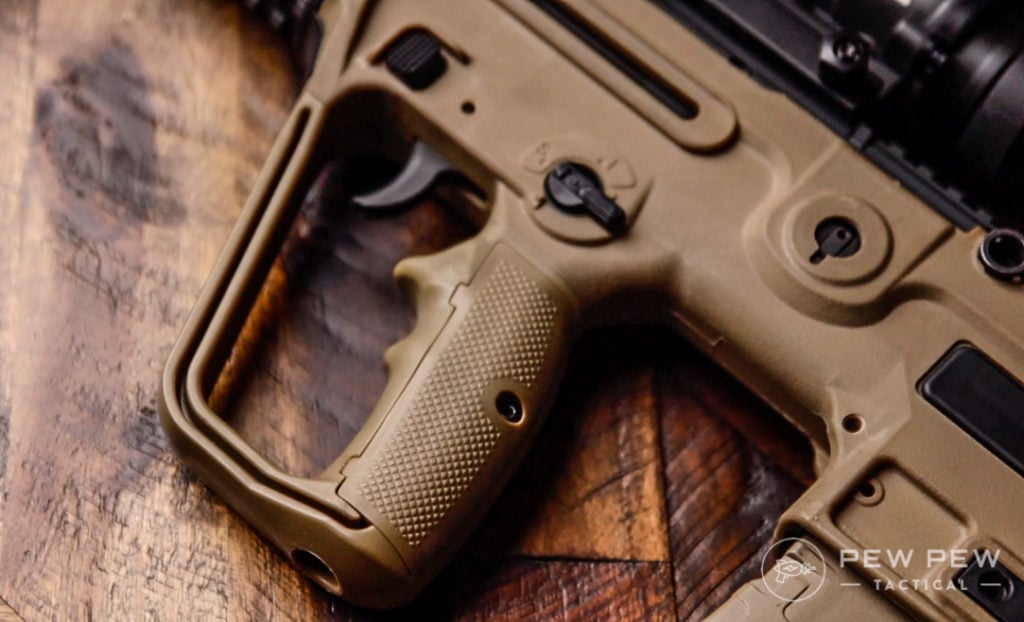 IWI offers a kit where you can change the pistol grip system so if this bothers you as much as it bothers me, you can buy that kit and fix this issue.
Optics
When using the Tavor throughout this testing period I used the Burris 3X Prism Scope.
349
at Amazon
Prices accurate at time of writing
Prices accurate at time of writing
At 100-yards standing I was hitting the target no problem.
Given that this is a 3X magnification scope, this is not the best scope for close-quarter combat or home defense.
Even though I mentioned that this rifle is super compact and has all the capabilities of a full-size rifle if you needed to, I would recommend mounting something smaller such a regular red dot.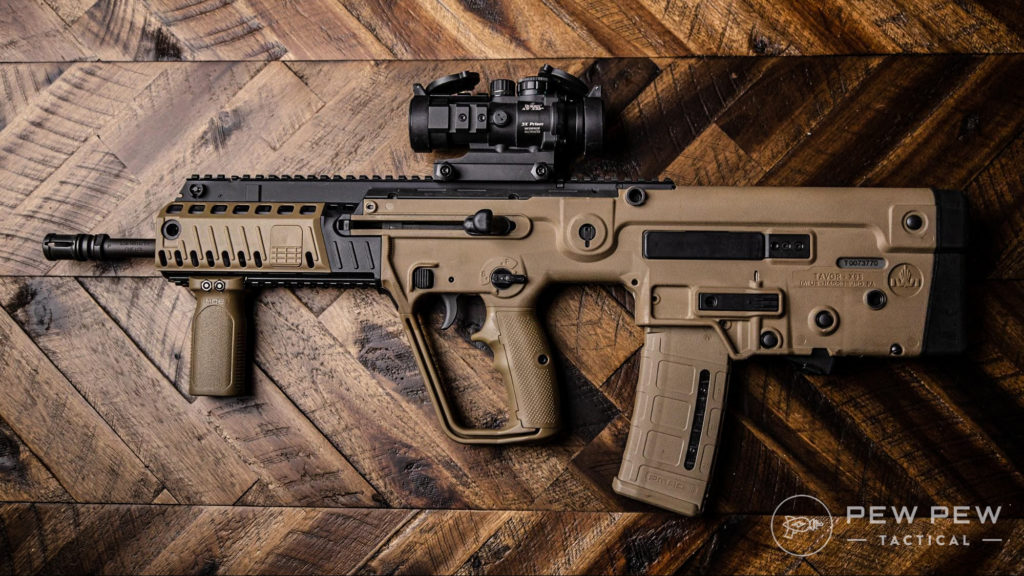 I also tried a Sig Sauer Romeo 5 and I have to tell you this is where all the fun is at. It is a blast mounting that small red dot and fire away.
Brutally Tested Budget Red Dot
109
at Brownells
Prices accurate at time of writing
Prices accurate at time of writing
I truly believe that a red dot is the best option due to the speed of sighting and easy of use.
We also have some iron sights in the Picatinny rail and they are surprisingly decent!
I would still recommend a proper optic, but it's good to know that you have the backup option if you ever need it.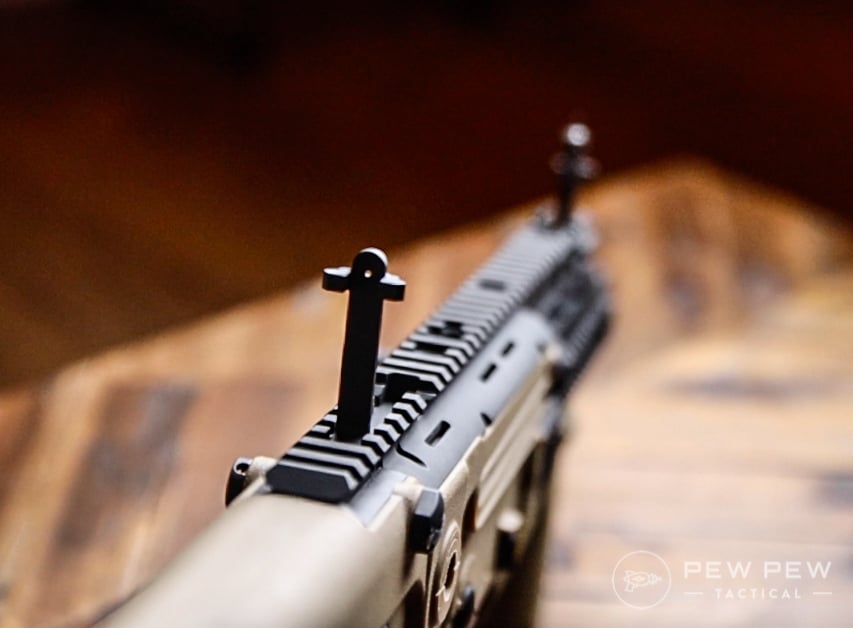 These are flip-up iron sights integrated into the Picatinny rail, therefore, you will always have them and these aren't going to take any space from you.
The downside though is that if you have any accessories mounted on top where the iron sights are supposed to be you are going to have to detach all these accessories before using the iron sights.
And depending on which situation do you find yourself this can be a real issue.
Check more of our favorite optics in Best AR-15 Optics: 1x and Magnified.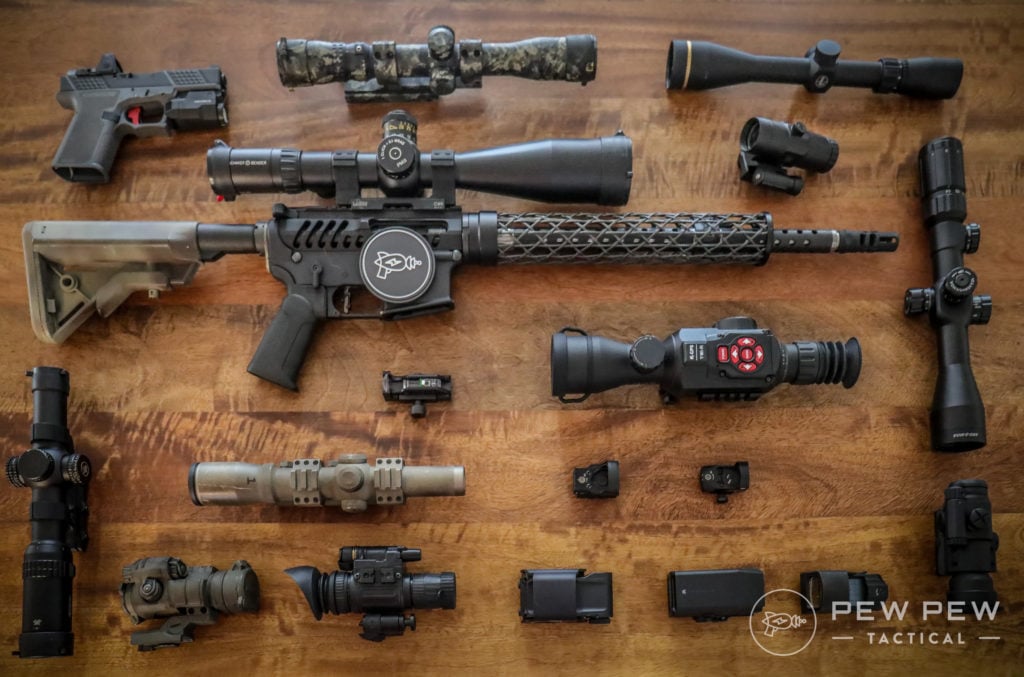 Price
The price is a little high but you are getting one hell of a rifle.
Just imagine having a full AR15 in a different configuration with the size of an AR pistol or SBR without having to go through the entire process to get one.
1749
at Gunprime
Prices accurate at time of writing
Prices accurate at time of writing
That alone might be worth it for some people.
By The Numbers
Reliability: 5/5
After nearly 1,000 rounds total, the Tavor did not give me any reliability issues. Taking a look at other higher round count reports, the durability is as solid as it gets.
Best .223 Bang-for-the-Buck
18
at Brownells
Prices accurate at time of writing
Prices accurate at time of writing
Accuracy: 4/5
You cannot pretend that the Tavor is a sniper rifle or a long range beast, but for its role and caliber, it is on target at reasonable ranges. I didn't MOA test it since I know that the rifle will outshoot me, and for a fighting rifle that is really all that matters.
Ergonomics: 3.5/5
I believe this is a more objective opinion since some people would prefer the ergonomics of an AR-15 style rifle or some people might love how small and compact the Tavor is.
The ergonomics were okay to me and I feel that if I practice more with this rifle I would get more comfortable and more proficient.
However, it is something that will require extra training.
Looks: 5/5
I loved the looks of the Tavor. I think this rifle has a unique look to it and IWI did a great job to make it look super cool.
Customization: 4.5/5
Customization for the Tavor is a plus. Very similar to the AR 15 platform you could add as many accessories as you want.
With Picatinny rail in all of the right places, it's easy to adjust and configure the rifle as needed.
Editor's Pick
288
at Amazon
Prices accurate at time of writing
Prices accurate at time of writing
You also have all those integrated QD attachments for your sling in the stock of the rifle.
That does bring us to the grip though. If there is one drawback to customizing the Tavor, it would be the grip.
If you are looking for a pistol grip that will provide you with a full trigger guard you might have trouble finding this grip since it is out of stock quite often.
Bang for the Buck/Value: 4/5
With an MSRP of just under $2,000, the Tavor isn't a cheap plinker.
I am still rating the Tavor in this category pretty high because you actually get quite a gun for that price. Good ergonomics, the size, reliability, and other features make the Tavor worth the dollars in every way.
Overall Rating: 4/5
Parting Shots
The IWI Tavor X95 gives you a shorter package than some SBRs. The bullpup form factor gives you a full 16-inch barrel but the ergonomics might not be for everyone. However, customization and looks are stellar. You're going to get some head-turns at the range.
I would consider the Tavor to be one of the higher-end rifles that can give a fight to any big-name AR.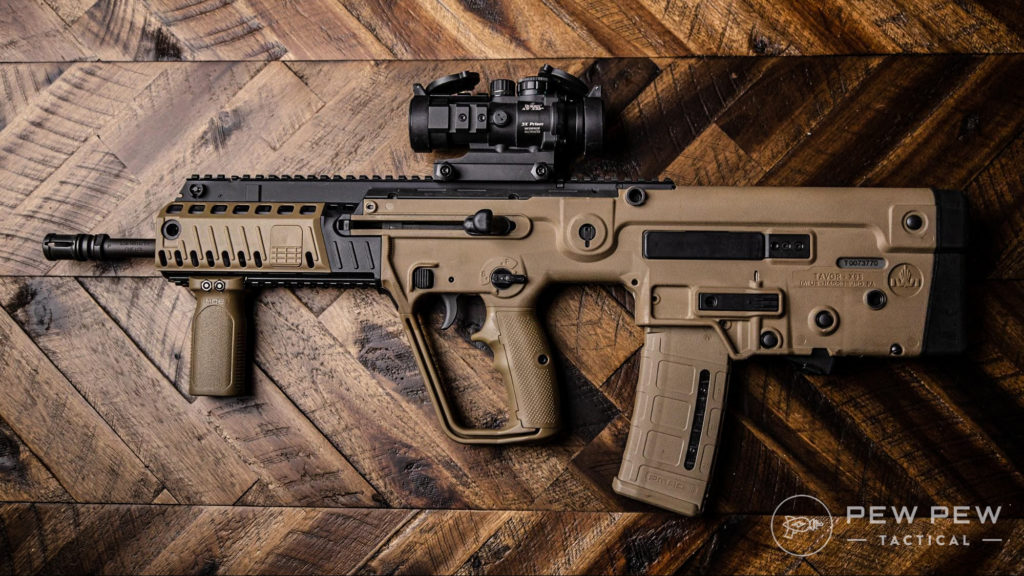 But since it is a different form factor, you will need to practice with this rifle and get familiar with it.
I would highly encourage you to try the Tavor X95 either by shooting with a friend, finding a range that will let you rent it out, or just go ahead and buy one.
1749
at Gunprime
Prices accurate at time of writing
Prices accurate at time of writing
I truly believe that this is a rifle worth including in anyone's collection. If you want to see more of the Tavor, take a look at my video review!
What do you think about bullpup rifles? Is it the wave of the future or a fad that's almost dead? Let us know in the comments! For another awesome bullpup, take a look at our hands-on review of the Steyr AUG!