AR-15s are like the Legos of the adult world — totally customizable with a ton of parts to swap out, upgrade, and change up.
But if you're like us, sometimes it can be overwhelming to decide exactly what to upgrade…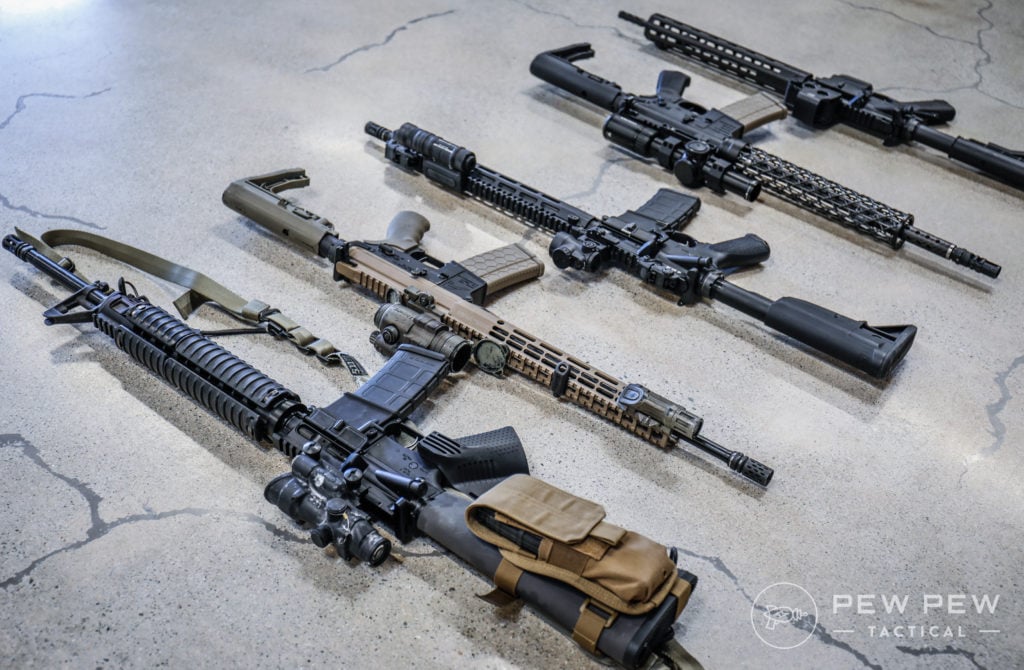 So, if you're unsure what furniture or accessories to make your AR-15 run better, you've come to the right place.
With our guide, you'll be able to make a better-informed decision on how to make your AR-15 the best fitting and looking one out there.
We'll go over our favorite buttstocks, all kinds of grips, rail protectors, slings, and more.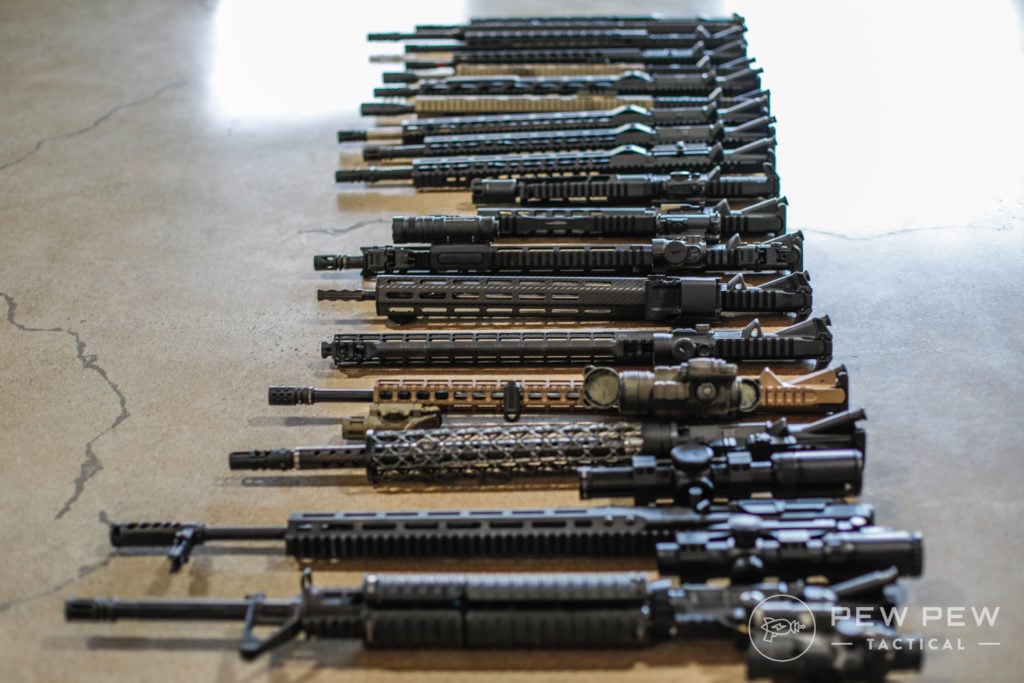 Note: we consider the pistol grip, buttstock, and handguard the primary furniture of the AR-15 since almost all ARs need to have the three essential ingredients to function comfortably.
Best AR-15 Pistol Grips
Called a "pistol grip" since they resemble the grip angle of pistols as opposed to traditional rifle grips; for most, the pistol grip is more ergonomic, not to mention more "normal" looking on an AR.
If you bought a stock AR-15, it most likely came with a standard A2 grip. That often feels a little too skinny and cheap.
It'll do fine, but there are too many affordable options out there that will fit your hand much better.
1. Magpul AR-15 MOE/MOE+ Grip
The go-to grip for our ARs…the Magpul AR-15 MOE Grip offers a lighter, more comfortable, but still affordable option.
Bonus, it also features a hollowed space with a cap on the bottom to store essential items like an extra bolt. And it comes in several colors.
Also, the MOE+ Model has a rubber anti-slip coating which we highly recommend.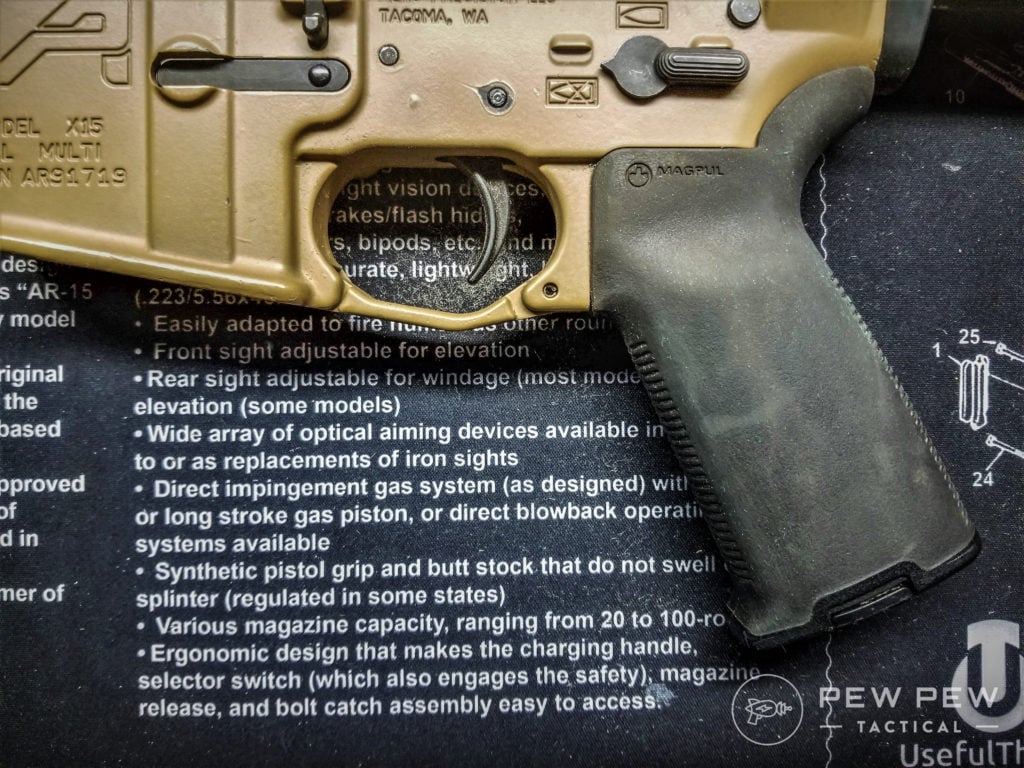 2. Hogue Overmold AR-15 Pistol Grip
Another of our favorites that is ergonomic and very grippy due to the larger size, rubber material, and finger grooves is the Hogue Overmolded AR-15 Grip. Hogue also offers a model that sports a beavertail — which we prefer.
3. Magpul MIAD AR-15 Pistol Grip
And for those of you who want the best fit and customization, we recommend the Magpul MIAD.
Why?
Well, it gives you several swappable choices for palm-size and front-finger grooves. Solid option for the price.
4. Tyrant Designs Mod Grip
When aesthetics AND comfort matter…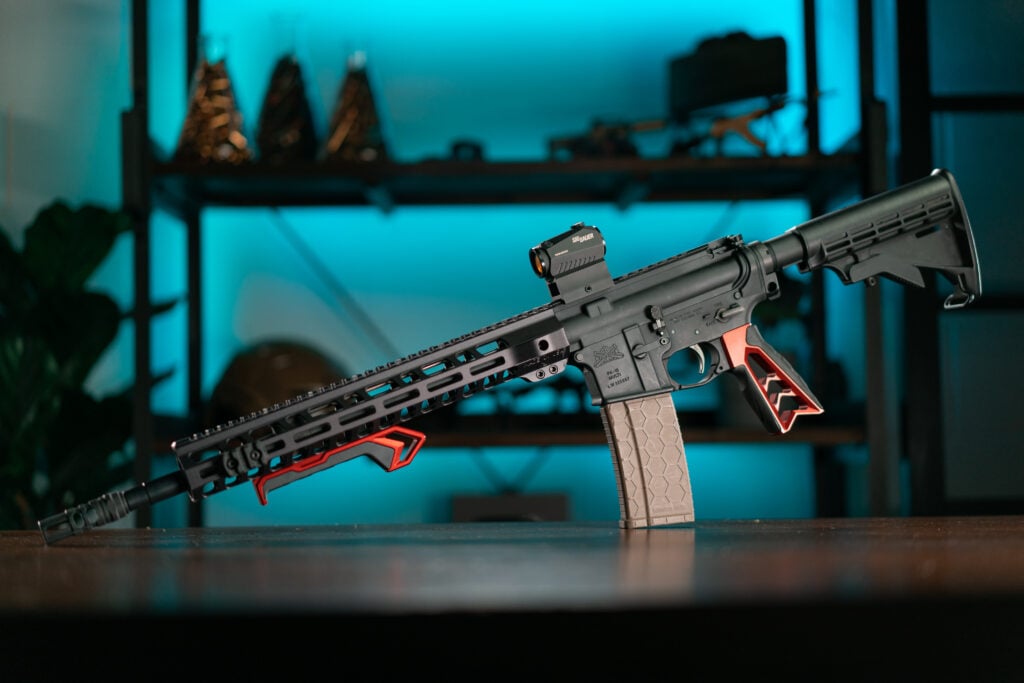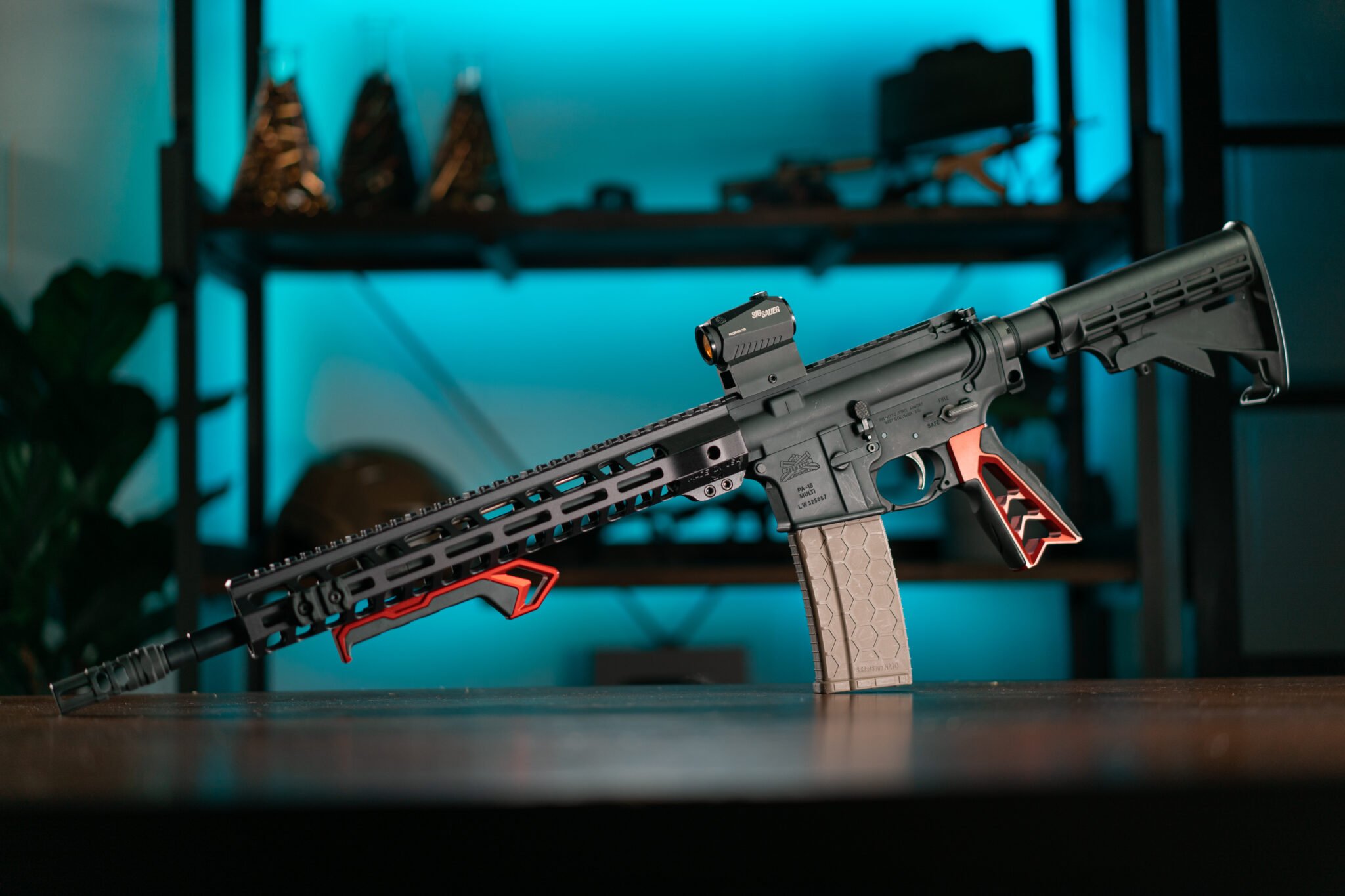 We dig the Mod Grip, which gives you a rubberized front/back while keeping it sexy.
This one lets you get really high up on the rear of the grip, too, if that's your preference.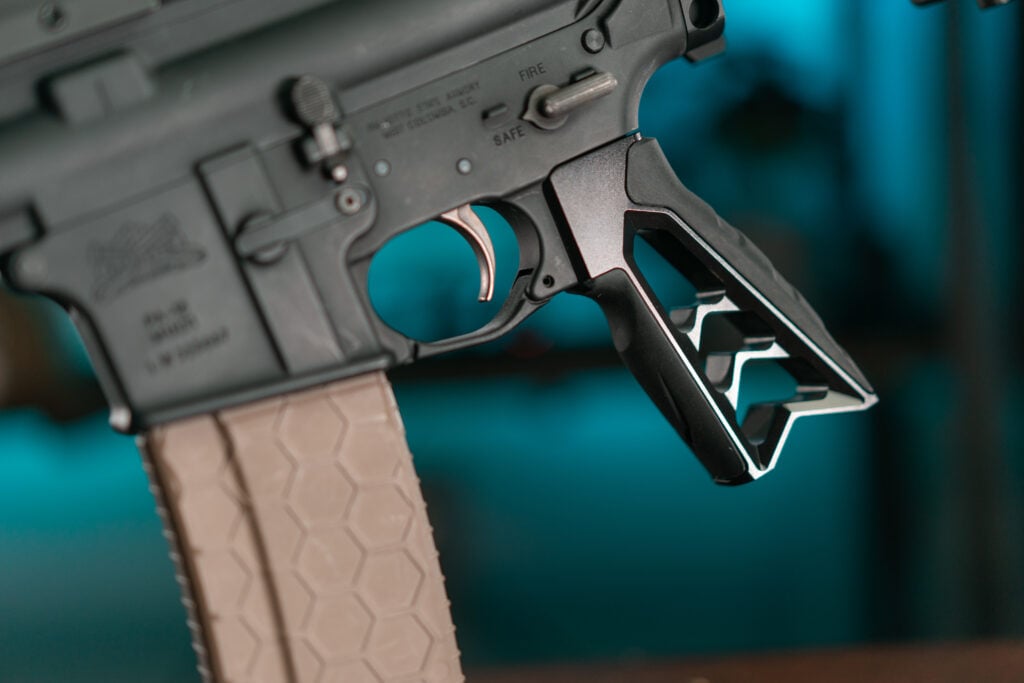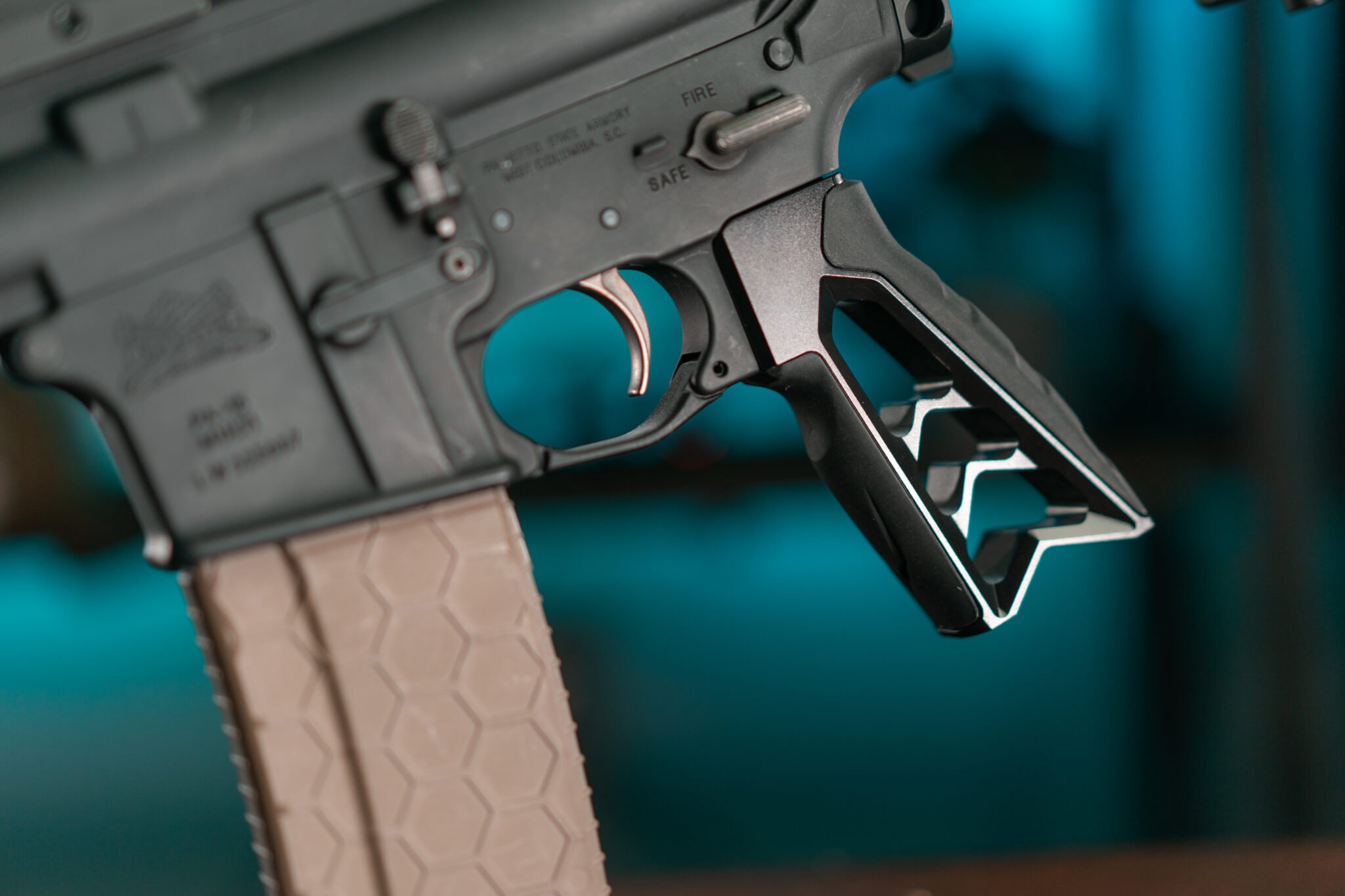 My only nitpicky thing is that I'd like to see an extra finger groove in the front for my hand geometry.
Otherwise solid if you want an AR grip that turns heads.
5. BCM Mod-1 Gunfighter Grip
Another of our favorite rifle and gear manufacturers…BCM.
They have several "Mods" for their grips…but the one we like is the Mod-1. It sports a reduced angle that makes it more comfortable for CQB and shorter guns.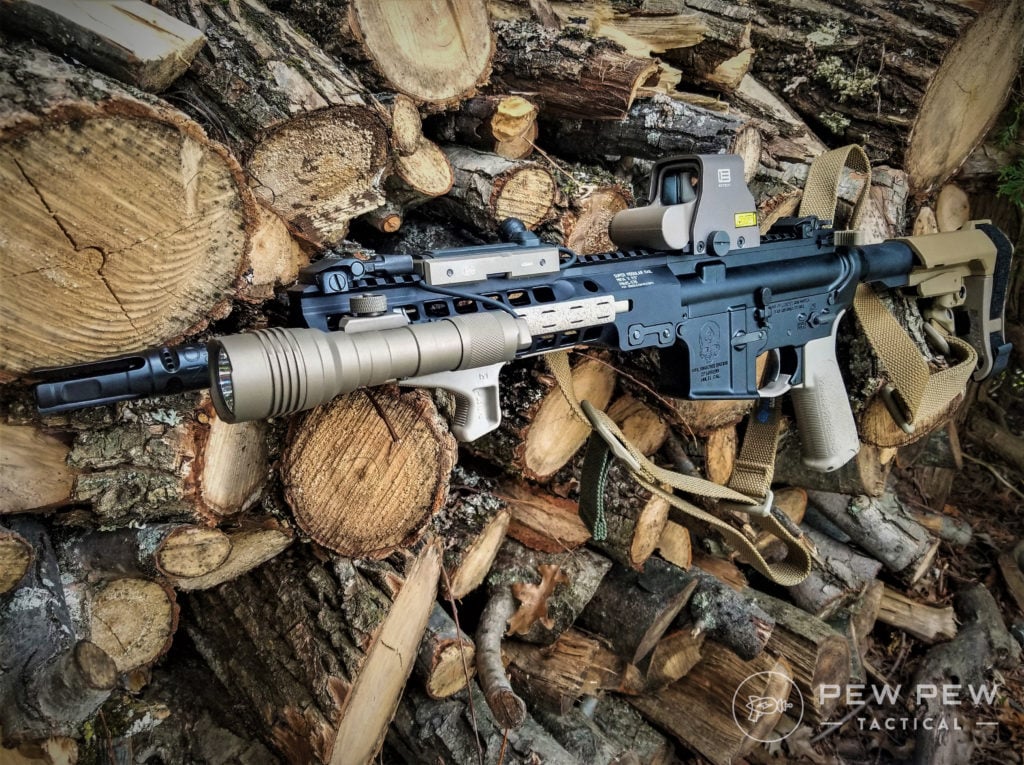 The Mod-1 differs from the Mod-0 in that the back portion is thinner, which we found works best with the reduced angle.
That only touches a few of our favorite grips…for all the rest, check out Best AR-15 Grips.
Best AR-15 Buttstocks
It's that thing you rest your cheeks on.
While we go in-depth with a dozen of the most popular choices in our Best AR-15 Stocks article, we'll keep it brief here with a couple of our favorites.
1. Magpul MOE-SL
The Magpul MOE-SL Stock sports a slimline build that offers a better cheek weld and some weight savings.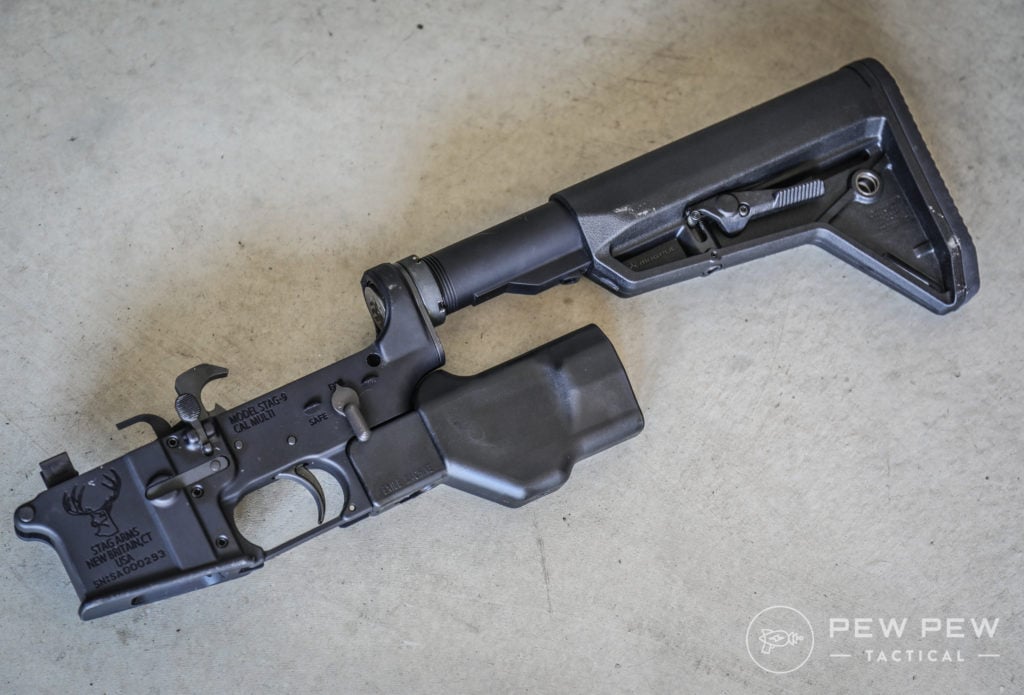 It's been perfect so far in my testing, and comes QD-mount is ready for slings.
2. Magpul PRS Buttstock
For precision rifles, the Magpul PRS Buttstock offers fine adjustments for both cheek weld and length of pull.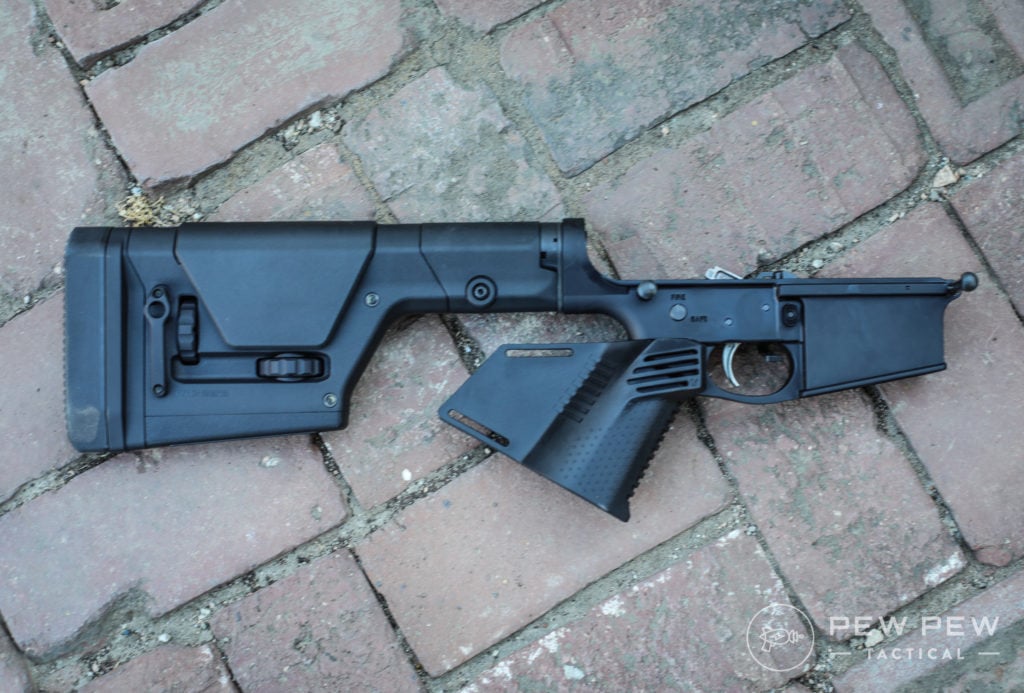 Weighing almost 2 pounds, this stock comes built to last. It's built for a rifle-length buffer tube but also comes with spacers to make it work with regular-spec carbine-length tubes.
Though pricier, it's great for its specific purpose of precision shooting with your AR.
3. VLTOR IMOD Stock
The most comfortable adjustable stock we've tried, the VLTOR IMOD Stock, is what we use to run on our race carbines.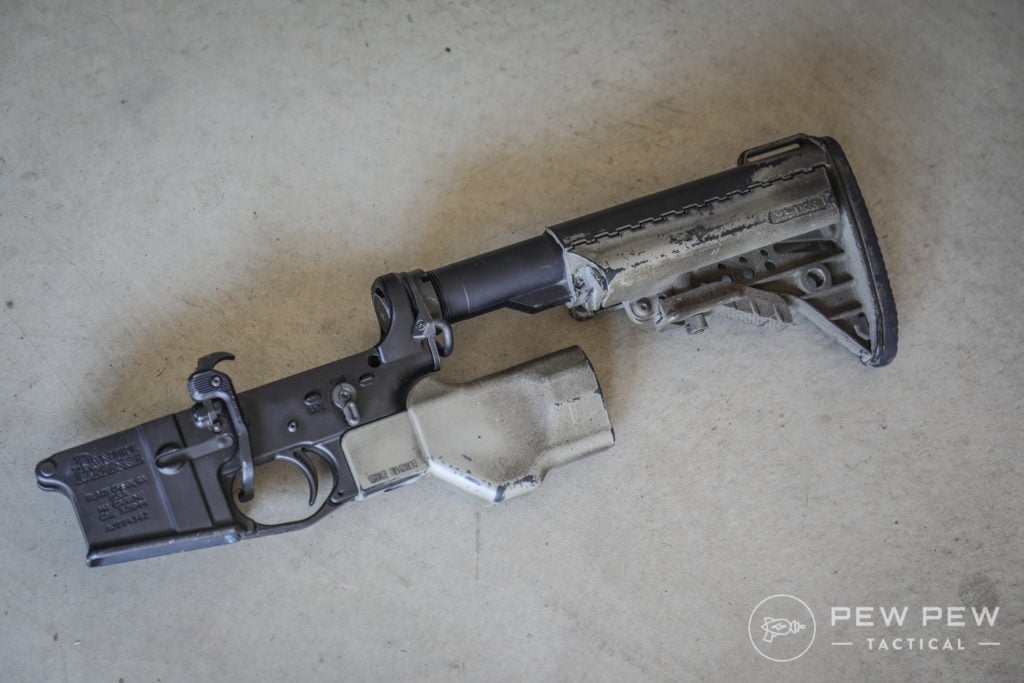 It features a sloped cheek weld that just feels right — light enough but a little expensive at $90.
4. B5 Bravo Stock
The B5 Bravo Stock is my current favorite — light and reasonably priced.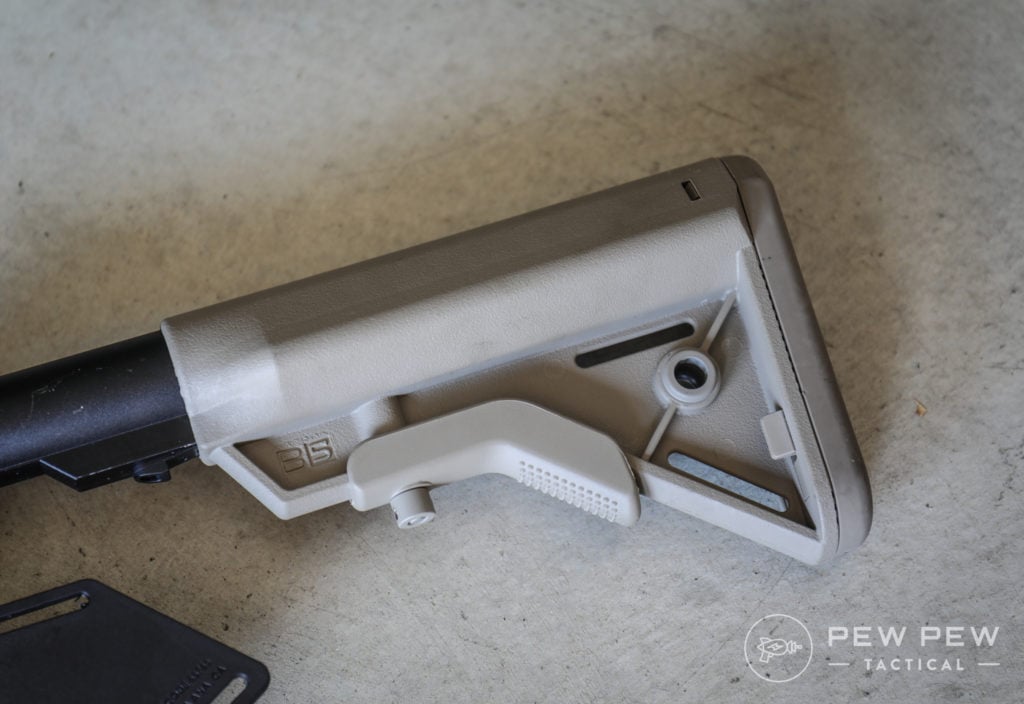 Great cheek weld that's almost as good as the Imod Stock but sheds a ton of weight and saves you a couple of bucks.
What do you think of the Bravo B5 Stock? Why not give it a rating below?
5. Tyrant CNC Nexgen Buttstock
No doubt, Tyrant CNC likes to push the envelope in developing its accessories, using cool materials and precision machining. Their new buttstock is a great example of this.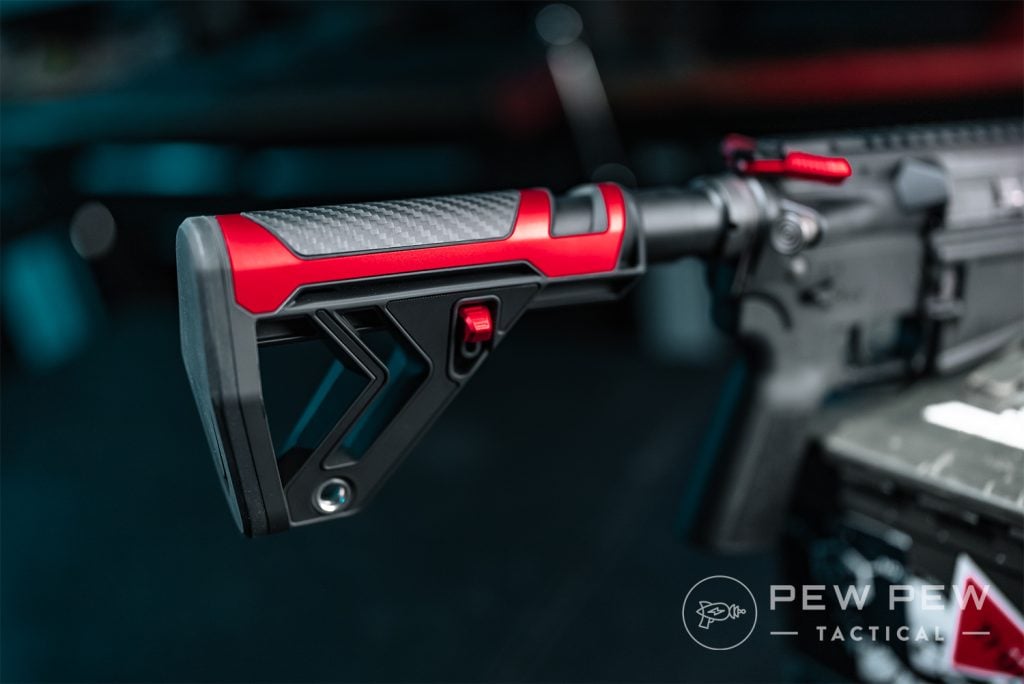 Made of polymer, carbon fiber, and aluminum, this butt stock fits on all standard AR-15 buffer tubes and comes in five different colors.
This allows you to match them up nicely with other Tyrant products.
The carbon fiber portion is laid on the cheek rest to protect you from extreme climes, and the stock adjustment lever is located on both sides, making it ambidextrous.
This is a high-quality unit that is easy to install.
6. Law Tactical Gen 3 Side Folder Adapter
How about something that allows you to fold the buffer tube back until it's needed?
Enter the Law Tactical Gen 3 Side Folder Adapter.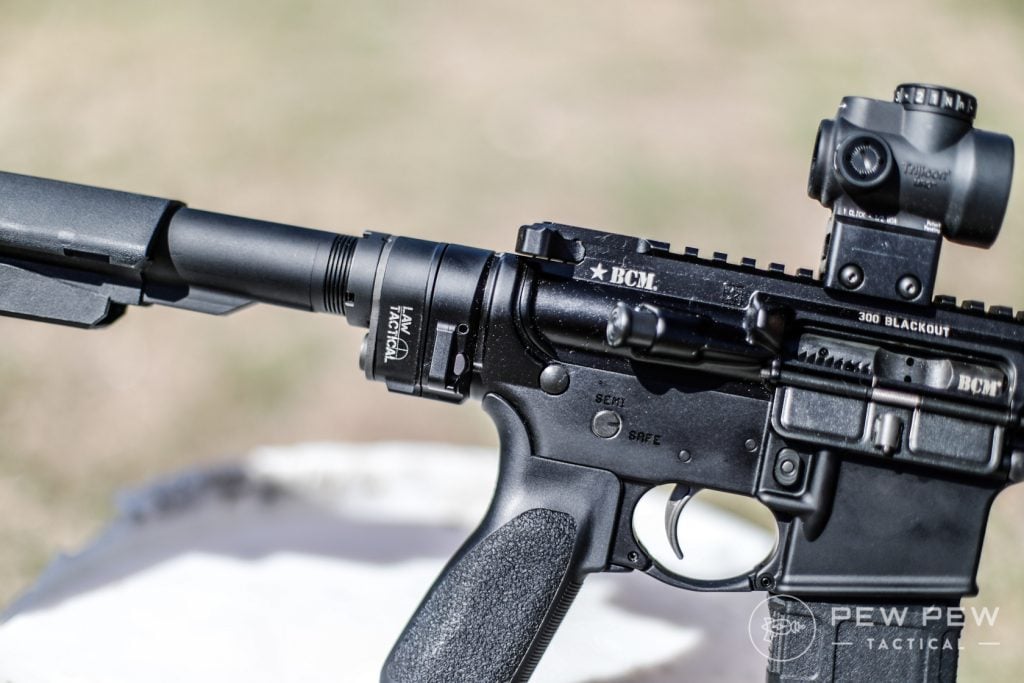 Just make sure to never fire when it's folded, or else bad things might happen…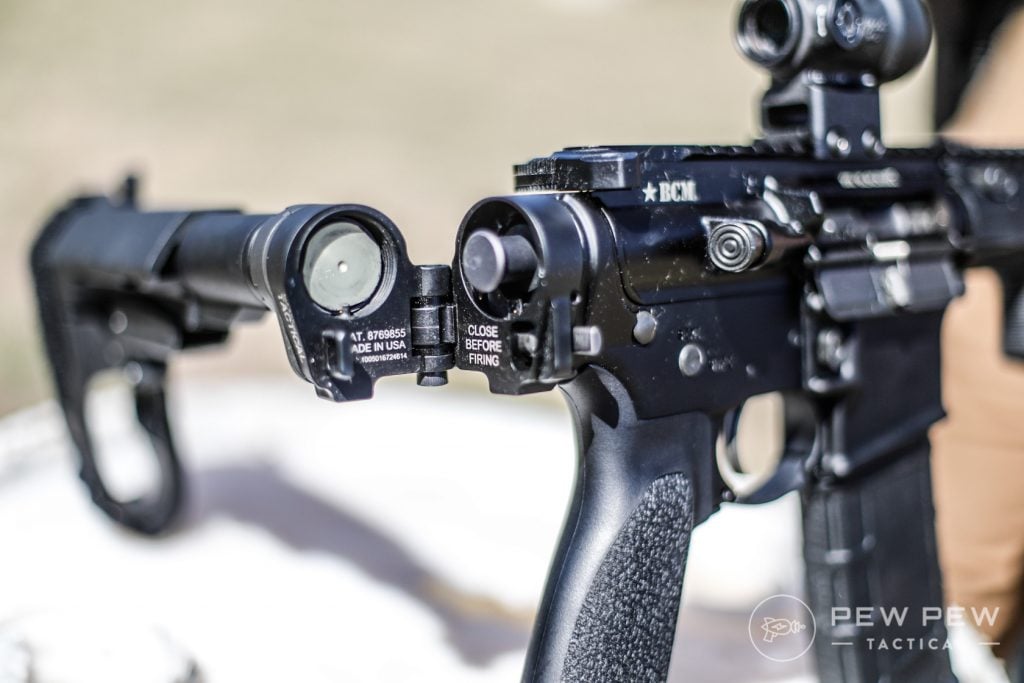 How about more buttstocks? Or how about AR-15 Pistols?
Check out our Best AR-15 Buttstocks as well as our Best AR-15 Pistol Braces articles.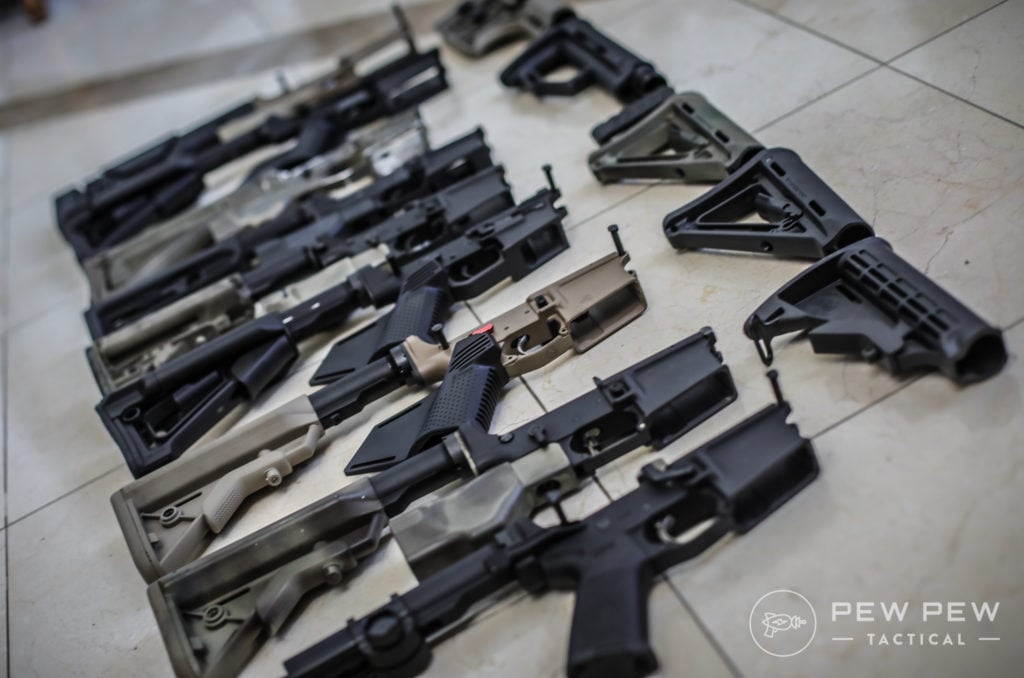 Best AR-15 Handguards
We've covered these in detail in a previous article on Best AR-15 Upgrades. So check that out if you want a ton of options to choose from.
Best Rail Covers
If you've got a lot of Picatinny rail space that's unused…you'll want some rail covers to prevent damage and to give your hands a little more grip.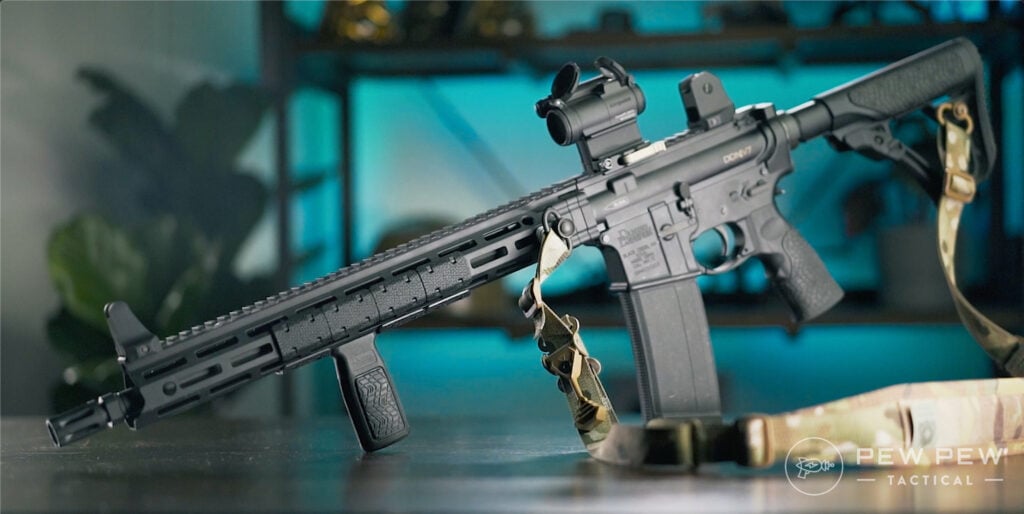 1. Magpul Rail Covers
If you want bare-bones basics, go with Magpul Rail Covers.
They're super affordable at under $12 and give you the basic elements you need.
2. Magpul XTM Rail Covers
For a thicker feel that covers the rails entirely, we suggest Magpul XTM.
You get four pieces at around $10, which isn't bad at all.
Cosmetic Upgrades
Let's take a little break from furniture and focus on how to make your gun look better…because sometimes that matters (ok, most of the time).
1. Gunskins
You've seen vinyl-wrapped cars…but now Gunskins brings it to your guns and magazines.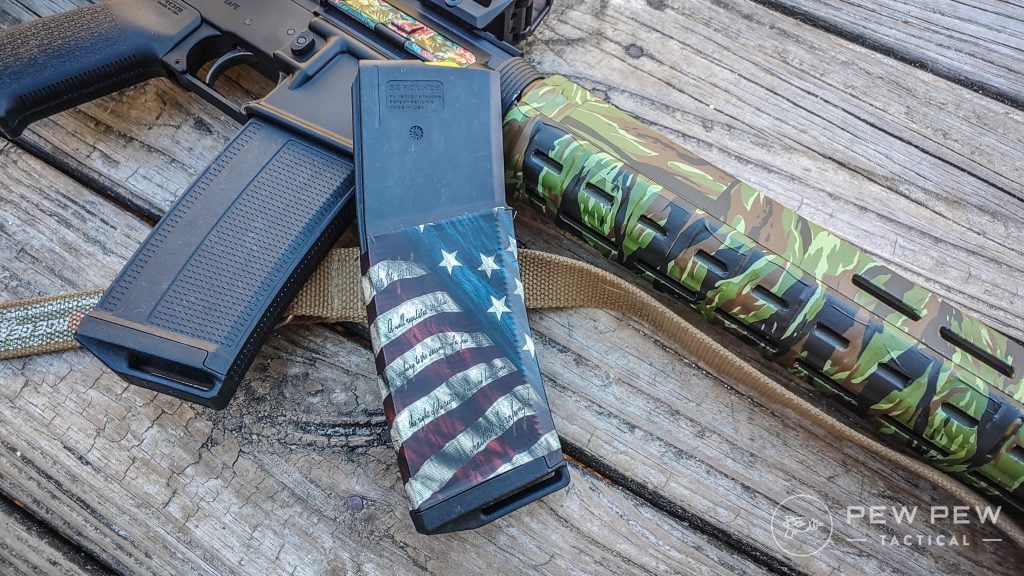 Easy to put on after a couple of tries and perfectly suited for your handguard…check out our full review here.
Gunskins is also hooking up readers with 10% off with code PEWPEW10.
AR-15 Sling Plates and Slings
Again, we have a whole article dedicated to the Best Rifles Slings that go super in-depth with some of our faves.
That said, we've got a few choices here for sling plates and slings. Spoiler alert, we like the Magpul (seeing a pattern here?) series that lets you choose between one-point and two-point sling attachments.
1. Magpul RSA Sling Attachment
The Magpul RSA Sling Attachment mounts securely to your Picatinny rails to give a front sling attachment point.
Great if you only have upper Picatinny rails.
2. Midwest Industries M-LOK QD Mount
Looking for a nice M-LOK capable sling mount? The Midwest version is tiny and out of the way.
I like the angled ramp where you can choose to put your thumb.
3. Magpul ASAP Sling Plate
The Magpul ASAP Sling Plate takes the place of your standard AR end plate and gives you a sturdy sling attachment point.
It's better than fixed attachments since it allows you to quickly swing over from strong side to weak side shooting.
A minor annoyance is that it rattles if no sling is attached.
4. Magpul QD End Plate
This end plate offers an attachment point for quick-detach swivels on your slings.
No more rattling problems like the above — just make sure you choose the right end plate for your kind of sling. Again, it's priced at around $25.
5. Vickers Combat Applications Sling
Our new go-to if you don't need quick detachment options is the Vickers Combat Applications Sling.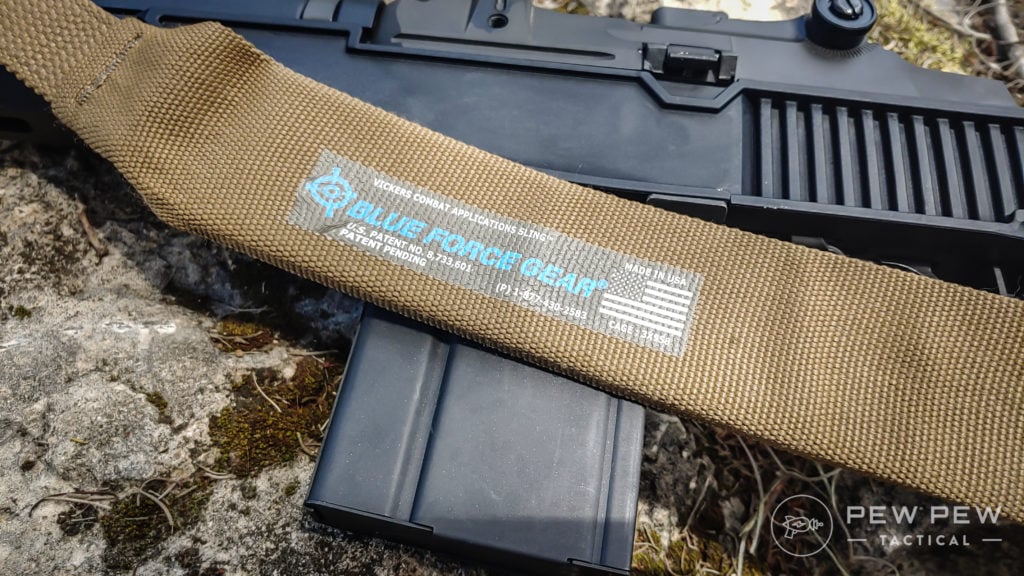 It's used by tons of U.S. troops because it's simple, rugged, and easy to adjust.
6. Pew Pew Tactical Sling
After years of shooting all the slings above…we've got our own Pew Pew Tactical Sling, made in Georgia by Flatline Fiber.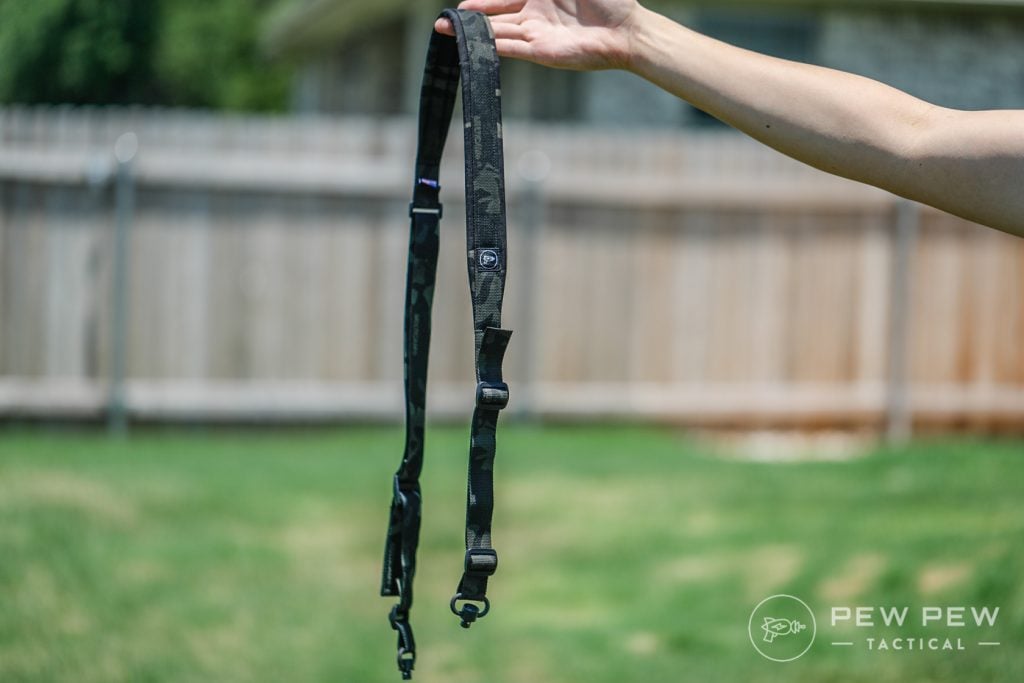 Just the right amount of padding to be comfy but not get in the way. And, of course, a super easy pull-tab to adjust the length.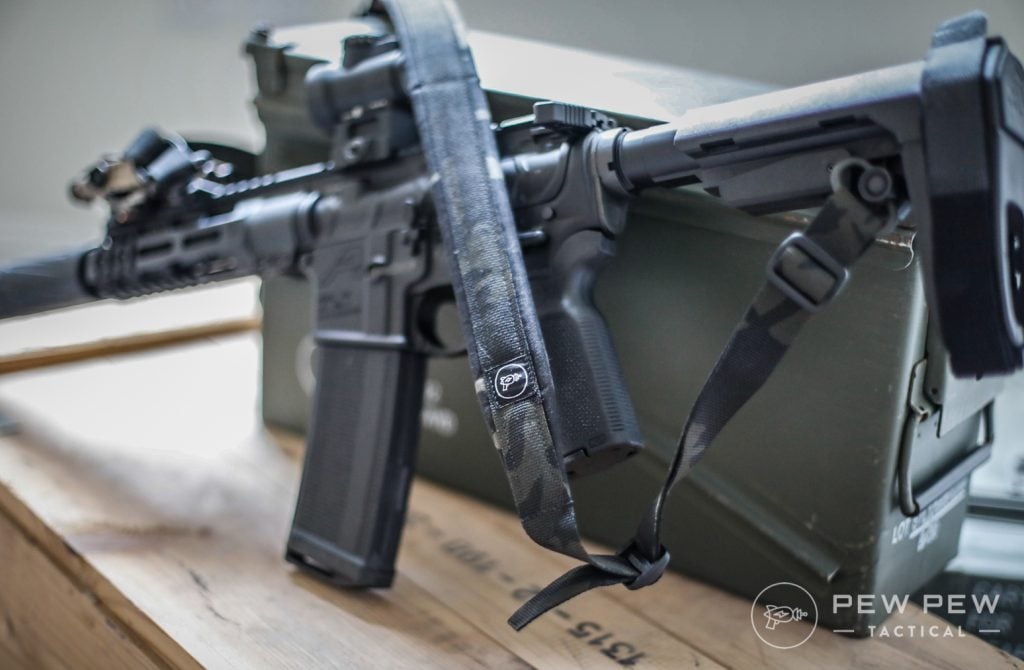 And the best…it comes in Multicam Black and regular Multicam.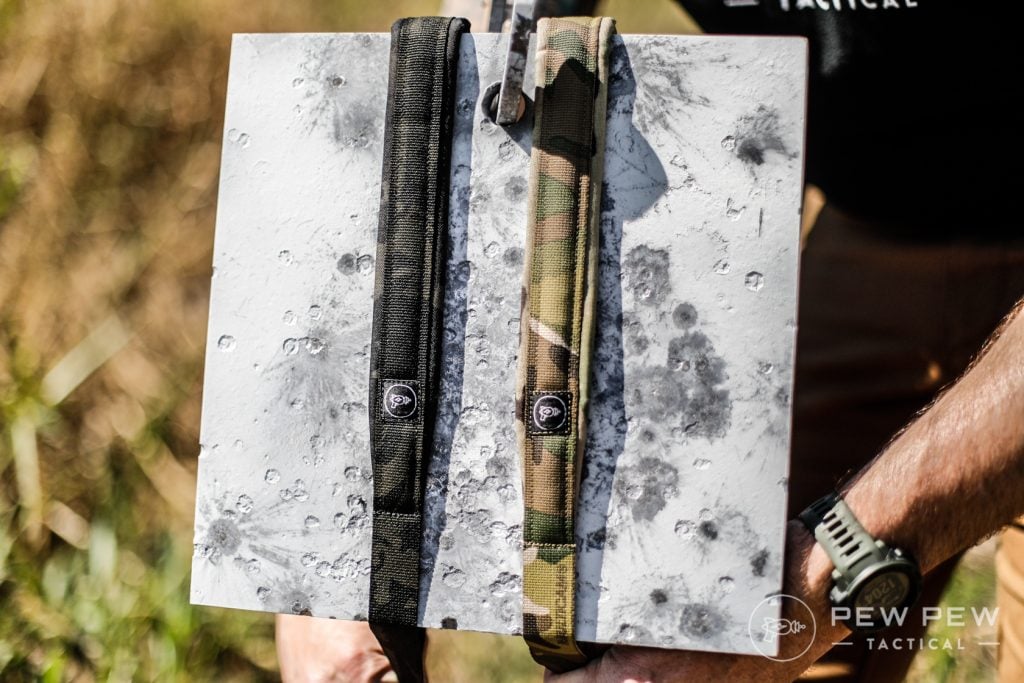 Again, check out our full review of the best slings for your specific purpose.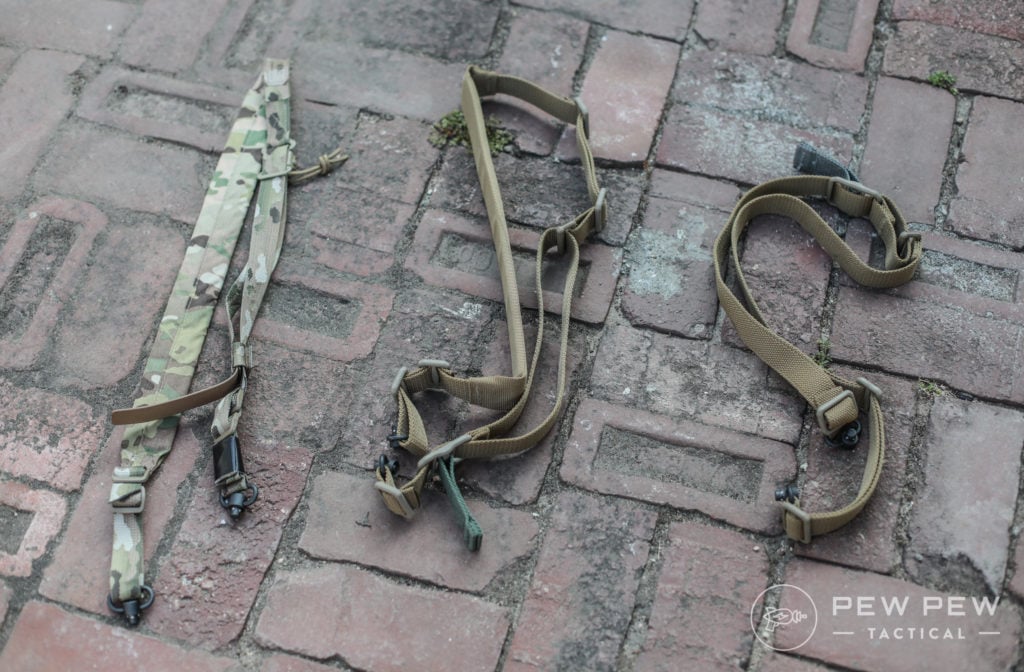 Best AR-15 Vertical Grips
Vertical grips give you potentially increased weapon handling and control. But they are getting a little rarer due to better weapon control by C-Clamping on the rail instead.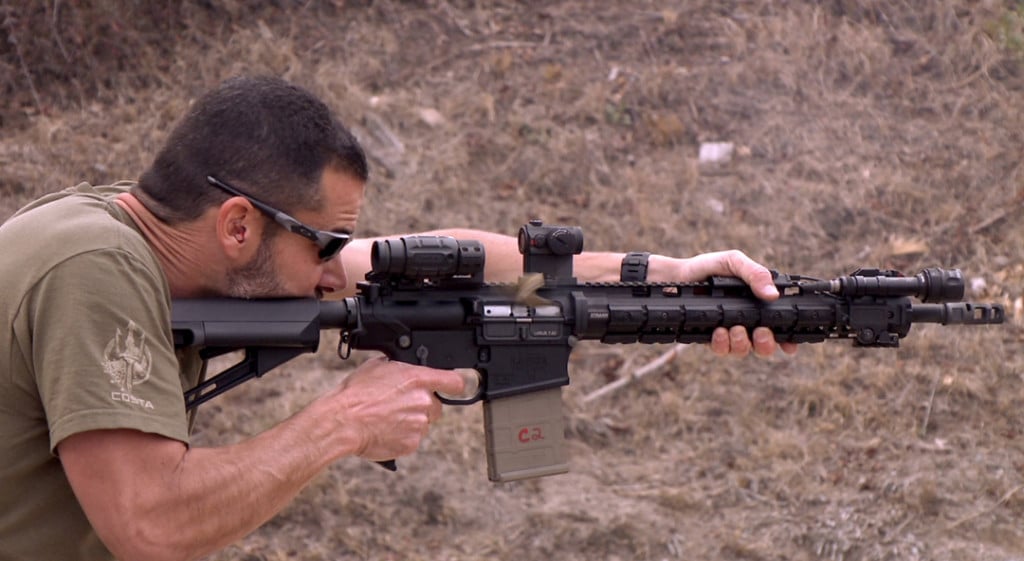 Still, here are a couple of our recommendations.
1. Troy Vertical Grip
The Troy Vertical Grip is a sturdy grip with a bar that locks down entirely onto the rail instead of just being held by one screw.
It's also modular, so you can choose the perfect size.
2. Magpul RVG Vertical Grip (Picatinny)
Another great Magpul product that fits onto Picatinny rails is the RVG Vertical Grip.
It comes in a wide assortment of colors.
3. Magpul MOE Vertical Grip
The Magpul MOE Vertical Grip offers a version that fits onto Magpul MOE handguards that are not Picatinny rails or on newer M-LOK versions.
Best AR-15 Alternative Grips
There are other grips that aid in the control of your AR-15 but aren't exactly vertical grips…
1. Magpul AFG
The Magpul Angled Foregrip offers a grip that is closer to the bore compared to traditional vertical grips.
We've seen these a lot on builds where vertical foregrips are not allowed by law. It's priced at $33.
2. Magpul Hand Stop
The Magpul Hand Stop brings a low-profile way to improve weapon handling and prevent your hand from reaching the muzzle for shorter AR-15s. It comes in at $18.
Also…more grips where that came from in our Best AR-15 Foregrips article.
Best AR-15 Bipods
1. Fab Defense T-POD G2
How about BOTH a vertical grip and bipod? That's what you get with the Fab Defense T-POD G2.
The T-POD G2 is a good-sized grip, releases to become a bipod quickly, and allows your rifle to cant left and right when deployed.
We kind of think the feet could be better traction on hard surfaces, though.
It comes in at about $150.
2. Harris Bipods
The old school tried & true bipod — Harris Bipods. These are spring-loaded with short telescoping legs.
Just make sure to choose the correct attachment method for your rail and leg length. They are priced between $70 and $100.
3. Atlas Bipods
Atlas Bipods are what we run in our precision rifles.
We love the ability to "push" into the bipod for a repeatable and very sturdy shooting platform.
Expensive (between $220 and $280), but you really get what you pay for.
See more of our favorites in Best Rifle Bipods.
Magazine Related Accessories
1. Magpul Magazine Pulls
The company actually got its start with these magazine pulls (get it…Mag…Pul…you got it.)
These attach to the bottom of magazines to assist in removal from a rig and to cushion drops.
2. Magpul Mag Coupler
The Mag Coupler allows you to join together two magazines, so you have an extra 30 rounds on your rifle.
Just be aware of the extra weight. This fits PMAG 30 magazines and is priced at $17.
Best AR-15 Suppressors
We didn't really know if suppressors were furniture…but hey, here they are. We have a complete guide to the Best AR-15 Suppressors since it's so much info.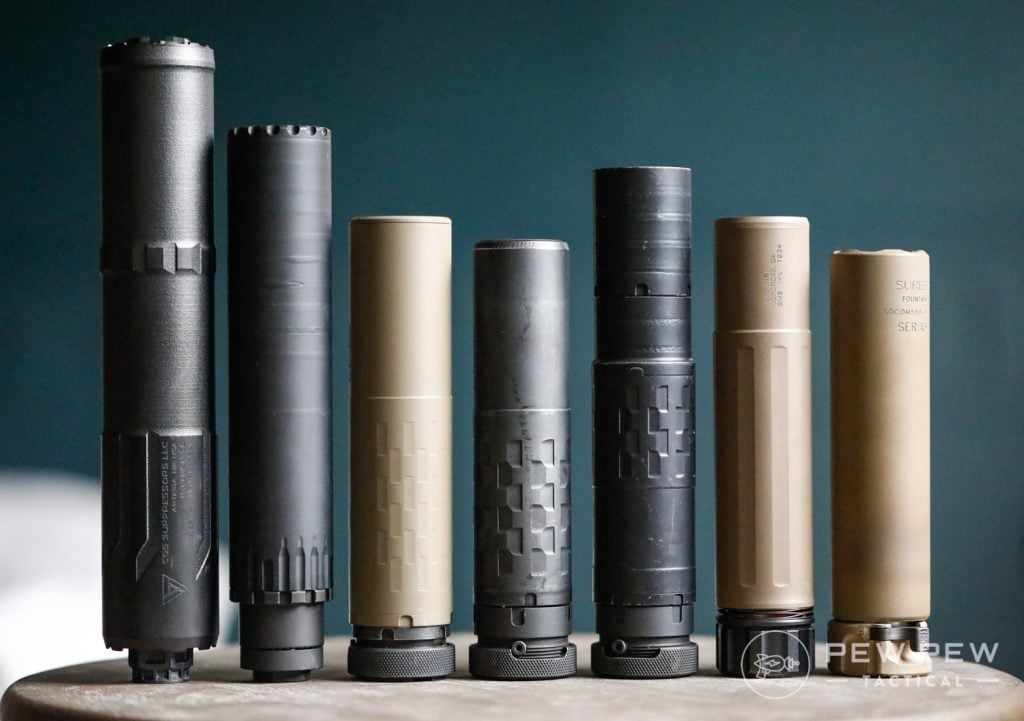 But if we had to choose one…it'd be the Silencer Central Banish 30, which also got selected as Guns & Ammo's Silencer of the Year for 2021.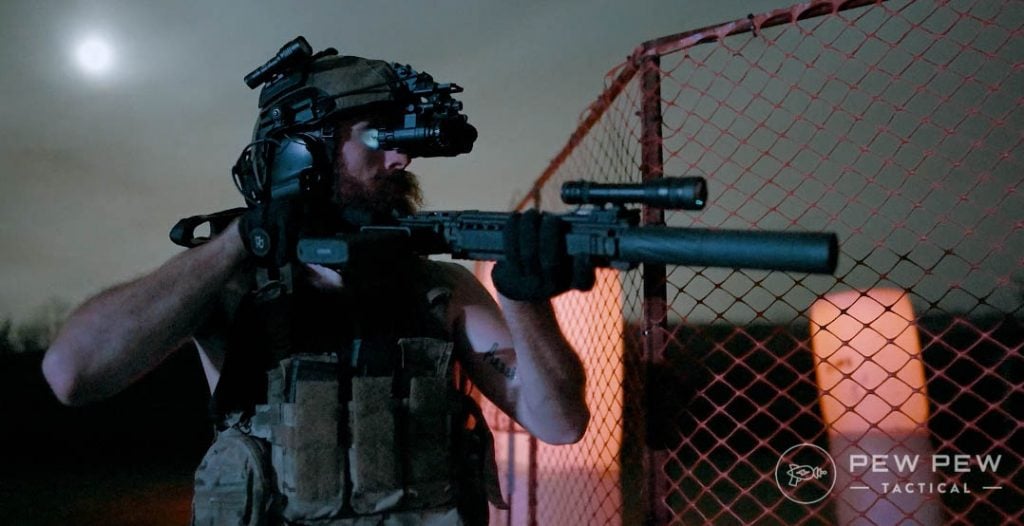 Titanium, multi-caliber, and user-serviceable — It's everything you're likely looking for.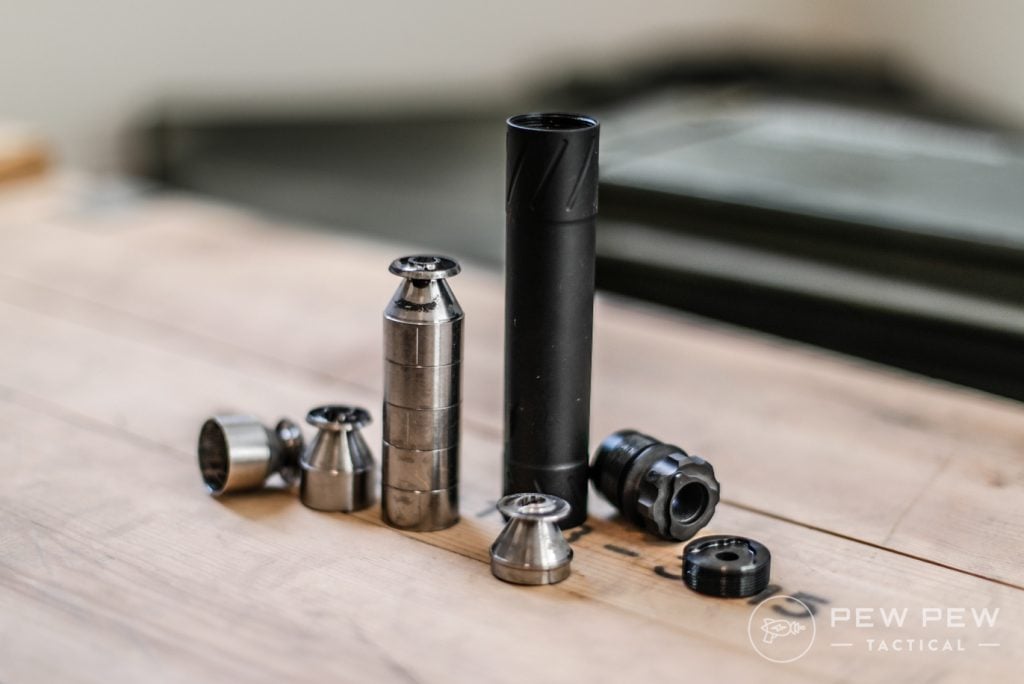 And how does it shoot? With much less blowback than competitors. And it's super soft too, which is the whole point!
Again…don't forget to check out our Complete Guide to AR-15 Suppressors.
Final Thoughts
As you can see, there are many options for modding or upgrading your AR-15 build.
While we gave you just a handful of options to choose from, there are tons of upgrades you can toss onto your rifle.
What is your favorite accessory? Let us know in the comments! We've covered tons of AR-15 stuff here, but we're not done yet! Check out the rest of the AR-15 guides.