The AR-15 as a platform is upgradeable to an extreme degree.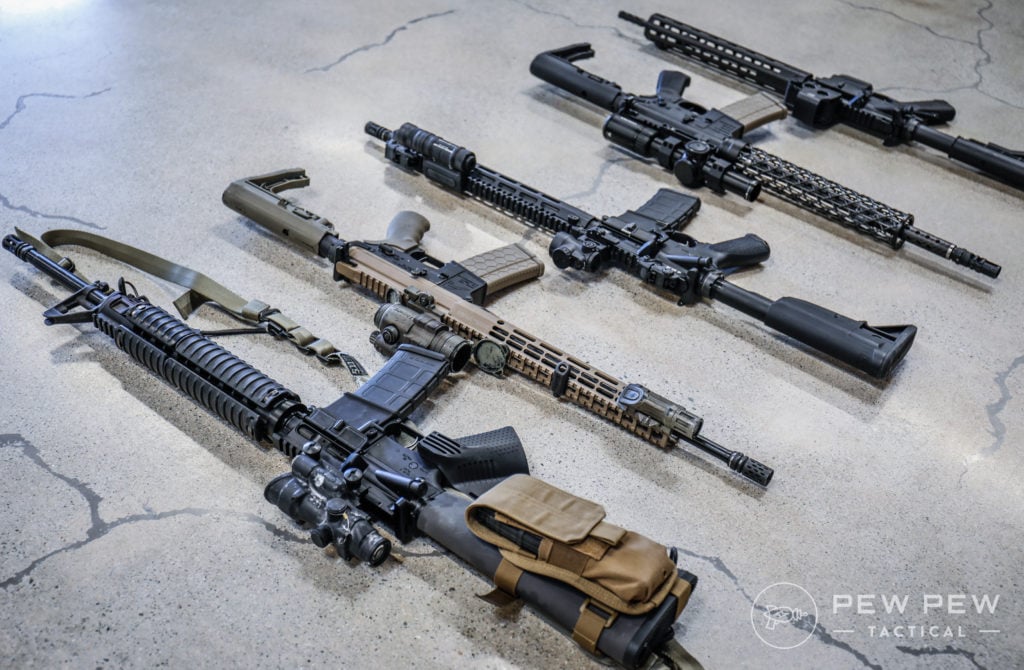 It seems like every part can be upgraded to be a little better. But that can often mean costing you an arm and a leg!
One of the smallest and easiest upgrades you can make to your AR-15 is swapping the charging handle.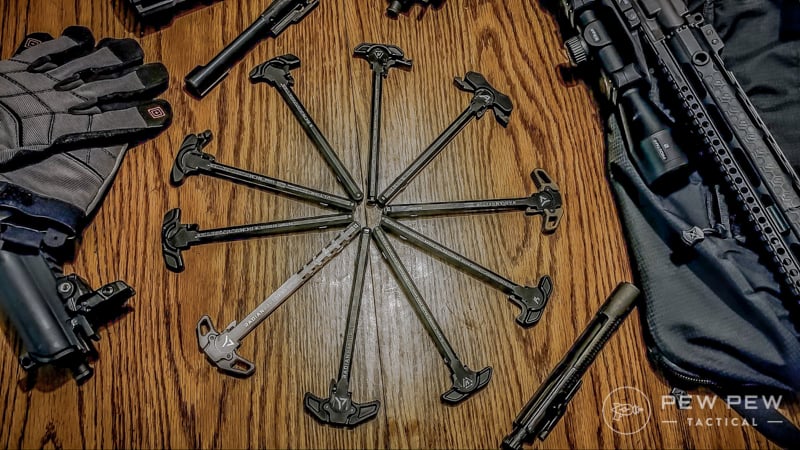 Like every other AR-15 part in the world, the charging handle has dozens and dozens of different options.
Navigating AR charging handles can be a real challenge, especially when it comes to finding the right one for you. So we want to help you a bit.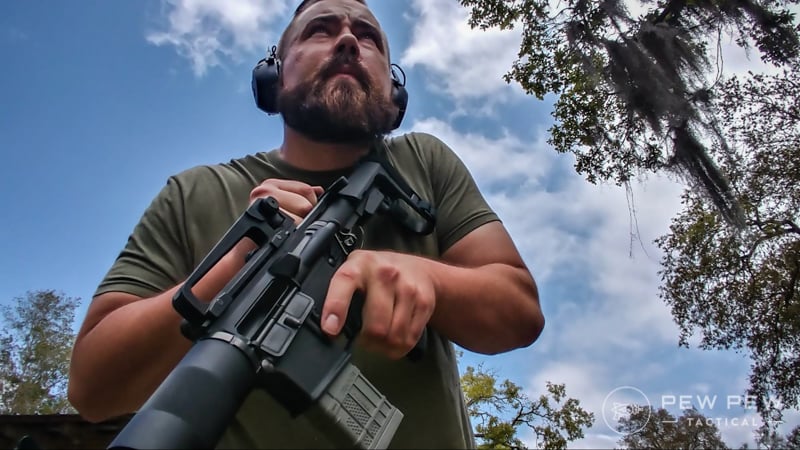 We've gathered together charging handles from companies far and wide, and through testing and evaluation, we've narrowed it down to our favorites.
Note: These appear in no particular order. All of them are awesome in different ways and for various reasons.
Summary of Our Top Picks
Best AR-15 Charging Handles
1. Strike Industries ARCH
An upgraded charging handle doesn't mean an extended charging handle, latch-less charging handle, or really anything crazy at all.
Even the most basic Mil-Spec style charging handle can be well made and can stand above other Mil-Spec options. (Improving on Mil-Spec is easy when it isn't made by the lowest bidder).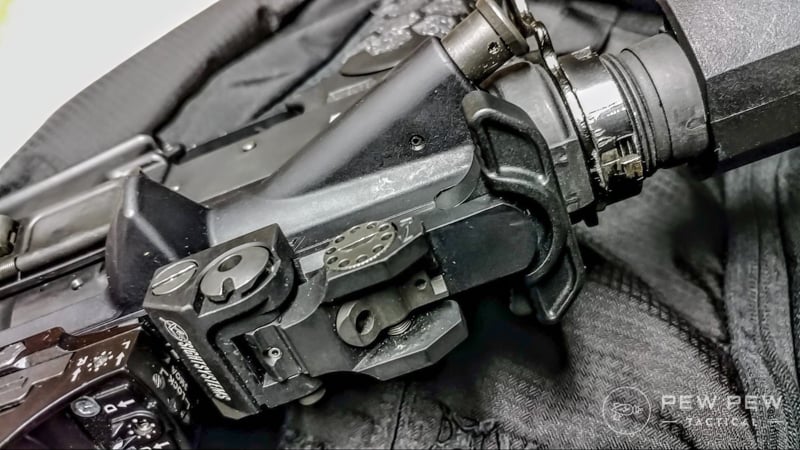 If you want an affordable, Mil-Spec option, then Strike Industries has you covered.
On the outside, this is a pretty standard-looking charging handle, but upon closer inspection, you can tell Strike put some work into this simple charging handle.
The SI ARCH is hard anodized and is exceptionally smooth.
This smooth finish allows it to glide rearwards with ease. The most significant difference you'll see is near the rear of the charging handle.
It's rounded off at the back but features a sharp straight angle on the inside of the charging handle.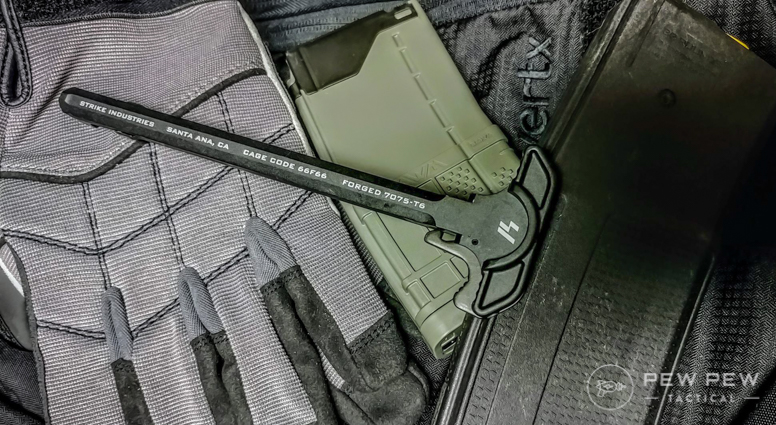 The inside is also textured for a better grip, and the latch is only as large as it needs to be. While the differences are subtle, once you start running the charging handle, they are significant.
A textured grip is excellent for clearing jams when your hands are sweaty or if you are wearing gloves.
The smoother finish makes the charging handle glide backward; it reduces the effort needed to charge the weapon, clear jams, and more.
Plus, it just feels nice, really lovely. The SI ARCH isn't necessarily sexy or fancy, but it functions and does so well.
Best on a Budget
28
at OpticsPlanet
Prices accurate at time of writing
Prices accurate at time of writing
2. Strike Industries ARCH with Extended Latch
Budget is relative to what you are getting for the money. So yes, cheaper charging handles exist, but they don't deliver as much value as the SI ARCH with the extended latch.
For right around $30, you get an excellent charging handle that takes the best features of the Standard ARCH and makes it a little quicker and easier to grasp.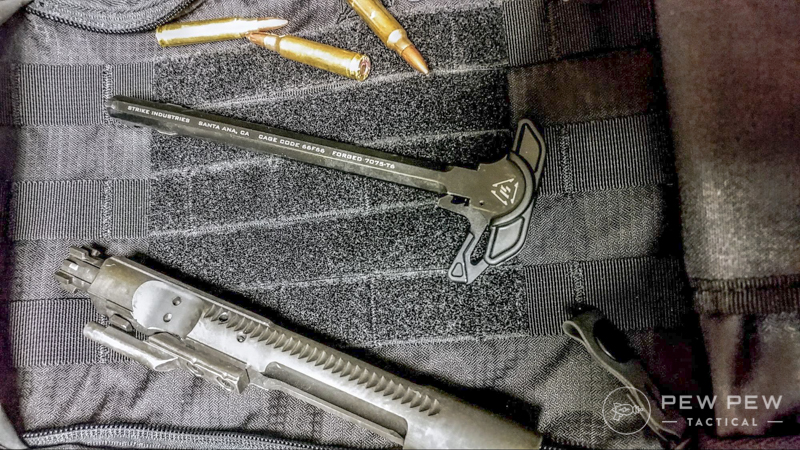 The extended latch sticks out about an extra half-inch, giving the user a little more space to grip the charging handle.
This additional purchase gives you the ability to quickly charge the weapon and clear malfunctions.
It also gives you more room to grab the charging handle if you are rocking a variable power optic.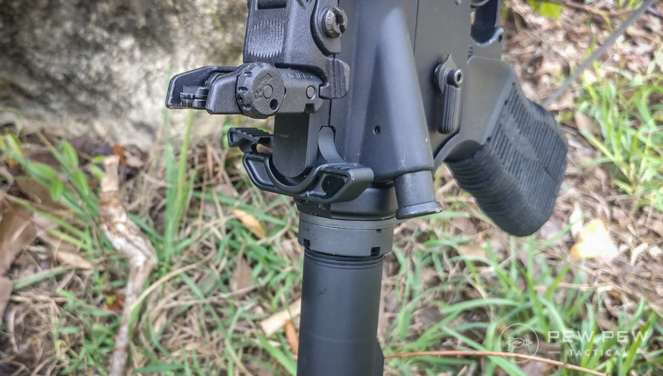 The Strike Industries ARCH is already an outstanding charging handle; we just covered it above, and all the same features there are present here.
One detraction from this design is that the extended portion of the handle is only on the left-hand part of the charging handle. This charging feature is somewhat useless for left-handed shooters.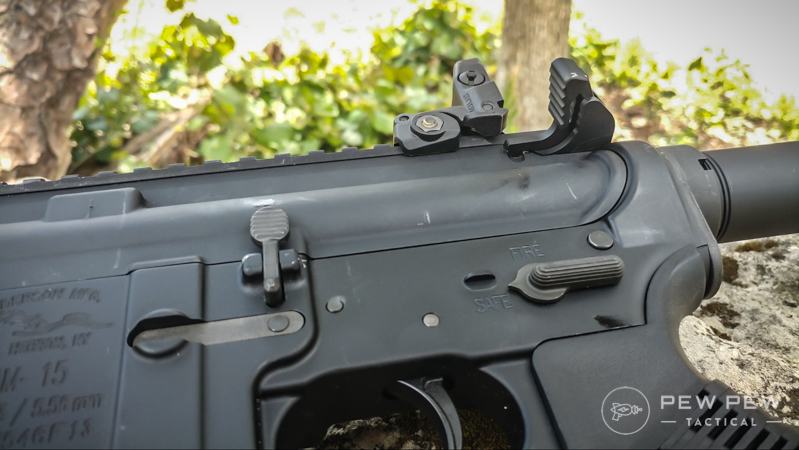 The Strike Industries ARCH charging handle is a great option and comes in at a low price.
It's a lot like Starbucks, basic but not bad.
Best Bang for Buck Charging Handle
39
at OpticsPlanet
Prices accurate at time of writing
Prices accurate at time of writing
3. Strike Industries Latchless Charging Handle
Strike Industries likes to experiment and does so quite well. The Latchless Charging Handle is one such experiment.
The lack of a latch is an interesting idea as it reduces the movements needed to release the latch and manipulate the weapon.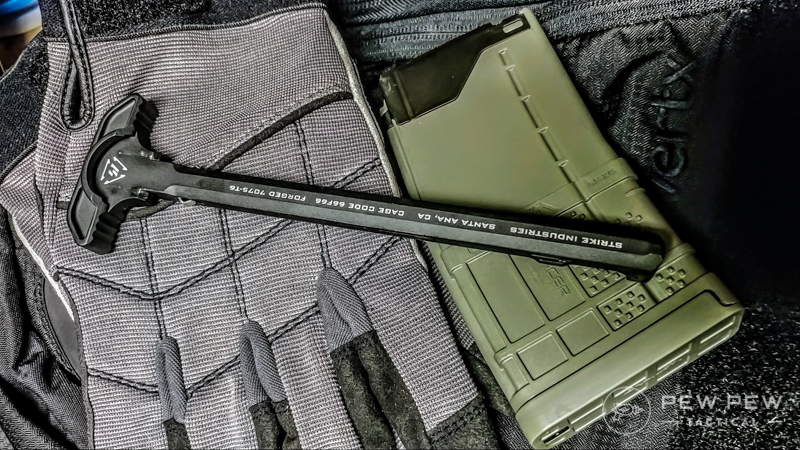 I could charge the weapon with a compromised grip. (Compromised means rushed, crappy, and in a hurry.)
The lack of a latch allowed me to load the gun from either side with ease. If my left arm is out of the fight, I can still find a way to manipulate the charging handle.
This latch-less system uses a cool hidden spring mechanism in the center of the charging handle to make sure it stays put when not in use.
That spring holds it in place entirely, but you don't even feel it when you charge the weapon.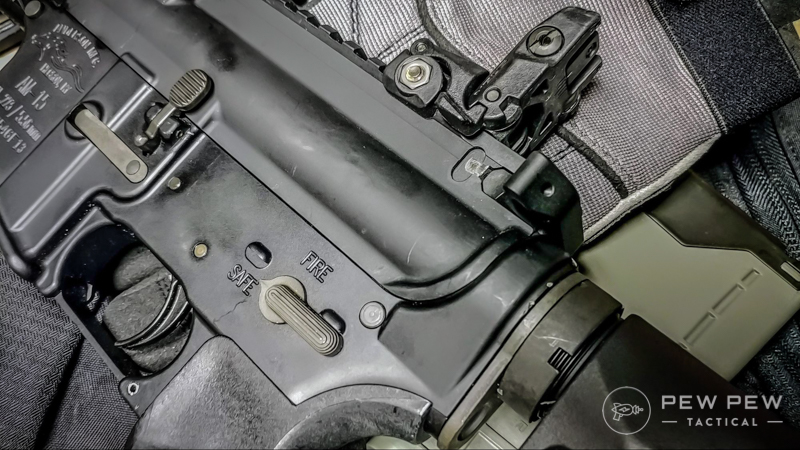 Like the Strike ARCH, this is 7075 T6 aluminum charging handle, and the finish is slick.
The Latchless Charging Handle can be extended via a simple add-on to the left or right side that makes the handle a little bigger.
If you wanted to, you could purchase two extended handles and have one on the right and the left side. They install quickly and are like $10.
The charging handle also features side gas venting, which is great for my 7.5-inch barrel AR pistol. It tends to be a gassy girl.
Best Latchless Charging Handle
30
at OpticsPlanet
Prices accurate at time of writing
Prices accurate at time of writing
4. The Radian Raptor LT
AR-15s are getting smaller and lighter.
Guns come in at well under 6 pounds these days, and some builders are taking that to the extreme.
My friend Rex Nanorum over at The Loadout Room built a lightweight AR under 6 pounds when it's outfitted with a suppressor and optic.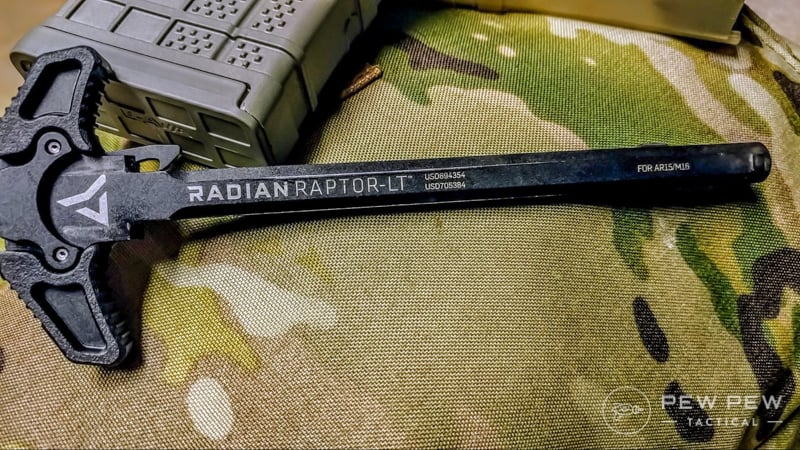 From talking with him, I've learned that guys taking on these projects are looking to trim ounces, and even half ounces, as much as possible.
If you are chasing this kind of build and still looking for a lightweight but functional charging handle, then the Radian LT is an excellent choice.
Coming in at only 1.2 ounces the Radian LT is a functional choice.
It's got two massive wings on the sides that make the charging handle easy to grip and rip regardless of the situation. This is especially true when it comes to using the charging handle with an optic.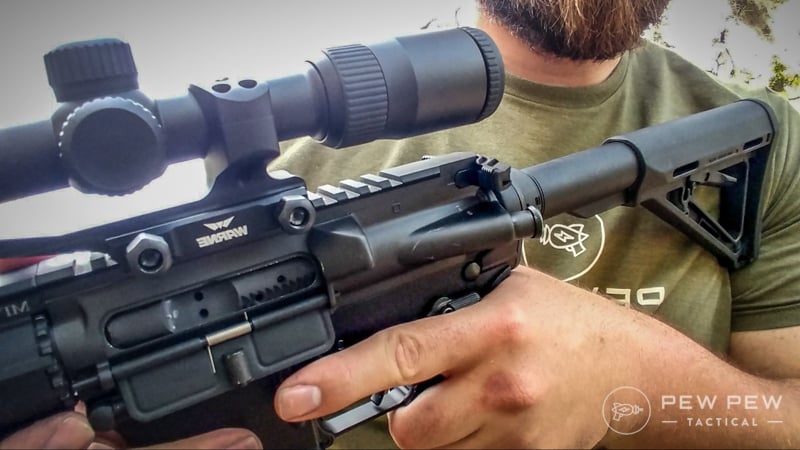 The Radian Raptor LT is made from 7075 aluminum and is hard anodized with a Mil-Spec Type 3 finish.
It is also reinforced with high-strength reinforced polymer for saving weight but maintaining strength.
The Radian Raptor LT is lightweight, well-made, and priced well. It's a great option for your lightweight build or just a standard build that needs a great charging handle that's priced affordably.
Best for Lightweight Builds
74
at Brownells
Prices accurate at time of writing
Prices accurate at time of writing
5. Original Radian Raptor
If we are going to name the lighter-weight choice, we can't leave out the classic Radian Raptor. The Radian Raptor was one of the OG modern, extended charging handles.
An ambidextrous design features two extended handles for lots of space to grip.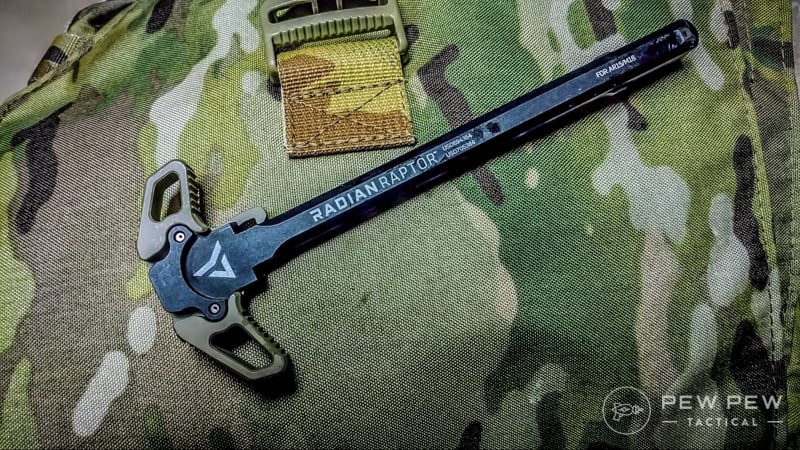 The extended charging handles are big enough to allow a blading technique for those of us with tough hands. Blading is when you are catching the charging handle with your palm and rapidly pull it rearward.
You need a nice, large charging handle to do this efficiently and quickly. The Radian Raptor allows that to be possible.
It also sports two different independent levers that enable quick and easy charging and weapon manipulation.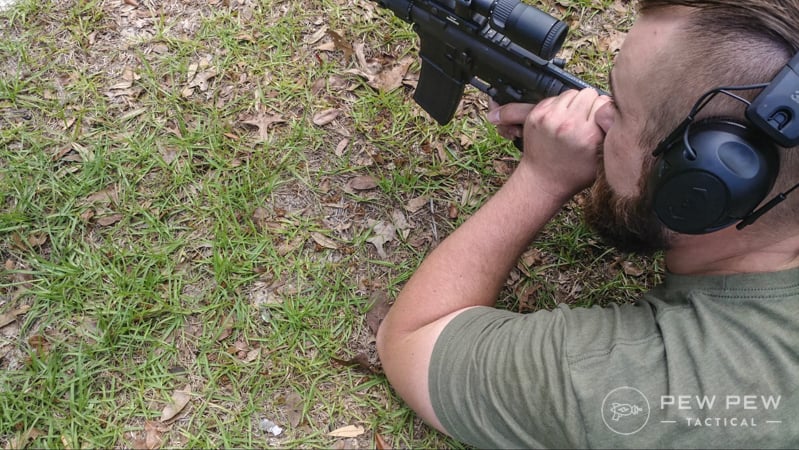 The Radian Raptor is made from 7075 aluminum and comes in a multitude of colors.
The different colors make it charming and sexy, and I appreciate a splash of color here and there. As you can see, we went with the FDE Radian Raptor.
The Raptor is a classic extended charging handle that still keeps up with the young ones.
94
at Brownells
Prices accurate at time of writing
Prices accurate at time of writing
6. Radian Raptor SD
The third and final Radian Raptor is one specifically designed for suppressed guns.
The Radian Raptor SD is the same old Raptor grip we know and love but vented explicitly for suppressed ARs.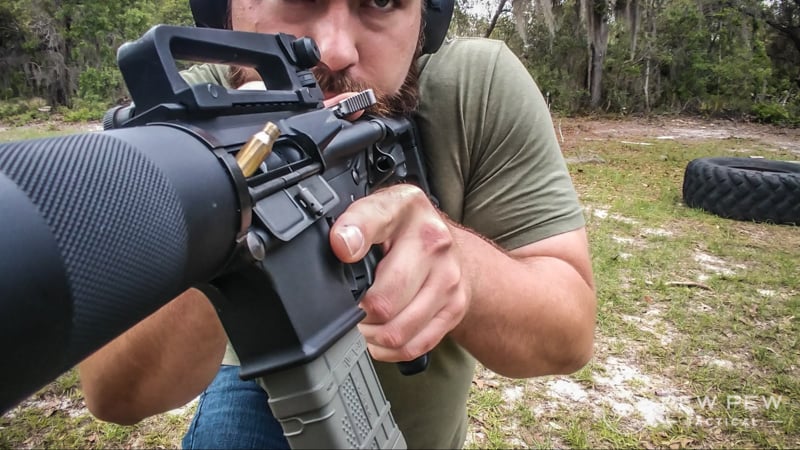 AR-15s have quite a bit of gas blowback when they are suppressed. This gas blowback hits the shooter, occasionally carrying carbon to the shooter's face.
This gas can be a mild inconvenience that gets worse and worse the more rounds you put downrange.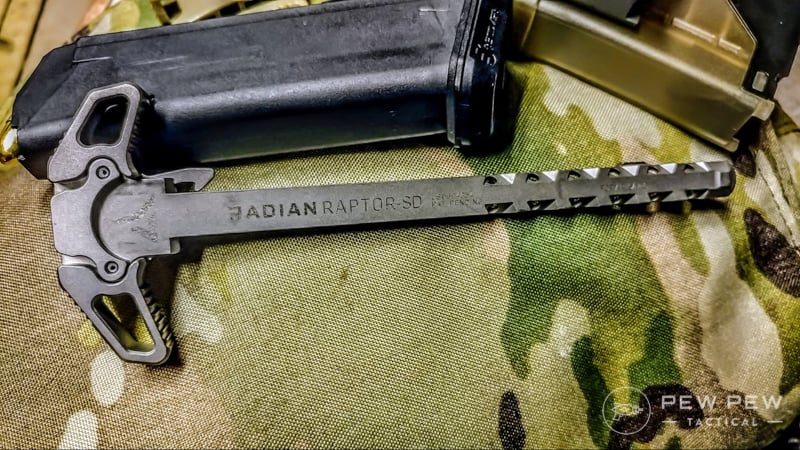 The Radian Raptor SD is vented extensively down the sides to decrease gas blowback by directing it out the sides.
This makes shooting your suppressed AR a much lovelier experience.
If you are shooting suppressed, you can stop reading now; this is the charging handle you need.
Best Suppressor Ready CH
124
at Brownells
Prices accurate at time of writing
Prices accurate at time of writing
7. Aero Precision Ambidextrous
If you want a massive charging handle, then Aero Precision has you covered.
The Aero Precision Ambidextrous charging handle is quite likely one of the most significant charging handles on the market.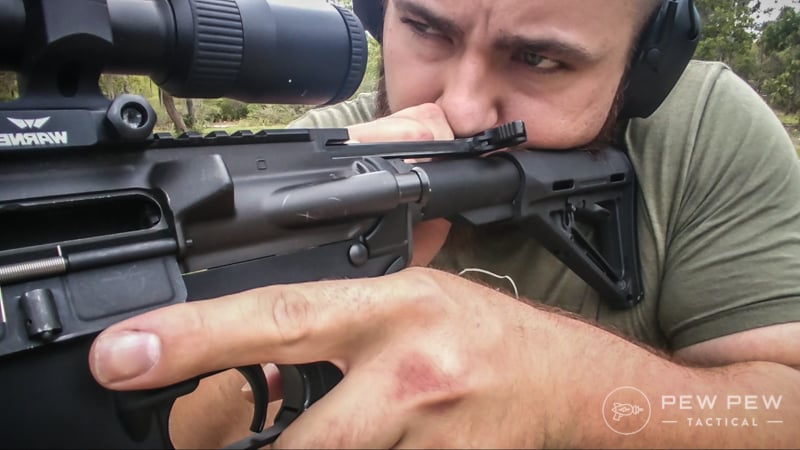 This makes it perfect for optic's equipped AR-15s. Especially when it comes to large variable optics.
These handles will clear the eyepiece of any modern scope. It's my go-to on my budget Recce rifle.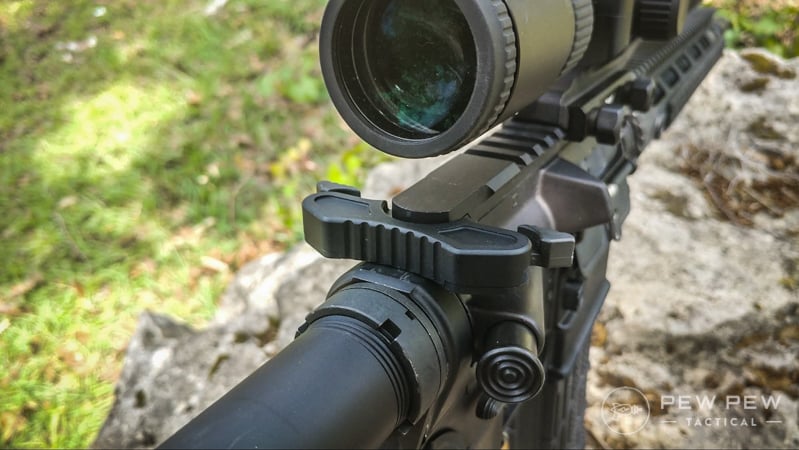 This ambi charging handle sports two massive latches, and it's simple to blade the weapon, even with an optic on the gun.
The Aero Precision charging handle is one of my favorite all-around charging handles ever. I like it on any rifle, and its large size works with my massive hands pretty well.
The 7075-T6 aluminum design makes it a rugged and capable charging handle for your build.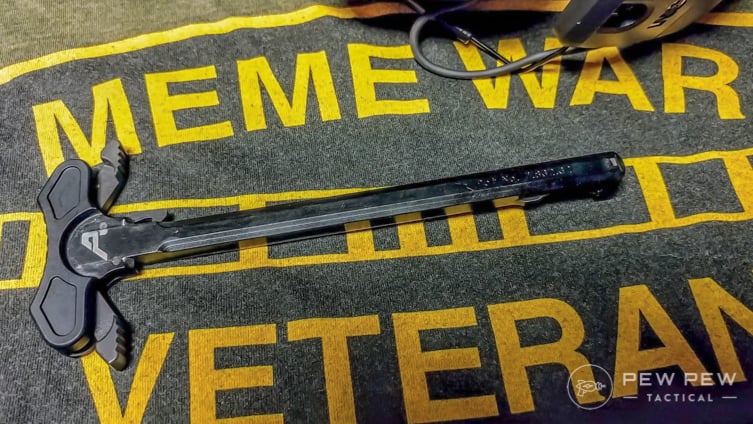 I love how it glides backward when pulled, and the extra size means extra leverage. This makes blading pretty easy and not too painful on the hands.
The Aero Precision charging handle is my personal favorite, and it functions as an absolute champ.
Best for a Scoped AR-15
79
at Aero Precision
Prices accurate at time of writing
Prices accurate at time of writing
8. BCM Gunfighter MOD 4
BCM redesigned the traditional charging handle to take the force off the roll pin, placing it to the rear of the charging handle.
The GFH MOD 4 features a medium latch on the left-hand side for right-handed shooters.
This particular extended model is a little shorter than an inch past the main body of the charging handle.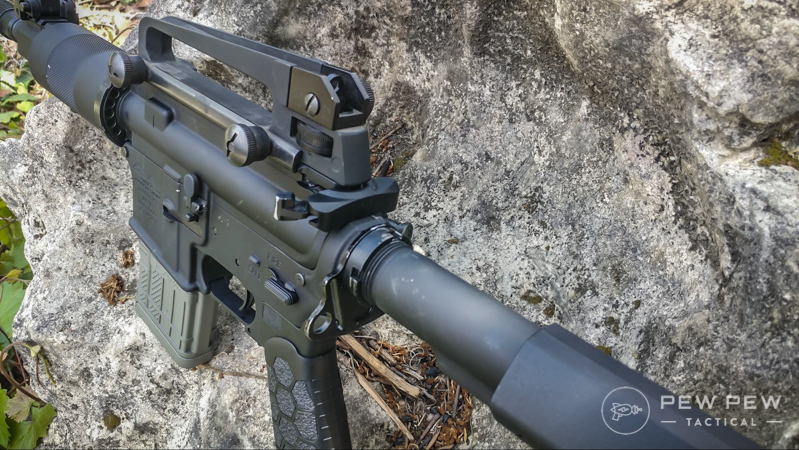 The BCM GFH MOD 4 is primarily designed to be used with the blading technique, so the pressure applied via this technique won't damage the charging handle or latch.
It's not often that you see a firearms technique incorporated into the design of a part. But this is the kind of extra level of effort that I've come to expect from BCM.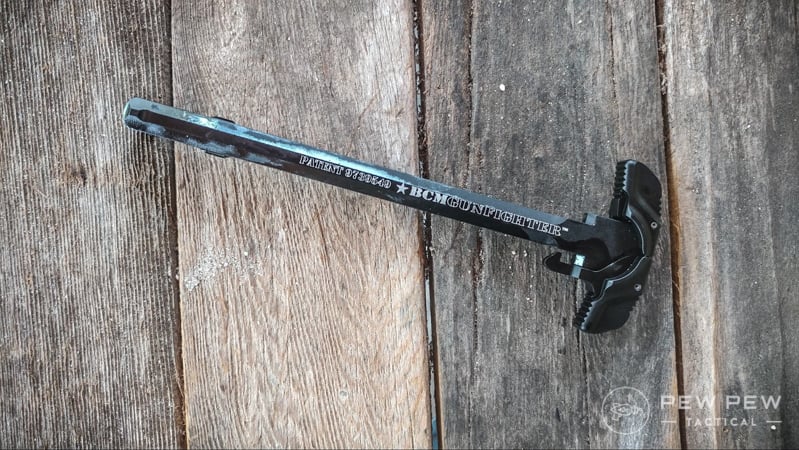 It catches the hand perfectly and is perfect if you are new to this technique.
The Gunfighter is a thoroughly modern option for your next AR-15 build. Not to mention, Bravo Company has an outstanding reputation for producing high-quality AR components and even full rifles.
56
at OpticsPlanet
Prices accurate at time of writing
Prices accurate at time of writing
9. BCM Gunfighter MOD 4B
If you want to keep things simple, the BCM Gunfighter MOD 4B is the option for you.
It's a compact and small charging handle that meets the standard Mil-Spec dimensions.
This charging handle is designed for shooters used to the standard manual of arms associated with military training.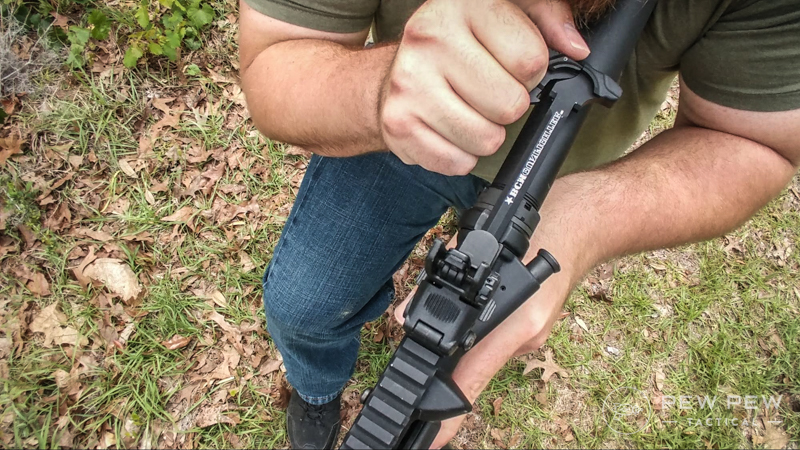 While it functions as a standard charging handle, it's made to last.
Using 7075-T6 aluminum, it's strong as hell and outfitted with a type 3 hard anodized finish for long-lasting durability.
The MOD 4B is available in both a mil-spec design and an ambidextrous model.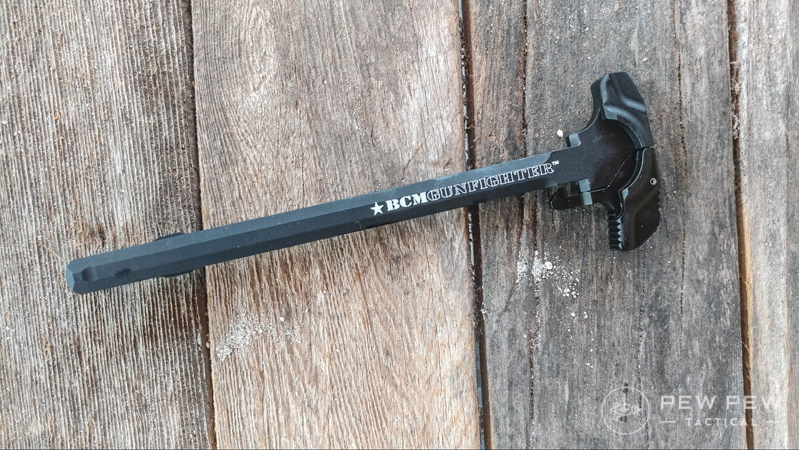 This particular model is the mil-spec model. It excels for those of us who've spent a little time in the armed forces.
The MOD 4B also works as a great low-profile option for those who don't need or want an extended latch system.
It's textured for a more comfortable grip and outfitted with BCM's load-eliminating design. This reduces wear on the pivot pin and paces it midline of the rifle.
59
at Primary Arms
Prices accurate at time of writing
Prices accurate at time of writing
Used the BCM MOD4? If so, give it a rating below!
10. BCM Gunfighter MOD 4×4
The 4X4 from BCM is an ambidextrous option for Bravo Company.
Its mil-spec size and dimensions make it nice and compact — at least compared to other charging handles on this list.
Each side features a latch that releases the charging handle with ease.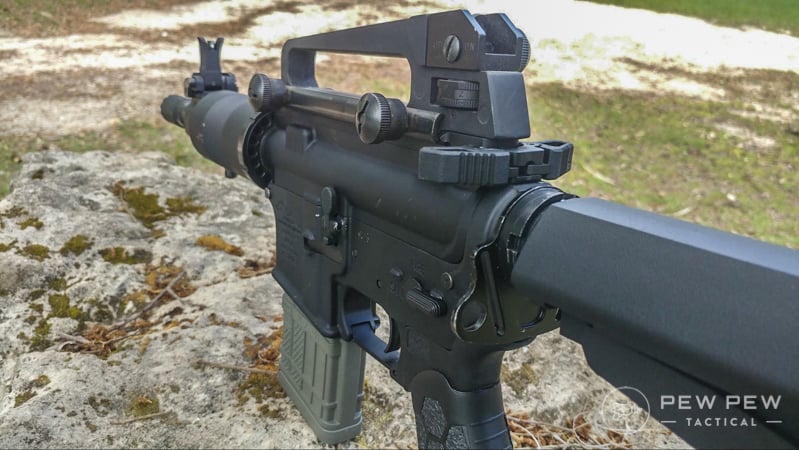 The GFH 4X4 is a great option for lefties seeking a mil-spec-sized charging handle. It's straightforward to use and is made from 7075-T6 aluminum.
I'm a right-handed shooter, so maybe I can't get the full effect of this charging handle, but I get the concept.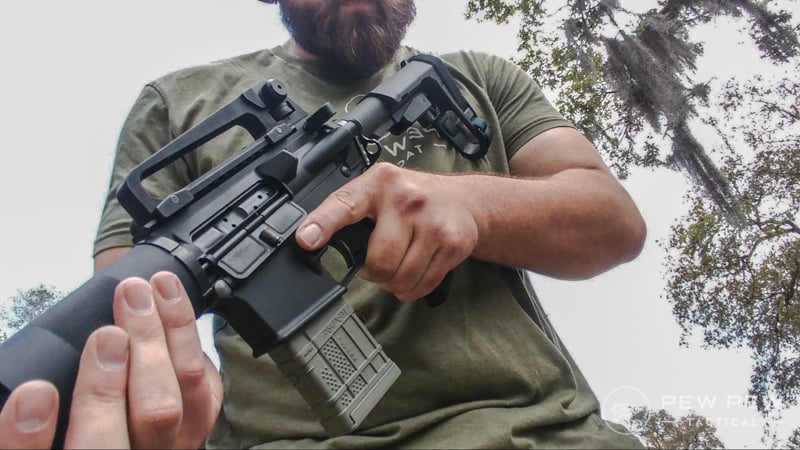 Even though it feels unnatural for me to charge the rifle with my right hand, I find it surprisingly easy to do with this charging handle.
The MOD 4X4 is priced affordably for a premium-grade charging handle.
Best for Lefties
89
at Brownells
Prices accurate at time of writing
Prices accurate at time of writing
11. Breek Arms Warhammer
We dig the Warhammer because it's simple, straightforward, works well, and has a nice shape to the handle.
Does it do anything special? Not really.
But simple and works doesn't need to be special every time.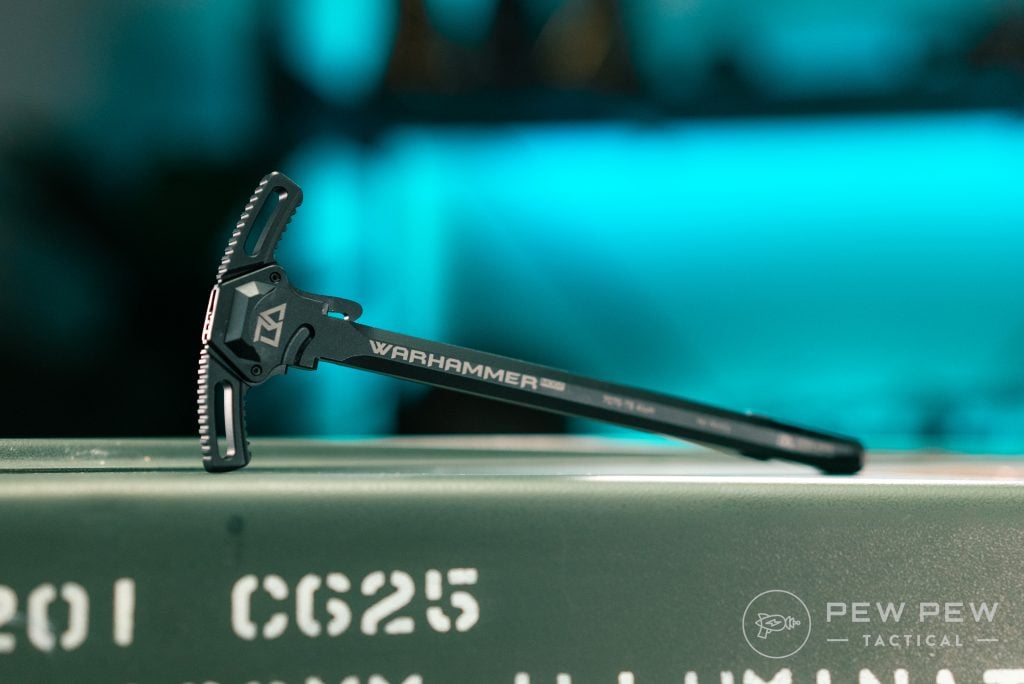 It is ambi, though, and it does have a deflection piece to get excess gasses away from the shooter.
When it comes down to it, that's the two most popular features for a charging handle to have, and the Breek does both very well.
The arms of the handle are a bit larger than most, which makes it nice to grab with gloves but can also snag on gear. The trade-off is up to you, though.
44
at Primary Arms
Prices accurate at time of writing
Prices accurate at time of writing
12. Aero Precision Breach
Made from 7075 Aluminum (the good stuff) the Breach has two sizes and two platforms on offer — a large handle and a small handle for the AR-15 or the AR-10.
Lightweight, sturdy, ambi, gas deflecting, and two handle size options…much of that is what we've come to expect from aftermarket charging handles.
But Aero Precision executes it better than most.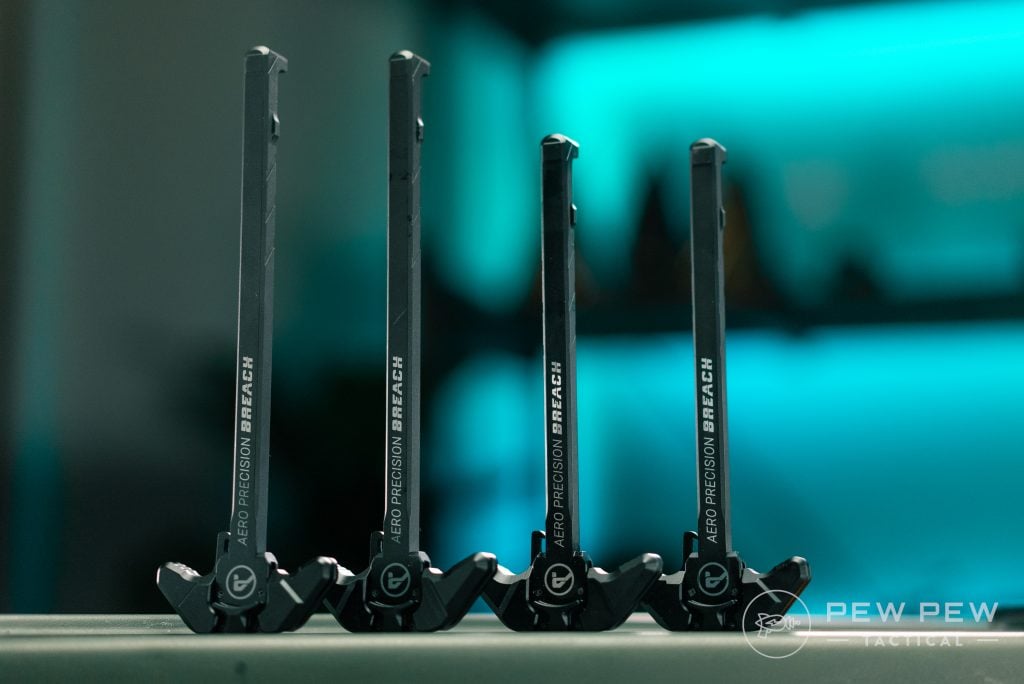 Plus…we just really dig the look of these.
We've been running them in an AR-9 lately and have zero issues.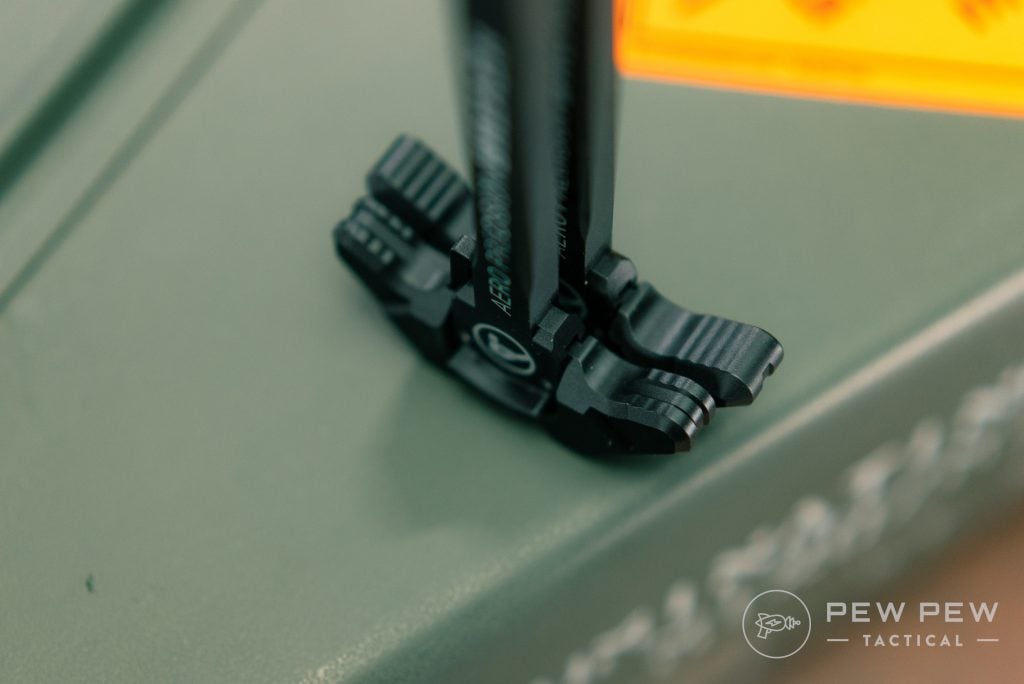 The small handle is still easy to grab but has reduced snagging potential also. It's a bit hard to get a good grip on with gloves, but that's what the large handle is for.
If you're in the cold often or wear gloves either way — then the large handle has a lot more meat for you to get your digits around.
79
at Aero Precision
Prices accurate at time of writing
Prices accurate at time of writing
13. Geissele Super Charging Handle
Geissele Automatics, well known for their triggers, didn't take long to move into other accessories. The Super Charging handle soon followed.
Machined out of a solid block of anodized aircraft grade 7075-T6 aluminum, the SCH is an ambidextrous charging handle with a symmetrical approach.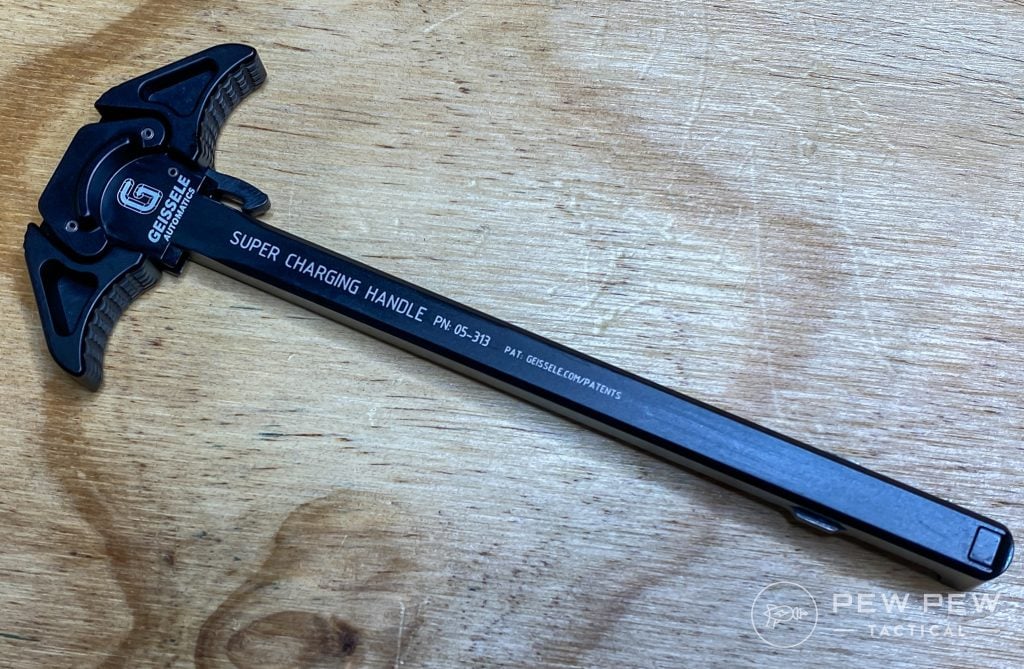 It features a checkered texture inside the handles to greatly aid with grip, even in poor conditions or while wearing gloves.
The size and curve of the handles are a nice balance, not so big that they hang up on things, but big enough to be easier to grab than a stock charging handle.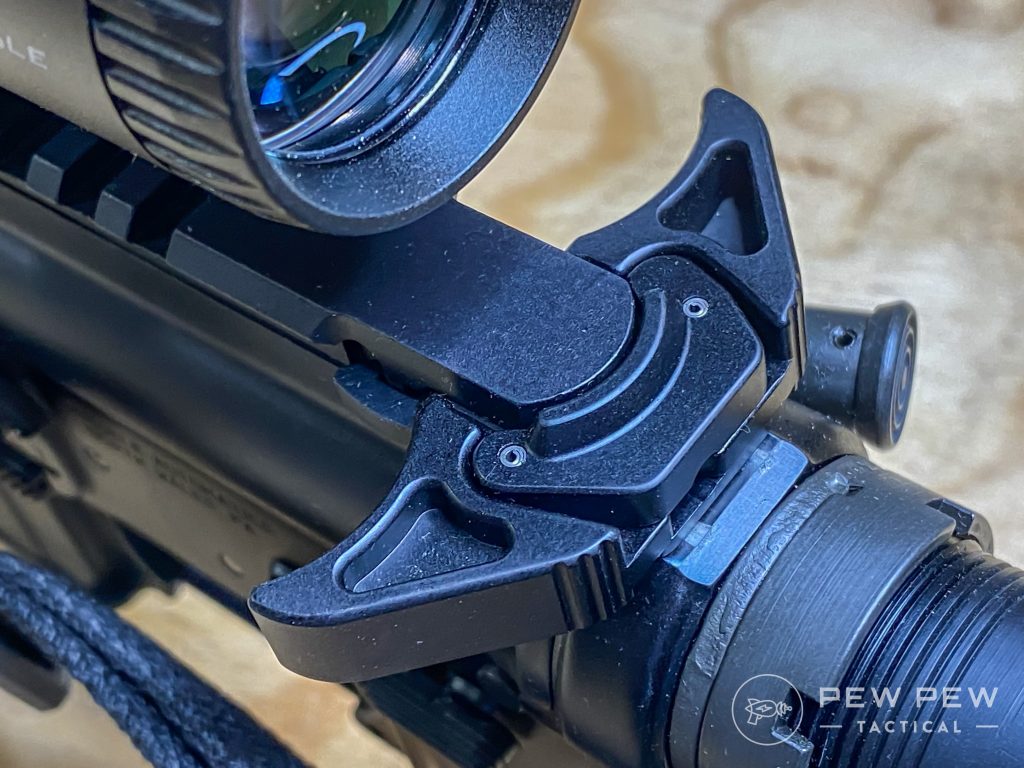 In addition, the rear lip was raised to help keep some of the gas out of the shooter's face when running suppressed or short-barreled applications.
The SCH is on the upper end of the price scale but is sturdy and should provide years of service.
Best for Gloves
85
at Brownells
Prices accurate at time of writing
Prices accurate at time of writing
14. Blackout Defense Stryker Charging Handle
Having handled a few products from Blackout Defense, we've really been impressed with their quality. Their Stryker Charging Handle is no exception.
Made of aircraft grade 7075 aluminum, it is with a hard coat anodizing and Cerakoted in a number of different colors. It also comes with a heavy duty latch to hold it in place when not chambering a round.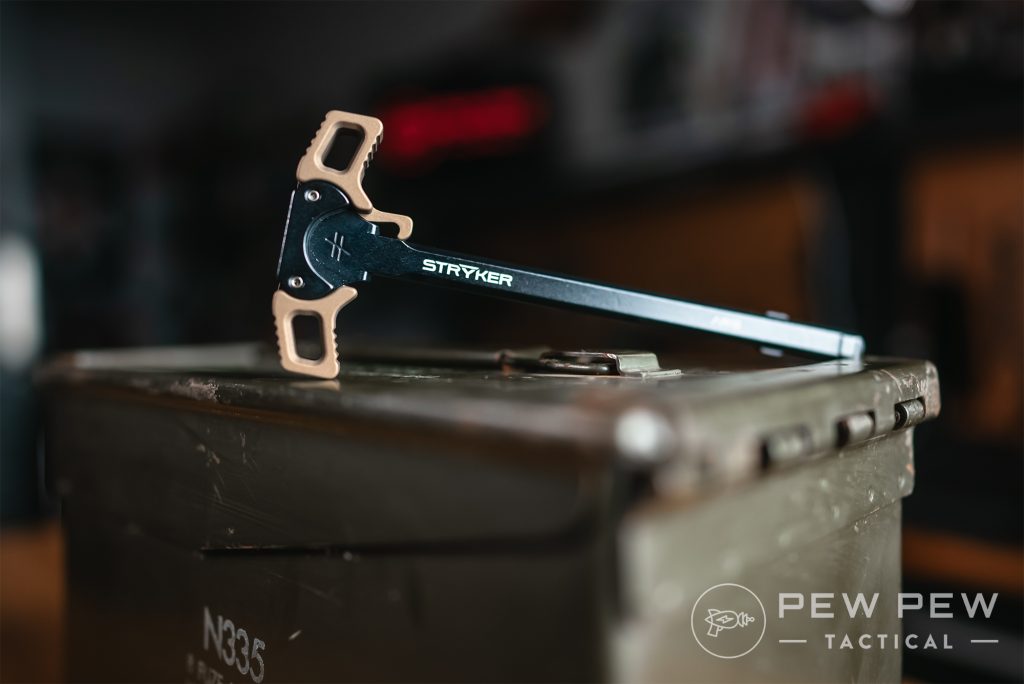 Fully ambidextrous, the Stryker features wings on both sides for grip. The surface of these wings is covered with a heavy duty serration that is easy to hang on to.
Thankfully, the edges are also rounded so they don't grab onto gear like slings, plate carriers, or chest rigs.
Final Thoughts
I've gone through a lot of charging handles; I mean a lot of them. So much so that when testing these designs, I got a nice case of tennis elbow and a bruised palm.
Maybe it's the charging handle elbow?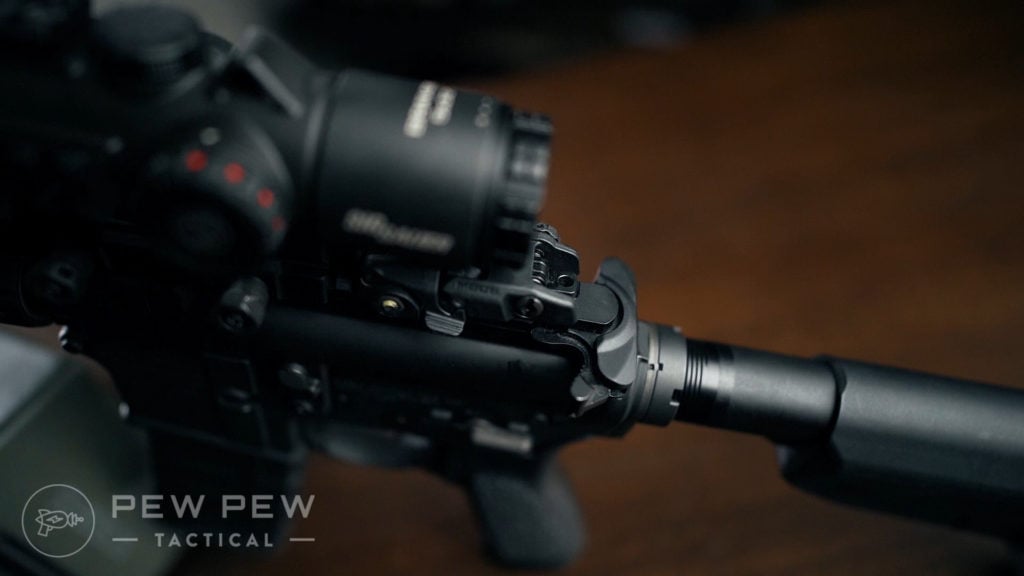 Whatever you want to call it I got it. I did, however, learn a ton about charging handles, and there is more to learn than I expected.
The best thing I learned was I have a ton of options when it comes to AR-15 builds of all kinds.
What do you think? Did we miss any stellar charging handles? If so let us know in the comments below. For more AR upgrades, check out Best AR-15 Upgrades for everything from triggers to handguards and more.