The Aero M4E1 complete upper receiver is what I recommend to my friends who want the best bang-for-the-buck.
It's also the upper that is taking the place of my previous home-defense setup.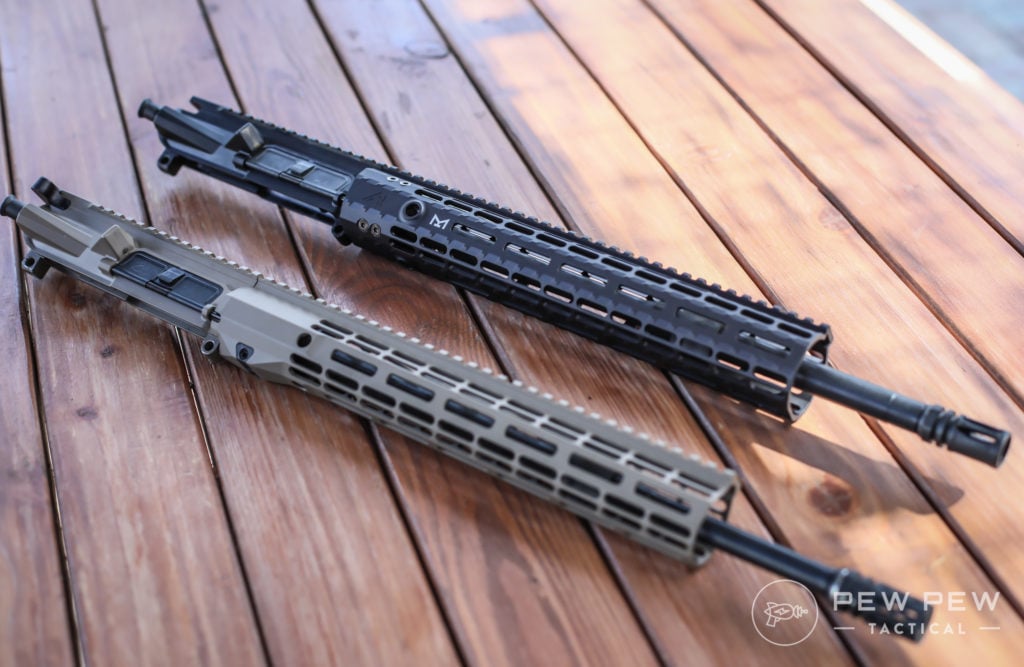 I'll walk through everything from fit & feel, to shootability, accuracy, upgrade potential, how it performs in competition, and more.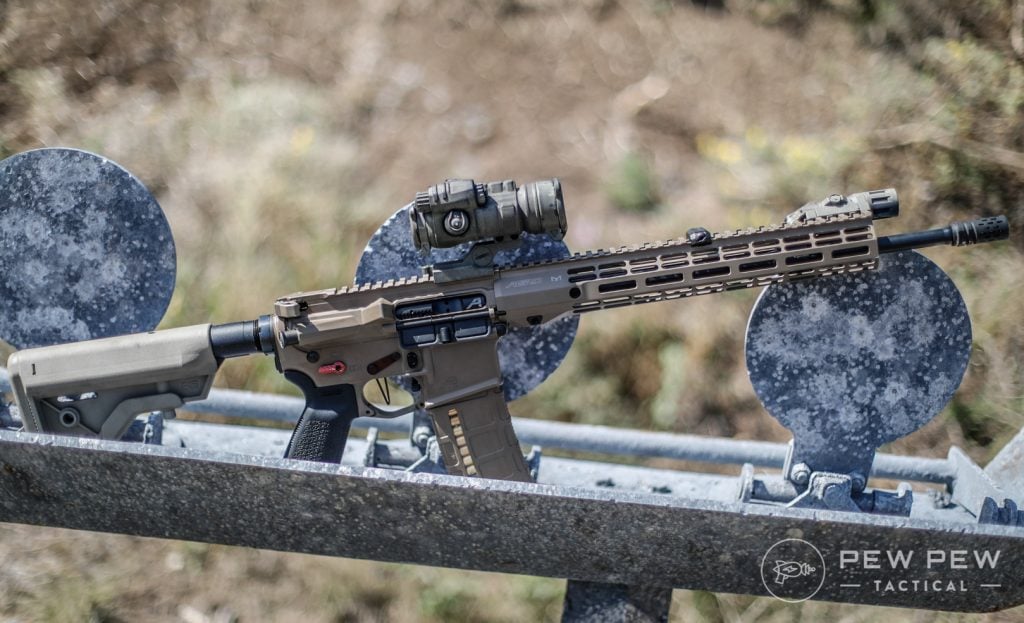 Get ready for tons of pics…and a new full YouTube review of the complete upper and Aero lower build kit.
Johnny's full build is at the bottom of the article! And if that video helped, please subscribe to our YouTube channel to see the latest weekly uploads.
If you can't wait…this one with the regular barrel and 12″ M-LOK handguard is the one to get:
Editor's Pick
499
at Aero Precision
Prices accurate at time of writing
Prices accurate at time of writing
Table of Contents
Loading...
About the Aero M4E1 Upper
The specific upper Aero Precision sent me to test is the M4E1 16" 5.56 Mid-Length Pencil Barrel with their new 12" M-Lok ATLAS handguard. Pencil means the barrel is thinner…resulting in less weight but reduced stiffness.
445
at Aero Precision
Prices accurate at time of writing
Prices accurate at time of writing
But wait…didn't I say that I recommend getting the regular barrel one?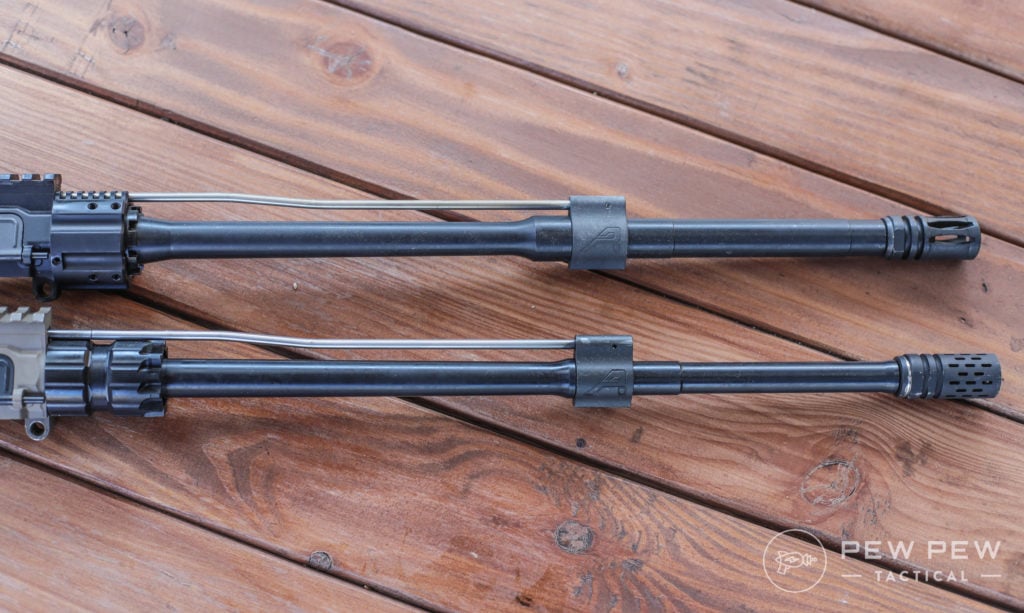 Yes…since my previous version of the review showed the awesome accuracy of the regular barrel. The new handguard PLUS the regular barrel makes the perfect upper.
The M4E1 combines everything I talk about in my AR-15 Buyer's Guide:
16" barrel so it satisfies all laws regarding length

Mid-length gas system for a softer shooting gun

Free-floating 12" handrail so you can get better accuracy + a longer grip

M-Lok attachment system so you can easily add lights, etc.
Who Is It For?
I'd say the M4E1 is a general use upper. But especially useful if…
You're looking for another AR-15 upper that has all the new stuff (mid-length gas, free-floating handrail, and M-Lok)

You're building a new AR but don't want to mess with installing the barrel and gas system. They require tools and I've messed up my fair share. Sometimes you just want a reputable company to build it.

You want the best value upper (or

full rifles

here).
Fit & Feel
Let's go through all the parts starting with the "engine" of the gun…the BCG.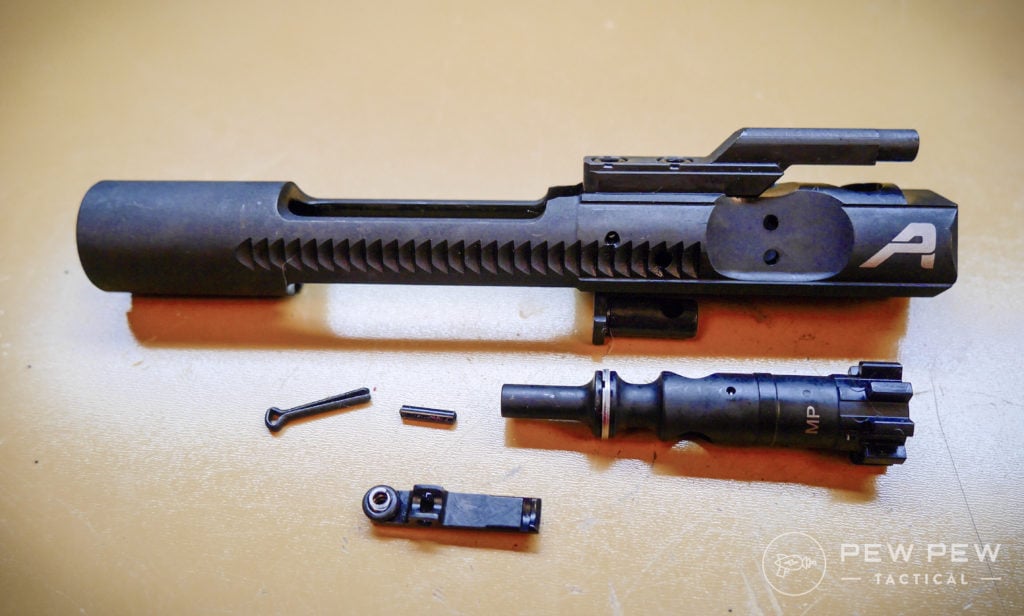 It's MPI/HPT tested and properly staked…like all my other mil-spec BCG's that just plain work. Also correct weight for a full-auto (FA) BCG.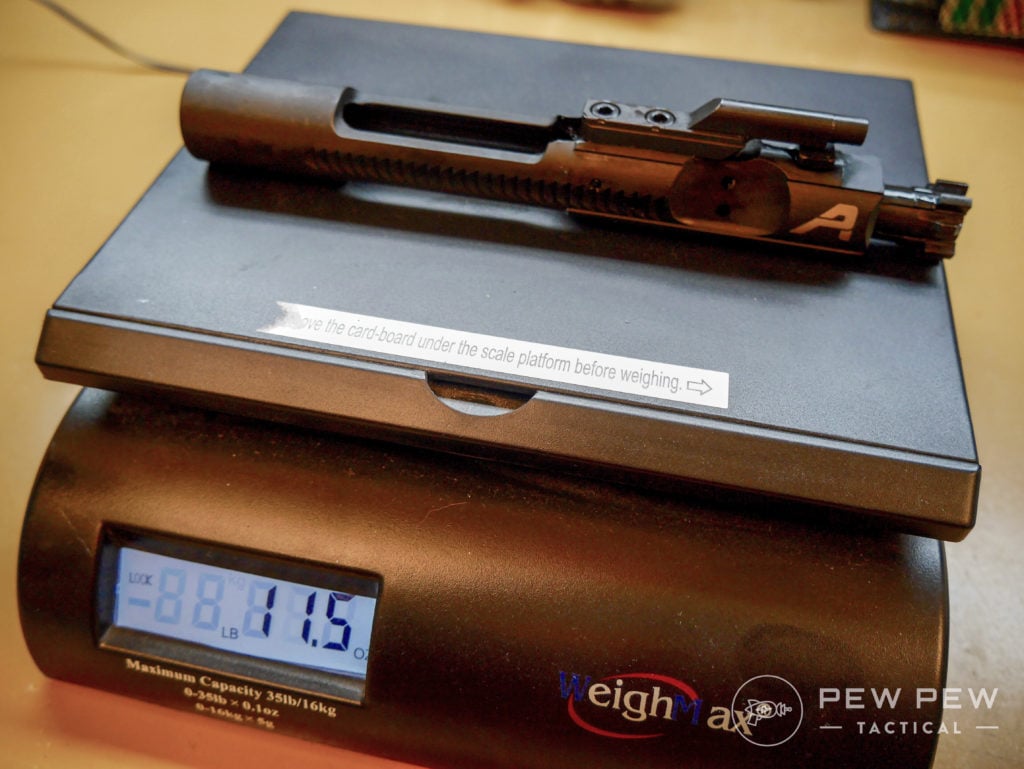 I got the ambidextrous charging handle which is super beefy and useful if you want to easily brass check (using your right hand on the right side of the handle).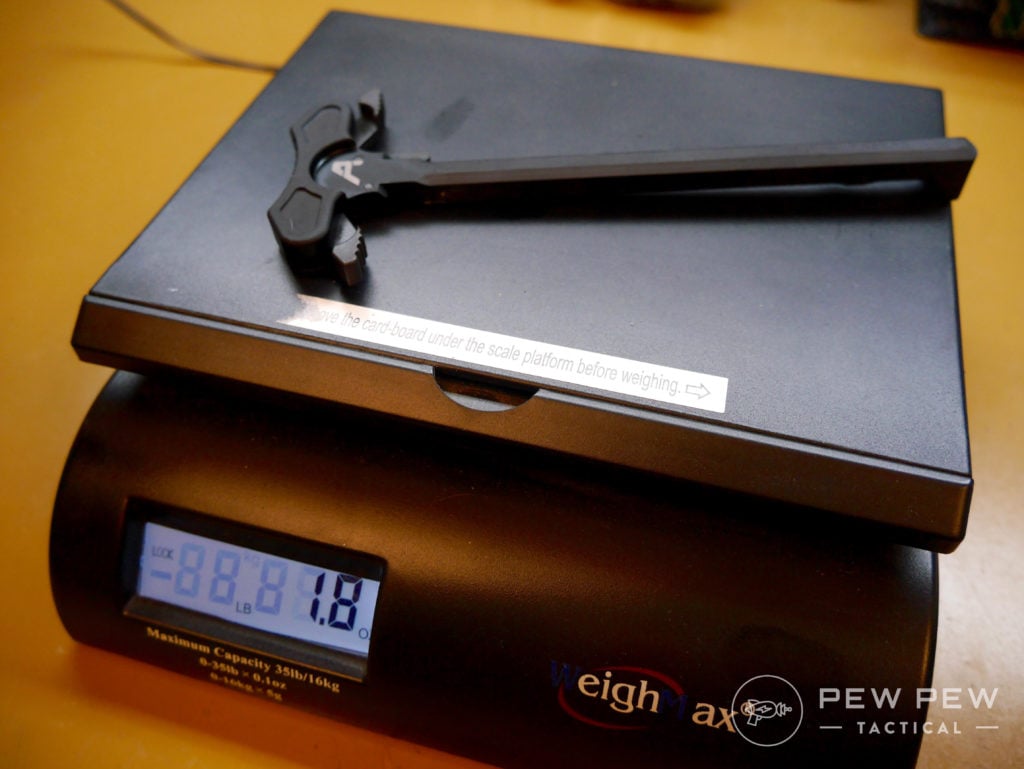 Otherwise, it's probably not worth the extra $60 from the regular one. The best bang for the buck is still my favorite Bravo Company ($45) one.
Note that the upper doesn't come with the BCG nor charging handle (sadly this is the norm for uppers now), but Aero's versions are priced well.
I also got the flip-up sights ($139) which are metal and again…super beefy. I really like having them on a home defense gun just in case my optic fails. It's a little expensive so if you are looking for cheaper backup sights…look at Magpul polymer ones ($60).
Which hopefully it doesn't since I'm using an Aimpoint red dot. Check out my recs for the best AR-15 optics.
The rail is machined nicely and has my favorite M-Lok attachment system pioneered by Magpul. No more quad-rails since that adds unnecessary weight.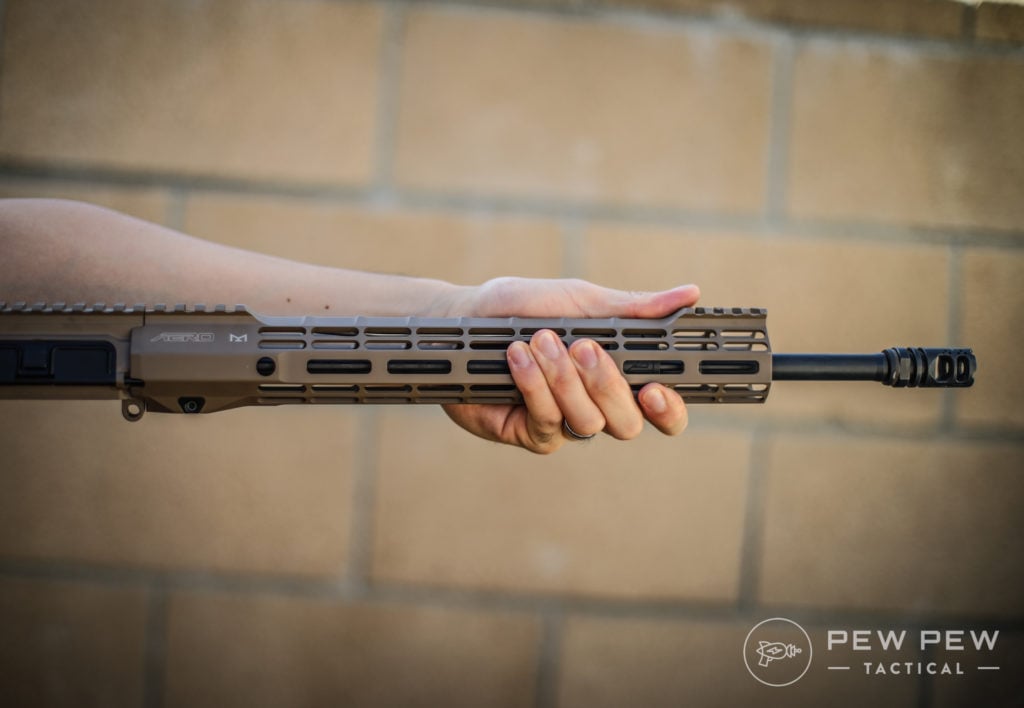 I also REALLY love the contour for me to place my thumbs where they removed the top middle section of Picatinny. If you aren't running tons of stuff on top…it's a decent weight reduction.
Note…it's rounded so you won't be able to stick on a light/laser pad.
And if you use flip up sights and like to place your thumbs on the groove…you'll have to reverse the rear sight so that it lies down towards the barrel. Still works fine…just be ready for "hey your front sight is reversed."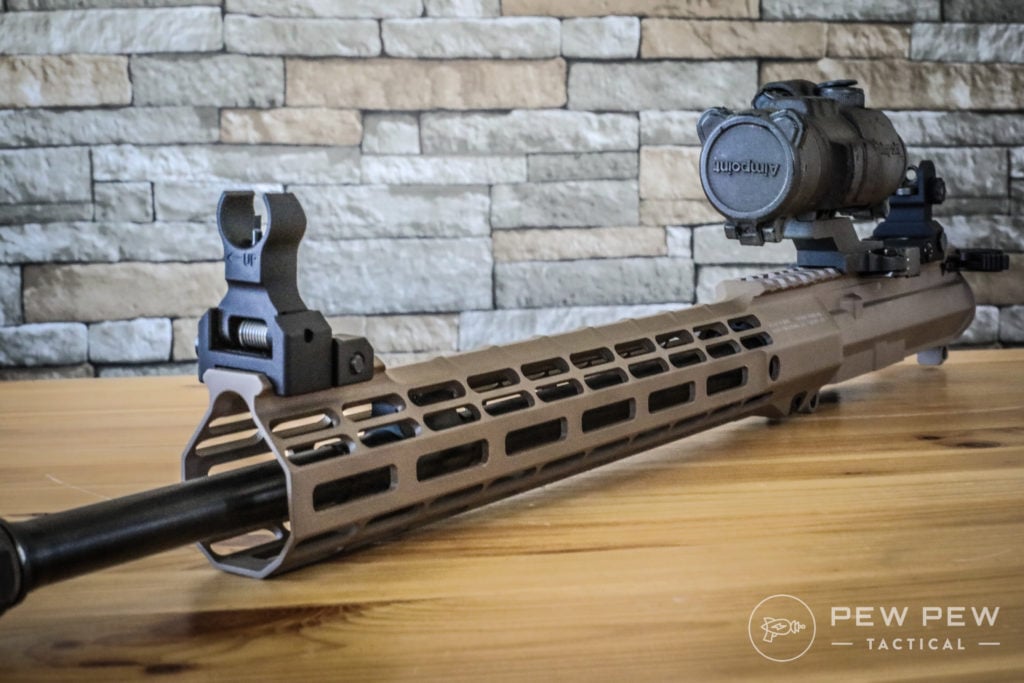 If you need/want the full rail on top, there's now the R-ONE version of the ATLAS.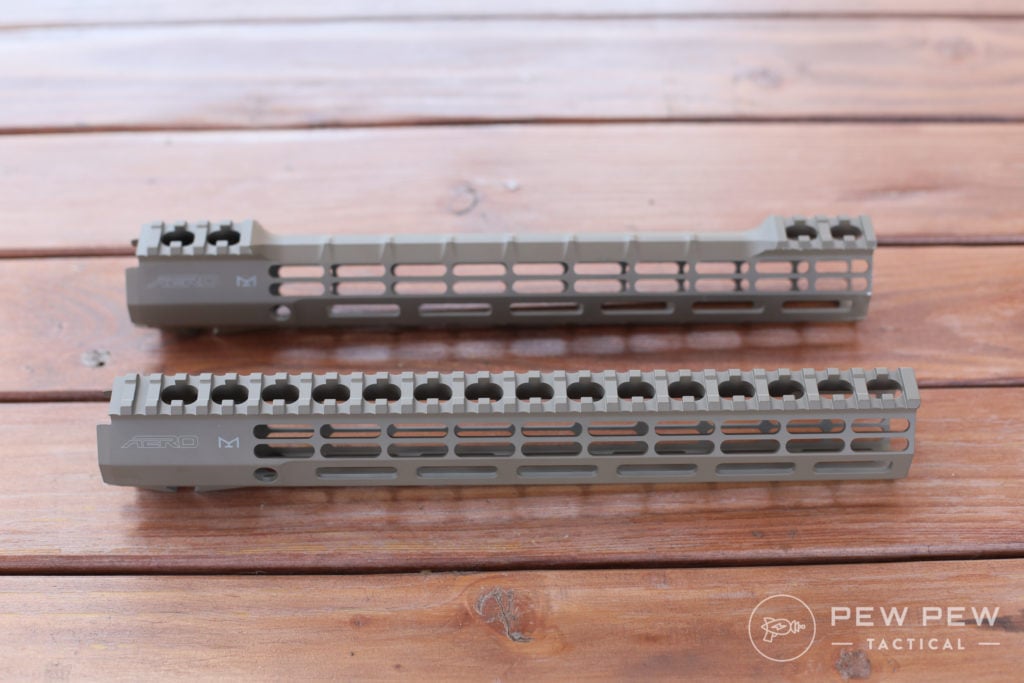 450
at Aero Precision
Prices accurate at time of writing
Prices accurate at time of writing
It's also thin…about 1.5″ in diameter. My gripe about the previous generation's was how thick it was at 2″ in diameter.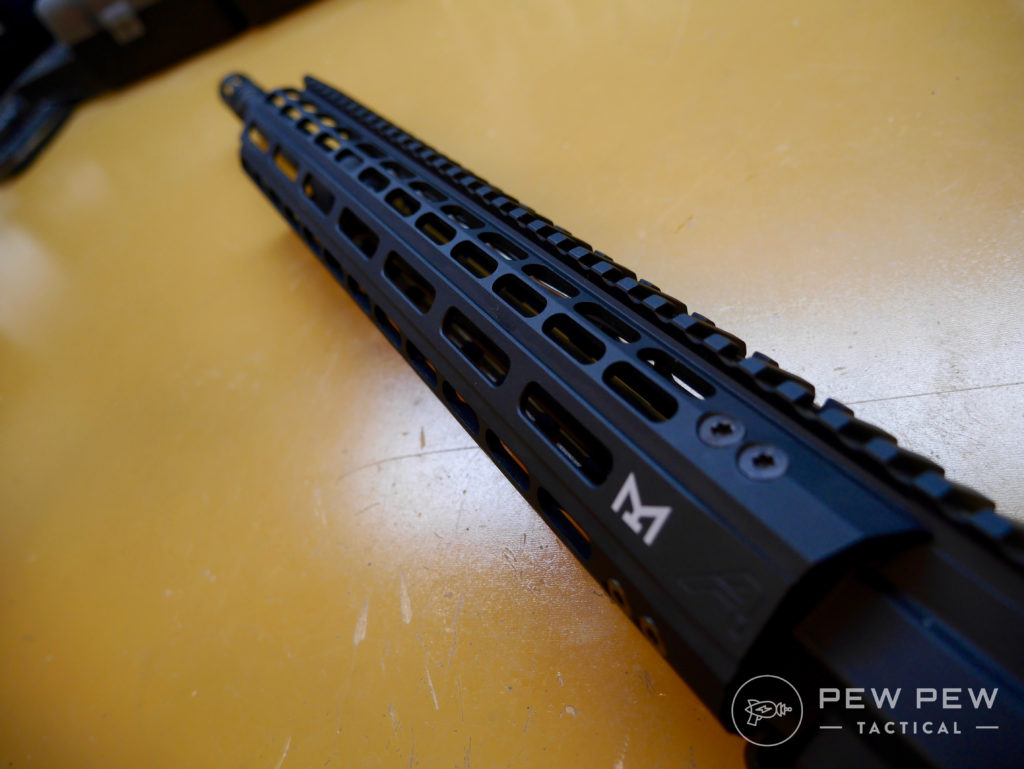 The M4E1 comes with a standard flash hider but if you're going the featureless route or want to really reduce recoil and muzzle rise…I switched mine out for Aero's VG6 Gamma ($75) muzzle device.
69
at AR15 Discounts
Prices accurate at time of writing
Prices accurate at time of writing
The biggest difference in the new Aero upper receiver is that it gives it a cool billet look without the price increase. I love the more aggressive lines.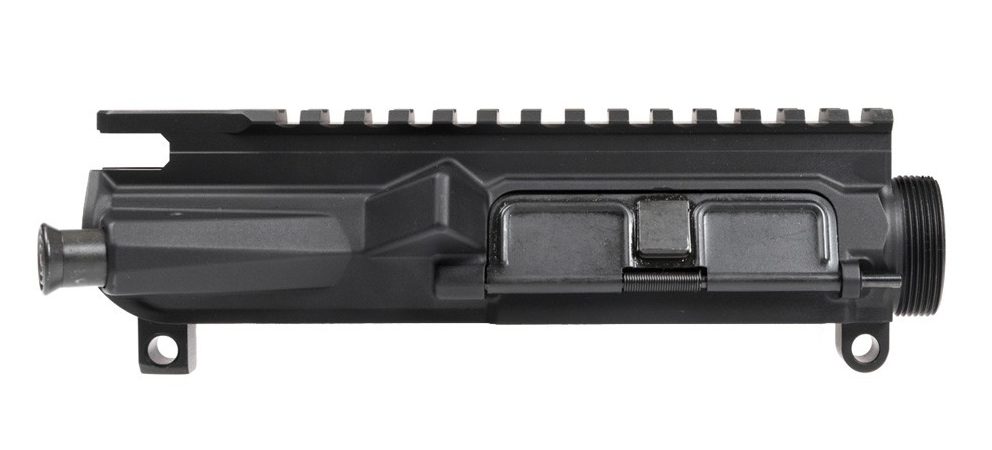 Versus a regular upper.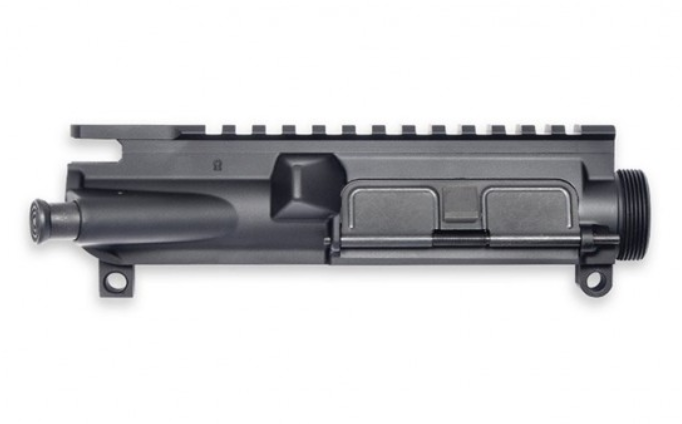 The weight of the old upper with the thicker handguard comes in at 3 lbs 6 oz (without charging handle or BCG) while the new upper with pencil barrel comes in at a flat 3 lbs.
6 oz is a lot of weight that it shed!
But…enough about how it looks.
How Does it Shoot?
After some quick cleaning to get rid of any preservatives or oil, I lubed it up and went to the range.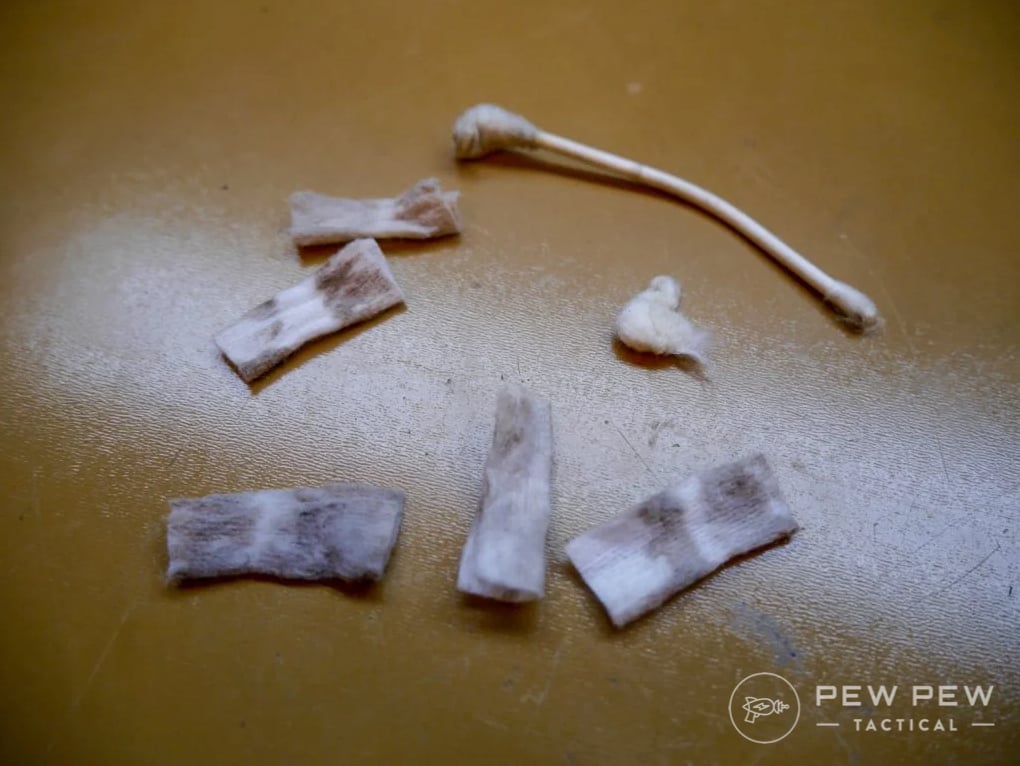 I zeroed in the flip up sights and shot 100 rounds at 100 yard steel. No malfunctions of any kind.
I'm glad I didn't have to say to myself…"oh, it just needs a couple hundred rounds to break it in."
Then came the fun part of taking me out of the equation and shooting groups.
Accuracy: Regular Barrel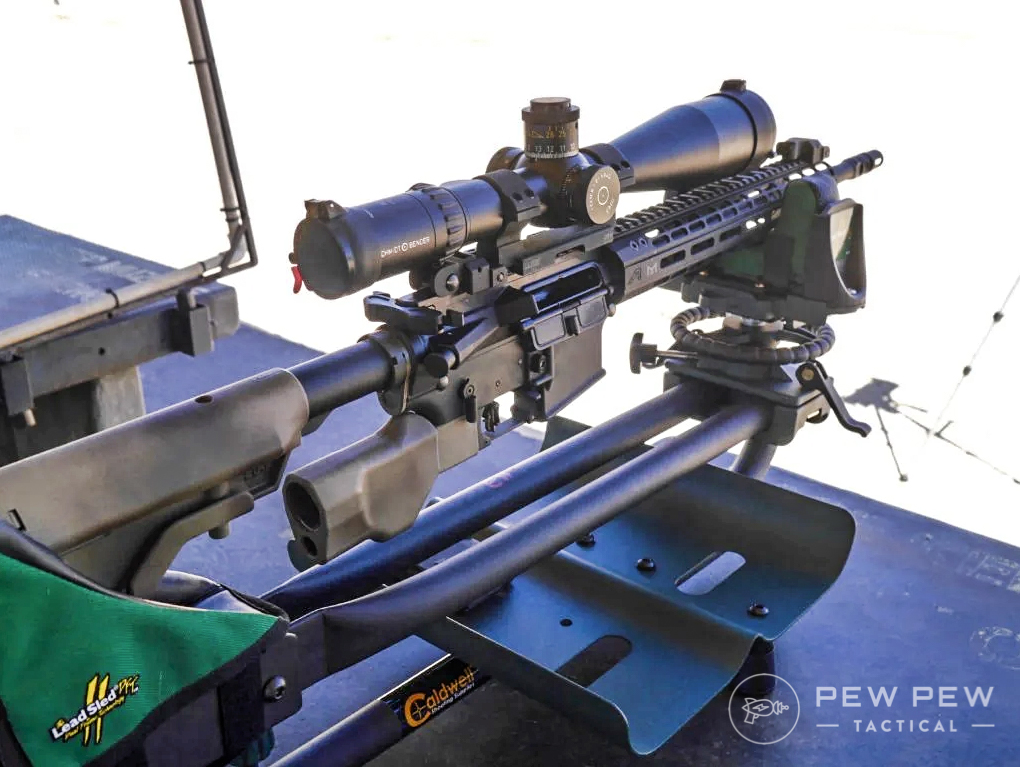 The results of a 10-round slow string with no cool-down in-between shots with the PMC and my favorite single-stage trigger.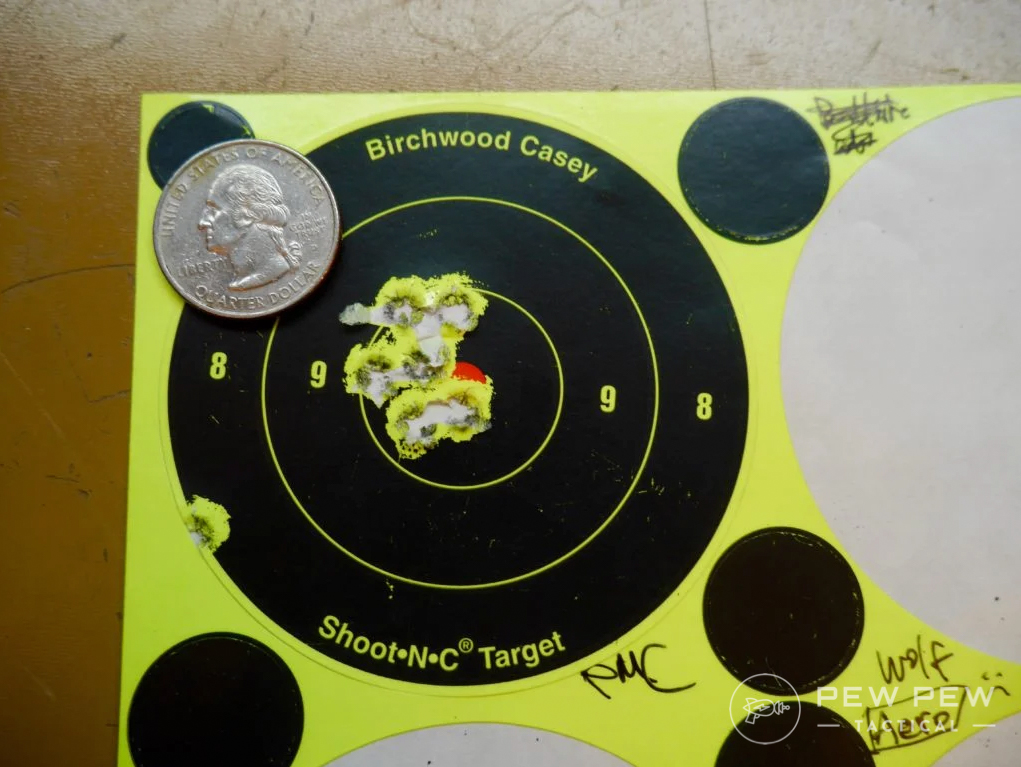 Yes, I messed up one round but it's roughly 1" (1 MOA). Which is pretty great for plinking ammo at 100 yards.
By comparison military XM193 rounds are around 2-3" at 100 yards.
If you look you'll see the sad face next to Wolf. I was walking back from the targets and somehow lost the Wolf Shoot-n-C. I would estimate it was around 2 MOA.
Accuracy conclusion…I tried to make it the best possible case with a lead sled, a sweet optic, and a crisp trigger. The rifle holds up so now it's really down to the shooter.
Accuracy: Pencil Barrel
Pencil barrels have the notoriety that accuracy goes down when it's heated up from previous shots. But if you're looking at shorter engagements or simply "minute of bad guy"…it will do the job.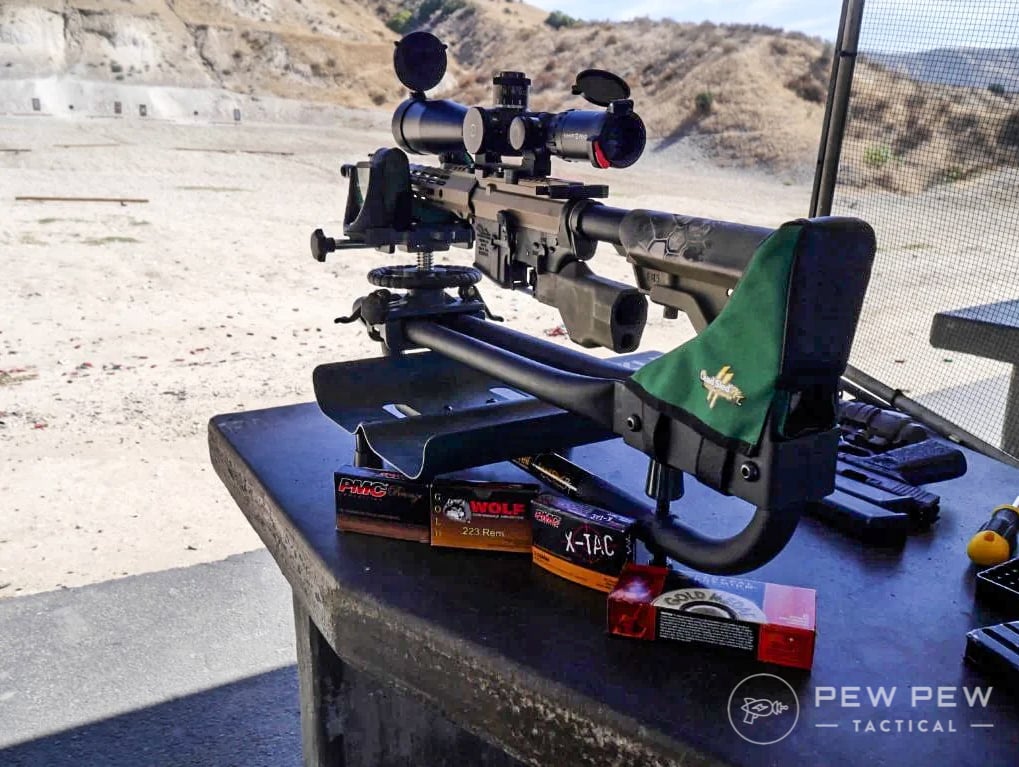 I duplicated the original test with the same trigger, sled, and scope. Here are the results at 100 yards.
Rapid fire meant as soon as I got on target again I shot (around every 2-3 seconds). While slow fire was waiting for the barrel to be cool and shooting around every 30 seconds.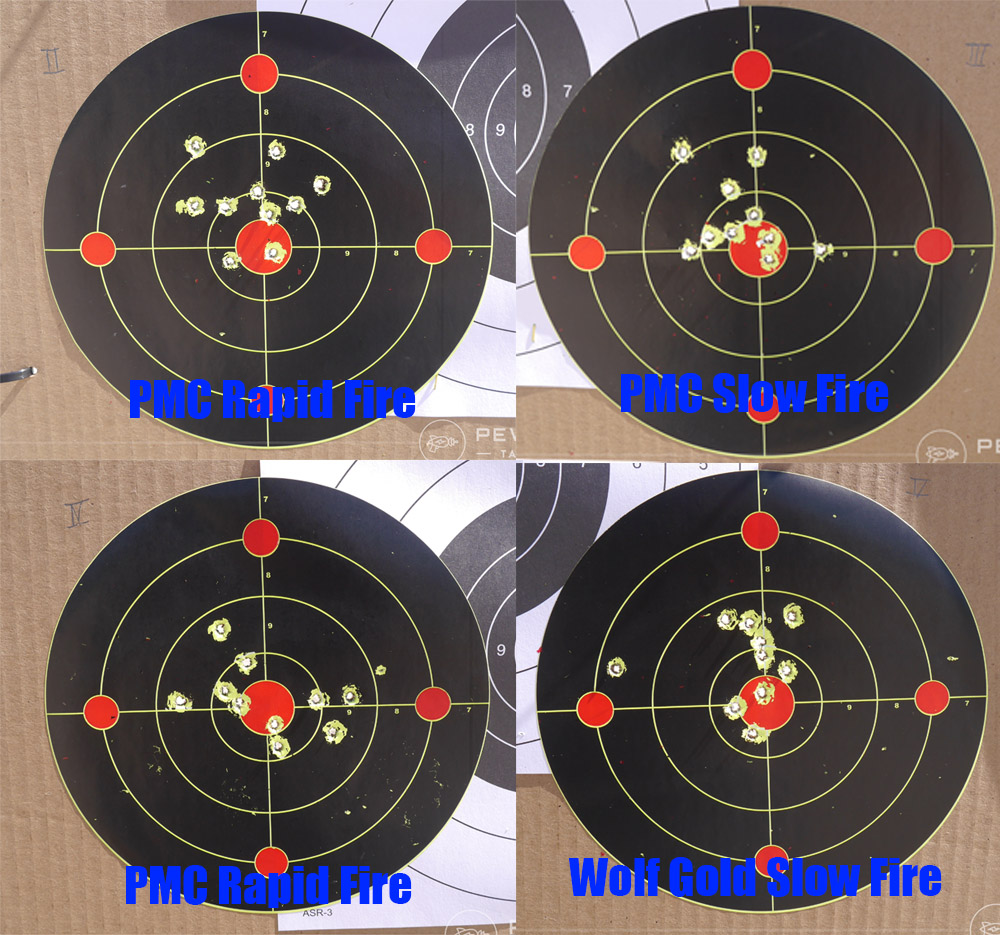 And Part 2 with PMC XTAC (XM193) and Gold Medal (match ammo).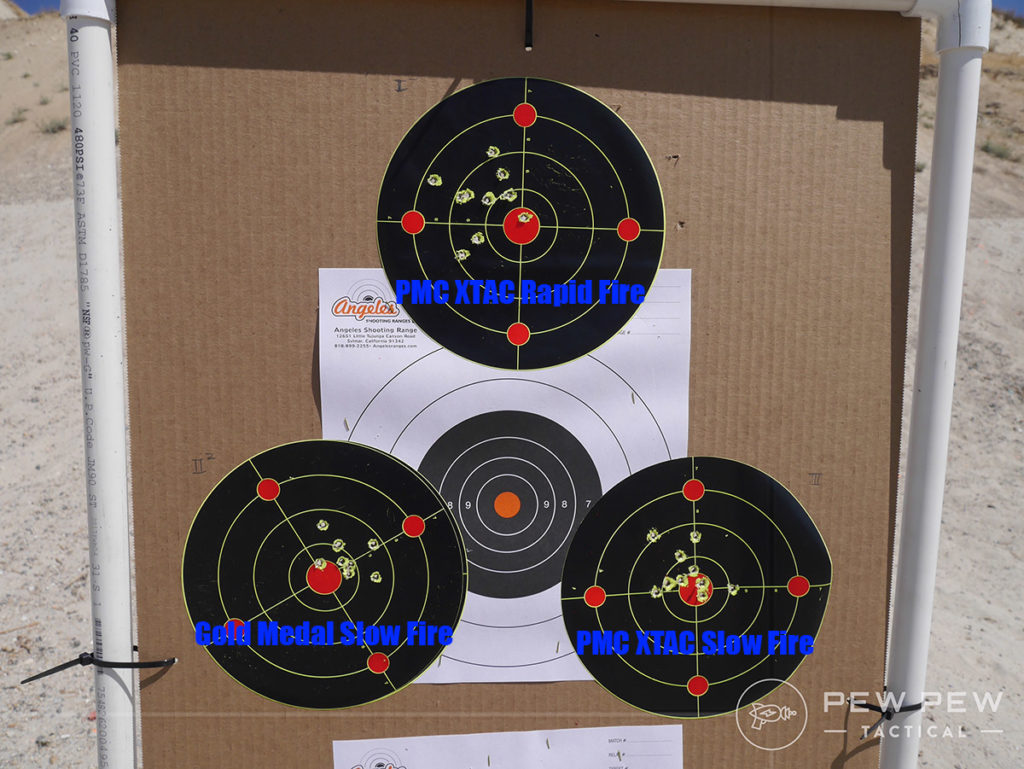 So…it wasn't the greatest. Here's my takeaways:
Pencil barrel was around 2-3 MOA vs 1 MOA of the original barrel.
Visible differences from rapid fire vs slow fire…but not as much as I would have thought.
No specific ammo did MUCH better…even the Gold Medal Match. Looks like you can go with the cheap stuff like Wolf Gold (Best AR-15 Ammo).
Recoil/Shootability
I put on my red dot since I wanted to see how fast I could transition between targets at my next competition.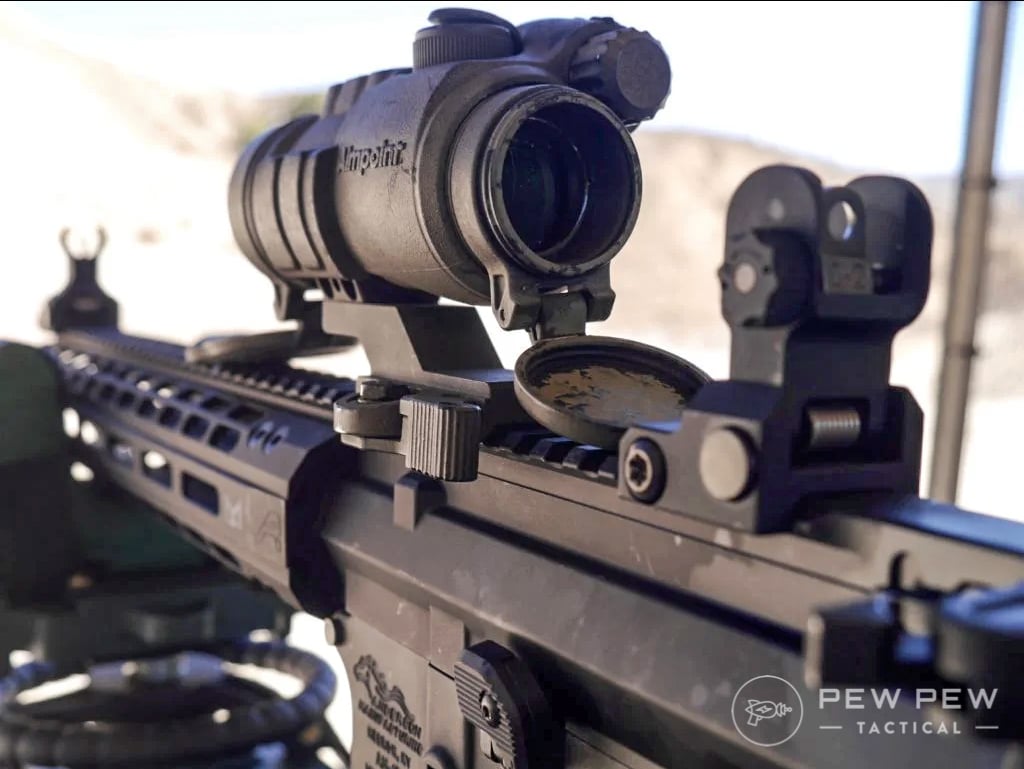 Recoil and shootability are on par with all the other AR-15's I've shot that aren't using adjustable gas-blocks. Which is still…very little due to the small .223 round plus the compensator.
The pencil barrel also did not exhibit extra recoil.
Competition
I normally run my lightweight upper but wanted to put the Aero M4E1 upper through the ringer.
Competitions and me just have a really good track record of breaking down and exposing flaws in guns.
My main problem was choosing to go with the red dot and not getting enough time shooting at long range targets to memorize the drop.
I regularly place in the 50 percentile mark at my local matches and this time was no different. I re-lubed at the beginning of the match and had no problems.
The Aero feeling at home with other AR-15's.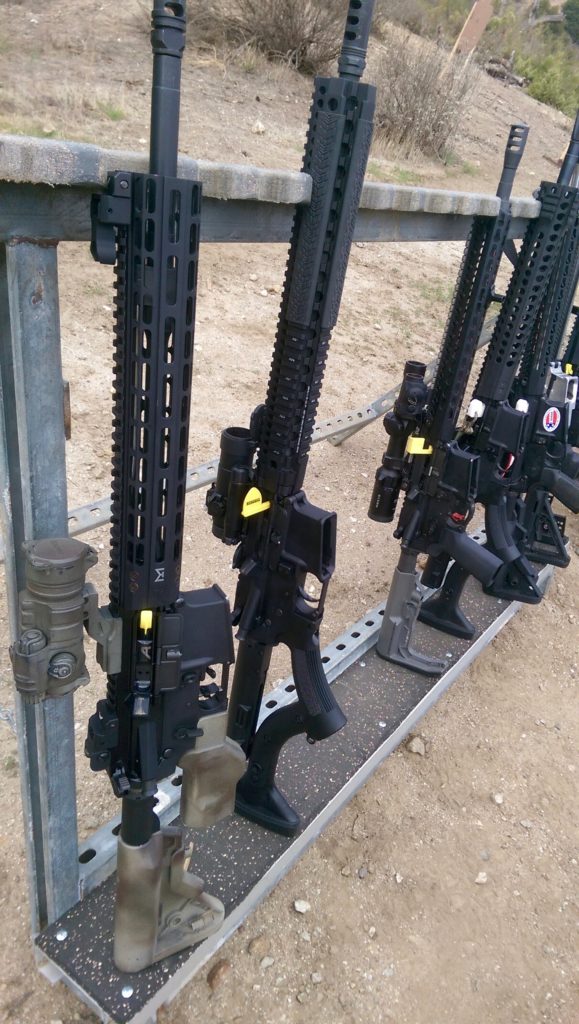 I haven't competed with the new upper but from a couple hundred rounds at the range engaging 100 yard steel…it's more than capable even with a red dot. And much better feeling in the hand with the contour and thinner handguard.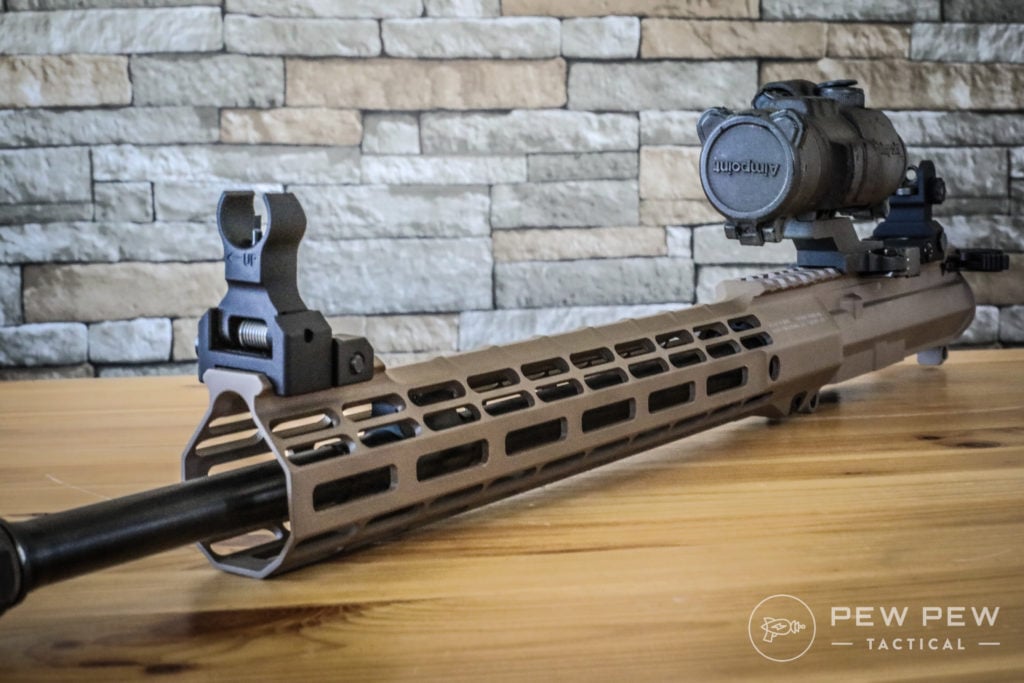 Here it is in action in my current home defense form:
Now we're in the home stretch.
Specifications
From the Aero site:
Upper
New enhanced 7075 forging that gives the upper receiver a "billet look"
New picatinny profile that blends seamlessly with our Enhanced Series Handguards
M4 Feedramps
.250 takedown pin holes
Laser engraved T-marks
Includes port door and forward assist installed
Handguard
Front and rear picatinny rail
Eliminated center of top rail for weight reduction
Indexing grooves in 12:00 position for positive grip control
Quick disconnect sling socket at the 3, 6 and 9 o'clock positions
Compatible with low profile gas blocks
1.3" Inside diameter
1.5" Outside diameter
Barrel
5.56 Nato 16″ Midlength, 1/7 twist, 4150 CrMoV, QPQ, gas port drilled
.750 gas block journal
Midlength gas system, .0785 gas port
M4 Feed Ramp Extension
HP and MPI tested
Standard A2 flash hider
By the Numbers
Reliability: 5/5
No failures of any kind in the ~1000 rounds of the original and around 500 of the new pencil barrel upper. But remember to keep it nice and lubed.
Accuracy: 5/5
It'll do its job with regular plinking ammo. If you start to reload or use match ammo, you can likely make it a sub-MOA gun if you do your part. Looks like regular barrel > pencil barrel for accuracy.
Ergonomics: 5/5
Now a 5 with the new ATLAS handguards that are thinner and allow a nice contoured index for my thumb.
Looks: 5/5
Pretty sweet and the details on the receiver make it stand out.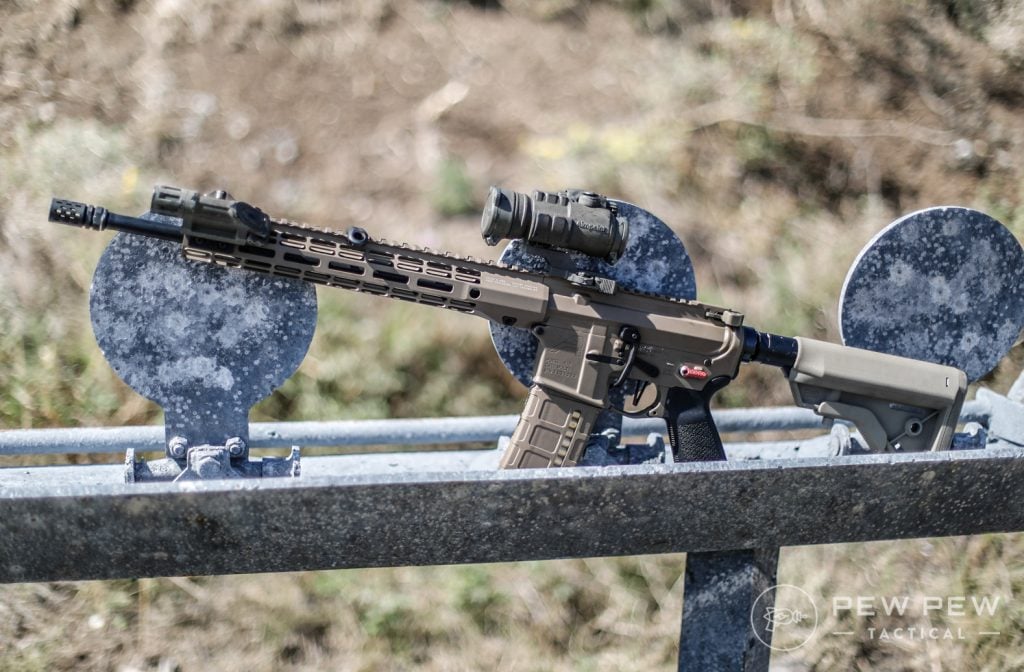 Customization: 5/5
It's an AR-15 with M-Lok so the sky's the limit. Check out my list of the Best AR-15 Upgrades and Best AR-15 Flashlights if you need help.
Bang for the Buck: 5/5
Aero has proven themselves to me as the best bang for the buck in stripped receivers (I have build 6+ uppers on Aero), complete uppers, and full rifles.
Overall Rating: 5/5
Johnny's Build
Peep the video to see Johnny's M4E1 in action and check out below to see his complete build list!
Conclusion
The Aero Precision M4E1 AR-15 upper fulfills many roles from plinking to home-defense and has maintained a spotless reliability record. Accuracy, ergonomics, and finish are also great. It's more expensive than introductory AR-15s but bang-for-the-buck versus "high-end" manufacturers is stellar.
If you're thinking of getting an AR-15 upper, you can't go wrong with anything Aero.
I've toured their manufacturing facility in Tacoma, WA and it is legit. They are a true manufacturer and not just an AR-15 parts assembler.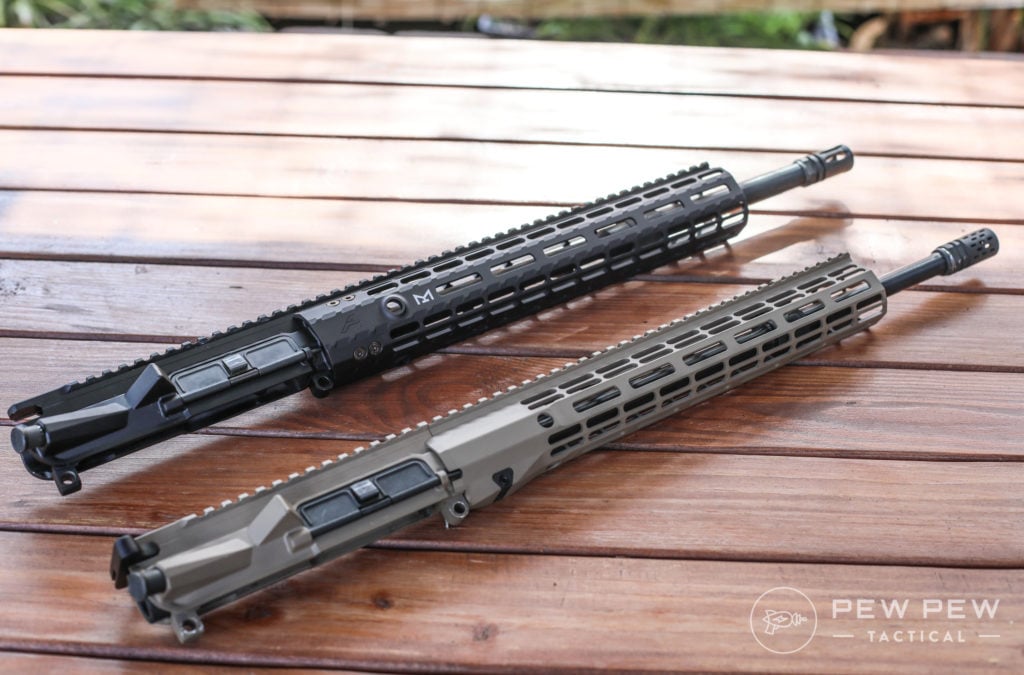 My suggestion would be for the regular barrel and the 12″ M-LOK ATLAS handguards. You'll get the best of both worlds…accuracy and a kickass grip.
Editor's Choice
499
at Aero Precision
Prices accurate at time of writing
Prices accurate at time of writing
For those of you who want the full rail…there's the R-ONE version of the ATLAS.
450
at Aero Precision
Prices accurate at time of writing
Prices accurate at time of writing
Or if you're looking to shave a 5 oz off and "minute of bad guy" accuracy is enough…the pencil barrel is awesome too.
445
at Aero Precision
Prices accurate at time of writing
Prices accurate at time of writing
And if for some reason you're not feeling it…check out other options in our Best AR-15 Uppers for the Money and Best AR-15 Upgrades articles.