Confused by all these new laws and what makes an AR-15 "featureless" so you might not have to register it as an assault weapon (AW)?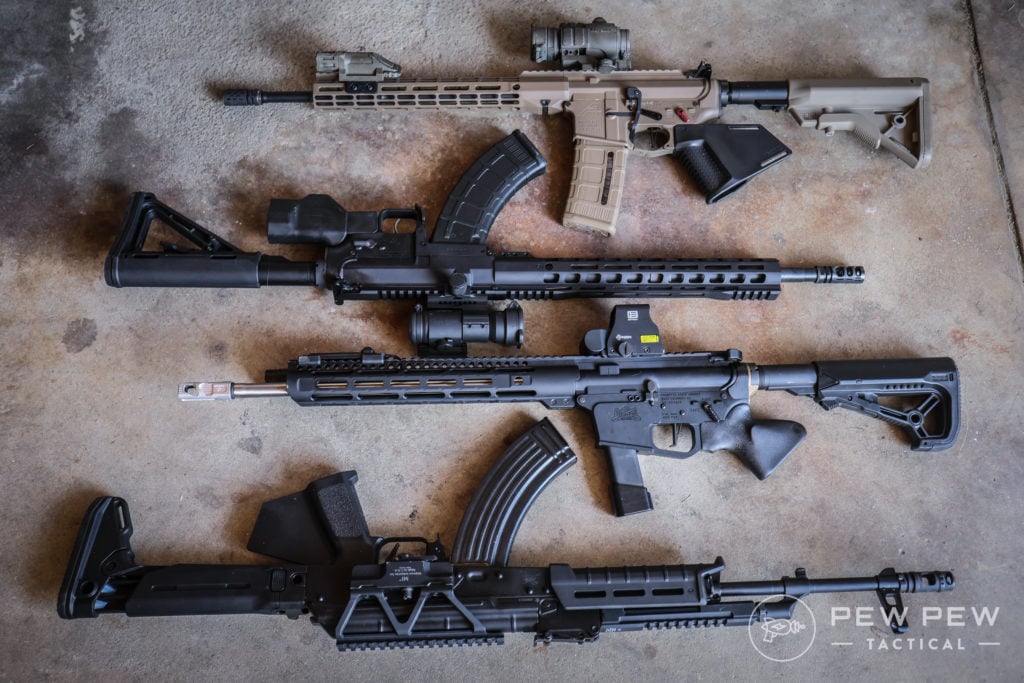 A featureless rifle (in California) is one that does not have any of the following:
pistol grip
thumbhole stock
telescoping/folding stock
flash hider
grenade or flare launcher
forward pistol grip
A featureless rifle allows the use of detachable magazines and lawfully owned standard-capacity magazines.
A little confused? We've got you covered. Plus with videos of our favorite setups.
Learn exactly what makes an AR-15 "featureless," how it allows the use of the magazine release and larger magazines, and how to build one with recommendations for appropriate grips, stocks, and muzzle devices.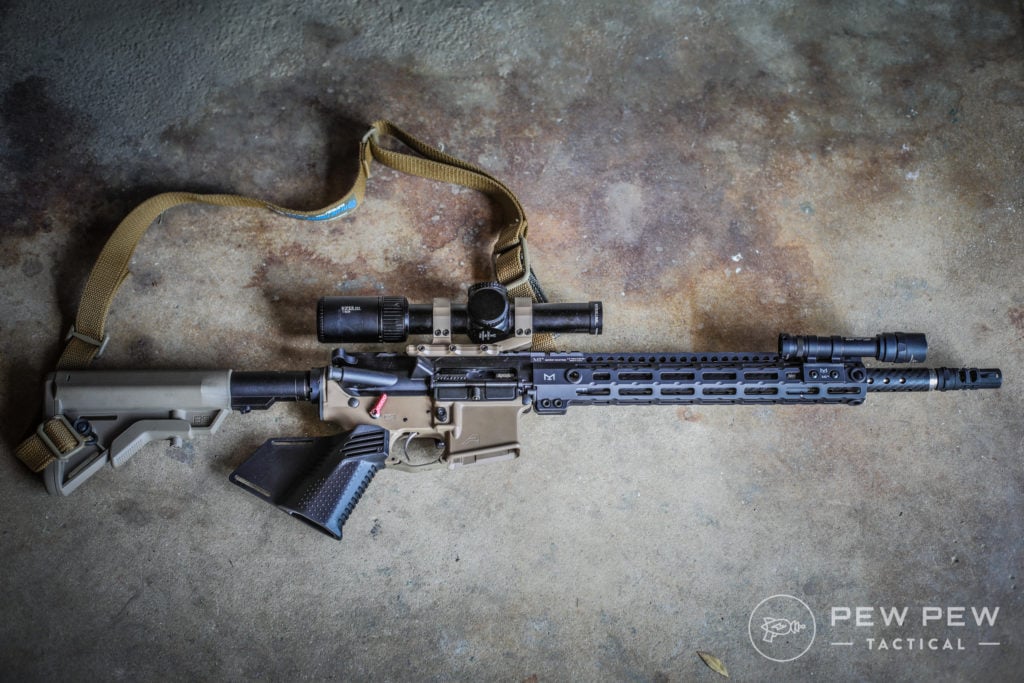 Plus if it all sounds too difficult…the best new "Bullet Buttons" that let you have all the features. Hint…it's the AR MagLock + Patriot Pin combo.
Disclaimer: this is not legal advice and you should double-check everything, especially since the laws surrounding this always seem to be in flux. I'm also writing this mostly towards residents in California, but New York residents can also benefit.
Table of Contents
Loading...
What Makes an AR-15 "Featureless"
First, let's go over what makes an AR "featureless" before diving into the laws.
This flowchart from Calguns.net is perfect for making sure your semi-auto centerfire rifle is legal.
This works for other semi-auto centerfire rifles but I'm using the example of the AR-15 since it's the most popular.
Please download the flowchart as well as following along with my emphasis edits (in poop brown) below: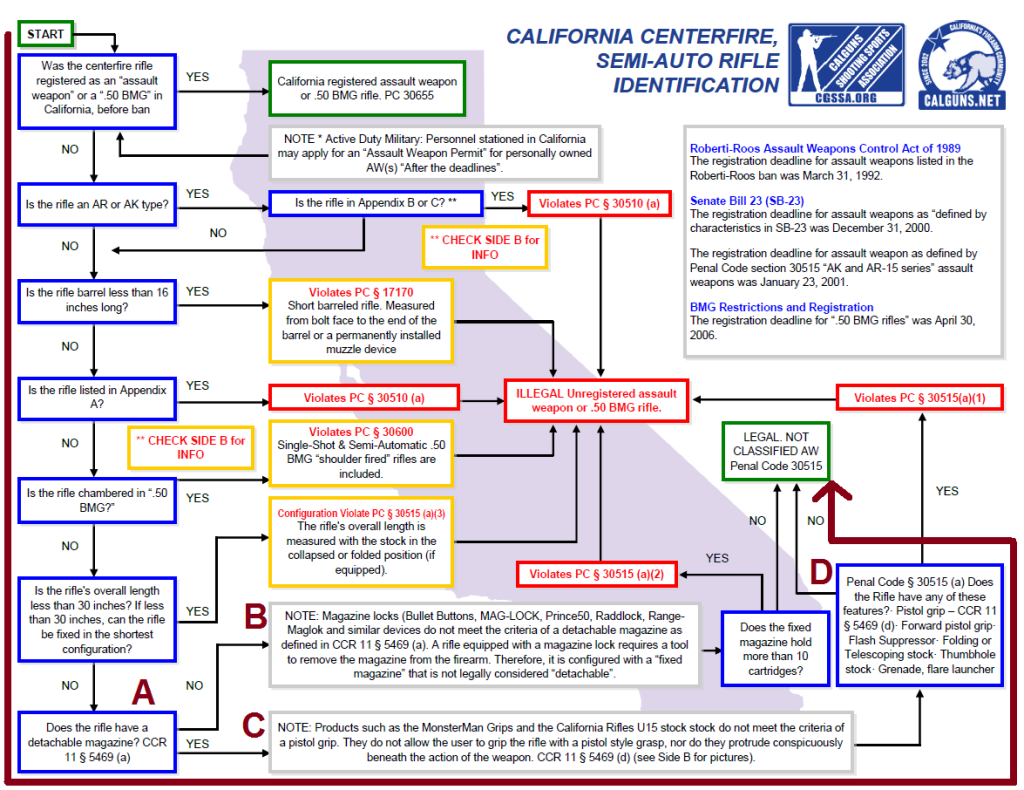 Start: Begin here and if you bought your rifle at a legit FFL, it should pass everything with flying colors as you move down with the brown line.
Section A: Here is where it gets interesting for rifles…whether or not it can have a detachable magazine. Most FFL bought new rifles take the "No" detachable magazine path to Section B.
Section B: You might have heard of the term "bullet button" which is just a branded name for magazine locks that require a tool (and a bullet is considered a "tool") to remove the magazine. When you just use your finger…you cannot release the magazine like normal. The .gif shows some ingenuity in adding a little protrusion to the bottom of a magazine to active the bullet button. Past 2018 you'll need more than a simple tool…read on!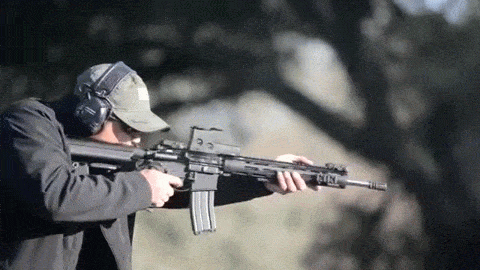 Section C+D: This is where "featureless" comes into play since we will not have the features dictated in CCR 11 § 5469 and Penal Code § 30515.

Pistol Grip
Thumbhole Stock
Folding/Telescoping Stock
Grenade Launcher or Flare Launcher
Flash Suppressor
Forward Pistol Grip
Still with me?
Things You Can't Have on a Featureless Rifle
Pistol Grip
What you see on all normal AR-15s. It allows you to hold it in a pistol fashion where the web between the thumb and the finger rests below the exposed trigger when firing. Yea…I had to think about that for a minute too.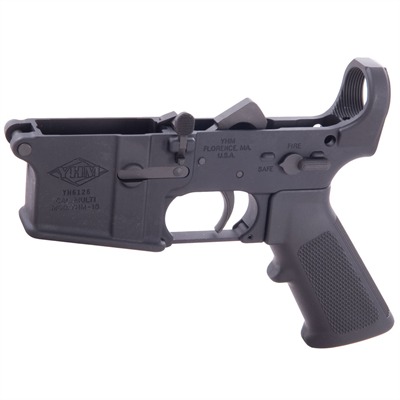 Thumbhole Stock
This monstrosity below is an example of a thumbhole stock where the thumb of the trigger hand can go through the stock when firing.

Folding/Telescoping Stock
The folding stock allows you to fold the stock over to the side so the overall gun is much smaller when not in use. While the telescoping stock is very standard and more often known as a collapsible stock.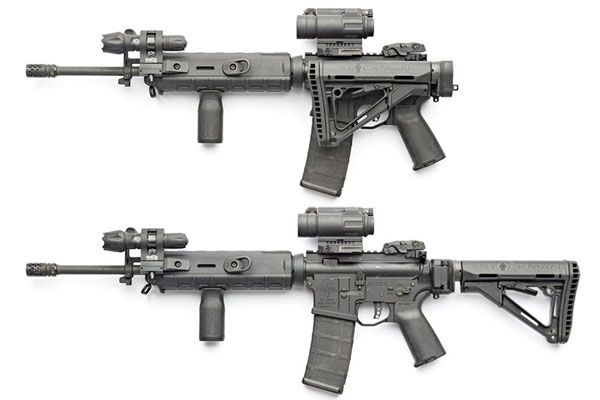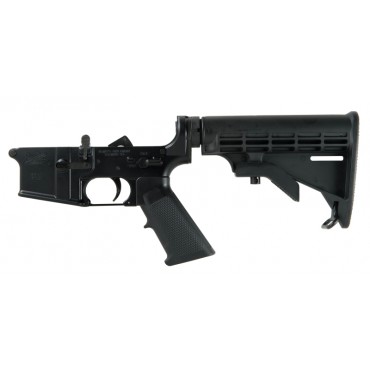 Grenade Launcher or Flare Launcher
The big tubes underneath the standard barrel. Not seeing a whole lot out there, so yea…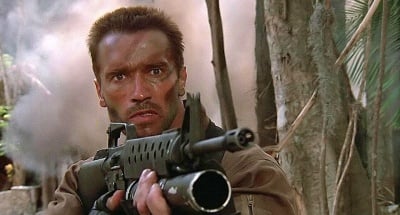 Flash Hider/Suppressor
A device attached to the front muzzle that reduces the flash from shooting. They are mostly for preventing the user being blinded by the flash at night, rather than hiding the flash from spectators, although that happens too.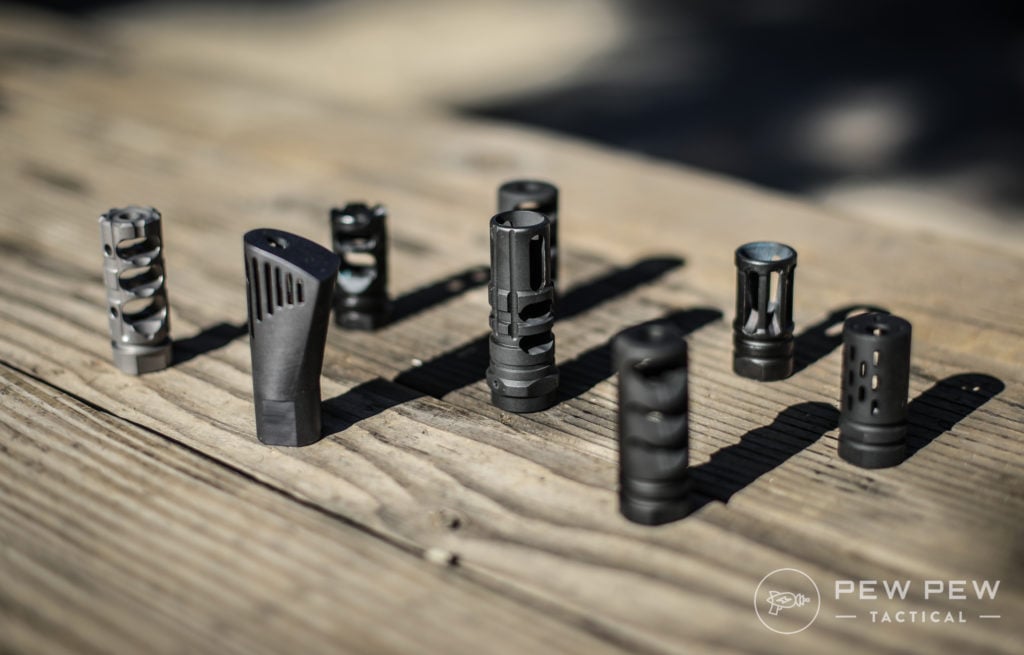 There are a lot of muzzle devices, and the big difference is that flash suppressors have a bigger cavity at the exit end than the bullet caliber when compared to muzzle breaks or compensators.
Flash suppressors usually come in two flavors…birdcage and multi-prong.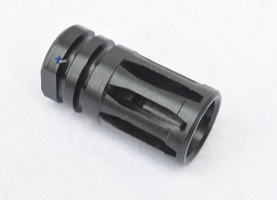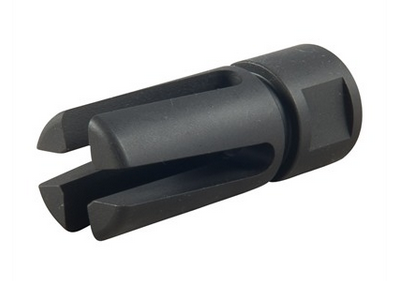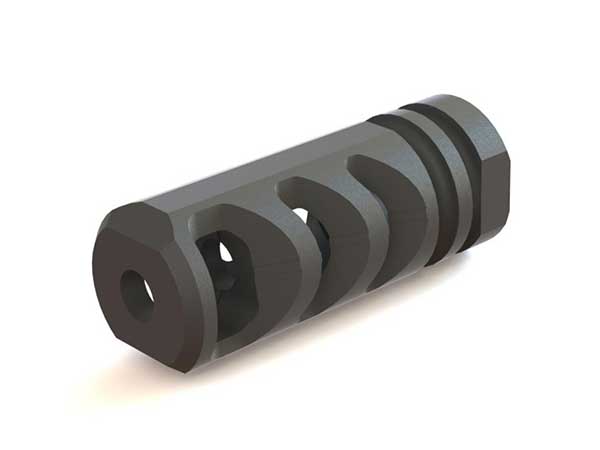 Forward Pistol Grip
Commonly known as the vertical foregrip since they can be grasped in a pistol-like fashion.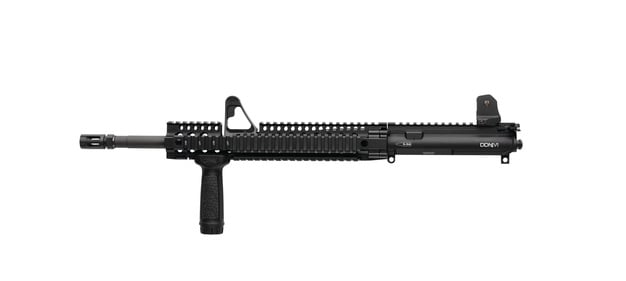 Why Would I Want a Featureless Rifle?
Seems like you miss out on a lot of cool stuff, so why would you want a featureless AR-15?
The big reason was hidden above in Section A…the ability to not have a bullet button and use your magazine release as it was intended.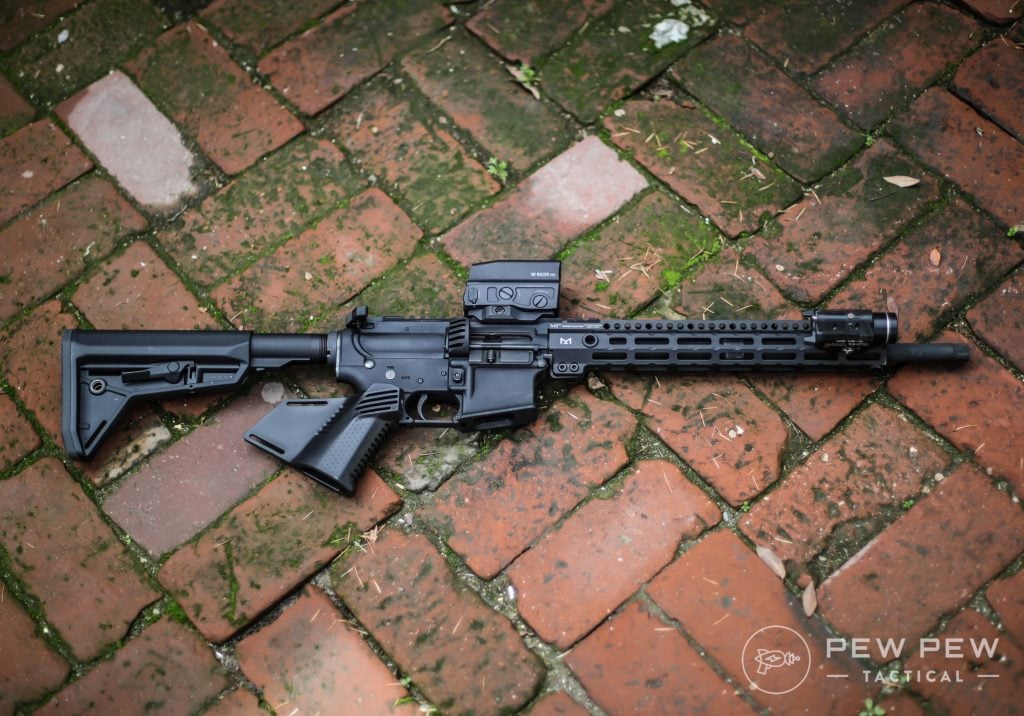 And for those who have standard/high-capacity magazines, you are only allowed to use them in "featureless" builds. Bullet-button rifles have a maximum of 10-round magazines.
However, this is set to change in California with the new Gunmageddon Laws. Now the primary bonus of making a featureless rifle is that you do not have to register it as an assault weapon.
Those standard/high-cap magazines I talked about above…they were scheduled to become illegal in CA on July 1, 2017 but the law was blocked by a judge.
California Assault Weapon Laws (2019+)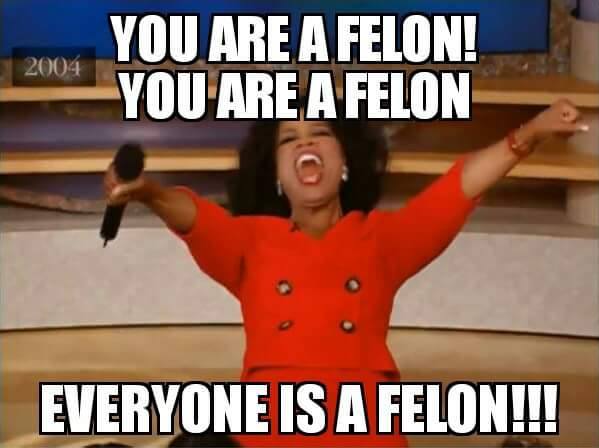 Again, I'm not a lawyer and this is not legal advice. Also, this doesn't cover all the "Gunmageddon Laws," just the main ones that deal with AR-15s and featureless rifles.
General
As of January 1, 2017, you can no longer buy/make/import the standard bullet-buttoned AR-15 as we know it since it is now an assault rifle. The definition of a "fixed magazine" was changed from having to use a tool to something that requires disassembly of the firearm action.
For those of you who got one before…you have until January 1, 2018 to either register it as an assault weapon or make it featureless. Or you can also surrender it, sell it outside of CA, etc…basically stuff you probably don't want to do.
Registration is here and costs around $20.
If you register, there's all sorts of fun things that come along with it…travel restrictions, inability to sell in CA, inability to lend, inability to transfer to a family member even if you die, etc. Essentially it will die with you.
However, if you make a registered assault weapon (RAW) into a featureless one, you should be able to "de-register" it later.
More info here from Firearms Policy Coalition.
Featureless & Best
New

Bullet Buttons
You can avoid registering as an assault weapon if it no longer meets the requirements…aka a "featureless" build. Find out how to do that after this law section.
You should also be able to keep the evil features and not register if you adhere to the new definition of "fixed magazine"…aka use one of the new bullet buttons that require

disassembly of the action

such as the ARMagLock and Patriot Pin. No more a simple pin into the bullet button.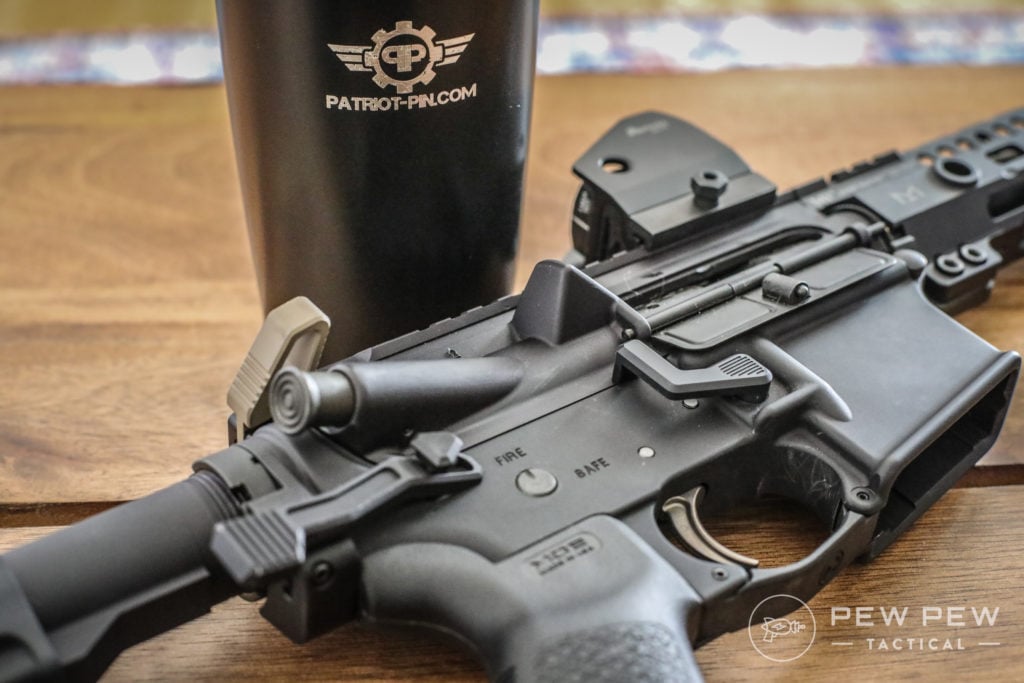 AR Pistols & 80%-ers
AR pistols must follow the new laws PLUS not have a threaded barrel nor handguards. So you'll have to pin/weld an approved muzzle device and somehow not have handguards. Basically…you'll have to register or use the new type of bullet button.
80% builds are still legal. But you have to stay afloat of the new laws. Any new builds cannot be made into an AW. AB 857 requires that by Jan 1, 2019, all completed firearms have a serial number. If you engrave prior to July 1, 2018, you do not need to notify any government entity. But if you do it after, you'll have to apply to the state (pay fees, get a serial number, etc). More info here.
Worth mentioning that in 2021, Miller vs. Bonta took California's assault weapons ban to court, with Judge Roger Benitez ruling that the ban was unconstitutional. Unfortunately, a three-judge panel of the Ninth Circuit issued a stay, ultimately leaving the ban in place as the case works its way through the appeals process.
Ready to build or upgrade (or rather…downgrade) to a featureless rifle?
Let's go through each of the features again with our suggestions of how to make them compliant.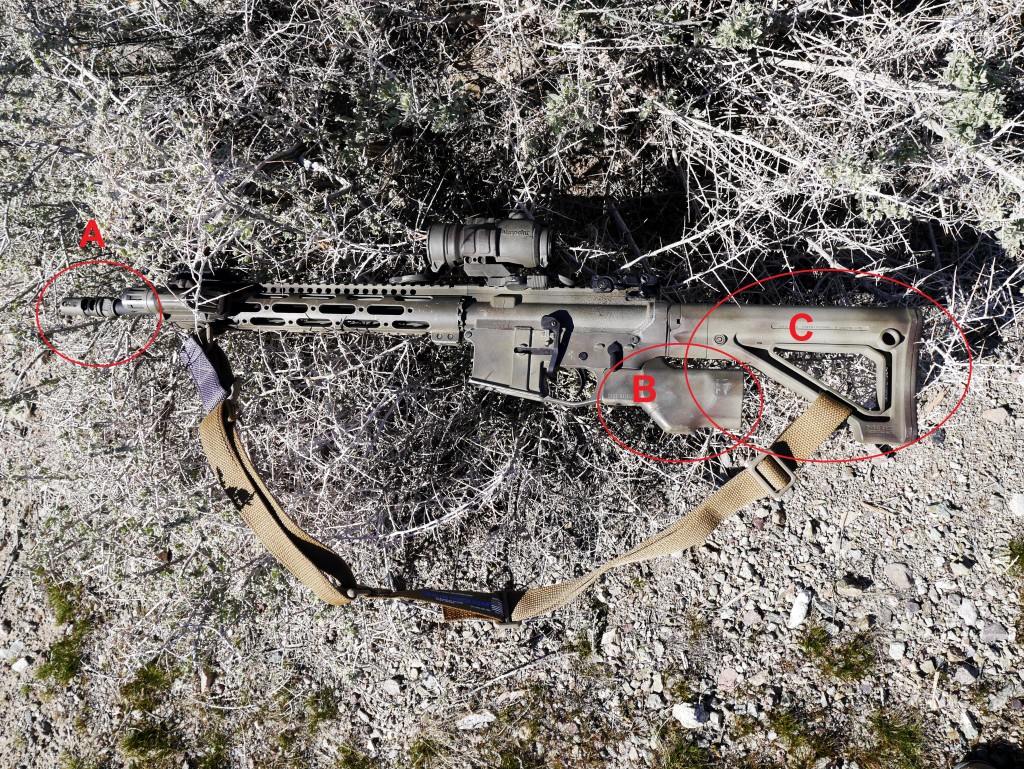 Best Featureless Muzzle Devices
On the easier side to fix…just don't have one and pick up a thread protector.
Or opt for a muzzle brake/compensator instead.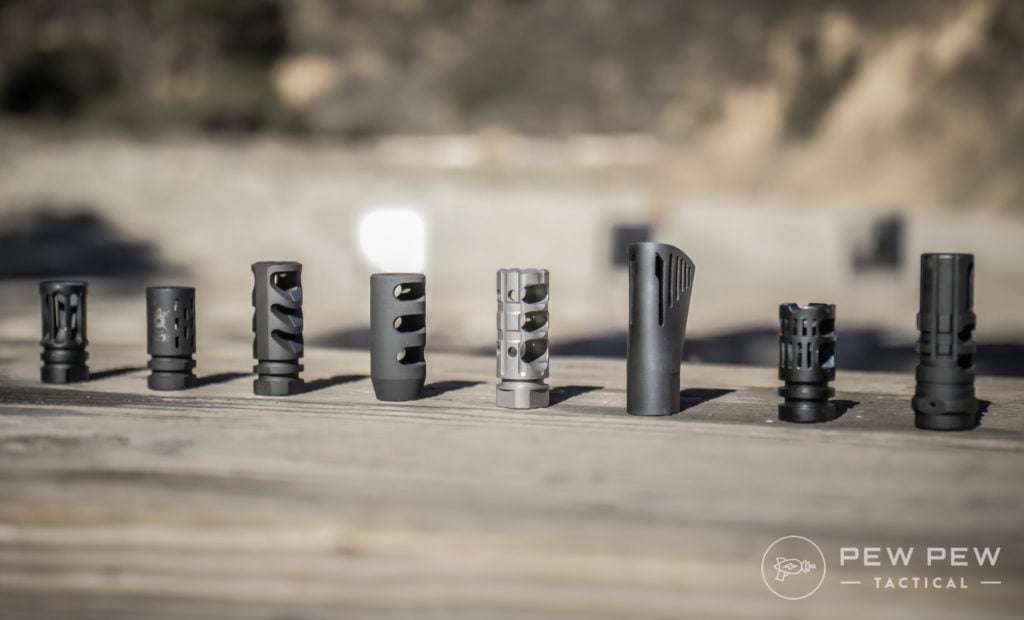 If it talks about flash hiding or suppressing in the description, just err on the safe side and don't get it.
Here is one of our tested favorites…
Precision Armament M4-72 Severe Duty
If you want something with the best recoil reduction and least reticle movement…look at the Precision Armament M4-72 Severe Duty.
See it in action for side blast, decibel reading, and reticle movement.
Best Muzzle Brake
65
at Primary Arms
Prices accurate at time of writing
Prices accurate at time of writing
Check out the rest (and even more videos) in our Best AR-15 Muzzle Brakes & Compensators article.
Best Featureless Grips
The biggest aesthetic and functional change you'll do in your quest to go featureless.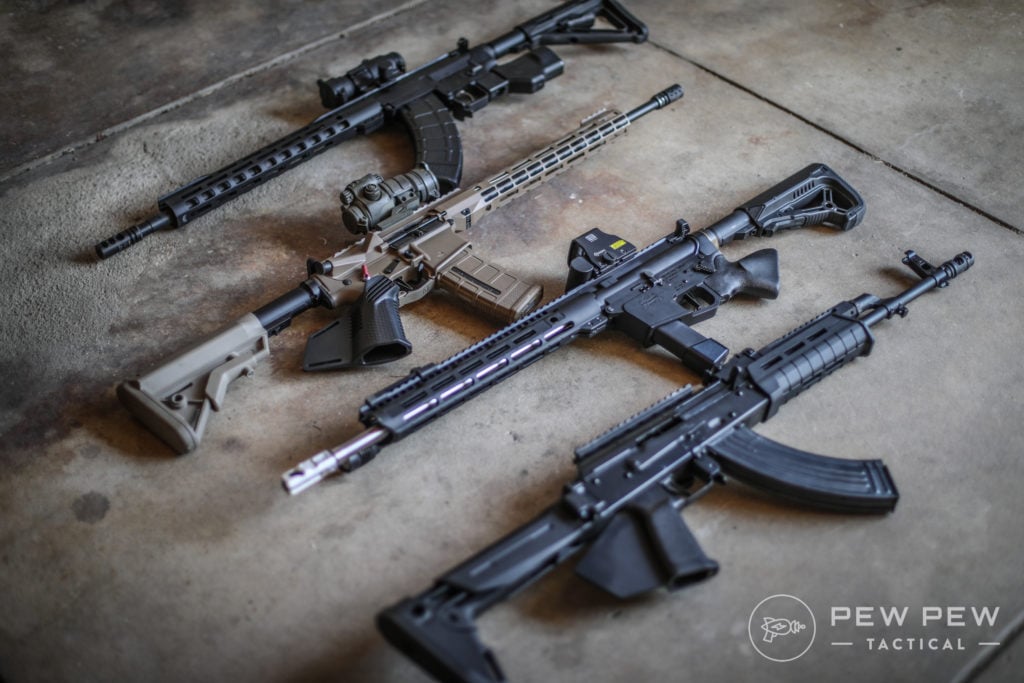 It might look odd/ugly, but I've found that I quickly adapted to the different grip.
Exile Machine Hammerhead Stock
The Hammerhead is what I used in most of my beginning featureless builds since it lets you have a hunting rifle grip.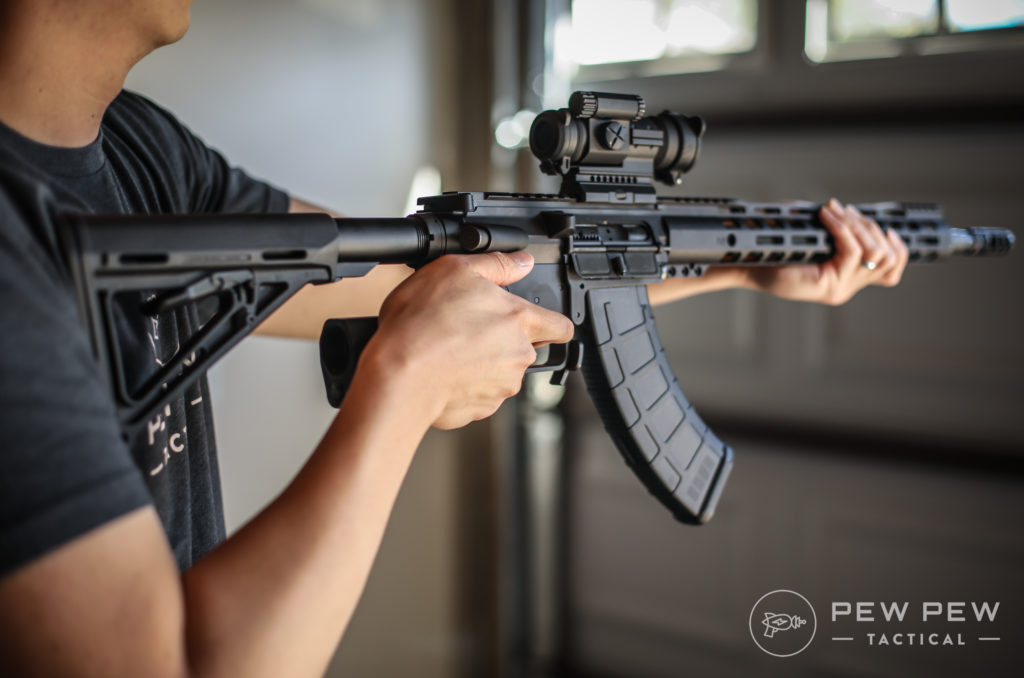 Great for regular or precision shooting…but once you start running and gunning, the lack of having your thumb on the opposite side slows you down.
There are better options out there now and it looks like it's no longer made anyways!
Strike Industries MegaFin
The MegaFin adds a very nice thumbshelf for right-handed shooters that gives you a lot more control.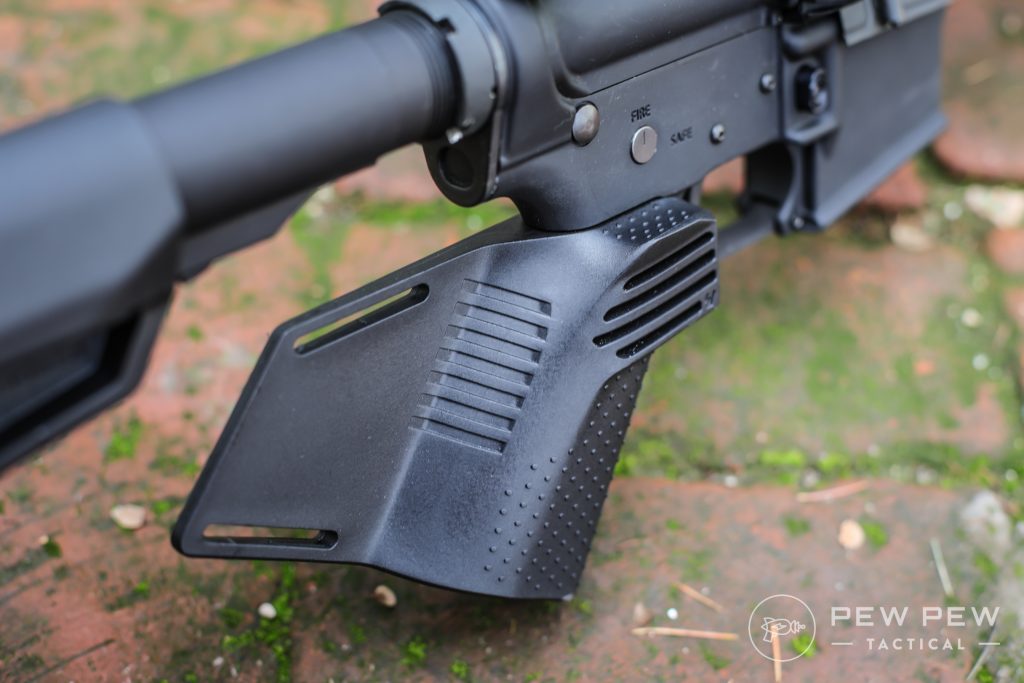 However, if you want easy access to the safety lever, you'll likely need an ambidextrous safety like the Seekins used that is turned the opposite way.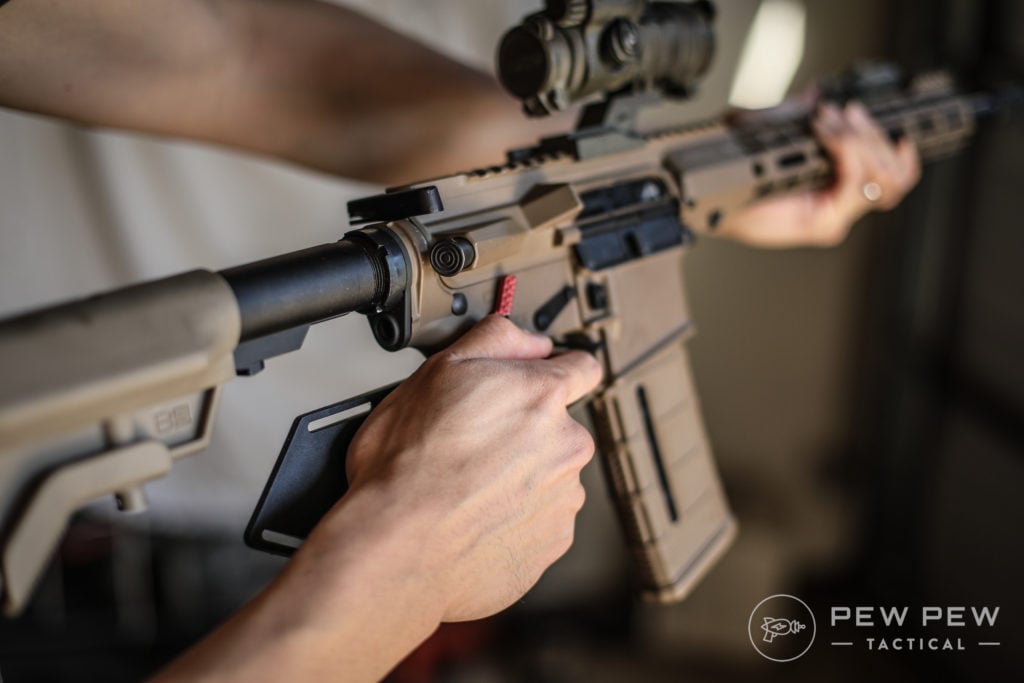 Here it is in action…easy to engage and safety.
And great for running and gunning. One of my top recommendations.
Best Featureless Grip
37
at Primary Arms
Prices accurate at time of writing
Prices accurate at time of writing
Resurgent Arms Grip
My current favorite featureless grip is the Resurgent Arms.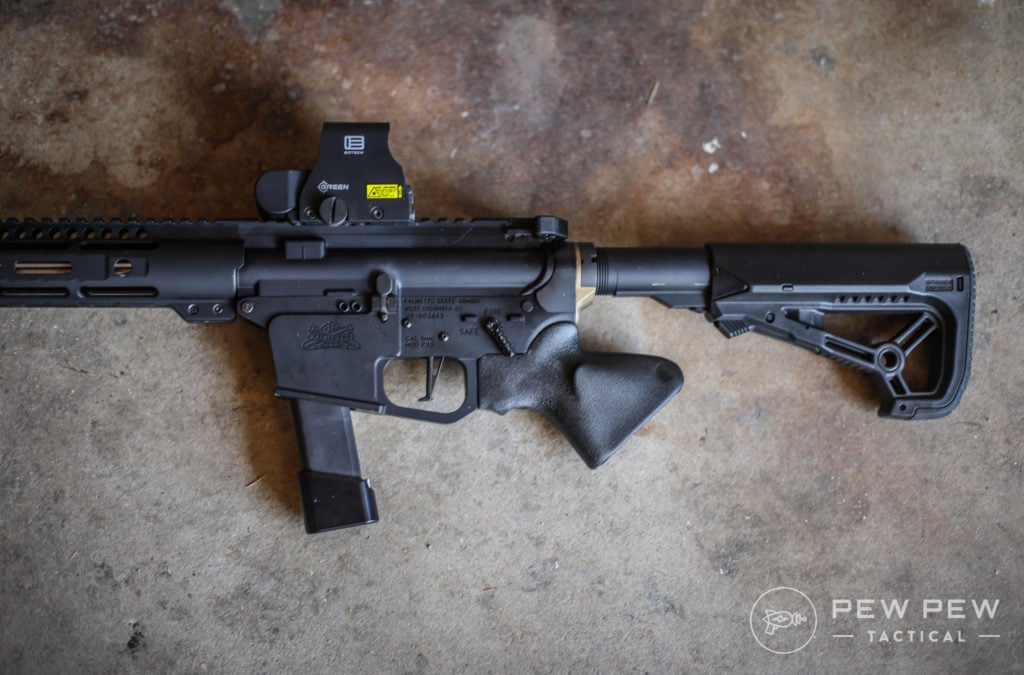 The awesome thing is that you can get your thumb around the grip which gives almost the same control as a regular pistol grip.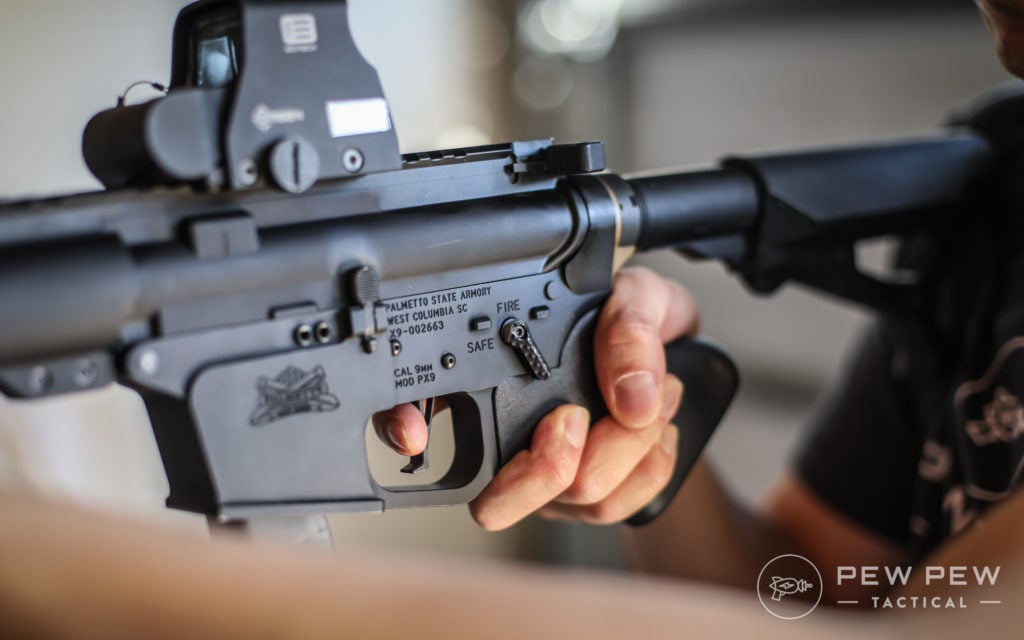 You can also flick the safety lever from this position but unless you have a very extended version, it's hard to re-engage.
*Update* I've got the new extended safety lever (v2) on my second Resurgent Arms kitted PCC…and I highly recommend it.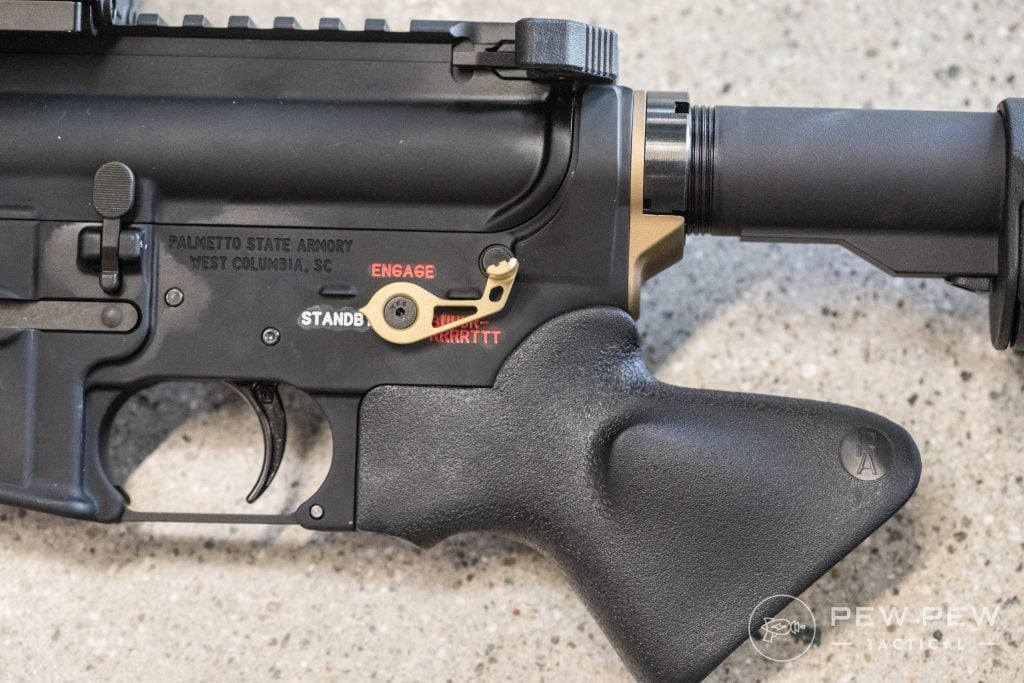 See it in action here…
Another thing is that the regular end plate is sharp against your thumb web. I tried using some duct tape and it felt fine. But Resurgent also has a beveled plate which is super comfy (but $35).
It's the gold thing below.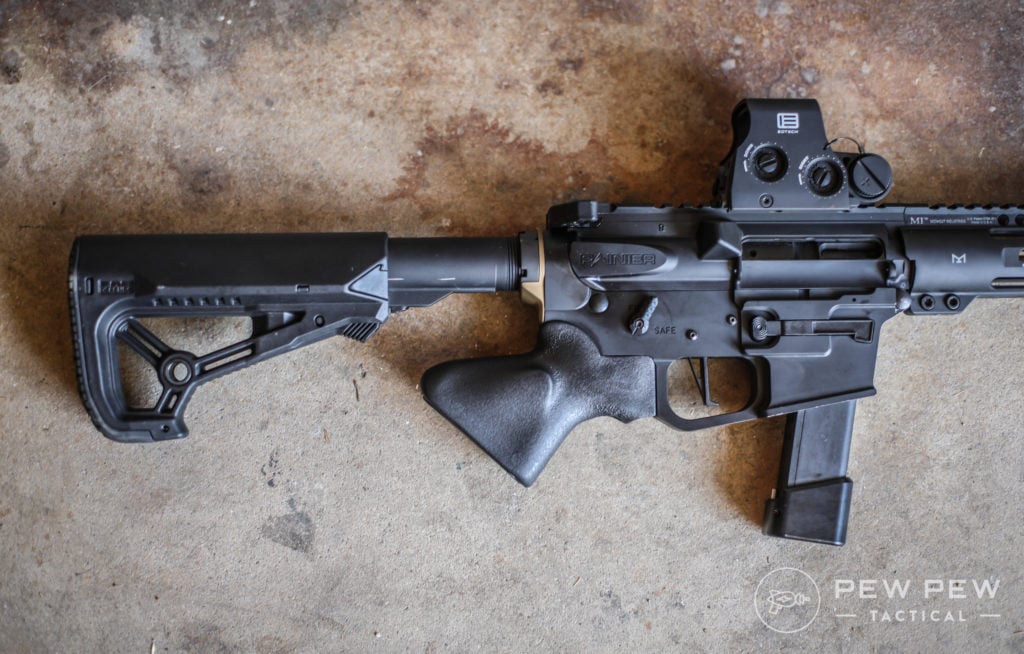 Lastly, the length of pull is increased slightly because of the grip. Unless you have super short fingers you should still be fine.
For those with stubbier fingers…get an extended magazine release to help.
All in all…my shooting speed is almost the same as with a regular pistol grip.
I reached out to Resurgent and they are offering Pew Pew Tactical readers a 10% off discount with the link below.
40
at Resurgent Arms
Prices accurate at time of writing
Prices accurate at time of writing
What's your take on the Resurgent Arms grip?
See even more Featureless Grips for the AR & AK in our full roundup.
Best Featureless Stocks & Pinning Options
Many internet people say you can blind pin and epoxy your current collapsible stock so that it can no longer move, but again, I like to err on the safe side with a fixed stock.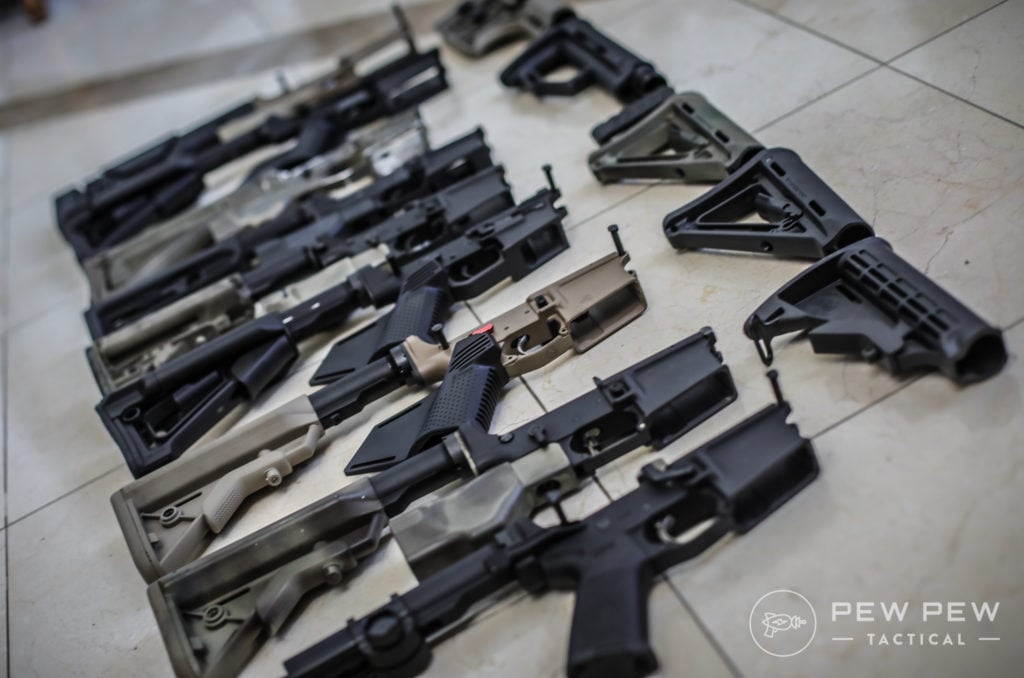 Magpul MOE Fixed Stock
What I used to run in my featureless rifle. Affordable, sturdy, and there's no questioning that it is fixed.
Best Stock
29
at Brownells
Prices accurate at time of writing
Prices accurate at time of writing
A2 Buttstock
Very standard A2 buttstock for a more retro look and with storage compartments.
52
at Brownells
Prices accurate at time of writing
Prices accurate at time of writing
Blind Pinning and Epoxying
If you really love your current buttstock or really want to save money, you can go ahead with blind pinning and epoxying your buttstock.
All it takes is drilling through the buttstock and some of the buffer tube, putting in a roll pin, and epoxying it over. Some people even do it on both sides as an extra measure.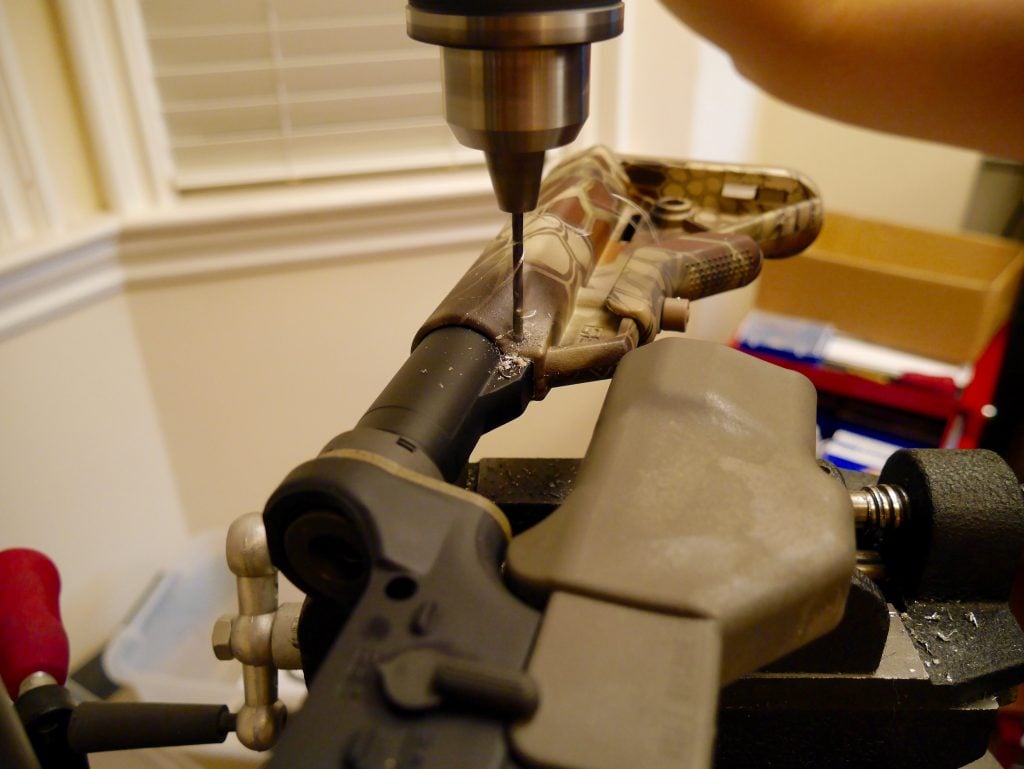 I detail what I did for a new build here: How to Blind Pin an Adjustable Stock.
Stock Lok
The Stock Lok is something new that has come out that swaps out the spring-loaded adjustment pin for something fixed. More expensive at $35 but you don't need to drill and pin.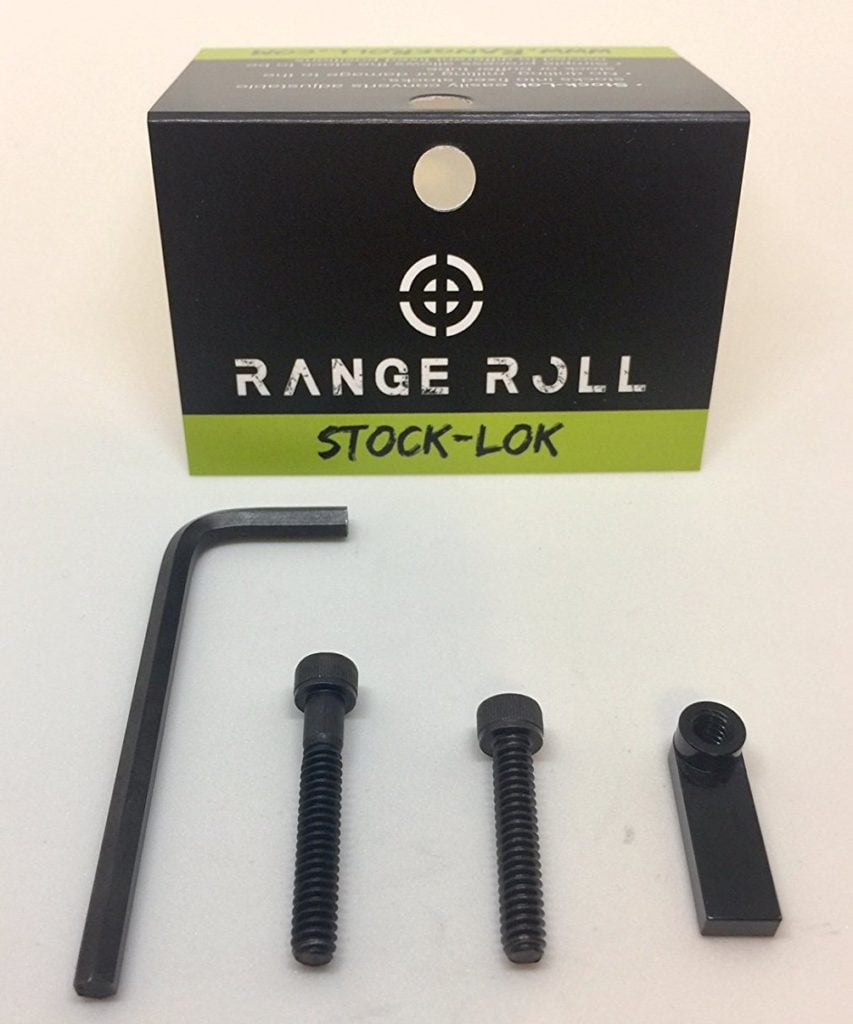 Strike Industries Stock Stop
The newest thing out is the Stock Stop from Strike.
You cut a rubber piece so that it fits your buffer tube and only shows one hole.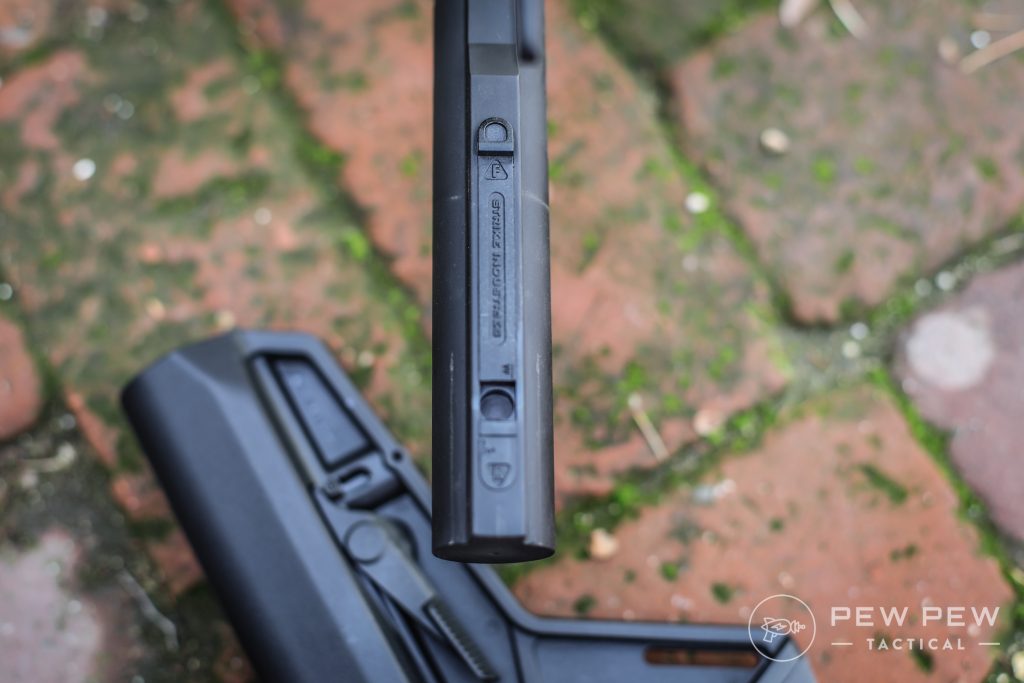 And slip on your regular stock until it clicks in that hole.
Voila…fixed stock!
Only thing is you can't select a custom length since there's that stopper in the front. Make sure the 2nd to last hole works for you.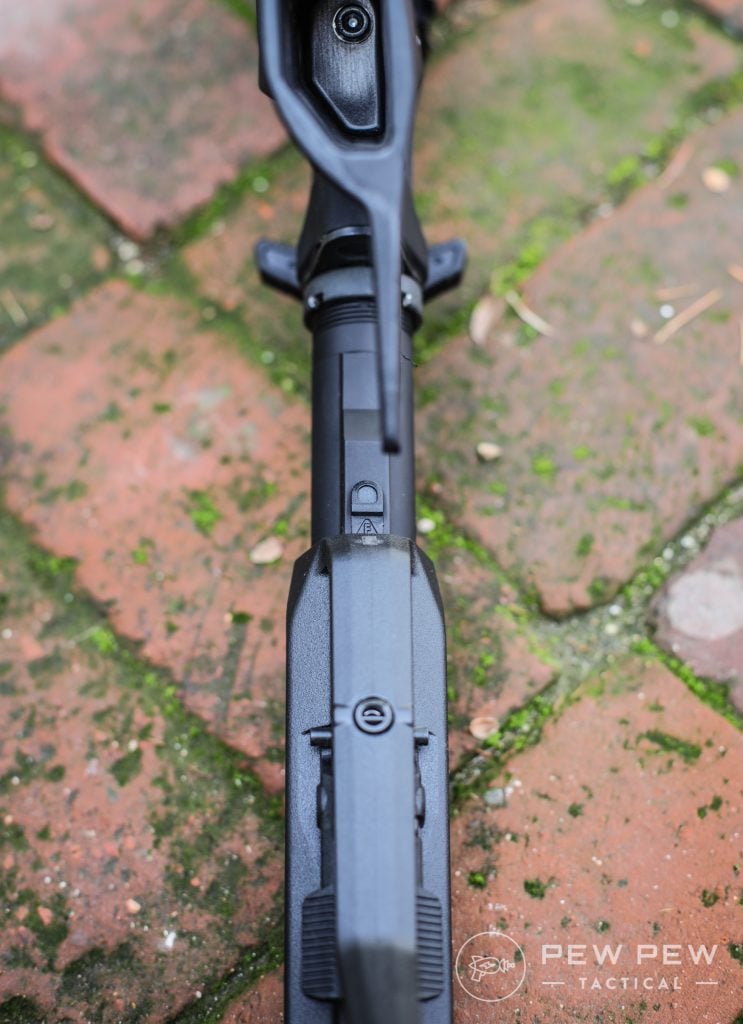 9
at Primary Arms
Prices accurate at time of writing
Prices accurate at time of writing
Need more stocks…especially now that you can use the Stock Stop?
Check out the rest of our favorite AR-15 Buttstocks where we rate them based on weight, price, and of course…cheekweld.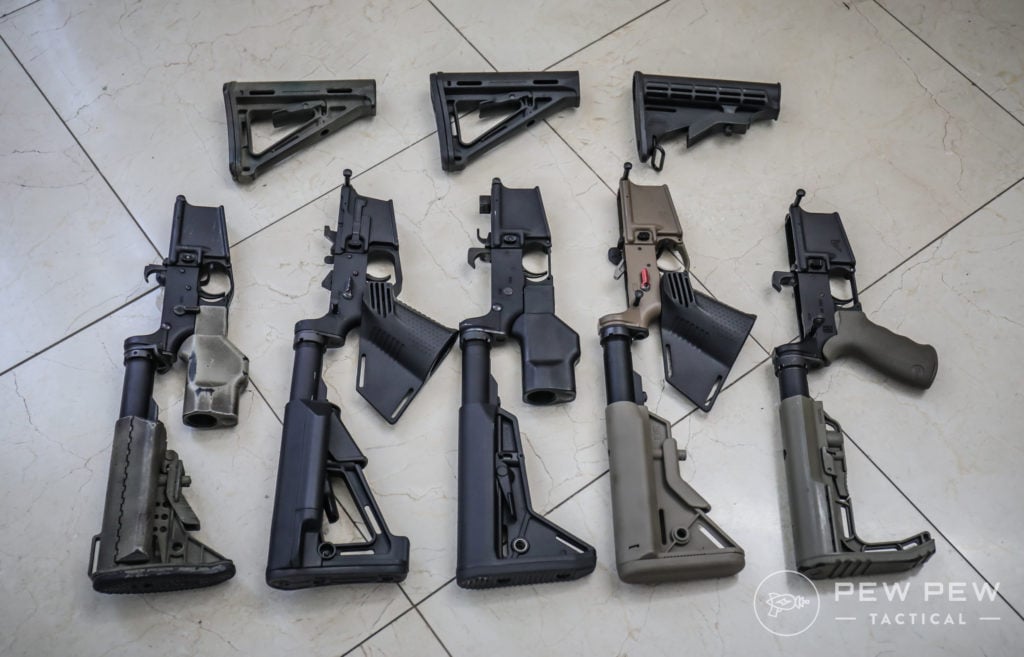 Thumbhole Stock, Grenade/Flare Launcher, Forward Pistol Grip
These last three are easy to take care of…just don't have them!
There's some debate on whether or not the Magpul AFG is considered a forward pistol grip, but again…I'd just be safe and not have it.
Magpul AFG: Probably not a forward pistol grip since it's more angeled…but why risk it. ($33)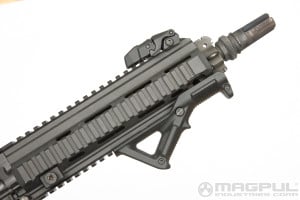 Best New "Bullet Buttons"
Even though this article is about featureless…I know you want to know about the best new "bullet buttons."
Current law makes it ok if your magazine is fixed and the upper/lower receiver halves are opened up in order to release the magazine.
The best "new" bullet button I like is the AR MagLock + Patriot Pin.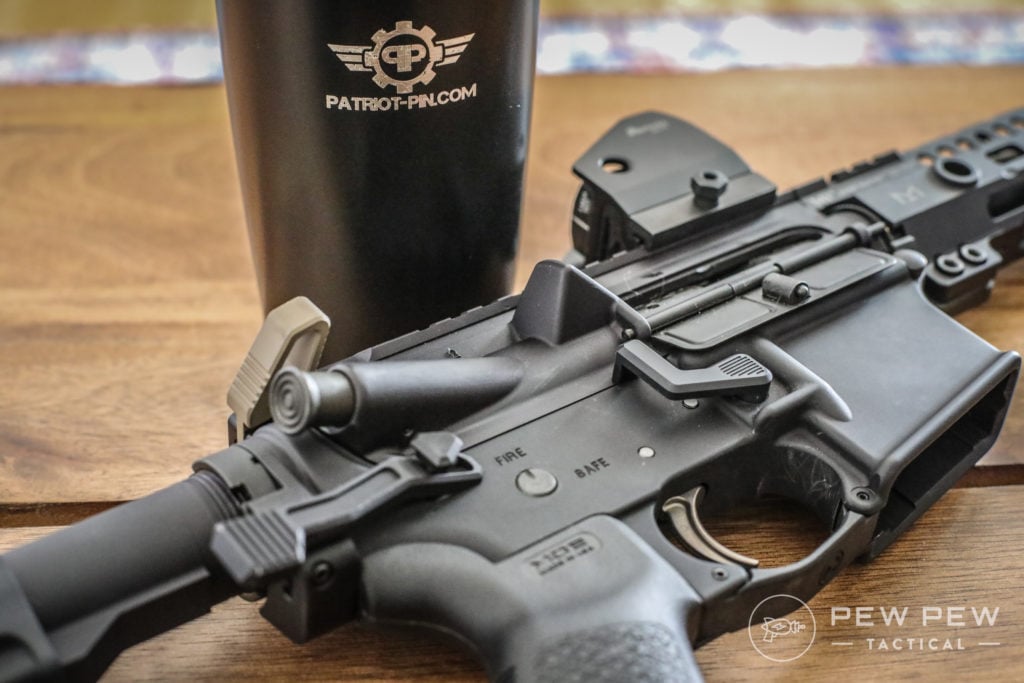 Pretty easy to install (especially if you're building) and really quick mechanism to release the rear due to the Patriot Pin.
And here it is in action for a tactical reload.
Regular empty mag reloads take a little longer you'll see in the review.
55
at Patriot Pin
Prices accurate at time of writing
Prices accurate at time of writing
Other Options
Stag 15 Tactical NY/CA Compliant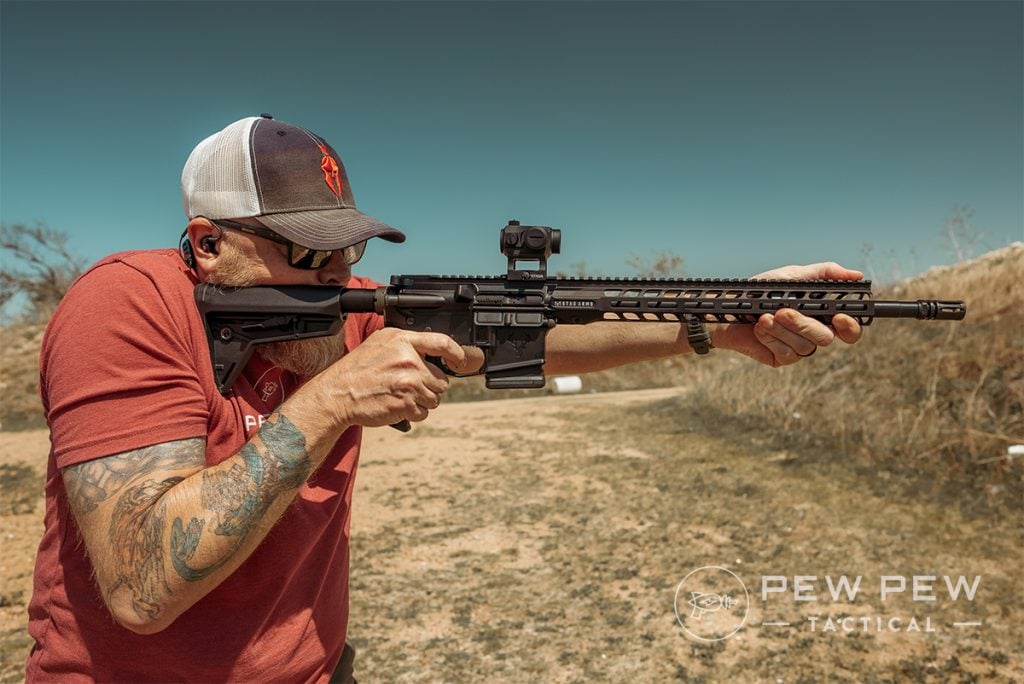 After all the discussion about the various "featureless" features, you might wonder why we're including a rifle with a pretty clearly defined pistol grip.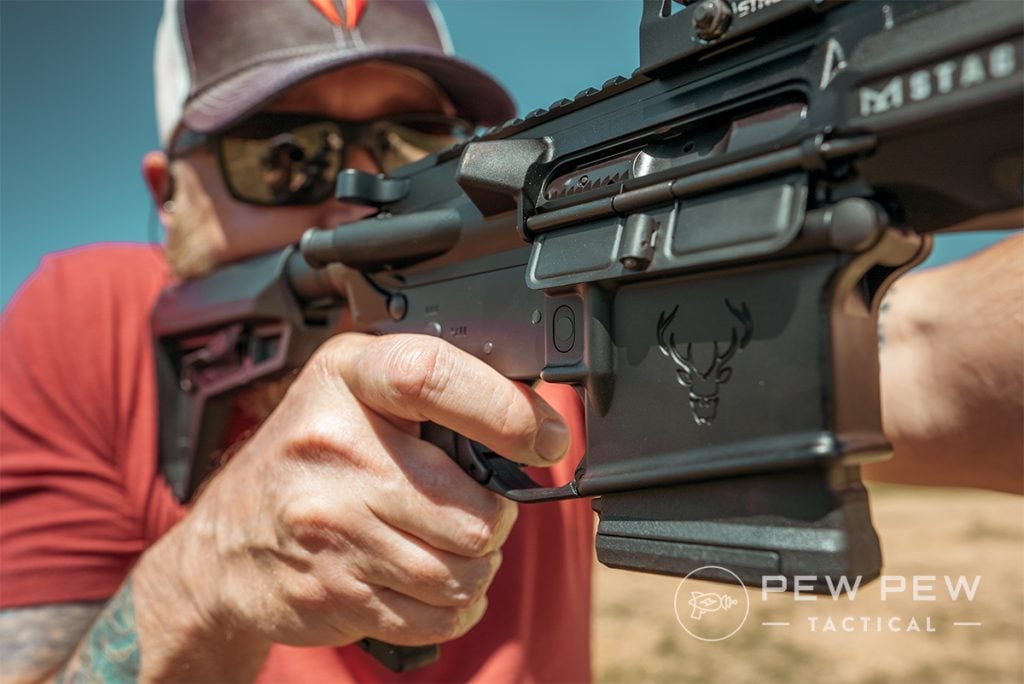 Stag Arms created a version of their Stag 15 that included a non-removable 10-round magazine. This enables shooters to enjoy the normal ergonomics of the AR-15 rifle.
To achieve this, you have to open the upper receiver, load the magazine from the top, then close the gun back up. After running the charging handle, you can begin shooting.
This is a pretty cool option if you don't want a giant fin on your rifle and you aren't getting into an engagement where reloads might be a matter of high importance!
Best Complete Rifle
1169
at Stag Arms
Prices accurate at time of writing
Prices accurate at time of writing
Conclusion
So there you have it, how to make a "featureless" AR-15 or other rifles in California/New York.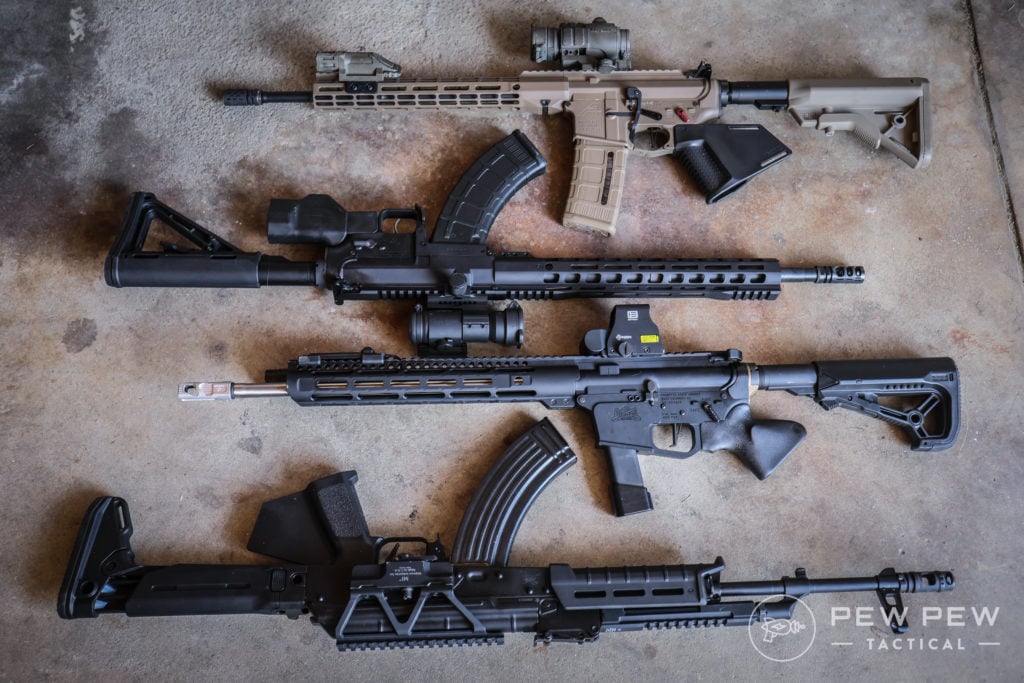 Want more of our best guns and gear? Check out our Best AR-15 Upgrades and Best AR-15 Scopes & Optics.