There are a lot of AR-15 barrel manufacturers out there.
Even if you have some idea of which to go with…you also have to decide which specific barrel.
Whether you're doing a new build or swapping out a worn one…your barrel isn't something where you cut corners.
We've built a lot of ARs and tested countless more.
Follow us as we cover our favorite barrel manufacturers…from the affordable to the very cutting edge of carbon fiber.
And also specific models for all your kinds of builds…from M4-style to pistol, SPR, and even exotic calibers.
If you need a refresher on gas lengths, barrel profiles, or different metals, check out the barrel section of our AR-15 guide before you get started.
Summary of Our Top Picks
Best AR-15 Barrels
1. Faxon Firearms
Faxon is my go-to pick for affordable barrels. And I don't mean cheap…they are just fairly priced in my mind.
They have a great online reputation and utilize their aerospace background to produce their barrels in-house (harder and harder to find nowadays).
Their claim to fame is their "Gunner" profile which utilizes the best from Government and Pencil profiles. Check out my art skills:
The Government section is thicker to maximize heat resistance and lower barrel whip. While at the gas block segment, it becomes a Pencil profile for a .625-inch gas block and reduced weight.
I also like how you can bundle gas blocks AND they have my favorite…the Superlative Arms Adjustable Gas Block (full review).
Here are our specific picks:
The Goldilocks Barrel
Has everything I'd want for an all-around build:
16-inches to avoid permanently attaching a muzzle device
Mid-length gas system for softer shooting compared to carbine
Gunner profile
5.56 chamber to eat up anything
I did a full review of it here…Faxon 16″ Gunner Barrel Review where it passed my fit, feel, install, shootability, and accuracy criteria.
If you're looking for the shortest barrel without requiring a tax stamp or moving into pistol category, check out their 14.5-inch barrel with a permanently attached muzzle device.
I did a full review here of the pencil version.
And if you're looking at weight savings…you can't go wrong with the 16-inch pencil barrel.
Note that going pencil will open up your groups a little under rapid fire. If you're shooting close range or okay simply hitting 6-inch targets at 100-yards…it's worth the weight savings.
Match Accuracy Barrel
Not content with a 5.56 chamber? Upgrade to the more accurate .223 Wylde chamber (which still allows both 5.56 and .223). I have one on the way to test for accuracy so stay tuned.
The Short Barrel
Going short for an SBR or AR-pistol (Best Pistol Braces)?
I prefer 11.5-inch since it has a much longer dwell time compared to even 10.5-inches and shorter. Most problems I've seen with AR pistols have been with people going too short.
DMR/SPR Barrel
Whatever you want to call it…if you're going long distance and want that even softer-shooting rifle-length gas system?
Faxon's stainless heavy fluted barrels give great rigidity for the weight…plus they look super cool.
Other Calibers
Faxon was also one of the first companies to move into 9mm pistol caliber carbines (PCC) so they definitely excel there too. Plus other offerings for AR-15 and AR-10.
Oh…and did I mention…
Faxon is hooking up Pew Pew Tactical readers like yourself with a 10% off barrel code: FXPPTBARREL10
What's your take on Faxon? Rate them below.
2. Ballistic Advantage
Ballistic Advantage is another of my favorite barrel manufacturers that build their own in-house.
What's cool about BA barrels is that the company doesn't take a one-size-fits-all approach to barrel design.
In fact, they've diversified their offerings into eleven different profiles, so you can pick according to your build. Some folks may want a pencil profile, while others might prefer a heavy or even DMR application. These groups allow you to peruse options by category.
Hanson Barrel
A barrel profile unique to Ballistic advantage…the Hanson (part of the Performance Series) is shoulder-less at the gas block area which keeps the barrel more symmetrical and cuts down on barrel whip. Art time…
There are 5.56 Hanson Barrels but I went with the .223 Wylde to squeeze a little more accuracy out of the chamber while still able to shoot both 5.56 and .223.
This was perfect for me since it had:
.223 Wylde chamber for more accuracy
16-inches to avoid any length problems
Mid-length to be softer shooting
I'm currently running this barrel for my rifle competition gun and it's been kicking butt from close range all the way up to 400-yards. You can check my complete build in my How to Build An AR-15 article.
And the full review of the barrel.
Premium Series
For your precision 18-inch+ needs. Fluted for your pleasure and extra rigidity when shooting.
I have this one coming in so I'll be posting up accuracy groups soon!
The Short One
They have an 11.3-inch Hanson profile if you're more serious about your SBR or AR-pistol. But for me, since my AR pistols are more range toys I would recommend the more affordable Government profile barrel.
.224 Valkyrie and Other Calibers
I'm pretty excited for the .224 Valkyrie…I got to shoot this exact barrel at SHOT Show 2018 and you get the ability to hit up to 1,300-yards with the same recoil of a .223. Plus it goes into the AR-15 platform and not its big brother the AR-10 (Best AR-10s). I've pre-ordered mine so I'll have results soon!
3. Rosco Manufacturing
An up-and-comer that's a mix of reliability, accuracy, and affordability.
However my favorite options from them are their K9 11.5″ and 12.5″ barrels with a proprietary "Patrol Length" gas system that lowers the felt recoil vs carbine and is more reliable than mid-length.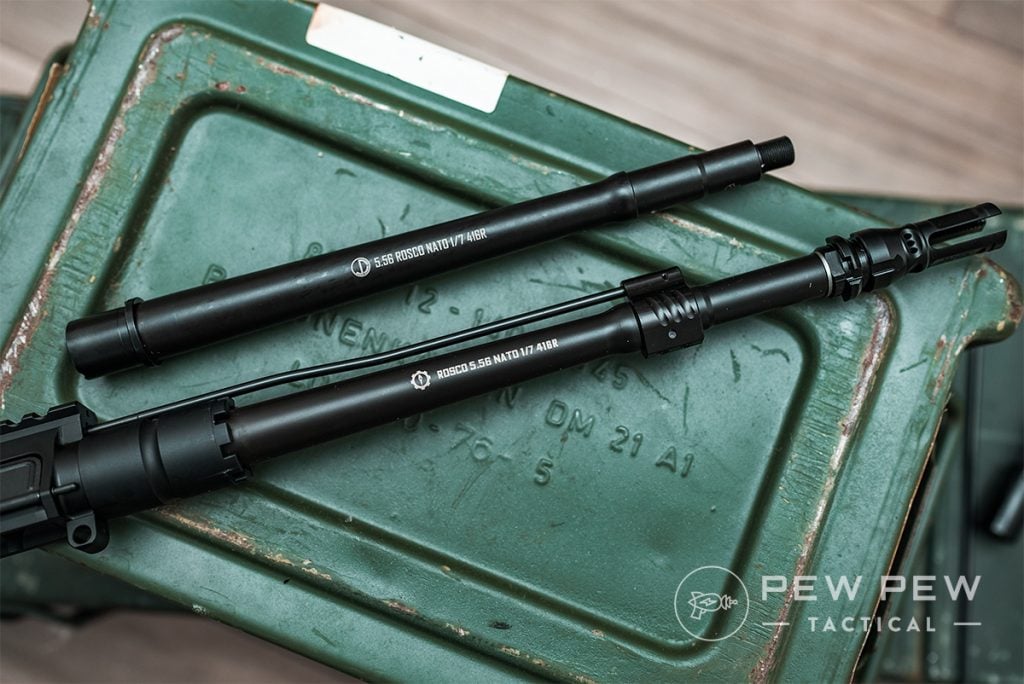 Plus a continuous taper that brings the weight back towards the back for a more balanced rifle and more even heat dissipation.
I've been shooting the 12.5″ K9 lately and it is kicking butt. Accuracy testing is coming soon but right now it's 100% reliable and accurate on steel.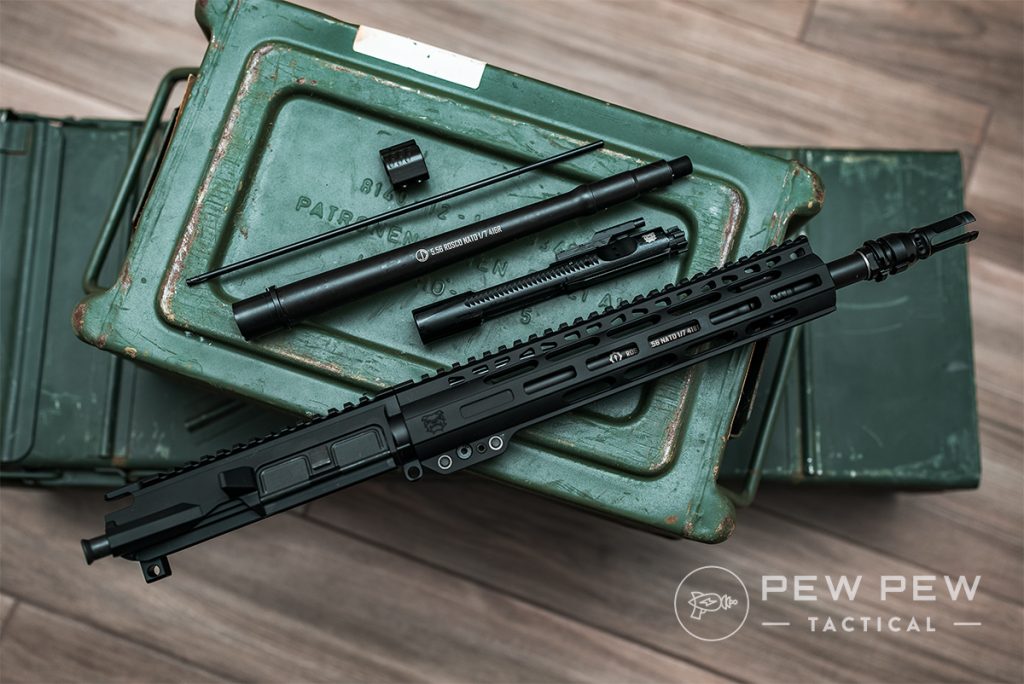 There's a couple of ways to get Rosco barrels…first is by themselves.
But I recommend going the "Sauce Pack" route since then you get matching gas block, gas tube, and BCG.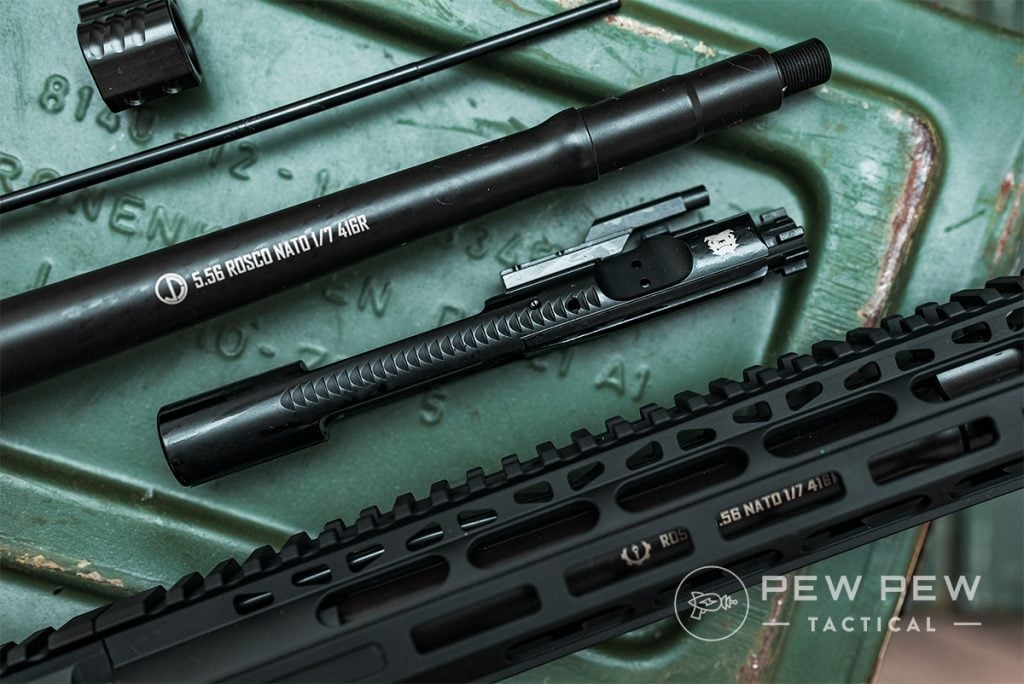 Or you can also opt for it to be completely built for you. Right now they come with SOLGW NOX flash hiders which also mount popular Dead Air suppressors.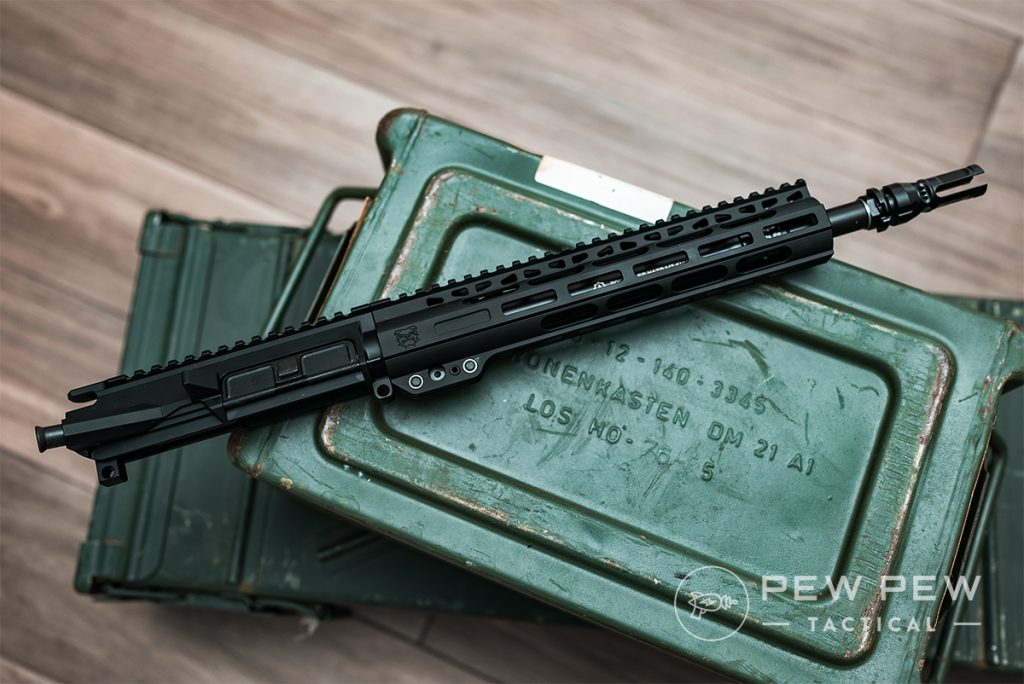 4. Rainier Arms
Want to upgrade your accuracy game?
Check out Rainier Arms' Ultramatch in 18-inches, rifle-length gas system, .223 Wylde, stainless steel, and TiN-coated extension.
Made from top-grade Shilen barrel blanks…the barrel is dead sexy with the TiN extension which should add lubricity to loading…but we'll be testing more to see.
Plus the combo of 18-inches, rifle-length gas system, and aggressive fluting should give you a super soft shooting impulse with great velocity and rigidity.
I opted for their special .800-inch thick gas block for a slight accuracy edge.
5. Christensen Arms
Christensen Arms was founded by aerospace engineer Roland Christensen who envisioned a new way to build superior firearms. The company has a two-decade-long reputation of developing some of the finest rifle parts and fully-assembled gun builds around.
Christensen is also the first company to develop the carbon fiber barrel, which tends to trump other barrels in pretty much every way except price.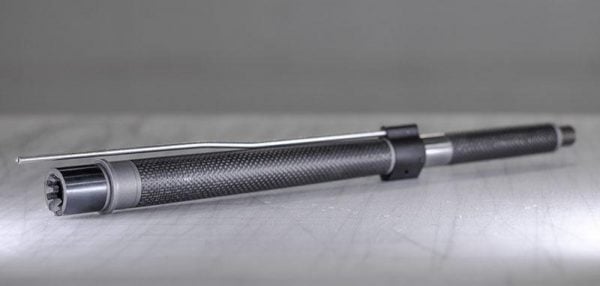 And boy do they cost more — approximately double the price tag of your finest steel barrel, to be exact.
Still, your carbon fiber barrel delivers better accuracy, durability, and barrel life than other barrels on the market, all while being significantly lighter in weight.
AR-15 Carbon Fiber Barrel with 2-inch Gas Seat
It comes chambered for the following calibers:
.204 Ruger

– length of 16" or 20"; twist rate of 1:10" or 1:12"

.223 Wylde

– length of 11.5", 14.5", 16", or 18"; twist rate of 1:7", 1:8", or 1:9"

5.56 NATO

– length of 16"; twist rate of 1:8"

6.5 Grendel

– length of 24"; twist rate of 1:8"
If you're looking for a good, lightweight barrel that can carry you through competitive shooting and hunting, Christensen's carbon fiber AR-15 barrel is a pretty solid choice.
And if you're looking for more carbon fiber…check out our Best Carbon Fiber Picks including Proof Research and BSF.
And BSF which I have in hand with the full review here!
Honorable Mentions
Don't see your favorite manufacturer above? Here are some more popular ones that I'll be updating as I get my hands on more barrels and test them out.
Conclusion
From carbon fiber to various lengths, we know there are lots of options when it comes to AR-15 barrels.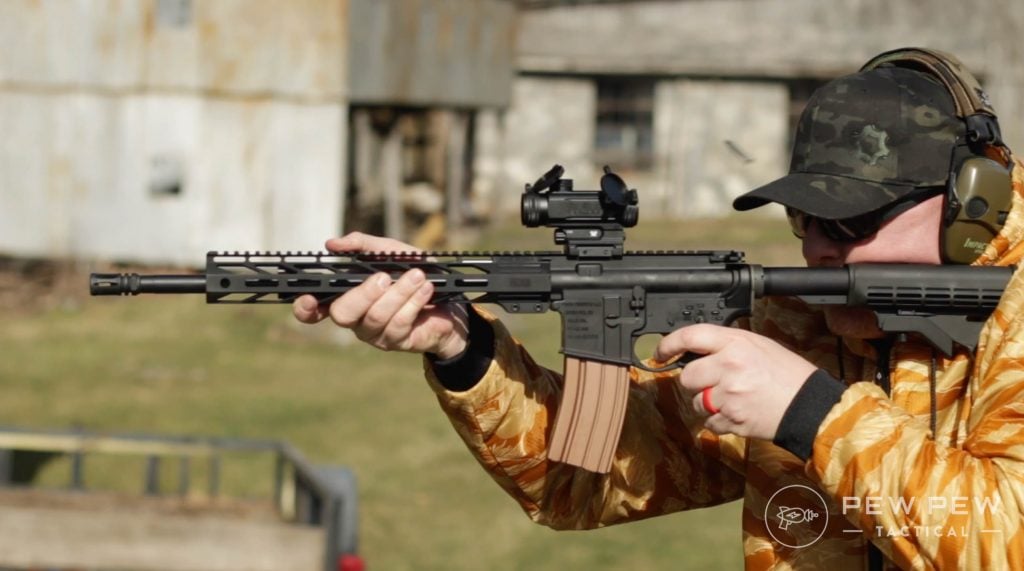 But hopefully, you've found one on our list that will work for your AR build.
What's your favorite barrel brand? Let us know below. If you're new to AR modding, take a look at our AR-15 Definitive Resource. It has everything you need to get started.