One of the best parts about owning a rifle is being able to play with all of the cool attachments.
A good optic sight, flashlight, or bi-pod can really help you to get more out of shooting your rifle – but first you've gotta mount them.
The standard mounting system on most rifles, especially those on the AR-15 platform, has been the Picatinny rail.  In fact, it still is one of the most widely used mounting systems because of its, straightforward, easy-to-use nature.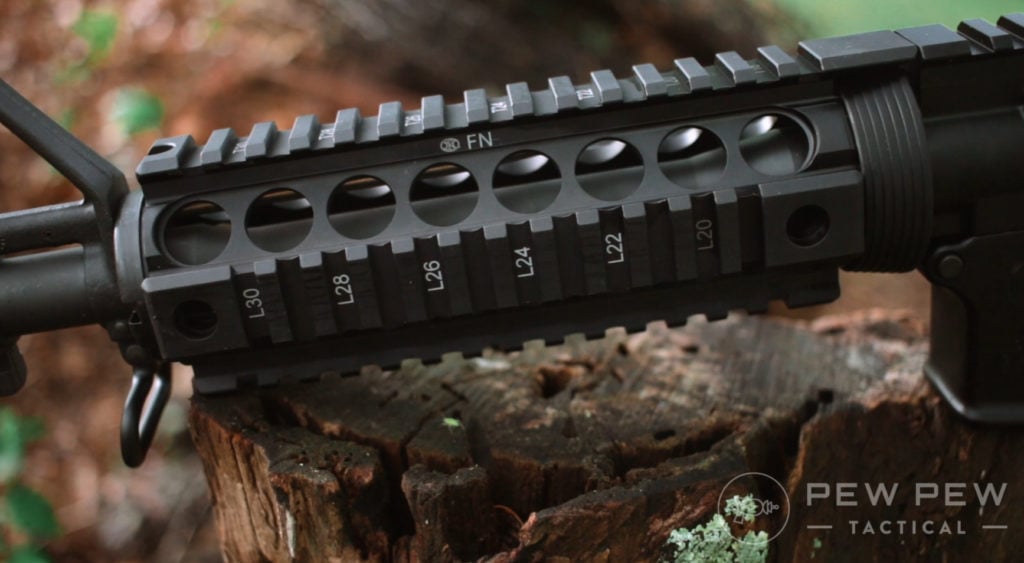 But the problem with the Picatinny system is that it can add unnecessary weight to your rifle and bulk it up in a bad way, especially when placed on the fore end of your rifle.
From this inconvenience came two new ways to mount gadgets to your AR-15 (or other rifles!): the KeyMod and the M-LOK. Both of these mounting systems promised to cut back on weight while providing a wider range of mounting options.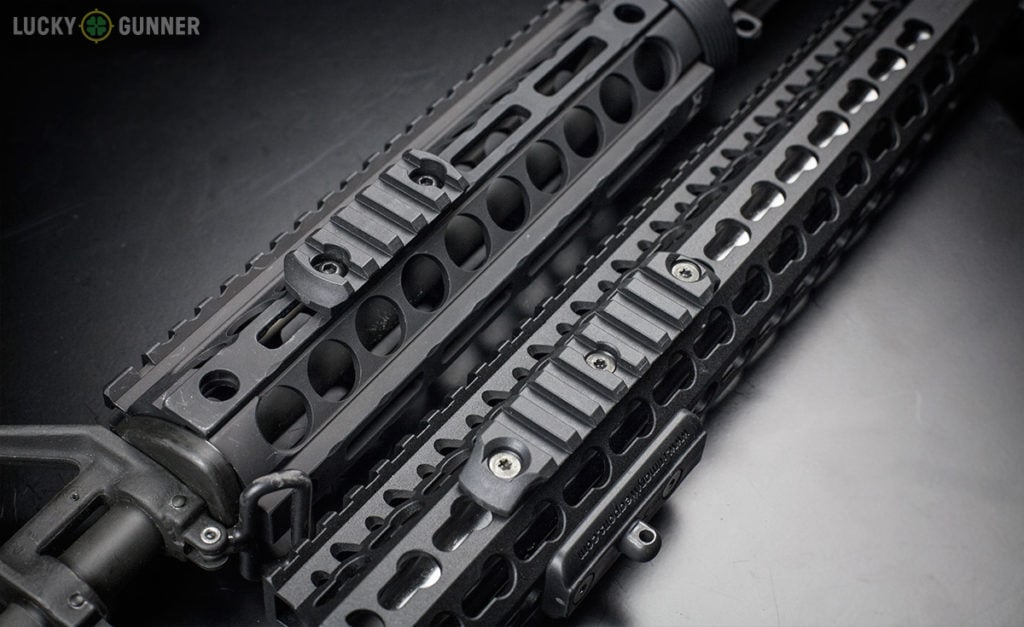 Even better, both of these systems also gave gun owners the opportunity to mount small rails directly to their handguards, effectively eliminating the need to attach a large Picatinny rail across the gun. The benefits of these two systems were revolutionary.
Now that you're able to stick rails adapters only to the part of the gun we plan on mounting an attachment, you don't have to worry about unnecessary weight or that cheese grater, snagging sensation of your Picatinny rail ripping across your hand, clothing, or rifle case.
If you just want to know…here's our picks for the Best AR-15 Handguards out there.
What's the Better Choice between the Two?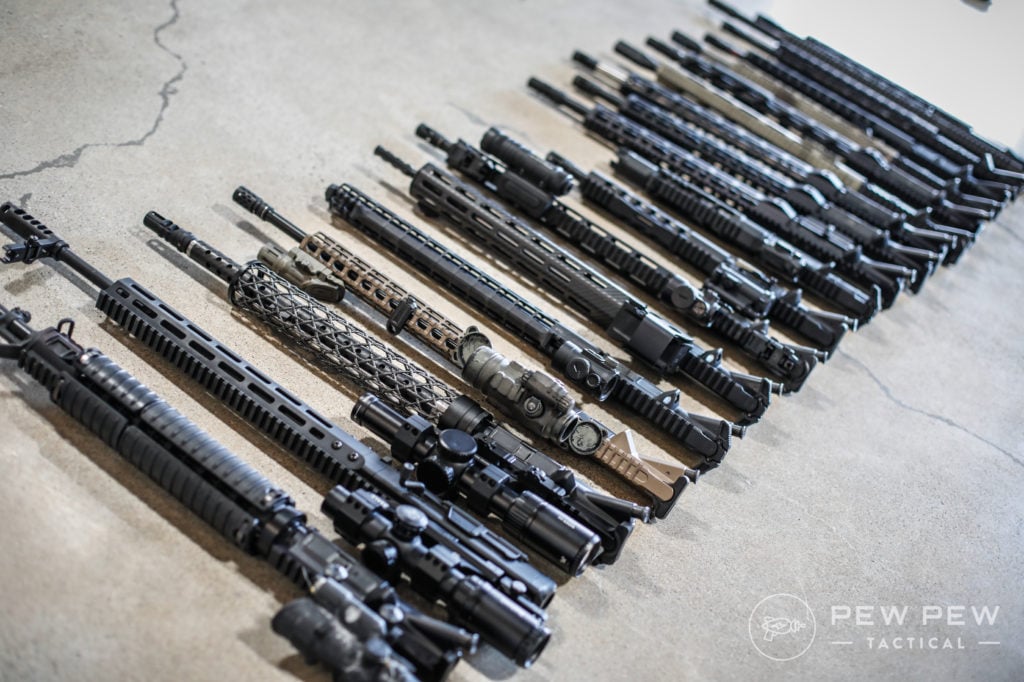 As you probably already know, two similar items in the firearms community cannot exist without being fiercely compared with each other. So naturally as the KeyMod and M-LOK systems grew in popularity, hobbyists and experts began debating over which system is better.
Today, we're going to take a look at both mounting systems and see how they're similar and how they differ.
The KeyMod

The KeyMod system gets its name from the shape of the slots, which look like old-fashioned keyholes. The idea here is that you put the lug through the big circular opening and then slide the attachment forward, tightening the Allan wrench in the narrow part of the slot until your attachment is securely fastened.
KeyMod's design is completely open source, so anyone who's interested in manufacturing products using the KeyMod system can do so without having to pay royalties.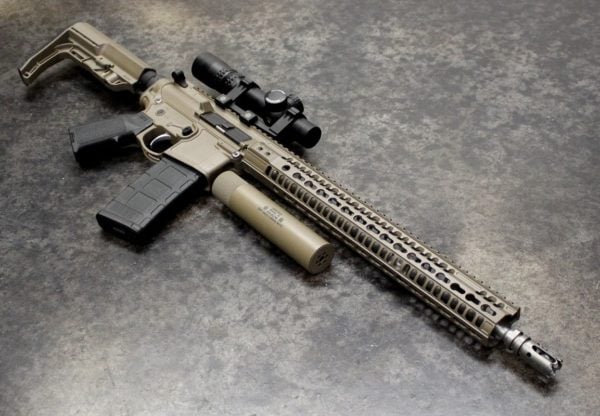 The Good: Mounting accessories require little to no special attention thanks to KeyMod's self-aligning design.
The Bad: KeyMod doesn't have nearly the industry support as M-LOK, which is backed by industry titan Magpul, who exclusively makes M-LOK-compatible systems.
Notable Mentions
KMR Series KeyMod Free Float Handguard by Bravo Company
172
at Brownells
Prices accurate at time of writing
Prices accurate at time of writing
The KMR series will cut some bulk off your rifle and give it a slimmer profile, creating an overall nice look. Another benefit of Bravo Company's KMR series is that they feel much smoother in the hand than some of the other KeyMod systems out there.
UTG PRO KeyMod Super Slim by Leapers
161
at OpticsPlanet
Prices accurate at time of writing
Prices accurate at time of writing
The Super Slim handguard removes some fluff from your handguard while giving you a sturdy, 112-KeyMod slot design. And with more than ten different color combinations, finding one that fits your personality and style shouldn't be a problem.
The M-LOK (Modular Lock)
Unlike KeyMod, the M-LOK system doesn't have a keyhole shape to slip your bolt into. Instead, the system is made up of narrow slots that T-shaped nut that, when turned, lays across the slot, locking the attachment into place.
Magpul, the company that helped come up with the M-LOK system, decided not to make their product open source. Instead, they chose to offer free licensing to any manufacturer that obtains permission ahead of time. The reason for this is to ensure that every M-LOK system is made with the same quality and design as the original.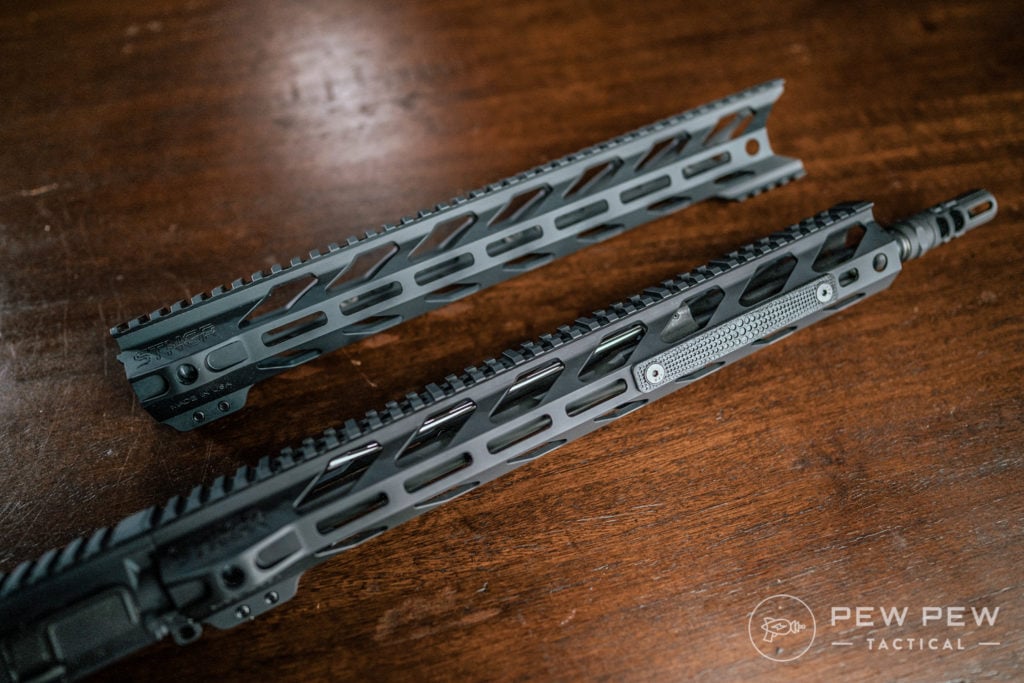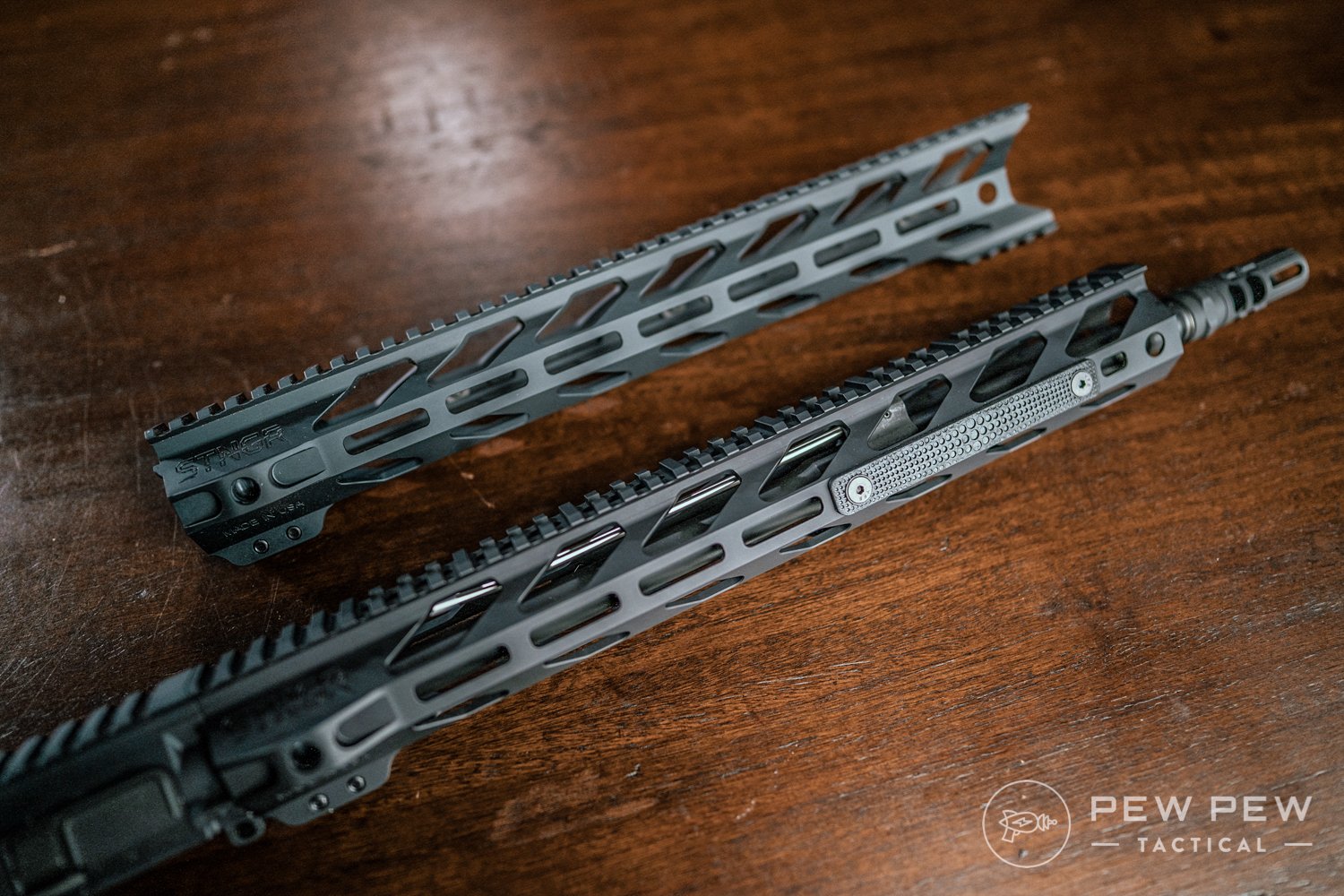 The Good: You can mount your attachment to the front or rear end of the slot, as opposed to only mounting on the rear, narrow part of the KeyMod. Also, most Magpul accessories can mount directly to the M-LOK system without needing a rail adaptor.
The Bad: You have to be more careful making sure your attachments are properly aligned when mounting them to your M-LOK device.
Notable Mentions
MOE M-LOK Handguard by Magpul
33
at Brownells
Prices accurate at time of writing
Prices accurate at time of writing
It's one of the most affordable handguards on the market. It's perfect for the shooter looking for a basic, minimalist design that doesn't intend on mounting anything too excessive.
G3M Series M-LOK Handguard by Midwest Industries
150
at Brownells
Prices accurate at time of writing
Prices accurate at time of writing
The G3M Series is an aggressive handguard with ample mounting slots to handle whatever you're planning on attaching. It's also a lightweight handguard that sits comfortably in the hand (no grab) and is made from a durable material that can handle whatever you throw at it – which is why it comes with a lifetime warranty.
The Nail in the Coffin
For the longest time, it looked like KeyMod and M-LOK were neck and neck in the race to market domination. While the M-LOK had the backing of Magpul, which was huge news, it still wasn't able to do anything that the KeyMod could not.
And then US SOCOM tested both systems and released a report on their performance, and the news wasn't so great for KeyMod.

For most of the duration of the test, KeyMod and M-LOK both performed well.
But when it came to stress testing the two systems, M-LOK rifles could be dropped on the ground and 100% of the time, the attachments would stay securely fastened to the gun. For KeyMod, however, the success rate was a measly 33%.
The Verdict
The winner of this contest is clearly M-LOK. In fact, the M-LOK system has approximately 3x the industry support as KeyMod. But, while that SOCOM report didn't do KeyMod any favors, the company hasn't backed out just yet. After all, most of us aren't putting our rifles through SOCOM levels of stress.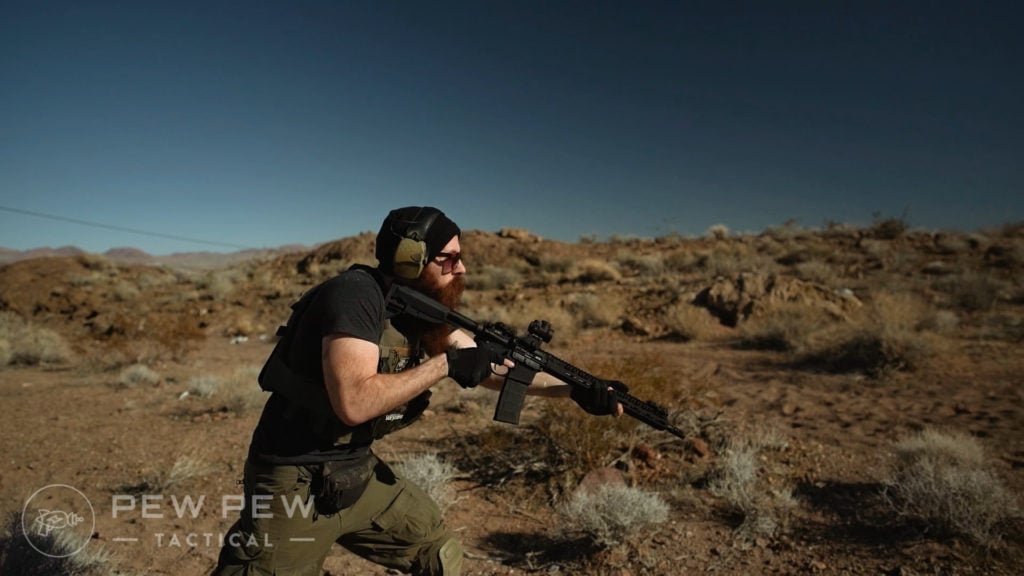 What Are You Rocking?
While there's no reason to believe M-LOK wouldn't come out the victor in this battle, that doesn't mean that KeyMod handguards are inherently flawed. As long as you're not in a situation where you're going to be running, gunnin', and clanging your rifle against the ground and everything else, you probably won't be put in a situation where your attachments loosen or fall off anyways.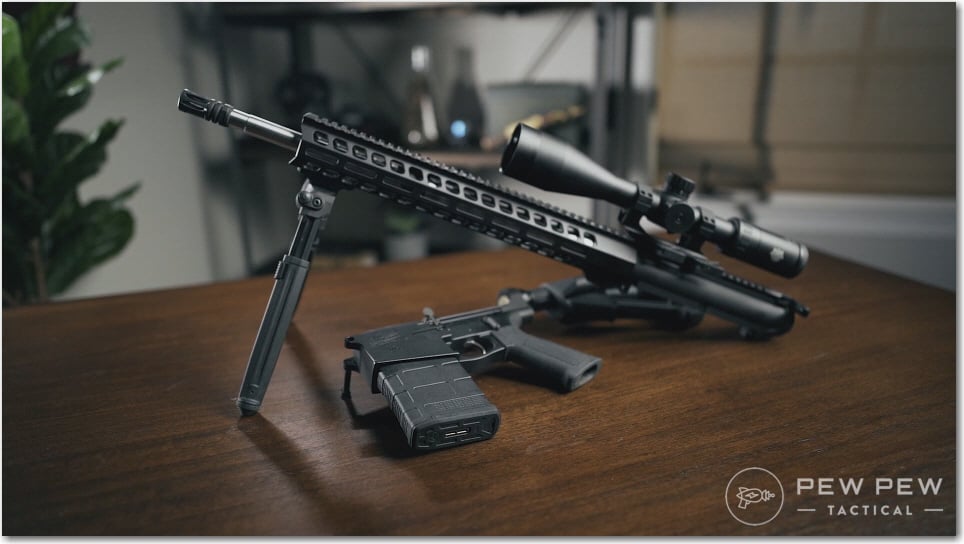 Remember, if you're looking for a good handguard for your rifle, go with something that feels like good quality, regardless of the name on the package. For the average shooter, that's far more important than whether it's an M-LOK or KeyMod.
In fact, some of my favorite handguards are the KMR handguards made by Bravo Company. They're sturdy, lightweight, and have a nice, solid feel to them.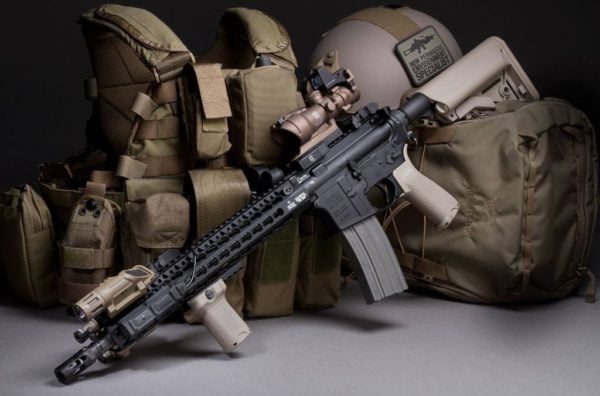 Now be sure to tell us what you're rocking on your tactical builds.  Do you like the KeyMod or the M-LOK system?
And if you're in the market for some new handguards for your AR-15, don't forget to check out our recent Handguard Roundup. There you'll be able to find a lot of cool and unique handguards for your gun. Also check out our explanation of Weaver vs. Picatinny Rails.