Oh boy, do you want to see some of the coolest guns on the planet? If so, open the door to SOCOM's armory.
The United States Special Operations Command often has access to some pretty cool guns…stuff most of us can only dream about.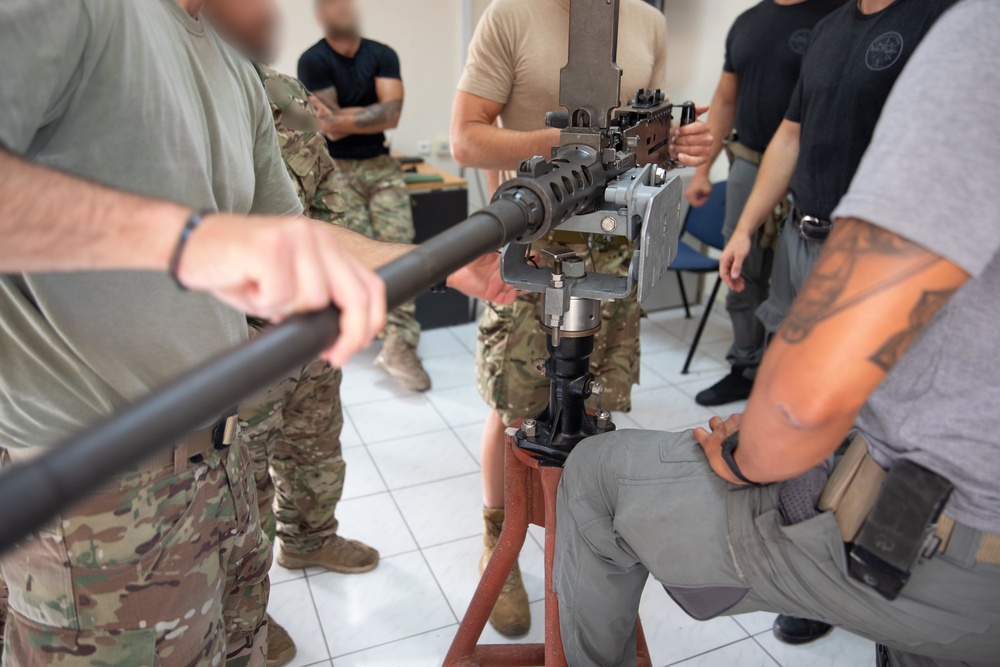 But seeing what they've got can be tough if you're not actually SOCOM. So, let us do the heavy lifting for you!
I gathered the rifles, handguns, SMGs, machine guns, shotguns, and grenade launchers used by SOCOM to run you through what the pros use.
Note, I included the more SOCOM exclusive weapons.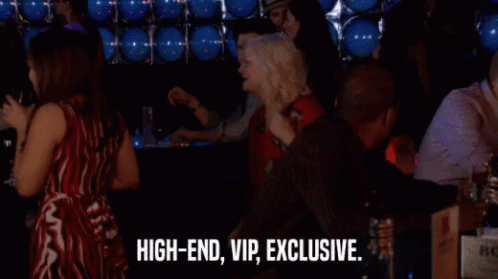 Sure, SOCOM likely has some M16s in their armory. But they aren't used all that often, and they aren't quite as cool as some other items.
So, with that, let's get down to the nitty-gritty of what you might find on within SOCOM.
Table of Contents
Loading...
Rifles of SOCOM
Rifles win wars, well, kind of. These long guns sit at the core of a fighting force, and SOCOM is no different.
SOCOM's rifles often signal what's next for conventional forces.
If SOCOM adopts it, loves it, and uses it, we can bet a few years down the line; we'll see conventional forces adopt and fielding similar rifles.
So, what does SOCOM prefer? Keep reading…
1. HK416D
The HK416D is the rifle that took down Bin Laden. It's been in use with SEALs, Delta, Rangers, Raiders, and more.
HK's 416 utilizes a gas piston system over direct impingement.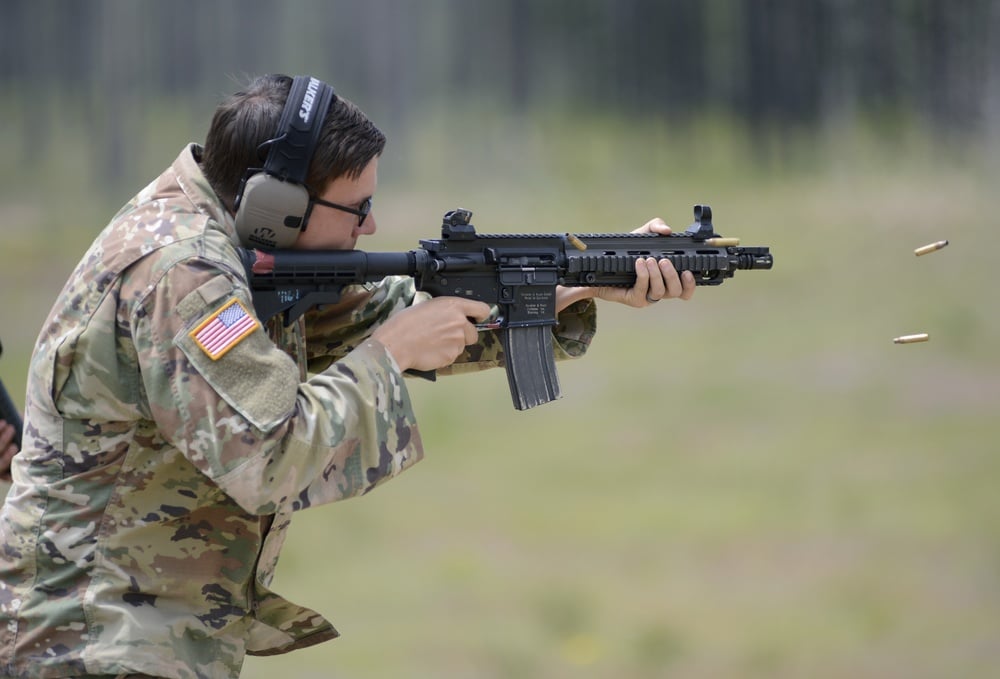 Why a piston?
Well, piston guns tend to run better and smoother with short barrels. Let's face it, the high-speed bois like their carbines short.
The popular length tends to be the 10.4-inch model we've seen in the hands of special-ops soldiers around the world.
We've seen a wide variety of optics, from the EOTech SU series to LPVOs like the Nightforce ATACR 1-8X.
These carbines tend to be light and fast, perfect for room clearing and use in and out of vehicles.
The HK416 series serves as the bleeding edge of Special Operations rifles.
2. Mk18 Series
The Mk18 and Close Quarter Battle Receiver program started with the squids at Naval Special Warfare.
They wanted something smaller than a traditional carbine but more potent than a submachine gun.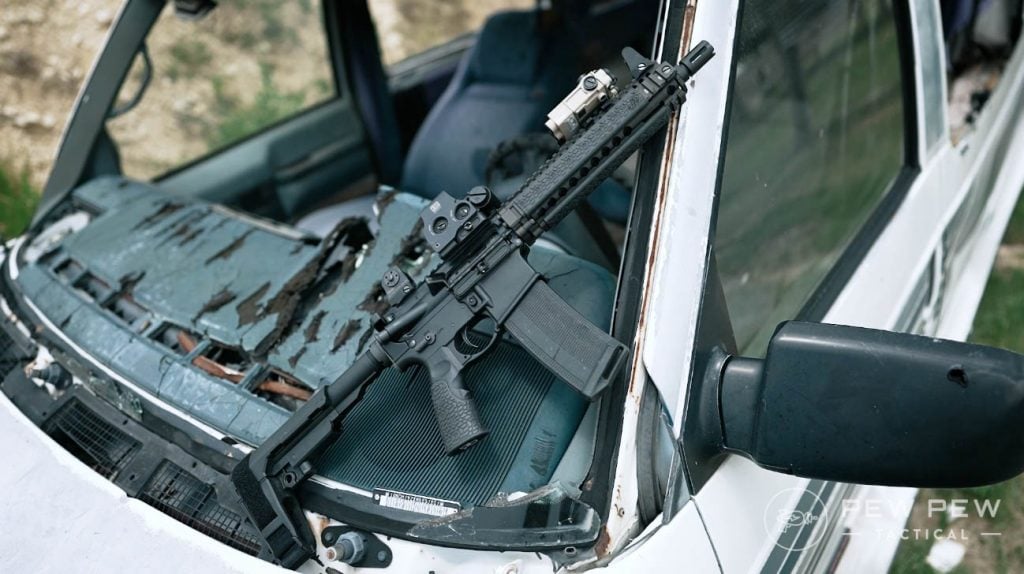 Basically, shrinking the M4 series while maintaining reliability.
Mk18s are considered the complete guns, while CQBRs serve as the upper receiver groups.
The program is the same, as is the end goal for a shorter, lighter weapon system.
Short-barreled ARs aren't known for their reliability, but the Mk18 series changed that preconceived notion.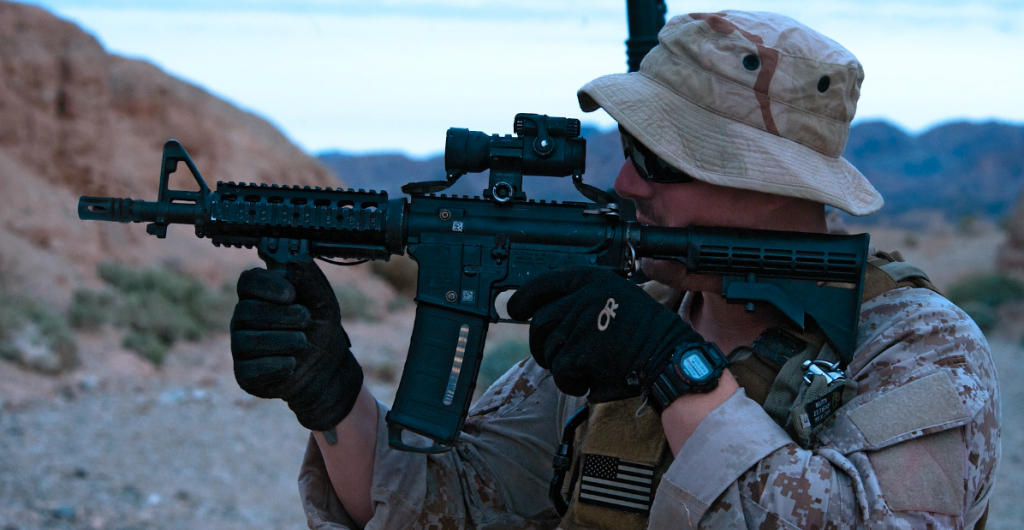 Mk18s became the de facto carbine of choice for Navy SEALs and Marine Raiders. They've even been seen in the hands of Navy EOD and Coast Guard VBSS teams.
The 10.3-inch barreled carbines evolved with the times and kept the M4 modularity.
We saw FSB gas blocks disappear, rails extend, and stocks improved.
Eventually, the gun became one of the top dogs for special operations forces, especially those with more naval traditions.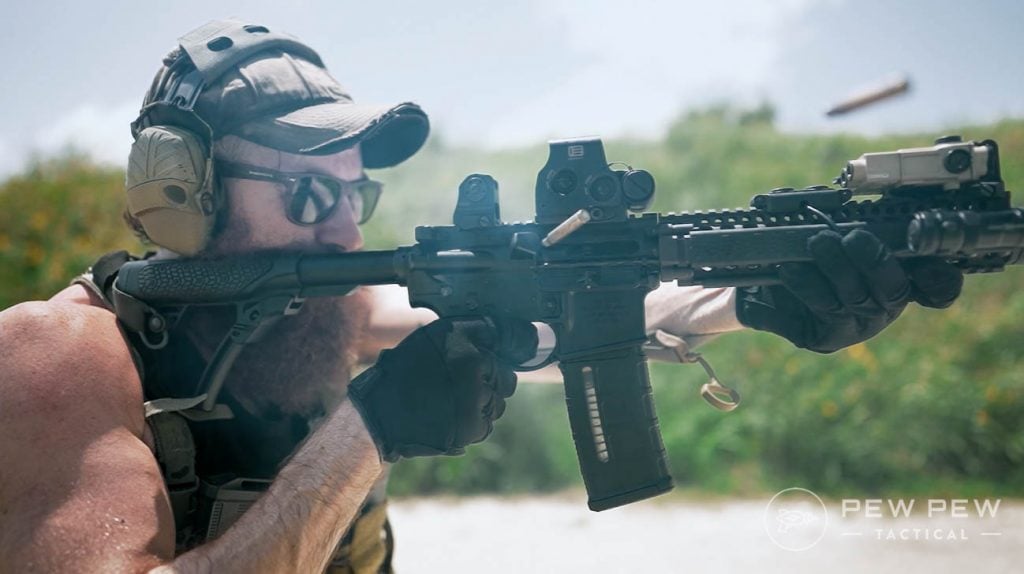 While we're not SOCOM, we did try our hand at the Daniel Defense Mk18 — check out our review here.
3. M4A1 URGI
Versatility keeps moving the AR platform forward, and the U.S. Army's Block 1 and Block 2 guns capitalized extensively on modularity.
The Block 3 or URG-I program stands as the current Modern M4A1 modified and optimized with various accessories.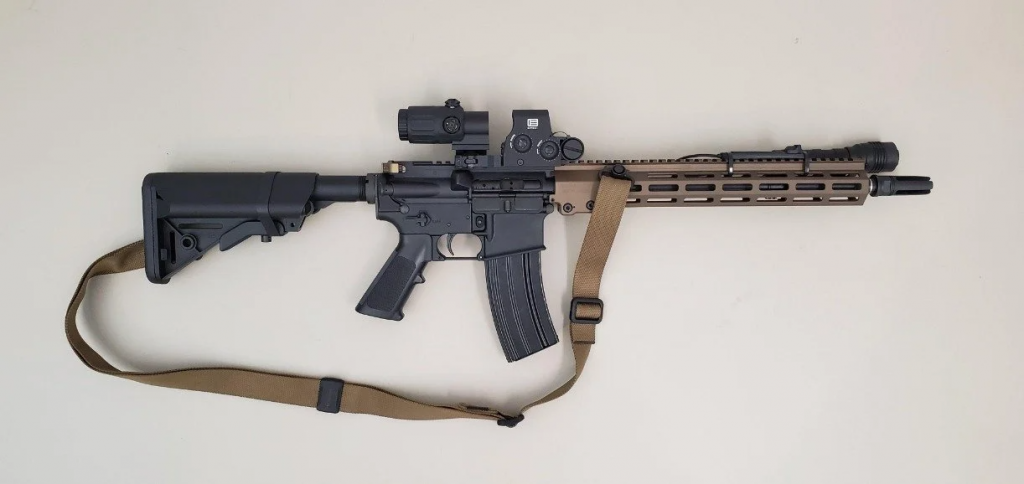 URG-I stands for Upper Receiver Group – Improved.
It's a joint project between the U.S. Army, Daniel Defense, and Geissele to produce the new standard M4 rifle for the Army Rangers and Green Berets.
This build rocks a 14.5-inch Daniel Defense barrel, Geissele charging handle, and Geissele handguard built on an M4A1 rifle.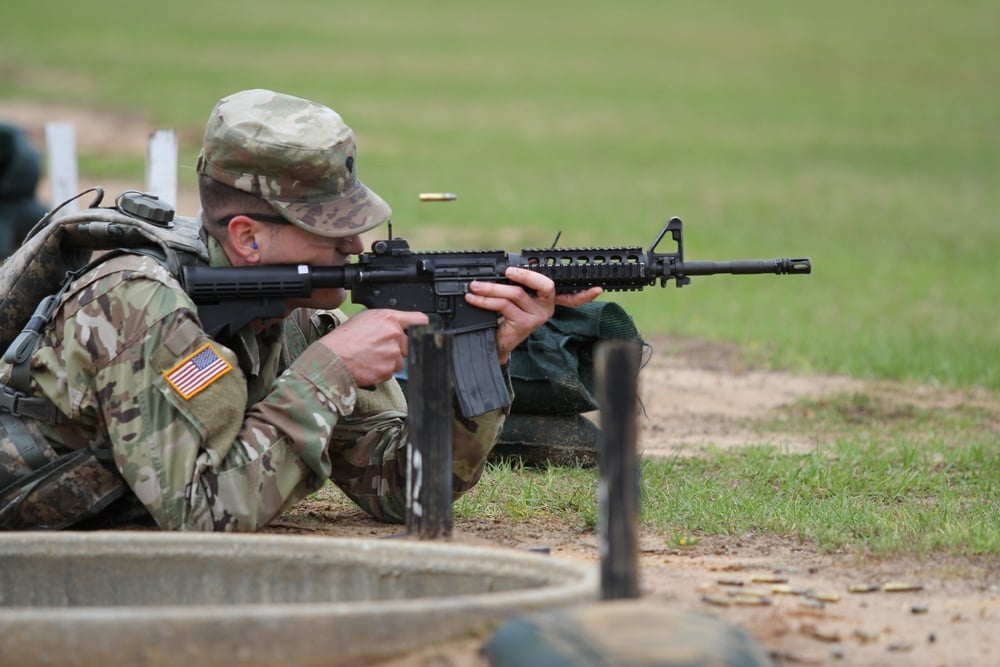 The modular M4A1 URGI carbine presents the most modern form of the M4A1 rifle — little things like stocks, optics, pistol grips, lights are too numerous to list.
Mission profile will drive gear. So, it's not uncommon to see LPVOs, Elcans, EOTechs, Aimpoints, Magpul stocks, BCM pistol grips, and SureFire lights.
The Barbie doll of the gun world gets maximum customization with the URG-I rifles.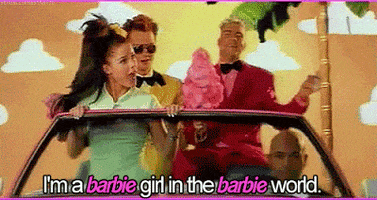 4. FN SCAR Mk17 MOD 0
SOCOM might not have been a fan of the lighter Mk16 SCAR, but the Mk17 series is seemingly beloved.
Maybe it's that full-power rifle round with assault rifle capabilities?
As one of the lightest battle rifles out there, the Mk17 MOD 0 provides accurate and powerful fire at ranges well beyond its 5.56 counterparts.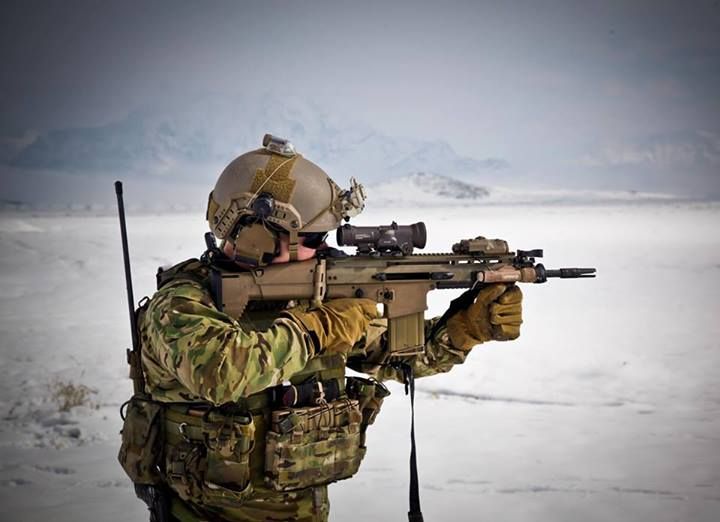 The Mk17 remains lightweight, relatively speaking, as well as short and handy for modern operations.
It was a favorite of SOCOM's forces in Afghanistan, where enemy fighters used range to their advantage.
Mk17 can utilize a 13-, 16-, or 20-inch barrel. It's not unusual to see powerful variable optics from Nightforce, Vortex, and Trijicon, as well as the ultra-tough Elcan series.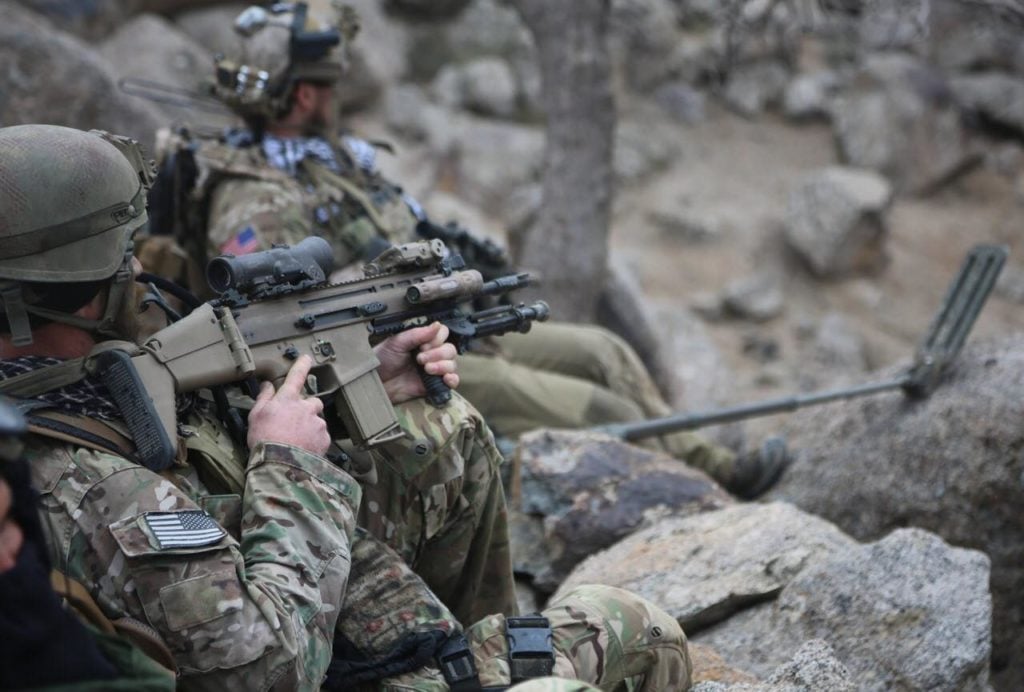 Marine Raiders, Army Rangers, Navy SEALs, and Air Force PJs have all used the Mk17. It fits well in wide-open environments.
Sometimes size matters.
Want to build your own Mk17 clone? Check out our Mk17 Build Guide!
5. Sig Sauer LVAW
Size matters…in both directions.
The Sig Sauer LVAW, or Low Visibility Assault Weapon, goes small.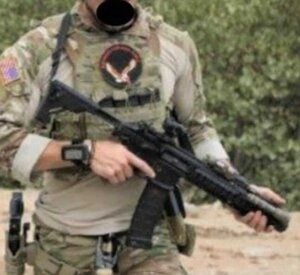 Essentially, SOCOM took the MCX and modified it specifically for a close-quarters suppressed weapon.
This .300 Blackout rocks a 6.75-inch barrel, and in any other weapon, this short of a barrel might cause issues.

But a short-stroke piston system guarantees reliability with this little gun, making it easy to suppress without issue.
What's the point of a rifle this short in .300 Blackout if we aren't dropping hammers quietly?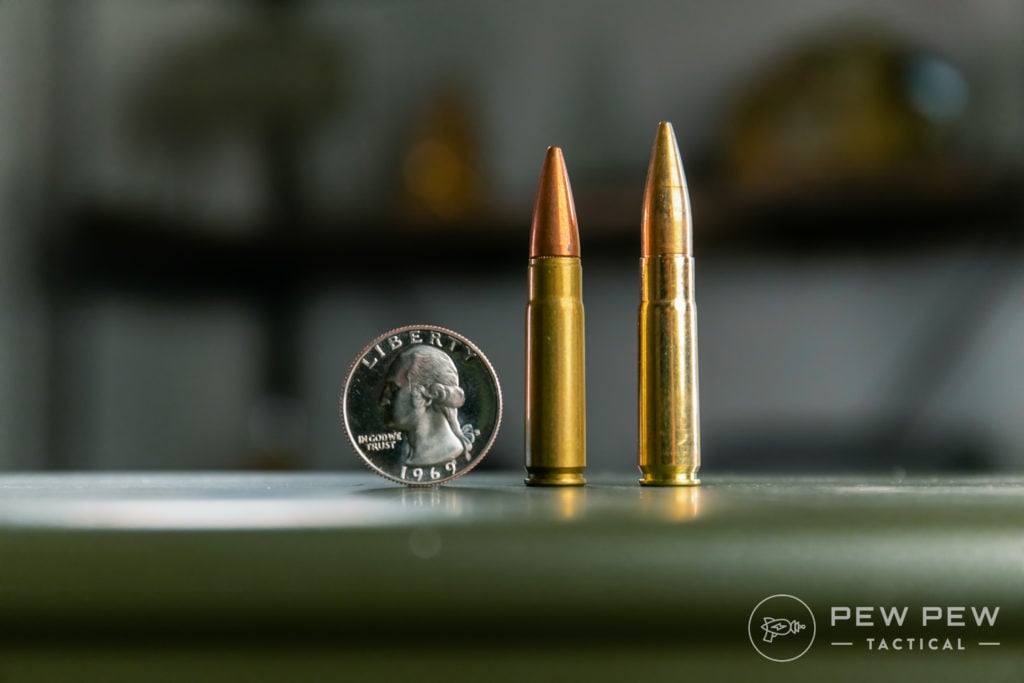 The LVAW gives operators an excellent close-quarters weapon.
Heck, it's even easy to hide with its folding stock for doing James Bond stuff.
The LVAW gives a sneaky option for doing those sneaky squirrel missions.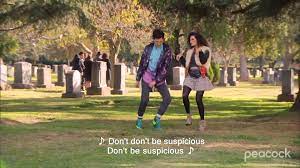 SOCOM Sniper Rifles
1. M110 and M110K1
As someone who has been personally supported in combat by an M110, I have nothing but nice things to say about it and Marine Corps Scout Snipers.
The M110 and the M110K1 were developed by Knight's Armory and share a lineage with the SR 25.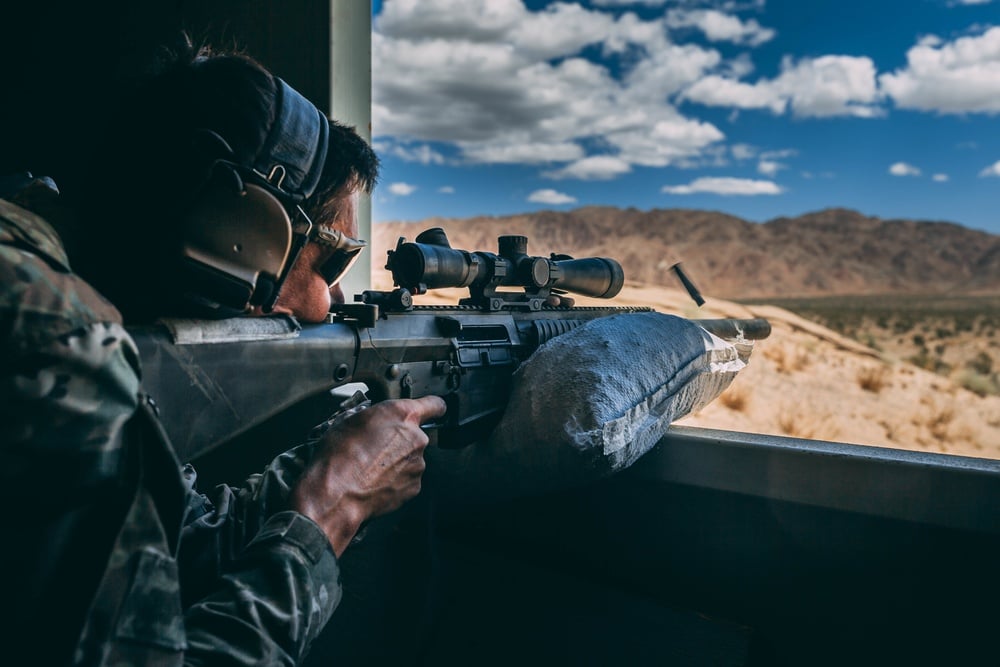 SOCOM retained the Knight's M110, even though big Army moved to the HK G28.
If you go back even further, the M110 is an AR-10 design, firing the 7.62 NATO round and now the 6.5 Creedmoor.
The latest K1 model gives them a 6.5 Creedmoor option for more range and better ballistic performance.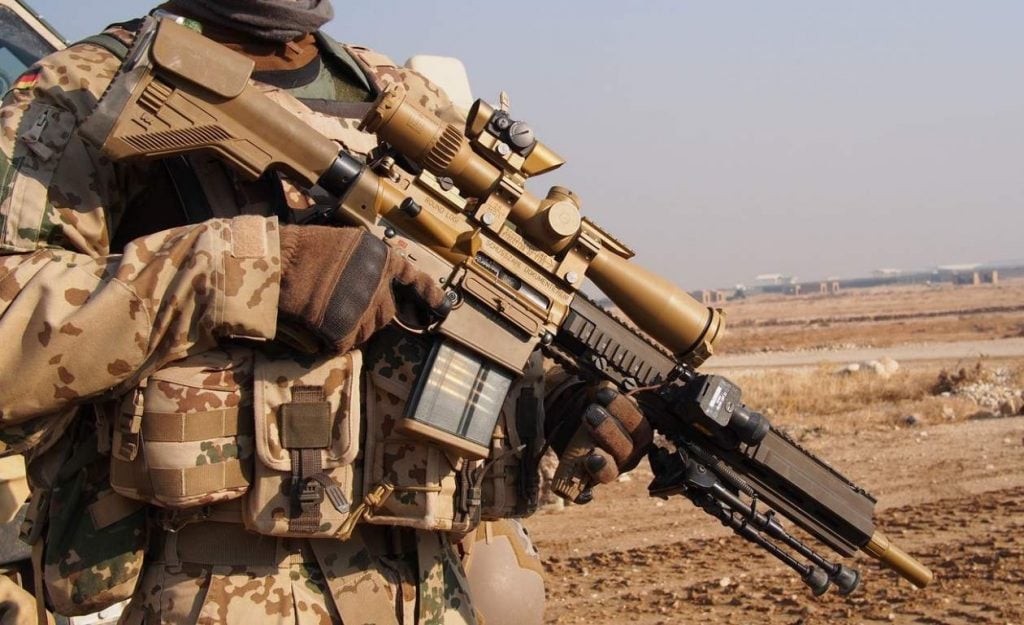 This heavy-hitting sniper rifle provides extreme precision for special operations. Its semi-auto firing rate kicks the heck out of an old bolt-action design.
These rifles have become extremely popular and beloved by the troops wielding them.
Like most Knight's products, the M110 series are superior rifles for the most discerning of customers.
2. Mk20 Sniper Support Rifle
The Mk17 isn't the only full-powered rifle in the SCAR family.
FN's Mk20 utilizes the same action and round but ups the size for the sake of ballistic performance and precision.
SOCOM trigger pullers might not get the Ugg boot stock, but the precision adjustable stock helps eke out a little more accuracy.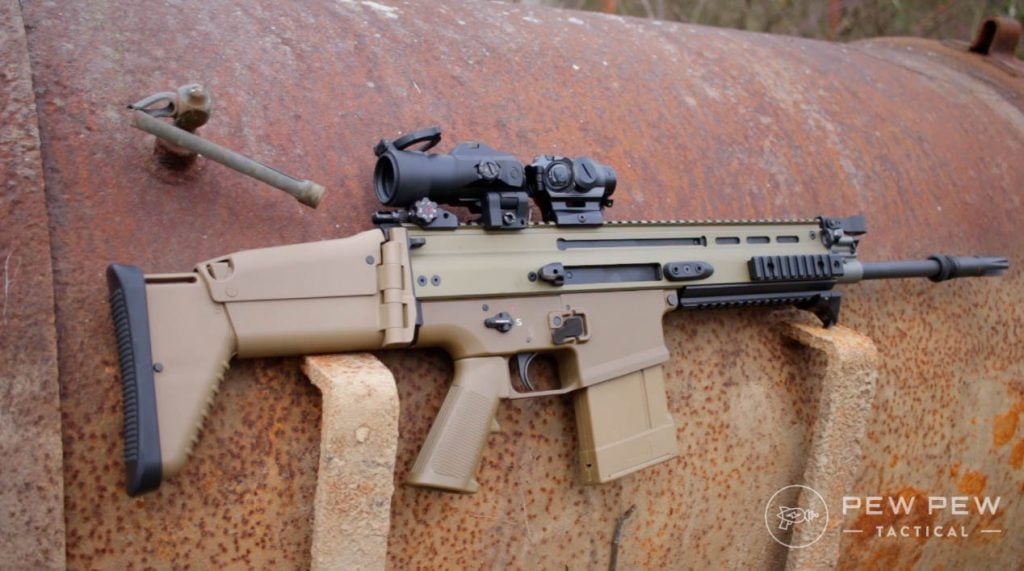 FN changed a little bit of the insides of the rifle, including a proprietary barrel extension, a better trigger, and a new barrel profile – all done for the sake of accuracy.
Snipers can tack on the optics they want on the long rail. This makes clip-on thermals and night vision optics an option.
Snipers armed with the Mk20 get an extremely accurate weapon with the benefits of a semi-auto rifle.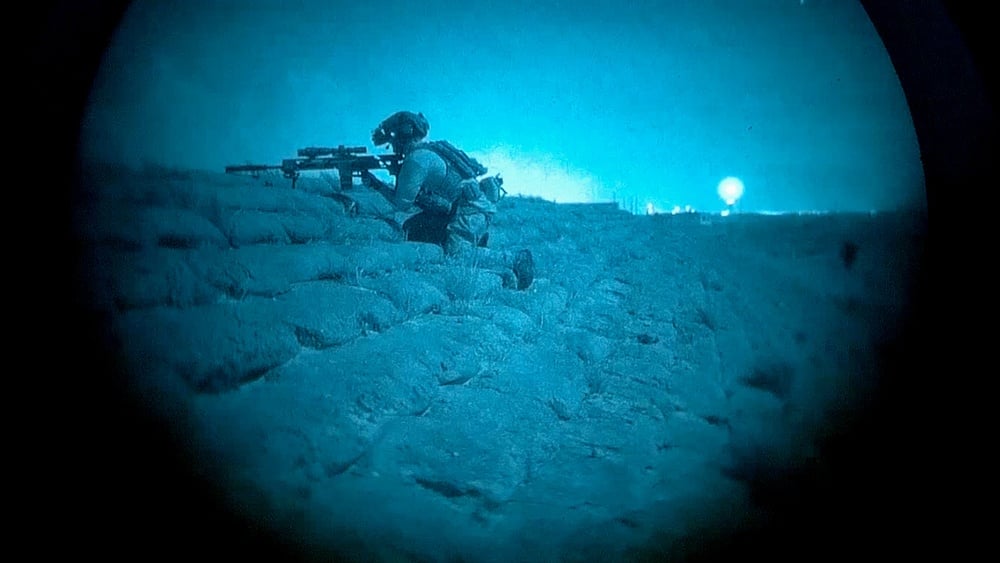 Troops serving in special operations might be sniping one day and engaging in close-range firefights the next. Get you a rifle that can do both.
3. Mk13 Sniper Rifle
Sometimes you come across bad guys, and they are, like, really far away.
When you need to take care of a bad guy, and he's freakin 'far, you turn to the Mk13 to get the job done.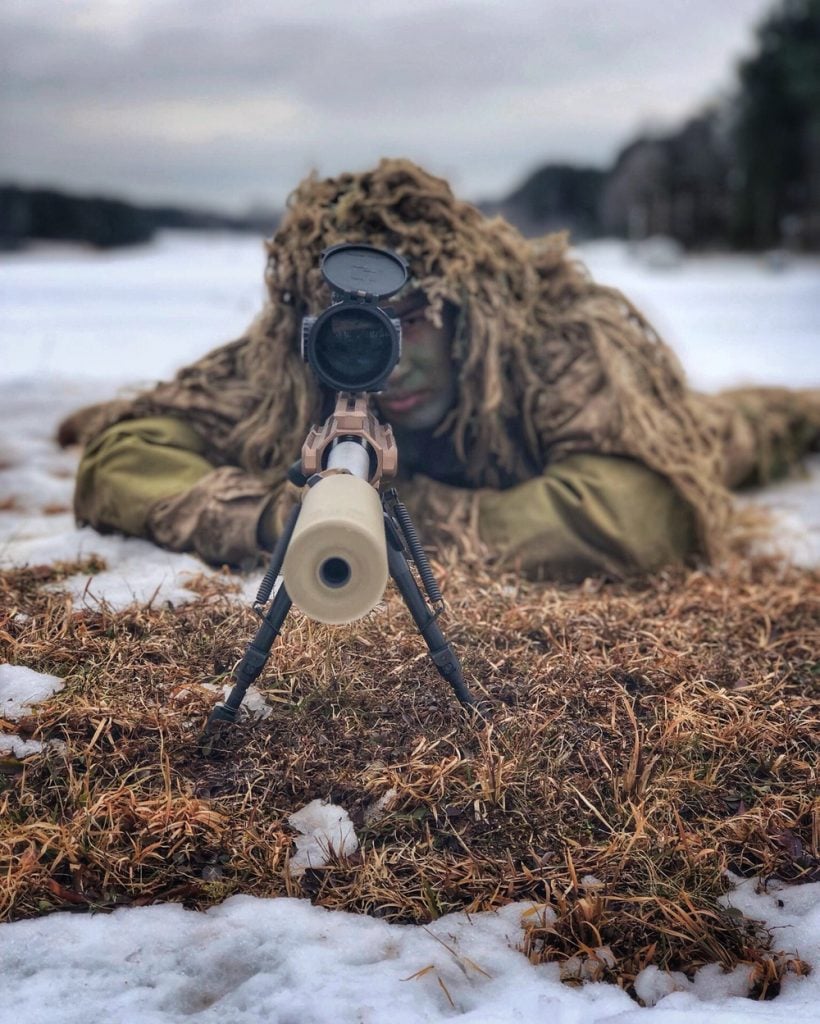 While semi-autos rule the roost for general sniping, the Mk13 keeps it real for bolt-actions.
The Mk13 is what you get when a Remington 700 long-action breeds with an Accuracy International chassis system.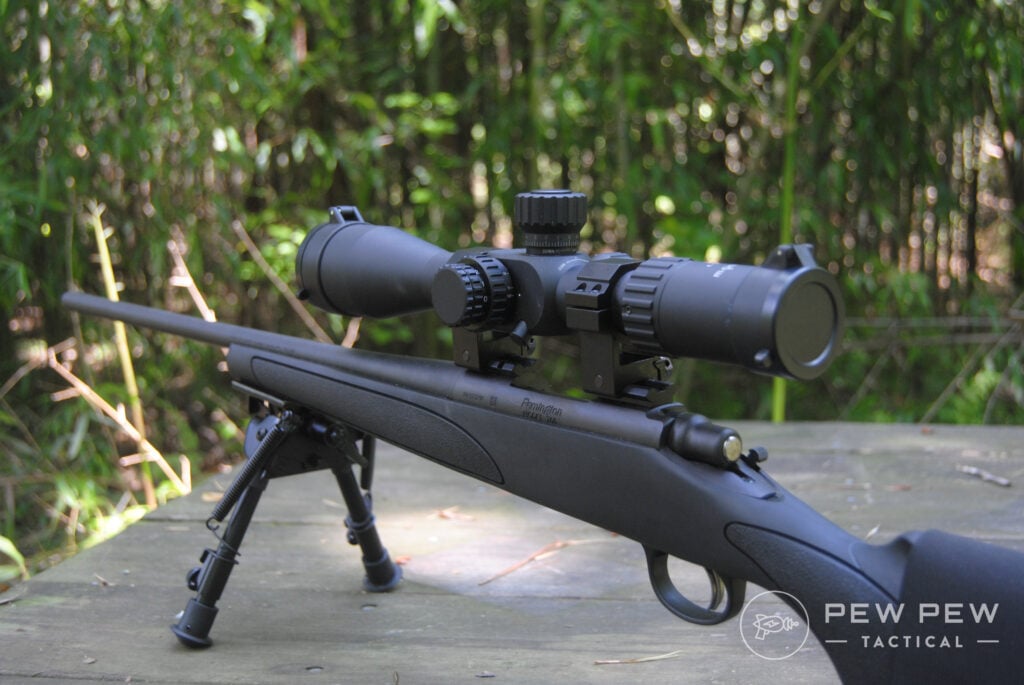 Currently, the Mk13 Mod 5 serves with special ops snipers, using the .300 Winchester Magnum cartridge to reach out and touch targets.
A round that powerful can take bad guys out and penetrate hardcover to do so.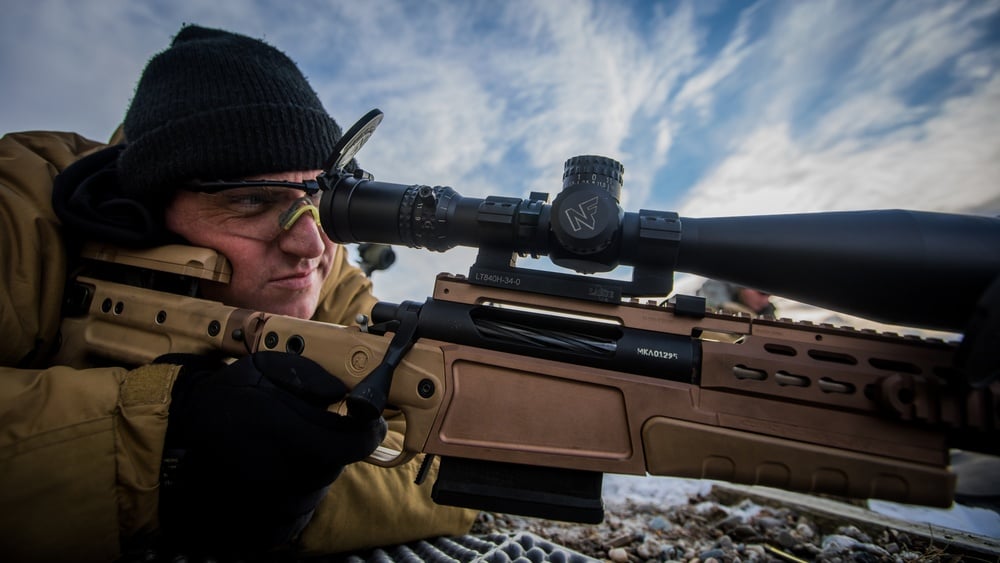 This beast fits between the normal 7.62 NATO rounds and something ridiculous like the .50 BMG.
It hits harder, shoots further, and gives SOCOM snipers just another option to complete their mission.
4. Mk22 Advanced Sniper Rifle
Another bolt-action and another uber-powerful round hit SOCOM's armory in 2019 as the Mk22 Advanced Sniper Rifle.
This time we saw a Barrett MRAD chambered in .338 Norma Magnum up the power and range for SOCOM snipers.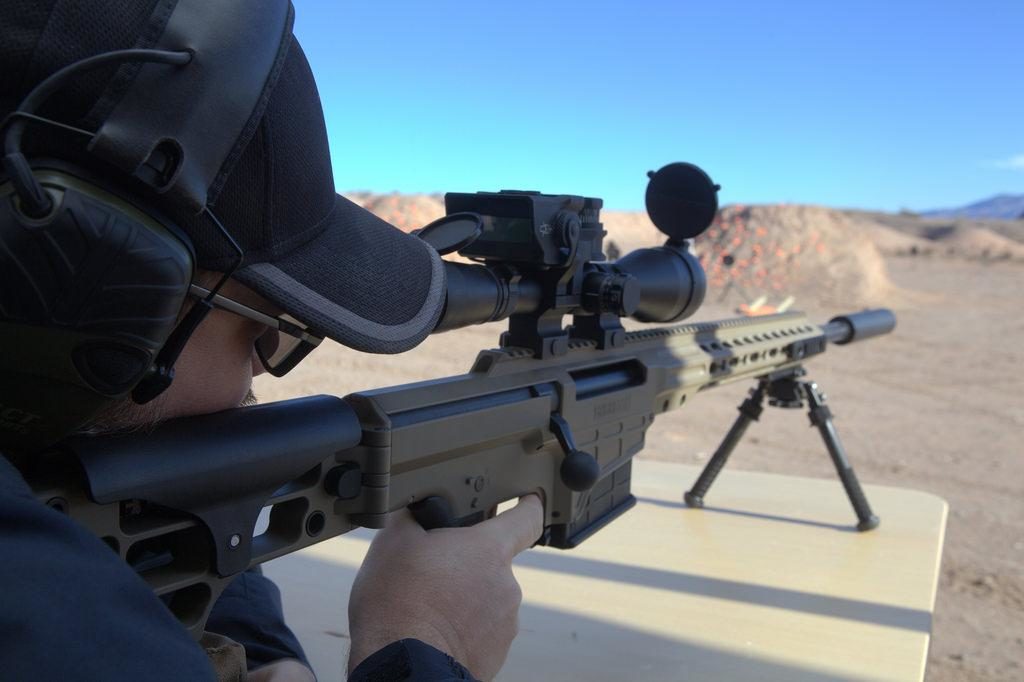 And this uber-modern sniper rifle can be converted to 7.62 NATO and .300 Norma Magnum should the mission call for it.
At first glance, it's easy to see this isn't your grandpa's sniper rifle.
The modern Barrett MRAD utilizes a split upper and lower receiver like an AR-15, as well as an adjustable folding stock. That said, it's relatively lightweight at roughly 14-pounds.
Impressively, the gun shoots an incredibly accurate .378 MOA.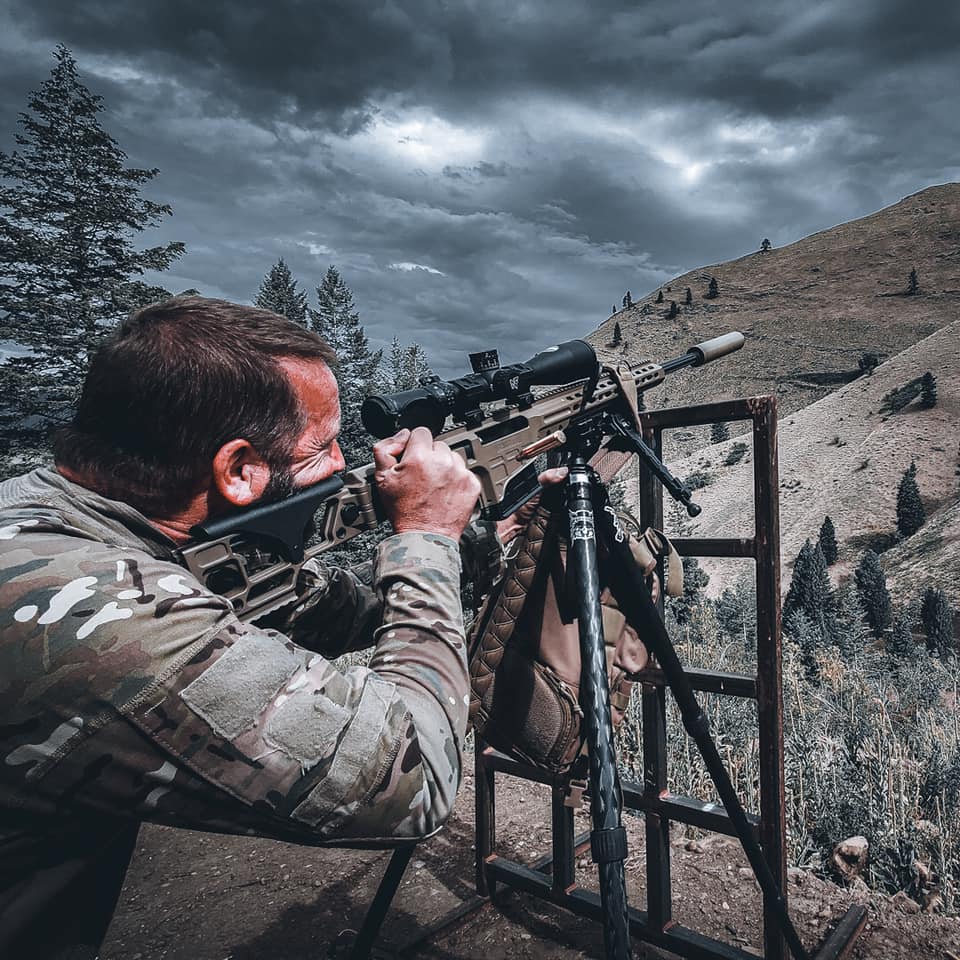 When you're part of SOCOM, you have a very demanding job. So, it's nice to know you can count on your gear to meet those demands as well.
The Mk22 advanced sniper rifle certainly provides enough oomph and accuracy to get the job done.
Handguns of SOCOM
Handguns in SOCOM are varied and include modern classics like the Sig Sauer P226 and heavily customized 1911s.
Most SOCOM guys are packing a handgun, and it's often adorned with a light and optic these days.
Though SOCOM likely has a large armory of handguns, it seems Glock wins the most fielded award.
1. Glock 34/17/19
Though they vary in caliber and size, Glock pistols are all largely the same in terms of operation.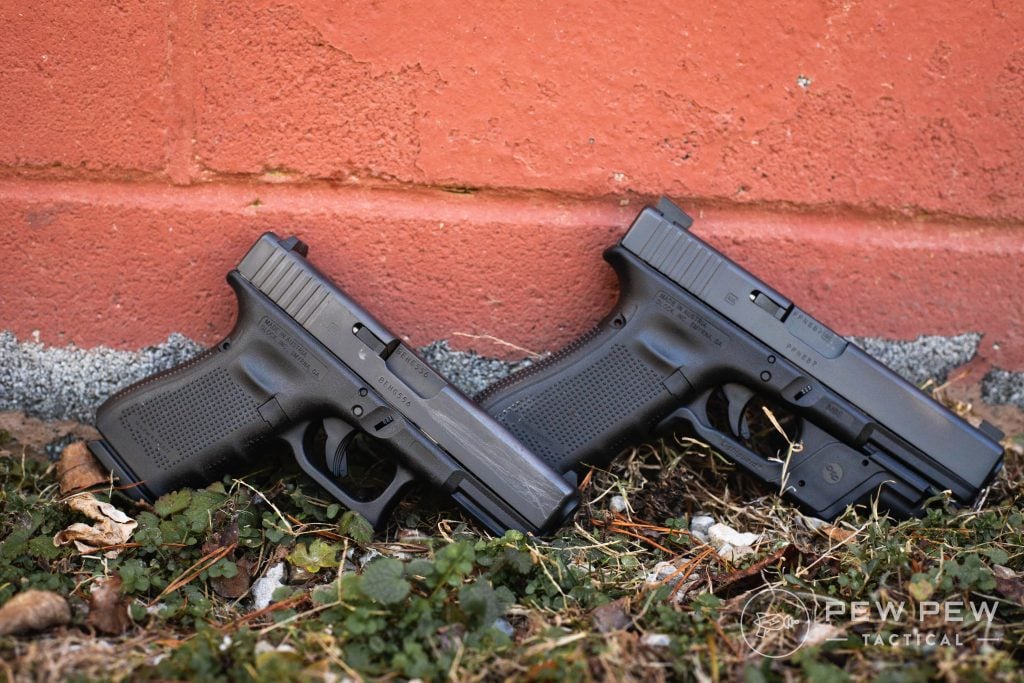 We've seen SOCOM use both 9mm and .40 S&W Glock pistols. 9mm seems to be the more dominant option these days. The Glock 34, Glock 17, Glock 19 have all appeared in the hands of a variety of operators.
Glock series pistols have long proven extremely reliable, very simple, and quite robust for a duty pistol.
449
at Palmetto State Armory
Prices accurate at time of writing
Prices accurate at time of writing
It's a Spartan pistol that is a logical choice for a fighting pistol.
Glocks in use by SOCOM often rock the Trijicon RMR Type 2 and Surefire X300 lights with suppressor height night sights in Safariland rigs.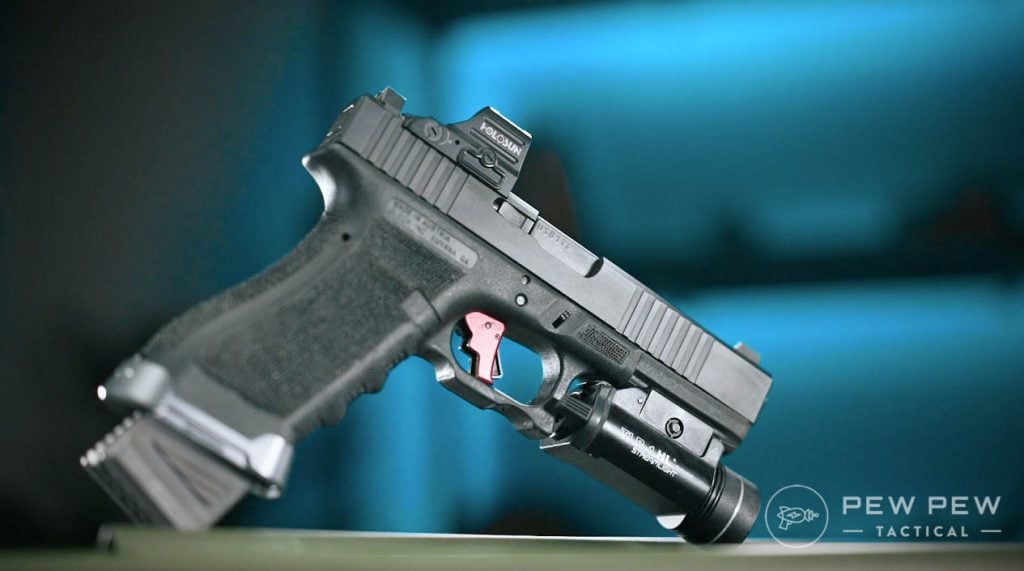 SOCOM guys also sometimes utilize extended magazines of varying capacities. Sometimes you just have to get gangster with it.
Which Glock is best? Find out in our round-up of the Best Glocks: Across Size & Caliber.
2. Sig Sauer M18
The Sig Sauer M17 and M18 series won the Army's trial and has since been adopted by the U.S. Marine Corps, the Navy, Airforce, and now SOCOM.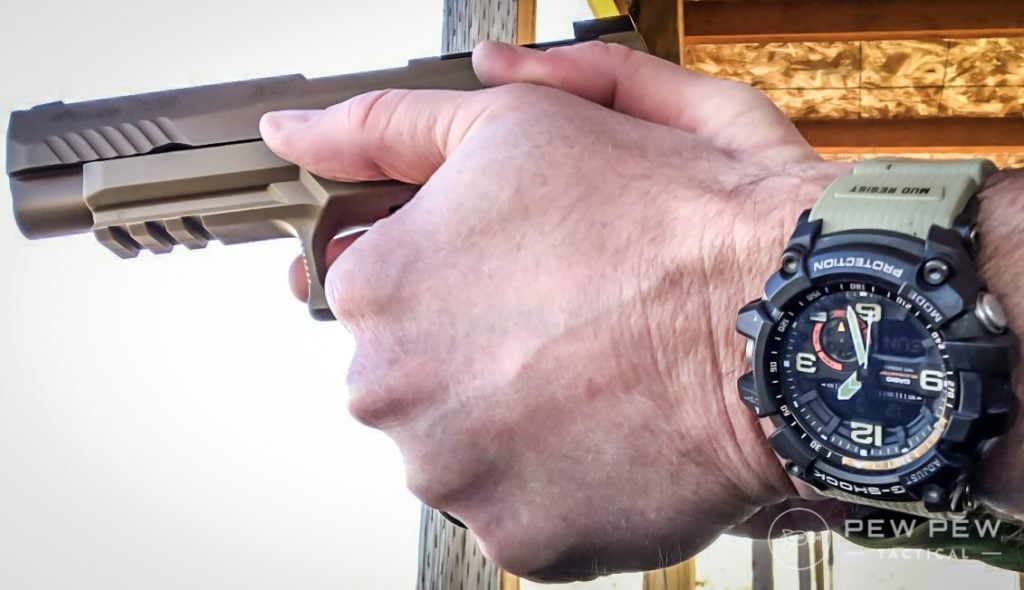 SOCOM took delivery of the compact model known as the M18 for SOCOM operators.
The M18 offers a very modern pistol for special operators.
It's optics ready, railed, and comes with the ability to easily convert it to a full-sized handgun when necessary.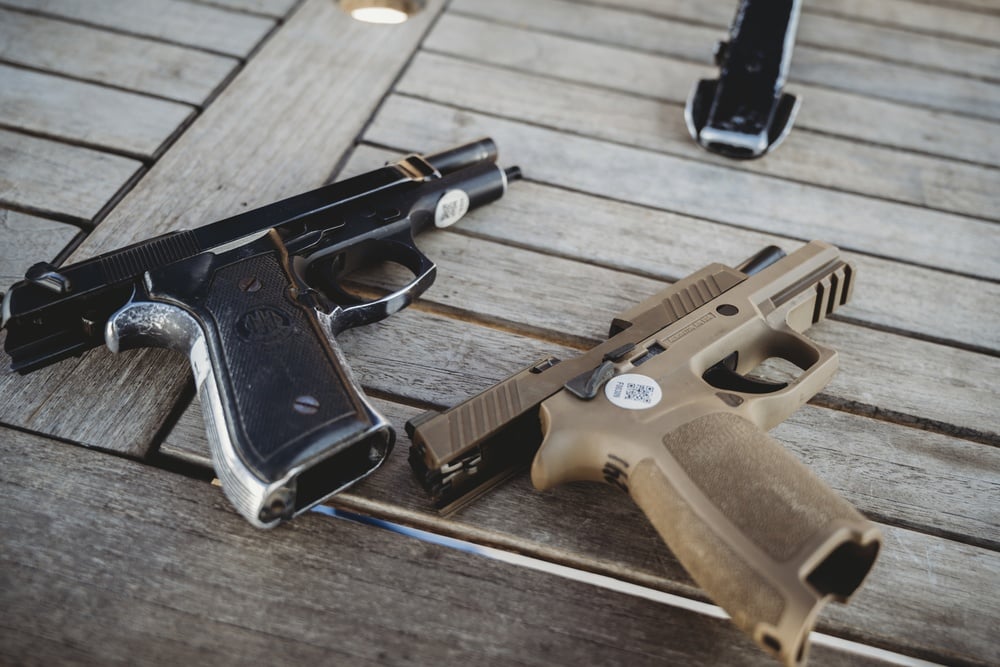 The Sig M18 takes a page out of Glock's book with a striker-fired, polymer design. It also uses a full-sized frame with a compact slide, much like Sig's carry model, the P320.
Though it's the new kid on the block, and we've yet to see pictures of the weapon "in the wild," I'm betting its time is coming sooner than later.
Want your own version? Well the Sig Sauer M17 is about as close as you can get.
New Military Standard
649
at Kygunco
Prices accurate at time of writing
Prices accurate at time of writing
SOCOM SMGs
Submachine guns are a dying category in many ways.
Short carbines like the Mk 18 and LVAW largely replaced them in operators' hands.
While the MP5 might still be kicking around in armories, they don't seem to be pulled out very often.
The HK MP7 delivers performance above your standard submachine gun utilizing a proprietary 4.6x30mm round with a spitzer-style projectile.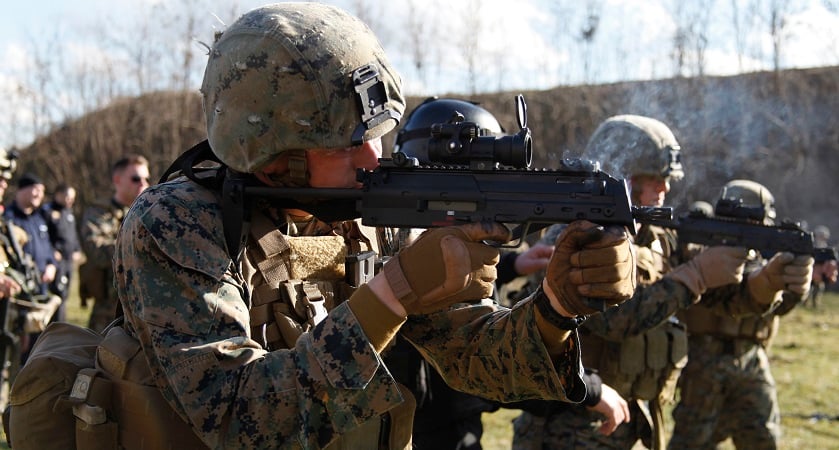 It delivers more range and better armor penetration with minimal recoil.
The MP7 was reportedly in the hands of a few DEVGRU operators during the Bin Laden raid, and it's easy to see why.
Sure, we can make short carbines, but no carbine can get as short as the MP7.
It's also exceptionally easy to control in full auto, reacting like an angry hive of hornets when fired.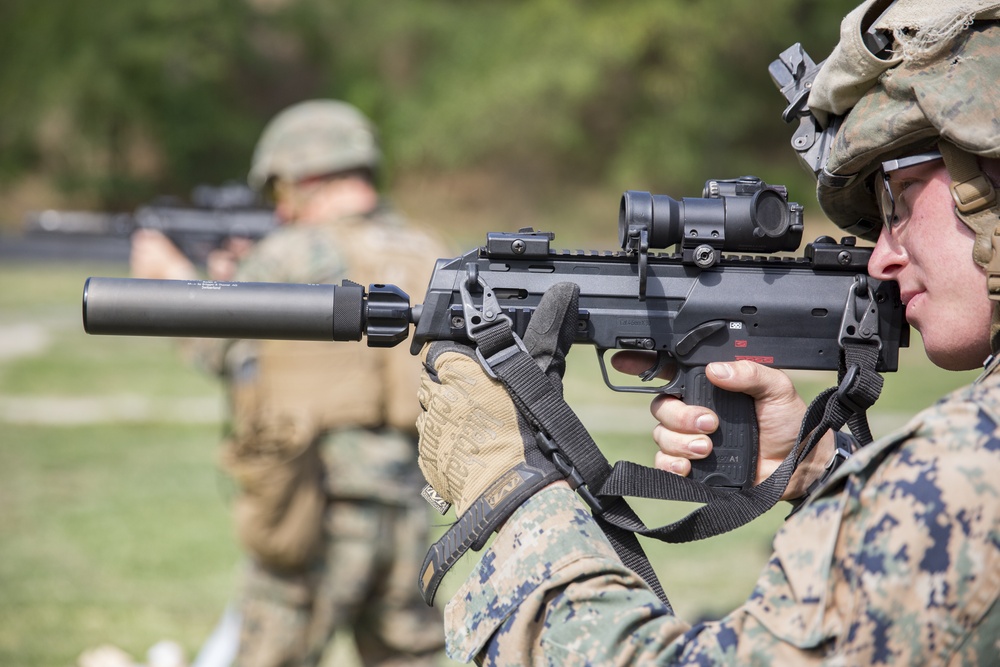 The HK MP7 can be easily suppressed and still remains almost the same size as a pistol.
It's just a bit bigger than the massive Mk23 pistol of SOCOM lore and Metal Gear Solid.
When SOCOM needs to clear rooms, board ships, and play sneaky Pete, the MP7 makes a lot of sense.
Machine Guns of SOCOM
Like any modern warfighter, you need a support weapon.
When the shooting starts, it's quite comforting to have a belt-fed weapon that can lay down the hate.
SOCOM forces are often small and unconventional, but the presence of a machine gun allows them to fight above their weight class.
(Psst… for more machine guns, read my machine gunner's review of the M240 here!)
1. Mk46 and Mk48
The Mk46 and Mk48 are largely the same machine gun with differences in caliber.
While the Mk46 fires the lighter 5.56 round, the Mk48 handles the beefy 7.62 NATO.
But both are designed around FN Herstal's Minimi light machine gun.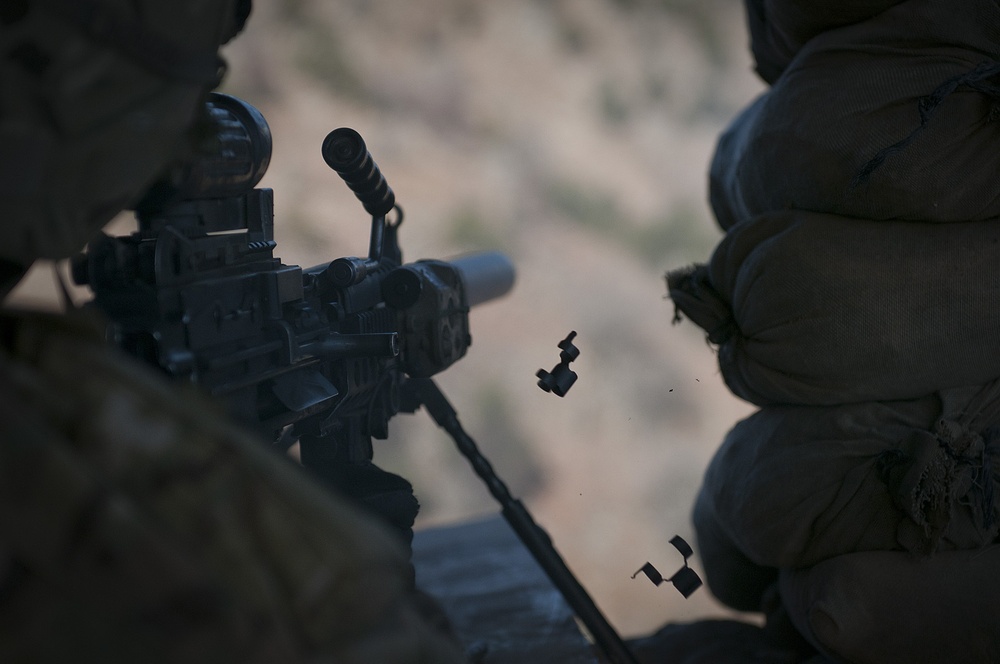 Depending on the mission set, operators can gear up with one or the other. Then they can deliver belt-fed firepower to cover a retreat, lay down suppressing fire, and shut down enemy movement.
The Mk46's light weight and light recoil make it a better candidate for close encounters. On the other hand, the Mk48's extra range makes it convenient for more open environments.
Both the Mk48 and Mk46 are air-cooled, gas-operated open-bolt machine guns with standard disintegrating linked ammunition.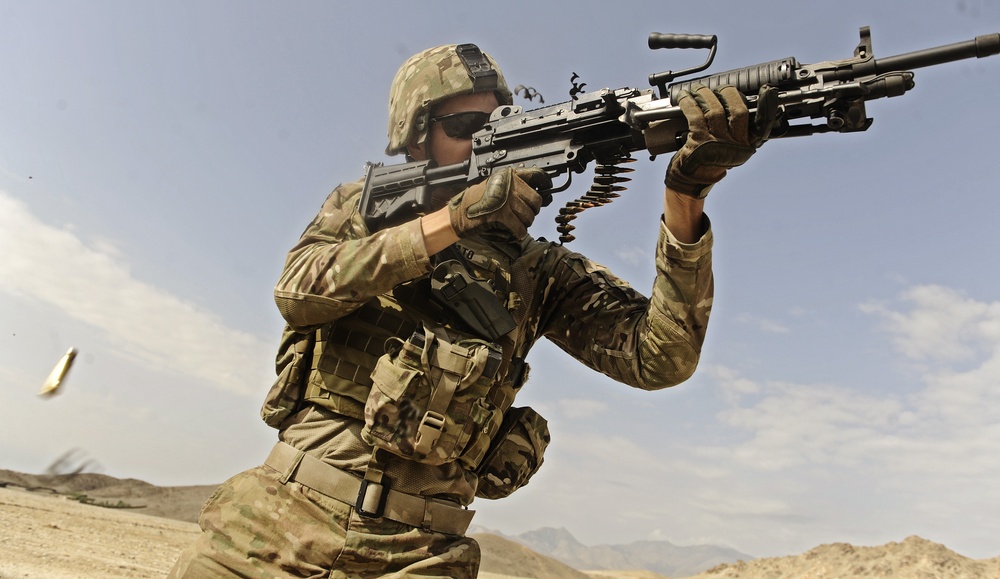 These are full-auto-only guns but somewhat lighter than most conventional machine guns (especially the Mk48).
FN released an Mk48 Mod 2 chambered in 6.5 Creedmoor for a little extra range, but it's unclear if SOCOM has any interest.
2. Mk47 Striker
Machine grenade launcher has got to be the coolest words I've ever heard.
Think about it, a belt-fed, fully automatic grenade launcher…that makes my heart swell.
Conventional forces have the Mk19, but SOCOM has the Mk47.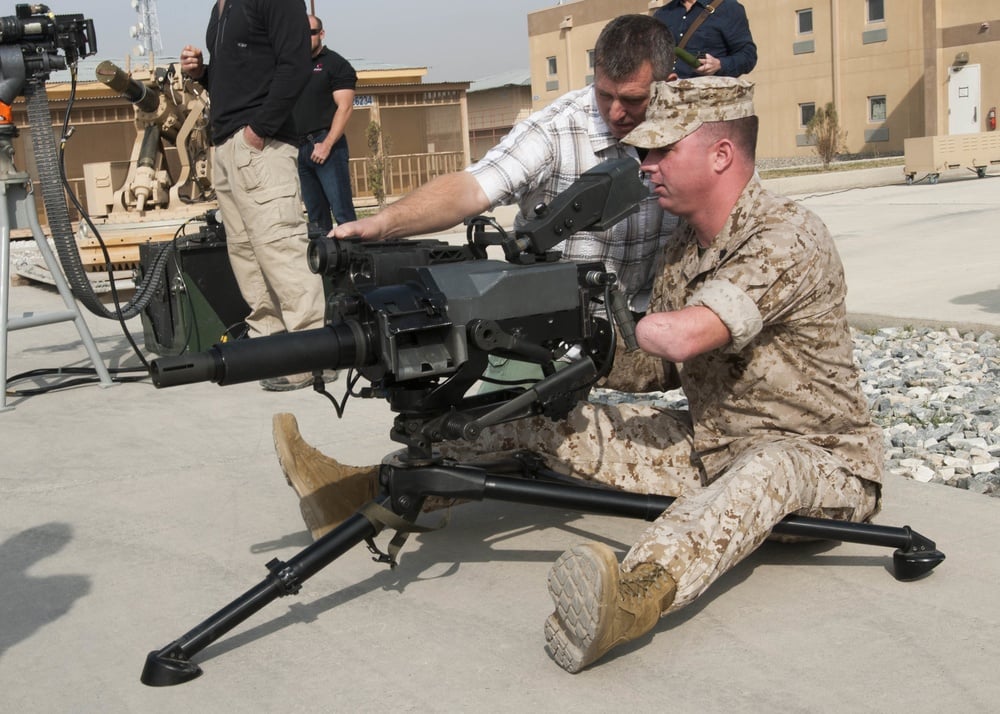 The Mk47 Striker uses the same 40mm destruction dealing capabilities as the Mk19 but is also designed to use programmable smart ammunition.
SOCOM operators can program the ammunition to airburst after a certain range. This makes it nearly impossible to hide from the Mk47 Striker.
Almost all cover becomes concealment when you have an Mk285 smart grenade coming at you.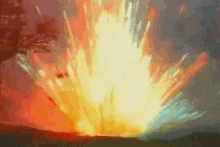 This bad boy has seen action in Syria, Iraq, and Afghanistan with special ops troops.
I imagine this devastating weapon serves brilliantly on the defense with pre-chosen ranges as well as on the offense mounted to vehicles.
SOCOM Shotguns
Shotguns are a very rare sight in any conventional military service.
They are niche weapons not well suited outside of dense urban environments.
But they sometimes get called in for breaching roles with SOCOM. (They are rarely used outside of that role.)
Remington 870 MCS
Remington puts the modular in the Remington 870 Modular Combat System.
An 870 MCS is more than just a shotgun — it's a common receiver group utilizing different barrels and stocks to make a mission-ready shotgun.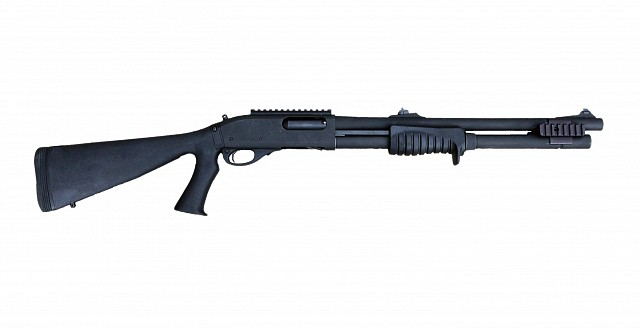 You can rock and roll with a full-sized Remington 870, collapsing stock, 18-inch barrel, and 6-round tube.
Maybe you want a 14-inch barrel. Boom, go for it. Maybe you want to remove the stock using a pistol grip only and a 10-inch barrel for breaching.
The 870 MCS series gives operators the shotgun they need when they need it.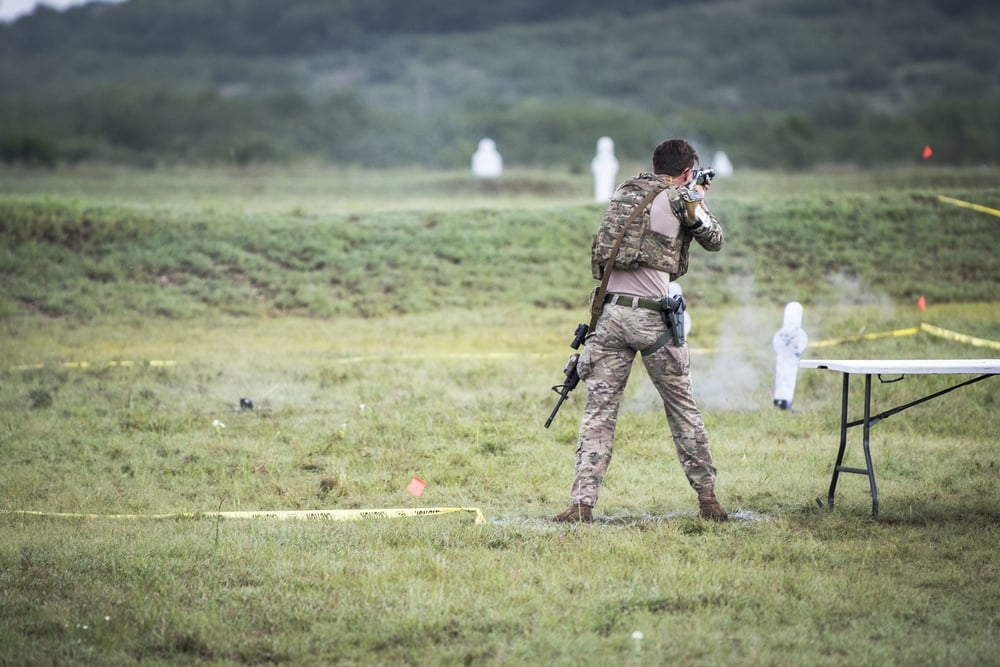 Deployment might be rare, but it's been seen in the hands of Rangers, mostly in breaching configurations for urban encounters.
Occasionally one pops up on the civilian market, so I've been keeping my shotgun nerd eyes open.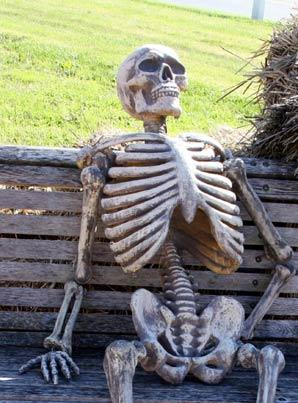 Grenade Launchers
Individual grenade launchers give a small team a lot of firepower.
Imagine engaging an American squad with a superior force only to start hearing the thumps of grenade launchers pelting your position.
M320
The M320 replaced the M203 with SOCOM as well as most of the big Army.
Grenade launchers really love combining the numbers 0, 2, and 3, am I right?
Anyway, the M320 offers operators an independent, unmounted grenade launcher for launching 40mm grenades out to 350 meters.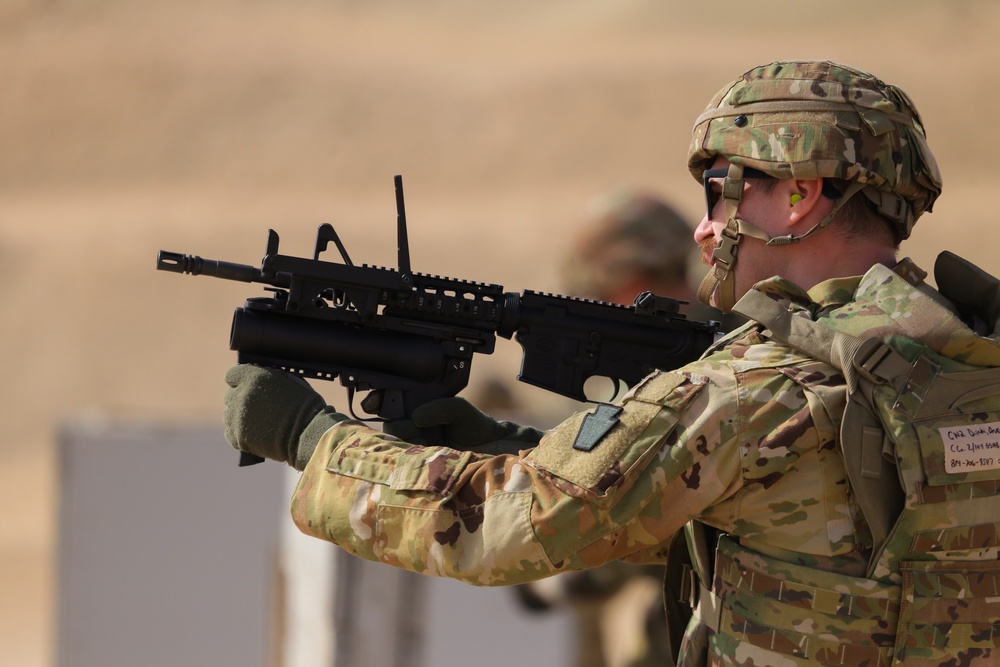 A built-in stock, aiming system, and foregrip deliver a self-contained system that looks like a huge honking pistol.
SEALs used chopped-down M79s for the longest time. And, in many ways, the M320 descended from that idea.
It's compact, easily holstered, and perfect for small teams who want to keep their rifles light but not lose their grenade launch capabilities.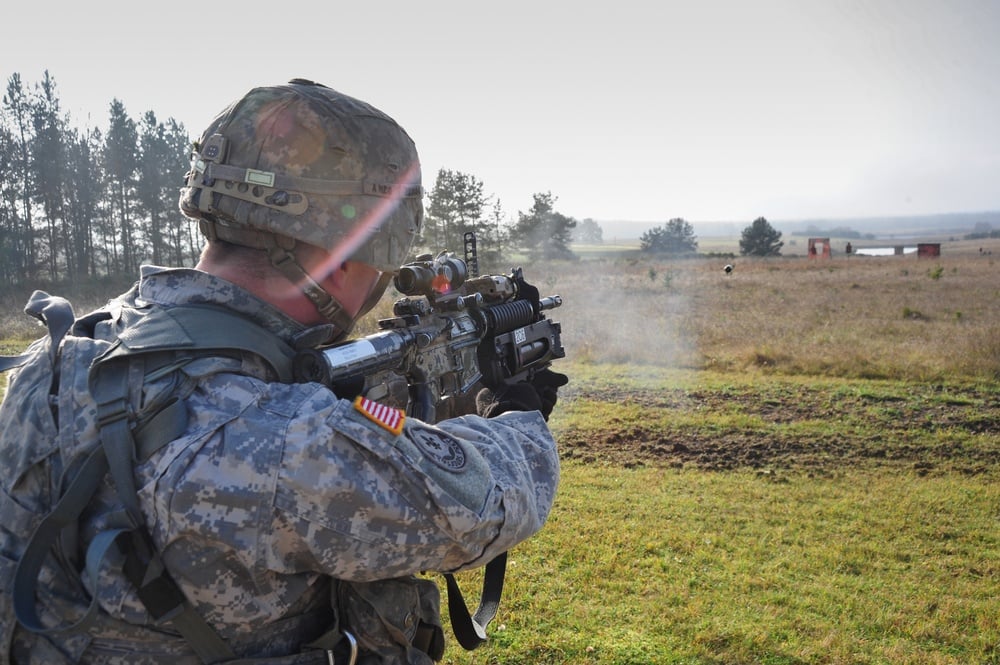 The sideloading grenade launcher can be mounted, but that's rarely done.
Hearing that satisfying thump…that's a tough noise to beat when the bad guys are opening up on you.
Conclusion
SOCOM's armories are expansive with the idea that mission drives gear. You'll often see the weird, wonderful, and downright awesome in their ranks.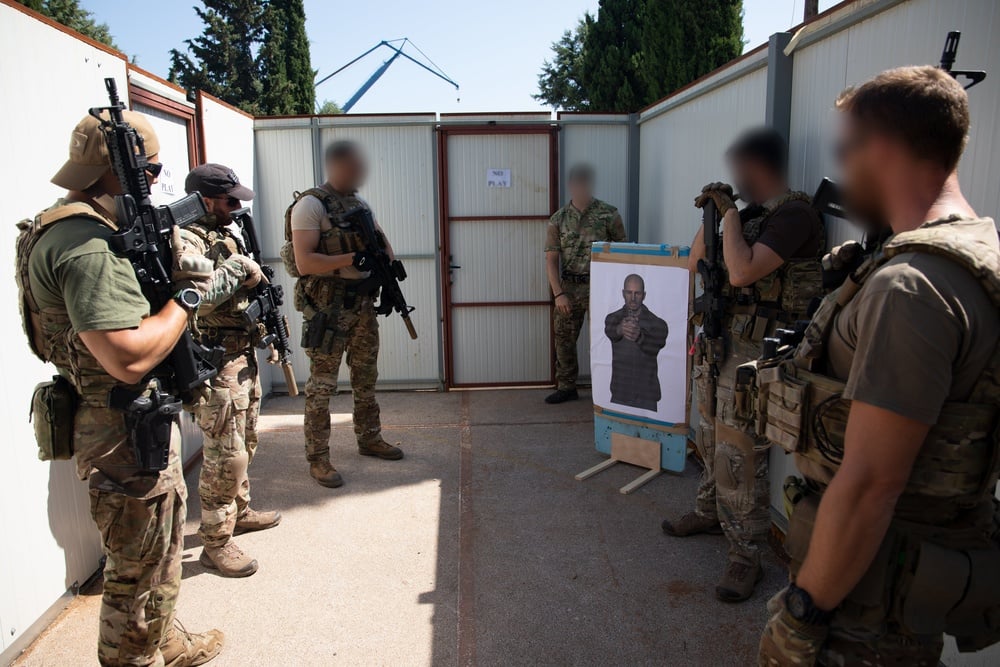 I tried to find as many as I could, but SOCOM tends to be somewhat secretive, as you'd imagine. So let me know of more in the comments below. Want some guns you can get your hands on? Check out our article on Civilian Versions of Military Guns.