Whether you're a gun collector, or you just love to pop a few off at the range, one thing unites all gun lovers…military-grade firearms are pretty freaking cool.  
And while we all wish that we could hop behind a Mk 19 start shooting, realistically, that's just not a level of awesomeness that most civilians will experience.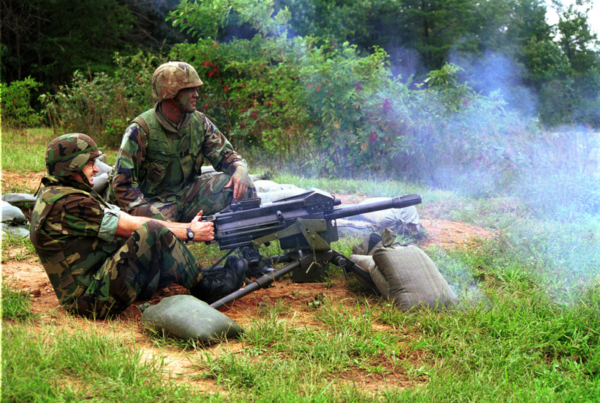 While most of us won't ever lucky enough to play with the big toys, there are plenty of guns based on military-issued firearms that we can get our hands on.  
Today, we're going to have a look at some cool military weapons (that aren't AK-47s and AR-15s), and are perfectly legal for civilians like you and me to use.  
Table of Contents
Loading...
1. Steyr AUG
The Steyr AUG is hands down, the most iconic bullpup rifle ever created.  This Austrian-made weapon has seen combat in Iraq and Afghanistan and is used by countless defense forces around the world, including Taiwan, Ireland, Austria, Australia, and Argentina.  
We even got our hands on one to review! Our complete review of the Steyr AUG.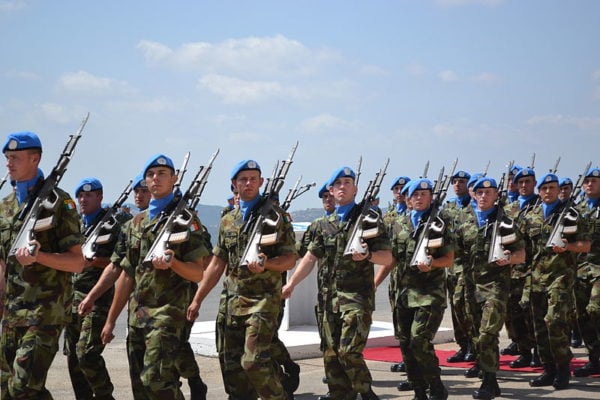 The original Steyr AUG is a combat rifle that shoots 5.56x45mm NATO rounds.  It's known for its integrated 1.5x telescopic sight and unusual stock design, which can be configured for both right and left shooters.  The military-grade Steyr AUG has three different firing configurations: semi-auto, three-round bursts, and fully automatic.
The civilian counterpart to the Steyr AUG is the AUG A3 M1 ($2000).  It's a semi-automatic version of the Steyr AUG carbine that was designed for the American market.  This means that instead of the 20" barrel length that comes with the standard Steyr AUG, the A3 M1 is fitted with a 16" barrel for better maneuverability in close spaces.

While the civilian version of the Steyr AUG has a hefty price tag, the AUG A3 M1 is a great gun for anyone who loves tactical weaponry.  And with an overall length of 28.15", it's easy to maneuver in close spaces like hallways and around corners.
Despite its unorthodox look and feel, the AUG A3 M1 is quite comfortable to shoot.  And since it can be configured for left-side ejection, southpaw shooters don't have to worry about casings being ejected directly into their face.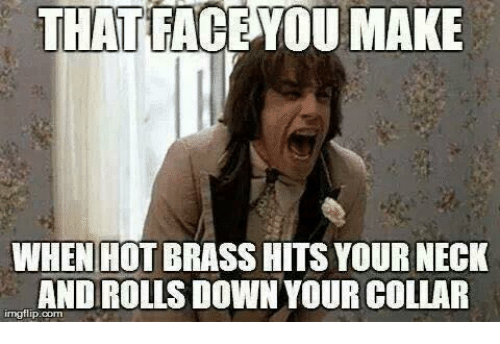 The AUG A3 M1 fires the same 5.56x45mm NATO/.223 Rem cartridge as its military predecessor and also comes with your choice of a 1.5x or 3x integrated scope.  If you don't want to use the factory scope, you can also choose a short rail (11 slot) or high rail (16 slot) configuration and mount your own scope or optical device.  
Overall, the AUG is an all-around great gun.  Its versatility makes it useful whether you want a gun for home defense, for competitive shooting, or you just want to shoot something different from the AR platform.
Love bullpups?  Check out more rifles and shotguns in our Best Bullpup Firearms article.
2. FN SCAR
With a name like Special Operation Forces Combat Assault Rifle, you already know the SCAR is going to be a top-of-the-line military weapon.  Created by FN Herstal, the SCAR comes in two variants: light, which shoots 5.56x45mm rounds, and heavy, which fires 7.62x51mm.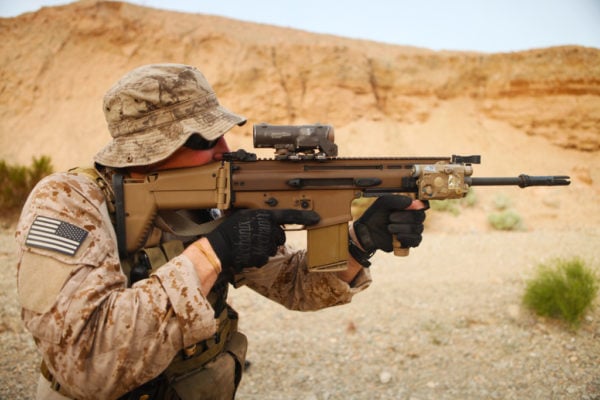 Both SCAR variants are successful battle rifles which saw combat in Iraq and Afghanistan and are used by militaries in a number of countries around the world, including South Korea, the United Kingdom, and Germany.  Additionally, some of the United States SOF forces also use the SCAR-H (Mk 17) in Afghanistan.
The civilian variants of the SCAR-L/H are the SCAR 16S ($2499), which shoots 5.56x45mm/.223 Rem and the SCAR 17S ($3350), which fires 7.62x51mm/.308 Win.  While neither of these guns come fully automatic or with a grenade launcher, they are excellent guns for civilians and law enforcement alike due to their accuracy and easiness to shoot.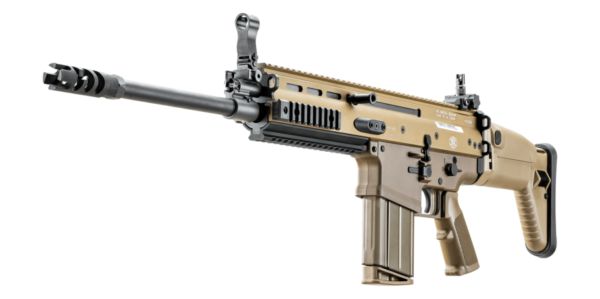 When it comes to design, there's not much difference between the 16S and the 17S.  Both are lightweight, have Mil-Spec barrels with a length of 16.25", and are equipped with an integrated MIL-STD-1913 rail on the receiver for optics, as well as three other accessory rails for flashlights or laser sights.  The 16S comes with either a 10 or 30-round magazine, while the 17S comes with a 10 or 20-round variant.
And for those of you who remember YouTuber FPSRussia, he made a short video of the 17S in action a couple years back that you can check out below. 
What's your take on the SCAR?
3. HK MP5
There aren't many modern submachine guns as iconic as Heckler & Koch's MP5.  This combat weapon is one of the most popular submachine guns in the world, having been used by a number of different militaries and law enforcement agencies across the globe, including the German Army, the United Kingdom's Special Forces, and the US Special Operations Command (SOCOM).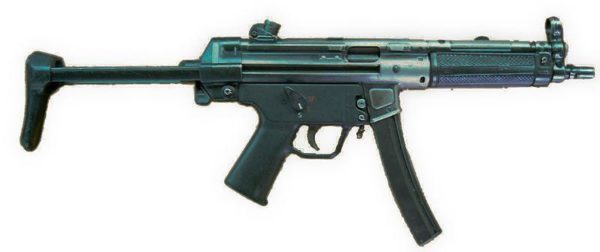 The original MP5 took 9x19mm rounds and was capable of firing full auto at a jaw-dropping rate of 800 rounds a minute.  The MP5's success spawned a number of different variations, including versions that fired 10mm and .40 S&W ammo.  
The most original civilian version of the MP5 is a semi-automatic pistol-caliber carbine called the HK94.  Since it was only manufactured between 1983 and 1989, you might have a hard time finding an authentic version floating around on the market.
The good news is that HK introduced a new generation of civilian MP5s in 2016 under the name SP5K ($2530).  While the price tag is a lot of money for an oversized 9mm, the SP5K is an excellent gun for defense and sporting purposes.
The "K" in SP5K stands for Kurz, the German word for short.  This is because it's a little shorter and more compact than its MP5 predecessor.  It also doesn't come with a buttstock like the MP5, but instead comes with a one-point sling and has a sling loop at the endplate of the gun.  However, if you're set on having stock similar to the MP5, you can pay extra for a foldable buttstock to be added to the gun.

One of the cooler features of the SP5K that is actually a step up from the MP5 is the removable Picatinny rail that's attached on the top of the receiver.  This makes mounting optics much easier than it would be for other MP5 variants, including previous civilian models and 9mm modifications.
While it may look a little different than the MP5, the SP5K is built with the same overall design as its combat-grade predecessor.  It has the same roller-locking bolt mechanism, non-threaded 4" barrel, and fluted chamber of the original MP5.  It also shoots just as smoothly, albeit a little bit slower.
If
you're into pistol-caliber carbines
, the SP5K is one of the best on the market.  It's accurate, easy to handle, and incredibly fun to shoot.  And with all HK products, you're guaranteed quality craftsmanship every time.
That's a Wrap
The truth is that we've only begun to scratch the surface of civilian conversions of military-grade firearms.  There are a number of different pistols, rifles, and carbines out there.  Which type of combat weapon is your favorite?
Interested in some more military gear you can own? You'll want to read How to Buy a Tank!
How about you, what military grade hardware do you love? Let us know in the comments!  And check out more of our favorite guns and gear in Editor's Picks.