Maybe you've heard that the US military is replacing the M16 and looking into new rifles and ammo.  Wondering why they're looking into 6.5 Creedmoor in particular? I've got you covered.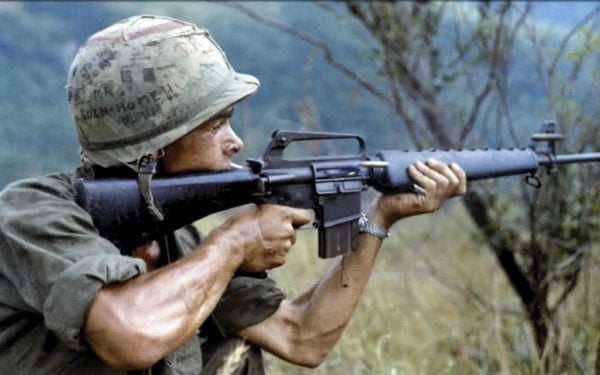 There are a couple things you should know about 6.5 Creedmoor and today, we'll put this round into sharper focus for you.  So let's look at it in more detail so that you'll see why it could work for the military and why it could work for you.
Table of Contents
Loading...
Creedmoor Kicks Ass & Takes Names at Long Range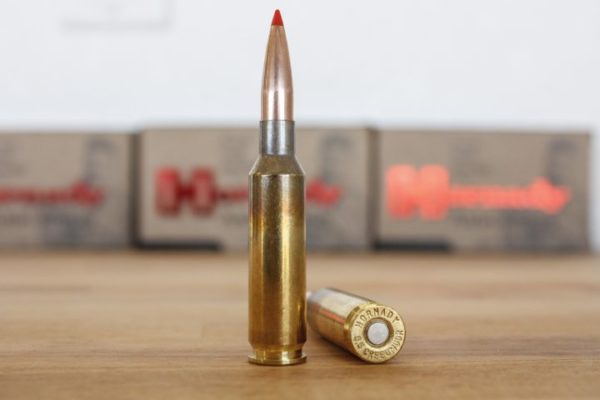 Right off the bat, it's crystal clear why Special Operations Command would and could turn to this cartridge as an alternative to existing ammo.  The cartridge was introduced in 2008 as one of the first and best cartridges for long range shooting.
At the time, there weren't a lot of civilians shooting long range, but in recent years, the company has seen demand grow, and grow as manufacturers continue to put out more and more affordable long range rifles.  Today, it is the go-to cartridge for many competitive shooters.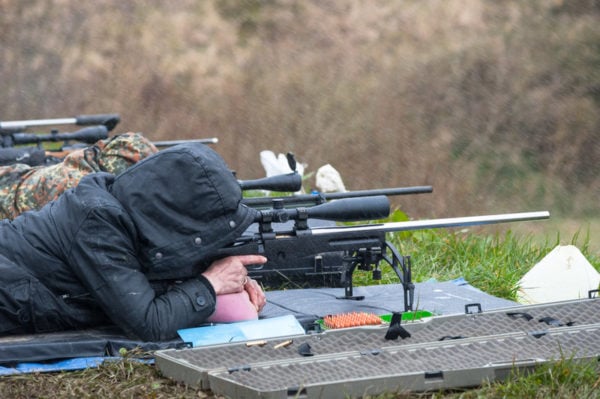 Obviously, long range shooting is something that is advantageous to those in combat and the military seems to be catching onto Creedmoor's awesome reputation for shooting close, precision groups at 500 yards or more.
And a bigger bullet means you'll do bigger damage to your target, whether your target's a terrorist or a Tazmanian devil.  Also, let's face it.  Our brothers in arms go through enough crap.  The last thing they need is hellish recoil.  If there's one thing you won't get with 6.5 Creedmoor, it's insane blowback.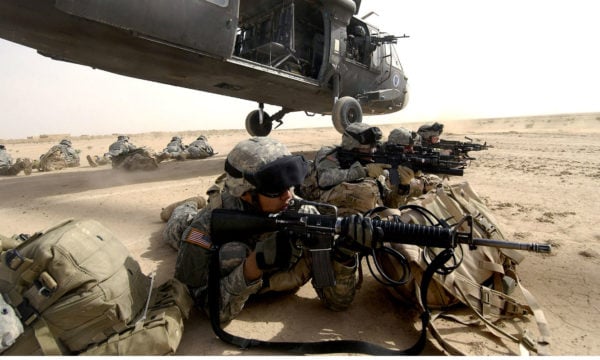 6.5 Creedmoor is specially designed to offer low recoil rounds without compromising pinpoint accuracy.  And another thing that the military should appreciate is how it goes subsonic after 1,300 yards if we base our findings on the speed of sound recorded at sea level.
When it comes to tactical applications, this one packs a serious wallop.
6.5 Creedmoor vs.  .308 Winchester
Now, many avid shooters will tell you that there aren't any real differences between 6.5 Creedmoor and the long-established .308 Win.  But those people would be ill-informed…sorta.  The truth is, they are very similar, but there are some key ways in which they differ.
For starters, there is the huge gap between the two when it comes to ballistics.  6.5 Creedmoor loads can reach one thousand yards with less than three hundred inches of drop with proper windage.  This is true of just about any ammo, particularly Hornady 178 grain HPBT, that is used with a 6.5 Creedmoor cartridge.  .308 Win doesn't hold a candle to that kind of figure.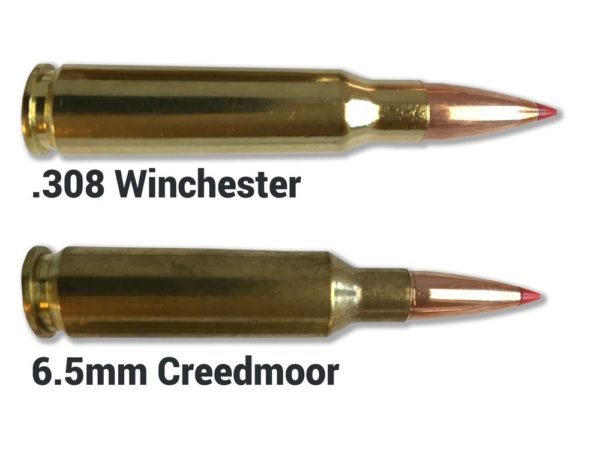 Another area in which 6.5 Creedmoor often bests .308 Win is in pure accessibility.  A lot of .308 ammo is out of stock when you visit the major online ammo dealers.  But if you run a search for Hornady 6.5 Creedmoor 140 gr AMAX, you'll get a bite.
And that's the other thing that is very good news for the military: there are plenty of dealers — large and small —  from which they could order 6.5 ammo in bulk.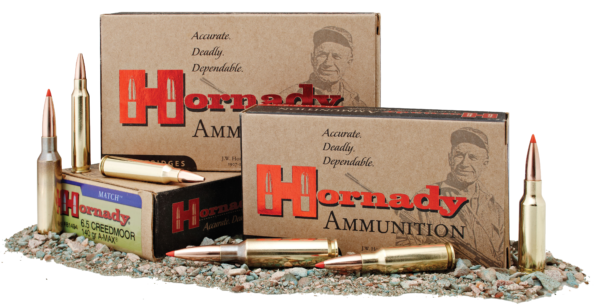 Some shooters like to gripe about barrel longevity, claiming that the 6.5 Creedmoor will only last for 2-3,000 rounds whereas the .308 Win will be good for as many as 10,000 rounds.  This is simply bogus since it all depends on whether you're shooting 1 MOA.  There's just no way that the .308 could be reaching that mark at 10,000.
If you're using it with a precision rifle or for seasonal deer shooting, you're going to go long ways with your 6.5 Creedmoor, no ifs, ands or buts…except the butt you put a bullet in.
And that's another thing.  Combat isn't always what it looks like in movies and on TV.  Those of us who have served can tell you that there are many days where you don't see much action and, even when you do, it's not necessarily a rapid fire situation.
If you're an active duty sniper, you're gonna get a whole lot more life outta your 6.5 Creedmoor than you would with the .308.  No doubt in my mind.
What's really crazy about the 6.5 versus .308 argument is the simple fact that 6.5 Creedmoor was specifically conceived to be a cartridge that would be superior to the wildcat cartridges of the day.  At the Civilian Marksmanship Program's 2007 National Matches at Camp Perry, Hornady engineer Dave Emary decided to remedy was he saw as a problem among competitive shooters.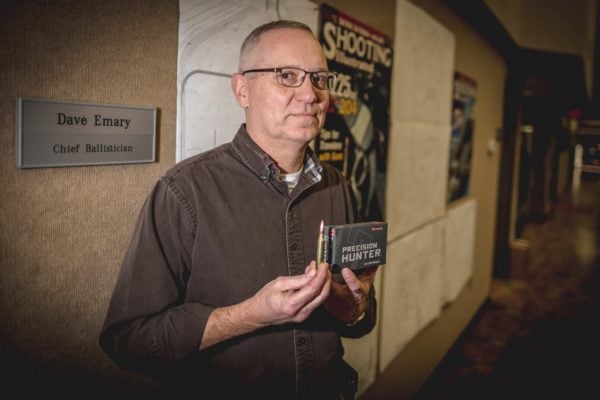 As Emary saw it, people were trying to push their cartridges to the limit, attempting to defy the laws of physics by brainstorming methods by which to get their cartridges to perform at levels they weren't made to.  Problems would then crop up as a result of these jeri-rigging formulas.
In Emary's own words, "People were having a lot of problems with functioning the 6mms.  They were running these things at very high pressures to try to get the performance they need to compete.
"Our solution was to go to a 6.5, firing a lot higher BC bullet, and not have to push it as hard to get what they wanted."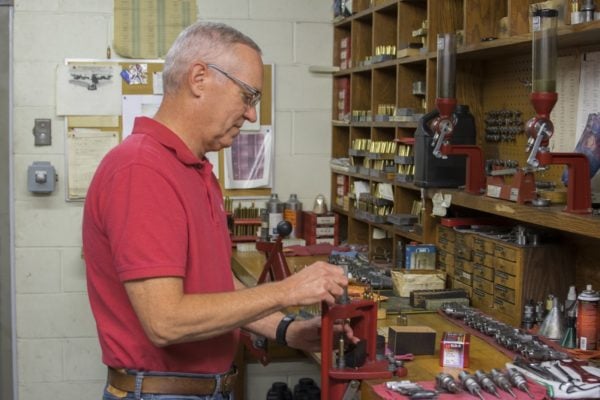 Emary and his team solved this problem by taking existing .264 cartridges and altering the specs, giving the cartridge the capacity for long-ogive, high-ballistic rounds.  Lo, the 6.5 was born, a short-action rifle cartridge capable of insane performance.
Make Your Hunting Experience a Happy One
Like I said earlier, this cartridge isn't just a slam dunk for the military should they end up choosing it over the others they've been testing.  It's also a damn good option for almost any civilian hunter or gun enthusiast.
Personally, I like to use it when I'm target shooting.  I use it with a Ruger Precision Rifle ($1,600) and I shred my targets to kingdom come.  The results are always incredible.  At long range, I've seen the CM leave 2.8 inches at five hundred yards.

But the advantages for game hunters is where this one really shines.  It's got a sick muzzle velocity due to its extra powder space and it's able to accommodate a wealth of different medium-burning rifle powders.
If you're anything like me, you wouldn't automatically think of long range shooting when it comes to big game.  After all, it's rather cruel to fire on an animal at a distance of more than 100-200 yards since the likelihood of a clean kill is pretty small.
That being said, it should also stand to reason that if 6.5 Creedmoor can take out a target at 500 yards, it's going to take care of business at 100 yards with no problem.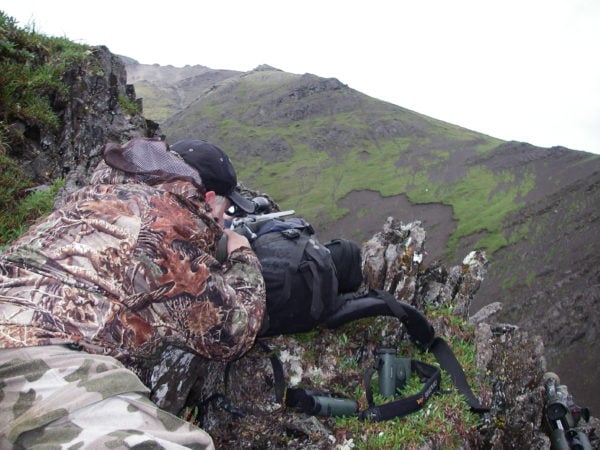 In my own experience, I've seen how this one can perform in more close quarters situations and I was every bit as impressed as I was when I hunted with the .308.  The round went right where I wanted it to and I bagged a deer without having to rechamber.  Like I said, clean kill.
Why 6.5 Creedmoor is Awesome for Target Shooting
Elementary, dear reader.  Better grouping and more affordable ammo make 6.5 Creedmoor a no-brainer for those who spend a lot of time at the firing range.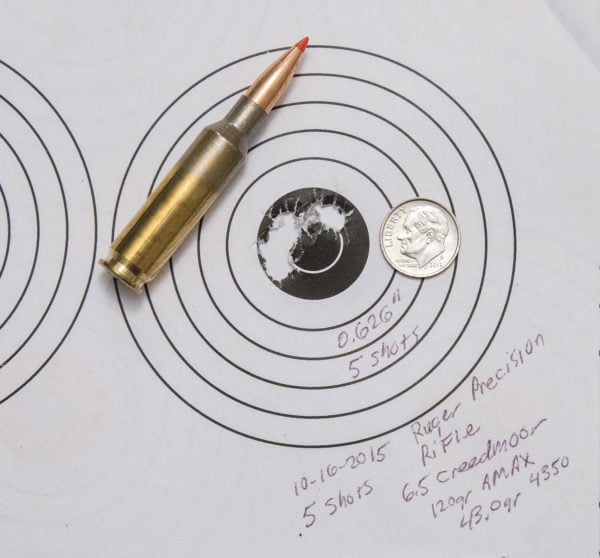 To put it into perspective, 6.5 CM 140-grain ELD match grade ammo sells for $27 for 20 rounds.  When we take into account the rising cost of ammo in the last few years and the scrutiny that many firearm and ammo companies have faced, 6.5 ammo maintains a reasonable price point and remains readily available.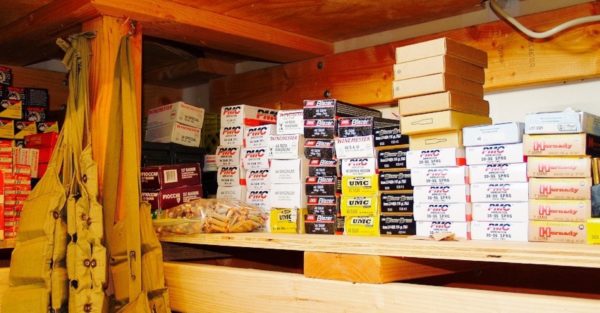 And when it comes to high-end ballistics, you can't beat these suckers.  The BC numbers on these bad boys are awe-inspiring (approximately .610 G1 at 140 grain).  If you're looking to impress, you really can't go wrong with the 6.5's remarkable 1,400 fps at 1,000 yards(!).
Things You Should Think About Before Going with 6.5 Creedmoor
Here's the deal: By now, you already know that 6.5 Creedmoor ain't no joke.  But before you run out to get your hands on it, it's important to consider a few things.
Ammo has its job and this one does it well, but for optimal precision, you'll want to invest in a quality scope.  One scope that I've found to be pretty exceptional is the Nightforce SHV 3-10X42mm optic.  It's great for long range engagements and it's more durable than similar models on the market.

6.5 Creedmoor would be nothing without a decent precision rifle.  While it has become a popular choice among lever action fans, there are plenty of other tactical rifles that are a good match for this one.  Some of my favorites include Savage's AXIS XP Stainless ($500) and American Built Arms' Howa Precision Bolt Action 22".

The AXIS XP is a bargain rifle that's as bodacious as it is budget-friendly.  A bolt action piece that packs a lot of punch, this Savage model blows other tactical rifles out of the water when it comes to accuracy.  It's got a synthetic stock that's corrosion-proof and Savage Arms' patented AXIS trigger.
The best part is, Savage Arms' rifles are designed for the hot-flat shooting 6.5 Creedmoor cartridge.
And here's the real kicker.  We were just talking about the necessity of a good scope.  Well, this one comes with a pre-mounted, bore-sighted 3-9x40mm Bushnell scope ($135).  If you're an avid shooter, you're doubtlessly familiar with the Bushnell's name.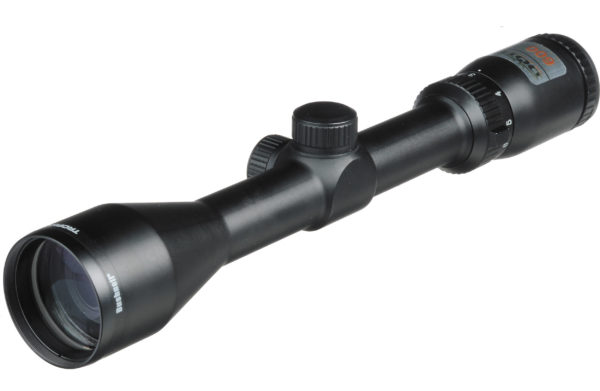 They've been in the game for a minute and their stuff is really something.  We're talkin' right-out-of-the-box goodness.
American Built Arms' Howa Precision Bolt Action Rifle is second only to the AXIS XP in my opinion.  While it doesn't come with a mounted scope, it does feature an adjustable Urban Sniper synthetic stock and a hard coat anodized aluminum chassis.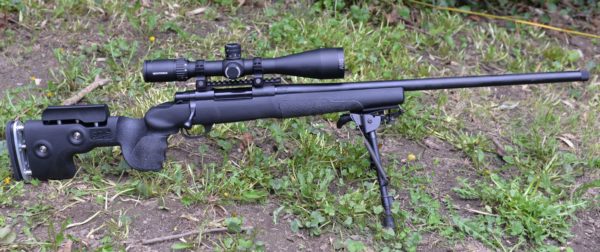 Whereas the AXIS XP is only 6.5 lbs, the Howa Precision Bolt Action Rifle is a bit heavier at 7.4 lbs, but it's still easy to handle and shoots like a dream.  It's got a Picatinny optics rail and a free floating KeyMod forearm.  A comfortable and accurate option all around.
Another important thing to keep in mind when purchasing any cartridge is maintenance.  If you're going to be participating in extended shooting sessions, you should always bring along the proper gear for cleaning your rifle and cartridge.  Maintenance will help you to sustain that pinpoint precision you're hoping for.
I always take my J Dewey Rods' Complete Bolt Action Rifle Cleaning Kit ($30) with me when I know I'm gonna spend all day at the range or out in the field.  The 6.5 kit costs around $30 and includes everything I need for proper upkeep.
You get a BAC Chamber Kit, a B-6.5 Bore brush, an M-22 Bore mop, a CH-308 Chamber brush and a 100 count of P-221 1 ½" Round Patches.
Closing Thou
ghts
So what's the bottom line? Quite simply, 6.5 Creedmoor is a formidable cartridge for tactical and target shooting applications alike.  
At the end of the day, the battle between 6.5 Creedmoor and .308 Winchester will wage on, but I think it's clear that 6.5 Creedmoor isn't going anywhere.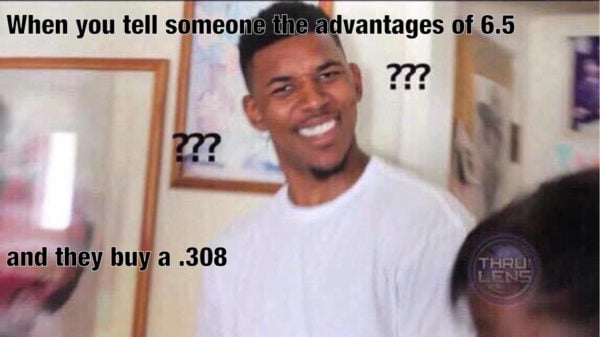 If anything, it's only going to continue to grow in popularity as more and more long range shooters embrace it.