Time to cut through all of the chatter.
The .300 Blackout (BLK) has been called everything from the 5.56 killer to the black mamba.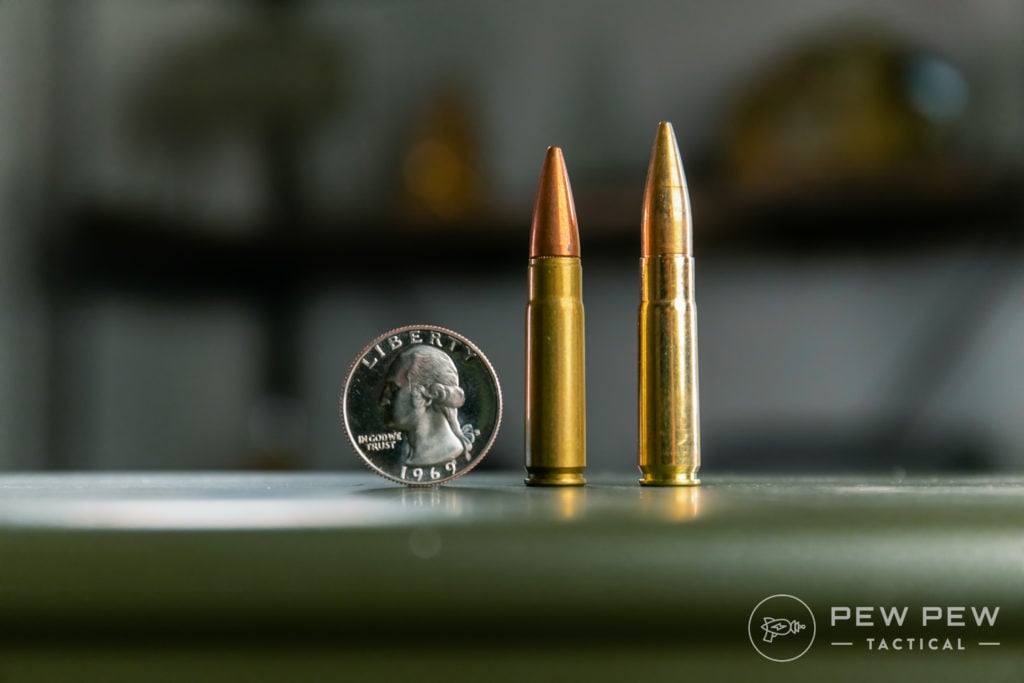 Designed by Advanced Armament Company as a replacement for the MP5SD, a 9mm sub-machine gun favored by special ops, it had to have more power, same sound level, and compatibility with the M4/AR-15.
The .300 BLK did exactly that…and gave civilians a serious upgrade for the AR-15.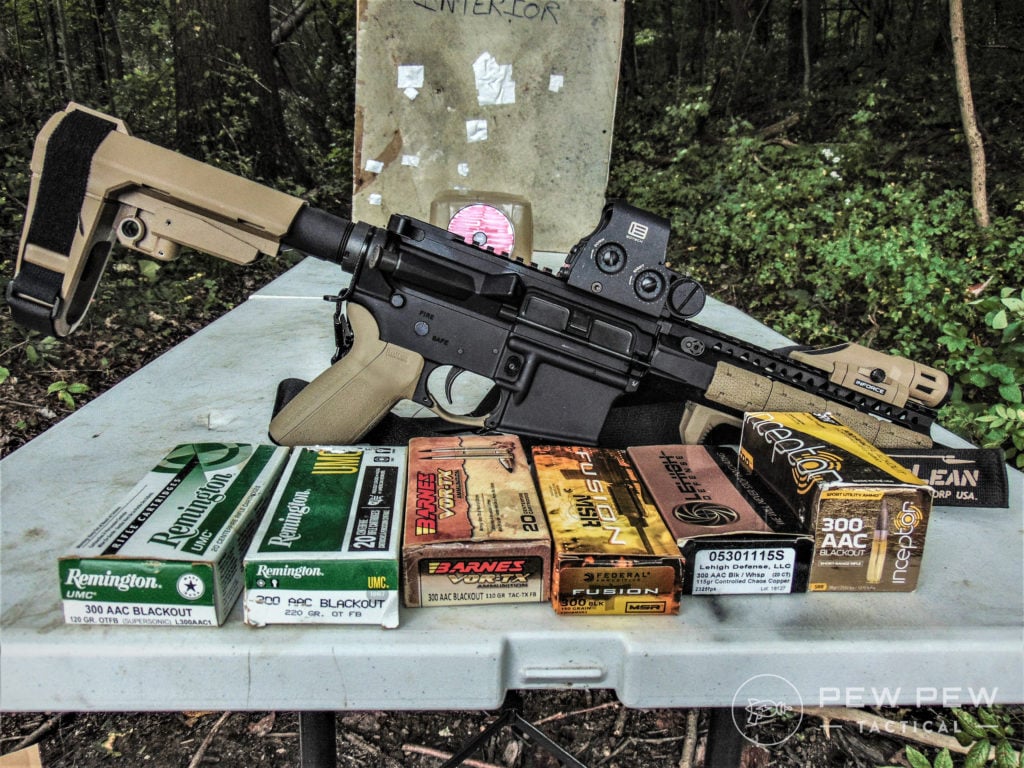 But should you consider an AR or upper chambered for .300 BLK? What are the pros/cons?
We'll walk you through the ballistics, cost, and real-world power of the .300 BLK vs 5.56/.223. And then we'll wrap it all up with some of our favorite .300 BLK uppers, rifles, and ammo.
So, if you've ever caught yourself pondering the .300 BLK…keep reading.
How .300 BLK Came to Be & Why It's Stayed
The .300 BLK has its origins in the .300 Whisper, a round designed…as the name suggests…to be shot suppressed.
The case is formed by stretching out the case of a 5.56mm NATO and trimming it down slightly.
It is then stuffed with fast-burning powders and any number of bullets weighing from 110 to 220-grain.
Voila!
What you have now is the ultimate short-range thumper that will feed both supersonic and subsonic ammunition and get its full ballistic potential (complete burn of the powder) from a 9-inch barrel.
The .300 BLK is really what two long protracted wars in the Middle East have taught us about the modern gunfight.
You need a hard-hitting, short, light, and quiet, gun that will own 0 to 300 yards.
The AR-15/.300 BLK combo does this markedly better than the 5.56 NATO.
Why You May Want a .300 BLK Upper/Rifle
The .300 BLK has easily been the most successful new caliber in the last 20 years.
Besides the easy conversion between 5.56 and .300 BLK, the .300 BLK does a lot the 5.56 can't.
First off, it's a very versatile load with projectiles weights ranging from 110 grains to 220 grains.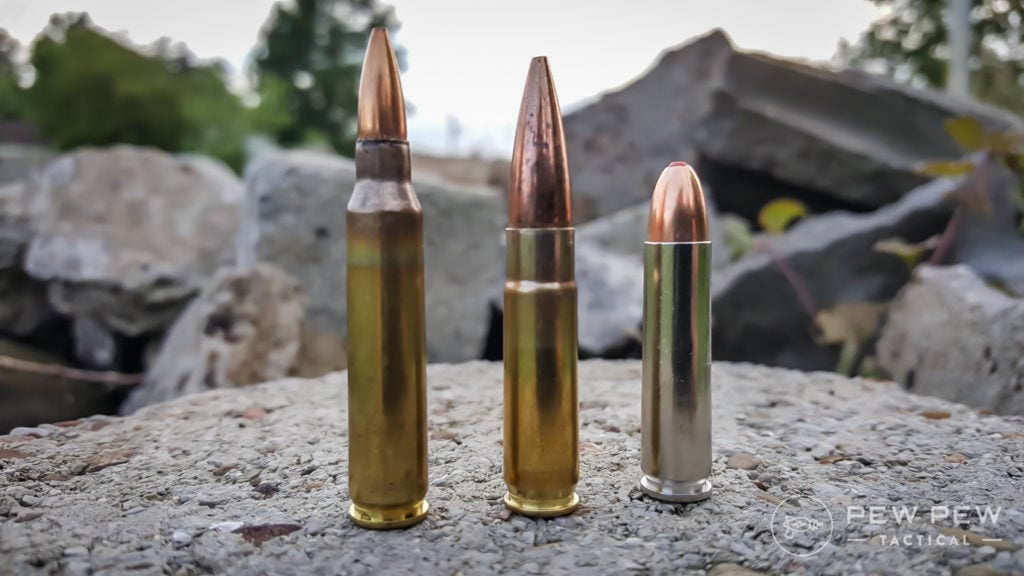 The 110-grain rounds are supersonic, and the 220 subsonic.
A subsonic round is much easier to suppress, and much quieter when suppressed. The .300 BLK also reaches peak ballistic potential from a 9-inch barrel.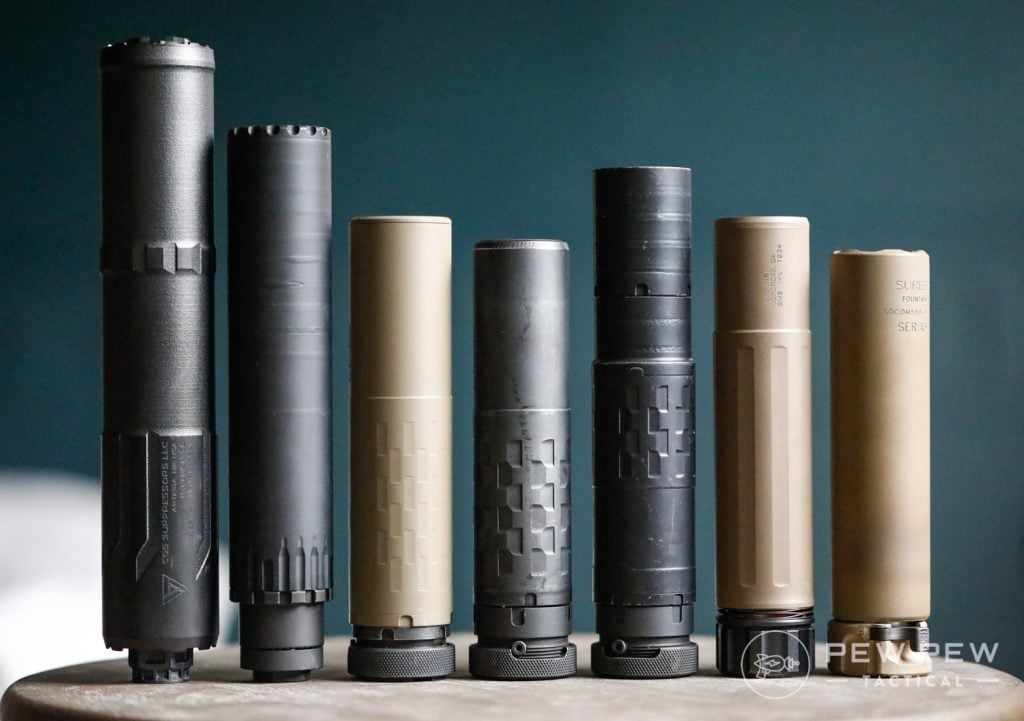 The 5.56 requires a 20-inch barrel to reach peak ballistic performance.
.300 Blackout vs. 5.56 NATO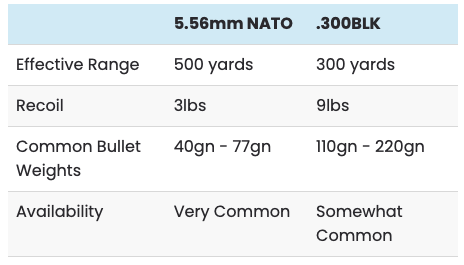 Strengths & Weaknesses
Both .300 BLK and 5.56 NATO are intermediate-class rifle cartridges for target shooting, hunting, home defense, and plinking.
The 5.56 is half the cost of 300 BLK and is available in more high-end loading suitable for precision rifle fire.
It also shoots flatter, experiences less recoil, and ammunition weighs about 40% less.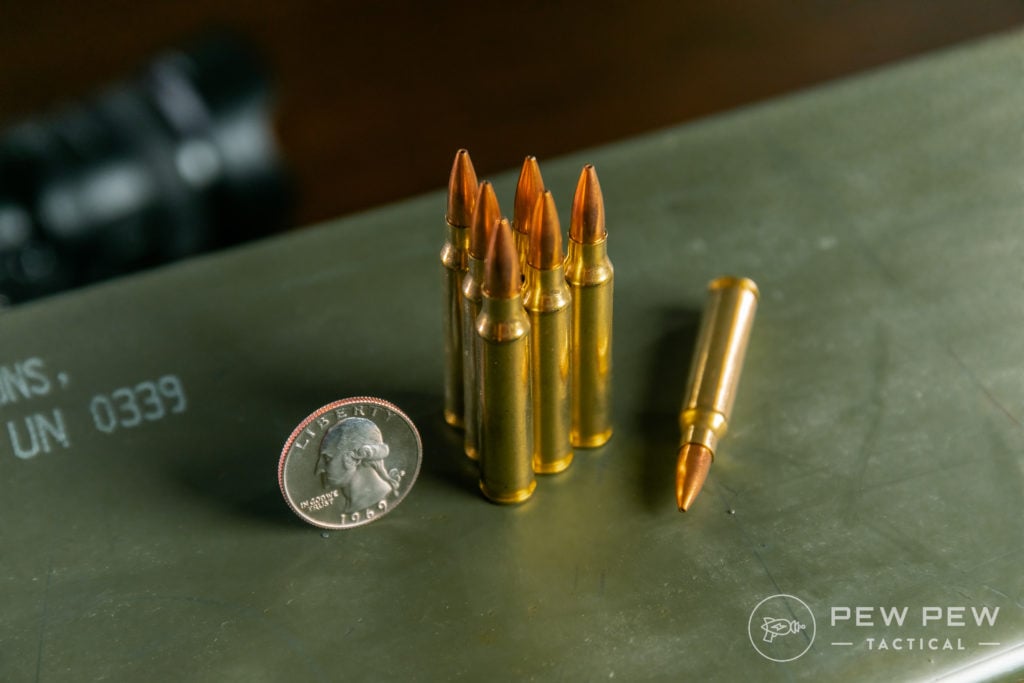 The .300 BLK offers a wider range of projectile choices, thanks to the .30 caliber bore, burns its full potential in a 9-inch barrel, and is a much better choice for hunting.
It also has the ability to cycle both super and subsonic ammunition without modification.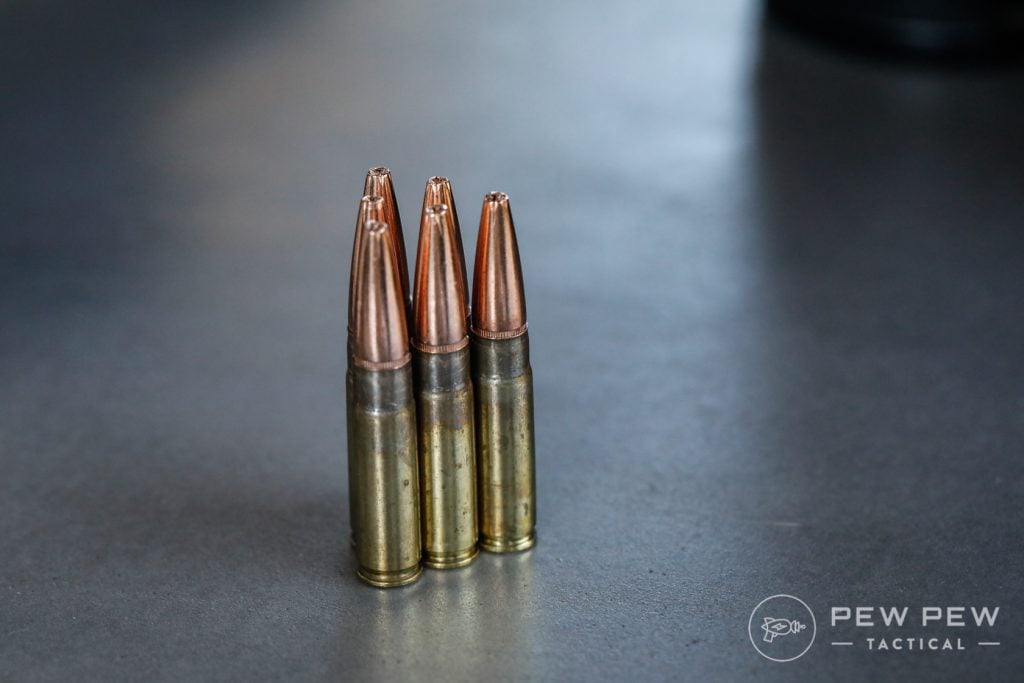 The .300 BLK also shows its strengths when short-barreled rifles and silencers are involved.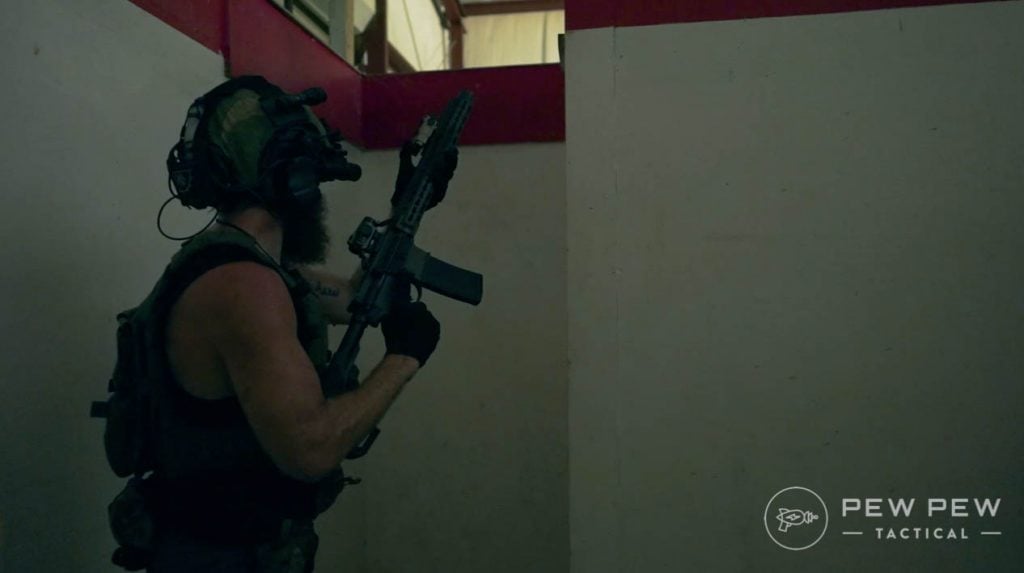 For a duty rifle that will conduct CQB work, this cartridge is a godsend.
Exterior & Terminal Ballistics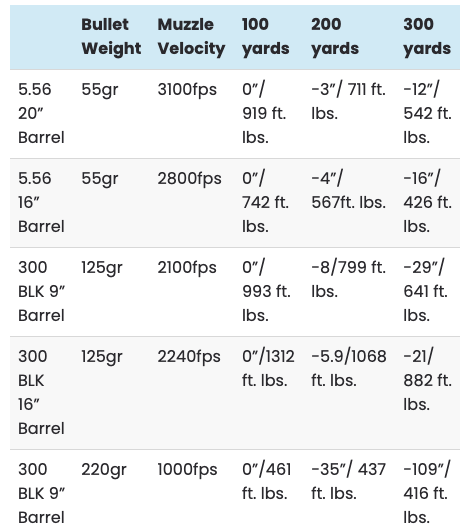 In the table above you can see the compared ballistics of both the .300 BLK and the 5.56 NATO.
It shows the barrels that the cartridges were designed around…20-inches for the 5.56, 9-inches for the .300 BLK, and the most popular civilian barrel length of 16-inches.
Exterior Ballistics
Exterior ballistics are the qualities associated with how a projectile flies through the air — wind drift, bullet drop, and zero range all fall into this category.
You can see above that the 5.56 is significantly flatter than the .300 BLK in flight. This is due to a faster velocity.
The .300 BLK uses bullets with a higher ballistic coefficient but isn't moving fast enough to take advantage of its sleeker projectiles.
This is why the 5.56 shoots flatter and with less wind drift despite having almost half as much energy.
Terminal Ballistics
Terminal ballistics of a round are the qualities it has when it hits the target.
The round's sectional density, the relationship of its mass and its weight, its ability to penetrate rather than fragment, and the wound channel it creates due to its bore size are all the study of terminal ballistics.
It's important to note that while energy numbers can give you an idea of power, it's only a single data point.
To the untrained observer, the .300 BLK seems to have the edge in terminal ballistics.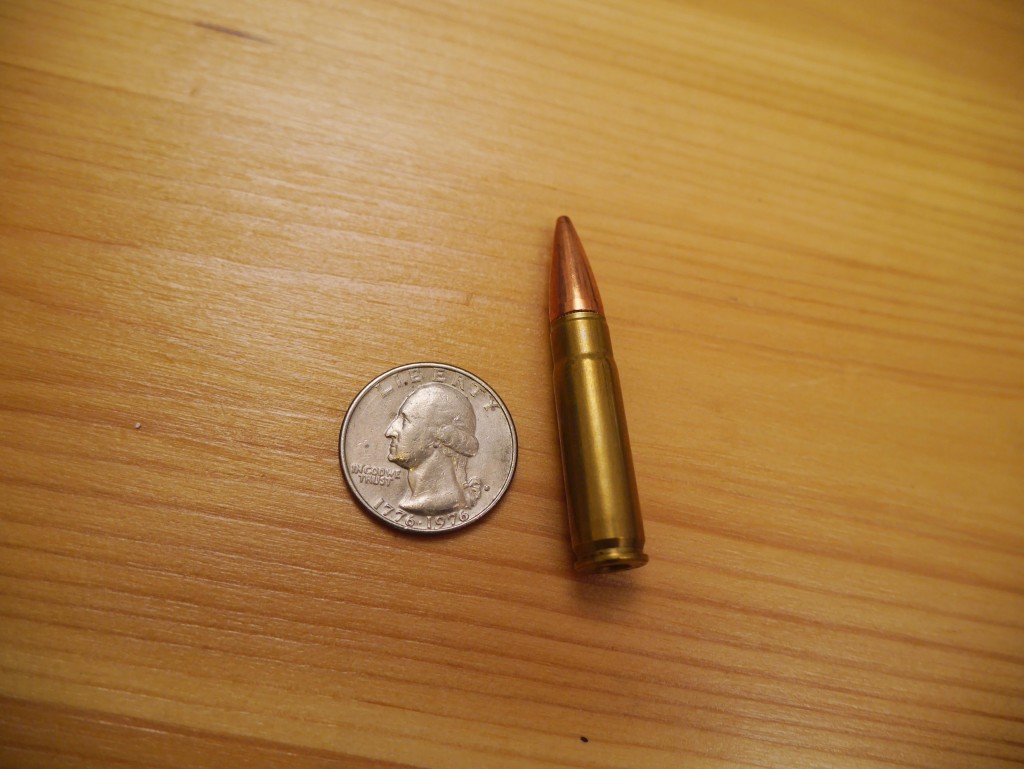 The stouter bullets, with more mass of a larger caliber, seem to be the more effective round.
While the .300 BLK does have slight obstacle defeating capabilities it isn't markedly better in performance than the 5.56 with the correct loading.
Modern bullet design is closing the gap between calibers and making the smaller bores more and more effective.
Additionally, the 5.56mm NATO was designed to break up, tumble and flip end over end when it encounters a target.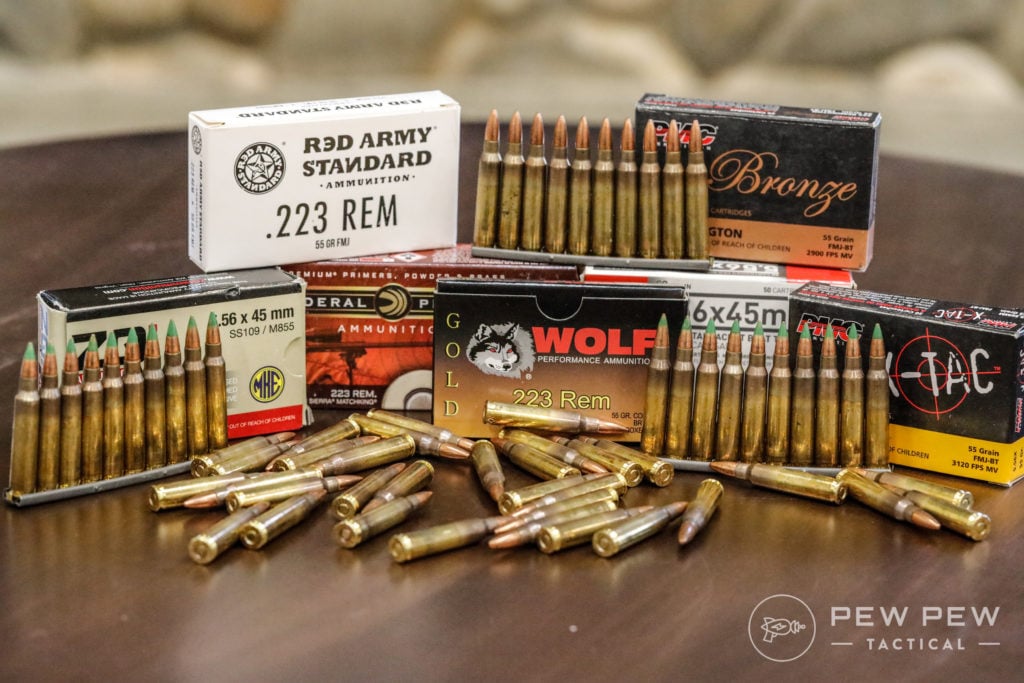 This is called high-velocity projectile fragmentation and deformation.
As far as a clear-cut winner goes…it entirely depends on what you want from the round.
General Shooting
Target shooting, training, or informal plinking, shooting is just plain fun.
It can get expensive so go with 5.56 NATO.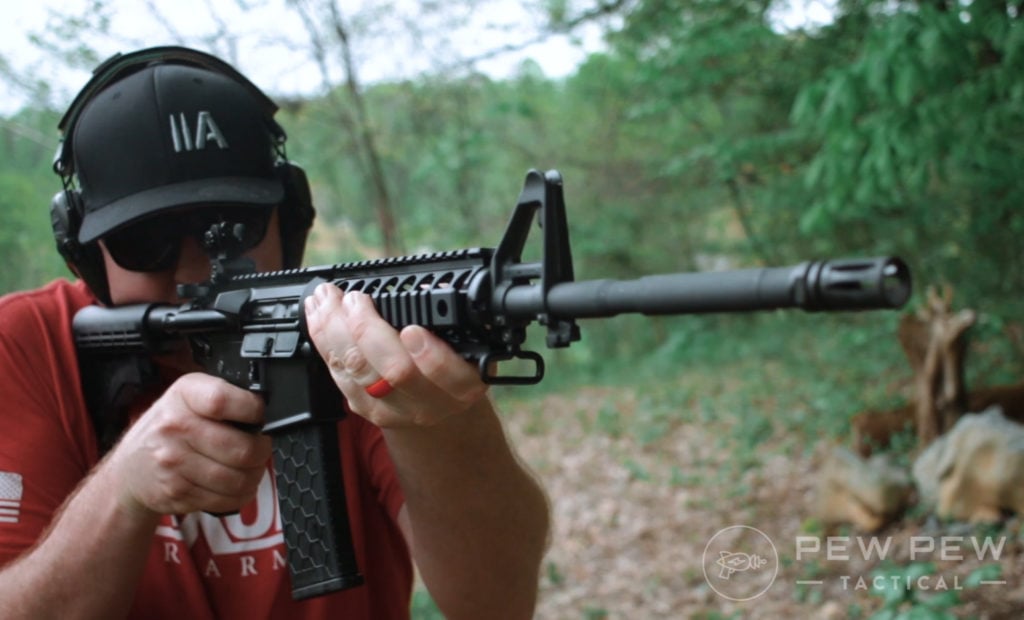 The .300 BLK's benefits just aren't needed when all you're doing is punching paper.
Look for bulk cheap 5.56mm and use it. You can always switch to .300 BLK when the time comes.
Home Defense
Your home is your castle and for keeping the peace you should walk softly and carry a rifle.
.300 BLK and 5.56 both have their pros and cons and what's best for one person, may not be the best for another.
The best selling point for .300 BLK is that it can be used with a suppressor and a short barrel — both of which are great for home defense.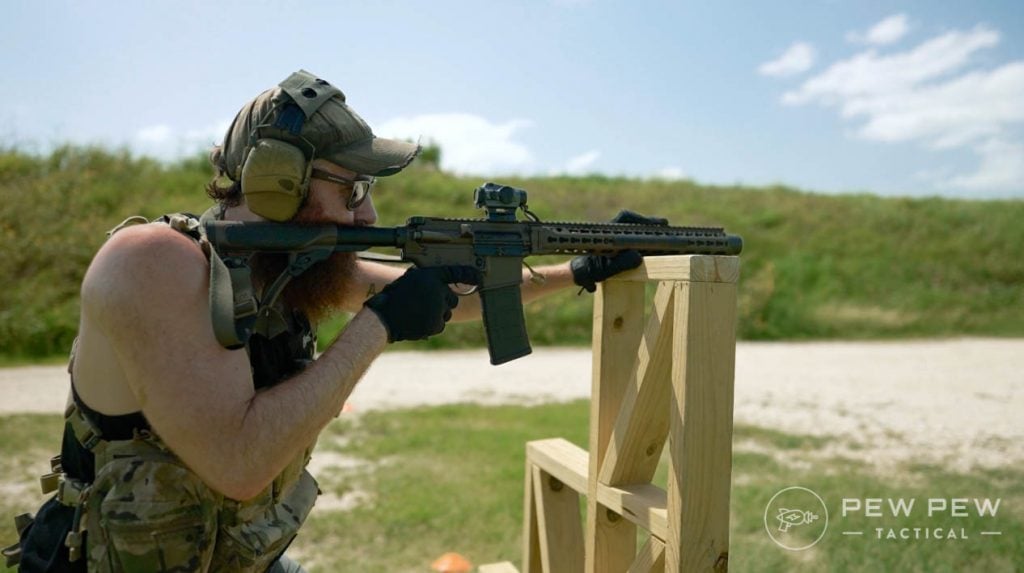 A short barrel makes it easier to move around your home and a suppressor protects you and your loved ones' hearing.
That said, a major downside to .300 BLK in home defense is they have a lot of barrier penetration. Meaning that if you miss (or even if you do hit your target) there is a very good chance those rounds will carry through the wall.
Over penetration makes .300 BLK a very poor choice for anyone living in an apartment.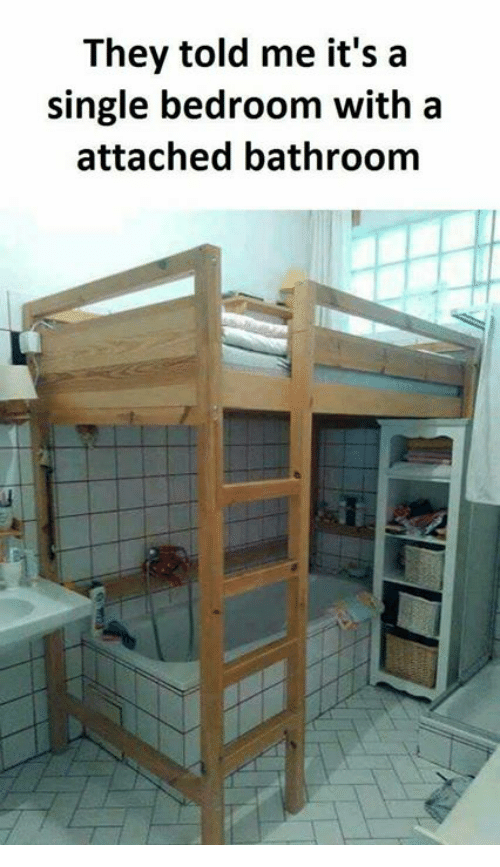 On the other hand, 5.56 has poor barrier penetration (it will still go through several layers of drywall, but loses effectiveness much faster than .300 BLK).
So it might be a better fit for apartment living.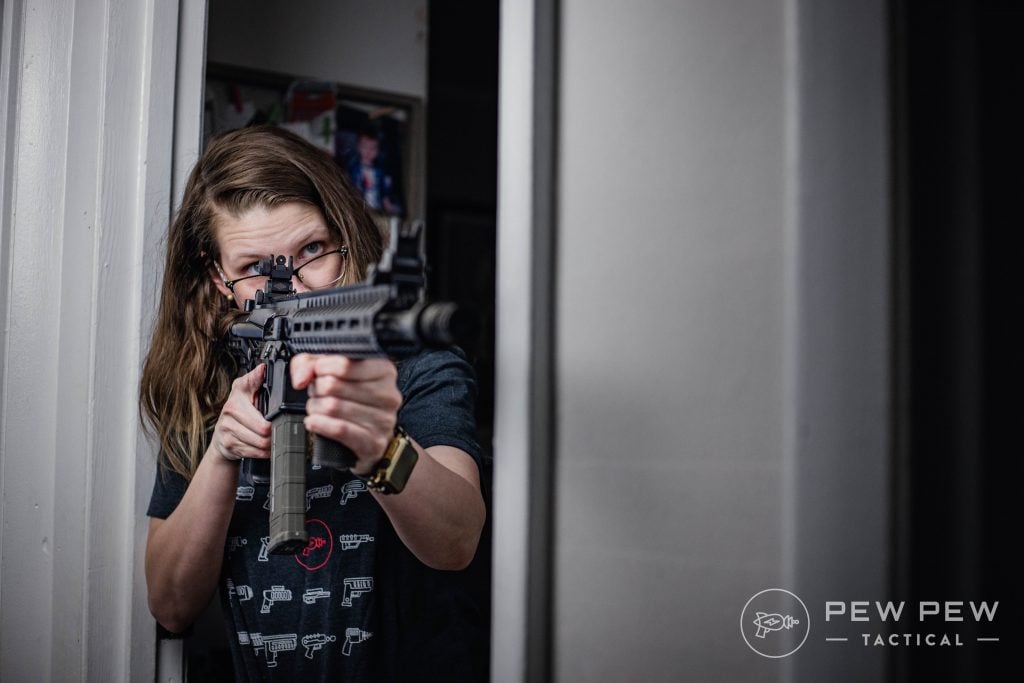 Hunting
With modern bullet designs, the gaps between the power of calibers are shrinking.
But what you're hunting and the range are the primary factors when choosing a hunting round.
If your quarry will include only small game, predators, or mid-sized deer at ranges inside 100 to 150-yards then go for the 5.56.
If you plan on hunting medium or large game — such as deer, hogs, or smaller bears — the .300 BLK is far superior.
The extra mass gives more reliable penetration than the 5.56. And the typical hunting ranges of these animals mean that the slight disadvantage of the trajectory is negligible.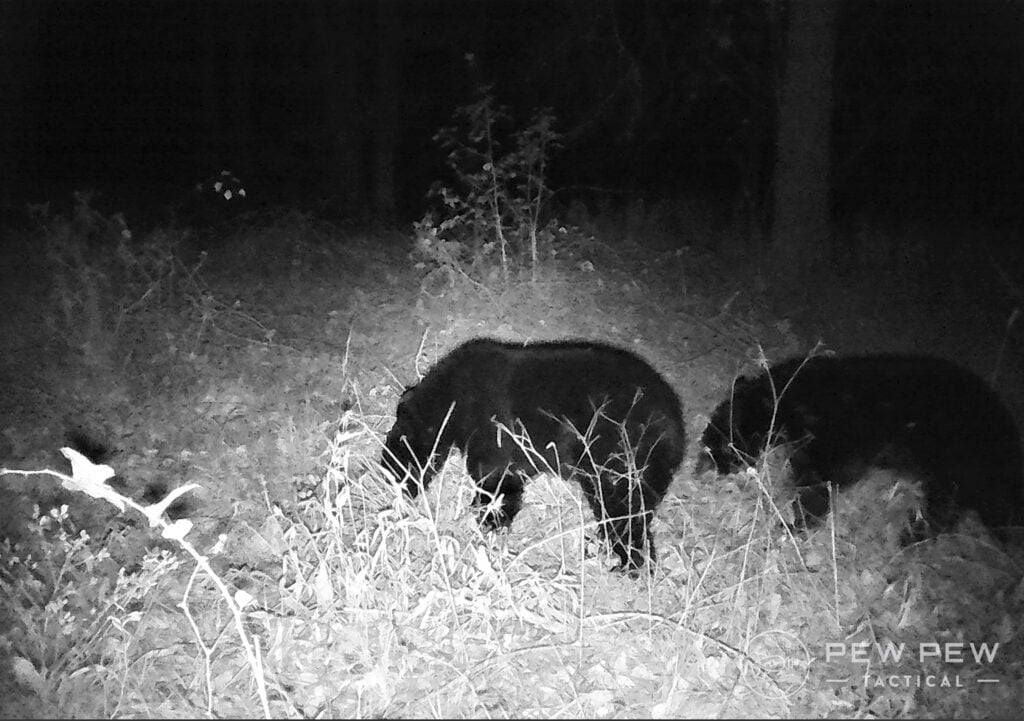 However, if you're looking to hunt any game at distances greater than 150-yards or game larger than an above-average whitetail — you should look at cartridges with a little more oomph to ensure ethical kills.
SHTF
Shoot both!
Uppers available for cheap online can make your weapons much more versatile.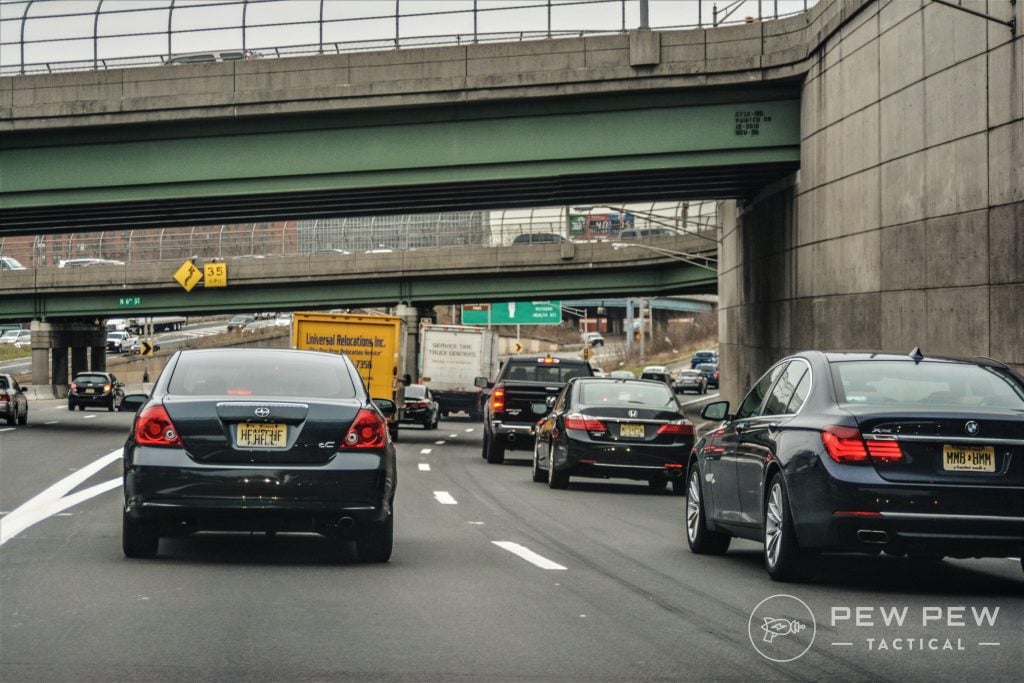 Because the .300 BLK is derived from the case of the 5.56, all you have to do to switch caliber is change the barrel. In an AR-15 the best way to do this is to get a second upper receiver.
Keep all your mags, high-quality bolt, lower receiver, and take advantage of both cartridges.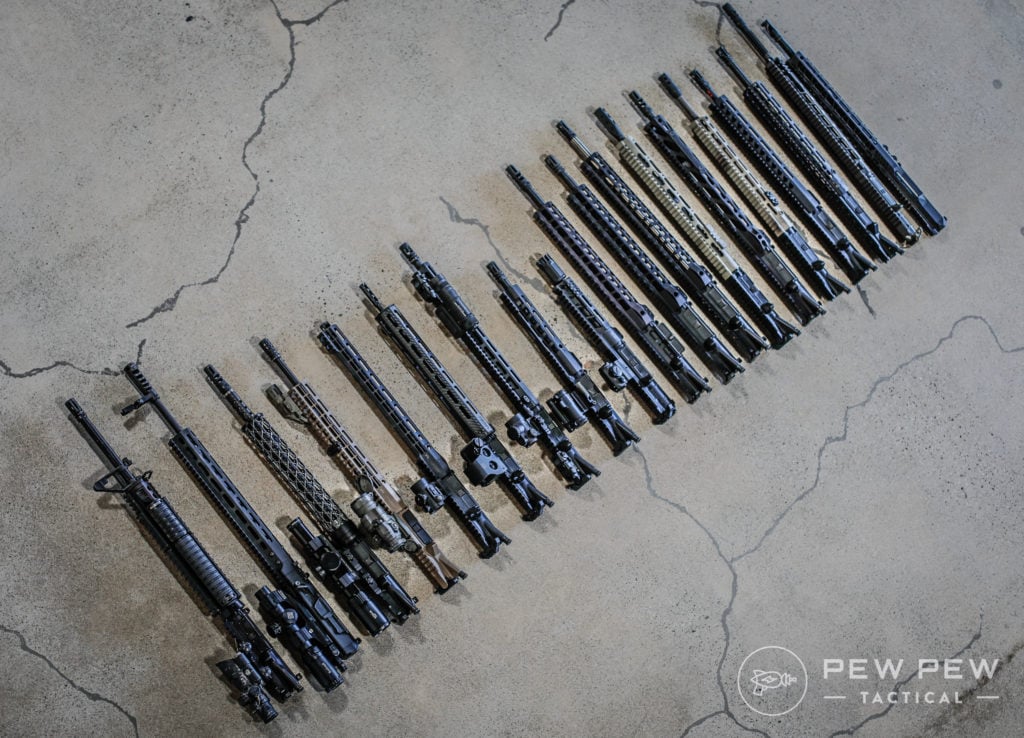 Want some generic upper recommendations? Check out the Best AR-15 Uppers. But if you're after the best .300 BLK uppers…keep reading.
Best .300 Blackout Uppers
Palmetto State Armory
PSA makes a huge range of items for the AR-15 platform, and for that matter the AR-10 also.
One of the many things they cover is the .300 BLK in uppers of all sizes, from 7.5-inch barrels all the way to 16-inch barrels.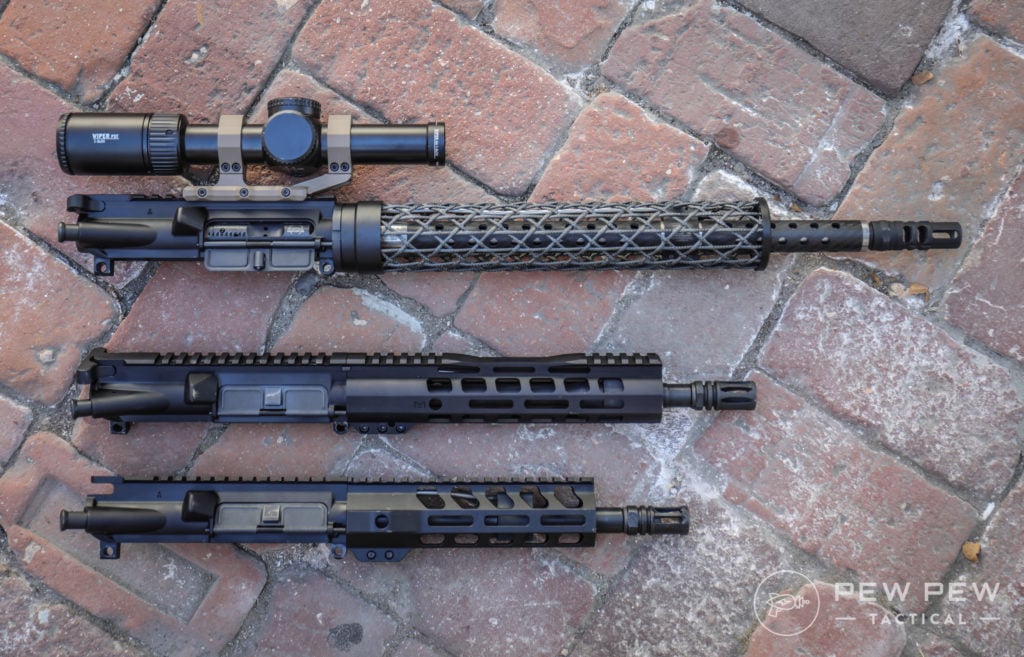 No matter what kind of build you want to create, you can find the upper for it from PSA.
PSA is also, generally, one of the most budget-friendly options. Especially if you snag an upper off of one of their frequent daily, weekend, or weekly sales.
What do you think of the PSA uppers? Drop a rating below.
Aero Precision M4E1
Aero Precision is one of the best companies out there for modern, high-quality AR components. The M4E1 comes available in 8-, 10-, and 16-inch barreled options.
A 10-inch barrel on an AR pistol or a short-barreled rifle is perfect for the .300 BLK.
The uppers all feature different length handguards, that accommodate the mounted flash suppressor.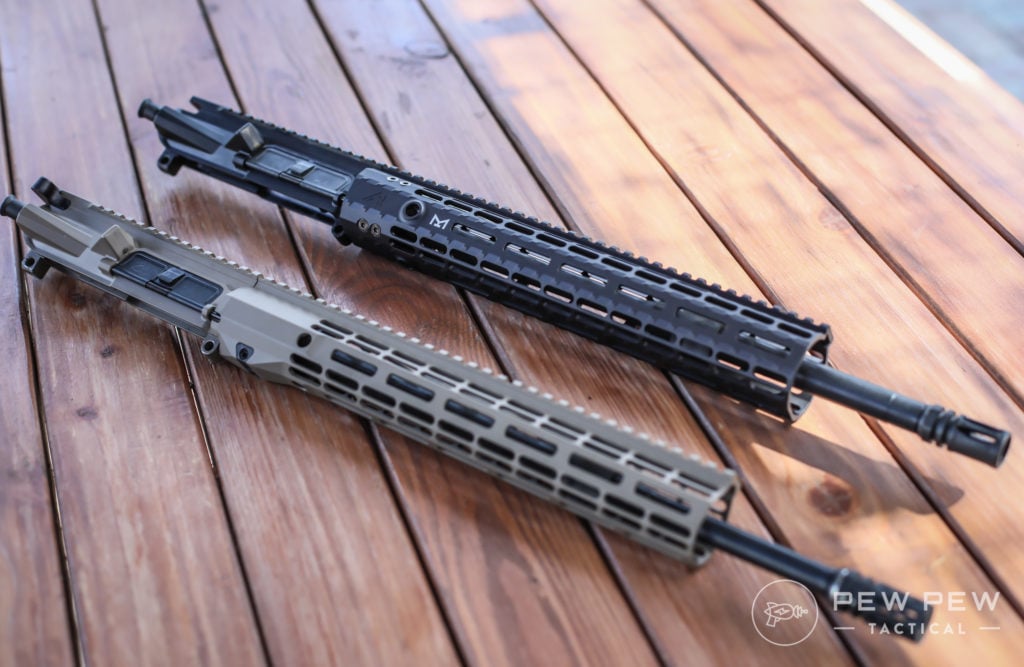 Barrels are all equipped with a standard A2 muzzle brake that's proven efficient and effective.
The muzzle device isn't fixed, so you can easily attach muzzle devices of your choosing, including a suppressor.
You got a flattop upper as well for all your optic priorities.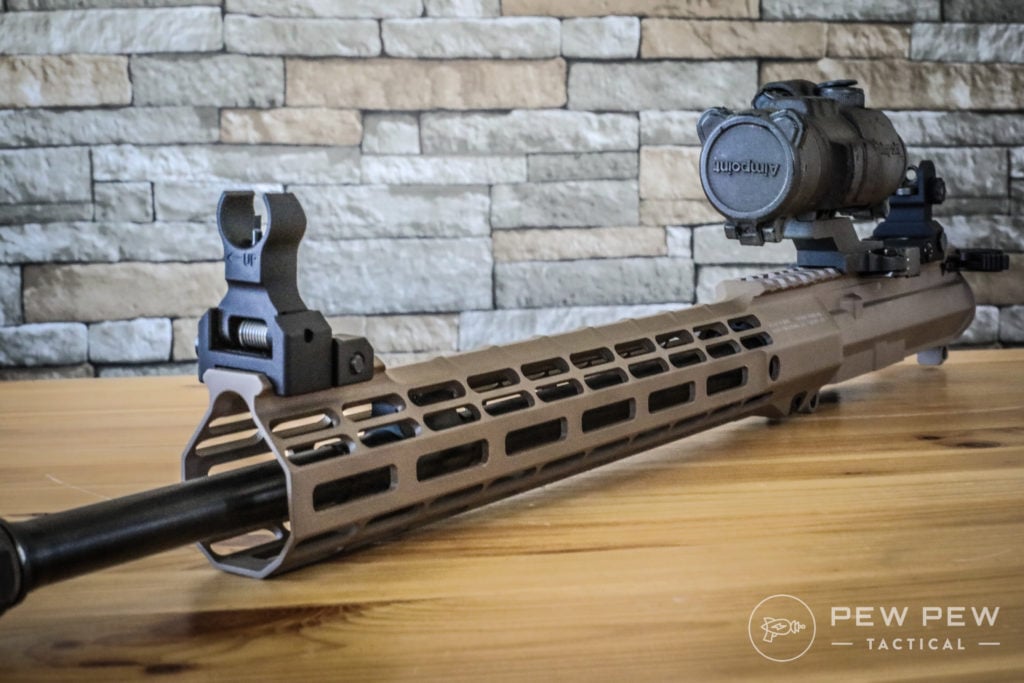 The uppers all sport a pistol-length gas system that works perfectly with the .300 BLK round.
These uppers are outfitted with Keymod rail systems for easy accessorizing.
Aero makes gear that works, and these uppers are perfect for your next .300 BLK build or to convert your 5.56 rifle.
We also love Aero's 5.56 uppers, so check out that review.
Radical Firearms .300 Blackout Uppers
We all have a budget to live and die by and recognizing that I'd suggest any of the .300 BLK options from Radical Firearms.
These wallet-friendly uppers lack a BCG and charging handle, but they'll take any standard AR BCG and charging handle.
They range from 8.5-inch barrels to 16-inch options. Radical firearms also produce their uppers in a wide variety of configurations. You can pick and choose between Keymod, MLOK, or quad rails.
They are mil-spec, and all feature flat top uppers, forwards assists, and threaded barrels.
These uppers aren't the fanciest, but they work.
VLTOR Polylithic Upper
This proprietary system features a single-piece upper and rail system that is durable and strong.
The rail is of course free-floating and uses a Keymod system.
This kit does require a proprietary barrel wrench, but it is included with the upper. To install a barrel there is a small access hatch at the bottom of the rail system.
The VIS offers a strength-to-weight ratio that is unmatched in the industry.
I'm trying not to fanboy, but if VLTOR is good enough for John Wick it's good enough for me.
Best .300 BLK Complete AR-15s
Uppers are one thing, but what about complete firearms? Of course, we have to add a few of our favorite .300 BLK blasters.
The Honey Badger
The Honey Badger is the .300 BLK coming full circle. Kevin Brittingham helped bring the .300 BLK into the mainstream while he was at AAC.
Now that he runs Q, he's developed the Honey Badger which might be the most purpose-driven .300 BLK on the market.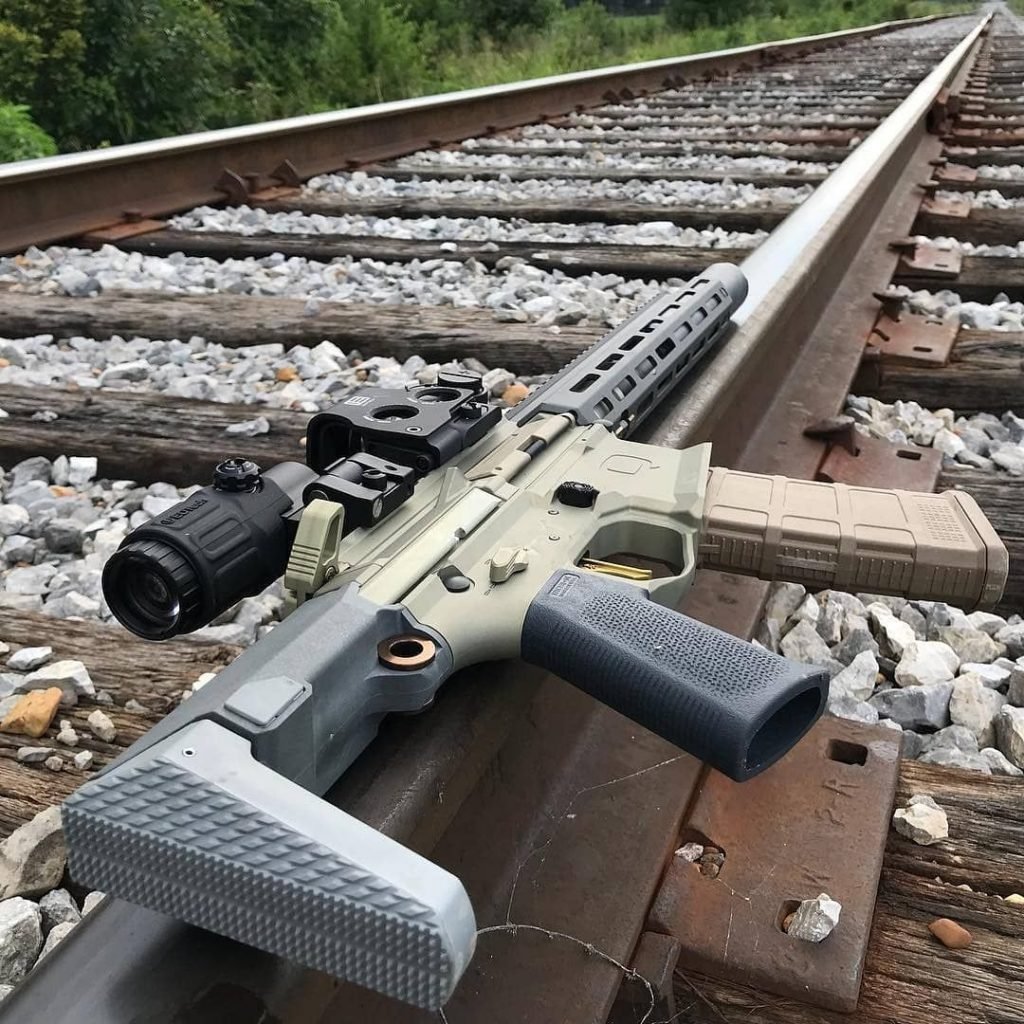 The joy of the .300 BLK is the fact you can have an SMG-sized weapon with a suppressor that offers rifle-like performance.
Q's Honey Badger is just that.
This AR pistol offers shooters a high-quality AR variant that keeps things light, short, and quiet.
As they say, the Honey Badger don't care.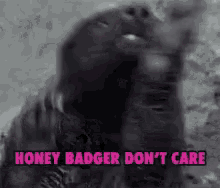 It's a well-made, premium-made package right out of the box. We get a Q-designed PDW stock that still finds a way to provide a cheap rest on top of being super compact.
The 7-inch barrel is topped with a "Quiet Ass Silencer" and the entire package is smaller than an MP5SD.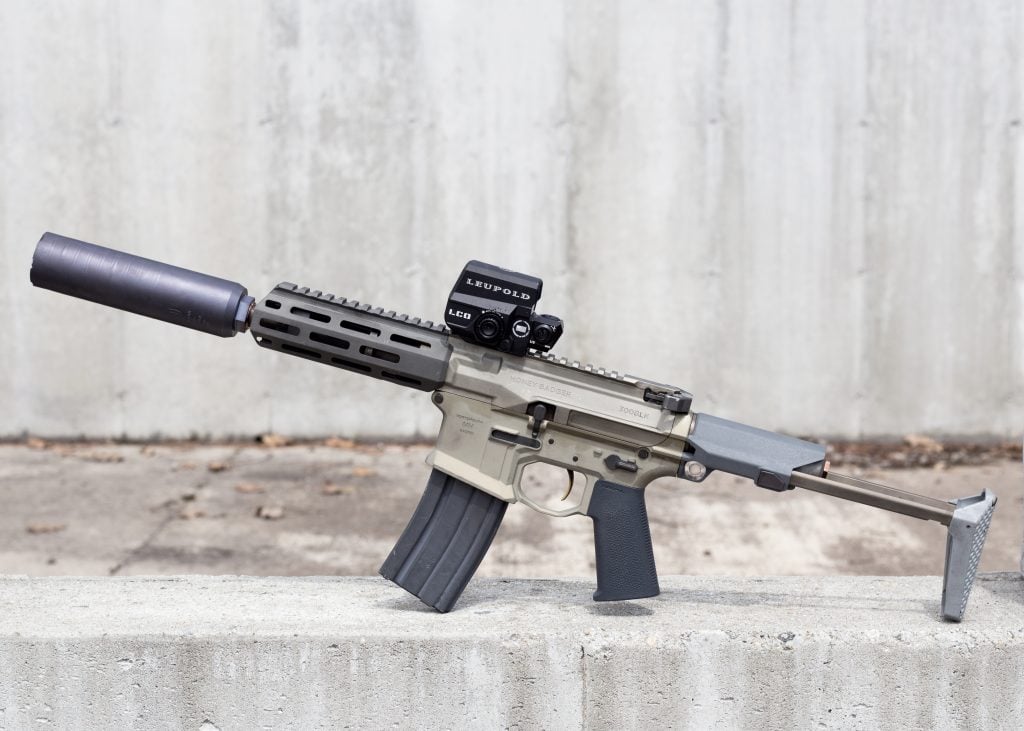 On top of all this, we get an amazing trigger, an adjustable gas block, a 70-degree safety selector, and an M-LOK handguard.
From the ground up this two-stamp blaster is an outstanding option for those who don't mind dropping the funds to get a very high-end, premium-grade rifle or pistol.
Daniel Defense PDW
Daniel Defense has long been a premium manufacturer of AR-type rifles and the PDW is far from their first .300 BLK rifle. However, the little DDM4 PDW is their first PDW and super short AR build.
The PDW comes as both a short-barreled rifle and a brace-equipped pistol.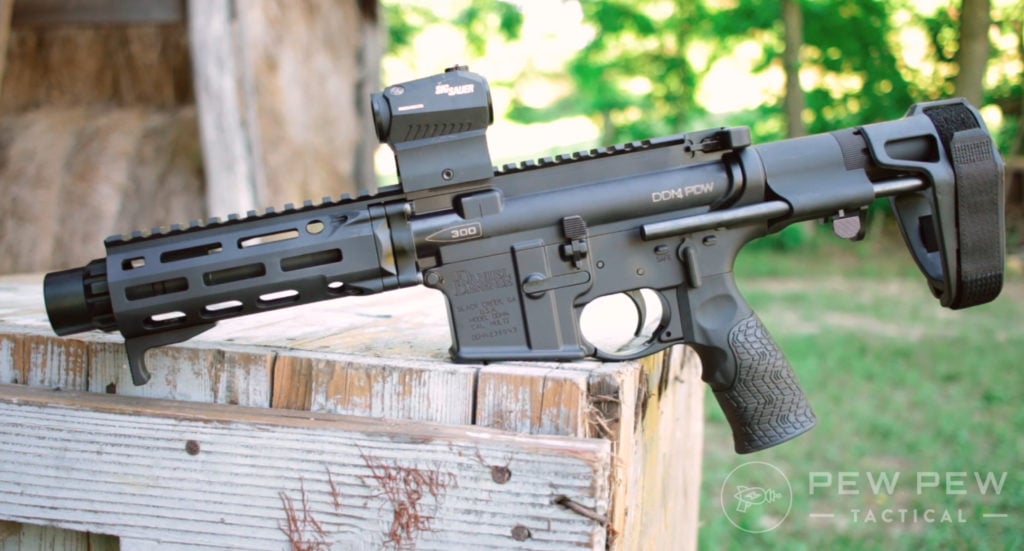 Coming in hot with a 7-inch barrel and collapsing PDW style brace or stock from Maxim Defense, the DDM4 PDW keeps things ultra-short and very compact.
It's SMG-sized but hits hard with a .300 BLK round. The 1:7-inch twist ensures the rifle functions well with both supersonic and subsonic rounds.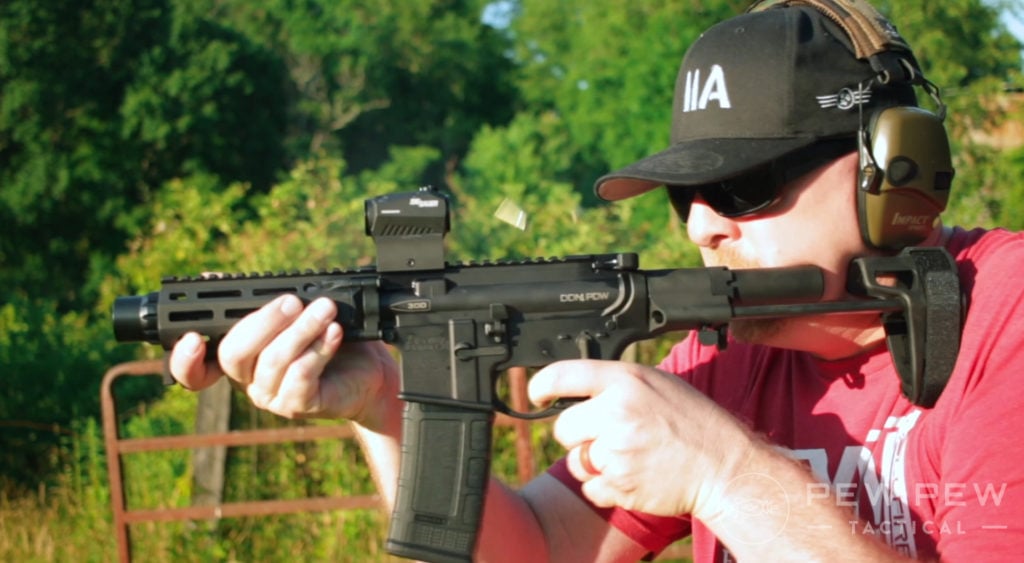 At the end of the barrel, we get a blast can for diverting blast, and a threaded barrel for attaching the suppressor you want for such a small .300 BLK platform.
With a 7-inch barrel, the addition of a suppressor still keeps the gun shorter than most carbines.
A super short 6.75 M-LOK free-floating rail gives you a little room for accessories. Beyond a light and optic, you might have trouble attaching the kitchen sink.
However, it's a rail stable enough to mount a PEQ system without worrying about a wandering zero.
Like any other Daniel Defense platform, the DDM4 is well made, highly reliable, and comes complete with enhanced ergonomics including ambi safeties and an ambi charging handle.
Johnny did a review on the DDM4 PDW so be sure to check that out or watch the video below.
Maxim Defense .300 Blackout PDX
If you want to go even smaller than the above options, then Maxim Defense has you covered.
The PDX came to be from a SOCOM solicitation for a PDW-style firearm. When SOCOM wanted it short…Maxim Defense listened.
It brings a 5.5-inch barrel and an overall length of 18.75-inches. At 5.11 pounds, the weapon weighs less than most SMGs. The Maxim PDX comes as either an SBR or a braced pistol.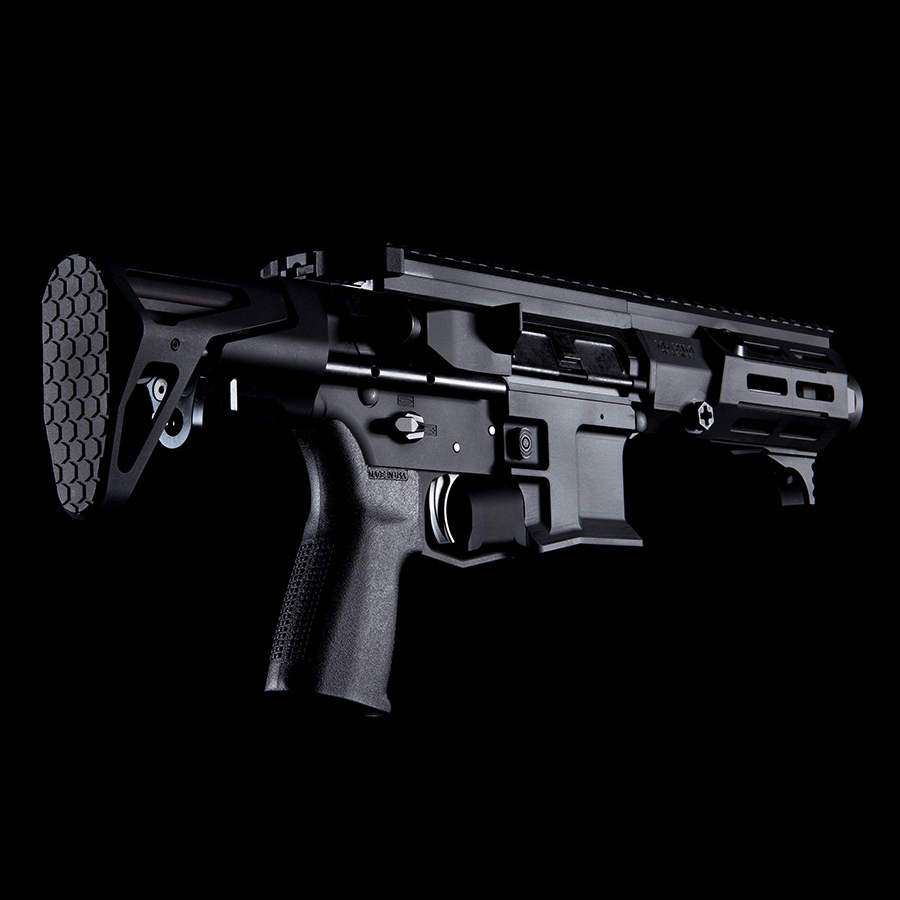 Both the brace and stock of PDW type and the system works with a direct impingement system that utilizes a proprietary BCG and buffer system to keep things short, but reliable.
The SCW BCG is a fascinating design and helps keep things short while keeping them AR-like.
At the tip of the short barrel, the PDX wears a HATEBRAKE muzzle booster. This thing throws concussion and flash forward while reducing recoil and muzzle rise.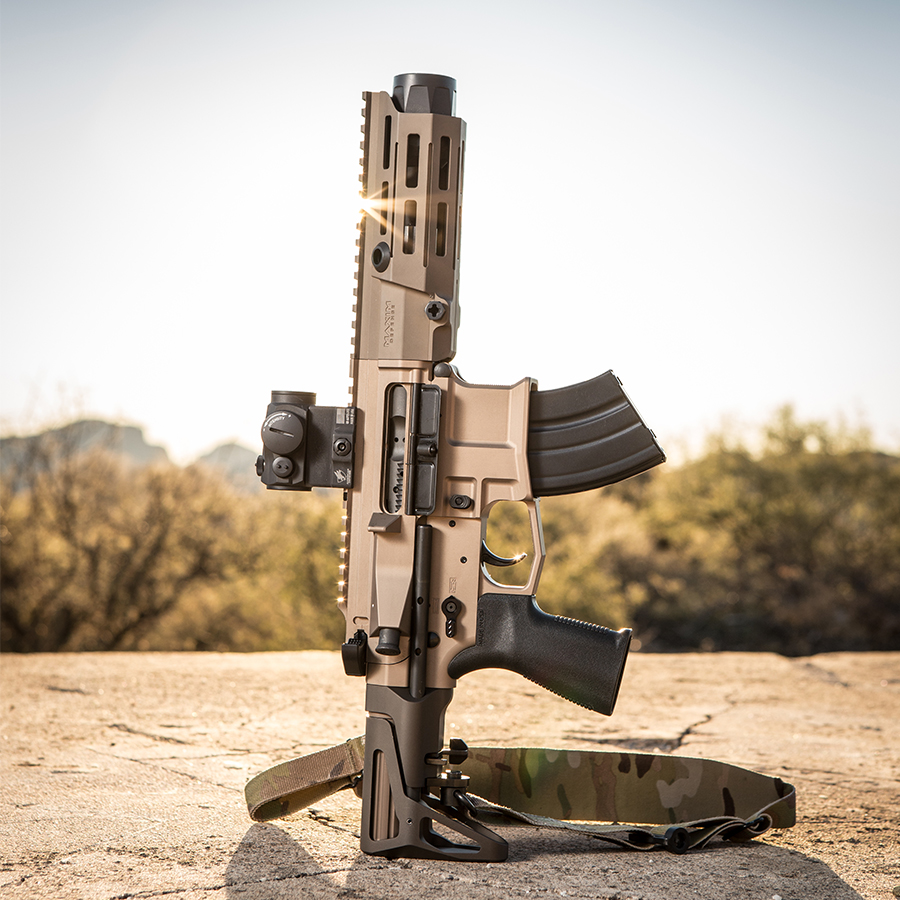 Overall, it's quite comfortable.
The super-short design of the PDX gives you what's likely the smallest .300 BLK rifle from a factory. Maxim Defense has done a fantastic job of turning a rifle into a manageable SMG-sized weapon.
Beyond the AR-15: Best .300 BLK Rifles
The .300 BLK has expanded well beyond the AR-15 these days. Heck, if you count customer manufacturers you can even find AK series rifles in .300 BLK.
Let's look at a few .300 BLK firearms that deviate from the AR-like design.
Ruger American Ranch Rifle
The Ruger American Ranch Rifle might be for you is a bolt-action rifle with a 10-round detachable magazine and guess what?
That magazine is an AR-type design. So, you can toss in a wide variety of magazines for whatever purpose you may have.
The Ruger American Ranch Rifle is a simple weapon, but a very handy one — perfect for hunting, or as a general-purpose working gun.

The bolt-action design also keeps the weapon super quiet.
No action cycling reduces the noise to a very quiet level when paired with a suppressor. Ruger wasn't stupid and threaded the barrel to make it easy to toss a can or muzzle device on.
The Ruger American Ranch Rifle is an optics-ready rifle with a short rail. Toss on whatever optic you want. At only 5.9 pounds and 36-inches overall, it's rather handy and compact.
Its barrel measures 16.1-inches long which is long for a .300 BLK rifle. But it keeps the stamps away.
This rifle is also quite cheap and well suited for hunting…especially handy for removing pests like hogs and coyotes.
Sig Sauer MCX Rattler
The Sig Rattler takes us back to the semi-auto platform, but it takes us away from the AR-15 style rifle. Well, kind of.
Sig utilized a lot of AR influence and certainly hugged the AR-15 ergonomically. We get the same charging handle, safety, pistol grip, magazine release, and magazines.
The Rattler is the super short variant of the MCX, using the same quasi-AR-18 style buffer and short-stroke gas piston system.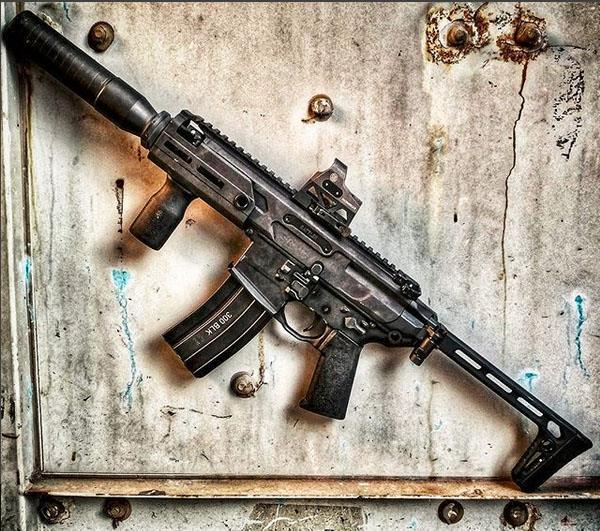 Without the need for a receiver extension and an AR buffer design, a folding stock or folding brace is a natural must-have. This makes an already short weapon shorter.
Sig designed the Rattler to be the shortest MCX variant and it has some serious LVAW vibes.
The 5.5-inch barrel actually takes the barrel length lower than the LVAW. The overall length comes in at 23-inches long and a weight of 5.1 pounds.
With such a short barrel a suppressor is almost mandatory. Without it, those supersonic .300 BLK rounds will be quite loud and brutal.
However, the gun runs reliably with or without a can with super and subsonic rounds.
The Rattler is short but sweet.
Best .300 BLK Suppressors
Silencer Central Banish 30
Silencer Central's Banish 30 is a favorite of some of the staff here at PPT.
The Banish 30 is a direct thread, full-auto rated suppressor with enough versatility to handle calibers ranging from .17 to .300.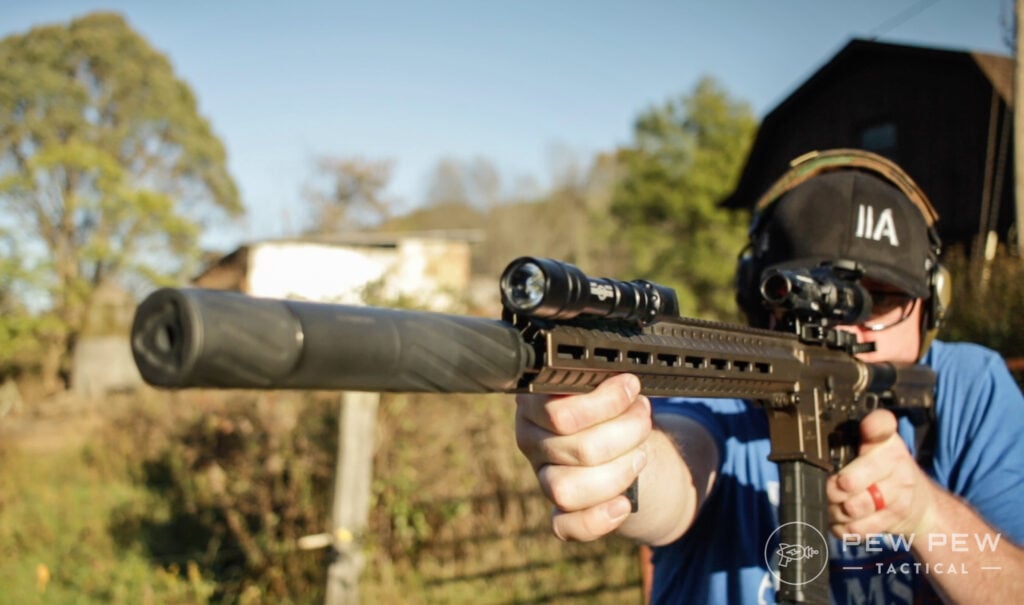 Its titanium build paired with the ability to break down for easy maintenance makes this silencer a clear winner.
Depending on your configuration, it measures 7- or 9-inches but is still lightweight — perfect for any rifle.
Johnny B did a full review on it and you can check the video below.
Want to go even better? There's the Banish 30 Gold edition that ditches the direct thread and gives you a bunch more goodies.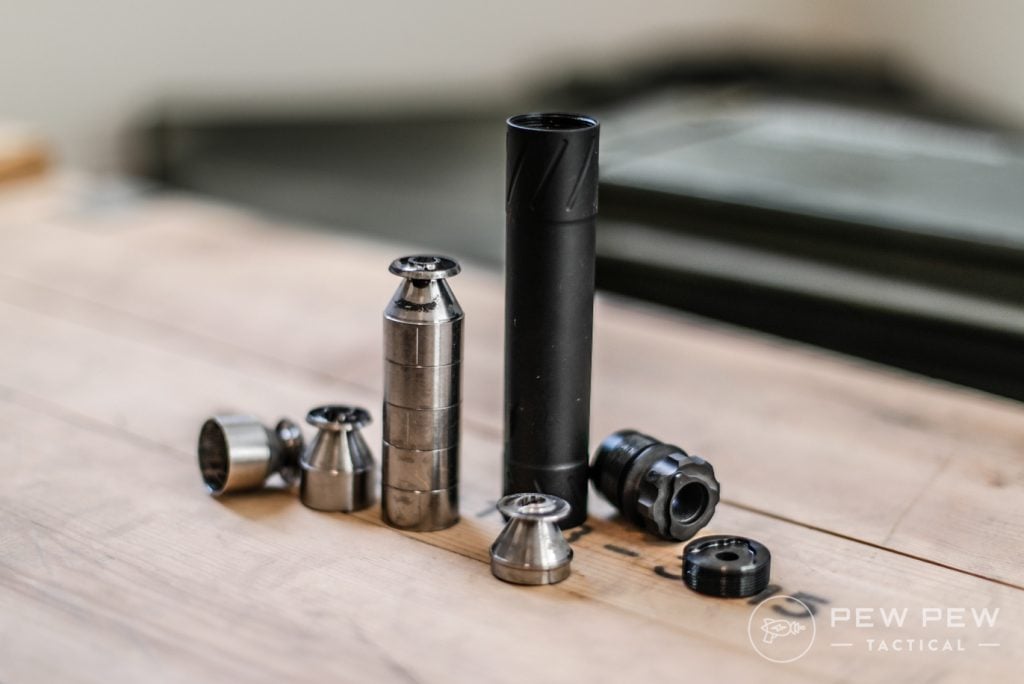 Its muzzle brake (1/2×28 and 5/8×24) threads easily to the suppressor. And you can run that solo or pop on the Banish 30 and roll.
Silencer Central Omega 300
The Silencer Co Omega 300 is one of the most effective suppressors on the market for .30 caliber firearms.
While it's rated up to .300 Win Mag, it's still perfectly capable for .300 BLK. It will eat subsonics and supersonics without issue.
The Omega 300 is the lightest, shortest, and quietest .30 caliber suppressor on the market, bringing the sound rating of a .300 BLK subsonic round down to 119dB.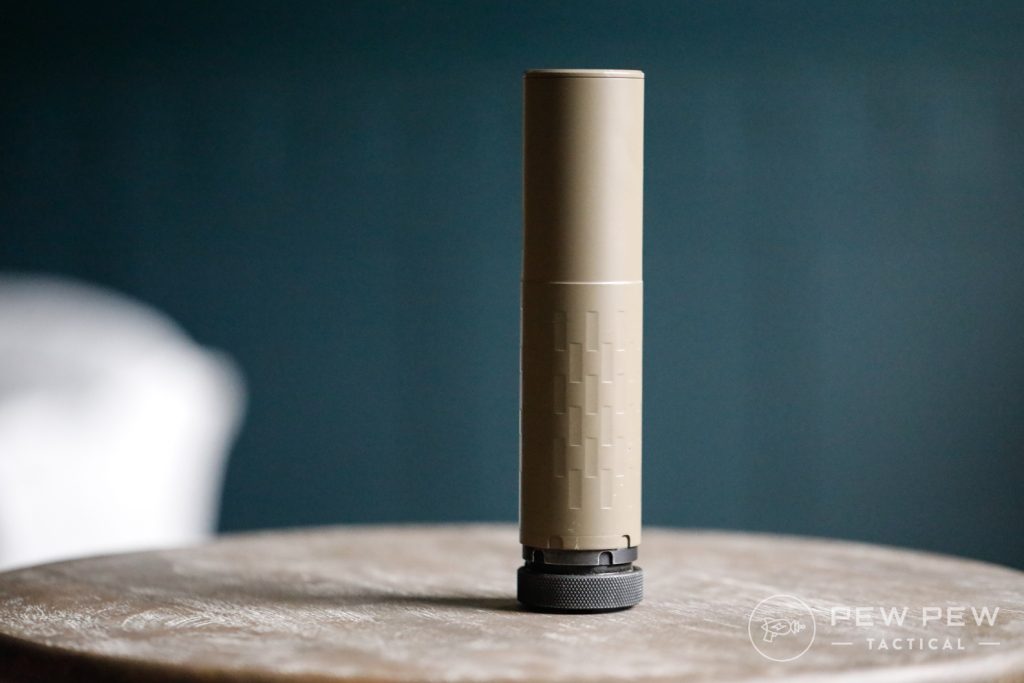 That places it well below the 140dB rating OSHA assigns to safe hearing levels.
It's a titanium suppressor, so expect to pay a premium for that material.
However, for a full-auto rated suppressor, it's brilliantly compact measuring 7.09-inches long and weighing 14 ounces. You won't ever wear it out with a semi-auto .300 BLK.
Try as you might, the Omega 300 will take whatever abuse you can toss at it.
It will work as a direct thread suppressor, and functions with a variety of fast attach mounts. On top of that, you can add an Anchor Brake to help reduce recoil even more.
If you don't mind spending the change this is the best .30 cal suppressor out there.
For more awesome suppressors, check out our full guide on the Best AR-15 Suppressors.
Daniel Defense DDM4ISR
While, yes, it's a full-fledged rifle, the DDM4ISR by Daniel Defense is also integrally suppressed. So…you still get a suppressor.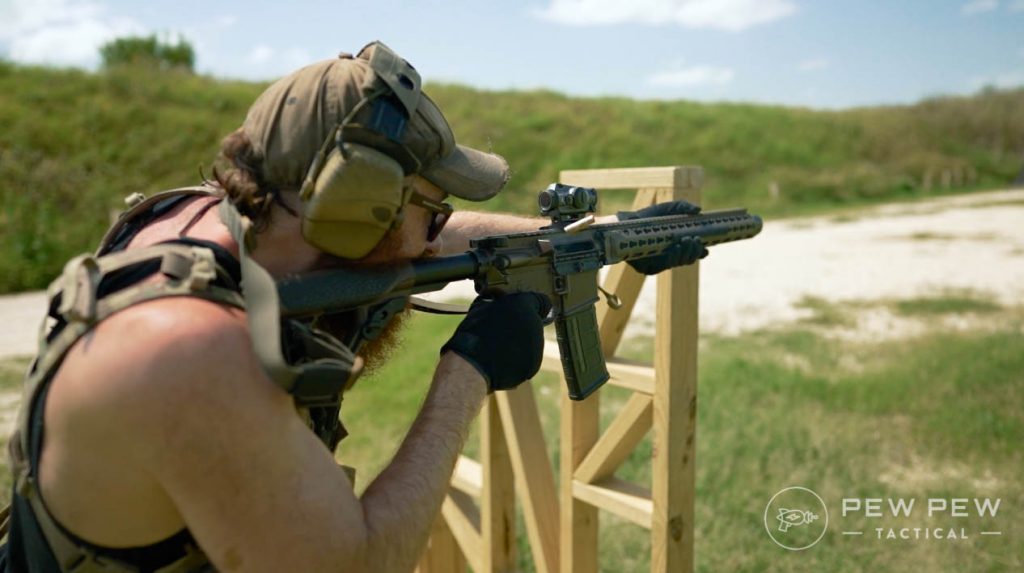 So, if you want the quiet pews but also want that in a complete rifle package, consider the DDM4ISR.
Check out the full review or watch the video below.
Best .300 BLK Ammo
You guessed it, we have a great article on .300 Blackout ammo that is very much worth reading — but these are some of the best!
Currently ammo is still hard to find and more obscure rounds like the 300 BLK are on the backburner for production. But here's what we have found to be in stock:
Wolf 145gr (Steel Cased)
When you just need some affordable plinking .300 BLK you can't go wrong with some Wolf 145gr even though it's steel cased.
Ammo Inc 110gr V-Max
Need some hard hitting and proven 110gr projectiles? Check out Ammo Inc's 200 Round options.
Barnes 120gr Vor-Tx
Top of our list for all-around Supersonic .300 BLK is Barnes 120gr Vor-Tx offering amazing penetration and expansion.
Remington Express Subsonic
And for subsonic we love the Remington Express subsonic.
Just In Case You Didn't Know…
I do want to note one thing before you run out and get a new .300 BLK upper…you NEED to be careful when switching between uppers or even when you have a dedicated .300 BLK rifle and a 5.56 rifle.
.300 BLK can chamber in most 5.56 barrels, however, if you try to shoot it – your barrel (and sometimes more) will literally burst. Explosively.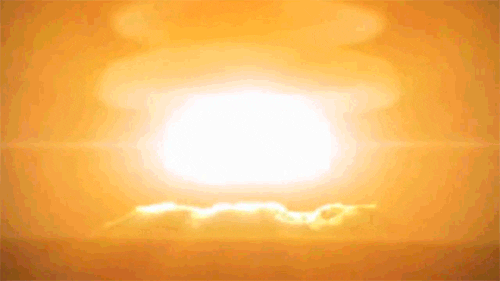 Make sure you keep ammo and mags separate.
Personally, I keep them organized by using different color mags — FDE and black for 5.56 and Olive Drab for .300 BLK. I also double and triple-check things before loading a mag into the rifle.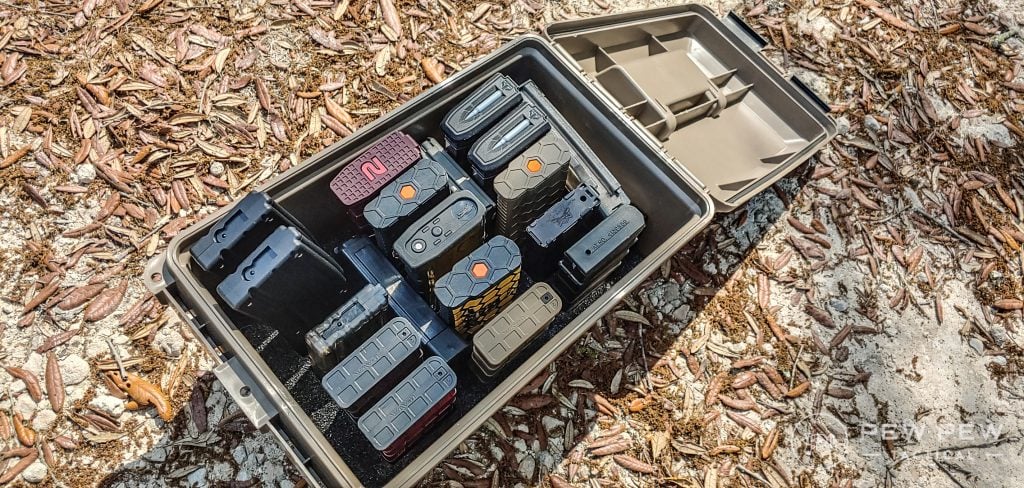 Conclusion
The .300 BLK won't ever supplant the 5.56 for the most ubiquitous AR-15 cartridge but it does have some key areas where it really shines.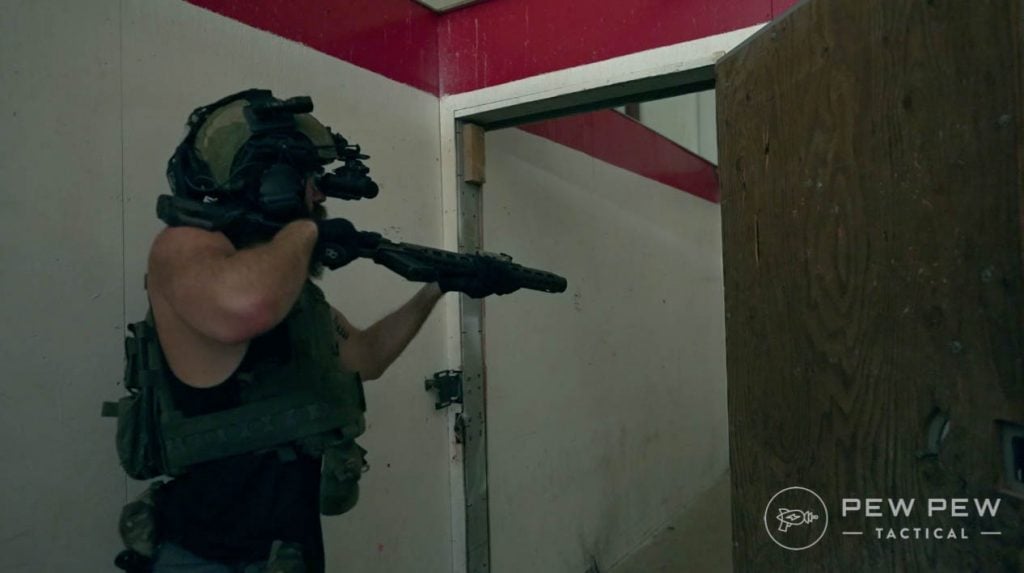 Most notably, it does great in CQB environments or alongside suppressors and can run on your existing AR-15 — so long as you get a .300 BLK upper.
In short, we love the versatility of this cartridge.
What's your fave .300 BLK upper or complete build? Let us know in the comments below. For more on AR-15s, head over to Best AR-15 Accessories or check out the Best .300 BLK Scopes & Optics.