If you're anything like me, a rough night's sleep turns you into something akin to a rabid Tasmanian devil.
Camping already presents conditions that make restful sleep seem like a distant dream.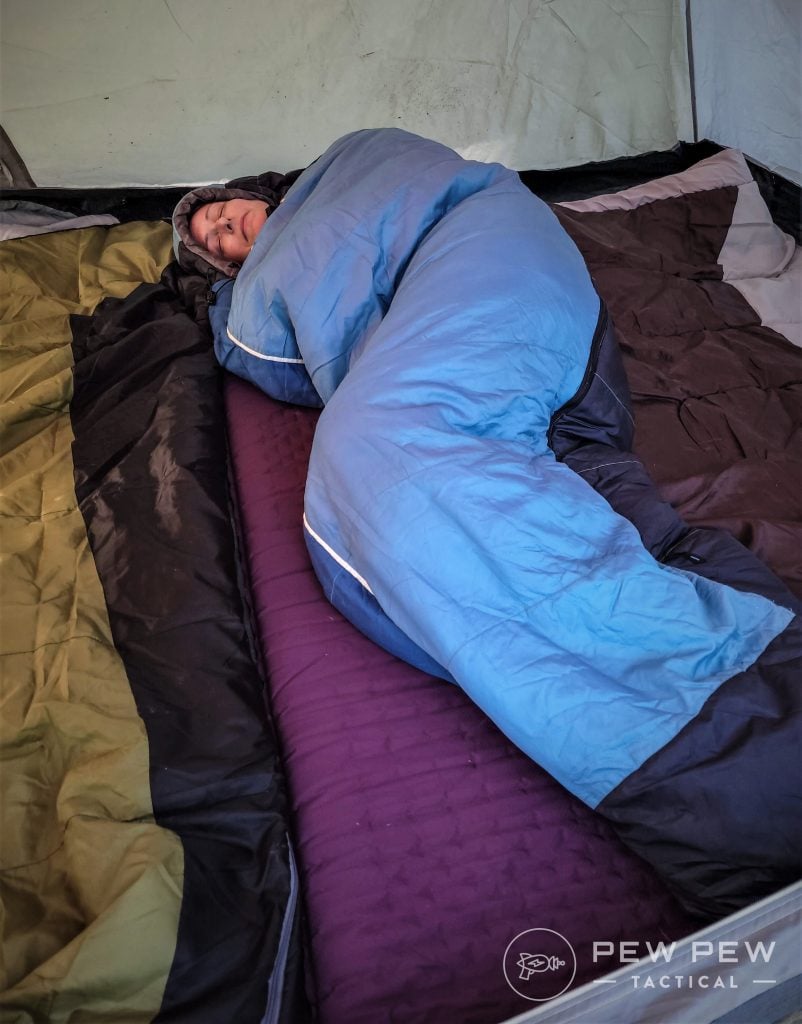 However, the right sleeping bag can work wonders for improving your outdoor experience.
Whether you're heading into the woods for recreation or necessity, the right gear is crucial to survival as well as comfort.
If you need to spend the night outdoors, your choice of sleeping bag can either make or break the experience.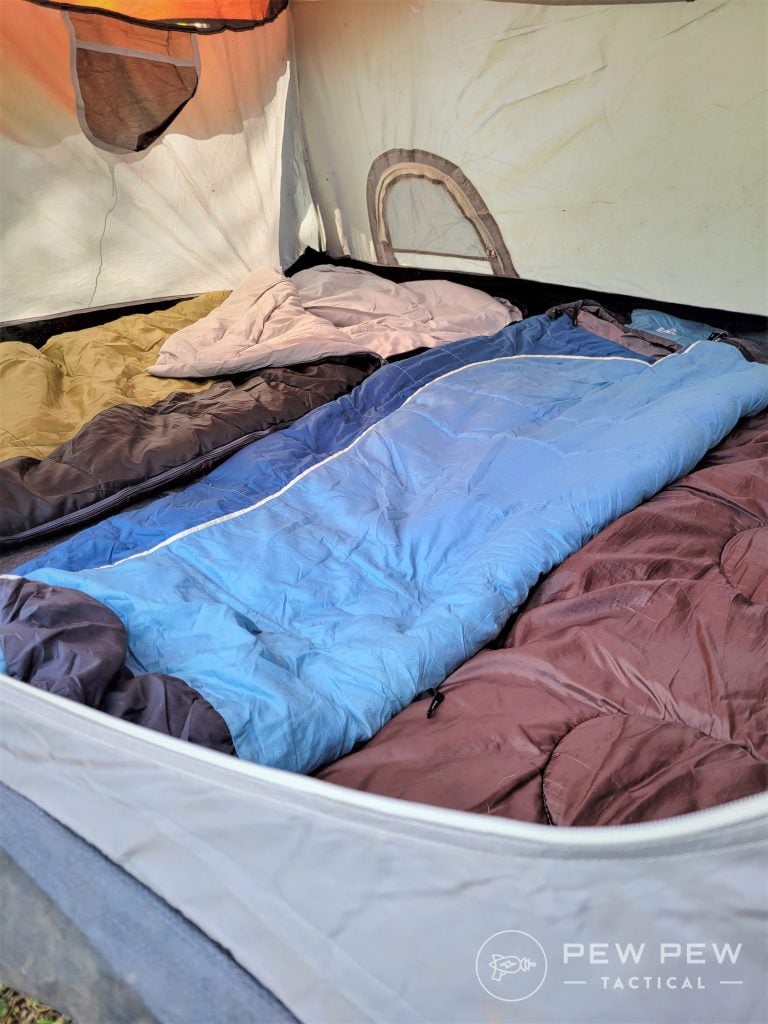 There are tons of sleeping bags out there to choose from. The sheer number of options is enough to leave your head spinning.
Not sure where to start?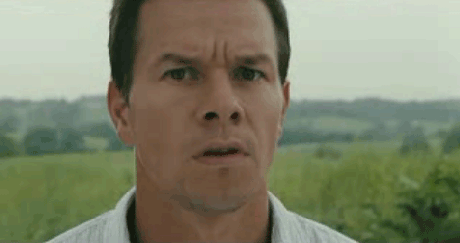 Well, that's why you have us! We're going to cover what things you need to consider when choosing a sleeping bag and give you some options for both backcountry style camping and car camping.
Keep reading to find out how to find the best sleeping bag for your next outdoor adventure.
Table of Contents
Loading...
How to Choose the Right Sleeping Bag
When shopping for a sleeping bag, it's important to take a few things into consideration to make sure you get the best sleeping bag for your purpose.
Luckily for you, we've done the hard work. So, keep scrolling to see what we recommend factoring into your buying decision.
Weight
If you'll be camping near your vehicle, the weight of your sleeping bag isn't all that important.
However, if you're hiking into the backcountry, every single fraction of an ounce on your back matters.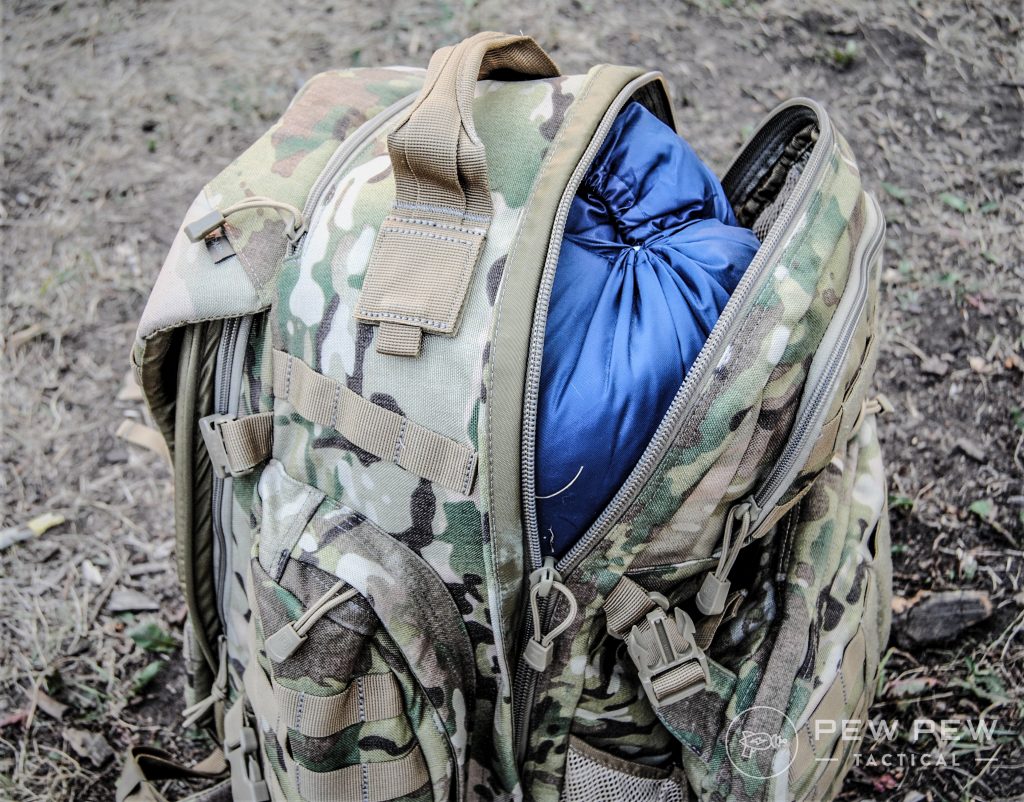 Trust me, after a few miles on a rough trail, you'll be questioning the weight of everything – your extra socks, the camping spork, toilet paper — especially if you're hiking at altitude.
Backpackers should look for sleeping bag designs that minimize weight while maximizing warmth and comfort.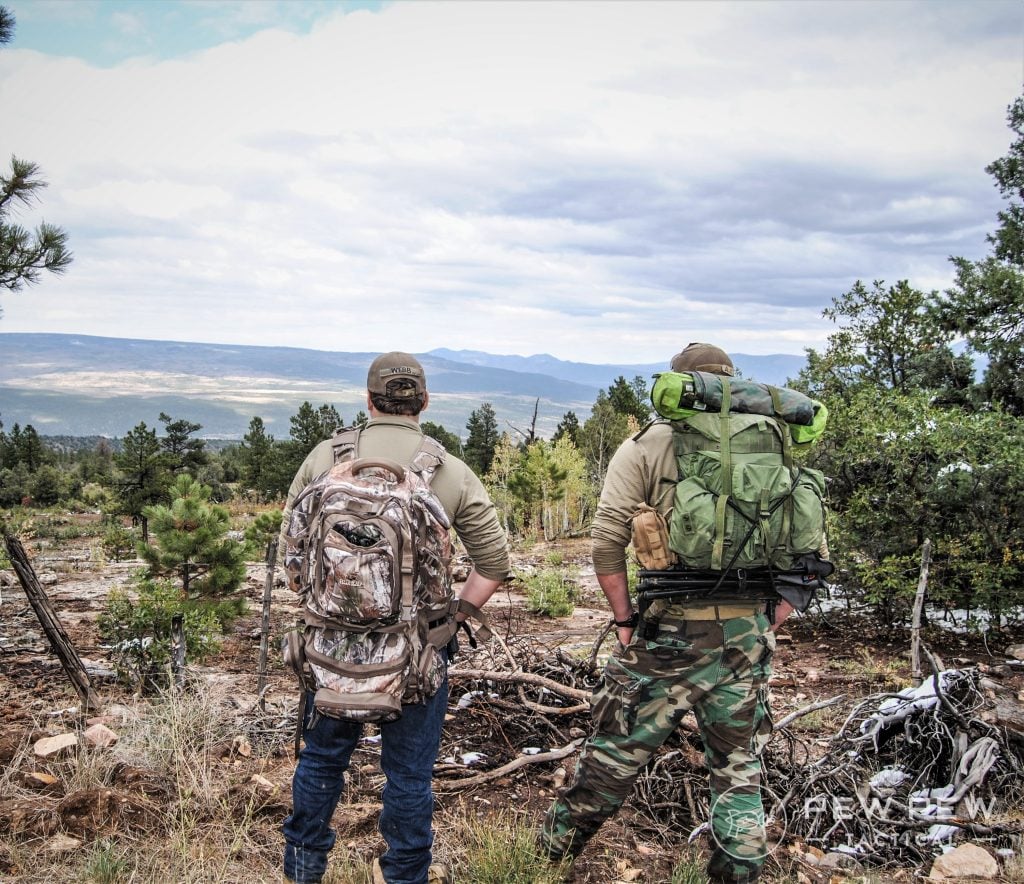 Temperature Ratings
Temperature ratings are one of the most important factors to consider when buying a sleeping bag.
However, those ratings aren't always straightforward, which definitely complicates the selection process. Manufacturers can slap any old rating they want on their products.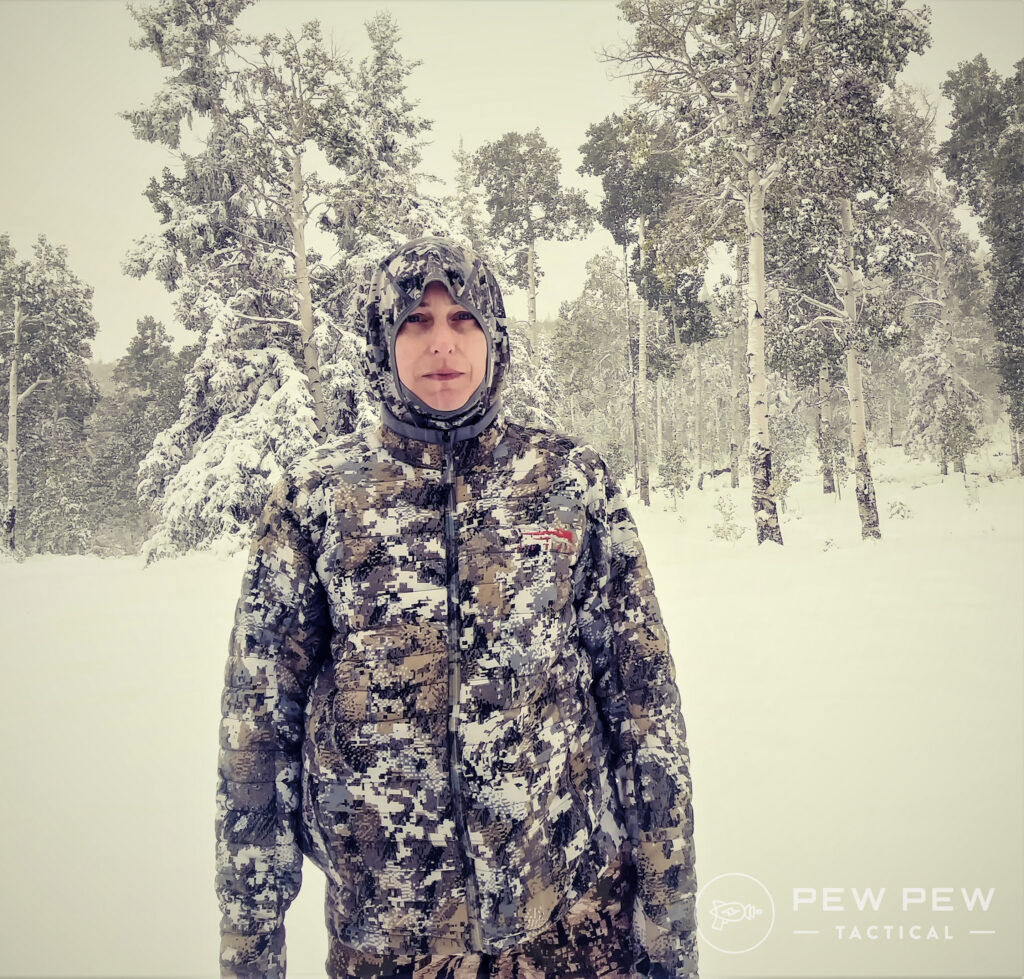 To make sure you're comparing apples to apples, look for products that list an ISO- or EN-certified temperature rating.
These ratings are set by the International Standards Organization, which provides a consistent method of measuring the insulating capacity of sleeping bags across the industry.

ISO-rated sleeping bags usually have at least two ratings — Comfort and Limit.
Comfort
This is the temperature at which the average woman can sleep comfortably for eight hours.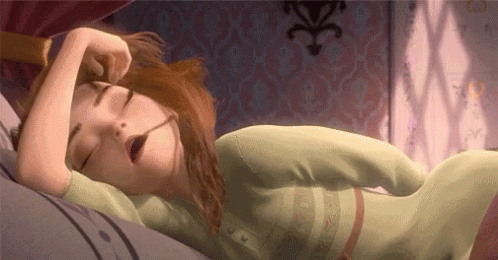 The ISO uses a woman's metabolic rate for calculation because women tend to have lower metabolic rates than men. So, they usually like things a little warmer.
Limit
This rating indicates the lowest temperature the bag will keep the average man comfortably warm for an 8-hour snooze.
Extreme/Survival
Some bags will list a third rating. This one indicates the temperature the average female camper could spend six hours without plunging into hypothermia.
Extreme discomfort isn't off the table, but frostbite tends to be less life-threatening than hypothermia.
As a general rule, choose a sleeping bag with a temperature rating lower than the lowest nighttime temperature you expect to encounter.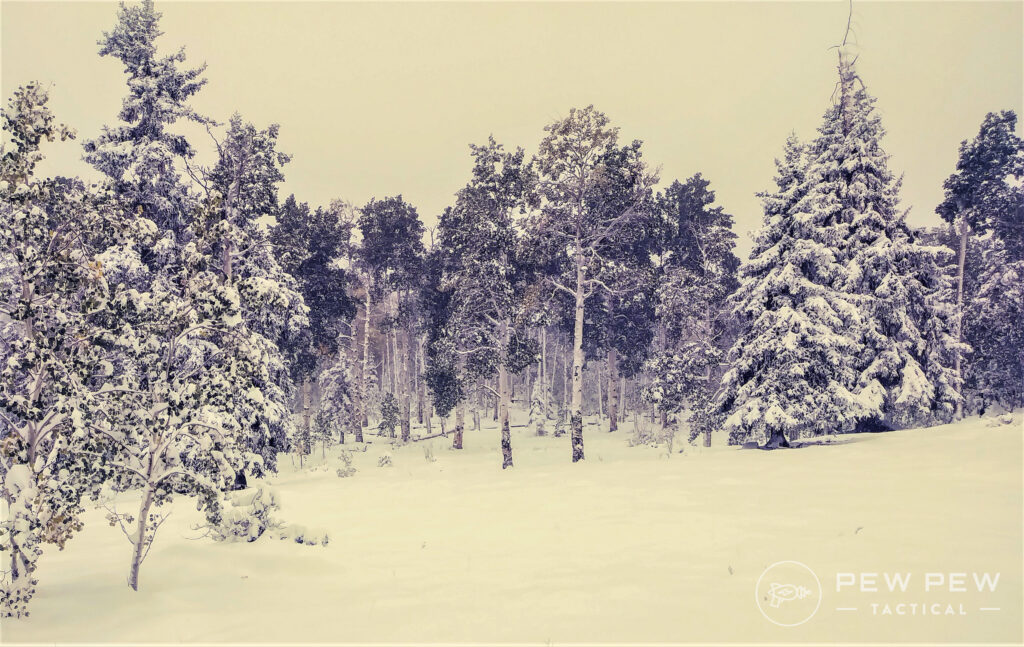 If you get too warm, you can always unzip your bag. It's a lot harder to fix a situation where you end up being too cold.
If you want a good all-around bag, invest in one with a zero-degree comfort rating.
This should keep you relatively comfortable in most spring-to-fall camping conditions.
Fill Material
Most sleeping bags are stuffed with either down or a man-made synthetic filling.
Many experienced campers prefer down because it's lighter and compresses better than synthetic fill material.
If you're backpacking into the wilderness, a down-filled sleeping bag will be much easier on your back than one crammed with synthetic material.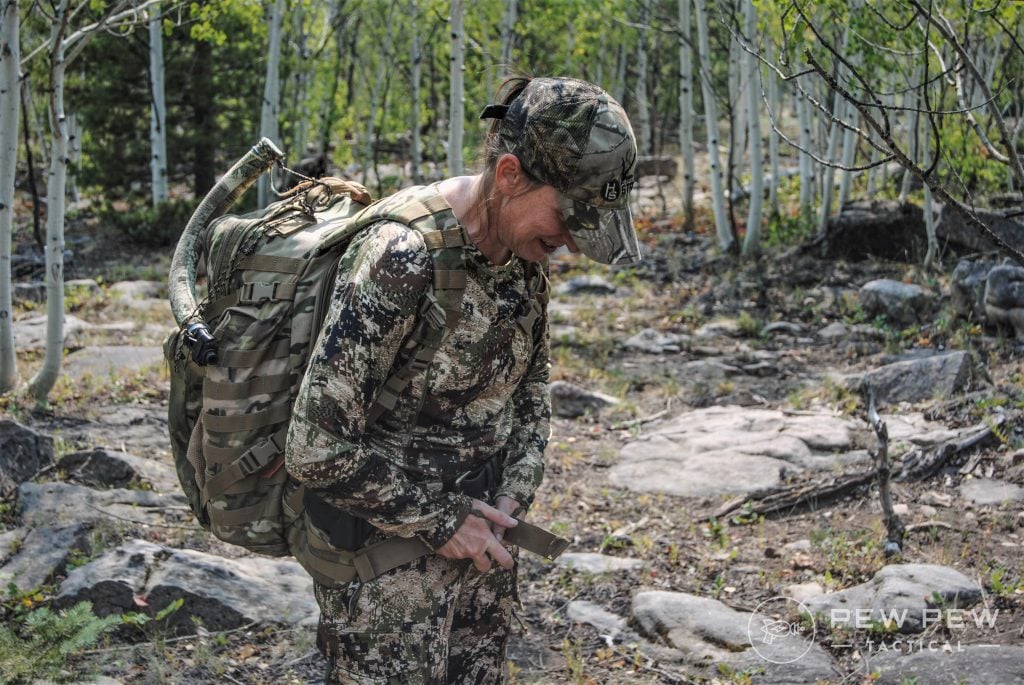 However, when down gets wet, its insulating capacity tanks. Also, it takes for-freakin-ever to dry.
Down is typically more expensive than synthetic stuffing.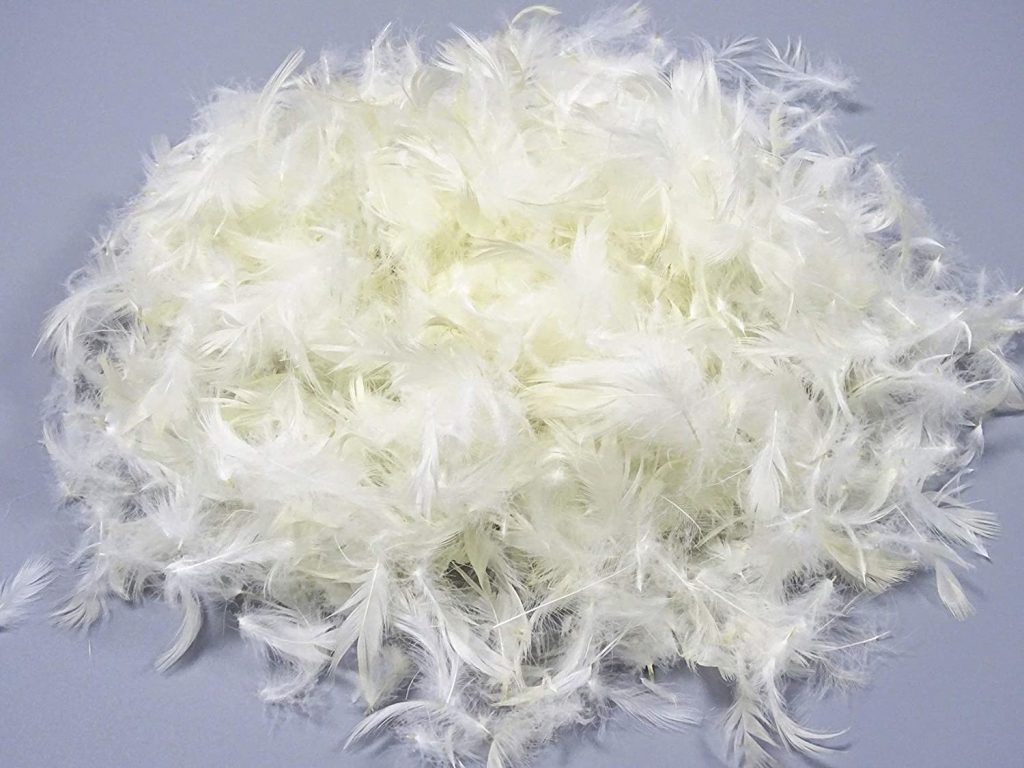 If you're planning a casual stay at the local campground rather than a long hike into the backcountry, a synthetic sleeping bag makes an affordable addition to your camping gear.
Unlike down, synthetic filler continues to provide insulation, even when wet.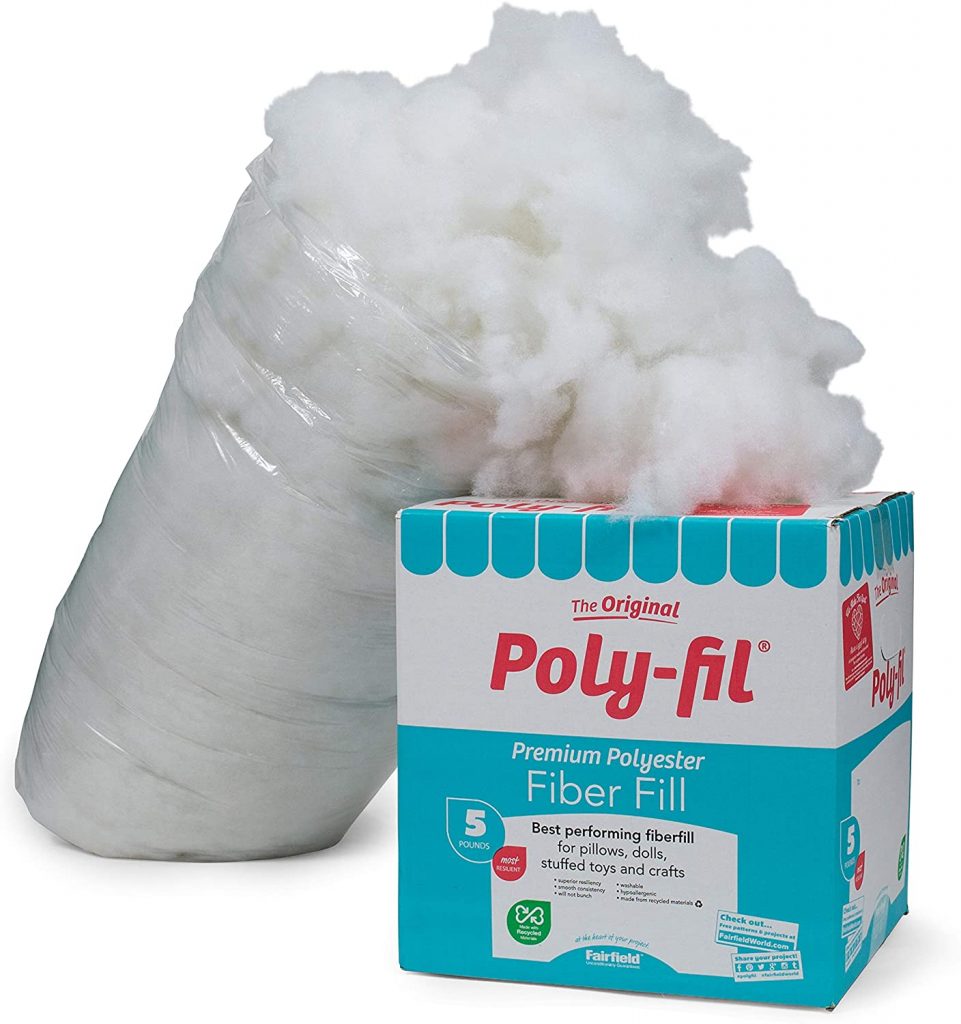 Pro Tip: Don't breathe into your down sleeping bag. It causes condensation to build up on the inside of your bag, saturating the down filling.
A wet sleeping bag is seriously "no bueno" for cozy sleeping.
A Word About Fill Power
Not all down has the same insulating capacity. "Fill Power" refers to the loft, or fluffiness, of the down inside your bag.
Down with higher Fill Power, compresses more and generates more warmth for its weight.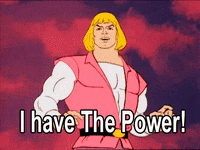 The most expensive down sleeping bags will have high Fill Power, usually around 800. These options work well for ultralight backpacking or for camping in wintry conditions.
However, Fill Power isn't the only thing that determines the warmth of a sleeping bag.
Temperature rating is still the best way to determine warmth. Use Fill Power to get a sense of the bag's weight and packability.
Shape
Sleeping bags come in several shapes.
In addition to weight and temperature rating, the shape of your bag is a key factor in its comfort and packability.
Mummy Bags
Somewhat resembling an Egyptian coffin, form-fitting mummy bags are narrow at the bottom, wider at the shoulders, and usually feature an attached, cinch-tight hood.
When you roll over, the whole sleeping bag rolls over with you.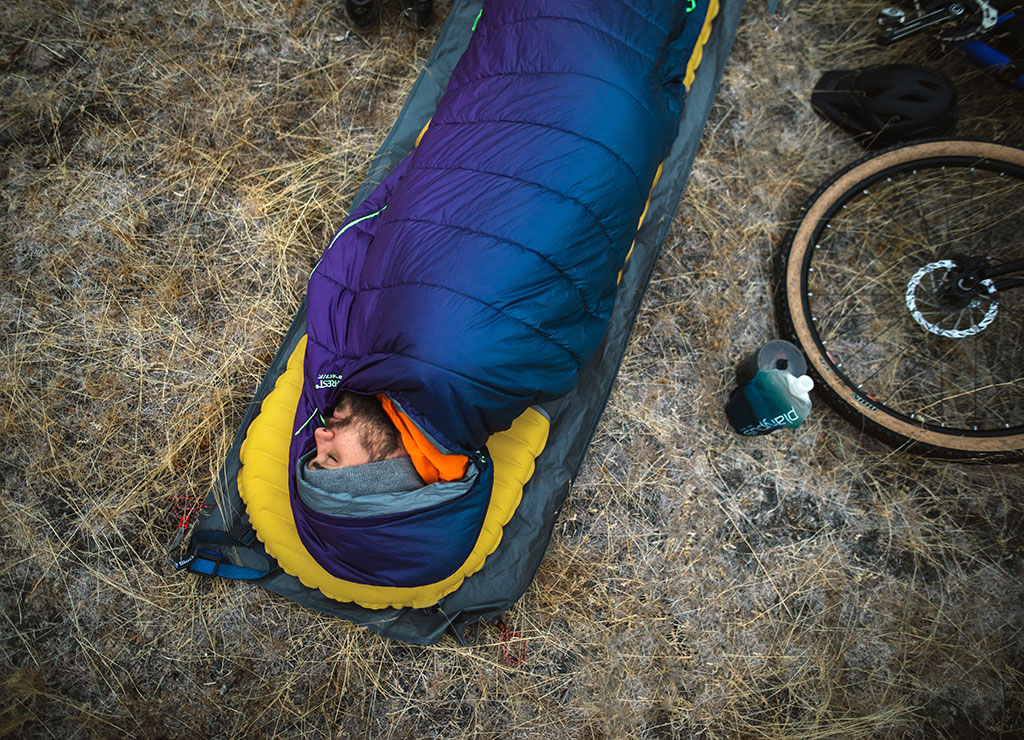 Some campers feel claustrophobic in a mummy bag.
However, the snug fit makes these bags super lightweight and extra warm.
Rectangular
Shaped like the rectangle we came to know and love in grade school, rectangular bags are designed to maximize roominess.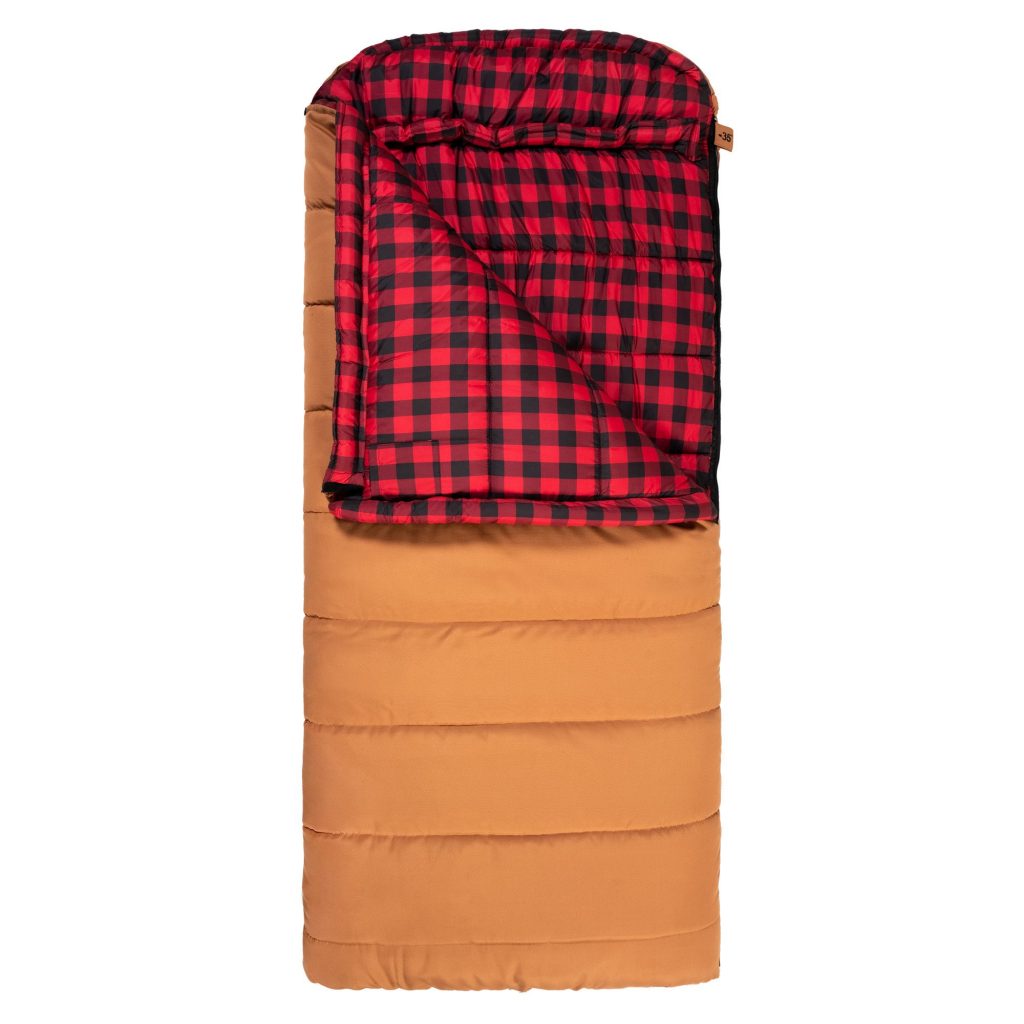 They are usually less expensive than comparable mummy bags but significantly bulkier and heavier.
Hybrid
Sometimes called "semi-rectangular," "modified mummy," or "barrel," hybrid sleeping bags seek to combine the best qualities of the rectangular and mummy styles.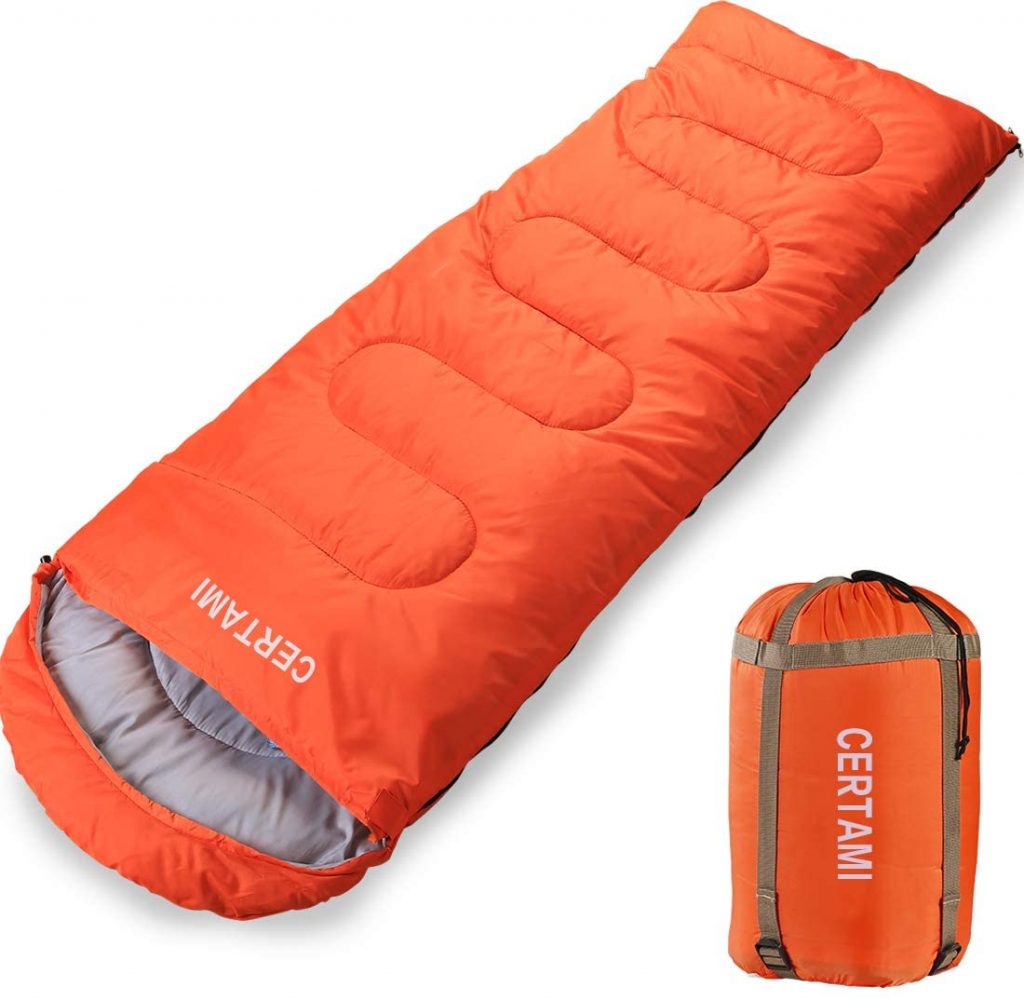 If you want to stay cozy and warm but don't want to feel like you're constricted in a mummy sarcophagus, a hybrid bag can be a satisfying compromise.
Size
While a big, roomy sleeping bag may sound more comfortable, it has major drawbacks when sleeping outdoors.
Sleeping bags don't generate their own heat. Instead, they trap body heat inside.
So, it's a lot easier for your body to heat up a small space than a cavernous sleeping bag.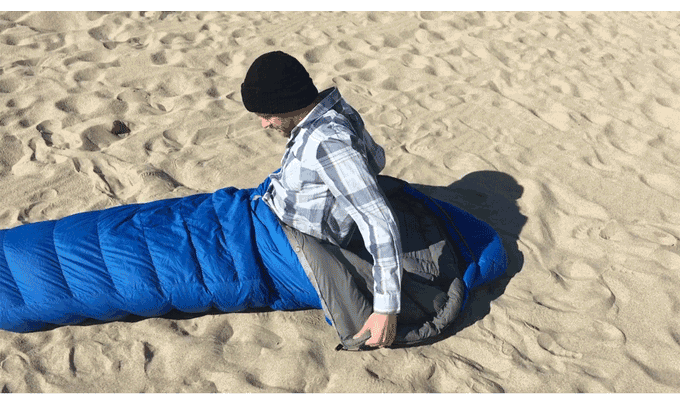 As a bonus, a sleeping bag with a snug fit will be lighter and take up less packing space than one with extra room.
Sleeping bags are designed to fit a wide range of body types.
However, if you regularly shop in the big & tall department, you might need a little extra room.
Some manufacturers offer their bags in "long" (for campers over 6 feet) and/or "wide" (for extra stocky adventurers).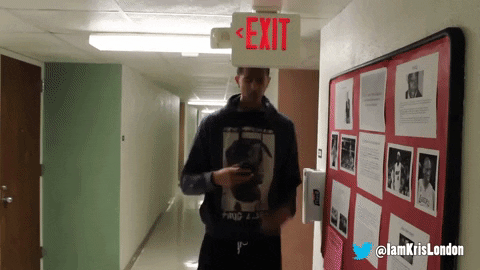 Accessories
Most bags come with their own stuff sack. However, you might be able to save some extra pack space with a compression sack.
These nylon bags have adjustable straps you can use to squeeze out every molecule of air possible. This leaves more room for things like trail mix, candy bars, and beef jerky.
(Psst…we can teach you how to make your own beef jerky for hiking and camping.)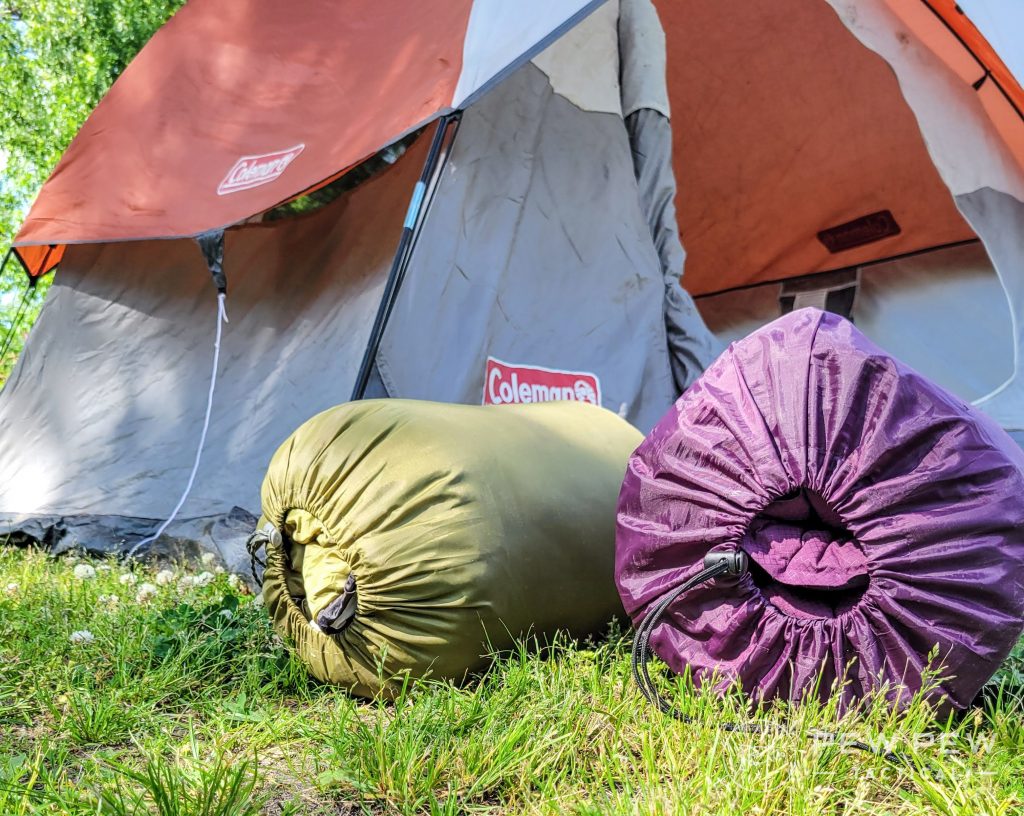 A sleeping bag liner works almost like a sheet.
They easily slip inside your sleeping bag for some additional comfort, but they also help keep your bag clean.
A thin removable liner is way easier to toss in the washer than a whole sleeping bag.
Sleeping Pads
When the sun sets, temperatures drop quickly. If you make your bed on cold hard ground, it ends up being…well, cold and hard.
A sleeping bag's temperature rating is based on a person wearing socks and long johns.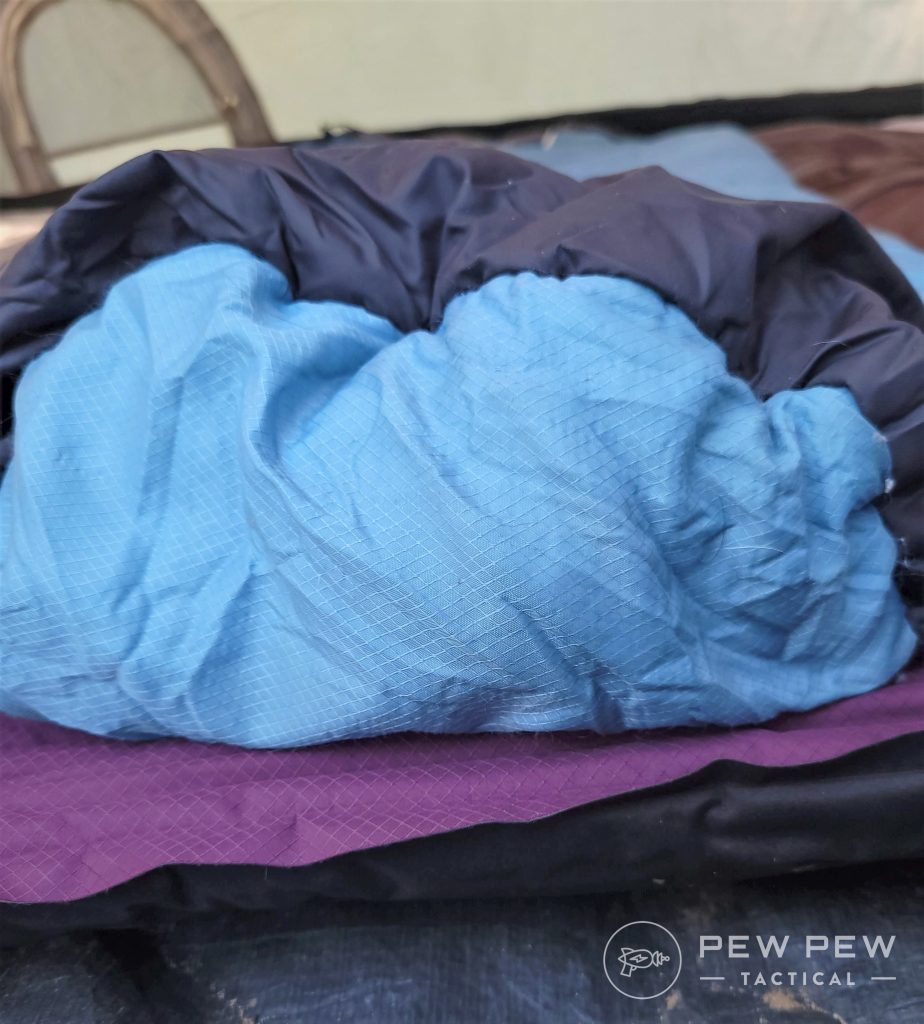 The rating also assumes the sleeping bag is placed on an insulated sleeping pad with an R-value of 5.5.
A sleeping pad not only provides comfortable cushioning it also prevents heat loss to the ground.
There are three basic types of sleeping pads — air, self-inflating, and closed-cell foam.
Air Pads
Air pads are basically compact, inflatable air mattresses for camping.
You have to blow them up with either good old-fashioned lung power or an air pump — which is one more piece of gear you'll need to pack for the trip.
139
at Amazon
Prices accurate at time of writing
Prices accurate at time of writing
Camping air pads feel comfortable and lightweight. You can also adjust the firmness to suit your personal preferences.
Most modern air pads feature insulation or reflective materials to conserve body heat.
The downside to using an air pad in the backcountry is that accidents happen. Sharp rocks and sticks can puncture the pad, causing it to deflate like a cheap party balloon.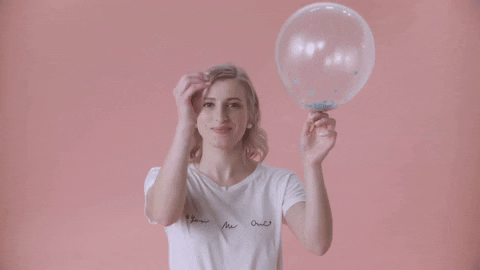 The firmness also tends to fluctuate as overnight temperatures drop.
You could start the night on a nice firm surface and end up almost flat on the ground before sunrise. I promise I'm not exaggerating.
Closed-Cell Foam
Closed-cell foam pads can be used alone or placed under your air pad to protect it from sharp, pointy objects on the ground.
These pads are made of durable foam that contains thousands of tiny air pockets.
50
at Amazon
Prices accurate at time of writing
Prices accurate at time of writing
These pads are durable, inexpensive, and offer an effective insulation layer between you and the ground.
They are also pretty lightweight. Because they are water-proof, you can roll them up and strap them to the outside of your pack without worry.
Self-Inflating Pads
Self-inflating pads are a sort of closed-cell foam/air pad combo.
Unlike an air pad, you don't have to blow these up.
200
at Amazon
Prices accurate at time of writing
Prices accurate at time of writing
Simply open the valve, and the interior foam automatically swells. When you're done, you just squeeze out the air, and the pad compresses to a compact, easy-to-pack size.
Although heavier and more expensive than either foam or air pads, self-inflating pads have plenty of other advantages, including serious comfort and excellent insulation.
Best Backcountry Sleeping Bags
Now that we've covered what to look for when shopping, let's talk about some of my favorite sleeping bags for backcountry camping.
1. Kelty Cosmic Down
The Kelty Cosmic Down sleeping bag makes a nice addition to your backpacking gear.
Stuffed with 550 fill power, water-resistant DriDown, the Cosmic weighs just 2.7-pounds and has a 20-degree temperature rating.

The Kelty Cosmic has a funky trapezoidal shape that looks weird but adds to the bag's comfort and efficiency.
This thing retains heat like nobody's business, and the interior also feels soft and cozy.
You'll have a hard time leaving this bag, especially on crisp mountain mornings, so bring the coffee.
A handy pocket is stitched inside the sleeping bag, offering a great place to stash your phone or flashlight.
123
at Amazon
Prices accurate at time of writing
Prices accurate at time of writing
2. Nemo Sonic
Nemo makes serious camping gear, and the Sonic sleeping bag is one of the best.
This model received the Backpacker Magazine Editor's Choice Award in 2015 and is still one of the best-selling, cold weather sleeping bags on the market today.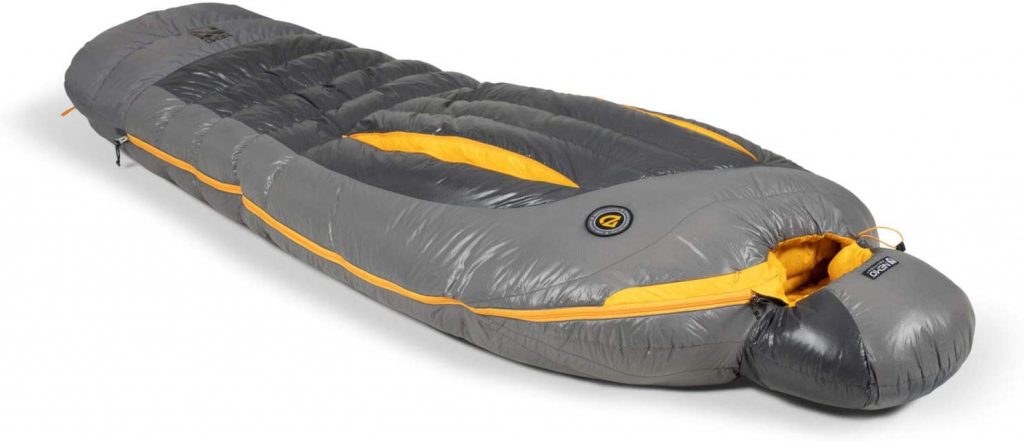 This isn't a run-of-the-mill bag, though. It comes jam-packed with high-tech features, including:
A waterproof, breathable footbox designed to reduce cold spots
Draft tubes that vent extra body heat while sealing out cold air.
A stretchable knee area for more comfortable side sleeping.
An internal draft collar to keep your neck cozy and warm.

The Sonic sleeping bag comes in two different models — one with a zero-degree rating and one suitable for temperatures down to -20 degrees.
The bag is overstuffed with 800 fill power, hydrophobic down, yet weighs right around 3-pounds.
It's perfect for everything from base camps to high-altitude spike camps.
450
at Amazon
Prices accurate at time of writing
Prices accurate at time of writing
3. Marmot Micron 50
Super durable and easy to pack, the Marmot Micron is perfect for warm-weather backpacking.
An ultra-lightweight model, it also weighs in just over a pound.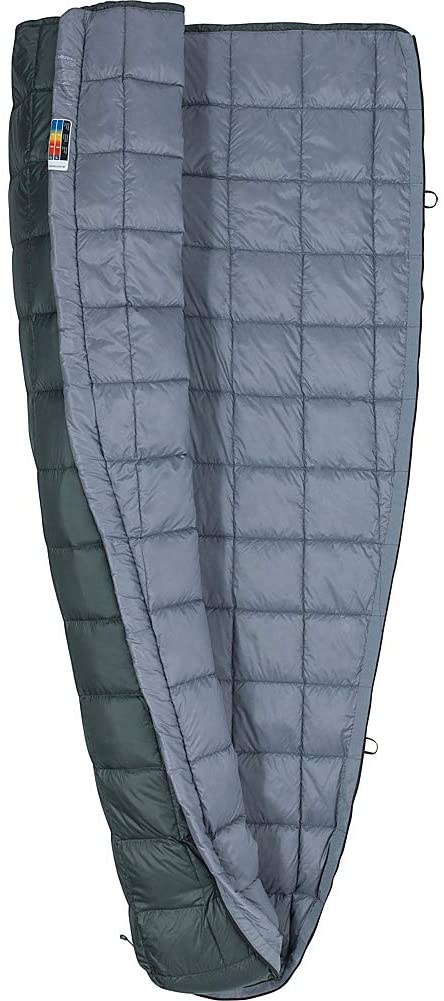 The Micron offers a comfort rating of 54.5 degrees and a limit rating of 47.8, so you'll definitely want to check the overnight weather before you leave civilization.
The bag is roomy, making it a nice option for restless sleepers.
It also unzips to become a flat blanket, so you can wrap it around your shoulders for campfire songs and s'mores.
160
at Amazon
Prices accurate at time of writing
Prices accurate at time of writing
Have you tried the Marmot Micron? If so, rate it below!

4. High Peak Alpinizmo
High-quality mummy bags rated for sub-freezing temps are usually super expensive. The Alpinizmo from High Peak is the exception to the rule.
It weighs a manageable 3.5-pounds and rolls up to a fairly compact size. This makes it a great entry-level option for novice backpackers.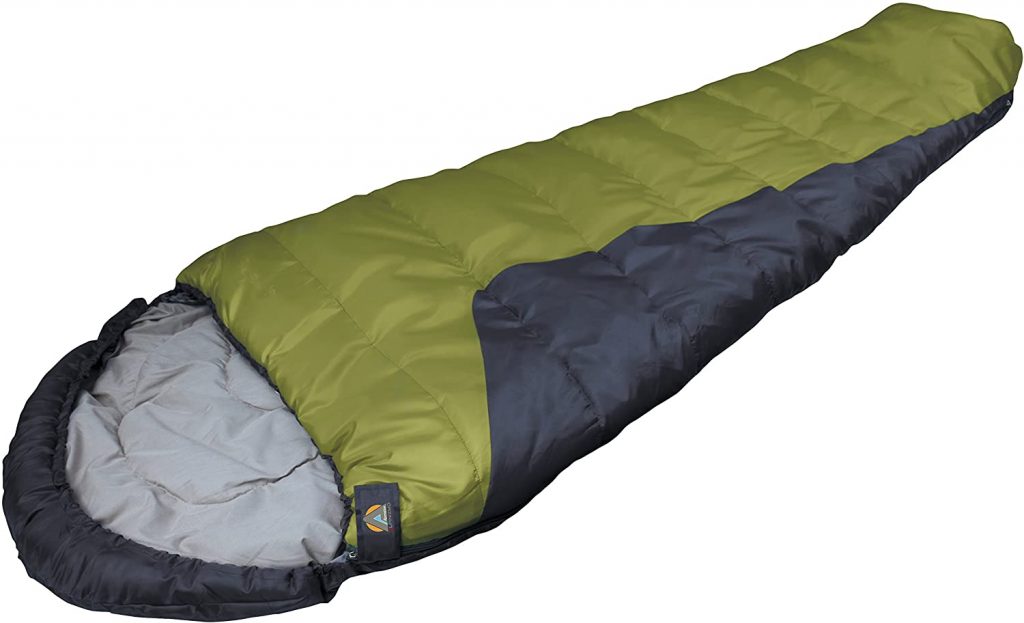 My son and daughter toted into the High Peak into the Colorado backcountry on our ill-fated 2020 elk hunt.
The bag is rated for zero-degree temps, and while we didn't quite get there, it did dip rapidly into the low 20s.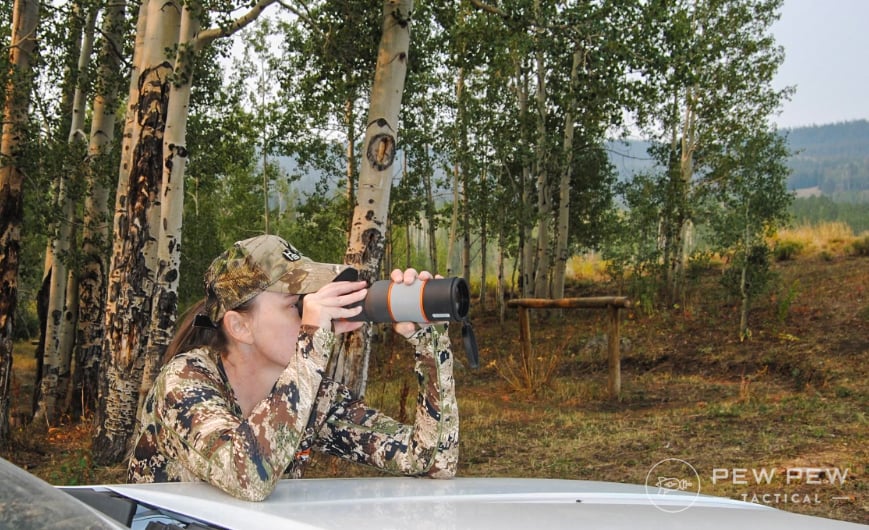 We were also gifted with 10-inches of snow. However, these bags were plenty toasty.
Another perk: the High Peak is made from 100 percent fast-drying polyester, which came in handy after a leaky camelback soaked the bottom of my daughter's bag.
Her bag was soaking wet at daybreak but thoroughly dry before bedtime.
50
at Amazon
Prices accurate at time of writing
Prices accurate at time of writing
Best Sleeping Bags for Cabins, Sleepovers, & Car Camping
Backcountry camping isn't for everyone, and that's okay.
If rustic cabins or yards-from-the-car camping are more your style, there are some ultra-comfy sleeping bags to make your stay more enjoyable.
5. Kelty Callisto 30
If your idea of outdoor adventure doesn't necessitate tabulating every single ounce of gear weight, this is the sleeping bag for you.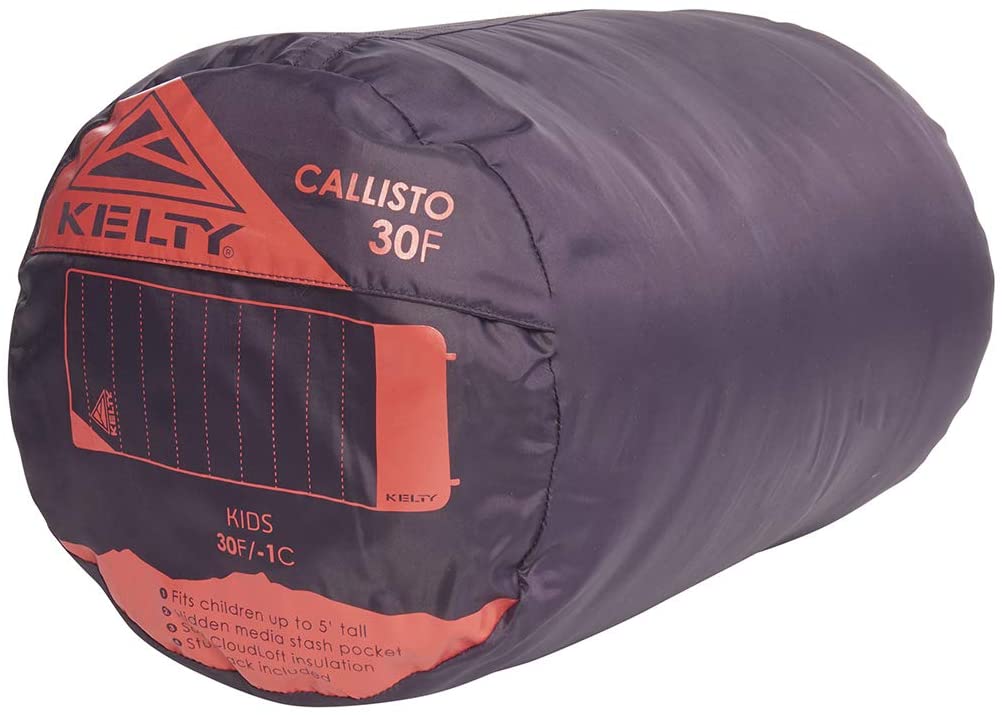 The Kelty Castillo weighs just under 3-pounds but is a bit on the bulky side. However, its rectangular shape provides plenty of room for tossing and turning.
The Callisto 30 has a rough temperature rating of 30 degrees, although it hasn't been rigorously tested to ISO guidelines.
45
at Amazon
Prices accurate at time of writing
Prices accurate at time of writing
6. Coleman Brazos
Although Coleman isn't exactly known for high-performance gear, they are known for their affordable options.
For campers on a budget, a Coleman sleeping bag is hard to beat.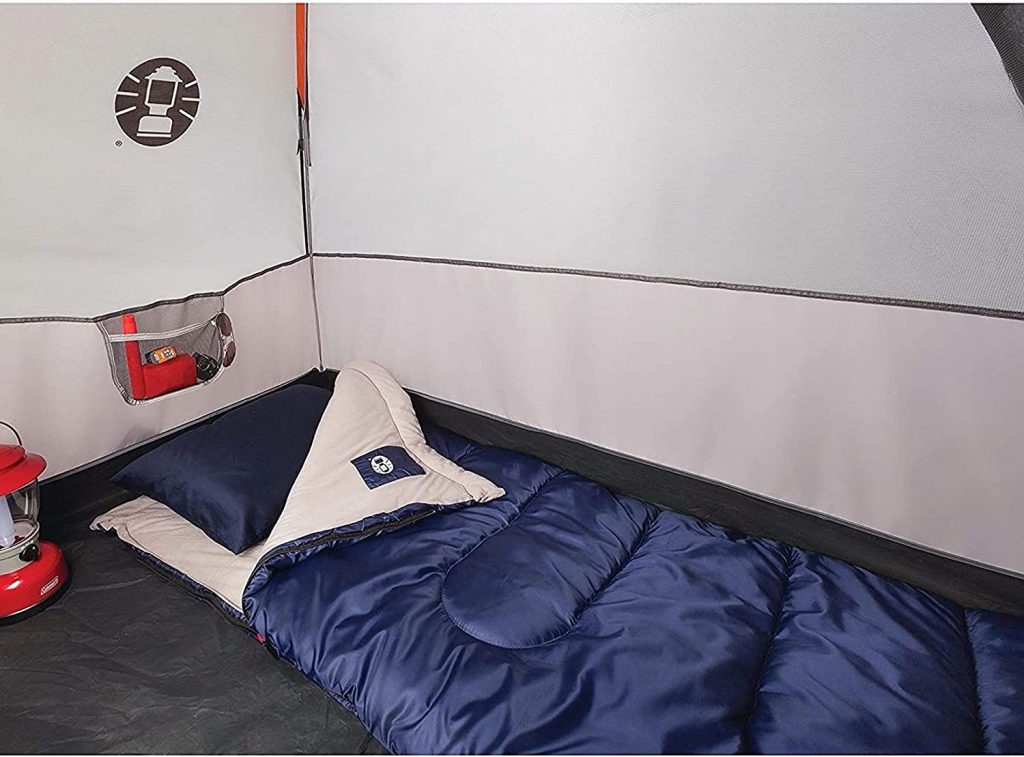 I've done some car camping with this one. It definitely isn't suitable for backpacking, but the Brazos offers considerable camping comfort if you won't be wandering far from your vehicle.
The interior feels soft to the touch, while the hollow polyester fill material gives the whole bag the feel of a plush comforter rather than a rough sleeping bag.
Although the Brazos doesn't have an ISO rating, Coleman claims it is comfortable to 20 degrees.
I haven't tested the theory, but it makes for rather cozy sleeping in mild, mid-autumn weather conditions.
36
at Amazon
Prices accurate at time of writing
Prices accurate at time of writing
7. Teton Sports Mammoth
If you enjoy snuggling with a loved one underneath the stars, the Teton Mammoth sleeping bag provides plenty of room for it.
This one is longer and wider than a queen-size bed, which means it's sharable and perfect for family adventures.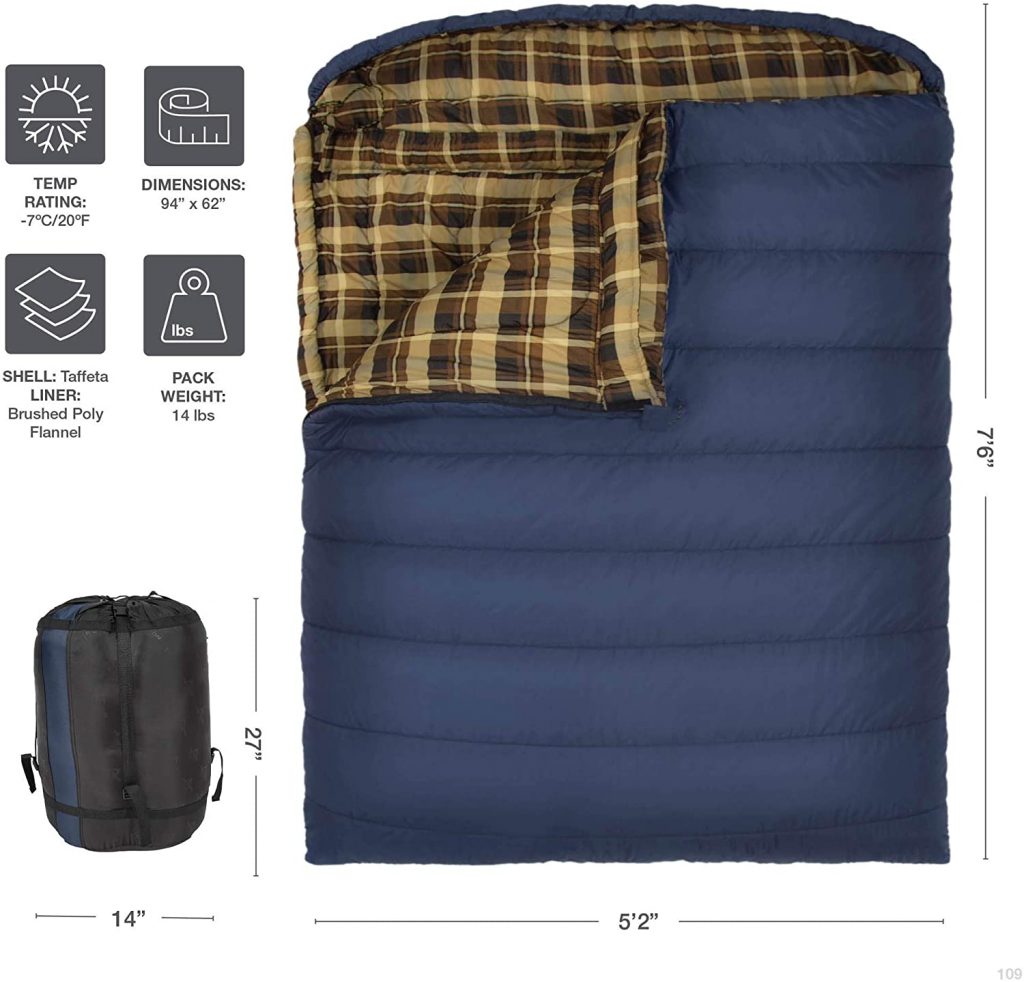 It even has plenty of zippers for easy entry and exit from both sides. Not to mention, it zips apart to become two separate snuggly comforters.
Despite its generous size, the mammoth is relatively light and surprisingly compact.
You won't be hiking this one to any steep summits, but it packs easily in the trunk of the family car.
130
at Amazon
Prices accurate at time of writing
Prices accurate at time of writing
Remember…
I can't stress enough how important it is to check the weather before heading into the wilderness.
Mother Nature is fickle sometimes, and she's been known to throw huge weather curveballs.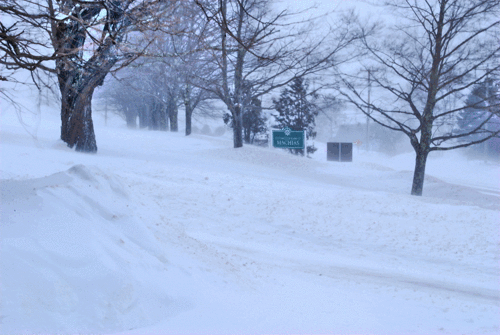 Check the weather ahead of time, but be prepared for it to change at a moment's notice.
Pack a sleeping bag with a limit rating of at least ten degrees cooler than the weather forecast predicts.
You should also expect temperatures to be significantly cooler if you're hiking to higher altitudes. Plan accordingly.
Conclusion
There is no one-size-fits-all-best sleeping bag. The type that will work best for you depends on several factors, including where you're camping, how you plan to get there, and what makes you most comfortable.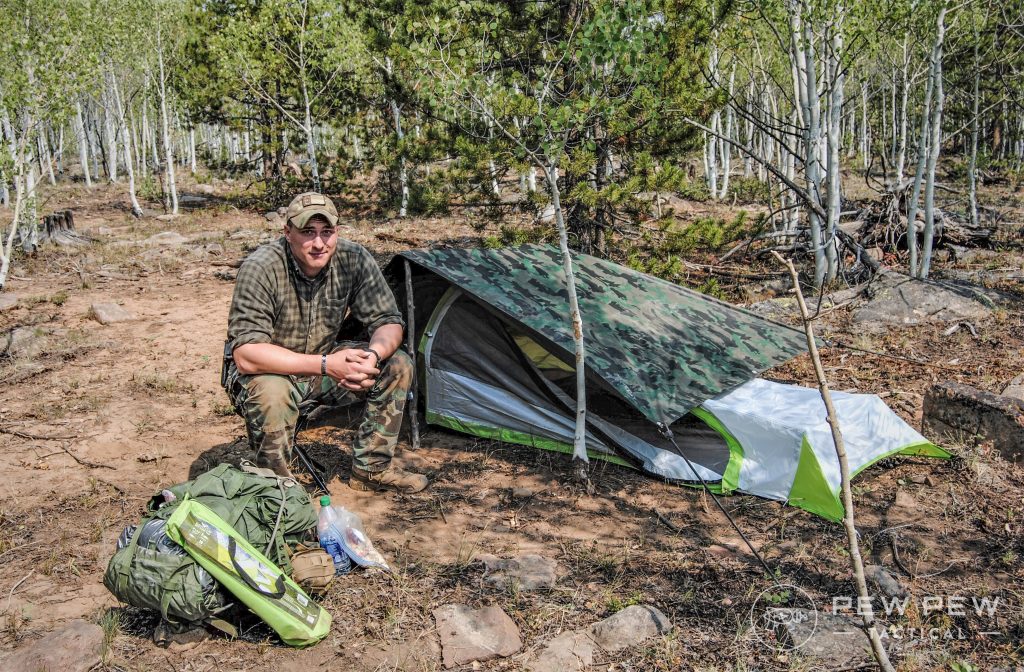 This is by no means an exhaustive list, but hopefully it's enough to get you started on your camping and backcountry adventures.
What are your favorite sleeping bags? Let us know in the comments below. If you're looking for other camping gear suggestions, check out our recommendations for Camping Food and Water Filters.