Easily the most common "prepper" radio out there is the Chinese Baofeng (pronounced BOW-fung) UV-5R.
While this is the radio that people love to hate, the fact of the matter is that they're everywhere.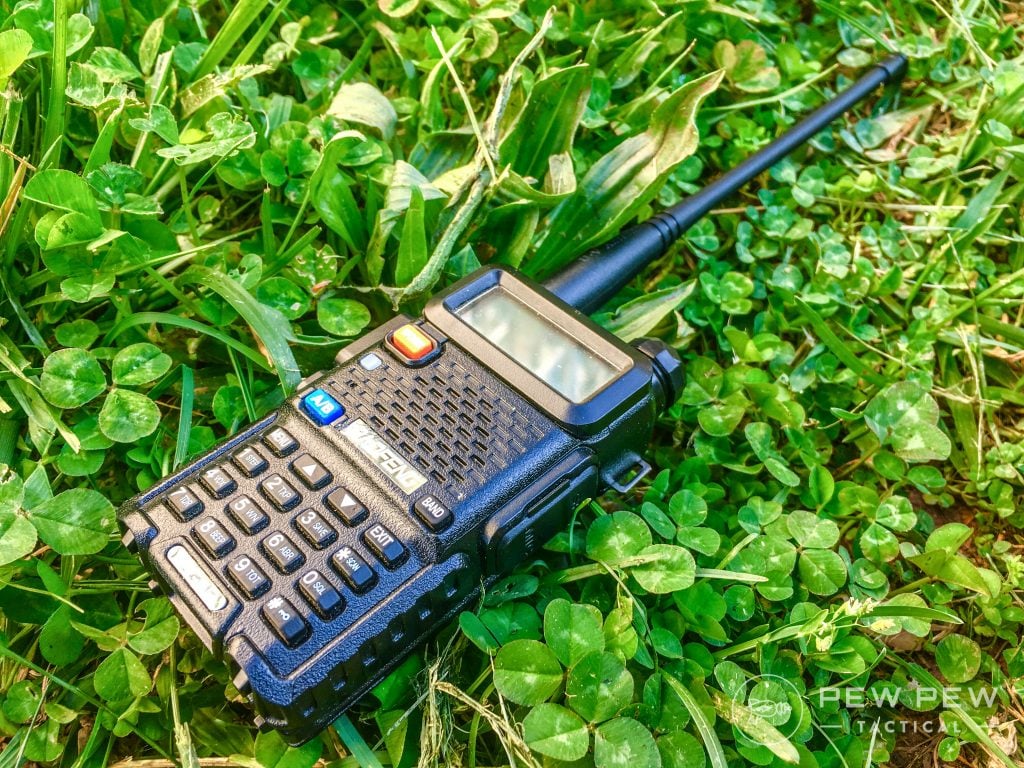 For somebody who just finished passing their Ham Technician exam, getting started in a new skill for $30 is rather appealing. Especially when all of the other competing radios out there seem to start at $120 and up.
As such, the UV-5R isn't going anywhere soon. Should you end up in an "end of the world" event, sooner or later you will run into a UV-5R.
Knowing how to use this ubiquitous little radio could very easily be the difference between life and death.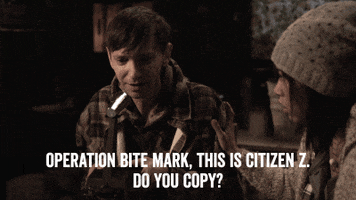 Unfortunately, the problem is that this radio has what is widely agreed upon as the worst instruction manual within the entire radio industry.
What few instructions you do receive from that little sliver of paper won't be in Chinese, but they may as well be.
23
at Amazon
Prices accurate at time of writing
Prices accurate at time of writing
So we're here to help our fellow preppers out with some advice on how to setup and use the UV-5R. We'll cover what the buttons control and how to get things set up the right way.
Without further ado, let's take a look at how to use the UV-5R…
Table of Contents
Loading...
What the Buttons Do
The world of ham radio is filled with annoying acronyms that don't make very much sense at first.
And the UV-5R is no exception. Its buttons display random collections of letters that will leave you afraid to touch any of them for fear of messing up the programming.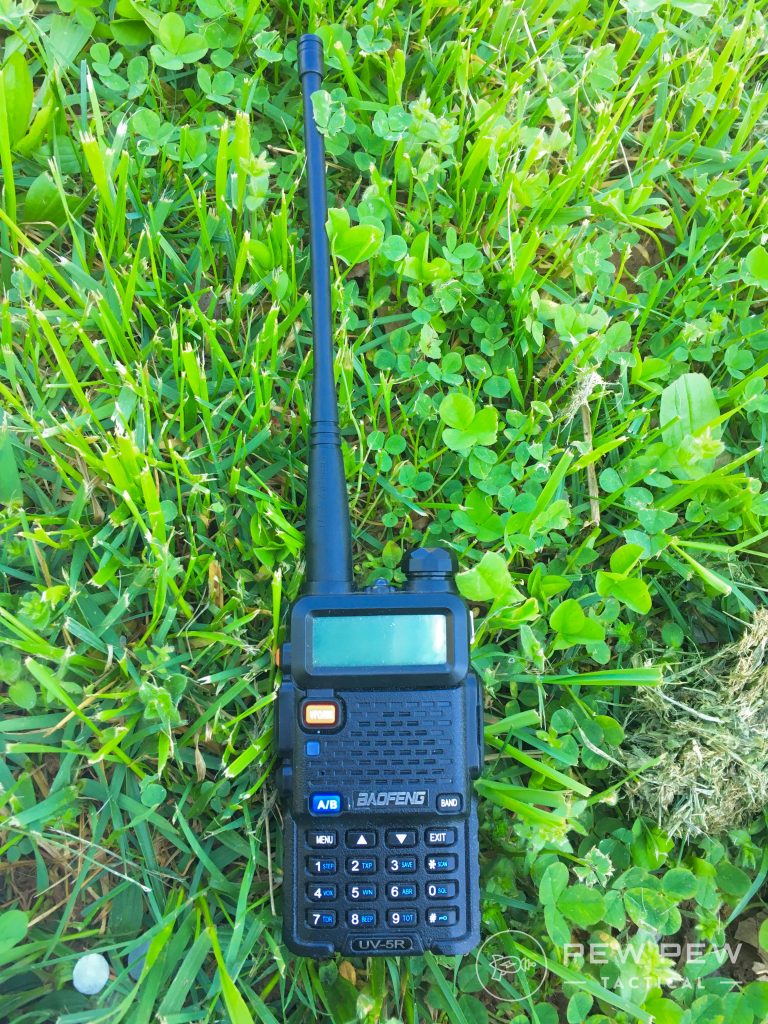 However, with a little bit of training you'll discover that it's not nearly as scary as it initially looks.
Top of the Radio
The Power/Volume Knob
This is what turns the radio on and adjusts the volume of incoming messages. Turning this knob clockwise will cause the radio to turn on.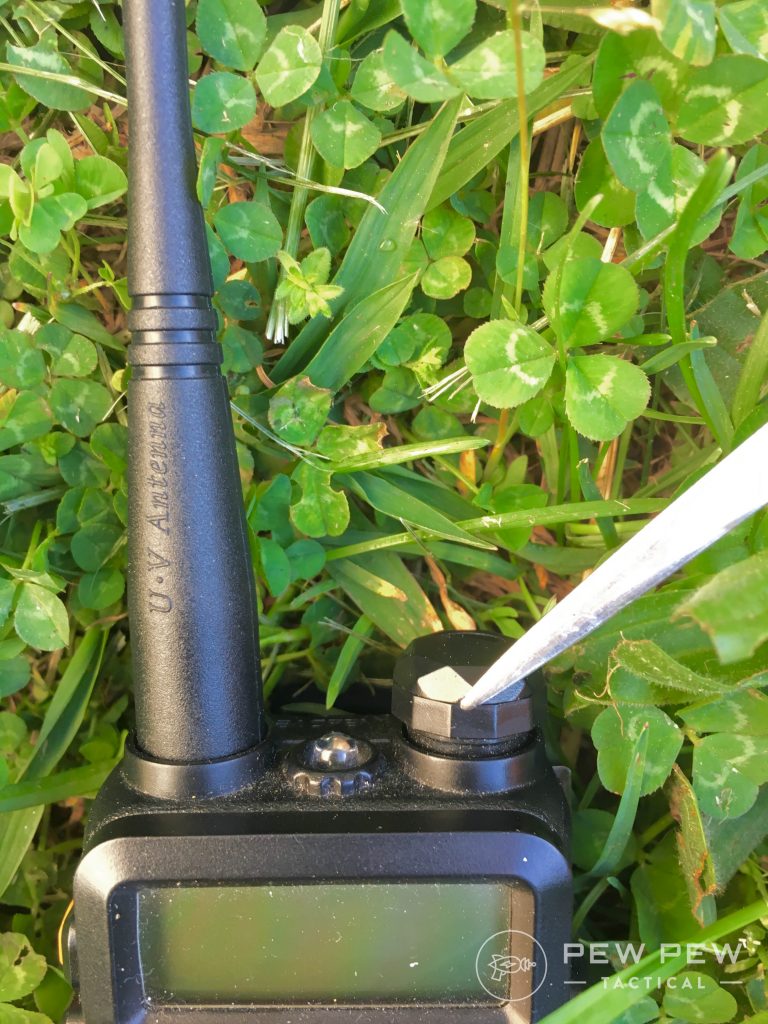 The further you turn clockwise, the louder the radio will get on your end. Turning the knob counterclockwise will cause the volume to decrease.
Turn this knob counterclockwise enough and it'll turn the radio off with a satisfying click.
Left Side
The CALL Button
You'll see three buttons there. At the very top sits an orange button labeled CALL.
If you press that, the broadcast FM transceiver turns on.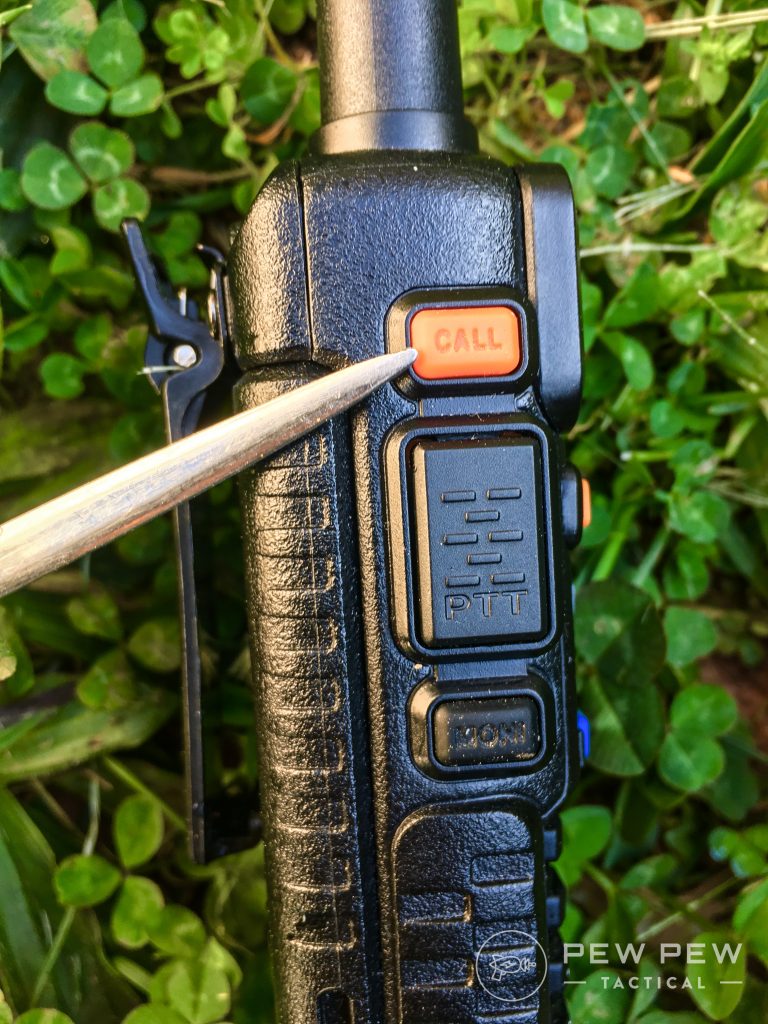 This will allow you to listen to the latest Chris Stapleton songs on your favorite country music radio station. Just use the arrow keys or the keypad to type in the radio station you want to listen to.
To get out of using your radio in this mode just hit the CALL button again.
The PTT Button
PTT stands for "push-to-talk."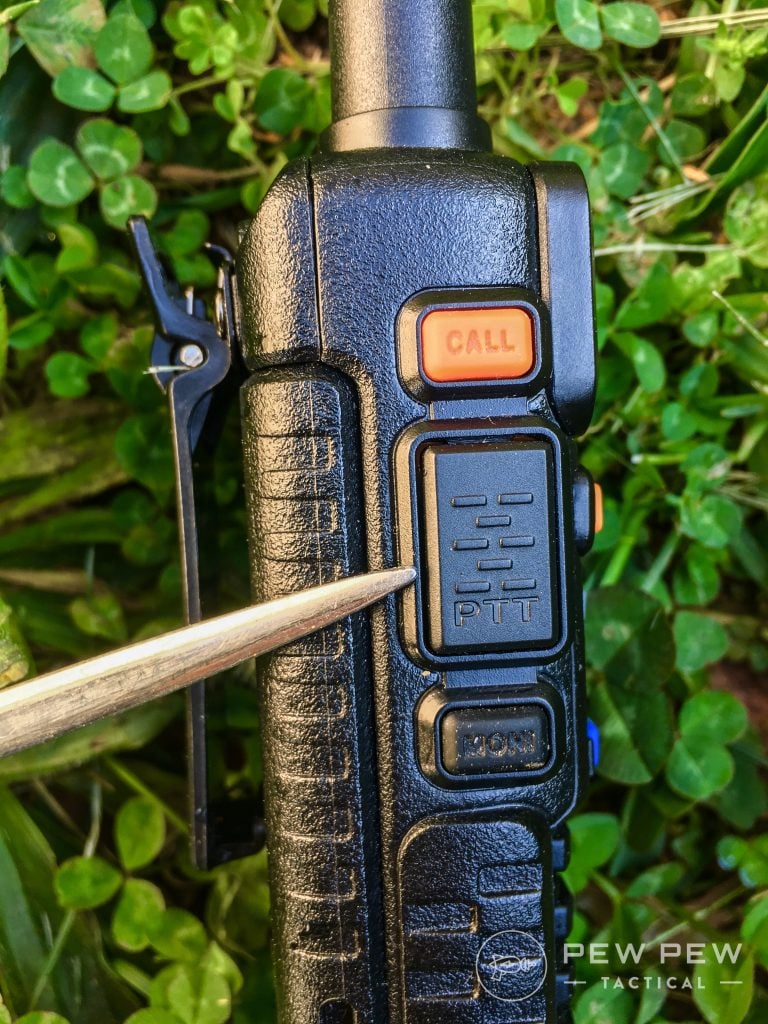 If you want to get a message out there, you have to hold this button down the entire time you talk. Release it when finish talking.
It's as easy as that.
The MONI Button
This little button can do a few things for you.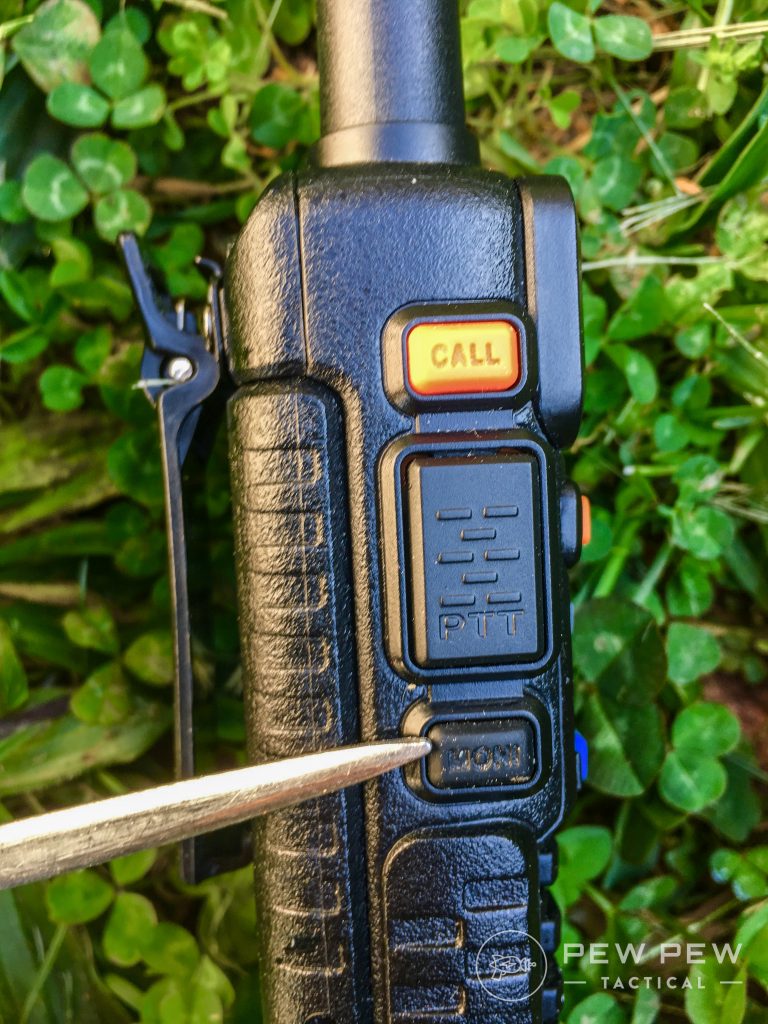 The first is to turn on the flashlight that's on the top of the radio.
After the light is on, if you press the MONI button again you'll put the flashlight into a strobe light mode.
Press it one more time to turn the flashlight off.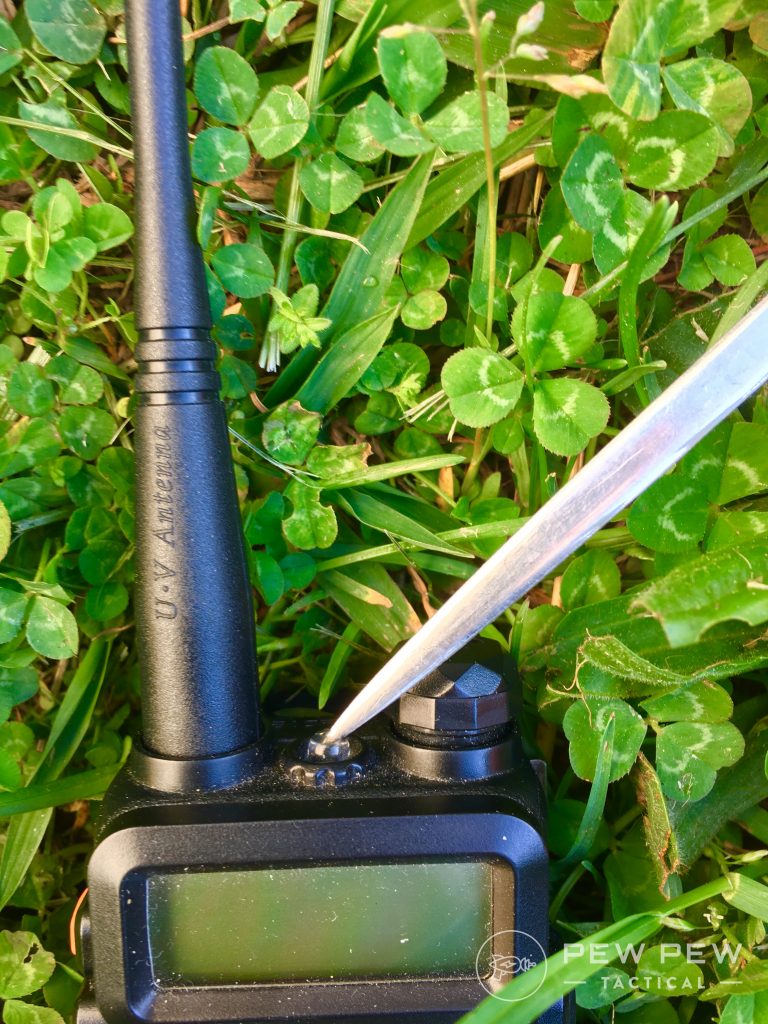 If you press and hold the MONI button, you'll open up the "squelch."
The acronym MONI is short for "monitor," and this function is used when you want to monitor the unfiltered signal.
This just means you'll likely hear a whole lot more static than what you're used to. I don't ever really use this feature.
Radio Face
This is where the majority of the buttons are.
The Orange VFO/MR Button
This button will change your radio back and forth from Frequency Mode to Channel Mode.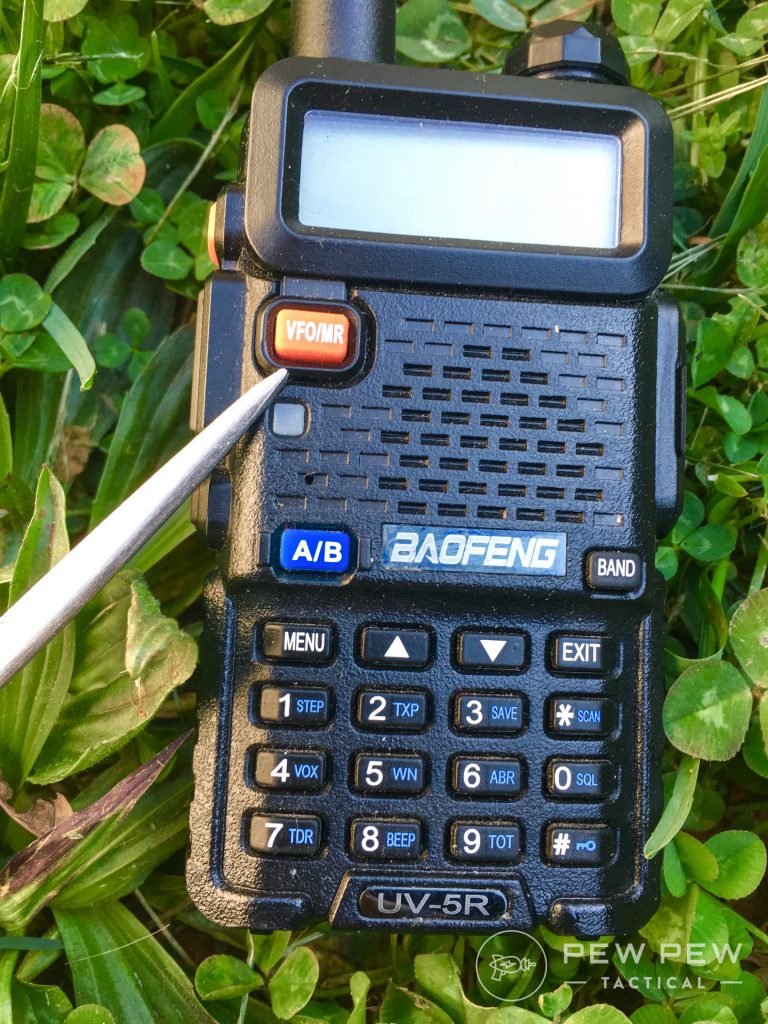 The radio will announce which mode it's in, but you can also tell by looking at the screen.
In Channel Mode (if you already have channels stored in the memory), there will be little numbers to the far right of the screen telling you which channel you're on.
Frequency Mode doesn't have these numbers.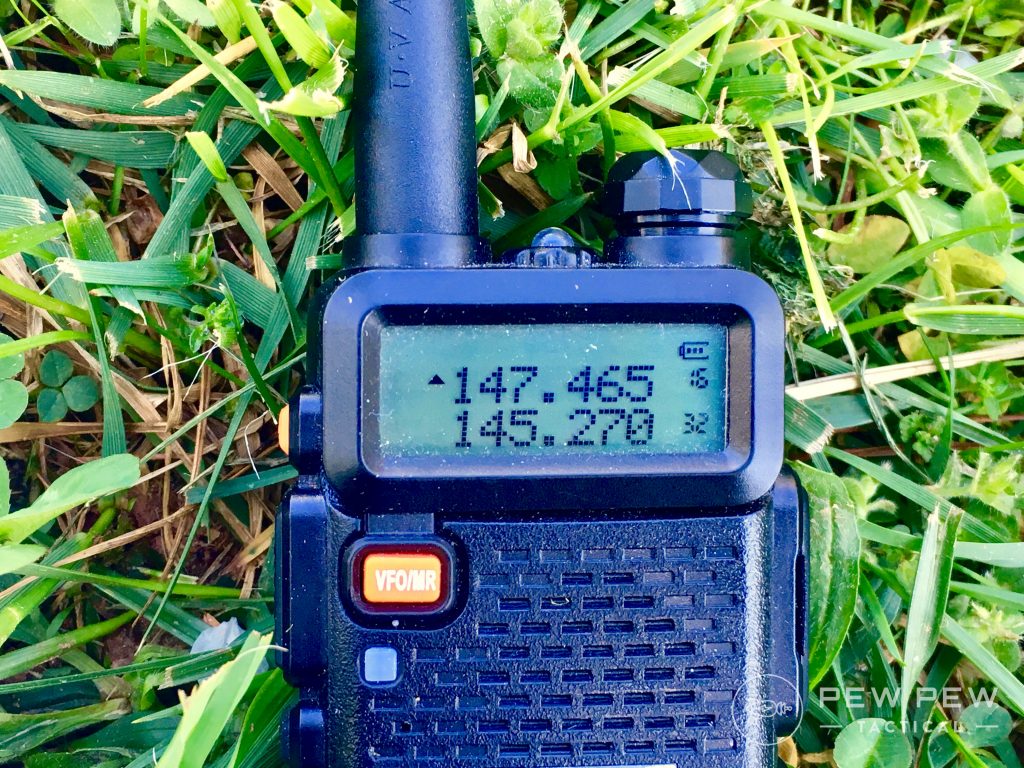 Frequency Mode is what you want if you're in a new area trying to find radio traffic.
Channel Mode is best suited for when you've already done programmed in local frequencies and repeaters and want to tune into them quickly.
The Blue A/B Button
Pressing this button will toggle back and forth between the upper frequency and the lower frequency on the screen.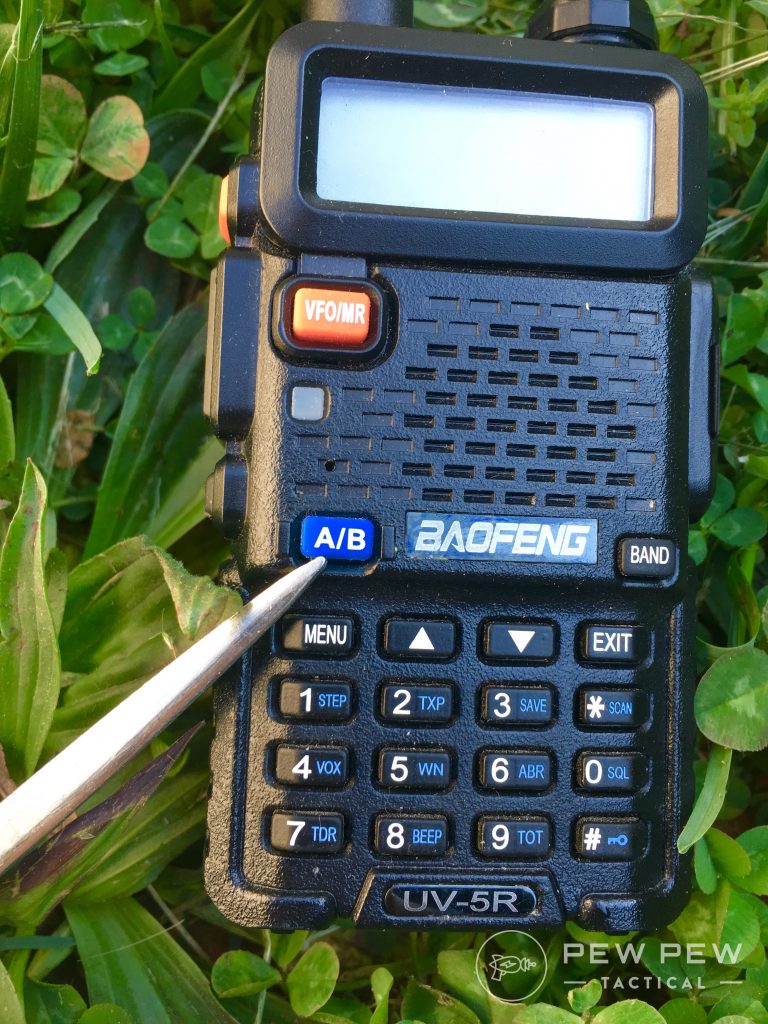 Your UV-5R is cool in that it can transmit on one frequency while listening to another.
The upper frequency is what you're listening to. The lower frequency is what you're transmitting on.
If you want to make changes to one or the other, you'll need to toggle the arrow on the far left of the screen to line up with the frequency you want to change.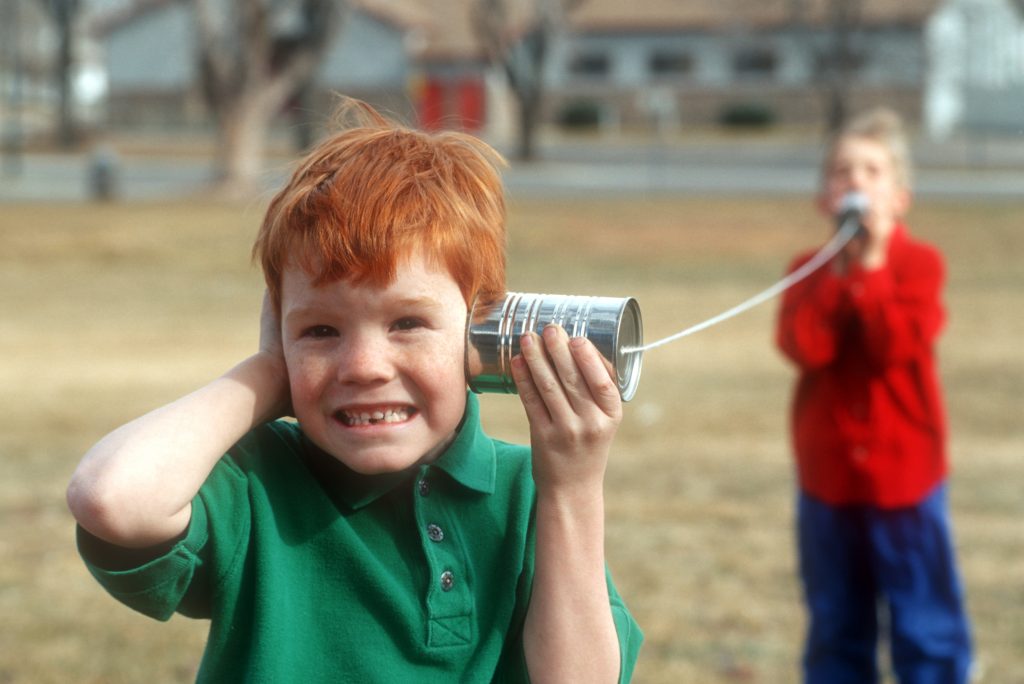 There are a lot of other buttons on the face of the screen, but we'll come back to those later.
For now, these two are the ones that you need to know.
Right Side
The only thing over here is your accessory jack. The UV-5R utilizes a dual prong connection for any type of cabling that plugs into it.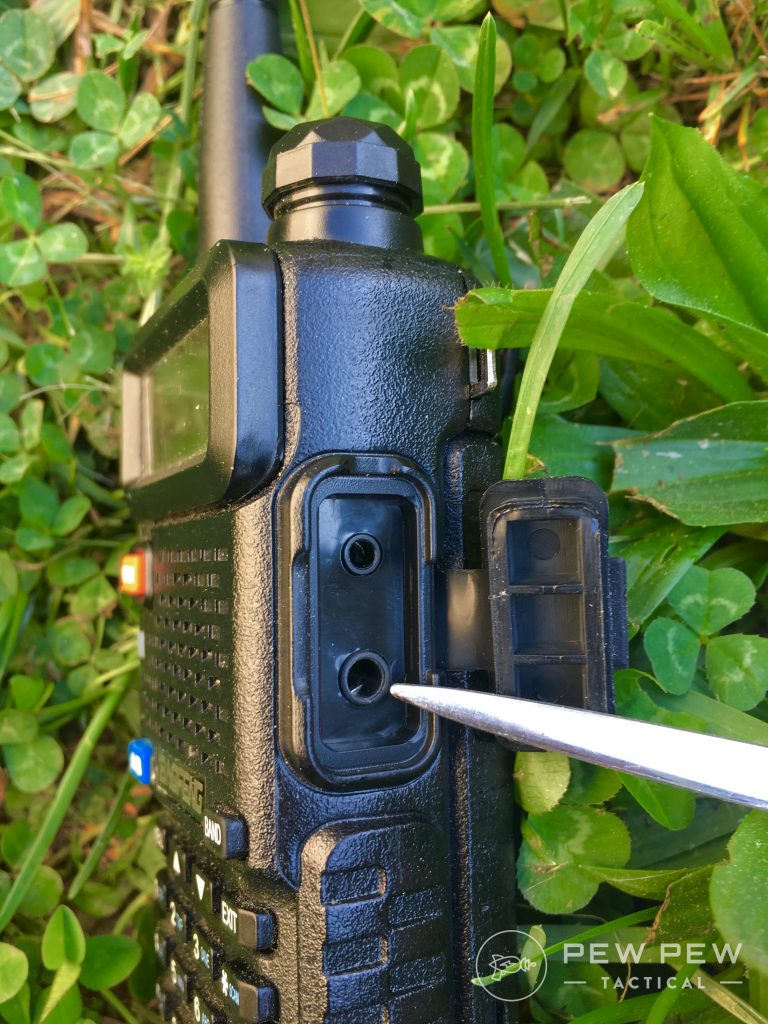 Whether you're looking at cloning somebody else's radio settings (possible with two older model UV-5Rs and a cloning cable), using CHIRP to program your UV-5R, or plugging in a headset, this is where you'll insert the plug.
Changing Frequencies
There are two main ways of changing frequencies with the UV-5R.
The first is to use the two arrow buttons right underneath the center of the screen.
By hitting one or the other, you bump the frequency you want to change either up or down.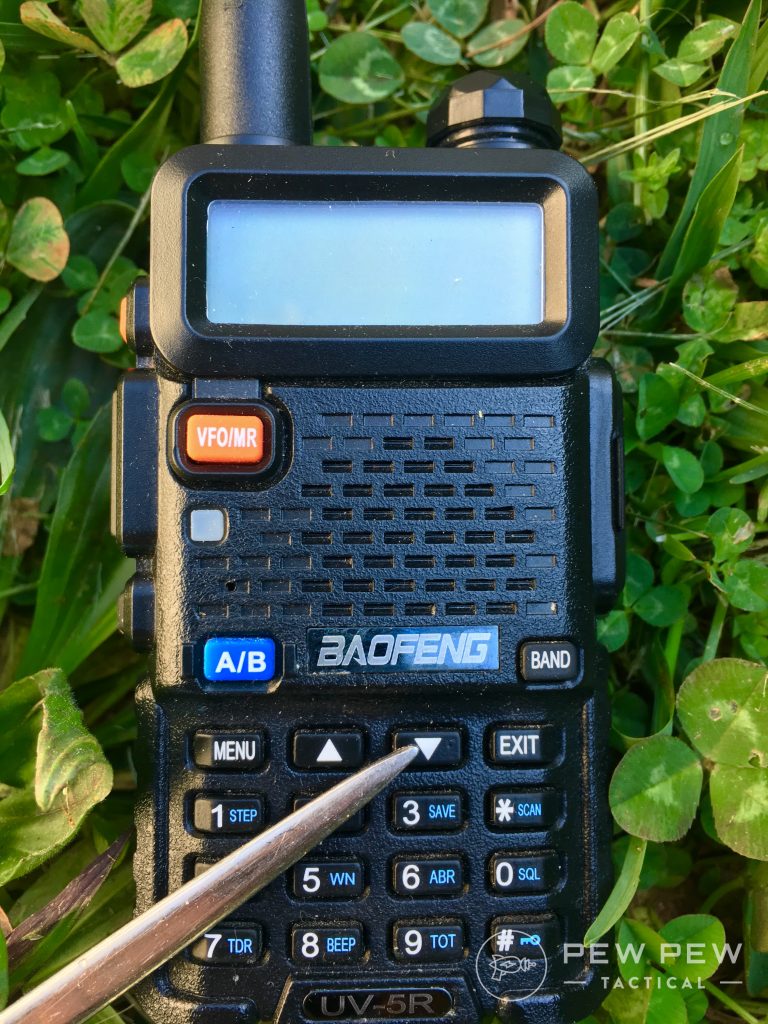 But a much quicker way to change your frequency is to type it in.
Changing the Band
A UV-5R has access to two different bands within the amateur radio spectrum — the 2-meter band and the 70 cm band.
That's why the UV-5R is referred to as a "dual band" radio.
The 2-meter band is a "very high frequency" (VHF) and therefore good for rural locations – performing well in wide-open areas and over relatively longer distances.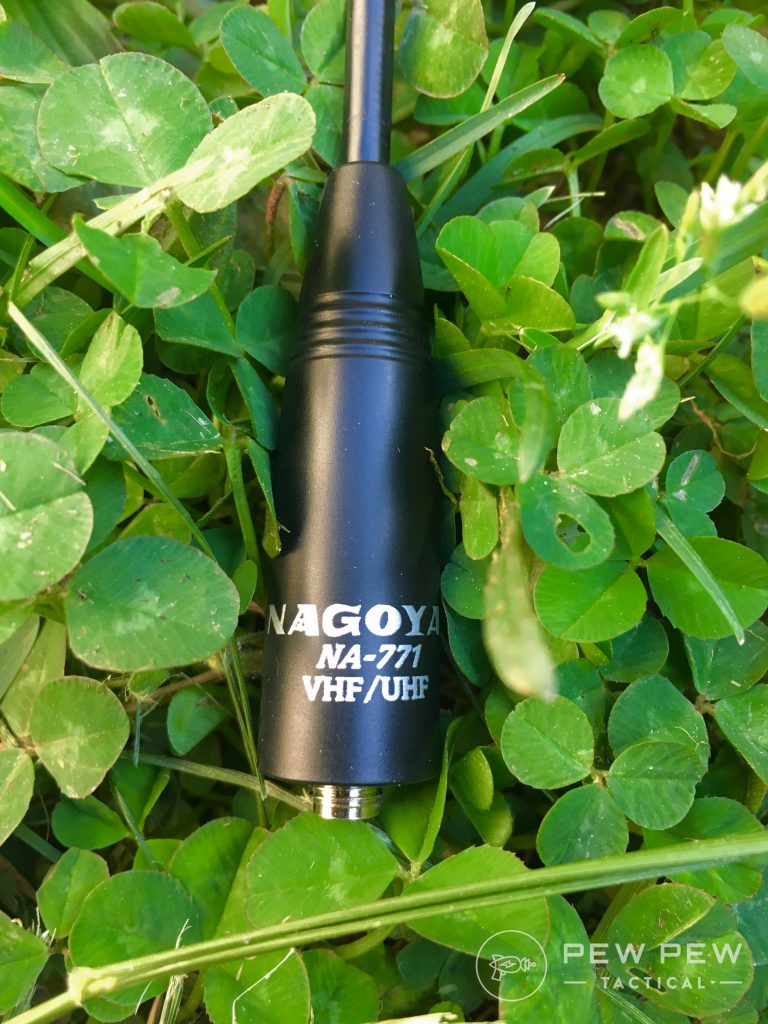 In contrast, 70 cm is good for urban locations with a lot of buildings (it goes through them easier) and through very thick vegetation.
It is a "ultra-high frequency" or UHF.
To do this, all you have to do is hit the BAND button on the face of the radio.
If you see a number between 144-148 show up on the screen, you know you're in VHF. If the number is between 420-450, you're in UHF.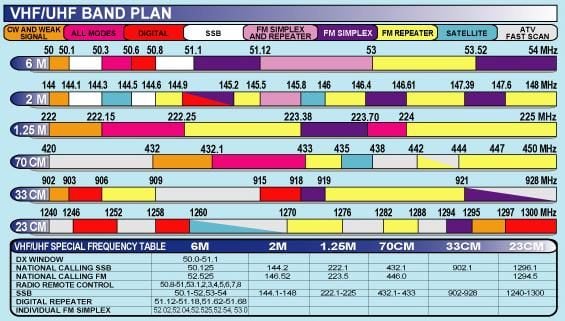 How to Scan
Scanning is a useful feature that allows you to search the frequencies within any particular band to see where the chatter is at.
The UV-5R is slow at this process, but it is a feature it contains.
If you're looking for a quicker scanning feature, I recommend checking out a dedicated scanner such as the BCD325P2.
NC Scout over at brushbeater.org highly recommends it for his radio work, so it must be doing something right.
394
at Amazon
Prices accurate at time of writing
Prices accurate at time of writing
To scan channels, find the star key on the face of the radio — that button doubles as the SCAN button.
By holding that down for a second or two, your UV-5R will begin the scanning process.
Depending on the internal settings, the radio will likely stop for a second or two once it reaches a transmission before resuming the scanning process.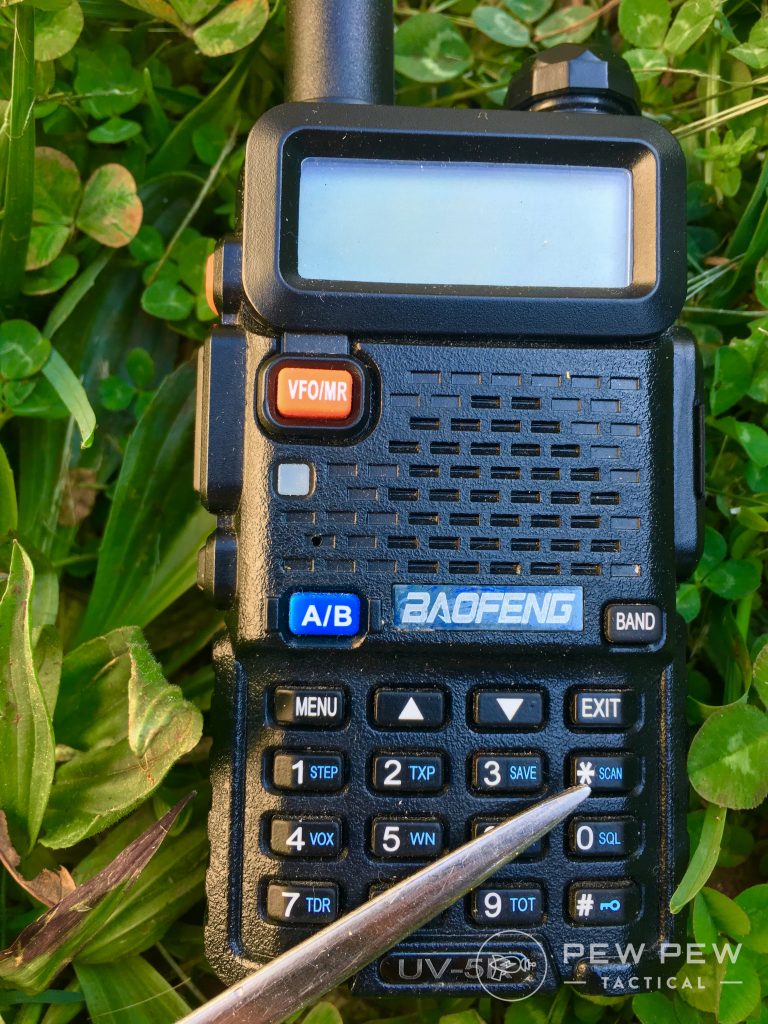 To get the radio to stop scanning (say you've found something you want to listen to), all you have to do is to hit the SCAN button again.
Saving Frequencies as Channels
Let's say you and your buddies don't want to use a local repeater to communicate.
Perhaps four of you run security for your neighborhood post-disaster. Given that you're all within a mile of each other, there's really no need for a repeater.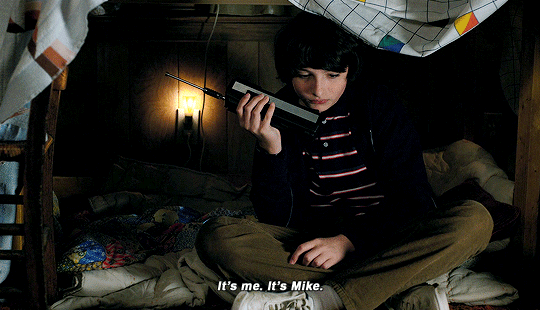 So, you decide to just pick a frequency not associated with a repeater to talk with each other on.
This type of peer-to-peer communications with no repeater involvement is referred to as simplex communications.
There's no middleman, so it's simple, see?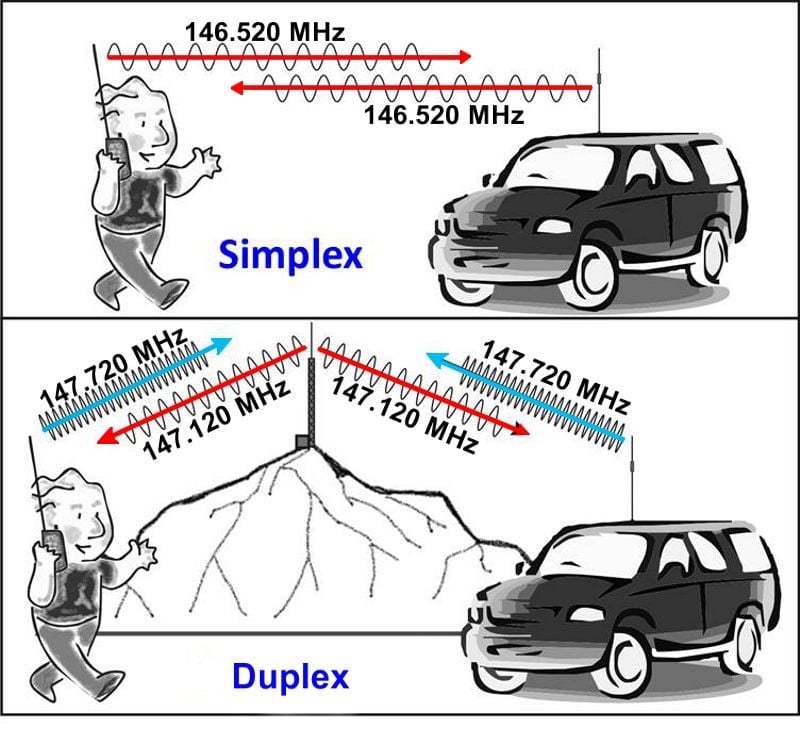 To set up 148.550 as the frequency that you all use, and store it as a channel within your radio so that you can switch back and forth with ease, here is what you do:
First, hit the orange VFO/MR button on the face of the radio to get to Frequency Mode.
Now, either use the arrow keys or use the keypad to type in the frequency that you want to use. In our case, we said we were going to use 148.550. You need to make sure you have the same frequency for both listening and receiving. Make sure the top and bottom frequencies displayed are the same.
Press the MENU button.
Type "27" to get to the channel selection area.
Press MENU.
Enter in the desired frequency.
Press MENU.
Press EXIT.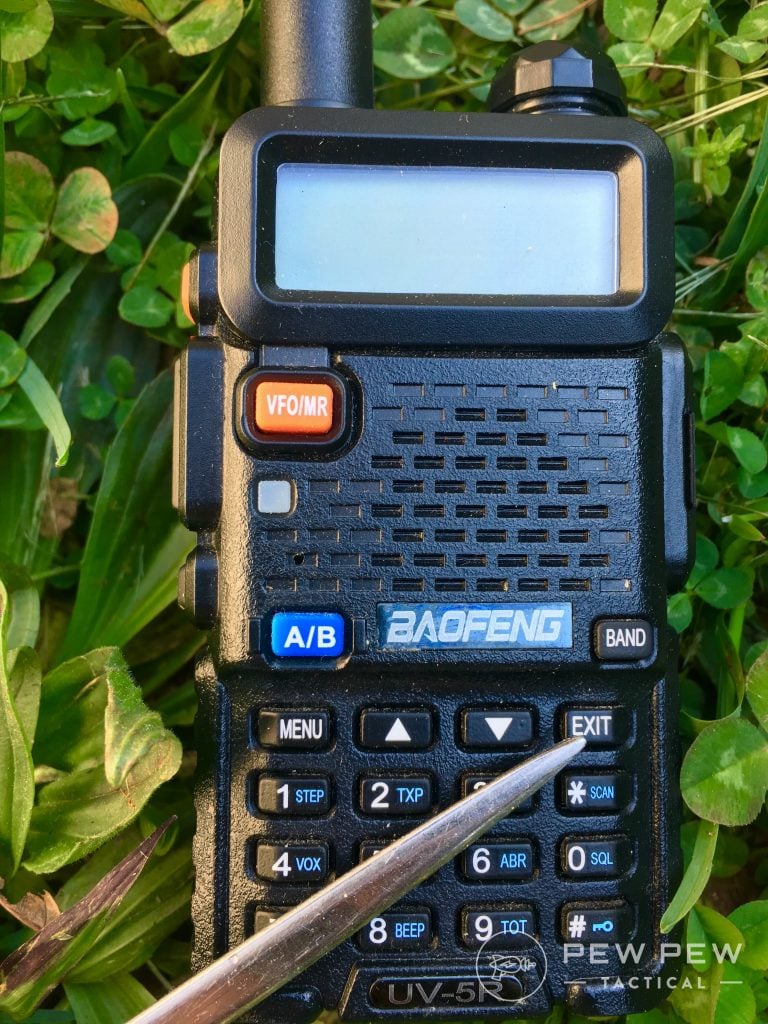 Programming in a Repeater
All over your region resides specialized antennas called "repeaters."
I like to think of them like using a mushroom in Mario Kart — when you use them, you get launched further.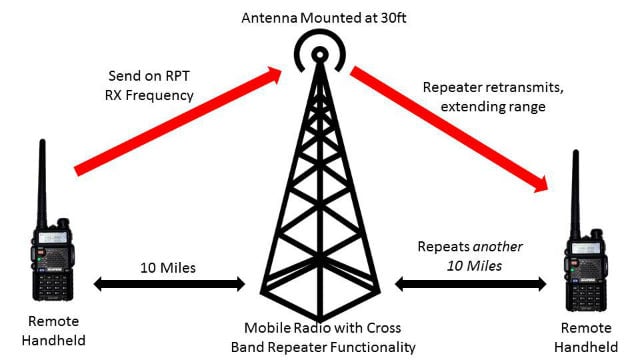 Your signal will only go so far from your radio of its own accord. Those repeaters are the mushrooms that give it a boost to go further.
You want to have as many of these local repeaters programmed into your UV-5R as possible.
Thankfully, the UV-5R can store up to 128 of these, so you'll have no problem programming in all of the ones in your area.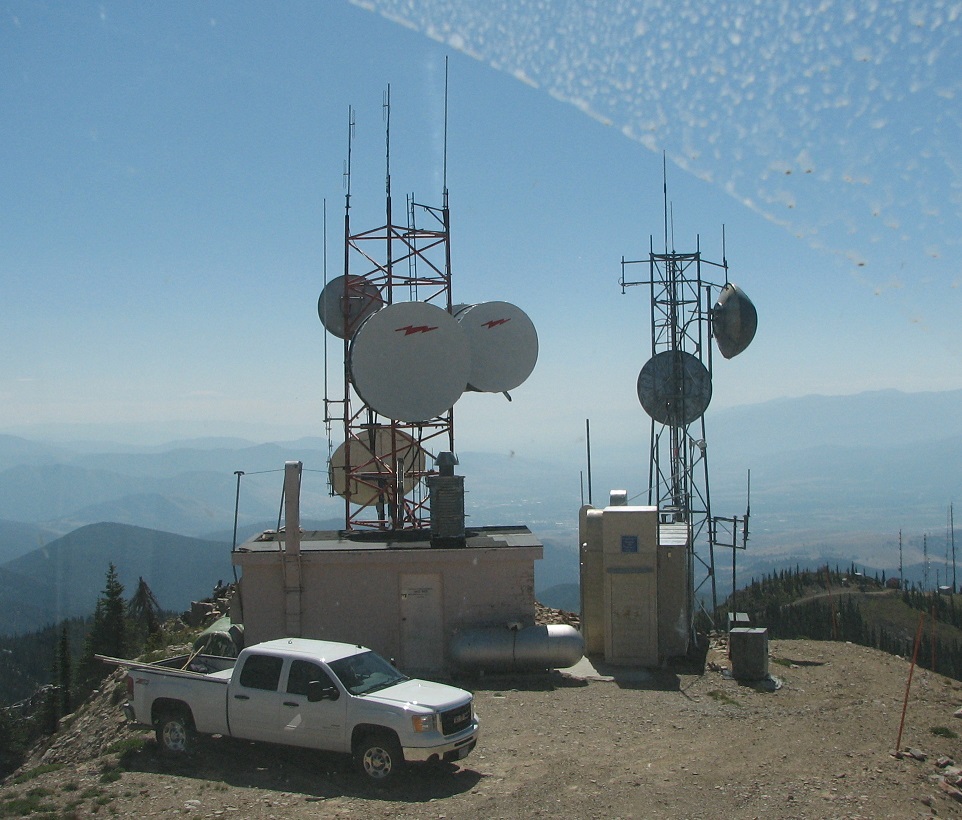 To find out what the local repeaters are in your area, I highly recommend using RepeaterBook and RadioReference.com. (Worth noting, RepeaterBook has a mobile app!)
Both of those will keep track of what's available in your area, giving you the information of where they're at and what you need to do to access those repeaters.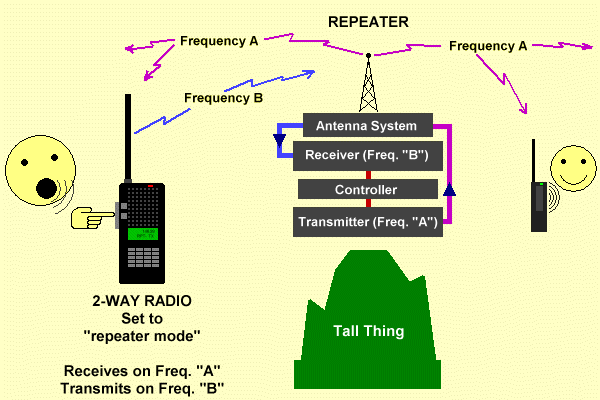 The easiest way to program all of these repeaters into your UV-5R is with a program called CHIRP.
This will let you enter all of the information you need into something of a spreadsheet, and then with the appropriate cabling, download all of that information onto your UV-5R.
23
at Amazon
Prices accurate at time of writing
Prices accurate at time of writing
However, you can also program repeaters into the UV-5R just by using the keypad.
It's a bit more complicated and way more confusing…but here's what you do:
Make sure your radio is in Frequency Mode first. All you have to do is hit the orange VFO/MR button until you hear the radio say that it's in Frequency Mode.
The repeater has something called an output. This is the frequency that you'll hear transmissions from through that repeater. You'll have to enter this next. Do this by hitting the up and down arrow buttons, or by using the keypad to type it in.
Once you've reached the desired output frequency, hit the MENU button.
Type in "26". This will take you to where you program the frequency offset.
Hit the MENU button again.
Use the arrow keys (or the keypad again) to get to what the desired frequency offset is.
Press MENU again to confirm and save your choice.
Type in "25" to program in the offset direction.
Press MENU to confirm and save.
Use the arrow keys to decide if you want a positive or a negative offset.
Press MENU to confirm and save.
Now what we've done is to set up the particulars of the repeater that we want to hit. It was a pain in the butt, wasn't it? If we turn off the radio, we're likely to lose all of that work we just did. So, we need to save everything as a channel within the radio.
Press the MENU button.
Type in "27" and you'll be taken to where you can add channels to the radio.
Press MENU.
Use the arrows to select what number you want to set your channel to. So if you want this repeater to be Channel 5, move the arrows until there's a five present.
Press MENU to confirm you've selected the channel number that you like.
Press EXIT.
Because the repeater that you want to access is likely a "duplex" repeater – a repeater that lets you transmit on one frequency while receiving messages on another – there are a few more steps that we have to make. To start with, let's hit the asterisk button.
Now go back to step #13 and finish at step #18. All set!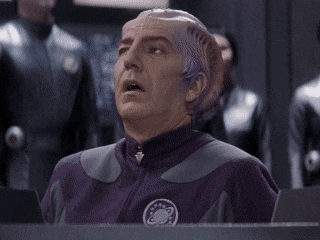 Listening on One Frequency and Transmitting on Another
Both within a disaster response setting and in a security setting, there are advantages of receiving messages on one frequency while transmitting messages on another.
For example, let's say a flood of unprecedented scope has hit your area.
You're paddling through your neighborhood on a small, single-person kayak with your radio looking for people in need of help.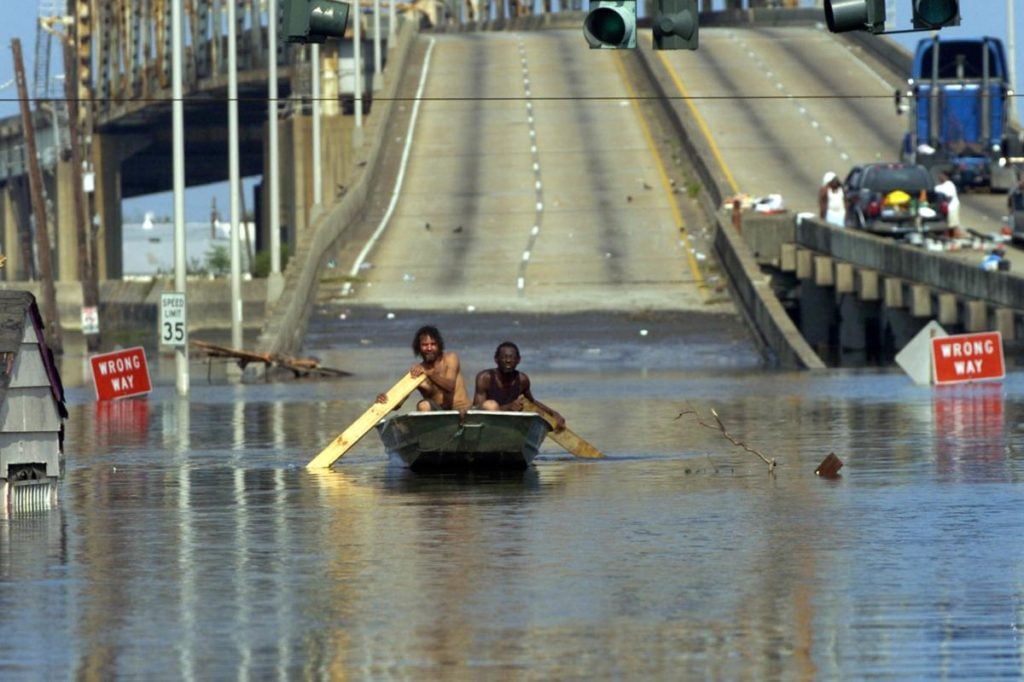 If you're listening on a frequency you know a lot of hams in your region like to use post-disaster you can gather a lot of information…like stranded residents in need of help.
When you get all of this information, you want to broadcast it to as many people as possible.
So, you use a repeater on the edge of town to send your message to an unaffected nearby town. The hope is that this will bring in good Samaritans to assist in the rescue process.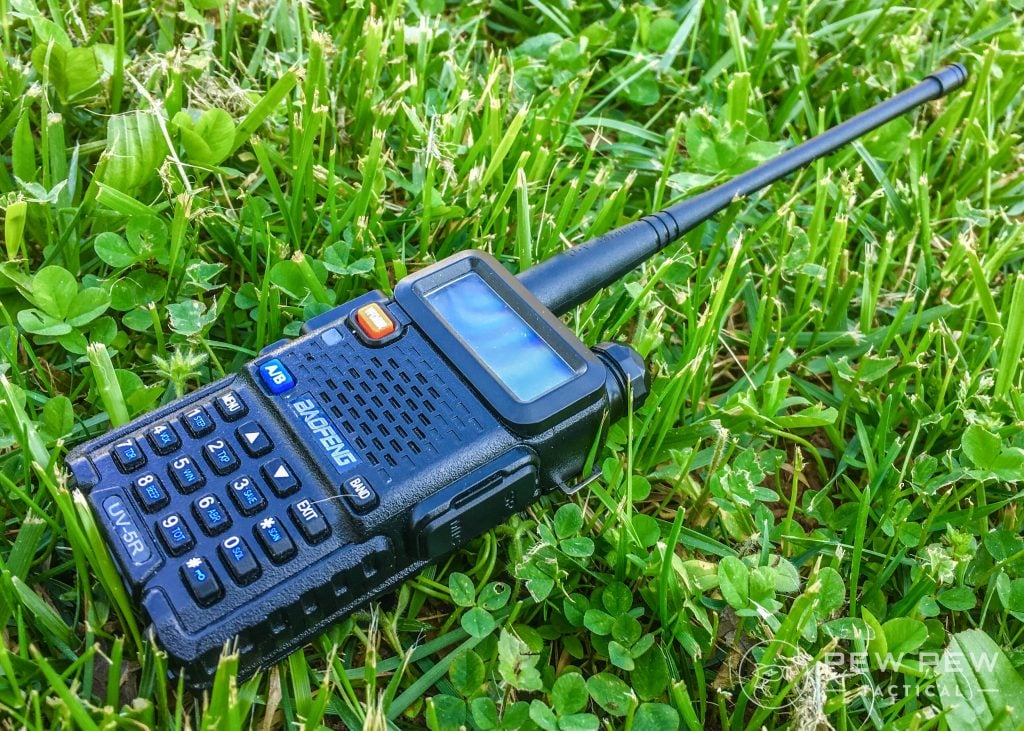 You don't care about what is said on the repeater; you just want to get the information out there.
From the safety perspective, perhaps you're looking for a way to help boost your comms security. You and your team are behind enemy lines and need to do everything you can to keep your comms secure.
One thing that you can do is to receive messages on one frequency while transmitting on another. This will make it so that if your comms are intercepted, the interceptor is going to hear only one part of the conversation.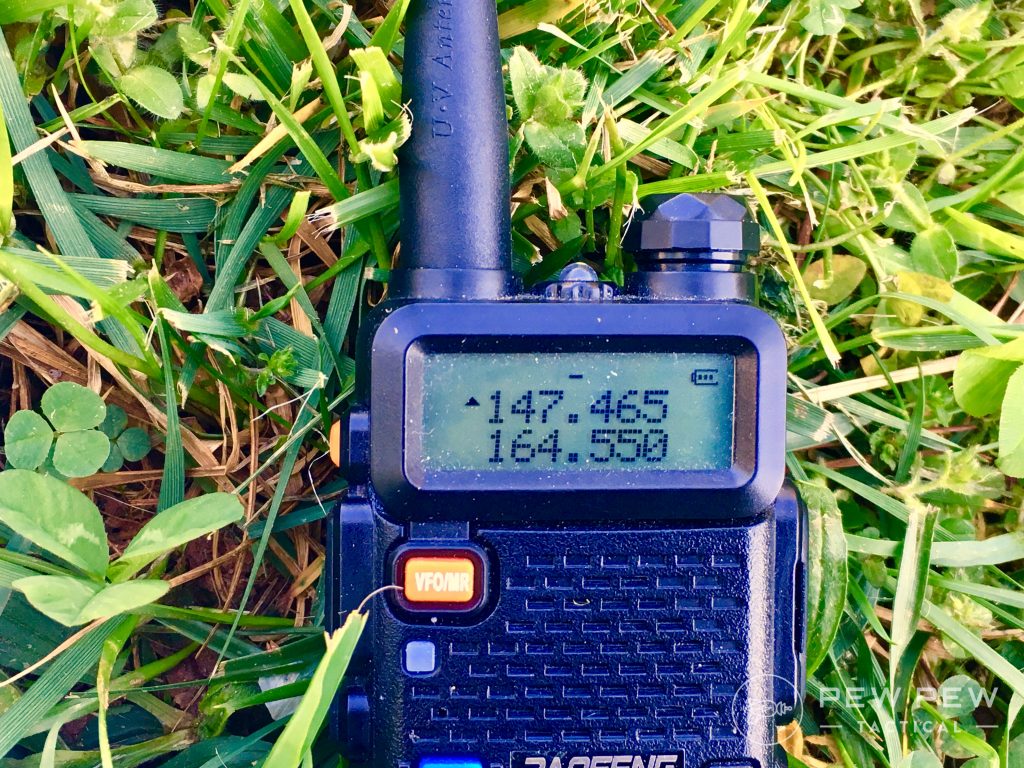 To do this with your UV-5R is rather simple.
All you have to do is hit the A/B button to select the frequency on top – changing it to the desired frequency – and then hit the A/B button to select the frequency on bottom. Then change it to the desired frequency you want to talk on.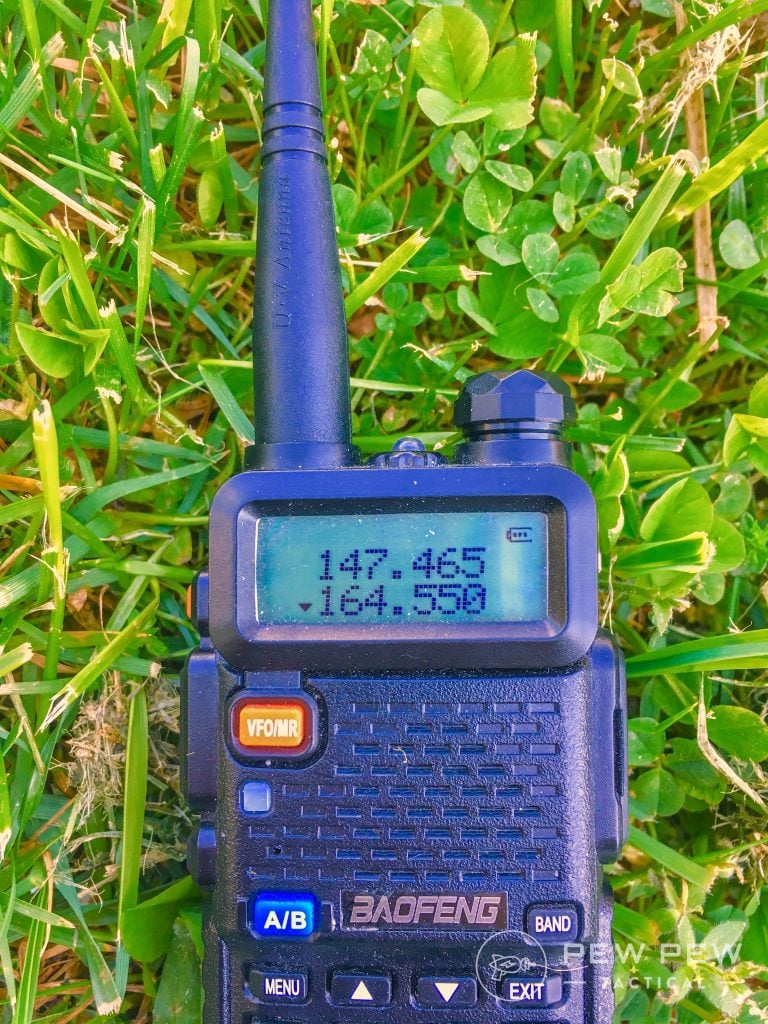 Keep in mind that the buddy you're talking to needs to have these frequencies reversed on his radio. Otherwise, both you and him will be listening to silence.
Also, be aware that this is a way to communicate with one other buddy.
If there are four men out in the field together, using this method will make sure no one gets the message.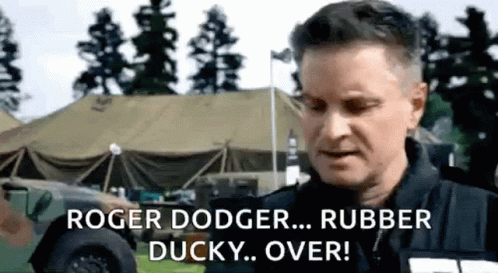 Conclusion
While it lacks a user-friendly design and most certainly doesn't have the best manual out there, the UV-5R is till a decent little radio.
With just around $100, you can easily outfit a neighborhood defense force for local comms and disaster preparedness.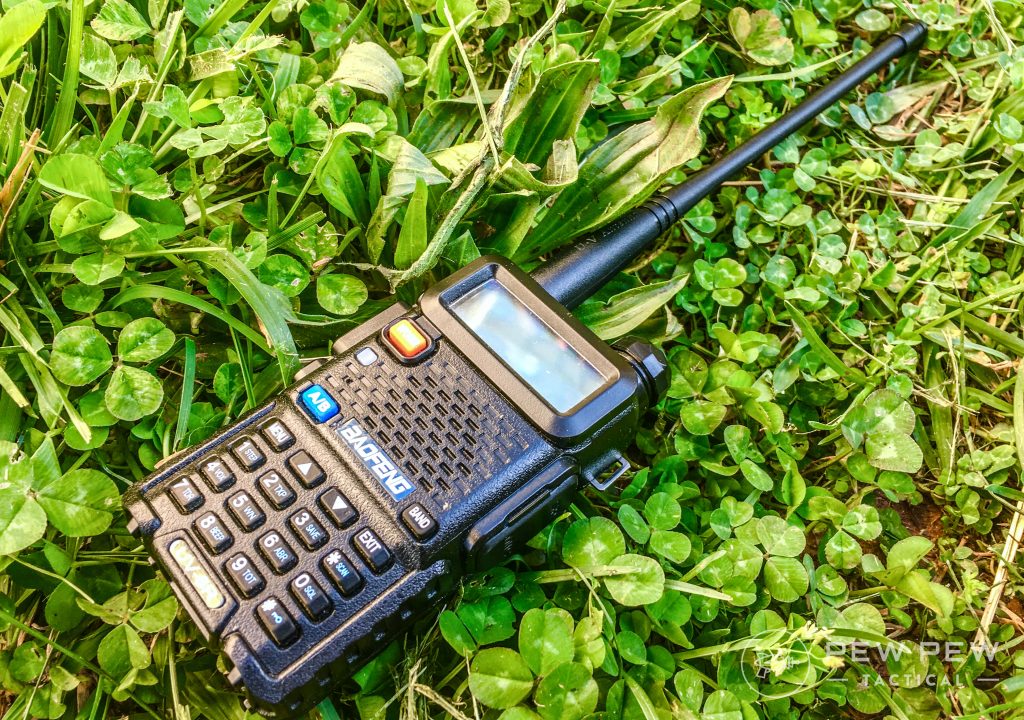 Something that could easily run you into the thousands of dollars looking at some of the nicer models out there.
While there's a lot more that your UV-5R can do, the above will at least get you off the ground and into the air.
23
at Amazon
Prices accurate at time of writing
Prices accurate at time of writing
If you're looking at a much more advanced level of instruction with how to utilize this cheap little radio, I highly recommend printing off Lennart Lidberg's Chinese Radio Documentation Project.
To date, it's the most in-depth instruction manual for the UV-5R out there. Not the easiest to understand, mind you, but the most in-depth.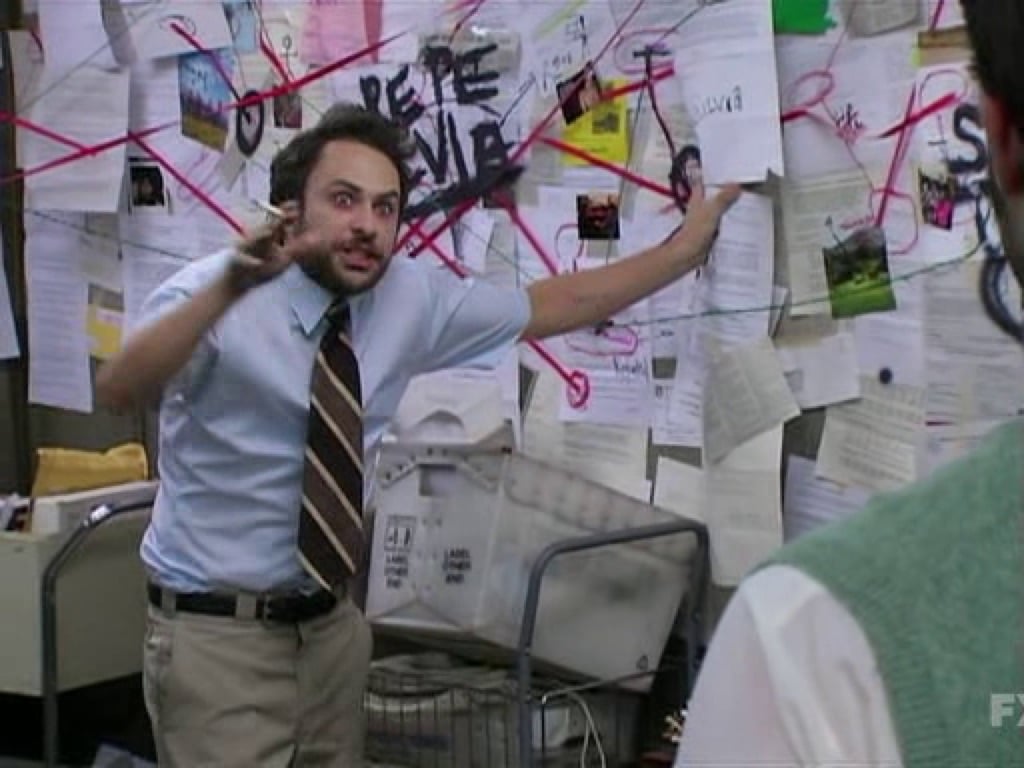 Ham radio most certainly has a steep learning curve, but hopefully, the above advice will give you the tools you need to get started with as low a level of stress as possible.
ADo you have any experience with the UV-5R? Let us know in the comments below! Looking to learn more about radios, but not ready for your Ham license? Check out the Best Two-Way Radios, too!