Bravo Company Manufacturing (BCM) has a stellar online reputation.
On the surface, BCM's Recce-16 might appear to be yet another AR-15 afloat in a vast sea of AR-15s.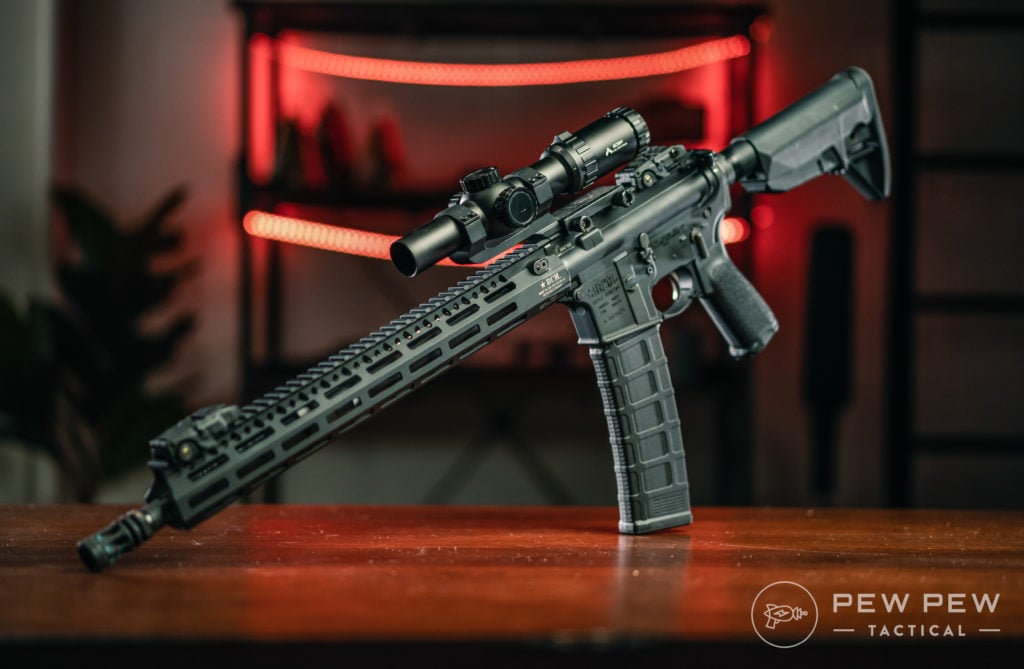 So what sets this one apart from the rest, and why should you care?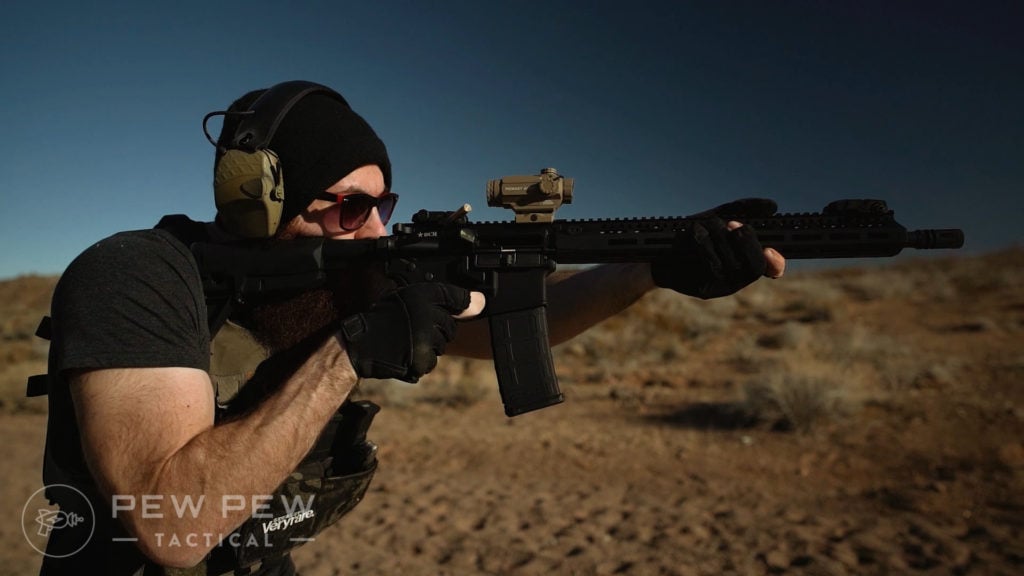 Now, we typically don't find the need to do reviews of each and every AR build around, because at the end of the day, making the same video 30 times is neither fun for us or probably interesting for you.
Generally speaking, we only enjoy covering AR-15s if they bring something specific and tangible to the table.
For instance, we cover PSA stuff because of the price point and overall value.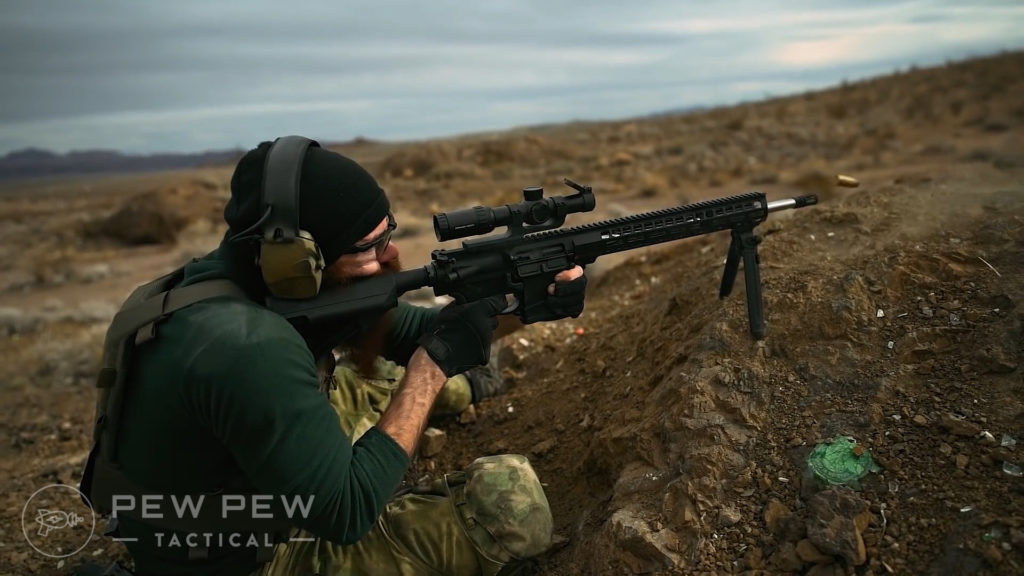 We made the effort to check out Battle Arms' super lightweight survival AR build…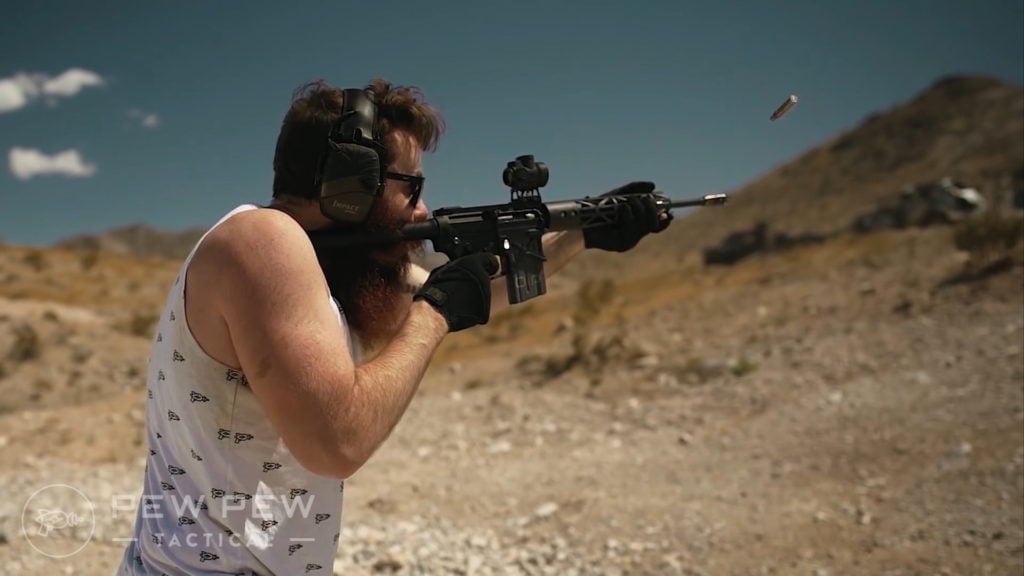 … and we've taken a look at some higher-end stuff like LWRC's DI and IC-SPR and have been a bit… unimpressed, in all honesty. 🤷‍♂️
So, where does that leave a company like BCM, and what specifically is special enough about them to review?
We figured it might be high time to find out what BCM is all about…and finally put to an end folks asking about them on every AR-15 centric article.
1559
at Brownells
Prices accurate at time of writing
Prices accurate at time of writing
Follow along with us in our complete video review:
And read on to see if the BCM is worth the hype and if it's perfect for you.
Table of Contents
Loading...
Fit/Finish
Straight from the get-go, the build quality on the BCM parts is fantastic.
Everything feels solid, the finish is great, and there's zero play or wobble in any of the components.
Front to back, we've got a BCM Mod 0 Compensator, which might look like a standard birdcage at first, but there's a lot more going on here than meets the eye.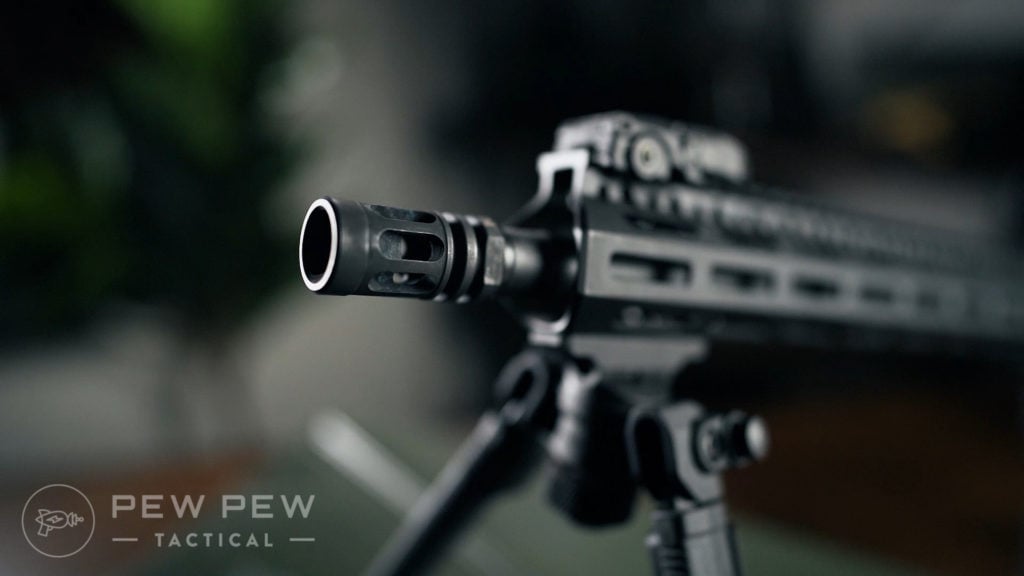 BCM themselves note that the Mod 0 wasn't designed with competitions in mind–rather, it's meant to mitigate flash, recoil, and lateral pressure for tactical applications–specifically aimed at teams working in CQB environments.
While we didn't have the opportunity to do any indoor shooting with the rifle, I was actually pretty surprised that the Mod 0 comp provided a level of recoil mitigation pretty close to the Faxon Muzzle brake I've got on my personal AR.
But with the added benefit of not ringing our videographer's bell any time he was parallel to my barrel while shooting.
You're still going to get a tiny bit of muzzle climb, but it's super soft and controllable, and much less than with a standard A2 flash hider.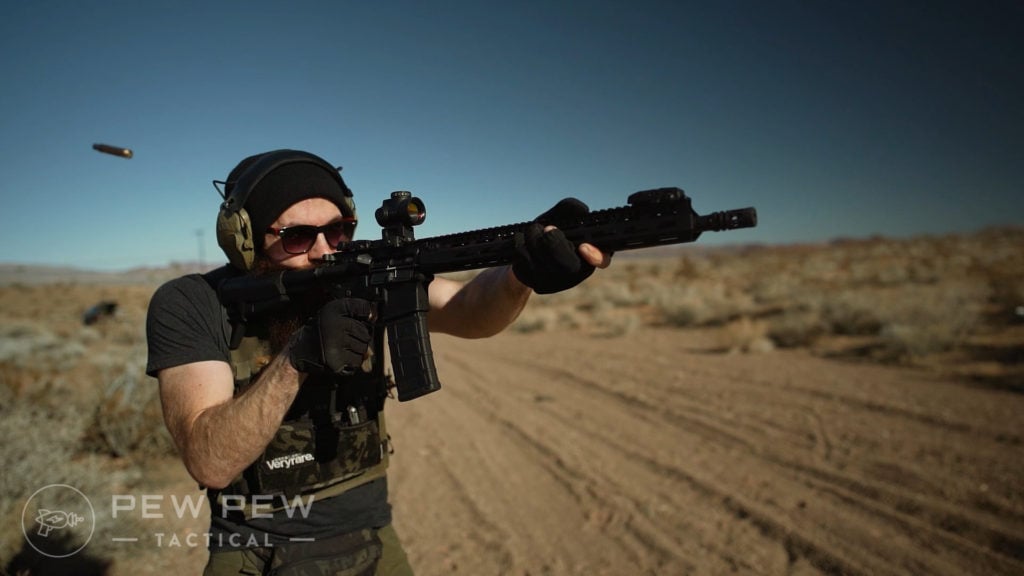 The barrel itself is 16" total, as mentioned, and is chrome lined, Government profile, and cold hammer forged with a 1/7 twist rate.
What this means is that you'll get tons of rounds through the barrel before you'll ever contemplate swapping it, probably somewhere in the range of 10-15k, and we'd hazard a guess that most of you just… don't shoot that much anyway.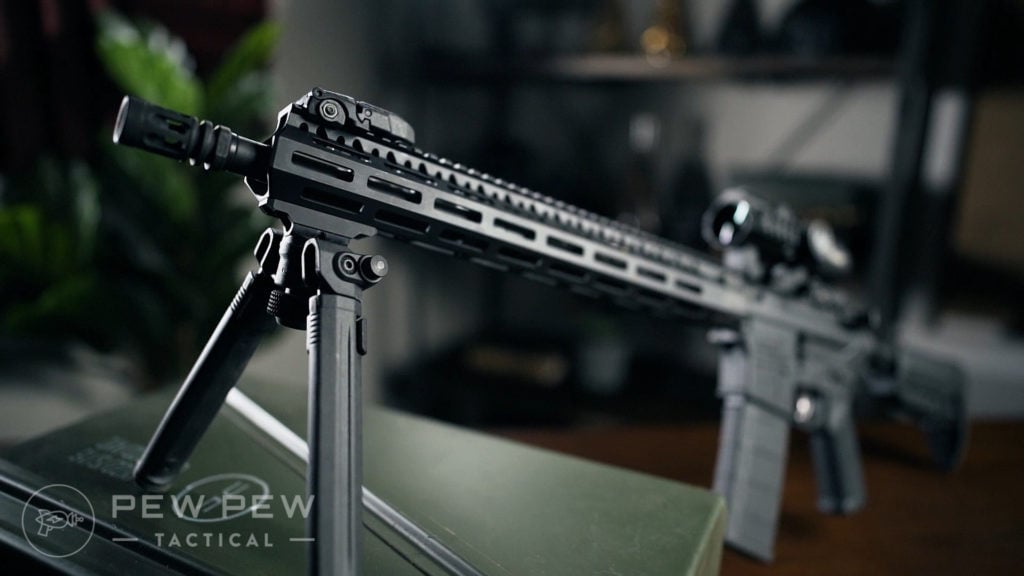 The exterior of the barrel is also coated in a manganese phosphate, which BCM notes is done prior to mounting the front sight base. The phosphate finish creates a porous surface that absorbs oils much more easily, and helps with corrosion resistance–even underneath the front sight base.
Probably not something the average AR owner really needs to care too much about, but still a pretty neat bit of attention to detail that in theory, should extend the overall life of your barrel.
The gun's got a pre-installed BCM MCMR15 15" Mlok handguard that extends out nearly all the way to the compensator. This is obviously personal aesthetic preference, but I'm way into 15" rails on 16" barrels, and the rail looks fantastic in its out of the box configuration.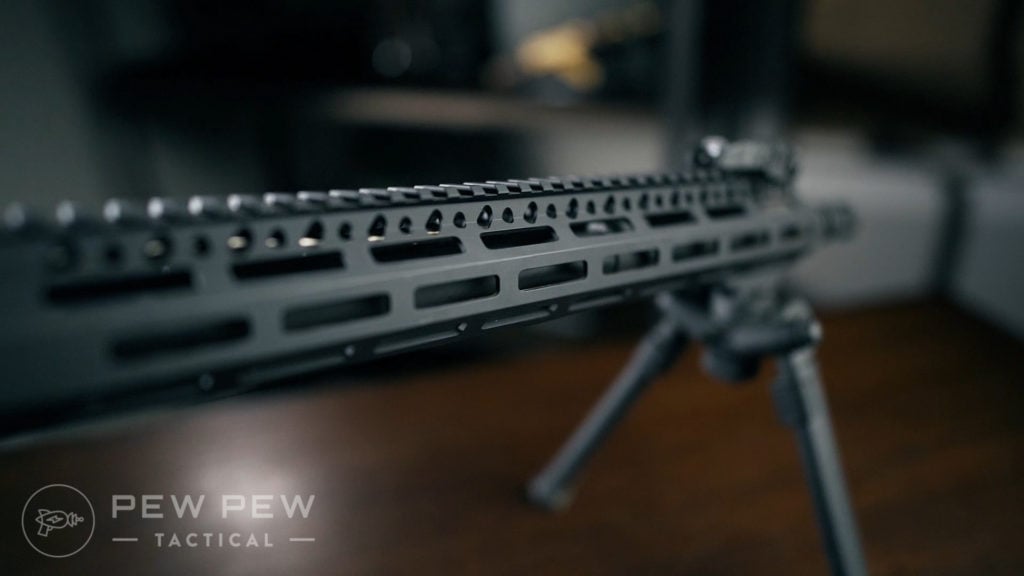 The rail's got MLOK compatible slots installed at the 3, 6, and 9 o clock positions you'd expect, with additional angled slots in between each of the primary clock slots–allowing you to run your lights, lasers, or what have you at offset angles that keep them out of the way should you so desire.
Additionally, the barrel nut is steel, and the handguard itself is secured by two Torx screws, which tighten against the grooves cut into the heads of each screw.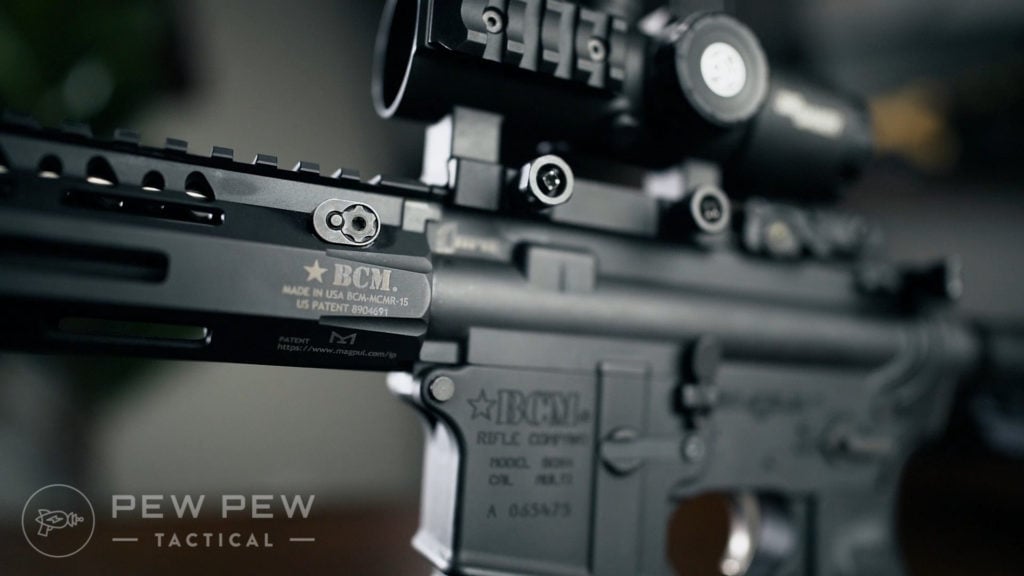 This all supposedly helps mitigate any kind of movement when the weapon system heats up–but that's not really an issue we've ever encountered.
Good to know if you're planning on mag dumps, I guess?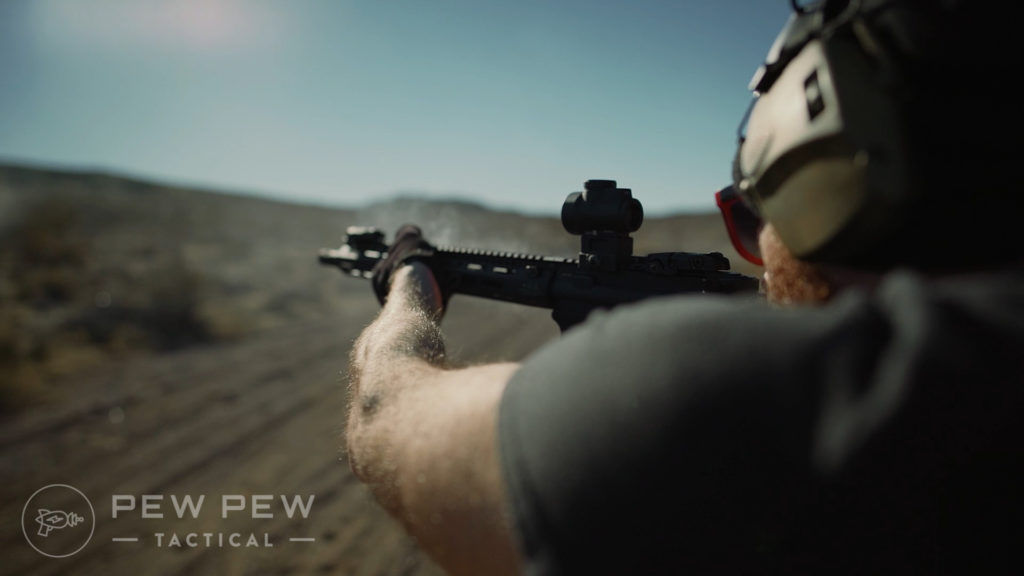 The upper and lower receivers themselves mate together perfectly, and the receiver pins have just the right amount of tension keeping them in place. You won't need to hammer these pins out to disassemble the rifle the same way you might on a PSA before they're broken in.
BCMs BCG is considered the gold standard of bolt carrier groups in terms of overall quality.
Gold Standard Mil-Spec BCG
174
at Primary Arms
Prices accurate at time of writing
Prices accurate at time of writing
Here's a beautiful still of the BCM bolt carrier group that implies quality.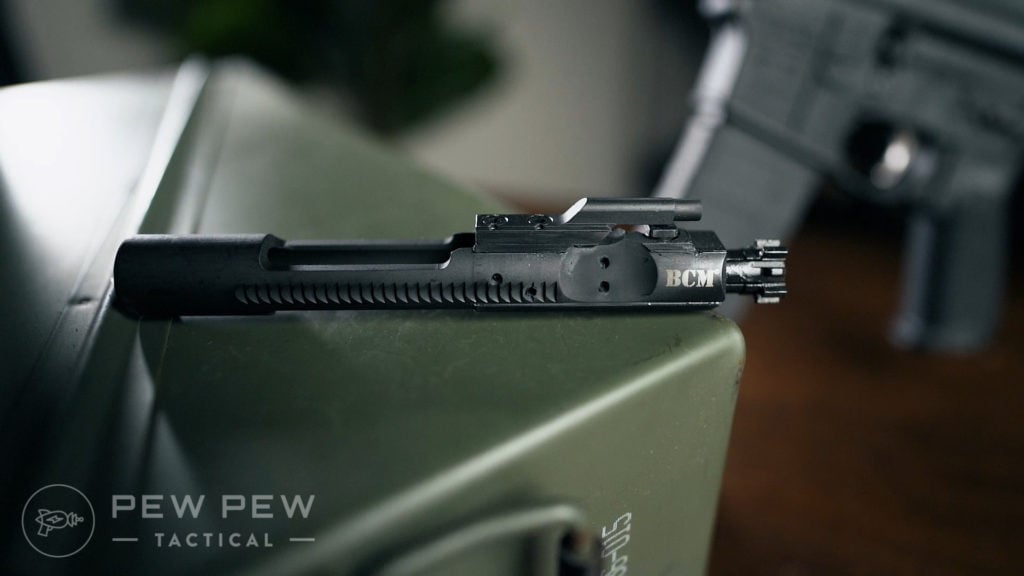 Legitimately one of my favorite parts of the rifle is the BCM gunfighter pistol grip in the back–I'll explain.
BCM brings up the point that because the standard shooting stance at the time of the M16's introduction was essentially a bladed, almost profile posture, the original angle of the M16's grip made a lot of sense.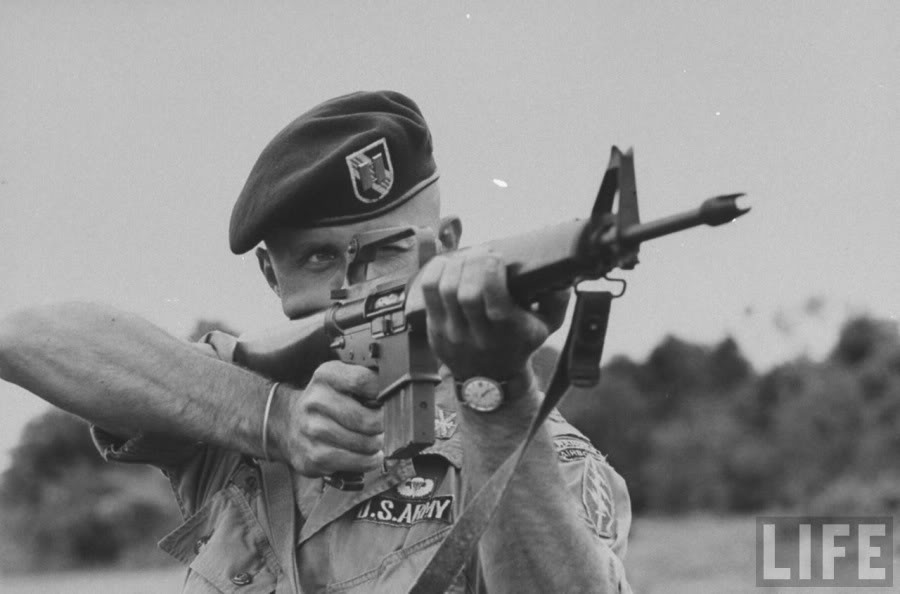 However, in the time since, shooting stances have evolved to square off with the target and present the most armor possible, which allows for a reduced angle of the grip itself.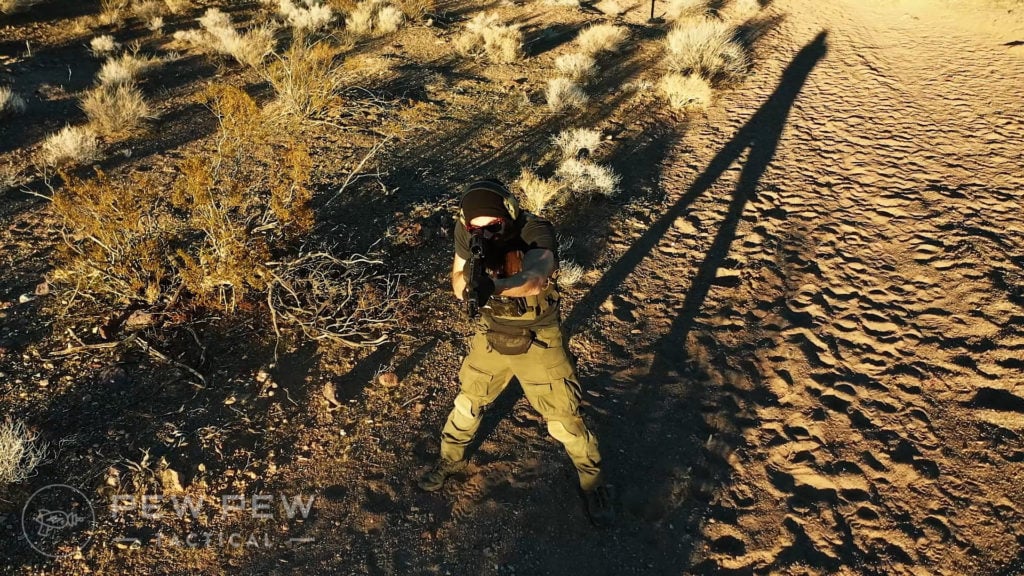 Long story short, the angle of the gunfighter grip is super comfy, and it's one of those things that you probably haven't even realized you're missing out on until you give it a try.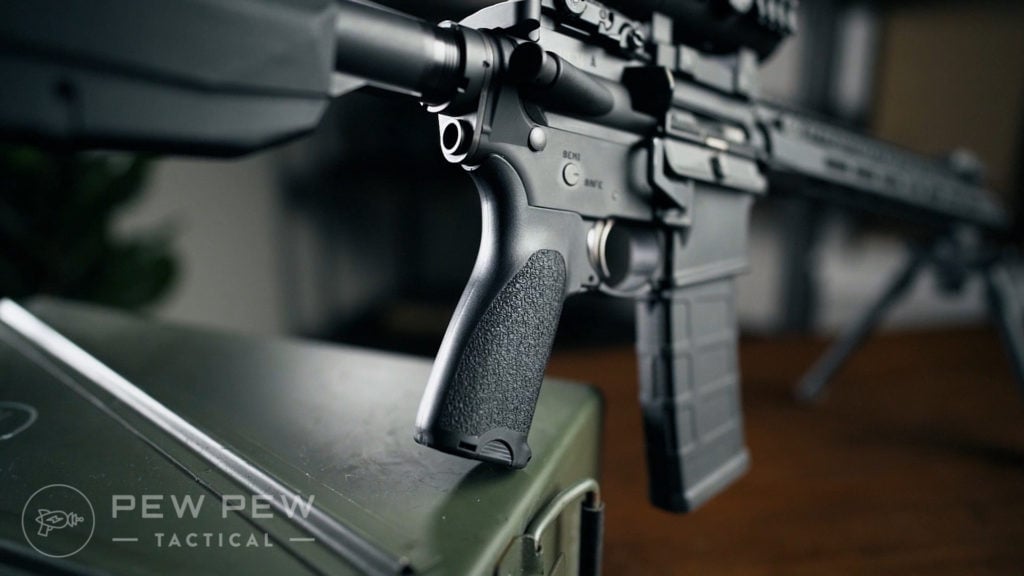 At the rear, we've got a BCM ambi charging handle (one of our favorites in our Best AR-15 Charging Handles article).
50
at Brownells
Prices accurate at time of writing
Prices accurate at time of writing
It provides just a bit more purchase than your standard AR latch through extended 'wings' offset to either side of the receiver, which include serrations that enhance grip.
This is super handy if you're shooting off-handed or running an oversized optic that needs to sit over the charging handle to attain proper eye relief.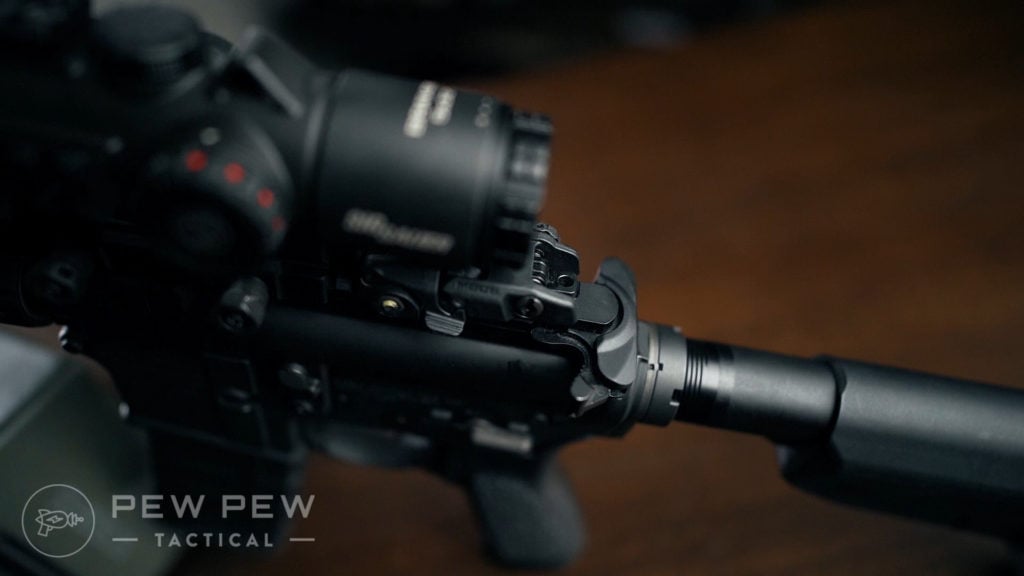 Finally, the gun comes stock with a BCM gunfighter… stock.
And while I do enjoy the fact that it's intentionally designed so as not to have any sharp edges that might get caught or snagged anywhere on your gear or on the inside of a vehicle, this thing was ripping out beard hairs left and right, and I'm not entirely sure why.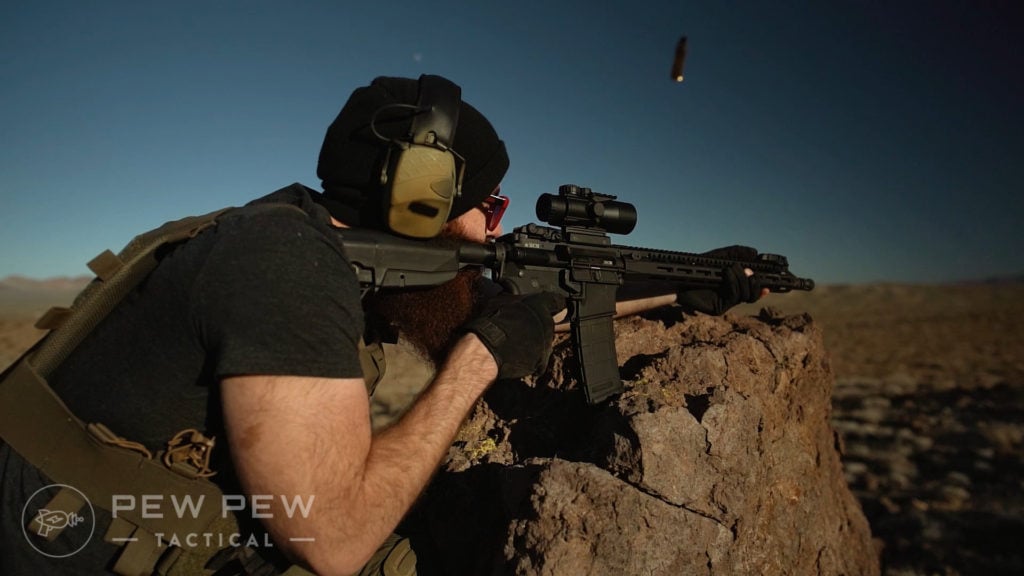 Considering the fact that one of our other writers runs the very same stock and also has facial hair, this might just be a me thing, given that I was in pretty peak-winter-hobo-beard-length when we took the BCM out to the desert, so your mileage may vary.
It's not anywhere near as bad as the VLTOR modstock if you've ever been unfortunate enough to shoot a gun with one of those while also being wizardly, but it's something to be aware of.
Externals out of the way, and onto what matters most–how's it shoot?
Out to the Range!
We put probably close to 600 rounds of Wolf Gold through the BCM on our desert trip, with around 1,500 rounds fired total, and are happy to report we had zero reliability problems whatsoever even without additional lube and cleaning.
As I mentioned, that compensator really drastically reduces your felt recoil, and the angle of the gunfighter grip makes shooting this gun an absolute pleasure–the gun feels downright snappy and crisp, but in a good way.
The trigger itself is sort of an unintentional two-stage, with the sizable creep leading up to an obvious breaking point with a pull of just under 6lbs.
Sort of a poverty two-stage trigger with the initial stage of creep.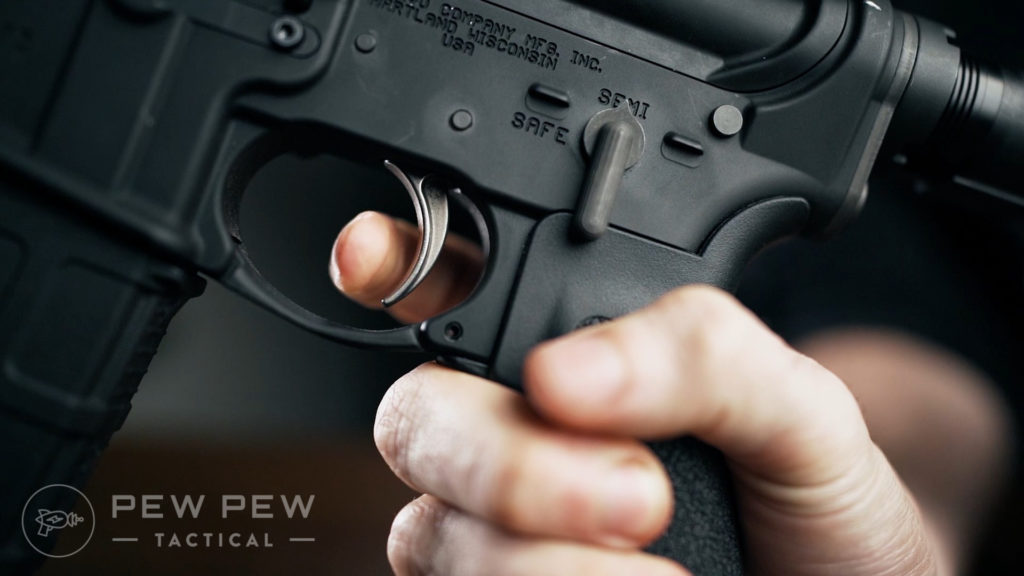 And compared to our PSA ARs that sometimes need a good amount of elbow grease to a loaded mag on a closed bolt, the BCM seems to be fine with that tension from the magazine.
When shooting groups, we clocked in a sorta meh 3 MOA with the cheapest brass Wolf Gold, 2-ish MOA with PMC, somewhere between 2 and 3 MOA with both American Eagle and XM193, and 2 MOA with Gold Medal 69gr (nice) with both the original BCM trigger and an Elf 3-lb match triggers.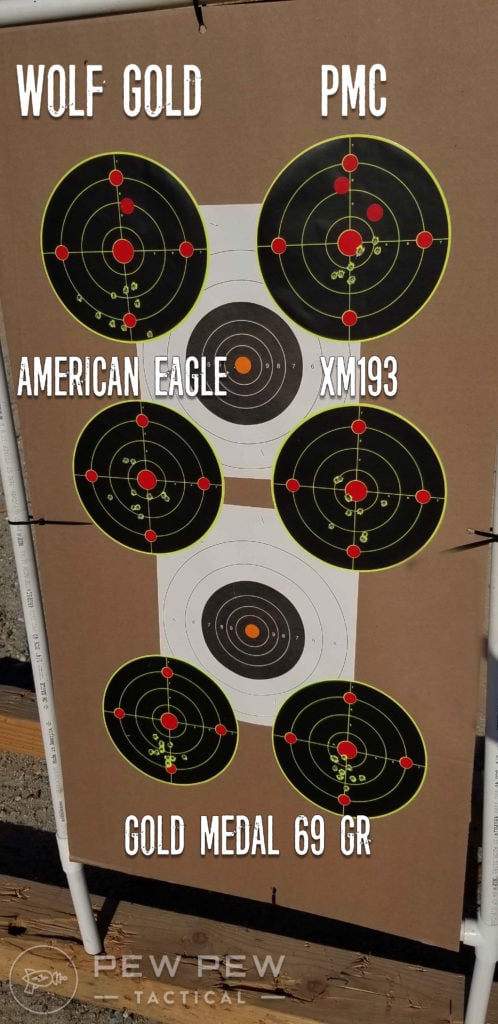 Interestingly, it didn't really seem like the trigger mattered much at all.
Generally, the introduction of a nice, lightweight trigger will tighten up groups on most ARs, but this isn't really the case here. It definitely seems like the BCM prefers heavier ammo as well–as our smallest groups were with heavier grain rounds.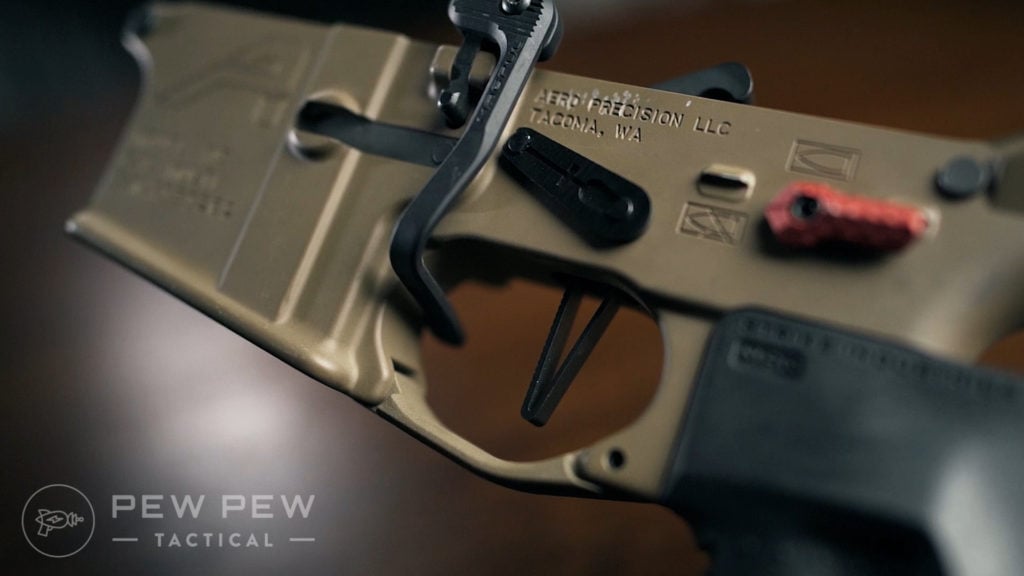 All in all still acceptable in our opinion, considering your average milspec AR is probably somewhere in the realm of 4 MOA.
By the Numbers
Reliability: 5/5
We had literally zero issues whatsoever with the gun during our ~1,500 round evaluation period, and it ate everything we fed it–although notably, the cheapest ammo we ran was Wolf Gold. We don't foresee any issues with shitball ammunition, but YMMV.
Accuracy: 4/5
The gun shoots a little bit tighter than a Milspec AR–and that's just fine with us. The BCM-15 is a workhorse through and through, not a match gun, but ~2 MOA in its stock configuration with a range of nicer ammunition gets a thumbs up from us.
Ergonomics: 5/5
It's an AR, and the world is your oyster considering the massive host of aftermarket accessories available, but we really can't stress enough just how nice the BCM Gunfighter Pistol Grip is. Seriously–try one out on your own AR and tell us we're wrong.
Looks: 4/5
While there's nothing super wild going on here, as mentioned, I really enjoy the sleek combination of 15″ rails on 16″ barrels. It's a standard AR-15 otherwise, but we're not gonna dock it points for being 'normal'.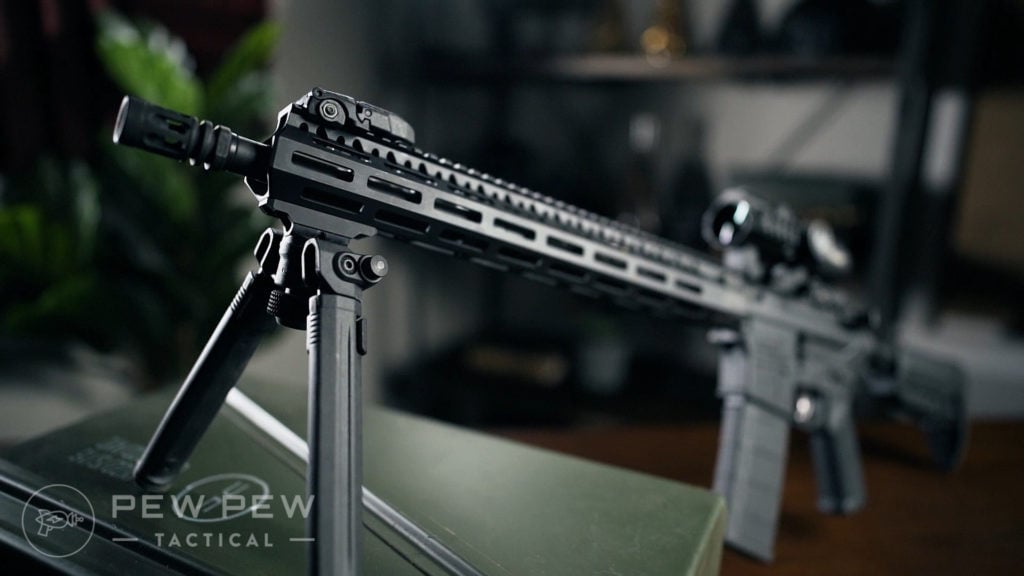 Customization: 5/5
The BCM-15 should be compatible with pretty much every AR-based accessory on the market, and comes stock with an MLOK rail to boot. You'd be hard-pressed to find a more customizable configuration straight out of the box. Go nuts in our Best AR-15 Upgrades article.
Bang for the Buck: 4/5
Coming in at around $1200 or so, the BCM-15 hits that sweet spot a few steps above entry-level, but well below the price tags of bougie boutique ARs. In our opinion, this is money well spent, and we'd gladly throw down the cash for something this nice that runs as well as it does.
Overall: 4.5/5
Recommended Models
You can opt for the complete Recce-16 rifle if you don't want to part it out.
1559
at Brownells
Prices accurate at time of writing
Prices accurate at time of writing
Or save a little bit of taxes by getting the upper and lower separately.
395
at Rainier Arms
Prices accurate at time of writing
Prices accurate at time of writing
780
at Primary Arms
Prices accurate at time of writing
Prices accurate at time of writing
However…note that the upper still requires the BCM bolt carrier group and charging handle.
Gold Standard Mil-Spec BCG
174
at Primary Arms
Prices accurate at time of writing
Prices accurate at time of writing
50
at Brownells
Prices accurate at time of writing
Prices accurate at time of writing
Conclusion
The BCM Recce-16 has lots of nice small quality of life improvements that makes it outshine other AR-15s in a similar price range. Great reliability, ergonomics, and aesthetics coupled with decent accuracy make it a winner in our books.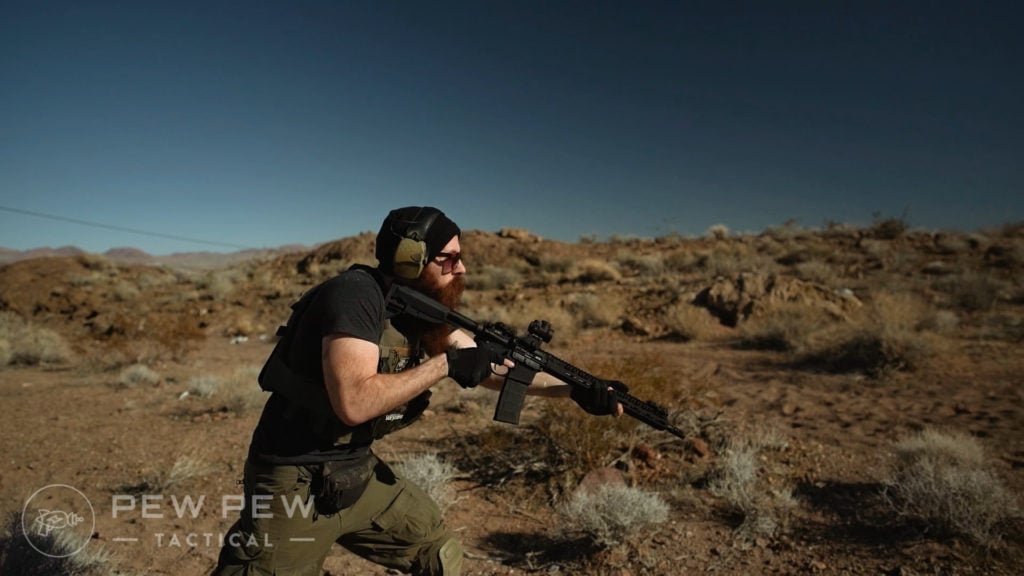 While there isn't necessarily anything new or groundbreaking here, we have no issues with recommending BCM as an absolutely solid workhorse gun that doesn't sacrifice quality to get the job done while also still being pretty reasonable price-wise.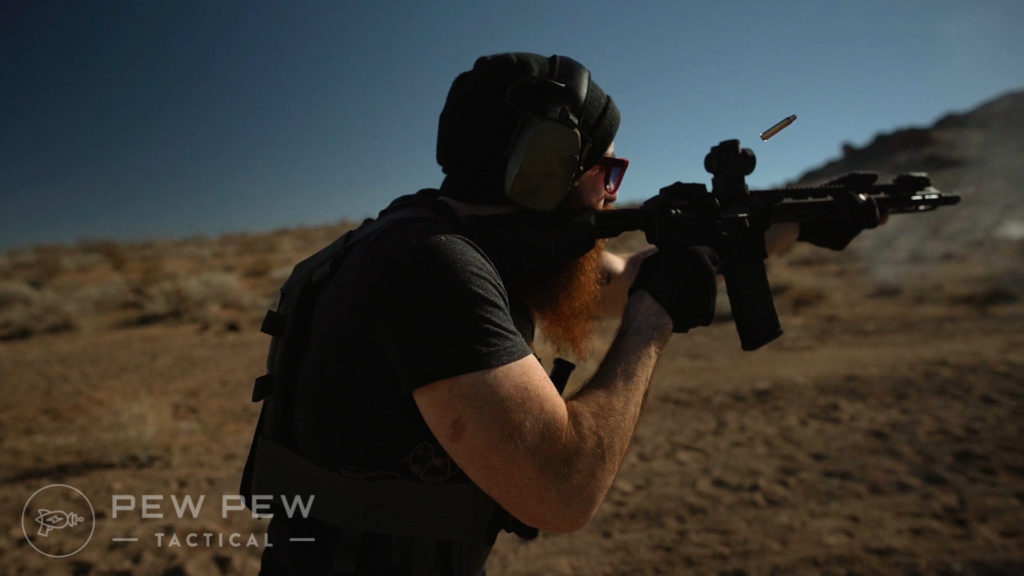 If you've found yourself in the AR market for the first time and don't mind spending a little bit more for a rifle that's firmly a few steps above entry-level, we have a feeling you're going to be pretty stoked on the BCM Recce-16 AR-15.
1559
at Brownells
Prices accurate at time of writing
Prices accurate at time of writing
What's your general perception of BCM? Let us know in the comments below! Wanna compare? Check out our Best AR-15 article. Then kit out whatever you did end up getting with Best AR-15 Upgrades.