Not all AR-15s are created equal.
If you are new to the AR-15 or even if you're experienced, you may ask yourself what is up with the price differences?
Why does one barrel cost more than the other? Why does one bolt carrier group cost $100 more than something else that looks identical?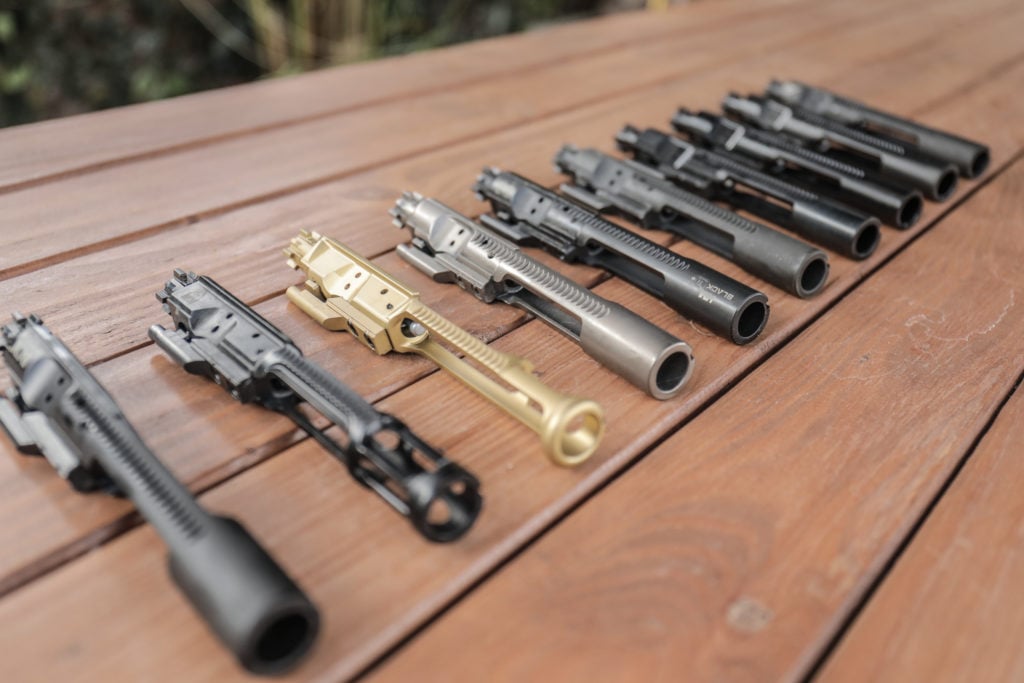 Is there enough of a difference?
I am going to walk you through some topics in this article on what makes a weapon a duty-grade rifle between BCGs, barrels, handguards, receivers, and optics.
And some great companies to keep in mind for your next workhorse build.
This may hurt some feels along the way between the "elitists" and the "poors". I will be doing my job if that is the case.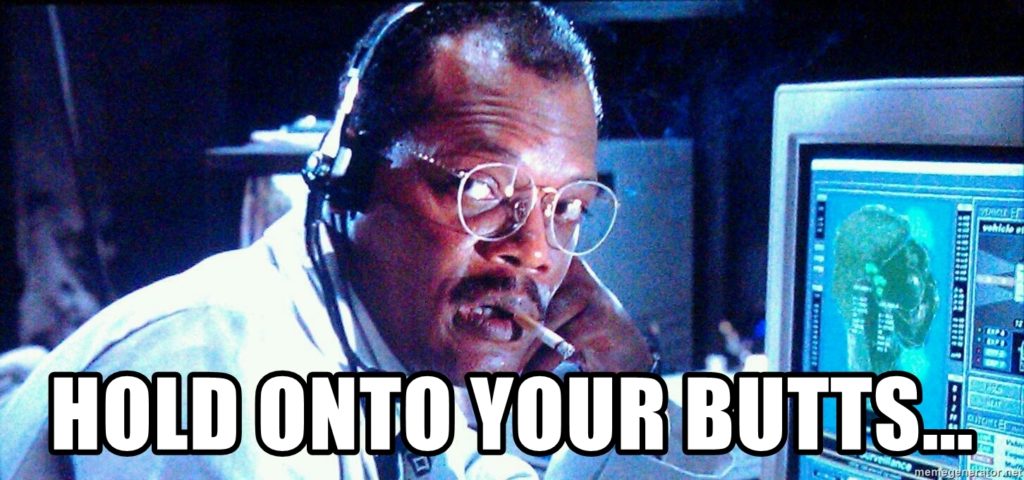 What Is A Duty Level AR-15?
Let me first say a few things. The AR market is a huge spectrum of price points.
This is natural in a market of its size. Varying price points ultimately get more people involved in the market.
That is a good thing. Whether you are very well-off..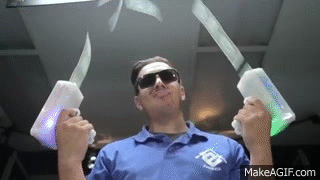 …or someone that lives paycheck to paycheck…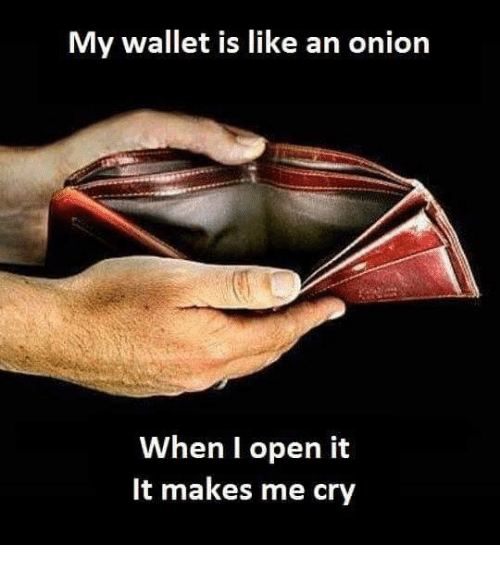 The AR-15 can be an affordable firearm.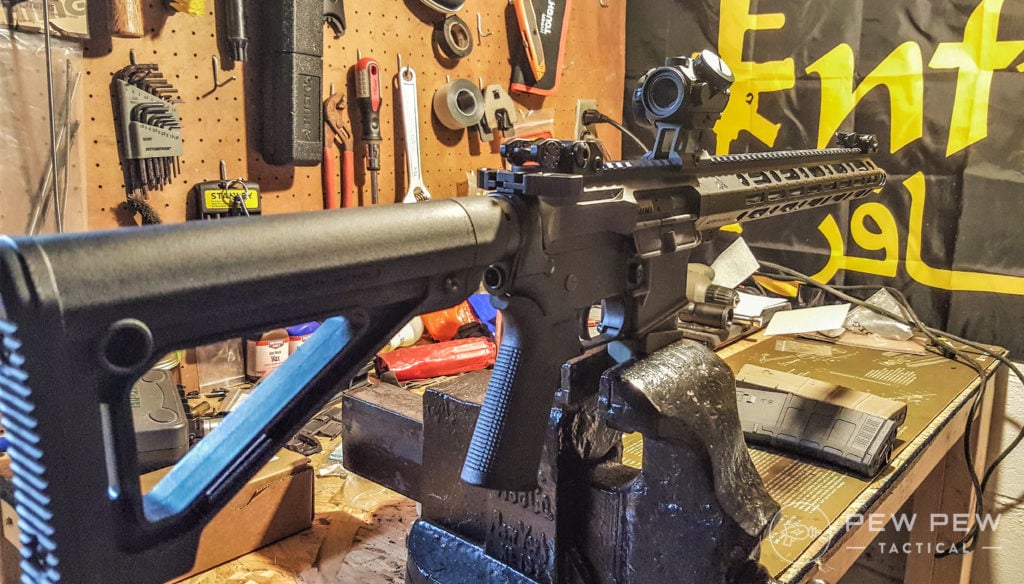 Due to varying price points, there is a lot of variation between the quality of parts and complete rifles.
I don't judge anyone for having a rifle that they built as cheap as possible. I've done it myself.
Sometimes, building a rifle for cheap and treating it like a rented mule can be fun and shows failure points in the design when things aren't quite perfect.
But there is a big difference between a hobby grade rifle that's for fun on the range and a duty-grade workhorse to train with and stake your life on.
And the price difference may not be as large as you might expect if you wanted an AR for that task.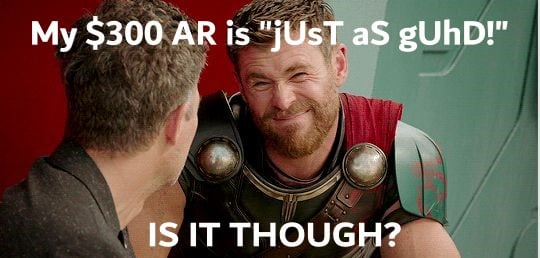 Simply put, a duty level AR-15 is something that a shooter can rely on for the LONG HAUL.
We are talking high round counts, high heat, and running dirty without breakage, failure, or stoppage.
And while your low-budget rifle may have run great for you over the last 5k rounds, this is typically an exception, not the rule.
Some Assembly Required
Before we start talking about parts, which are obviously important, equally important is proper assembly procedures for the AR-15.
I am a stickler for it, and if you knew me, you would see me on forums and Facebook preaching the gospel of staking and using a torque wrench EVERY time.
There are plenty of videos online that show how to properly assemble the AR-15.
Obviously, YouTube "Gunsmiths" should be vetted, but there is a vast assortment of videos and articles online that can show how to do the proper tasks.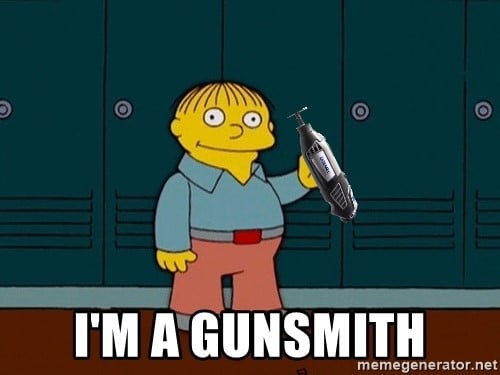 With any build, even the sub $400 home-rolled specials, proper assembly goes a long way in ensuring proper function. For lack of a better phrase, you can actually polish a turd a little bit.
For an AR you stake your life on, don't be complacent.
Barrels should be dimpled for low-profile gas blocks, gas keys and castle nuts should be staked, proper torque applied to needed areas, and Loctite applied to the proper hardware.
Now let's get into the meat and potatoes, shall we?
Bolt Carrier Groups – The Heart of the Gun
The bolt carrier is possibly the most important part of the duty-level workhorse. It's what keeps the gun pumping and takes a beating through the life of the rifle.
Properly maintained and lubricated a quality BCG can last for the long haul. But what makes it quality?
There are a couple of different popular bolt steels, notably 9310 and 158 Carpenter steel.
Currently, MIL-SPEC steel based off Colt TDP is 158 Carpenter steel. The reason being is that it works, and it does it well.
It is a strong, highly durable steel and is wear resistant. 9310 is harder on average, but harder doesn't always mean better. So many innuendos…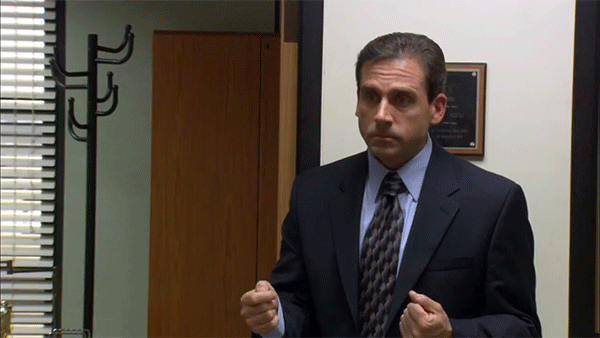 The problem that comes up with 9310 is quality control. Mike Mihalski of Sons of Liberty Gun Works, sums it up the best.
Mike says, "Most premature broken bolts I've seen are made of improperly heat treated 9310. 158C is a superior material in this application."
This guy knows bolts. It's kind of his job.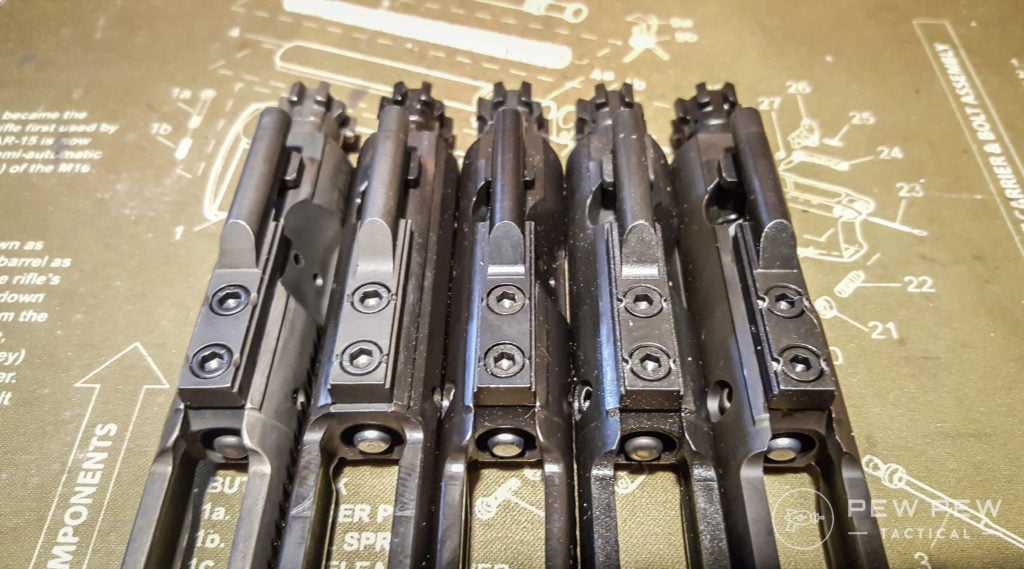 Furthermore, quality comes into play with the gas key and hardware. Suitable hardware used at the gas key is grade 8, torqued to 55 in/lbs. and properly staked.
Cheaper models tend to use YFS hardware. These are not rated for the same torque value which can lead to cracking or shearing off the bolt heads due to stress from firing.
Gas keys should also be sealed with Permatex. It is a gasket material for high heat applications that seal the gas key which increases functional reliability in a pressurized system.
Other things to keep in mind are shot peening of the bolt and an enhanced extractor spring for increased reliability.
INDIVIDUAL high-pressure testing (HPT), and magnetic particle inspection (MPI) should be the standard for a duty-level bolt. Typically, cheaper options are only batch tested.
To quote the great Mike Mihalski again: "Remember: The goal of making duty grade weapons is to reduce the potential of mechanical failure to as close to zero as possible. That begins with materials and quality control."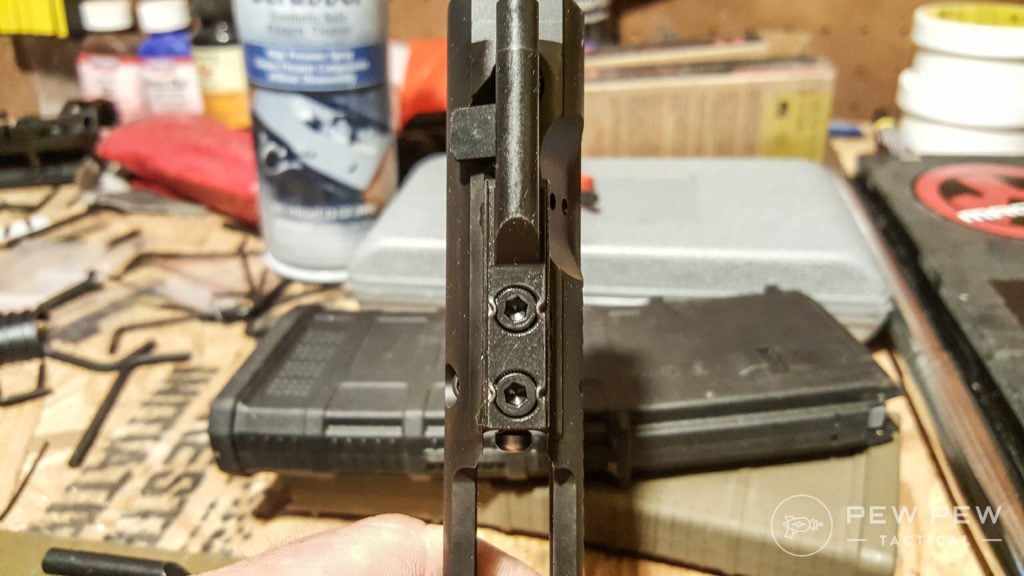 Honestly, coatings and finishes should not be a major factor in your purchase. Ferric nitro-carburization (nitride), or a typical phosphate/parkerized finish are more than adequate with proper lubrication.
Some people may not like hearing it, but Nickel Boron (NiB) is largely snake oil. It offers no real-world functional advantage and can actually weaken the substrate metal through hydrogen embrittlement.
The good news is that there are options on the market that can fill the role of a heavy-use BCG.
One of my personal favorites is Brownell's Mil-Spec BCG. It checks off most of the list for a quality BCG.
140
at Brownells
Prices accurate at time of writing
Prices accurate at time of writing
Another option is the Son's of Liberty Gun Works BCG. It's practically the gold standard.
For other BCGs to look at, feel free to check out our review of the 11 Best BCGs!
Barrels – The Legs of the Gun
Barrel material can be dictated by the mission or purpose of the AR. I prefer a quality 4150 CMV steel for my barrels, but if you are looking for more precision then 416R stainless steel is also a viable option.
Personally, I do not pine for sub-half MOA groups, so 4150 CMV works for me. 4150 CMV, or Mil-B-11595E, is chosen for its wear resistance and how well it deals with heat compared to stainless and 4140 CM steels.
For a coating, the tried and true Parkerizing and chrome-lining is a great choice.
It deals with heat very well and is highly wear resistant. My favorite chrome-lined barrel is an FN 16″ CHF Mid-Length.
Best CHF + Chrome-Lined Duty Barrel
300
at Brownells
Prices accurate at time of writing
Prices accurate at time of writing
It is a highly accurate barrel for being chrome-lined and its pedigree speaks for itself in the high-round count department, but it comes with a high price.
Chrome-lining though is dated technology. A quality nitriding process that case hardens the outside layer of the steel is the future.
Nitriding is a full exterior surface treatment that does not change the dimensions of the barrel like chrome-lining but it gives all the benefits with high round counts, reduced friction, and tends to be a less expensive process.
There are some seriously well-made barrels on the market today without the heavy price tags. One of my personal favorites is the line of Rosco Manufacturing Bloodline barrels.
I have owned two and currently, their 11.5" sits on my AR pistol build. Quality and accuracy are excellent but equally important, the gas port is sized appropriately.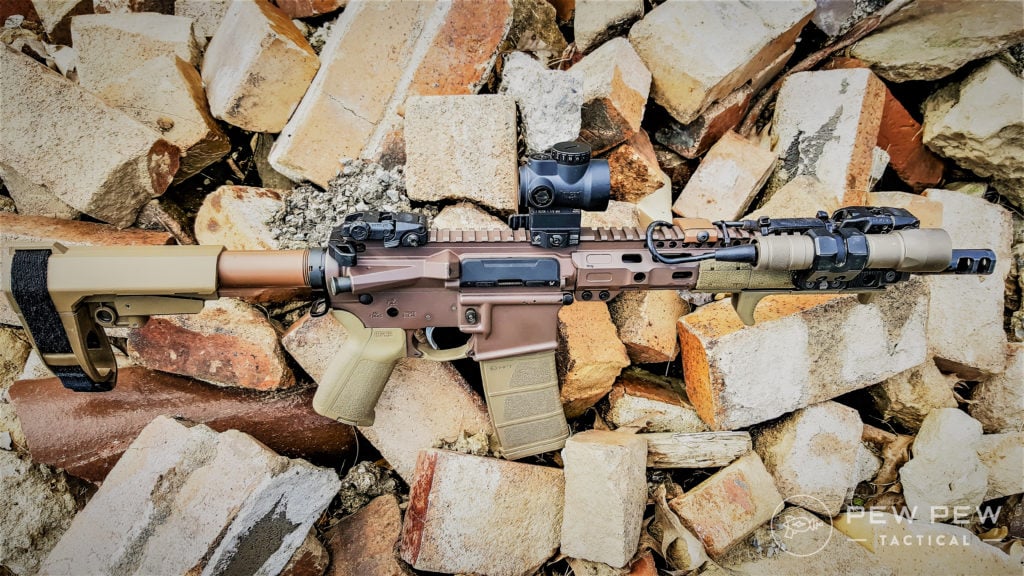 Length of barrel is completely based off the shooter's use and expectations. I prefer barrels over 10.5" for the added velocity and gas length when chambered in 5.56 NATO.
The location of the gas port can aid in reliability and smooth out the recoil impulse of an AR.
Listed below is a chart outlining good rule-of-thumb measurements, but proper gas port sizing should also be considered.
| Barrel Length | Gas Length |
| --- | --- |
| 10.3/10.5" | Carbine |
| 11.5-13.7" | Carbine |
| 14.5" | Carbine/Mid-Length |
| 16" | Mid-Length |
| 18" | Mid-Length/Rifle |
| 20"+ | Rifle |
It keeps the weapon flatter and more on target. This, in conjunction with an effective muzzle device and a properly weighted buffer can yield an AR that can be highly accurate under faster firing.A properly sized gas port and a company that takes it seriously are important for the complete system.
Speed isn't everything, but accurate speed IS everything.
Receivers and Handguards – The Bones of the Gun
I won't go into too much detail about receivers because everyone has their favorites.
The more you spend on receivers, typically the better quality with regards to fit and finish – but this doesn't mean that a $400 lower is better than a $40 lower in terms of reliability.
The big thing to keep in mind is to go with a company with a track record of being in-spec.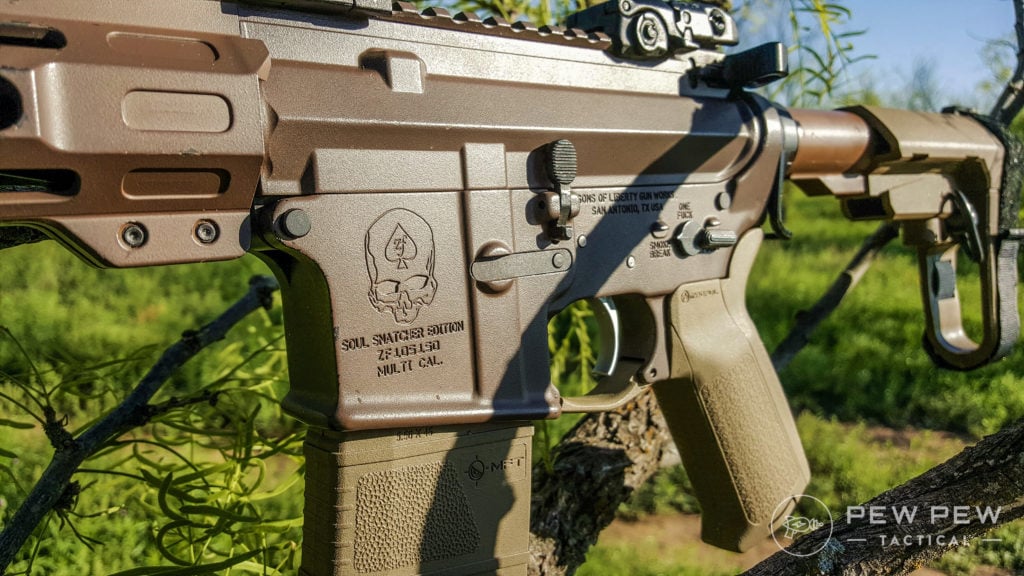 Material wise, forged 7075 T6 aluminum that is either anodized or Cerakoted is still one of the best choices to go with when it comes to receivers – they have worked for decades now.
My favorite inexpensive receiver set is the newer Aero Precision M4E1. They have always served me well, and let's face it: they look cool, which is half the battle.
106
at Primary Arms
Prices accurate at time of writing
Prices accurate at time of writing
Or the standard Aero Stripped Lower is great for an even lower price point.
Editor's Pick (Forged)
60
at Brownells
Prices accurate at time of writing
Prices accurate at time of writing
As far as handguards go, there are a lot of them on the market of varying quality.
For most people, a handguard really only serves as a rigid gripping area that keeps their hand from being scorched.
On a workhorse AR, it serves a couple more functions that are important.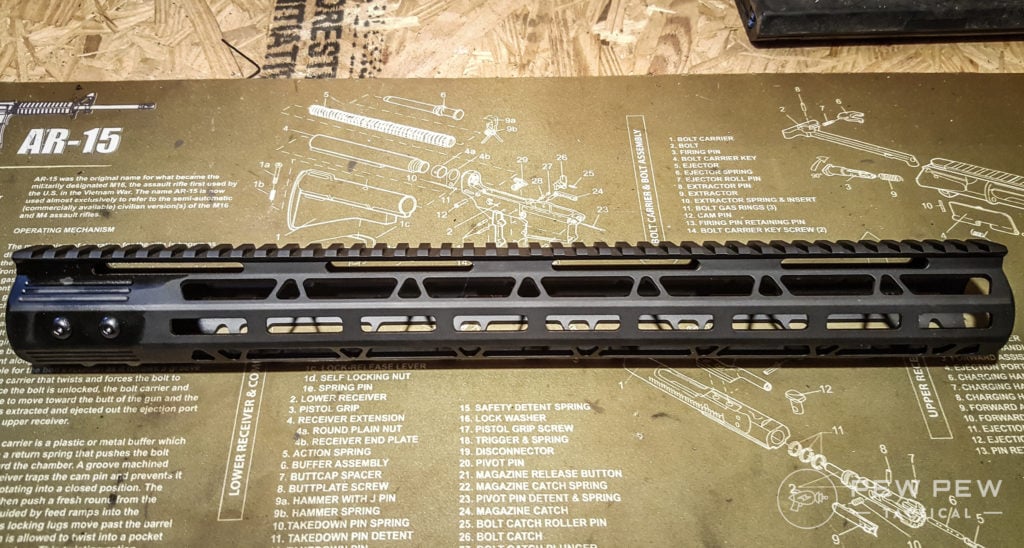 Once you begin to bolt more accessories onto the rail, added weight can flex the handguard and be affected by heat from the barrel with rapid firing.
I am talking weapon-mounted lights (WMLs), laser sighting systems, and back-up iron sights. It is important to have a rigid enough handguard for your AR, but weight concerns and the price tag should be kept in mind.
For the crème de la crème, the Geissele MK8 handguard system is the gold standard in bomb-proof performance.
200
at Brownells
Prices accurate at time of writing
Prices accurate at time of writing
For people on a more modest budget, or who want something lighter, you can't go wrong with a BCM MCMR handguard. I have used them on a few ARs and they fit very tight while also locking up like a bank vault.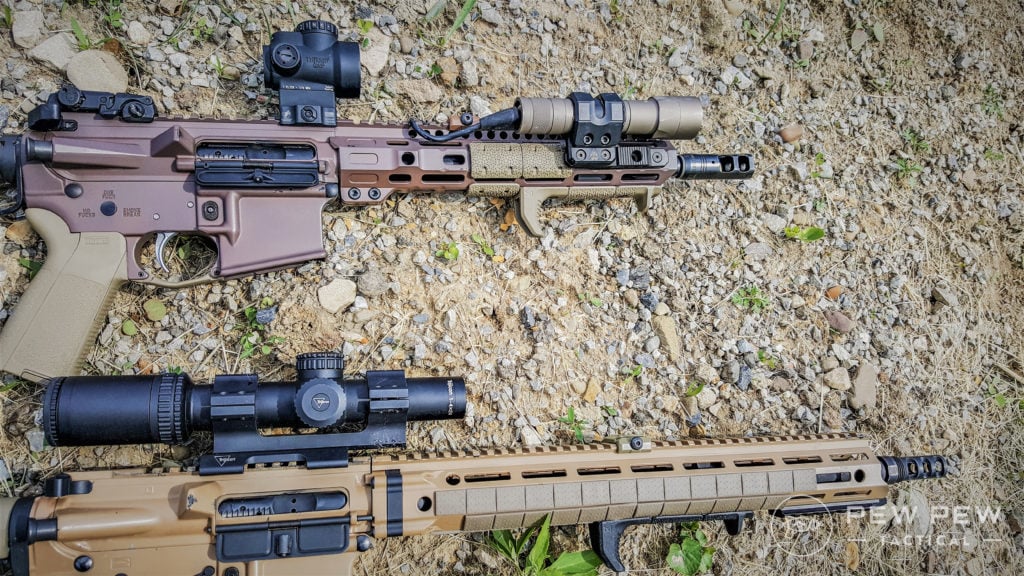 The list can go further. I have personally used the Midwest Industries, and also the Daniel Defense MFR XS.
Best Value
179
at Brownells
Prices accurate at time of writing
Prices accurate at time of writing
These options are relatively lightweight but also have significant strength to not flex under hard use. These companies also have a track record for quality so you can buy with confidence.
Optics – The Eyes of the Gun
I included optics in this article because I believe optics are an absolute necessity for a duty weapon. While iron sights are always important, a good optic puts a firearm at a different level in both precision and in less than ideal lighting conditions.
Yet again, the purpose will dictate what style of optic a shooter needs. Red dots and holographic optics are great general-purpose optics and provide quick shooting from awkward positions. Due to being relatively free of parallax, the red dot or imposed reticle does not need to be completely centered in your field of view.
Some of the best red dots have survived the ultimate test of combat. Just about anything Aimpoint will serve well like the Aimpoint PRO, which we reviewed HERE! It is a solid, bomb-proof (literally) optic. 
The "Goldilocks" Red Dot
482
at Optics Planet
Prices accurate at time of writing
Prices accurate at time of writing
Another great option is the Trijicon MRO – another outstanding red dot on par with the Aimpoint series.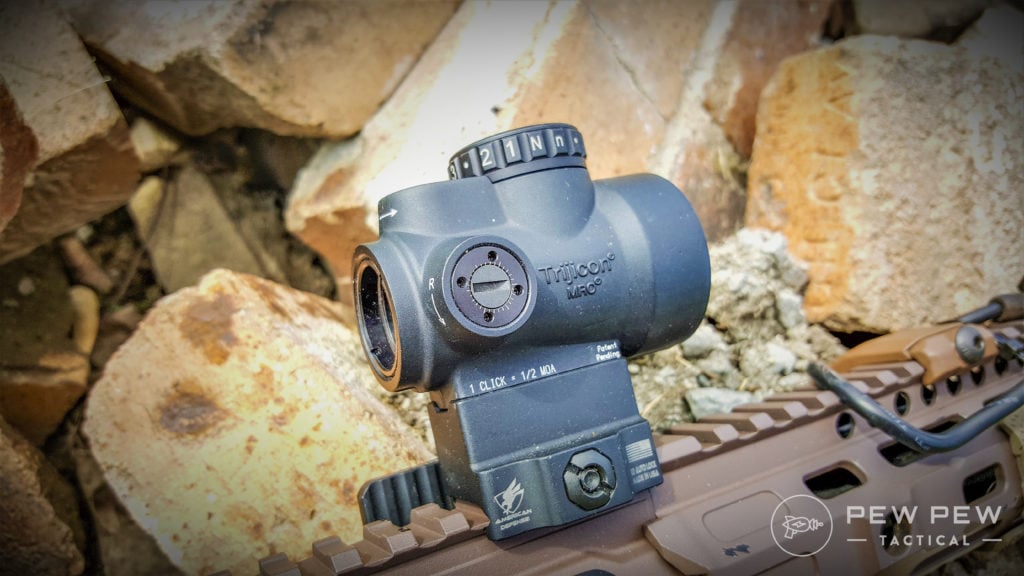 Low-powered variable optics (LPVOs) are some of the most versatile optics on the market and are gaining massive popularity.
They offer nearly the same speed as a typical red dot or holographic optic but also offer more precision and better target ID at extended ranges.
Whether in first-focal plane (FFP), or second-focal plane (SFP), they offer the best of both worlds.
Quality LPVOs do not come cheap, so be prepared to drop some bennies.
When you start looking into the higher end optics such as the Kahle K16i, Schmidt & Bender EXOS, and Nightforce ATACR, it may seem like all hope is lost.
While these models are on a level of awesome that is hard to compare, there are more affordable options that can hold up to hard use.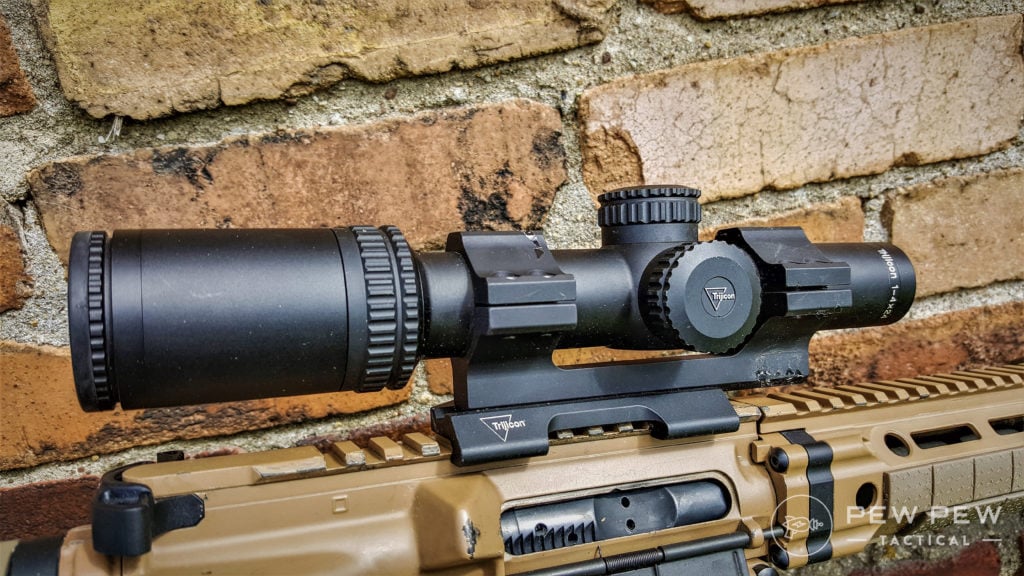 One of my favorite affordable LPVOs is the Trijicon Accupower 1-4x.
While clarity, eye box, and field of view may not be as good as much more expensive models, the optic has proven to be tough, reliable, and is at a more comfortable price range.
Parting Shots
When all is said and done, a duty-level AR is only as good as the brain behind the firearm.
Even the most Gucci, expensive firearm is useless without appropriate training in how to run the gun.
Everyone has a different budget, so it will be up to everyone where to spend their money to make it count.
While the quality of a solid work-horse rifle isn't needed by everyone, there is a difference in both quality and function over the long haul.
What are some of your favorite brands you have used? Any crazy stories of gear being put through Hell and coming out? Let us know in the comments below!
Want to get an out-of-the-box duty quality AR-15, then take a look at the Best AR-15s: Complete Buyer's Guide!