So, you decided to carry appendix.
Congratulations and welcome to the SUPERIOR side of concealed carry.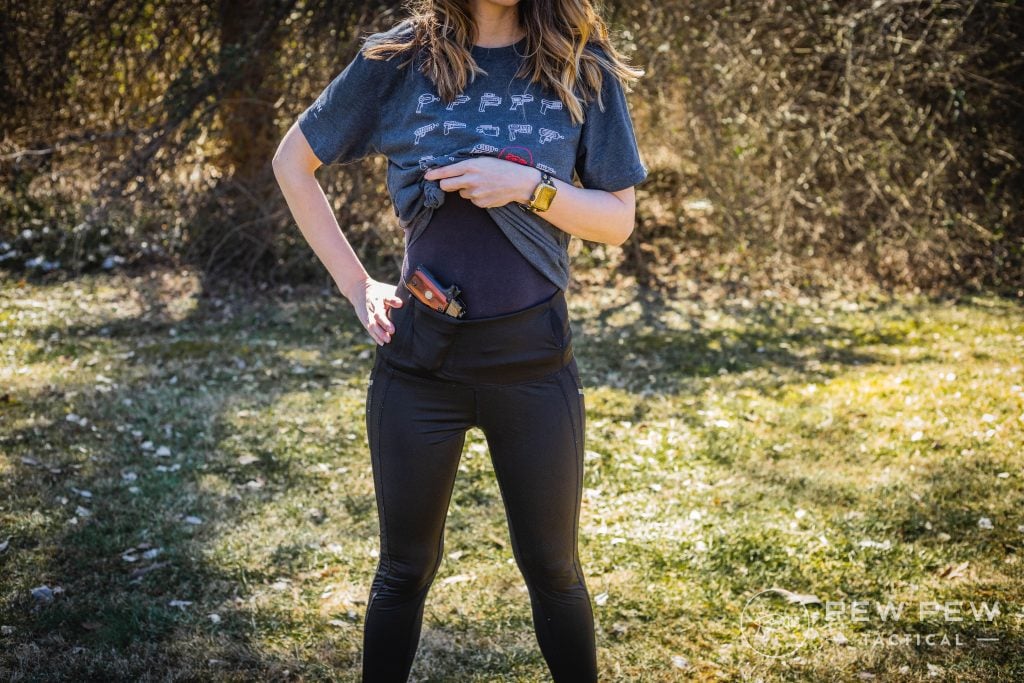 We kid, we kid.
But seriously, this style might not always be the most comfortable for everyone, but Appendix Inside Waistband Carry is a great way to carry your firearm.
Appendix carry was and still is pretty controversial in some circles of the gun community. After all, pointing the business end of a hot and loaded gun straight at your nether regions can be…ill-advised.
Looking at you, "Mexican Carry."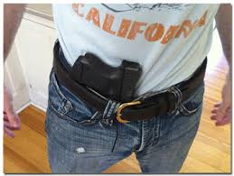 Still, with adequate training, a quality holster, and a reliable firearm, appendix carry is generally safe.
We're not talking about specific holsters today, but I would recommend a Kydex holster that fully covers the trigger guard and has a concealment wing.
Looking for a recommendation? Check out our Best Concealed Carry Holsters.
Table of Contents
Loading...
Advantages of Appendix Carry
Think about how many times throughout the day you sit in the car or in a chair. It's probably pretty often.
It's possible — and in a car, pretty likely — that your sides and back are harder to access than your front.
Logic follows that drawing from appendix is the easiest and fastest solution, especially while sitting.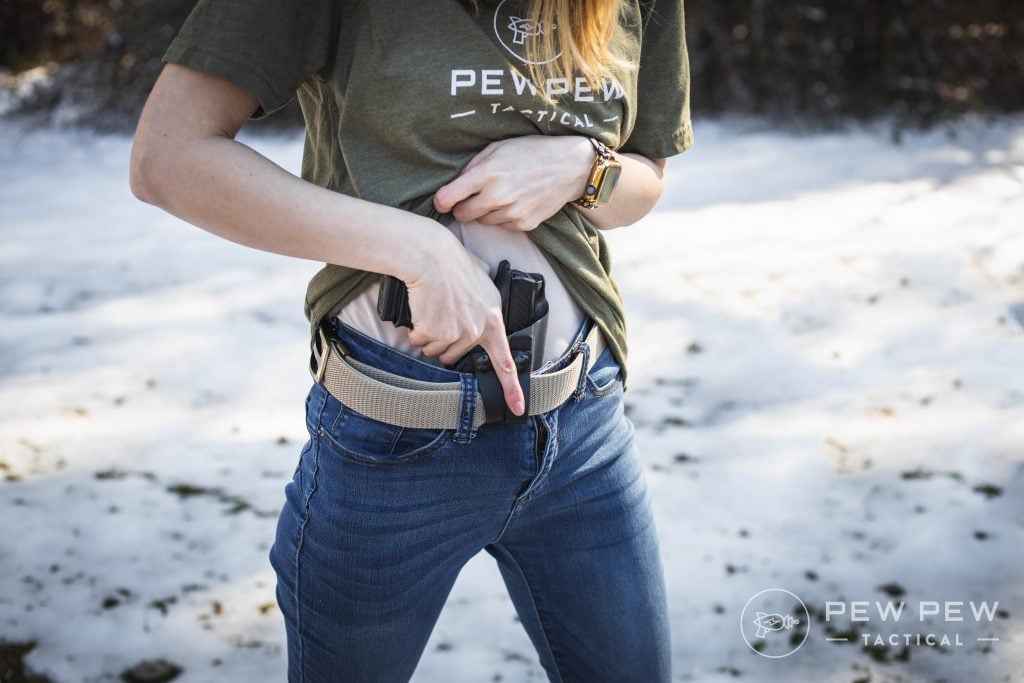 When it comes to speed, the name of the game is economy of motion.
Eliminating any excess movement will increase efficiency. Since your hands spend most of their time at the front of your body, it makes sense that an AIWB holster front and center makes it easy to draw and present.
Also, we can't forget to mention that appendix carry is pretty secure.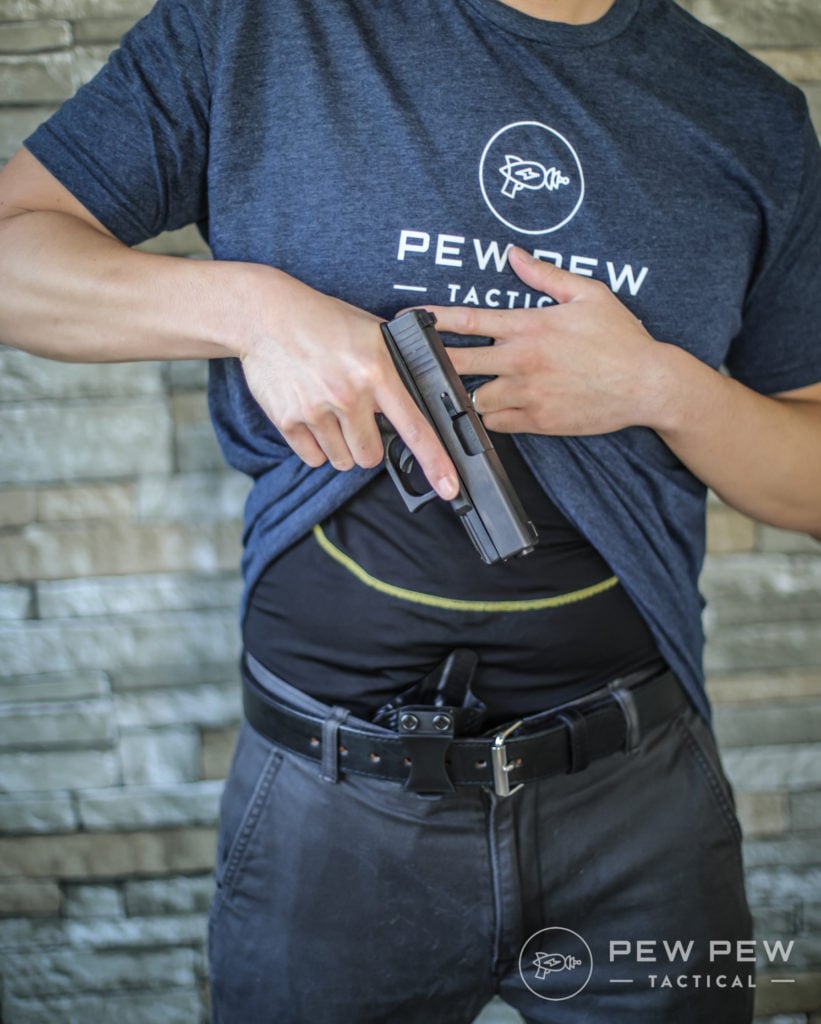 It's easy to retain the gun. Not to mention, the likelihood of someone snatching your gun is probably pretty slim.
What's something else AIWB has going for it?
Ease of concealment. Carrying in the AIWB position proves much easier to conceal than the 3 o'clock for some folks.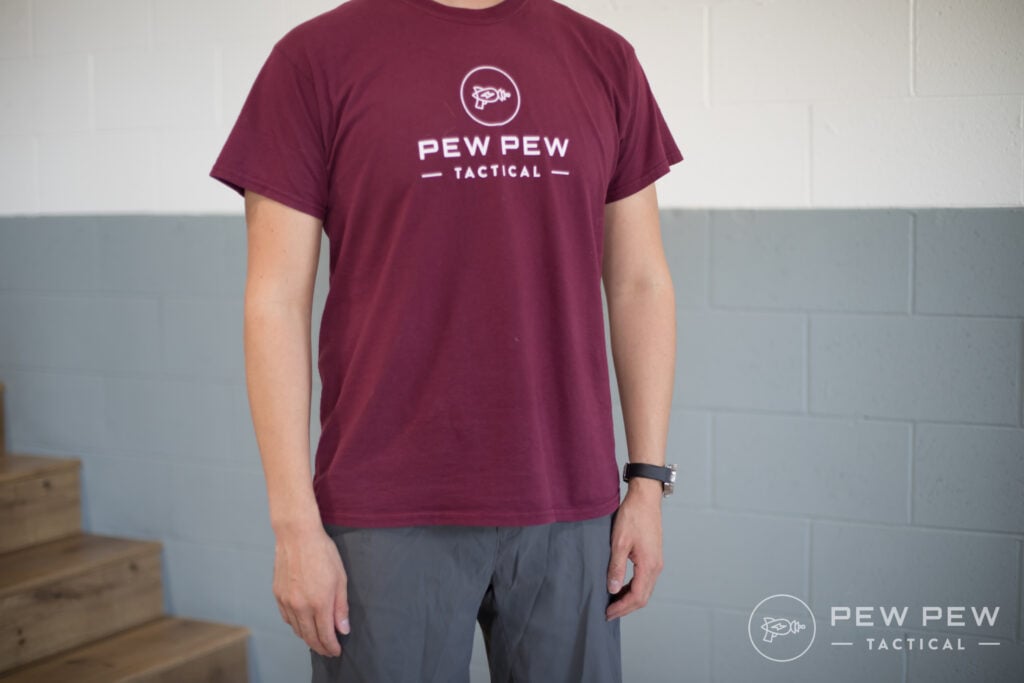 The gun is less likely to print or be seen in AIWB when you bend over.
Want to dig into AIWB a bit more? Check out our guide on Concealed Carry: Benefits of AIWB.
Top 5 Guns for Appendix Carry
Now that we've covered WHY appendix is a popular concealed carry method let's dig into what I consider to be some of the best guns for AIWB carry.
1. Sig P365 XL
It's no secret. Sig Sauer is on the cutting edge of innovation and at the forefront of firearms technology.
As a Glock fanboy, it pains me to admit that this is probably the best AIWB firearm on the market right now.
When it comes to size, the P365XL sits between the Glock 43 and the Glock 43x.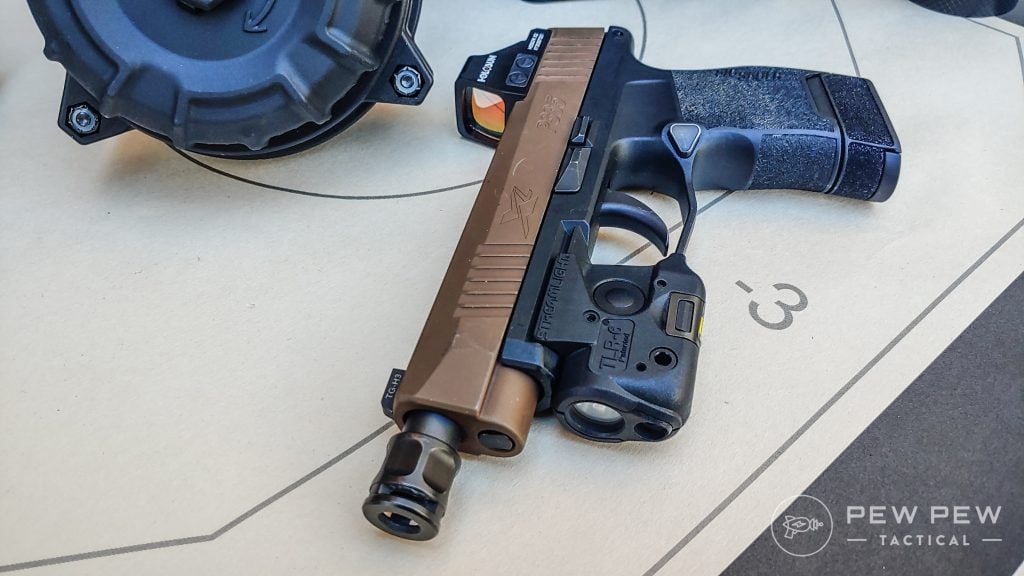 It comes with 12+1 or 15+1 (with extended mag) straight out of the box.
That's pretty impressive compared to the stock 43x's measly 10 rounds.
Plus, this easily concealable beast comes with an optics-ready slide, a flat face trigger, and an integrated mag well.
The kicker?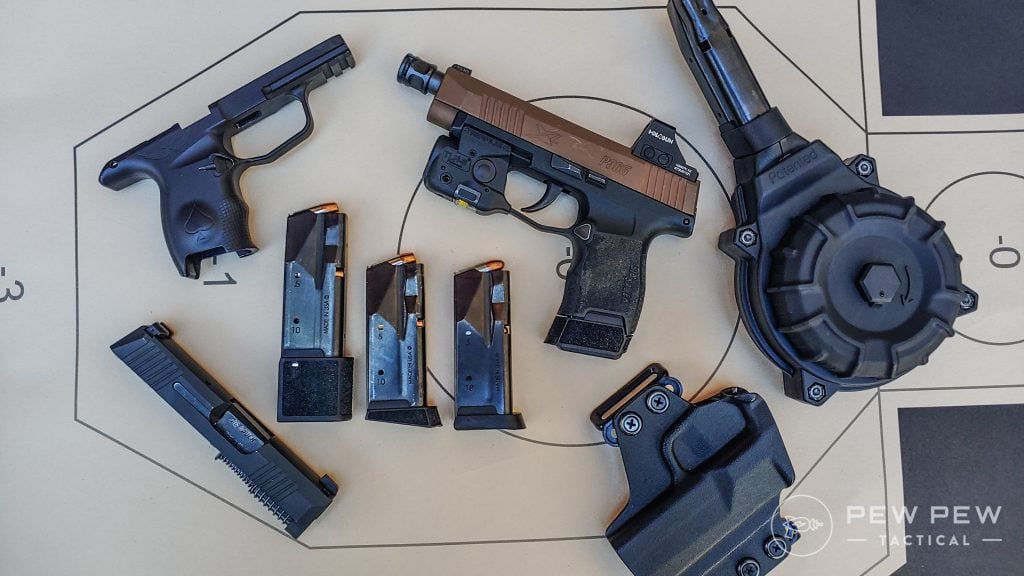 It all comes in cheaper than if you were to Gucci out your Glock to the same specs.
The Sig P365XL is a modern concealed carry option for the modern shooter.
It is good to go straight out of the box.
599
at GrabAGun
Prices accurate at time of writing
Prices accurate at time of writing
Check out our review of the Sig Sauer P365. While you're at it, see how fellow writer Travis decked out his P365!
2. Glock 43x
The Glock 43x is a formidable competitor in the concealed carry market.
It is ultra-concealable with the stark reliability of Glock.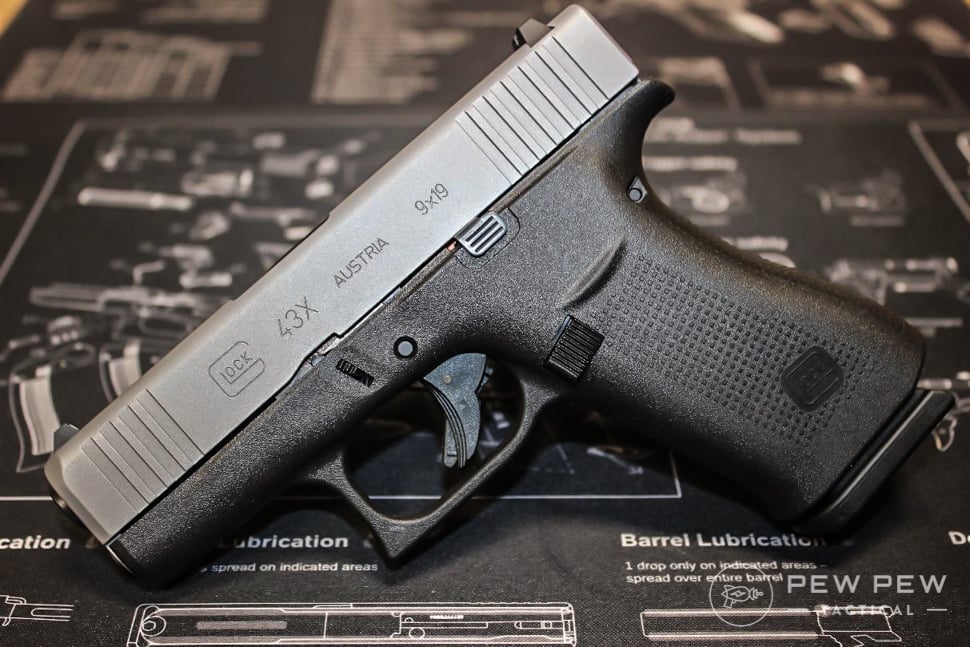 Like the Sig P365 XL, if you grab the G43x MOS variant, it comes optics ready.
That means the shorter sight radius is no longer a drawback. You can shoot a smaller gun more easily.
BUT WAIT, THERE'S MORE.
Thanks to the fine people at Shield Arms, you can up the capacity from 10+1 to 15+1 without any changes to form or function.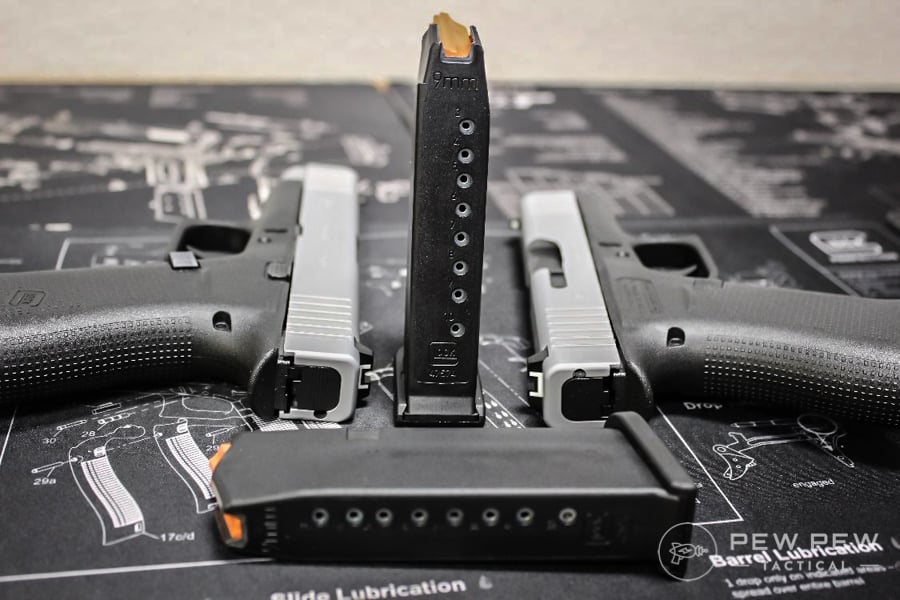 You can even add a mag extension from them if you were so inclined.
Of course, no Glock recommendation would be complete without some reference to aftermarket availability.
You could get a ton of work done to this pistol.
It would far surpass the Sig P365 XL in performance.
However, not everyone has the time or money to do all that. Still, wishful thinking is fun.
488
at GrabAGun
Prices accurate at time of writing
Prices accurate at time of writing
Want to read more on the Glock G43X? Check out our review here.
3. M&P .380 Shield EZ
The Smith and Wesson M&P Shield EZ…what a mouthful. Let's just call it the M&P EZ.
This pistol is an awesome option for concealed carry and an amazing firearm.
Sure, it's in .380 ACP, but proper shot placement proves more important than caliber.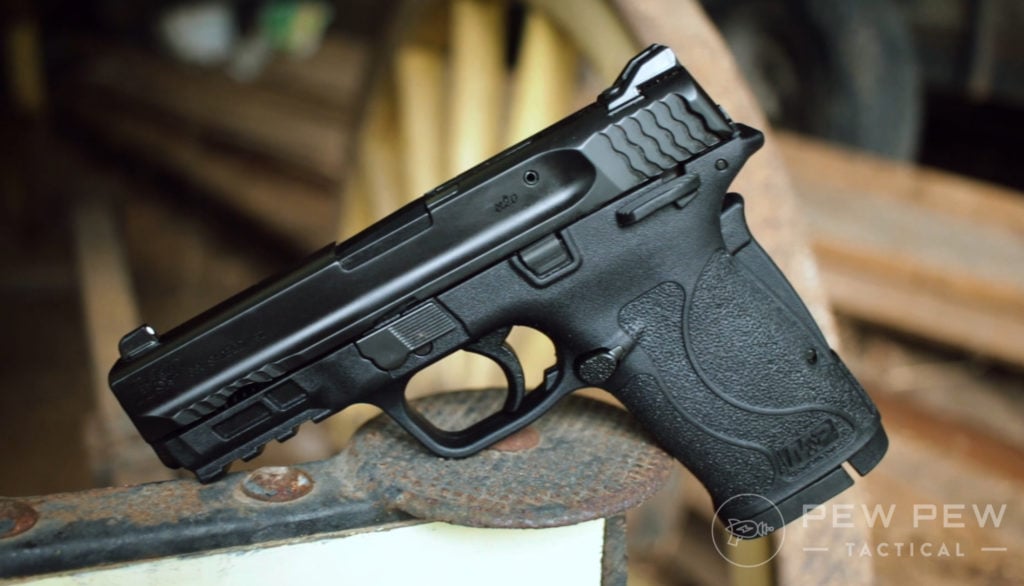 The M&P EZ was made for shooters who have weaker grip strength or trouble operating handguns. Slide is easier to rack, and the gun is just easier to load overall.
Great job, Smith and Wesson. Y'all really knocked it out of the park with this one!
Not to mention, this model measures pretty small. Overall length comes in at 6.7-inches, and it weighs just 18.5-ounces.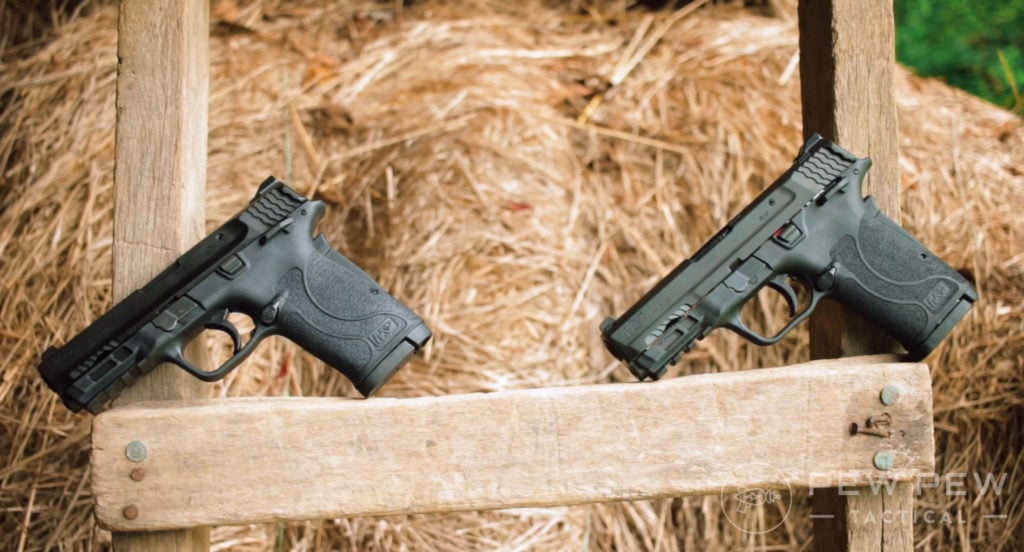 The pistol ships with two 8-round mags and offers a Picatinny-style rail for laser or light attachments.
For safety-conscious consumers, it's also worth mentioning that the M&P EZ sports a grip safety. This mechanism is fitted on the grip and must be engaged for the gun to fire.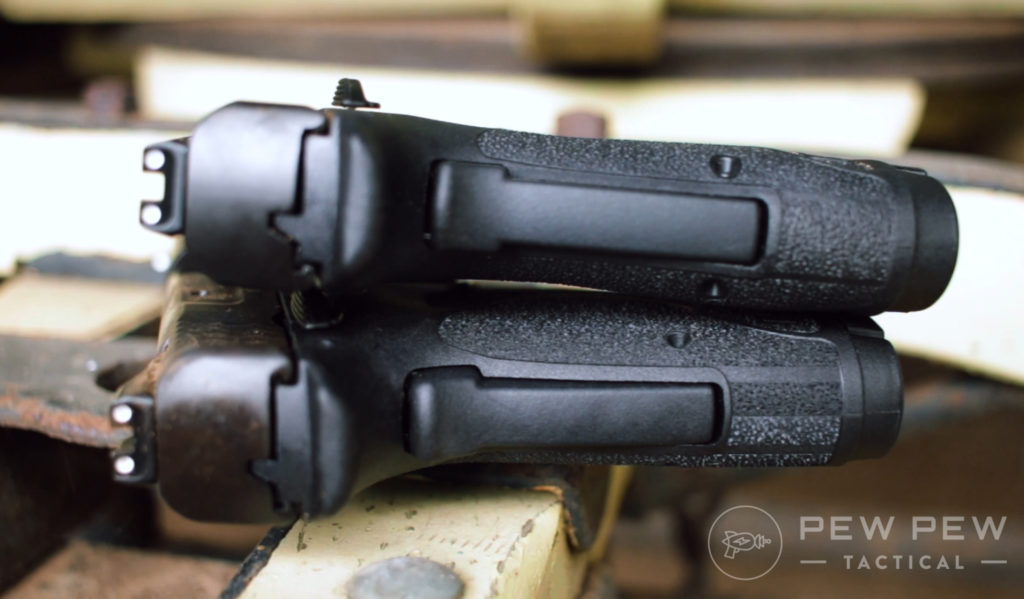 It's a nice add-on if you prefer a safety mechanism on your AIWB guns.
Though this model comes in .380 ACP if that just isn't your thing, no worries. S&W offers a 9mm version too.
339
at Brownells
Prices accurate at time of writing
Prices accurate at time of writing
Ready to learn more? See our review on the S&W M&P Shield EZ in both 9mm and .380 ACP!
If you've tried the S&W Shield EZ, give it a rating below!
4. Glock 19
Now, if you've read any of my other articles, you'll know that I'm a Glock 19 fan. I love it.
Best firearm to be invented since the M16.
Lucky for you and thankfully for me, AIWB carry allows for a plethora of handgun sizes.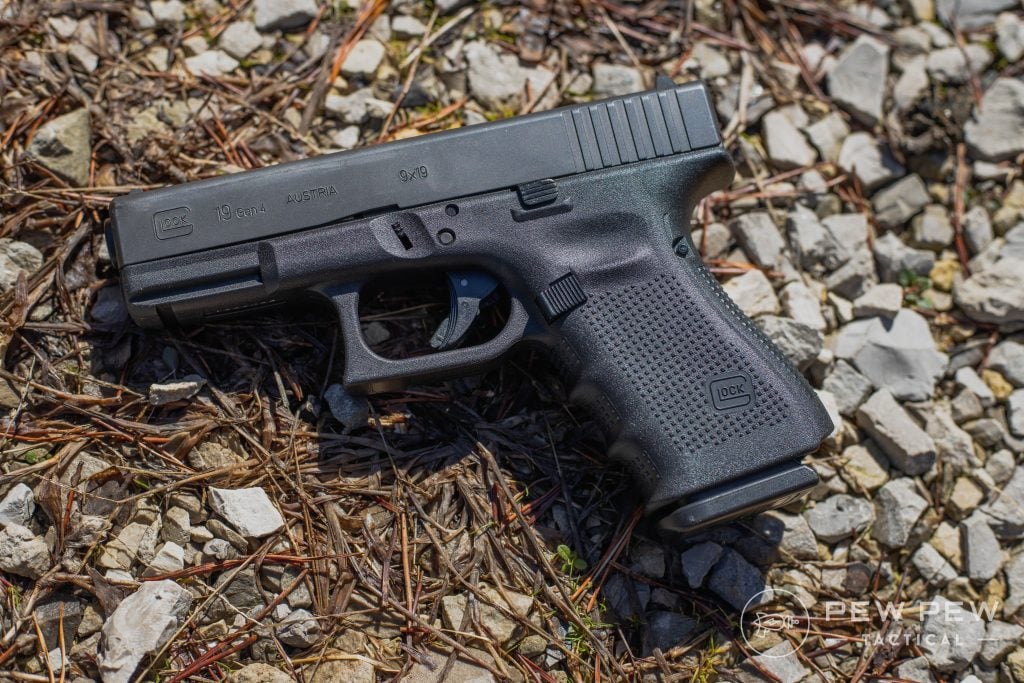 I personally conceal carry the Glock 19 AIWB with no complaints.
This midsize handgun does everything I ask of it and more.
It conceals well even with an extended magazine, weapon light, and red dot sight.
It's comfortable and doesn't print.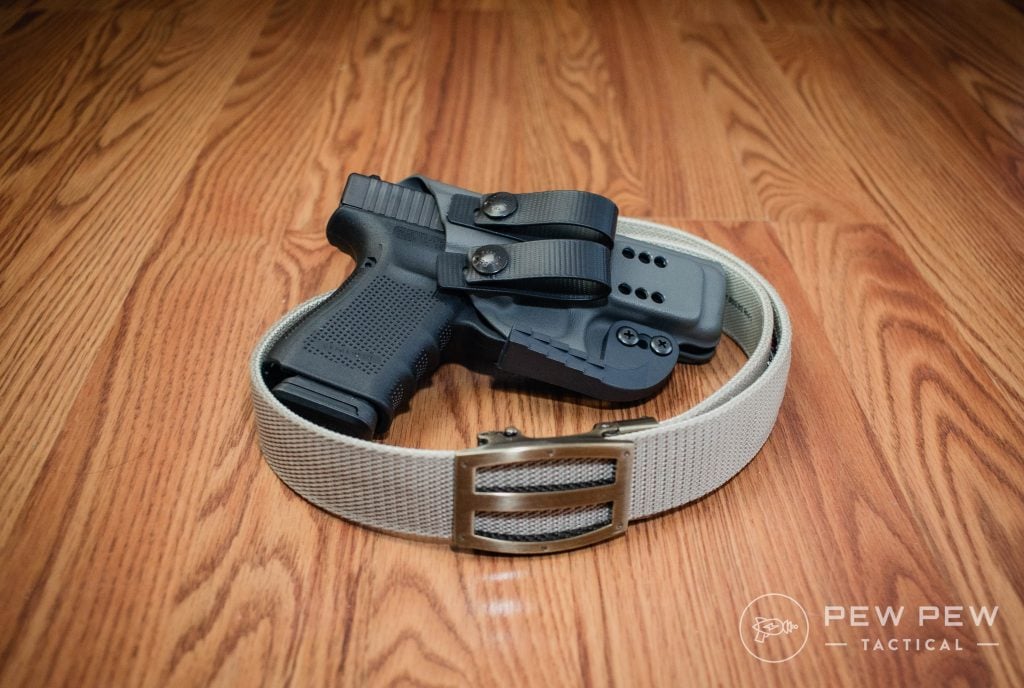 I mean, what more could you ask from a concealed carry weapon.
Even our tiny Managing Editor, Jacki, who weighs all of 100-pounds, carries a G19. So, you know it can be done.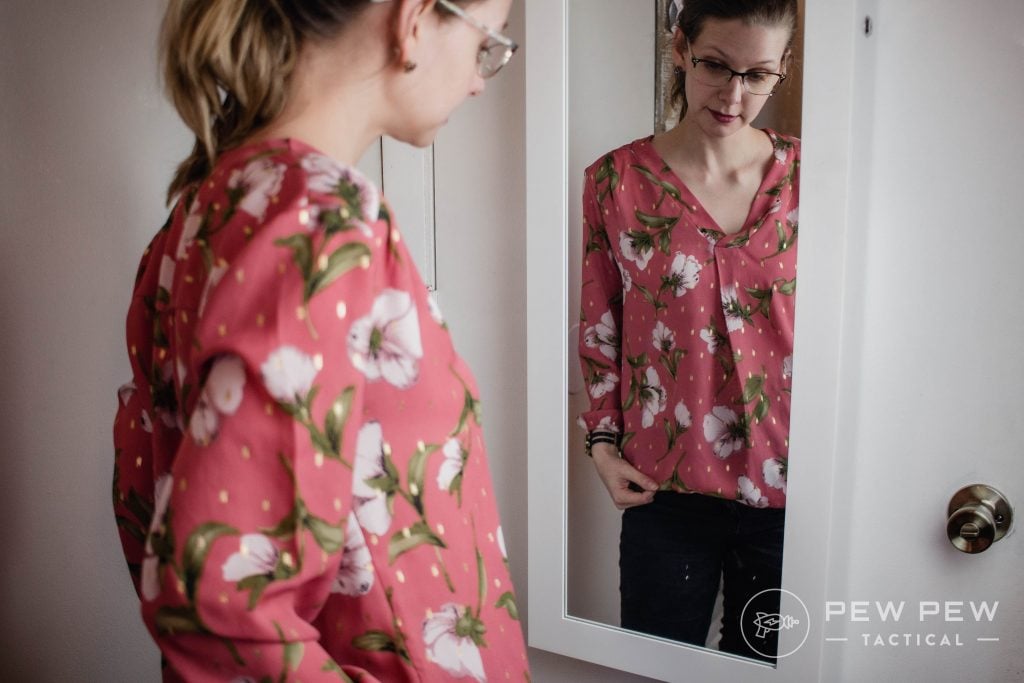 But really, the selling point of the G19 is its reliability. There's a reason many LE agencies, including the FBI, opt for this model.
Glocks just work, and this model is a workhorse!
539
at Palmetto State Armory
Prices accurate at time of writing
Prices accurate at time of writing
To learn more about the various Glock models out there, check out our round-up of the best Glocks.
5. FNX-45 Tactical
Yessirrrr. I bet you didn't see this one coming.
I already know what you're saying to yourself. "But it's so big. Who could ever conceal that?"
Chances are you probably can.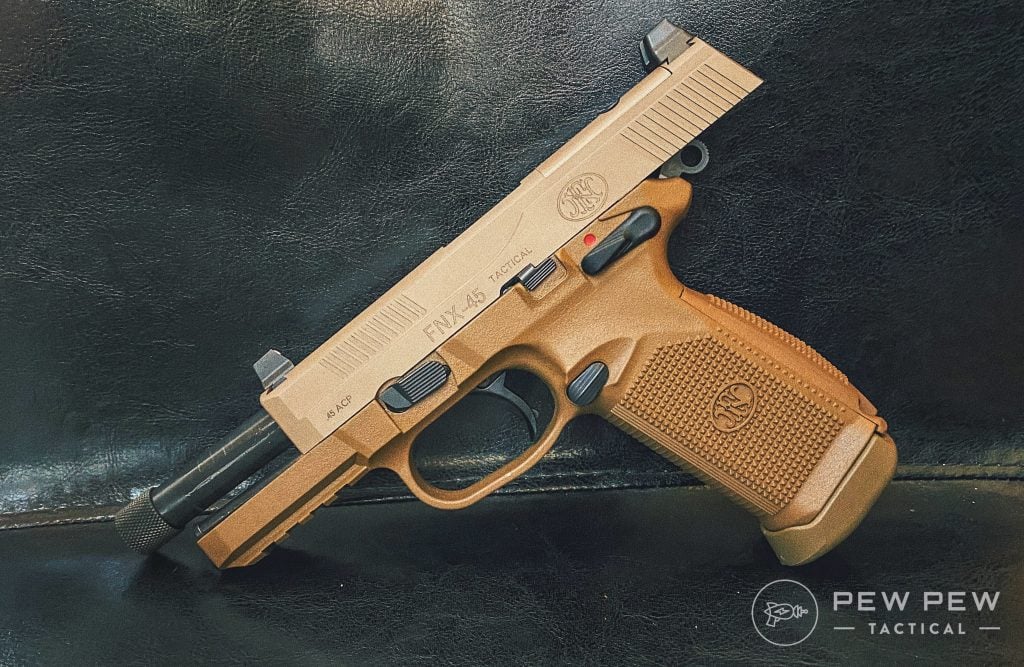 As mentioned previously, the beauty of AIWB carry is that you can carry whatever size gun you can fit into your pants.
Granted, the FNX-45T might require you to go up an additional pant size. But if it fits, it sits.
The FNX 45T is double-action/single-action model. So, for people who aren't keen on striker fire pistols for AIWB, this works!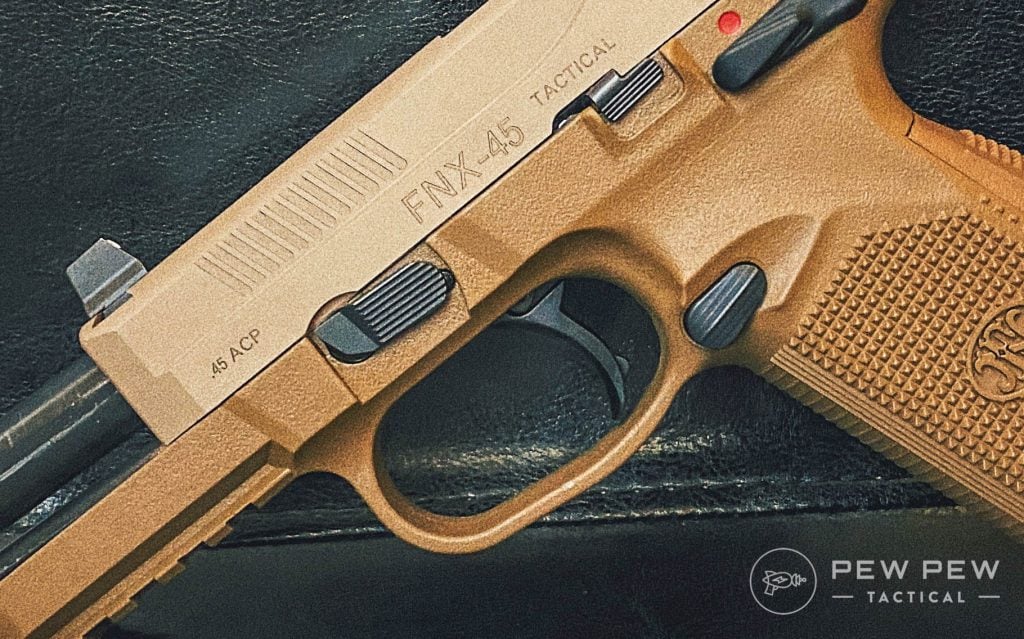 The decocker also makes reholstering a lot less nerve-wracking.
Besides, who wouldn't want to have immediate access to 16-rounds of .45 ACP ready to go with a red dot sight and weapon-mounted light ready to go? It's a win-win.
1150
at Brownells
Prices accurate at time of writing
Prices accurate at time of writing
Want more FNX-45? Check out our review here.
Conclusion
AIWB is amazing. With training, it opens up a whole new world of concealed carry options. You can carry anything from a micro-compact baby gun to a duty-sized big boy blower.
If you are considering your first concealed carry firearm or simply want to change how you carry, AIWB is the way to go. It's easier, faster, and more secure. You really can't go wrong with any of the options I suggested above.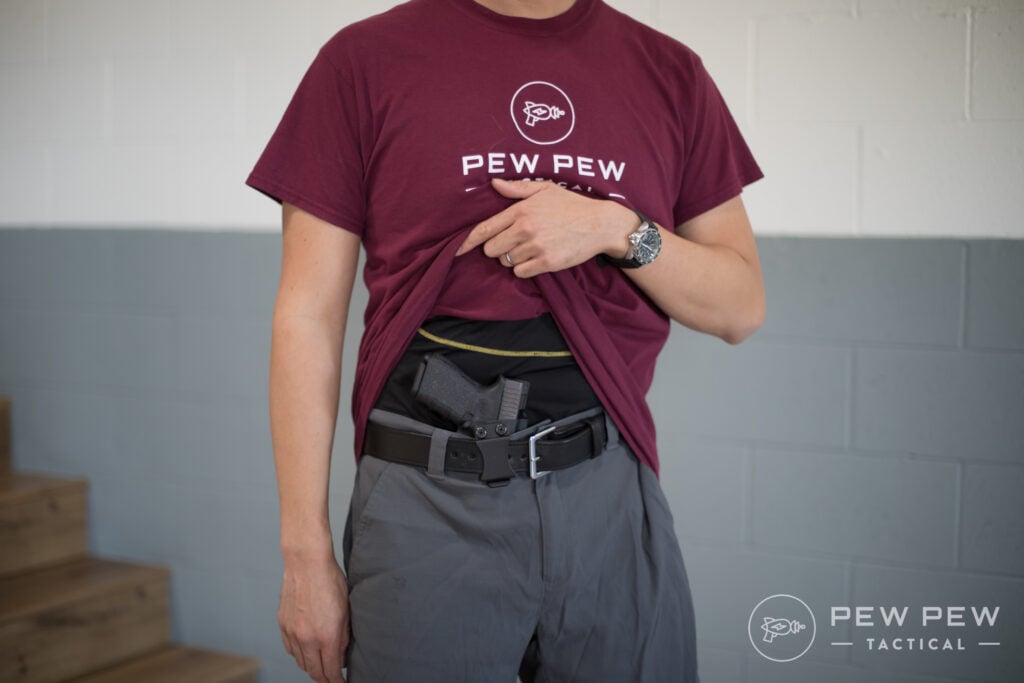 You may have noticed that all of the options have the option to add a red dot sight. It's the way of the future. Practicing on red dot sights makes you a better shooter, even on irons!
Why would you not want to give yourself every advantage you can in a firefight? Just some things to consider.
Do you carry AIWB? What's your favorite carry gun? As always, let us know in the comments below! And if you want to learn more about AIWB, check out our article with tips on how to do it successfully!