We got a hold of the Smith and Wesson EZ 9mm and EZ 380, courtesy of Gunprime, and took them to the range. Check out the video review above for a look, or keep reading for the full review below!
If you dig that kind of content, subscribe to the Pew Pew Tactical YouTube Channel!
---
With so many polymer pistols out there, it's hard to stand out these days. But Smith & Wesson has done it with their line of EZ pistols.
The M&P EZ line's claim to fame is their easy-to-rack slide, perfect for those of us with compromised grips.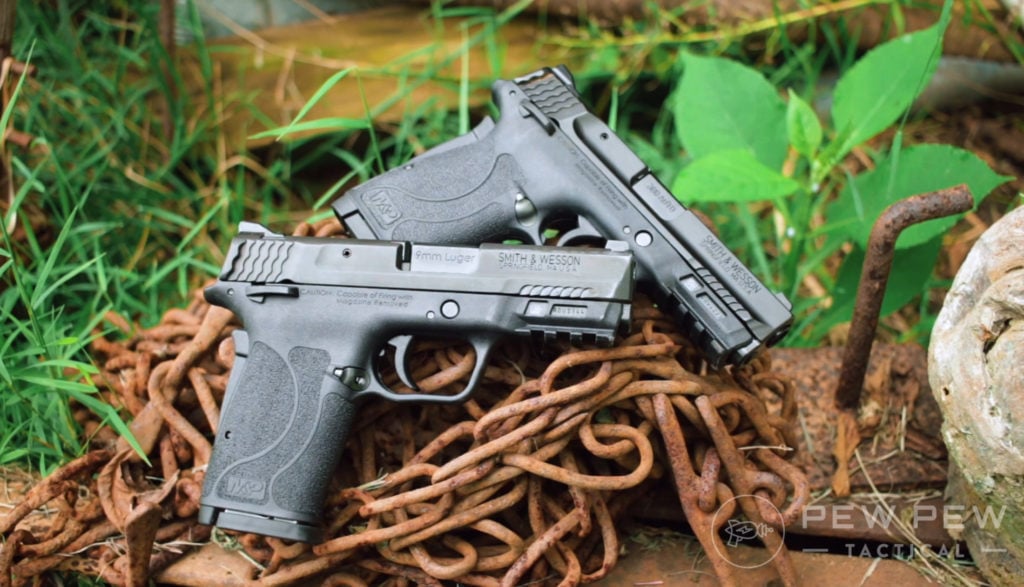 Does it actually live up to the claim? How does it really feel? We got it out to the range to really put it to the test!
Table of Contents
Loading...
Review at a Glance
Pros
Easy to rack slide
Decent carry gun
Great for beginners or those with difficulty manipulating a slide
Cons
Only 8+1 capacity
Not a lot of customization
Small Pic rail up front doesn't leave a lot of room for accessories
The Bottom Line
Smith & Wesson's Shield EZ series is a great gun for those that struggle with moving that slide. It's easy to use and offers a smooth shooting experience.
449
at Palmetto State Armory
Prices accurate at time of writing
Prices accurate at time of writing
399
at Palmetto State Armory
Prices accurate at time of writing
Prices accurate at time of writing
Specs & Features
Both the 9mm and .380 ACP versions of the S&W EZ Shield are very close in specs, but the .380 is smaller… slightly. It's also much easier to rack and softer shooting, but we'll get to that.
Here are the quick specs:
| | M&P Shield EZ 9mm (9mm) | M&P Shield EZ 9mm (.380 ACP) |
| --- | --- | --- |
| Caliber: | 9mm | .380 ACP |
| Capacity: | 8+1 | 8+1 |
| Barrel Length: | 3.675 in. | 3.675 in. |
| Overall Length: | 6.8 in. | 6.7 in. |
| Height: | 5 in. | 5 in. |
| Weight: | 23.2 oz | 18.5 oz |
| MSRP: | $521 | $454 |
Source: Smith-Wesson
As you can tell, there isn't a lot of physical difference between the two. But the EZ380 is lighter and just a hair smaller.
Features
Easy to rack slide
Easy-to-load mags – built-in tabs in magazines to help with loading
Grip serrations
3-dot sights – adjustable rear sight
Models available with and without ambidextrous, thumb safety
Visual and physical tactile loaded chamber indicator (TLCI)
Source: Smith & Wesson
Background
The EZ series builds upon Smith & Wesson's notorious M&P Shield line-up — a popular option for compact concealed carry.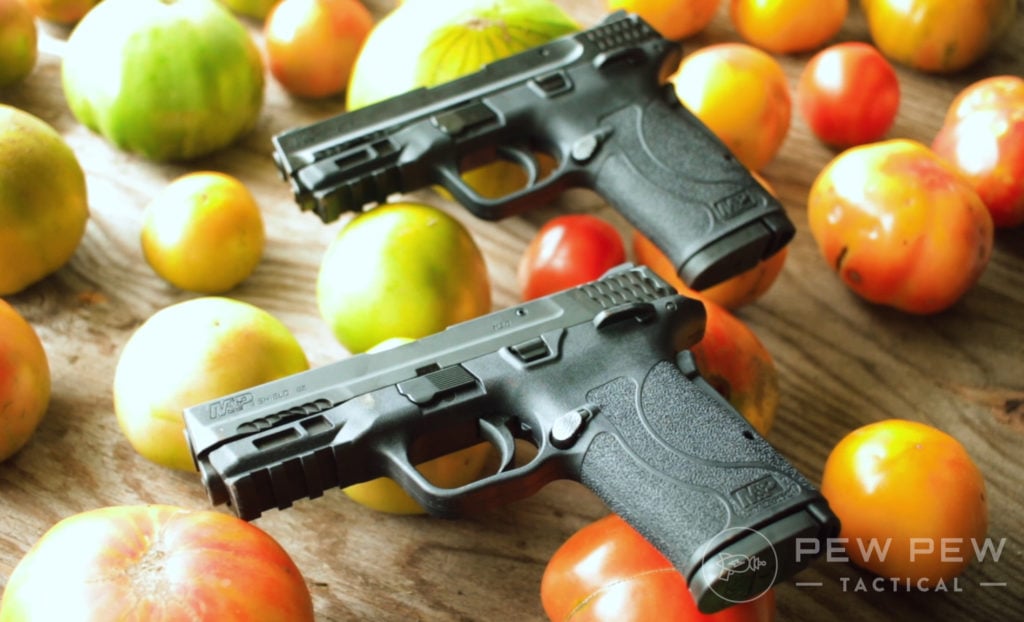 Noticing that some people struggle to rack their slides, Smith & Wesson set to work to ultimately create a system that works for everyone.
Using an internal hammer fire system, the company was able to reduce felt slide tension by half. In addition to making the slide easy, the company also took time to tweak its magazines, adding load assist tabs.
Who Is It For?
Really the heart and soul of the EZ line are for people with weaker grip strength.
Maybe you just naturally don't have strong hands or you have a medical condition that compromises your grip or maybe you're just getting a bit long in the tooth.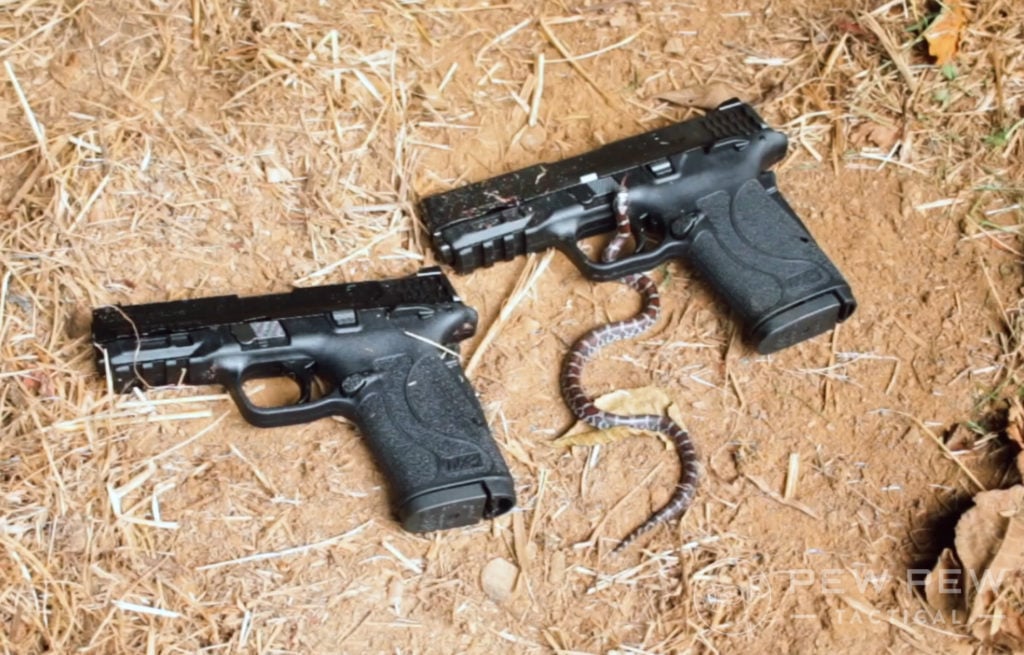 The Smith & Wesson M&P EZ 9mm and EZ380 are perfect for you. Everything about the design really makes it easier and more reliable for you to use.
It also comes in several flavors, models are available with and without a thumb safety and with or without a laser sight.
That isn't to say you need weaker hands to love these guns. Everyone can benefit from a soft shooting, grippy, well-made gun. Johnny liked it, and he's got ape hands!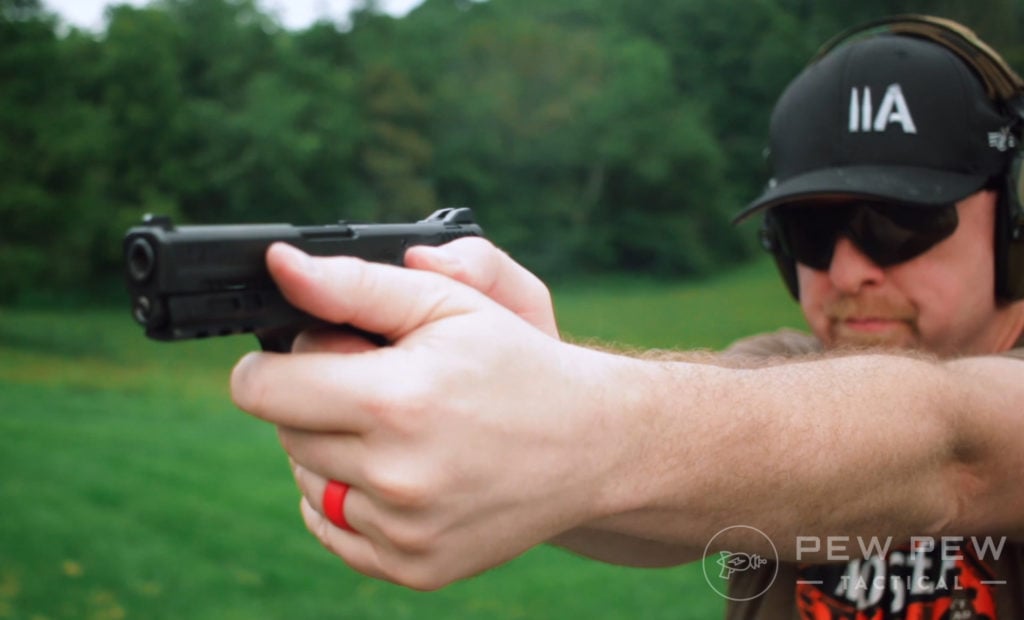 Fit & Feel
The controls are fairly basic, but they work well. We wouldn't be writing home to brag about the trigger, but it's not bad, either.
Our magazine release was a little… lazy. But the magazines themselves are amazing! Featuring built-in tabs to help with loading, they work outstandingly well and totally negate the need for a speed loader of any kind.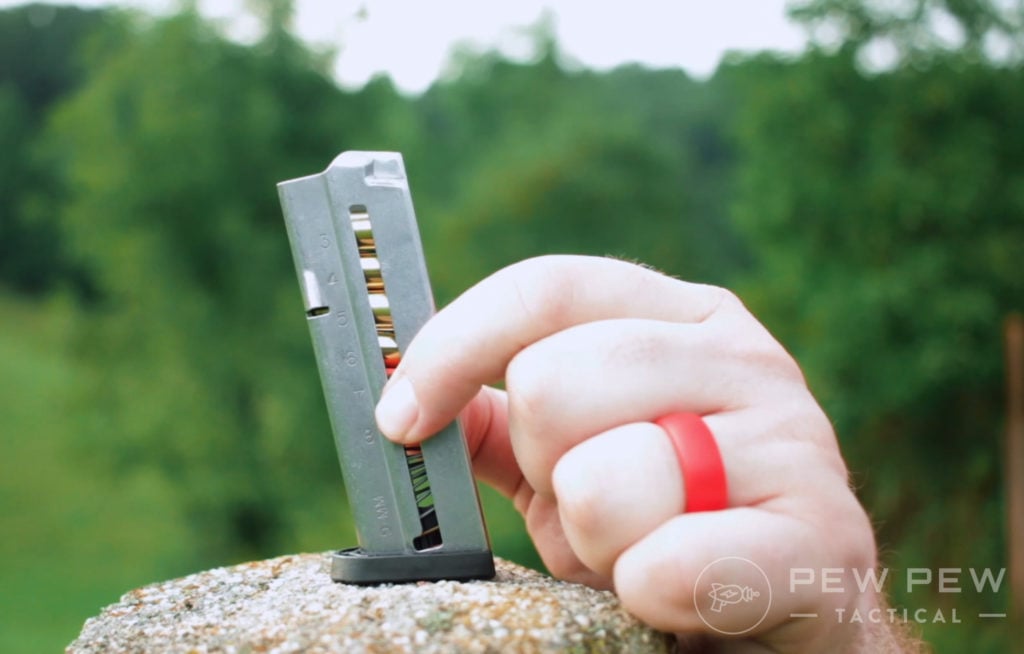 While the grip serrations give the gun a kind of funky look, they do work great. The entire gun is grippy and helps root the pistol in your hands.
Three-dot sights are standard, but the rear is at least adjustable for windage on both models — so that's nice.
How Does the Shield EZ Shoot?
Short version — it was perfect. Both in 9mm and .380 ACP, both guns ran and ran. Zero malfunctions or problems of any kind.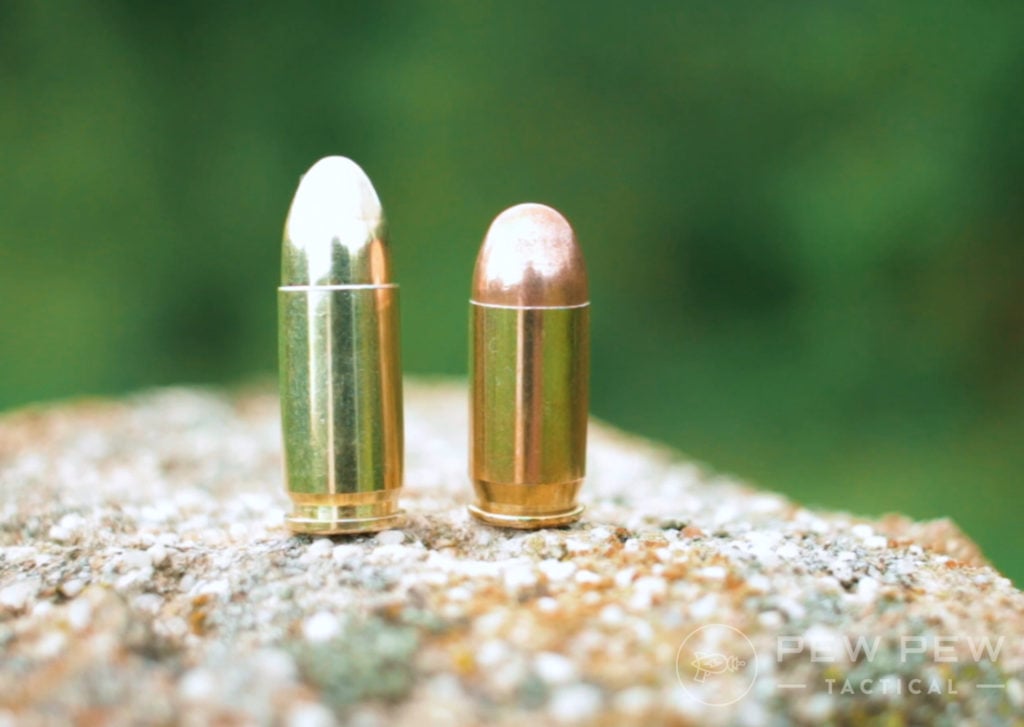 Something that took us by surprise was that the grip safety is actually really well-designed. It's kind of weird seeing a grip safety, but here we are.
Thankfully, it worked exactly like it should and simply melted into the background. Even with a soft grip, it still worked perfectly.
Something that really stood out is how smooth and flat shooting both models are, but the EZ380 is especially flat.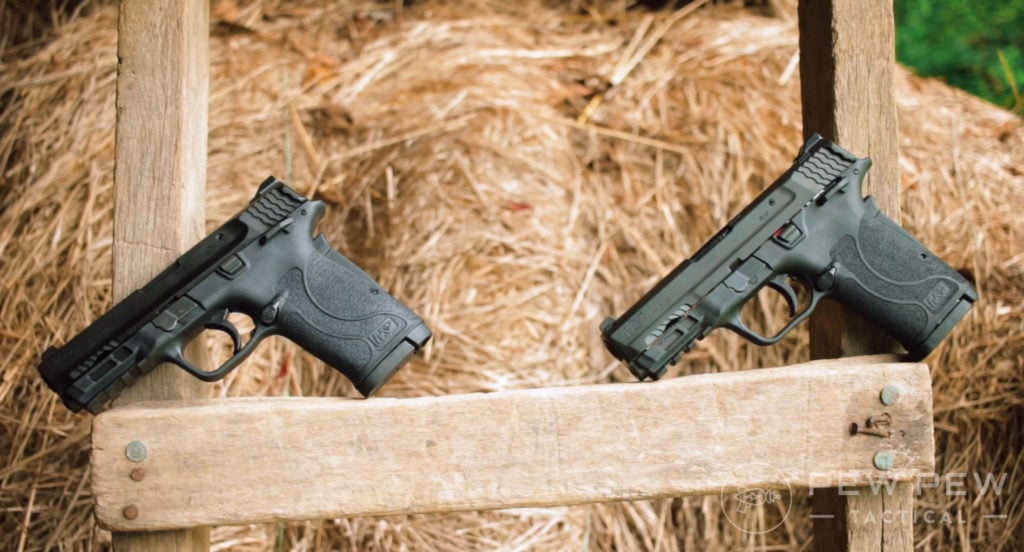 Between how easy it is to rack the slide and how soft and not-snappy the EZ380 feels in your hands, it really delivers for people with compromised grips.
It's also a great option for everyone, though. A flat and soft shooting gun is always good to have because it means getting back on target and putting follow-up shots down range faster and more accurately.
What Sets It Apart?
The EZ series is different from most pistols in that its slide is super easy to use…like ridiculously easy. Add on the load assist magazines, and you have a very user-friendly gun.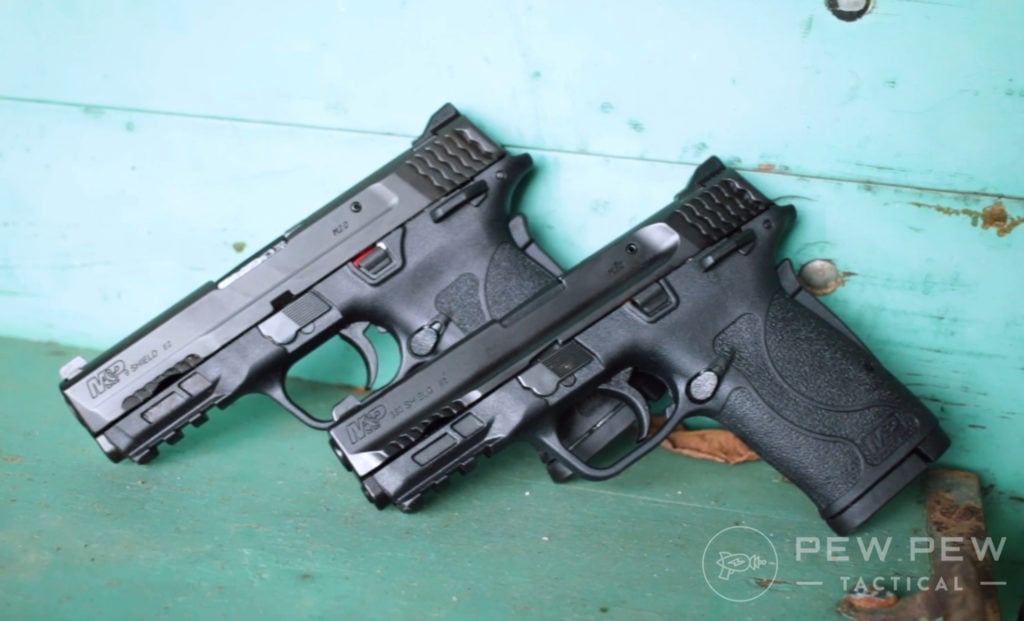 By The Numbers
Reliability: 5/5
We couldn't make either of these so much as a hiccup. They run.
Ergonomics: 4/5
Grip angle is good. Slide serrations are great. Slide lock release? Meh.
Accuracy: 4/5
A sniper rifle it is not. Because it's a pistol. But it'll put rounds in center mass no prob.
Customization: 2/5
LOL. Have fun with that little rail up front.
Value: 4.5/5
You get a reliable CCW at an affordable price. Solid value.
Overall: 4/5
While S&W has had some hits and misses over the years with their autoloaders, the EZ line is solid. We came away with little to complain about and a lot to like.
Thumbs up from us…especially for a first-time gun owner.
449
at Palmetto State Armory
Prices accurate at time of writing
Prices accurate at time of writing
399
at Palmetto State Armory
Prices accurate at time of writing
Prices accurate at time of writing
Shield EZ Upgrades
No new gun is ready for the range without some extras, so don't forget to grab some magazines and a holster!
Factory magazines are widely available and reasonably priced. And considering you will never need a loading tool with these mags, that helps knock down your total price of ownership also.
29
at Gunmag Warehouse
Prices accurate at time of writing
Prices accurate at time of writing
Lots of great holsters on the market for the EZ line since this has quickly become a popular option for people.
Our favorites come from CrossBreed and Hidden Hybrid!
89
at Hidden Hybrid Holsters
Prices accurate at time of writing
Prices accurate at time of writing
Smith & Wesson Shield EZ Gun Deals
Palmetto State Armory
Save $100
Final Verdict
If you want the softest shooting, easiest-to-rack handgun on the market, look no further than the Smith & Wesson Shield EZ line.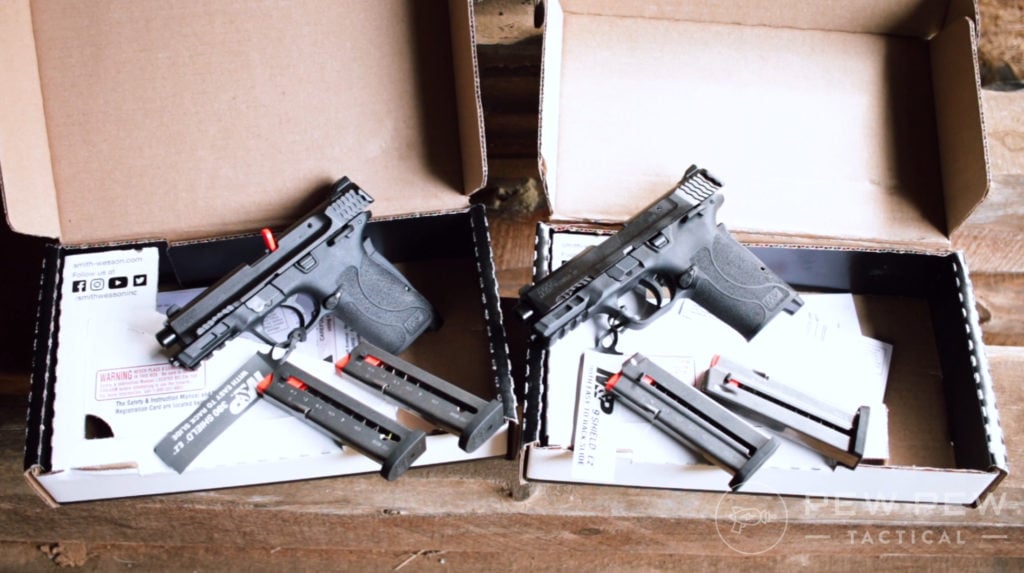 The .380 version shoots the easiest, although both the 9mm and .380 allow much easier slide-racking compared to regular concealed carry guns. Reliability is top-notch, along with high marks for ergonomics, accuracy, and value.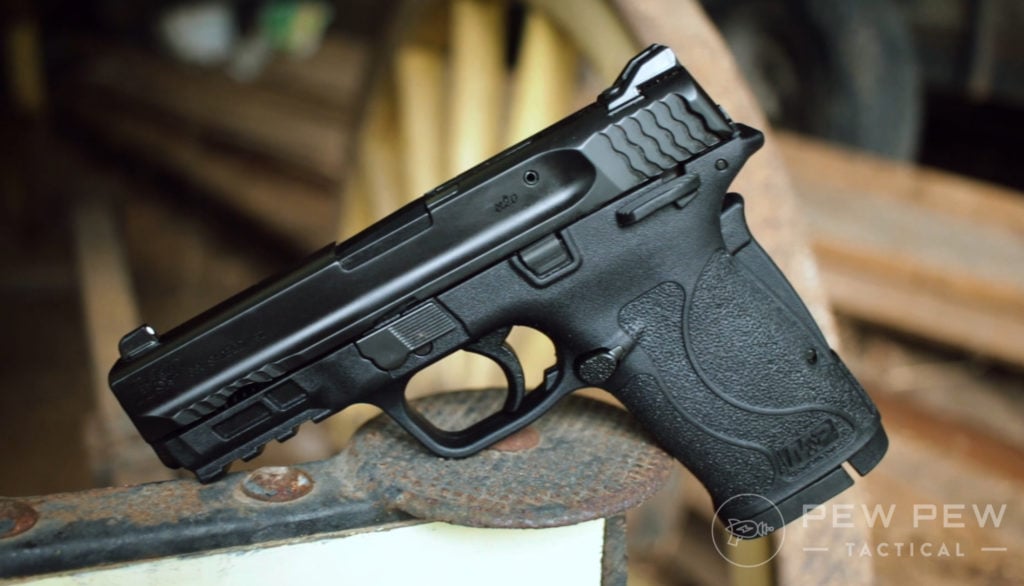 The marketing wasn't kidding when they named this the EZ line. It actually delivers in each respect, and you can tell the designers went out of their way to make sure that it did.
So for us, a big thumbs up.
What is your take on the S&W M&P EZ line? Thumb safety, no thumb safety, laser, or no laser? Let us know in the comments! For more CCW options action, take a look at the Best CCW By Caliber!