The concealed carry world has caught the bug — that bug being appendix carry, also known as AIWB.
AIWB carry is dominating the market and has become the go-to concealed carry method for many people. So what is the best way to carry appendix?
I'm glad you asked! Today is all about the appendix carry. We'll talk about what AIWB is and why you might want to carry that way and run you through the best AIWB rigs on the market!
Keep reading!
Summary of Our Top Picks
Why You Should Trust Us
Before becoming an NRA-certified instructor and concealed carry trainer out of Florida, I was a Marine infantryman. So, I know my way around guns.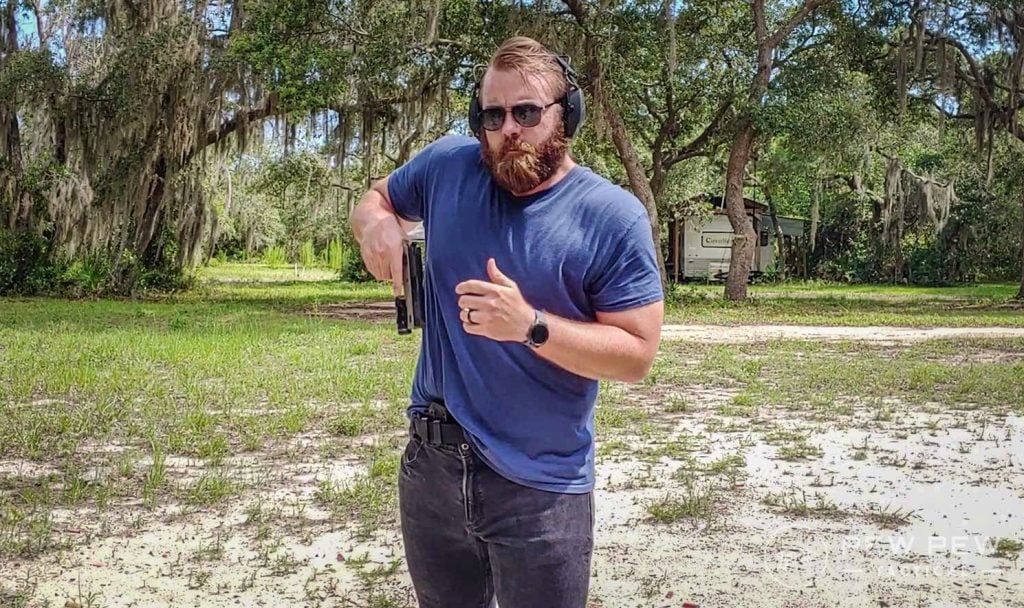 Today, I use my knowledge to test and review guns for several publications, including Pew Pew Tactical. At my home range, I spend countless hours analyzing, researching, and putting guns and gear to the test to bring you the best recommendations and most accurate reviews.
only if you have the right holster. Luckily, we have the goods to help you make the right choice.
Best AIWB Holsters
1. Tenicor VELO4
Tenicor's VELO4 is explicitly designed for appendix carry, and Tenicor took every aspect of its design into serious consideration.
The VELO4 is contoured for the body, and a camming bar steers the grip towards the body to further reduce printing. Plus, the holster itself is incredibly thin, making it disappear even more.
Any holster can be comfortable for 2 hours, but how about 12? That's the real challenge, and the VELO4 is absolutely up to the task.
While concealment is maximized, the VELO4 still provides a swift and easy draw without holster movement thanks to the all-metal, dual-clip design. Tenicor calls it the Trucise fit.
If you have your gun outfitted like you're John Wick, then you'll be covered. This holster accommodates red dots and tall sights. The open-bottom design also allows for muzzle devices.
Additionally, the holster can be highly customized with different clips, looks, wedges, claws, and other accessories. While the price point is high, it is one of the most modern and well-thought-out designs on the market.
What do you think of Tenicor? Give it a rating below.
2. CrossBreed Rogue
The Rogue from CrossBreed signals the first time the company has ditched its hybrid design in favor of an all-polymer design. This comes as both a holster and a system that implements a sidecar-style mag pouch.
The sidecar mag pouch is attached to a piece of leather attached to the holster. Instead of having one stiff piece of polymer, the leather allows for bending. This increases comfort and decreases the chance of the sidecar breaking.
The Rogue excels in concealment. It disappears under a shirt and makes carrying my P365 a breeze. CrossBreed sets the design up with metal belt clips that are very strong. They resist bending well and remain in good shape after lots of use.
CrossBreed also installed a removable claw to aid in concealment when carrying AIWB. Users can also adjust ride height, cant, and retention, and choose whatever attachment clips they want.
User adjustability is a big deal to me, and the Rogue excels here.
If I had any complaints, it would be the price, with the system coming in around $100. The Rogue is brand new and only seems to fit the most popular of guns, but CrossBreed is likely to grow the system and offer more firearm fitment options as time passes.
3. PHLster Floodlight
If you are like me and have heavily invested in weird guns, then the PHLster Floodlight is for you.
The Floodlight is one of the few universal holsters that doesn't suck. I'd go as far as to say it's the best universal holster. Instead of using the gun, it indexes on your pistol light and is adjustable via a shock cord.
New for 2023 is PHLster's Floodlight2, which features an updated ribbed design that improves concealment and comfort.
Phlster's Floodlight allows you to carry a compact or full-size pistol with either a TLR-1 or a Surefire X300U. Beyond being a light-compatible AIWB rig, it's also very adjustable and modular.
You can easily adjust ride height, cant, retention, and clip style. Getting this holster set up for you and your carry style and comfort isn't difficult.
Once properly set up, you'll be surprised how comfy carrying a full-sized gun can be. It took me a little time to get the rig to fit just how I liked it, but it was time well spent.
My main complaint is one Phlster can't fix — not if they want to keep it universal. The holster is fairly bulky, but that is a byproduct of being able to accommodate so many different guns.
If you carry an unusual CZ, Walther, or another less common pistol, then this is the holster for you. This is also an excellent option for those who carry and switch between multiple light-bearing pistols
4. Harry's Holster Singleton
Harry's Holsters makes some of the best holsters ever from the ground up.
They are an all-polymer brand that does a lot to innovate and explore new concealment concepts. I could've thrown a dart at their catalog and gotten a great holster out of it, but the Singleton gets the nod for a few reasons.
If you want a holster that doesn't move, this is the one. The monobloc clips are metal and feature 'cloth grabber' hooks that really dig in. This makes it a pain to take on and off, but the point is that it sticks.
The Singleton offers fitment for a wider variety of firearms, which may benefit some of those who carry something other than Glock or Sig.
Additionally, the holster is ambidextrous, and users can adjust the cant, ride height, and add a wing or wedge if desired. We also get compatibility with red dots for those who take that route.
It's a very modern design that will make your gun disappear, and it's available for a great price. The Singleton is priced to move and is made for enough models that it'll cover most people's bases.
5. Tulster Oath
When it comes to carrying little guns, less can often be more, and Tulster Oath offers a minimalist option for concealed carry of small guns.
I use the Oath with my P365, which comes in handy when wearing clothes that tend to print more. If I'm wearing dress pants instead of jeans and tucking my shirt, then the Tulster Oath is perfect. Its small, thin design allows it to disappear.
The single clip is enough for a small gun but is made from metal to ensure it remains strong. An added claw increases concealment, and the cut of the holster allows for red dots.
Also present is a raised sight channel to accommodate taller sights, and the muzzle is open-ended, which allows for compensator and muzzle brake compatibility.
The thin nature and lightweight design also help with comfort, and the medium-high sweat guard provides pretty decent protection — all while ensuring guns disappear with ease regardless of accessories.
You can adjust the cant and ride height, but the retention remains preset. This holster is friendly to lefties as well, as it is ambidextrous.
When concealment can be difficult, the Tulster Oath steps up. It's simple, reliable, rugged, and a great choice if you wear more restrictive clothing.
6. Raven Concealment Eidolon
The Raven Concealment Eidolon is the premier holster for medium-frame Glock pistols.
This rig comes ready to add all the accessories you could ever want. I mean that for both your holster and your gun.
Running red dots, suppressor-ready barrels, suppressor height sights, or extended controls are all doable with the Eidolon. On top of that, you can change the holster's clips, add a wing, add a wedge, and whatever else you can stick on a holster.
The Eidolon makes it downright easy to carry a Glock 19 or even the bigger 17. Comfy and AIWB don't always go together, but the Eidolon is one of the comfiest holsters in my box of holsters.
I joke, but the Eidolon disappears your Glock and makes you feel good about it. At the same time, you won't have issues getting a proper firing grip and a good draw, which will translate into a good presentation, which could save your life.
If you're new to AIWB and packing a Glock, I'd go with the Eidolon. Unfortunately, they aren't made for any other guns — but sometimes making the best takes a concentrated approach.
7. Dark Star Gear Orion
The Dark Star Gear Orion keeps things simple and versatile. It can double as a strong side IWB rig or an appendix rig.
You can toss a claw on for AIWB and get your deep concealment on, but the Orion's real claim to fame is making big guns disappear.
Concealing a full-sized Glock, PDP, or Sig isn't easy, but the Orion can lend a hand. It's a modern holster design for modern guns, so it is great for red dots and suppressor height sights.
Fitting modern goodies to the Orion isn't hard, and you can toss on claws, different clicks, wedges, and beyond to make the holster a bit better for you. Concealed carry is highly personal, and the Orion allows for that.
On top of accessorizing, you can adjust the ride height, the cant, and retention. You make this holster work for you without compromising the features that matter most.
Outside of comfort and concealment, the Orion allows for a good grip presentation to make your draw easy while being a safe and effective method to carry your firearm.
Editor's Note
Another great option that some of the folks at PPT like is the Hidden Hybrid Holsters AIWB. If you're a fan of leather AND Kydex, this is the one you want and is featured in our general Best Concealed Carry Holster article.
The single clip Appendix Carry keeps things hidden while also balancing comfort.
The leather they choose and the suede backer make all the difference when it comes to comfort. It's what our founder uses for his EDC with his Sig P365XL.
While shopping, I recommend grabbing a claw attachment, which helps rotate the grip of the gun into your body.
This helps concealment and makes toting a gun easier. See our full review of HHH here.
Why AIWB?
Appendix Inside the Waistband, or AIWB, carry is a method of carrying inside the waistband that positions the holster in front of the body. The gun covers the appendix, hence the name. We cover all the other positions over here.
So, why has appendix carry taken over the carry market?
First, the concealed in concealed carry means something. Appendix rigs make it very easy to conceal a firearm, more so than any other holster options that sit on the waist.
Appendix positions the gun in such a manner that it's completely hidden. By positioning the gun in front of the body, there are no odd lumps off the side. The way the gun sits also makes concealing a larger gun easier.
Besides covering up larger guns, pistols adorned with weapon lights or red dots also benefit from the extra concealment granted by the appendix position.
Appendix carry also helps make a fast draw. The position of the gun is natural and easy to reach, and drawing and presenting are intuitive.
Having the firearm at the front of your body makes the gun tougher to take. This means better weapons retention, which can be extremely valuable in close quarters.
AIWB makes a ton of sense, but
Final Thoughts
I wasn't sold on appendix carry at first. I found the holsters downright uncomfortable and painful at times. They poked, prodded, and pinched me, turning me away from them in the process.
However, once I discovered that good AIWB holsters existed that addressed the comfort factor, I was hooked.
The ability to deeply conceal weapons comfortably without compromise is a winning combination.
Do you have an appendix holster you like that isn't listed here? Let us know in the comments below! Looking for some guns perfect for AIWB? We have you covered with the Best Guns for Appendix Carry.