With the micro-compact market getting more and more options, Smith & Wesson updated their M&P Shield to offer a 13+1 capacity pistol that was marginally larger than the original.
What was the result? The M&P 9 Shield Plus.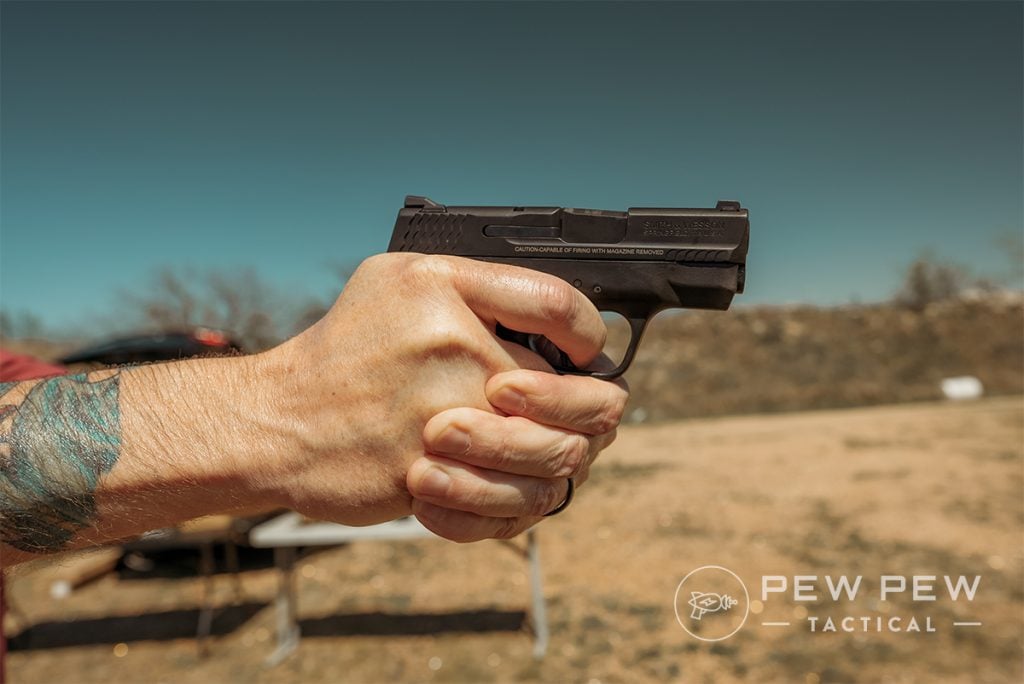 Concealability is often at odds with functionality, so we were intrigued with the upgraded Smith. Naturally, we took it out to the range to run it through its paces.
The results were interesting, and we'll share our findings with you below along with some specs, features, and overall impressions.
So keep reading!
Table of Contents
Loading...
Pros & Cons
Pros
13+1 capacity
Good grip texture
Reliable
Cons
Challenging for large hands
A little snappy
Slightly difficult field strip
The Bottom Line
The Shield 9 Plus is about as small as you can go and still have an easily useable platform with ergonomic controls across a range of hand sizes…any smaller and compromises begin to occur.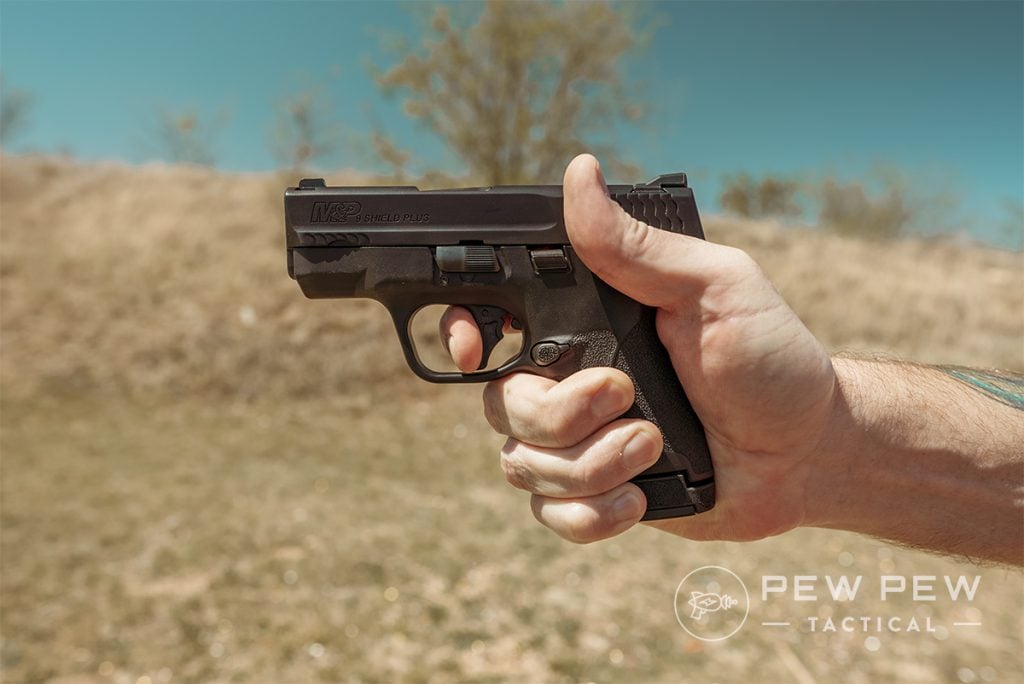 That said, Smith did an excellent job with this pistol, making it accurate, easy to use, and wholly concealable.
Specs & Features
Specs
Width: 1.1″
Length: 6.1″
Barrel Length: 3.1″
Height: 4.6″
Weight: 20.02 ounces
Capacity: 13+1
Features
Flat trigger bow
Extended magazine
Excellent grip texture
Source: Smith & Wesson
439
at Brownells
Prices accurate at time of writing
Prices accurate at time of writing
Background
Smith and Wesson took the M&P 9 Shield and improved it in a few ways. They first increased the 9mm capacity from 8+1 to 13+1.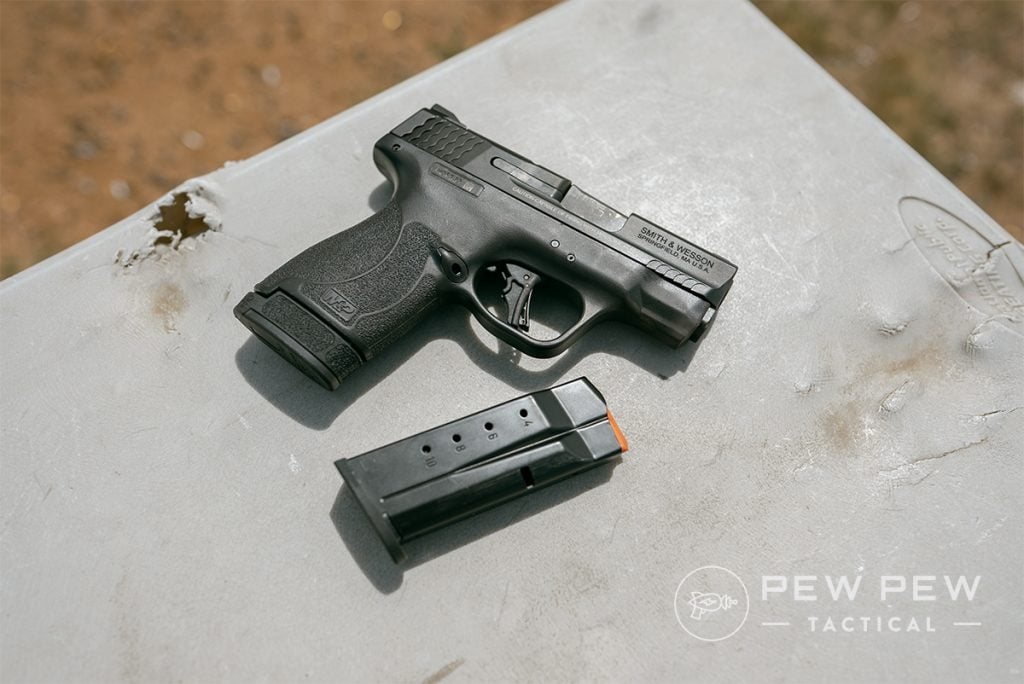 They actually made it a little lighter than the previous model, dropping from 20.8 ounces down to 20.1 and the newer version is only slightly wider.
Who Is It For?
This gun is a great option for concealed carriers who want a no-nonsense blend of function and concealability, with good capacity.
Fit & Feel
I'm always a bit hesitant when testing out small guns because I have big hands. Sometimes gun manufacturers keep this in mind, other times they don't.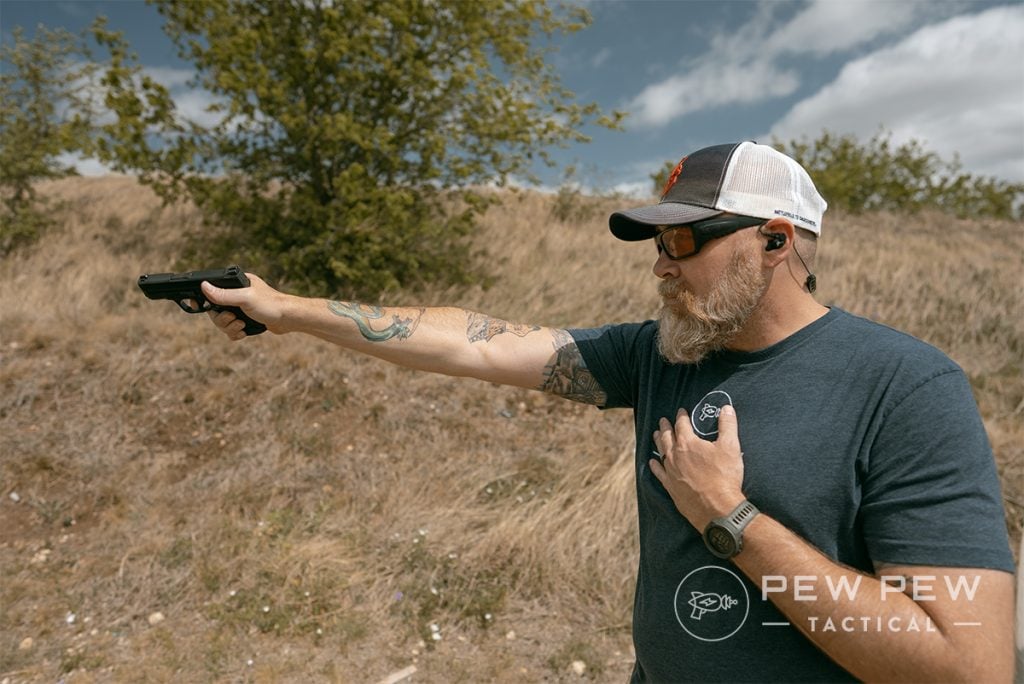 Smith did an excellent job of keeping larger hands in mind with this design. The beavertail is deep enough that I didn't experience any slide bite while operating the 9+.
In addition, the grip texture is an excellent blend of being rough enough to help control recoil without wearing a hole in your garments.
How Does It Shoot?
The 9 Shield Plus provided decent accuracy for its size, even with the shorter sight radius. The model I tested had standard, 3-dot white sights.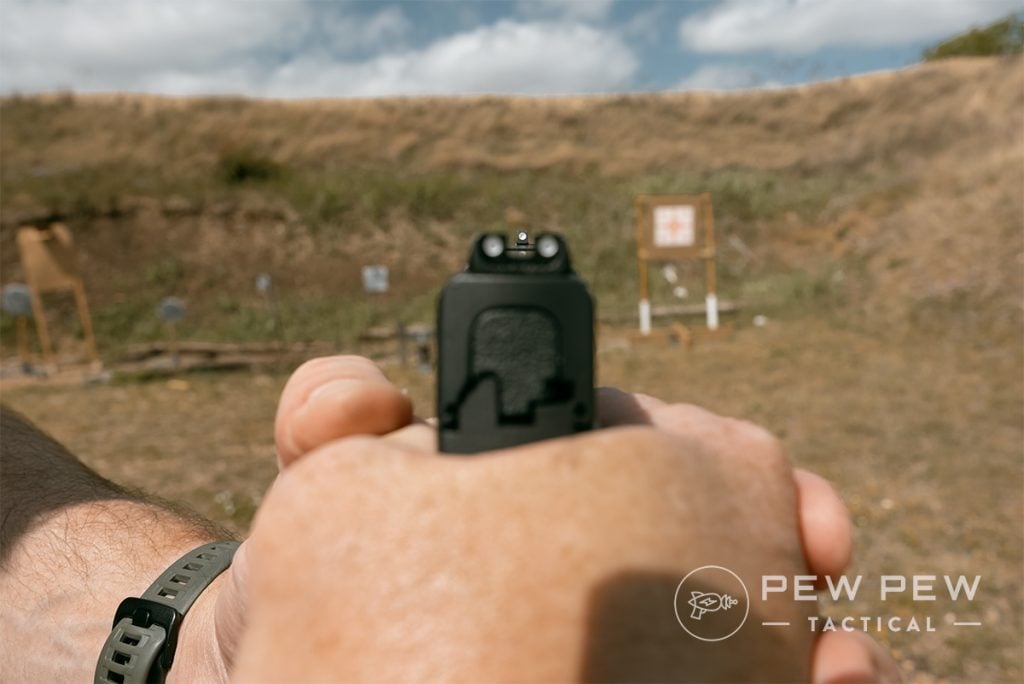 The trigger was a good striker-fired model, with a couple of millimeters travel before a wall, which broke at around 4 pounds on my Lyman digital gauge. Reset happened pretty shortly but was both tactile and audible.
Notably, I had much better control over recoil when I fired with the 13-round magazine. This small but crucial extension allowed my pinky purchase toward the bottom.
The extended magazine, weight, and grip texture combined to allow decent recoil management in such a small weapon.
When I shot with the 10-round magazine, greater grip pressure was needed to tame the muzzle flip. During reloads with this magazine, I'd have to clear my palm out of the way in order for it to fall clear.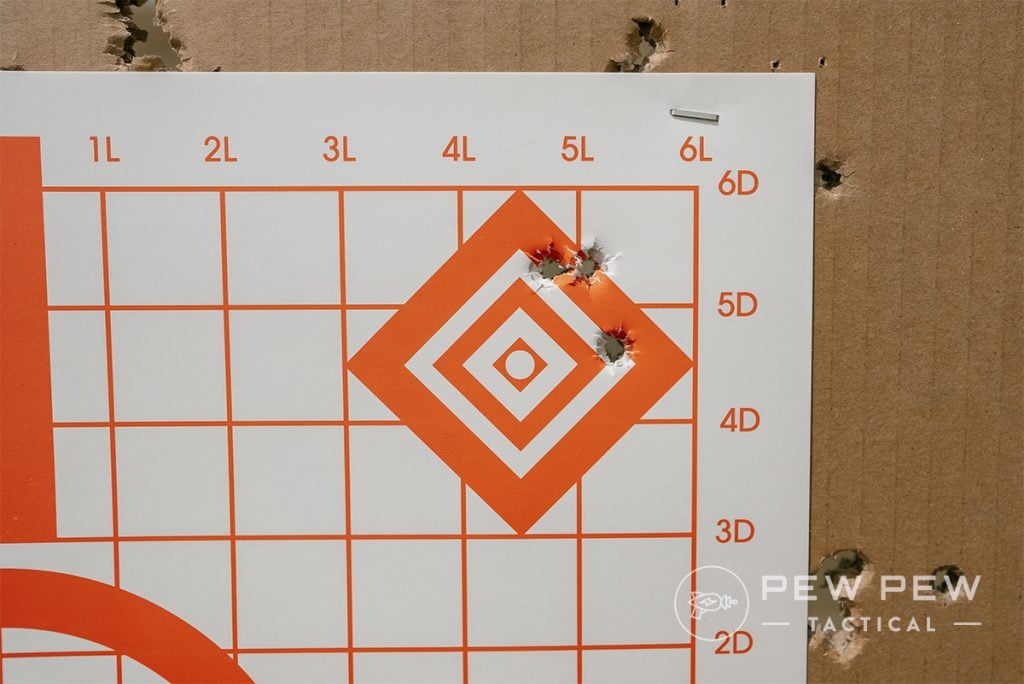 That's strictly about my hand size though, otherwise, the magazines fed and clearly perfectly. It's good that Smith included the smaller magazine though because people with smaller hands might favor the reduced size over greater capacity.
For me, it isn't even a debate. Even though the 13-round magazine is slightly bigger to conceal, the added control and accuracy it afforded my big hands was the way to go.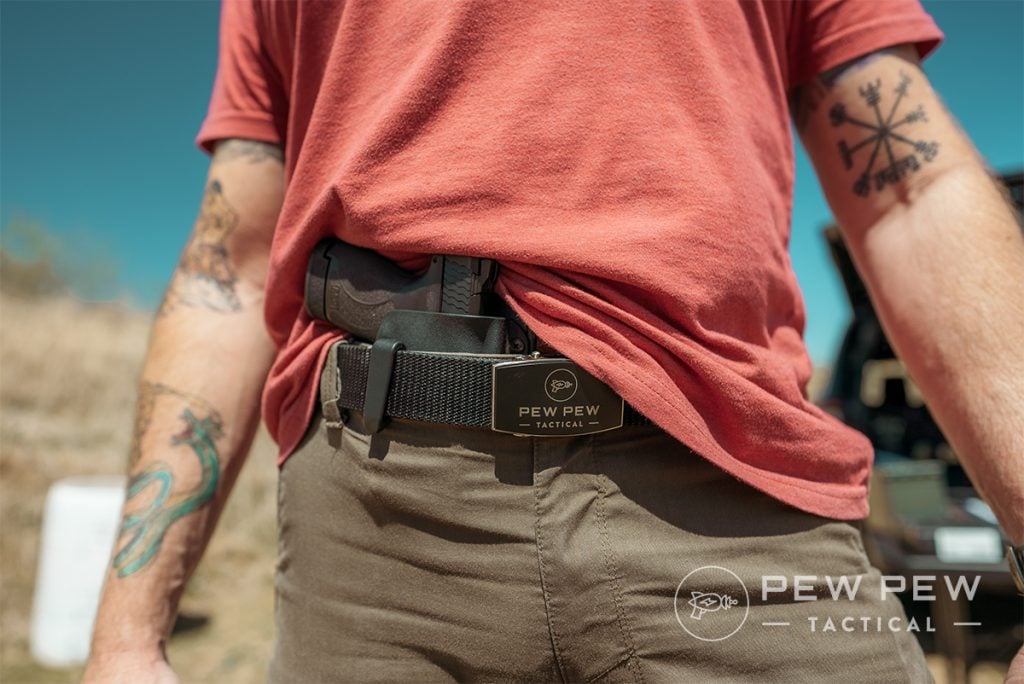 While not strictly related to shooting, the field strip of the 9 Shield Plus was a little challenging. The takedown lever was so stiff, that I had to use a magazine to disassemble the weapon.
Chances are, this will loosen up with time and rounds downrange.
Finally, I liked the size of the gun for drawing from an AIWB Hidden Hybrid Holster. It had just enough size to establish a good grip.
89
at Hidden Hybrid Holsters
Prices accurate at time of writing
Prices accurate at time of writing
What Sets it Apart?
I found the size of the 9 Shield Plus to fall into that Cinderella category of just right. The size, weight, and capacity were all good and the reliability was superb.
Too much smaller and the gun would be harder to handle — much bigger, it would be more difficult to conceal.
By The Numbers
Reliability: 5/5
This gun ate up everything I fed it, I ran 115-grain Remington UMC and 147-grain hollow points with a grand total of over 500 rounds. There were zero failures.
Ergonomics: 4/5
The 9 Shield Plus did a really good job of accommodating my large hands. I was able to reach all controls without adjusting my grip. However, the 13-round magazine provided the most stable shooting. With the 10-round magazine, my pinky would hang off a bit and I would sometimes need to reestablish my grip after shooting.
Accuracy: 4/5
Standing at 7 yards, I fired 3-round groups at a target. Most of my groups were in the 1.5- to 2-inch range and I found this to be pretty good for the size of the gun.
Customization: 3/5
Other than sights and holsters, there are limited options to accessorize this gun.
Value: 4/5
At an MSRP of $553, the Shield Plus is competitively priced with actual store prices hovering around $499 depending on options. Several packages are offering a $50 rebate at the time of this review.
Overall: 4/5
Upgrades for Shield M&P 9 Shield Plus
Without an accessory rail, the 9 Shield Plus is a little limited when it comes to upgrades. However, you can get products like laser/light combos such as the TLR-6 from Streamlight.
76
at OpticsPlanet
Prices accurate at time of writing
Prices accurate at time of writing
There are a pretty wide variety of holster options to support your favorite style of carry. In addition, there are several manufacturers who make sight upgrades for the 9 Shield Plus.
Field Strip & Reassembly
Final Verdict
I was impressed with the 9 Shield Plus and can't imagine the task of keeping a gun small (but useable for a wide range of different-sized people) while increasing capacity was an easy thing.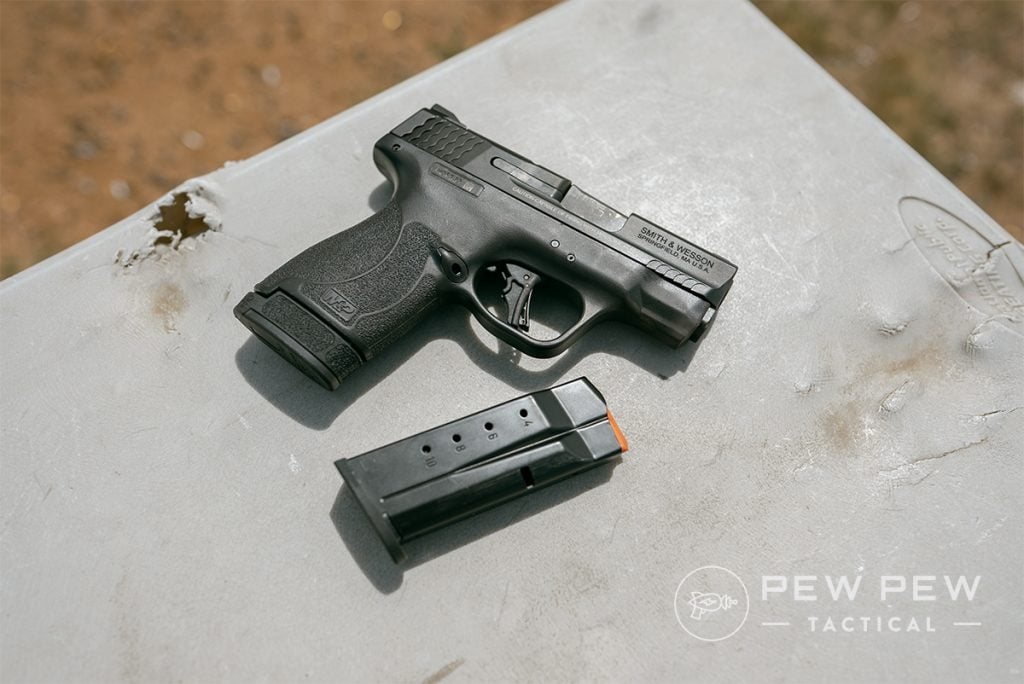 Smith & Wesson pulled it off. While the gun might have fewer accessories available, the only misgivings I had were a somewhat challenging takedown and a missed opportunity for forward serrations.
All in, the 9 Shield Plus is an absolutely solid performer and a great value for the price.
What do you think of the Smith & Wesson M&P 9 Shield Plus? Let us know in the comments below! Also, be sure to check out our 12 Best Concealed Carry Guns for even more options.