Money talks.
Economics is a real thing and not everyone has the budget to pick up a reliable, safe, accurate, and CCW pistol.
The Taurus G2C looks to solve that issue and put it to rest for good!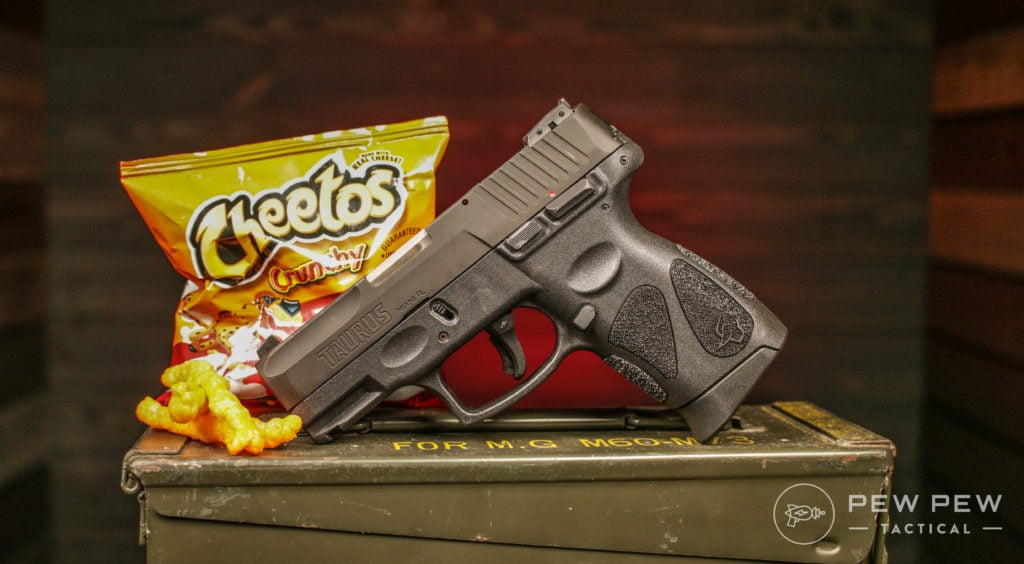 We've had a lot of you readers ask us to review the G2C and here it is in all it's very budget-friendly glory!
Johnny put it through the wringer for us and has a great video review of it on the Pew Pew Tactical YouTube, take a look and if you like the content don't forget to subscribe for more!
What Is The Taurus G2C?
Taurus has been around for a while and their reputation is…spotty. But the G2C is designed from the ground up to be a highly affordable compact CCW pistol – and it nails it.
220
at Brownells
Prices accurate at time of writing
Prices accurate at time of writing
Polymer frame, steel magazines holding 12-rounds of 9mm, easy to use sights, and slightly larger than the Sig P365 the G2C is on paper a great pistol.
On the range is where things matter though…
Basic Stats
Caliber: 9mm or .40 S&W
Capacity: 12+1
Hight: 5″
Width: 1.25″
Length: 6.25″
Weight: 21.15 oz
Material: Polymer frame
Safety: Manual External and internal trigger
Range Report
There are a lot of fancy ammo brands and loadings on the market and if you're looking to concealed carry you should always use good defensive ammo – but when we're doing a test on a new gun, it's Wolf Steel Cased all day long!
Best 9mm Self-Defense (124 gr)
25.75
at Lucky Gunner
Prices accurate at time of writing
Prices accurate at time of writing
We do this for a number of reasons: 1) It's cheap. 2) This is bottom tier ammo. Period. If a gun can run Wolf Steel, it can run anything.
Shockingly, the G2C ate every single round it was fed and never failed once.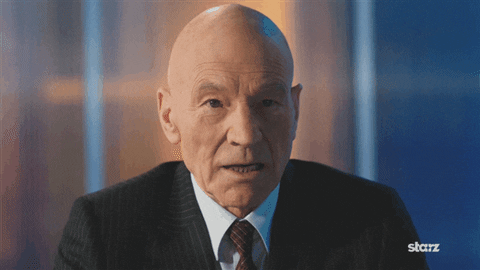 Steel cased, brass cased, it didn't matter since the G2C was able to run both flawlessly.
Since it's designed to be a CCW the gun itself is a little small, so the fact that both magazines had pinky rests is a real boon to us that have larger hands.
The sights are simple and work, nothing to write home about but good enough to be minute of man at 7-yards.
3-dot sights are common and easy to use by basically everyone, but something you wouldn't expect to see on a budget pistol is an adjustable rear sight! A nice plus that we don't see too often.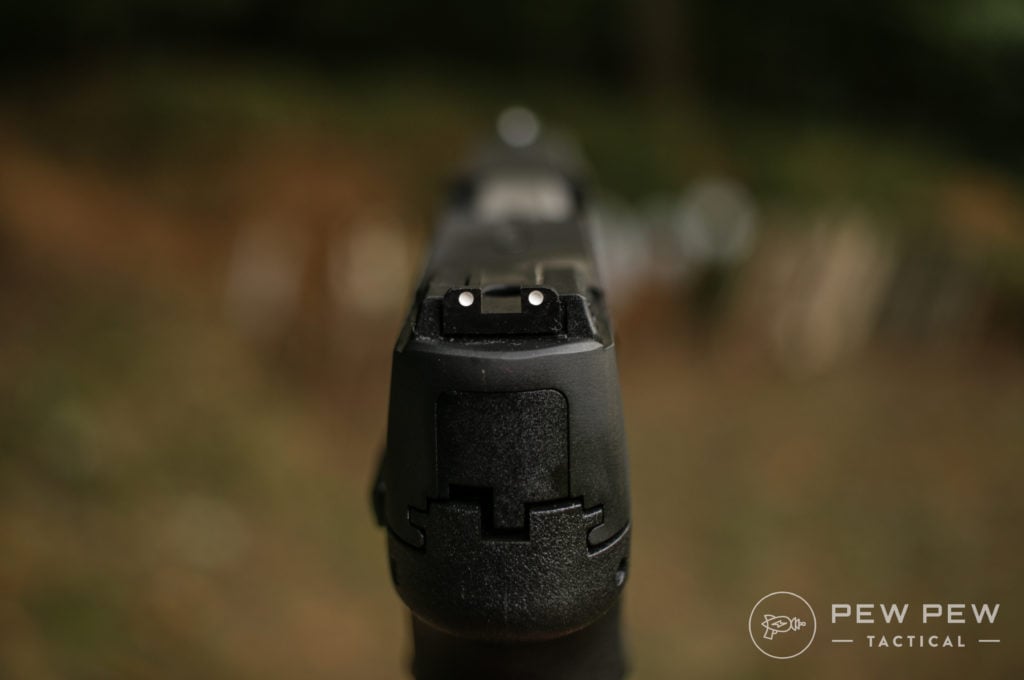 A very tacky grip means it won't slip in your hand and is one of the best aspects of the gun because of just how good they are!
In all…we really have nothing bad to say about the G2C. There is only two things that can be seen as possible negatives but they are both subjective.
Possible Issues
Two things stand out about the G2C that we don't love – the trigger and external safety.
External safeties in this day are becoming more and rarer but one can be found on the G2C. It also comes with internal safeties and a dongle on the trigger to prevent accidental discharges, so the external safety feels redundant and unnecessary.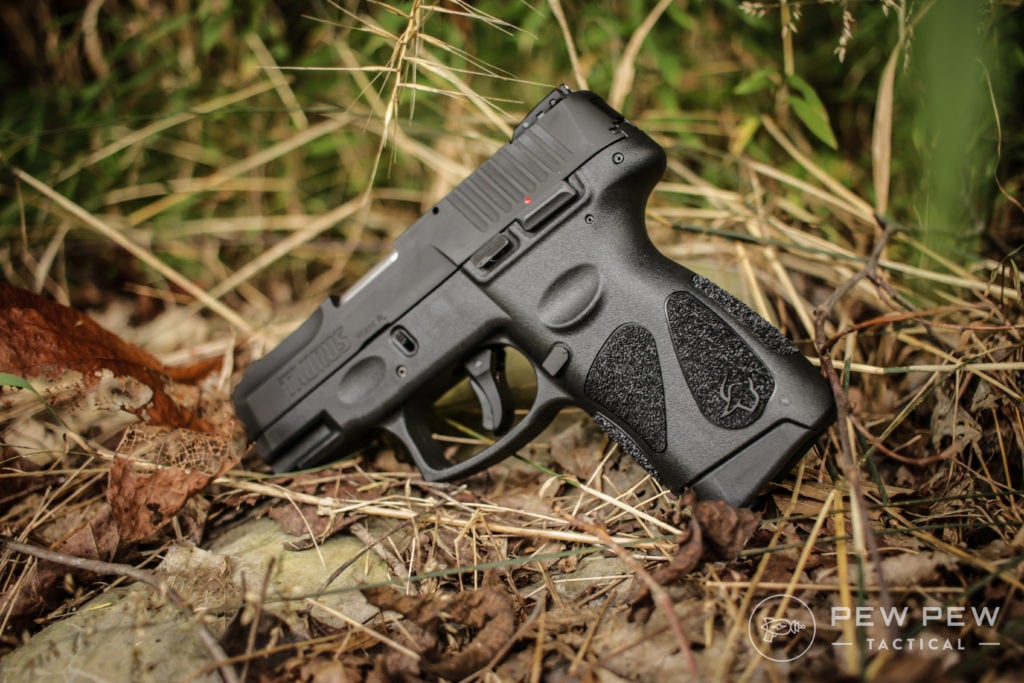 The second (possible) issue is the trigger. It's long, gritty, and mushy. But it isn't the worst trigger in the world and it works. Plus, being so long and gritty makes it very difficult to accidentally set off – a major plus if you're a newer CCW holder.
Neither of these holds us back though and in the grand scheme of things, we rate the Tarus G2C very highly!
Five Things To Love About The Taurus G2C
The main points of what to really like about this pistol and why you might want to make it your next firearm pick!
1. Price: Coming in at around the $200 mark, this is a barebones price for a really good pistol. You really can't find anything in the same price point that compares to the G2C – period.
220
at Brownells
Prices accurate at time of writing
Prices accurate at time of writing
2. Grip: Aggressively tacty, outstanding in the hand, really leads itself well to accuracy and control of the firearm.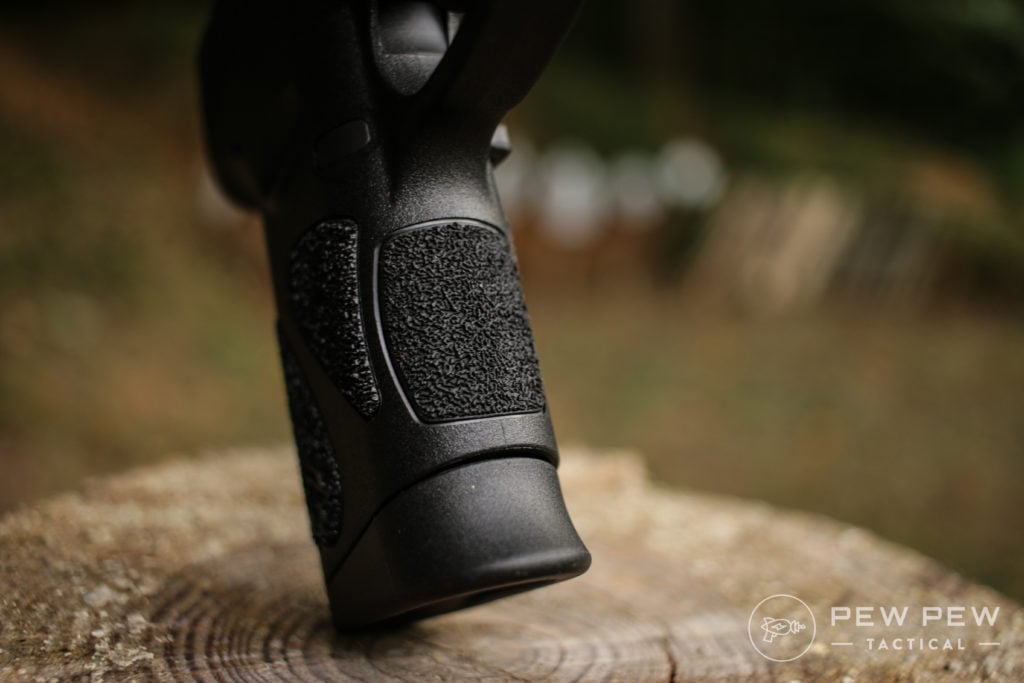 3. It Works: Fed all kinds of ammo the G2C just ran and ran and ran. The number one most important thing in a CCW is that it is reliable and Taurus really nailed that part with this.
4. Aesthetics: It looks good, the style is nice, the branding is well done, there isn't anything weird about it. It's clean and simple.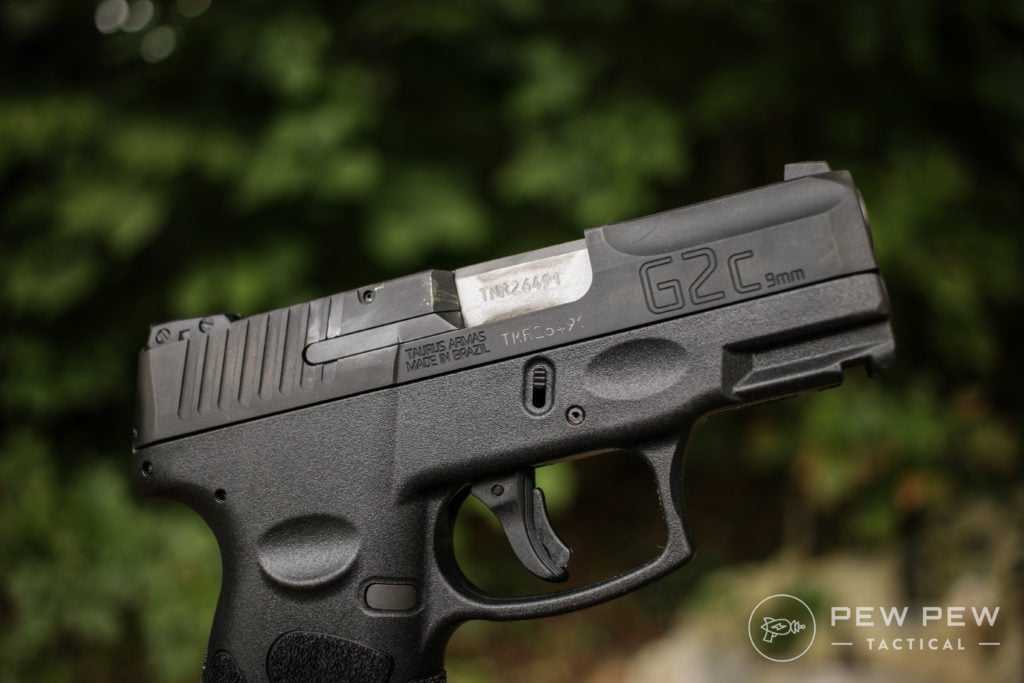 5. Magazines: First of all, you get two of them in the box – awesome. And they are made from steel so they won't be too prone to breaking. But really the best part is that both have pinky extensions right out of the box!
27
at GunMag Warehouse
Prices accurate at time of writing
Prices accurate at time of writing
Upgrades
Honestly, where would we even be if not for upgrades? While it's true there's not too much you can do to the G2C, there's always a little room for improvement!
Light
Every carry pistol needs a light — period. You never know what situations you'll be facing down bad guys in, so you want to be able to see in any of them.
The Taurus G2C does have a little smidge of rail at the front to support a small pistol light. You can probably slap any compact light on there that you like, but we're particularly fond of the Streamlight TLR 6.
98
at Amazon
Prices accurate at time of writing
Prices accurate at time of writing
Holster
You're also going to want a way to carry the G2C, which is where Hidden Hybrid comes in! Their highly customizable double-clip G2C holster is fitted just right for your pistol, and you can get it in pretty much any configuration you could want!
77
at Hidden Hybrid
Prices accurate at time of writing
Prices accurate at time of writing
By The Numbers
Reliability: 5/5
I've seen other reviewers have some minimal trouble from the G2C, but my sample size of one is a friggin' TANK. It's unstoppable.
Ergonomics: 4/5
I wish I could grip a little higher on the frame, but the texture is great and the angle is fine. The safety lever is as well-placed as any gun on the market.
Accuracy: 4/5
That crunchy trigger will do you no favors at the range, but overall the accuracy is fine. You can put shots on a torso target no sweat.
Customization: 2/5
Add whatever light you want to the rail, but the options get thin after that.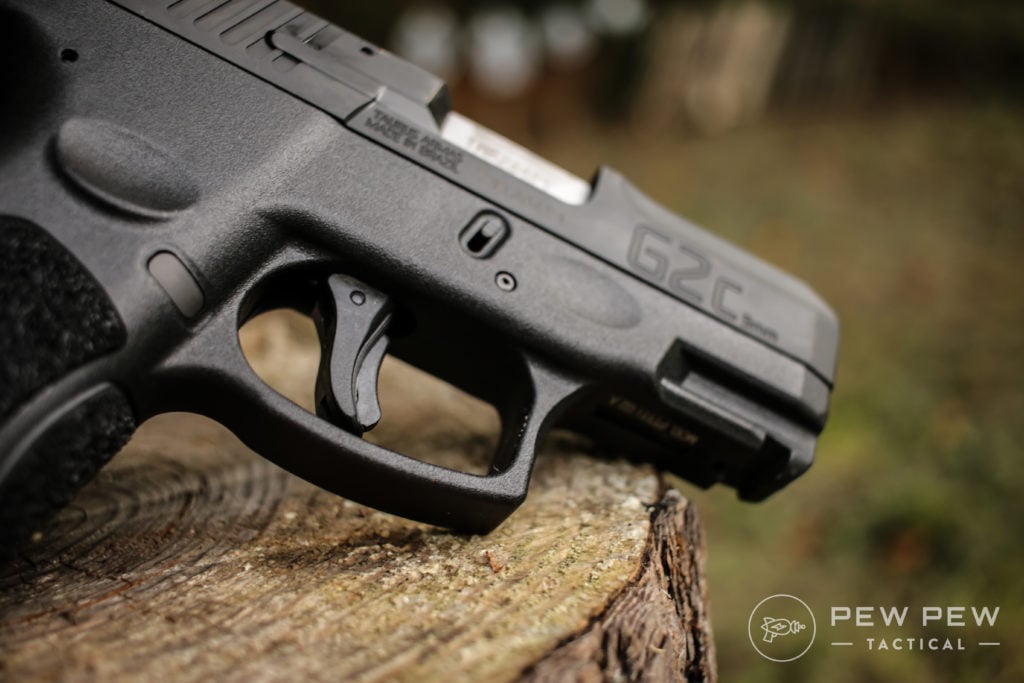 Value: 5/5
A reliable concealed carry pistol under $250? Name me a better value.
220
at Brownells
Prices accurate at time of writing
Prices accurate at time of writing
Overall: 4/5
Conclusion
The Taurus G2C is a very affordable CCW pistol with a high 12+1 capacity and great reliability (so far) but still suffers from a long and gritty trigger, external safety, and possibly the brand for some.
Plenty of guys will say you should just save more money and buy a better brand firearm.
Yeah, maybe.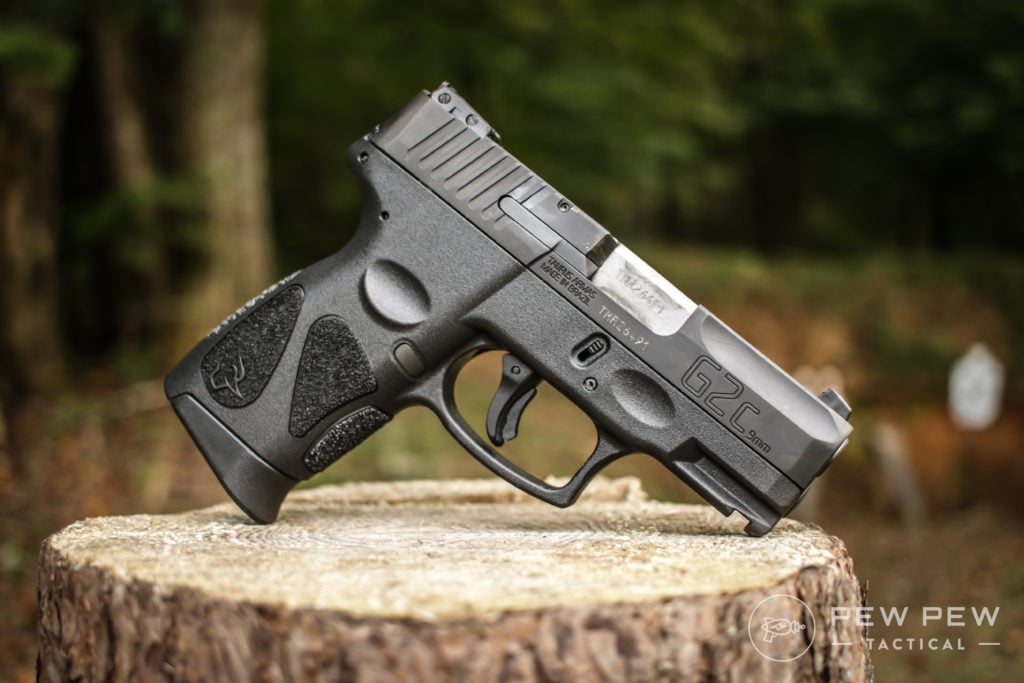 But for folks on a budget, the option to get a reliable gun with 12+1 capacity at this price is simply too good to ignore. The G2C has earned its place in the market.
Do you choose a budget-friendly CCW for your first one or did you save until you could get something else? For more awesome CCW options take a look at the Best Concealed Carry Guns and Best CCW Holsters.
And if you read all the way through and haven't checked out the video review…