A couple of years ago, I reviewed the then-brand-new Mossberg MC1c. It was a 6- and 7-round 9mm single-stack semi-auto.
The most repetitive comments on that review were all something along the lines of "Mossberg makes pistols? I thought they just did shotguns!"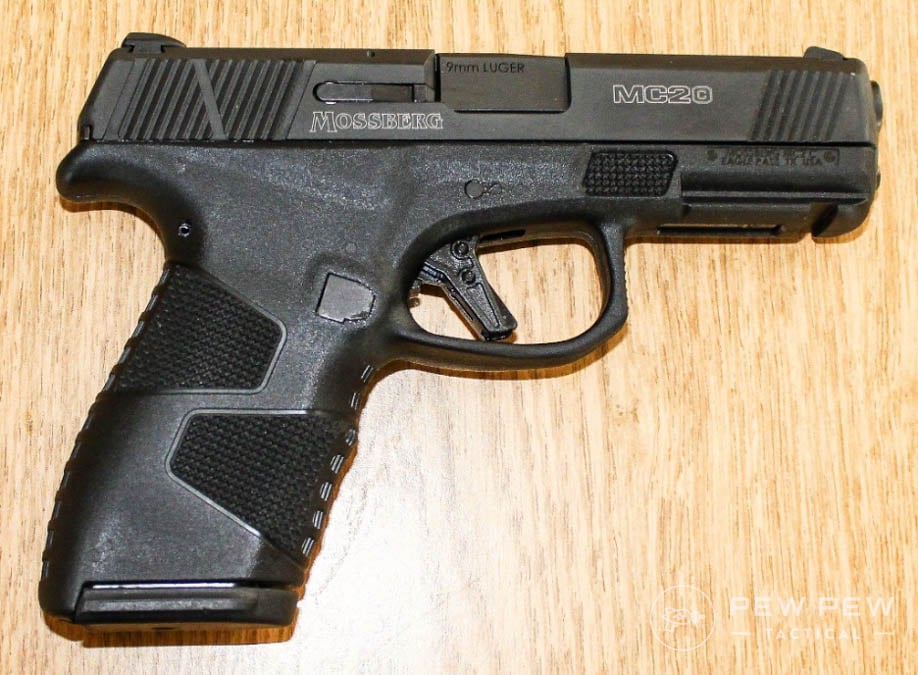 In fact, Mossberg released their first pistol — a four-barreled .22 with a firing pin that rotated between barrels — more than a century ago.
Fast-forward 100 years, and we see the introduction of the new 9mm subcompact MC1sc in January 2019. It caught on pretty well, and Mossberg sold a bunch of 'em.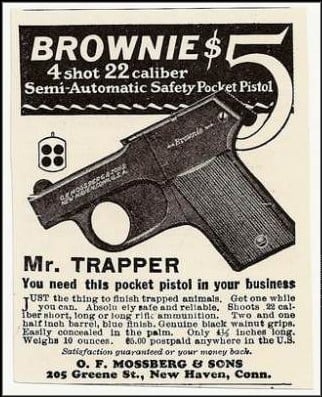 Then, at SHOT show 2022, Mossberg debuted the MC2c, a double-stack version of the MC1c that uses 13- and 15-round magazines.
They later came out with an 11-/14-round sub-compact version, the MC2sc.
But for now, let's take a closer look at the MC2c. We'll dive into the specs and features, pros and cons, and background and take it to the range!
Table of Contents
Loading...
Mossberg MC2c at a Glance
Pros
15+1 capacity
Great egonomics
Ideal size for concealed carry
No trigger pull takedown
Flat-faced trigger with a pull weight averaging 5 pounds, 6 ounces.
The factory sights co-witness with a red dot sight automatically.
Reversible slide release and thumb safety
Cons
No lifetime warranty
MSRP of $505 might be a bit steep for some shooters.
No backstrap inserts
The Bottom Line
With its feature set (no-trigger-pull takedown, decent factory sights, good accuracy, nicely shaped and textured grip, and flat trigger), the Mossberg MC2c is worth consideration. Its predecessor was well-received, and I was impressed with this one too.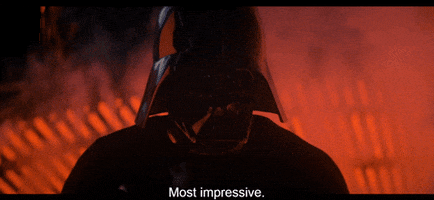 Specs & Features
Specs
Caliber: 9mm
Width: 1.1"
Length: 7.1"
Barrel Length: 3.9"
Height: 4.9"
Weight: 29 oz. loaded
Capacity: 13-round and 15-round extended magazines included
Features
Swappable sights
Low-cut optics slot to allow for co-witnessing with stock sights
Accepts Shield RMSc and JPoint footprint optics
Flat-faced trigger with a 5 lbs, 6 oz pull weight
Available in several different models
360
at GrabAGun
Prices accurate at time of writing
Prices accurate at time of writing
Background
The Mossberg MC1c got the gun world's attention when it was introduced in January 2019.
I recall thinking that the gun probably wasn't anything to write home about…after all, Mossberg was known primarily for its shotguns, right? They hadn't made pistols since 1920, right?
Well, pass the Grey Poupon — it goes well with crow.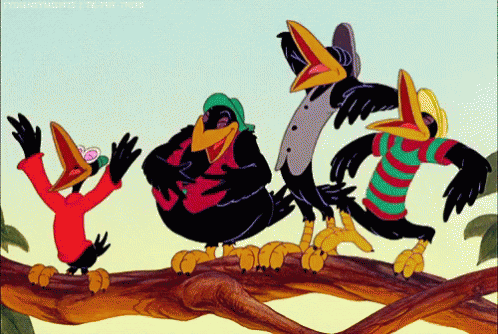 The pistol I reviewed shot well, felt good in the hand, and functioned like a champ. So, when the company had the opportunity to update their 6- and 7-round gun to a higher capacity, I'm not surprised that they jumped on it.
We now have 13- and 15-round magazines in the box, with more 15-rounders available from Mossberg for about $30. It seems that they have a winner all over again with this MC-"deuce"-c version.
Who Is It For?
The MC2c is for anyone wanting a 9mm for concealed carry in the Glock 19/Springfield XD/Taurus G3/Ruger Security-9 size range.
It is a touch larger than some of those guns, but it sits very neatly in the double-stack magazine capacity series of concealed compact carry pistols. The 13- and 15-round magazines will not leave you feeling undergunned.
The slide rail on its dust cover (with one slot) will allow lights or lasers to be installed, which expands its usage for home defense.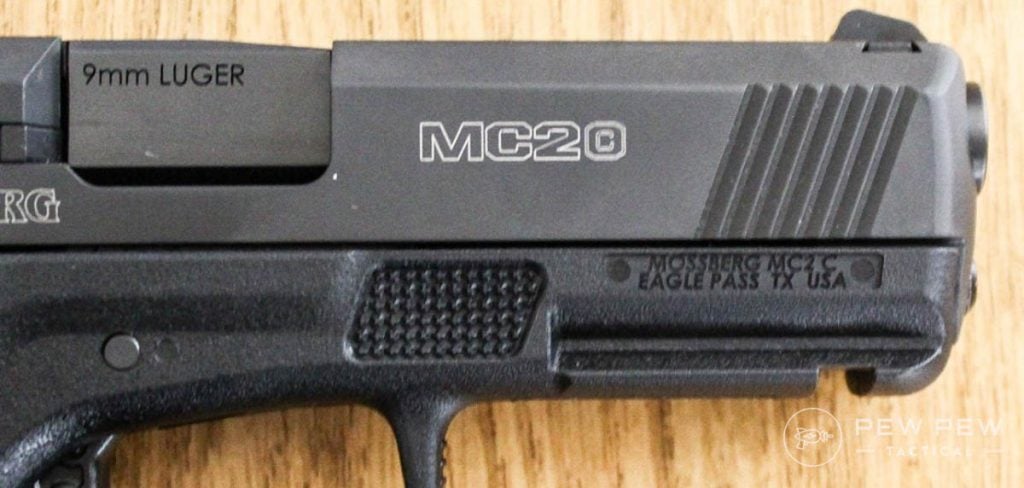 Lay in a couple more 15-round magazines, and you should be good to go, whether you carry the gun or leave it at home. It's a very versatile pistol.
Fit & Feel
The pistol fits my fairly average-size hand very well. But, if you have Hickok45-sized paws, it might feel a touch small — especially the distance-to-trigger measurement.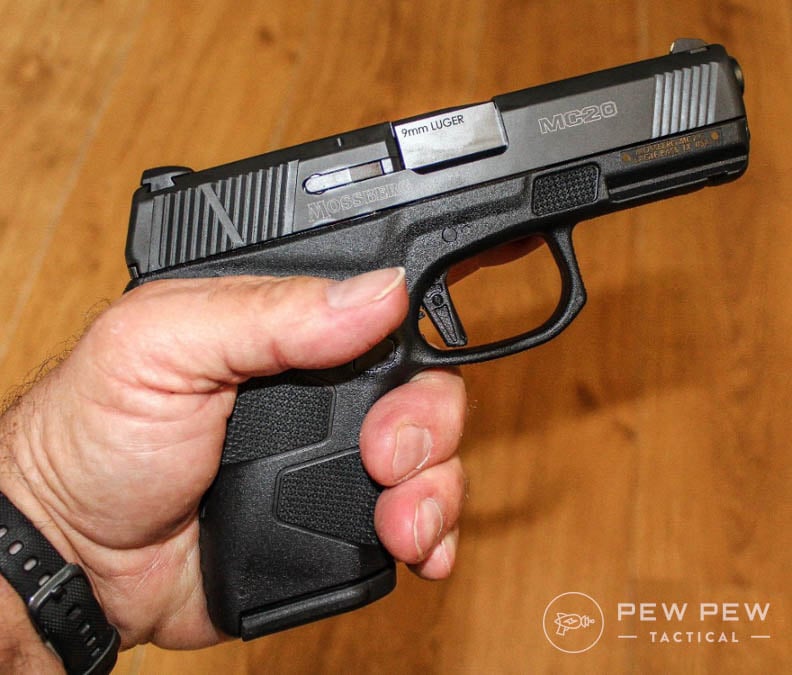 I was able to get up high under the trigger guard and rear of the frame. That usually means that I'll be able to control the gun a bit more easily, and this was no exception. It felt very good in my hand.
The beavertail is excellent and also works well.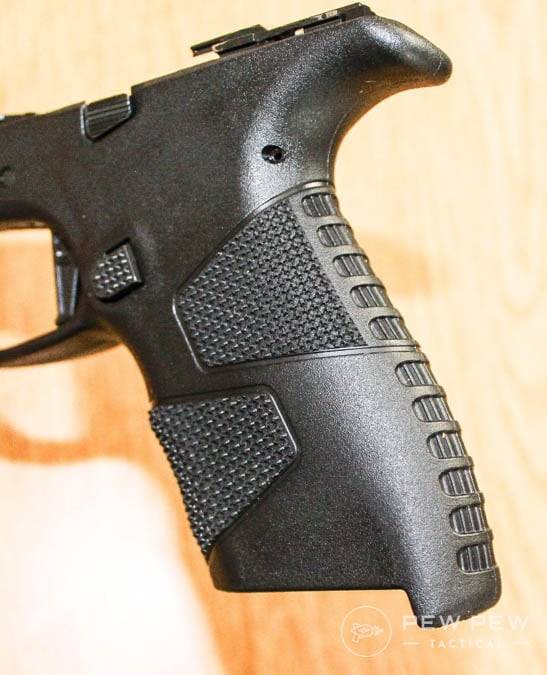 How Does It Shoot?
I shot this pistol with three different factory loads. I wish I could've done more, but ammo is still scarce (and expensive) in my neck of the woods. So, I shot what I had.
All three were 115-grain 9mm target loads. The brands included Maxxtech, Fiocchi Training Dynamics (now discontinued and replaced by Range Dynamics), and Winchester.
17
at Brownells
Prices accurate at time of writing
Prices accurate at time of writing
The Fiocchi shot pretty decently and would bear further experimentation. The others weren't bad, but they weren't good, either.
It just proves that guns tend to be picky about the ammo they shoot. It pays to try several different loads to find the one your gun likes best.
What Sets it Apart?
Why in the world would you buy this MC2c when you could buy another of the guns I listed above, like the Glock 19, Springfield XD, Taurus G3, or Ruger Security-9?
(Note: "Magazines" includes those that come with the gun)
All five of these guns are built to last, and each of them is accurate and reliable — at least the ones I've shot were.
So, why buy the Mossberg? A few reasons come to mind…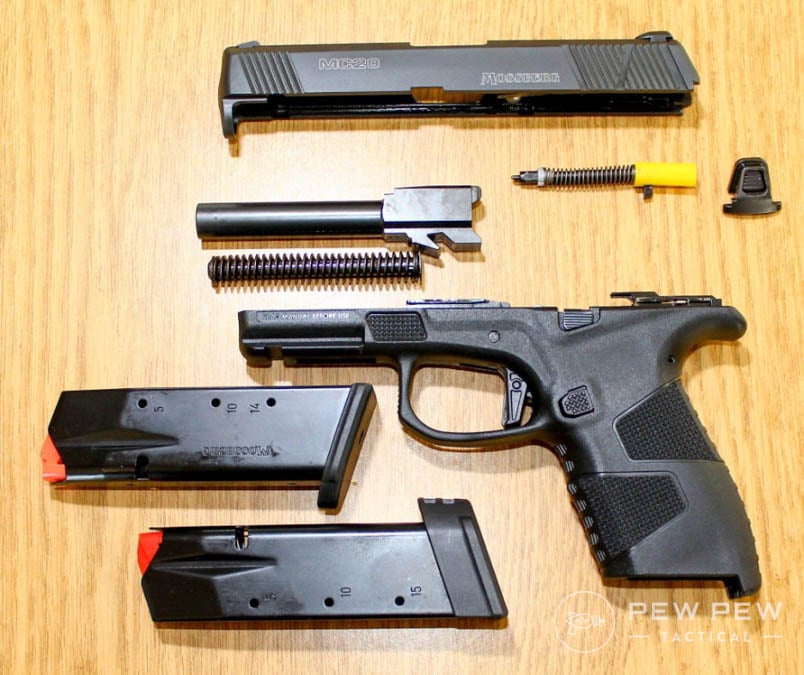 First, the gun comes apart without having to use the trigger. That can be a big deal.
Second, it felt really good in my hand. The ergonomics of this pistol are top-notch.
Third, its magazine capacities lie toward the top of the round counts for all of the other guns listed here. Plus, they only cost about $30 apiece.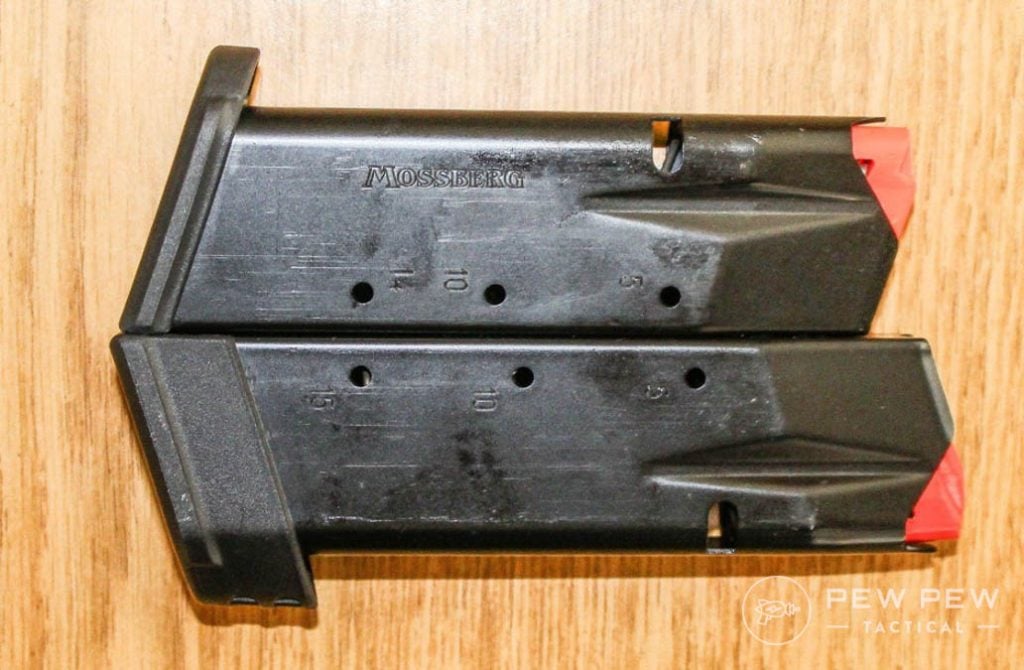 By The Numbers
Reliability: 5/5
No problems with any ammo.
Ergonomics: 5/5
It feels very good in my hand.
Accuracy: 5/5
No issues here.
Customization: 3.5/5
Holsters are available, but its aftermarket is fairly small at this point.
Value: 5/5
This gun is in the same price range as other guns it compares to and represents a very real value for its street price of around $400.
Overall: 4.5/5
360
at GrabAGun
Prices accurate at time of writing
Prices accurate at time of writing
Upgrades for the Mossberg MC2c
Even though there's not a mountain of third-party accessories for the Mossberg, you can find a decent holster for it.
Holsters for the MC2c are available from several different brands, though you'll have more luck finding them through Amazon than firearm-specific retailers.
Spare mags are harder to track down but can be purchased directly from Mossberg for only about $30. Grab a couple of those, and you should be good to go!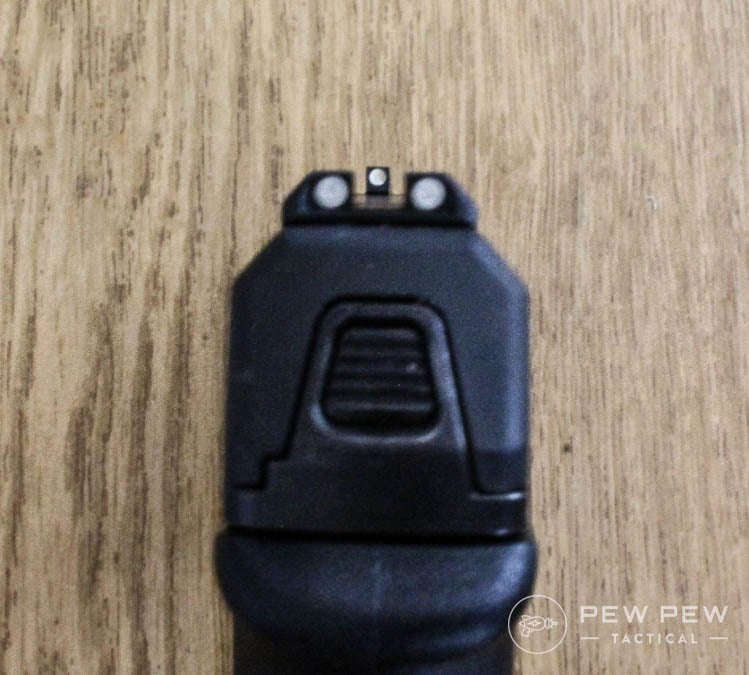 The slide makes it easy to add a Shield RMSc, and JPoint footprint red dots, and those optics can be co-witnessed with the factory sights.
Since those are more universal accessories, it should be easy to find compatible options.
349
at OpticsPlanet
Prices accurate at time of writing
Prices accurate at time of writing
Remember that the standard rail below the barrel should accept almost any light or laser you would want to attach to the gun.
That opens things up a bit more where accessories are concerned.
Final Verdict
The MC2c is an improvement over its single-stack predecessor. Going from 6/7 rounds to 13/15 is a big deal. This little pistol is a good buy in a carry 9mm by itself. I liked this Mossburg.
You should take a look at it: I think you'll like what you see.
What do you think of the Mossberg MC2c? Let us know in the comments below! For more concealable guns, head over to our Best Concealed Carry Pistols article!