You don't necessarily have to spend top-dollar to find some very decent concealed carry guns for EDC purposes.
Besides, spending less on a carry gun means more funds left over for a holster, ammunition, and training.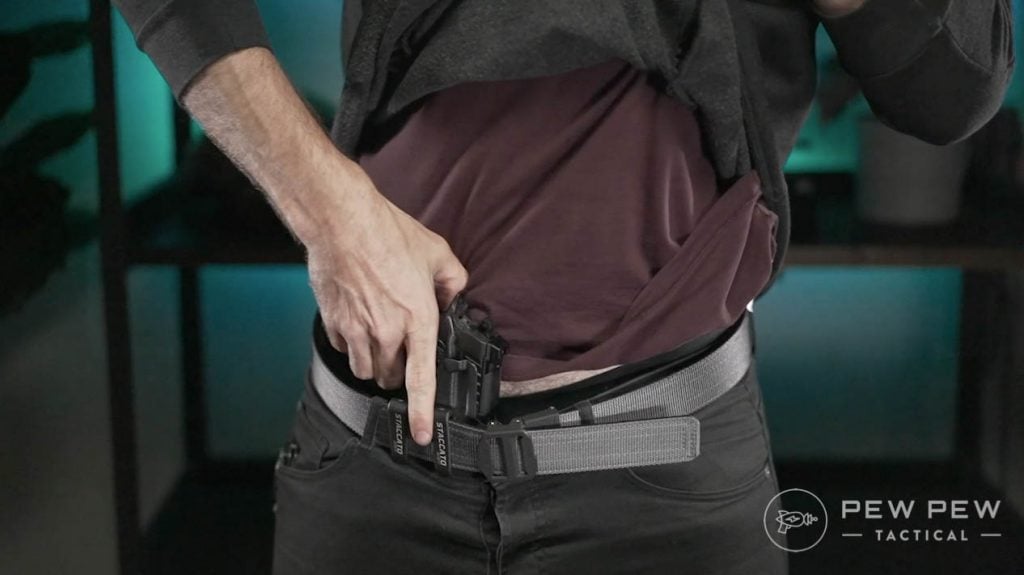 It isn't an exaggeration to say that the good old days of firearms are now.
Never before has the handgun buyer been more spoiled for choice when it comes to CCW pistols or really any type of gun…at all.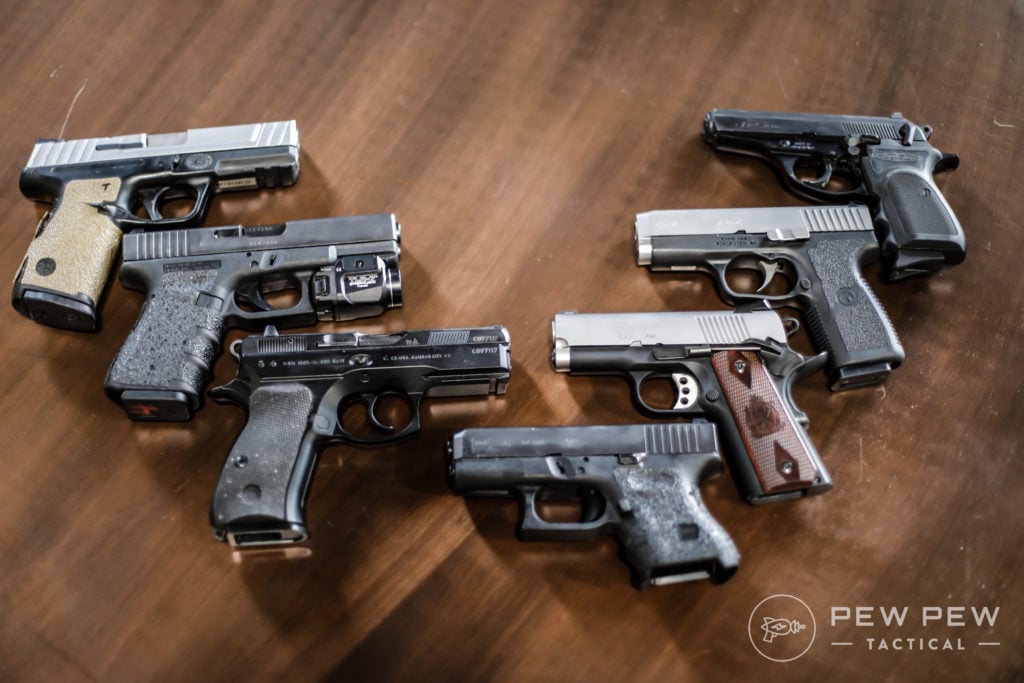 Unlike in eras past, when a budget gun meant a battered old surplus pistol or a Saturday Night Special, you can get a legitimately good handgun for defense purposes for not too much.
So let's dive into that a little more. We'll talk about how much you should spend on a CCW and then lay out some models we think are good while keeping costs down.
Summary of Our Top Picks
Table of Contents
Loading...
How Much Should I Spend on a Concealed Carry Gun?
There isn't an amount you should or shouldn't spend on a concealed carry gun.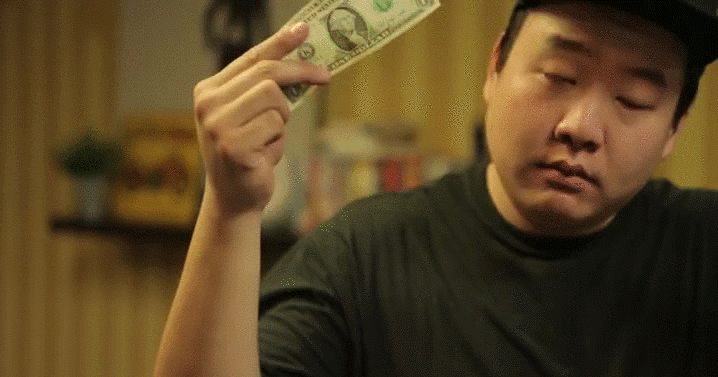 Instead, it's really more about getting certain attributes that you need from the gun you're going to potentially defend your life with.
The gun has to be a good fit for you — making it easier for you to handle, aim and shoot well.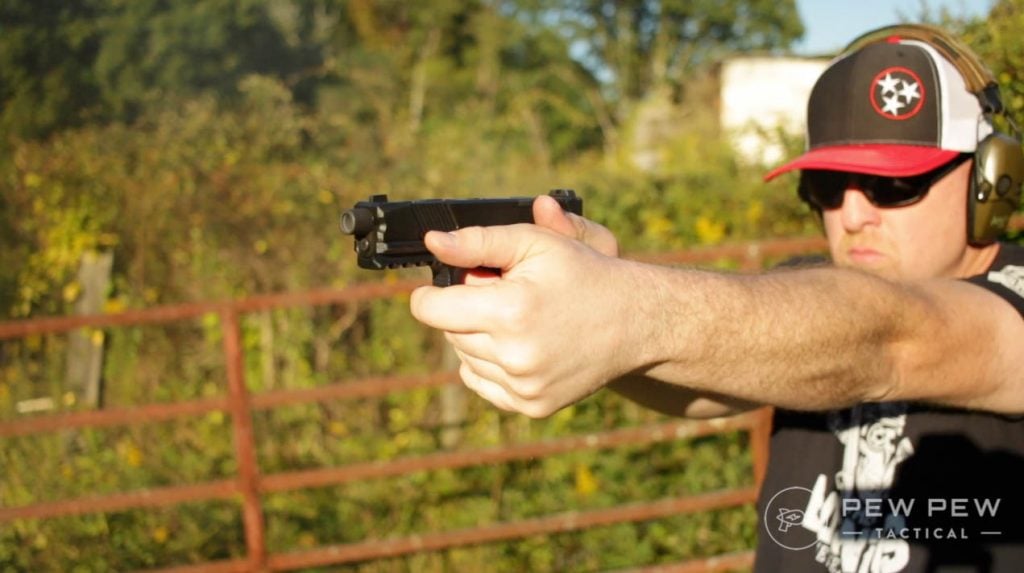 You have to be able to conceal it easily, though that has more to do with your choice of concealed carry holster, belt, and clothing than the gun.
However, there is a practical consideration when it comes to the purchasing price.
If you ever have to use a gun in defense of yourself, there's a good chance it will be taken into evidence by the police.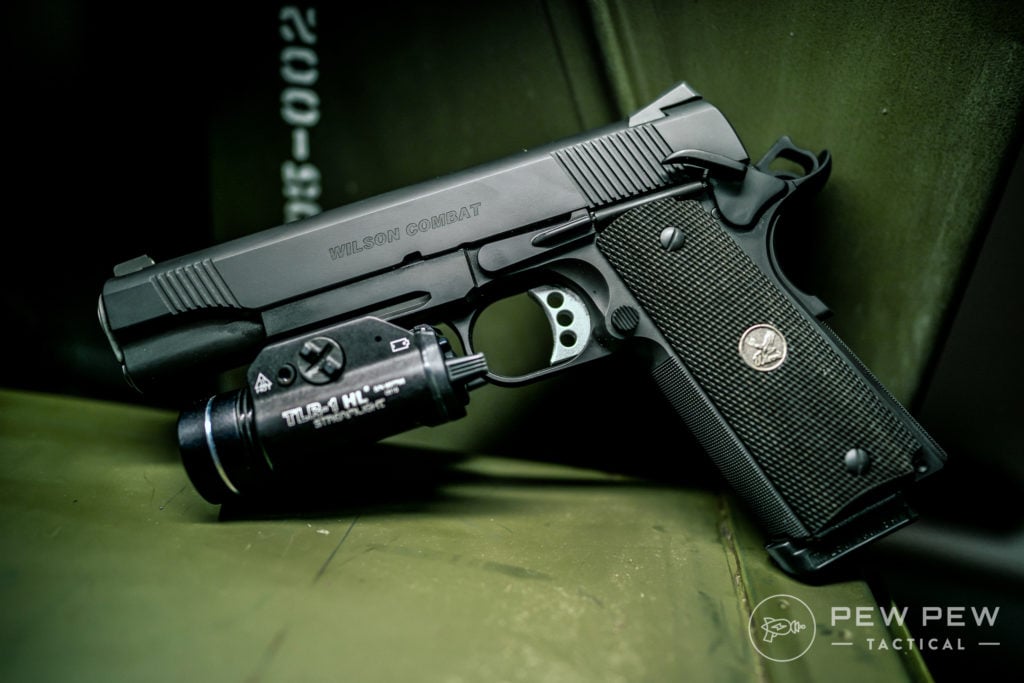 There is also a chance that IF you get it back (and that's a big if), it will be in very poor condition and may need to be replaced.
So make sure whatever you DO decide to spend on a carry pistol is an amount that you're comfortable with losing.
Best Concealed Carry Guns Under $400
So let's say you have a tight budget and can't spend more than $400 on a handgun. Even 10 years ago, that would have severely limited your choice among new guns.
Today…it really doesn't. There are plenty of very capable concealed carry guns at or even under this price point.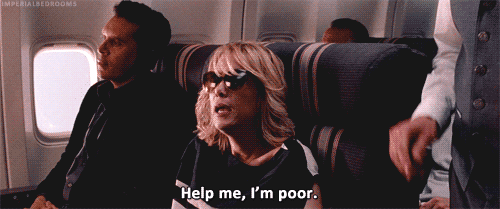 What would be some of the best of them? Best is a little subjective; what may be best for you may not be best for someone else.
However, here are a few stellar picks for a CCW gun for less than four Benjamins.
1. Taurus G2C/G3C
The Taurus G2C is the PT111 Millennium G2 with a facelift.
It's a subcompact double-stack striker-fired pistol, which can carry 12+1 of 9mm or 10+1 of .40 S&W…if you dare…with a second-strike "double-action" trigger just in case.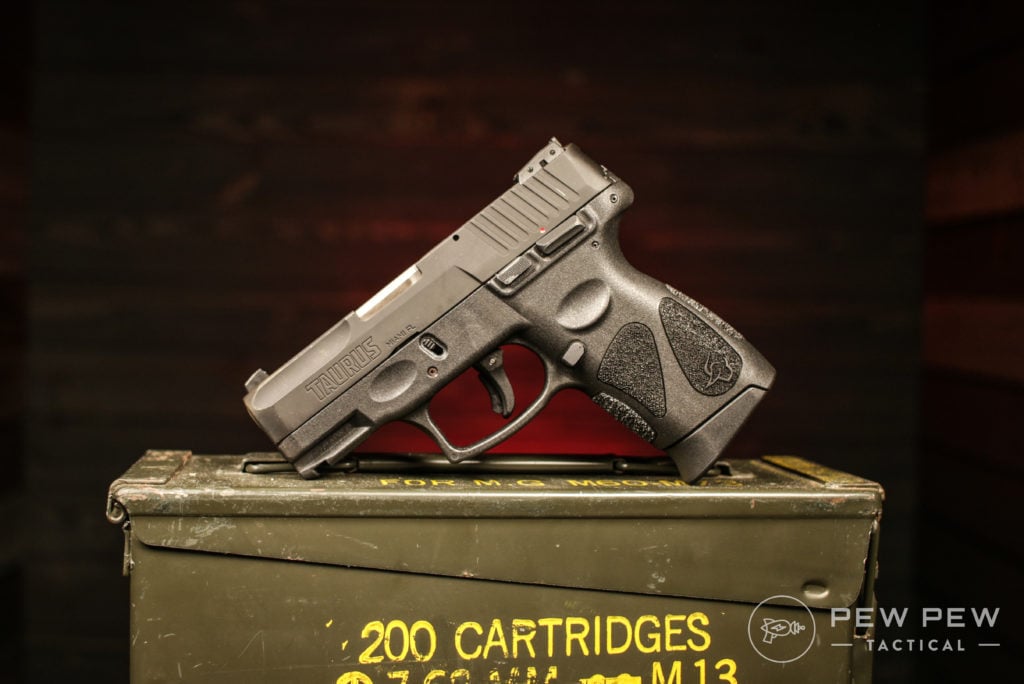 Taurus's internal gun lock has been omitted (and appears to have been dropped almost altogether) from their new guns, so no having to worry about it anymore.
The frame has an accessory rail, so compact lights or lasers can be added if so desired.
The G2C is better ergonomically than you'd think a budget pistol would be.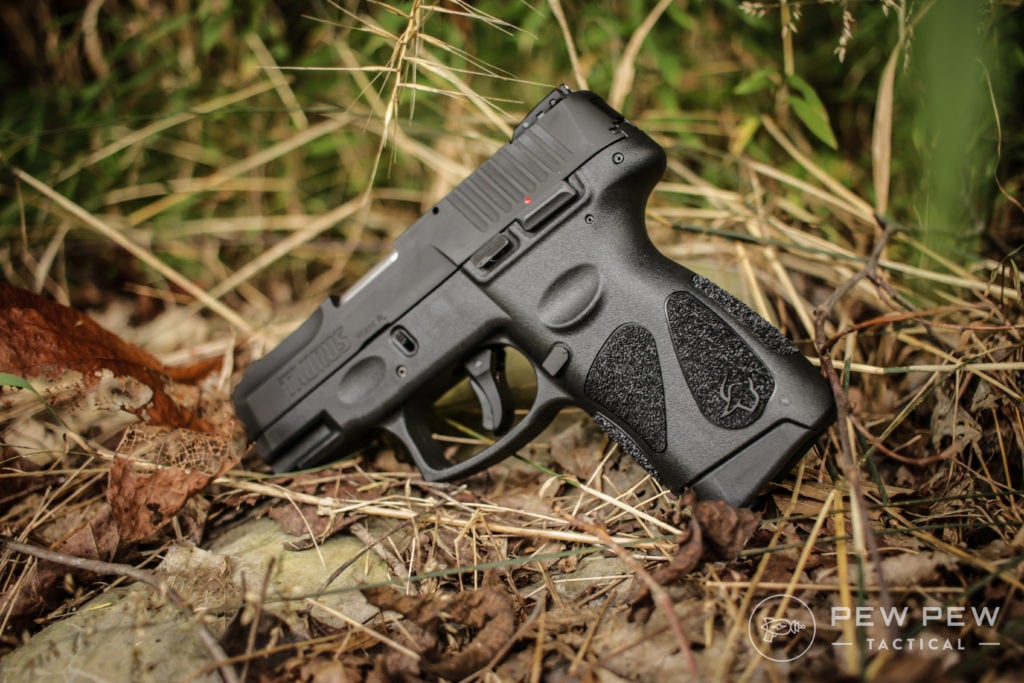 The trigger isn't fantastic by any stretch, but the pistol is reasonably accurate, and current owners — not people who had a Taurus over a decade ago — report that they are a lot more reliable than the haters claim.
Support from the holster industry is excellent, and while the gun lacks some refinement compared to others of similar size, it goes bang and puts bullets where you need them to go.
237
at Kygunco
Prices accurate at time of writing
Prices accurate at time of writing
Johnny did a full review of the G2C, so check that out for more deets or see the video review below.
If you want a few extras and a little new-new, then also look into the G3C — an updated take on the G2C.
The G3C delivers a reliable, ergonomic, and economic CCW for the average person.
It's not a nail driver, but it does what it is supposed to do. It works as a budget option for those looking for a concealed carry pistol.
Best for Small Hands
245
at Palmetto State Armory
Prices accurate at time of writing
Prices accurate at time of writing
You know what we're going to say next…Johnny did a review on the G3C (comparing it to the G2C), so be sure to read that review or see the video below.
2. Canik TP9SF Elite
The Canik TP9SF Elite might just be the best budget gun there is.
Canik's TP9 series has been tipped as a "Glock Killer" in print many times and for reasonably good reason.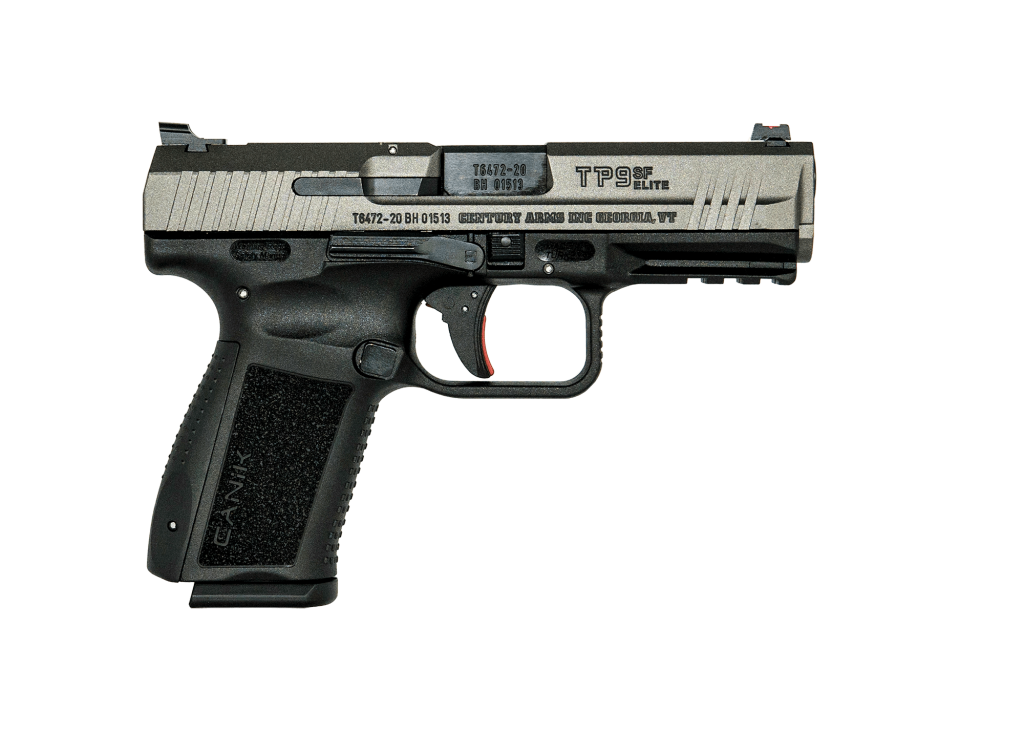 They have excellent ergonomics, an outstanding factory trigger on the SF models, and far more features than pistols from bigger names have for a heck of a lot less in asking price.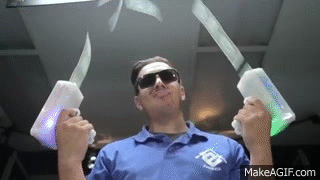 The TP9SF Elite is a "compact" model, though its dimensions (7.28″L x 1.45″ W x 5.27″ H) are really more those of a full-size gun. In fact, it's almost the same size as a Smith & Wesson M&P9.
However, it's a little more streamlined and, therefore, easier to carry than the full-size TP9SF.
The standard capacity is 15+1 of 9mm. Standard models come with Warren Tactical sights — black steel rear ramp and red fiber optic up front instead of white dots — swappable grip panels to dial in the fit, a striker indicator (a la the Walther PPQ), and a very, very good factory trigger.
Best for Large Hands
389
at Firearms Depot
Prices accurate at time of writing
Prices accurate at time of writing
It's a bit big, a bit heavy, but it can be dealt with.
MSRP starts around $400, so it's right around the limit, but you can find the ONE Series version (which includes only one magazine, but they're reasonably priced and easy to find) for as little as $300 in some instances.
What's your take on the Canik? Rate it below!
3. SCCY DVG-1
SCCY pistols have gotten some stick over the years due to having a double-action-only trigger system that's less than perfect. Credit where due; it really wasn't.
The DVG-1 series — allegedly for "David Vs Goliath" — uses a striker-fired system that makes the trigger operation more familiar to most shooters and tames the pull to an easy 5.5 pounds.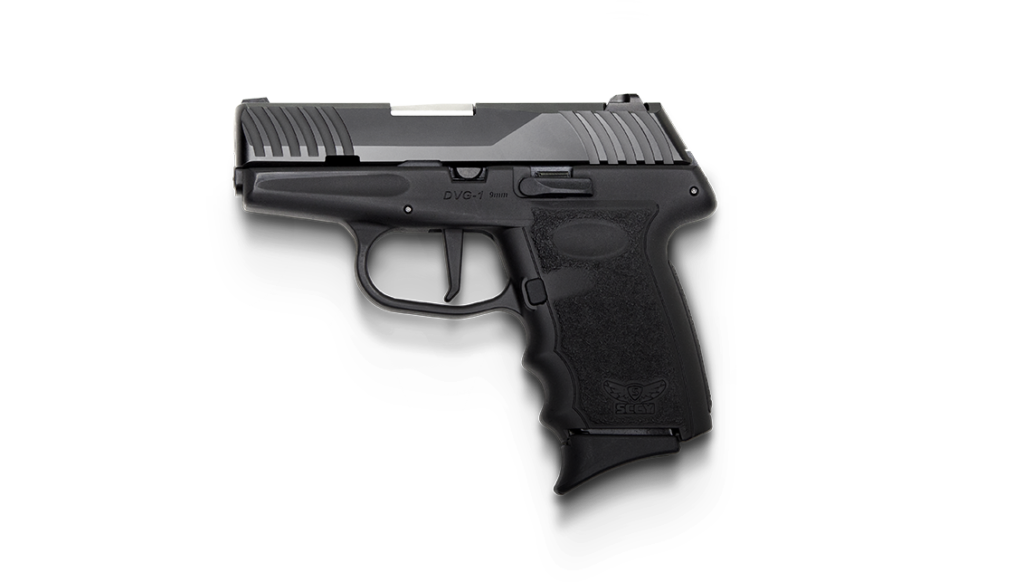 SCCY specializes in working-class handguns, so you get a compact double-stack pistol (10+1 of 9mm) with few other features to really speak of. There are, however, some very smart design touches.
The slide has the same slide cuts as the Glock 43, so you can upgrade the sights easily if so desired.
A version with manual safeties may be available at some point as well, as they are an available option for their previous models.
270
at Firearms Depot
Prices accurate at time of writing
Prices accurate at time of writing
Sure, SCCY pistols don't win IPSC world championships or beauty contests, but it's an honest working-class pistol for not too much in asking price.
4. Walther CCP M2 380
The Walther CCP M2 380 debuted in 2020.
It's also one of the softest-shooting pistols you'll ever pick up. There's barely any recoil.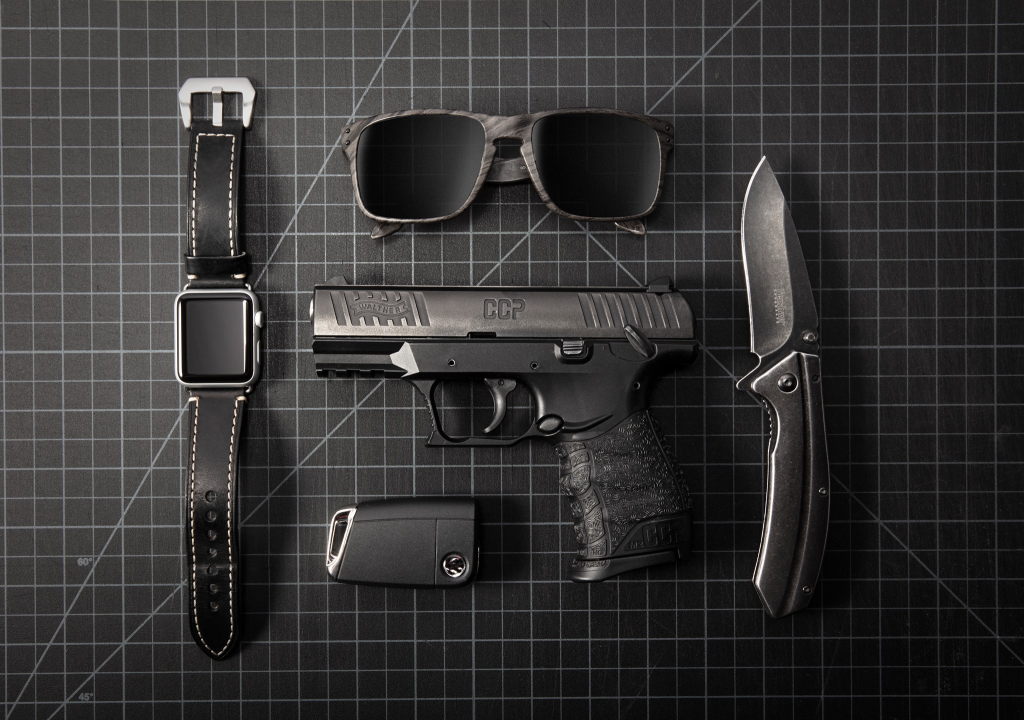 You might also be used to a .380 pistol proving hard to shoot accurately due to the shortened sight radius. You won't believe how easy this pistol is to shoot incredibly well.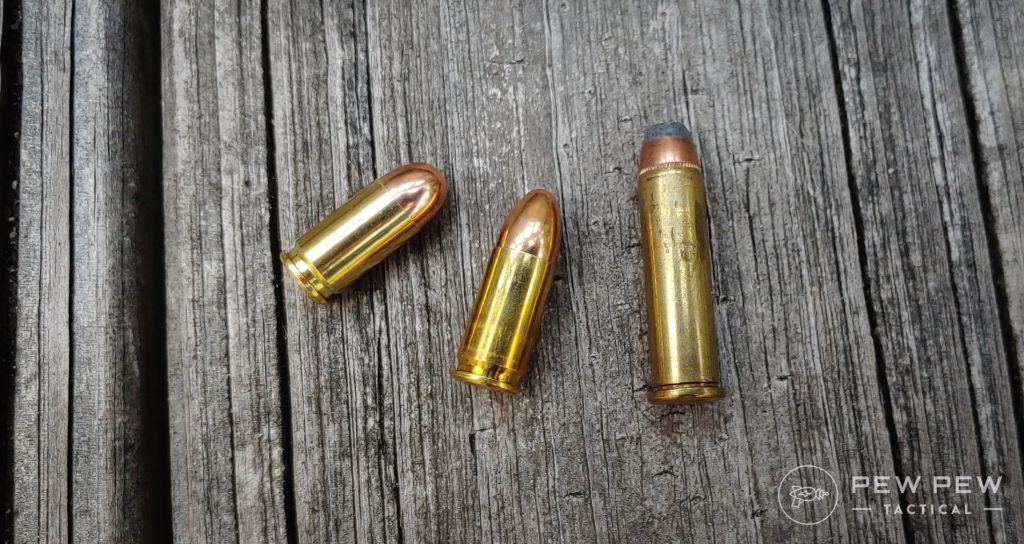 That's mostly due to the CCP being more of a subcompact rather than a micro. The dimensions are actually the same as the standard CCP, which makes it roughly the size of a Glock 43X.
Best Subcompact
439
at GunPrime
Prices accurate at time of writing
Prices accurate at time of writing
The longer barrel length (and therefore sight radius) makes good marksmanship that much easier, as well as ensuring better terminal performance of .380 hollow points.
5. Ruger EC9S
This next entry favors a compact size over capacity but still does well at 7+1 rounds of 9mm in a single stack magazine. The result is a very slim line profile that tucks away nicely.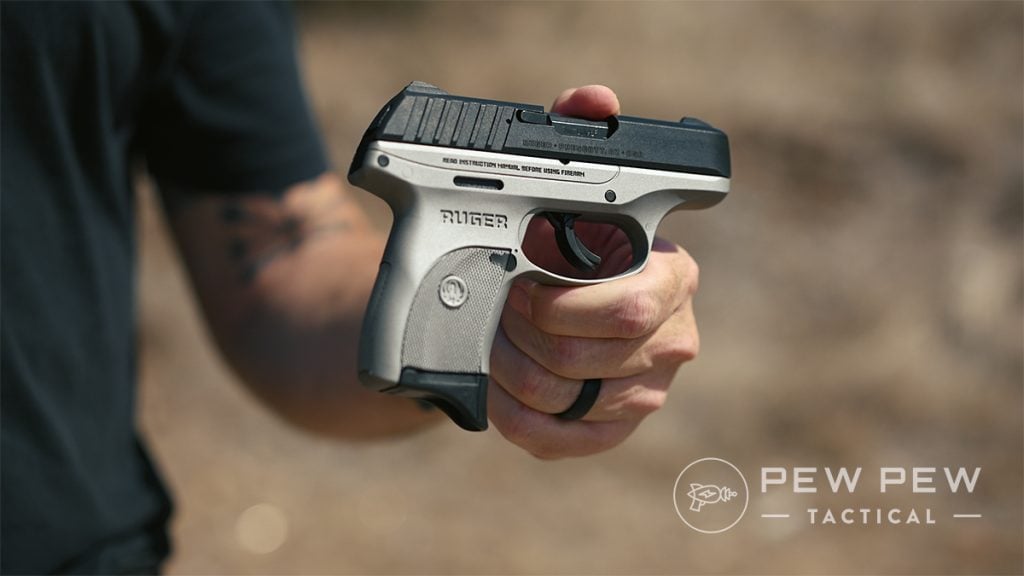 The price comes in below that magical $400 threshold with street prices running between $200 and $250. And while you'll notice some bargain bin features, the overall package is good.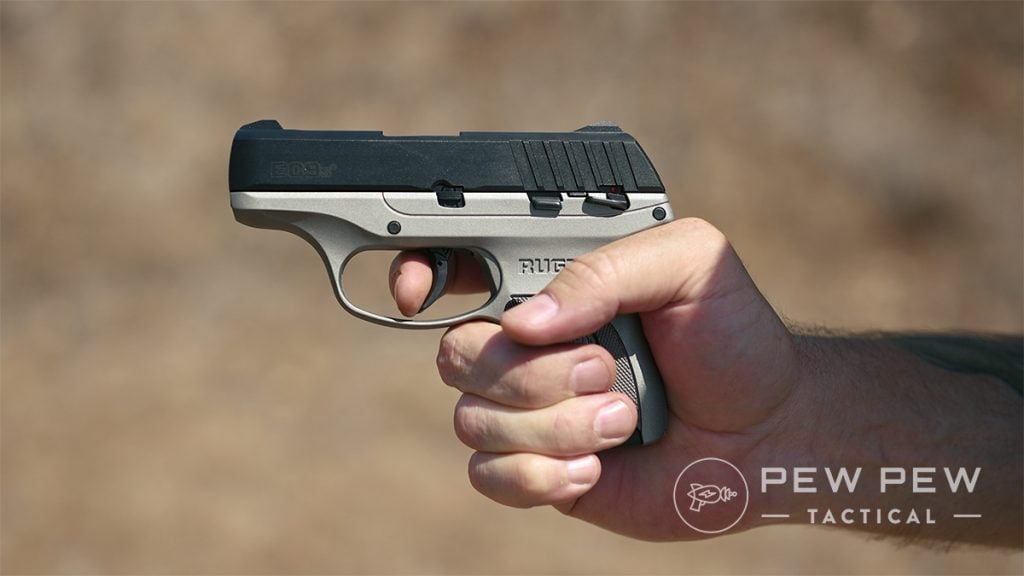 Ergonomics are okay, accuracy is good, and we found the reliability to be sound during our full review here.
At this price, you could almost buy two and still come in under budget.
Best Minimalist Option
269
at Palmetto State Armory
Prices accurate at time of writing
Prices accurate at time of writing
6. Hi-Point
We couldn't do a list of budget guns and not include the brand that basically made budget cool…or at least culturally significant.
Of course, we're talking about Hi-Point.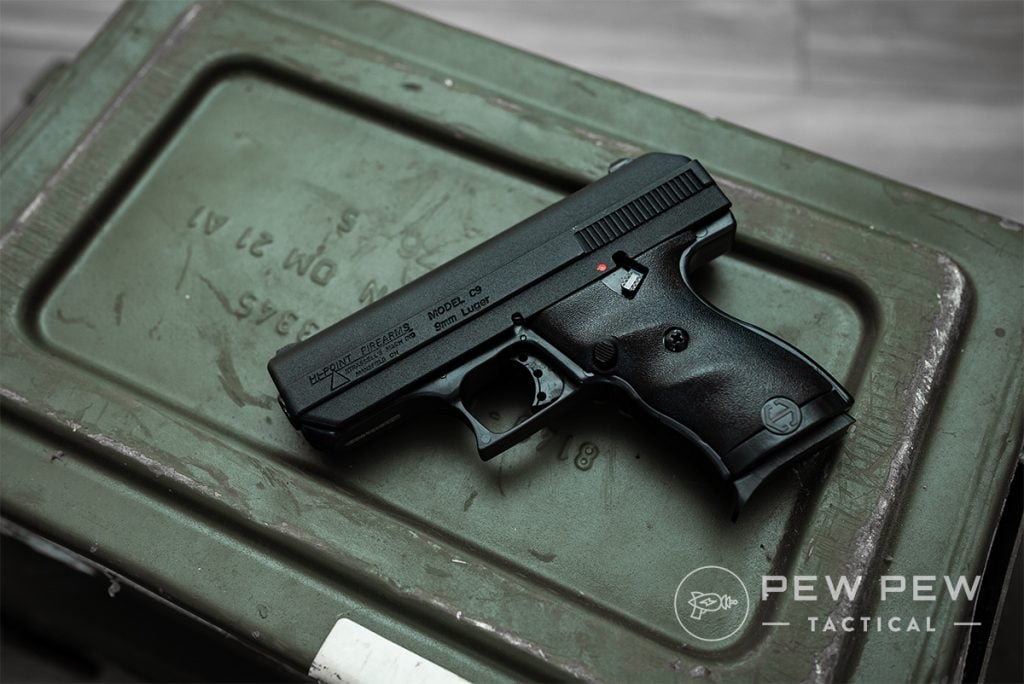 If you want something in the sub-$200 range, this is it. These guns lack in ergonomics, are clunky as hell, and aren't what we would term aesthetically pleasing (unless you're into dollar bill designs), but they run.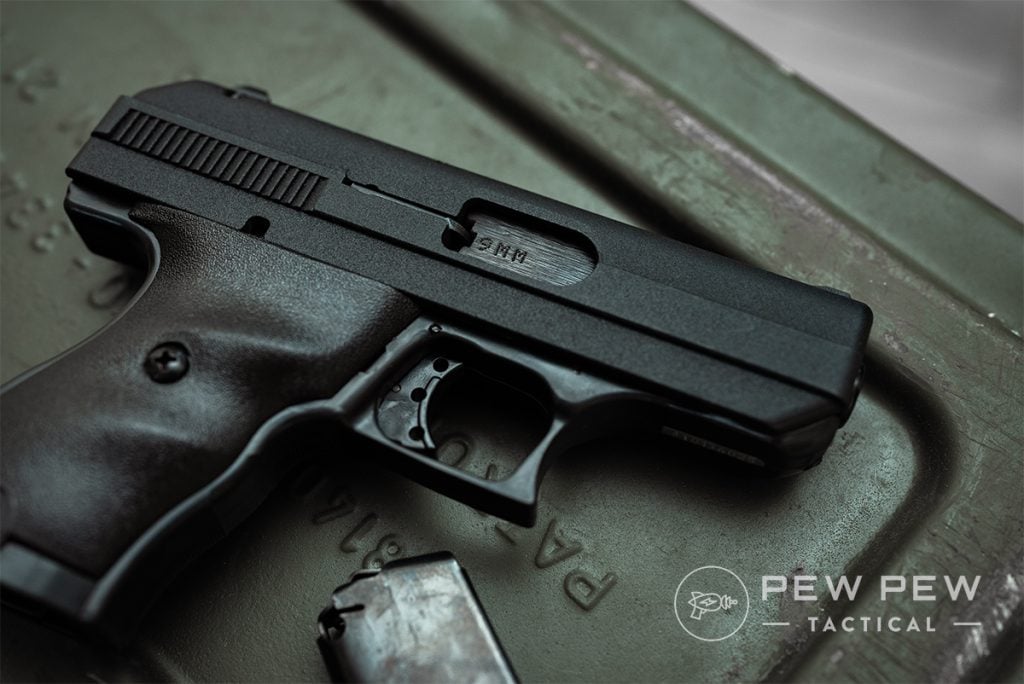 And actually, they run pretty well.
You can get one in .380 ACP, 9mm, .40 S&W, or .45 ACP…and with their price tags…you can reasonably buy all the models.
OG Budget Pick
162
at Palmetto State Armory
Prices accurate at time of writing
Prices accurate at time of writing
Johnny also did a review on the .45 ACP Hi-Point, so be sure to read that full write-up or, as usual, check out the video below.
7. Surplus Police Pistols
This is a category of pistols rather than a single make and model, and yes, this means used guns rather than new guns.
That's hardly the compromise one might be tempted to think it is.
On most semi-auto pistols, the only part that's actually expensive to replace is the barrel. Everything else, especially springs, is usually pretty cheap.
Most police trade-ins will be functionally fine but will have plenty of holster wear. It'll be beaten up…but it'll run, and that's what matters.
Police trade-in guns are commonly priced at around $400 or less.
Typical models include Glock 22, 23, 17, and 19 pistols, Smith and Wesson M&P9 and M&P40 pistols, and now the first wave of trade-in Sig P320 pistols is hitting the market.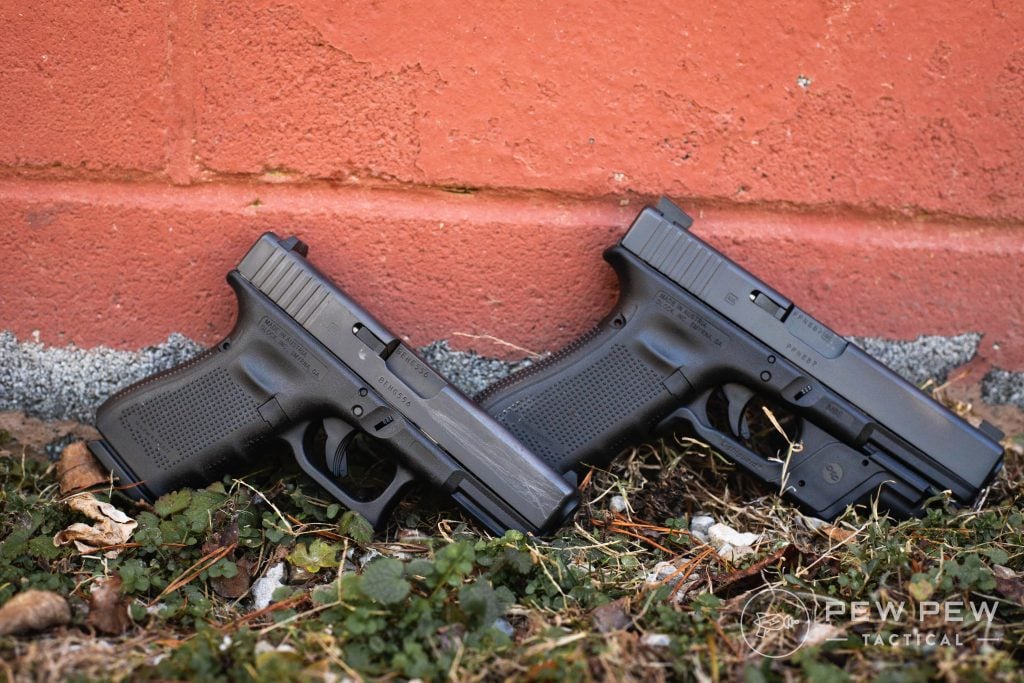 Sig Sauer P226 and P229 pistols are also common police surplus but can command a bit more in the sticker price.
You will typically find more of them in .40 S&W than 9mm.
Typically, you will find more full-size rather than compact guns, but Glock 17s and M&P9s are actually used as CCW guns a lot more often than you'd think.
260
at GunPrime
Prices accurate at time of writing
Prices accurate at time of writing
Yes, they're beater heaters, but they're common (and proven) makes and models that typically only need a little TLC and maybe a new magazine or two.
Final Thoughts
Getting a budget pistol that works is always better than having no pistol. There are a lot of great carry options on the market, and these are just a few of them!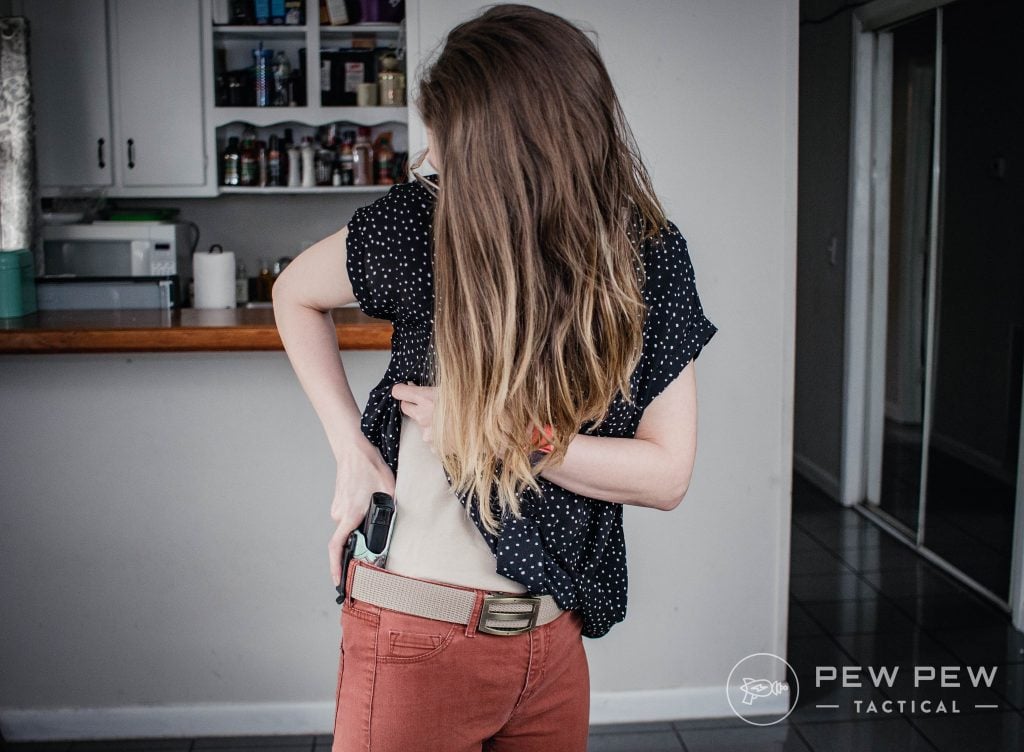 Any of the ones on the list will serve you well, but be sure to get some training, put in some range time, and choose your ammo with care.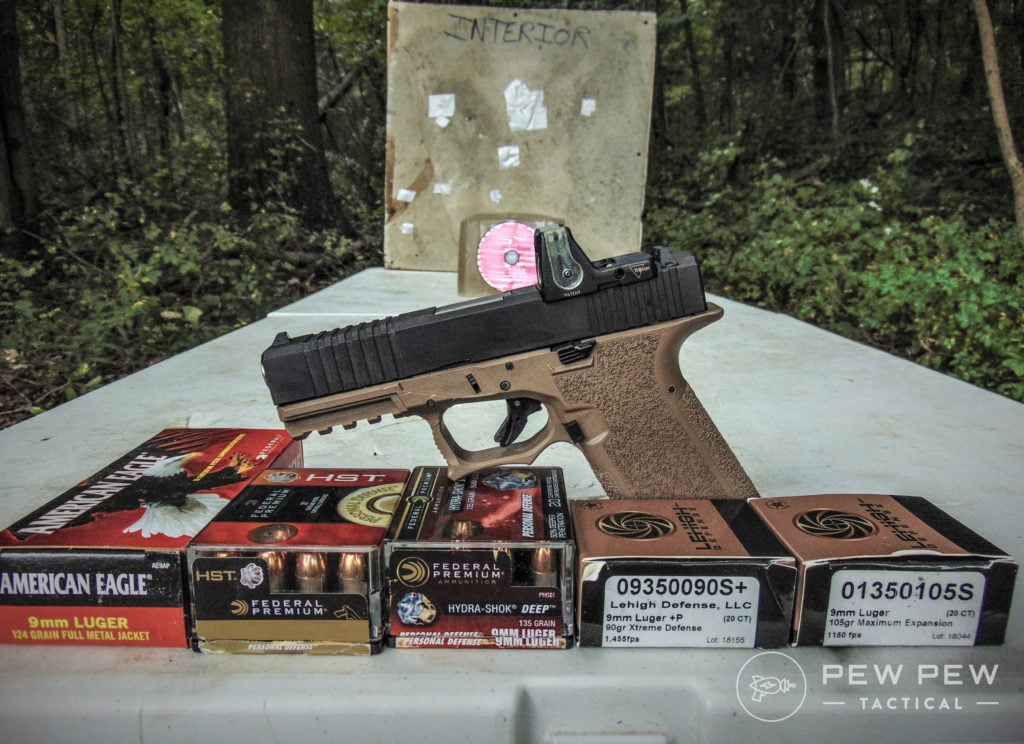 What is your favorite budget CCW? Let us know in the comments! If you're new to concealed carry, you'll find these articles helpful!