Looking for the perfect concealed carry gun?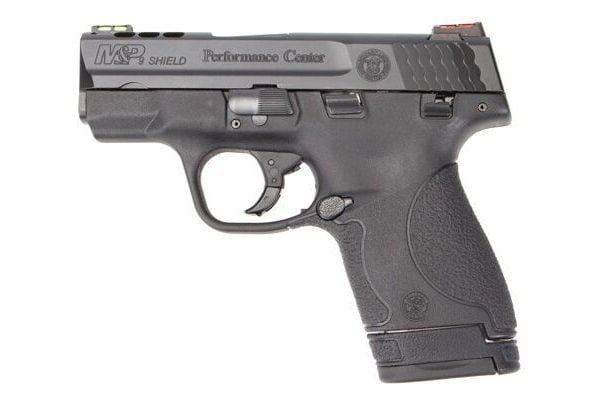 I was too until I met the M&P Shield.
The Performance Center Ported M&P Shield has a lot of the things I look for in a concealed carry handgun.
I'll be covering my experience shooting the M&P Shield for the first time, what worked well, and what could be improved.
493
at Guns.com
Prices accurate at time of writing
Prices accurate at time of writing
And since by now the Shield is an older generation, we'll also cover some good substitutes such as the newest M&P Shield Plus.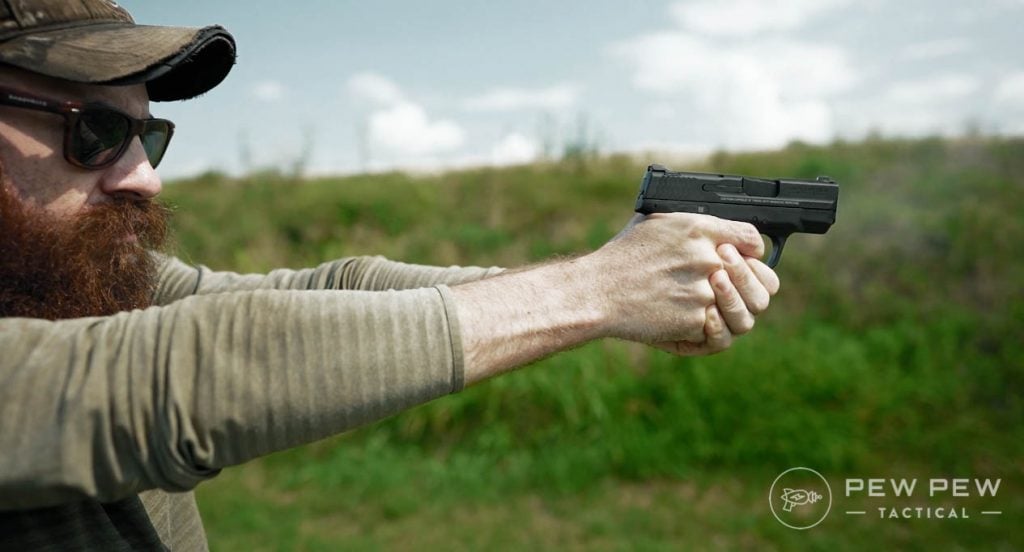 See more of our picks in Best Micro 9mms.
334
at BattleHawk Armory
Prices accurate at time of writing
Prices accurate at time of writing
Table of Contents
Loading...
Pros & Cons
Pros
Very popular and proven concealed carry gun
Upgraded model from the factory (sights and slide)
Better trigger feel compared to Glocks
Cons
Low round count for current generation concealed carry guns at 7+1 or 8+1
Hi Viz sights not too great for night shooting
Slide release annoying to remove for cleaning
The Bottom Line
The M&P Shield used to be the top of the line for CCW guns but given two new generations, you might want to look elsewhere such as our Best Micro 9mms.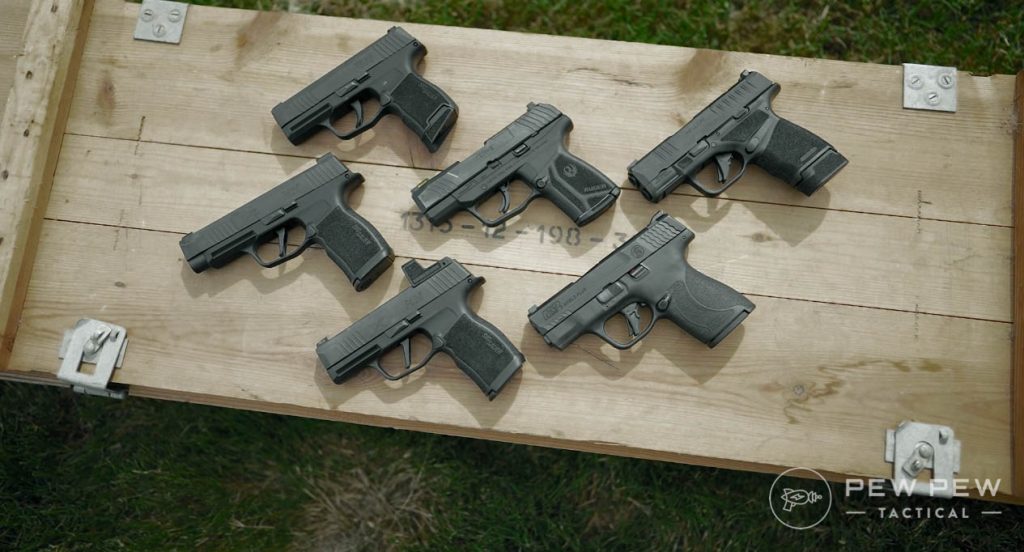 Specs & Features
Caliber: 9mm
Capacity: 7+1 or 8+1
Length: 6.1″
Barrel Length: 3.1″
Weight: 20.6 oz
As you may have noticed, the M&P9 Shield being reviewed is not the standard model. It's entirely stock from the factory, but it's an upgraded model.
Just looking at it, you'll see two things: the sights and the slide are both different.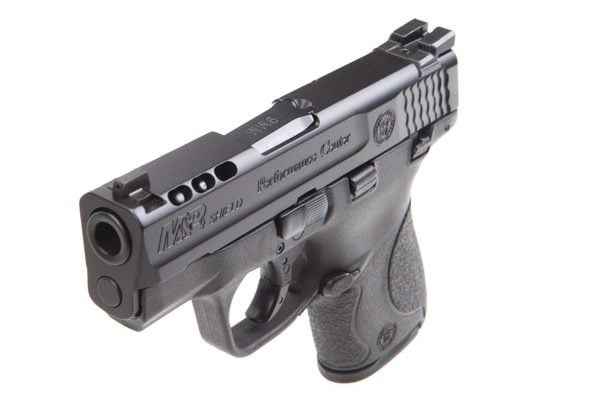 The sights are "HI-VIZ" for added visibility in low light situations. I'll talk more about this later in the review.
Both the barrel and the slide are ported for better performance and less muzzle rise when you are firing. You can more easily reacquire your target. I can affirm that it was a pretty smooth shot overall. I was able to fire a few rounds pretty quickly and have a decent grouping.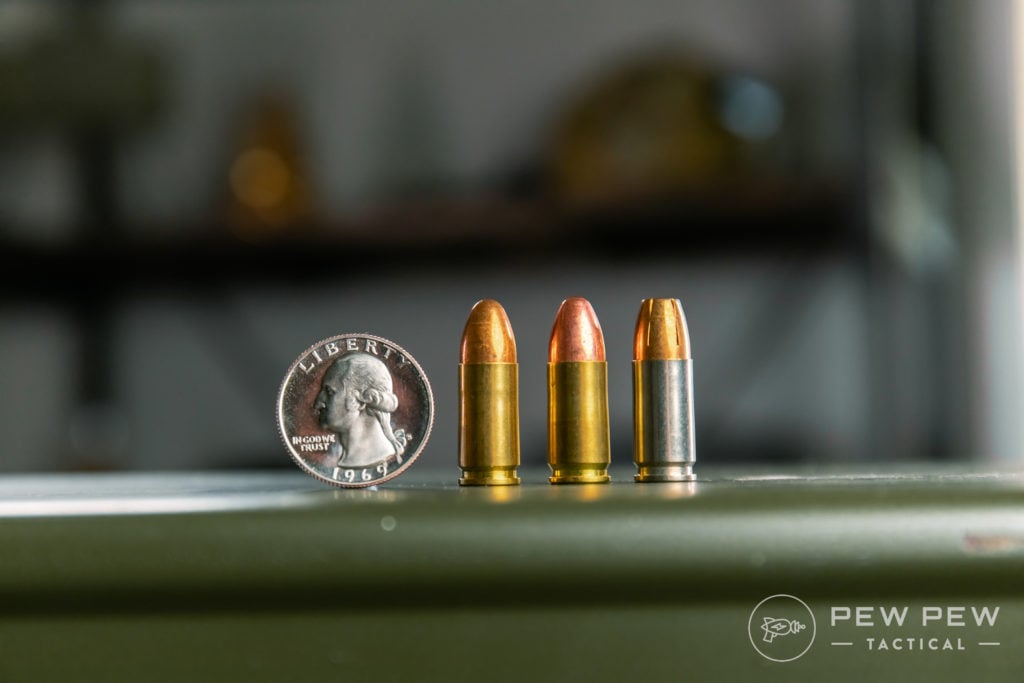 Background
Like I mentioned before, the M&P Shield is an older generation that came out in 2012 and did quite well with a 7/8+1 capacity and a small footprint.
However newer versions like the Shield M2.0 and most recently, the Shield Plus have come out (2021) with better capacity, optics readiness, and ergonomics.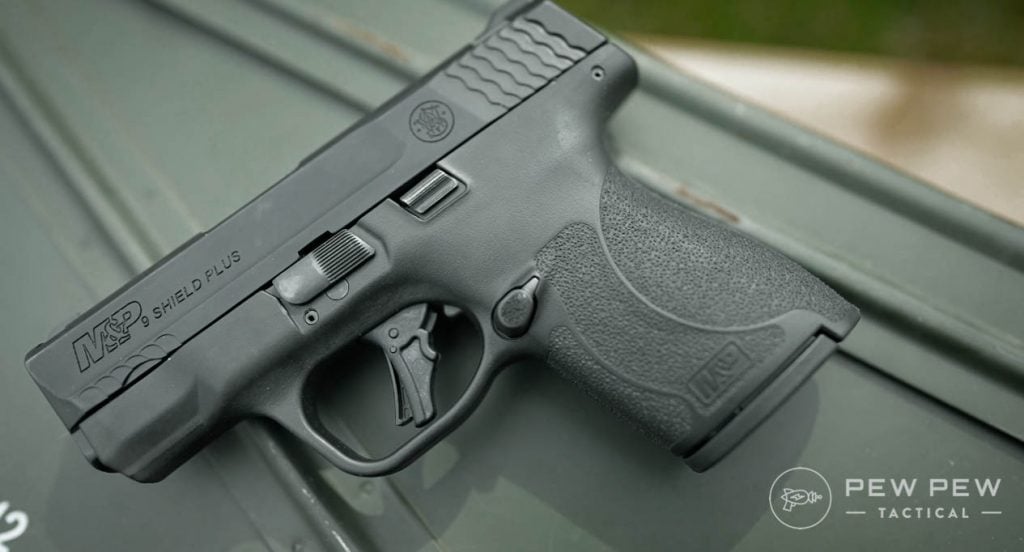 But if you're looking at the OG of a great line of guns…read on!
Fit & Feel
Trigger
The trigger is smooth and it is a pretty short pull.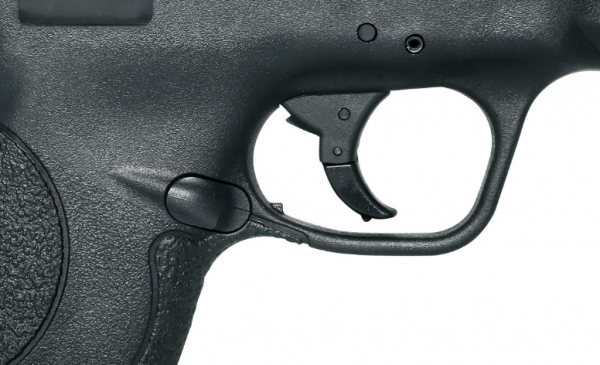 The trigger safety has a better feel than the Glock. The M&P 9 SHIELD trigger is flat where your finger rests and has rounded edges for a comfortable feel.
The trigger safety is a little different than what I am used to. The easiest way to explain it is that the trigger is separated into two sections; a top and bottom. If you pull the trigger too high, the gun won't fire.
For comparison, the Glock trigger safety is on the front of the trigger. As you pull the trigger, you depress the safety. The Glock trigger feels blocky compared to the Smith & Wesson M&P 9 SHIELD trigger.
Of course, if you want to upgrade to a different trigger, there are a number of compatible M&P drop-in options out there.
Grip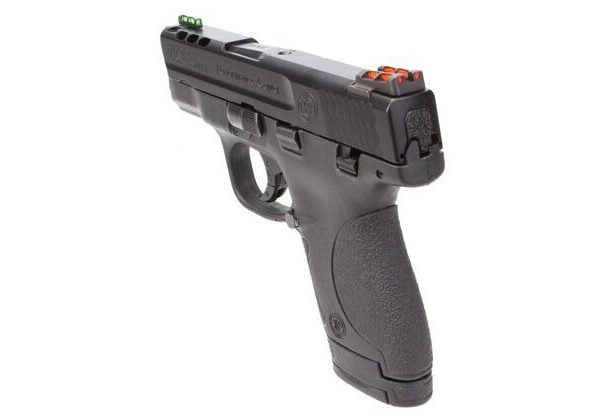 The length of the grip is a great. It's a happy medium between a compact and a sub-compact, even with the flat magazine in it.
If you like a wider grip, this may not be for you, but for me, it works well.  The single stack magazine still holds 7 rounds, which is respectable for a CCW choice.
Sights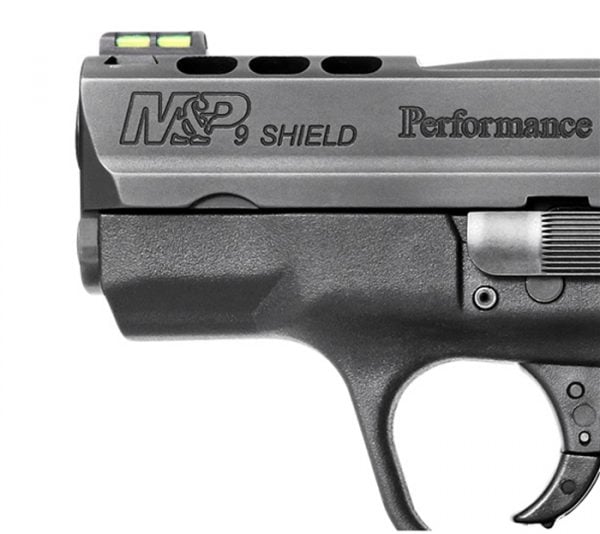 The night sights are not very functional. No matter the level of light or the time spent in the light, they just didn't seem to have any glow to them. It would have been better to just have white dot sights.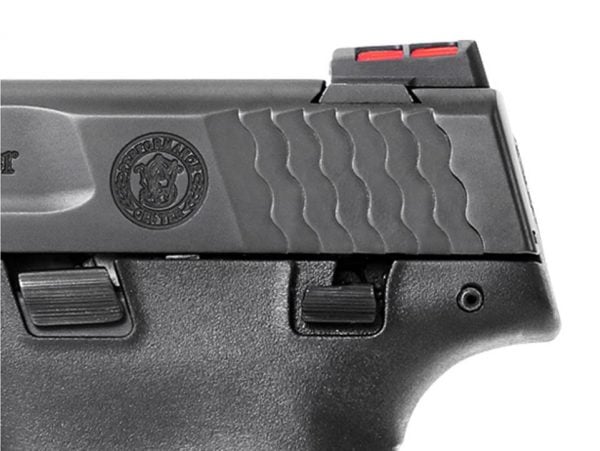 Slide Release
I am not a big fan of the way Smith & Wesson uses the little lever key to hold the slide in place. It's a pain to remove and reinstall. It makes me not want to clean and oil the gun.
I am sure if you are a frequent shooter and have taken your S&W apart a lot it might be a little easier, but for the noobie, it will take some patience and practice to break down and reassemble your M&P 9 SHIELD.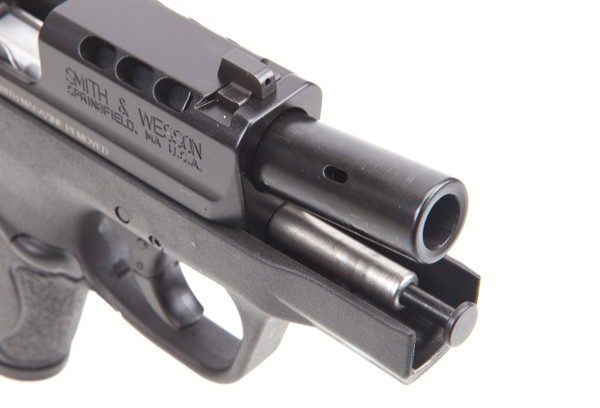 Other than those two things, which are kind of minor details, the gun is great.
How Does It Shoot?
Not having fired this gun or any other Smith & Wesson gun other than a Bodyguard .380 (full review) until recently, I didn't know what to expect.
I purposely didn't dry fire or do anything in advance that would give me any indication of where the trigger break would be, the tension, or anything else.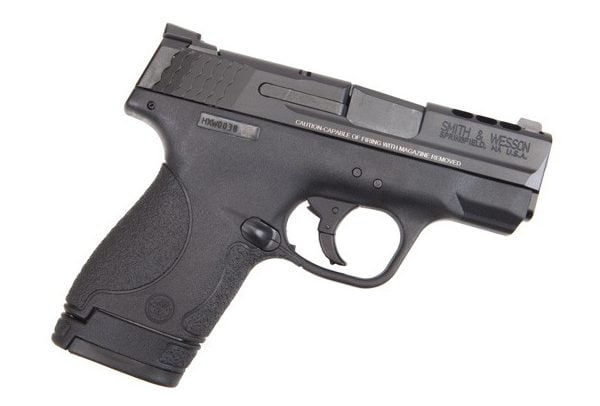 I wanted the experience to be totally new when the first round went down range.
When I squeezed the trigger and saw the flash, it was encouraging. The hole in the target was just left of center, just outside the bullseye.
I put more rounds downrange and as long as I did my job…the Shield did its job as well by keeping rounds exactly where I was aiming.
Concealability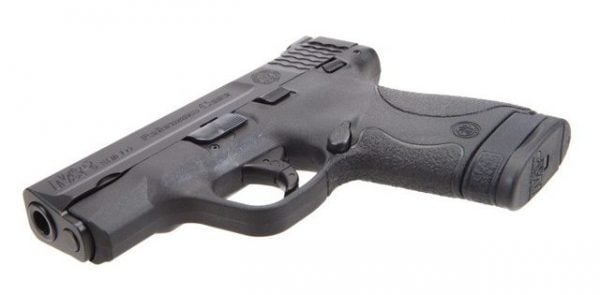 The length of the barrel is about ¼ inch shorter than the Glock I am used to carrying, so that's helpful. Where I was really happy was the width of the grip. Losing almost ¼ of an inch in width makes it fit a little nicer in my waistband.
The grip of the Performance Center Ported M&P 9 is a little longer than the Glock 27 when they both have the standard magazines.  
By the Numbers
Ergonomics: 4.5/5
Overall, I like the feel of the Performance Center Ported M&P9 Shield. The grip is a good size for the gun. The molded texture in the grip helps a lot, but doesn't dig into your hand like the texture on the grips of other manufacturers guns.
The weight of the Smith & Wesson is pretty evenly balanced, even when it's unloaded.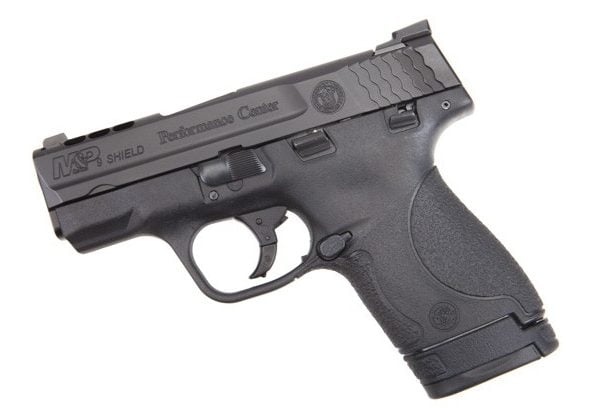 Accuracy 5/5
Judging by my first shot being so close, I will say everything lines up pretty well out of the box. It took a few more rounds for me to get over the shock of the first shot, but after that the rounds were landing pretty close where I was aiming.
Reliability 5/5
I can't determine for myself how reliable the Performance Center Ported M&P9 Shield is over the long term, but I ran 50 rounds through it and didn't have any malfunctions.
I used Blazer Brass for the test hoping I might get a malfunction because it was the least expensive ammo on the shelf. (The range didn't allow steel case.)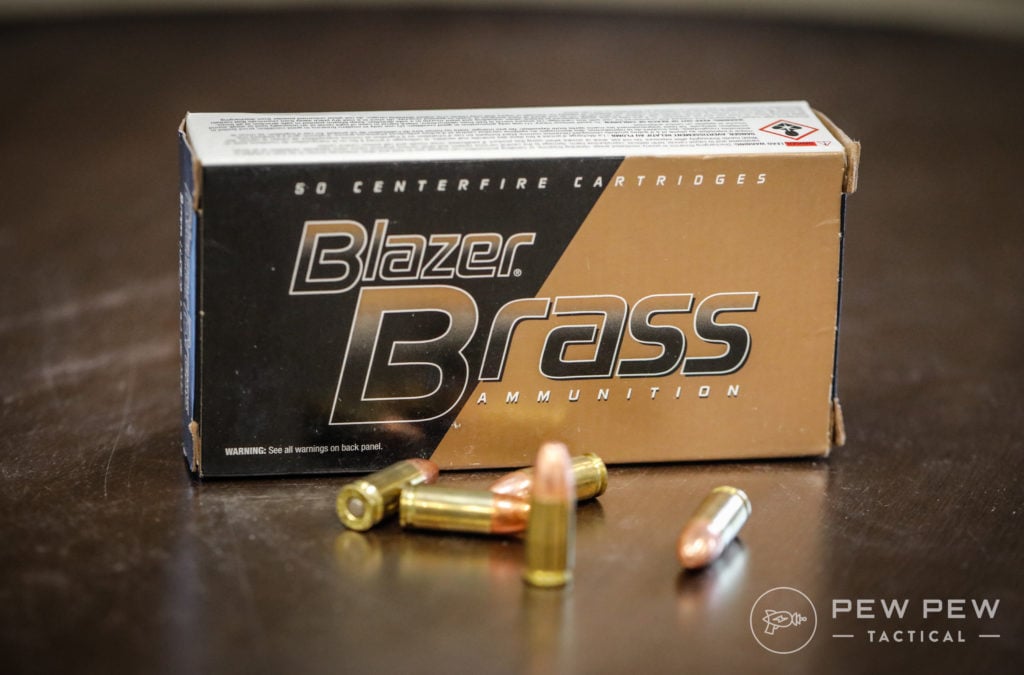 Customization: 5/5
With the ported barrel and slide and better trigger, I can say it hits most of the things I would think to change. Something I would change out is the sights. They didn't do it for me and I would have something more reliable if I needed to use the gun to defend myself.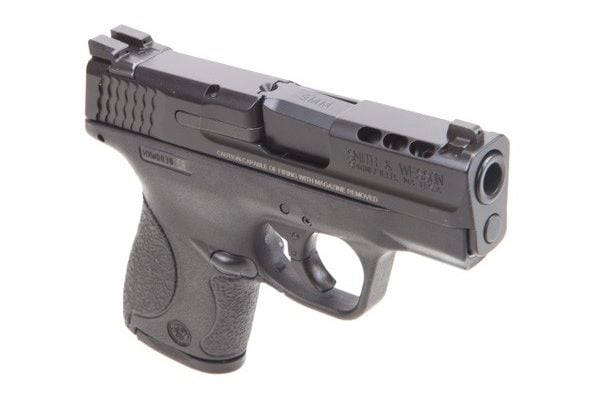 Looks 5/5
I like the look and feel of the Performance Center Ported M&P9 Shield. The ported slide gives it a great appearance.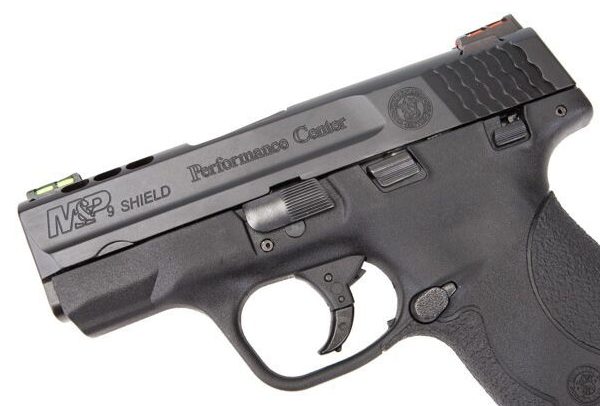 Price 3/5
When the Shield first appeared it was listed at $519 and gradually went down from there. However if you really want to pick up an OG Shield you'll have to go to secondary markets.
The package I tested included the gun and two magazines, but I've seen other packages that also include a flashlight and a knife.
493
at Guns.com
Prices accurate at time of writing
Prices accurate at time of writing
The Performance Center M&P Shield is designed with concealed carry in mind. The single-stack frame's comfortable and discrete, with great aesthetics and awesome reliability. If you're looking for a pocket pistol, this isn't for you, but if you want something that has your back without breaking it, the M&P Shield is it.
Conclusion
I thought this was a great option for someone who would like a "sportier" gun than what you would get if you bought an entry level model. S&W is good at making guns that are a step above the basic model for those who want a little more performance.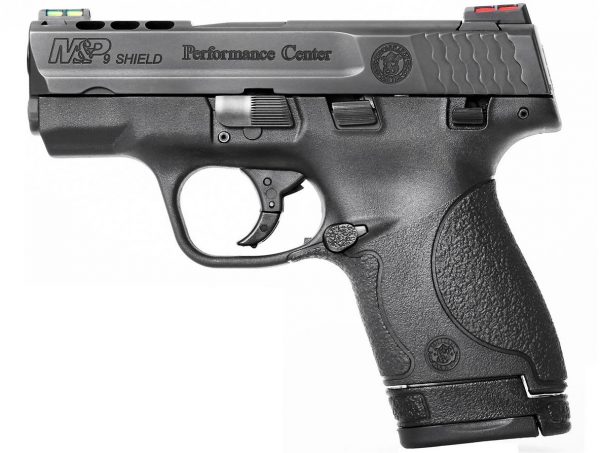 The features I liked by far outweigh the things I didn't.
When I got a chance to shoot this gun, I was pretty excited. It's one that I've wanted to shoot for a while. a few people I know have this is there CCW choice and love it; and it didn't disappoint.
If you are one of those people who like to have something just a little bit better than the stock model, the Performance Center model might be right up your alley.
However…we still highly recommend you look at other Micro 9mm Compacts and the Shield Plus.
334
at BattleHawk Armory
Prices accurate at time of writing
Prices accurate at time of writing