You don't necessarily have to spend top dollar to find some very decent concealed carry guns for EDC purposes.
Besides, spending less on a carry gun means more funds left over for a holster, ammunition, and training.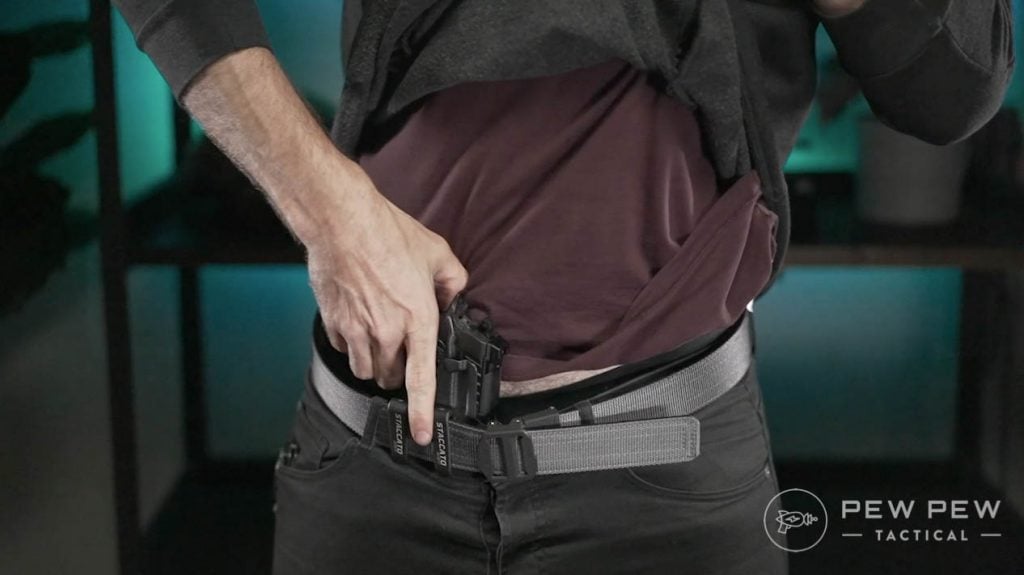 It isn't an exaggeration to say that the good old days of firearms are now.
Never before has the handgun buyer been more spoiled for choice when it comes to CCW pistols or really any type of gun…at all.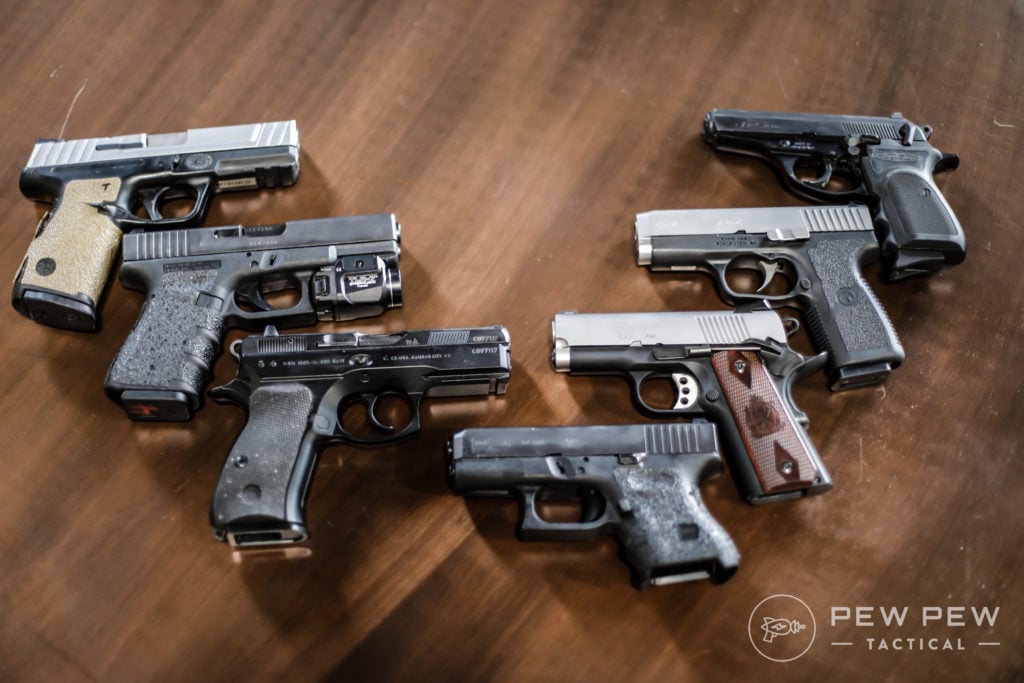 Unlike in eras past, when a budget gun meant a battered old surplus pistol or a Saturday Night Special, you can get a legitimately good handgun for defense purposes for not too much.
So let's dive into that a little more. We'll talk about how much you should spend on a CCW and then lay out some models we think are good while keeping costs down.
Summary of Our Top Picks
Table of Contents
Loading...
Why You Should Trust Us
Input into this article came from the PPT editorial team and our writers. Together we have a combined shooting experience of 30+ years, including instruction, competition, and multiple shooting disciplines.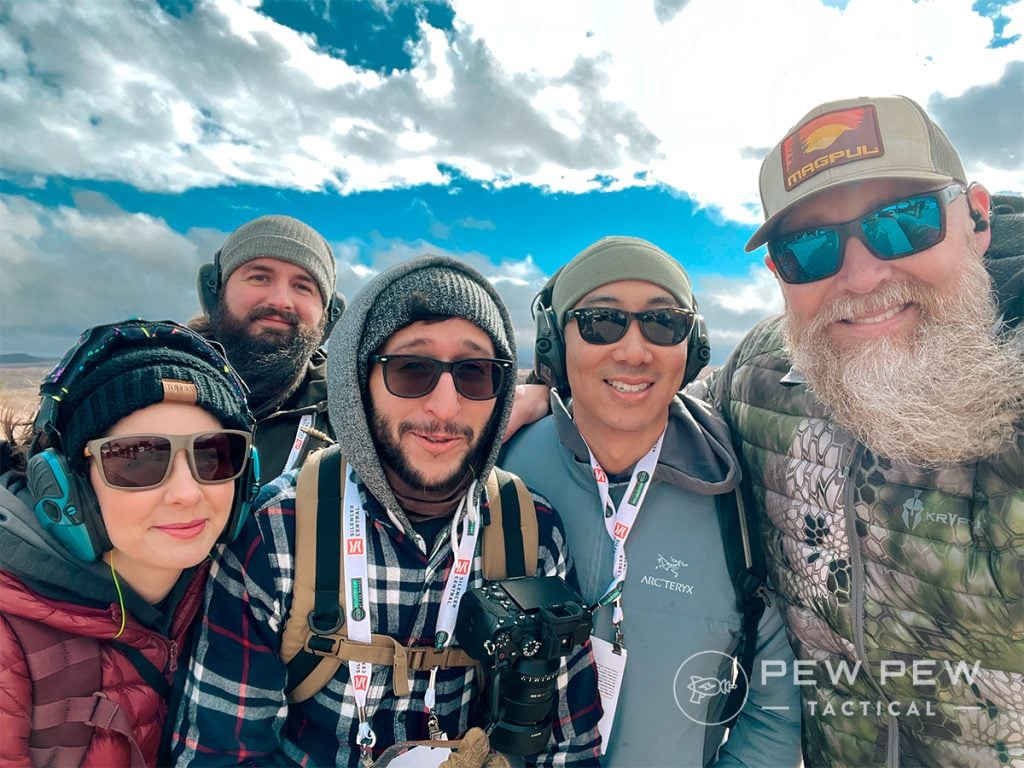 We've spent countless hours researching and analyzing guns and gear to determine which is the best when it comes to features, reliability, ergonomics, and bang for your buck.
We had to make some tough calls. If you don't see your favorite budget blaster on here, it doesn't mean we hate it, just that we couldn't include it this time.
Best Concealed Carry Guns Under $400
So let's say you have a tight budget and can't spend more than $400 on a handgun. Even 10 years ago, that would have severely limited your choice among new guns.
Today…it really doesn't. There are plenty of very capable concealed carry guns at or even under this price point.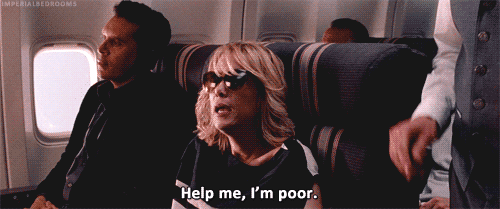 What would be some of the best of them? Best is a little subjective; what may be best for you may not be best for someone else.
However, here are a few stellar picks for a CCW gun for less than four Benjamins.
1. CZ P-10C
CZ has been slashing prices on quite a few of their guns since the beginning of the year.
This trend has extended to the excellent P-10C, which is arguably the best value buy in handguns right now.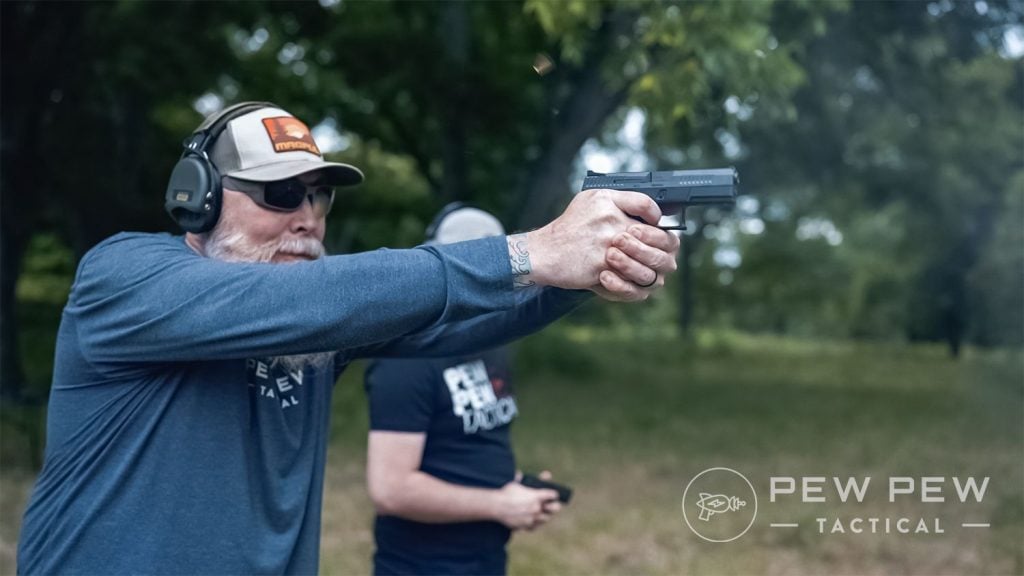 These striker-fired pistols are right around the size of a Glock 19, meaning they can cover everything from duty to home defense to concealed carry roles.
You get superb ergonomics with extremely aggressive grip texturing, chunky slide serrations, and a trigger that is better than the Glock by a notable margin. Other features include metal sights and metal magazines with a standard capacity of 15.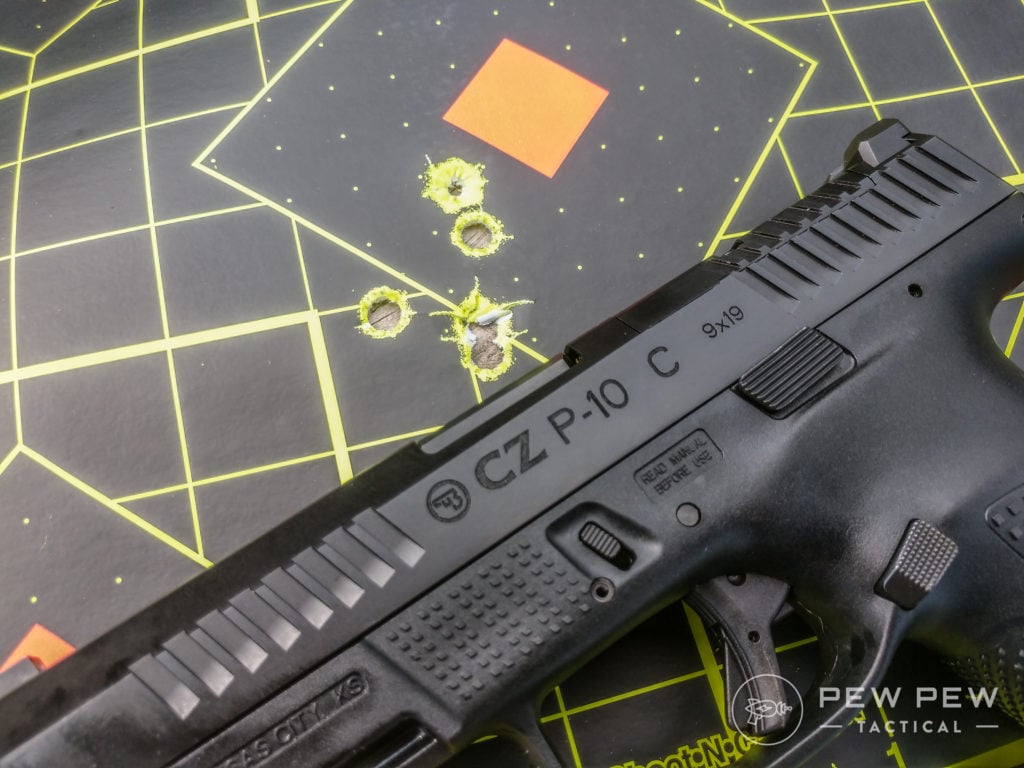 The accuracy and reliability of the P-10C are outstanding, and they shoot flat and fast.
While the aftermarket isn't as big as Glock's, I strongly feel that the CZ P-10C is a much better shooting and feeling gun out of the box.
This is one of the bigger guns on the list, but it is still very much concealable with the correct holster.
Best for large hands
317
at Kygunco
Prices accurate at time of writing
Prices accurate at time of writing
Would you like to know more? We got you covered with a full review!
2. Canik TP9 Elite SC
It wouldn't be much of a best budget handguns list without Canik.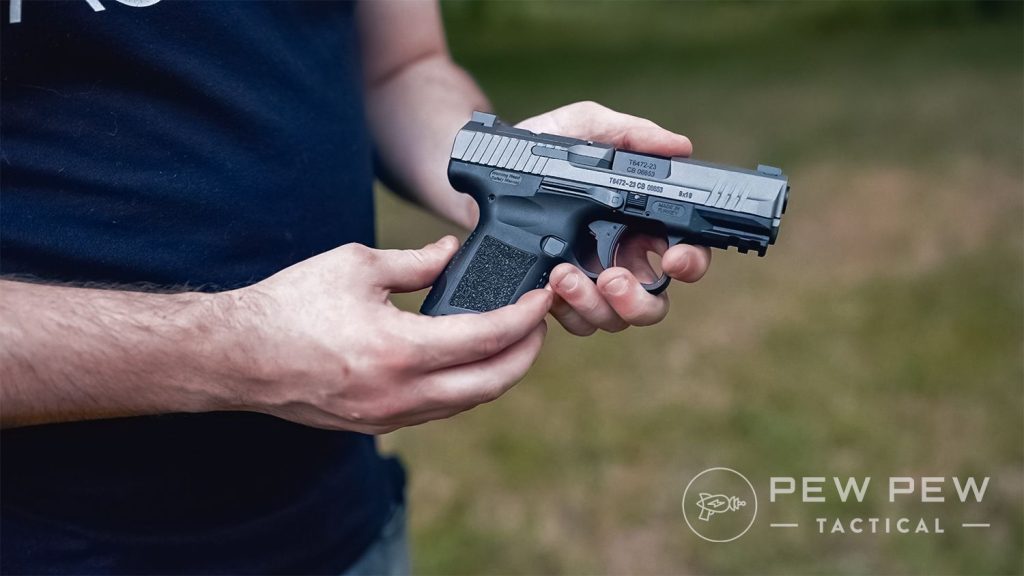 The TP9 Elite SC is a true subcompact gun, not a micro-compact. So think Glock 26-sized, not P365. This means it is a bit wider, but that isn't necessarily a bad thing.
All of the extra chunkiness makes the gun easier to hold on to and helps fill out the hand and increase recoil control. If you find micro-compacts too thin to comfortably grip, this might be the ticket.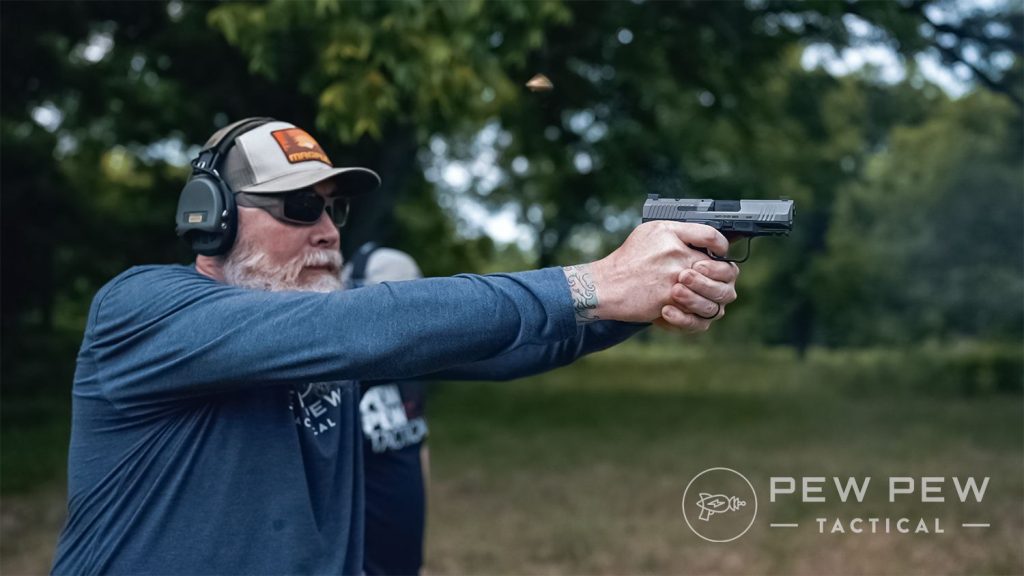 Another benefit is the ability to accept the full-sized magazines of the larger TP9 models.
Even with a width of 1.45 inches, the TP9 Elite SC is still concealable thanks to a shorter 3.6-inch barrel. The standard capacity is 12 rounds, and a 15-round extended magazine is included.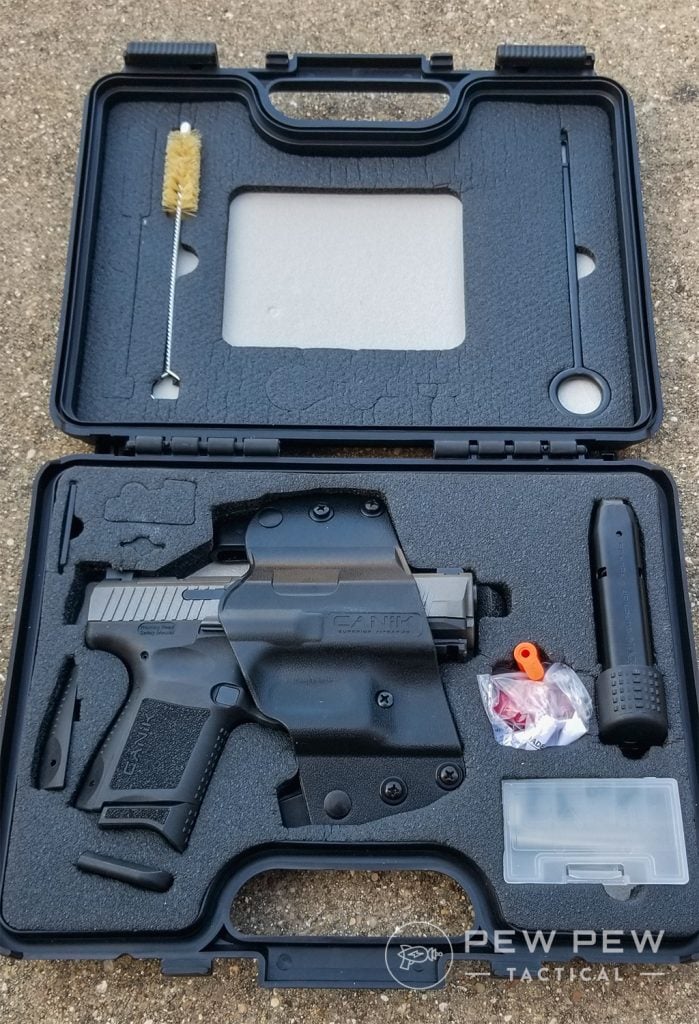 Additionally, the gun features a Shield RMSc micro optics footprint. It includes two interchangeable backstraps and a reversible OWB/IWB holster.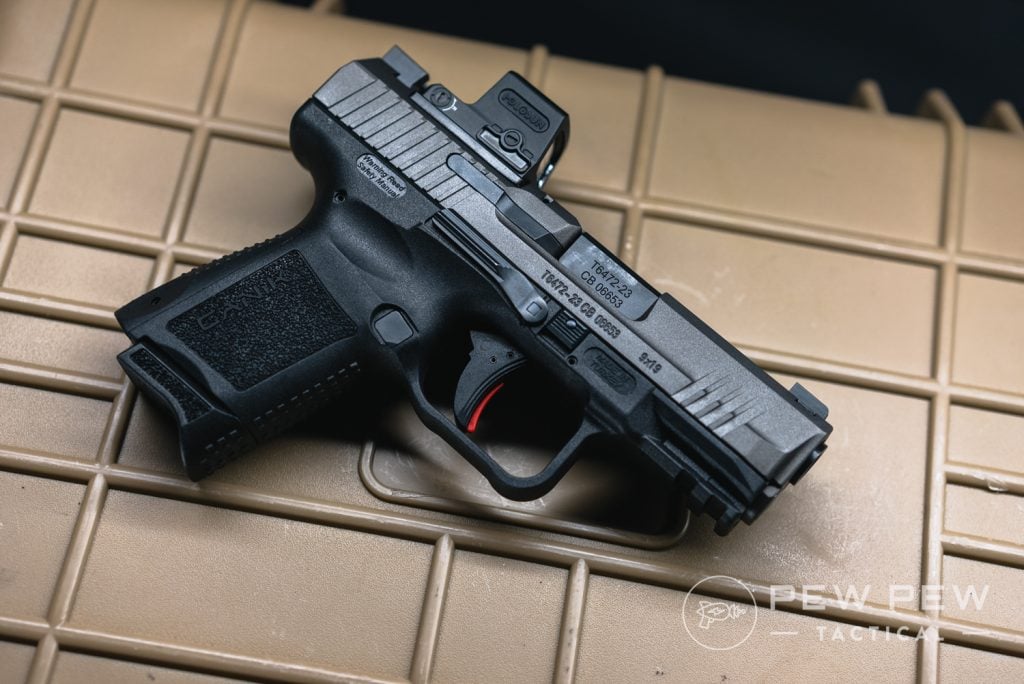 What really sets this gun apart from its peers is its best-in-class trigger, which breaks crisply around 3.5 pounds and has a short and tactile reset.
Best Sub-Compact
399
at GrabAGun
Prices accurate at time of writing
Prices accurate at time of writing
Be sure to check out our complete hands-on review to see why our Junior Editor loves this gun so much!
3. Taurus GX4
Micro-compacts are all the rage right now, and it is easy to see why. They are thin, high-capacity, and supremely concealable.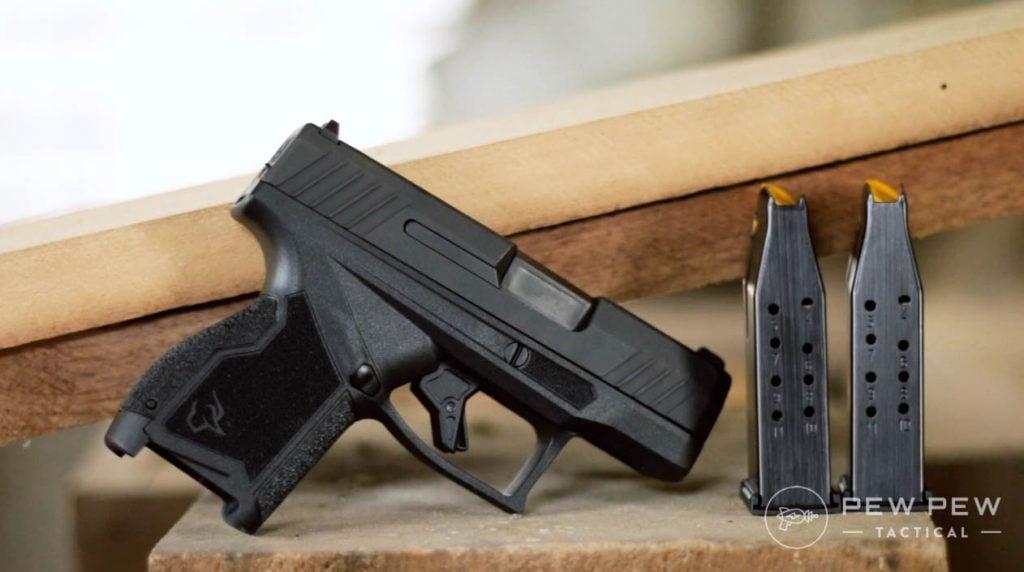 Luckily, since the trend of these guns has caught on, a lot of manufacturers have jumped on the train. And as always, more manufacturers means more competition, which means lower prices.
Taurus brings their GX4 to the table, featuring a 3-inch barrel, a width of 1.08 inches, a weight of 18.5 ounces, and it holds 11 rounds.
This puts the GX4 right in line with competitors like the P365, Hellcat, and Shield Plus. Except Taurus does it for about $300.
Breaking around 5.5 pounds, the trigger is a tad heavier than some of its contemporaries. However, it hits a well-defined wall and breaks cleanly.
These guns are reliable, accurate, comfortable, concealable, and affordable — that is a tough combination to beat.
Best Overall Pick
289
at GrabAGun
Prices accurate at time of writing
Prices accurate at time of writing
If you are looking to get into the micro-compact game on a tight budget, the GX4 is a clear winner.
You can check out our complete review here!
4. Ruger LCP Max
Those seeking something ultra-lightweight and slim without sacrificing capacity will want to look at the Ruger LCP Max.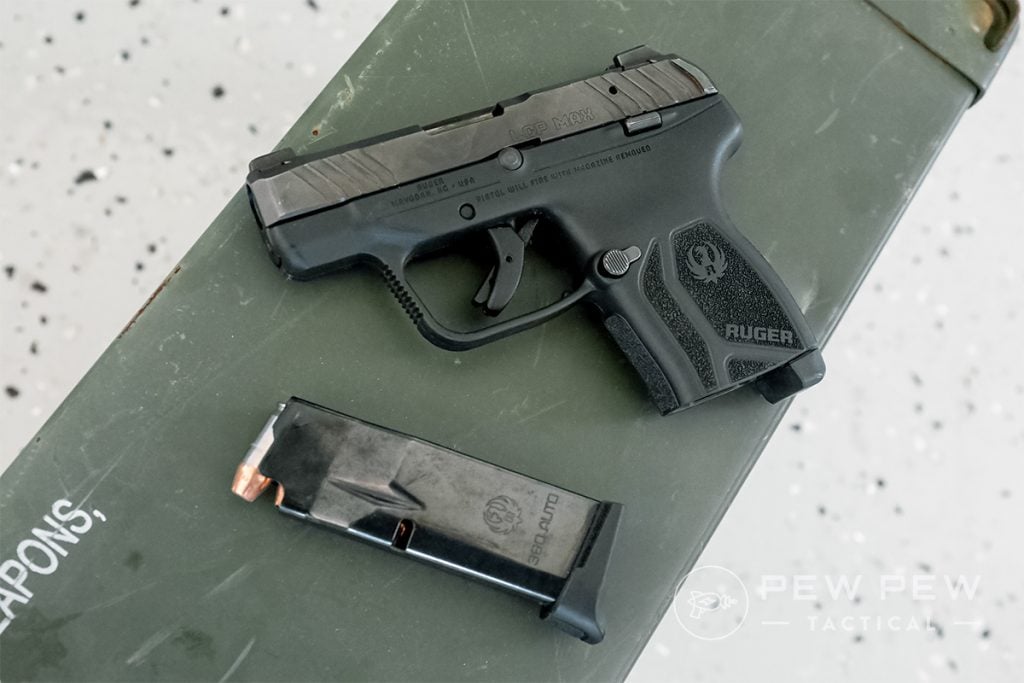 Weighing in at a feathery 10.6 ounces and only being .81 inches wide, the LCP Max still manages to pack 10 rounds of .380 ACP in a flush-fit magazine.
A tritium front sight and blacked-out rear sight offer a surprisingly good sight picture. While the trigger is mediocre at best, the gun is shockingly accurate for how small it is.
So what's the rub? It can be a bit rough to shoot. The thin profile and lack of weight make the LCP Max pretty snappy.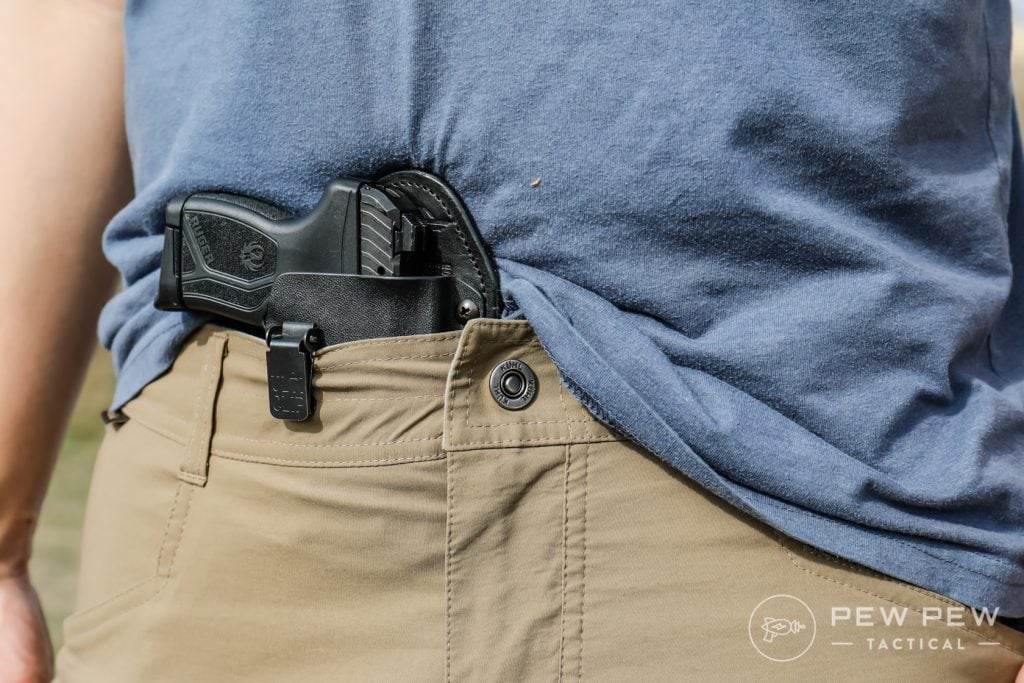 Our test gun also exhibited the need for a small break-in period, after which it ran flawlessly. However, if you are willing to deal with some increased recoil and a short break-in, you end up with one of the most concealable guns on the market.
Easiest to conceal
319
at Palmetto State Armory
Prices accurate at time of writing
Prices accurate at time of writing
You can take a look at the boss's full review here!
5. Palmetto State Armory Dagger Compact
So you want that Glock aftermarket without having to shell out the money for an actual Glock?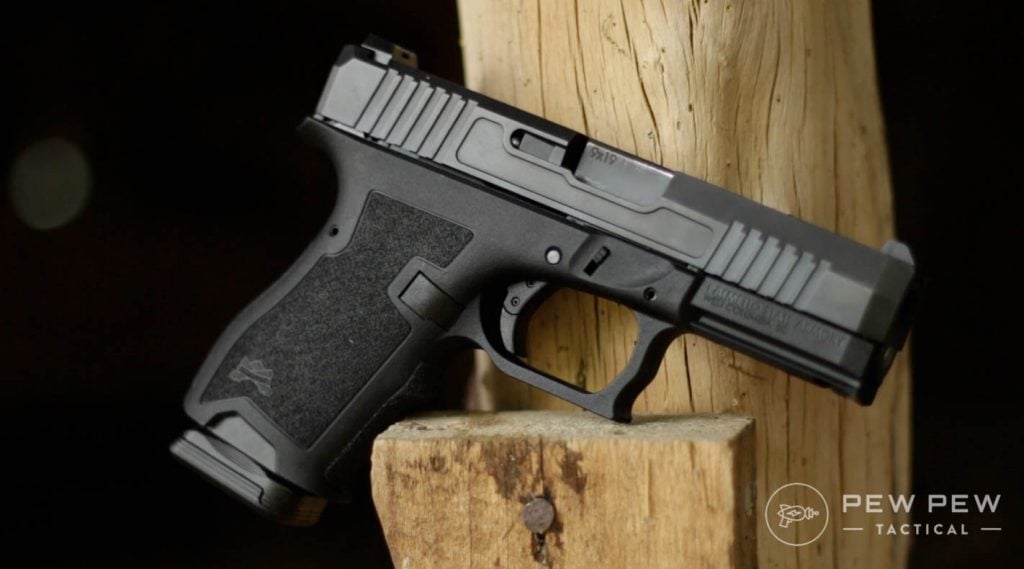 Well, PSA has you covered with their ultra-affordable Gen 3 Glock clone — the Dagger.
While the Dagger has been out for a while, the options that PSA is offering, combined with lower prices, have allowed the platform to really hit its stride.
Predictably, the Dagger operates much like a standard Glock 19 but with an improved grip and texture.
Reliability is solid when using quality magazines, and the gun shoots well and feels good. Being a near-direct clone, most Gen 3 aftermarket parts for Glocks will also fit the Dagger.
You can get into models that are optics-ready with threaded barrels for under $400, and if you buy the frame and a basic slide separately, you can get into an entry-level dagger for just over $200.
299
at Palmetto State Armory
Prices accurate at time of writing
Prices accurate at time of writing
Take a peek at Johnny B's complete review of the PSA Dagger!
6. Smith & Wesson M&P 9 Shield Plus
A little over 10 years ago, Smith & Wesson changed the concealed carry landscape with the introduction of their M&P Shield.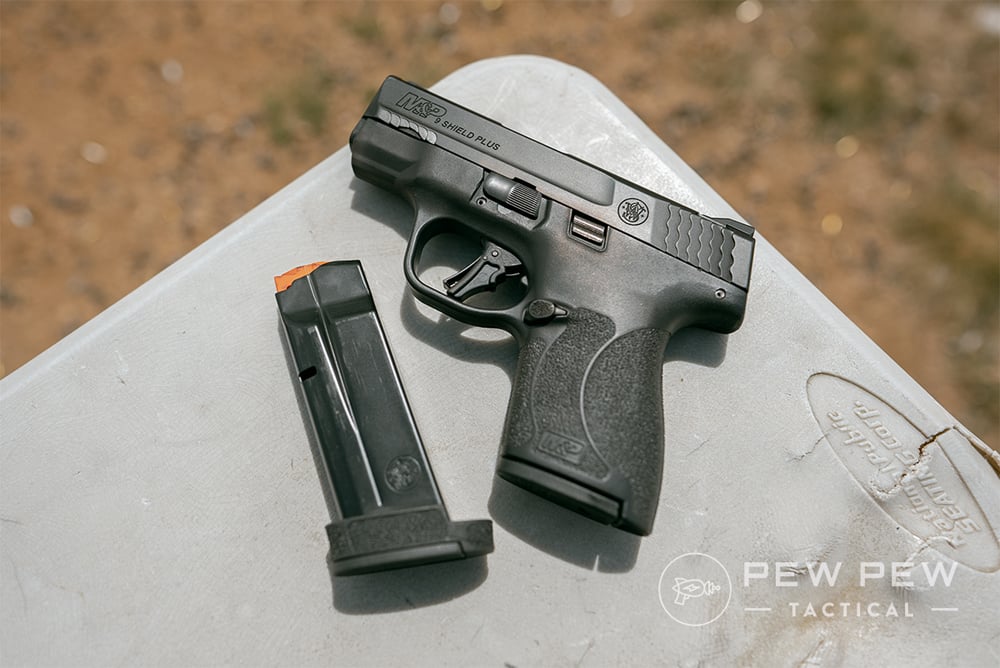 Guns like the Kel-Tec P11 and Walther PPS helped pave the way for the Shield, which in turn opened up everyone's eyes to the ease of concealment of a 1-inch thick, lightweight, polymer concealed carry gun.
Smith & Wesson has improved upon the original design by adopting improved magazine technology to increase the capacity of the Shield. This eventually led to the creation of the Shield Plus.
The Shield Plus holds 10 or 13 rounds of 9mm with flush and extended magazines, respectively. A better trigger and aggressive grip texture are marked improvements over the original Shield.
Coming at around $350 for the standard model, you get an exceedingly reliable pistol from a name you can trust.
Another bonus is that the Shield Plus uses the same holsters as the original Shield, meaning holster options are plentiful.
334
at BattleHawk Armory
Prices accurate at time of writing
Prices accurate at time of writing
Interested in the Shield Plus? Check out our hands-on review!
7. Taurus 605
For some people, it is tough to beat the simplicity of a good old-fashioned revolver. We get that.
Fortunately, Taurus gets it too. While we are big fans of Smith & Wesson and Ruger revolvers around here, when it comes to budget, Taurus is always going to dominate the conversation.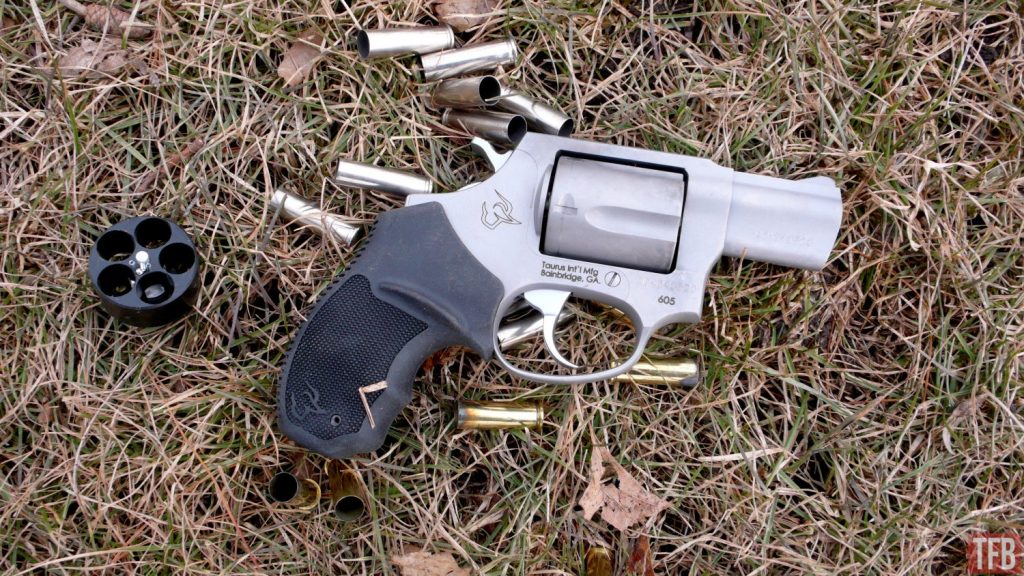 Their 605 is a small-frame 5-shot revolver that is chambered in .357 Magnum/.38 Special. It clocks in right around the $300-350 mark.
These guns feature a 2-inch barrel, stainless steel frame and finish, rubber grips, and a transfer bar safety.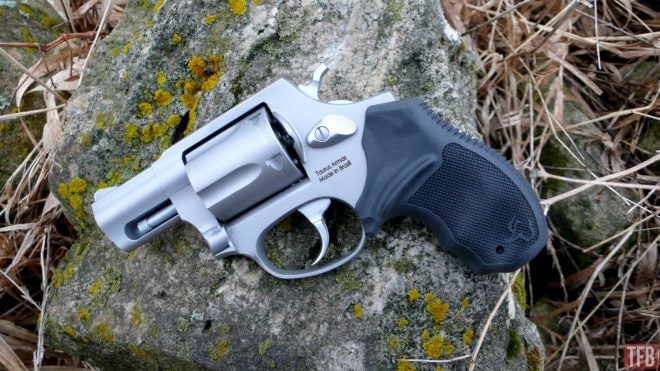 The double-action/single-action trigger is smooth, which is unexpected on a budget revolver. This aids in squeezing out accuracy even in a shorter barrel.
While the sights are a fairly rudimentary rear trench and fixed front post setup, they do keep things low-profile and snag-free.
If you are looking for a reliable revolver capable of chambering magnum rounds without breaking the bank, the 605 is your guy.
Best Budget CCW Revolver
300
at BattleHawk Armory
Prices accurate at time of writing
Prices accurate at time of writing
What are your thoughts on the Taurus 605? Rate it below!
How Much Should I Spend on a Concealed Carry Gun?
There isn't an amount you should or shouldn't spend on a concealed carry gun.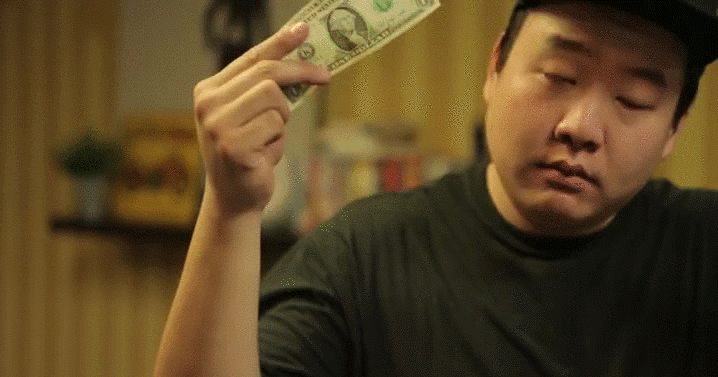 Instead, it's really more about getting certain attributes that you need from the gun you're going to potentially defend your life with.
The gun has to be a good fit for you — making it easier for you to handle, aim, and shoot well.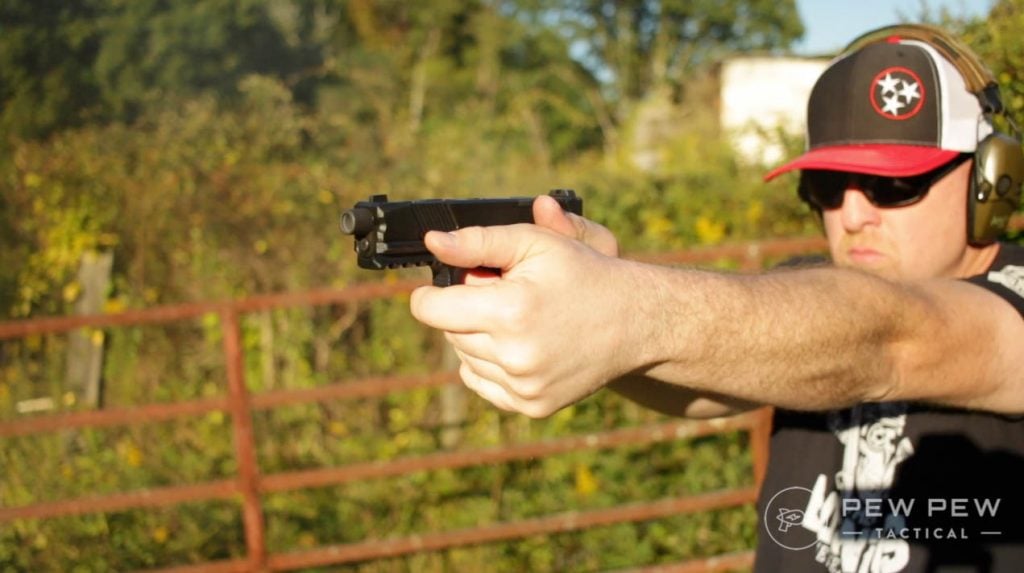 You have to be able to conceal it easily, though that has more to do with your choice of concealed carry holster, belt, and clothing than the gun.
Final Thoughts
Getting a budget pistol that works is always better than having no pistol. There are a lot of great carry options on the market, and these are just a few of them!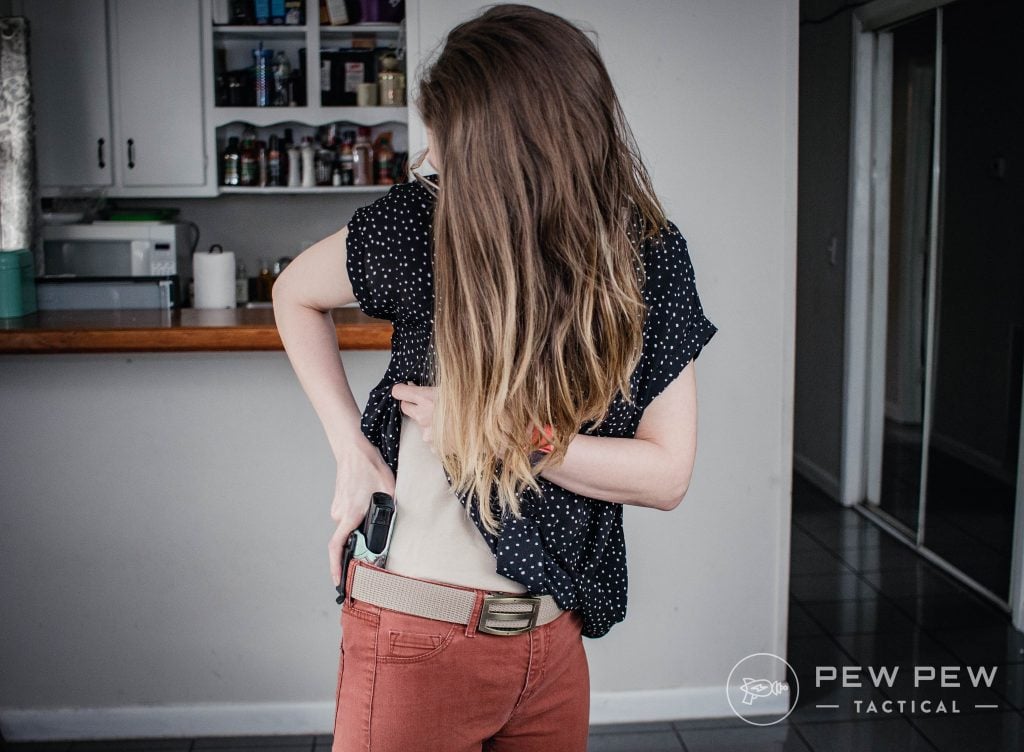 Any of the ones on the list will serve you well, but be sure to get some training, put in some range time, and choose your ammo with care.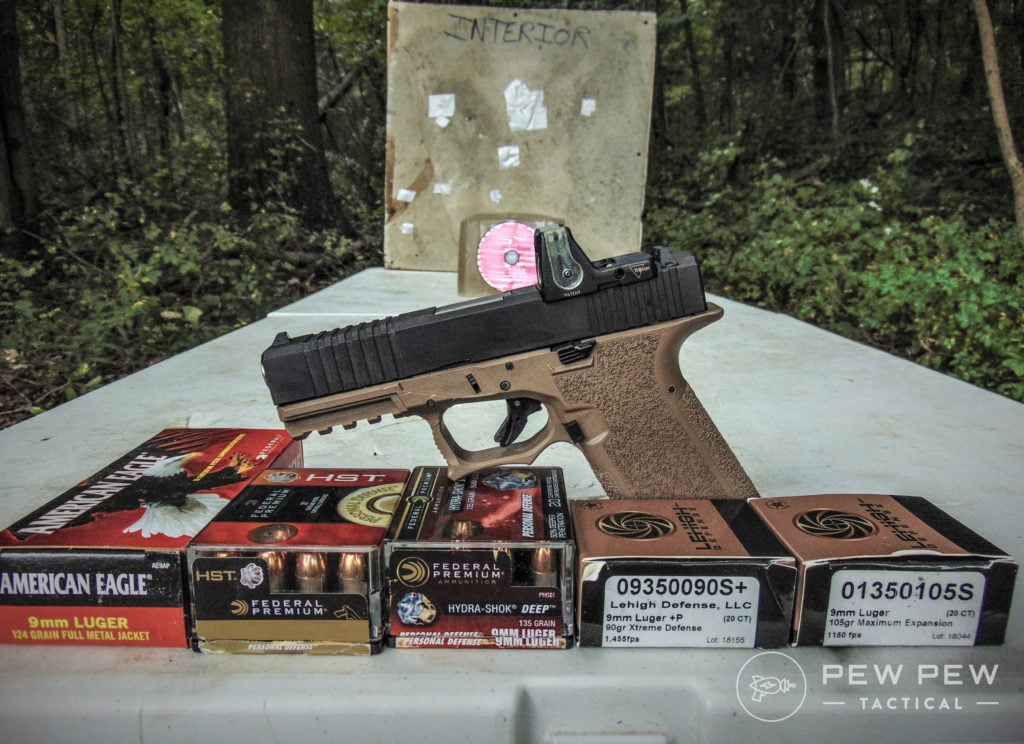 What is your favorite budget CCW? Let us know in the comments! If you're new to concealed carry, you'll find these articles helpful!