We reviewed the TP9 SFX a while back, and I called it one of the softest shooting guns I've ever worked with.
So, when Canik announced a set of new striker-fired 9mm pistols – the Mete, I knew I wanted to try them out.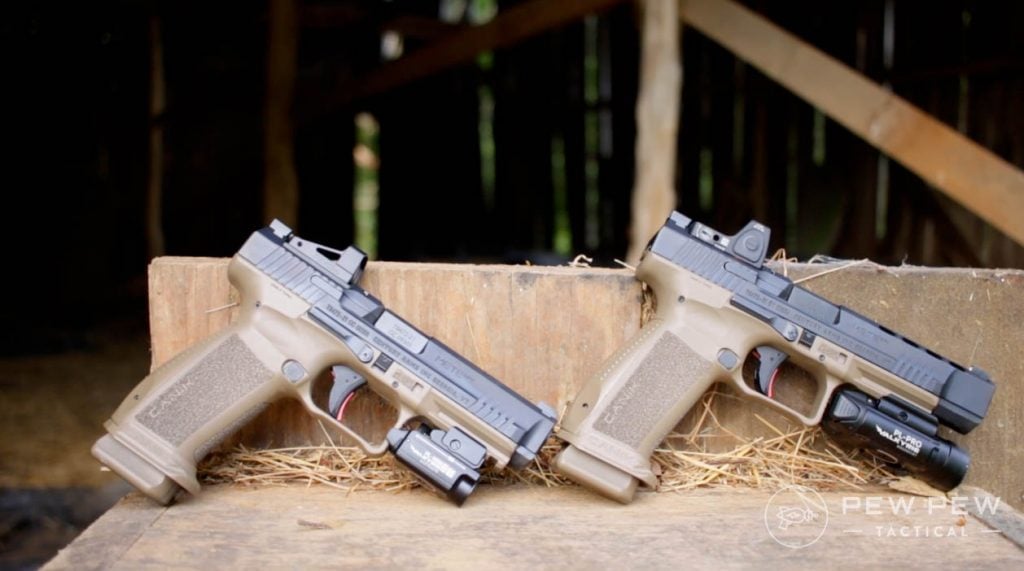 Luckily, Canik was cool enough to send us two, the Mete SFT and SFX, for review.
Heading into this review, we'll talk about the SFT and SFX, looking at the pros and cons of each platform. Then we'll head to the range and see how they perform.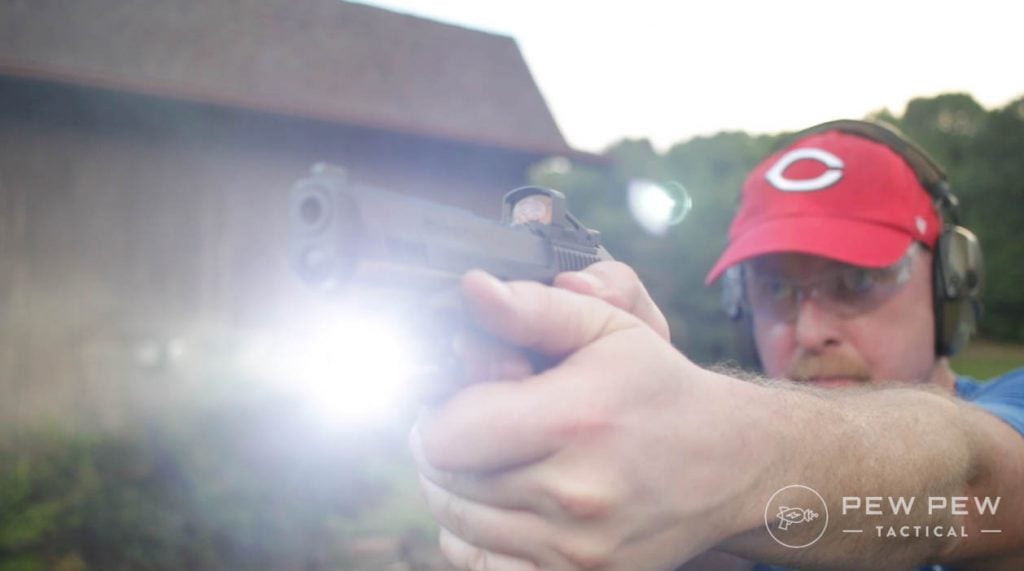 Ultimately, we'll help you decide whether you want to add the Mete to your gun safe
If you want to see the Mete pistols in action, check out the video below.
As always, you can head over to the Pew Pew Tactical YouTube channel for more gun and gear content.
Mete: What Is It?
First off, before you ask and because there's a lot of confusion on this, it's pronounced Met-A.
The Mete series consists of striker-fired, semi-automatic, polymer-framed 9mm pistols available in SFX or SFT models.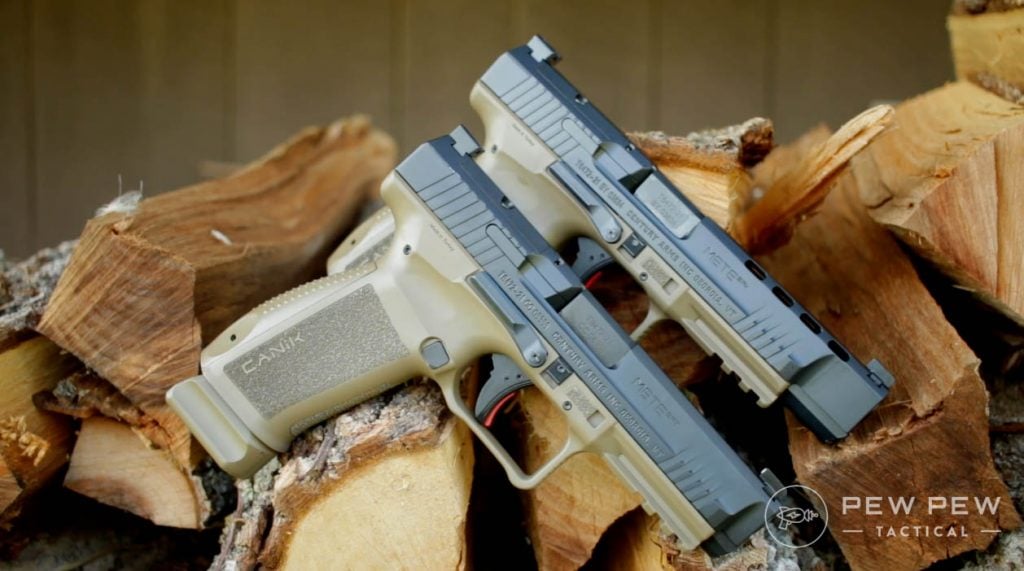 To simplify things and avoid the alphabet soup that Canik prefers in its naming scheme, SFX is the long slide while the SFT is the short one.
Big gun. Little gun.
520
at Canik
Prices accurate at time of writing
Prices accurate at time of writing
The SFT measures 7.5-inches long and sports a 4.5-inch barrel.
It weighs in unloaded at about 28-ounces.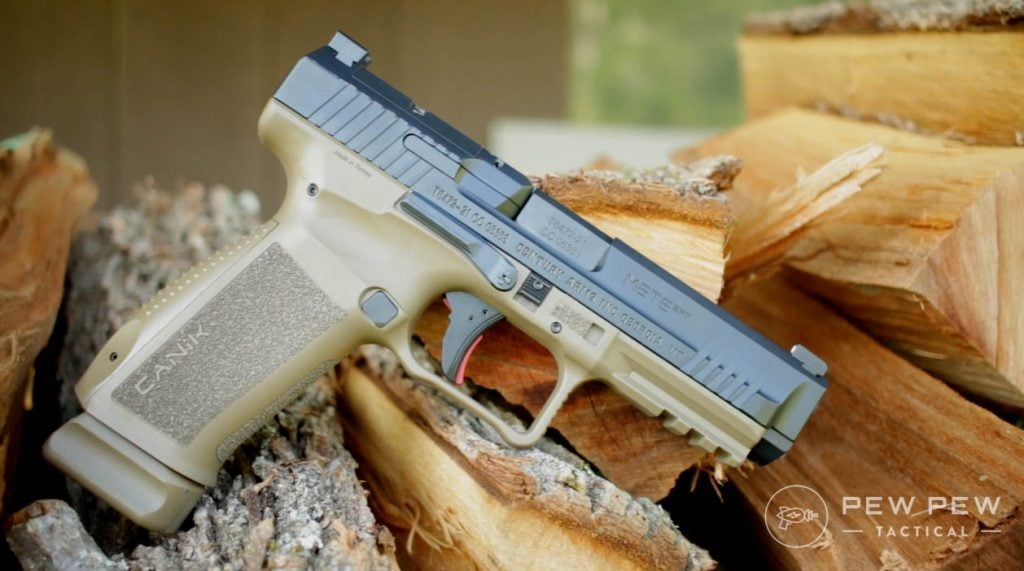 On the other hand, the SFX comes in at 8.25-inches in overall length with a 5.25-inch barrel.
It weighs a sturdy 30-ounces unloaded and also offers a ported slide.
Both bring a monstrous 18 + 1 and 20 + 1 capacity, depending on magazine.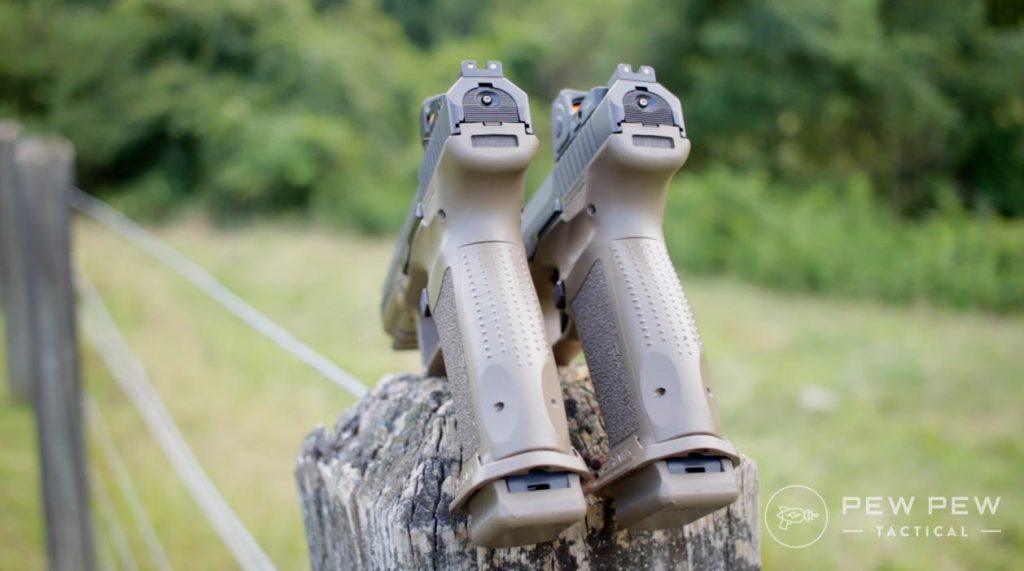 Because they sent me a pre-release package, I ended up with extra stuff — four magazines, optics, lights, and an extra barrel.
The actual real-deal street package, though, doesn't come with all of this.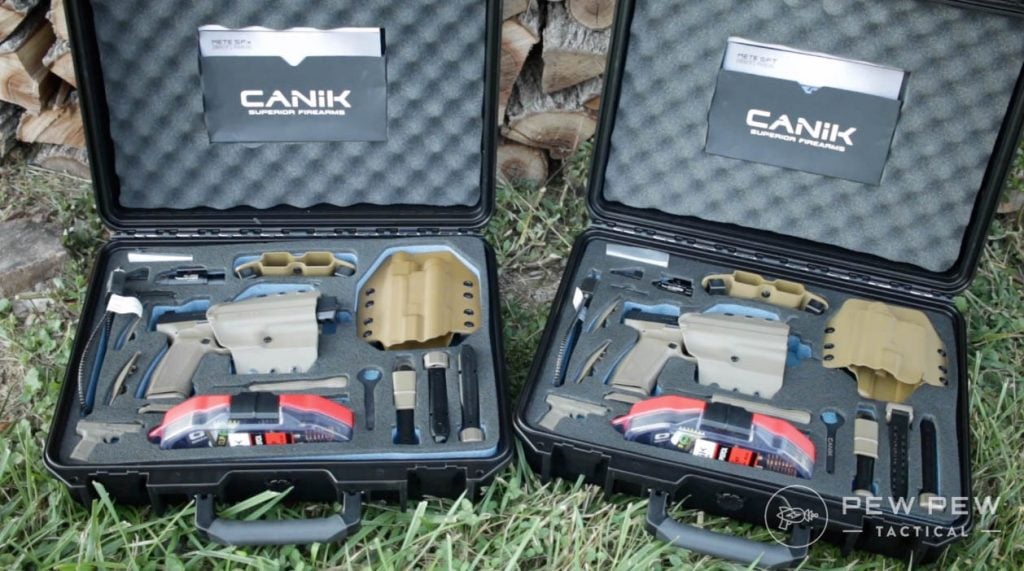 But it will still have a ton of stuff – pair of magazines, magwell flare, holster, backstraps, and a toolkit.
(To be honest, I thought the tool kit was dumb when I first saw it. But I ended up using everything in it on day one.)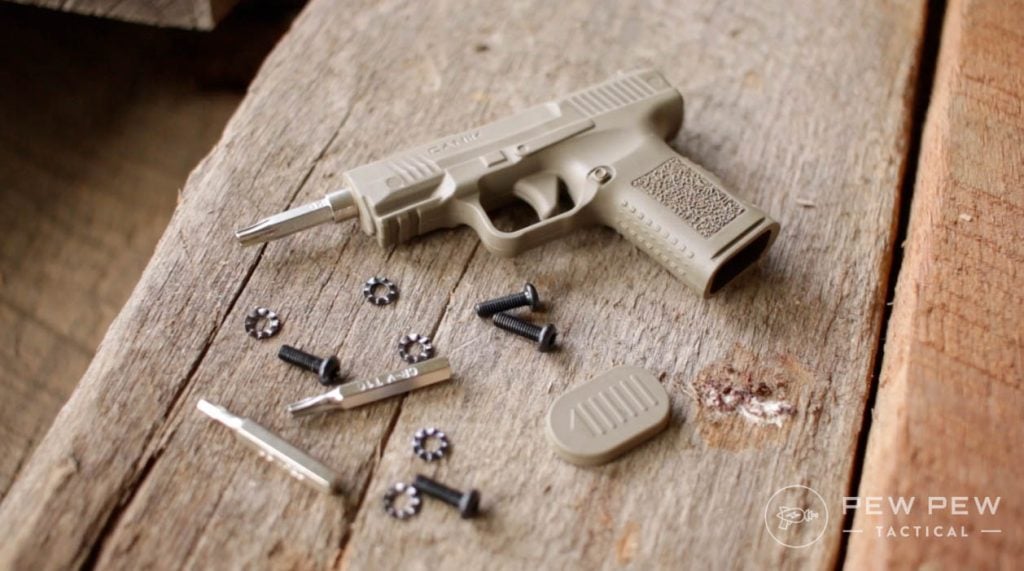 And that's where Canik just crushes the rest of the market — all the stuff they send.
MSRP right now is $575 for the SFX and $520 for the SFT. Street price will probably fall in the $500 range…maybe.
Mete Features
Some features are typical Canik, while others are upgrades for the Mete line.
The upgraded grips provide a fantastic texture. You can dial it in further by changing out the backstraps.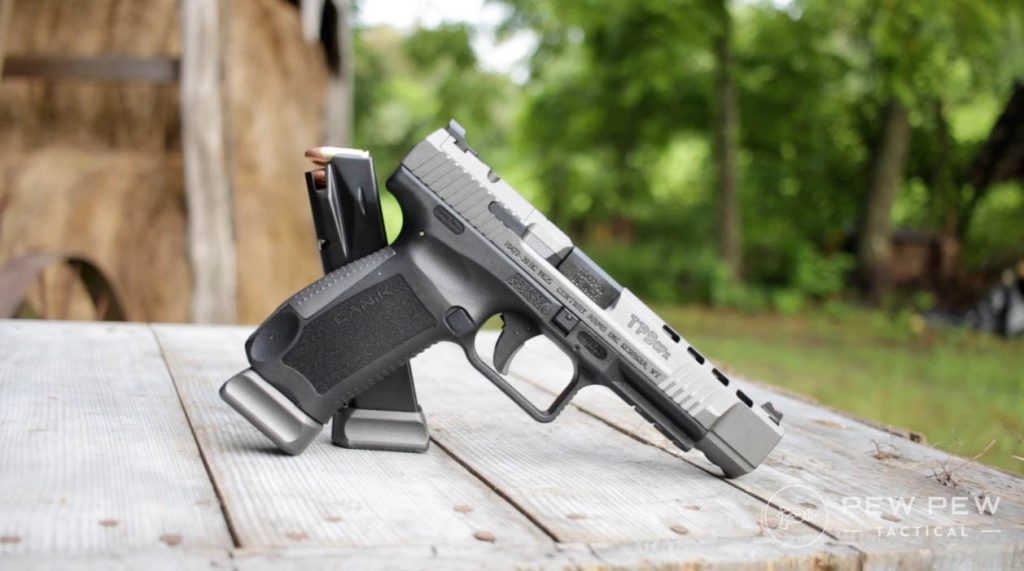 These pistols also feature an undercut trigger guard and a new and improved beavertail.
There's also a rail upfront, so you can accessorize with a laser/light if you want.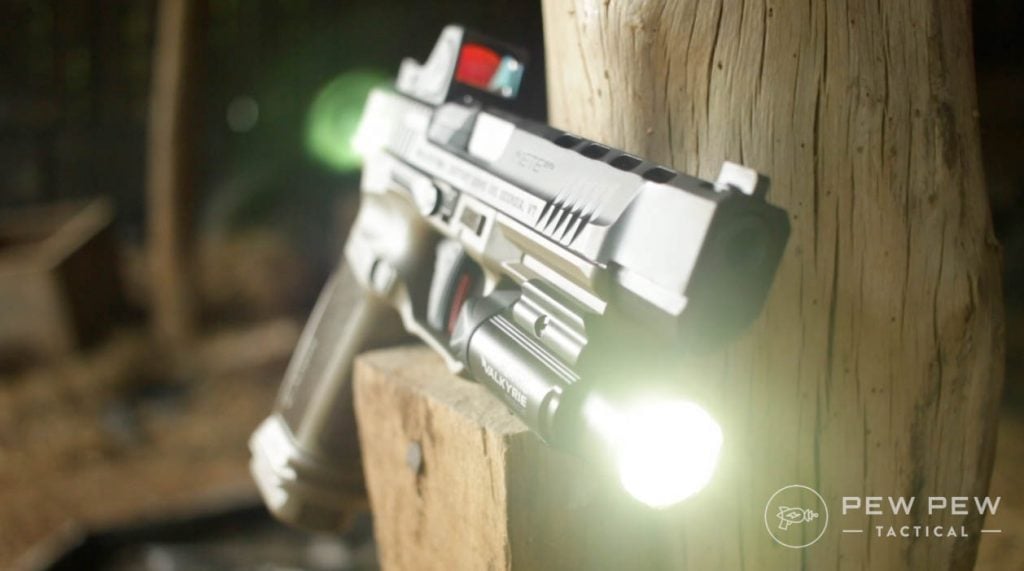 Out of all the new features, my favorite is the magwell. It's flared and made of aluminum, I think.
The Mete sights are a 3-dot system that co-witness with the red dot. And speaking of red dots…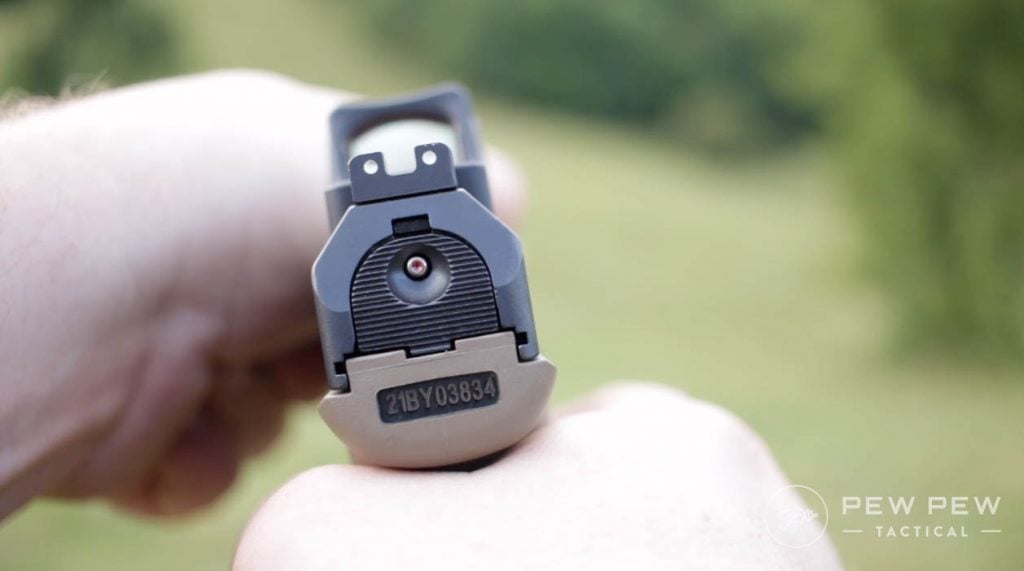 Another cool feature is optics cut slides that are ready to go on day one.
I added a Trijicon RMR to the SFX and a Shield RMSC to the SFT. Both ran great.
Canik also offers night sights, if that's your thing.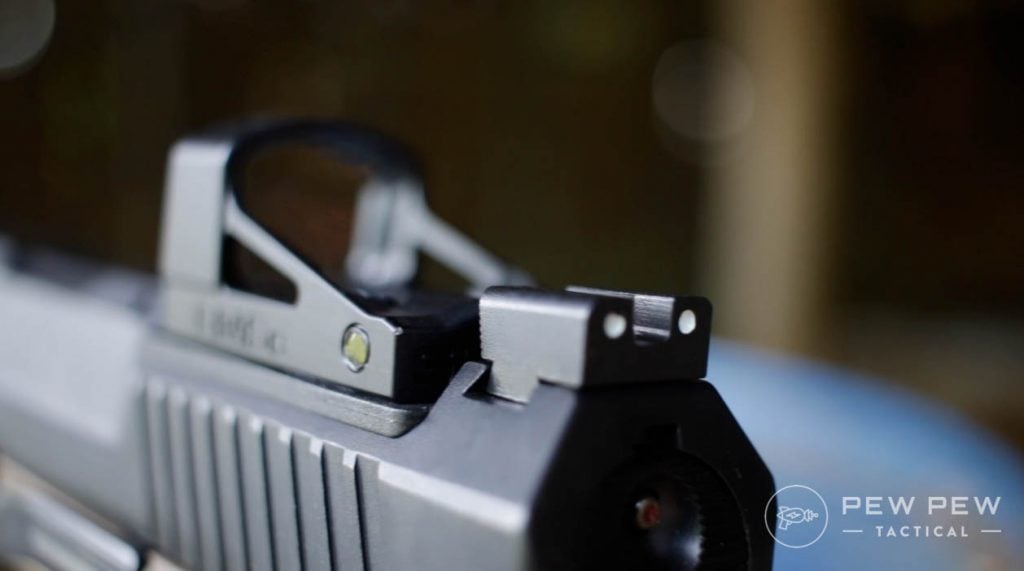 Ergonomics & Aesthetics
In my hands, these pistols feel outstanding.
The controls sit right where I want them, and the mag release is great. Not to mention, the grip angle and beavertail feel good.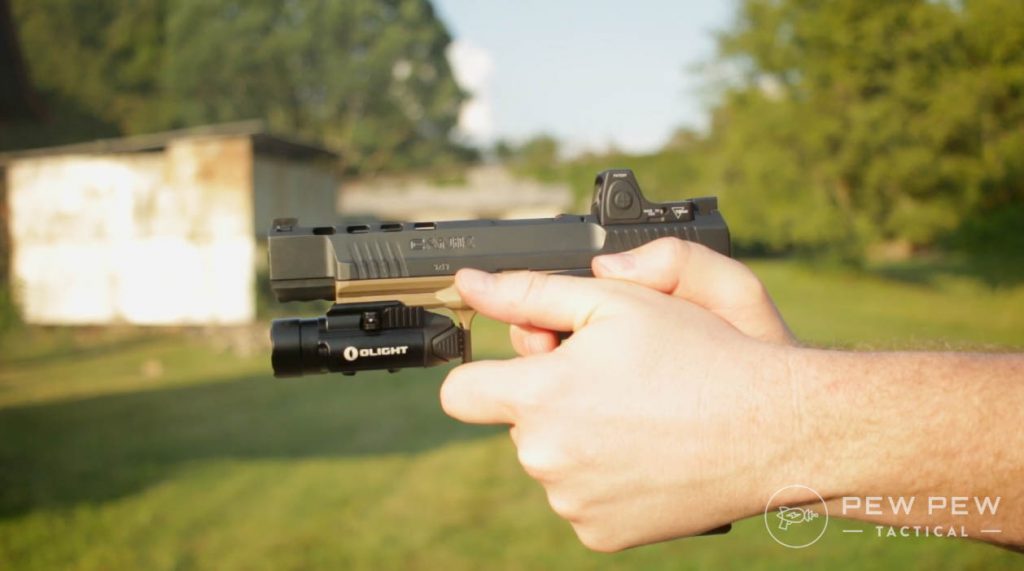 Let's talk triggers because these can sometimes make or break a pistol design.
For the Mete series, the triggers…are pretty awesome. I would go so far as to say they are one of the best stock triggers in the pistol market — light and easy. Also, the reset is crazy shallow.
The trigger is almost so light it takes some getting used to, but, boy, when you do, it feels sweet.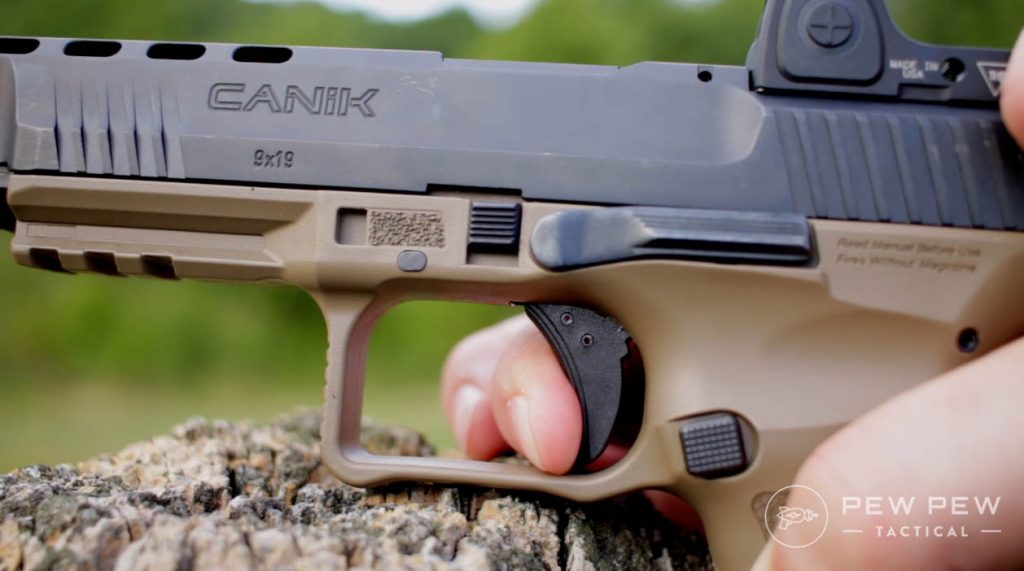 Slides on the SFX and SFT are finished with Cerakote over nitride, which should be rock solid.
And they have some fantastic serrating upfront and in the back for gripping however you want.
As far as aesthetics, they look pretty good, despite some branding on the grip. The SFX slide ports add a nice touch too.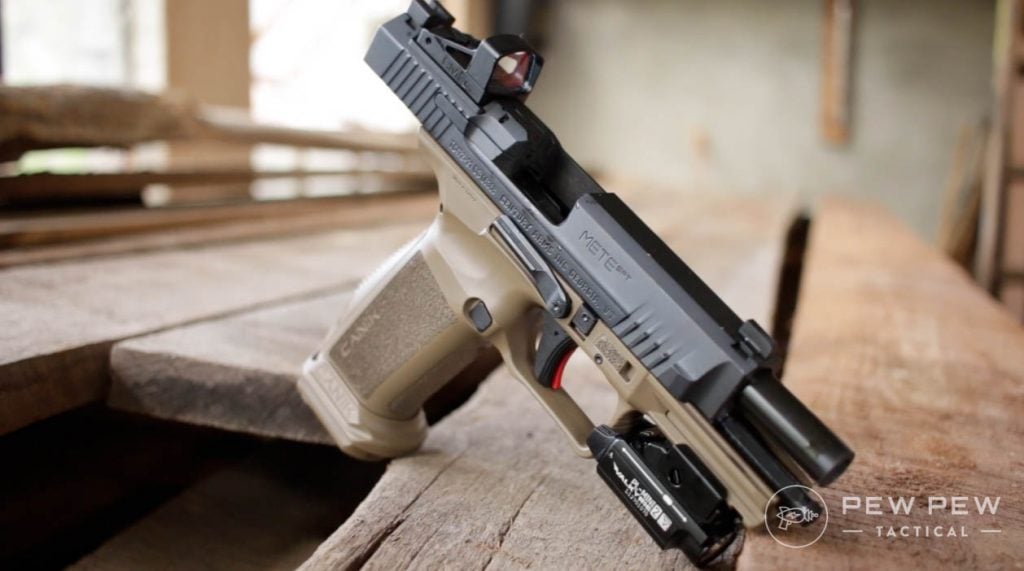 Range Time!
For this test, I used nothing but Russian steel-cased ammo. While I would love to insert some reality show-level drama in here…I can't. Both pistols ran perfectly.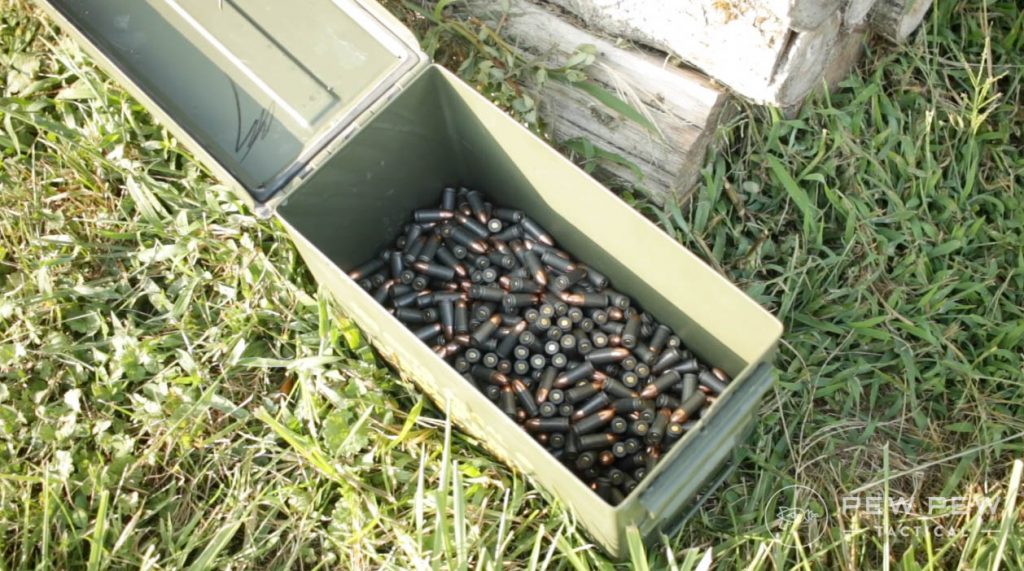 I encountered zero issues. The guns fed, fired, and ejected just as intended. They even locked back on empty.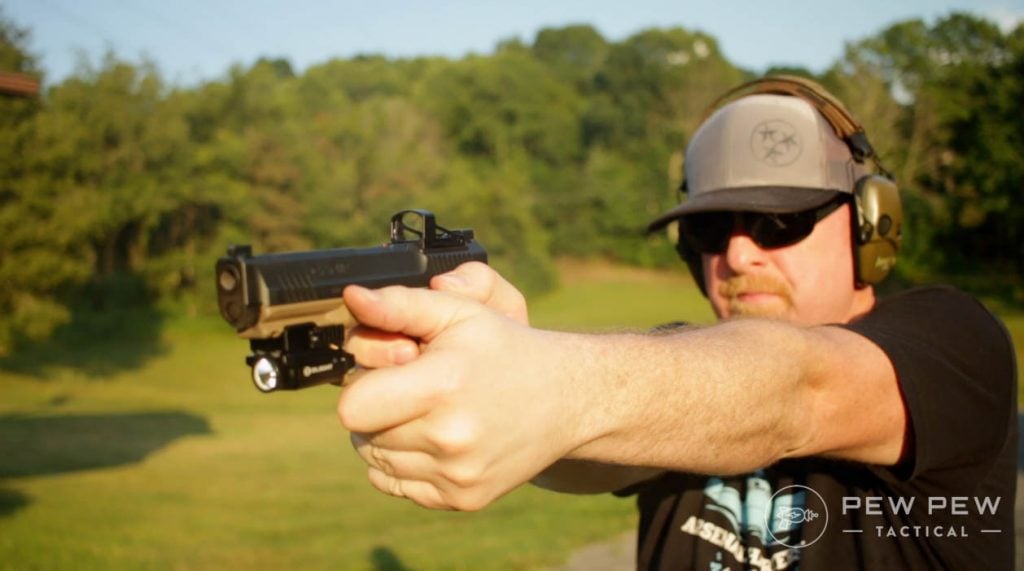 There were a couple of instances where they didn't lock back, but that was entirely user error. I ride the slide release with my thumbs…y'all know how that is.
Despite the thumbs issue, the pistols handled well but caveat…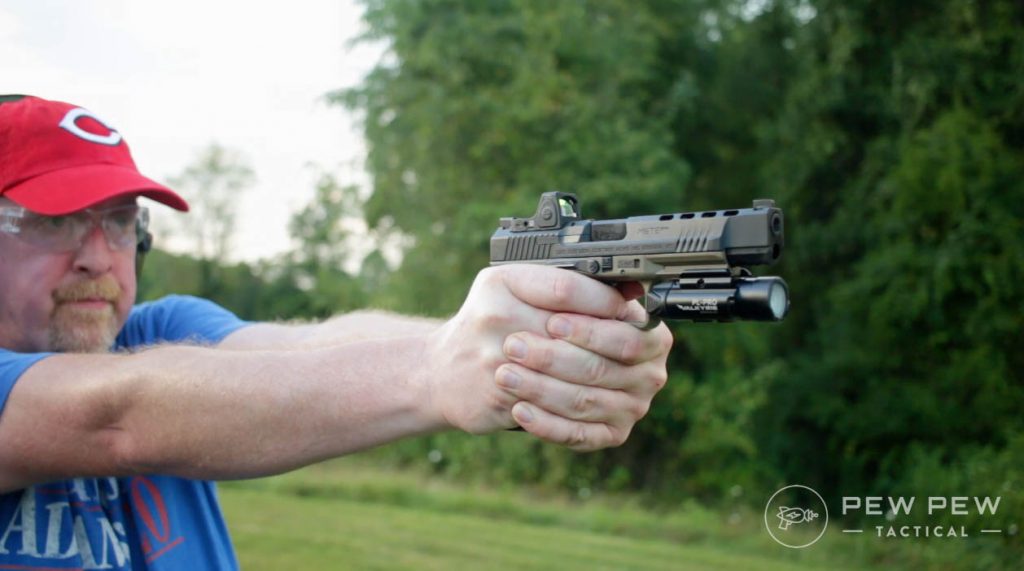 I did not run either gun suppressed, nor did I try brass ammo. So, your mileage may vary with those factors.
All that said, I was honestly surprised with how different the SFX ran as compared to the SFT. The SFX's long slide and ports just eat up recoil for a smoother shooting experience.
Accuracy-wise, I stacked rounds, and I couldn't really tell the difference between the pair. They both nailed targets, no problem.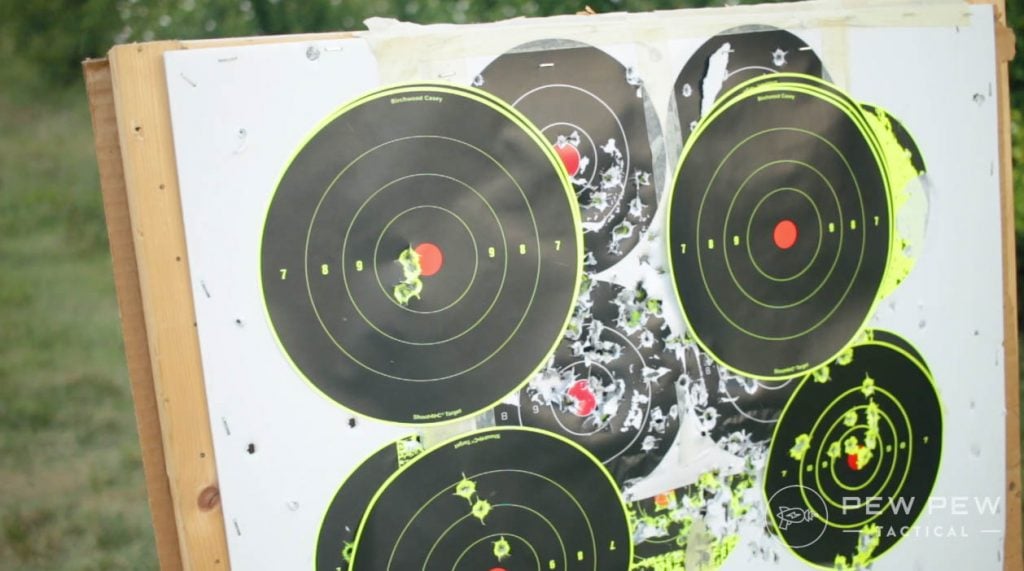 As far as shortcomings, the big one for me is I wish it was made in the USA.
And I think some folks would like a black option rather than tired dark earth? But that's about the only complaints I have.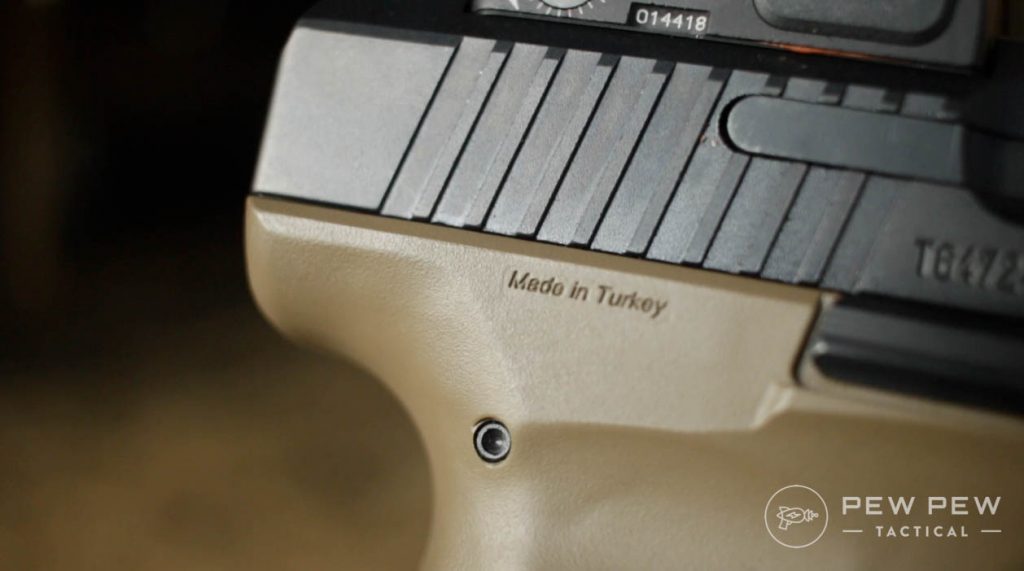 By the Numbers
Reliability: 5/5
With any new gun to market, we want to hear reports from lots of testers as end-users. But for our two models…awesome reliability.
Ergonomics: 4/5
At the end of the day, you're still gripping a chunk of plastic. But the controls are well thought out, and the new grip is doggone good.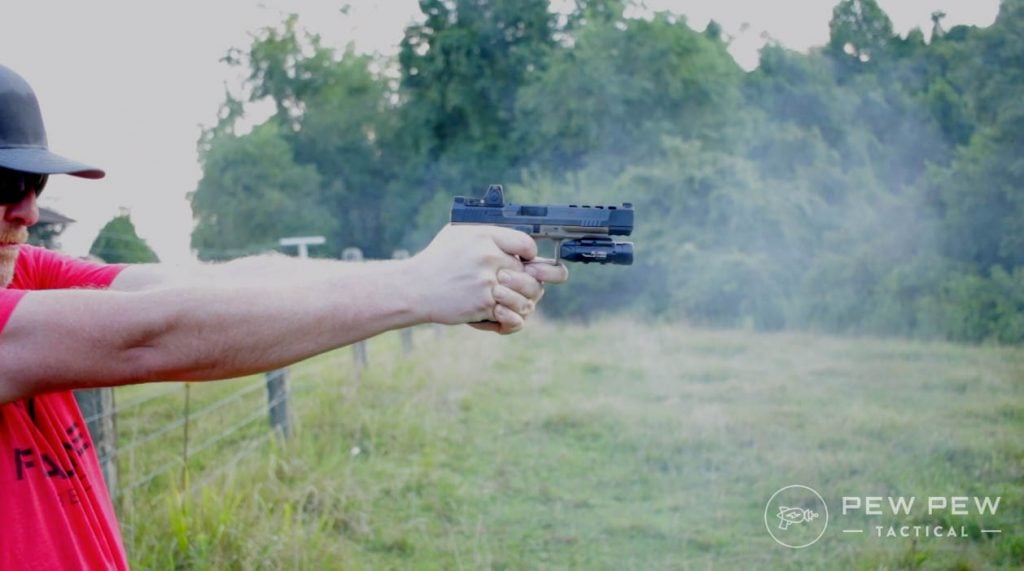 Accuracy: 4.5/5
You'll put shots where you want them consistently.
Customization: 5/5
Lots you can do to this one. Have fun.
Value: 5/5
With all that comes with this one, the Mete may be the most bang for the buck in the industry.
520
at Canik
Prices accurate at time of writing
Prices accurate at time of writing
Overall: 5/5
Huge value. Solid components. Good looks. Other than it not being made in the USA, we couldn't ask for more.
Conclusion
The Mete series by Canik introduces another striker-fired, polymer 9mm pistol into an already crowded market. But priced just over $500 and with a bunch of extras, I think the METE SFX and SFT are winners.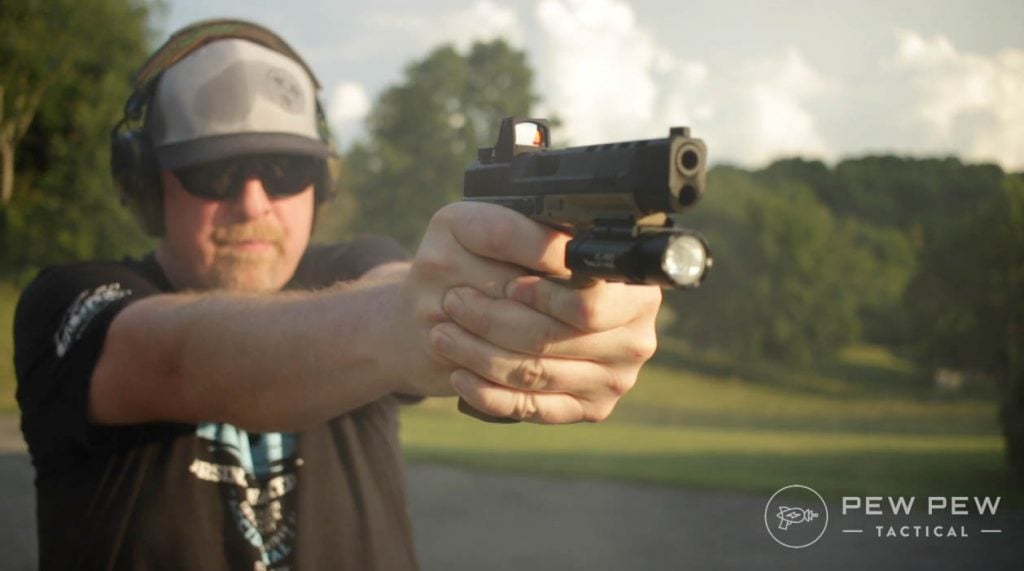 Due to size, the SFT is better equipped for concealed carry, but the SFX would make an excellent home defense gun, in my opinion.
With that massive capacity, options for night sights, a rail, and the fact it's already cut for RMR….oh, and you can always add a threaded barrel…yeah, this is just a solid home defense bedside gun.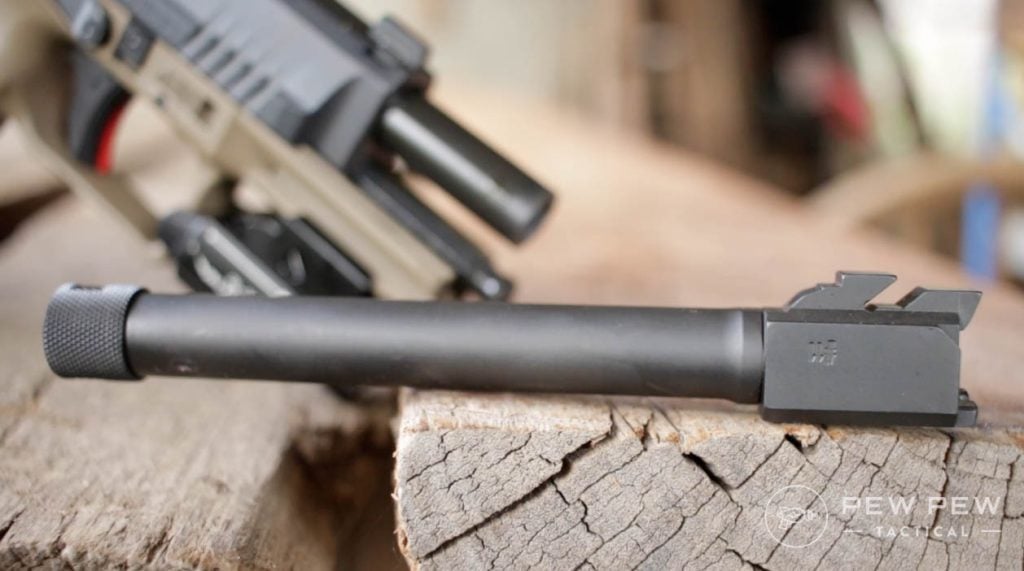 Overall, the Canik Mete works well, whether you want a home defense gun or one for on the go.
To see the SFX and SFT in action, again, check out the video below.
What do you think of the Mete? Let us know in the comments below. Want to read more on Canik pistols? Check out our review of the TP9SFX.