There are times in a concealed carrier's life when carrying on-body just isn't an option. So what's a gun owner to do?
Off-body carry could be a solution. This style of carry is great for any situation where carrying a normal holster and gun is difficult.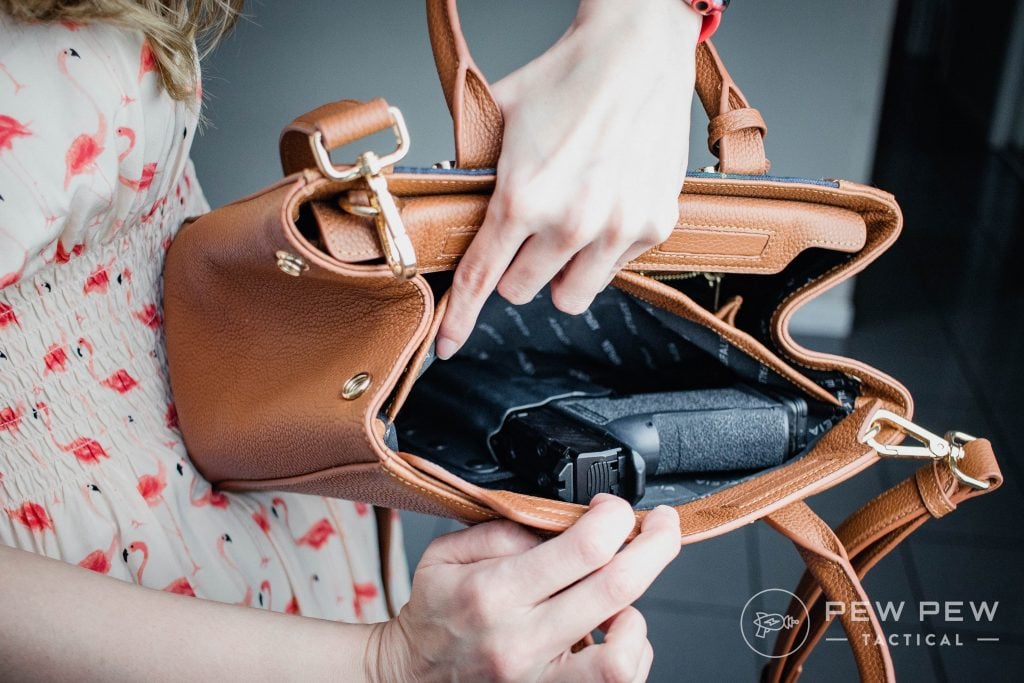 When we say off-body carry, what we mean is carrying your firearm in a bag, briefcase, purse, fanny pack, etc. It's a carry solution that doesn't involve a holster connected to your belt or body.
Today we'll give you the skinny on the best options on the market for off-body carry, talk about the benefits and downsides of off-body carry, and the rules of off-body carry.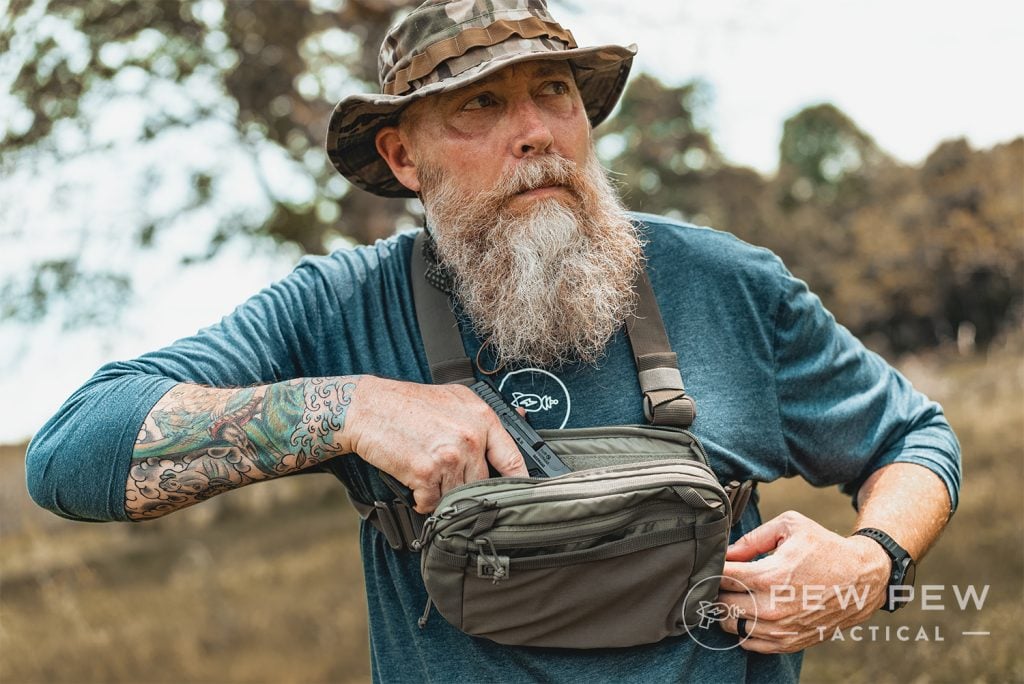 If you've ever wanted to learn about off-body carry, keep reading!
Summary of Our Top Picks
Table of Contents
Loading...
Benefits of Off-Body Carry
Off-body carry can be pretty fantastic. It's got a lot of strengths, and it can be appealing.
The biggest reason is comfort. Off-body carry doesn't poke or prod or become uncomfortable in seated positions. It's also super comfortable when it comes time to exercise.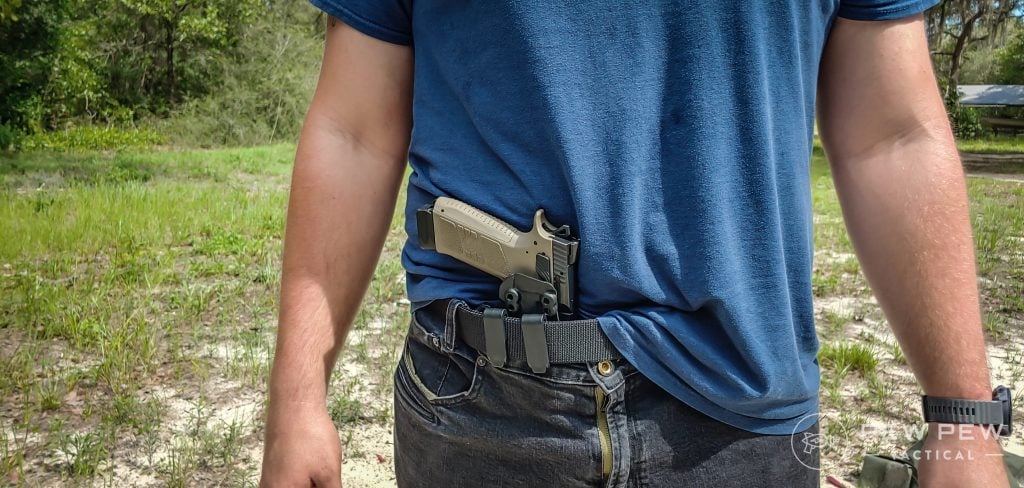 Running with an IWB rig isn't for me, and it's likely not for most people. Plus, there is a safety and retention concern when it comes to exercise that off-body carry addresses.
If you dress in some form-fitting clothing, carrying a gun isn't easy, especially if you keep it concealed. An off-body option allows you to dress nicely and in what you want without much difficulty.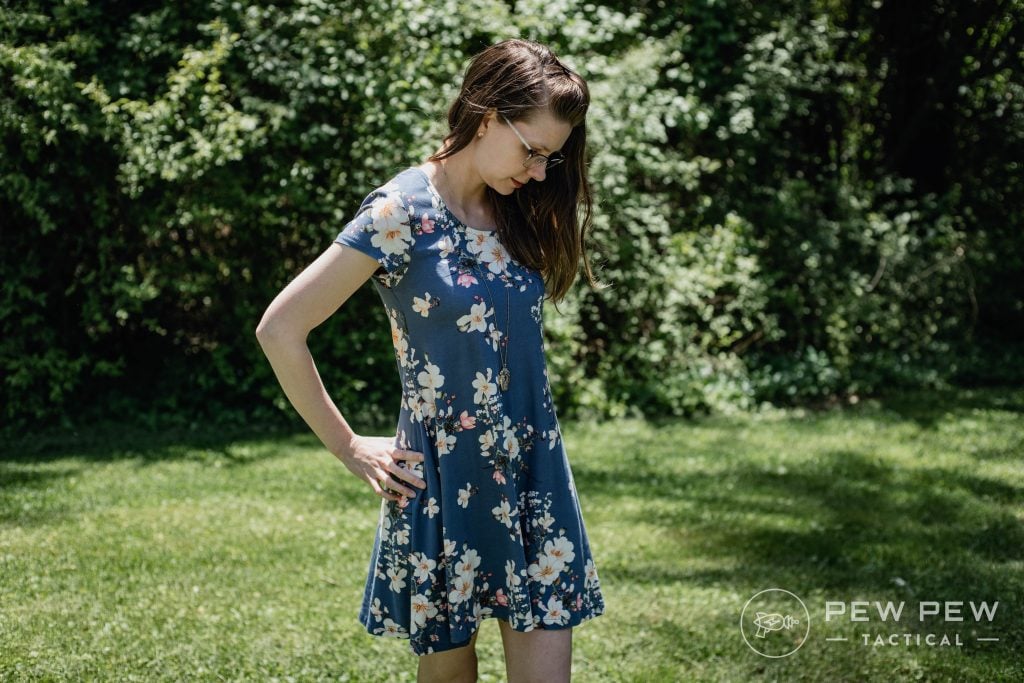 Concealment is a must-have, and a bag of some type conceals your gun well. There's no printing to worry about, and a fully enclosed gun is as concealed as it gets.
You can also carry a fairly large gun in a very concealed fashion. Carrying an optic and light-equipped Glock 34 isn't easy with a belt and holster. However, that's not too big for carrying in an off-body concealment bag.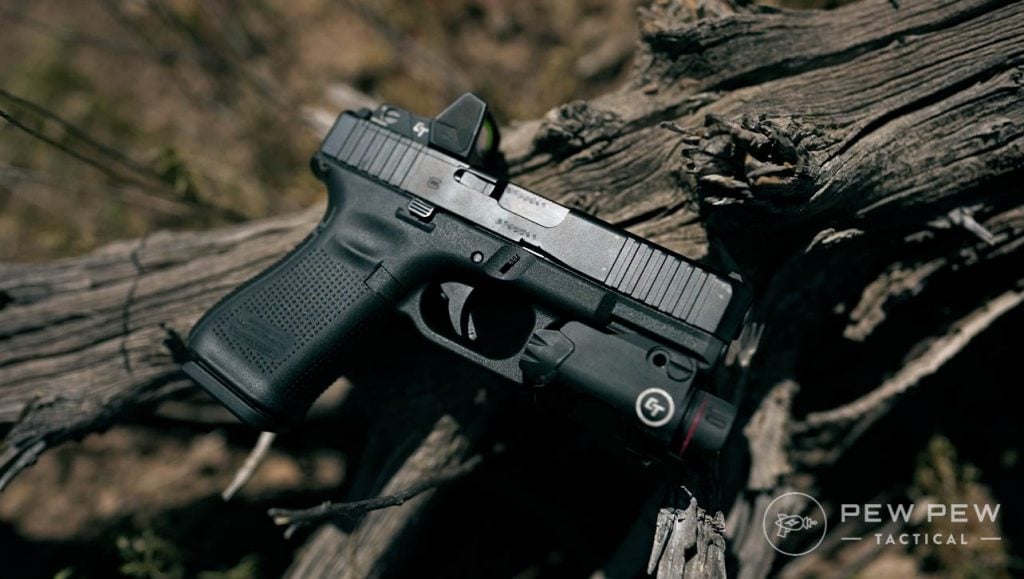 On top of being able to carry a bigger gun, you can also carry extra ammo, a light, an IFAK, and beyond to be a very prepared person.
Downsides to Off-Body
The downsides to off-body carry should also be talked about. The main downside for many is being forced to carry a bag everywhere. You might want to go hands-free, and you simply can't.
You're always anchored by the bag.
Another big issue is drawing your handgun. It's a bit slower to open the bag and draw the gun.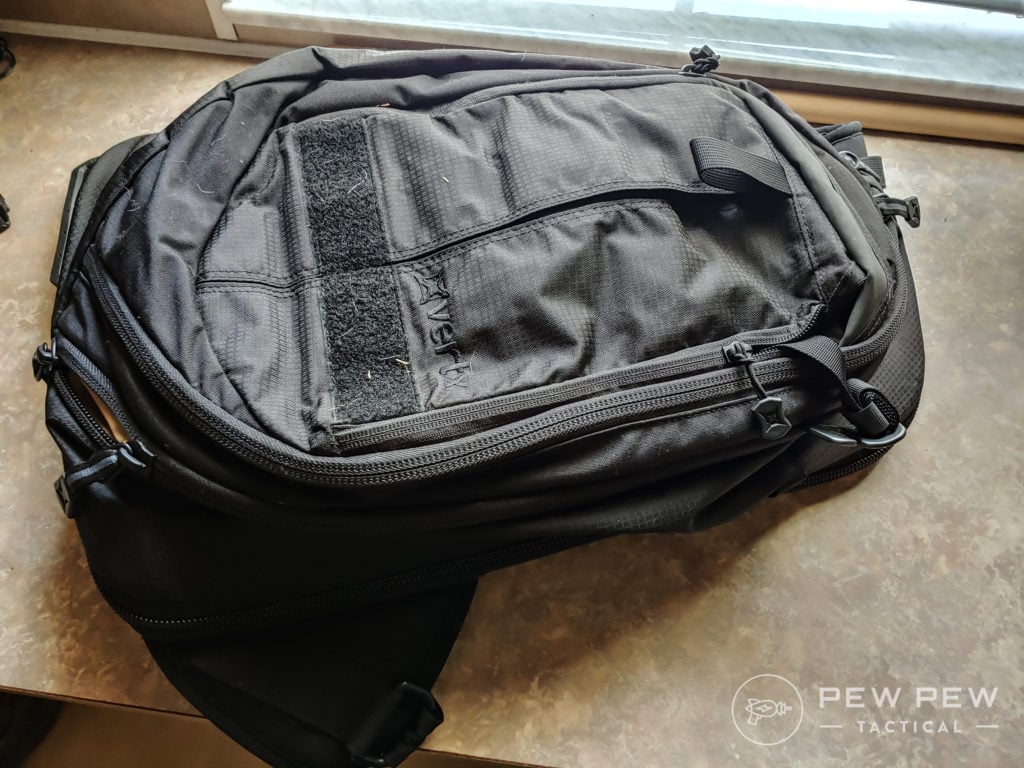 I don't think you'll ever get a sub-second draw from an off-body carry option. It also takes practice and training to effectively draw from a bag.
Unlike holsters, each bag is different, so training with one isn't going to translate to another. They each have an individual manual of arms you'll have to learn.
Golden Rule of Off-Body Carry
Off-body carry gets a bad rap due to irresponsible off-body carry.
There is a golden rule to off-body carry, and that rule is to treat the bag like you would treat a handgun.
Would you ever leave your handgun in a shopping cart and walk away? I would hope not.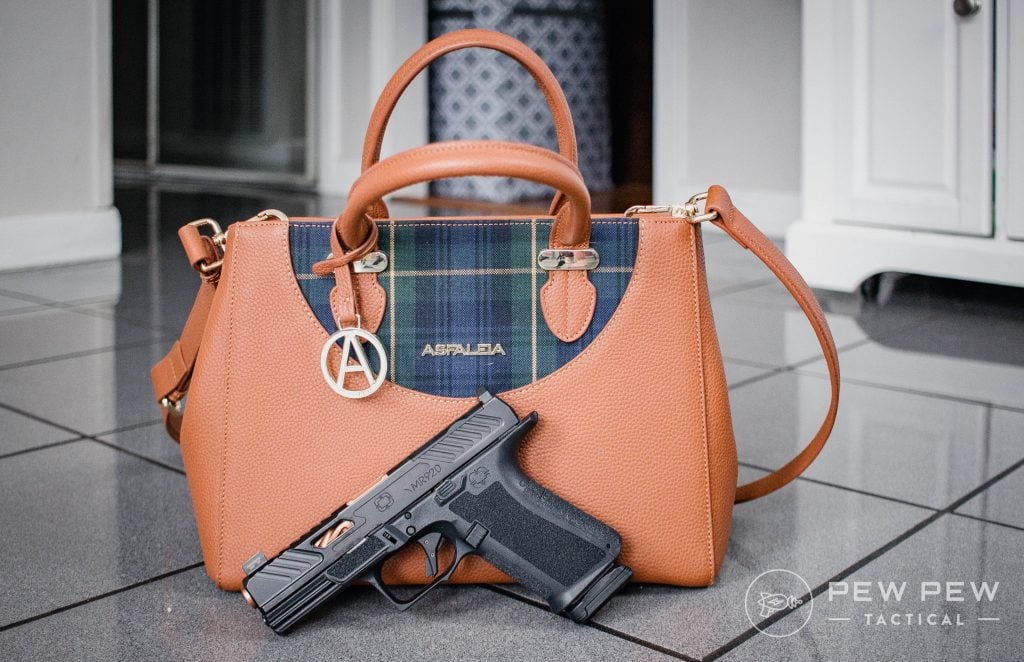 If you carry a handgun in a bag, you should never set that bag down in an unsecured location. Not even for a single second.
If the gun is in the bag, it's on your body, or you are in total control over it.
Treat the bag as if it were a handgun; if you can, you will safely be capable of off-body carry.
Best Off Body Carry Methods
With all this in mind, let's examine a few better-off body carry options on the market.
1. Blackhawk Fanny Pack
Yeah, baby, let's return to the 1990s and embrace the fanny pack. I love fanny packs, and I do so without any reserve. Fanny packs rock.
If you carried this in the 1990s, it'd be a dead giveaway that you were carrying a gun.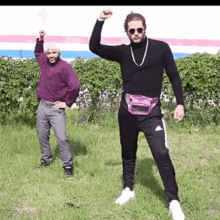 However, in 2023 it's a surprise to see a fanny pack, but no one outside of hardcore gun guys from the 1990s will remember the concealed carry fanny pack.
The Blackhawk Concealed Carry Fanny Pack is a big ole beast that allows you to carry a gun that is roughly Glock 19-sized or smaller. Inside sits a simple nylon universal holster that is completely adjustable and easy to use with guns of various sizes.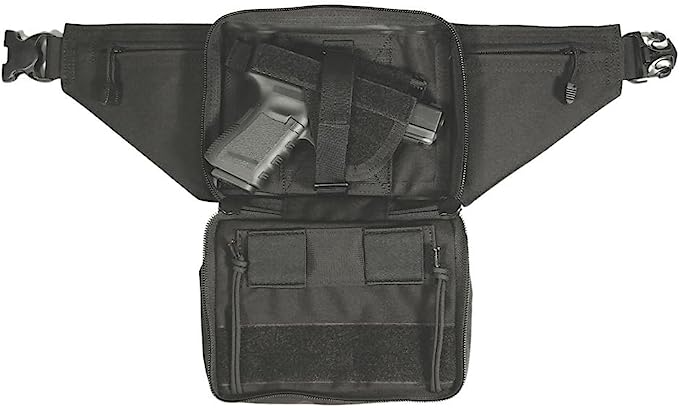 This includes everything from the Ruger LCP to the Sig Sauer P365. An adjustable set of retention straps ensures the gun remains in the same place. It can also be swapped from left to right, depending on your dominant hand.
A set of bungee cords are designed to be pinned between the zippers, and the user can grip and rip the bungee cord to instantly defeat the zippers and rapidly access the gun.
Besides the gun, the pack is big enough to carry spare mags, a tourniquet, medical gear, cell phone, keys, wallet, or whatever.
54
at Amazon
Prices accurate at time of writing
Prices accurate at time of writing
I often use the Blackhawk Concealed Carry Fanny pack for running and exercising since I can easily move it from my front to my sides and rear.
It's convenient, easy to access, and affordable.
2. Vertx Commuter 2.0
My absolute favorite sling bag is the Vertx Commuter 2.0.
I've carried one for years, and it still looks brand new. This medium-sized sling bag is big enough to carry any handgun in its hidden concealed carry compartment.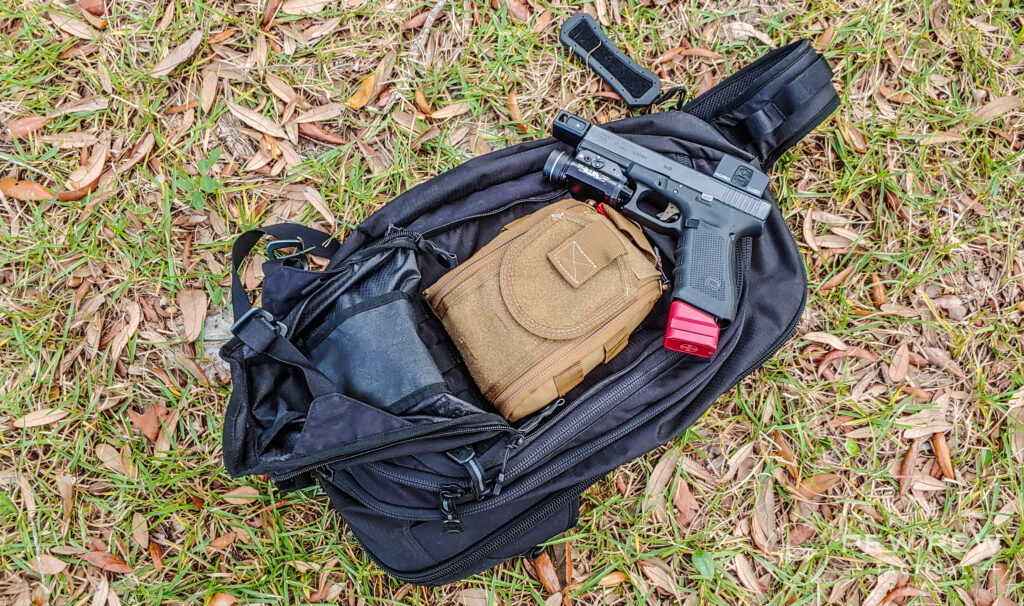 Its big compartment has a rip-away design, so you don't have to fool with zippers. Grab the outer part of the compartment and rip it open.
It also features MOLLE panels inside the compartment, so you can use a standard Kydex holster with a MOLLE attachment or the Vertx-designed Tactigami holster to attach the gun in this CCW compartment or nearly anywhere else in this bag.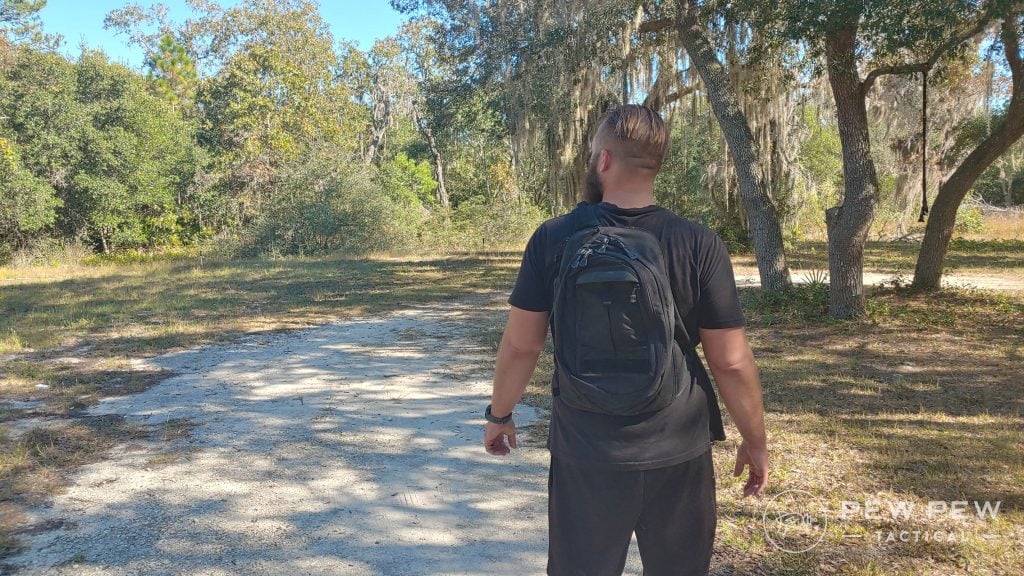 The Commuter 2.0 is big enough to carry more than a gun. It can be a handy EDC bag outside of packing a gun. You can carry a laptop, books, an IFAK, a reload, and way more.
Some of its compartments have predetermined organizational layouts, while others offer a Hook and Loop design for a little more freedom to mount accessories. There's even a hidden armor compartment to bulletproof yourself.
115
at Amazon
Prices accurate at time of writing
Prices accurate at time of writing
The pack is super comfy, with a nice thick strap for support and a padded back for airflow.
Vertx's Commuter 2.0 is more than a dedicated carry option…so it's handy.
3. 5.11 Tactical Overwatch Messenger
Messenger bags, satchels, and man purses, regardless of what you call them, are quite popular with the everyday commuter.
They are often used to carry a variety of goods, from gym gear and laptops to water and snacks. They make a solid choice for concealed carry.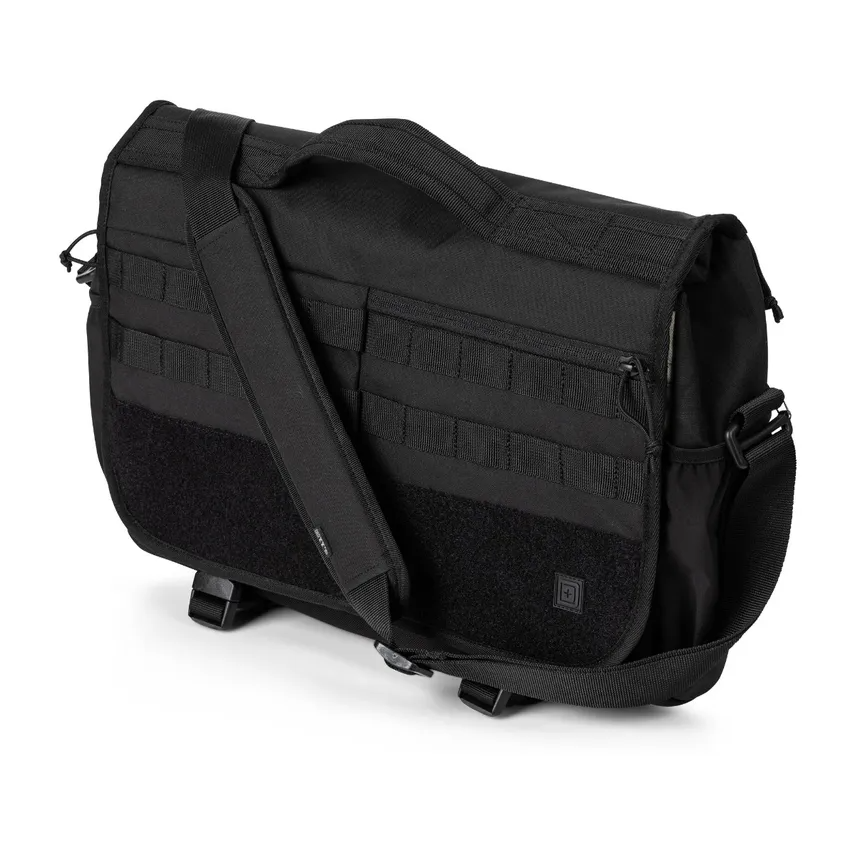 The 5.11 Tactical Overwatch Messenger bag gives you all the room, organizational ability, and long-lasting design you want with a messenger bag, as well as a hidden concealed carry pouch that clings tight to the body when carried.
This concealed carry pouch is designed to be quick and easy to access with a loop platform internally.
Its loop material allows you to mount your holster and numerous accessories in any way you choose. You can set it up for right or left-handed use and easily adjust cant and height.
105
at 5.11 Tactical
Prices accurate at time of writing
Prices accurate at time of writing
The bag makes it easy to carry your everyday gear and have it all remain organized.
You can pack a laptop, water bottle, books, paperwork, and more in the numerous pockets. The stash pockets and admin pockets make it easy to keep your stuff sorted and easy to access.
What do you think of the Overwatch? Rate it below!
4. Tactica Concealed Carry Purse
I don't know much about purses, but I know a bit about holsters. I've seen many concealed carry purses and often remain unimpressed by their designs.
Tactica Defense Gear comes from Alien Gear Holsters, and they know a thing or two about concealment and holsters.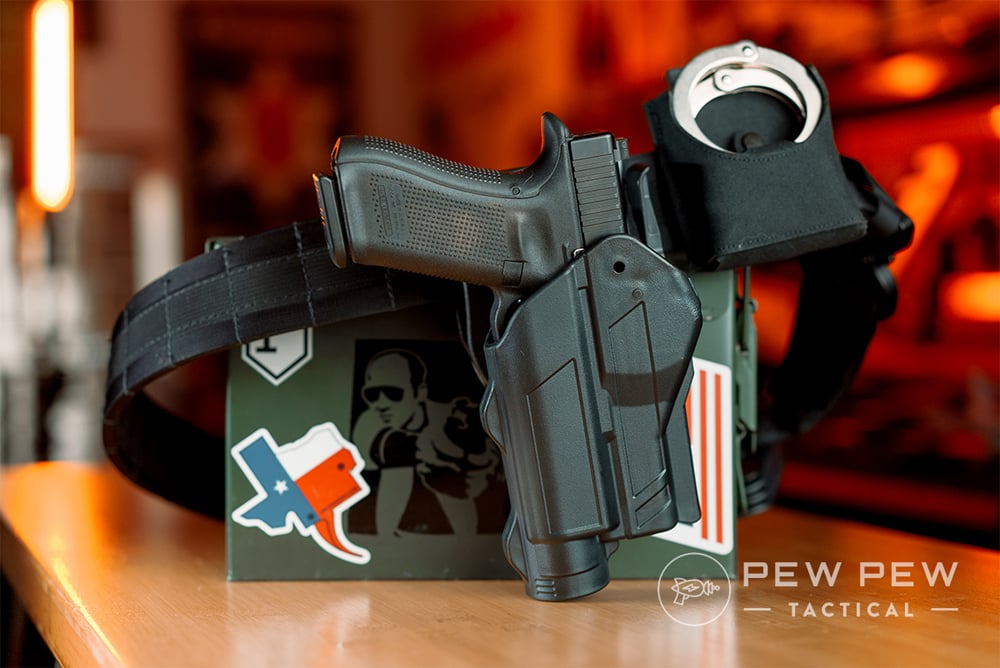 While I can't comment on the style or fashion, I can also say most concealed carry purses are gaudy and ugly.
The Tactica Defense purses seem to look like something someone would carry. It's contemporary and far from absurd in design and style.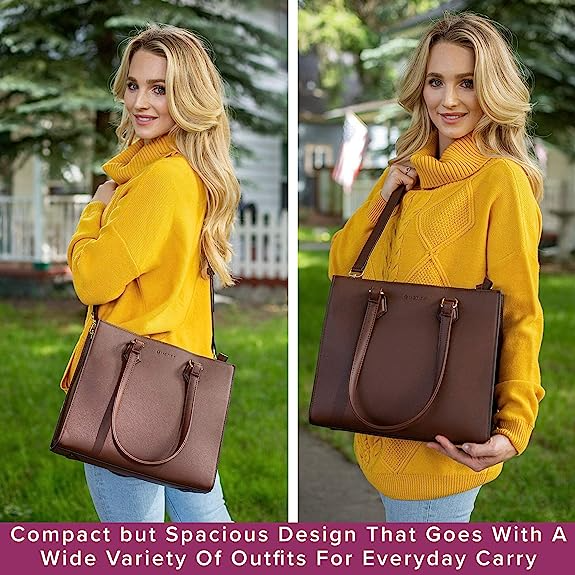 They offer several colors and various sizes, so you can carry as little as much as you want. And there's plenty of room, pouches, and features you expect from a purse, except they add a quick access concealed carry pocket.
The concealed carry pocket features a good amount of hook and loop to allow for a hook and loop holster. Place the holster at the height, cant, and orientation you desire, and you are ready to rock and roll.
If you need a hook and loop holster, Tactica also sells those.
94
at Amazon
Prices accurate at time of writing
Prices accurate at time of writing
This is one of the few times I've seen a concealed carry purse and thought it actually looked like a purse and seemed to offer the convenience of a purse with the capability of a true off-body concealed carry bag.
I'm sure there are other great designs, but this is the first I've seen that makes sense.
5. Hill People Gear Kit Bags
Right off the top, I'll tell you that The Hill People Gear Kit bags aren't necessarily what you'd wear daily. They are not your go-to-work-at-an-office type of kit bag.
This company's goods are designed for outdoor use.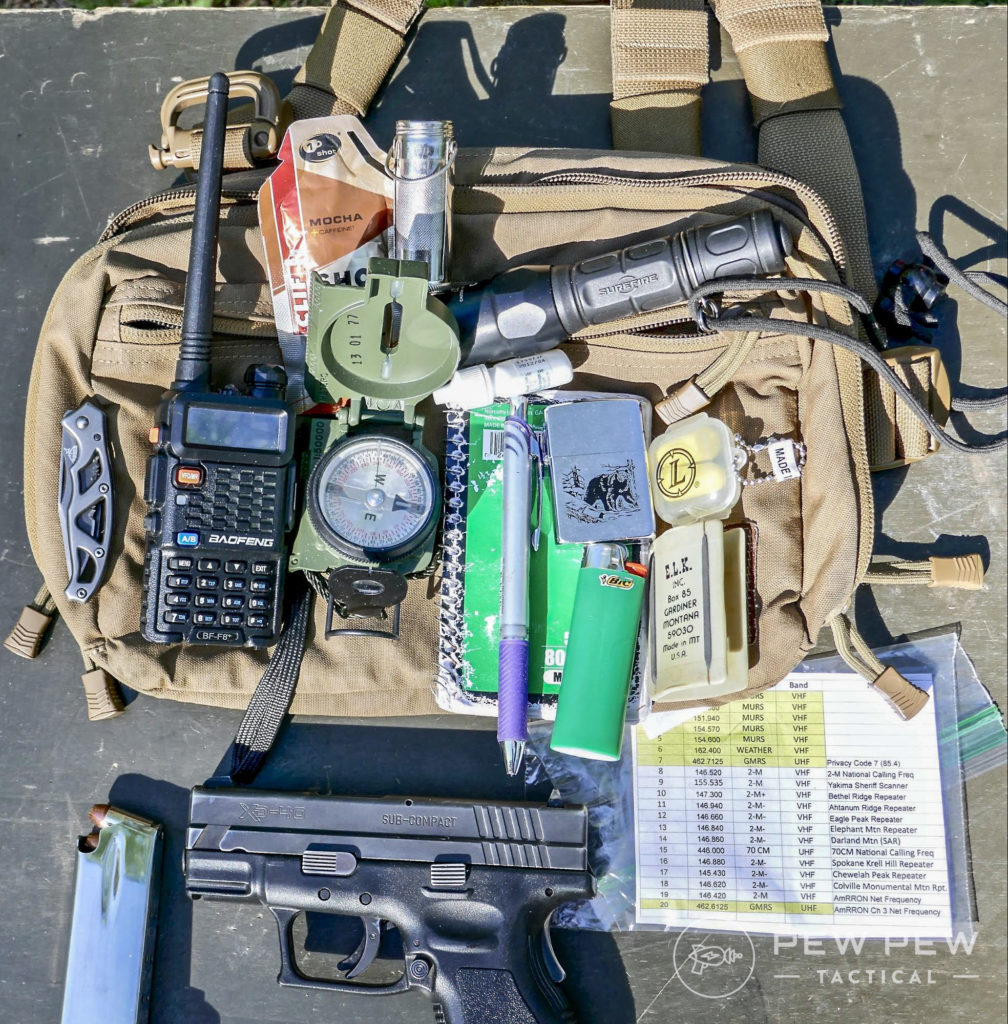 They make sense for camping, hiking, biking, and similar outdoor activities, with a pouch on your chest and a set of shoulder straps to support everything. There are several variants of the Hill People Gear Kit Bags, and they are all fantastic.
100
at Hill People Gear
Prices accurate at time of writing
Prices accurate at time of writing
You can choose from various sizes and footprints to fit your needs. I tend to prefer the low-profile Runner's bag. It's lower profile and less tactical looking but still provides enough room for a full-sized handgun and other basic gear you may need.
The kit bags give you a quick access concealed carry pocket for easy access to your firearm.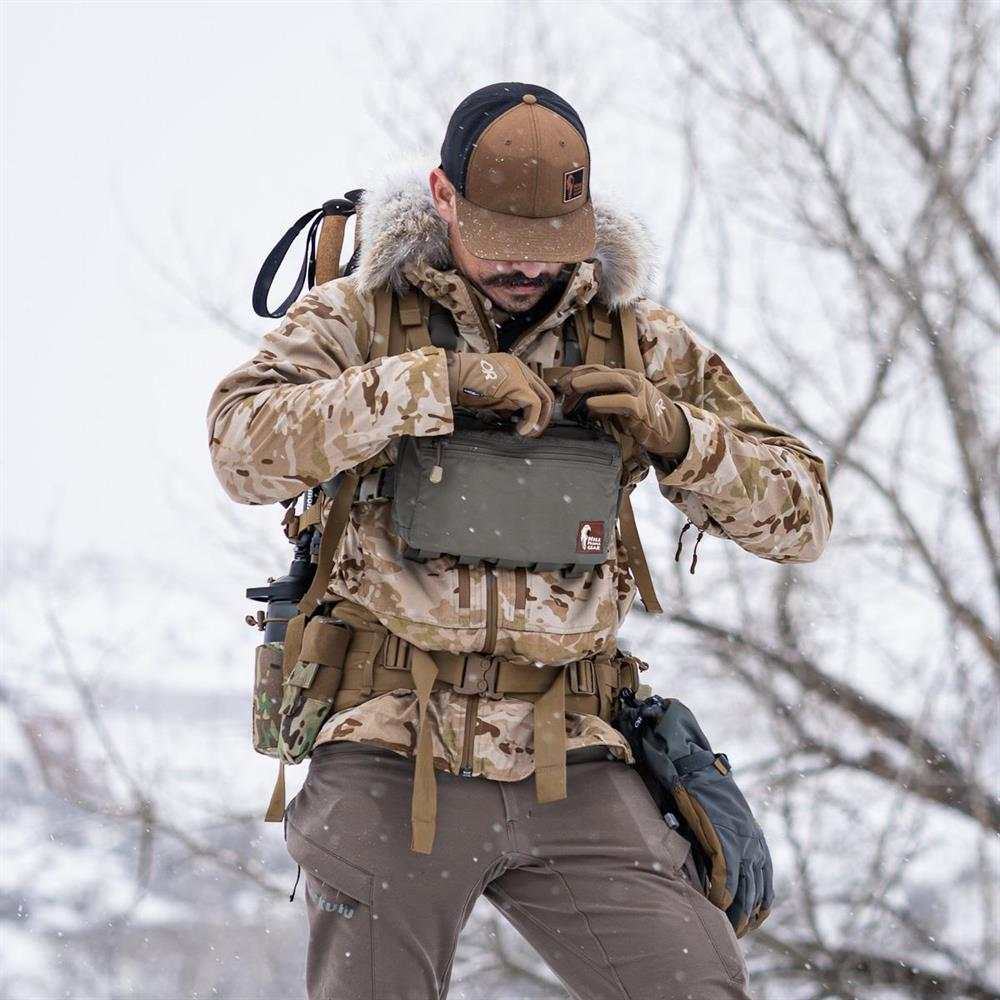 Their medium-sized bag doesn't grant you a ton of room, but enough to pack a spare mag, a nice wallet, keys, a phone, etc. If you want something bigger, the Original Kit Bag gives you extra room for more gear.
These are extremely high-quality bags and very well made. It's perfect for executing adventure activities, from running to kayaking, while carrying a firearm.
6. Vertx SOCP Fanny Pack
Let's go back to the stylish, fashionable, and downright cool concept of the fanny pack…
The Blackhawk Concealed Carry fanny pack is large, so let's shrink down and look at the Vertx SOCP Tactical Fanny Pack.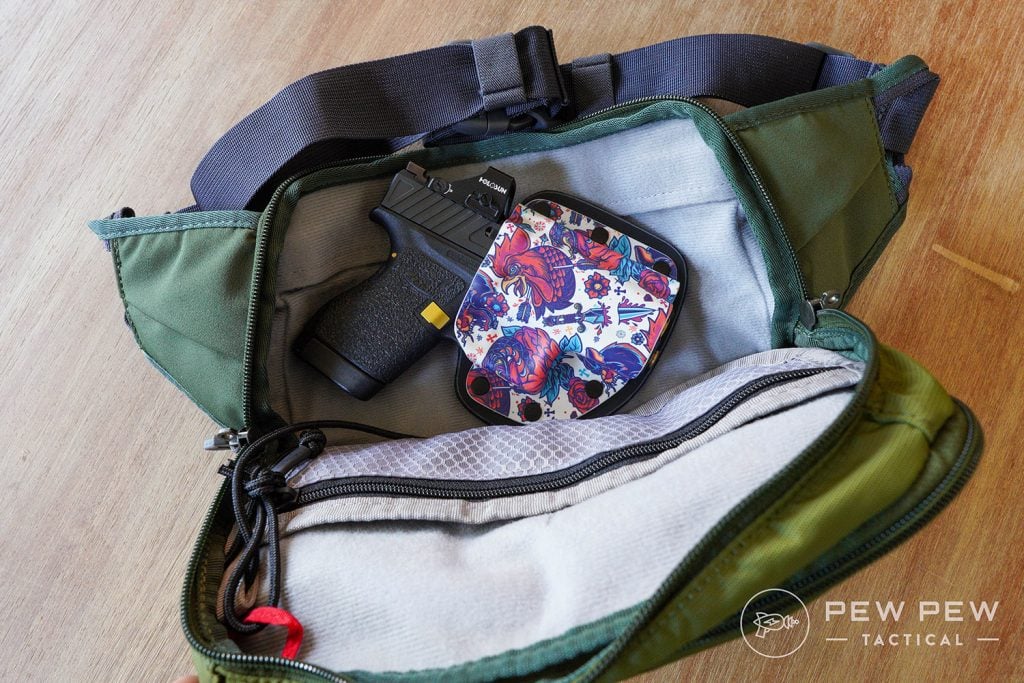 This is a lighter, more minimalist design that's arguably lower profile.
Its color scheme breaks up its appearance while the lack of MOLLE, giant logos, etc., ensures its low profile and is hard to identify as something toting a gun.
The main compartment offers a divided pocket, with the divider also being a small pocket.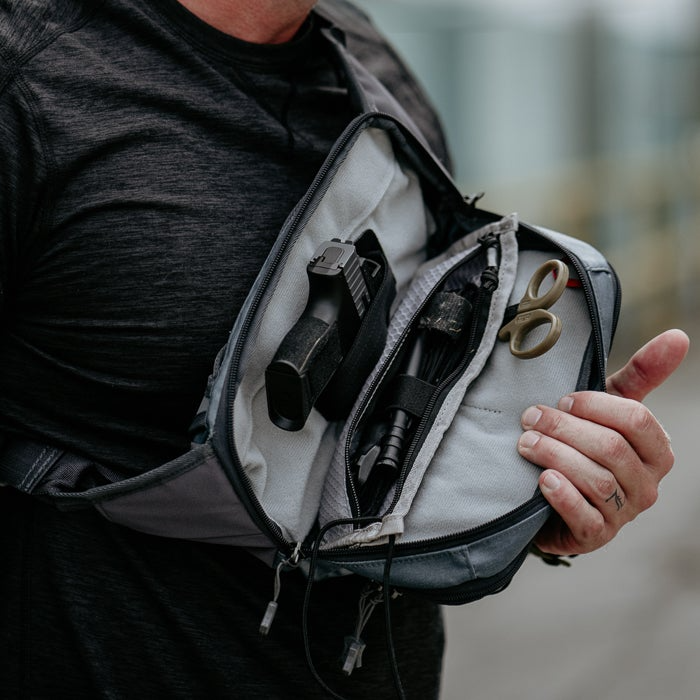 The rear side offers a hook-and-loop panel that makes it easy to mount the Vertx holsters or other hook-and-loop designs. Its divider can pack a tourniquet, a reload, or something similar.
Up front, we have a dedicated cell phone pocket, and at the rear of the pocket sits a hidden pocket that allows you to stash tools. It's specifically designed for the SOCP knife but can be used for almost everything.
86
at OpticsPlanet
Prices accurate at time of writing
Prices accurate at time of writing
The Vertx brand is known for its quality, and the SOCP fanny pack is no different.
Final Thoughts
Not being able to carry a traditional holster and gun is not an excuse not to carry. There are plenty of options out there that make carrying your blaster of choice an easy reality.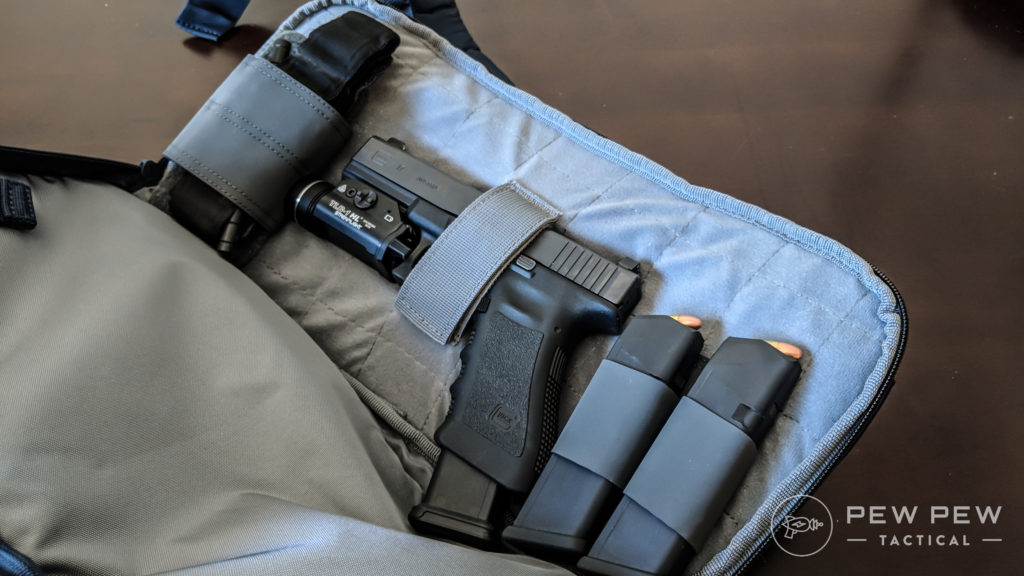 Hopefully, we've made this a little easier for you.
What's your favorite off-body carry method? Share with us below! Need some discreet options to transport your guns to and from the range? We got you covered with the Best Discreet Rifle & Pistol Bags!