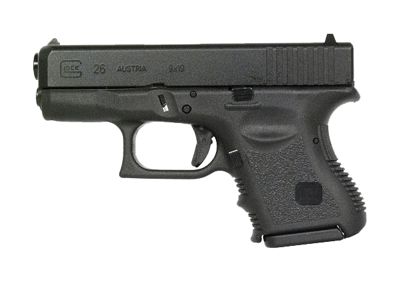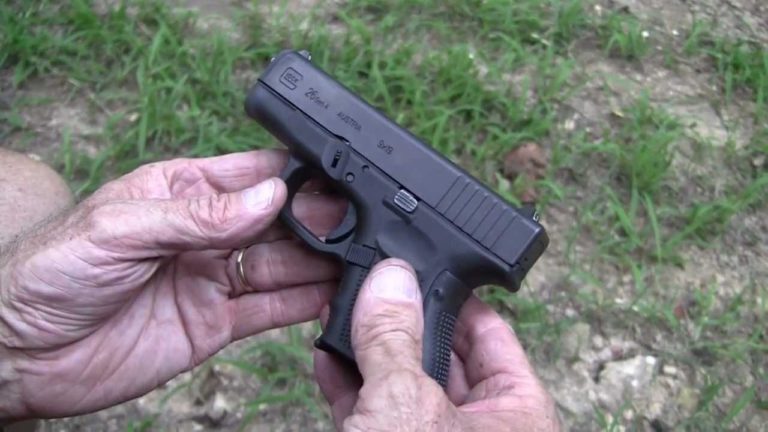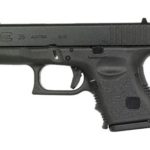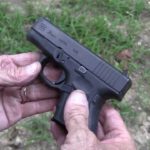 Subcompact, great for carry

Interchangeable backstraps

Glock aftermarket support is fantastic
Might be too small for some hands
Editor's Note:
Like other Glock products, the G26 — affectionately called the "Baby Glock" — is designed to be just as durable and accurate as its predecessors. It comes with a 10-round magazine, so you don't get as much firepower as you would with bigger 9mm Glocks, but its small size makes it great for concealed carry or as a backup gun.
Product Details
Action
Double Action Only / Semi-Auto
Barrel Length
3.4in / 3.5in
Magazine Included
2 x 10-Round / 3 x 10-Round
Overall Length
6.4in / 6.5in
Weight
21.69 oz / 21.7 oz
Product Features

9mm

Interchangeable backstraps

Easy to reach mag release
Product Description
The Glock 26 is a subcompact 9mm option in the Glock lineup. Measuring 6.50 inches in total length, it offers a 3.43-inch barrel. It tips the scale at 25.75 with a loaded mag. Ergonomically it feels like a Glock with all that you've come to expect from the brand.
Glock G26 For Sale - Compare Prices
By The Numbers
Accuracy
It's a Glock, it's going to hit where you want.
Reliability
Again, it's a Glock. These things are known for running reliably.
Customization
Glock has a large aftermarket.
Ergonomics
It might be too small for some.
Overall
This is a great option for a backup or concealed carry gun.
Hands-On Reviews & Related Post
Glock G26 Variations & Comparables
4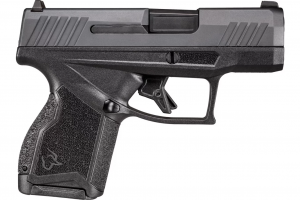 VIEW DETAILS
"Swinging for the fences at $392 MSRP, the 9mm Taurus is designed specifically for those that want to concealed carry but also don't need a tricked-out Gucci Glock to do it. Ergonomically, it's okay. It feels good in the hand, but its diminutive size is both a good and bad thing. As far as controls are concerned, everything is more or less where you expect it – all within reach and easy to manipulate. The magazine release might be a tad too shallow for my liking, but it's billed as a carry gun, and carry guns typically carry smaller controls. Also, the grip is short…our bigger-handed reviewers had to adjust their grip not to blow their fingers off…So watch out for that." – Johnny B.
Read More
final verdict
If you're committed to the Glock brand, but don't want the G43 or G43x for whatever reason, the Glock 26 presents another option. Chambered in 9mm, it's a bare bones polymer pistol built on the reliable Glock platform. As a backup gun or CCW option, it excels — although, it might too small for some.
Community reviews
There are no reviews for this product yet.
Add your own rating and help other Pew Pew users pick the right guns