So, we can all take a deep breath and celebrate that 2021 is over!
Much like 2020, 2021 saw lots and lots of guns sold, and I know I'm not the only one who was curious about what guns did well in 2021.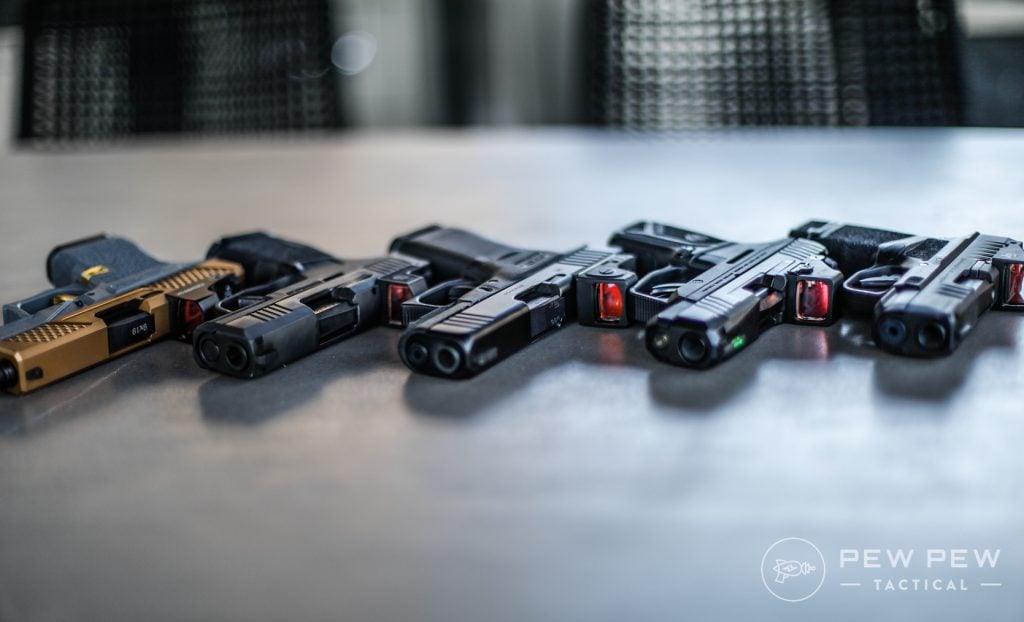 So, I did what we do best around Pew Pew Tactical and pulled some figures courtesy of Guns.com and GunBroker to find out what the top-selling guns of last year were.
Keep reading to find out!
Top Selling Handguns
In 2021 the world of handguns was all about polymer-frame, striker-fired pistols…and that describes most of the handguns on this list.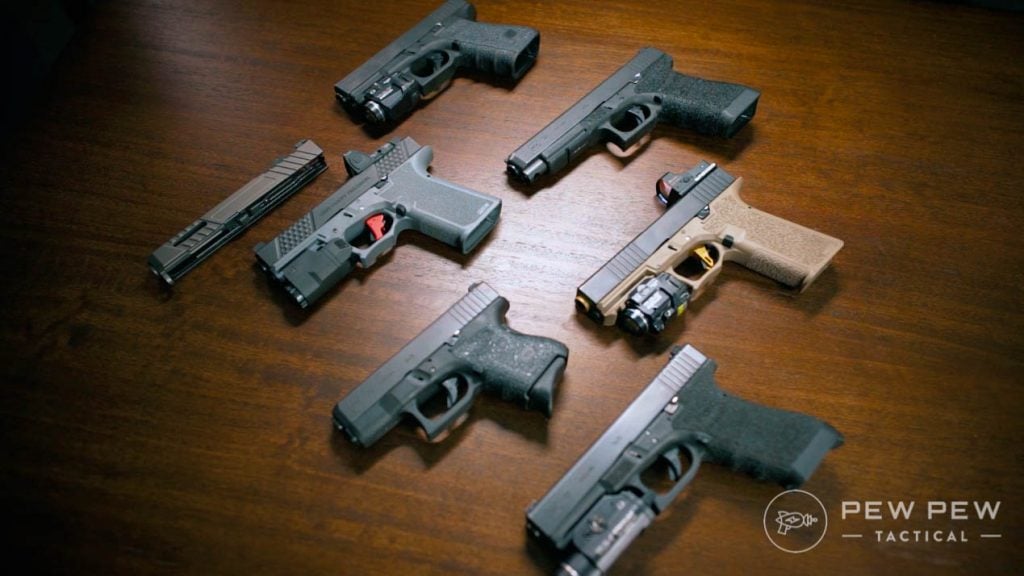 Glock G19
The Glock G19 popped as the number one seller for GunBroker and the number three seller for Guns.com.
Glock's G19 has long been the flagship of its own lineup. The double-stack, 9mm, polymer-frame handgun is currently in its fifth generation.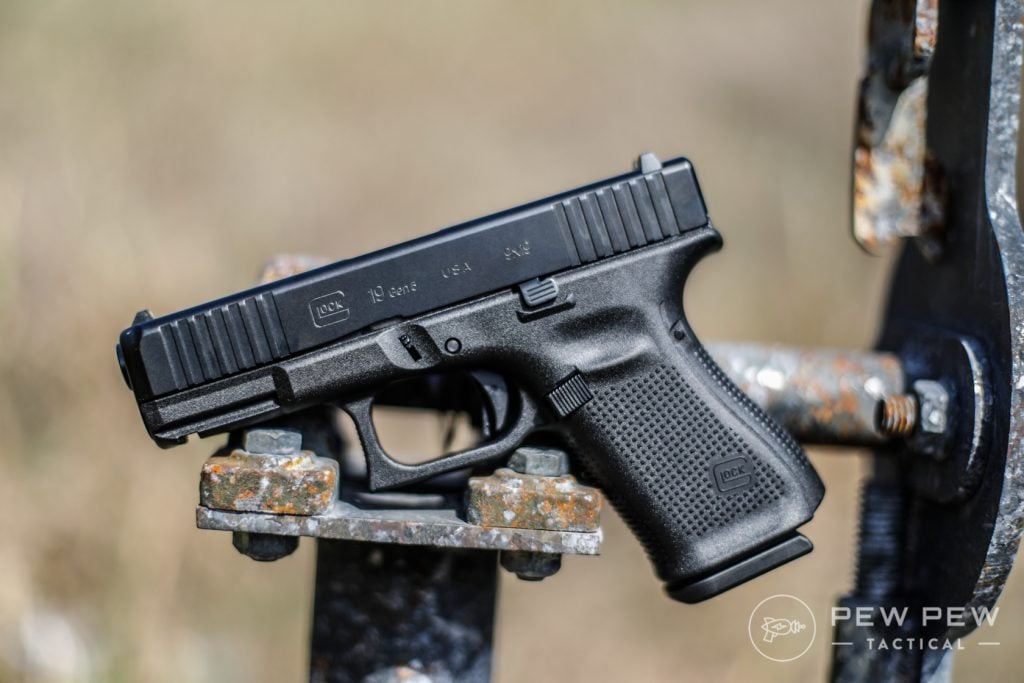 It's one of the more compact models of handguns that rides the line between being easy to conceal and easy to shoot. Glock makes a do-it-all gun that's been tapped for home defense, concealed carry, and even duty use by police and military forces.
It's a fantastic firearm that places reliability over anything else. I'm not a Glock fan, and I own two Glock G19s!
Glock G43
The Glock G43 exemplifies the concealed carry Glock.
Glock took forever to embrace the single-stack 9mm, and when they did, it came out in the form of the Glock G43. You can toss the Glock in an IWB holster, in your pocket, on your ankle, or wherever else you want it.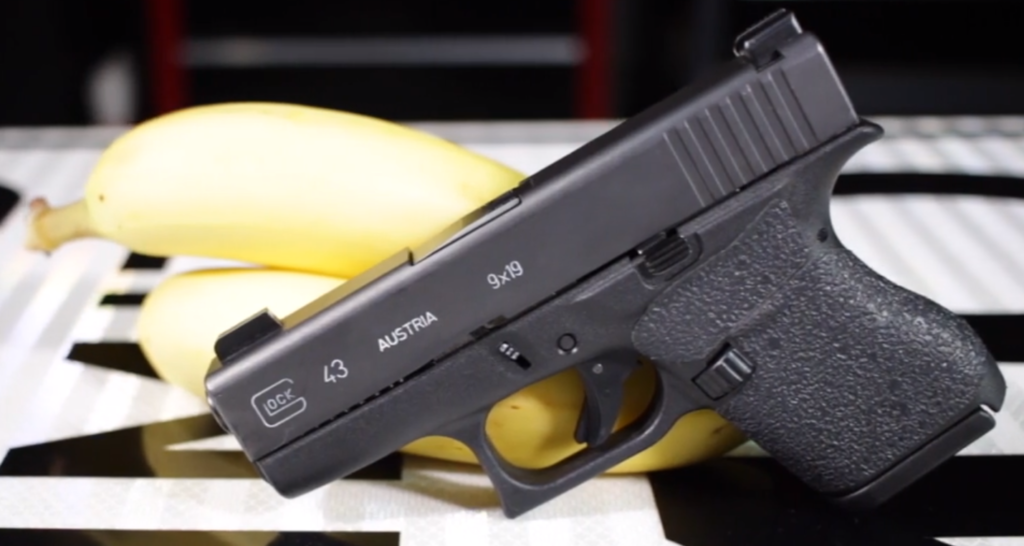 It's not a surprise the little Glock G43 made the list. It provides a reliable, easily concealable, and affordable handgun for concealed carriers.
Want more on the G43? Check out our review here or watch the video below!
Sig Sauer P365
The P365 has been a hit ever since the weapon premiered.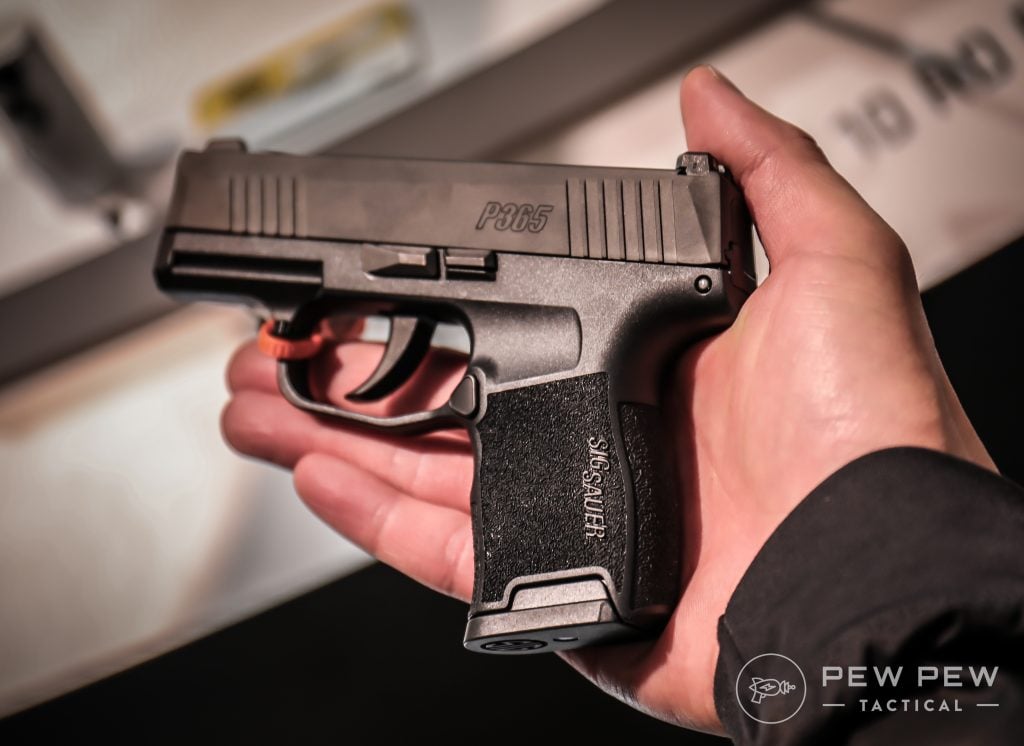 Sig delivered the first micro-compact pistol on the market, giving you double-stack capacity in a single stack frame. Plus, Sig delivered a great trigger, excellent iron sights, and fantastic ergonomics.
It's created an entire genre of new firearms.
Learn more in our review or in the video below.
Springfield Armory Hellcat
Speaking of micro compacts, the Hellcat provided the second micro-compact pistol to hit the buying market.
Springfield took the XD series of pistols and shrunk them considerably without sacrificing much magazine capacity.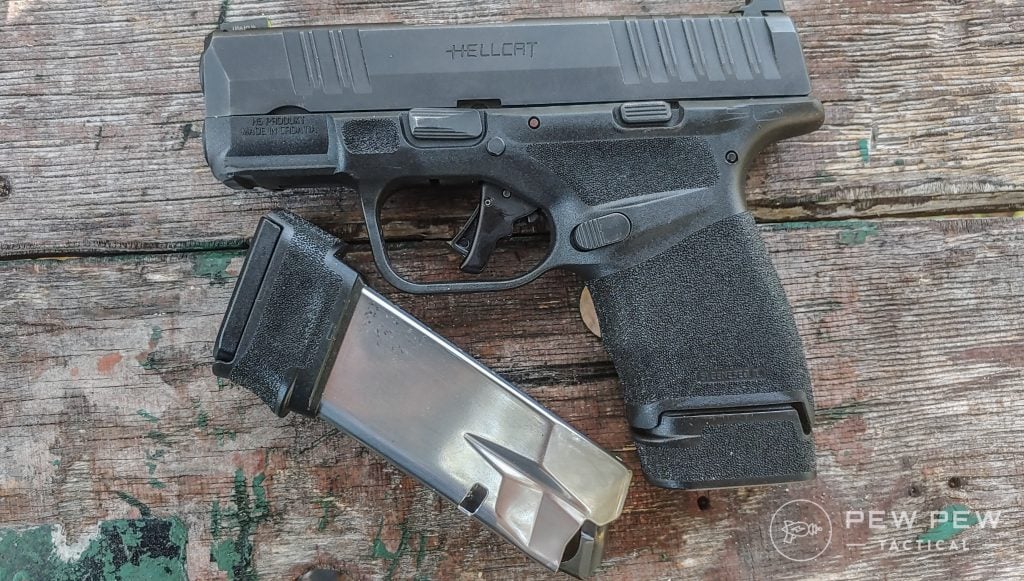 The company hit the ground running with an optics-ready variant and later an optics-ready, compensated variant called the RDP.
Springfield provided great capacity, along with excellent sights, a great flat-faced trigger, and stellar ergonomics.
Oh, they also got rid of that dang grip safety.
Read our full review on the Hellcat here!
Glock 43X
The Glock G43X took the Glock G43 and stretched the grip. Glock kept it single-stack but increased the capacity to 10 rounds.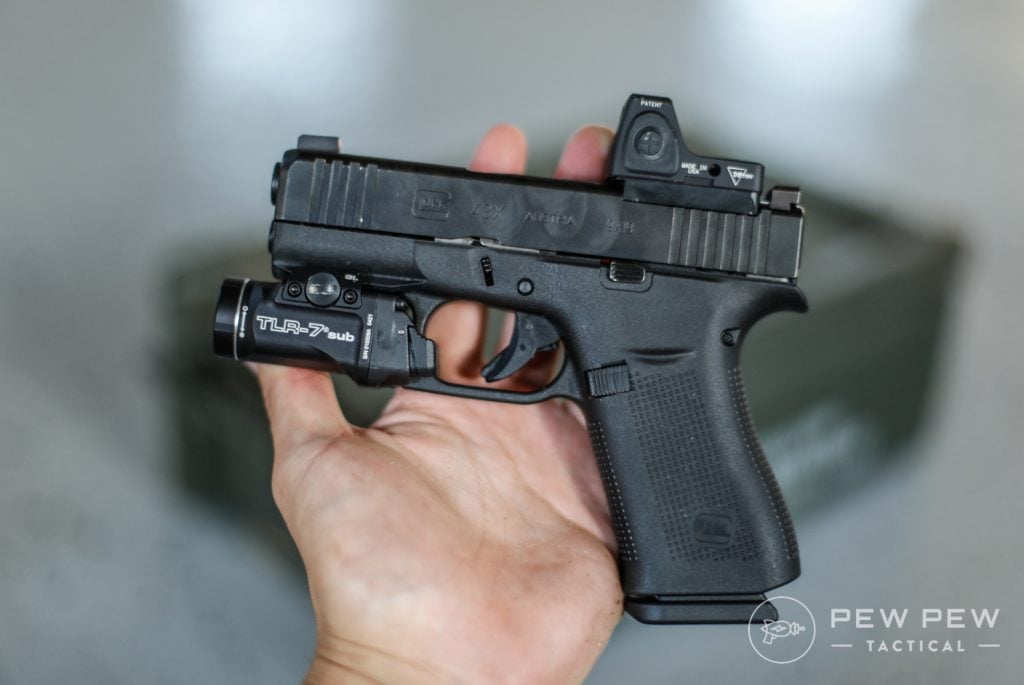 Not to mention, the grip length is a bit thinner than the Glock G19, which grants excellent controllability without sacrificing concealability.
Plus, the extra capacity can be stretched to 15 rounds with the Shield aftermarket magazines, giving it the same capacity as a Glock G19 in a much smaller platform.
Find out more about the Glock G43X in our full review or in John's video below.
Taurus G3C
The Taurus G3 series premiered early this year, delivering a modern take on the Taurus G series pistols.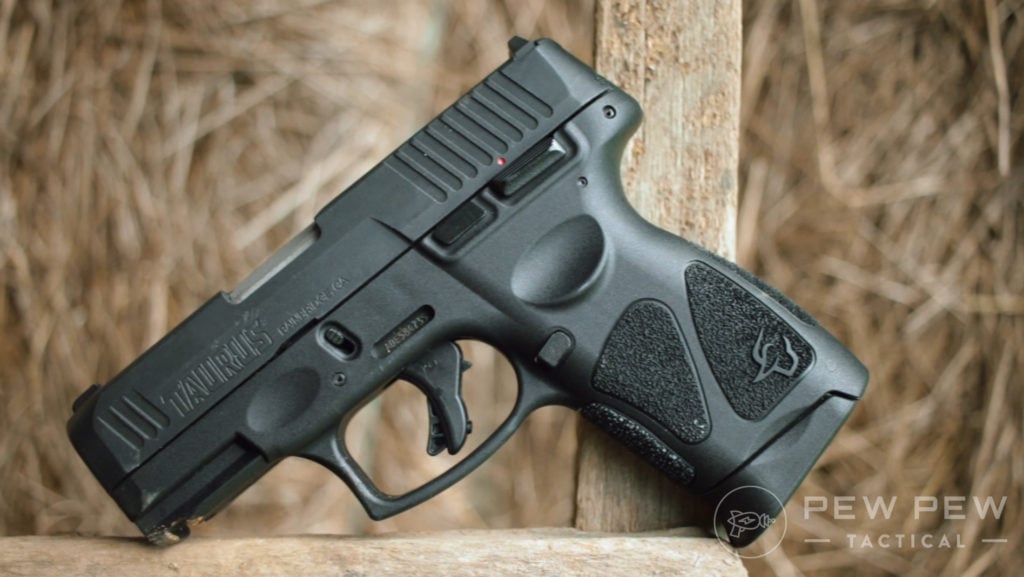 Taurus' G3 series features the standard model and G3C compact model. These double-stack subcompact pistols provide an affordable concealed carry firearm for the shooter on a budget.
And the low price point makes it an easy sell.
We go into more depth in our Taurus G3C review or check out the video.
Taurus G2C
The predecessor to the G3 series, the G2C, strikes the subcompact chord.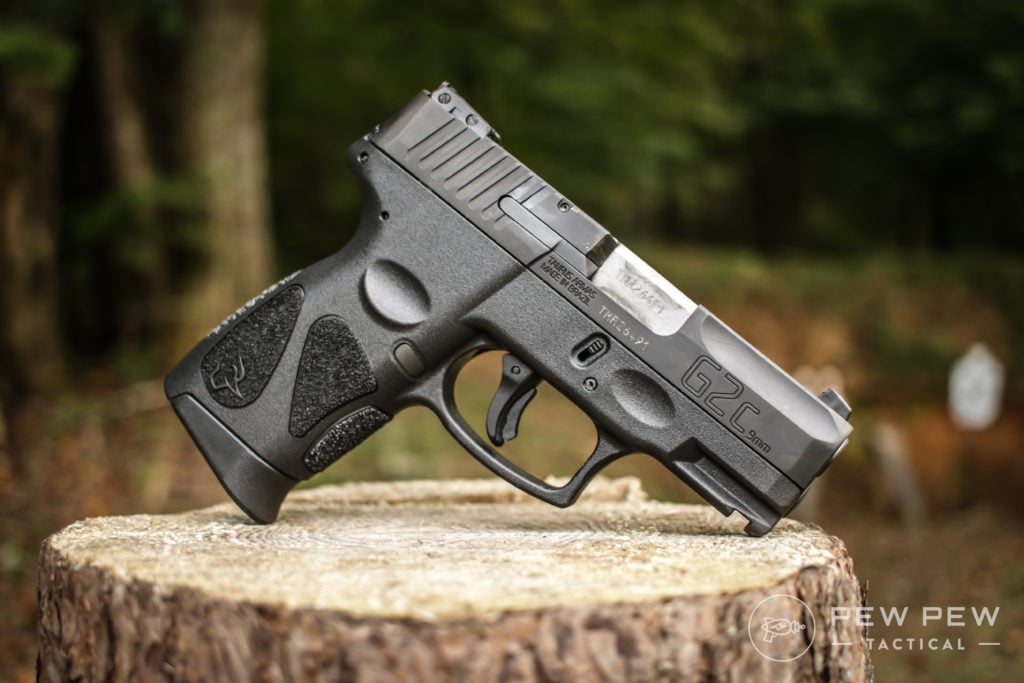 It delivers a handy little 9mm or .40 S&W firearm destined for concealed carry. Plus, it comes in a wide variety of colors.
And when it comes to low price points, the G2C certainly checks the box — often selling for less than $200.
We reviewed the G2C a few years ago so read the review or see the video for more info.
Top Selling Rifles
I don't think it's a big surprise that affordable AR-15s top the list.
AR might as well stand for America's Rifle, and the affordable variants allow any American to own a modern, easy shooting, ergonomic rifle.
Smith & Wesson M&P 15 Sport 2 & 15-22
The S&W M&P 15 and its many variants top four spots on Guns.com list and the number two spot on GunBroker's.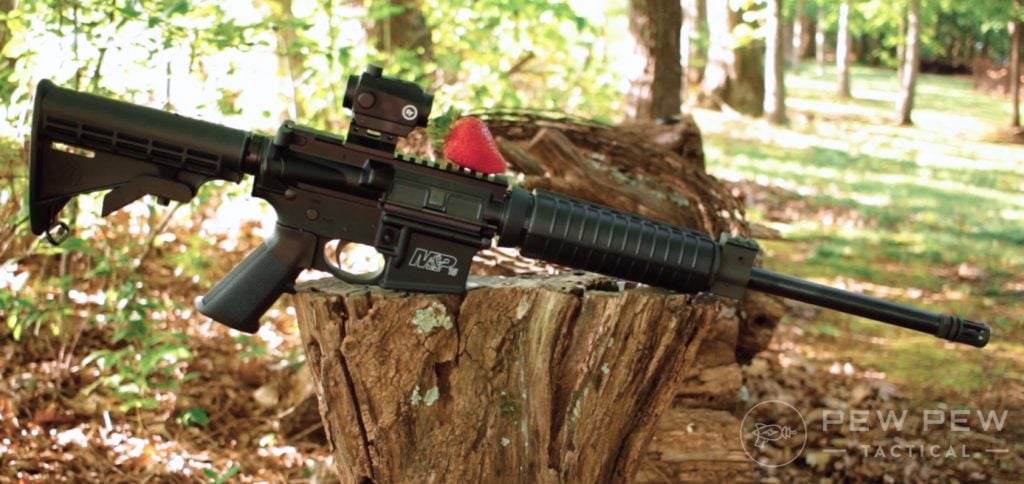 These bare-bone, 5.56 rifles come from a name shooters trust with a price point that makes them very attractive. They might not be fancy, but they work.
Plus, they come in numerous models, including California compliant models, optics included models, M-LOK equipped models, and more. Lots of options for lots of shooters.
Another variant that bears mentioning in the Smith & Wesson M&P line of rifles is the 15-22.
The M&P 15-22 brings the M&P 15 to the rimfire world. This .22 LR rifle makes it easy and cheap to train with, is a fun plinker, and is affordable.

It's the best factory AR-22 rifle I'm aware of, so I'm not surprised it remains a top seller.
Do we have a review on the M&P 15 Sport II…of course we do! Check it out here or the video below.
Ruger AR-556
Like the S&W M&P, the Ruger AR-556 offers shooters an affordable, bare-bones AR-15.
It comes with or without various features – including optics-ready compatibility, an optional M-LOK handguard, a collapsible stock, and all the little features you could ever want.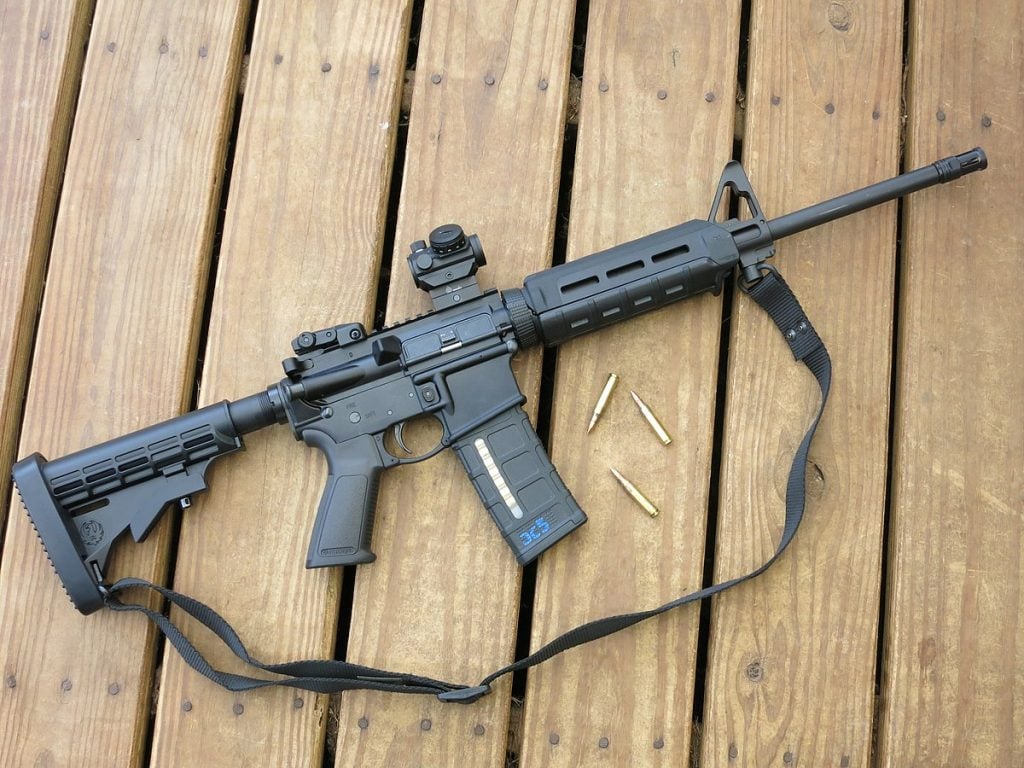 Like Smith & Wesson, Ruger is a recognizable name in the industry for a reason.
Ruger's rifle provides a fantastic option for the first-time AR owner. And, heck, it even comes in a variety of colors.
Kel-Tec Sub-2000
Who doesn't love a PCC?
Kel-Tec not only provides one but a unique and affordable model at that.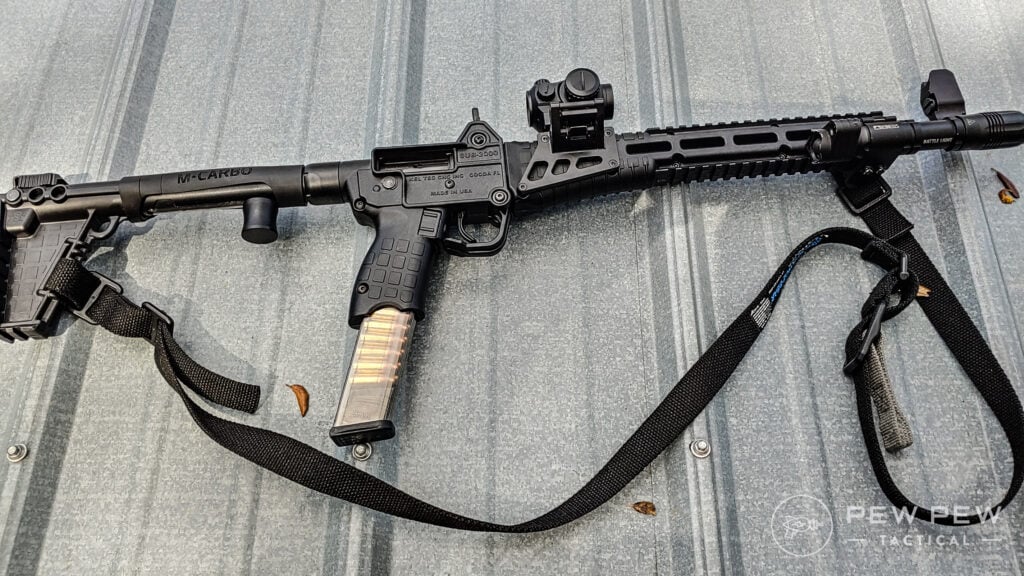 The Sub-2000 uses common pistol magazines from Glock, Sig, S&W, and more. Plus, it folds in half to make it one of the easiest firearms to shrink and store.
A simple blowback system makes the weapon reliable but not too fancy.
It keeps costs low, and the Kel-Tec Sub-2000 delivers a very modern platform with some unique and interesting features.
PPT staff member, Sean, did a full write-up on the Kel-Tec Sub-2000, so check that out here.
Ruger 10/22
Ruger's venerable 10/22 has been in production since 1964, with millions produced.
This little rimfire rifle has long ruled the market and is GunBroker's number one best-selling rifle.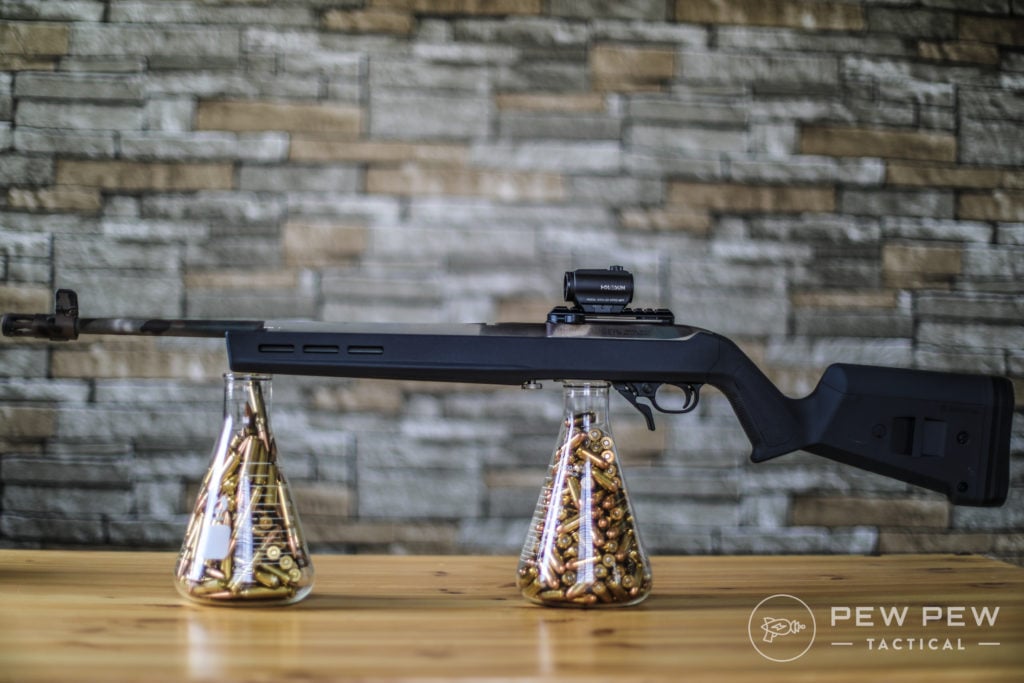 When you need the best rimfire rifle on the market, you turn to Ruger, and with the low price point, you don't feel any sticker shock.
The Ruger 10/22 delivers an accurate, reliable, and highly customizable platform that allows for plenty of plinking and hunting capability.
We just reviewed the Ruger 10/22 Charger! Why not read the review or peep the video!
Henry AR-7 Survival Rifle
Another rimfire makes the list, and it's the odd but lovable Henry Survival Rifle.
Originally designed by Armalite, this rifle is a take-down model that fits into a hollow plastic stock.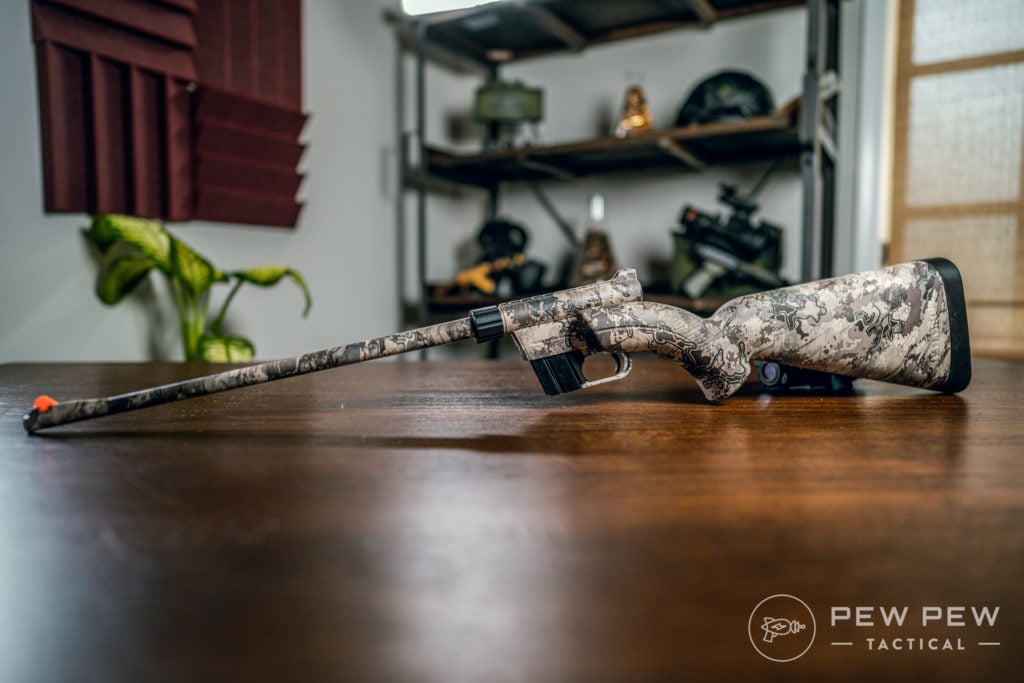 The lightweight rifle was originally designed as a bailout rifle for pilots but has since become a favorite on the civilian market.
It's a simple magazine-fed, semi-automatic rifle that delivers a very compact platform.
This gun is a handy, working gun that fits well in a plane, a boat, or truck for those little tasks that might need rimfire power.
You guessed it…you can read the review here.
Top Selling Shotguns
C'mon, who doesn't love shotguns?
Oddly enough, neither Guns.com nor GunBroker have any firearms in common, so I'm taking three from each list. There is an interesting difference between the two lists that's worth noting.
Benelli M4
The king of combat shotguns — the Benelli M4 — is here…regardless of its $2,000 price point.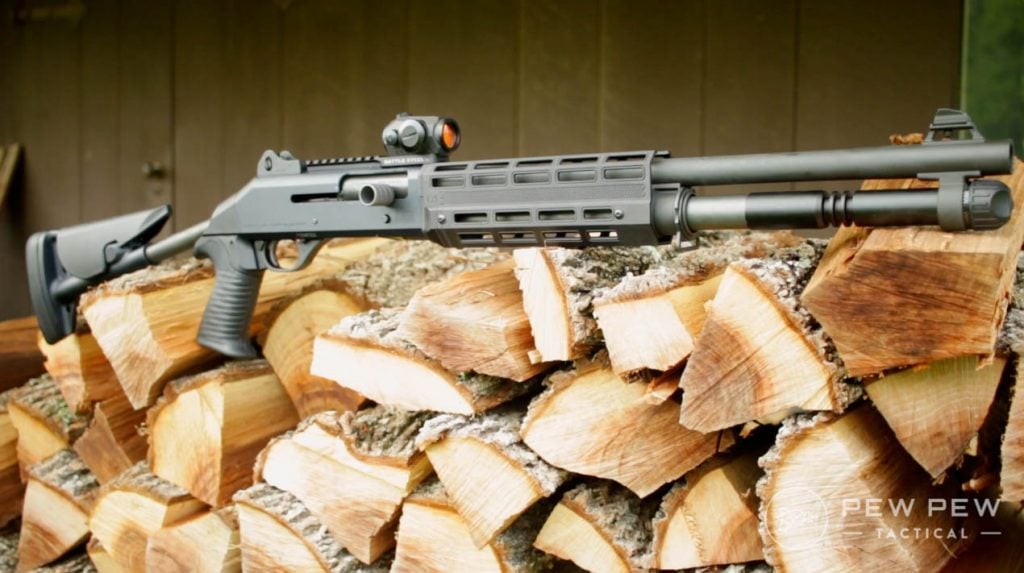 This gas-operated firearm uses Benelli's ARGO system to ensure total reliability among a wide variety of loads. Shooters get a fast cycling, soft shooting 12-gauge perfect for home defense.
It's my favorite shotgun for a reason, and I'm not shocked to see it's popular with others.
Johnny B runs you through the Benelli in his review!
Mossberg 930
Bam, another semi-auto on the GunBroker list with the Mossberg 930.

This gas-operated Mossberg is one of the more accessible semi-autos at a rather friendly price point. Plus, it comes in numerous sporting, home defense, and duty configurations.
Mossberg's long done a fantastic job producing quality shotguns and the 930 series are no different.
Armscor RIA VR80
Yep, the third shotgun on the list is also semi-automatic, but it's also a box magazine-fed shotgun.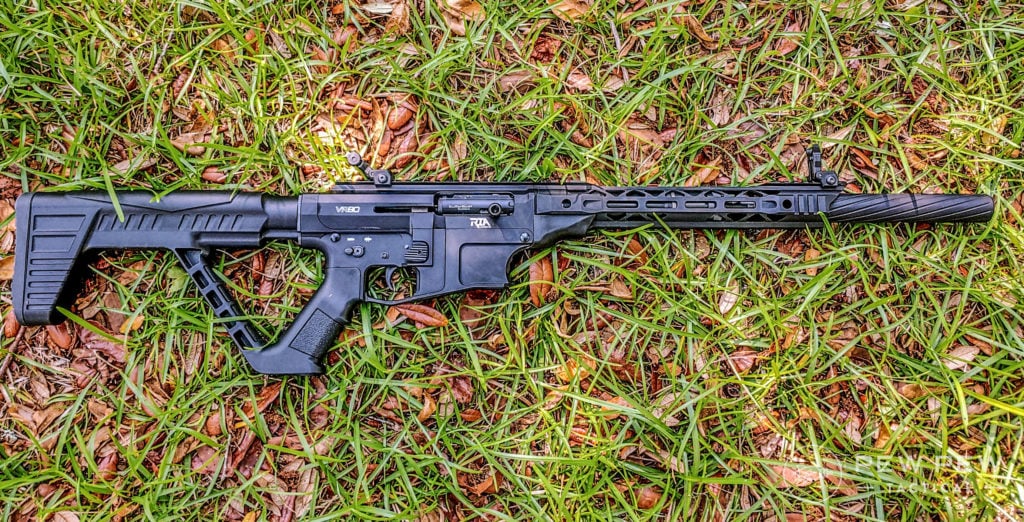 The VR80 makes use of AR-15 ergonomics and even allows you to remove the thumbhole stock and replace it with a. AR-15 stock and pistol grip.
The reliability and ergonomics surprised me, and I thoroughly enjoyed the gun. Plus, a 19-round magazine of 12-gauge ammunition delivers a ton of fun firepower.
G Force Arms GF3T Tactical
The G Force Arms GF3T Tactical isn't a fancy name brand shotgun, but it made the Guns.com list due to the crazy low price point of $99 on Black Friday.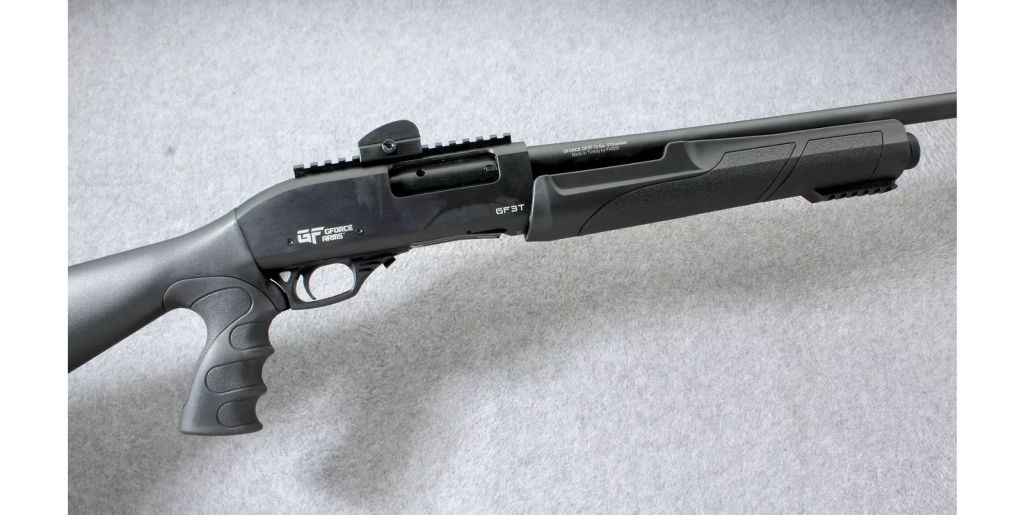 This Turkish-produced pump-action 12-gauge shotgun comes with ghost ring sights, an optics rail, and a forward rail for a light, laser, or cup holder.
It's not a fancy shotgun, but with a crazy low price, it's easy to see why it sold so well.
Mossberg Maverick Model 88
We get another Mossberg, but this time it's a pump-action shotgun that's part of the budget line of Maverick shotguns.
Sometimes all you need is a weapon that's brilliant in the basics, and the Maverick 88 is just that.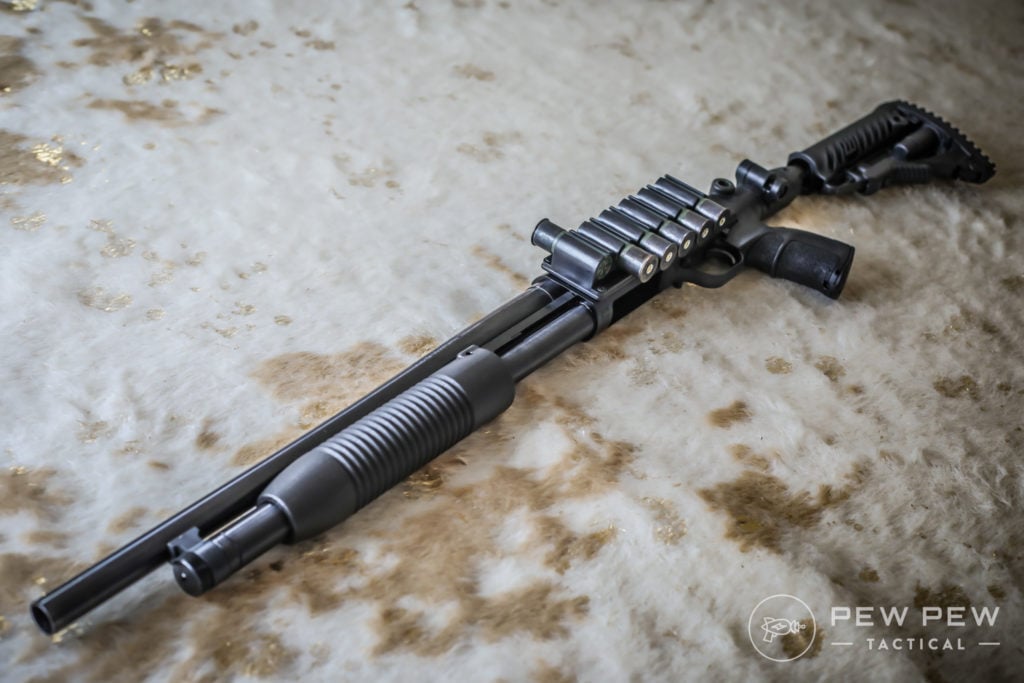 It's a simple pump-action shotgun with various configurations, making it perfect for home defense, hunting, skeet shooting, and more.
The Maverick 88 gives you a fantastic budget shotgun, and it's been around for decades for a reason.
Mossberg 590 Shockwave
Technically, this isn't a shotgun…but who cares.
The Shockwave is a 12-gauge firearm and the third on the Guns.com list for top-selling shotguns.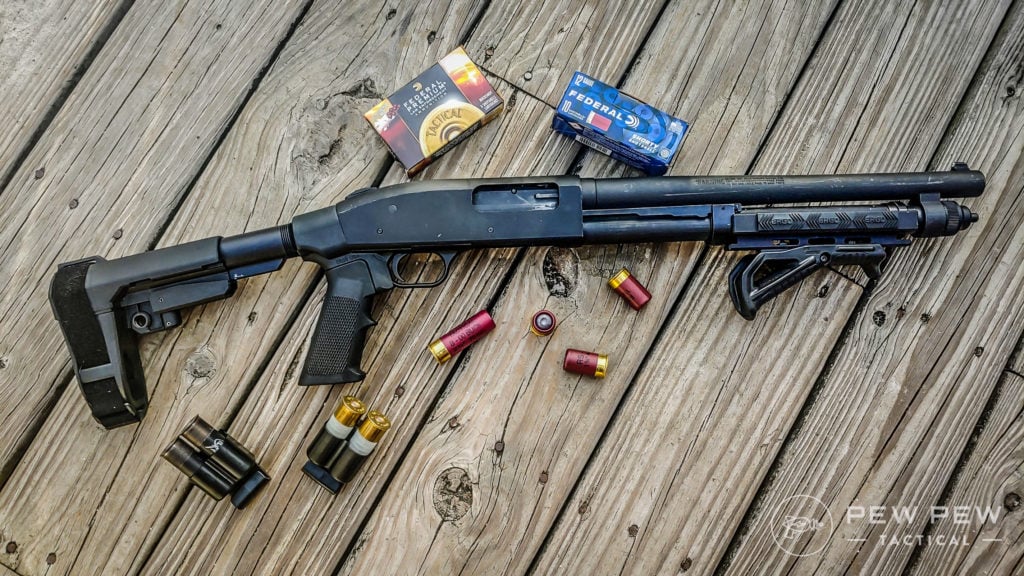 This is a 14-inch barreled pump-action weapon with a pistol grip only design.
It's not super useful for serious tasks, but it's a ton of fun at the range.
Conclusion
2020 and 2021 were banner years for firearm sales. And it doesn't seem to be slowing down anytime soon either.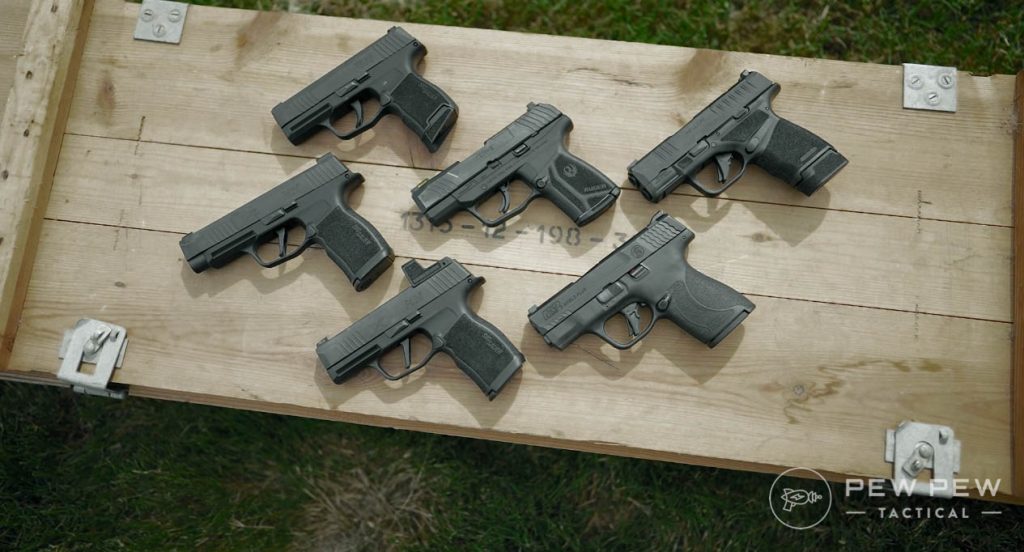 Lists from GunBroker and Guns.com provide an insight into what Americans want and provide a fascinating look into the world of the firearms marketplace.
Did you buy a gun in 2021? If so, is it one of the firearms on this list? Let us know below! Interested to know what people bought during the COVID crisis? Check out What Guns People Panic Bought.