Rock Island Armory (RIA) is mostly known for their budget minded 1911 series handguns.
I own several of these 1911s and will attest to their quality. However, Rock Island Armory also imports an entire line of semi-auto shotguns!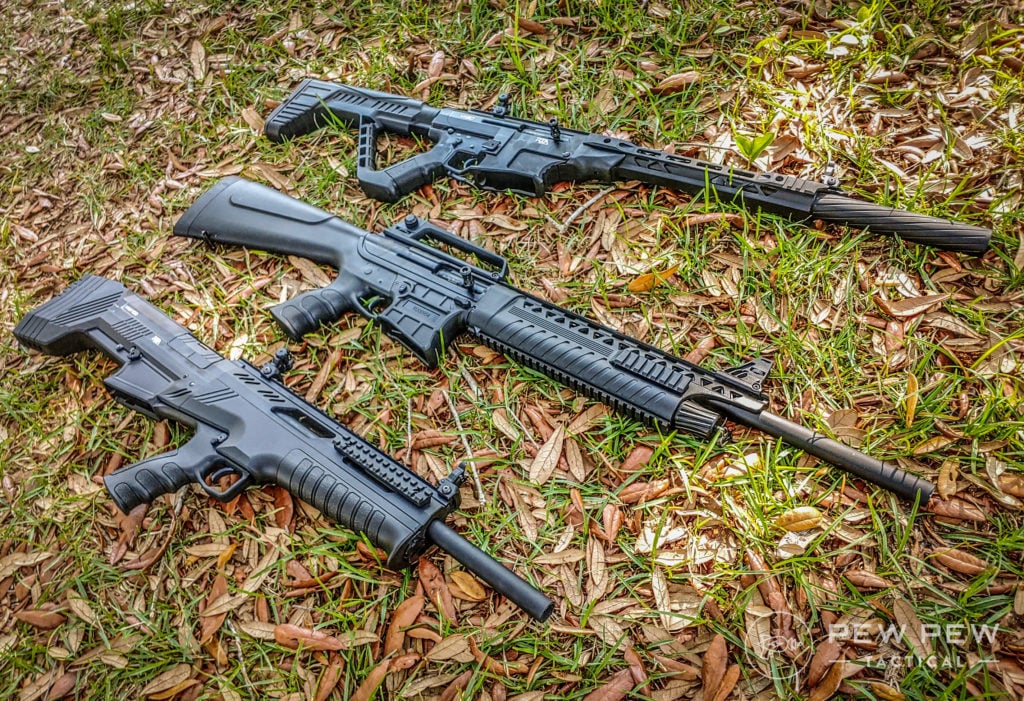 These guns are known as the VR series of shotguns and you might be asking what makes them stand out in a relatively crowded shotgun market?
I'll be going hands-on with all three and by the end you'll see if they have what it takes to make it into YOUR armory.
Table of Contents
Loading...
What Are They?
Well, there are a lot of things I can say here. First, let's talk about what they are. The VR series is box fed, gas-operated, semi-auto shotguns built in Turkey and imported by RIA.
These shotguns often mimic the AR 15 in its layout and some of its controls.
These shotguns are also very affordable, more affordable than most semi-auto shotguns.
The VR series is currently 3 different shotguns, but RIA seems to be importing new models quickly. The three models in my hands are the VR60, the VR80, and the VRBP-100.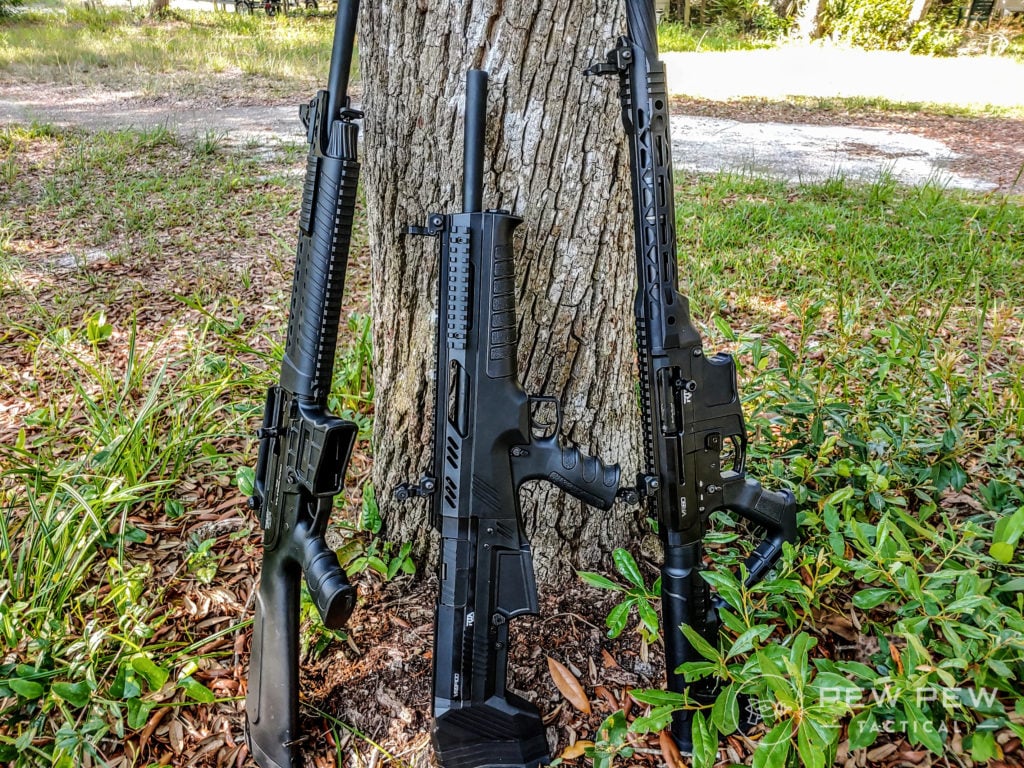 What makes them stand out to me is the number of features they possess as well as the quality of the guns themselves, and their price.
Semi-auto shotguns are finicky, but in the last ten years or so they have become much more reliable than past models at much lower prices.
These guns are all vaguely similar but have a few different features and different price tags. Because they are so similar today we are going to give you three reviews in one.
The VRBP-100: Enlist in the Space Force Now
The extra BP in VRBP-100 stands for bullpup and the VRBP-100 strays well away from the classic AR style design of the VR series. The VRBP-100 is still a gas operated, semi-auto, box fed shotgun, it's just in bullpup form.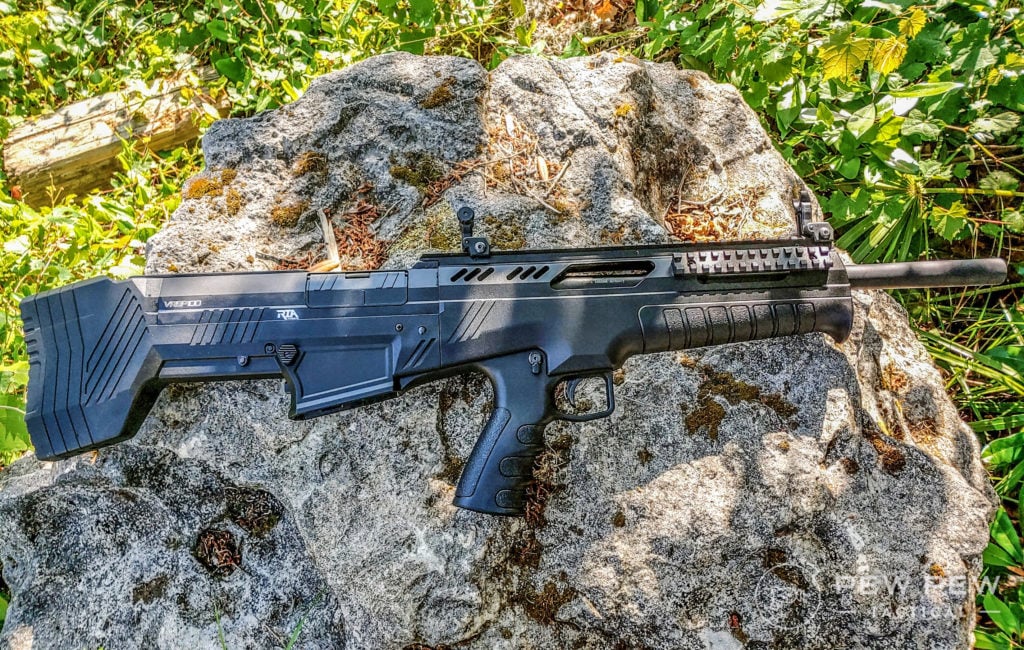 Not much has changed, it still takes Mobil chokes, comes with two five round magazines, and it's compatible with the 60 and 80 series for magazines. The VRBP-100 has a 20-inch barrel and comes with three included chokes.
The gun can handle 2 ¾ and 3-inch loads. It comes with two QD points for attaching a sling and an adjustable cheek riser. The top of the gun sports an optic's rail and the right side of the gun sports a short rail for attaching a light or laser.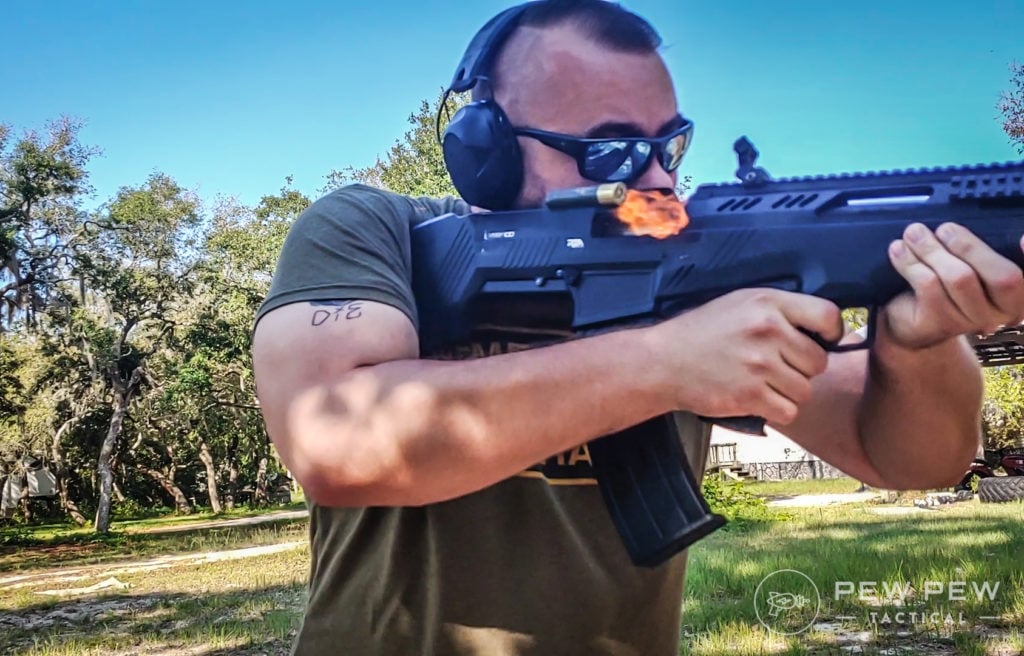 Finally, you get a set of fold-down AR style sights that are identical to the VR80 sights. They work, but they aren't special or unique. I prefer to open sight on the VR60 and find it more apt for shotgun use.
Ergonomics
The VRBP-100 still features some AR like controls placed behind the trigger. The gun has the same safety lever as the VR80 and is also ambidextrous. The VRBP-100's magazine release is also ambidextrous.
On the left-hand side, you have a lever that's easy to press when reloading.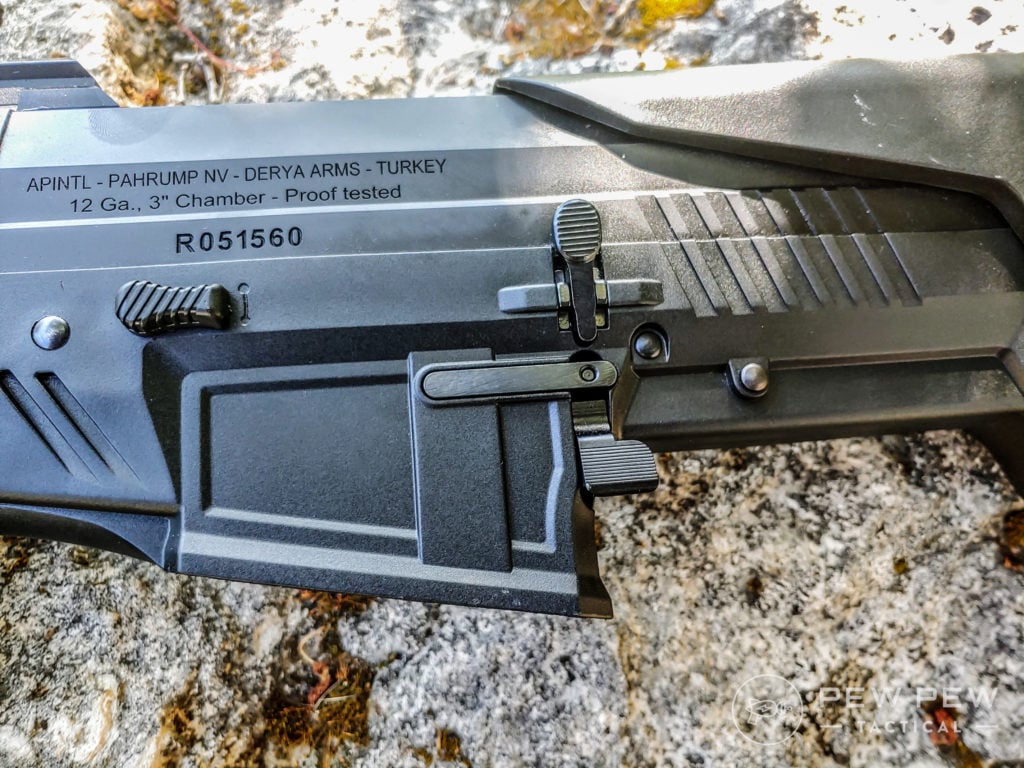 On the right-hand side, we have a standard push-button magazine release that is also positioned perfectly. Regardless of which hand you shoot with you can grab the magazine and find your thumb on a magazine release.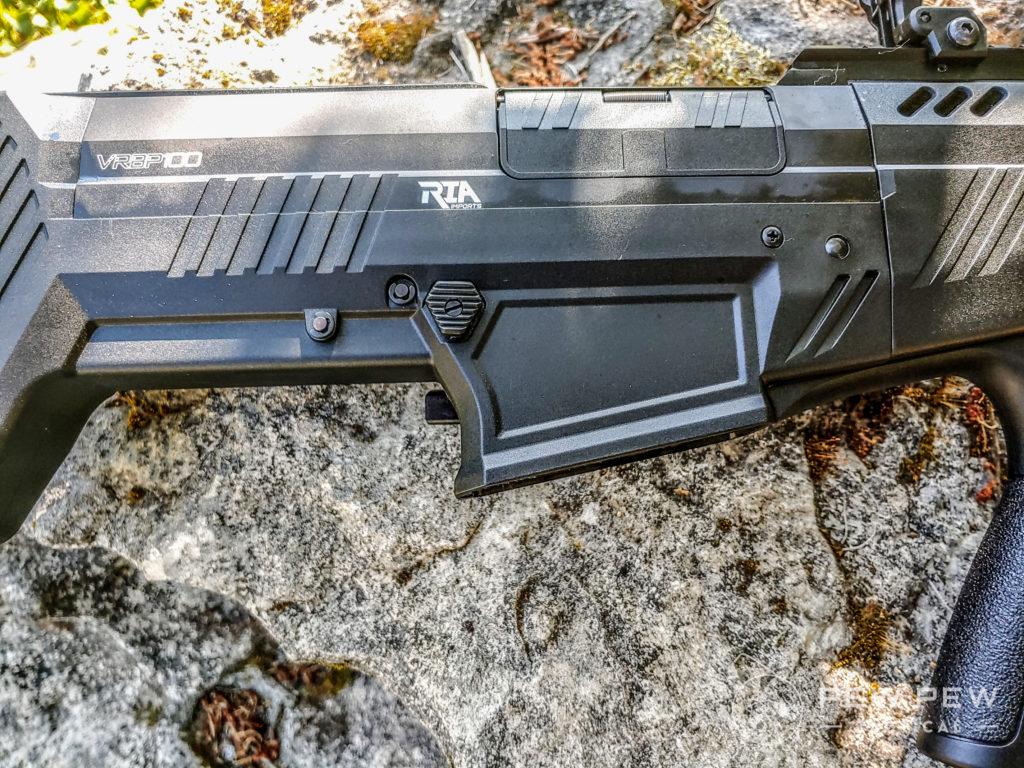 The bolt release is AR like and placed only a side that makes sense for right-handed shooters. However, it doesn't matter because it's faster to just close the bolt via the charging handle.
The charging handle can't be reversed, and lefties are going to have to run the gun like a righty must run an AK.
As a bullpup gun, it's quite short and very compact. This is perfect for close quarters use, and that's where the shotgun rocks. It's four inches longer than a Mossberg Shockwave but has a barrel that's 6 inches longer and it has a stock.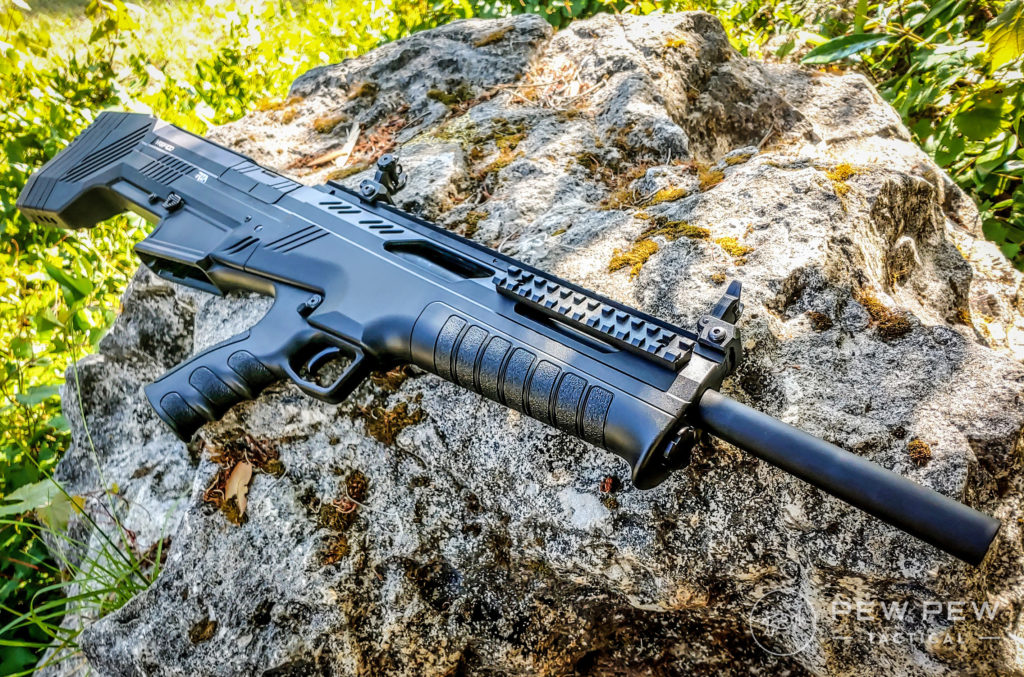 The stock is complete with a series of spacers that can be removed to adjust the length of pull. With all spacers in it's a long gun, and well suited for my gorilla-like arms. The cheek rest is a nice touch and would make it a lot more comfortable for using optics.
The stock has a steep and short downward angle to it that really works to when it comes to shouldering the gun. It's odd looking, but effective. Snapshots are quick, easy and comfortable with the design.
Firing Impressions
Holy recoil, it's worse than the other two in the VR series by far. When I dumped a 19 round magazine I could feel it pushing me backward and nearly made me stumble. I have no idea why it's so brutal recoil wise.
It left a healthy bruise on my shoulder after a day of shooting it. That first day was all full-powered buckshot and high-velocity birdshot. The gun advises a break in period of 500 rounds and it needs it.
My first attempt with cheap birdshot resulted in 4 failures to feed in the first 19 round magazine. The bolt would eject the round but failed to pick up the next round. After that, I went hard with 300 rounds of buck and high-velocity birdshot and dumped lube in the gun.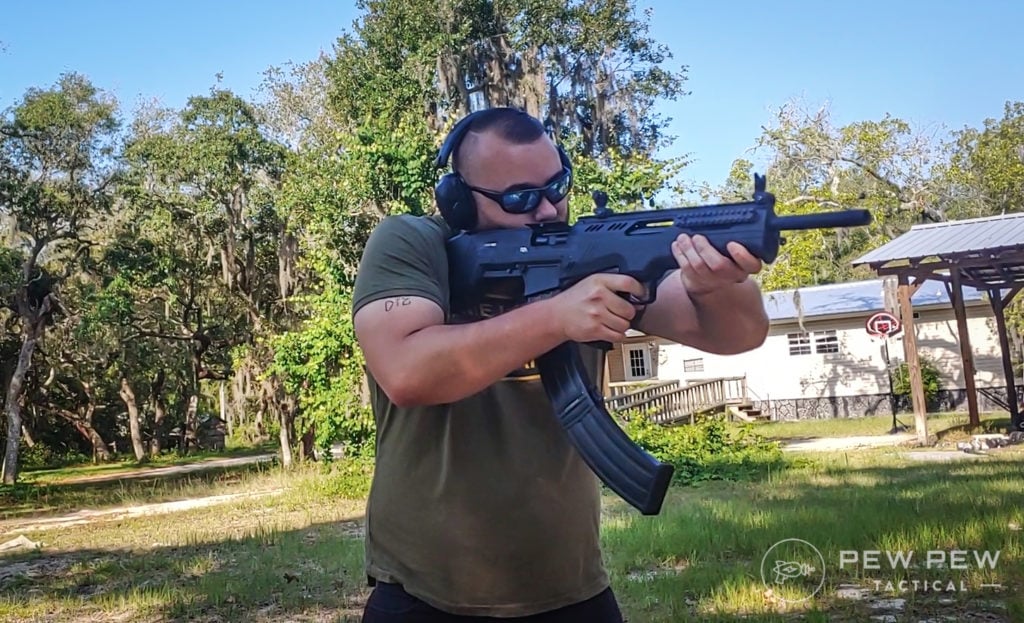 After those 300 rounds and that pain filled day the gun ran smoothly. The low brass, low recoil, and low powered loads finally fed after that. Keep that in mind.
The short length of the gun makes it easy to handle, and quick to get on target. The trigger pull is heavy but short and it resets with a shove to your finger. You can very quickly maneuver from target to target and destroy them with ease.
VRBP-100 Stats
5+1 (3″) of 12ga
Chamber: 3″
Barrel Length: 20″
Overall Dimensions: 32″ x 2″ x 7″
Empty Weight: 7.94 lbs
429
at Palmetto State Armory
Prices accurate at time of writing
Prices accurate at time of writing
The VRBP-100 is well balanced and of the three felt the best when fully loaded with that ridiculous boomerang style 19-round magazine. I can't find the MSRP because it's not listed on the Armscor website, but the street price seems to be around 700 bucks.
Old School Cool with the VR60
Appropriately enough the VR60 was the first shotgun imported and it has a very Old School AR look to it. It's best compared to an M16A2 style rifle.
This includes a long-fixed stock, carry handle sight system, and polymer handguard.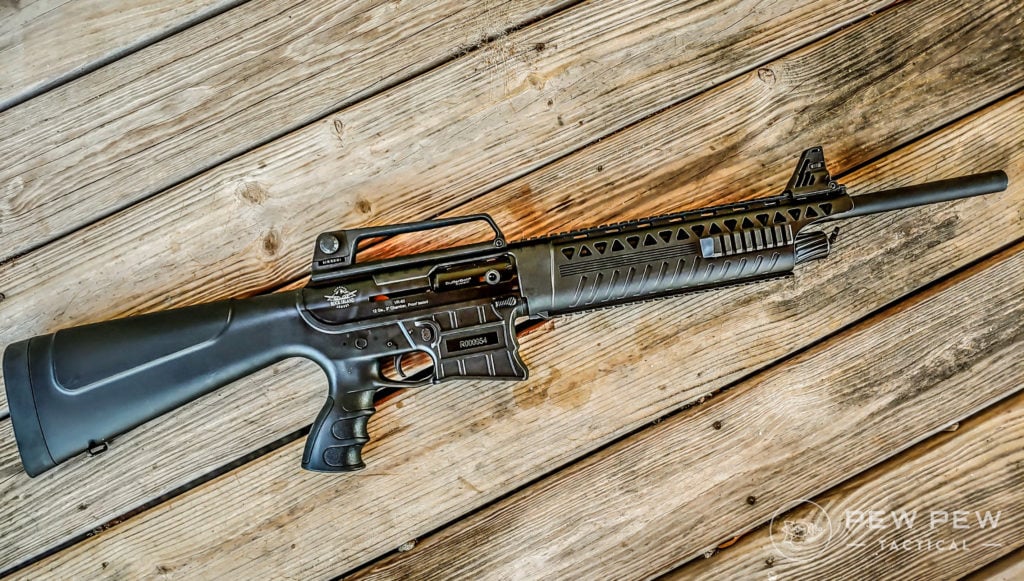 The VR60 does have a full-length optic's rail that can be detached to accommodate optics. It also has a full-length rail on the top and bottom of the handguard.
The VR60 comes with two 5 round magazines, but 9 and 19 rounders are available. The gun uses Beretta/Benelli Mobil chokes and comes with three of them and a wrench to remove and install them.
Ergonomics
There are also some short rails on the side of the handguard to toss on a light or laser. The gun mimics AR controls to an extent. If you've ever handled an AR-15 you'll be familiar with the magazine release, the safety, and the bolt release.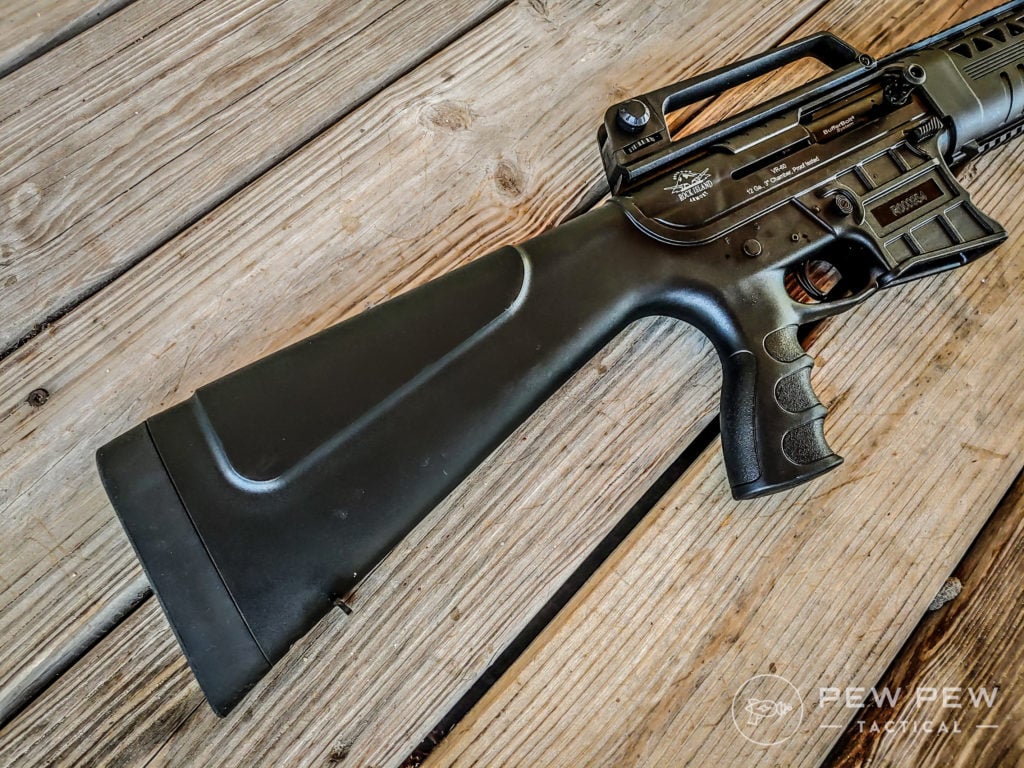 This is a gun that is best described as an Uncanny Valley version of an AR and its controls. The charging handle is a right side only design that reciprocates. It's more AK like than AR like.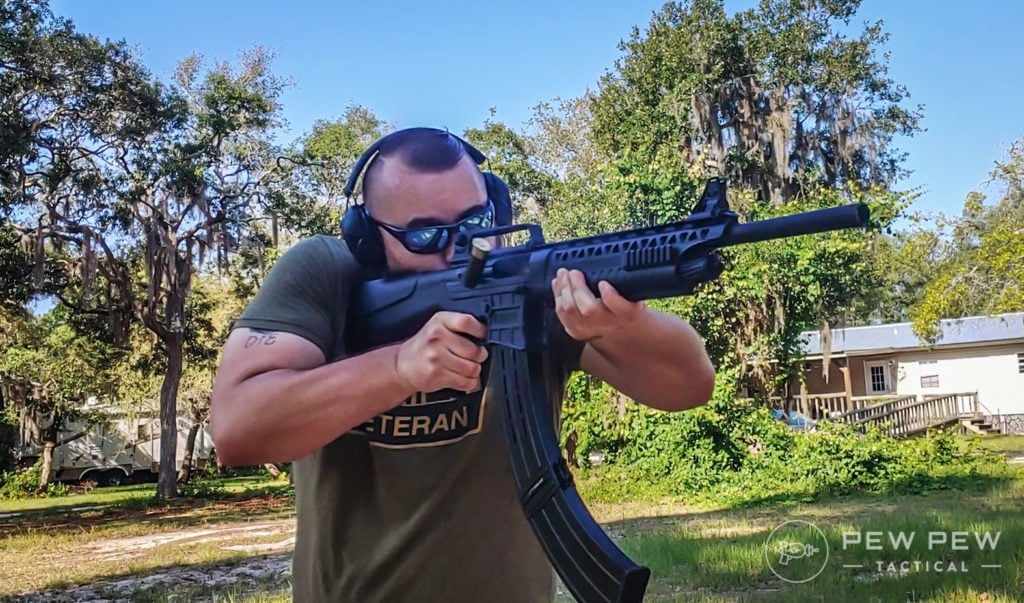 If you are a right-handed shooter this is a very comfortable gun to shoot. The length of pull isn't as long as an M16A2 and it's quite comfortable. The built-in cheek rest is also a nice touch that makes it comfortable to use.
The magazine release button is very squishy and feels almost too short. You really have to press it into the gun to get the magazine to release. The mags do not drop free, and you must tug at it to remove it and reload.
Firing Impressions
After shooting semi-auto shotguns like the Beretta 1301, the Mossberg 930, and even my beloved Benelli M4 I've become a bit spoiled by how soft-shooting most semi-auto shotguns are. This is not one of those semi-auto shotguns.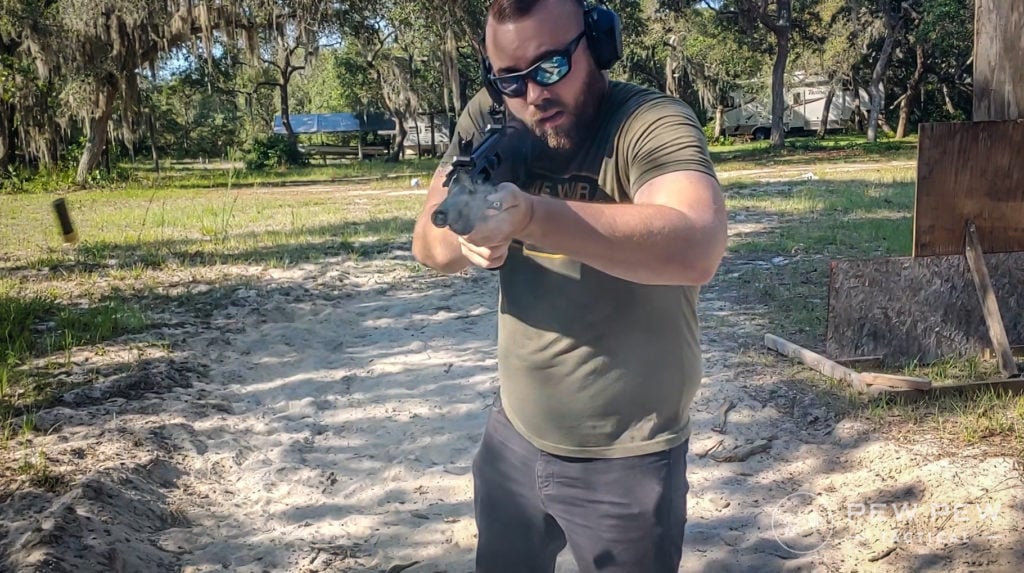 This thing has some real recoil to it. It's not brutal, but any advantage a semi-auto shotgun offers when it comes to recoil reduction is lost with the VR60. It is a hard-hitting, shoulder pounding gun. It's got a lot of gas to it, and the upside is that it cycles anything.
I mean anything. It'll eat the cheapest rounds I can put through it and do so happily. This includes the bulk pack cheap and light birdshot. It will also run reduced recoil ammo from Fiocchi reliably.
Reliable is the best way to describe this gun. I've yet to find a brand of ammo it won't cycle. Low brass, high brass, full-powered, reduced recoil, whatever and whenever it all works.
64
at Lucky Gunner
Prices accurate at time of writing
Prices accurate at time of writing
The VR60 has a rear carry handle sight, and the front sight is a non-folding, but the removable sight that is very AR like in design. The rear sight has both a peep sight and an open square sight. It's a simple set, but it works.
The VR60 cycles very fast, and it makes emptying that 5 round magazine fun and easy to do. It's so much fun to dump rounds into targets and it's one of the reasons I love semi-auto shotguns. The fun of it can't be replicated by any other semi-auto weapon in my opinion.
VR-60 Stats
5+1 (3″) of 12ga
Chamber: 3″
Barrel Length: 20″
Empty Weight: 7.4 lbs
420
at Palmetto State Armory
Prices accurate at time of writing
Prices accurate at time of writing
The VR60 is also a cheap gun with a street price of around $450. That's cheap for a reliable, box fed, semi-auto shotgun.
The Sleek and Modern VR80
If the VR60 is the M16A2 of these guns, then the VR80 is the Block 1.5 M4A1. I don't mean it is shorter, I mean it's much more modern.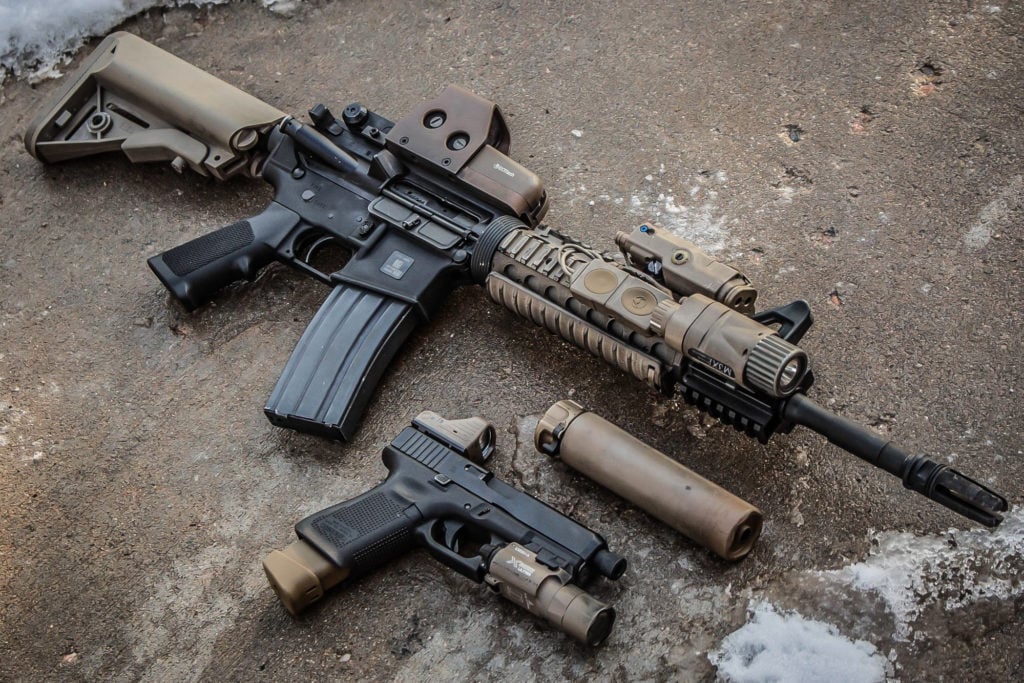 Gone are the bulky handguard and lower gas tube. Instead, we have a sleeker M-LOK handguard with some small sections of Picatinny rail.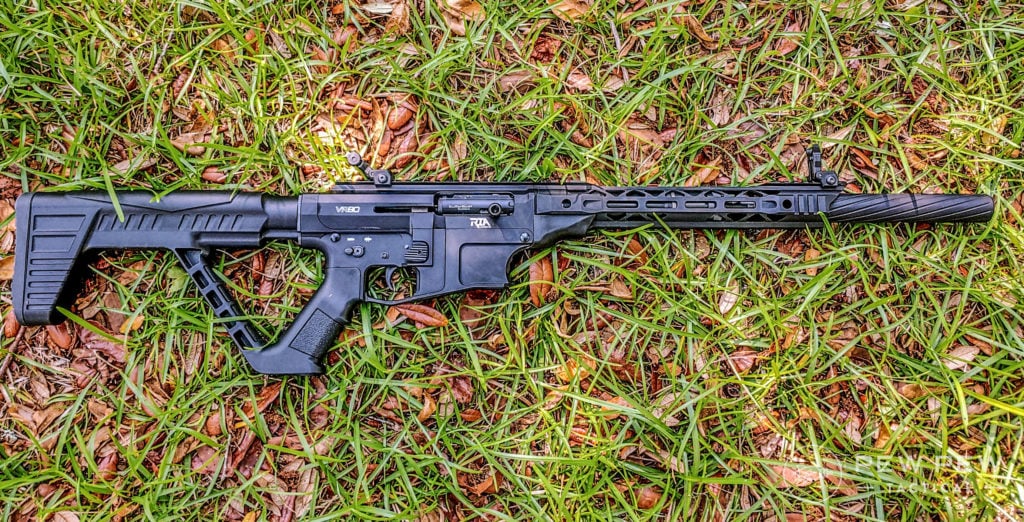 We also have a full-length optic's rail and a set of fold up iron sights. The VR80 also incorporates the same choke system, comes with two 5 round magazines, and a suppressor looking barrel shroud.
Magazines are backward compatible, and identical in their design. The VR80 is about a pound heavier than the VR60 and does incorporate a lot more metal than polymer. This results in a gun that feels sleeker, as well as more substantial than the VR60.
Ergonomics
The look isn't the only refinement the VR80 has. The controls are still AR like in terms of the magazine release, safety, and bolt release. They are much crisper though, and much more intuitive.
The safety moves with a satisfying click between positions, and it has a very short 45-degree throw. The safety is also ambidextrous.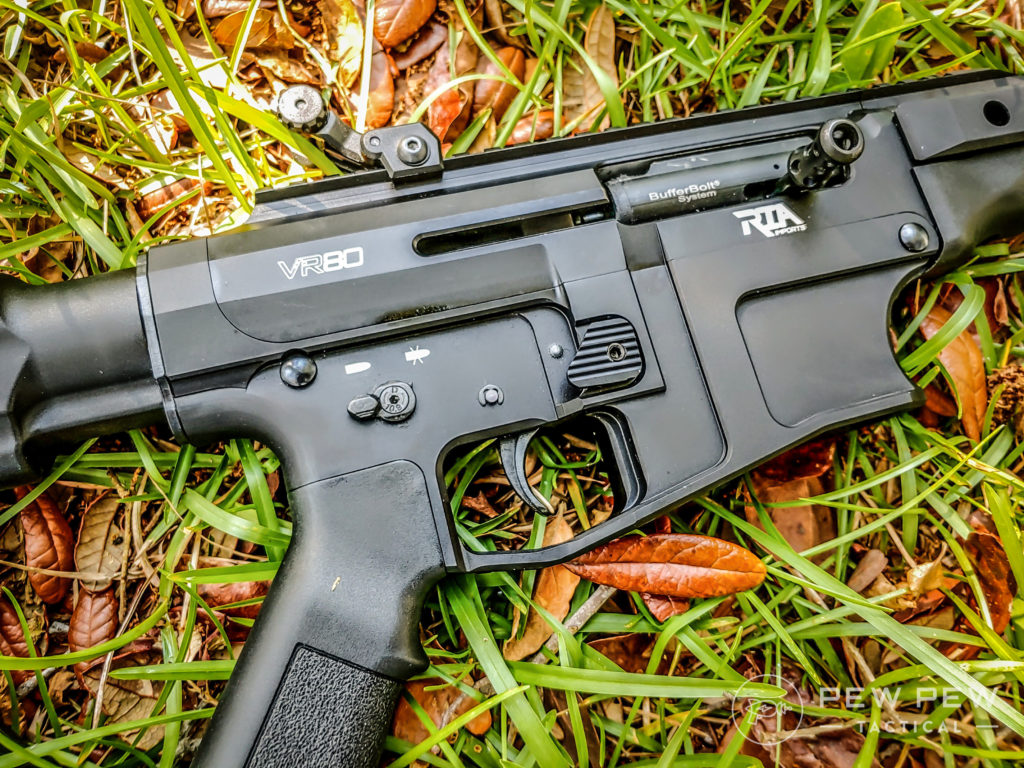 The magazine release is easier to press and is massive. You don't have to press as hard or as deep as the VR60.
That extra size gives extra leverage when it comes to releasing the magazine. The magazines do drop free, and the magazine well is flared and easier to reload.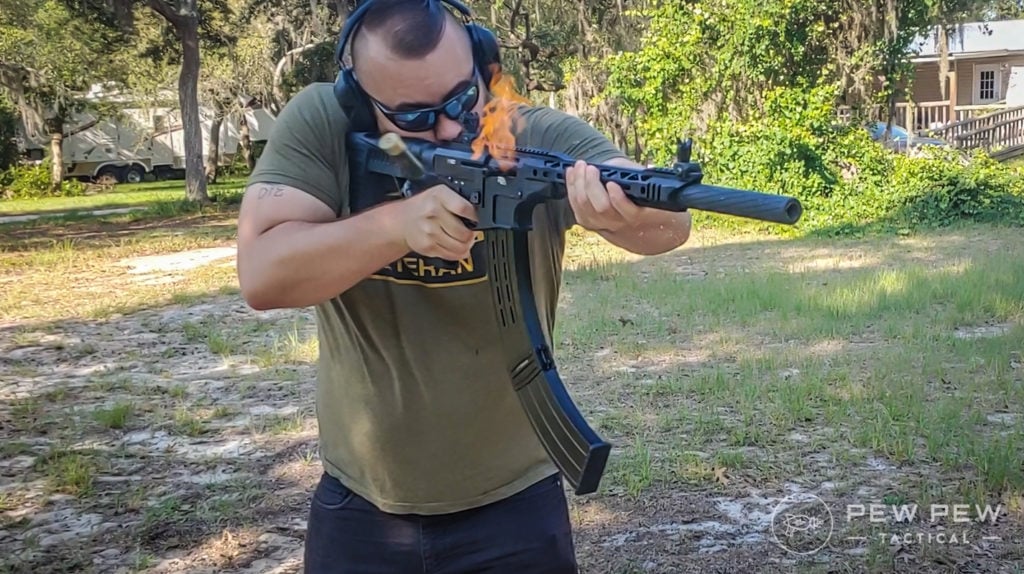 The bolt release is also much larger than the VR60 and it's easy to palm slap when reloading. The charging handle is still reciprocating, but it can be swapped from right to left for easier use.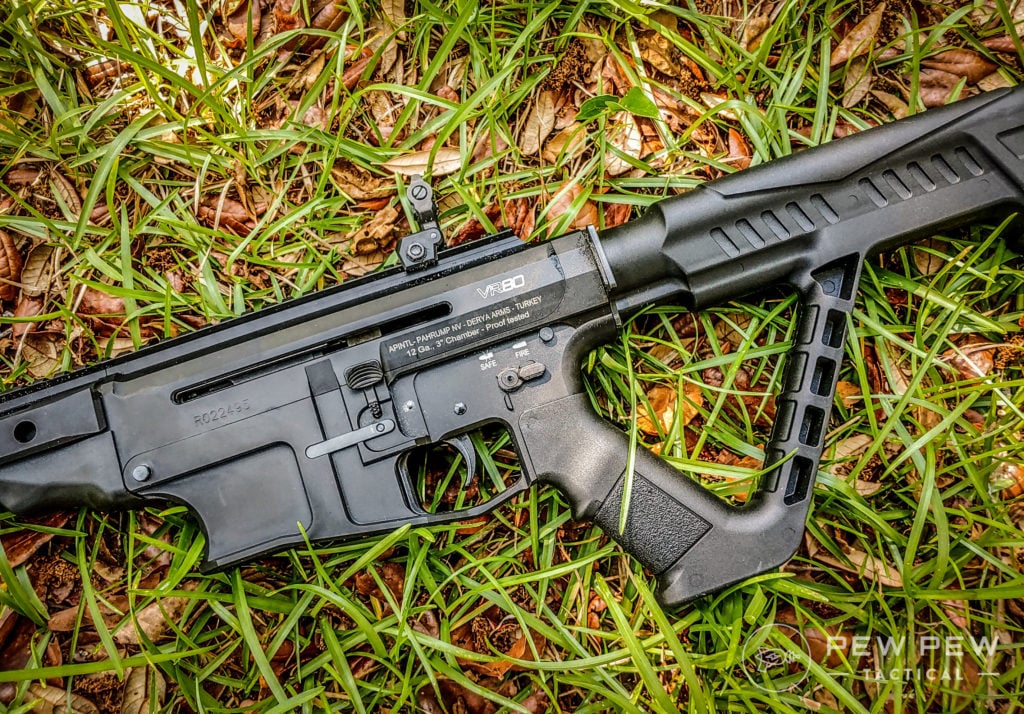 The gun comes with a one-piece, thumbhole stock, and pistol grip. The length of pull is the same as the VR60. The stock and grip are nice, but they can be easily removed and underneath that shell is a carbine buffer tube and screw points for an AR pistol grip.
You can toss on your favorite collapsing stock and AR pistol grip and have the gun you truly want. Combined with the thinner M-LOK rail you have a much more comfortable design that it more accommodating all around.
Firing Impressions
The biggest difference is with recoil. The VR80 still has a solid punch to the shoulder style, but it's significantly less than the VR60. It's average for semi-auto shotguns and feels like my 930 SPX.
It's not Beretta 1301 soft, but it's fun. The VR80 feels very well balanced and is fun and easy to shoot. The muzzle rise is almost non-existent, and I can dump five rounds on five clay pigeons in less than 3 seconds.
Reliability wise the gun eats everything I've ever put through it.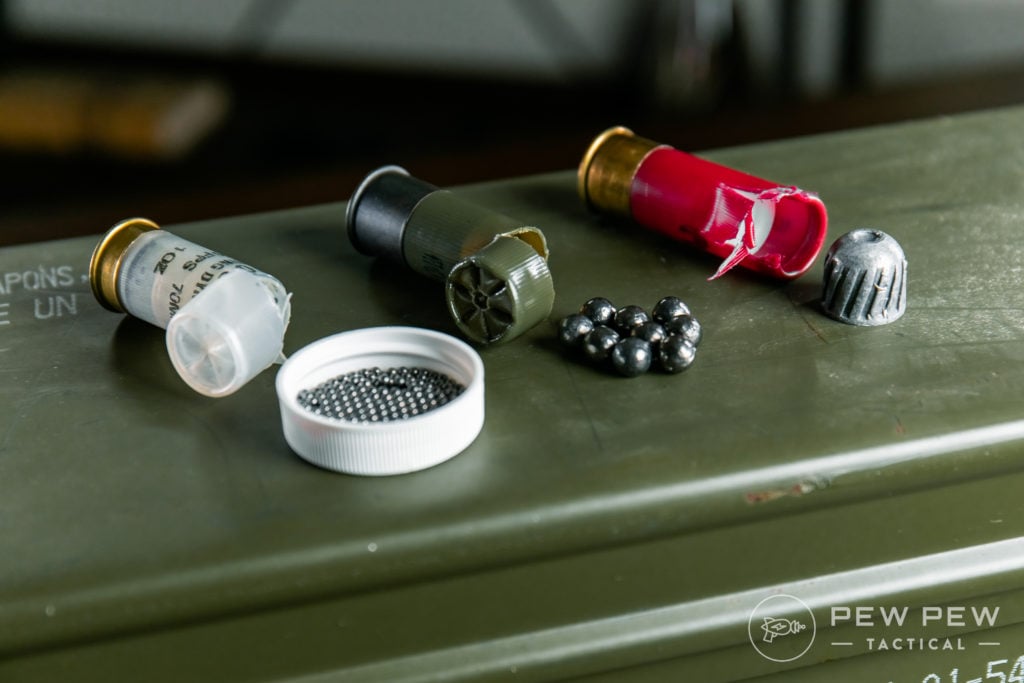 This includes cheap bulk package birdshot and all the way up to reduced recoil Federal and Fiocchi loads. It cycles reliably and runs like a champ.
7
at Lucky Gunner
Prices accurate at time of writing
Prices accurate at time of writing
It spits shells out violently and has them flying across the range. If you are at a crowded range just be cautious you aren't pegging your neighbor. The gun cycles just as fast as the VR60 and without a doubt this will be a fun gun for 3-Gun shooters.
With less recoil, this is the more fun gun overall. It's also a little more expensive.
VR-80 Stats
5+1 (3″) of 12ga
Chamber: 3″
Barrel Length: 20″
Overall Dimensions: 40″ x 2″ x 7″
Empty Weight: 8.27 lbs
599
at Kygunco
Prices accurate at time of writing
Prices accurate at time of writing
It's more expensive for sure, but it's a much more refined weapon, and to me, it is worth the extra for the more modern design, lowered recoil, and improved ergonomics.
The Magazines
All of these guns share the same magazine so to be avoid being repetitive I wanted to talk about the magazines they use.
They use a single stack magazine that is made entirely of metal. They come in 5-, 9-, and 19-round capacities.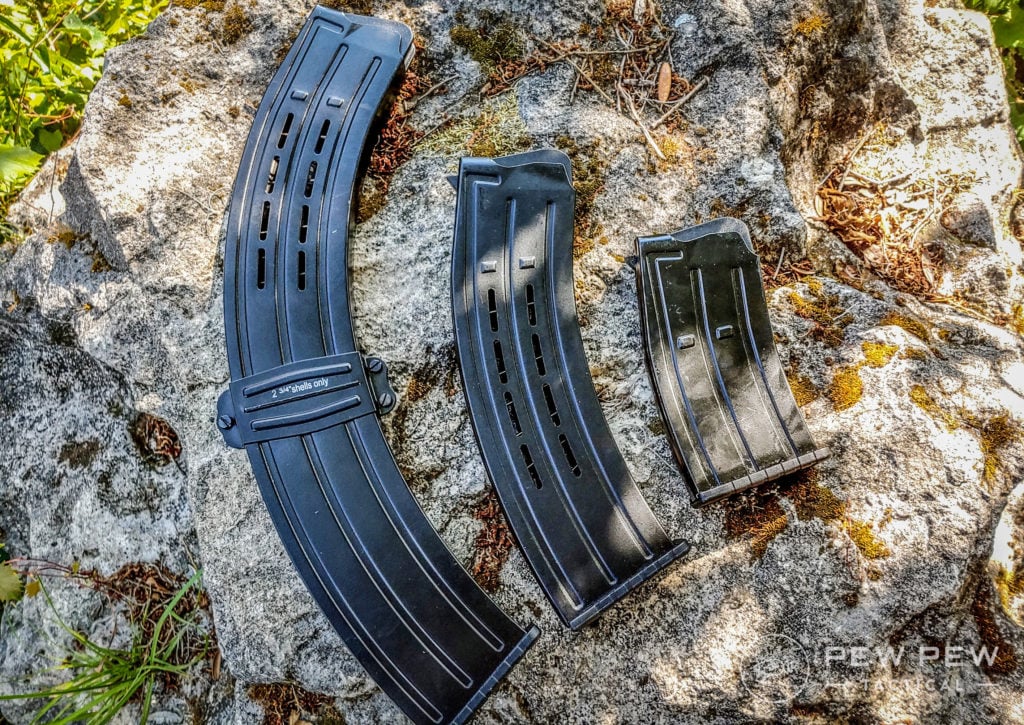 They are well made, strong, and quite durable. Because of their lower capacities, you do quite a few reloads and these mags have hit the ground hard quite a few times. They all still run absolutely perfectly.
30
at GunMag Warehouse
Prices accurate at time of writing
Prices accurate at time of writing
They are not difficult to load in terms of spring strength. You don't strain to get the rounds in due to spring tension. Where you do meet some resistance is with the five-round magazines and the rim of the shotgun ammo.
On the 5th round, the rim of the 5th round tends to get caught on the rim of the 4th round and this makes it difficult to slide rearward into the magazine.
You have to angle it up slightly and push it in or use another hand to shove the 4th round down as low as possible. This allows the 5th round to slide in.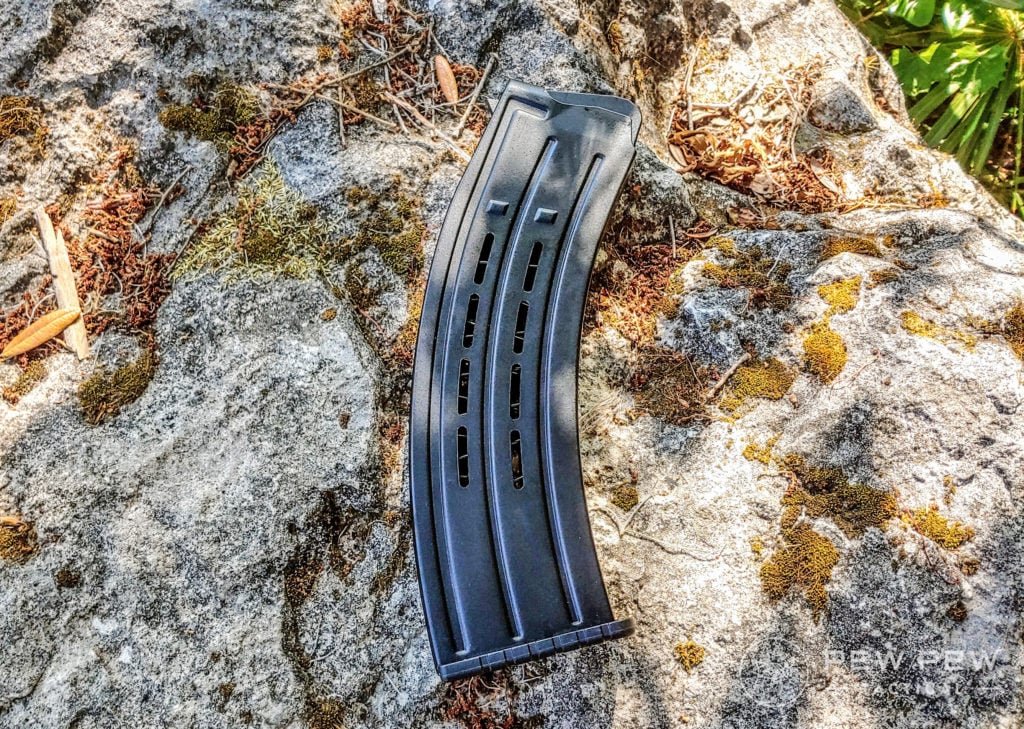 The 9- and 19-round magazines don't have this issue though. Loading the 9 round is quick and easy, and the 19 rounder is also surprisingly easy to load. The 19th round is the hardest to get in there and is the only time I met much spring tension.
60
at GunMag Warehouse
Prices accurate at time of writing
Prices accurate at time of writing
The mags all feed brilliantly and the varying capacities make them a blast to shoot.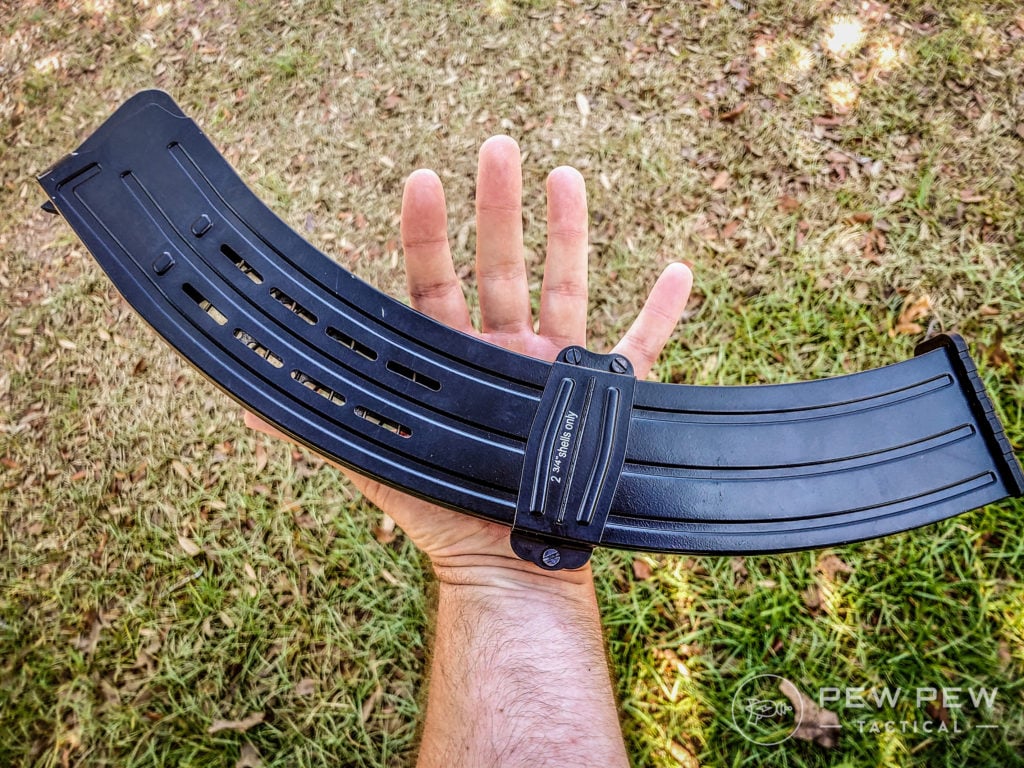 My Favorite
What's my favorite of the three? I love the Bullpup idea and model. It's small, fast firing, and powerful. However, that massive amount of recoil is not pleasant. If I had to choose what gun I'd take to the range I'd go with the VR80.
599
at Kygunco
Prices accurate at time of writing
Prices accurate at time of writing
It's the most comfortable of the guns, and the traditional layout is something I'm a bit more used to. The VR80 and a half dozen 9-round magazines, as well as at least one 19-rounder, would be a helluva good loadout.
I'd toss on my own stock and pistol grip, an Eotech optic, and a light and I'd be ready to go for whatever threat I need to face.
By The Numbers
Accuracy: 5/5
It's a shotgun so accuracy is a little bit easier to judge. The sights are great in terms of traditional shooting and are easy to adjust. The design is easy to aim and it's a comfortable shooting gun.
Point it at what you need to hit and it'll get there within shotgun range.
Ergonomics: 5/ 5
It's basically an AR-15 ergonomically. More than that it's one that utilizes advanced control like a side charging upper, ambidextrous controls, and a thin but strong and comfortable to grip rail.
Looks: 3.5/5
As a gun, it looks great until you get to the rear end and the thumbhole stock just really kills it. You can, and most likely will, change it up but that's not how the gun comes from the factory.
The finish is great, the rail and faux suppressor looks amazing, and the controls are outstanding.
Customization: 3.5/5
The VR80 does allow for the easy attachment of accessories including lights, optics, and lasers due to the rail system. Additionally, you can utilize any AR stock and pistol combo you choose which gives it a leg up on the other two models, but limits you a hair.
Bang For Your Buck: 5/5
The VR80 is a cheap gun for what you are getting and it is so much flippin fun. It's rapid cycling, the recoil is comfortable, and it eats just about everything.
Overall Rating: 4/5
The VR80 is an awesome shotgun and its a ton of fun overall. The VR80 make use of the best parts of the AR 15 design. It's the softest shooting gun of the three and it's the most ergonomic and reliable in my experience.
Parting Shots
The VR series are some really fun guns. These guns are an absolute blast. As far as box fed semi-auto shotguns go they are reliable, simple to operate and affordable.
The VR series seems to be growing quickly and I wouldn't be surprised if we saw at least one more by the end of this year.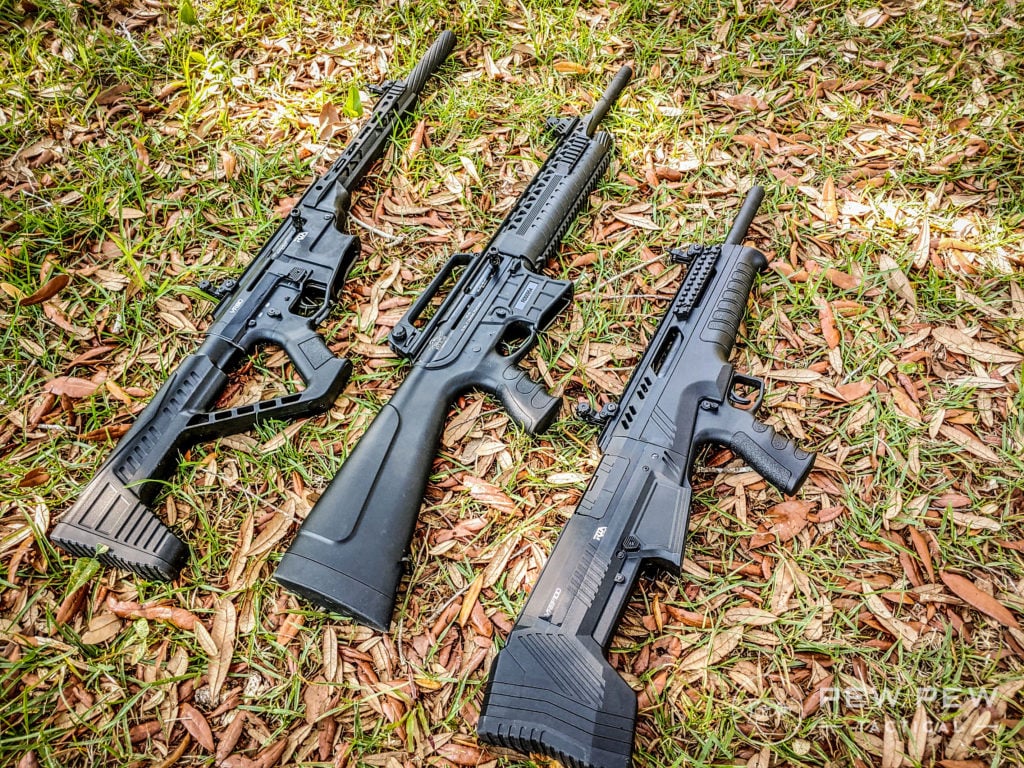 They have been a successful series, and my local gun store has a waiting list about a dozen names long.
Hopefully, with this popularity we'll see an aftermarket pop up and more companies offering you magazines.
Until then, 19 rounds is likely enough to solve most problems.
What do you folks think about the VR series? Do any twix your interest? Let us know in the comments! Need more shotguns? Take a look at the Best Home-Defense Tactical Shotguns!