Have you ever drunk like 8 beers while taking cold medicine and then went about designing a gun?
Or well, maybe not designing, but modifying a gun into something so horrendous people on the internet will give you likes and comments based on the terrible decisions you made with a credit card and an Amazon Prime account?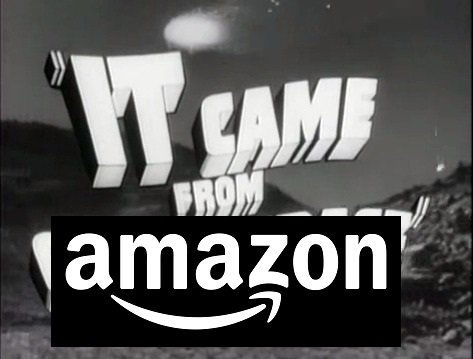 I have and often do.
I've seen a recent slate of mall ninjaed up guns across my social media feeds and have decided to do my own dumb Glock build.
I have tons of stuff lying around for Glocks, but I knew if I wanted to get real dumb with–it Amazon would be my go-to. Admittedly, I couldn't just get everything I needed from Amazon, so I hit a few other retailers.
The ultimate Glock isn't a pistol–technically this is a rifle. It's hardly a Glock at all. This was a weapon designed to surpass the Metal Gear, but did it do its job?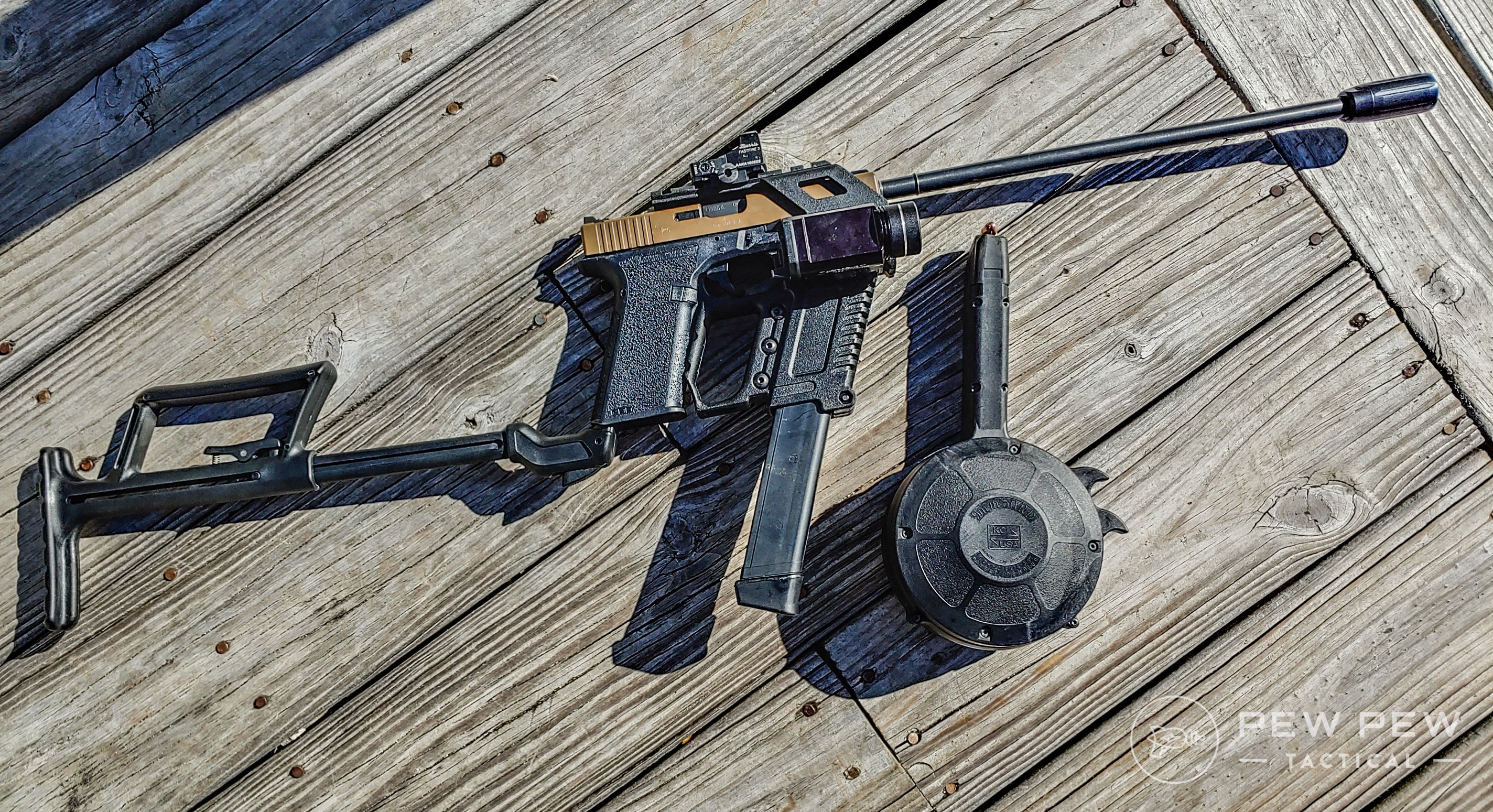 Let us dive deep into this weapon.
Where It Starts
This entire project started with my desire to build a Polymer 80 Glock from an 80% frame. These P80 frames are incredibly easy to finish and it surprised me with how quick and easy you can make a functioning Glock.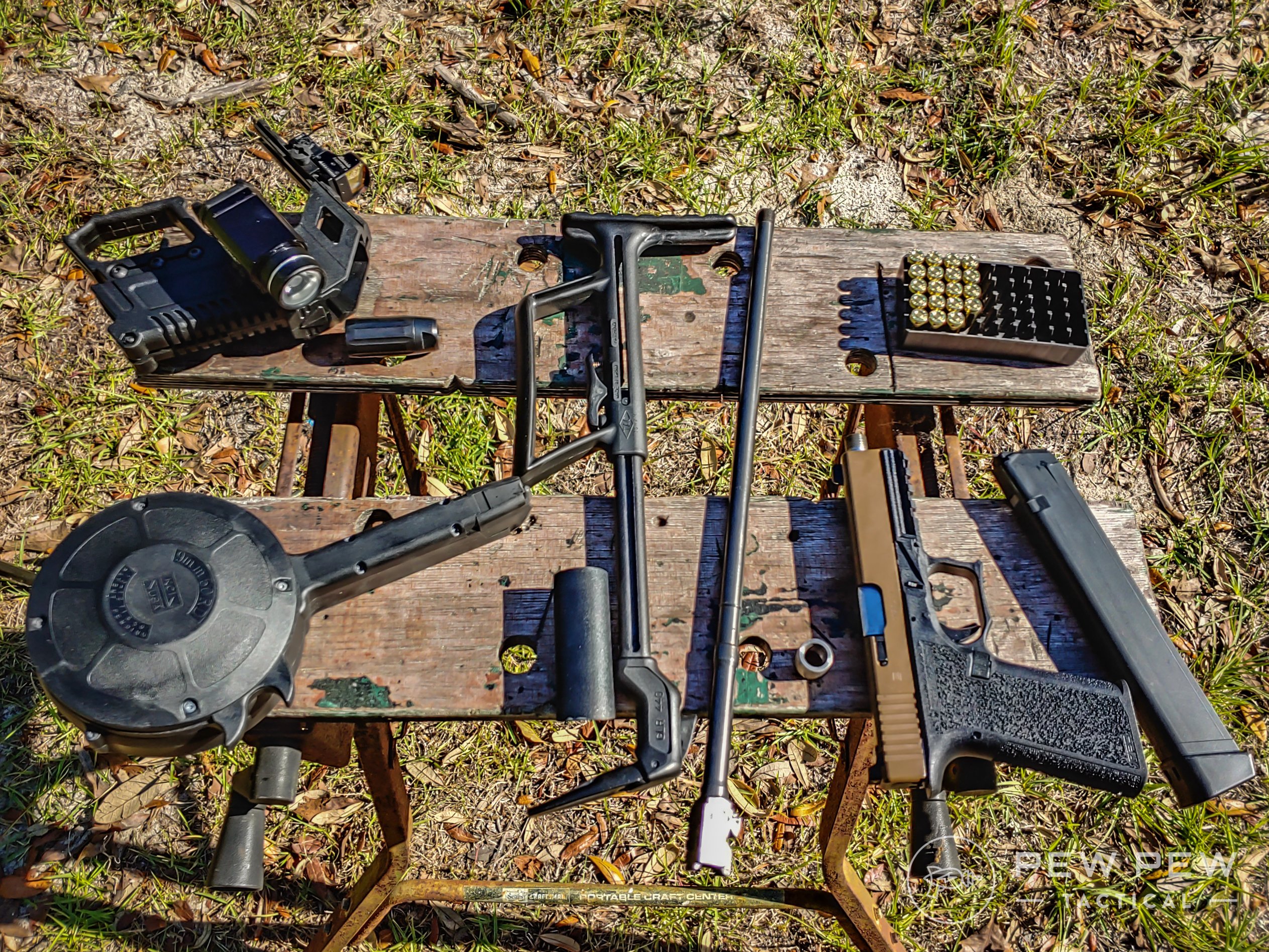 The Polymer 80 Glock frames are in my opinion superior to stock Glocks are far as ergonomics go. The grip angle is more akin to a 1911, and its finger groove free.  We have an entire guide on how to Build your Own P80 Glock.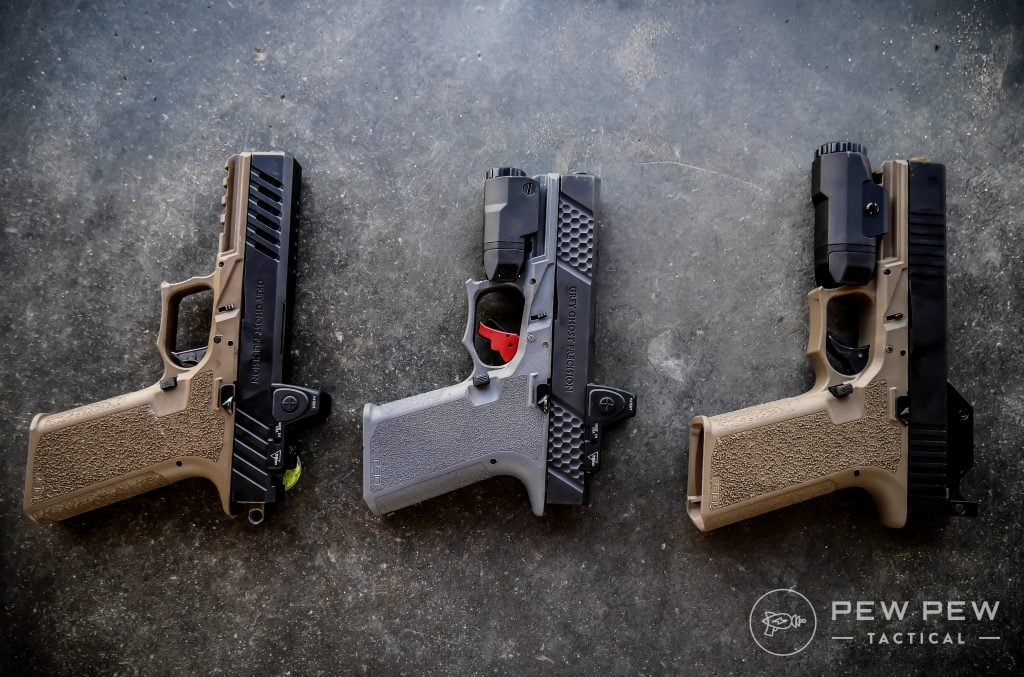 On top of that, it features a longer beavertail that prevents slide bite and a proper Picatinny rail.
310
at Brownells
Prices accurate at time of writing
Prices accurate at time of writing
It's a much more comfortable design and it's honestly a lot more comfortable to shoot than a standard Glock, and to me, looks better as well.
The Polymer 80 frame takes gen 3 Glock slides and this model is the Larry Vickers special edition with Ameriglo sights.
The gun is outfitted with Glock OEM lower parts kit, with an extended magazine release and extended slide lock.
52
at Brownells
Prices accurate at time of writing
Prices accurate at time of writing
Since this is an 80% frame it can be shipped to your door. For a while, these were on Amazon, but just recently, got taken down. It was sad, but don't worry–Brownells has our backs.
They have a deal where they pair a Brownells RMR cut slide with a poly 80 frame and it's a screaming good one.
Want to skip the drama and just get a really good Glock? Hit up our list of the best Glocks instead!
The Slide and Sights
The slide is a Gen 3 Larry Vickers edition Glock slide. It's FDE from the factory and not really anything special beyond the LAV markings and the inclusion of the awesome Ameriglo iron sights.
61
at Amazon
Prices accurate at time of writing
Prices accurate at time of writing
These sights sport a front day and night sight combo that is easy to pick up with your eyes regardless of the surrounding light. The rear sight is blacked out and this makes finding the front sight quick and intuitive.
The Barrel
Obviously one of the biggest standouts of this gun is the barrel. It requires a 16-inch barrel to be a rifle and to legally use both the stock and the foregrip without being an NFA weapon.
The 16-inch barrel is made by a company out of Austria called IGB Austria.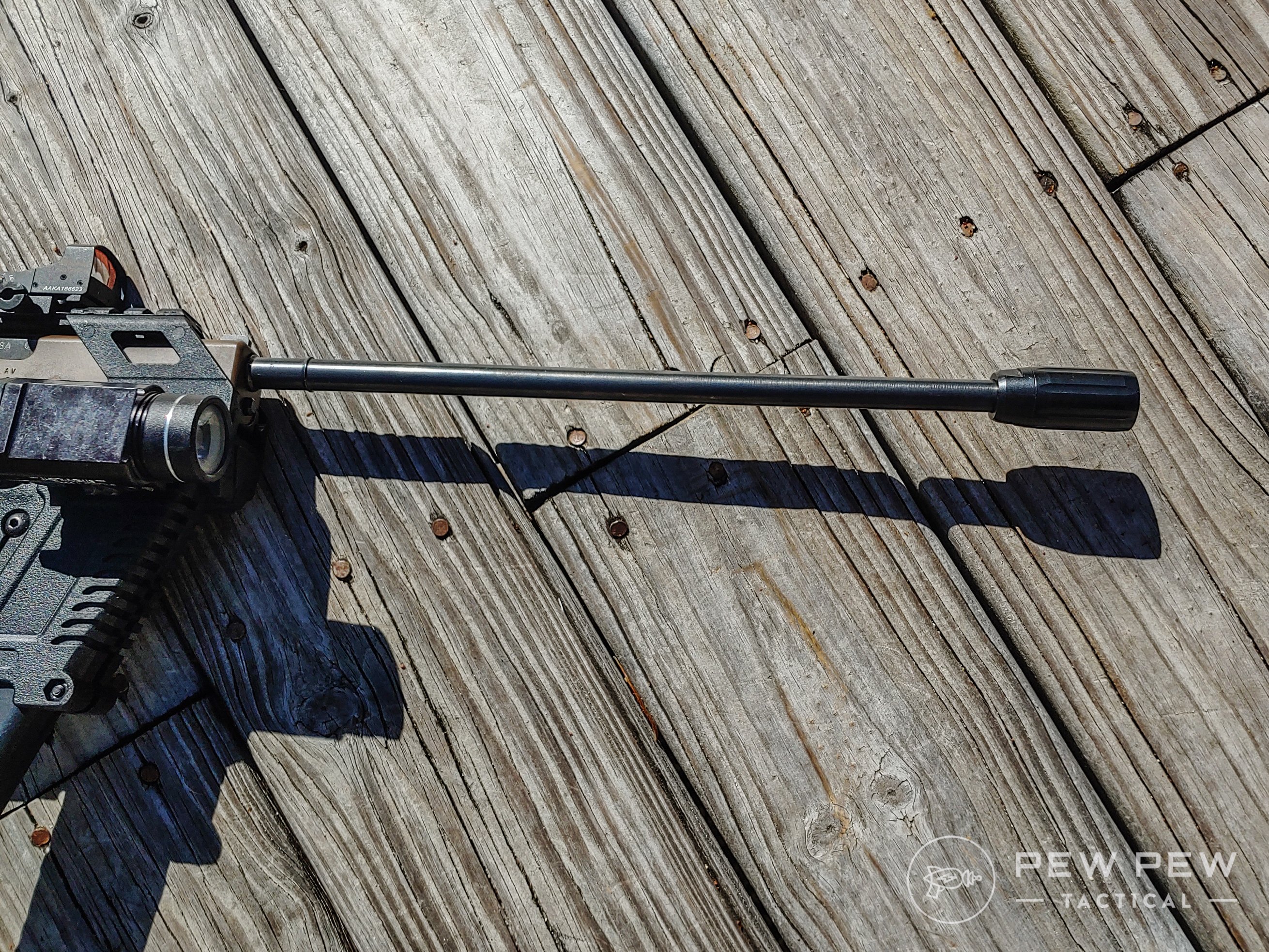 IGB barrels are cold hammer forged and they have a 50k round warranty. The surface is plasma hardened to be durable and strong. The barrels are very well made and IGB makes them for Glocks, HKs, SIGs, and more.
370
at YRS Inc.
Prices accurate at time of writing
Prices accurate at time of writing
They also come in a wide variety of different lengths from factory length and beyond.
I've had this barrel for some time and I appreciate how strong and durable it is. It's worked without issue in previous Glock rifles when used with Roni kits and the like.
It's also threaded, and if a barrel is threaded I can't leave it plain, now can I?
The Muzzle Device
Another piece of gun gear I've had for a bit is a Linear Compensator from Kaw Valley Precision.
A linear comp pushes the noise and concussion from a gun blast forward. It does not suppress the gun in any way, but it does make it appear to be quieter from a shooter's perspective.
55
at Kaw Valley Precision
Prices accurate at time of writing
Prices accurate at time of writing
This is made for blowback guns, not necessarily Glocks. I'm thinking it'll be a cause of issues on these guns. This comp is not designed for these guns, but I want to toss it on and see how well it will work.
We can't leave a threaded barrel plain now, can we?
I know the linear compensator from KAW is good gear on my SUB 2K and 9mm AR, but the Glock from Amazon is a little more… complicated.
The Stupid Stock
So, this stock is an oddball I found on Amazon sold by a company called Armory Knives.
(Editor's note: Apparently, it's so bad it's no longer available on Amazon. We did find it elsewhere for you, however, if you really want to try.)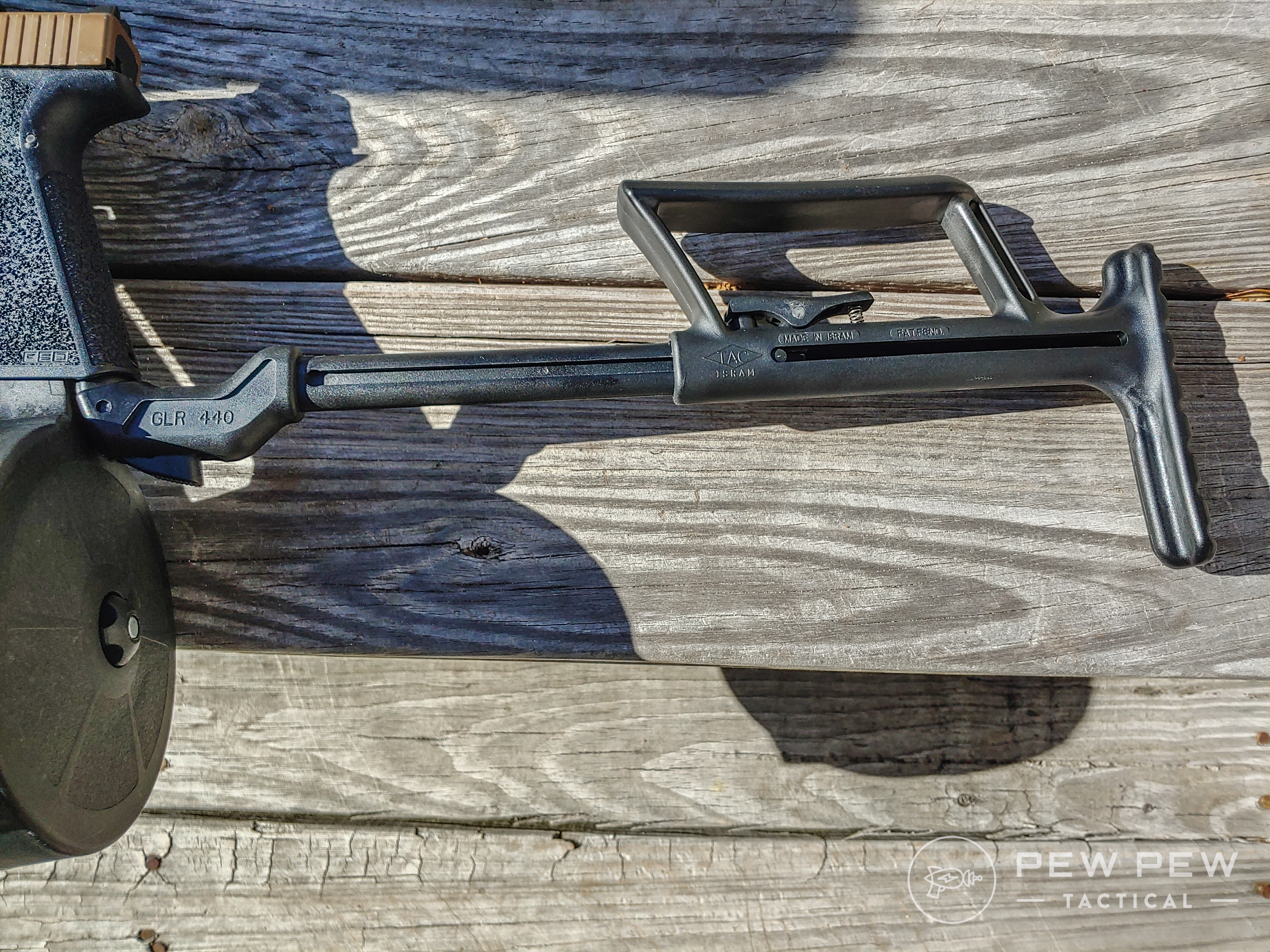 However, Armory Knives are not a manufacturer. This is the same cheap stock you can find on Wish and is made in China. It's very cheap and feels quite flimsy.
23
at Perry Knife Works
Prices accurate at time of writing
Prices accurate at time of writing
It fits into the rear of the Glock frame and fits both Gen 4 and Gen 3 models. I found that it fits way better in Gen 3 models.
It clicks into place and releases via a small button on the bottom of the stock. It does wiggle and move, and the one point of contact allows it to flex and move way too easily for a stock.
Admittedly it has some nice features. The stock is a 3-position model that, when fully closed, is too short to use effectively. Then the second position you can use if you are not a small child or a chinchilla.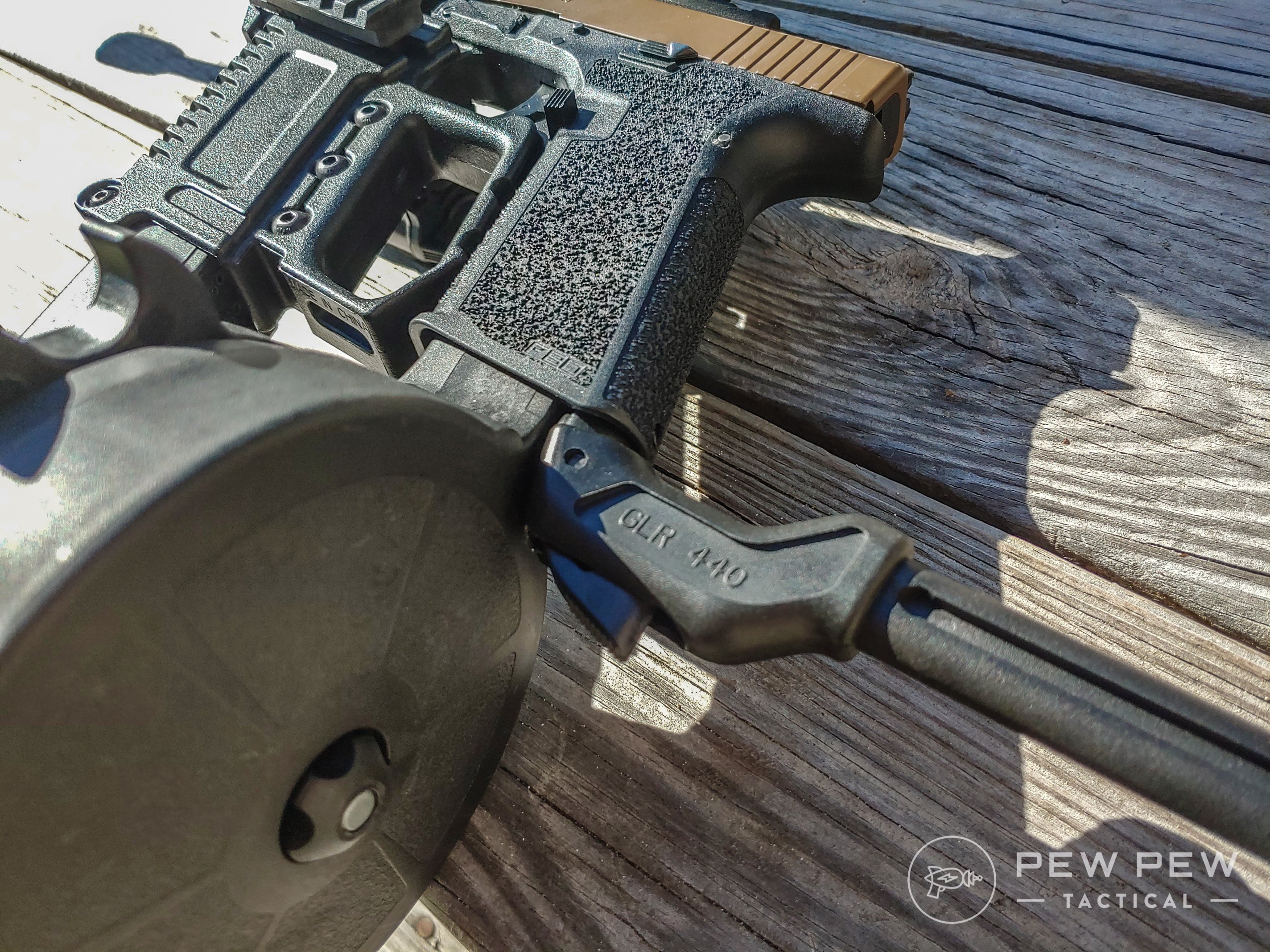 The third position is roughly the same length of pull as a rifle and it's fine. It's about 2 inches longer than the previous position.
Again, the third setting may be a bit long for some. Oddly enough, the stock moves smoothly and the button you press to release it is intuitive and easy to do.
The stock features a cheek rest that is plenty comfortable and allows you to get a solid cheek weld, which aligns your head perfectly for use with iron sights.
It's, like, a $23 piece of plastic from China, but damn, it works way better than it should.
It's no Magpul PRS stock, but for a stocked Glock it works. It might also work on an airsoft Glock, and likely, this is the best use for this stock.
However, common sense and I were not together for most of this project.
That Stupid Forward Grip
I don't know what to call this thing.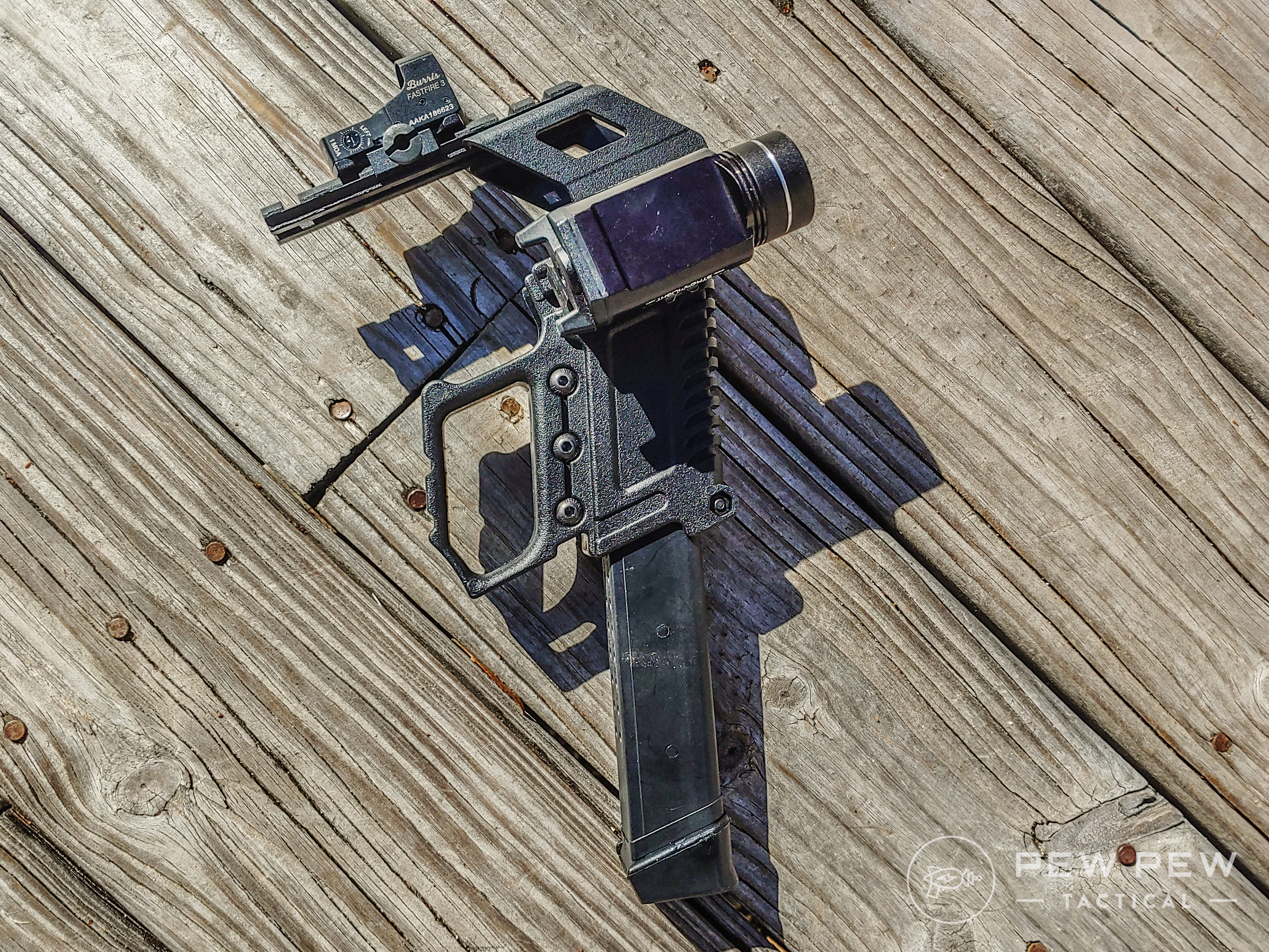 It looks like it comes from that super forgettable Total Recall Remake with Colin Farrell.
On Amazon, it's called the "Tactical Area ABS Pistol Carbine Kit Mount W/Rail Panel for G17 G18 G19 GBB Series Accessorie." That is the exact name from the listing description.
26
at Amazon
Prices accurate at time of writing
Prices accurate at time of writing
As you can see it's a forward grip that also accommodates an extra magazine.
It also features some weird accommodation for the fingers of your firing hand. Like a big ring that your fingers fit in. Fit being a relative term, since my hands barely fit.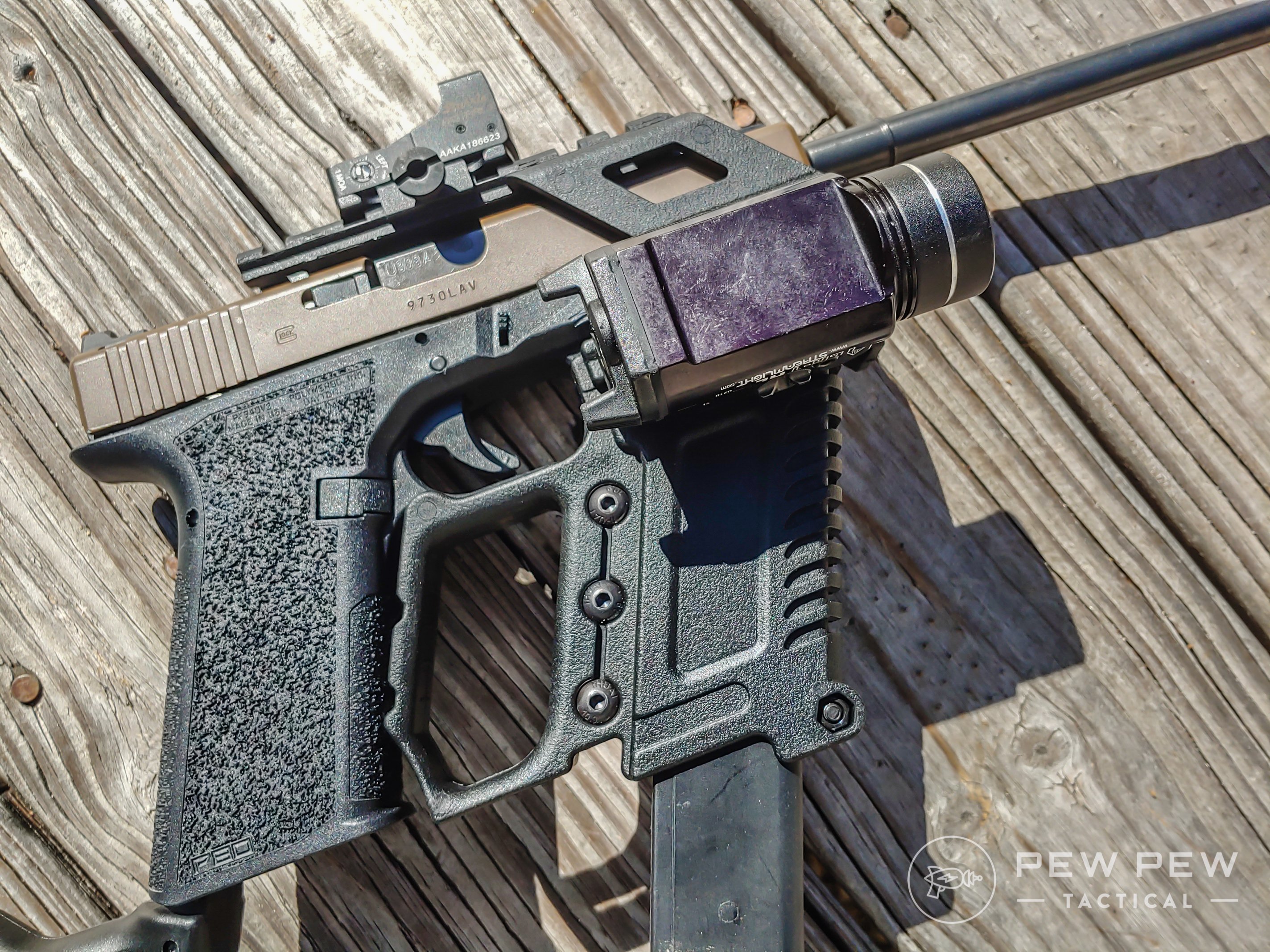 The grip-thing also has a scope mount that goes over the slide and allows you to mount an optic to your Glock.
I was surprised to find that it also has pic rails on each side. Guess what though? The rails are not in spec by any means and are oversized. With some effort, you can mount accessories, but they won't be mounted very well.
In short–it fits… but again, you must have a 16-inch barrel if it's to be considered an AOW.
This thing does seem to hold a spare magazine well. The grip is tension fit, and it works. I think it also looks cool, so there is that. Also, this weird lil' thing fits tightly on the rail and comes off easily.
It's largely worthless, but I guess it looks cool. The optic's rail allows you to utilize the iron sights for co-witnessing if the optic fails.
The Beam
I added a weapon light, known colloquially as a beam, because I just knew I had to cover those extra rails with something. I went to my gear locker and snagged the first Streamlight I saw. This model is a Streamlight TLR-1.
The TLR-1 is an excellent light that is easy to use, very bright and plenty reliable. It might not be a Surefire, but it's an excellent all-around weapon light.
120
at Amazon
Prices accurate at time of writing
Prices accurate at time of writing
The Streamlight TLR-1 comes in a variety of different lumen models and my model is the 800-lumen model.
The TLR-1 has several different settings, with a constant on mode, a momentary switch, and a strobe mode. The light's switch is plenty easy to reach and use with your trigger finger or even the thumb of your support hand.
You can attach the light to your gun with one hand and keep it from getting in front of the barrel on a standard handgun.
However, on this Ultimate Glock Project, I had to attach the light to the side rail of the dumb forward grip thing.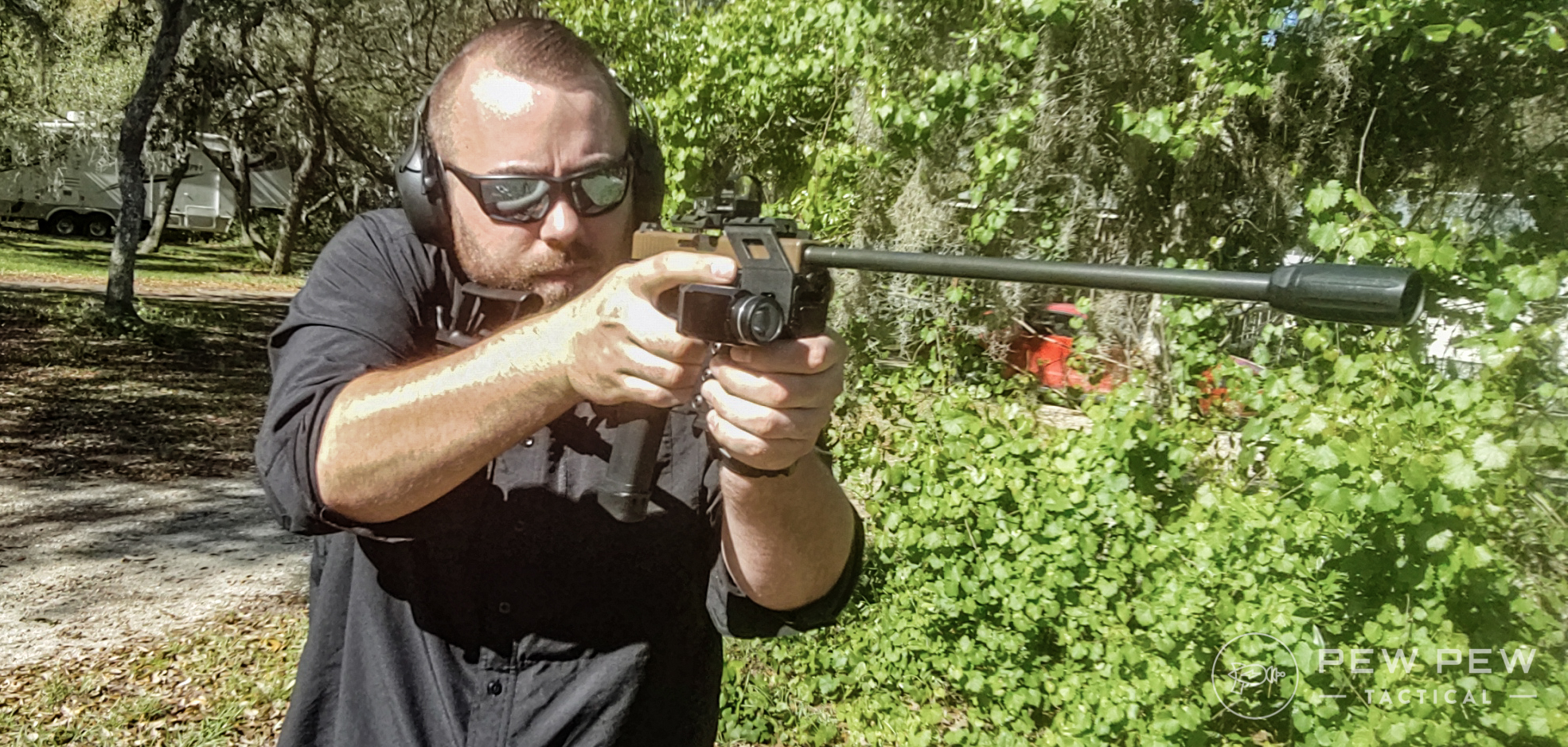 This is one of the higher quality pieces of gear I strapped to this piece of crap. Let's face it–for night time operations you got to have a blinding white light to succeed, and that's what this gun has now.
The Scope
Well, it's not a scope, but a miniature red dot–one of my favorite mini red dots, especially at this price range. The Burris FastFire 3 is a high quality, but affordable mini red dot optic.
I typically have it mounted to pistol caliber carbines, or to my Glock Gen 4 MOS.
199
at OpticsPlanet
Prices accurate at time of writing
Prices accurate at time of writing
However, it seemed like the perfect fit for my "It Came From Amazon: Glock Edition" gun. The FastFire 3 is small, light, simple and comes in either 3 or 6 MOA reticles.
This is a 3 MOA model and it works better for stocked weapons than unstocked weapons.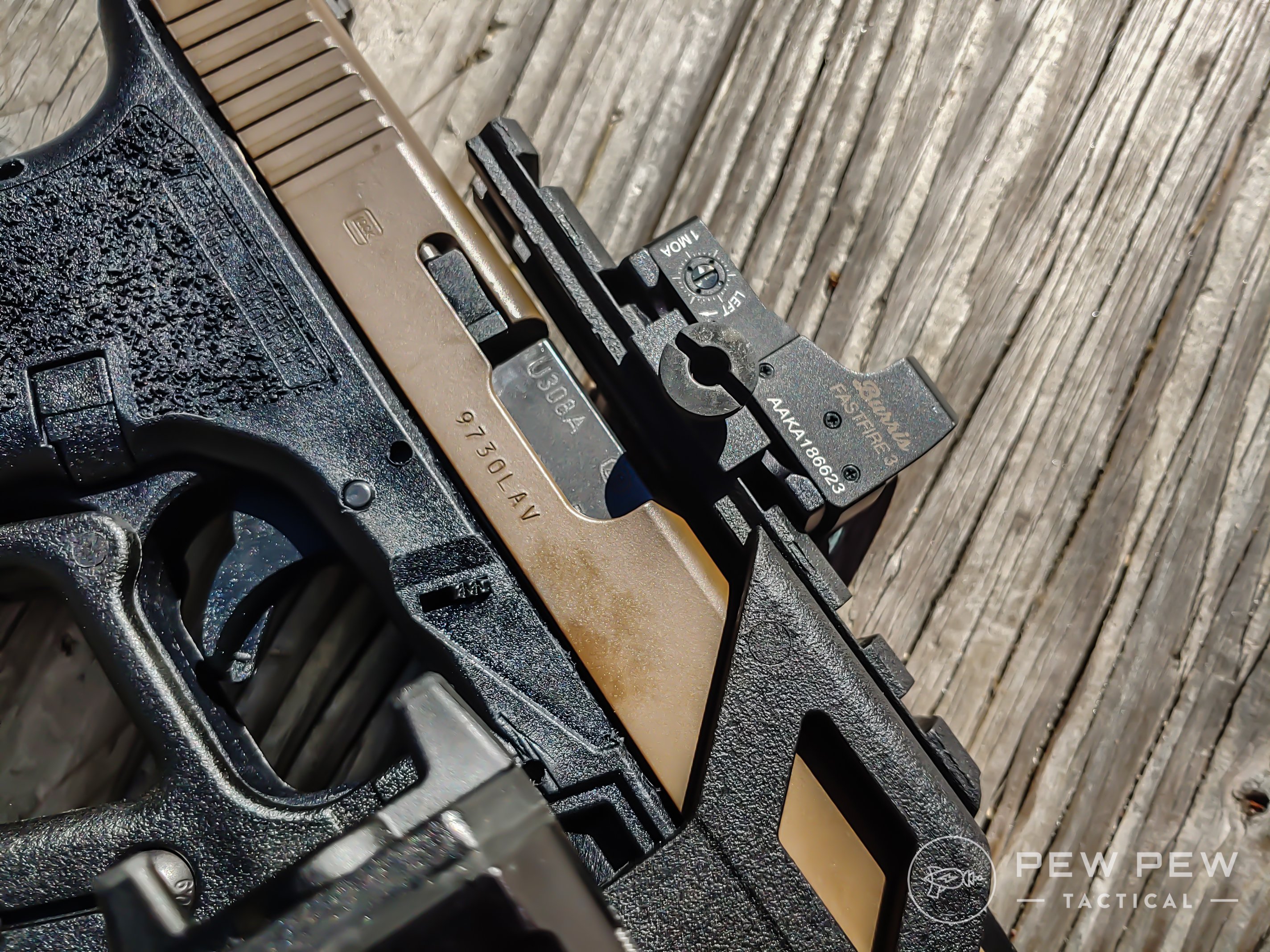 It does have an auto-brightness adjustment setting that is very intuitive and quick to adjust both indoors and outdoors.
The manual settings are low, medium, and high. It's all controlled by one button and all around it's a simple optic.
The FastFire 3 has a top-loading battery, comes with an optic hood for extra protection, and a Picatinny rail mount. You also get all the tools and screws needed to install the optic wherever you want it.
It's small, simple, and very reliable. You can find them priced well below 200 bucks and they are great optics.
The Magazines
I had to go big and unfortunately, Amazon doesn't sell magazines–but Brownells sure does. Brownells sells lots of mags, but I wanted to go as big as I could.
How big?
A 50 round KCI drum mag is as big as I could go. I grabbed one, and a cheap 33 round KCI stick mag too. I needed something to shove in that stupid mag holding grip, after all.
60
at Brownells
Prices accurate at time of writing
Prices accurate at time of writing
Admittedly I was really surprised by how well these two mags performed. Outside of attaching all this crap to a Glock, I took the mags out separately with a Kel Tec SUB 2K and a Glock 17 and let loose.
13
at Brownells
Prices accurate at time of writing
Prices accurate at time of writing
The drum works brilliantly. It's easy to load and a rotating control on the side of the drum shoves down the followers and allows you to load it very easily.
I've put tons of rounds through this drum and it really works well.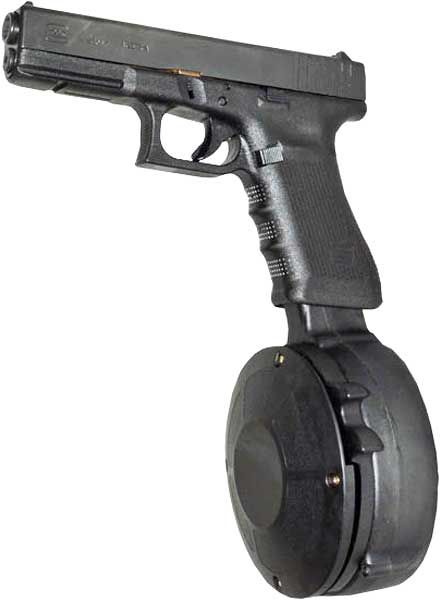 The biggest downside is the fact you can't load the drum in a gun with the bolt closed. The follower pushes the rounds up too tightly.
The stick mag is a stick mag and features metal reinforcement like OEM mags. This is a simple magazine and it hasn't given me any trouble. It's been surprisingly reliable and for the price, it's an outstanding training magazine.
Shooting the Beast
Milling the frame is very easy to do and this is the easiest 80% lower I've ever finished. The included jig is well designed and makes it easy to mill out the rails and to drill the pin holes. The hardest part is clearing out the recoil spring area, but even that is far from difficult.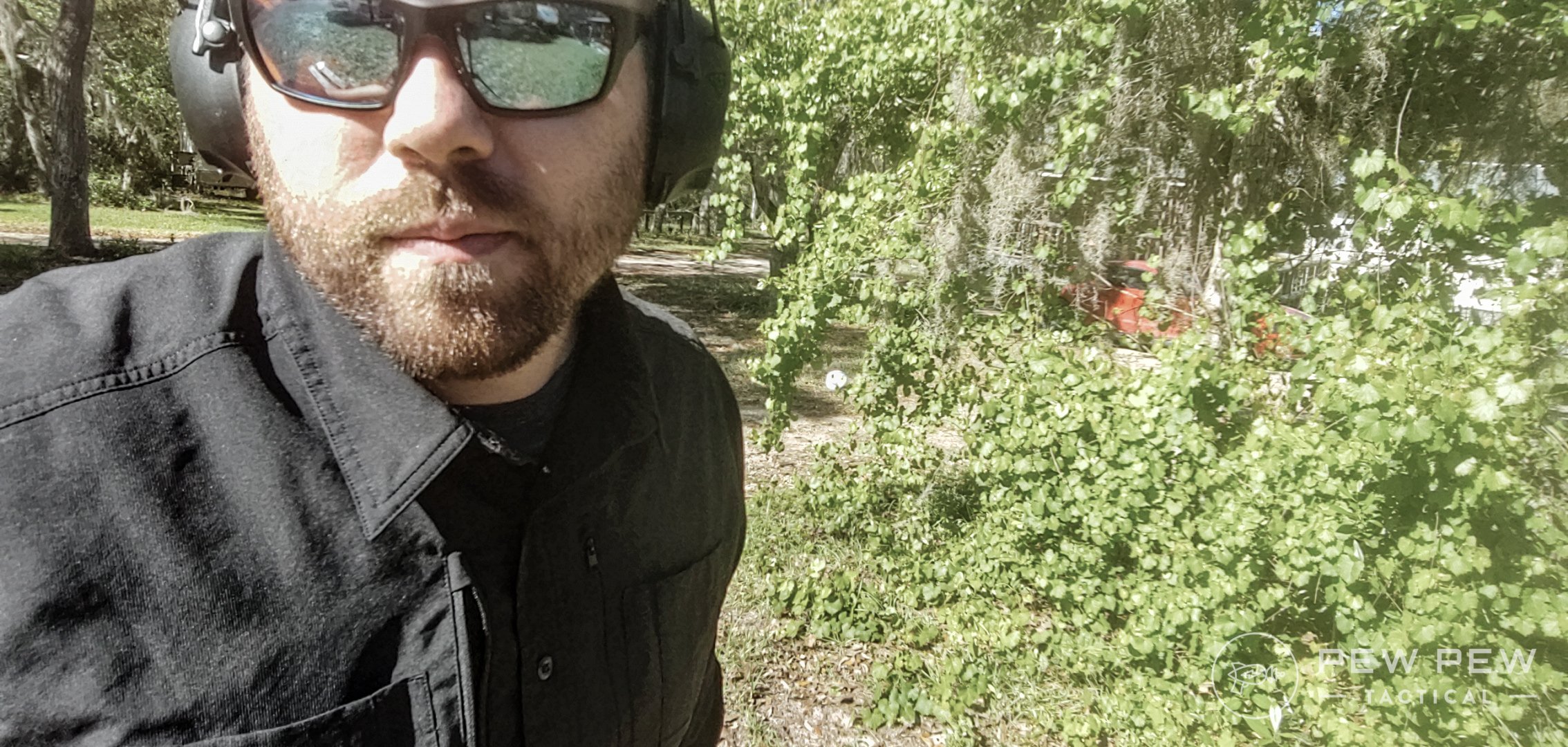 Installing the lower parts kit is also easy. Glocks, in general, are very simple guns. Originally, I assembled the gun as a pistol prior to ever considering building this monstrosity, but the Gen 3 design and standard pic rail made it easy to mutilate.
Installing the parts is easy and honestly, the end result made me giggle. It's so dumb but brilliant at the same time. It's all the best parts and worst parts of our communities. Most of the parts would make this a felony without a 16-inch barrel or an NFA stamp.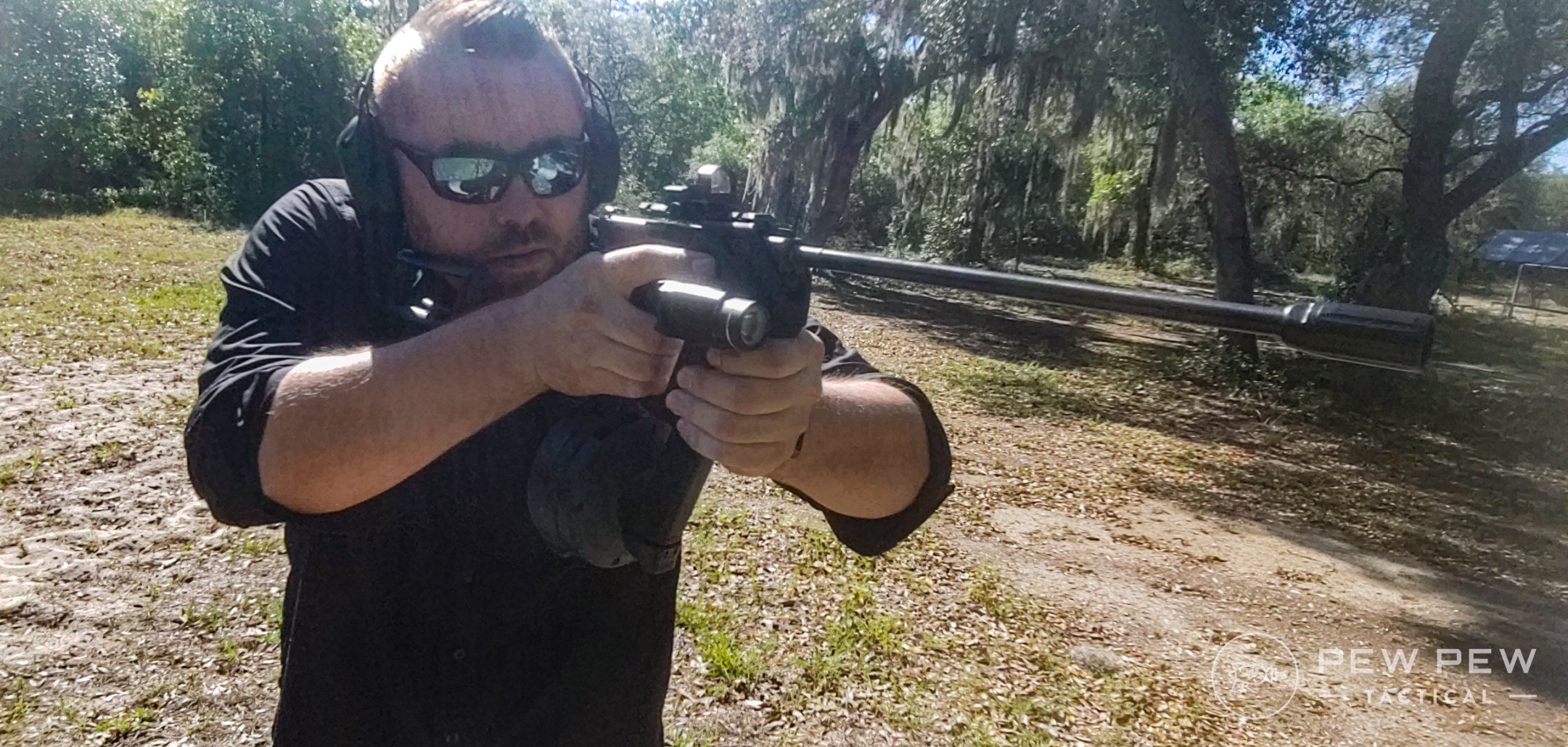 I loaded the drum and mag, and with some giggity in my step went to the range. Would it work? I doubt it, but let's see.
Let's Talk Ergonomics
Hmm, this is an interesting way to judge a firearm. I am judging this not as a monstrosity or a Glock, but as a firearm unto itself, so I wanted to approach it the same way I approach any gun.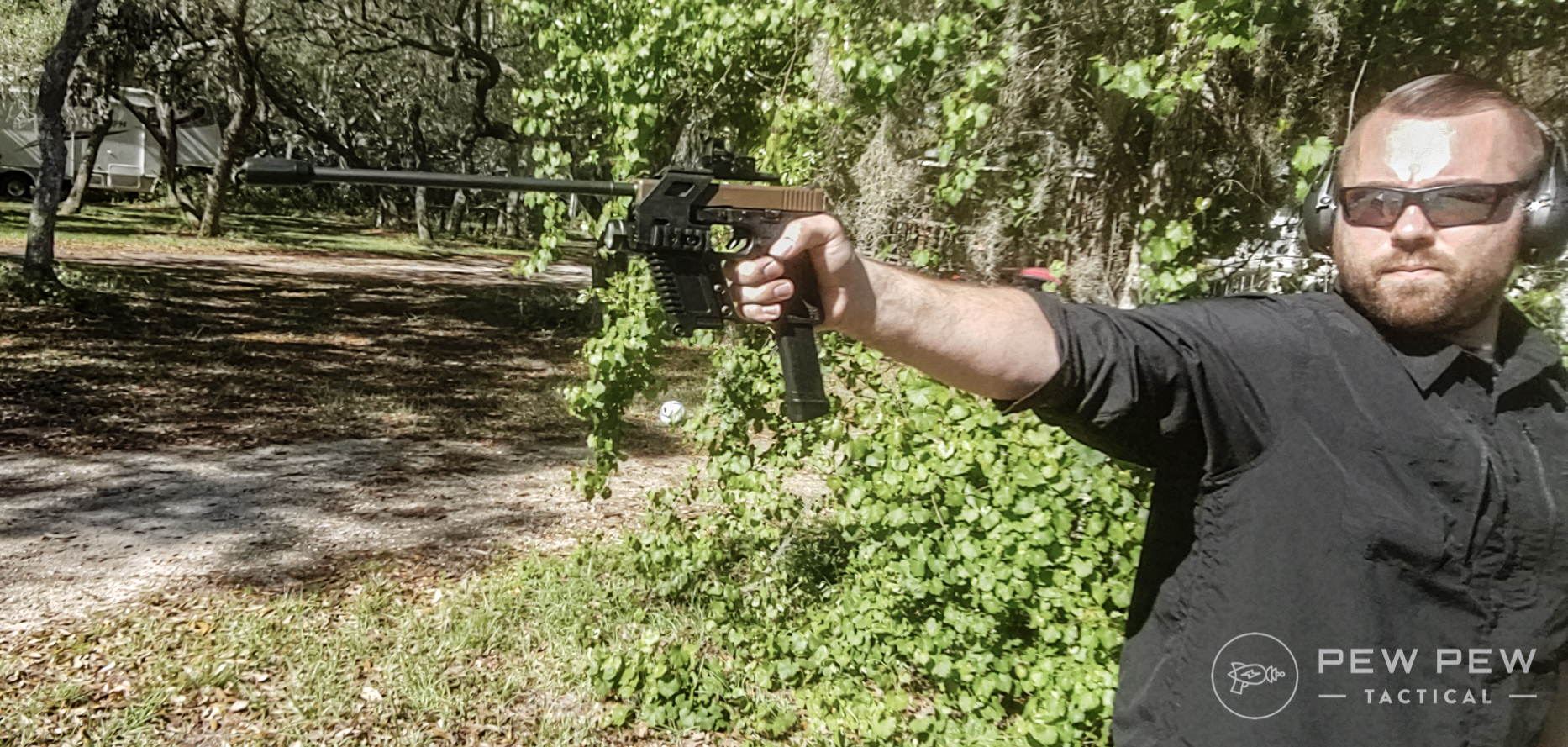 With this combination of features let's talk ergos.
First off the gun is still very lightweight in general. It is a bit awkward, being a handgun turned into a rifle. The barrel is superbly long for the frame and the entire grip system is compact.
The stock does fit the shoulder well, and the different lengths accommodate me. Its cheek weld does make it high enough to use the optic and the iron sights underneath the optic's rail.
This stock is flimsy, though, so don't even think about torquing down on the stock and shoving it into your shoulder.
The forward grip doesn't allow for a thumbs-around grip, but it's not needed. The grip, of course, feels cheap but is stable. The ring to shove your fingers in is slightly too small for my big hands and causes cramps.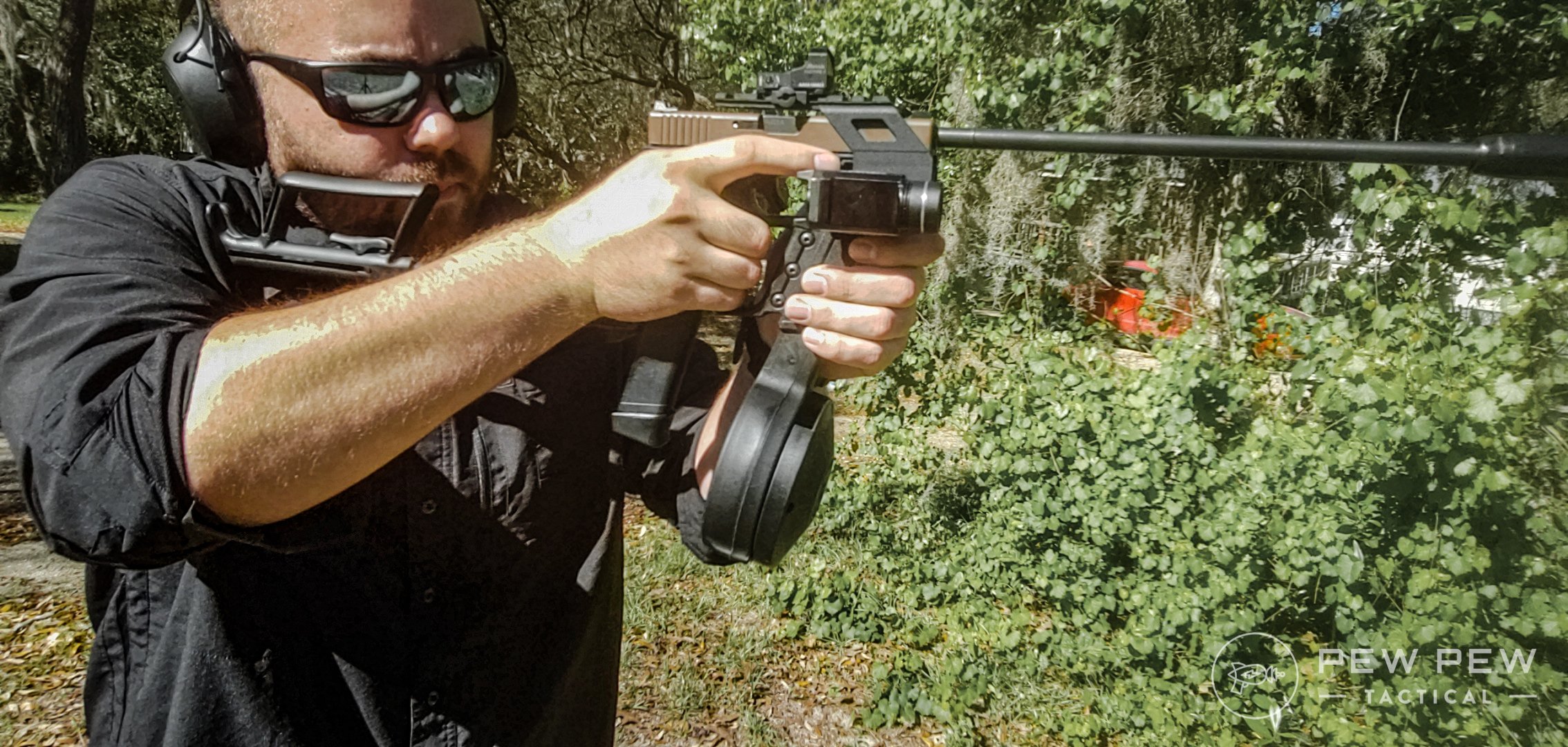 Magazines changes from the grip are pretty fast, and this surprised me. You can adjust the tension a good bit on the grip to make releasing the magazine easier.
It's pretty freaking tight from the factory.
The optic's rail does not get in the way of racking the gun, or clearing malfunctions, etc. It's short enough, but can be removed if you so choose. None of the kit gets in the way of operating the Glock.
Of course, there is no safety, and rifles should have safeties. Handguns don't need safeties because you can holster it and protect the trigger. This safety-free design is not a solid choice for a rifle.
Will It Fire?
Sometimes it's not good to be right. After 25 single-shot rounds, I concluded my monstrosity was a failure. The gun would not cycle, or even eject the fired round. So, what's the deal?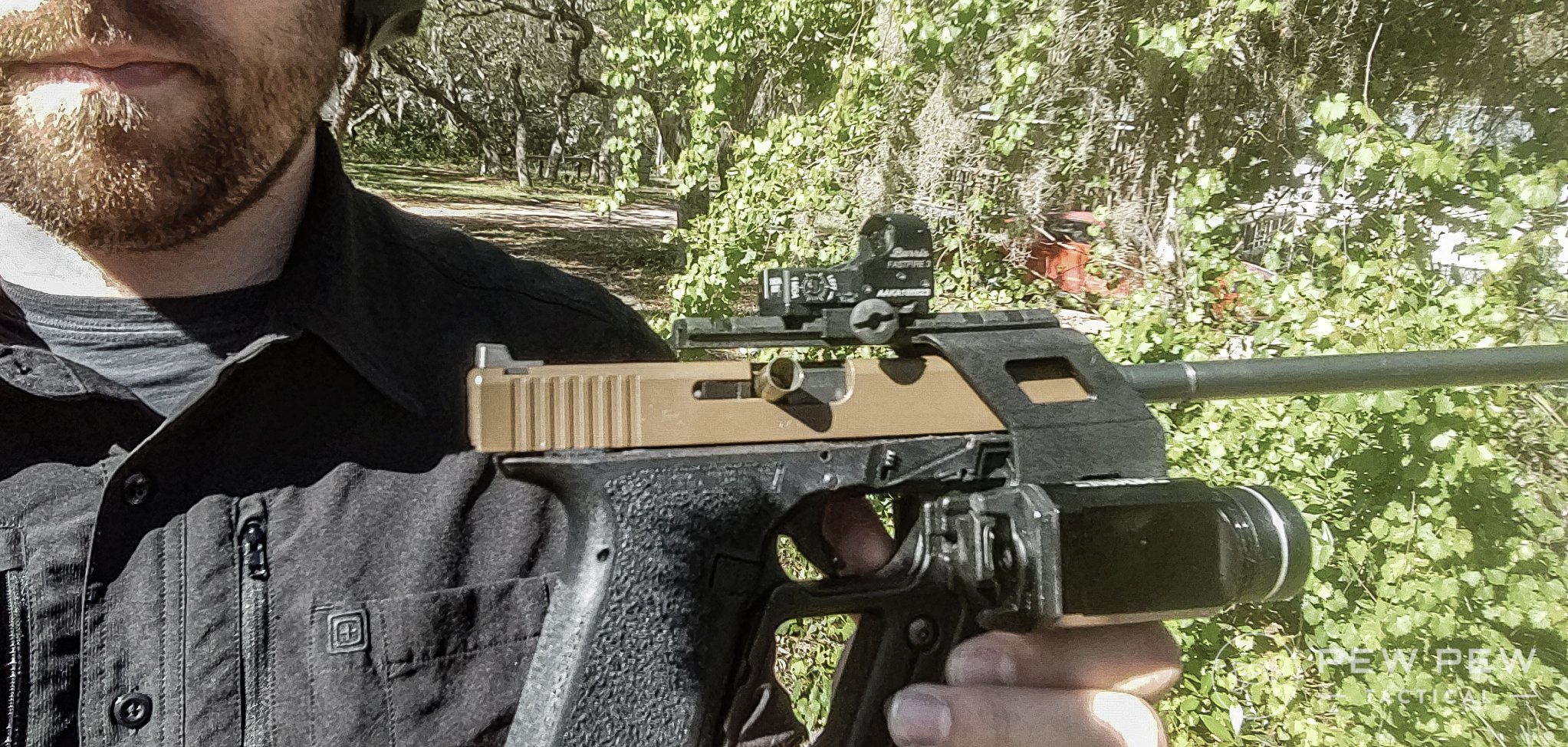 Well, that stupid forward grip is very tight and is likely too tight and squeezes the frame too hard and doesn't allow the slide to ride on the rails very well.
On top of this, the finger guard thingy causes you to pull downwards on the rail and this causes issues I'm sure. 
The linear comp also must go. It's made for blowback guns really–not a pistol with a rifle length barrel. Get it off the gun and that helps.
If you remove those pieces, the gun kind of functions okay. The stock is wiggly still, but the gun fires and cycles most of the time. If you move all this kit over to the Glock Gen 4–well, the barrel and stock, anyway–it runs 100%.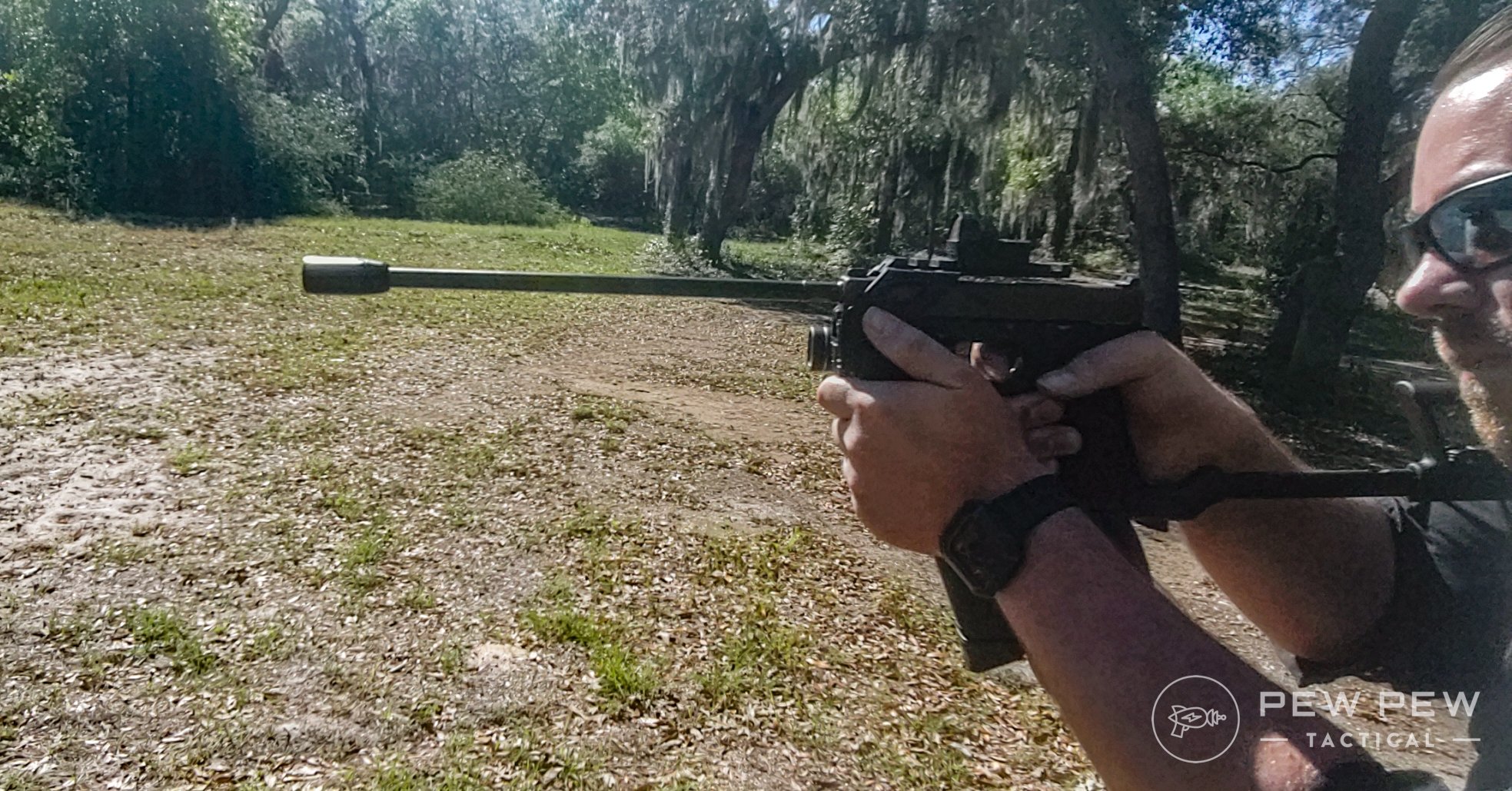 The stock takes a good shove to get up there in a Gen 4 gun, but it will fit.
But Why?
Why would I make such an abomination? Because–why not? We all see this dumb crap across the internet we might as well see if any of it works.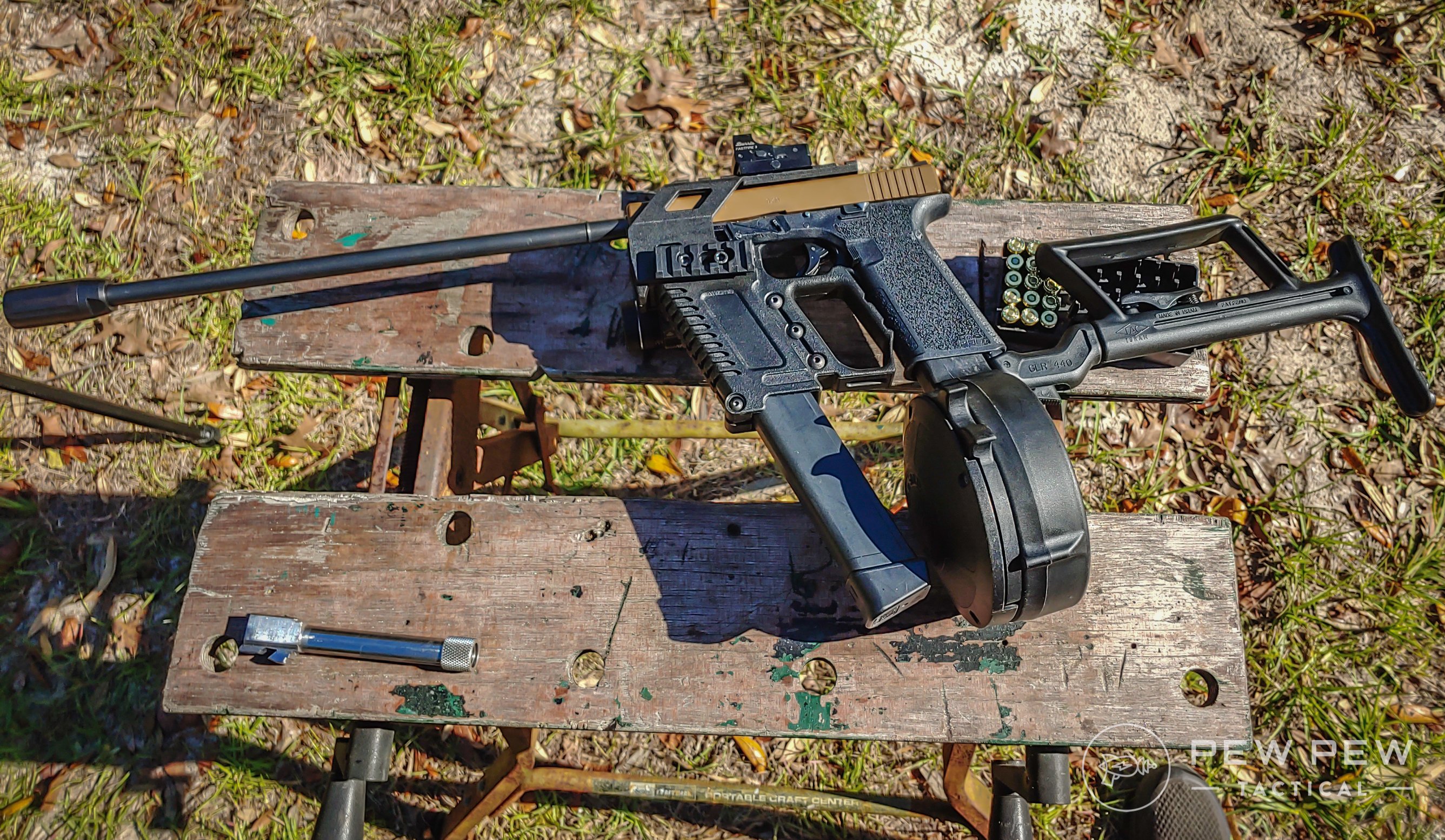 Plus, it was fun to see how mall ninja I could go with stuff sourced from online retailers. It turns out you can go far.
Now, I'm taking some requests. Any dumb stuff I can add? Any weird and odd things you've found online for me to test? Let me know below. Serious about building a Glock? Check out the Best Glock Upgrades here!